Tokyo street foods are the "magic door" to better understanding the culture in the bustling and busiest city of the country of cherry blossoms. If you don't know to visit where and what to start first, my suggestions below will be indeed useful.
Japanese cuisine in general or Tokyo delicacies in particular always gives visitors a feeling of satisfaction in their tastes and visuals.
These features are also evident in the street foods here. Therefore, it is indeed a significant omission if you have not tried street food when visiting Tokyo.
Some Suggestions For Street Food In Shinjuku
Shinjuku, located in the southwest of Tokyo, is a thriving shopping, entertainment, and office center. This is also one of Tokyo's three bustling metropolitan areas, along with Shibuya and Ikebukuro.
As a reason, the street food culture in this location is relatively diversified. Here are a few ideas I have for you.
1. Kushiyaki (Grilled Meat Or Vegetable Skewers)
Kushiyaki literally means "anything that can be skewered" in Japanese. It is made from bite-sized meat and vegetables on wooden or metal skewers and goes well with beer or sake. This dish is quite popular in festivals and celebrations in Japan.
The word "Kushi" means bamboo skewers used in the 17th century to cut ingredients, while "yaki" means grilled or fried food. After grilling, your Kushiyaki skewers will be served with 2 main sauces: Shio (salty) or Tare (sweet sauce).
The Kushiyaki skewers will have different main ingredients, including Negima (chicken and Negi onions), Tebasaki (chicken wings), Toriniku (chicken breast), Enoki Maki (enoki mushrooms wrapped in thinly sliced ​​pork). Beef or pork is also frequently used components.
After preliminary processing, people often marinate the meat with typical Japanese seasonings, including soy sauce, mirin, honey, sugar, and Teriyaki sauce. Then the cook will grill these skewers until they are evenly cooked and offer an appealing appearance.
Grilled skewers were initially famous for their convenience (can be bought to take away and eat on the go as a snack). Later, Kushiyaki became a trend and spread as renowned street food, especially in Tokyo, and is loved by many young people.
2. Udon (Japanese Wheat Noodles Dish)
Udon is one of many people's street favorites in Japan. Today, this dish is also becoming more and more prominent in other cultures.
This particular dish can be prepared in many ways, such as hot soup or stir-fried Udon noodles with soy sauce and vegetables. Both ways are incredibly tasty.
The most notable thing about Japanese Udon noodles is their indescribable soft and thick noodle strands. Not only offer an attractive color, each strand of Udon noodles, when put in the mouth, also creates a very satisfying and attractive slurping sound.
The thickness of Udon noodles is also the most distinguished feature of this delicacy compared to some other noodle kinds in all Japanese regions.
Many historians believe that the flour milling technology for making noodles is introduced to Japan from China between the 10th and 13th centuries. Udon (or some other kinds of noodles) was used as a substitute for rice in the famine.
Are you finding a review for Shinjuku's Udon? This one is for you!
3. Tonkatsu (Deep-Fried Pork Cutlets)
Tonkatsu was initially made in the late 19th century (during the Meiji Era) and is now a popular dish in Japan.
The ingredients to prepare the dish are pretty simple: breadcrumbs, coating batter, and raw pork tenderloin (1cm to 2cm thick, smashed, and sliced into bite-sized pieces).
In addition, the side dishes will be shredded cabbage and hot miso soup. After being marinated and coated with a layer of fried dough, the pieces of meat will be deep-fried until crispy and turn into an attractive golden brown color.
To better balance the taste and reduce the oiliness of cooking, the seller will serve this dish with a secret sauce that tastes sweet, salty, and spicy. Although you can find other variations of Tonkatsu in the different areas, Shinjuku variation is highly recommended.
4. Okonomiyaki (Japanese Pancakes)
If you don't know what to start eating in Japan, choose Okonomiyaki first. Thanks to the balanced taste and easy-to-consume characteristic, these pancakes, both Osaka and Hiroshima-originated variations or the Tokyo ones, can satisfy the pickiest diners.
The typical Japanese pancake in the Shinjuku area is famous for its fillings. You have many choices, including octopus, shrimp, bacon, cabbage, or potatoes (or all of them in one piece).
After the pancake is crispily fried, the sellers will sprinkle some additional Katsuobushi (Japanese Tuna Flakes) and finely chopped green onions on top of the cake to enhance the flavor.
It is not by chance that Okonomiyaki is also considered a prominent Asian recipe, the savory filling combined with the crunchy crust can create a real "taste explosion". Mayonaise sauce and sweet black sauce are always present to enhance the dish's flavor!
This short introduction can tell you more about Okonomiyaki!
Foods To Go For In Tsukiji Outer Market
Tsukiji Outer Market has a long history that needs to date back to the early Edo period, and it was first built and developed as a samurai land. Later on, in the late Edo / or Bakumatsu period, it was considered a fishermen's land adjacent to foreign cultures.
Time passed by, Tsukiji Outer Market's area has become one of the street food centers in Tokyo and is famous for its seafood. You can easily find your favorite seafood dishes here and some other palatable foods.
5. Maguro Sushi (Tuna Sushi)
Sushi is one of the indispensable dishes in Japanese meals. Along with the tea ceremony, the art of Ikebana flower arrangement, sushi has become a typical cultural feature of the land of the rising sun.
When traveling in Tokyo, you can find the best sushi in Tsukiji Outer Market, and the most recommended is Maguro Sushi or Tuna Sushi. Thanks to the characteristic fatty fish meat that blends perfectly with vinegared rice, this dish has received much attention.
In addition to the main ingredient of thinly sliced fresh tuna, the seller will serve this dish with seaweed, vegetables, and Japanese soy sauce mixed with ginger and spicy mustard.
You won't regret spending time to know more about Maguro Sushi here!
6. Tamagoyaki (Rolled Omelet / Tamago Skewers)
Tamagoyaki is a Japanese-style Egg Roll. This palatable egg recipe sounds very simple to prepare; the chefs will just beat eggs add a little rice vinegar, soy sauce, and sugar into the mixture.
To cook, they will fry the egg mixture on a typical square-shaped pan to form a long, square Egg Roll. The chefs need to be careful to avoid breaking their Tamagoyaki's shape, and the food needs to be seared beautifully on both sides.
Since it is relatively light and fast to prepare, Tamagoyaki is often served as a breakfast in Japanese hotels or a side dish in a Bento box (Japanese lunch box). However, sometimes chefs can include some particular skills in making Tamagoyaki.
Let's see how they prepare Tamagoyaki in Tsukiji Market!
7. Yaki Maguro (Pan-Seared Tuna)
If you are not a fan of totally raw seafood, you should try this Yaki Maguro first. The dish basically includes fresh tuna; the chefs will pan-seared the main ingredients and sprinkle some salt, pepper, or herbs onto it later.
The main point here is that the fish is not cooked; it is mainly half-cooked with the interior that is still raw (and offers a pinkish hue full of moisture inside).
Yaki Maguro is typically served as an appetizer in Japanese meals rather than the main dish, so you should opt for it besides various other delicacies. Each bite of this food will be full of flavors and incredibly soft.
8. Onigiri (Rice Ball)
Onigiri rice balls are considered the most popular dish of Japanese people, delicious and convenient. It is also associated with this beautiful country's history of formation and development.
The beautiful little rice balls of the Japanese have a history dating back to the Yayoi period, more than 2,000 years ago. People started to pick up round rice balls from the white rice from that point on.
However, people only began to call this rice ball Onigiri from the Nara period (710-794). Interestingly, it was not until 1603 to 1868 (Edo era) that the Japanese started adding dried seaweed to this dish. That may well be what you see in the modern version.
Onigiri is best made by hand, but the Japanese won't like it if it's held too tightly. The filling for the dish is also diverse, and each type is different. Some of them are Karaage (Japanese fried chicken), Tuna-mayo (tuna mayonnaise), or simply Ume (apricot).
As a convenient and complete dish, you can eat Onigiri for breakfast, lunch, or a quick dinner in Japanese style. When you're hungry, you can entirely run into the convenience stores here to find a piece of Onigiri to eat.
Another suggestion for the best place to eat Onigiri in Tokyo for you is right here.
Don't Miss Out On These Foods In Harmonica Yokocho
Harmonica Yokocho is a famous flea market in Japan, and some first modern bars and restaurants started to open in the late 90s. Nowadays, Harmonica Yokocho has become a renowned hangout destination for many young people in Japan.
9. Gyoza (Japanese Dumplings)
Japanese Gyoza originates from the signature Chinese dish, Jiaozi, with an attractive crispy outer shell covering the juicy interior. The filling includes finely chopped wood ears, minced pork, onion, Japanese Nari chives, cabbage, ginger, garlic.
All of these above ingredients are well mixed and other condiments to taste. Everything blends to make Gyoza famous around the world.
The Japanese Gyoza will be prepared in 3 main ways: pan-fried Gyoza (Yaki Gyoza), fried Gyoza (Age Gyoza), boiled Gyoza (Sui Gyoza).
Japanese Fried Dumplings is a dish that is relatively easy to make, easy to enjoy, and loved by many people. You can find this dish in many places, from Ramen shops in the Harmonica Yokocho area, Chinese restaurants or street food stalls in Tokyo.
Do you wonder what the Tokyo Gyoza taste like?
10. Sashimi (Japanese Raw Seafood)
Talking about Japanese cuisine without mentioning Sashimi is definitely a significant omission. In Japanese, Sashimi, which means "pierced body," was first served during the former Heian period. In general, traditional Japanese Sashimi includes only fresh seafood.
The seafood used to make Sashimi must meet "sashimi standards", caught using separate tools. Immediately after being caught, it must be processed according to special procedures to ensure the freshness of each Sashimi piece.
Fresh Sashimi is often enjoyed at the beginning of dinner because the Japanese consider this a pure dish and should be enjoyed first to not mix the taste of other dishes in the meal.
When eating Sashimi, Japanese chefs use pungent vegetables/spices such as wasabi to reduce the smell of fresh seafood and kill some residual bacteria.
While you may think that this dish can only be served in fancy restaurants, at Harmonica Yokocho, you can absolutely find it on the streets.
Karaage is Battered Fried Chicken just as the Western-style Fried Chicken, but this dish has changed in a Japanese way and become a popular dish in Japan.
Japanese historians believe that Toyoken restaurant in Beppu, Japan, was the first place that introduced Karaage in the 1920s. This cooking method arose as a result of Japan's severe food crisis following World War II.
The chicken part is usually marinated carefully with soy sauce and rice wine. After that, the chefs will batter the chicken and deep-fried it in hot oil.
There are various ways to eat this tasty Japanese food, from eating it alone with sauce to preparing it as an Asian-style side dish in a meal or a Bento box. Shredded cabbage, fragrant sauces, and onions are regularly served with Karaage to balance the flavor.
Because this Japanese Fried Chicken is so simple to make and delicious, it is loved by many people from all generations. Believe me; it can easily appeal to even the pickiest eaters.
What To Eat In Ueno Ameyoko?
Ameya Yokocho, often known as Ameyoko, is a large open-air market in Ueno, a famous tourist site. Within a 400-meter length, you might find almost whatever you desire, from fresh and affordable food to cosmetics and other items.
Let's talk about the delicacies here a little more now!
12. Takoyaki (Deep-Fried Octopus Balls)
The cake's main ingredient is minced octopus filling, stuffed with cabbage, sweet corn, thinly sliced ​​octopus, a few heirloom ingredients, and other spices. Takoyaki was originally an iconic street food in Osaka and has gradually become popular all over Japan.
This dish will be made on a special pan with semicircular cells. The sellers need to be highly skillful to create a perfectly round Takoyaki.
The crispy crust is covered with the fresh, fatty, rich octopus filling, along with the mayo sauce that evenly covers each hot cake, making the taste tastier than ever.
Today, Takoyaki has become a staple street dish in Tokyo, and this variation is relatively different from the original version. With its low price and delicious taste, it has become a street food loved by many people.
13. Taiyaki (Fish Shaped Cake Filled with Sweet Bean Paste)
Taiyaki or Japanese Fish-Shaped Cake is a traditional Japanese sweet treat made with a sea bream mold pan. This dish is prevalent in Tokyo and even in other parts of Japan.
Sea bream symbolizes the god Ebisu, the god of good fortune in Japanese culture, and has a crucial significance in Japan. When holding a cake in the shape of an owl fish (Tai), it is believed that they are holding luck in their hands.
Taiyaki's ingredients include liquid cake flour, which will become spongy when baked. Then people will use a sweet like red bean, milk cream, chocolate, or salty food like cheese to make the filling.
Because this cake is quite delicious and convenient to carry and eat, it is sold all year round at markets or along the road.
The best short introduction about Taiyaki you might look for is here!
If you are a big fan of Japanese cuisine, this Japanese ground beef delicacy might not be a strange dish to you anymore. The name Menchi-Katsu of this dish derives from the words "Menchi" and "Katsu", which are transliterations of the English words "Minced" and "Cutlets".
After being formed into a cutlet shape, the ground meat pieces will be coated with breadcrumbs and deep-fried in sizzling oil until crispy.
That is how one of the signature Japanese side dishes is made. Just the smell of this food can make you drool already. Trust me; you will love the feeling of gnawing this Fried Ground Meat and enjoy the delicious taste of fresh meat filling your mouth.
When served with Japanese Worcestershire sauce (or Tonkatsu sauce) along with sliced cabbage, Menchi-Katsu is even more delicious. The refreshing taste will help decrease the oily flavor from the Deep-Fried Ground Meat Cutlets. What could be more satisfying!
Other Flavorsome Desserts To Try In Tokyo
Tokyo is also known as the capital of sweet treats in Japan. Therefore, to offer you some more ideas for desserts to try in this gorgeous area, I will recommend you some more of them below.
15. Dango (Japanese Rice Dumplings)
Dango is a traditional Japanese Rice Dumpling that appeared in this country from the Jomon period (from 1400 to 300 BCE). After a long time, Dango has developed and accentuated the features of Japanese cuisine, making it a famous dessert that stands for Japan.
In today's Japan or Tokyo, you can find a wide variety of delicious Dango in the night markets. A few varieties that you definitely have to try are Anko Dango (red bean Dango), Mitarashi Dango (soy glaze, less sweet), or Hanami Dango (three colors on a skewer), etc.
When you buy, the seller will give you Dango pieces skewered on bamboo skewers, and there will be about 3 or 5 pieces.
What could be more wonderful than having a group picnic right under the cherry trees and sipping the taste of Japanese cuisine next to a cup of hot tea?
16. Ningyo-Yaki (Little Baked-Doll Cakes)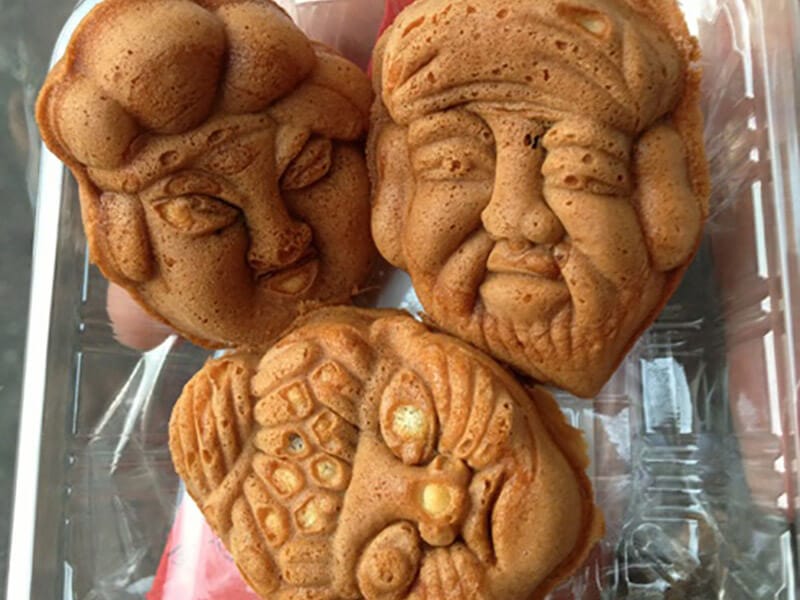 Like the "yaki" above, Ningyo-yaki is a traditional Japanese cake made by baking a mixture of flour and sugar cooked in an iron mold. People also often use red bean paste and traditional custard in the filling.
There is a lot of information about the origin of this Ningyo-Yaki dish; there are reports that it originated in Portugal but flourished in Japan.
However, the most supported information is that Ningyo Yaki was created during the Meiji period in Ningyocho, a small town famous for its theater since the Edo period.
For traditional Ningyo-yaki, the shape of the Shichifukujin (seven gods of luck) is used the most. Today, in line with the development of society, this dish also bears the shape of famous cartoon characters.
Thanks to that, Ningyo-Yaki should be of the top suggested souvenirs that you will buy as gifts for your family.
Take a closer look at the authentic way that people prepare Ningyo-Yaki on the street!
17. Senbei (Rice Crackers)
Despite Chinese origin, these Rice Crackers still bear some differences that set Japanese cuisine apart from Chinese. Originally, Senbei was simply made from rice or wheat flour and sugar, which was already great.
However, during the Edo era, bakers had developed many exciting innovations in ingredients and processing to make it more popular until now.
Senbei usually comes in various sizes and flavors, but they all offer the mild sweet taste of rice. These Rice Crackers are often eaten with green tea to treat guests over in Japan.
Cream Puffs are famous French desserts that also play an important role in Japanese street cuisine. Normally, Cream Puffs include a round-shaped, hollow pastry with cream filling inside.
In Japan, they did several twists to add their own signature feature to the yummy delight. One of those changes is making the pastries into distinctive shapes, such as famous anime (Japanese cartoons) characters.
They also create some other fillings to put into the Cream Puffs. You will now have some other flavor options for the treat's fillings which are strawberries, chocolate, and caramelized banana.
One fascinating fact about Cream Puffs is there is a National Cream Puff Day (January 2nd every year) in Japan. How exciting!
The first Sweet Crepe store was established in 1977 in Tokyo's Harajuku Quarter on Takeshita Street. Initially, these Japanese-style Crepes drew little attention, but they rapidly became popular across Japan and around the world.
Crepes usually have two main types, sweet and savory; between them, the sweet filling is more popular. Among the flavors of sweet Crepes, the most popular are chocolate and banana, apple, chocolate with string, whipped cream, blueberry jam, and a few others.
In case you want to try savory Crepes, you'll have choices like chicken teriyaki, mayonnaise, eggs, tuna, or ham. Both savory and sweet are worth a try. Nowadays, Crepes are quite popular and can be almost anywhere, but to find the best cake, refer to the shops in Tokyo.
Are you ready to see more reviews about the best Crepes in Tokyo?
20. Rainbow Grilled Cheese Sandwich
Following the global trend of making rainbow delicacies in 2015, Le Shiner, a prevalent sweet store in Japan, created a phenomenal treat. The beloved dish is made by stuffing rainbow-colored cheese between two layers of toasted bread slices.
It will never go wrong when combining cheese with toasted bread since the flavorsome richness, milkiness, and chewy texture from the cheese will complement bread well. Because of that, Rainbow Grilled Cheese Sandwich is both beautiful and toothsome.
This sweet dessert should be added to your top must-try Tokyo desserts list, and you should give it a go when you have time.
Have A Nice Trip To Japan!
If you have a passion for Japanese cuisine, then surely you shouldn't ignore the street food in all localities of this beautiful country. Let's enjoy and share about these attractive dishes at these places together!
Feel free to share your opinions about these recommended foods with me. The sharing will help us better understand the culinary culture here.