Compared to other cuisines, Japanese recipes have their distinct trademarks: They are delicate yet not so complex that they can scare people away. For example, if you compare Chinese foods with Japanese foods, you will realize how different they are.
All you need is to pay some extra attention when cooking them. Also, since Japan has a period of cultural exchange with other Western countries, a large part of their foods is based on these foreign dishes, making this cuisine much more familiar to ones that aren't Japanese native.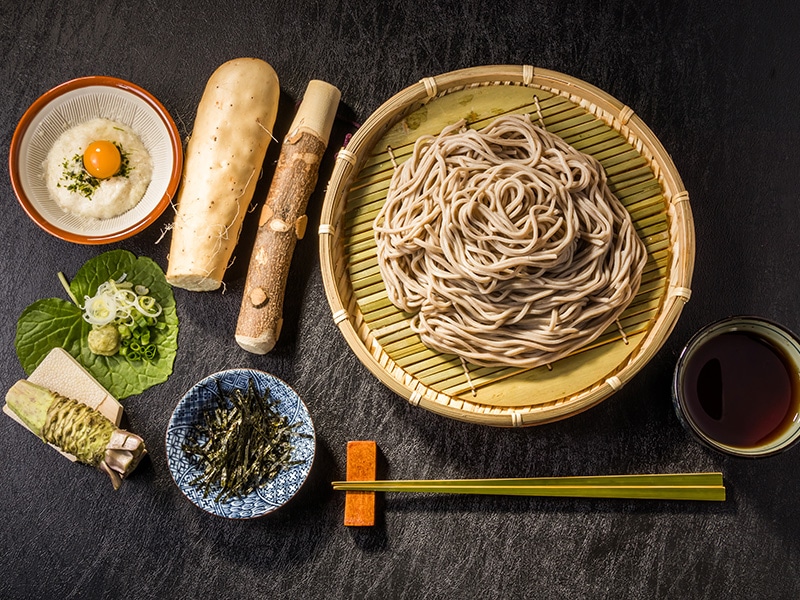 How Many Japanese Recipes In This List Do You Know?
Those who aren't used to Japanese recipes might be a bit overwhelmed since there are so many of them, and sometimes you don't know which category they belong to. Don't worry because I've already done this part for you!
Traditional Dishes
Side Dishes
Yaki Onigiri (Japanese Grilled Rice Balls)
Tamagoyaki (Japanese Rolled Omelet)
Chawanmushi (Japanese Steamed Eggs)
Gyoza (Japanese Dumplings)
Okonomiyaki (Japanese Cabbage Pancake)
Takoyaki (Octopus Balls)
Miso Soup
Main Dishes
Ochazuke (Japanese Tea Rice)
Takikomi Gohan (Japanese Mixed Rice)
Zosui (Japanese Rice Soup)
Zaru Soba (Cold Buckwheat Noodles)
Chanko Nabe (Japanese Sumo Stew)
Ozoni (Japanese Mochi Soup)
Sweet Desserts
Hanami Dango
Dorayaki (Japanese Sweet-Filled Pancakes)
Taiyaki (Japanese Fish-Shaped Cake)
Melon Pan (Japanese Melon Bread)
Amazake (Japanese Fermented Rice Drink)
Western-Inspired Dishes
Side Dishes
Korokke (Japanese Potato Croquette)
Kare Pan (Japanese Curry Bread)
Nikujaga (Japanese Meat Stew With Potatoes)
Tonkatsu (Japanese Pork Cutlet)
Main Dishes
Spaghetti Napolitan
Omurice (Japanese Rice Omelet)
Desserts
Japanese Cheesecake
Souffle Pancakes
Castella Cake
Now, it's time for you to learn more about these dishes!
These Authentic Traditional Japanese Recipes Will Take You To Japan Right Away!
Do you know Japanese people have a word referring to their authentic traditional dishes – "washoku." Whether they are just home meals or restaurant-quality, these washoku recipes are the most precise reflection of the Japanese culture.
4 Perfect Japanese Side Dishes To Accompany Your Main Courses
Compared to other Asian countries, Japan doesn't have as many side dishes. But their tastes make up for the number. Not to mention, these Japanese side item recipes are so versatile that they can accompany any main dishes you have.
Yaki onigiri is a quick way to elevate your ordinary rice balls. Traditionally, Japanese people would grill them over charcoal so the onigiri will earn a distinct smoky flavor. In contrast, now the cooking method has changed into grilling on a skillet.
Since Yaki Onigiri is quite simple (only needs a mixture of soy sauce and other spices), it's a familiar street dish appearing everywhere in Japan: convenient stores, izakayas, and restaurants.
No meal in Japan is without tamagoyaki as a side dish. No one knows how this simply rolled omelet has become so well-loved. But I can guess that's because of its flavor that blends well with all other dishes.
While homemade tamagoyaki is lightly seasoned with just salt and soy sauce, in restaurants, they often flavor the egg mixture with dashi, a Japanese broth. Besides these two, there is also another version of tamagoyaki using sugar, thus sweeter.
This lady will teach you how to make an authentic tamagoyaki even with a round pan.
Though many call chawanmushi "Japanese egg custard," I prefer the name "steamed eggs" more as this dish is more on the savory side than the sweet one.
In fact, chawanmushi is a familiar side dish or appetizer in Japanese meals. Moreover, you can also use it for your Japanese-themed breakfast. No matter how you enjoy this dish, it will provide the most delectable results.
My favorite part of chawanmushi is finding out what ingredients are hidden in the smooth, jiggly eggs. Each family has its own recipes, so you never know what they place inside this small cup. Sometimes it's shrimp and mushrooms, while others may put diced chicken and scallops.
Gyoza is pretty similar to Chinese jiaozi in both shape and ingredients. However, if you look carefully at these two, you'll see some differences here and there.
First, gyoza is smaller, you can finish it off in just 1 or 2 bites, with thinner wrappings, making it suit more for a side dish.
And while gyoza's filling is almost identical to jiaozi, it contains much more garlic. That's why in Japan, people never eat gyoza before an important date or meeting.
This one is the number one comfort food in Japan. Just like its name indicates ("okonomi" means "whatever you like"), you can put any ingredients in this pancake batter: bacon, chicken, shrimp, scallops, octopus, etc.
While Osaka okonomiyaki is more famous with its wide range of components, the Hiroshima version stays true to the name "cabbage pancake" more as it has tons of shredded cabbage as its base. Also, the latter consists of another layer of yakisoba, making it even more filling.
This homemade okonomiyaki tastes as good as those in Japanese restaurants. Watch this video:
You can take okonomiyaki and takoyaki as relatives since they are all signature street dishes of Osaka, a Southern city in Japan. Though okonomiyaki looks like a mini pizza, takoyaki is pancake balls with diced octopus inside.
Octopus tastes best when piping hot. And you should eat the whole ball each time. I know it's super hot in your mouth, but this way, you get to enjoy the soft dough and crunchy, chewy octopus at the same time.
Hardly any Japanese meal doesn't have miso soup. This soup can warm you up to the core with just two main ingredients: miso paste and dashi stock.
There are different miso paste for you to choose from. Red miso contains soybeans fermented for a longer time, hence a more robust flavor. In contrast, if you want a light-flavored soup, white miso is your best choice since it's only fermented for a short time.
Don't overthink about its garnish. Just some chopped scallions and tofu is enough!
Miso soup can't be any easier than this! Watch this video:
You Will Regret Not Trying These Japanese Main Dishes
These four main courses below will meet all your demands, whether you want a convenient meal or a hearty, satisfying dish.
Do you know that ochazuke was once the dish for the poor as they combined leftover foods in one bowl and poured tea in to cover their scents? However, today, it has turned into a traditional dish requiring ingredients of a certain quality.
For example, the tea used in ochazuke should have a mild flavor not to overpower other components in the recipe. The most common choices are hojicha (roasted green tea) or genmaicha (green tea with roasted rice).
When you are too tired to cook any dishes for dinner, this mixed rice will save your life! And it's a perfect Japanese idea to cook with vegetables. You'll get a pot of rice full of various seasonal ingredients with the mixed flavors of soy sauce, salt, or dashi.
You can choose anything available in your fridge or your areas for other components, such as mushrooms, vegetables, meat, or fish. Then, mix them with uncooked rice. And, you just need to cook them in the rice cooker for a satisfying meal.
If you don't know where to start with takikomi gohan, this is an exemplary recipe for you! Watch this video:
Many mistake this zosui with congee, an Asian rice porridge. While these two dishes are often served to sick people, zosui's flavor is much more robust, with all the rice grains remaining their shape.
Most of the time, ingredients for zosui are all easy to digest, like diced vegetables, mushrooms, and eggs. Besides food for the sick, it's also a way to clean up the leftover broth in nabe (Japanese hotpot) as the rice will absorb all the liquid and flavor from the soup.
I always have a soft spot for zaru soba whenever it gets hot, and I just want to laze around all day since this dish is quick-to-make and refreshing.
You just need to boil store-bought soba (a traditional Japanese noodle variety) and eat it with a sweet dipping sauce made of mirin (Japanese cooking wine) and soy sauce.
And the best thing about zaru soba is it's served totally chilled, which means no sweating, no blowing. Just leisurely pick a small amount of soba and dip it in the sauce. You can make some side dishes like fried shrimp, boiled vegetables, stir-fried ground meat, etc.
This chanko nabe is the most suitable for when you are starving. Why is that? It's because it is initially used to serve sumo wrestlers as a part of their training. Thus, this stew is packed with protein and vegetables but low in fat, helping sumos retain their form.
While each sumo wrestler eats one stew pot at once, you can share this post with your family because, well, I doubt you can finish it by yourself. The main protein for chanko nabe is usually chicken, sometimes fish, or beef.
Traditionally, Japanese people will eat this mochi soup for breakfast on the first day of the year. No one knows why, but this tradition has been repeated for years.
Each Japanese region has its distinct recipes, but all share the same similarity: a small mochi in the soup. Some will grill it, while other places prefer it boiled.
Aside from mochi, other ingredients in this soup are all yours. Common choices are chicken, boiled vegetables, meatballs, etc.
Even Ones Without A Sweet Tooth Can Enjoy These Japanese Sweet Desserts
One signature characteristic of traditional Japanese sweet courses is that they use sweet ingredients like sweet potatoes, red beans, strawberries, etc., instead of sugar. That means these desserts are much healthier and less sugary than commercially-made ones.
Though it's grouped into the "dumpling," dango is treated as a grab-and-eat treat in Tokyo and other Japanese cities more than a savory dish.
However, don't think of it like another mochi type since dango is made with rice flour, not sticky rice like mochi. Thus, dango is less chewy and lighter than mochi.
While dango have many varieties, the one for sakura-watching season is the most famous, even outside Japan. It tends to contain three bite-sized pieces with different colors: white for snow, pink for the flower, and the last one's green for the grass.
You may know this dish better by the name "Doraemon pancakes." In the all-time-favorite Japanese comic book named "Doraemon," its main character – a robot cat – loves this dessert so much that he can do anything for it.
And in fact, dorayaki is worth his love. Imagine two fluffy pancakes with a filling made of Japanese sweet red beans. Sounds simple, right?
But in this simplicity lies the best flavor you can imagine. A bit buttery, not too sweet, even ones unfamiliar with Japanese sweets can enjoy this dessert.
Come back to your childhood with this dorayaki! Watch this video:
"Tai" in this name refers to Japanese sea bream, explaining why this snack's shape looks like a fish. It even has a smaller version called kingyoyaki, resembling goldfish.
Original taiyaki is filled with red bean paste as a good-luck snack, which is still well-loved until today. I'll recommend that type if you aren't much of a sweet tooth since it isn't so sweet.
However, there are many other taiyaki flavors for sweet lovers like custard, sweet potato, Nutella, etc. Some shops even sell taiyaki with ice cream.
While its name is melon bread, this snack doesn't include any melon. That name is because its appearance is similar to a rockmelon, though today, some recipes use melon for the filling.
But typical melon bread is only flavored with custard or vanilla. Sometimes, bakers will slice it open and place some ice creams inside. No matter what flavors, this bread is still a favorite Japanese snack for its crunchy crust and light sweetness.
You can think of amazake as an ideal Japanese beverage for people with low alcohol tolerant. There are various ways to make amazake. But the most well-known one is adding koji mold to the rice. From then, the grains will get fermented and develop a sweet liquid.
Apart from a drink, amazake is also used as a dessert or snack. Some even used it in baking instead of milk since amazake is much richer and sweeter than any dairy product.
Can you believe it? You can make this amazake with just your rice cooker! Watch this video:
These Western-Inspired Japanese Dishes Will Carve Out A New Flavor Horizon
Opposite to "washoku," Japanese people also have "yoshoku," referring to recipes heavily based on the original Western ones.
However, they are different from a copycat since these dishes are altered to suit Japanese palates more. Some of them are even more well-known than their ancients.
Do You Recognize These Japanese Side Dishes?
Even if you don't know anything about Japanese cuisine, these side dishes will indeed sound familiar to you as they all come from Western countries. Thus, even if you are just new to cooking Japanese dishes, you can perfect these easily.
Korokke is a staple of the yoshoku cooking style in Japan. It's said to be born from French croquettes and changed according to Japanese tastes.
Nowadays, this Japanese delicacy made with ground beef has been an irreplaceable part of Japanese life. You see students eating them as a snack after school, housewives making them for their dinner's side dish.
Korokke basically includes mashed potatoes with ground meat, coated with panko crumbs, and deep-fried. Simple and delicious, it is one of the most well-liked dishes in Japan.
If you are looking for a new way to eat curry, then this curry bread is your answer. No more need for spoons or forks. With this dish, you can eat it right on your hand, just like other kinds of bread.
And inside the crunchy exterior made by bread crumbs is the warm and mild curry. You can enjoy this bread as a savory snack or use it as a side dish in your family meal. However, make sure you fry it right before serving so that the curry inside stays warm.
You would want one of this Japanese curry bread on a cold day! Watch this video:
Nikujaga is everything that Japanese home meals stand for: Simple and comforting. This stew only contains two main ingredients: beef and potatoes, though its eastern version uses pork instead. Use any kind of meat you want, from ground, minced meat to sliced ones.
​​These two components, along with other veggies, are simmered in a dashi broth. Or you can use dashi broth substitution or your own stock with water, soy sauce, and other spices.
The longer you cook, the better the flavors soak in. But, don't leave it on the stovetop for too long, or the potatoes will fall apart.
Japan is famous for its deep-fried dishes. Among those recipes, tonkatsu is one of the must-try. In Japanese, "ton" means pig and "katsu" means "cutlet," so this dish contains a pork filet coated with panko crumbs and deep-fried.
As the meat is only lightly seasoned with salt and pepper, tonkatsu is often served with savory and sweet tonkatsu sauce.
This fried pork makes a perfect side dish, but you can also combine it with rice to make a katsudon (don is a Japanese one-dish meal with foods on top of rice).
These Japanese Main Dishes Make A Hearty Meal For Your Family
I have made these recipes a thousand times for my family, and even my pickiest children will finish them off without complaining about anything. That's how delicious these dishes are!
Don't get tricked by its name! This dish is 100% Japanese authentic, though it's indeed based on Italian pasta recipes. Simply put, it contains spaghetti dressed in a tomato sauce.
That sounds similar to other pasta dishes, right? But what makes it stand out is the sliced onions and green bell peppers. Apart from that, you can add other ingredients like ham, bacon, or sliced sausages.
Though Napolitan spaghetti may not feel as light and elegant as other Italian relatives, it's still satisfying enough for a convenient lunch.
This Napolitan spaghetti can satisfy even Italian people! Watch this video:
Omurice, or omuraisu to be exact, is how Japanese people say the word "omelet rice." Now, you can guess its two main parts. Yes, they are rice and an egg omelet. In its simplest form, omurice contains fried rice wrapped in an omelet.
However, depending on different restaurants and houses, there are various ways to prepare and garnish omurice. But the most well-known one is using ketchup to draw multiple pictures on the wrapping.
These Japanese Desserts Taste Good And Look Good At The Same Time!
Cheesecake, pancakes,… they are all familiar sweet treats. But under Japanese hands, they have become of a higher quality. Some of them even become a hot trend on the Internet.
If you are obsessed with dessert made from cream cheese, you may be surprised when seeing this Japanese version for the first time. There's neither crust nor cheese layer. It looks more like a sponge cake but fluffier and jigglier.
That's because the egg white was whipped until peaking before mixing with cream cheese and other baking ingredients.
Also, since Japanese cheesecake doesn't require as much cheese and sugar as Western versions, it isn't oversweet so that even people not favoring desserts can enjoy it too.
If you love posting food images on Instagram, you mustn't skip these souffle pancakes! Just their appearance is enough to make you drool all over the place. Imagine tall, soft, and oh-so-airy pancakes instead of the overfamiliar ones.
And, their tastes are beyond delicious! They're like souffles with a fluffier, melt-in-your-mouth texture. You can enjoy them with maple syrup, just like with regular pancakes. However, as you have these beautiful souffle pancakes, let's garnish them with various fruits, whipped cream, sugar, etc.
These souffle pancakes are so fluffy that you may think you're eating some clouds! Watch this video:
At first glance, castella cake's texture seems similar to Japanese cheesecake. But since castella are made with mizuame, a Japanese version of sugar syrup, it's moister and sweeter. Some traditional, high-class bakeries even bake this cake in a wooden mold for a smoother texture.
Original castella are flavored with honey and sugar. However, nowadays, you can find this dessert with several other flavors like green tea, chocolate, or strawberries. It tastes best when accompanied with green tea, as the tea's bitterness will balance the sweetness.
Are You Satisfied With These Japanese Recipes?
Through this article, I hope you can feel a bit more at ease with Japanese cuisine and its recipes. While they can be overwhelming at first, I believe you can master these dishes in no time with some practice.
Don't hesitate to share your thoughts regarding this topic, whether they are some unsolved questions or other ideas. And if you think this article is helpful, feel free to share it with your family and friends.
Nutrition Facts
2 servings per container
---
Amount Per ServingCalories453
% Daily Value *
Total Fat 0.8g

2

%
Sodium 3050mg

128

%
Potassium 357mg

11

%
Total Carbohydrate 101.6g

34

%

Dietary Fiber 0.3g

2

%
Sugars 8.5g

Protein 18.4g

37

%
---
* The % Daily Value tells you how much a nutrient in a serving of food contributes to a daily diet. 2,000 calories a day is used for general nutrition advice.