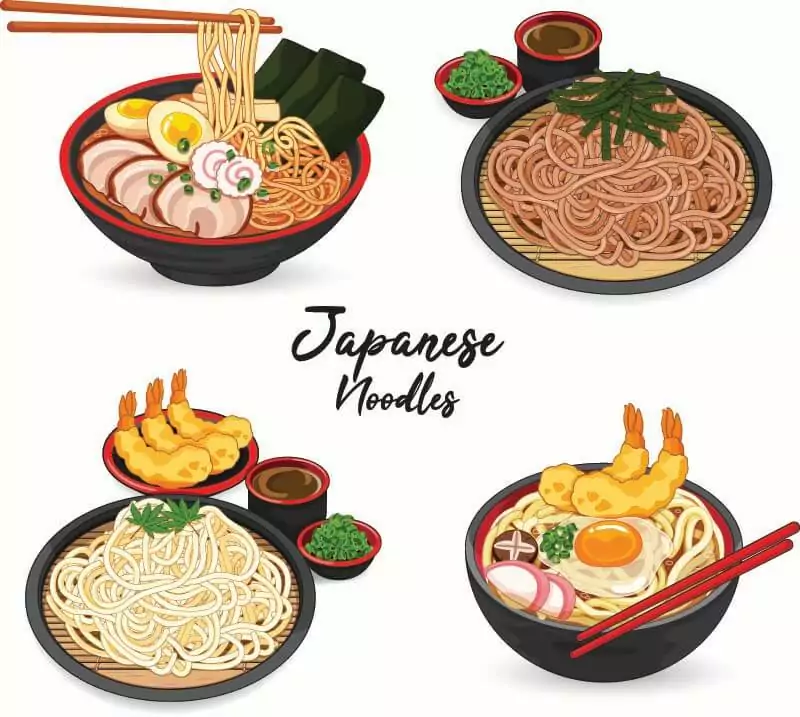 Exploring different types of Japanese noodles is an interesting journey. Whenever I come to Japan, I always try as many noodle dishes as possible because they are so delicious and irresistible.
If you are also a big fan of Japanese cuisine, especially noodles, this article will share the essential information to expand your knowledge. I am sure that at least one of them will make your mouth water.
13 Types Of Japanese Noodles You Must Know
Are you hungry? If yes, now is the best time to explore the types of Japanese noodles. After reading this section, pick your favorite type and rush to a Japanese restaurant to try it. Or if you want to test your culinary skill, you can also try making it right at home.
In this table, you will find a summary of the most important characteristics of these types of Japanese noodles.
| Type of Japanese noodles | Characteristics | Serving temperature | Serve with |
| --- | --- | --- | --- |
| Soba | Made from buckwheat or wheat flour, thick and chewy | Warm or cold | Duck, Sansai |
| Okinawa Soba | Thick and flat strands | Warm | Scallion, stewed pork belly, fish cake, or boneless pork ribs |
| Somen | Fine and thin strands | Chilled or cold | Tsuyu |
| Hiyamugi | Wheat-based, 1.3 to 1.7 millimeter | Cold | Tsukejiru |
| Ramen | Thin and wavy strands | Warm | Toppings are dependent on variations |
| Wafu Pasta | Made from durum flour or other types of flour from cereals or grains | Based on recipes | Sweetened rice wine, Dashi broth, soy sauce, butter, and mushrooms |
| Yakisoba | Made of Chinese noodle called "Chuukamen" | Warm | Beni Shoga, Aonori, mayonnaise, and Katsuobushi. |
| Instant Noodles | Fast cooking time, delicious | Warm | Depending on your taste |
| Tokoroten | Made of agarophytic algae, transparent | Warm or cold | A sauce made of soy sauce, Nori, and vinegar or pepper |
| Harusame | Made of starch, transparent | Warm or cold | Salads, hot pan dishes, spring rolls, soup, Chinese and Korean dishes |
| Udon | Made of wheat flour | Warm | Boiled eggs, Tempura, and Karaage |
| Shirataki | Made of konjac yam | Warm or cold | Sauce or soup |
| Sanuki Udon | Thick, chewy, square, flat strands | Warm | Serve as a common noodle soup or dip in sauce |
1. Soba (Buckwheat Noodles)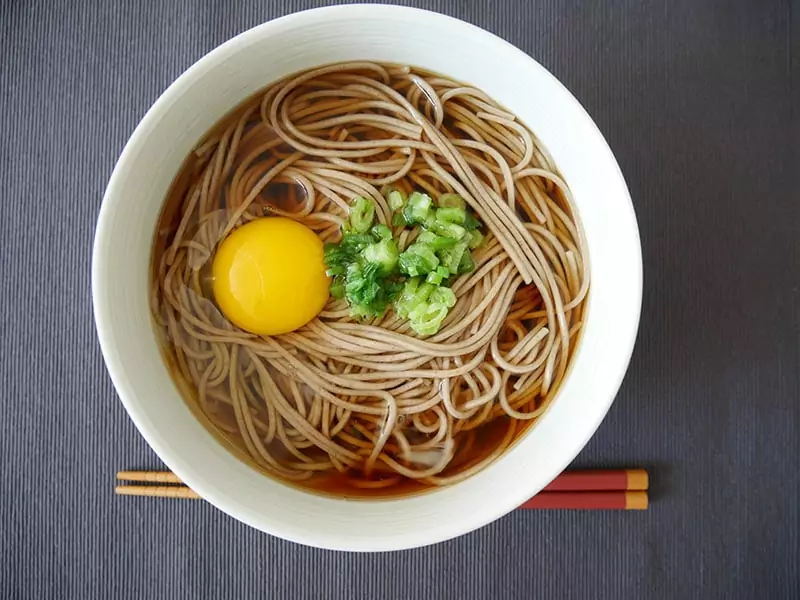 Soba is one of the most popular dishes in Japan. Local people serve it as the main meal in place of common rice and meat meals. They also have the tradition of eating Soba on New Year's Eve. Its name is "Toshikoshi Soba". They eat Soba with the wish of living a long life.
The Soba strands consist of buckwheat and wheat flour. They are very thick and chewy. You can buy the mass-produced Soba or the homemade version. The homemade version is more delicate.
There are 2 versions of Soba, namely the cold and warm versions. Warm Soba often consists of duck, Sansai, or "mountain vegetables". If served cold, people top it with grated daikon, a puree of yamaimo, or Tororo.
People serve warm Soba with hot noodle soup. With cold Soba, they dip it in a sauce. The cold version is absolutely for summer while the warm version is suitable for enjoying in winter.
There are a lot of variations of Soba, such as Tempura Soba, Kake Soba, Sansai Soba, and Zaru Soba.
People serve Zaru Soba cold on a bamboo tray. People often flavor it with green onions, nori seaweed, and a dipping sauce called "Tsuyu" or the mixture of leftover Tsuyu and the boiled water of Soba.
Another interesting thing about Soba noodles is the topping. People choose the toppings based on the season. They add them directly to the noodles without cooking beforehand.
This 15-minutes Soba recipe will certainly win your heart.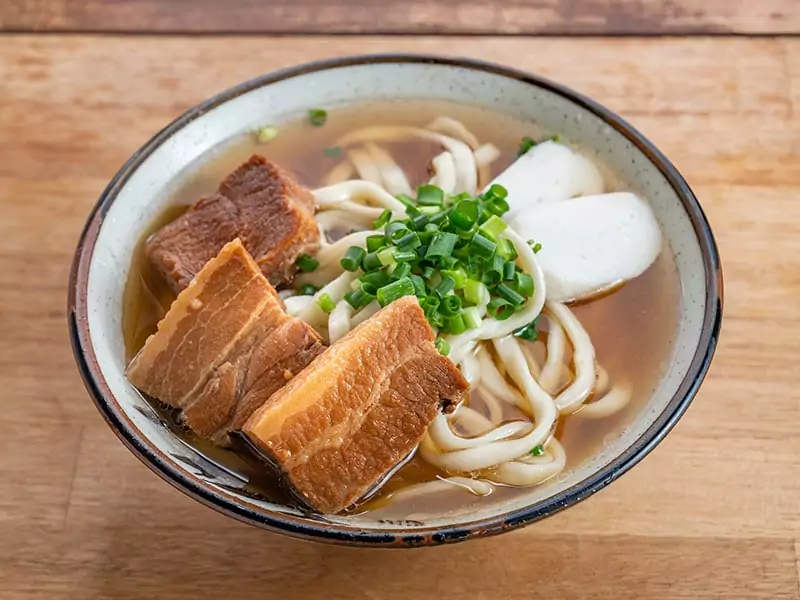 Another variety of Soba is Okinawa Soba, originating in Okinawa Prefecture. In Okinawa, people just refer to it as "Soba". The history of this Soba variety is still unknown. But it probably came before 1902. People first call it "Chinese Soba" (Shina Soba).
The noodles used in Okinawa Soba are nearly as thick as Udon but are flat. Notably, people make them using flour instead of buckwheat. And the accompanying soup resembles that of Ramen noodles.
The broth for this Soba consists of pork, Konbu (seaweed), and Katsuobushi flakes. People top it with scallion, stewed San-Mai Niku (pork belly), Kamaboko (fish cake), or Soki (boneless pork ribs).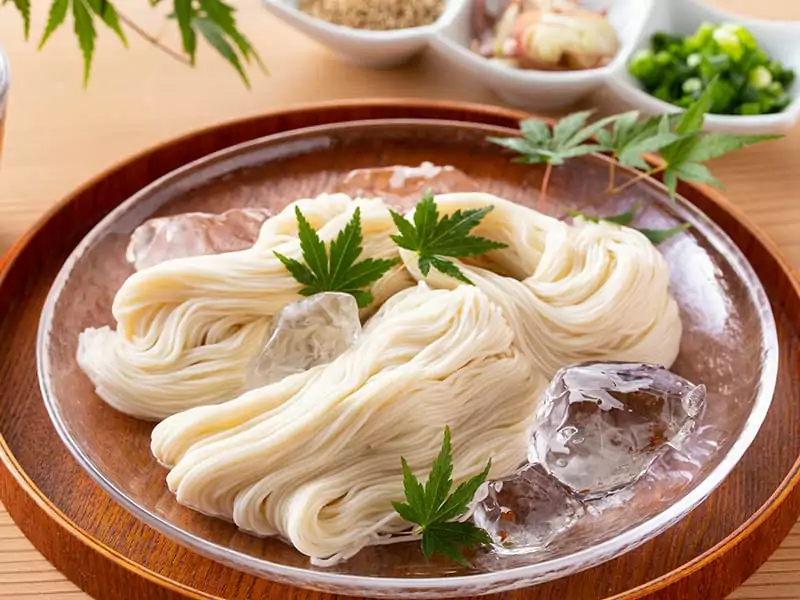 You can guess how people serve this noodle when looking at its name, right? People always enjoyed it chilled or cold. It is an amazing summer dish. However, some people also serve it warm in winter to stay cozy. The warm version of Soba is "Nyumen".
Somen consists of wheat flour. It is fine and thin. People first boil the strands and cool them in ice. Then they dip them in a classic sauce named "Tsuyu". This sauce contains Myoga, onion, Katsuobushi, and ginger.
A very famous version of Somen is Nagashi-Somen. It is a summer delicacy that is available in some Japanese restaurants. The cooks place the strands on bamboo fumes which consist of very cold water. As the strands pass by, people pick them up using chopsticks then dip them in Tsuyu.
Make your summer more enjoyable by eating Somen!
4. Hiyamugi (Cold Wheat Noodles)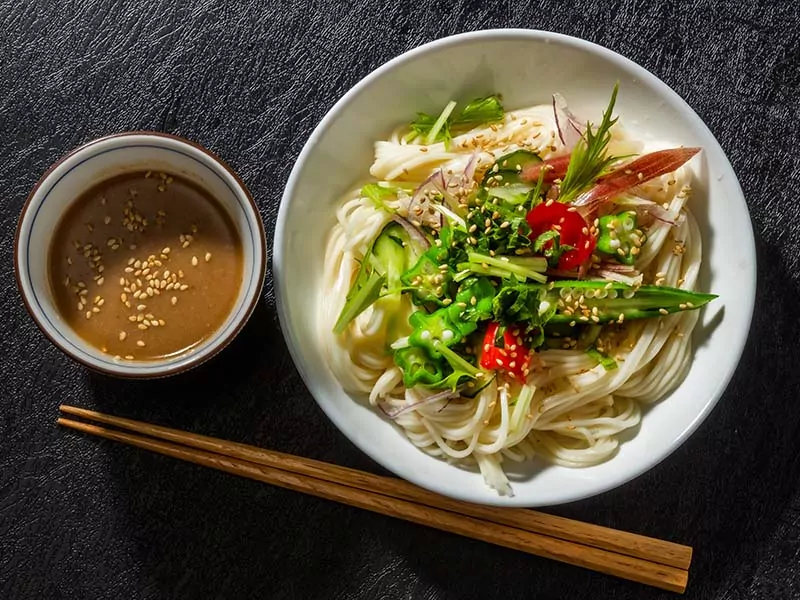 Another Japanese cold noodle is Hiyamugi. It also consists of wheat and is about 1.3 to 1.7 millimeters in diameter, which is thicker than Somen and not as thick as Udon. Most often, Hiyamugi has a plain white color, but sometimes it also has shades of green or pink.
Similar to Somen, Hiyamugi is also a very refreshing summer noodle. People serve it with ice or put it in a glass bowl of water. The accompanying sauce called "Tsukejiru" consists of Mirin, Dashi, and soy sauce.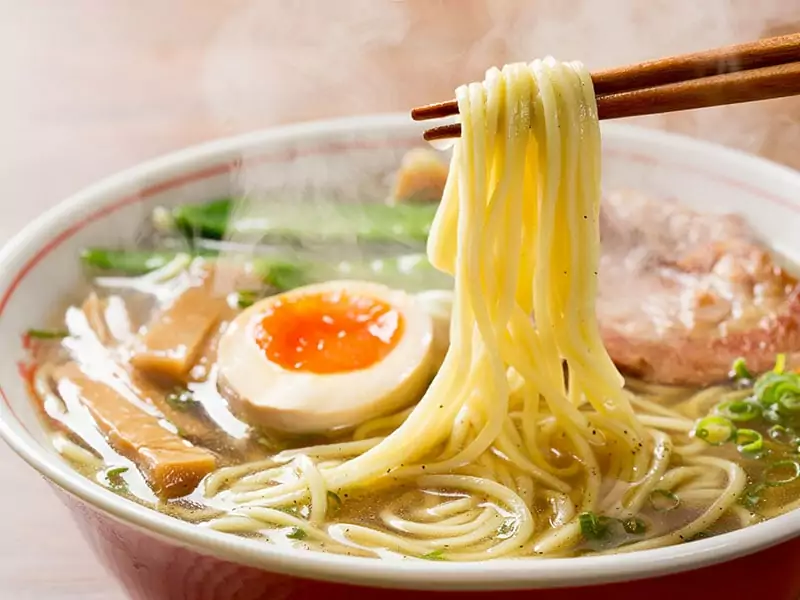 Speaking of Japanese noodles, the first option must be Ramen. People cook the noodles in a soup made of chicken or pork stock, Katsuobushi (dried sliced bonito), and Niboshi (dried baby sardines). While these ingredients make the dish more flavorful, they will change whether you can enjoy Ramen on a vegan diet.
The noodle for Ramen consists of wheat flour, water, salt, and a type of alkaline water called "Kansui". It has a thin and wavy shape. This noodle originally came from China. People also refer to it as "Chuka Soba", which means "Chinese Soba".
There are plenty of variations of Ramen across Japan. Shoyu Ramen is probably one of the most famous ones. It contains soy sauce, Menma (marinated bamboo shoots), boiled eggs, and Kamaboko (cured Surimi or dried fish paste).
Shio Ramen has a light taste and color. People use straight noodle strands instead of the standard wavy ones. Miso Ramen is prevalent in Hokkaido. People make it using butter, cabbage, garlic, and corn.
Another variety is Tonkotsu soup. The broth comprises pork and salt.
If you are looking for the best Ramen recipe, then here it is.
6. Wafu Pasta (Japanese-Styled Italian Pasta)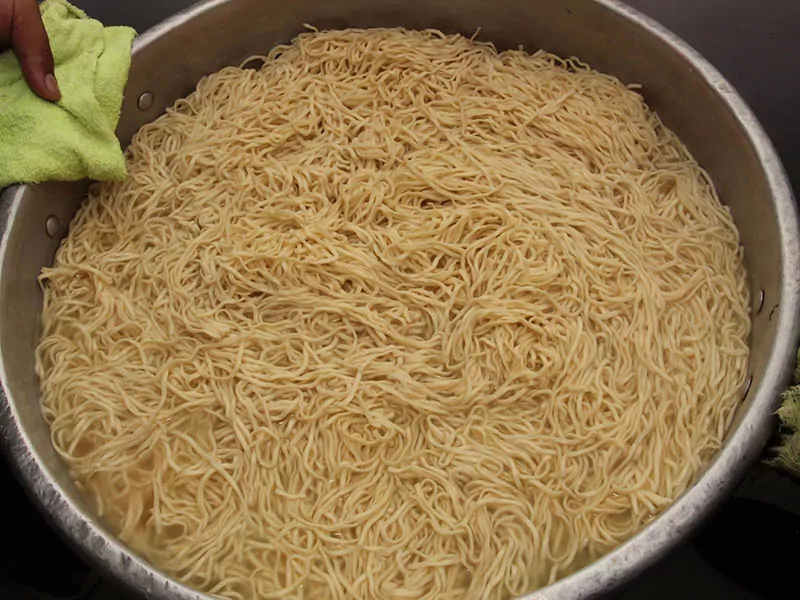 Wafu Pasta is the Japanese version of Italian pasta. Although its name is "pasta", it is actually a type of noodle. There are some differences between noodle and pasta.
People make Wafu pasta from durum flour or other types of flour, from cereals or grains. People mix the flour with water or egg and shape it into stands. It originated in a restaurant called Kabenoana in Tokyo in 1953.
After cooking, people stir Wafu pasta with sweetened rice wine, Dashi broth, soy sauce, butter, and mushrooms, such as Shimeiji and Shiitake. So, if you want to make it at home, feel free to use anything available in your kitchen.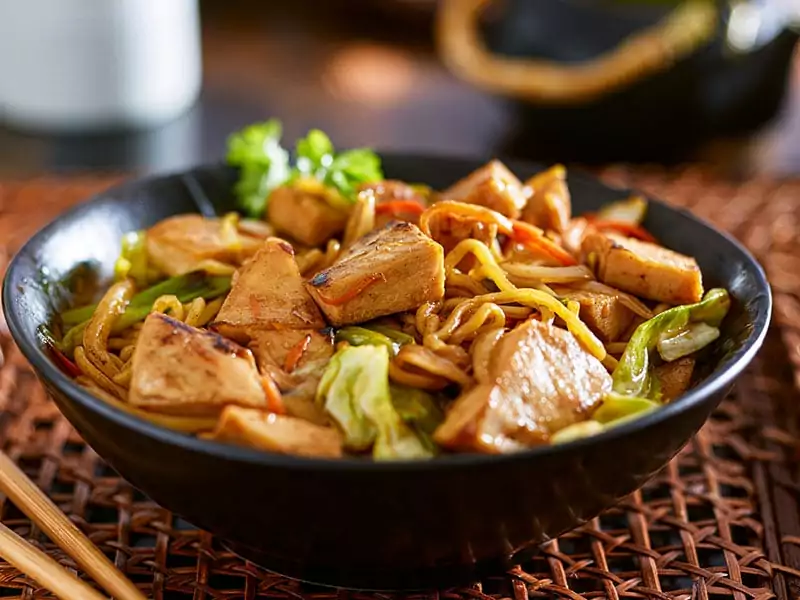 Yakisoba is a delicious stir-fried noodle dish. It contains pork, different vegetables, such as onions, carrots, cabbage, salt, pepper, and Yakisoba sauce. The topping can include Beni Shoga, Aonori, mayonnaise, and Katsuobushi.
Japanese people make Yakisoba by sauteing a variety of Chinese noodles called "Chuukamen", meat, vegetables, and a unique sauce. Although its name is "Soba," the noodles consist of wheat flour rather than buckwheat.
In Japan, you can find Yakisoba at food stalls, fairs, and festivals (matsuri). It is also available at convenience stores referred to as "Yakisoba Pan". The sellers often put the stir-fried noodles in bread or hot dog buns.
If you like thick noodles, you can try Yakiudon, a version of Yakisoba.
Cooking Yakisoba noodles will be super easy with this recipe.
8. Instant Noodles (Cup Noodles Or Instant Ramen)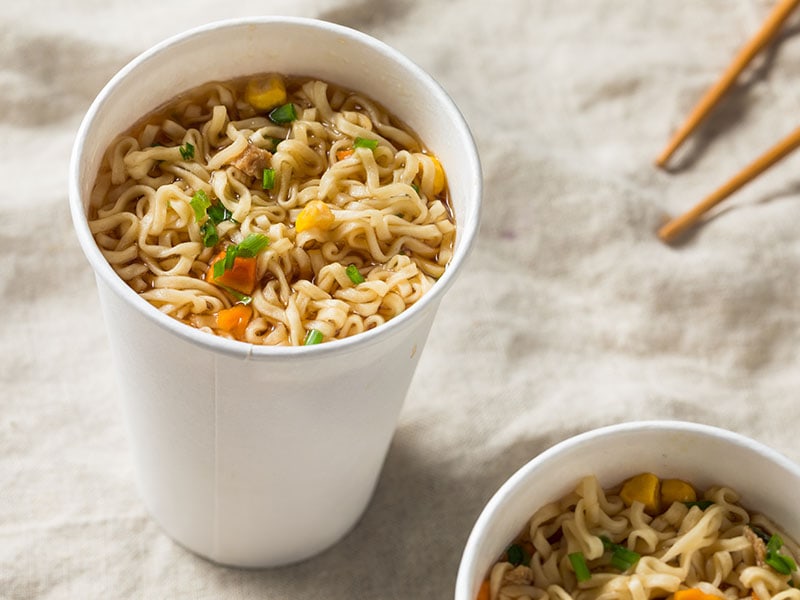 Instant noodle is an important staple of Japanese cuisine. Every country seems to have its own version of instant noodles.
In Japan, it was Momofuku Ando who first created this noodle, who is the founder of Nissin. They are available in many different flavors and types.
Based on the price, there are 2 kinds of instant noodles. Some of them are very cheap, which are between 100 and 200 Yen. If the instant noodles consist of more toppings, they will be more expensive. Their prices range from 200 to 350 Yen.
Instant noodles are incredibly tasty. Everyone is crazy about them because they only take a short time to cook.
However, they contain quite a lot of sodium, fat, and other substances that are not good for your health. I highly recommend you try Japanese instant noodles but don't eat them too often.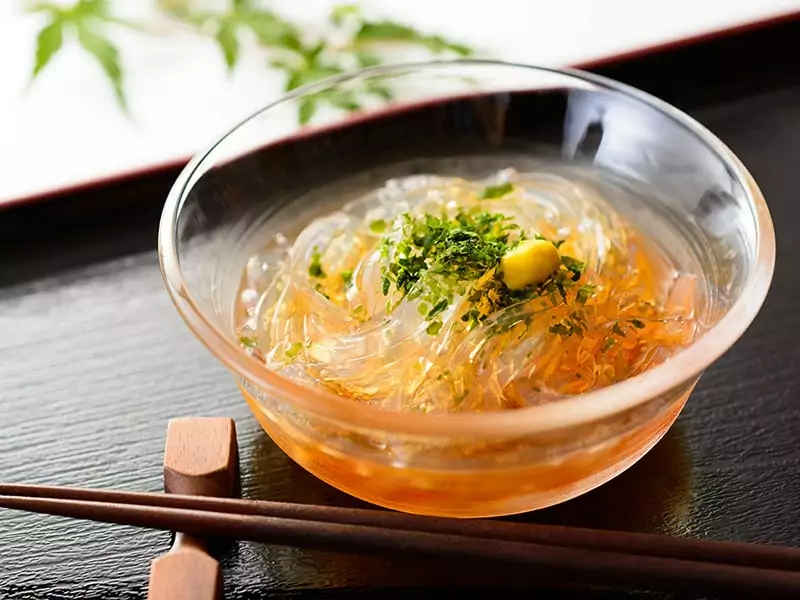 While most types of Japanese noodles consist of wheat or buckwheat, Tokoroten is different. Its main ingredient is agarophytic algae. It has a transparent look. People create the strands by boiling Tengusa (red seaweeds) and shaping it when it becomes jelly-like.
You can enjoy Tokoroten both warm and cold. People serve it with a sauce made by combining soy sauce, vinegar or pepper, Nori, and sesame. It also appears as a delightful dessert in some Japanese regions alongside Kuromitsu (black sugar syrup).
Tokoroken has long been Japanese people's favorite food for more than a thousand years. It originated in China and came to Japan in the Nara period. At that time, it was very popular among people living in the Edo region.
10. Harusame (Glass Noodles)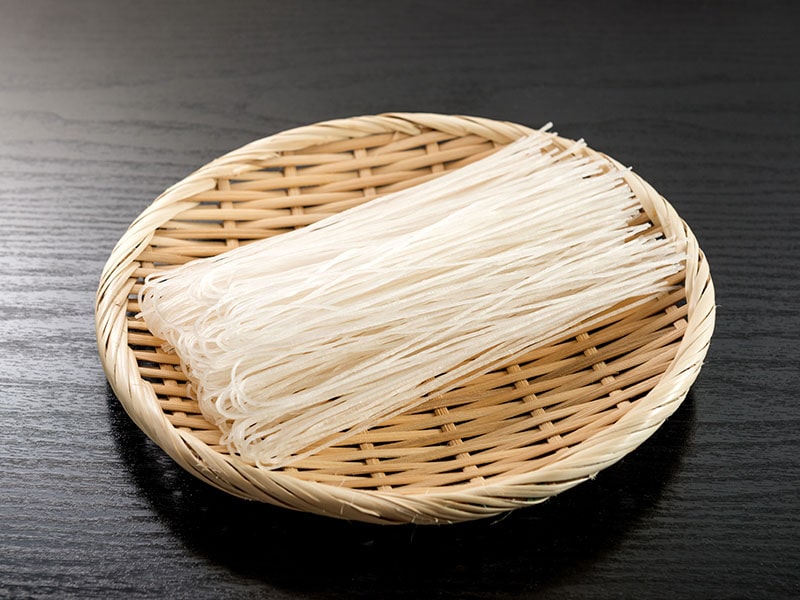 Harusame is a variety of transparent noodles. It consists of starch, which can be sweet potato starch, potato starch, tapioca or canna starch, or bean sprout starch. Potato starch is the most common type of starch used.
This type of noodle is used similarly to other types. People stir fry it or serve it with soup. In addition, they also use it to make salads, hot pot dishes, spring rolls, and Korean/Chinese dishes.
Harusame salad is a popular appetizer in Japanese cuisine. Have you ever tried a salad that has noodles? If not, you should make some this weekend because it is so tasty.
Are you curious about what a salad made from glass noodles tastes like?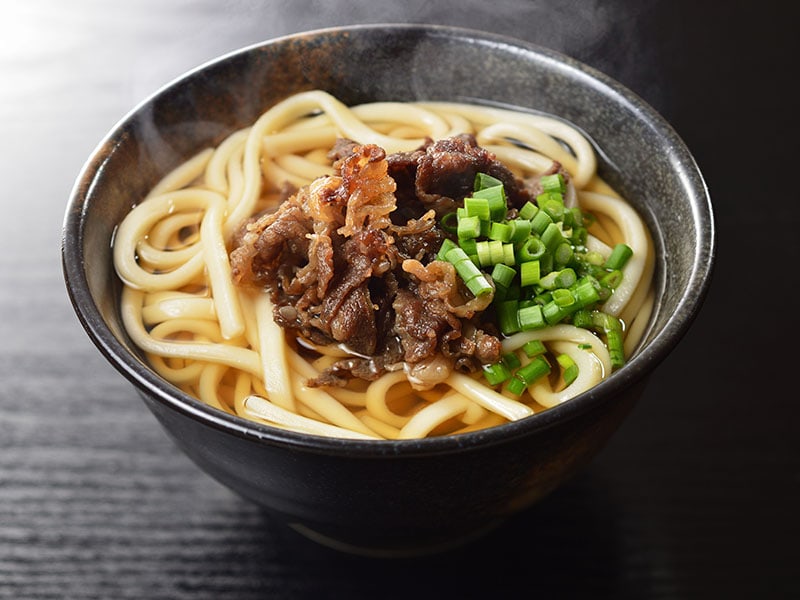 I am sure that you are familiar with Udon noodles. Its flavor is unique and very delicious. The Udon noodle strands comprise wheat flour.
They are super thick and chewy, probably the thickest type of Japanese noodles. They also have a very bright white color and round shape.
The soup of Udon noodles consists of the classic ingredients of Japanese cuisine, namely Dashi, Shoyu, and Mirin. Compared to other types of Japanese noodles, Udon is quite light. People often add boiled eggs, Tempura, and Karaage.
Udon also has a lot of variations, namely Kitsune Udon, Kake Udon, Chikara Udon, and Zaru Udon. The flavors and toppings vary from region to region. Udon is probably the cheapest type of Japanese noodle. It is also an iconic street food of Japanese cuisine. So if you have a chance to visit this country, you should not miss Udon.
This is my all-time favorite Udon noodle recipe.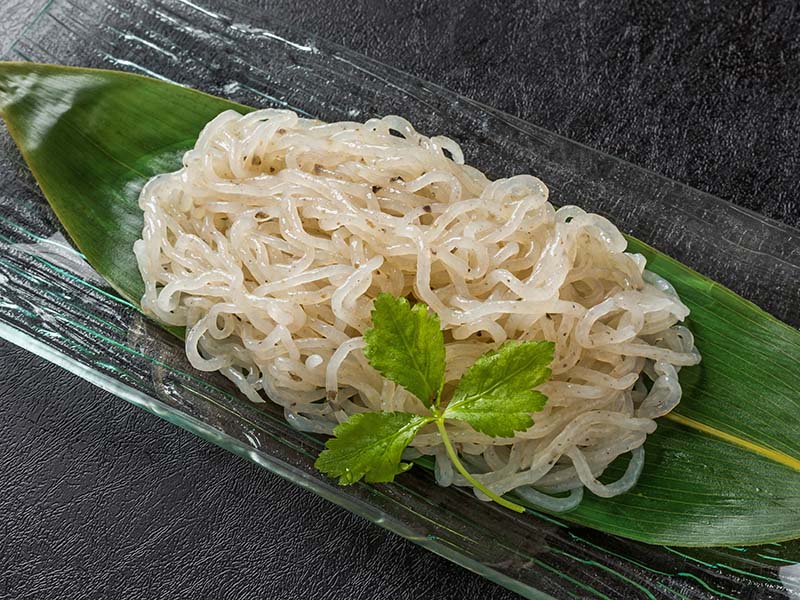 How amazing it is to enjoy noodles without worrying about gaining weight! Therefore, if you are on a diet, I suggest you try Shirataki. People also refer to it as "Ito-Konnyaku".
It is very low in calories and carbohydrates, thanks to konjac yam. More importantly, it is rich in fiber.
This type of Shirataki is available in dry and wet form. Wet Shirataki simmer in liquid. If you buy this version, make sure you wash the noodle before cooking to deodorize it. You can store it for at most 1 year.
Japanese people use this noodle to make Sukiyaki (hot pot), Nikujyaga (meat and potato stew), and other dishes. They also roast the noodle after draining and drying it. Roasting will remove the bitterness of noodles. They then serve it with sauce or soup.
They serve Shirataki as a Japanese side to accompany other dishes rather than the main dish. It's because this noodle recipe does not have any notable flavor.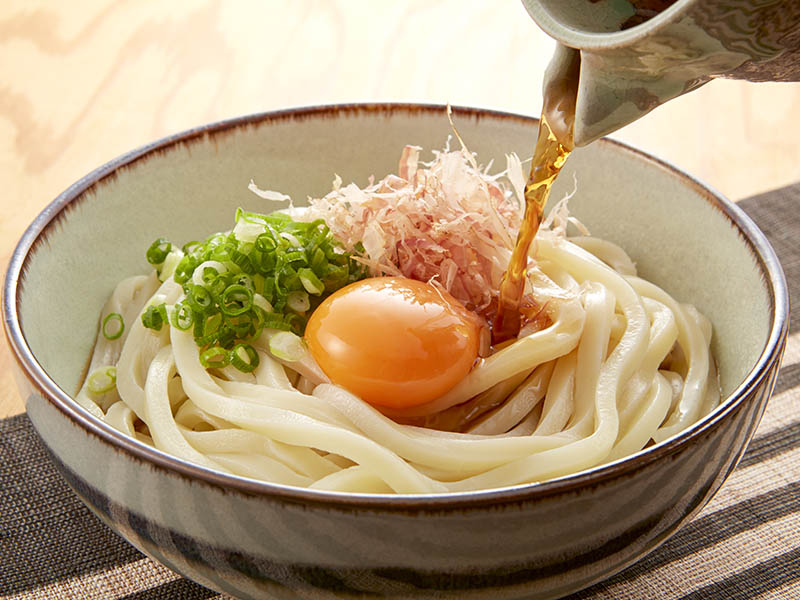 Sanuki Udon is the Udon variety of Kagawa Prefecture. It got that name because the previous name of Kagawa was "Sanuki".
What is special about Sanuki Udon is the noodle strands. They have a square shape and chewy consistency. The broth consists of dried infant sardines.
People serve Sanuki Udon in 2 ways. They may pour the soup directly into the boiled strands and enjoy it like common noodle soup. Alternatively, they dip the strands in a dipping sauce made from the broth.
In Japan, Sanuki Udon is available at restaurants whose names are the "Sanuki" word written in hiragana, "さぬき".
4 Over-The-Top Japanese Noodle Recipes
Japanese noodles are amazingly delicious. It is a great idea to make them at home. Below, you can find some Japanese-based recipes below for your favorite noodle variety. Check them out!
In summer, I just want to beat the heat in summer with some cold Soba noodles. The soft and chewy noodles absorb the flavorful Tsuyu sauce and become amazingly mouth-watering. People regard it as an ideal dinner dish for summer.
In terms of toppings, the choice is yours. If you want to keep it simple and enjoy the traditional flavor, I recommend that you serve the noodles with daikon radish and wasabi.
To add more flavors and get the best of their taste, you can add additional ingredients, such as sesame seeds and seaweed.
Chanpon is a Nagasaki delicacy of Nagasaki that came from Chinese cuisine. However, the gap between Japanese and Chinese cooking has changed it a lot. For example, the ingredients for this noodle vary from region to region and from season to season.
This noodle came from a restaurant called "Shikairō" in Nagasaki. It is inspired by a Fujian dish. The traditional toppings of Chanpon contain seafood, pork, Ramen noodles, and vegetables.
To make Champon, people fry all of the ingredients in a pan then pour in a soup made of pig and chicken's bone. Finally, they add the noodle and cook it until tender. Then, they serve it with side dishes that best complement chicken noodle soup.
There are also other versions of Champon in Japan. Ankake no Chanpon is the version of Tottori and Amagasaki. In Okinawa, however, Champon is not a noodle dish but a rice dish consisting of vegetables, sliced meat, and fried eggs.
On New Year's Eve, every Japanese person eats Toshikoshi Soba. It is a symbol of longevity and resilience. This Soba noodle is a classic one. People make it using the essential ingredients of Soba noodles.
Eating Soba on New Year's Eve started in the Edo Period. People eat it to wish for a peaceful and fulfilling life. Since the noodles break apart easily, they give people a feeling of getting rid of hardship in the year.
The soup consists of Dashi broth. The toppings only include chopped scallions. If you want it to be more flavorful, you can also add raw eggs, Tempura, and Kamaboko fish cakes.
4. Wanko Soba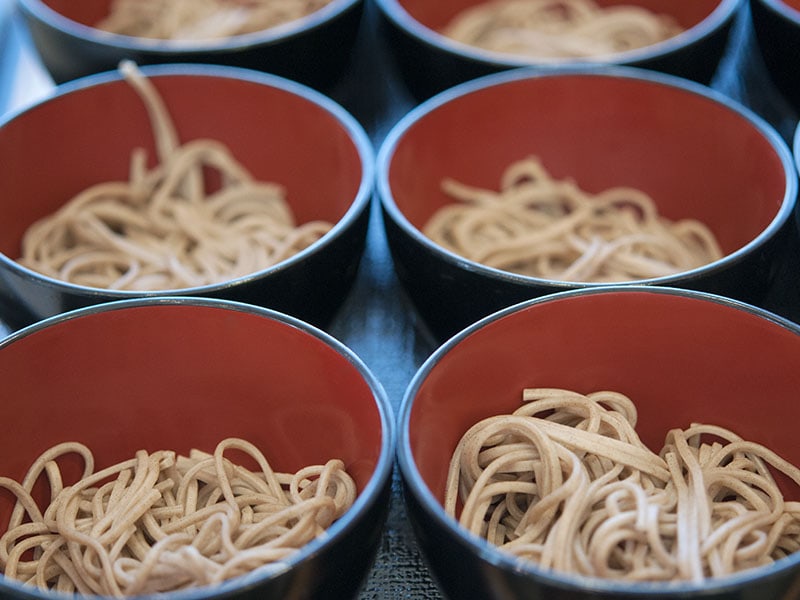 Wanko Soba is native to the city of Morioka and Hanamaki, which belong to Iwate Prefecture. What is unique about this variety is that people serve it in small bowls.
When people finish the bowls, they will add more noodles. Like standard Soba, Wanko Soba also has the warm and cold version. The toppings can be anything. Some common ones are several native Japanese mushroom kinds, crushed walnuts, and Harako.
With such a unique feature, many people are curious about its origin. However, it is still a mystery, but there are several proposed stories. Its name came from the Iwate Prefecture word for "small bowls."
According to some people, it is a landowner who invented Wanko Soba. He hosted a festival and served Soba there. However, there is not enough Soba for everyone, so he decided to put it in plenty of small bowls.
Shio Ramen is a variety of Japanese Ramen noodles. It has a distinctive salty flavor. However, it is overpowering but very light, comforting, and delicious. Such a unique flavor will expand your culinary experience.
The umami taste of Shio Ramen mainly comes from salt. You can make the broth using the classic Dashi broth and chicken broth or Ramen broth. Mirin will balance out the flavor with some subtle sweetness.
To make this noodle, you only need 40 minutes. It is a perfect dish for weeknight meals. Make sure you enjoy it while it is still warm.
If you love Japanese cuisine, I am sure you have tried Udon noodles at least once. But have you tried the spicy version? It will make your winter dinner meals more remarkable.
The spiciness of this Udon recipe comes from Sriracha sauce. It is not only but also a little bit tangy, garlicky, and sweet. The noodle will not be too intense so that it won't water your eyes. You can make spicy noodle soup or spicy stir-fried noodles. Both taste delicious!
Another thing to fall in love with spicy Udon noodles is the toppings. You have plenty of choices. They will add more flavors and texture to your noodles.
Enjoying Japanese Noodles Is A Great Culinary Experience
How many Japanese noodles have you tried? If there is any type in this article that you haven't tried, it's time to do that. Even if you have eaten the very famous ones like Udon and Soba, their variations will also bring you an exciting experience.
If you think this article is helpful, why not share them with other people to show your love for Japanese noodles? I strongly believe that any fan of Japanese cuisine will love these delicacies.