The best thing about Chinese tofu recipes is that there is no shortage of them. The history of tofu goes as far back as the Han Dynasty of China (3rd century B.C – 3rd century A.D). Since then, tofu has been a constant part of China's culinary world.
Apart from the nutty and smooth texture, tofu is rich in both proteins and fiber. According to the FDA, eating an appropriate amount of tofu could reduce the risks of heart disease. Due to this, a lot of people are starting to eat tofu as a type of meat replacement.
With the following list of Chinese-style delicacies, you can finally prepare a wide range of healthy meals for yourself and your family. Don't just wait anymore, and start changing your lifestyle now. Let's go!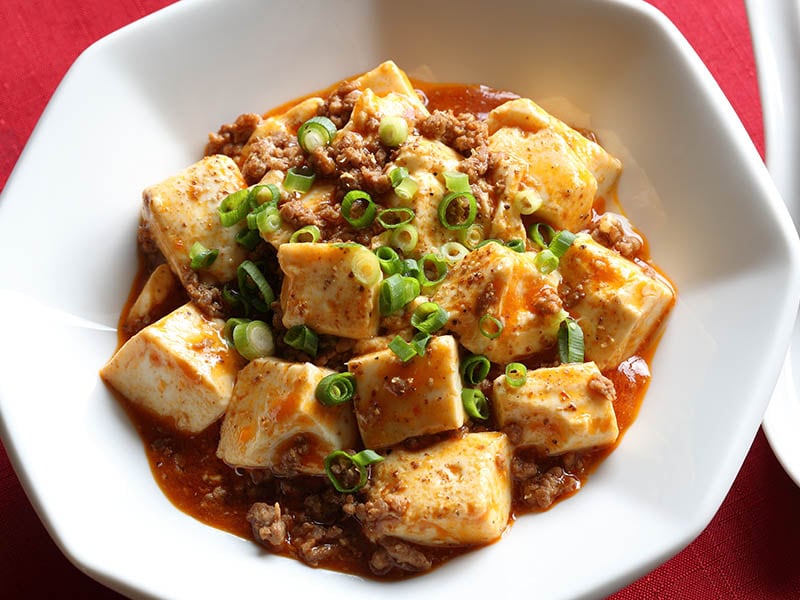 Changing Your Diet With These Chinese-Style Tofu Dishes
Eating well doesn't mean you have to eat bland food all the time. Some of the best tofu-based recipes from China are very flavorful. And better yet, the nutrients that they bring will keep you active and risk-free for quite a long time.
Total time: 30 minutes
During an especially cold month, you can't miss out on this heart-warming delicacy. The texture and flavors of the Chinese Braised Tofu will bring you up in no time, similar to a home-cooked meal that your mother used to make.
This combination between tofu and vegetables is heavenly. Instead of the softness that you would expect, the tofu goes under a pan-frying process to make the skin crisp up. On the other side, you chop up carrots, broccoli, and snap peas before cooking them.
To enhance this vegetarian specialty from China, you can add a stir-fry sauce consisting of oyster sauce, soy sauce, and Chinese cooking wine. The condiments provide a lot of savoriness to the veggies and tofu. There is also a mild vinegary smell of the cooking wine.
A nice pot of Braise Tofu will take the blue away, so just make it.
Total time: 30 minutes
One of the best things about Chinese-inspired starters is that they are very simple to make. With only a few simple ingredients, you can whip up a dish that can satisfy many people. A good example here is the Salt And Pepper Tofu, or Jiao Yan Dou Fu.
By combining crispy tofu with a special mix of seasonings of salt, garlic powder, and Sichuan peppercorns, you can experience many exquisite sensations. First, the crunch of the tofu skin sends a very delightful signal to your taste buds.
Next, you can feel the saltiness as well as the savoriness at the tip of your tongue. But the Sichuan peppercorns cap everything off with their own ability to make your mouth go numb. Don't worry: it's a good kind of numbing sensation to keep you wanting more.
Total time: 40 minutes
General Tso's Tofu is derived from General Tso's Chicken, a well-known menu item in many Chinese restaurants around North America. It is based on Hunan cuisine and people often compare General Tso's chicken to sesame chicken.
That's because there's no record of General Tso, a military leader during the Qing Dynasty (17th – 20th century A.D), being involved with the creation of the dish.
In spite of the naming problem, General Tso's Chicken is still popular with many people. And now, you can make a vegetarian-friendly version of it by using tofu instead. The first step is to marinate the tofu in soy sauce and vinegar to bring about its saltiness and tanginess.
Next, pan-fry the tofu until the skin turns brown-yellow and exudes a pleasant fragrance. A General Tso specialty is not complete without the accompanying sauce. The sauce comes from soy sauce, brown sugar, and chicken stock. They offer so much richness to the tofu.
Total time: 40 minutes
Kung Pao Tofu is also a vegan-friendly variant of a beloved Asian-inspired chicken delicacy called Kung Pao Chicken. Even without chicken, you can still taste the strong flavoring agents from China's capital of spiciness, Sichuan.
What makes the Kung Pao Tofu so good is the great method of cooking tofu. You coat the outside with a little cornstarch and salt before frying the tofu in a pan. This enhances the texture with the chewiness and adds a mild saltiness to the tofu.
Of course, what attracts people the most is the appetizing sticky sauce. Using a combination of soy sauce, Chinese black vinegar, and sugar, you can get a very savory topping to go with the tofu. The sugar and vinegar balance each other out so the flavor is never too overwhelming.
Total time: 20 minutes
If you ever plan on throwing a Chinese-themed dinner party, then maybe this next entry should be on your menu. Zheng Dou Fu is a typical side dish from China. The recipe is super easy to recreate, so let me show you how.
This delicacy might look simple, with slices of white and smooth tofu being under a very nice-looking brown sauce. But upon taking the first bite, you can feel the hidden side of this Steamed Tofu plate.
Since the main method is steaming, the tofu will stay very moist and soft. The nuttiness of the food is very apparent. Once the steaming process is done, you can drizzle the main sauce on top. This particular sauce consists of soy sauce, oyster sauce, and fermented black beans.
It's the main reason the tofu gets a lot of savoriness and saltiness. There is a bit of sweetness from the fermented black beans.
This Chinese Steamed Tofu recipe offers a very quick side dish.
Total time: 20 minutes
Naturally speaking, tofu is a rather bland food with no significant taste that you can notice at first. That's why it's one of the most popular ingredients to match with a sauce of your choice. In this case, I will show you an appetite-enhancing dish called Tofu In Garlic Sauce.
Like other tofu-based recipes, the best way to get the most out of the tofu is by pan-frying it until the skin starts to become brown. This creates a nice layer that can retain the sauce as efficiently as possible.
And here comes the main player, which is the special garlic sauce. You mix minced garlic with soy sauce, Chinese cooking wine, and Sichuan chili bean paste. This special brings all of the spiciness and pepperiness to the delicacy that makes you crave for more.
Total time: 1 hour 10 minutes
Representing the Dim Sum cuisine, which is the Cantonese version of brunch, Tofu Skin Rolls can be a bit tricky to make, especially the rolling part.
However, once you master the correct technique, you will never regret getting a taste of this wonderful and refreshing delicacy. Unlike the usual soft texture of the tofu, tofu skin is rather chewy. That's why it makes a great wrapper for any type of filling.
As for the filling, I suggest vegetables since the crunchiness from both carrots and cabbage will complement the tofu well together. After you wrap the tofu skin around the veggies, steam the rolls for a few minutes until the rolls start to firm up.
Every good plate of rolls needs a good dipping sauce to go with it. In this instance, you mix sugar, ginger, and liquid amino (a type of light soy sauce). The sugar can sweeten the sauce to offset the pepperiness of the ginger, giving it a memorable taste.
Total time: 15 minutes
When it comes to comfort food in Chinese cuisine, Egg Drop Soup or Dan Hua Tang must be somewhere in the top position because everyone loves it. This warm and filling bowl of delight can be a perfect start to your day or just a simple mid-afternoon snack.
Dan Hua Tang is very distinct compared to the other scrumptious soup recipes in China. It's very thick, so the flavors are more concentrated. When you use a type of flavorful broth like the chicken stock as the base, the richness will increase a lot more.
Aside from soup broth, each of the ingredients brings its unique taste to this specialty. The imitation crab meat provides sweetness, while the eggs contribute their creaminess. And the tofu gives a slight nuttiness to the dish.
Total time: 35 minutes
Whenever you feel a little under the weather, nothing is better than a warm bowl of soup. So which recipes should you choose to make? Well, it's very simple since the choice is right here with a delicacy called Bai Cai Dou Fu Yu Tang.
Everything about this Chinese-style seafood dish can bring you out of the funk in just one single finger snap. First, the fish is super flavorful thanks to the marinade. It consists of light soy sauce, Chinese cooking wine, and sesame oil.
That's why the meat will have a nice nutty fragrance along with a savory taste. Not only that, the addition of tofu, chicken stock, and bean sprouts increases the freshness of the soup. These ingredients add so much richness and nutrients to your taste buds and body.
Total time: 25 minutes
Hot And Sour Soup, or Suan La Tang, is an everyday staple of Sichuan cuisine. It has all the hallmarks of a typical Sichuan delicacy, including sweetness, sourness, and spiciness. These flavors are fused to create a splendid bowl of soup.
So, what exactly makes Suan La Tang so delectable? It's the use of signature seasonings like rice vinegar, soy sauce, and chili garlic sauce. Since it's a vegetarian dish, the mixture of condiments further enriches the sweet and savory vegetable stock.
And when it comes to the other ingredients, you can add any vegetables to the soup. However, I recommend mushrooms, bamboo shoots, and tofu. Each of them has a different texture, like bamboo shoots with crunchiness, tofu with softness, and mushrooms with chewiness.
The amazing flavors from this Hot And Sour Soup recipe will impress you.
Total time: 30 minutes
Stir-Fried Tofu And Broccoli is a great vegan-friendly replacement for the classic Chinese American delicacy. Without even using beef, you can still feel all of that great flavors, enough to send you to an aromatic bliss.
For this recipe, there are many protein alternatives like mushrooms and soya chunks, but tofu is probably the most affordable option for many. First, you pan-fry the tofu until the skin turns brown and chewy. Next, saute the vegetables, including broccoli and bell peppers, separately.
When you combine both the vegetables and the tofu in a pan, drizzle a special sauce on top. The sauce consists of soy sauce (umami), Chinese cooking wine (tanginess), and a vegan oyster sauce (sweetness). This mixture gives a perfect blend of different tastes.
Total time: 20 minutes
Dou Fu Chao Fan is another great option if you want to experience Chinese cuisine without having to compromise your diet. This rice-based delicacy from China is world-famous for how easy it is to make. You are only required to get rice and a few other ingredients.
First of all, don't mistake the lack of meat for a lack of savoriness. Thanks to the use of delectable condiments, including soy sauce and sesame oil, you can still taste that richness even if tofu is the only source of protein.
Apart from the tofu, you also receive a lot of nice flavors from the vegetables, including green peas, carrots, and onions. When you pair them with fluffy rice, the freshness of the veggies improves the texture of the rice even further.
This vegan-friendly Chinese Tofu Fried Rice recipe is perfect for all occasions.
Total time: 30 minutes
As a staple in many restaurants specializing in Guangdong-style cooking, Chow Mein usually comes with pork, beef, or other types of meat. If you're a vegan, it's not a great option. But today, I will show you a variant that even the pickiest vegans can enjoy.
The base is still the creamy Chow Mein noodles to give this dish a signature chewiness. As for the protein, you can use smoked tofu as the smoky aroma gives this delicacy a unique layer. The addition of cabbage to the tofu and noodles gives a certain crunchiness to the texture.
Since you're making Chow Mein, the accompanying sauce is also an important component to consider. With this recipe, combine Mirin (a type of cooking wine), soy sauce, and sesame oil. This mixture is full of umami and nuttiness.
Total time: 17 minutes
Also from Guangdong province, particularly part of the cuisine in Hong Kong (Hong Kong food and drinks), Chow Fun is an iconic delicacy that you have to try once in your life. However, vegetarians might find it difficult since the original recipe uses a lot of meat.
Don't worry, because I have the perfect solution with this entry right here called Vegetable Chow Fun. Just substitute the meat-based ingredients with vegan replacements like tofu and mushrooms. I can assure you that the flavors will just be the same.
To make the sauce that goes alongside the noodles, mix the vegetarian oyster sauce, dark soy sauce, and Chinese cooking wine. This combination uses the sweetness from soy sauce to balance out the vinegary taste of Chinese cooking wine.
Total time: 20 minutes
Sichuan Spicy Tofu, or Ma Po Dou Fu, is a delicacy from Sichuan province that can certainly make you break a sweat. The soft and silky tofu goes well with a thick and spicy sauce. Unlike most tofu dishes, Mapo Tofu is not vegan-friendly since it involves ground pork.
The correct way to make Mapo Tofu is by preparing the spicy sauce and ground pork first. This Sichuan-style sauce comes from a mix of oyster sauce, soy sauce, and chili oil. That mixture will enhance the pork and tofu with umami and spiciness.
Saute the pork until the meat turns light brown. Combine the sauce with cornstarch water to thicken it up in the frying pan. This process concentrates the flavors nicely. The final step is adding cubed-up tofu. Careful not to break the pieces because it might ruin the right texture.
Total time: 35 minutes
Don't let the name fool you because Stinky Tofu created during the Qing Dynasty (17th – 20th century A.D) contains a very exotic aroma. Due to a special fermentation process, the smell might come off as pungent, but the taste of this delicacy is worth dying for.
While Stinky Tofu can be a standalone dish, it's better if you use it as an ingredient for Steamed Stinky Tofu. This recipe is from Taiwan, but other Chinese communities across the globe are adopting it as their go-to way of cooking Stinky Tofu.
Other than the tofu, you must get mushrooms, ginger, and edamame beans (a type of green beans). The mushrooms and ginger can reduce the "stink" of the tofu with their pleasant fragrance. The umami of the mushrooms is compatible with the tanginess of the tofu.
Other than the veggies, another important part of Steamed Stinky Tofu is the sauce, consisting of soy sauce, rice wine, and brown sugar. The tofu soaks up the savoriness of the sauce to enhance its flavor.
Total time: 20 minutes
While tofu is usually an ingredient in so many savory dishes, that doesn't mean that you can't make a great dessert out of it. Introducing Dou Hua, a Chinese-style sweet treat that you can find in many Chinese-speaking communities around the world.
This is a worthwhile Chinese specialty to end your meal with since it doesn't take much time at all.
The first thing you will notice about this delicacy is how good the texture is. Just scoop up the tofu and let it run down your spoon: you can see the silky smoothness. The consistency is quite similar to pudding, but it falls on a more liquidy side.
Another component that makes Dou Hua especially delectable is the soup, which includes ingredients like brown sugar, ginger, and water. Despite its simplicity, the taste is already complex, with the pepperiness improving the sugary liquid.
This Dou Hua recipe makes a nice dessert after a savory meal.
Spicing Up Your Tofu Recipes In The Most Chinese Way
While tofu might be good for your health, its flavors are very mild to the point of being bland. However, that might not be a problem anymore since the recipes above show that you can still make a tasty and flavorful feast involving tofu with a few simple ingredients.
And my biggest wish through this article is to help you realize that eating healthily doesn't mean sticking to just tasteless food. Using enough creativity, you can change your meals more positively.
With that, thank you for journeying with me, and I hope you all have a nice day. Don't forget to hit the like button as well as share this on your social media. I will see you again soon!
Nutrition Facts
4 servings per container
---
Amount Per ServingCalories173
% Daily Value *
Total Fat 9.6g

14

%
Cholesterol 41mg

14

%
Sodium 466mg

20

%
Potassium 278mg

8

%
Total Carbohydrate 5.1g

2

%

Dietary Fiber 0.3g

0

%
Sugars 1.3g

Protein 16.7g

32

%
---
* The % Daily Value tells you how much a nutrient in a serving of food contributes to a daily diet. 2,000 calories a day is used for general nutrition advice.