There are many Chinese New Year recipes that you can choose from. That's because different Chinese provinces have their cuisine to celebrate the year's end. Many overseas Chinese also contribute to this diversity with a mix of Eastern and Western foods.
Chinese people also put a lot of emphasis on being home during the New Year. This is the only time when many family members get a chance to share and connect after a whole year. It's no wonder that a big feast always accompanies such an event like this.
And since the New Year is all about sharing and connecting, I would love to show you this list of incredible Chinese specialties. With the multitude of dishes below, you will be able to create a feast worthy of an important holiday. Without further ado, let's jump right in!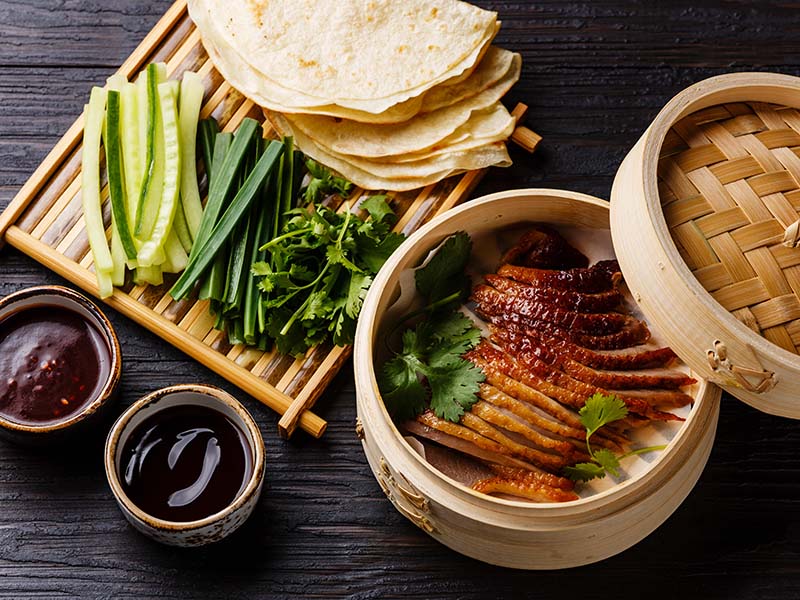 A Feast Worthy For The Chinese New Year
From the following extensive menu, there are so many good recipes from China and overseas Chinese communities that you can choose to spice up your daily meal. And the best thing is that they are relatively simple if you have sufficient ingredients.
Total time: 8 hours 30 minutes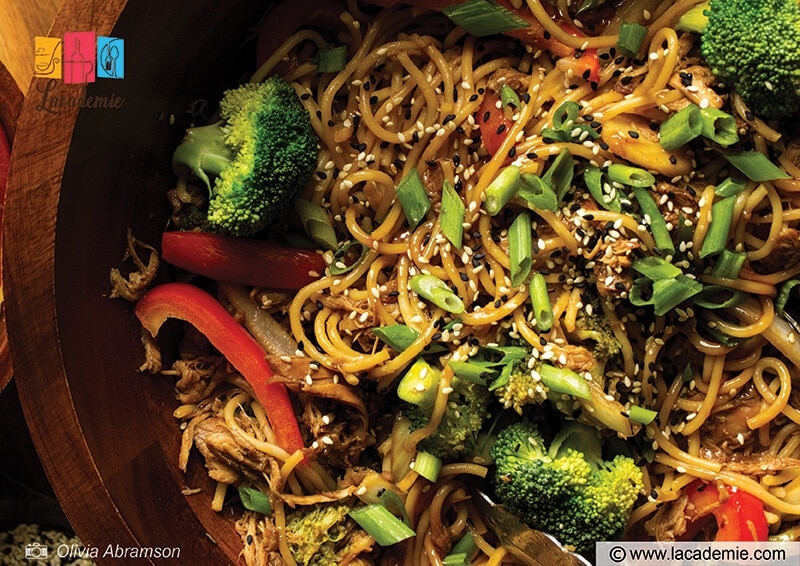 As a part of the delectable Cantonese cuisine, Lo Mein has a lot of similarities to Chow Mein when it comes to ingredients. However, instead of stir-frying, you make Lo Mein by boiling the noodles until they become soft and mixing them with seasonings.
Today, I will show you how to make the chicken version of Lo Mein. What you will need is egg noodles, chicken, and vegetables. First, you'll need to make the sauce mixture, which turns the chicken to a darker color and enhances the taste of the meat.
With the noodles, you have to boil them until they turn soggy and moist. Doing this will keep your noodles from being too dry. The final thing is to cook the chicken and combine it with the cooked noodles. The noodles are bland, but with the salty pork, everything has a great balance.
Total time: 3 hours 30 minutes
For a perfect Chinese recipe that keeps you warm during a chilly Chinese New Year, Niu Rou Mian, or simply Beef Noodle Soup, is enough. From warm broth to very flavorful cuts of beef, you will always feel the best with this in your stomach.
The secret to this irresistible Chinese soup dish is the base which comes from beef essence. To extract it, you have to boil the meat for a bit of time. Along with the meat, you can add ginger, Shaoxing cooking wine, and scallion to enhance the flavor more.
With a bit of spiciness from the Sichuan peppercorn, the beefy broth feels more balanced. In this recipe, you can use any type of wheat noodles to add the final touch. The chewy noodles go very nicely alongside the tender beef.
Total time: 20 minutes
In the province of Sichuan, there is a very special Chinese noodle delicacy that is not for the faint of heart. Eating Dan Dan Mian, or Dan Dan Noodle will give you a very explosive "reaction" since Sichuan cuisine is quite infamous for its spiciness.
The name "Dan Dan" comes from the carrying pole that street vendors used to sell this noodle back in the day. The essential flavoring agent for this delicacy is the chili oil that comes from Sichuan peppercorn.
To get a perfect Dan Dan Mian, combine chili oil and minced meat in a bowl. Layer the egg noodles on top. When you want to eat, just mix everything. It might be spicy at first, but the noodles and beef will offset the chili oil to bring out the tantalizing aroma.
You can recreate the spicy Dan Dan Mian with this tutorial.
Total time: 10 minutes
If you want to experience an authentic menu from Shanghai, Cu Chao Mian would be great since it's well-known among Shanghainese people living at home or abroad. This fried noodle specialty combines many familiar ingredients in Chinese cooking.
In this particular recipe, you will have to use Udon noodles. This type of noodle is usually thicker compared to others. Udon also has a very chewy texture, which helps the noodle absorb a lot of the sauce when you stir-fry it. Of course, you can choose other noodles as a replacement.
For the cooking process, saute the pork and mushroom separately until they turn brown. Then, you add the noodles and drizzle a bit of dark soy sauce. Continue stirring until you get a very fragrant smell. The pork and mushroom are savory, with a hint of saltiness from the noodles.
Total time: 15 minutes
If you have to save a very hot Chinese New Year, there is no better way than making this version of Ma Jiang Mian. Instead of facing the overbearing heat of the broth, you get a creamy and rather dry bowl of cold noodles.
Like many recipes above, there is no specific requirement for noodles. However, I do recommend rice noodles because it has a very bland texture, perfect if you want to make the other ingredients stand out.
The seasonings include vinegar, sugar, and soy sauce. This combination blends very well, layering savory with a bit of acidity and sweetness. To get the sesame aroma, you throw in the sesame paste. The final component is sliced cucumber, which will help you cool down.
Total time: 40 minutes
In this next entry, I want to introduce you to this Cantonese specialty called Scallion Oil Noodle Cong You Ban Mian. The style of "oil noodle" started appearing around China sometime between the late Ming and the Qing Dynasty of China (around 17th century A.D).
For Con You Ban Mian, the most important aspect that you need to consider is the scallion oil. This is where most of the aroma comes from. The best way to extract most of the fragrance is to fry the scallion with oil under high heat.
The rest of the steps are just adding the noodle into the oil and drizzling a bit of soy sauce. The oil will mix with the spongy noodle to give it a very lovely sheen. This scallion scent also combines with soy sauce to enhance the savoriness. You can add chili flakes for that extra kick.
Total time: 20 minutes
Yi Mein, or Longevity Noodle, is part of Cantonese cooking. This delicacy is available during special celebrations like New Year, weddings, and birthdays. The meaning behind the name is from the way people want to celebrate long life after eating this noodle dish.
The main attraction is the noodle itself. You can get pre-packaged Yi Mein at many Asian grocery stores. It comes in a crispy round form, similar to ramen. That is because the manufacturer deep-fries the noodle first to enhance flavor and keep it spongy for a long time.
To recreate this recipe, you only need to boil the Yi Mein until it turns soft. This process also gets rid of any excess oil inside. Finally, toss the noodle in a pan with onions, garlic, and mushroom. Season this mixture with soy sauce and oyster sauce to create an umami taste.
This Yi Mein tutorial will teach you how to make this dish for New Year.
Total time: 25 minutes
Chow Mein is a type of stir-fried noodle that is part of the popular Guangdong cuisine. It's not only a popular dish for many Chinese people living abroad, but Chow Mein has also captured the hearts of many non-Chinese.
The rise of this recipe, Chicken Chow Mein, is due to how healthy this is compared to most greasy Western food. Chicken Chow Mein contains many good foods, including chicken, egg noodles, and vegetables (mushrooms, cabbage, and bean sprouts).
Instead of using an excessive amount of oil, you stir-fry the noodles quickly with the vegetables and standard Chinese condiments like soy sauce and oyster sauce. This method retains a lot of flavors without breaking the nutrients down. For a healthier New Year, this delicacy is the best.
Total time: 1 hour
Moo Shu Pork comes from the Shandong province of eastern China. Thanks to the spread of Chinese people throughout the world, the popularity of Moo Shu Pork has also increased globally.
If you want a low-carb start to the New Year, this delicacy is a great choice. Besides, it's also an excellent Chinese dish to make with an instant pot.
To get the pork to release all of that rich goodness, you have to know how to marinate the meat. Thanks to familiar Chinese condiments like hoisin sauce, oyster sauce, and soy sauce, the meat will become irresistible to your taste buds.
Moo Shu Pork would not be complete if you focus on the meat; there are also other accompaniments. The coleslaw (assortment of various cabbages) gives this dish a refreshing taste. There's also the starchy and fluffy Chinese flatbread that you use to wrap the pork.
Moo Shu Pork is a great family dish to eat on special occasions.
Total time: 2 hours
Coming back to the southern side of China, there is a delightful Chinese pork-based dish that you cannot miss out on. Siu Yuk, or Crispy Pork Belly, is a favorite that many Chinese people love to have during important events.
One of the best things about taking a bit of Siu Yuk is the skin. There's nothing more magical about biting the skin and feeling it crumble at the tip of your tongue. This will expose all sorts of flavors to the inside of your mouth, with all the aromatic herbs used for seasoning.
To get that incredible sensation, you have to dry the skin side and season the meat side with salt, pepper, and five-spice powder (star anise, cloves, Chinese cinnamon, Sichuan pepper, and fennel seeds) before roasting it. This mixture increases the savoriness much further.
Total time: 30 minutes
Gu Lu Rou, or Sweet And Sour Pork, is a variant of the sweet and sour style that came from the Tang Dynasty (7th-10th century A.D). There are many versions of sweet and sour cuisine, but the most well-known worldwide is Gu Lu Rou.
If you want to make a good Gu Lu Rou, there are two things you have to master: the pork and the sauce. The pork has to be fragrant with the help of the marinade, including cornstarch, soy sauce, and rice wine. After you have cooked it, the meat has to come out crispy.
On the other hand, you create the sweet and sour sauce by mixing ketchup, sugar, and soy sauce. To increase the sourness, throw in pineapple juice as well. The sauce will contrast nicely with the meat, adding a touch of acidity and sweetness to the former's savoriness.
Total time: 8 hours 30 minutes (with 8 hours for sewing the meat)
Shi Zi Tou, or Lion's Head Meatballs, comes from both the regions of Zhenjiang and Yangzhou. The reason people name this delicacy that way is that the meatballs look like the head of the foo dog, a mythical Chinese gate guardian.
Aside from the special name, this lovely Chinese side dish is no more than just simple meatballs. The main ingredients are just minced pork mixed with garlic and shallot. In this version, you cook the pork in a slow cooker, helping the meat retain its juiciness.
Not only that, with the longer cooking time, the meat will break down easily. This increases the tenderness of the meat. The cornstarch will be the perfect binder that helps the shape stay together. For the sauce, combine soy sauce and chicken stock for the best flavor.
You can now make juicy Lion's Head meatballs with this video recipe.
Total time: 40 minutes
Although there is a dispute on where General Tso's chicken originated from, it's undeniable how much of an influence this delicacy has on the Chinese communities across the world, especially in North America.
According to a popular theory, this dish was from the hometown of General Tso, or Zuo Zong Tang, a military leader from Hunan province during the Qing Dynasty (17th – 20th century A.D). However, many people living in that region have never heard of such food before.
While General Tso's Chicken might look simple, you will be surprised by how complex the texture is. And don't mistake General Tso's chicken for sesame chicken as these dishes are quite different. The crispy chicken gives the dish a very nice crunch. The fried coating hides a lot of rich flavors inside.
And you can't have General Tso's Chicken without its signature thick sauce. By combining soy sauce, hoisin sauce, and a little bit of honey on a heated pan, you get a brown and glossy liquid that oozes out savoriness. The sauce will enrich the fried chicken more.
Total time: 30 minutes
When it comes to Chinese-American cuisine, no ingredient is more popular than chicken. That's why you will see so many delicacies that incorporate that type of meat. In this entry, I want to show you the delightful Cashew Chicken, or Yao Guo Ji Ding.
Cashew Chicken is the perfect example of combining the savoriness of chicken with the nuttiness of roasted cashew nuts. Not only does this create such an irresistible texture, but the aroma is also very outstanding since the cashew nuts are very fragrant.
The chicken has to go through a marination process in a mixture of seasonings like oyster sauce, canola oil, and cornstarch. This gives the chicken a very flavorful crispy outer layer. And finally, the rich sauce (soy sauce, vinegar, and chicken stock) wraps everything up nicely.
Total time: 50 minutes
Orange Chicken, or Cheng Zi Ji in Chinese, is another Asia-inspired chicken delicacy that many people would choose for a New Year party. Cheng Zi Ji is more famous among North American Chinese than mainland Chinese.
Due to the dish having a similar preparation to General Tso's Chicken, the meat texture is very crunchy and very rich. Due to the small size of the chicken pieces, most of the flavors can spread evenly. This results in the meat being moist and savory.
And the main attraction is the sauce. Orange Chicken uses a mixture of orange juice, sugar, and soy sauce. The juice gives this dish a very tangy aftertaste. To balance out the sourness, you have sweetness from the sugar and umami inside the soy sauce.
This Orange Chicken recipe brings out the best flavors of China.
Total time: 50 minutes
Sichuan Spicy Chicken, or La Zi Ji, is a staple from the spicy capital of China, Sichuan province. This particular recipe makes use of a special type of Sichuan seasoning called Mala. It combines Sichuan peppercorn and chili, hence why people also call this dish Mala Chicken.
First of all, you need to marinate the chicken with a mixture of cooking wine, soy sauce, and sugar. I highly suggest using chicken thighs because they are very tender and absorbent. This type of meat will soak in the marinade quickly, adding more flavors to it.
After that, cut the chicken into smaller nuggets and deep-fry them. The crispy coating helps to bind the sauce more effectively. To make the sauce, saute the Mala with soy sauce and sugar. Incorporate the sauce with the meat later, and you have a very spicy plate of chicken.
Total time: 40 minutes
Chun Juan, or Chinese Spring Rolls, is a perfect Chinese starter for you to welcome the New Year. Traditionally, Chinese people prepared fresh Chun Juan to welcome the springtime after a long period of eating preserved food during the winter.
With its association with springtime or new leaves blooming, this Chun Juan recipe is suitable with a heavy emphasis on vegetables. With simple ingredients like cabbage, peas, and cauliflower, you can start your year in the healthiest way possible.
The cooking process is very simple; you only need to chop up the vegetables and wrap them in a sheet of dough. You can make the dough with flour, or you can buy them in an Asian grocery. The final step is to deep-fry the dough until Chun Juan turns crunchy brown.
Total time: 1 hour 15 minutes (Preparation time: 1 day 2 hours)
As a shining jewel of China's foods, particularly Peking cuisine, Peking Duck is without a doubt one of the most important exports that many Chinese people can be proud of. This delicacy was created during the period of the Northern And Southern Dynasties (5th-6th century A.D).
What makes Peking Duck so good? It would be hard to say definitively, but I would choose the skin. Don't mistake its thinness: The skin is where this dish packs the most punch. Just a bite of this glossy layer will reveal to you how many flavors the skin contains.
Of course, the best part might be the skin, but I don't discount other parts like the tender meat and the super-rich fat. Traditionally, you would wrap the duck meat in a thin Chinese pancake with a slice of green onion.
With this recipe, you will be able to cook Peking Duck for the whole family.
Total time: 20 minutes
Jie Lan is another Chinese American staple that I want to introduce you to. Inspired by many iconic stir-frying delicacies of Mainland Chinese cuisine, the simplistic combination of beef and broccoli has somehow taken over the United States.
To recreate this beefy recipe from the Chinese people, you will need lean beef and broccoli. First, slice the beef very thinly because it will become extra chewy if you cook it for too long. Next, chop up the vegetables, including onions and broccoli.
And for the sauce, just mix soy sauce, chicken broth, and brown sugar. During the stir-frying, throw in the sauce with the beef and vegetables. The heat will cause the sauce to thicken. This helps the sauce to coat the meat and veggies evenly, improving the savoriness.
Total time: 40 minutes
Let me introduce you to another tongue-numbing delicacy from Sichuan, the spicy food capital of China. This one will give you a very unforgettable New Year experience. Shui Zhu Yu, or Boiled Fish, takes full advantage of Sichuan's diverse spice category.
To get the most flavors out of the fish (you can choose between tilapia or catfish), you must first cut it up into slices and marinate it in a mixture of cooking wine, egg white, and salt. In the meantime, stir-fry the tofu and green vegetables like Chinese cabbage.
Continue the stir-frying process with the chilis and Sichuan peppercorn. If you're not good with spiciness, you can reduce the number of peppery ingredients in this step. Finally, add the fish with hot oil. When the fish turns white, you can serve it.
Total time: 55 minutes
Dumplings or Jiaozi have existed for a long time in China. The first person to create Jiaozi was an ancient Chinese physician named Zhang Zhongjing in the Eastern Han era (1st – 3rd century A.D). Traditionally, you cook Jiaozi by using a special bamboo steamer.
However, I want to show you another variant of Jiaozi. Instead of steaming, you pan-fry the dumplings until there's a crispy layer at the bottom. People often call this version Potstickers due to the way the dough shell sticks to the bottom layer of the pan.
Despite using direct heat for cooking, the pan-fried Jiaozi manages to retain a lot of juiciness. This is all thanks to the shell trapping everything inside, keeping the meat fairly moist. The direct heat also causes Jiaozi to have a slightly charred texture at the bottom of the shell.
Total time: 45 minutes
The first recorded mention of Wonton dumplings came from the Han Dynasty (3rd century B.C – 3rd century A.D). Compared to Jiaozi, another similar-looking Chinese delicacy, Wonton is usually thinner with less filling.
Due to China's regional differences, there are many variants of Wonton-based specialties. In the Cantonese-speaking regions, Wonton Soup is one of the most popular. This is because it's very versatile: You can have the soup in the morning, at noon, or night.
Every ingredient blends perfectly with each other within the Wonton Soup. The Wonton wrappers are tender. The filling, consisting of pork and shrimp, manages to stay juicy. The chicken broth completes the overall flavor with its richness and depth.
Total time: 30 minutes
If you want to prepare a Chinese feast worthy of being the talk of the town, you need to have Yuk Sung as the starter. This Chinese Lettuce Wrap is not only a tasty-looking delicacy, but it's also quite easy to make with a few simple ingredients.
To prepare Yuk Sung, you need to get lettuce leaves as wrappers. Pick the biggest ones with the most vibrant color, then scoop the meat mixture straight into the leaves. They act as a plate that you can eat and provide a bit of freshness to Yuk Sung.
Apart from that, there is also the meat mixture with minced chicken, sliced carrots, and mushrooms. Season the mixture with dark soy sauce, rice wine, and honey. The combination of sweetness and savoriness turns the meat from bland to very delectable.
Total time: 1 hour 45 minutes (Including 1 hour of resting time)
Cong You Bing, or simply Scallion Pancake, is a must-have if you feel a little rushed in planning a New Year party. This little Chinese delicacy takes no time to make at all, and the result will surprise just how deep the flavors are.
What makes Cong You Bing special is the dough. To get the dough to be very chewy, you have to roll it thinly before folding everything together. This process will create multiple layers in the interior.
During the folding process, you throw in the chopped scallion and spread a mixture of oil paste (flour, salt, and cooking oil). The paste has a very salty aroma that gives the dough a savory aftertaste. When you fry the pancake, you can add an egg to increase the dish's creaminess.
Cong You Bing is the most basic recipe that you can make for the New Year.
Total time: 20 minutes
In every Chinese celebratory event, including weddings, birthday parties, and New Year, there is one delicacy that you will always see on the table. And of course, I'm talking about Chinese fried rice or Chao Fan.
From a simple Chinese specialty, this rice-based specialty from China has spread all over the world with many variants, including today's Chicken Fried Rice. Why is this version so good? It's thanks to the chicken, rice, and the wonderful Chinese-style vegetables.
Those ingredients above together can create magic. The chicken meat offers a very savory tenderness. The vegetables, including carrots, onions, and peas, will keep the dish from being too greasy. And the rice, with seasonings like sesame oil and soy sauce, will get very aromatic.
Total time: 1 hour 30 minutes
Lo Pak Gou, or Turnip Cake in English, is part of the Dim Sum culture (which is the brunch time for Guangdong locals). It is part of the culture of many Cantonese-speaking regions. Aside from being a regular meal, this delicacy is also available on a lot of special occasions.
Due to a few misunderstandings, the actual main ingredient of Turnip Cake is not turnip. Instead, people use shredded daikon (a veggie very similar to white radish) and mix it with a batter (rice flour and cornstarch). This makes the cake very sticky and starchy.
To reduce the blandness of Lo Pak Gou, you can add bits of dried shrimp, dried scallops, and Chinese sausage. They add a touch of saltiness and savoriness to the cake. Lo Pak Gou usually comes with a small plate of soy sauce.
Total time: 3 hours
A good New Year cannot end without your family and friends gathering around a table full of signature Chinese sweet treats. That's why I also want to show you some of the most loved desserts by Chinese people.
First, have a look at the traditional Chinese Steamed Buns, otherwise known as Mantou. This delicacy can trace its roots back to some time during the Zhou Dynasty (11th – 3rd century B.C). It's one of the most important sources of carbs for many northern Chinese people.
Unlike Baozi, which is another type of Chinese steamed bun, Mantou doesn't have a filling. This pastry is always available on a Chinese breakfast menu or desserts and side dishes. There are pastry stalls on every street corner of China.
This specialty is very simple to make. You only need to combine flour, sugar, and yeast until there is a dough. Kneed and steam the dough until you get a very puffy and soft rectangular pastry. Thanks to the inclusion of sugar, it's very sweet.
Total time: 45 minutes
Tang Yang or Glutinous Rice Ball has existed for centuries in China. During the Ming Dynasty (14th-17th century A.D), people often called it Yuanxiao in reference to the Lantern Festival, a celebration of the first full moon of the lunar year.
In Chinese culture, Tang Yuan is synonymous with the concept of family. That's why this delicacy is available during many special occasions where family members gather around each other, like weddings and New Year.
Most Tang Yuan you see nowadays are derived from the southern Chinese variant. It contains two main parts: the shell and the filling. With the shell, you use a combination of tapioca flour and rice flour. That's why it has a very gelatinous consistency.
The filling is made from mashing peanuts and almonds together with a heap of sugar. This creates a paste that is both sweet and nutty. Wrapping the nut paste inside of the dough allows an interesting contrast between stickiness and starchiness.
Tang Yuan comes in so many colors with this recipe.
Total time: 1 hour 30 minutes
Glutinous rice, or sticky rice as some people also call it, is one of the most preferred ingredients in Chinese cooking. Thanks to its versatility, you can use glutinous rice in main dishes as well as in unique desserts.
And one such dessert is Ba Bao Fan or Eight Treasure Rice Pudding. This sweet treat from China is available during the New Year. But with this recipe, you can always make Ba Bao Fan anytime. Appearance-wise, it looks like an upside-down bowl.
The reason Ba Bao Fan got its name was that the original recipe had eight types of dried fruits. In this version, you will only need candied cherries, raisins, and dried apricot. These ingredients undoubtedly add some fruitiness to the rice.
Aside from the fruits, Ba Bao Fan also has a filling of red bean paste. Before you serve, brush an even coating of sugar syrup around the rice. This adds a hint of sweetness to balance out the starchiness of the bean paste.
Total time: 45 minutes
If you prefer something a little bit simpler to have during the Chinese New Year, why don't you try out the Jian Dui? This Sesame Seed Ball will make your mouth water upon taking the first look.
The delicacy originates from the Tang Dynasty (7th-10th century A.D). The main ingredient is still glutinous rice flour, similar to Tang Yuan. But instead of using the method of boiling, Jian Dui is made by frying glutinous rice in hot oil instead.
This creates a very crunchy outer layer. When you tear the pastry apart, you can feel the crumbly shell breaking apart to reveal a doughy interior. The sesame seeds also infuse themselves into the dough, giving a nutty fragrance.
This version also has a filling in the form of peanut butter. It offers a rich and creamy addition to the airy pastry, giving you an interesting experience when biting into one of the balls.
Total time: 1 hour 40 minutes
Do you think I was done with glutinous rice-based dessert? Not at all since China has a lot more to offer from that single ingredient. Nian Gao, or Sweet Rice Cake, is a must-have in many Chinese New Year celebrations.
According to a popular tradition, if you eat this rice cake, you will experience a very prosperous year. The origin of Nian Gao can be traced back to the period of the Northern And Southern Dynasties (4th-7th century A.D).
You can find different regional versions of the specialty around the world, but the most standard version is the circular Nian Gao. The main components include glutinous rice flour, brown sugar, and starch.
The brown sugar gives Nian Gao its signature color. Adding to that, there is a glossy sheen that comes from glutinous rice flour. You can garnish the rice cake with a red date that makes the Nian Gao even sweeter.
For many Chinese, making Nian Gao for the New Year is a beloved tradition.
Total time: 35 minutes
In the Chinese language, the name "Fa Gao" reads similar to "rising cake". That's the reason why many people love to have this steamed cake on New Year. They hope that eating the cake will raise their luck for an entire year.
Upon a quick look, Fa Gao resembles a standard cupcake. The ingredients are very simple to find, including flour, brown sugar, and pancake mix. You combine everything until they form a smooth and runny batter.
Fill out the Fa Gao molds before you place the pastries in a bamboo steamer (you can use a metal steaming rack if you don't have a bamboo steamer). When the top expands and blooms like a flower, take the pastries out to cool down before serving.
Thanks to the pancake mix, the cake puffs up nicely. The interior feels very light and airy. A single bite from the cake reveals a hint of sweetness from the sugar.
Total time: 2 hours
How do you spend the last moments of the year and welcome a new one? Of course, you do it with a steaming bowl of Hong Dou Tang or Red Bean Soup. In China, Hong Kong, and even Taiwan, Hong Dou Tang is the go-to dessert after every big celebratory feast.
This delightful delicacy is part of a much bigger category called Tang Shui (Sweet Soup). While the base of Tang Shui is the same syrup water, the other ingredients are varied most of the time. This recipe requires red beans, ginkgo nuts, and sago flour (starch from tropical palm trees).
You mix the sago flour with water to form small balls, which are similar to tapioca balls. They are very spongy and gelatinous. The red beans and ginkgo nuts give a nuttiness to the soup. To enhance the flavor more, you can add tangerine zest for a mild tangy aroma.
Total time: 27 minutes
Xing Ren Bing, or Almond Biscuit, is very popular in many Cantonese-speaking regions of China, particularly Hong Kong and Macau. This specialty is among the most beloved New Year sweet treats for many overseas Chinese people as well.
Traditionally, people used to make Xing Ren Bing in the shape of almonds, hence why they got the name. However, in most modern recipes, people have been using real almond powder as a base. Most bakeries also garnish the biscuits with a slice of almond on top.
To make Xing Ren Bing, you mix almond flour with butter and salt. Add in eggs and baking powder to get a nice batter. Shape the dough into discs and keep them in a refrigerator for two hours. Finally, bake the biscuits until they turn golden.
When you take a bite of Xing Ren Bing, you will be overwhelmed with how lovely the texture is. The biscuits are very crumbly. The dough can be very nutty and rich. The slice of almond on top gives this dessert a satisfying crunch.
Total time: 40 minutes
Due to the influences of European culture, Dan Ta was created in Guangdong province as a variant of the British Egg Custard Tart. From a simple dessert, Dan Ta has become an important cultural icon. Nowadays, you can't go to any Chinese restaurants without seeing this delicacy.
The most notable aspect of this egg tart is its presentation. The round shape has a bright yolky yellow center. Surrounding the center is a layer of flaky pastry. The moment you bite on the pastry, the edge breaks off into pieces and releases an extravagant mouthfeel.
Aside from texture, Dan Ta might as well give you an incredible experience with its flavors. The taste of the creamy yolk that makes up the center of this tart is almost heavenly. It's sweet, rich, and has a hint of vanilla. The flaky edge contrasts well with the soft and flan-like core.
Chinese Food Bringing Everyone Together For The New Year
With a holiday as culturally important as the Chinese New Year, you and your family deserve a menu full of delectable Chinese delicacies. It's no wonder that every Chinese person treasures this moment as the best time of the year.
However, preparing for New Year can be a bit hectic and time-consuming. That's why, with the list above, I will be able to save you time by giving you some inspiration on what to make. After all, everyone deserves a nice meal alongside their family and friends.
As always, if you appreciate the information above, just hit that like button. You can also share this on your social media so other people can read more about great Chinese dishes. Thank you, and have a great meal!
Nutrition Facts
6 servings per container
---
Amount Per ServingCalories480
% Daily Value *
Total Fat 18g

28

%
Cholesterol 109mg

37

%
Sodium 2317mg

97

%
Potassium 680mg

20

%
Total Carbohydrate 40g

14

%

Dietary Fiber 4.5g

16

%
Sugars 14.7g

Protein 36g

72

%
---
* The % Daily Value tells you how much a nutrient in a serving of food contributes to a daily diet. 2,000 calories a day is used for general nutrition advice.