Finding healthy Vietnamese foods is pretty easy because Vietnamese cuisine is famous for using super fresh ingredients, such as meat, vegetables, herbs, and fruits. Therefore, they are packed with minerals and vitamins.
Many Vietnamese dishes come with soups. Instead of using ready-made stock, the locals prefer cooking fresh components in hours to prepare the stock. So the nutrient value in these dishes is impeccable.
What's better, authentic Vietnamese food is famous for its balanced dishes. A lot of Vietnamese dishes comprise various ingredients. But once combined, they become filling and flavorful delicacies that no one can resist.
Wait no longer! It is time to discover Vietnamese cuisine through these healthiest delicacies. They can become your new favorites or train your taste bud to like healthy food!
As mentioned above, there is no doubt that numerous Vietnamese recipes offer balanced and healthiest meals. It is also shown by the low obesity risk in the country. So what is the secret in their diets? The 18 dishes below can tell you the reason.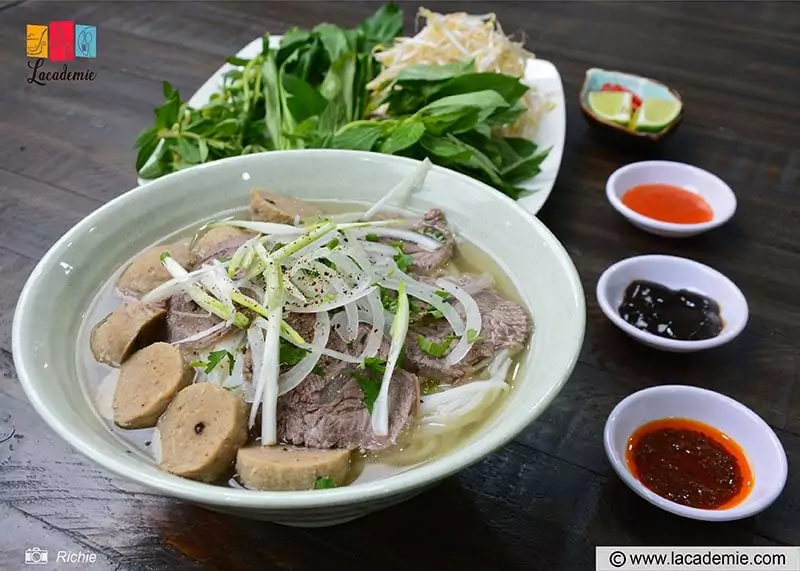 Speaking of Vietnamese food, Pho can be seen as the most well-known Vietnamese noodle delight that every visitor would love to try while in this country.
The original Pho was from Nam Dinh province in northern Vietnam in the early 20th century. As a national dish, you can find Pho across the country, from fancy restaurants to simple street stalls.
Pho, overall, is a noodle dish served with warm and delicious soup cooked with spices, bones, and meats. However, Northern Pho and Southern Pho are quite different, such as the soup's sweetness, noodle width, garnishes, and sauce.
The most popular version of Pho is beef pho, which includes beef broth and thin cuts of beef as the main ingredients. In fact, there are various kinds of beef parts that you can order at a pho stall in Vietnam. They can be flank cut, tendons, tripe, or brisket.
The noodles that locals use in Pho are freshly-made rice noodles named banh pho. If you live in a foreign country, you can still buy banh pho, but they are in a dried version that you need to cook before combining them with the broth.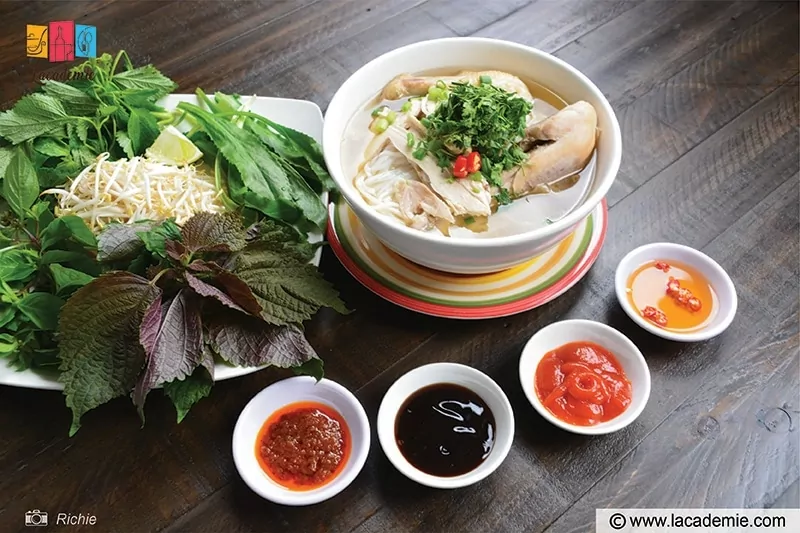 Another favorite Pho variation in Vietnam is chicken Pho. It was introduced later than beef Pho, which was in 1939. The critical difference between these 2 Pho is the meat and bone. They also use internal chicken organs, such as gizzard, heart, and undeveloped eggs.
The spice and herbs used in this must-try Vietnamese chicken delicacy are similar to beef Pho. For the spice, cloves, cinnamon sticks, star anise, and ginger are some of the main components to create a burst-in-flavor broth.
Remember to roast these spices so they can bring out full flavors before adding them to the broth. If you use a fresh Pho noodle, you should parboil it in hot water for 15 to 20 seconds. For the best experience, serve your chicken Pho with sauces and herbs.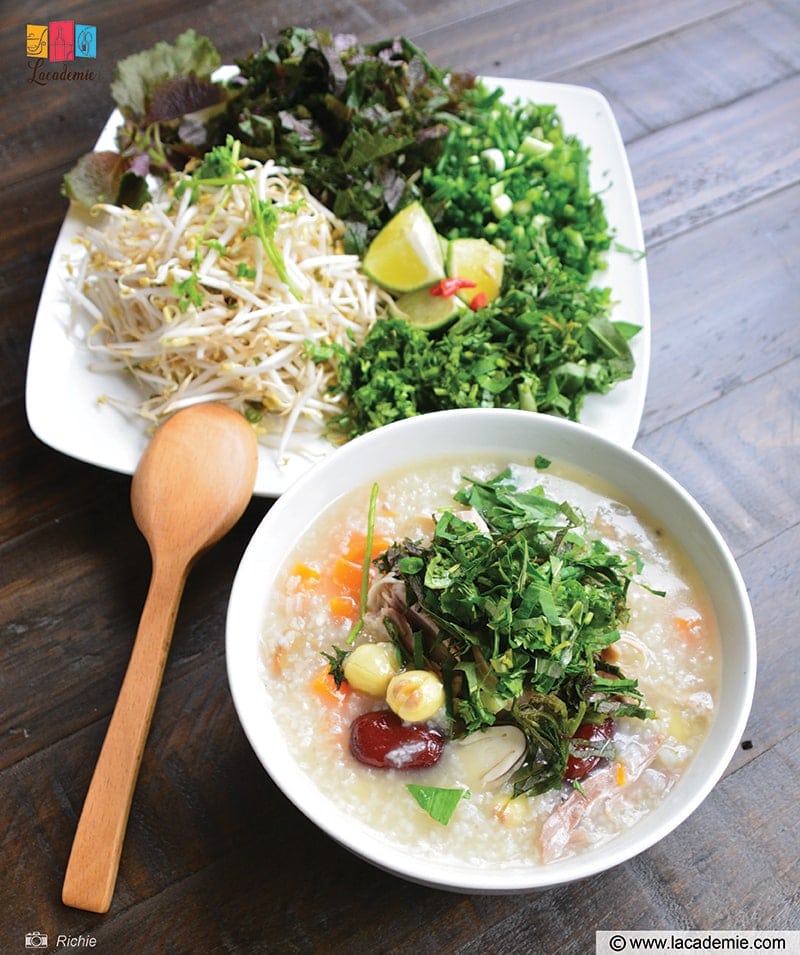 What is better than a hot bowl of chicken congee on a chilly day, right? Plus, it is a very budget-friendly dish as all you need are chicken, rice, vegetables, and seasonings.
The typical rice in the congee recipe is white rice, such as jasmine rice or basmati rice. In reality, many people mix 2 types of rice, including long-grain rice and short-grain rice, because the latter is better for a thicker soup.
If you want to improve your chicken porridge's flavor, you should roast the rice first to release its fragrance. But keep in mind that the rice must be dry before roasting. Furthermore, mushrooms, carrots, onion, and dried jujube are ideal for making the congee more flavorful and pleasant.
The topping for chicken porridge varies. Many places in Vietnam prefer enjoying it with fried donuts (aka youtiao in Chinese cuisine). However, if you like a healthier meal, serve it with fresh herbs and bean sprouts.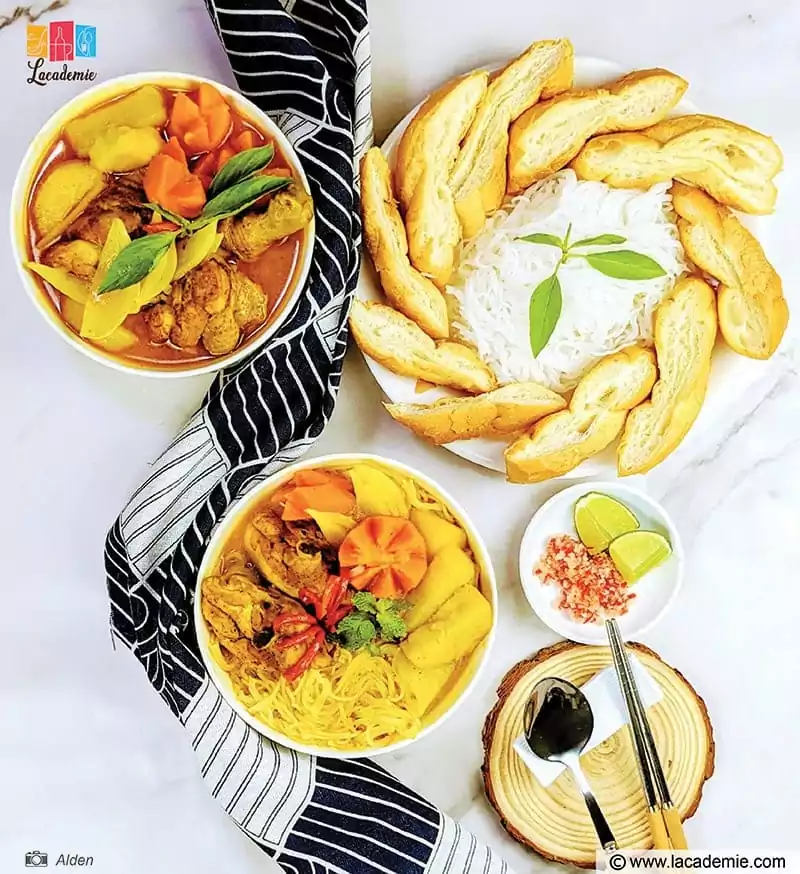 Vietnamese-style chicken curry is another comforting and healthy dish for any party. Compared to Indian curries, Vietnamese curry is lighter yet features a perfect depth of flavor. Moreover, it is also thinner than Thai or Japanese-style curry.
This dish has a beautiful yellow-orange color stemming from curry powder, turmeric powder, and ginger. The important step in making it is marinating the chicken. It might take around 1 hour (or more), but it makes sure that your chicken comes out full of flavors.
The common vegetables in Vietnamese curry are carrots and potatoes. For the soup, lemongrass and coconut milk are other key components to enhance the overall flavor. If you like a thicker broth, feel free to add cornstarch.
Finally, serve the curry with a fresh loaf of bread or vermicelli noodles. If you go with bread, cut them into slices, then dip them into a warm curry and enjoy with chicken and root vegetables. But if you opt for the latter option, you can pour curry soup directly into a bowl of noodles.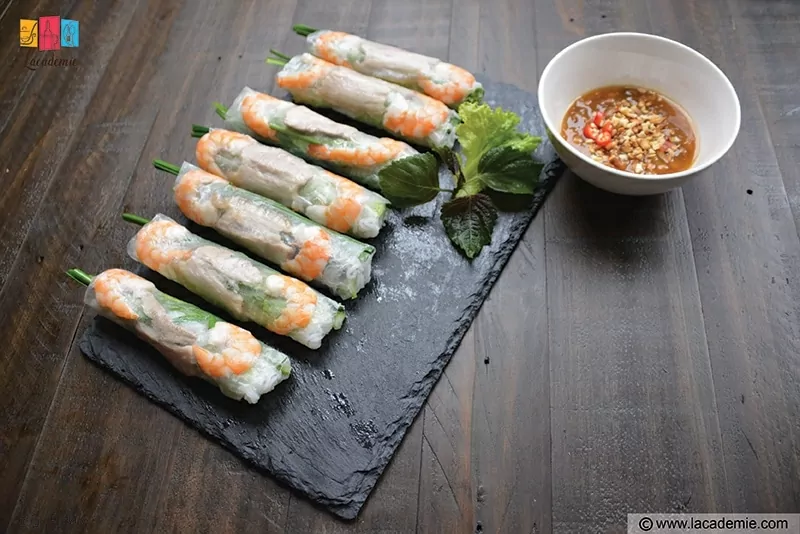 Fresh spring roll is a unique dish that you can't find in other cuisines. In Vietnamese, it is called goi cuon, to imply the way to make these delicacies, as "cuon" refers to "roll".
Fresh spring rolls are also a combination of various ingredients that you would never think that they could incorporate that well. It consists of cooked shrimp, thin-sliced pork, rice noodle, lettuce, and herbs, wrapped in thin yet chewy rice paper.
Besides, the dipping sauce is another star in deciding how tasty this dish is. By combining roasted peanuts, fermented soybean paste, chili, etc., you will have a thick sauce with brown color.
If you are a food adventurer, you can try your spring rolls with fermented anchovy sauce (mam nem), as it is very pungent.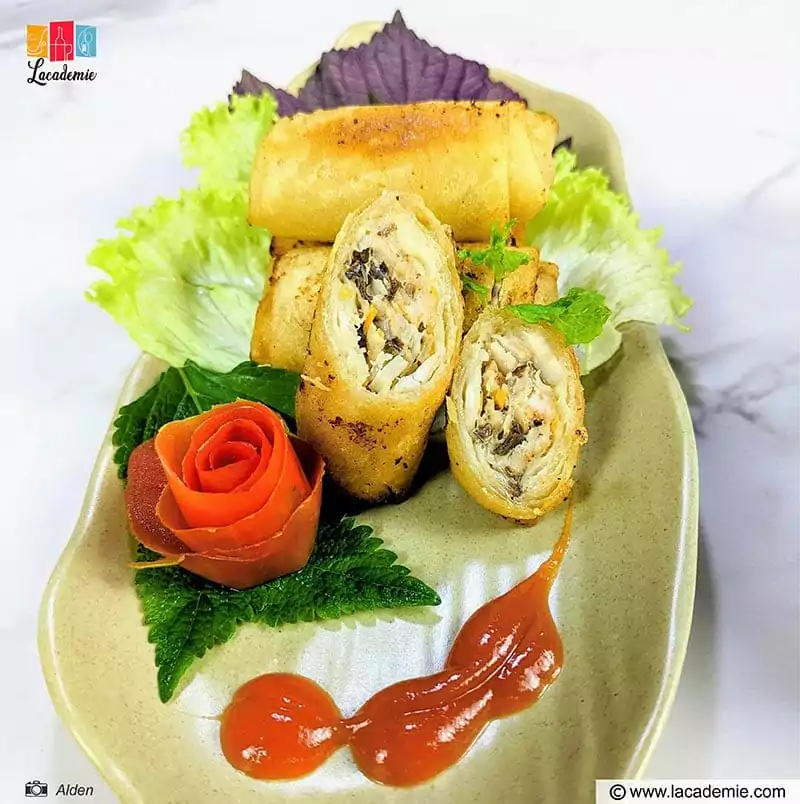 Vietnamese egg rolls (or cha gio in Vietnamese) are deep-fried treats with a nice golden hue and crispy texture. Inside these golden rolls is a mixture of ground pork, ground shrimp, minced wood ear mushrooms, taro, and more, creating a dense and flavorsome filling.
These egg rolls are a typical Vietnamese-style appetizer at any gathering or party. They are not too hard to prepare, but it would ask for some skill in wrapping and rolling them correctly. Never add too much filling. It would be harder to roll or seal the roll.
Compared to fresh spring rolls, these egg rolls are less healthy because of the oil that you use in cooking them. As a deep-fried dish, you will need a lot of oil to fry them until golden brown and crispy. Therefore, it is also important to use oil-absorb paper to eliminate excess oil.
A tip to increase its healthiness is serving egg rolls with fresh vegetables and herbs. Or, if you have an air fryer, use it for cooking the rolls. FYI, Vietnamese egg rolls are an ideal make-ahead recipe. Only fry them when you are ready to enjoy your food.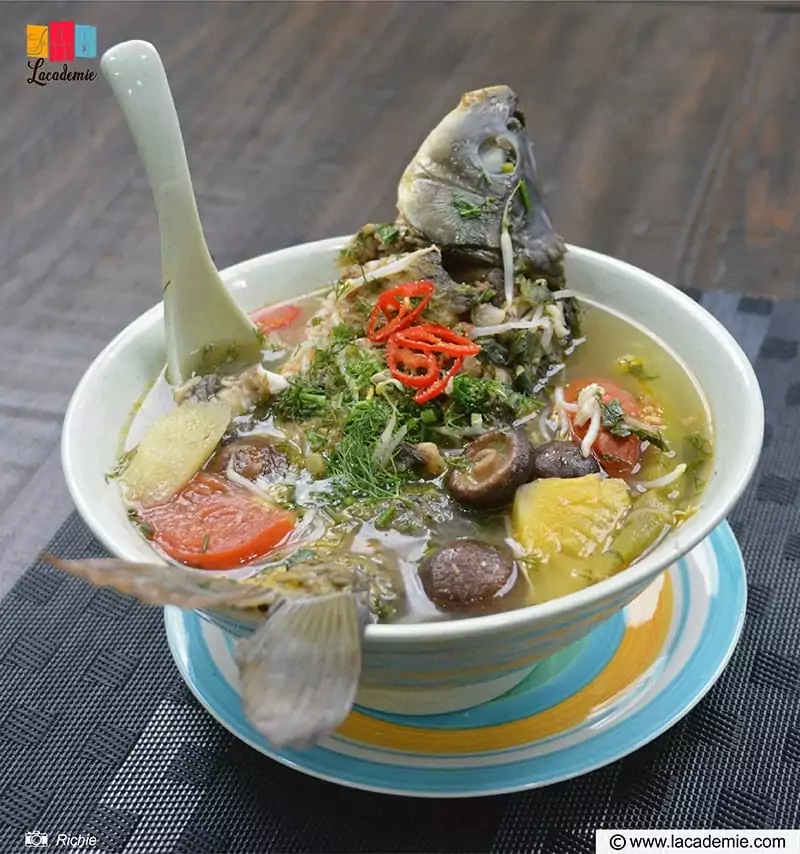 Rice is a staple food in Vietnam. They appear in most Vietnamese meals, along with other typical dishes, like braise/grilled/fried meat/seafood/vegetables, and soup. And this sour soup is one of the most popular dishes to enjoy with a bowl of fluffy rice.
This delicacy comes from the Mekong Delta region in the southern part of Vietnam, where fish are abundant and inexpensive. Besides fish, tamarind is a prominent component to create a typical sour flavor.
The soup also consists of various kinds of vegetables. The must-have ones are okra, tomato, pineapple, bean sprouts, and Indian taro. For the fish, the ideal varieties are carp, catfish, or your favorite white fish.
Canh Chua can be made with other kinds of proteins, namely shrimp or chicken. However, this fish variation is the most well-loved version. Don't forget to top your soup with fresh herbs, like rice paddy herbs, cilantro, and Thai basil.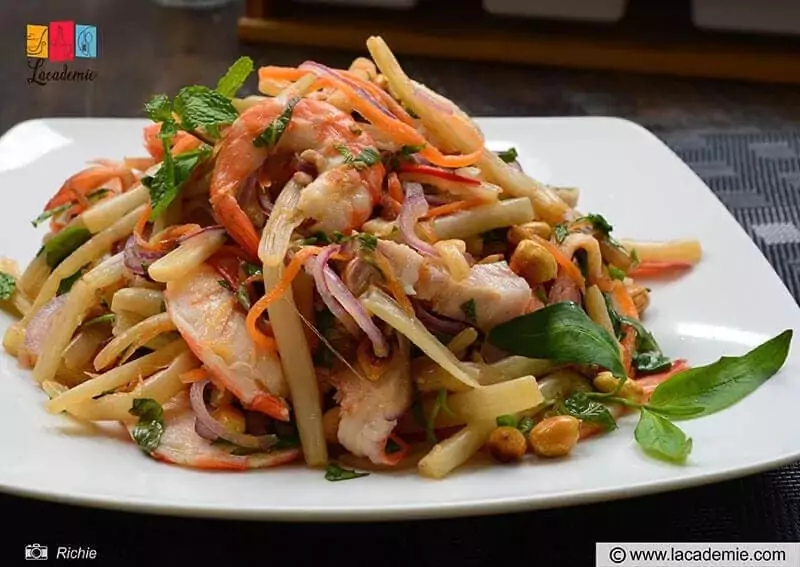 In Vietnamese, "goi" refers to salad, which comprises many fresh vegetables and dressing. But if you are seeking a unique Vietnamese salad, this salad is the top choice.
Lotus stem is not a familiar ingredient in Western countries. And if you wonder how it tastes, lotus stem is mildly sweet and crunchy.
Overall, the salad is a combination of cooked shrimp, pickled lotus stem, carrot, daikon, and dressing. You can also customize the vegetables, but the best ones for this dish should be crunchy veggies, like cucumber, cabbage, or green papaya.
If you are vegan, you can skip the shrimp to transform it into one of the best Vietnamese recipes for vegan diets. Nutritionally speaking, it is indeed a healthy Vietnamese food as it is fresh and low in calories.
For the best experience, prawn crackers are an indispensable pairing to make the salad more delicious.
Check out this tutorial for making an authentic Vietnamese lotus stem salad!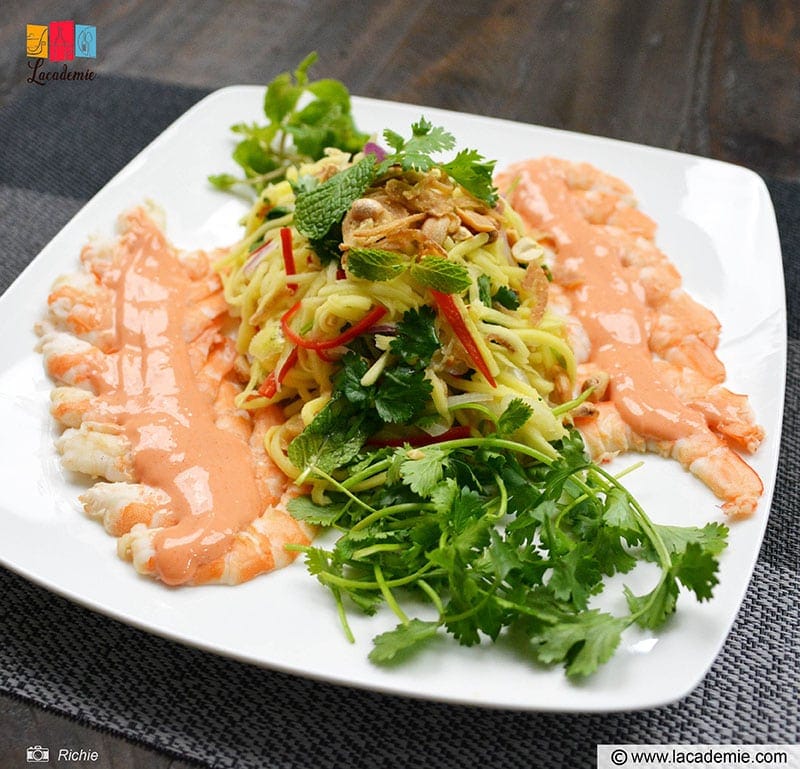 Another favorite salad in Vietnam is shrimp and mango salad. It is a perfect side dish or appetizer that you can prepare with ease. The only cooking-involved part is steaming the shrimp. The rest process is just about tossing ingredients to combine.
However, never overcook shrimp as you don't want a salad with dry and tough shrimp. To increase the flavor of shrimp, you can steam them with onion and ginger. FYI, you can also find this salad with dried shrimp.
For the salad, the main component, obviously, is mango. But the ideal one to make salad is unripened mango. Depending on their varieties, they can be sour or slightly sweet, but the crunchiness is essential in creating a savory salad.
Other vegetables can be personalized, but the popular companions are thinly sliced onion, shallot, and chill. So, in general, this Vietnamese-style salad is not only attractive but also infused with sour, sweet, and savory flavors.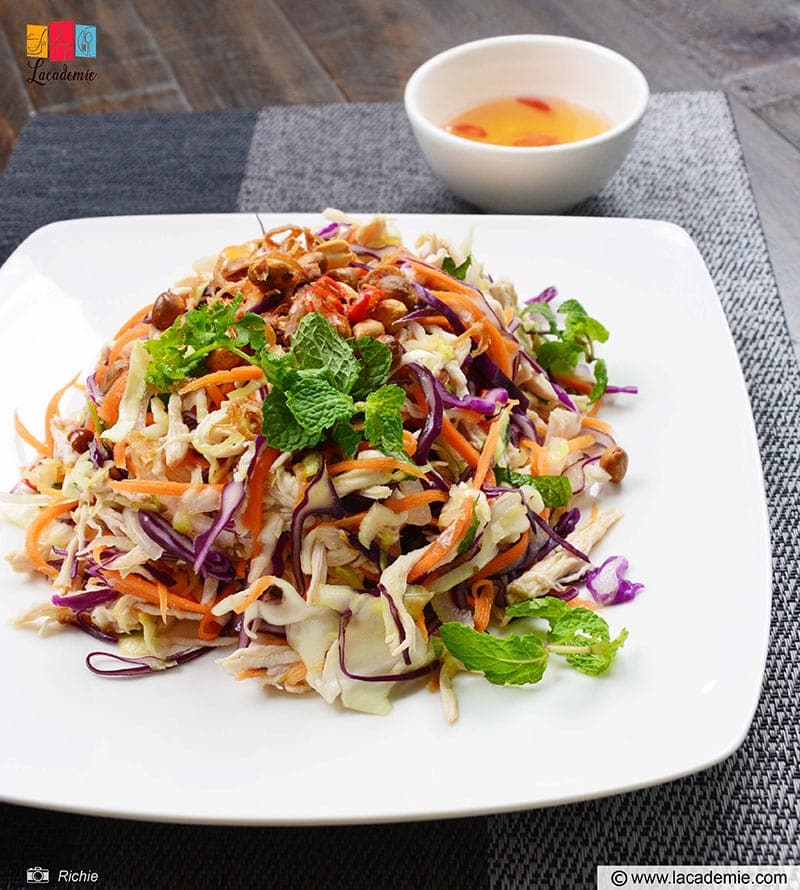 Vietnamese chicken salad is totally different compared to Western versions. What makes it stand out is the umami fish sauce. Mix this sauce with chili, lemon juice, and garlic to have a sweet and savory dressing.
Basic Vietnamese chicken salad contains poached shredded chicken, shredded cabbage, carrots, onion, and a lot of herbs. All of them will be tossed with the dressing, then topped with fried shallot and crunchy roasted peanuts.
Crunchy, tangy, sweet, and savory, everything you ask for in a perfect dish is here. In Vietnam, it is an ideal appetizer or side dish for any party.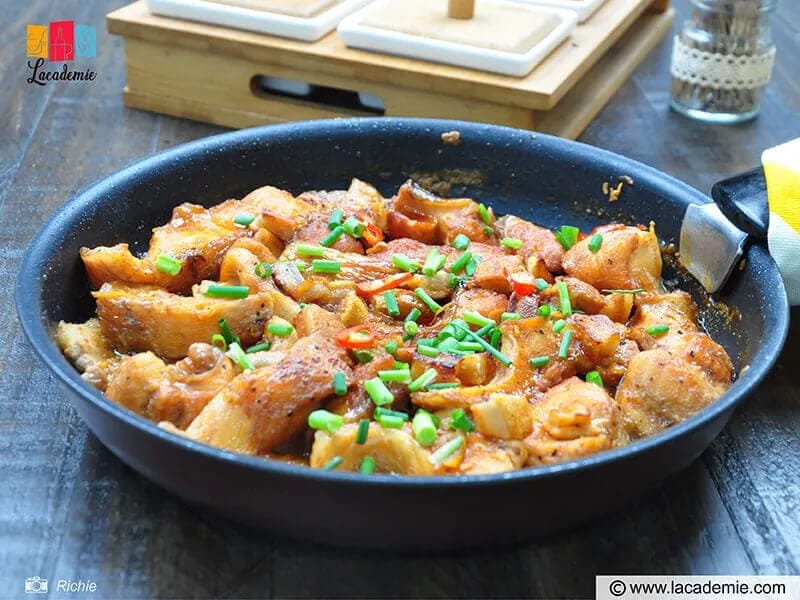 Ca Kho To is a common braised fish dish that goes perfectly with Vietnamese sour soup and hot steamed rice. In Vietnam, fish is commonly cooked in a clay pot (which is "to" in the name) as the locals believe this cookware can bring out more flavors from the food.
It is also the most popular tool to braise meat, shrimp, or cook rice. But if your favorite food is fish, this caramelized braise fish is a classic option. The ideal fish variety in this delight is white fish. They have few bones and meaty flesh and are a good source of lean protein.
Not only healthy, but it is also a rich and deep dish flavored with fish sauce, soy sauce, and coconut juice. After cooking, the fish goes out moist and falls apart with tons of flavors.
The secret to making this caramelized fish delight is the low-and-slow braising. The sauce, in the end, should be sticky and relatively thick with dark brown color.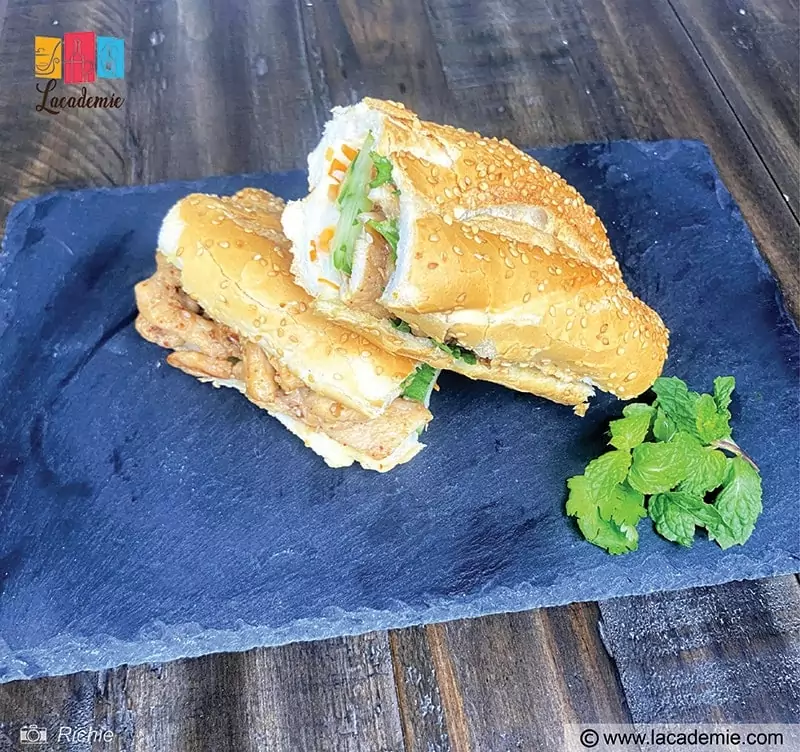 Vietnamese chicken sandwich, also known as banh mi ga, is a wonderful combination of crusty baguette, chicken, pickled vegetables, herbs, and seasonings. You might know that bánh mì is one of the most famous Vietnamese street foods. And its reputation is not only in Vietnam.
If you are on the hunt for the best Vietnamese bánh mì, you can find numerous places in this beautiful country. But if you haven't had a chance to visit Vietnam, why don't you try to make them at home? Spoiler alert: it is insanely easy and delicious.
As a lean protein, chicken is always a good source to make healthy dishes. This chicken sandwich is also a low-calorie food you can enjoy anytime. In Vietnam, bánh mì is a quick and affordable breakfast that you easily find in many food stalls.
Actually, this Vietnamese chicken sandwich is not really a traditional bánh mì that you can buy in Vietnam. However, some ingredients in the authentic bánh mì might be hard to buy in the USA or other Western countries, so making this chicken version would be better.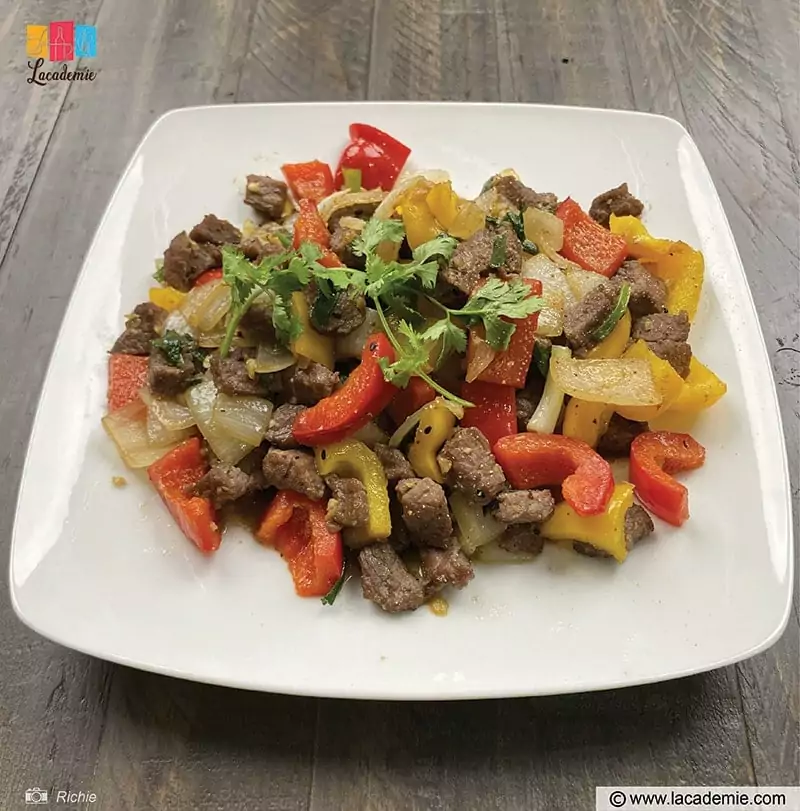 Shaking beef? Sounds odd, right? It is a French-inspired delight consisting of marinated beef, onion, bell pepper, and seasonings. Back then, beef was a fancy ingredient only served on big occasions, such as weddings or anniversaries, but it has become an informal treat today.
The beef is cut into small cubes like a dice, which is "xuc xac" or "luc lac", hence the name. Plus, it requires constant and vigorous shaking and stirring to make this dish, so some people also believe the name comes from the way it is cooked (as "luc lac" also means shake).
If you want to enjoy shaking beef like a native, pair it with a hot bowl of steamed rice or with some lettuce leaves.
For more information, shaking beef or beef Lok Lak is a national dish in Cambodia. It was introduced to this country after the Vietnamese annexed Cambodia in 1834.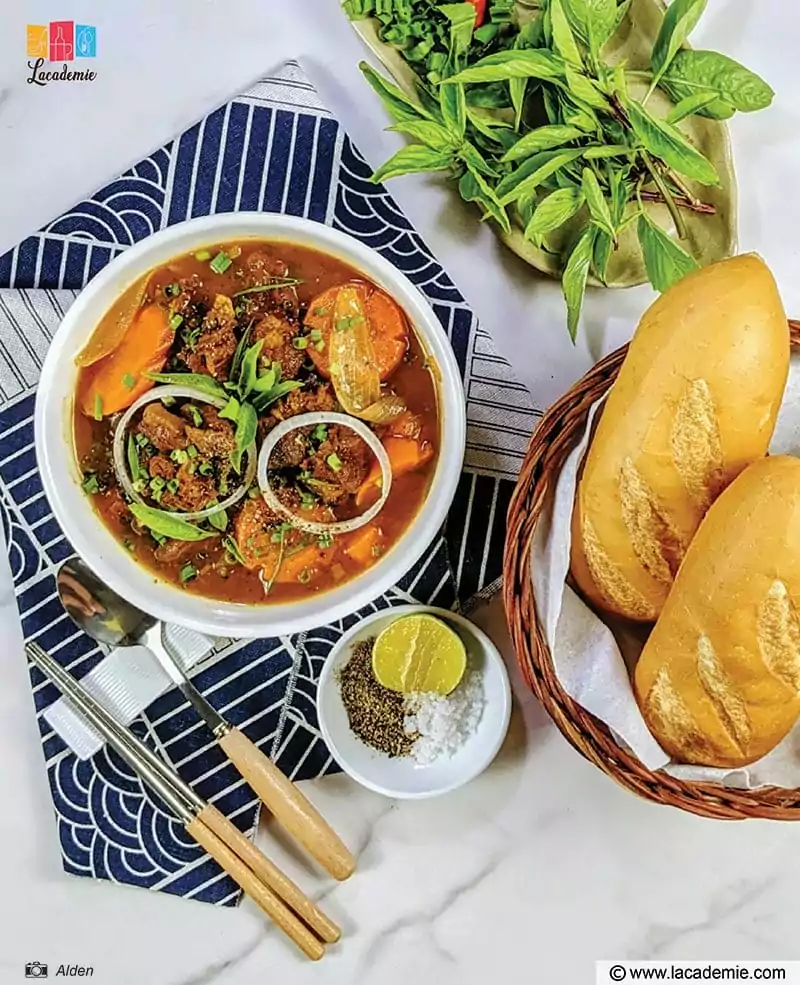 Beef stew is a familiar recipe in many cuisines. But if you like it in Vietnamese style, this Bò Kho (literally means braised beef) will not let you down. Overall, it is an aromatic stew with tender beef chunks and dark-colored broth.
Vietnamese beef stew is from the Southern part. The locals usually enjoy it as breakfast or lunch. In the North, there is a close cousin called bo sot vang (Vietnamese red wine beef stew).
Similar to the curry dish, the meat must be well-marinated before cooking. They are infused with lemongrass, bay leaves, cinnamon stick, star anises, and more. Try them, and you can feel the flavor symphony in every bite you take.
For a fulfilling meal, serve it with bread or rice/rice noodles.
15. Lemongrass Chicken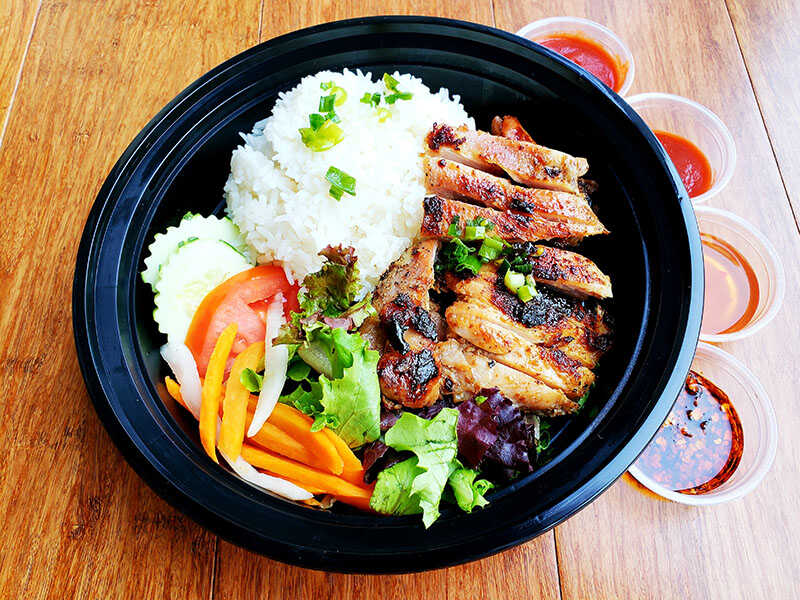 The last chicken-based dish in this post is lemongrass chicken. Fresh lemongrass is a favorite ingredient in many households as it is very cheap and enhances the lemony and slightly-gingery flavor excellently.
Besides the chicken, it goes well with different types of meat, such as beef, pork, shrimp, or fish. But when it comes to an affordable meal, nothing can beat chicken.
Chicken breast and thigh are the best cuts for this cooking idea. There are different ways to cook it as well. You can grill, fry, or stir-fry your chicken, based on your preference.
To optimize the flavor of lemongrass, you should marinate the chicken with it and other seasonings for at least 30 minutes. Finally, serve it with warm rice and a hot bowl of soup for a complete meal in Vietnamese style.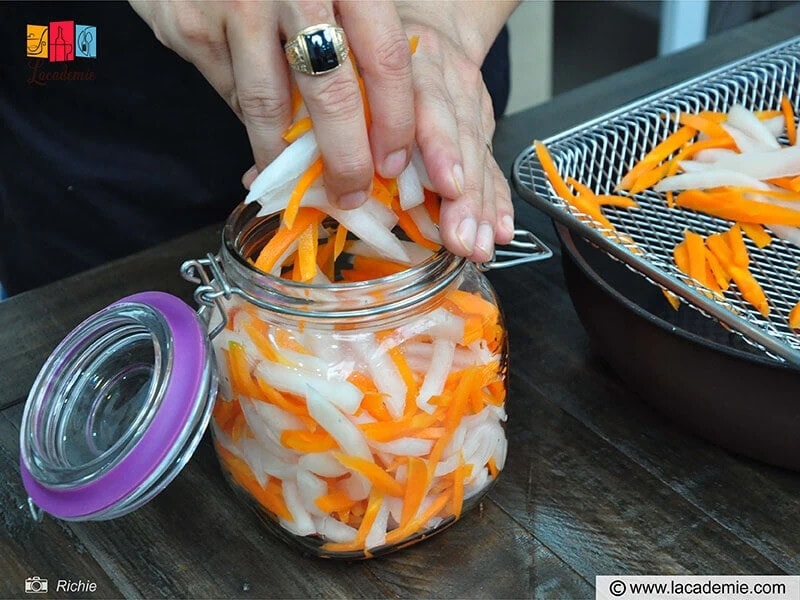 Unlike Western pickles, which heavily use cucumber, Vietnamese pickles' typical components are carrot, daikon radishes, mustard greens, or bean sprouts and chives. Vietnamese still have pickled cucumbers, but it is less popular compared to the mentioned pickles.
They are an ideal pairing to balance any rich or fatty dishes. So the main purpose of adding them to your meal is to enhance the flavor experience so you can eat more and more.
If you love bánh mì, you will always find pickled carrot daikon radishes inside it. Or preserved mustard green is a common companion with pork belly in this country.
Making Vietnamese pickles from scratch is not too hard, but you have to wait a few days before consuming them. The main ingredients to make it are vegetables and pickling brine (made from white vinegar, salt, and chili).
17. Stir-fried Water Spinach (Rau Muống Xào)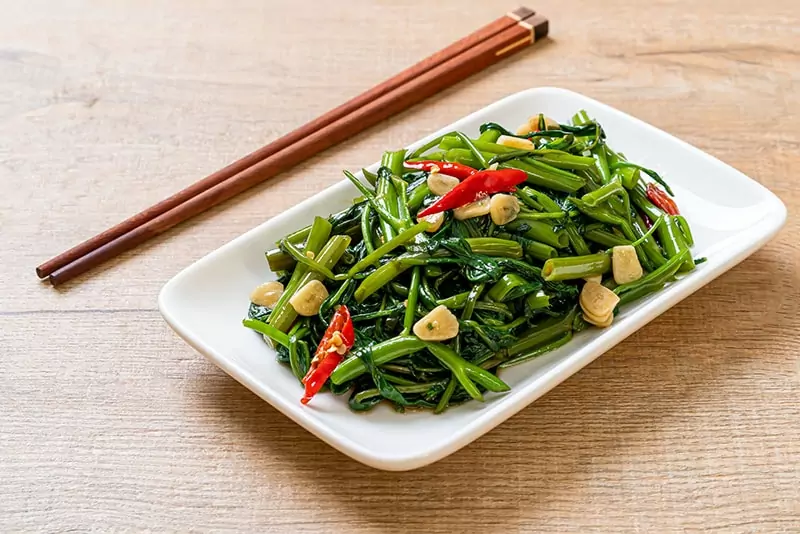 Water spinach (aka rau muong) is not a type of spinach with no botanical relation to it. The other names are morning glory, swamp spinach, or Asian water spinach.
In Vietnam, it is a very low-cost and healthy ingredient, making it a well-loved choice in many households' meals. Stir-fried water spinach with garlic is a classic combination. It is also a favorite vegetable side dish, mostly enjoyed with meat/fish dishes and a bowl of rice.
Cooked veggie (including the leaves and stem) has a silky and quite crunchy texture with a nutty and mildly sweet flavor. If you cook it for too long, the vegetables turn from green to dull brown with a slimy texture.
So it would be better to cook them in a brief cooking time to retain the crunchy texture. Besides stir-frying, you can steam, braise, or parboil water spinach to bring out its best flavor.
Stir-fried water spinach with garlic is a classic dish in a typical Vietnamese meal. And cooking it is very straightforward.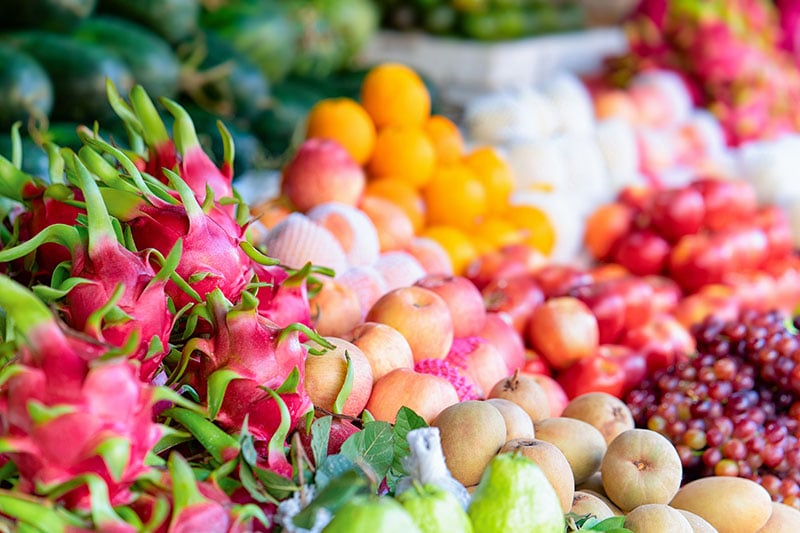 Vietnam is a true heaven of fruit, especially tropical and exotic ones. When you come to the country, you will be thrilled with many kinds of fruits at very reasonable prices. What's more, many of them are available all year round.
The country is endowed with long-hour sunshine, warm weather, and high humidity level, making it a perfect place to grow a lot of fruits. So there is no surprise that fruits are wonderful desserts in Vietnam.
Vietnamese fruits are also eye-catching with many different color shades. The top-choicest fruits that visitors love to try on their first visit are mangosteen, rambutan, jackfruit, and star apple. If you are brave enough, try durian! It is known for its pungent smell and unique flavor.
Vietnamese Foods Are Not Only Healthy But Also Delightful!
What would make you fall in love with Vietnamese dishes from the first try are their balanced flavors, textures, and even nutrients. A normal family-style meal in Vietnam also includes different dishes made from various ingredients, including rice, vegetables, and proteins like meat.
The way they mix and match many cooking components is incredible and unpredictable. Therefore, you will never know how tasty they are until you try them. If you can enjoy Vietnamese food right in the country, it would be an unforgettable experience.
Lastly, I hope you have a good time reading this article, to learn more about one of the healthiest cuisines in the world. Don't hesitate to book a ticket to this country; I'm sure you will be amazed by how creative the locals are in creating delightful dishes.
If you love this post, please rate it below. Or you can share your opinion about Vietnamese cuisine, like how much you love it, or your first experience trying these foods. Thank you, and have a nice day!
Nutrition Facts
4 servings per container
---
Amount Per ServingCalories642
% Daily Value *
Total Fat 34.6g

53

%
Cholesterol 169mg

57

%
Sodium 663mg

28

%
Potassium 129mg

4

%
Total Carbohydrate 36.6g

12

%

Dietary Fiber 5.2g

20

%
Sugars 1.5g

Protein 44.3g

88

%
---
* The % Daily Value tells you how much a nutrient in a serving of food contributes to a daily diet. 2,000 calories a day is used for general nutrition advice.