Vietnamese pickled carrots and daikon (Đồ Chua) are versatile and essential condiments in Vietnamese cuisine. In this treat, crunchy carrots and daikon are pickled to perfection in a sweet and tangy vinegar-based solution, creating an addicting flavor.
This simple yet tasty side dish goes exceptionally well with a wide range of classic delicacies from Vietnam, including Banh Mi Ga (chicken sandwich) and grilled pork. In today's easy-to-follow recipe, I'll show you how to effortlessly make Do Chua at home. Let's get started!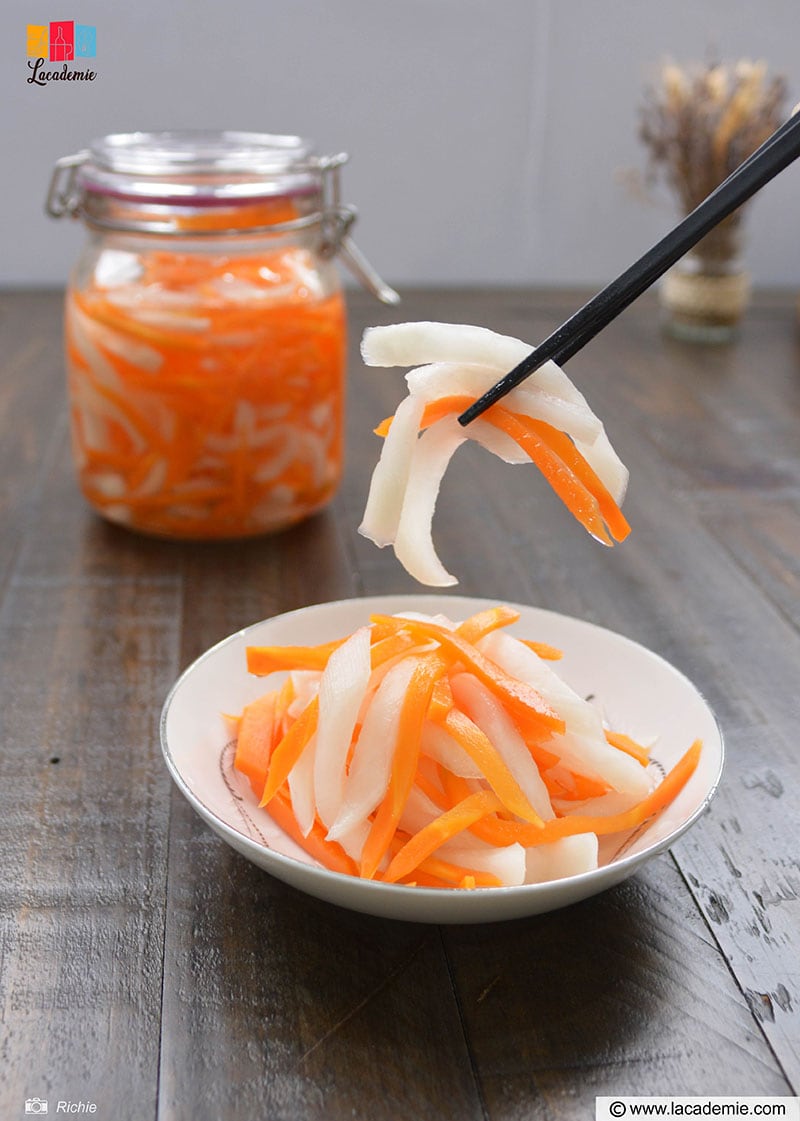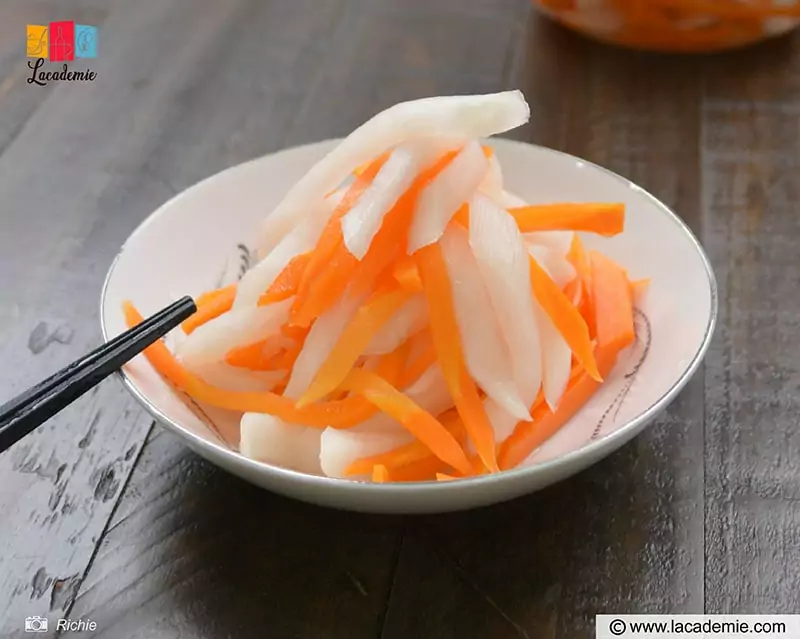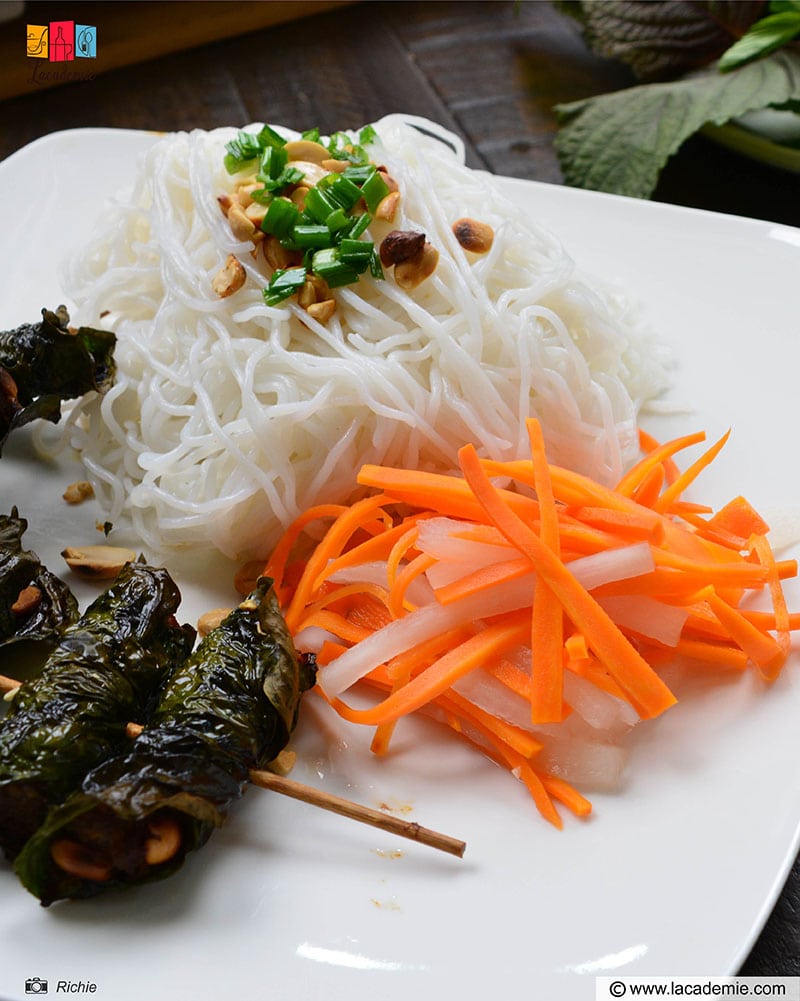 The Exciting World Of Vietnamese Pickles
Pickles are an important part of Vietnamese food culture, adding a much-welcomed zest and sweetness to everyday meals. Before getting to the actual recipe, let's first go through some popular pickled dishes that Vietnamese people enjoy.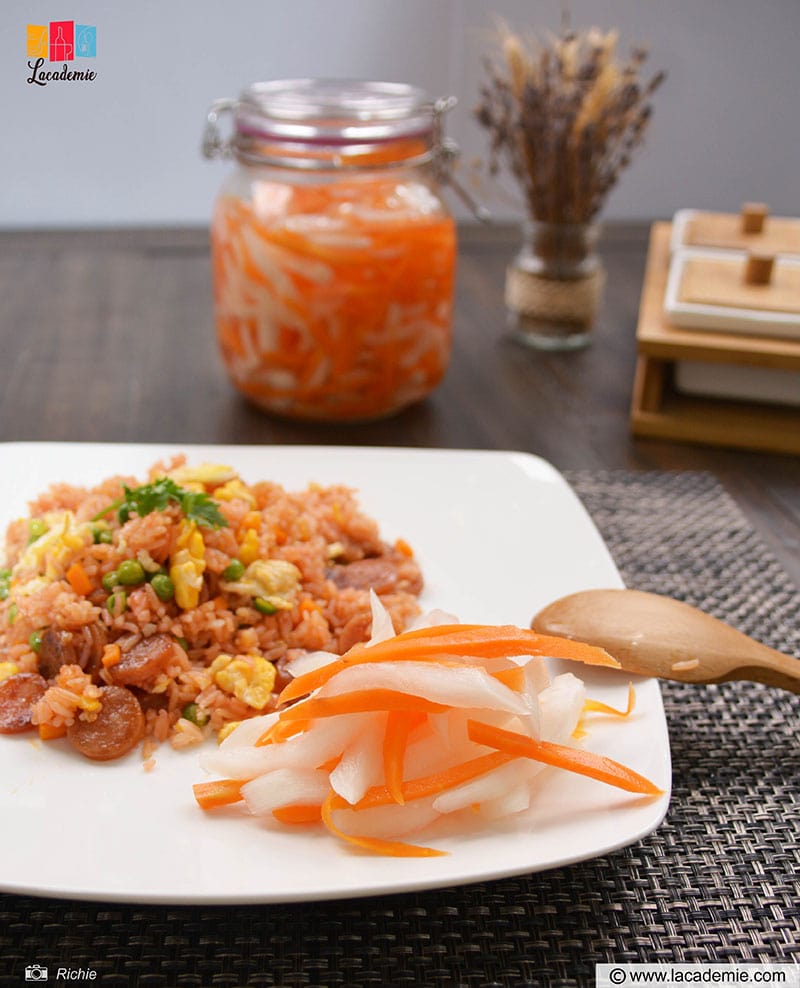 First on the list is Dua Chua (pickled mustard greens), a must-have during the Vietnamese Lunar New Year celebration. Not only do the locals love having Dua Chua as a side dish for greasy treats, but they also incorporate it into various other recipes, such as roasted pork stir fry and mustard green soup.
Ca Phao Muoi (pickled Thai white eggplants) is another dish that deserves mention when it comes to classic Vietnamese pickled recipes. By introducing iconic Vietnamese aromatics, like chili pepper, garlic, and galangal, to the mix, the locals have come up with a flavor-packed treat.
Not but not least is Do Chua – the recipe that I'd like to show you in this post. This combination of julienned carrots and daikon bathed in a tangy and sweet vinegar solution is always a big hit when paired with Com Tam (broken rice), Banh Mi, and many more.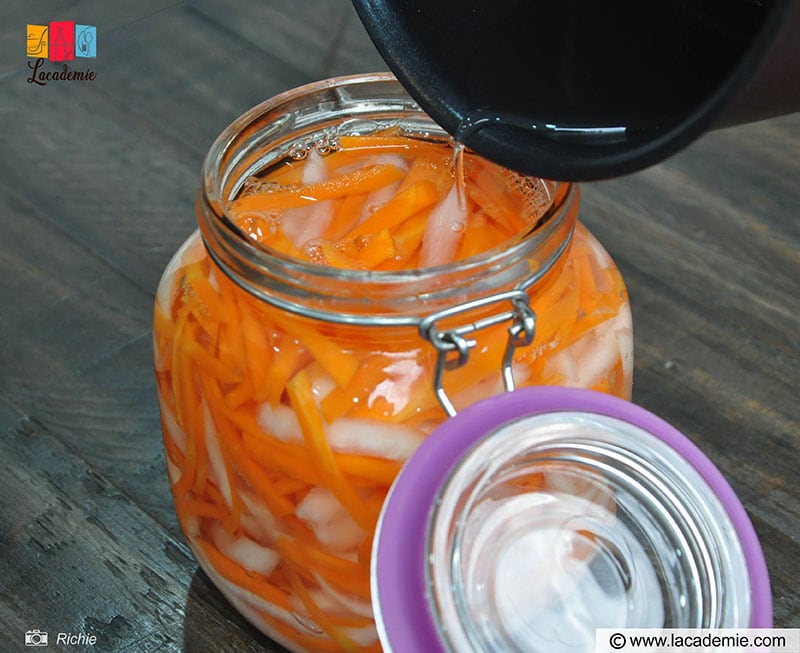 If you're a fan of pickled veggies, there's no reason not to add all of the above Vietnamese dishes to your meal. And the first step is, of course, mastering today's recipe!
Tools
This section will include all the necessary tools for making Do Chua, plus some optional kitchenware that will be of great help.
Knife and chopping board: For slicing up and julienning the vegetables.
Saucepan: For making the vinegar solution.
Glass jar: Remember to sterilize the jar to ensure food safety. Avoid plastic jars, as the Dua Chua won't last as long.
Mixing bowl: Use a large bowl so you can comfortably mix the vegetables.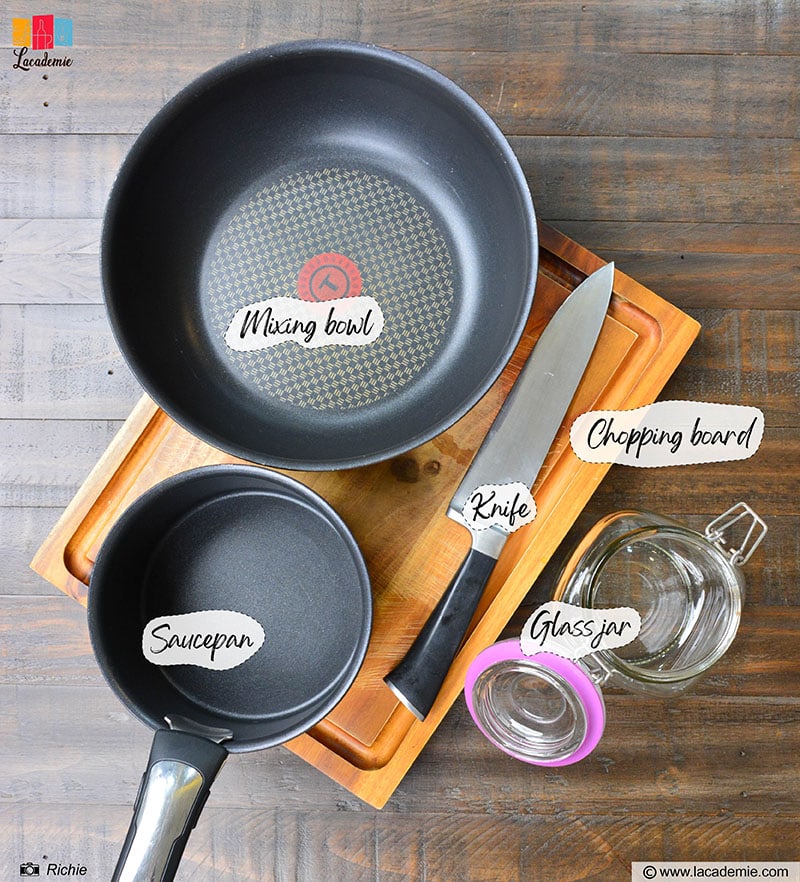 Other hand tools you might need
Wooden spoon: For stirring the ingredients.
Food prep gloves: Help keep the food smell from your hands while mixing the veggies.
Clean towel: For patting the carrots and daikon; useful for removing excess moisture.
Ingredients
Regarding the ingredients, daikon, and carrots are the vegetables of choice. You'll also need to prepare vinegar and a couple of spices to make the solution.
Daikon: Crunchy and slightly sweet vegetable that's also super healthy.
Carrots: Adds vibrant color and a little more sweetness to the pickle. Carrots generally have more rigid flesh than daikon, so it's best that you julienne them thinner.
Granulated sugar: The main sweetener of the dish. You can also use other kinds of sugar. However, white sugar blends best with vinegar, giving the dish a better color.
Vinegar: The ideal tangy base for the pickle solution.
Other spices: salt and brown sugar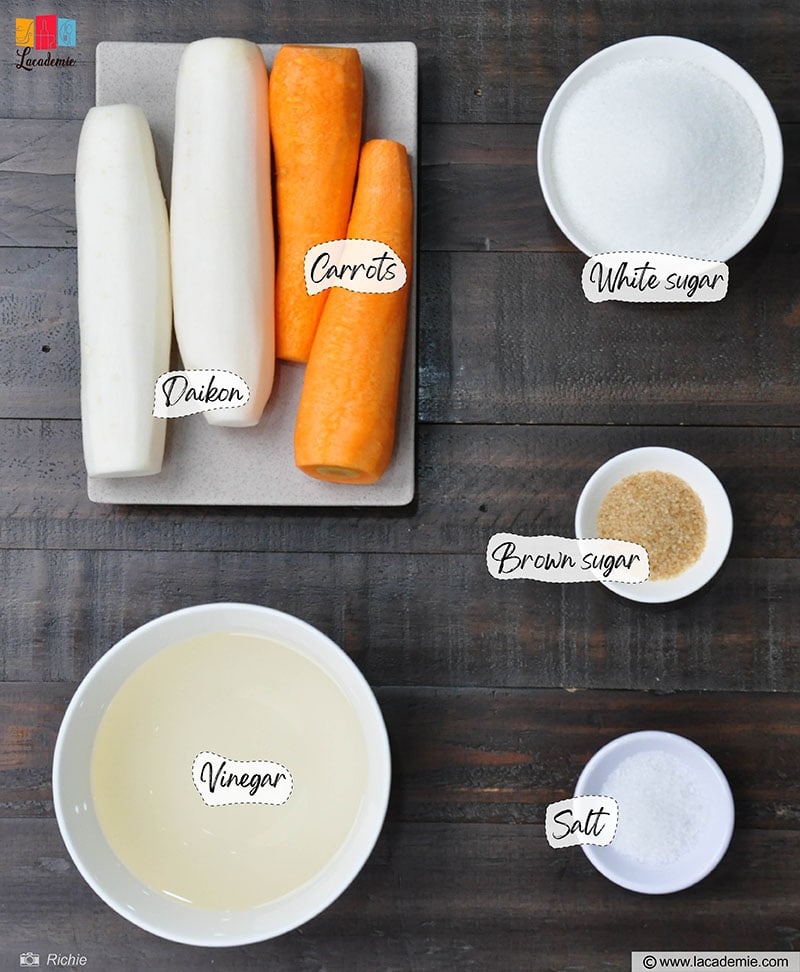 Directions
Now that you have all the needed ingredients and tools prepped, let's get to the fun part: making Vietnamese Do Chua.
Step 1: Marinate The Vegetables
Rinse the carrots and daikon with clean water. Then, peel and slice them diagonally. Next, julienne the vegetables, cutting the carrot sticks thinner than the daikon sticks.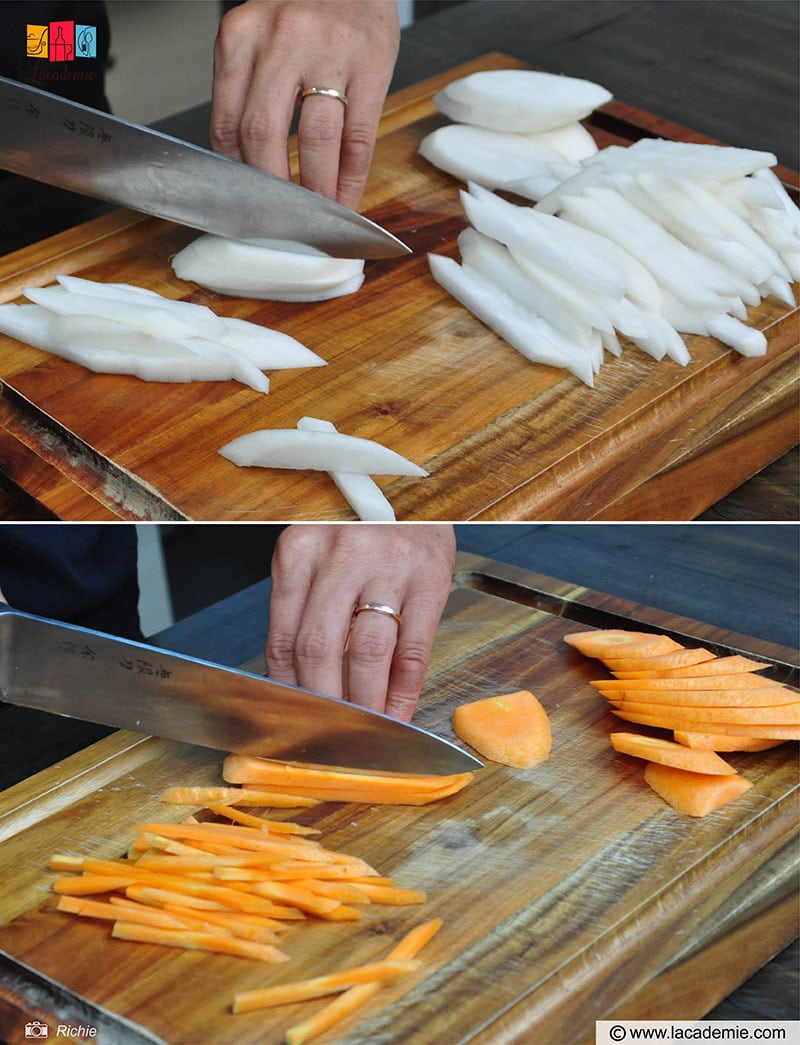 Season the daikon and carrots with 2 teaspoons of brown sugar and 1 teaspoon of salt. Mix well and marinate for 30 minutes. You can use a wooden spoon for this step or mix them with your hands (remember to wear food prep gloves).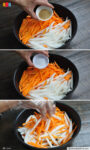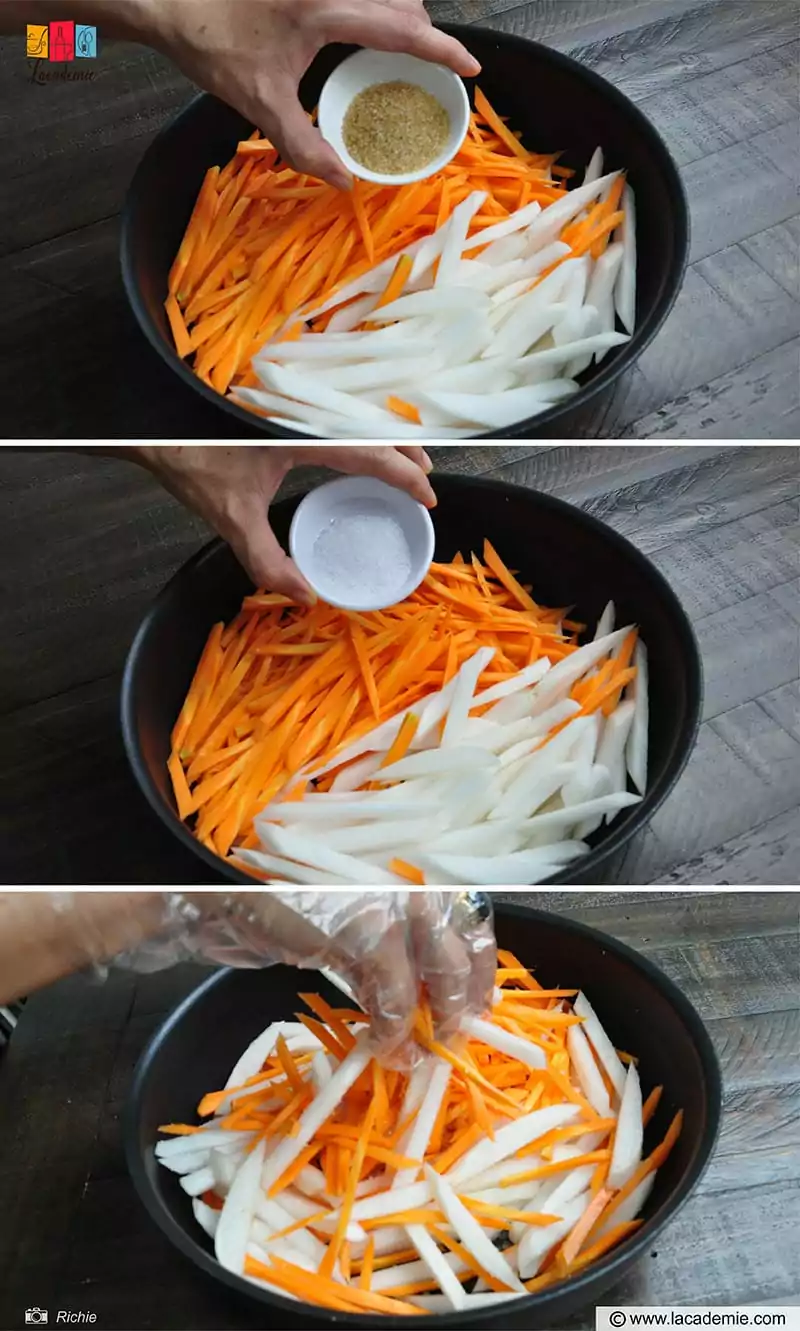 Note: Sugar improves the vegetables' crispness, and salt reduces their pungent smells.
Step 2: Make The Vinegar Solution
In the meantime, place the saucepan on the stove. Add the vinegar and sugar to the pan. Boil the mixture, stirring it with a wooden spoon to dissolve the sugar.
Once done, remove the vinegar solution from the heat and let it cool completely.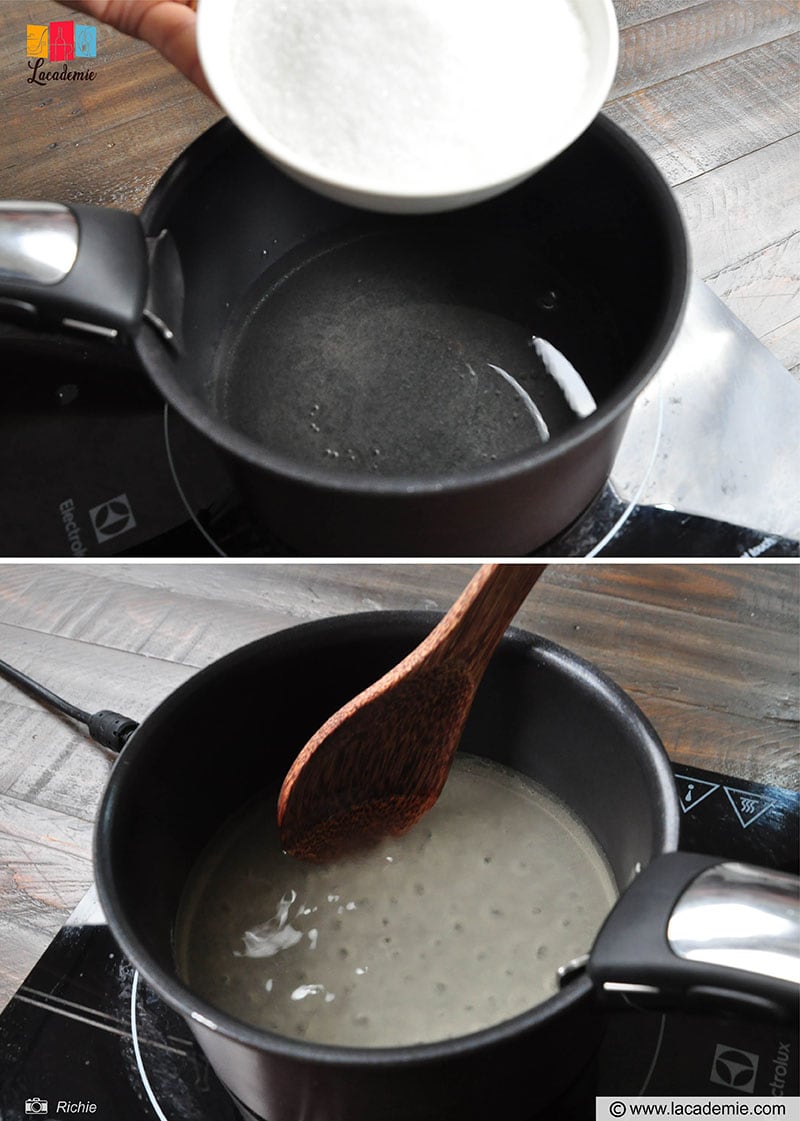 Step 3: Rinse The Daikon And Carrots
After 30 minutes, squeeze the vegetables to remove excess liquid. Rinse them 2 to 3 times.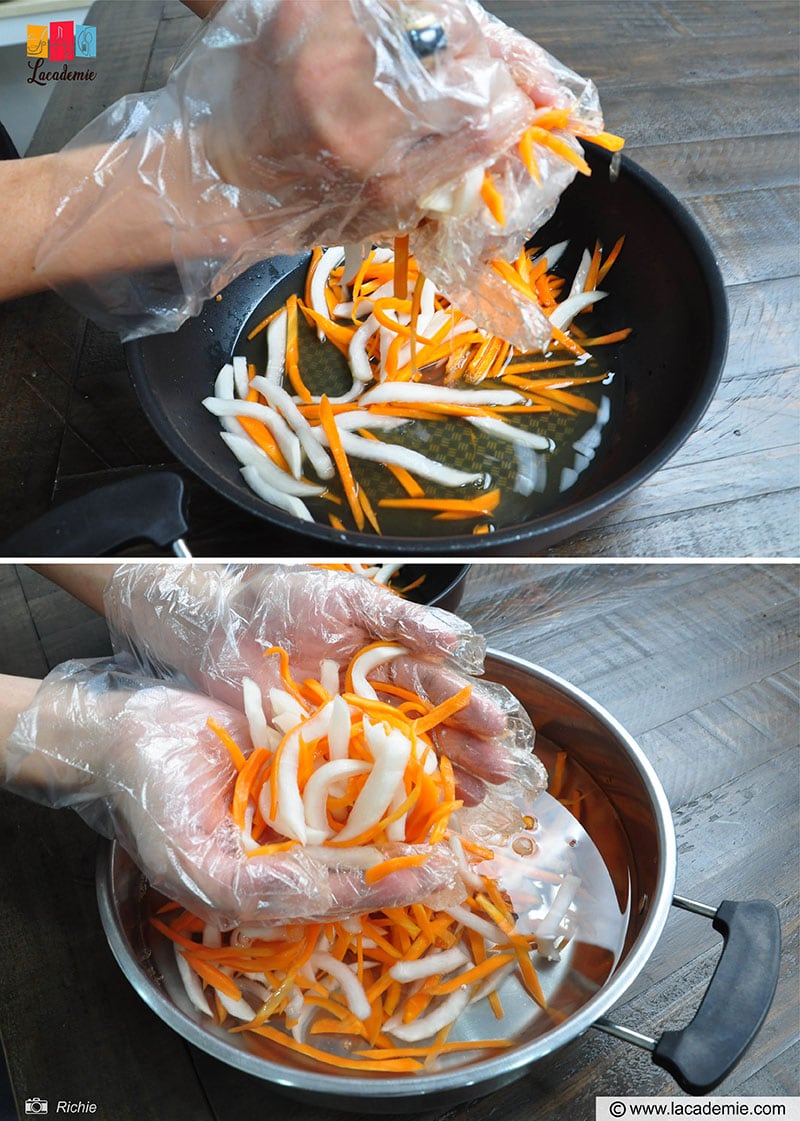 Drain the vegetables.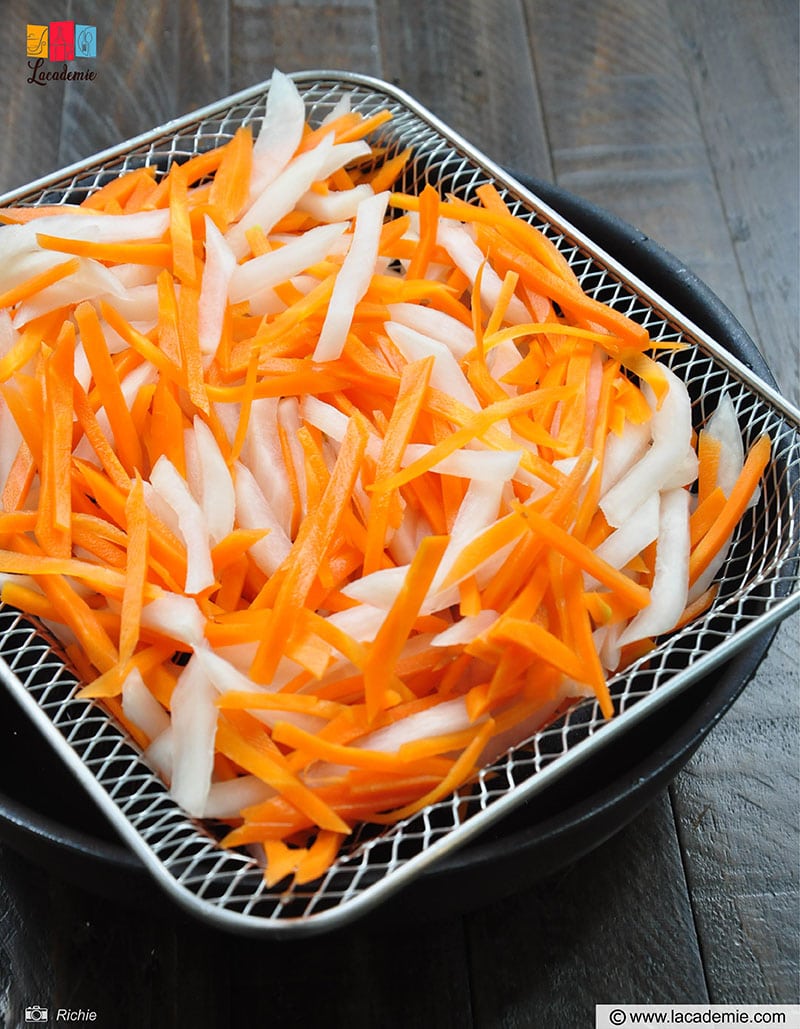 Pat the daikon and carrots with a clean towel to thoroughly dry them.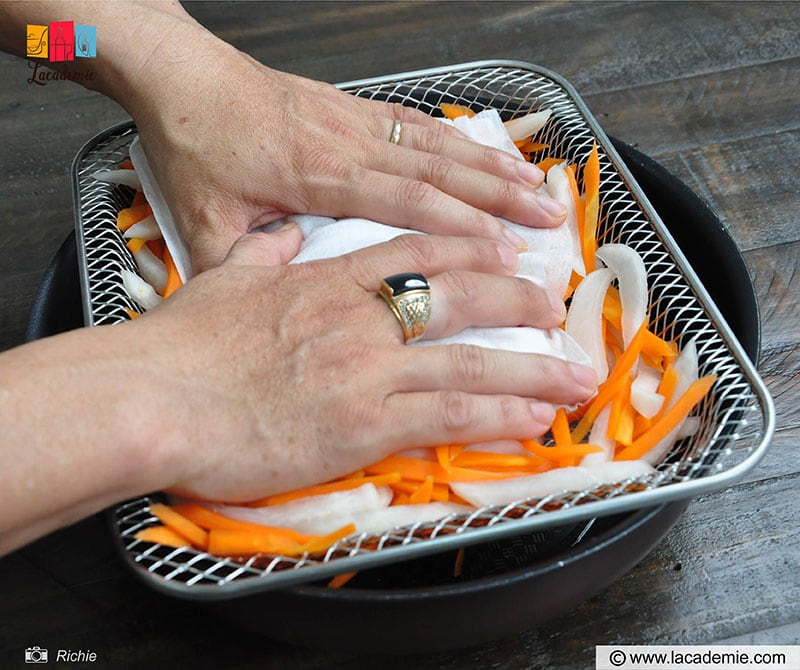 After that, put the veggies in a glass jar..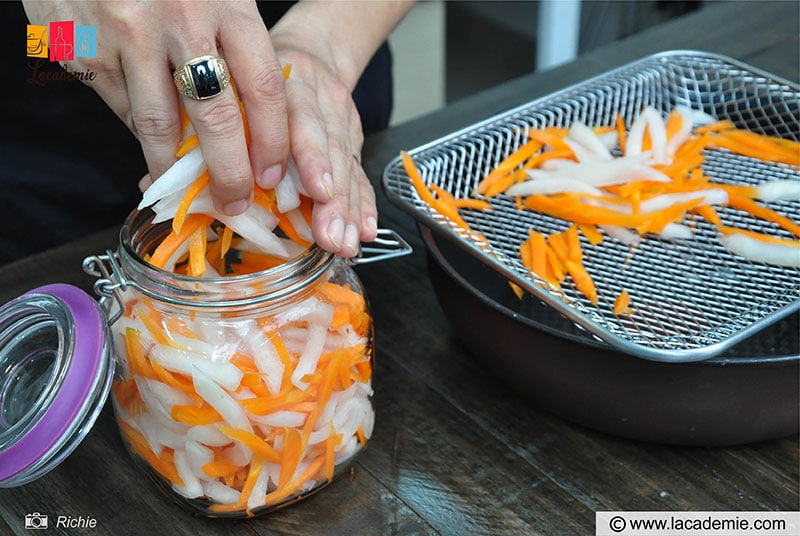 Step 4: Pickle The Vegetables
Pour the vinegar solution into jars. Make sure that the vegetables are fully submerged in the solution. Then, seal the jars and pickle for at least 3 to 4 hours.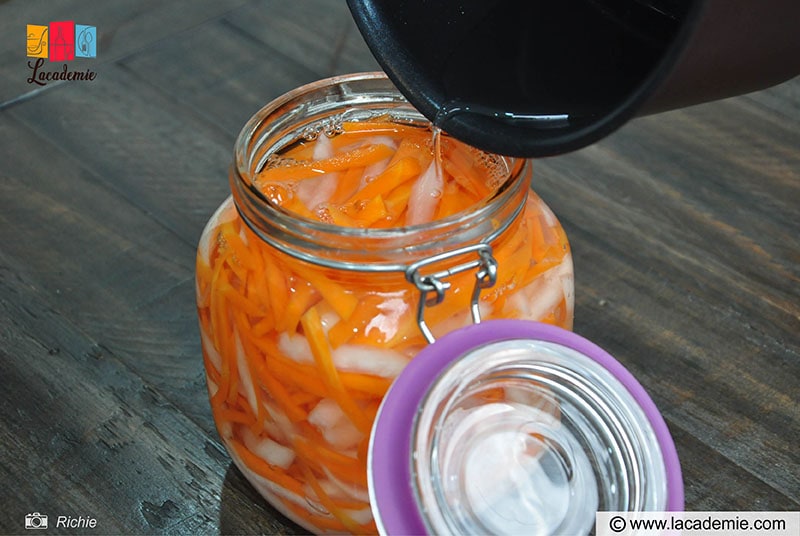 Step 5: Serve Your Do Chua
Your Do Chua is ready for serving! Besides the Vietnamese dishes mentioned above, you can also enjoy this pickle with Com Chien Do (red Vietnamese fried rice), Bun Thit Nuong (grilled pork with vermicelli noodles), etc. Or you can add these flavor-packed vegetables to your salad!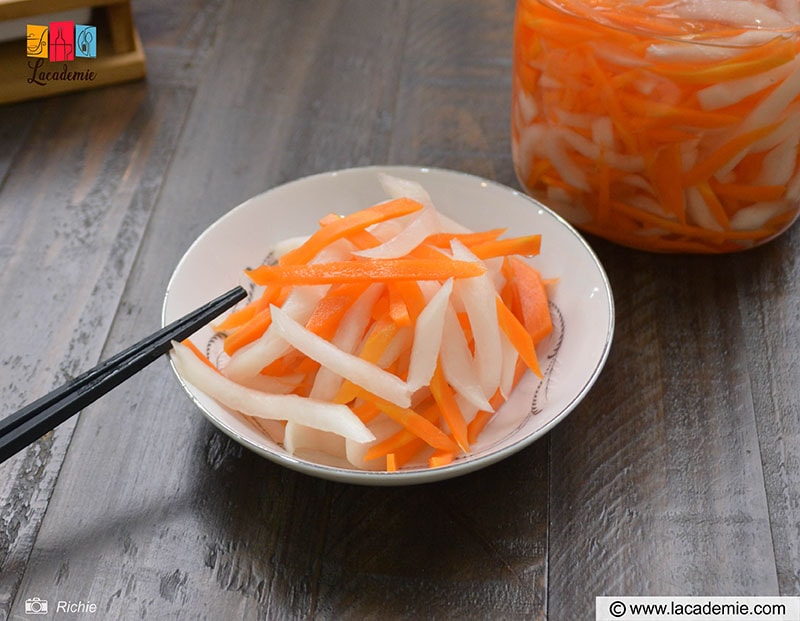 Tips
Here are a couple of great tips to apply when pickling Vietnamese Do Chua. I'll also include the best way to store this delicious dish here.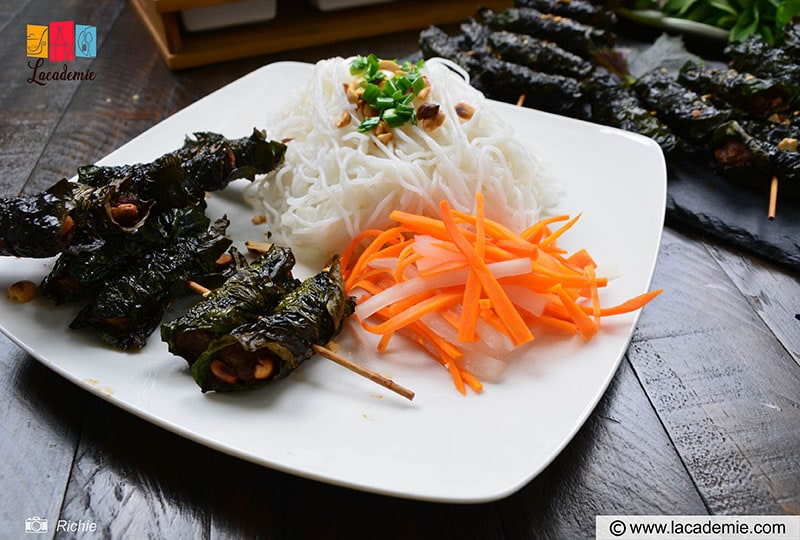 Feel free to adjust the amount of sugar, salt, and even vinegar to your liking.
You can use a vegetable peeler to quickly julienne the carrots and daikon. However, I prefer not to do this as I find the vegetable sticks a little too thin, which affects the dish's texture.
To lengthen the shelf life of your Do Chua, try to squeeze out as much liquid as you can.
Some people like to add garlic and chili pepper to their Do Chua during pickling. You can try doing so if you want to add some spiciness to the dish.
Always use clean utensils when scooping the pickled vegetables out of the jars.
To store Do Chua, put the whole jar (sealed) in the fridge. It will last for about 1 month.
Spice Up Any Dishes With Vietnamese Do Chua
Pickled carrots and daikon are vital condiments to complete your Vietnamese meals and an immaculate choice to pair with a wide range of other recipes. Whenever you need something light, tangy, and sweet to balance the flavors, grab your jar of Do Chua and spoon out some!
Please drop a comment below to let me know your thoughts on Vietnamese Do Chua and your favorite dishes to enjoy with them. Moreover, kindly give the post a 5-star rating and share it on your social media so more people would know about this Vietnamese classic.
Nutrition Facts
10 servings per container
---
Amount Per ServingCalories113
% Daily Value *
Sodium 274mg

12

%
Potassium 293mg

9

%
Total Carbohydrate 27.3g

9

%

Dietary Fiber 2.2g

8

%
Sugars 23.9g

Protein 1.5g

2

%
---
* The % Daily Value tells you how much a nutrient in a serving of food contributes to a daily diet. 2,000 calories a day is used for general nutrition advice.