Cantonese foods are one of eight branches of the broad Chinese cuisine. Due to the huge number of immigrants from Guangdong to America, Cantonese recipes have become widely available in Chinese households and abroad.
With the diversity and creativity of Cantonese cuisine, it will take a long time to become familiarized with their signature dishes. But don't worry, this article is here to help! So let's take a look at my intriguing list for your upcoming lavish Cantonese feast.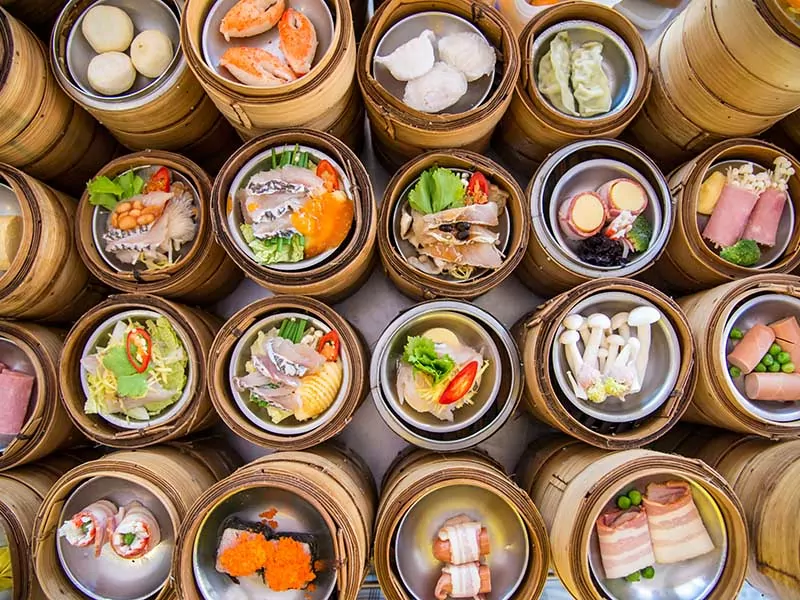 A Journey Through Cantonese Cuisine
Cantonese cuisine is also known as Yue cuisine. It originates from the Guangdong Province and is known for its delicate flavors, fresh ingredients, and diverse cooking techniques.
History
Cantonese cuisine's cooking techniques have developed over an impressive 2,000-year history in China. Traces of its recipes can be found as far back as the Han (206 BC-220 AD), Wei, and South and North dynasties (220-587).
This culinary tradition gained widespread recognition both domestically and internationally at the dawn of the 20th century.
Commonly Used Ingredients
Cantonese cuisine places a strong emphasis on using fresh and high-quality ingredients, which are crucial to achieving its signature delicate flavors.
Fresh seafood: As Guangdong is a coastal province, seafood is abundant and features prominently in Cantonese dishes. Fish, shrimp, crab, and shellfish are all widely used.
Meats: Apart from pork, beef, and chicken, Cantonese cuisine incorporates nearly all types of edible meats, such as offal, duck's tongue, chicken feet, frog legs, snails, and snakes.
Vegetables: A wide variety of vegetables are used, such as bok choy, choy sum, snow peas, and Chinese broccoli, to add color, texture, and nutrients to the dishes.
Tofu: Various types of tofu, such as silken, firm, or fried, are a staple in Cantonese cooking, often featured in soups, stews, and stir-fries.
Seasonings: Some key ingredients are salt, sugar, rice wine, vinegar, soy sauce, corn starch, and sesame oil. Garlic is often used in dishes with internal organs to counteract any unpleasant odor. Other spices like five-spice powder, powdered black pepper, ginger, chili peppers, and star anise are used sparingly.
Cantonese Cooking Techniques
Cantonese culinary experts favor methods such as stir-frying, boiling, steaming, braising, sauteing, deep frying, shallow frying, baking, and roasting. These techniques primarily maintain the authentic and unadulterated taste of the ingredients.
Regional Variations
While Cantonese cuisine shares many characteristics across the Guangdong province, there are some regional variations that showcase the diversity of this culinary tradition:
Guangzhou: The primary component of Cantonese Cuisine, also encompasses the widely popular Chaozhou and Dongjiang dishes. This cuisine makes use of ingredients sourced from the air, land, and sea, and is typically enhanced with just a touch of seasoning.
Chaoshan: Also known as Chiuchow cuisine, Chaozhou cuisine, or Teochew cuisine. It is renowned for delicacy, freshness, mildness, and healthfulness with an impressive array of ingredients.
Shunde: Focuses on healthy eating, with dishes that are carefully prepared to retain their nutritional value while still offering a feast for the senses.
Cantonese Appetizers
During family reunions, appetizers are a tactic to keep people busy while waiting for the main dishes. Here are some Cantonese appetizer options that you should check out:
1. Char Siu – Chinese BBQ Pork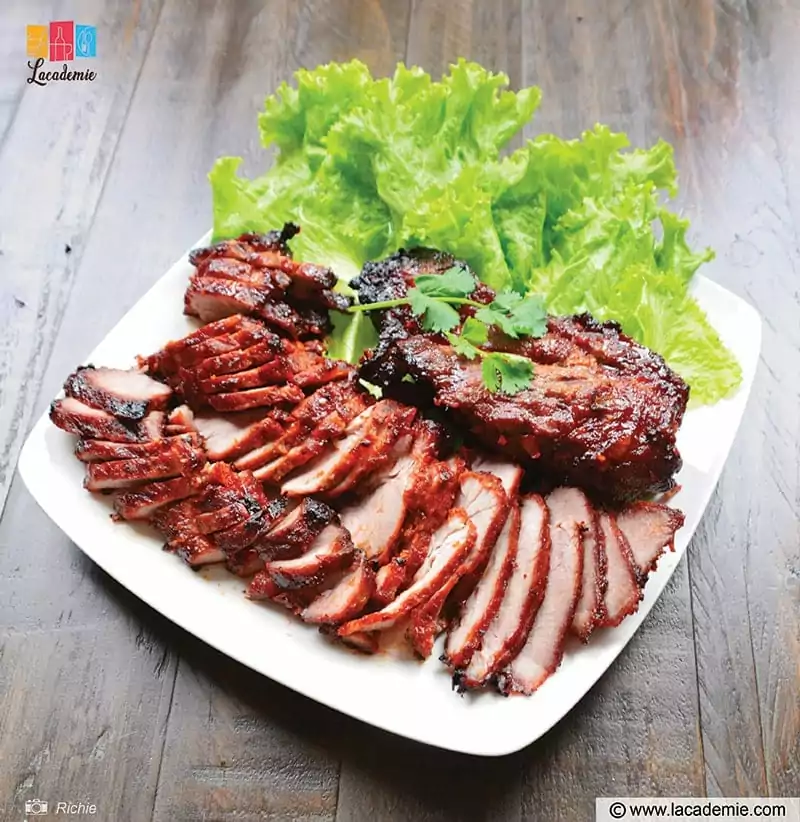 Char Siu is a Chinese-based cooking idea made from boneless pork. The pork is placed on skewers or forks over low heat and covered in a sweet and savory glazy.
This tender and juicy meat has become a well-loved symbol of Cantonese cuisine that every generation could hardly resist.
Char Siu made its appearance in the royal recipe books from the Zhou dynasty over 3000 years ago when the menus featured a ton of grill or barbeque recipes. This dish quickly gained the crowd's love and continued its popularity until this very day.
Char Siu represents the food culture itself, whether from a classy restaurant or merely a food stall in a wet market. Many people love to enjoy char siu with delicious egg noodles. It's also a perfect addition to rice or buns.
Sink your teeth into the succulent strips of char siu, marinated in a blend of hoisin, soy sauce, and Chinese five-spice powder. This dish is perfectly paired with rice and captures the authentic taste of Guangdong cuisine.
2. Chun Juan – Cantonese Spring Rolls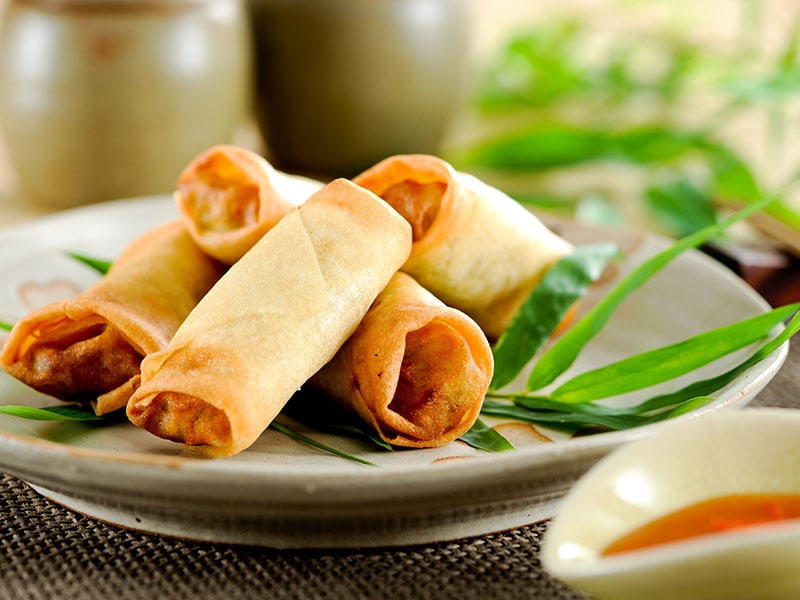 Seeking a tasty takeout option? Cantonese Spring Rolls are the answer! Stuffed with a delectable mix of shredded pork, shrimp, black mushrooms, and garlic chives, these crispy rolls are sure to satisfy.
Each region has its version of spring rolls, but the Cantonese style is probably the most well-known. Wrapped in various ingredients and deep-fried to golden perfection, this dish is undoubtedly a hit with your guests.
This classic can be served as a daily appetizer, but it's a serious charm to break the ice at family gatherings during the Chinese New Year.
The locals believe that the process of preparing Chun Juan symbolizes happiness and good fortune, which are desirable wishes for their family.
If you're a vegetarian, feel free to change the meat into mushrooms and veggies. Plus, an American invention, egg rolls, has revolutionized the original spring rolls. You can find these thick and crispy rolls in many overseas Chinese restaurants.
3. Cheung Fan – Steamed Rice Noodles Rolls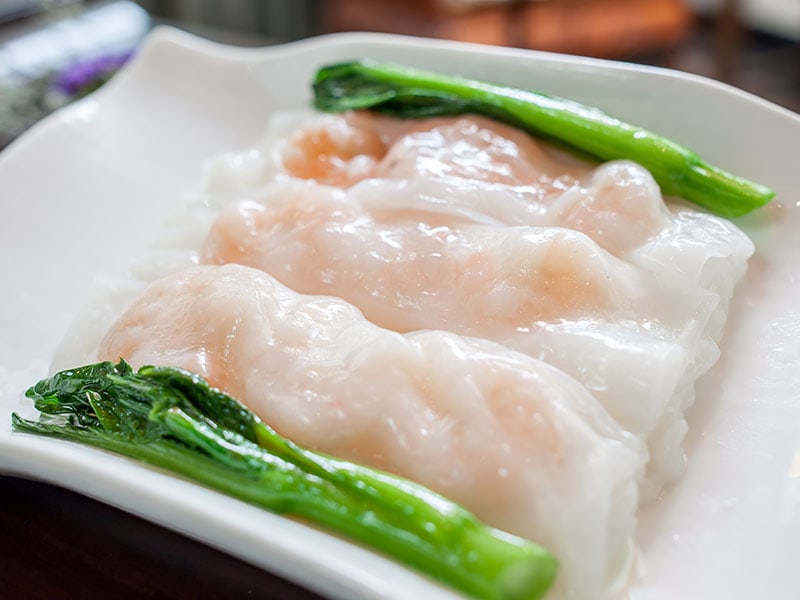 Cheung Fan will be my first option when it comes to a full-filling and delicious breakfast. FYI, the term "Cheung Fan" means "pig intestine noodle roll". However, there isn't any offal in the dish.
There is no official documented history of rice noodle rolls, but according to various cookbooks, it is believed to have originated in the 1930s. The dish is known as "laai cheung" in Guangzhou, which translates to "pull intestines" as it refers to the process of hand-pulling the noodle roll.
Despite the various sub-versions with similar cooking methods in Guangdong province, the flour mixtures and sauces are pretty different. Sweet soy sauce and sesame sauce are the two primary choices to make the dish become a real killer.
Plus, if you have a chance to visit Malaysia, you can easily find this food on Malaysian streets. It's not hard to make this Cantonese breakfast recipe at home, but recreating the thickness and flavor of store-bought Cheung Fan might be a challenge.
However, if you have enough equipment and skills, the homemade version is definitely a win.
4. Cha Siu Bao – Roasted Pork Buns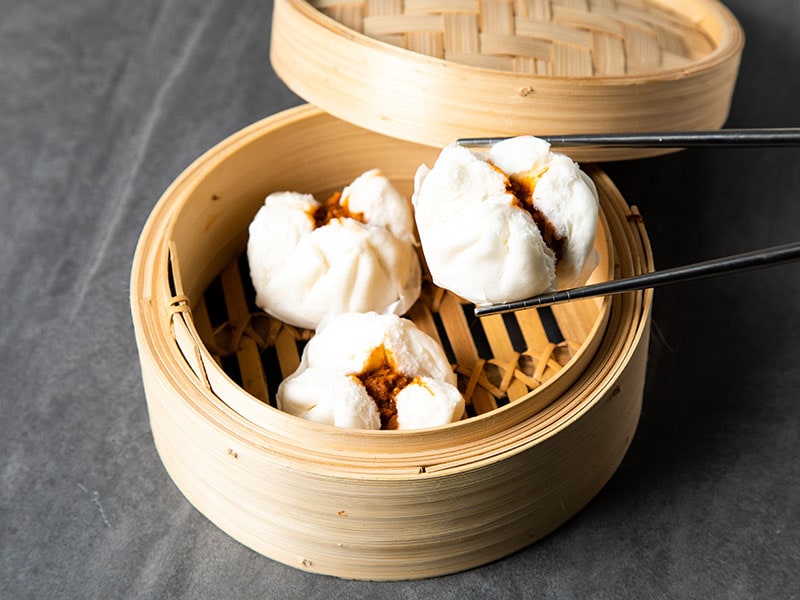 You cannot go to a Dim Sum restaurant and leave without trying these super fluffy buns. Cha Siu Bao is an essential Dim Sum item in Cantonese culture, and every Cantonese has eaten or encountered this dish since they were a kid.
There are two distinctive kinds of Cha Siu Bao. The steamed one with a white bun is Chashao Bao, while the brown baked one is Chashao Can Bao. The dish may look simple, but getting it right requires techniques and patience.
Cha Siu Bao is also a great way to use up leftover roast pork. Then, what are you waiting for? Order some Cha Siu Bao and enjoy tea time with your family right now!
5. Lo Mai Gai – Sticky Rice In Lotus Leaf Wraps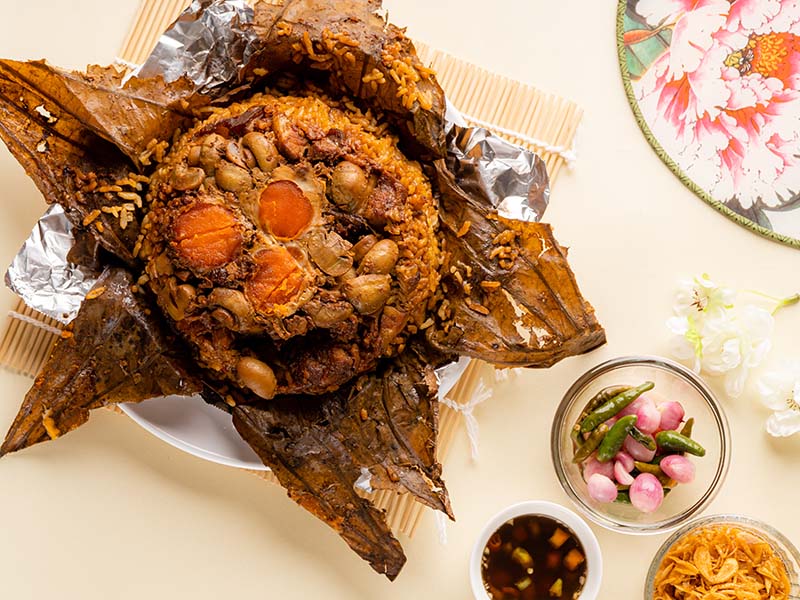 Lo Mai Gai is a tasty Dim Sum in Southern China, which is usually served as a yummy Chinese starter. It used to come in a bowl, but lotus leaves have become a more convenient to-go option. The dish contained steamed glutinous rice and chicken wrapped in a dried lotus leaf.
In Chinese culture, the lotus is a symbol of purity. This comes from the saying "to grow out of the mud unsullied", referring to the lotus still growing beautifully despite the dirty soil.
Lo mai gai is typically served in a generous portion size, which can be quite filling. As a result, a smaller version called jan ju gai has been developed to cater to those who prefer a smaller portion size.
Some people may mistake Lo mai gai for Zongzi. They are both delicious Chinese rice dishes, but they differ in appearance and wrapping. Lo mai gai is typically shaped like a rectangle and wrapped in lotus leaf, while zongzi is shaped like a pyramid or cone and wrapped in bamboo or reed leaves.
Both dishes are traditionally filled with savory ingredients such as chicken or pork, as well as other flavorful ingredients.
6. Dim Sum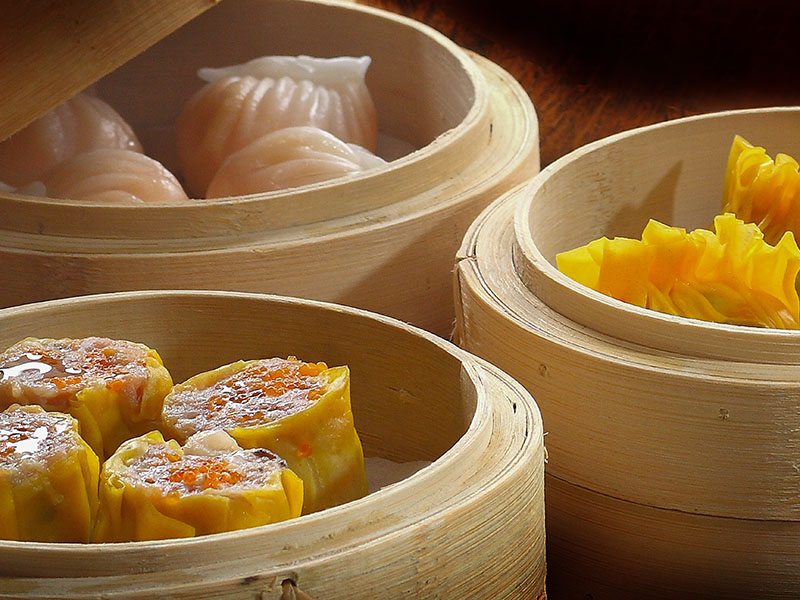 Speaking of traditional Hong Kong dishes, Dim Sum is the first thing that comes to my mind. Dim Sum (or Dimsam in Cantonese Yale) is a traditional meal with an extensive range of small plates of bite-sized portions of Chinese dishes.
The origin of most modern Dim Sum dishes is from China and is associated with Cantonese cuisine. The most popular myth about Dim Sum is that it was created centuries ago by Royal chefs to "touch the heart" of Chinese emperors.
There are a variety of Dim Sum dishes that can be separated into categories ranging from regular items to travel-friendly.
7. Xiao Long Bao – Soup Dumplings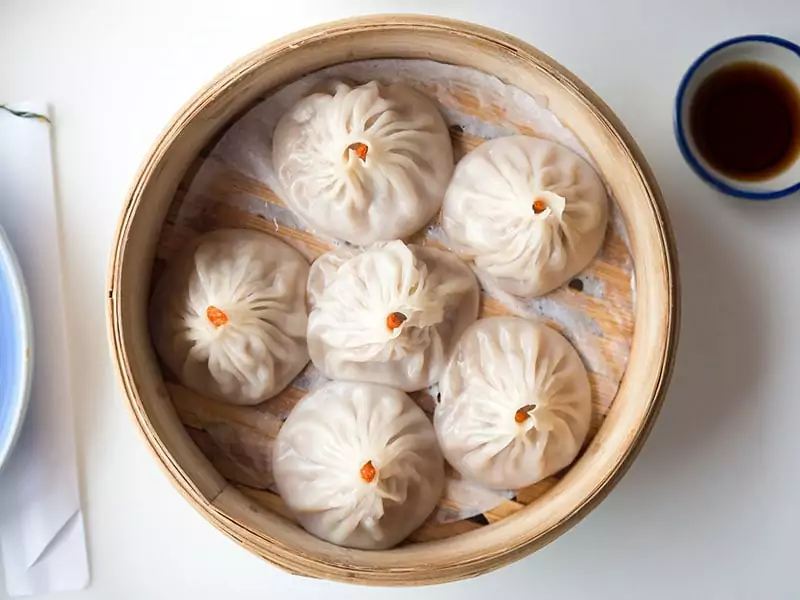 During the Daoguang Emperor's reign from 1820 to 1850, Xiao Long Bao made its first appearance in Wan Hua Tea House in Changzhou, Jiangsu province. Nowadays, it is a well-liked dish in Taiwan, let alone China.
These soup-filled dumplings are the pinnacle of steaming perfection. They're as flavorful as a typical dumpling, but it is extra juicy and delicious, thanks to the hot soup.
Xiao Long Bao is traditionally served during breakfast and Cantonese tea time. The locals love to enjoy these dumplings with a mixture of soy sauce, vinegar, and sliced ginger.
8. Lo Bak Go – Turnip Cakes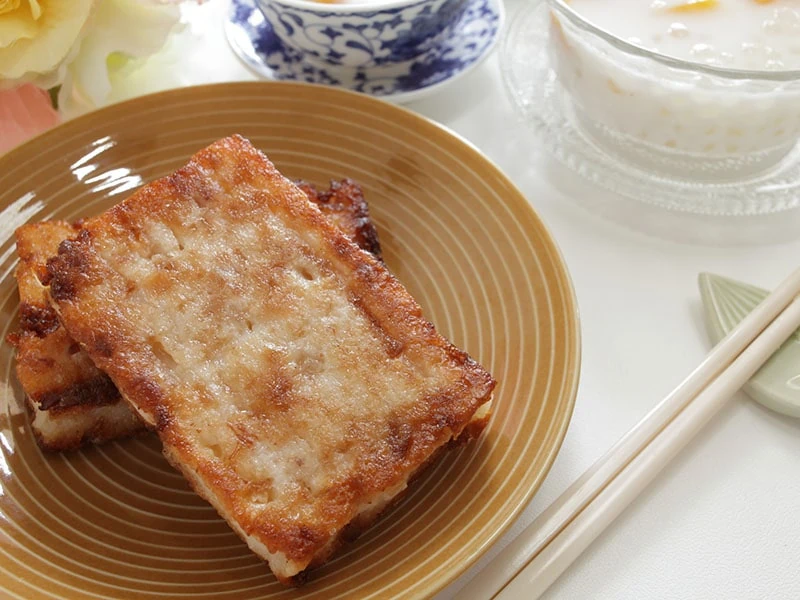 Turnip cakes, or radish cakes, is another typical Dim Sum dish that you must try at least once. Lo Bak Go is often made with daikon turnips and rice flour, although some places include minced meat or fish in their recipe.
The Chinese term for "radish" is a homophone for "good luck". Therefore, this popular Dim Sum dish is usually eaten during the Chinese New Year.
At Cantonese yum cha, it's common to find turnip cake on the menu, served as rectangular slices that are occasionally pan-fried. The fried version is notable for its thin, crispy exterior and soft, tender interior.
Lo Bak Go is quite bland on its own, but it will taste amazing with hoisin sauce, soy sauce, and chili flakes.
Cantonese Main Dishes
After several impressive appetizers, it's time for the main course! The main dishes are usually the heaviest and most complex meals on the menu. Read on and learn what they are!
9. Yun Tun Mian – Wonton Noodles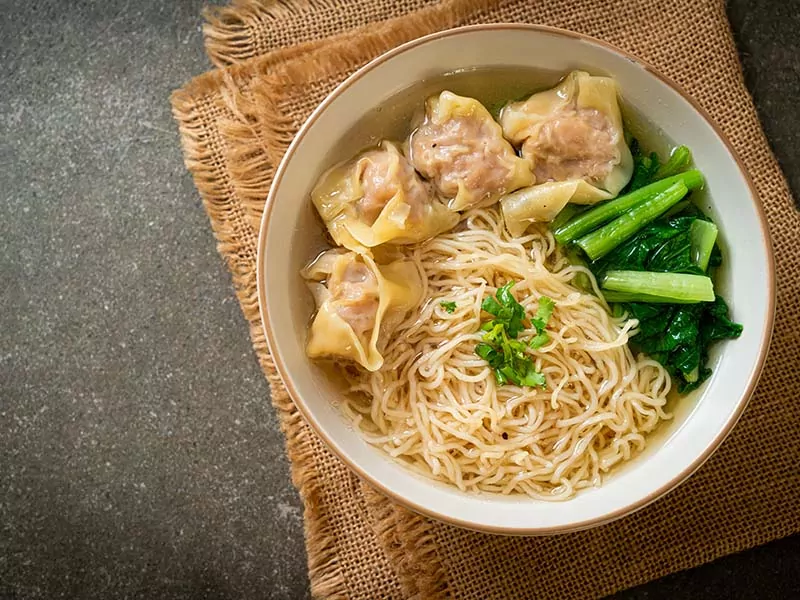 Yun Tun Mian is a delicious noodle dish of Cantonese origin. It's such a basic bowl of noodles that can be found almost everywhere, especially as iconic street food in Hong Kong at a very affordable price.
If you don't stay near a Chinatown or Cantonese place, it's super easy to make, so feel free to give it a try at home. But there are a few things about Yun Tun Mian that you should know before making it.
First, the wontons are mostly prawn-based (70% shrimp and 30% pork). Second, the noodles must be thin, smooth, and al dente. Third, the broth has to be hot. Finally, don't forget garlic chives!
And when you serve it, remember to place the spoon at the bottom with the wontons above it. The noodles should also be on top since soaking them for too long will make them become overcooked.
People usually consider crafting a bowl of Yun Tun Mian an art form. The wonton wrappers and noodles are usually fresh. However, you can opt for store-bought egg noodles and serve them in a hot broth for a homemade version.
10. Bo Zai Fan – Claypot Rice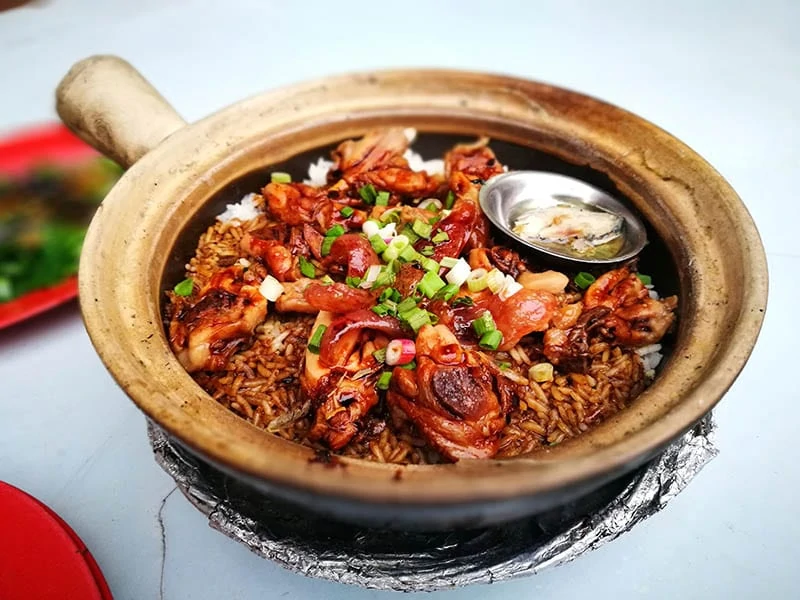 Although Bo Zai Fan is one of the go-to dishes during the freezing cold days, this Cantonese lunch recipe might be time-consuming to make.
Customers usually wait for about 15-30 minutes for this dish, even at the finest restaurant. But in the end, it will all be worth it!
Lap Cheong sausage, chicken, and shiitake mushrooms are some main ingredients to flavor the rice, but sometimes restaurants customize the dish with salted fish, goose-liver sausage.
This one-pot meal used to be cooked over charcoal to give it a smoky aroma and flavor. But nowadays, Cantonese cooks use a stove to sear the pot, resulting in the signature crispy golden layer of rice at the bottom.
11. Gon Chow Ngau Ho – Stir Fry Beef Noodle/Beef Chow Fun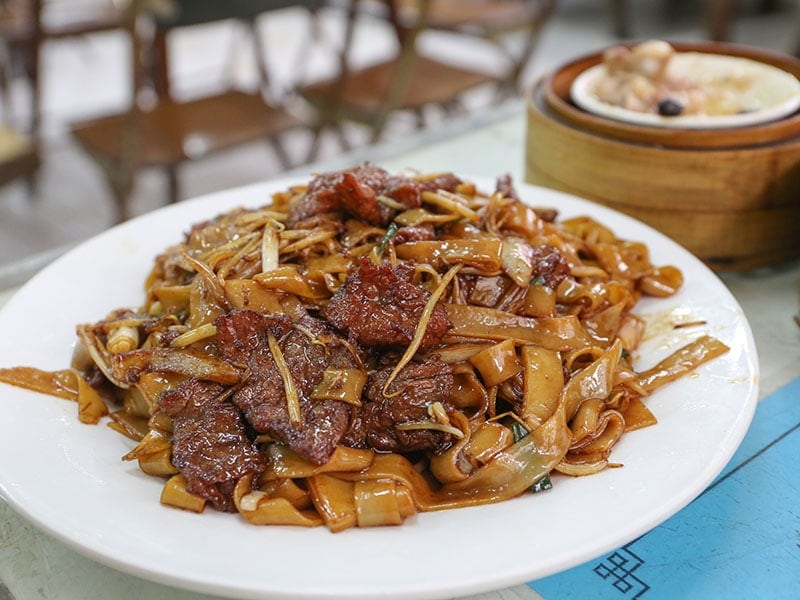 Gon Chow Ngau Ho or Gan Chao Niu He is a quick and easy Cantonese stir-fry recipe that originated in the town of Shahe in Guangzhou.
In the midst of World War II, Mr. Hui, a resourceful Cantonese chef, inadvertently created the now-famous dry-fried chow fun. Facing a shortage of potato starch for sauce and under immense pressure from a hungry and irate military commander, he ingeniously decided to stir-fry the dish without sauce.
His innovative take on the classic chow fun not only appeased the commander, but also led to the birth of a new culinary delight that would become a staple in Cantonese cuisine.
This dish has eliminated the belief that all stir fry dishes have to be full of colors since Gon Chow Ngau Ho is all brown yet still eye-catching and irresistible. The proper method to make this dish is using a wok, which might not be practical for every home cook.
It is also a common sight at yum cha establishments in Guangdong, Hong Kong, and other parts of the world, as well as at cha chaan tengs (Hong Kong-style cafes or diners).
Here's a step-by-step guide on Gon Chow Ngau Ho to amaze your guests.
12. Shark Fin Soup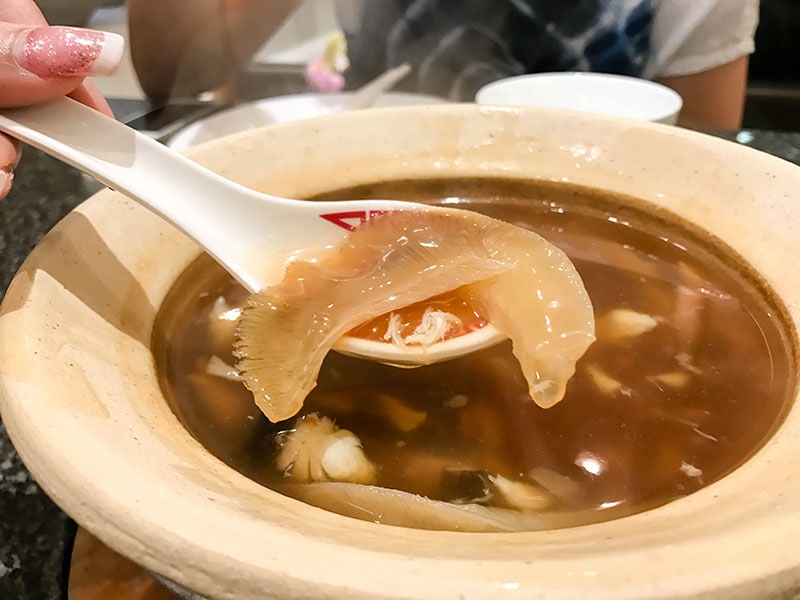 The origin of shark fin soup traced back to the Song Dynasty (960-1279), when it embodied the hospitality and prosperity of the imperial family. Since then, its popularity has increased and become one of the most sought-after dishes worldwide.
In Chinese culture, shark fins are believed to prevent heart disease, rejuvenate the skin, and nourish the body's vitamins. However, nowadays, the cooks have to substitute real shark fins with artificial ones to avoid environmental damage.
This dish might sound unusual, but give it a try to complete your Cantonese cuisine journey. You won't regret it!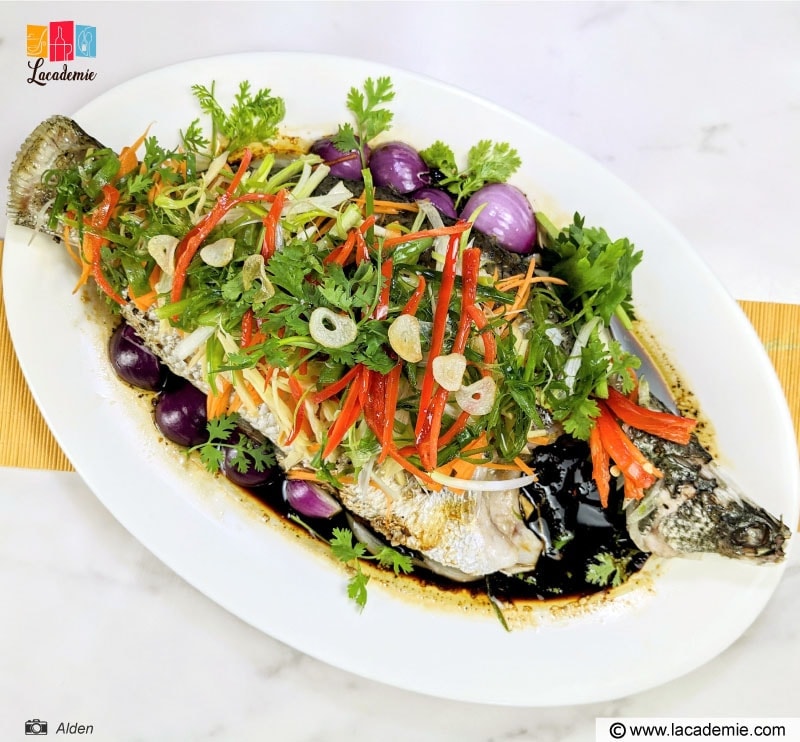 Since the climate of Guangdong can be blistering hot, steaming is the most common way to minimize some rich spices.
This cooking method not only enhances the flavor of seafood but also preserves its nutrients. You can achieve a delicate and moist texture, whether you're using whole fish or fillets. If you don't have a wok, a deep or shallow pan works just as well.
Also, the fish tanks in Chinese restaurants are not just for decoration! This Cantonese meal calls for fresh, high-quality, and alive fish since ignoring the freshness of the dish would be the highest culinary sin.
If you want to make this Cantonese dinner recipe at home, remember to use dried mandarin orange peels to purify the fishy aroma. This dish tastes best with a bowl of hot rice, similar to almost every Asian meal.
If you want to impress your guests with fresh Cantonese steamed fish, follow this easy recipe!
14. Gu Lou Yuk – Sweet and Sour Pork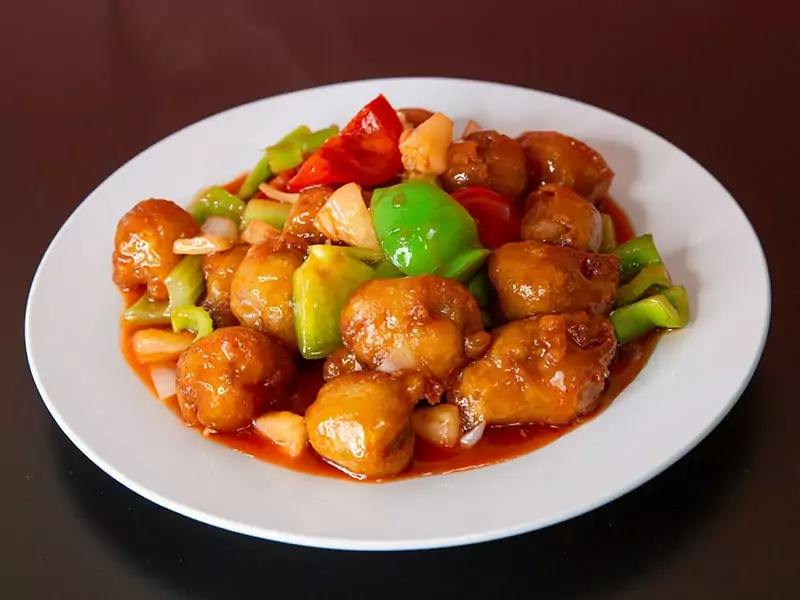 In Asian cuisine, a typical family usually consists of many savory dishes served alongside a bowl of steaming rice. And Gu Lou Yuk is one of them!
Gu Lou Yuk, also known as sweet and sour pork, is a famous Cantonese meal and a well-loved recipe for children and adults alike. The pork is battered and fried to perfection, while the sauce is a mouth-watering combination of pineapple juice, soy sauce, and other condiments.
Overall, this recipe is truly a crowd-pleaser. The yummy pork can satisfy the pickiest eaters in China and worldwide.
15. Jook – Congee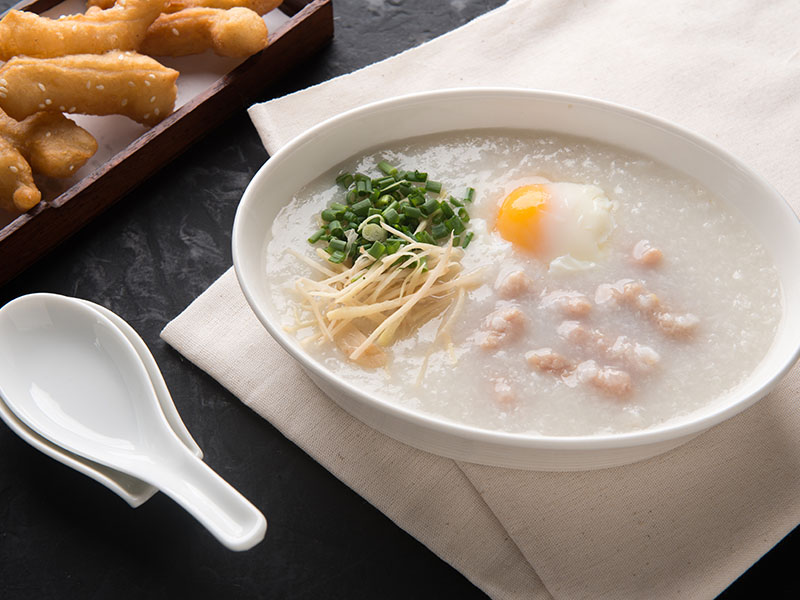 Congee, also known as Conjee, is a rice porridge famous in Asian nations. In Cantonese, it's often referred to as "jook" while the Mandarin word for it in Chinese is "zhou".
The process of making Cantonese congee involves boiling white rice in a significant amount of water over low heat for a prolonged time until the rice breaks down and the mixture thickens into a white porridge.
People usually have it with side dishes like meat, fish, scallions, pickled veggies, and century eggs. Congee has many different names and ways to make it depending on the regions.
This dish is the archetypal example of Cantonese homestyle food or Singapore-based cuisine. It is warm, comforting, and easy to eat; that is why it is the go-to meal for those who are unwell.
Congee is also a standard meal for breakfast. Imagine waking up to a steaming bowl of rice porridge; how perfect is that!
16. Yee Mee/Yi Mein – Long Life Noodles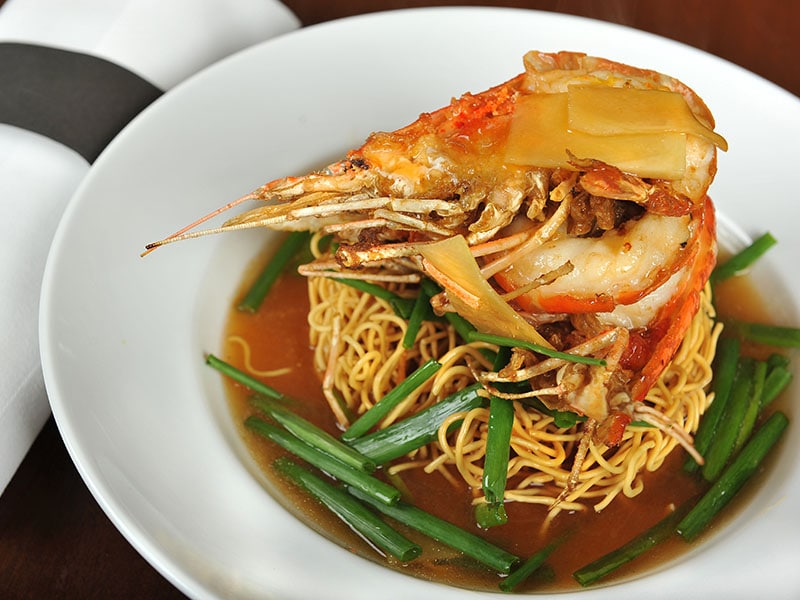 Yi Mein, Yee Mee, or Long Life Noodles, is a sumptuous Cantonese dish steeped in both cultural significance and culinary delight.
These flat Cantonese egg noodles are crafted from wheat flour and boast a distinctive golden brown hue and a uniquely chewy texture. The secret to their irresistible chewiness lies in the soda water-infused dough, which is skillfully fried and dried to form patty-like dried bricks.
They can be prepared in a myriad of ways: boiled and then stir-fried, nestled in a comforting soup, or tossed in a refreshing salad. The hallmark of Yee Mee's excellence is its ability to maintain the elasticity, allowing the noodles to stretch and retain their chewiness even after cooking.
The Cantonese people celebrate longevity with a plate of Yee Mee on birthdays or during the Lunar New Year. These auspicious noodles, adorned with the Chinese character for "long" (長壽麵/长寿面), symbolize a long and prosperous life.
In accordance with tradition, the chef must not cut the noodles, and diners are encouraged to devour each strand whole (without breaking it) to fully embrace the essence of a long life. These noodles are the perfect addition to any festive celebration and are often enjoyed alongside longevity buns.
17. Bai Qie Ji – White Cut Chicken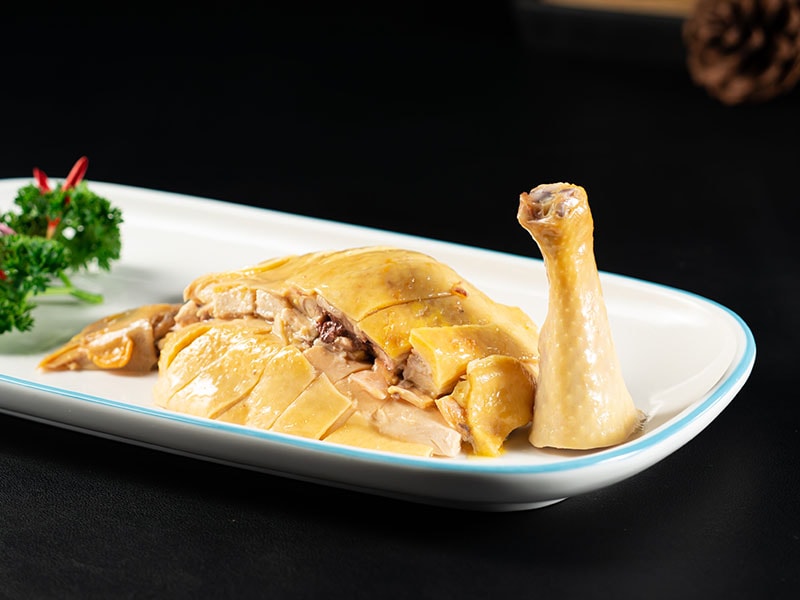 It's time to savor the irresistibly tender Bai Qie Ji, also known as White Cut Chicken! This dish originates from the flavorful culinary landscapes of Southern China, including Guangdong, Hong Kong, and Fujian.
The name "White Cut Chicken" speaks to its unique preparation method. Instead of roasting, this dish is gently steamed, allowing the chicken to maintain its natural color and flavor. The result is mouthwateringly juicy and tender meat that will have you reaching for seconds.
Bai Qie Ji is served in scrumptious bite-sized pieces, complete with bone and skin, then garnished with cilantro, leeks, and a touch of ginger.
The accompanying geung yung sauce is the perfect complement, featuring a tasty mix of salt, hot oil, finely minced garlic, ginger, and green onion. For an extra burst of flavor, try dipping your chicken in soy sauce, oyster sauce, spicy mustard, hoisin sauce, or chili pepper sauce.
You might be curious about the difference between Bai Qie Ji and Hainanese Chicken. Though they may seem similar, they differ in terms of preparation and sauces. The Cantonese version is marinated before steaming, while Hainanese white chicken is cooked in boiling water with aromatic ingredients.
Cantonese Desserts
I bet you will think of something like cakes or ice cream when it comes to dessert. However, in Cantonese cuisine, you'll be blessed with warm soup (a common dessert type in Asia) or sweet custard. So jot down these heartwarming dishes to satisfy your sweet craving.
18. Hong Dou Tang – Red Bean Soup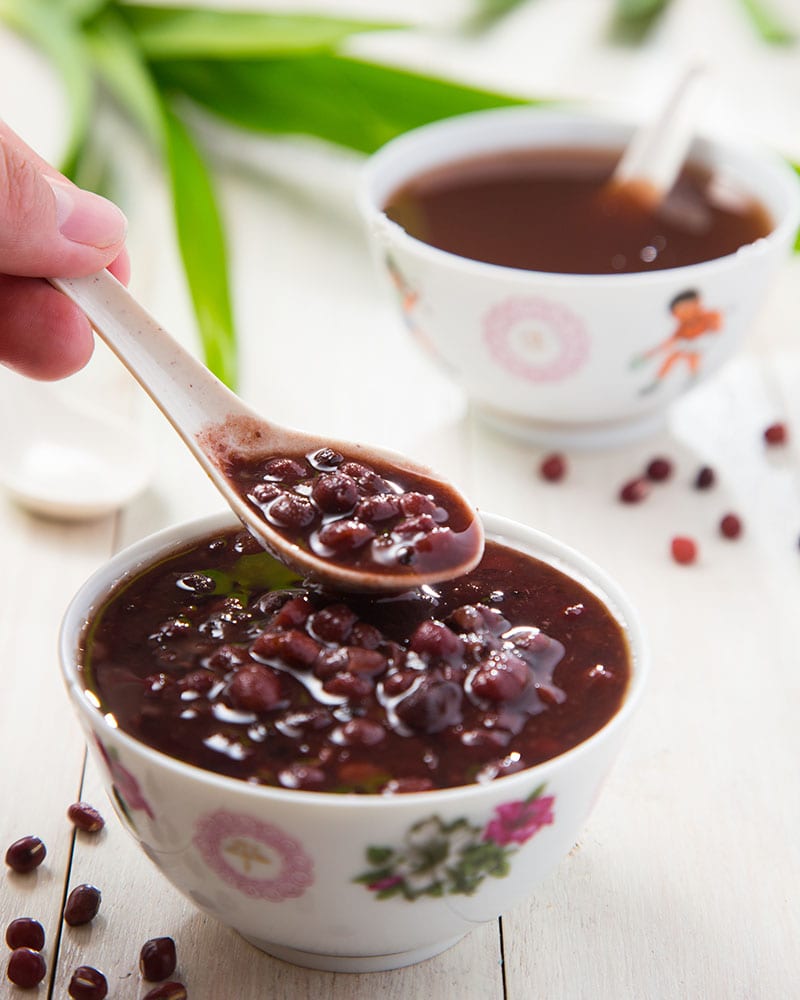 Have you ever been crammed after a lavish dinner at a Cantonese banquet? Don't worry, this light sweet red bean soup will help you out of the food coma. It is categorized as a Tang Shui, which literally translates as sugary water.
Not only does it taste delicious, but this popular dessert also conserves several interesting superstitious values. People believe it can ward off negative energy and evoke happiness.
Red bean soup is usually served hot during the winter, but you can still have it in the summer to wrap up your meal.
Cantonese red bean soup is typically made with rock sugar or sliced sugar, as well as sun-dried tangerine peels, lotus seeds, and sometimes other ingredients like sago or coconut milk. It also comes in various variations with ingredients such as ice cream, glutinous rice balls, or purple rice.
19. Dou Fu Fa/Tau Fu Fa – Tofu Pudding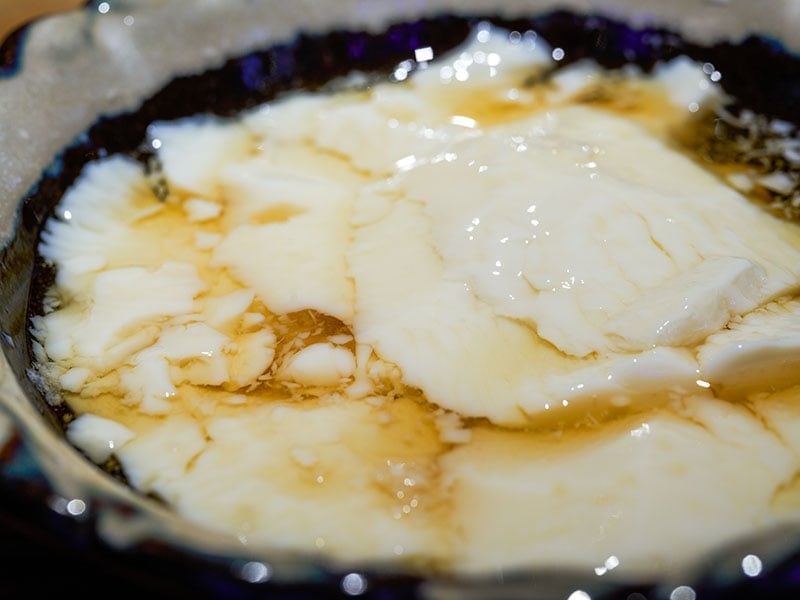 Have you ever heard that tofu can grant immortality? Well, it doesn't, unfortunately. However, that was the original purpose of tofu.
Most people believe that Han Dynasty Prince Lin (179–122 BC) was the one who created the first tofu. According to some versions of this story, the prince made the meal as an attempt to create an immortality elixir.
He utilized soybean and created a tasty snack called "tofu brains" during that time. Even though eternal life was solely a myth, tofu is highly beneficial to human health. It can reduce the risk of cardiovascular disease and stroke.
In Cantonese cuisine, Tau Fu Fa is served with a gingery sauce or clear syrup to help people cool down in the sweltering heat. In the winter, people use hot sweet water and beans to turn it into a warm comforting treat.
This Cantonese iconic dish is also commonly enjoyed as a part of yum cha.
20. Zi Ma Wu – Black Sesame Soup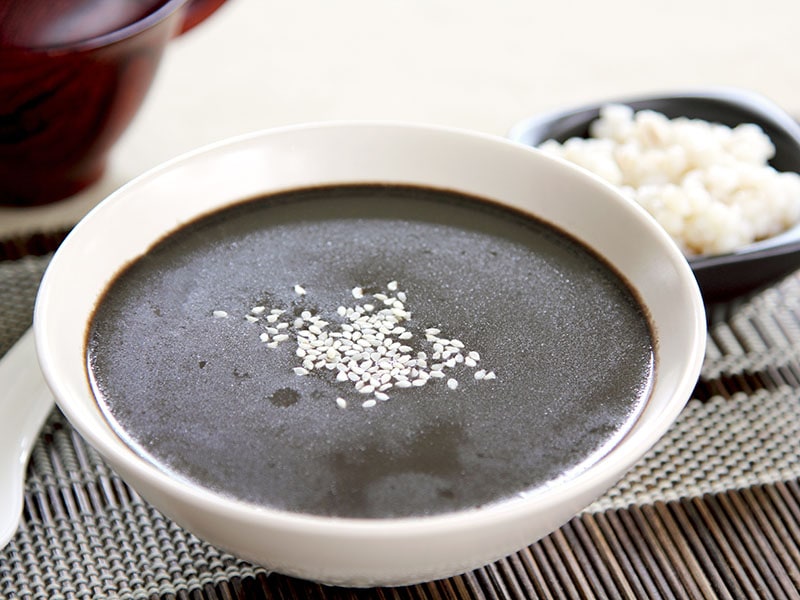 Zi Ma Wu is one of the tastiest Cantonese desserts and Chinese sweet food in general that you can put on your bucket list. Made from black sesame seeds, water, white or glutinous rice, this deep charcoal dessert has an incredible aroma.
It also has a healthy function since black sesame is believed to have detoxifying properties, promote urinary system health, nourish hair, and act as a natural laxative in traditional Chinese medicine.
You can easily make it at home or buy it in several Chinese restaurants. The most convenient way to make black sesame soup at home is by purchasing soup powder in Asian markets. Just add hot water, stir, and this traditional dessert will appear before your very eyes.
21. Daan Tat – Cantonese Egg Tart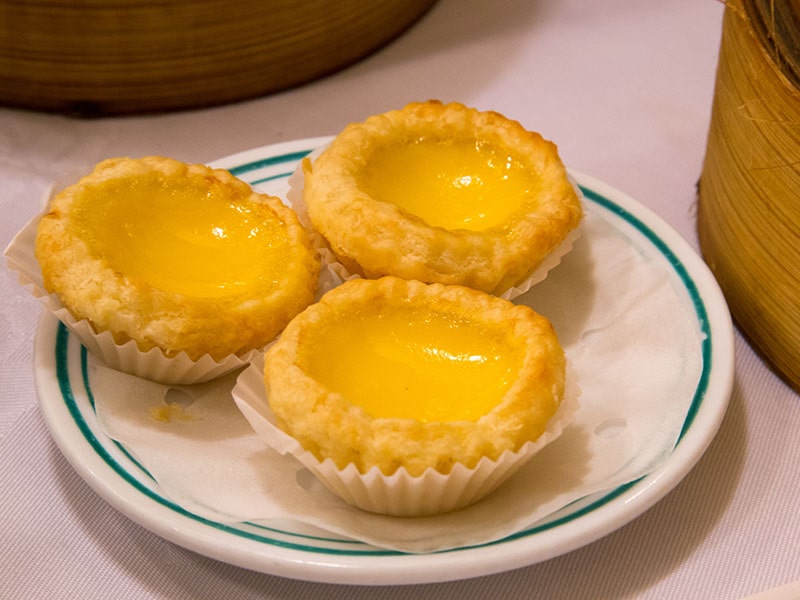 Daan Tat is the perfect end to your meal that Hong Kong gives you. This Cantonese version was derived from Portugal when Macau was colonized. Due to the short transport period to Hong Kong, the locals had modified and served them along with other Cantonese Dim Sum.
In contrast to the original version, the Cantonese egg tart crust is beautifully layered and super thin. The crumbly shell combined with the smooth, creamy filling will hit all aspects of your senses. You can easily find these in Dim Sum restaurants or any Chinese bakery.
If you can't tell which egg tart will fit your sweet craving, check this out for a better comparison.
22. Fan Su Geung Tong Sui – Sweet Potato Ginger Sweet Soup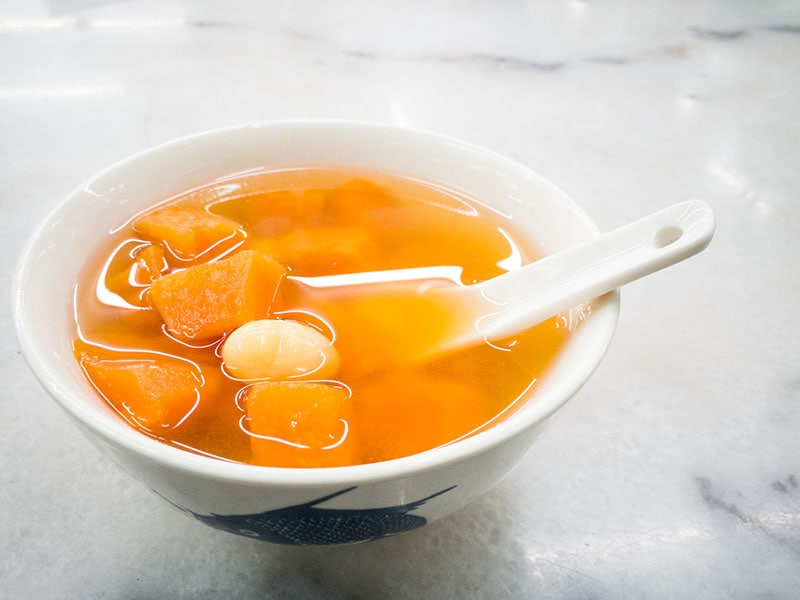 Cantonese chefs are fortunate to live in an area with abundant rainfall and a sub-tropical climate, so they have a rich range of fresh vegetables and fruits for making desserts. Sweet potato can be considered one of the most suitable crops in this kind of climate.
You don't need fancy ingredients for this dessert; you just need a sweet potato, ginger, brown sugar, and water. Throw everything in boiling water, and it will be done after simmering for 15 minutes. Remember to adjust the amount of sugar to your taste.
FAQs
Let's get to know the essence of Cantonese food by addressing the most common queries right now.
---
Go For Cantonese Cuisine To Feast Your Belly
As you can see, Cantonese cuisine has made a massive international impact. Varying from the types of ingredients, flavors to traditions and cooking methods, I hope that some of these Cantonese food ideas somehow awaken your appetite.
Do any of the options above match your preference? Then don't hesitate to book a ticket immediately to explore this delicious and alluring food culture.
If you have any questions, please tell me in the comment section. I'd love to hear your opinion about the post as well. Also, remember to like this article and send it to your loved ones and travel buddies. Maybe you inspire them to travel with you!