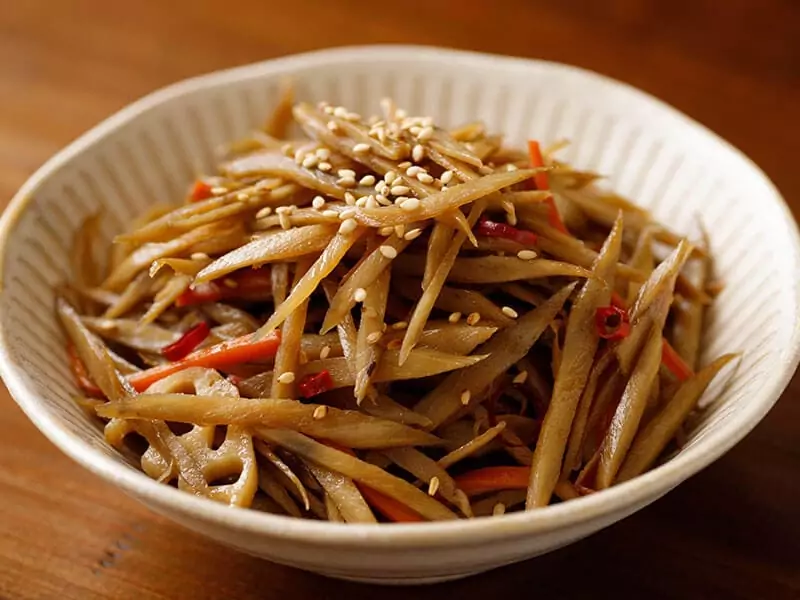 Japanese cuisine is a work of art, so are Japanese side dishes. They come with a variety of ingredients and tastes, which are healthy and delicious!
Usually, side dishes are to add additional nutrition to your meal, like those veggie side dishes. They can also help you change your taste so you will not get bored with your main dish.
If you are looking for ideas on Japanese side dishes, you made the right choice by coming here. I will show you a list of authentic Japanese side dishes that you can easily make and enjoy for your next meal.
20 Authentic Japanese Side Dish Ideas
Here is a list of 20 Japanese side dishes you should definitely try out for your next meal!
Tsukemono
Gari
Natto
Kinpira Gobo
Kinpira Renkon
Nasu Dengaku
Hijiki Seaweed Salad
Okra Ponzu Salad
Japanese Potato Salad
Cucumber Sunomono
Spinach Gomaae
Green Bean Gomaae
Kabocha Nimono
Traditional Miso Soup
Tonjiru
Clam Miso Soup
Gyoza
Tamagoyaki
Agedashi Tofu
Tebasaki
Healthy & Refreshing Japanese Vegetable Side Dishes
There are so many delicious side dishes made with vegetables in Japanese style. If you have been to a Japanese restaurant, you will notice that these vegetable side foods are eaten with the main dish most of the time instead of treating them like an appetizer.
These dishes are not only healthy, but they help the person eating to have a change of taste with refreshing vegetables to maintain their appetite for the main dishes without getting bored. Let's take a look below to see what we have!
These are Japanese-style pickles, and many vegetables such as but not limited to Japanese daikon radishes, carrots, eggplants, cucumbers are being used. Another common ingredient is a member of the list of fruits and veggies starting with "U": Umeboshi, aka Japanese plums.
The base used for pickling varies depending on one's preference and here a few examples of bases for tsukemono:
Shiozuke (salt)
Misozuke (miso paste)
Shoyuzuke (soy sauce)
Suzuki (vinegar)
Kasuzuke (sake kasu)
Don't underestimate that these are small side pickled dishes because they are quite flavorful. Japanese sometimes love to have a simple meal with a warm bowl of rice, miso soup, tamagoyaki (fried eggs), and a plate of tsukemono, and the combination feels great!
Gari is also a type of tsukemono, and it is made from sliced ginger pickled with vinegar and sugar. This small dish plays a very important role as a Sushi and Sashimi condiment.
After eating a few pieces of sashimi or sushi, the taste of the fish may still stay in your mouth, and it is hard to distinguish them from the new taste, and that is when Gari kicks in. It works as a palate cleanser and refreshes the taste in your mouth.
It also helps you to digest easier! You can buy Gari in Asian markets, or you can also make it at home.
What Japanese food begins with the letter N? Let me tell you, it's Natto.
Natto is the healthiest breakfast side dish you can eat with a bowl of warm rice. It is made from fermented natto soybeans, and you can mix with Karashi mustard and soy sauce or natto tare sauce that is mainly used as a sauce for natto.
Natto helps with digestion, boosts your immune system, prevents heart disease, and strengthens your bones, too.
I said breakfast since it is popularly eaten in the morning as a healthy topping for your rice, but you can add natto to your meal at any time of the day!
Raw vegetables are not so tasty for some, but turning them into a side dish with a sweet and savory taste is a different story.
The burdock roots (Gobo) used for this dish contain antioxidants that boost your immune system and prevent you from various diseases.
Kinpira Gobo is a side dish commonly served with the main dish, rice, and soup. The ingredients are sliced burdock roots and carrots cooked with dashi, sugar, soy sauce, and sake. Before serving, sprinkle sesame seeds on top of the dish, and it is done.
This is similar to Kinpira Gobo mentioned above, but we substitute the burdock roots with lotus roots (Renkon).
Lotus roots are also very nutritious since they contain minerals and Vitamins, such as Vitamin B and Vitamin C. The way to make it is simple and tastes sweet and savory, just like Kinpira Gobo.
This eggplant dish is rich in taste with the sweet and savory flavor coming from the miso sauce.
Eggplants are high in fiber and very nutritious! Plus, making this dish requires only a short amount of time with a simple recipe. All you need is to pan grill the eggplants, cook the miso sauce, apply the sauce on the grilled eggplants and broil them.
Such a simple side dish that tastes amazingly good!
Hijiki is a type of Japanese seaweed grown on the rocky coastline. This dish whose name begins with "H" is usually green or brown and contains minerals and fiber, which is nutritious for your body.
This dish is called Hijiki Seaweed Salad, but the hijiki itself is braised with edamame beans, sliced carrots, and a fried tofu pouch. The sweet and savory taste comes from the dashi, mirin (sweetened liquid), and soy sauce.
A piece of advice here is to try not to make it too salty, but keep it at a mild level of saltiness since it will be a great side dish to tame the main dish.
Okra is a good source of Vitamins A, Vitamins C, Magnesium, and antioxidants that help to prevent diseases like heart disease, cancer, and much more.
However, if you think eating okra itself is boring, you should try this. This tasty and simple Japanese salad requires you to only boil the okra, cut them into small rounded pieces, add ponzu and katsuobushi (Japanese fish flakes), and it is ready to be eaten.
You get to eat the okra with the taste of citrus-like vinegar, healthy and tasty.
I remember feeling so happy every time I opened my school lunch box and saw that my mom's potato salad was made inside. Kids in Japan love potato salad as much as adults do.
This salad dish is made from mixing ingredients like mashed potatoes, cucumbers, carrots, eggs, onions, mayonnaise, and salt all together. Depending on your choice, you can also add more ingredients like bacon or hams inside too.
It tastes like creamy mashed potatoes but more refreshing since there are many vegetables added inside.
Cucumber Sunomono is a small salad dish with cucumber marinated in vinegar, soy sauce, salt, and sugar (or mirin).
Cucumbers are refreshing and nutritious. Adding them with a vinegar base will boost your appetite, especially right before enjoying the main dish.
You can make this dish without only marinated cucumbers, or you can add in wakame (Japanese seaweed), too!
Spinach is very nutritious, and when it is blanch then topped with rich and nutty sesame sauce, you can taste the freshness in this one side dish.
Sesame sauce may sound hard to make, but in reality, all you need is roasted sesame, mirin (sweetened liquid), and soy sauce. If you have reached the legal drinking age, try to add a bit of sake to enhance the sauce even more.
This is like the sibling dish of spinach Gomaae. You can use the leftover sesame sauce and make this or vice versa!
The only difference is that this dish uses green beans instead of spinach, and the rest of the ingredients are the same, roasted sesame, mirin, and soy sauce.
Kabocha means anything that has been simmered, and in this case, it is the kabocha squash being simmered with dashi, soy sauce, sake, and sugar (or mirin). If you want to make the dashi on your own, it is easy as all you need is to boil the water and add Katsuobushi (Japanese fish flakes) inside, and your Dashjiru is done.
Another sweet and savory side dish is mild and not too salty, and the sweetness here also comes from the pumpkin, too. Perfect for serving with rice and the main dish.
Warm Japanese Soups To Go With Your Main Dish
Unlike Western cuisine, Japanese do not consider soups as a starter but more like a side dish to enjoy with rice and the main dish. It always feels wonderful and heartwarming to have something warm to sip during a meal.
Before I get into more details, there is an important factor you need to know about the Miso paste. There are two types of Miso paste, red and white. Red miso has a stronger umami taste and is saltier, whereas white miso is milder in taste.
Below I will introduce you to a few kinds of Miso soup, and yes, there are several kinds of Miso soup, and they are all tasty!
I call this a traditional Miso soup since it is the most popular soup many people around the world would think of when the name Miso soup is mentioned.
You can easily find this dish to go along with your sushi meal in many Japanese restaurants. This soup is very simple, but on a tiring day when you don't feel like making any fancy meal, this soup will help with warming your body up and give you energy.
The ingredients are simple, too, as all you need is tofu, wakame seaweed, green onions (optional), dashi, and your choice of red or white Miso paste.
Tonjiru is the kind of Miso soup where pork and root vegetables are added in. It is also a kind of soup popularly eaten in Japan but not served much outside of Japan.
The soup will taste relatively sweet due to the natural sweetness from the pork and vegetables. With more added ingredients, this soup is nutritious and flavorful.
This comforting soup is also very popularly eaten in Japan. It is a Miso soup that has a taste of seafood inside.
Ingredients are mostly the same as the traditional Miso soup, but usually, you don't put tofu inside. You can use the boiled water with clams as your dashi, but if you want more umami flavor, then adding dashi that you bought from the Asian markets or from Katsuobushi (Japanese fish flakes) is fine too.
Mouthwatering Japanese Side Dishes Full With Proteins
It's not only the vegetables side dishes or soups, but there are so many more mouthwatering side dishes that are packed with proteins. Let's explore them!
You can find gyoza in almost all Ramen restaurants since it's the most popular side dish for all kinds of Ramen. Besides that, gyoza can be eaten as an appetizer or whenever you feel like your main dish was not enough to make you full.
Gyoza is pan-fried dumplings with ground meat, chives, cabbages, green onions, ginger, and more ingredients wrapped in a thick dough. You can add more of your preferred ingredients to the fillings, too. If you don't eat pork, you can add ground chicken, and it still tastes amazing.
Cooked dumplings are juicy and full of umami flavor, and you can dip them with Ponzu sauce.
These rolled fried eggs cut into small pieces are always the kid's most favorite food to have in the Bento box, but you can see them in almost every bento box sold in Japan.
The egg's taste is sweet but not too salty, which the mildness goes well with almost all main dishes, including meat, vegetable, and fish dishes.
Even though most of the time they are considered as a side dish, there are mornings where you want to eat something light and healthy, and that is when you can make Tamagoyaki as your main dish with side dishes like tsukemono or natto that was mentioned above, serve with a bowl of warm rice and Miso soup.
This is another well-known Japanese appetizer that you serve as a side dish. Agedashi Tofu is deep-fried tofu topped with dashi sauce made from dashi, soy sauce, and mirin, shredded daikon radish, sliced green onions, and Katsuobushi (Japanese fish flakes).
You can order this tasty Japanese tofu dish at almost every Izakaya – an informal Japanese-style bar around the world. Simple, healthy, and delicious!
For anyone that wants a fuller side dish, this is highly recommended. The combination of crispy and juicy chicken wings with the perfectly made sweet and umami sauce is just divine!
Usually, people eat this iconic chicken delight from Japan as a side dish for Ramen or with Sushi, and less for meals that contain rice, soup, and the main dish.
However, this dish is pretty versatile, and you can treat it as both a side dish or even a main dish, depending on what other dishes you are planning to make.
Explore Amazing Japanese Food Through Side Dishes!
There are so many delicious Japanese foods starting from Sushi, Ramen. Tempura, Curry, Teriyaki Chicken, and the list goes on and on.
However, we tend to focus more on the main dishes and miss out on the side dishes. As you can see by now, even the salads to soups and light side dishes are mostly very nutritious and flavorful, and it would be a waste to not try to make and enjoy those at home.
Have you tried any of the dishes mentioned above? How did you like them? Feel free to share with me your experiences in the comment box below!
Nutrition Facts
4 servings per container
---
Amount Per ServingCalories71
% Daily Value *
Total Fat 3.4g

5

%
Sodium 811mg

34

%
Potassium 170mg

5

%
Total Carbohydrate 9.3g

3

%

Dietary Fiber 2.9g

8

%
Sugars 4g

Protein 2.6g

4

%
---
* The % Daily Value tells you how much a nutrient in a serving of food contributes to a daily diet. 2,000 calories a day is used for general nutrition advice.