Sushi is amazingly delicious and healthy, but they are not cheap. It is not always possible to fulfill your appetite just from Nigiris and rolls, and that's why this article is here to help you with giving you suggestions on "what to serve with Sushi".
I'll introduce you to essential accompaniments and side dish ideas that fit perfectly with Sushi to make you feel fuller and have a more enhanced Sushi dining experience next time.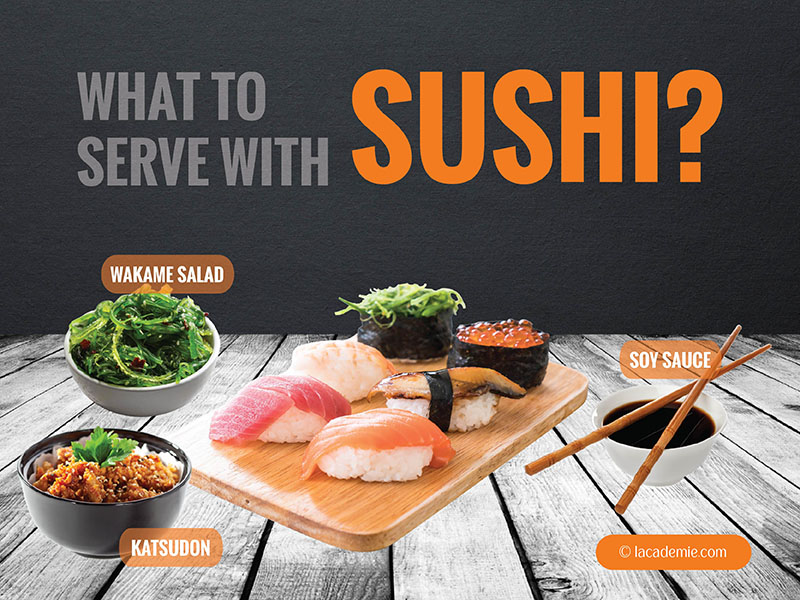 20 Accompaniments And Tempting Side Dishes For Sushi
Below is a list of accompaniments that are required for fresh and good Sushi with ideas for side dishes that will fit perfectly with your Sushi dining experience:
Soy Sauce
Wasabi
Gari (Pickled Ginger)
Bamboo Leaf
Miso Soup
Osuimono
Wakame Salad
Kani Salad
Gomaae
Tako Su
Tsukemono
Karaage
Tempura
Chawanmushi
Agedashi Tofu
Teba Shio
Beef Udon
Katsudon
Matcha Ice Cream
Hojicha Ice Cream
Essential Accompaniments To Serve With Sushi
These four are the staple accompaniments for Sushi. You will find them in all Sushi restaurants around the globe since they come with many benefits.
1. Soy Sauce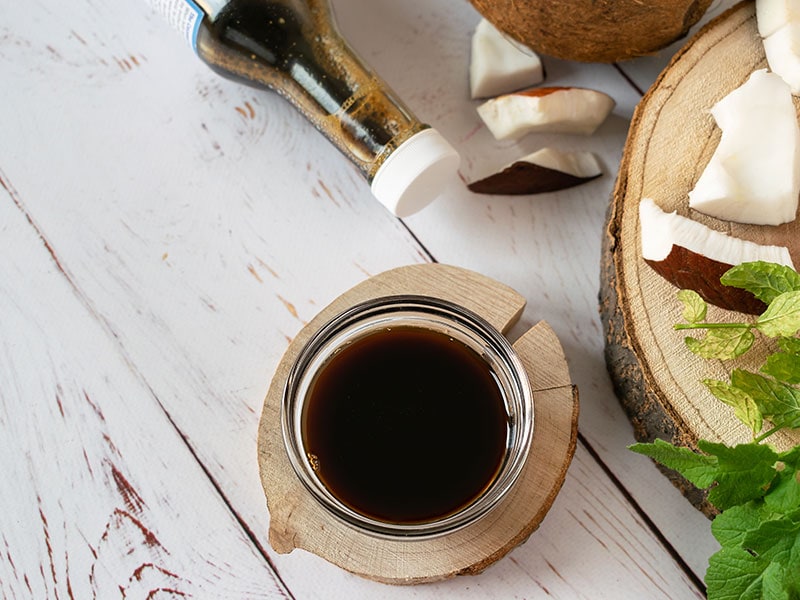 Japanese soy sauce is used for dipping Sushi and is milder in taste than those used for cooking.
If you are thinking of making Sushi at home, make sure to choose the right soy sauce to enjoy your hard work at its best.
However, in case you can't find tamari soy sauce to pair with sushi, there are still plenty of alternative ingredients to replace tamari sauce. When you're in a bind, it's acceptable to opt for the traditional soy sauce most of you are familiar with. It won't hinder your enjoyment that much.
2. Wasabi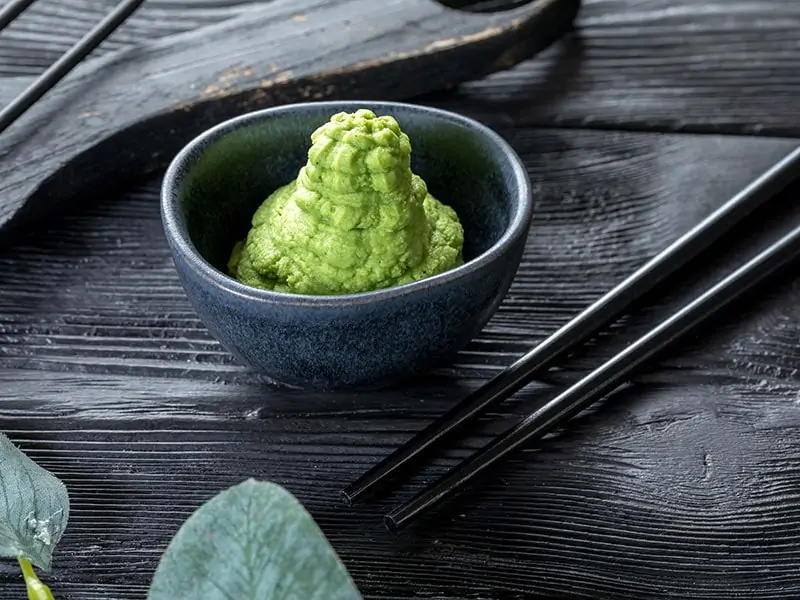 Wasabi is a familiar name for all sushi lovers, but not many can gain thorough information about wasabi. This green paste is made from Japanese horseradish and contains a compound called isothiocyanate, which prevents food poisoning by not letting the bacteria germinate.
The strong taste also helps in boosting one's appetite and reducing fish odor to make your mouth feel fresher. It can go with virtually any kind of sushi that you can think of. Just be careful and eat it in small amounts, as wasabi can be quite pungent and spicy if eaten in large volumes.
3. Gari (Pickled Ginger)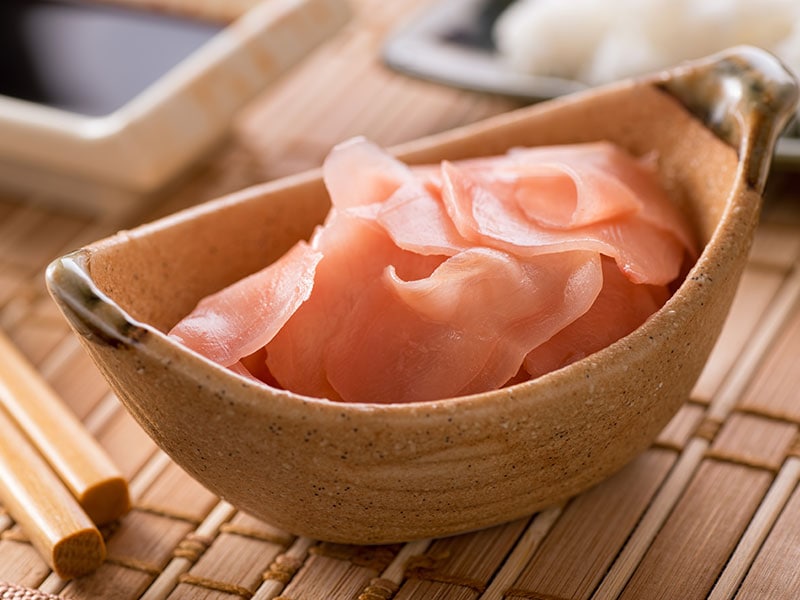 This pink sweet pickled ginger also helps in preventing food poisoning and neutralizes the fish odor to freshen your mouth up.
4. Bamboo Leaf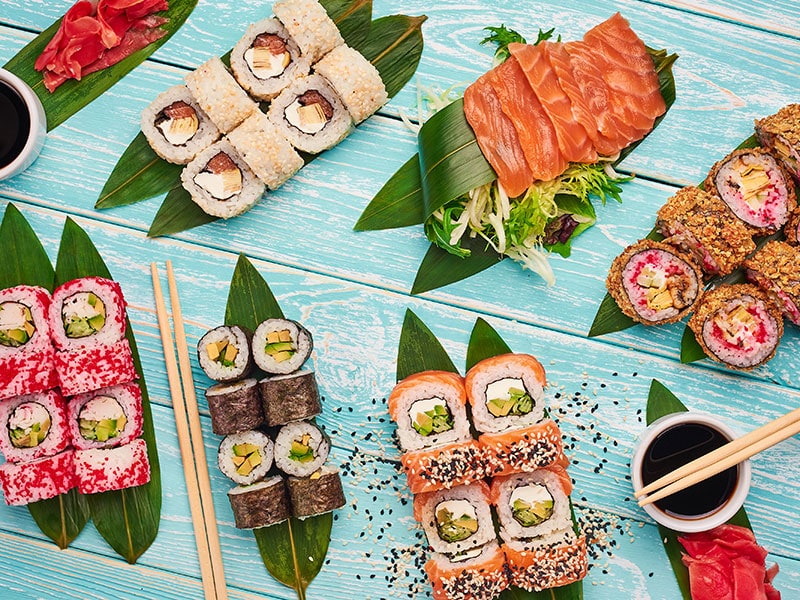 You know that green leaf usually being placed under the sushi? It does not only act as an artistic ornament for decoration but prevents the deterioration of sushi toppings.
Warm Soups That Go Well With Sushi
Now that we have together covered the essential accompaniments, let's get started with dishes that go well with Sushi. I'll start with soups, and if the only Japanese soup you know is Miso soup then I will surprise you with the fact that Japan has a lot more soups that need to be discovered!
5. Miso Soup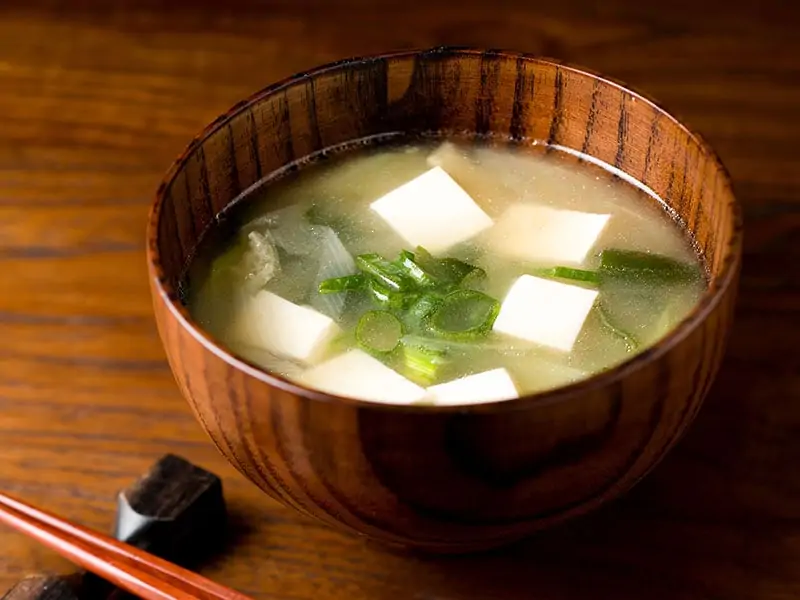 It goes without saying that Miso soup is one of the most famous companion dishes from Japan. Miso soup basically is soup that has Miso paste inside. There are two types of paste, red and white.
The classic Miso Soup that is served in many restaurants is cooked from the broth of fish stock, Miso paste, seaweeds, and Tofu. However, there are many more different recipes to this that are equally as tasty as the classic version. An example is adding clams to the basic Miso soup, as this will give an even more seafood vibe to the meal.
6. Osuimono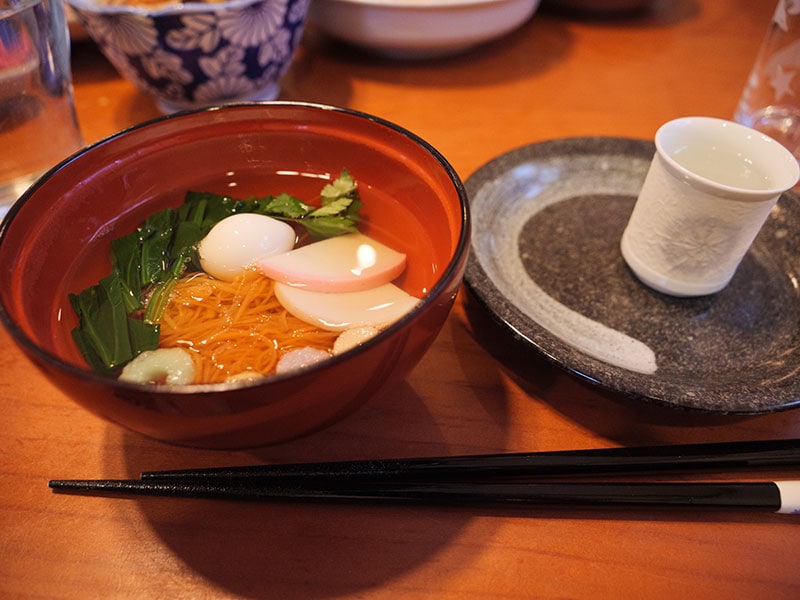 Osuimono just means "something to sip". It's different from Miso Soup in a way that no Miso paste is added but instead with a bit of salt and soy sauce to the fish broth. The color of the soup will then be clearer than Miso Soup.
The classic Osuimono is very simple and has only a few ingredients inside. With the broth mentioned above, tofu, kamaboko (white fish cake), edible clovers, and the skin of Yuzu are added inside. However, like Miso soup there is a variety of recipes for this soup and you can add ingredients such as shrimps, fish, eggs, and many more of your choices that are available in your country.
Fresh Salads That Go Well With Sushi
Sushi or not Sushi, it's always good to have a refreshing vegetable dish with your main course. So, here are some suggestions on salads and vegetable dishes that would go perfectly well with your Sushi.
7. Wakame Salad
This dish, or actually these dishes are side dishes that go well with Sushi. When you hear Wakame Salad, which version do you think of? The long bright green and firm seaweeds or the ones that are used in Miso Soup? I'll explain more about 2 different types of Wakame Salad.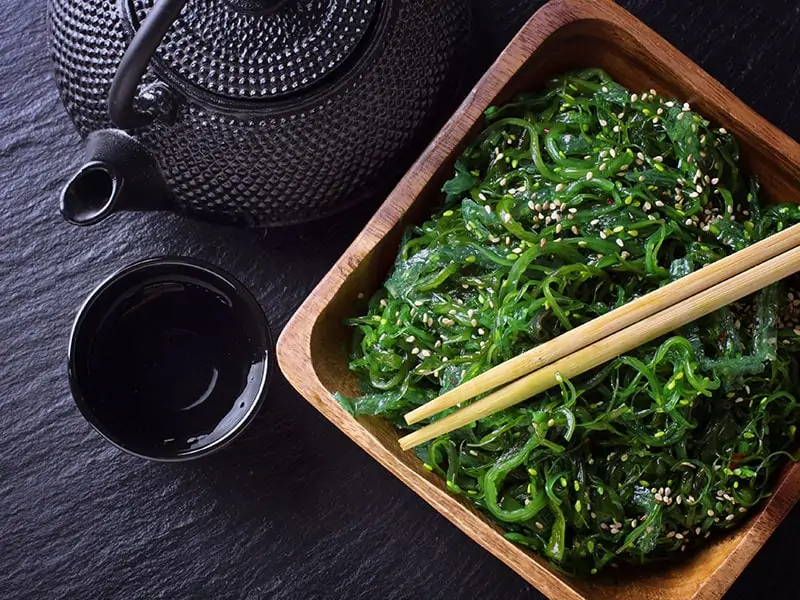 Goma Wakame: This salad is actually more popular and consumed outside of Japan than in Japan. You can find it not only in restaurants but also in most Asian markets. Since the seaweeds themselves already have a distinctive taste and are mixed with ingredients like sesame oil, roasted sesame, vinegar, and sugar, you can feel the firm texture of the wakame with sweet, sour, and umami flavors all mixed together.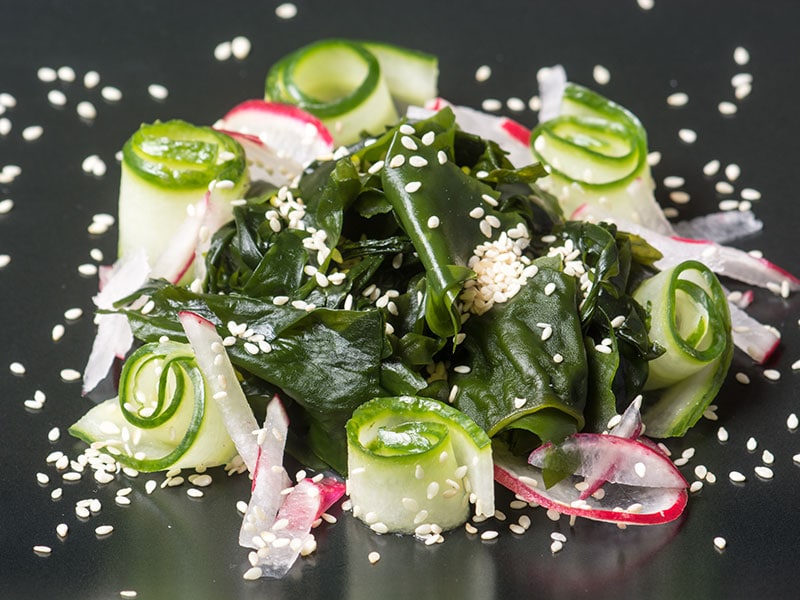 Wakame Kyuri: The wakame used for this salad is the same one used in Miso soup. They are mixed with cucumbers and the flavorings are pretty much the same as Goma Wakame. You will often find this in the more authentic Japanese restaurants.
8. Kani Salad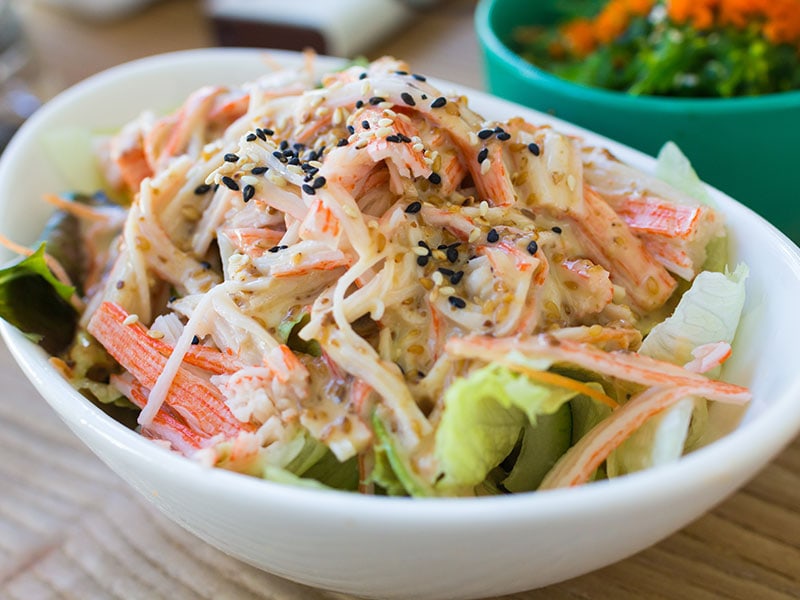 Did you know that like California Roll, Kani Salad is actually not from Japan but the U.S? It's a popular dish featuring imitation crab meat, which is actually from pollock mixed with cucumbers, vinegar (or lemon juice), mayonnaise, sesame seeds, and more.
Aside from imitation crab meat, this dish also contains mango, thinly sliced carrots, and Japanese fish roe. With such a concoction of ingredients, no wonder that this dish is such a hit here in the U.S.
9. Gomaae (Spinach Sesame Salad)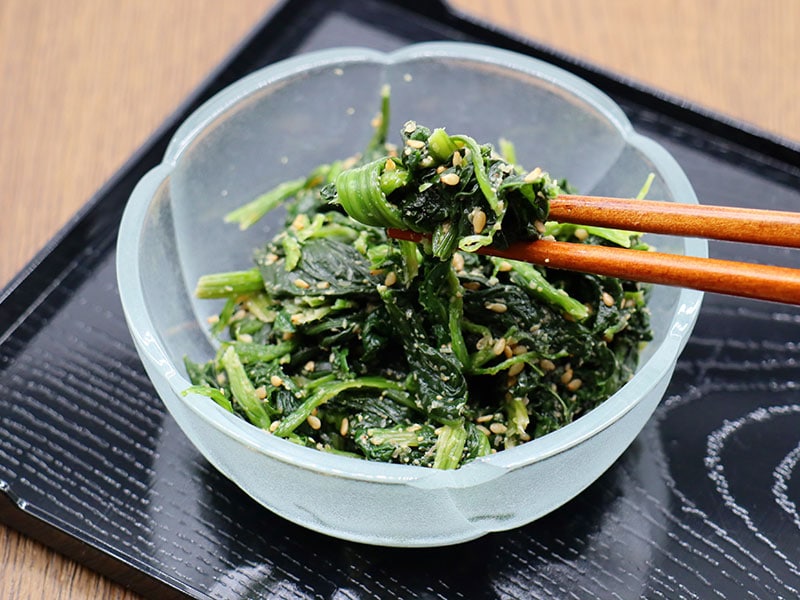 This simple healthy salad literally means "dressed in sesame". The spinach is soaked in boiled water first and into cold water, then drained. Then sesame sauce is added, which contains toasted white sesame seeds, soy sauce, sugar, and depending on who is eating, mirin and sake can be added to enhance the taste.
10. Tako Su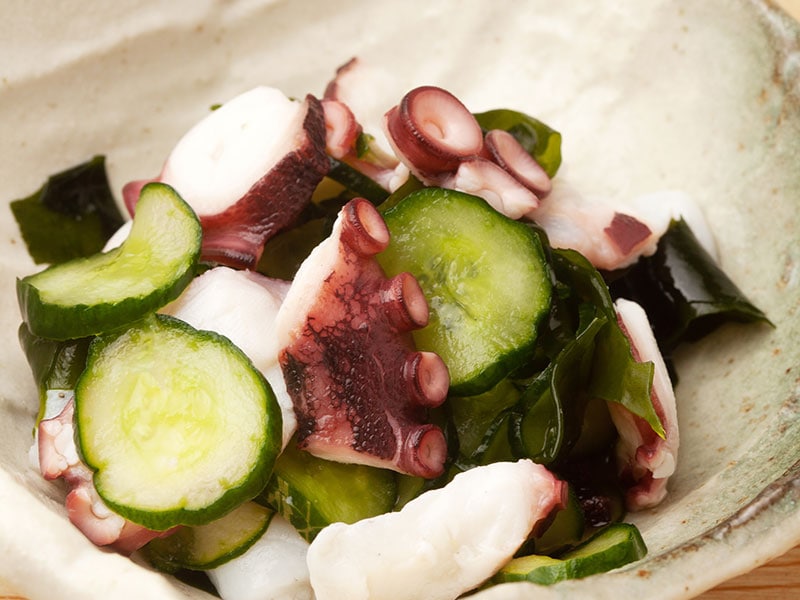 This salad is the best of both worlds for octopus lovers. You get a refreshing salad to go with your Sushi while enjoying the octopus Sashimi. Tako Su means "octopus in vinegar", and the ingredients for this salad are octopus, wakame, cucumbers, rice vinegar, soy sauce, sugar, and sesame seeds.
11. Tsukemono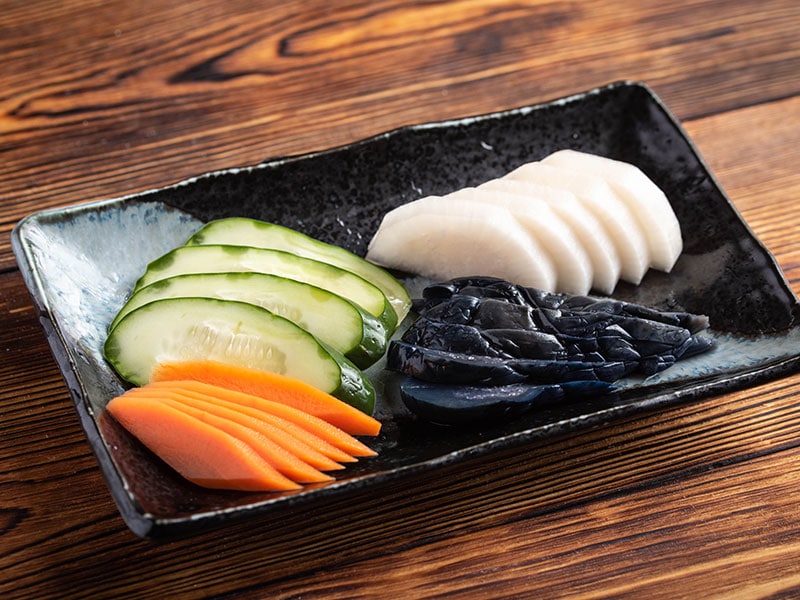 These are pickled vegetables, like carrots, cabbages, and cucumbers, and many more vegetables. There are many styles to the pickling process, and a few samples are with salts, vinegar, miso paste, sake less, and even with wasabi. When you are eating a dish, having a few tsukemono can make you feel refreshed and not get tired of the same taste.
Mouth watering Protein Dishes That Go Well With Sushi
Fresh Sushi is tasty, I know. But have you ever walked out of a restaurant feeling not really full, just because a plate of Sushi is quite costly and you couldn't order much? Or are you thinking of hosting a Sushi party or dinner at home worrying that you won't have time to make a big amount of Sushi? Don't worry more, these amazing meat and seafood side dishes are here to help you have a more fulfilling dining experience.
12. Karaage
When people think of Karaage, most will picture the Japanese-style deep-fried chicken. That's correct because Chicken Karaage belongs to Karaage, but Karaage itself is a broader term describing the method of deep frying in Japanese.
Not only deep fried with flour and cornstarch but the meat inside is marinated in different flavors first. This gives the food itself a crunchy outward with flavored meat inside. Below are the best Karaage ideas for Sushi.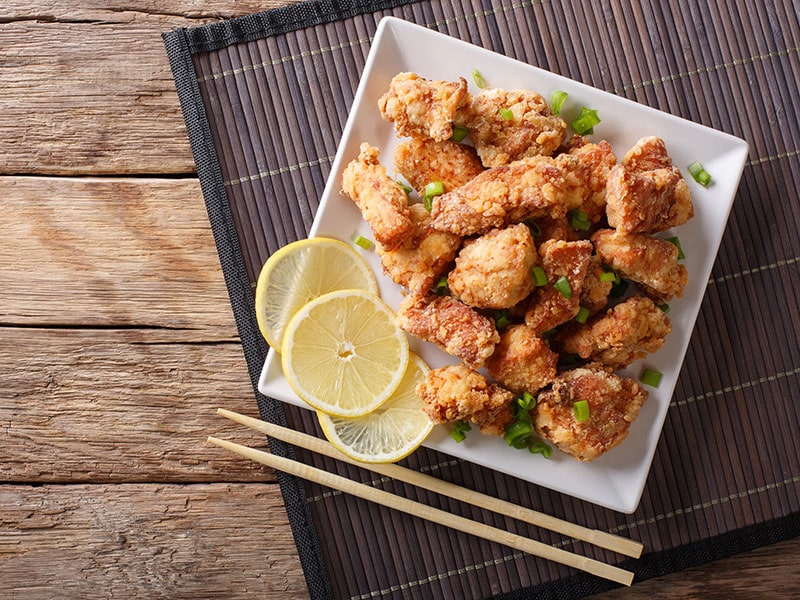 Chicken Karaage: The most known Karaage dish, marinated with soy garlic and then deep-fried.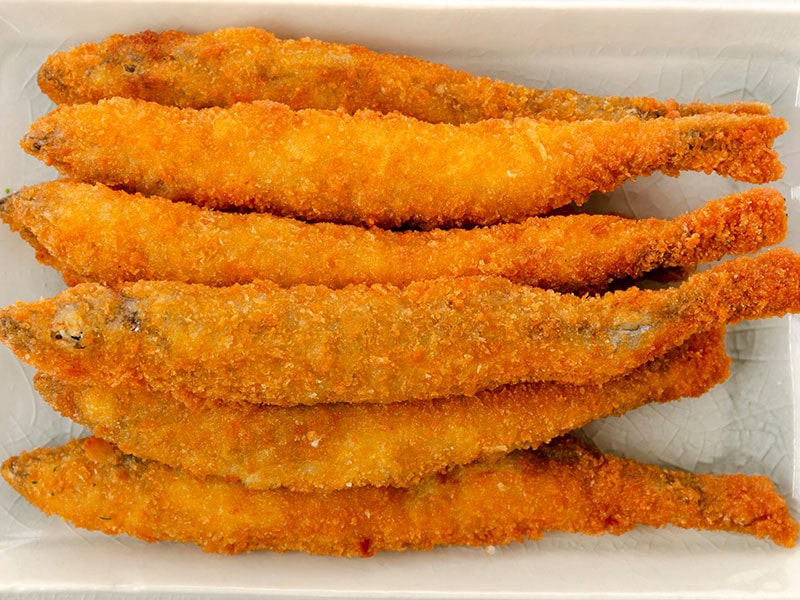 Shishamo Karaage (Capelin Karaage): Capelins are nutritious. When deep-fried, the outside of the fish will be crunchy but right from the first bite you can taste the rich flavor of the eggs. The healthy, easy-to-eat dish is good for kids, too.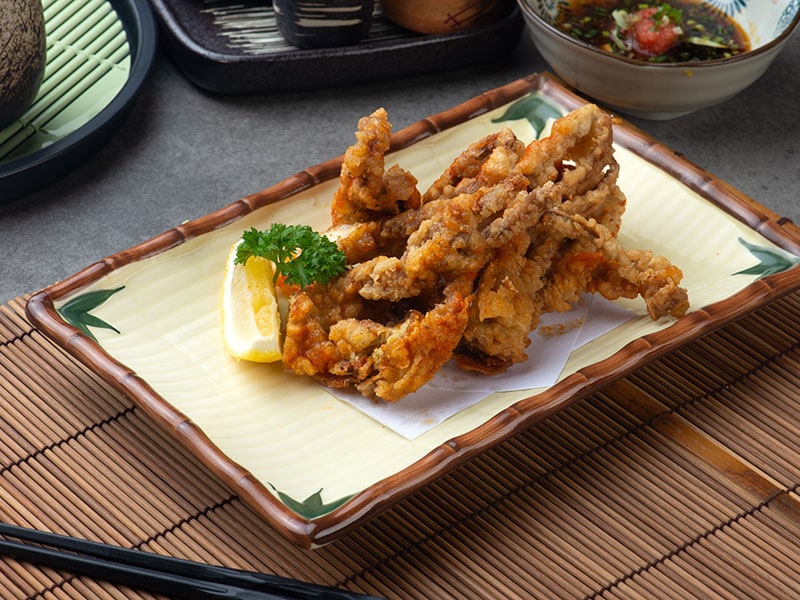 Soft-shell Crab Karaage: Crabs meat with soft shells deeply fried. A crispy and crunchy texture with soft meat inside. Honestly, what can you ask more?
13. Tempura
Nobody can ever dislike Tempura, they are just outrageously delicious! Tempura are seafood, meat, and vegetables being battered and deep fried, which the cooking method differed a bit from Karaage.
Tempura are crispy but fluffy and due to being battered, the colors are light on the outside. Nowadays, sushi rolls are also being tempura-ed and you can find these in many of your local sushi restaurants.
There are various types of tempura, from protein-based tempura to vegetable or gluten-free tempura, a fantastic Japanese dish to serve for breakfast. No matter which variety of tempura that you opt for, there's no denying that it's a dish everyone needs to try at least once.
Below are a few ways to order your preferred Tempura, therefore, you can show off some Japanese while ordering at a restaurant: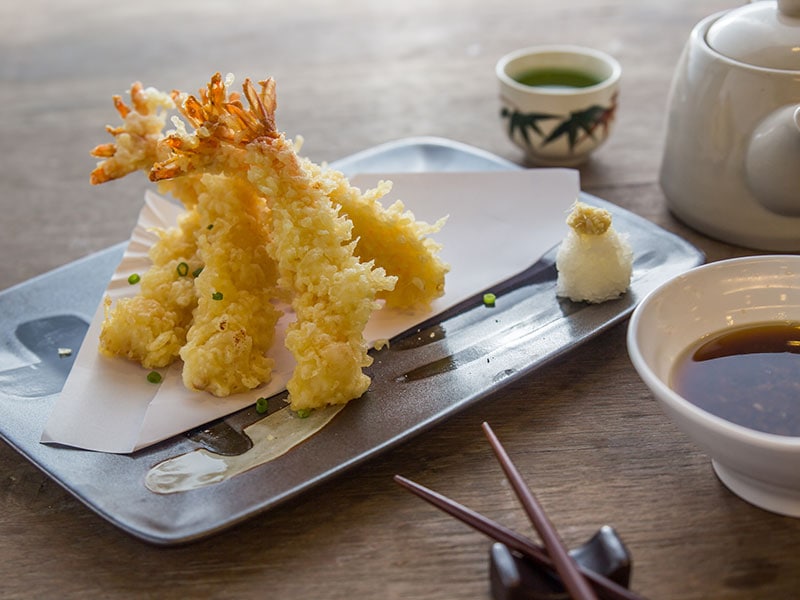 Ebi Ten (Shrimp Tempura) : This literally means Shrimp Tempura. Sushi is seafood, and if you want more seafood in your meal to have an even more satisfying feeling then this Japanese shrimp delight is the right dish. You will get a few large Shrimp Tempura on the plate.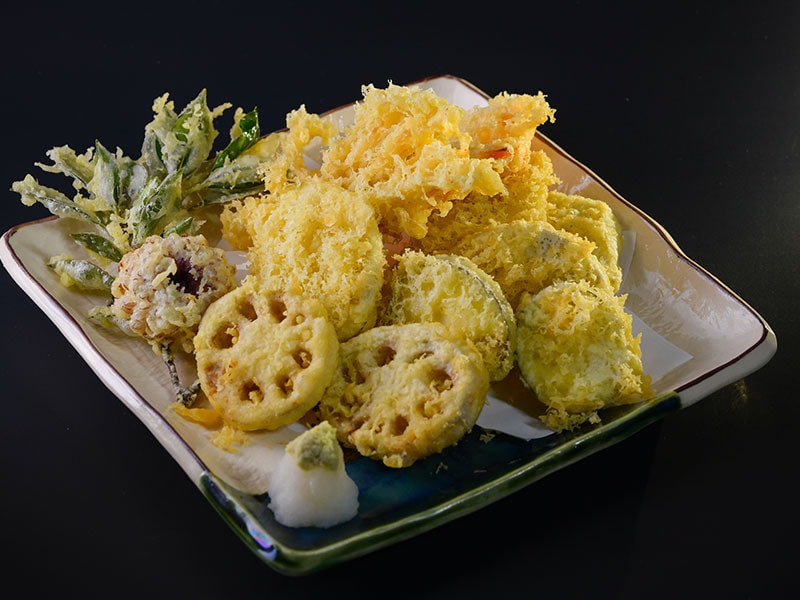 Yasai Tempura (Vegetable Tempura): If you want to go for a more fulfilling vegetarian side dish, you got your wish. This is a plate full with assorted Vegetable Tempuras, and you will be surprised that your unfavorite veggie might turn into your favorite after being fried in Tempura batter.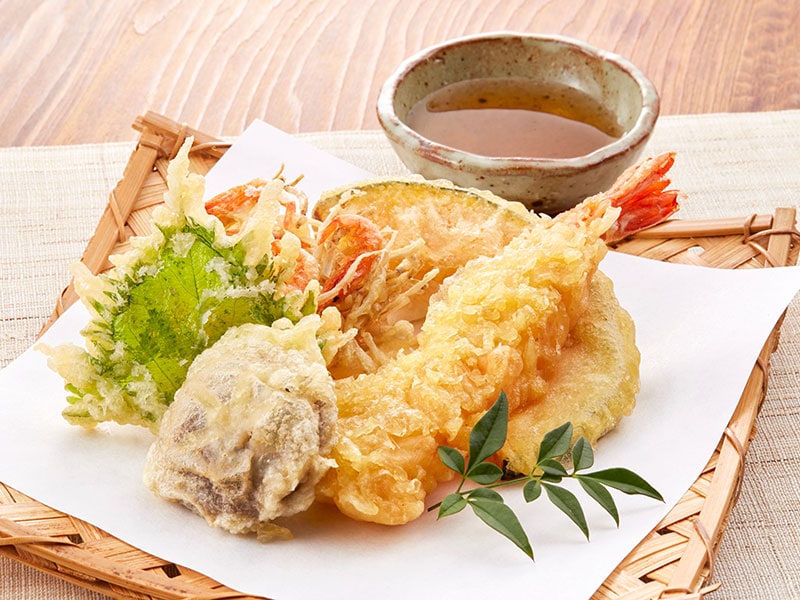 Tempura Moriawase (Assorted Tempura): You get the best of everything with this Assorted Tempura. Assorted Vegetable Tempura with Shrimp Tempura all in one plate.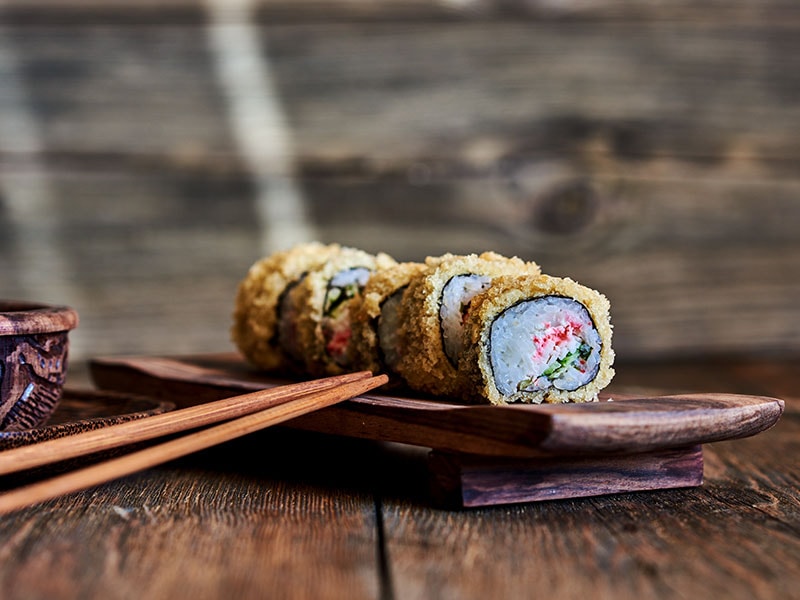 Sushi Tempura: This is a dish where sushi rolls are deep-fried in Tempura batter. Not from Japan, but is widely eaten around the world, especially in western countries. The fillings in the sushi rolls vary, and you should try a deep-fried Sushi Roll Tempura that has avocado inside, it is another level of avocado yumminess.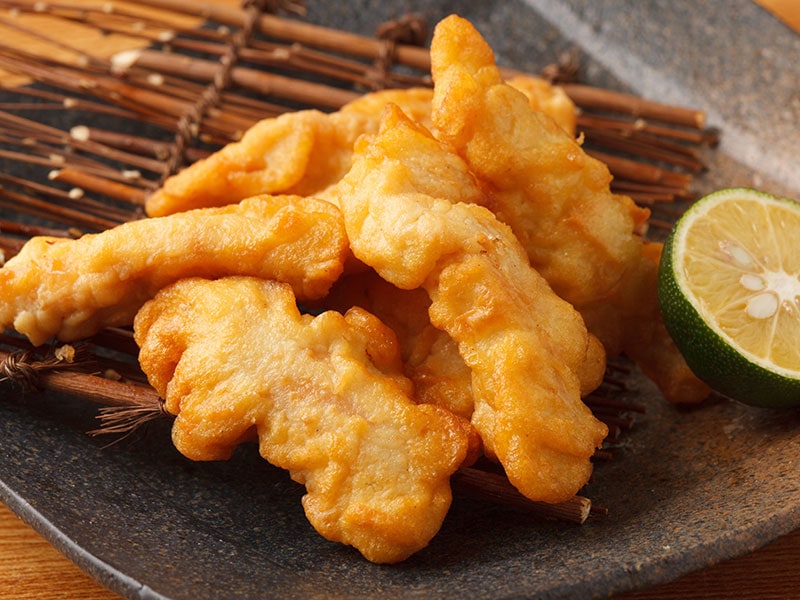 Tori Ten (Chicken Tempura): This fluffy deep-fried Chicken Tempura may also be your next addiction. The difference between Chicken Karaage and Chicken Tempura is that the karaage method is the meat being rolled directly with the flour whereas Tempura uses batter to get the outer crispy part, so Chicken Tempura will be fluffier and less crunchy.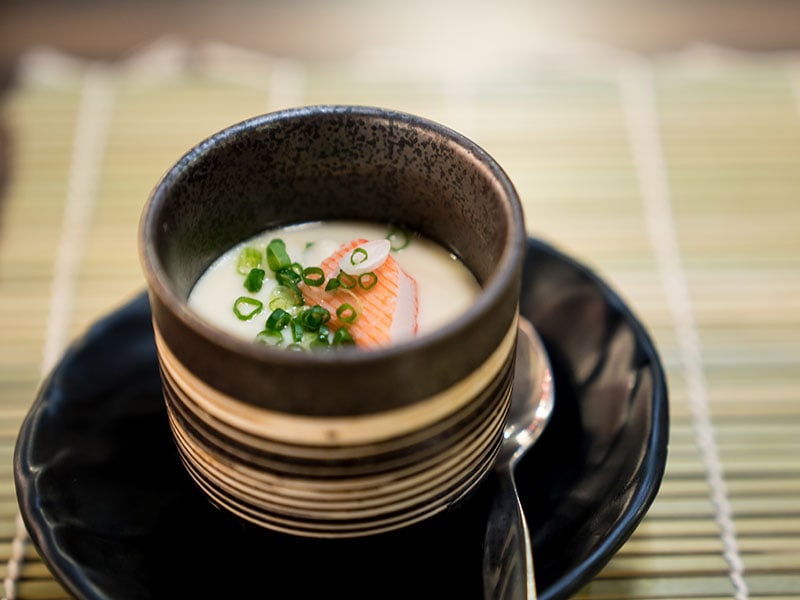 14. Chawanmushi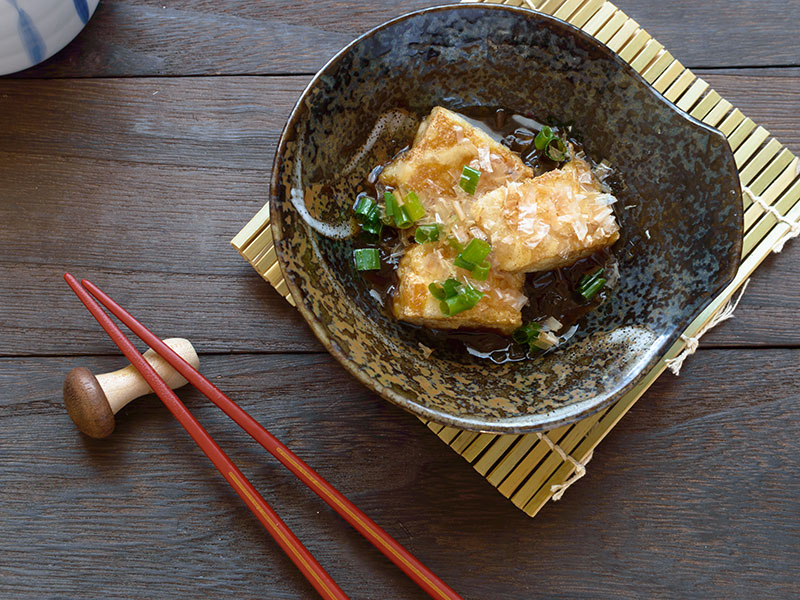 Chawanmushi means "steamed tea bowl", and indicates steamed egg in a tea bowl. This is an authentic dish from Japanese cuisine with a pudding-like texture, but it's a savory dish with dashi, soy sauce, ginkgo, boiled shrimps and a few more savory ingredients.
The taste itself is not too salty, and it is good if you are looking for a light protein side dish.
15. Agedashi Tofu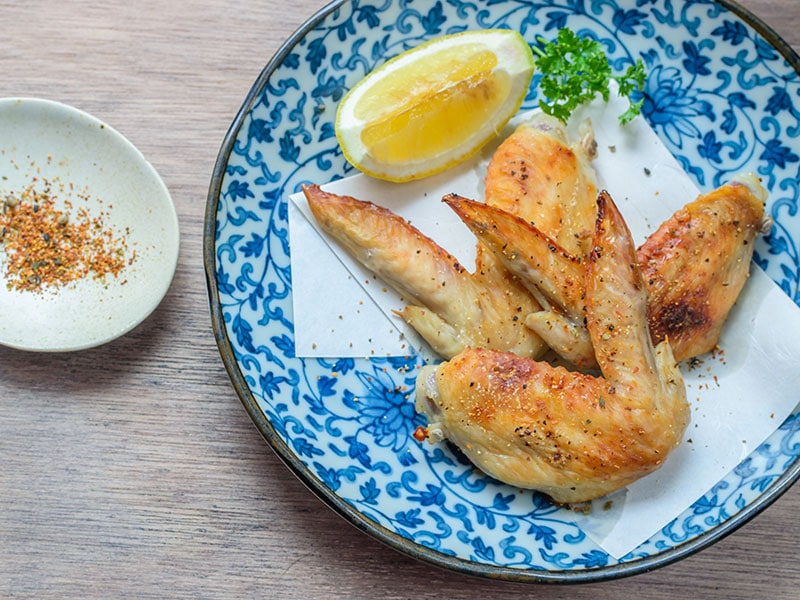 Even though the tofu is fried, this is a relatively light Japanese tofu-based dish. The tofu is fried, then topped with Dashi jiru, which is Dashi sauce with Dashi, soy sauce, and Mirin which is a sweetened water substituting for sugar. Sprinkle some Katsuobushi, sliced green onions, and shredded Daikon.
16. Teba Shio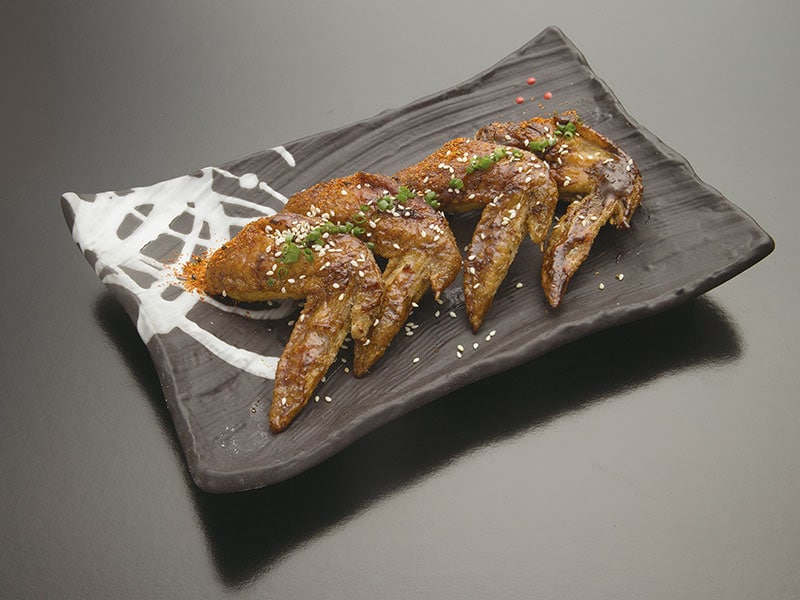 This is the Japanese version of salted chicken wings. The recipe is super simple, with chicken wings, salt, cooking sake, grated garlic and cooking oil. This can be broiled in an oven or just fried on a fried-pan. Crispy and juicy!
17. Beef Udon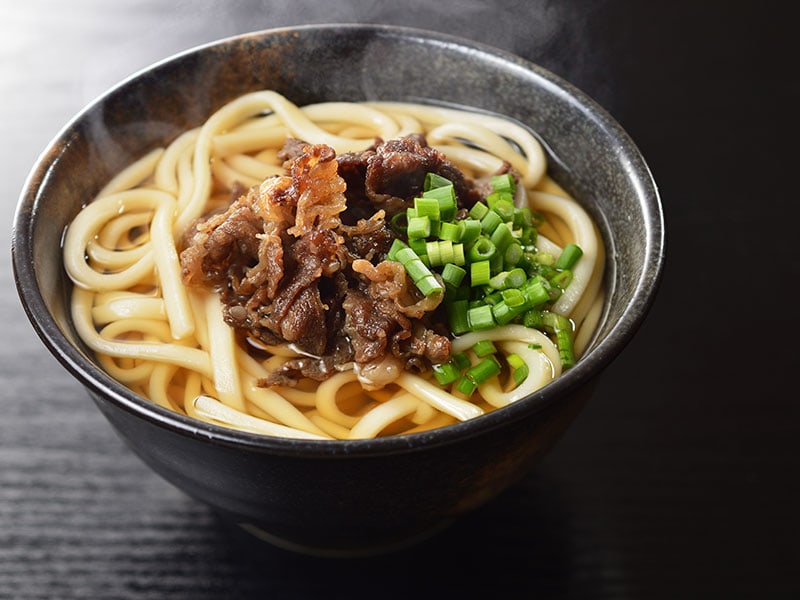 Udon can be served as a main course, but many Japanese restaurants have this food that begins with "U" as their side dishes with Sushi and they both just go really well with each other. Imagine enjoying the fresh.
Sushi and finishing up with a warm bowl of Udon noodle soup? A plain Udon bowl is good, too but if you are still a bit hungry with your Sushi then a bowl of Beef Udon will surely make your stomach smile.
18. Katsudon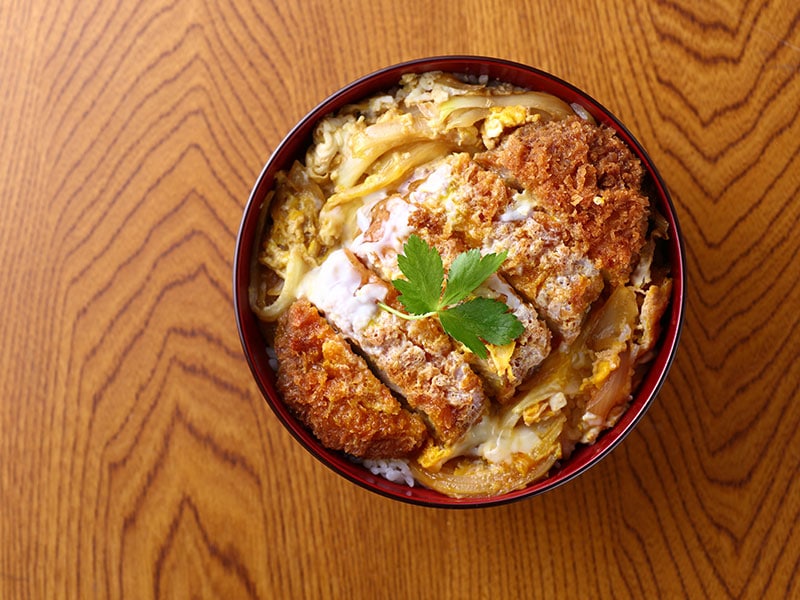 Another main dish that can also be included as a side dish for a meal. It comes in a bowl of rice topped with eggs and deep-fried pork marinated in soy sauce, Mirin, and Dashi. The flavor is a mix of savory and sweet which is well balanced. A big recommendation for those who have a big appetite and love rice.
Refreshing Desserts That Go Well With Sushi
It's always good to have a refreshing dessert dish after the main course, and that goes the same with your Sushi meal. Japanese desserts are not too heavy yet come with a sweet taste that is not only delightful for your mouth but also for your soul. Below I will mention a few desserts that would go well after eating Sushi.
19. Match Ice Cream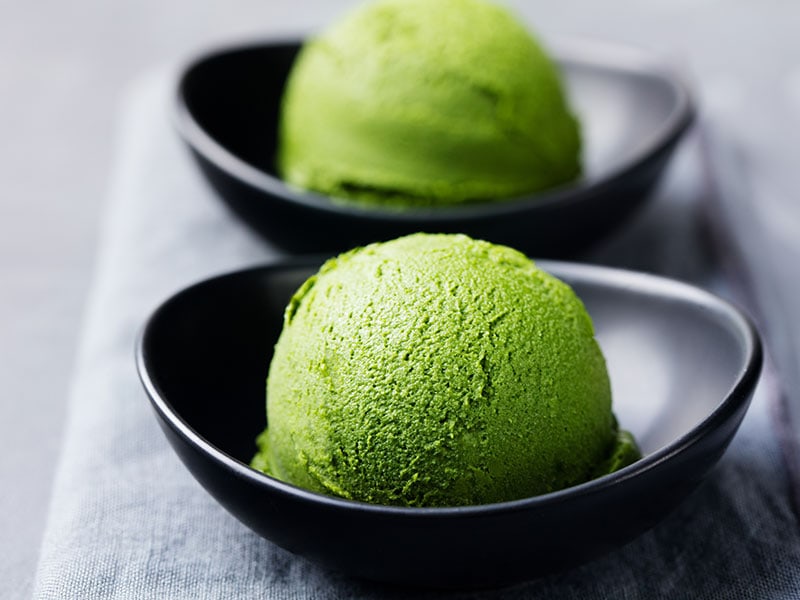 This is basically green tea ice cream, which has the creamy taste of Matcha powder and milk. The ideal dessert for Matcha lovers out there.
20. Hojicha Ice Cream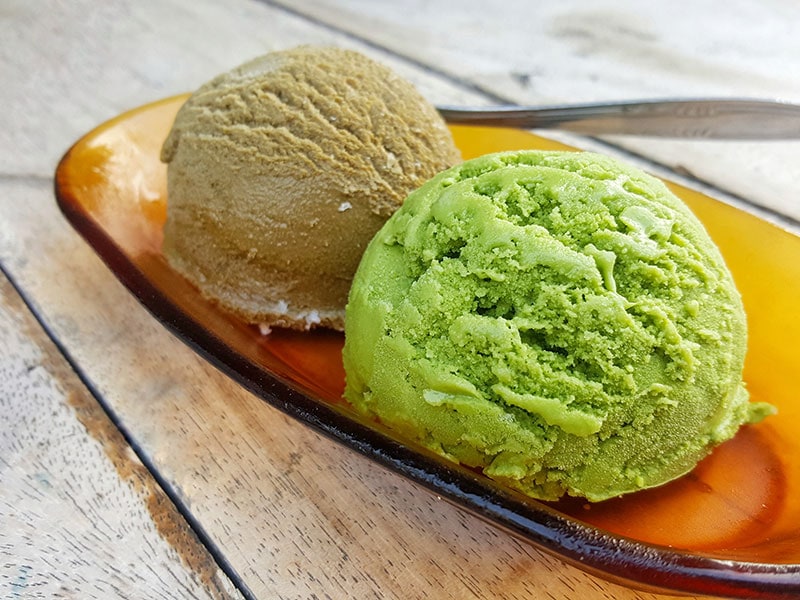 This is another kind of ice cream but with a blac tea called Hojicha. The best way to explain the taste is that it's like the high class black tea bubble tea being made into ice cream.
Discover Your Next Favorite Side Dishes Through Sushi Meal
There are hundreds of delicious Japanese foods out there including Sushi, and while enjoying Sushi you can discover even more kinds of food through ordering side dishes or making them at home if you are the chef of the night.
I'm eager to hear from you about more suggestions on what foods go well with Sushi and your experience on trying out the side dishes!
Nutrition Facts
4 servings per container
---
Amount Per ServingCalories55
% Daily Value *
Total Fat 1.6g

2

%
Cholesterol 2mg

1

%
Sodium 271mg

12

%
Potassium 192mg

6

%
Total Carbohydrate 6.1g

2

%

Dietary Fiber 0.8g

0

%
Sugars 3.8g

Protein 6.7g

12

%
---
* The % Daily Value tells you how much a nutrient in a serving of food contributes to a daily diet. 2,000 calories a day is used for general nutrition advice.