Vietnamese caramelized pork bowls, also called Thịt Băm Kho, are my number one go-to whenever I crave a simple yet flavorful dish. The recipe perfectly takes inexpensive ground pork to the next level by caramelizing it in a spice-infused sauce.
What I love most about this Vietnamese meat-based recipe is that anyone can whip it up in just about 15 minutes, making it an ideal choice for a busy weeknight dinner. If you're intrigued to try Thit Bam Kho, scroll down right now for a detailed guide.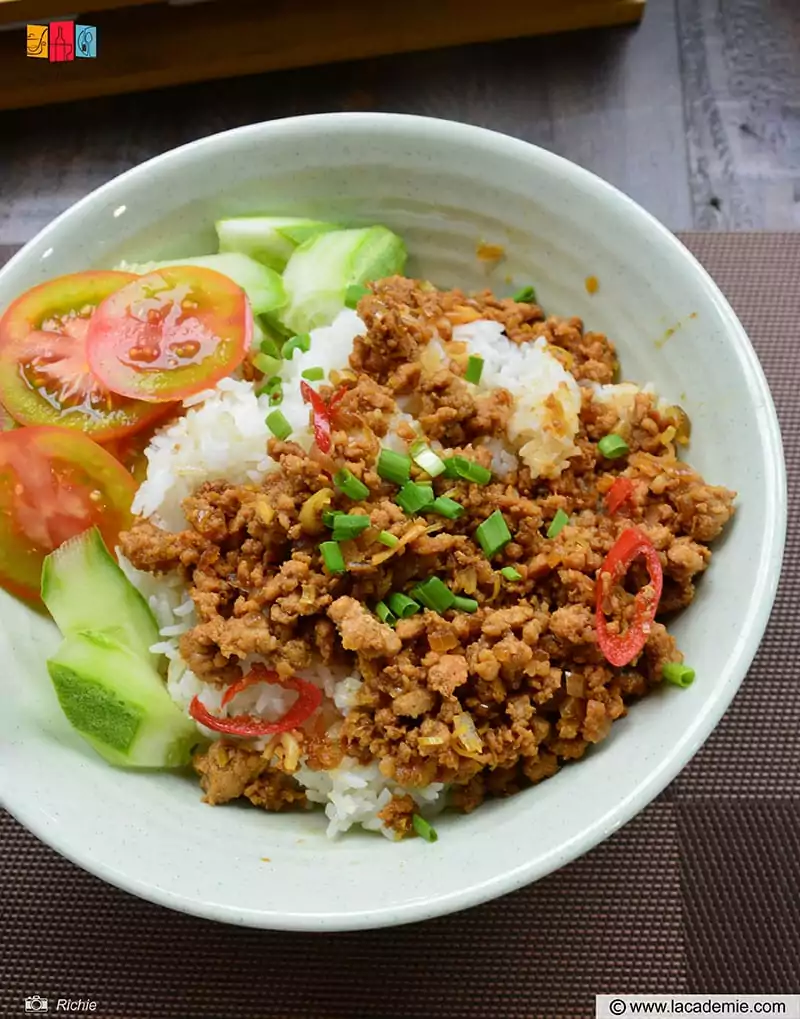 Kho-Style Dishes – A Treasure Of Vietnamese Cuisine
First, let's take a few minutes to learn more about Kho – a classic cooking method from Vietnam. In this technique, people will caramelize pork, beef, fish, or basically any kind of protein source in a flavor-packed sauce made from coconut water, spices, and traditional Vietnamese condiments.
Famous examples of these dishes include Ca Kho To (braised and caramelized fish) and Ga Kho (caramelized chicken). Fans of rustic Vietnamese delicacies might have also heard of Mam Kho Quet (caramelized fish sauce), a well-loved sweet, savory, and fatty dipping sauce.
Today's recipe: Thit Bam Kho is somewhat like a quicker version of Thit Kho To (caramelized pork). By swapping pork shoulder blades with ground pork, you can remarkably reduce the cooking time whilst maintaining the tastiness that Kho-style dishes bring.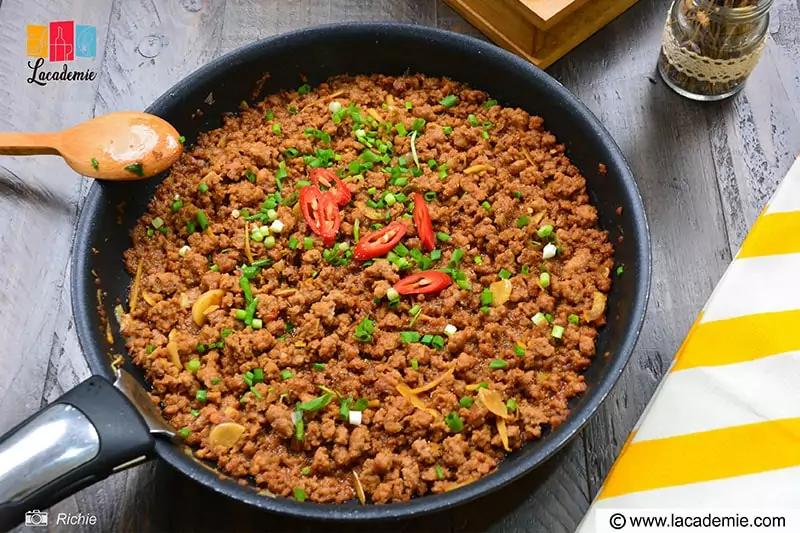 Tools
How many tools do you think this recipe will need? The answer is only two! The simpler, the better.
Pan: You will do all the cooking in this pan.
Wooden spoon: For stirring the ingredients.
Ingredients
While the required ingredients aren't super complicated, you might need to visit an Asian store for certain items.
Ground pork: If you have time and a food processor at home, you can buy whole pork and grind it yourself. Otherwise, opt for pre-ground pork.
Coconut water: Adds depth and a bit of sweetness to the sauce.
Aromatics: Garlic, chili, ginger, and shallots.
Spices: Brown, sugar, and pepper.
Vietnamese caramel sauce (Nuoc Mau): A special condiment that lends not only flavor but also a beautiful color to Vietnamese dishes. I highly recommend you learn the homemade recipe for Nuoc Mau, which is surprisingly easy.
Sauces: Fish sauce, oyster sauce, and soy sauce.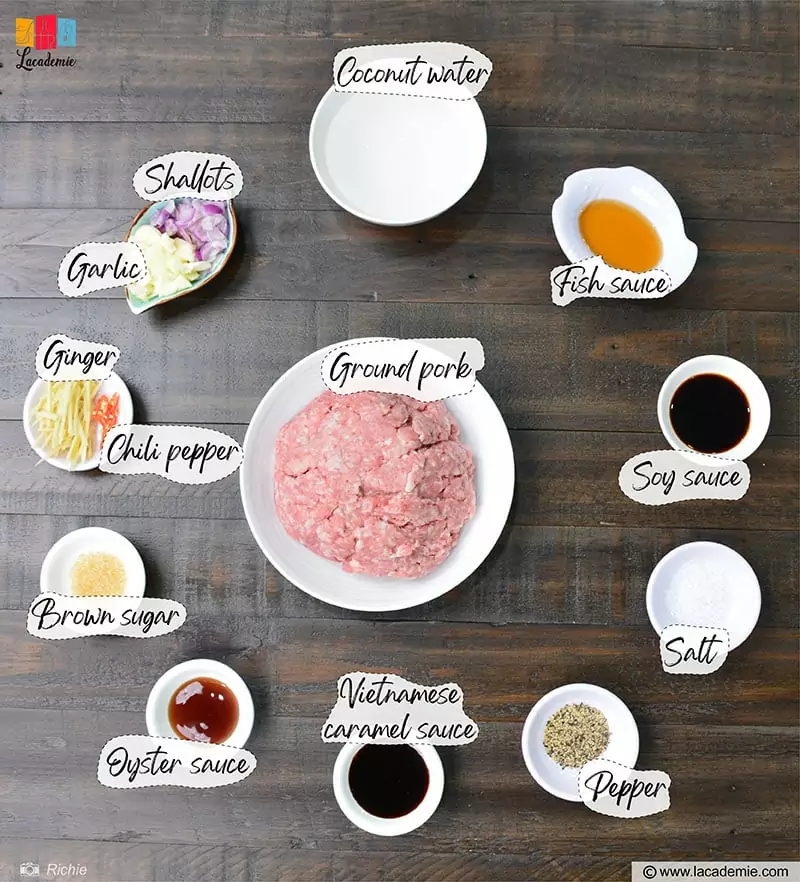 Directions
Here's what you have been waiting for. Follow this 3-step instruction to make yourself a delectable Vietnamese-style caramelized pork bowl.
Step 1: Drain The Coconut Water
Use a knife or the sharp end of scissors to pierce through one of the coconut eyes on top. Then, drain about 4 ounces of coconut water. You can skip this step if you use canned coconut juice or regular water.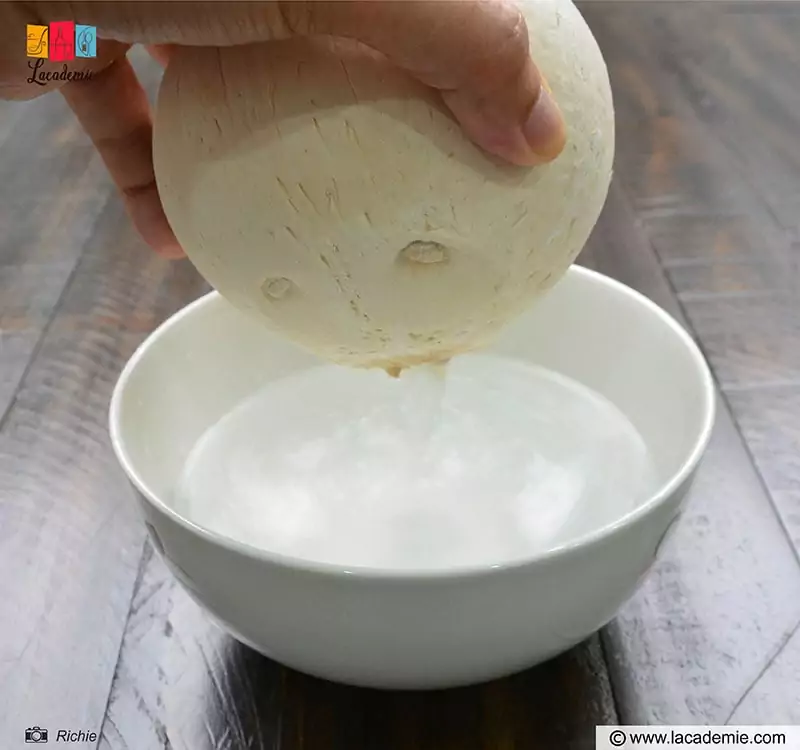 Step 2: Cook The Ground Pork
Add olive oil to a heated pan. Add the minced garlic and shallots, then fry them until fragrant. Next, add the ginger and chili pepper. Stir the mixture well for 1 to 2 minutes or until it becomes aromatic.
Add the ground pork and give it a good stir.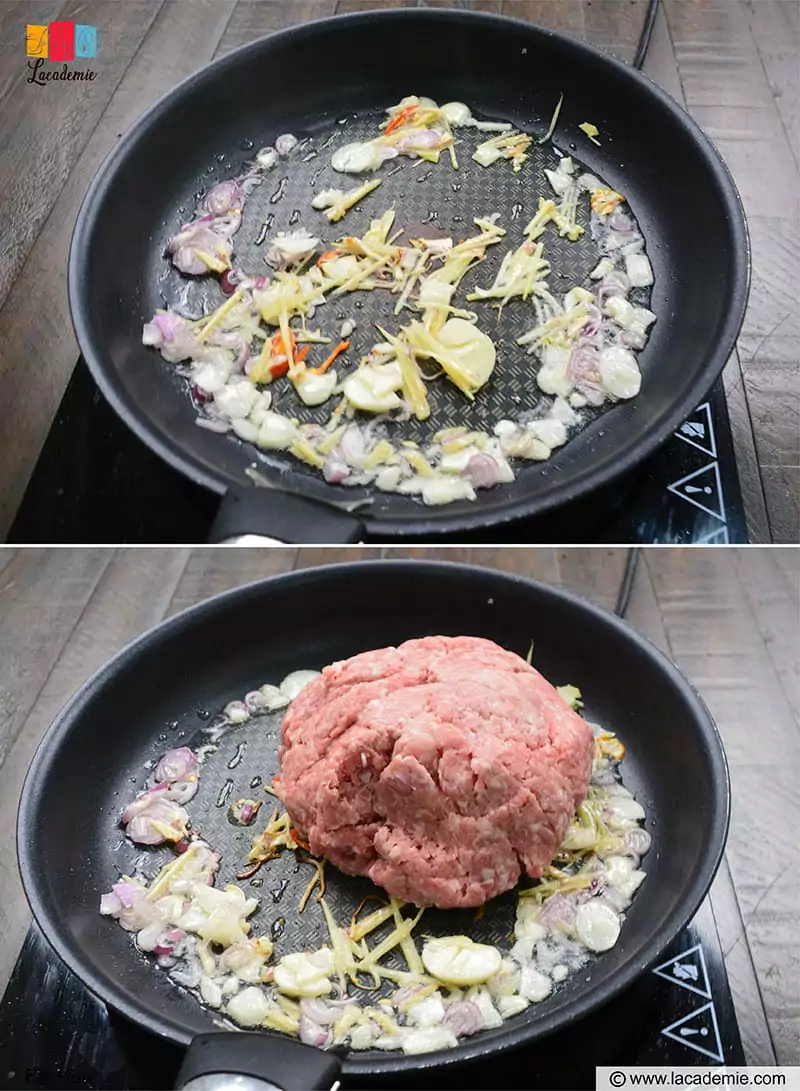 Pour in the coconut water and season the mixture with salt, brown sugar, caramel sauce, soy sauce, oyster sauce, ground pepper, and fish sauce. Stir well to infuse the pork with all the spices.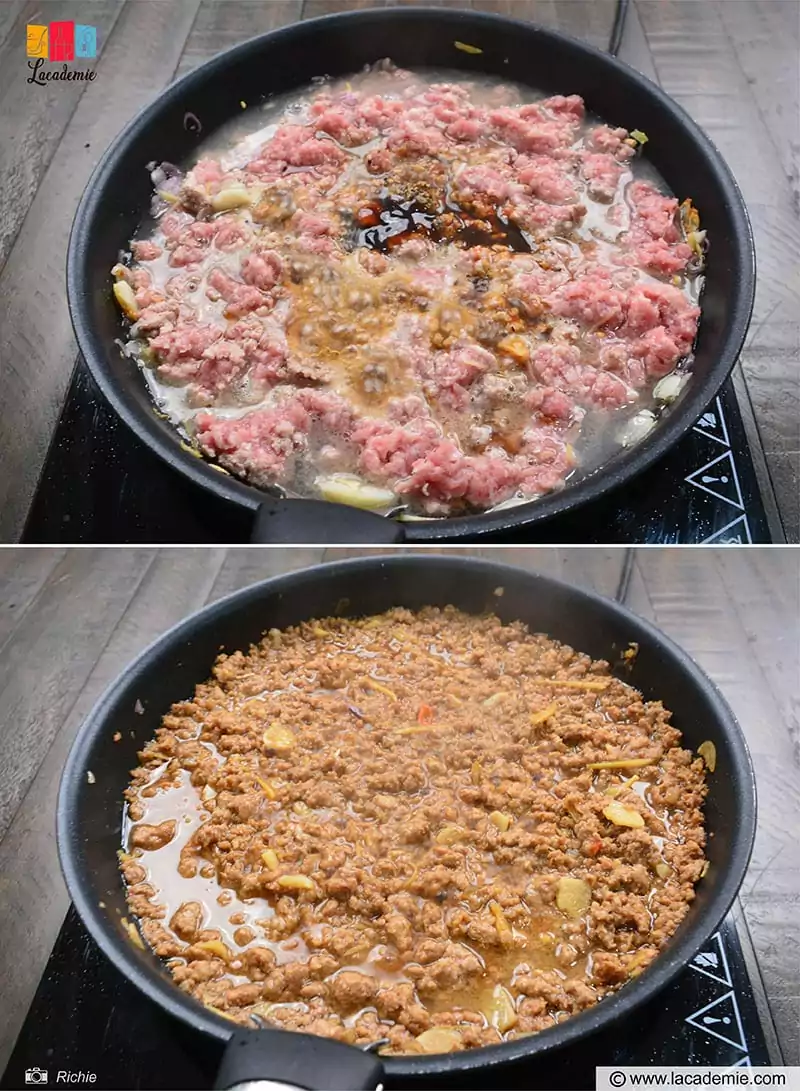 Simmer your pork in the coconut juice over low heat for 10 minutes or until the sauce slightly thickens.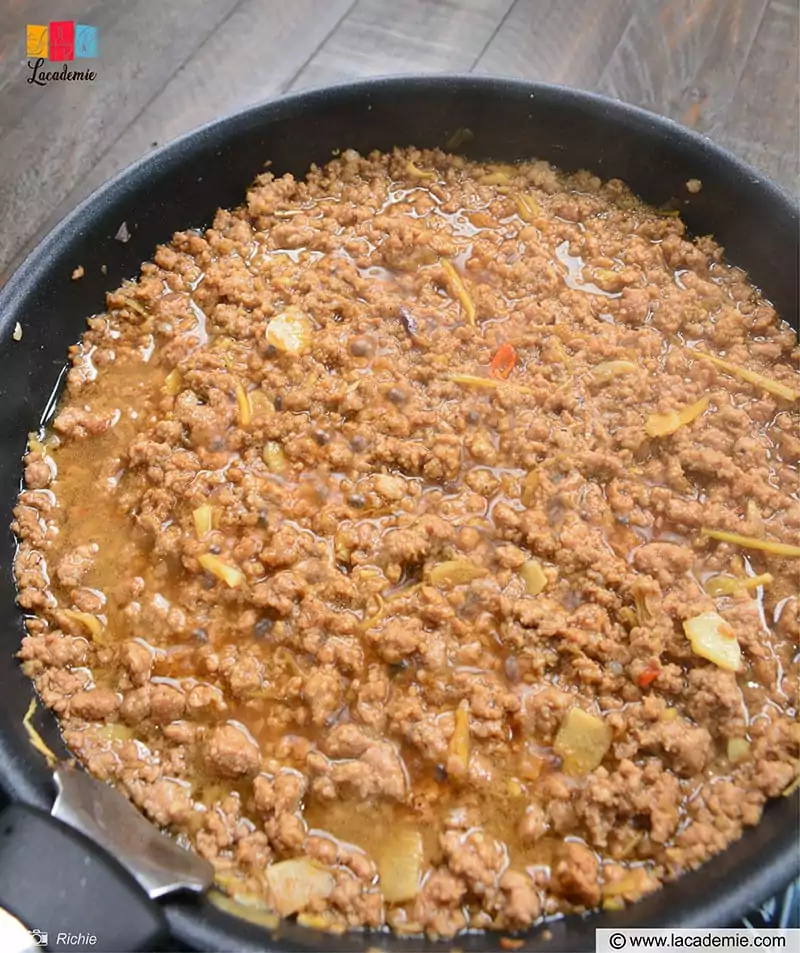 Step 3: Serve The Dish
When the pork becomes tender, your tasty Vietnamese caramelized pork is ready. Sprinkle some scallions over the meat to add more aroma and color.
Spoon some hot rice into a bowl or plate and spread the ground pork over it. Serve the pork bowl with boiled vegetables (okra, carrot, cabbage, etc.).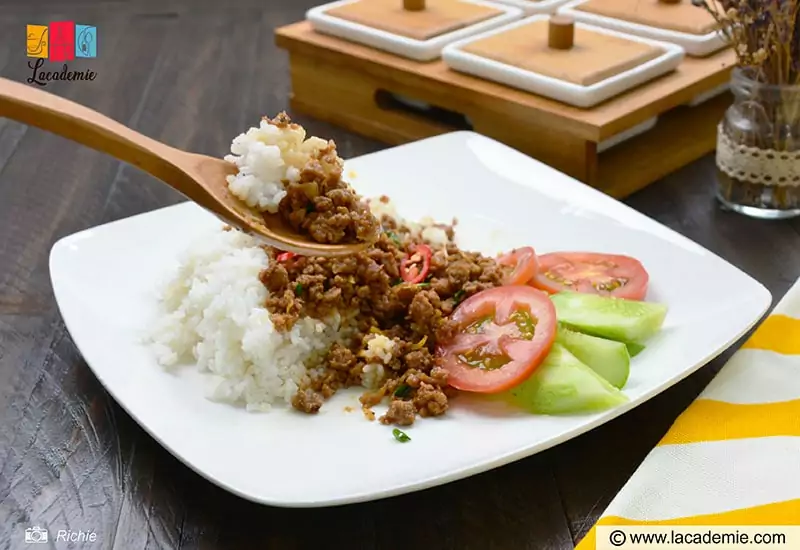 Handy Tips To Know
In this final section, I'll show you some tips that will help you with cooking the pork and a couple of suggestions to switch up the recipe.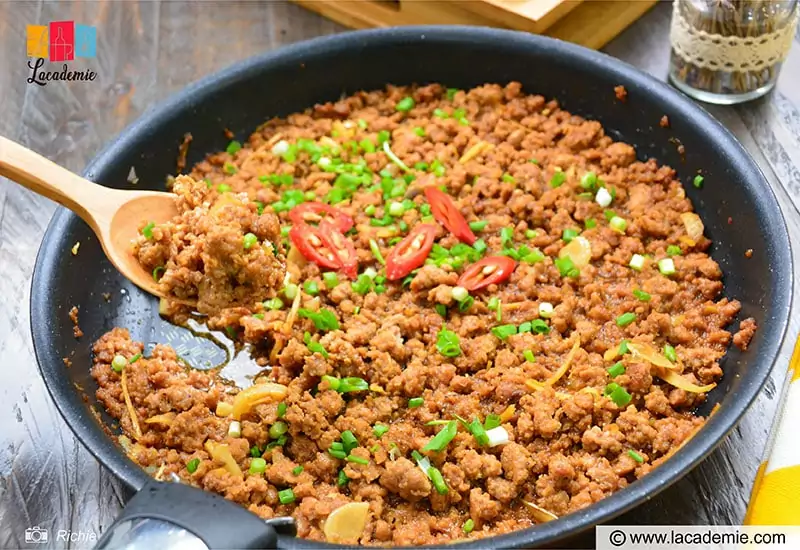 To fully enjoy your Thit Bam Kho, you should master how to cook perfect rice using a rice cooker. The bed of fluffy rice perfectly compliments the pork's savoriness.
You can also use the caramelized pork as Banh Mi's (Vietnamese baguette) filling.
Feel free to add more or reduce the quantities of spices to fit your preference.
You can replace ground pork with ground beef or even ground turkey. Note that the cooking time might differ.
During cooking, the ground pork will gradually absorb the sauce, resulting in a truly flavorsome treat. However, if you cook it for too long, the sauce will dry out, and you might burn the dish.
Covering the pan while simmering it's a good idea to prevent the sauce from drying out too quickly.
The Ultimate Pork Bowl Is Waiting For You!
Despite having tried many great rice bowl recipes, Thit Bam Kho is still the one dish that I keep going back to time and time again. Its exquisite flavor, aroma, and easy preparation are simply unmatched. Try it out and see for yourself how delicious this Vietnamese treat is!
How is your experience with today's post? Please leave your feedback and thoughts in the comment section below. If the dish is to your liking, don't hesitate to give it a good rating and share it with your friends and families. Thank you for reading, and see you in future recipes!
Nutrition Facts
4 servings per container
---
Amount Per ServingCalories288
% Daily Value *
Total Fat 12.6g

19

%
Cholesterol 3mg

1

%
Sodium 1815mg

76

%
Potassium 273mg

8

%
Total Carbohydrate 16.4g

6

%

Dietary Fiber 1.6g

4

%
Sugars 8.4g

Protein 26.1g

52

%
---
* The % Daily Value tells you how much a nutrient in a serving of food contributes to a daily diet. 2,000 calories a day is used for general nutrition advice.