Are you looking for Vietnamese meat dishes? Online websites may confuse you with their recommendations resembling fusion recipes. Don't worry! With my detailed knowledge of Vietnamese cuisine, I have included all the authentic delicacies.
Moreover, I divide them into different categories based on regions, so you can always find a suitable dish to try wherever you go in Vietnam. And if you want to try making them at home, you can also find instructions below to help you recreate them easier.
---
Vietnamese cuisine is known for its diverse flavor and fresh ingredients. And this section will show you all delicacies loved by all Vietnamese people.
Total time: 2 hours 50 minutes (excluding marinating time)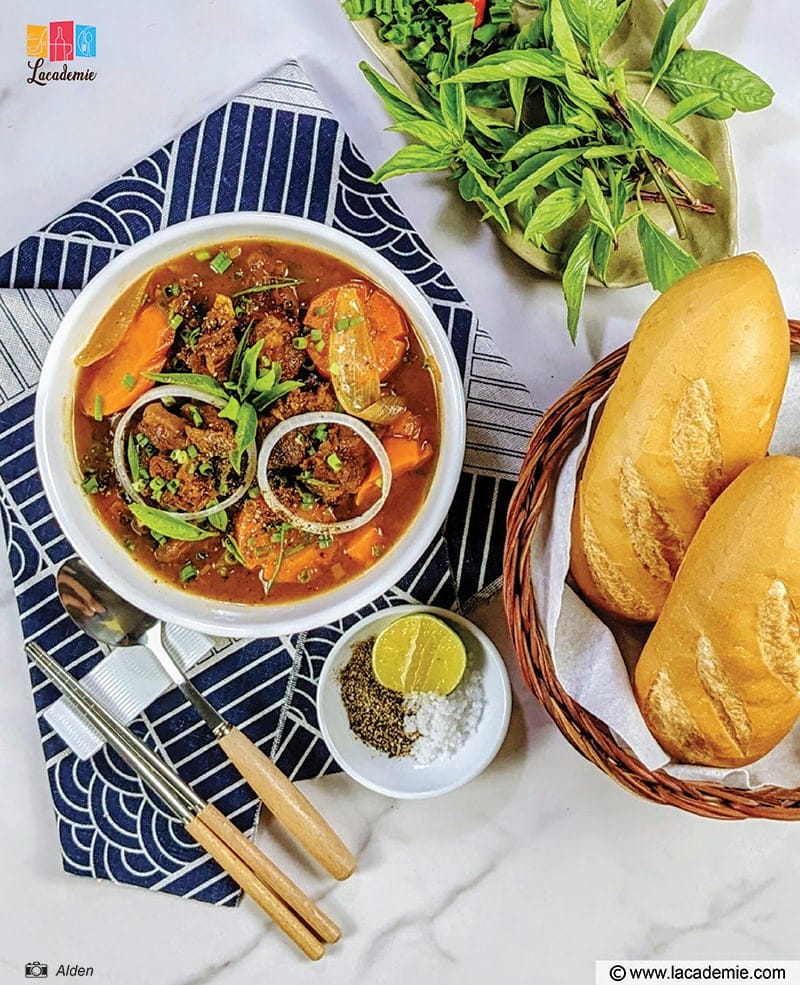 When you visit any Vietnamese family in winter, you'll likely see a bowl of bò kho on their dining table. Nothing beats a spoonful of tender beef cubes, sweet vegetables, and rich broth.
While bò kho is a great choice to go with rice, the common choice of the locals is a baguette. Its crunchy crust and soft interior complement the stew perfectly. And you can also eat it with some green veggies to balance the flavor.
Total time: 2 hours 45 minutes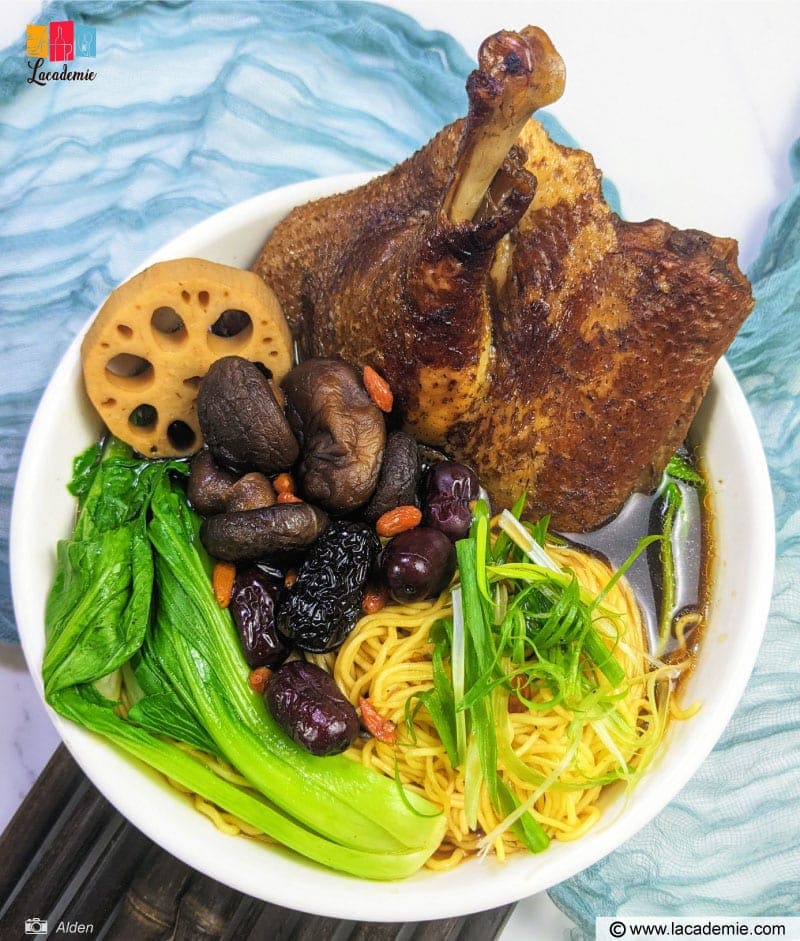 Besides chickens, Vietnamese people love including ducks in their cuisine. One of the exemplary dishes is mì vịt tiềm, using a whole duck leg quarter. Combined with egg noodles and different toppings (mushroom, bok choy, etc.), it will fill you to the brim.
Many places will have their own way of cooking the duck leg. But the most common method is roasting it before simmering it in the broth. You'll have a duck leg packed with smoky and herbal flavors.
Vietnamese duck noodle soup (mì vịt tiềm) will satisfy anyone who wants to try authentic Asian flavors.
Total time: 1 hour 45 minutes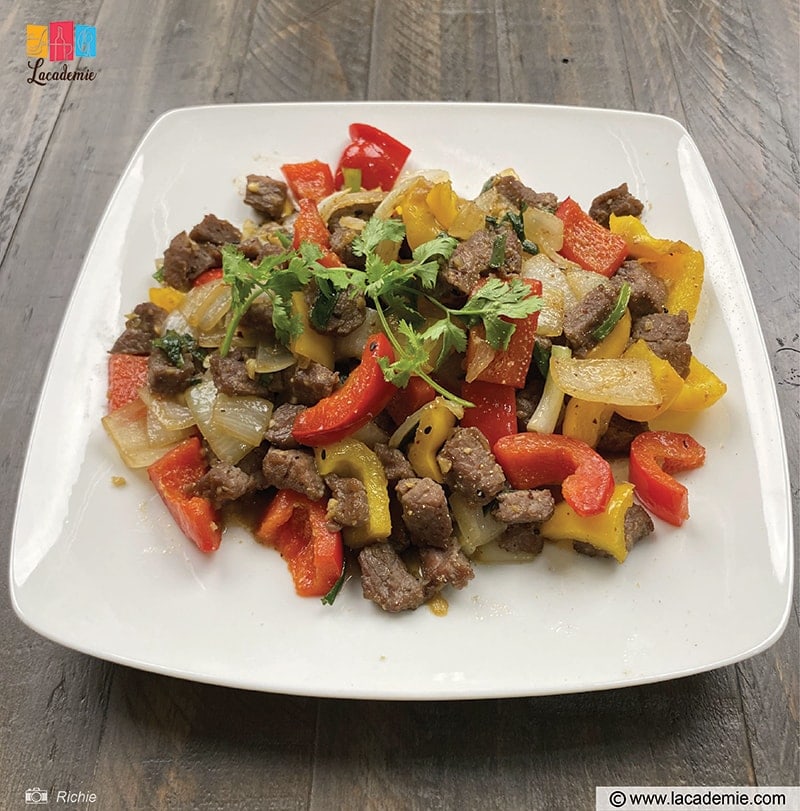 Bò lúc lắc is another Vietnamese dish with beef. But this time, it gets stir-fried with several vegetables instead of slow-cooked into a stew. As for the vegetables, use any type you want, but I prefer those with a crunchy texture and colorful appearance.
Some wonder about this dish's Vietnamese name: bò lúc lắc. The word "lúc lắc" is another word for "xúc xắc" (dice in Vietnamese). It gets this name because the beef cubes look like small dice for board games.
Total time: 55 minutes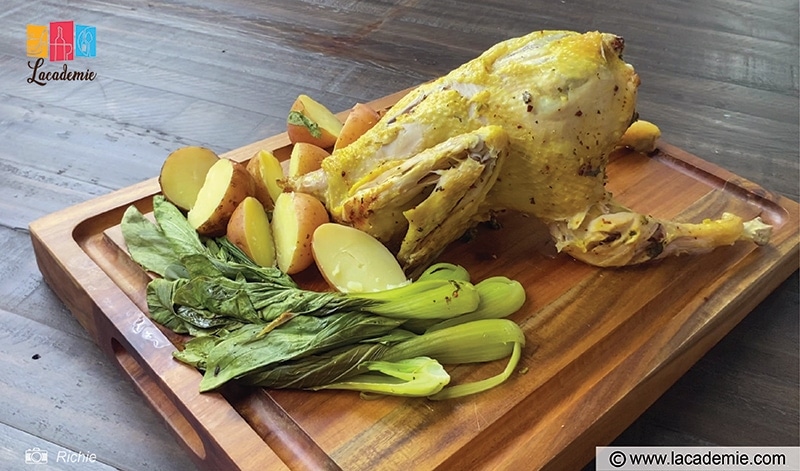 Regarding one country's cuisine, you can't skip steamed dishes. Steaming is the most effective way to retain the ingredients' health benefits. So, you can enjoy this dish without worrying about your weight.
However, making this steamed chicken is not so easy. The chef needs to pay close attention to the cooking time, the fire strength, and the amount of seasonings. Or else your chicken will become rubbery, too salty, or flavorless.
Total time: 55 minutes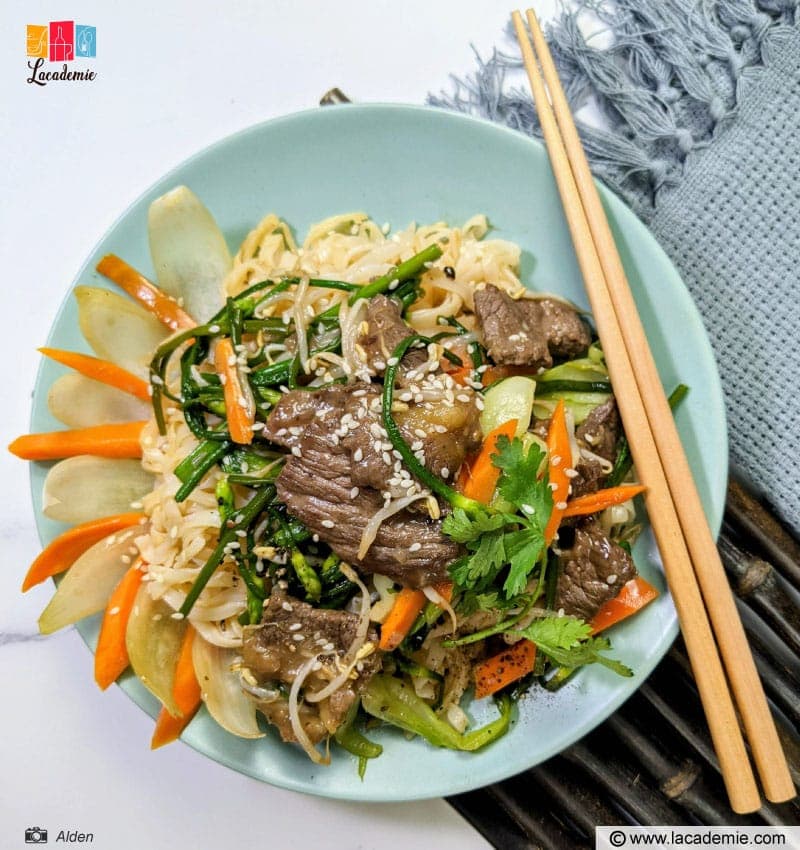 Almost all people worldwide know about phở with the broth version. But this stir-fried delicacy is also a must-try. Since it doesn't need broth, the cooking time is greatly shortened, so many diners serve it as a quick street food in Vietnam.
Still, you'll need to cook the noodles quickly to soften them. But don't cook for too long, or your noodles can turn soggy. The beef in phở xào thịt bò is often beef tenderloin or flank steak because they have the appropriate texture.
Total time: 25 minutes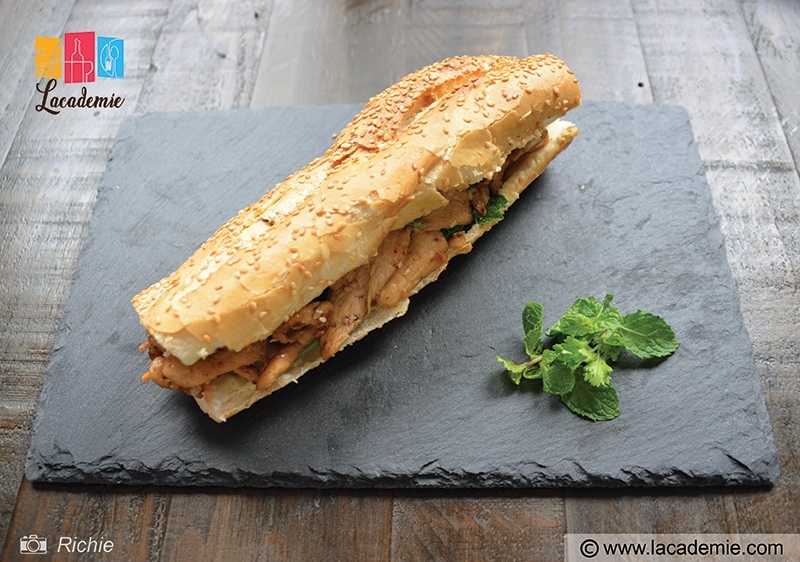 In terms of popularity, bánh mì may be the only one on par with phở. Many foreigners have loved Vietnamese bánh mì because of the vast array of flavors and textures it provides. In one loaf of bánh mì, you'll get savory meat, tangy pickles, crunchy fresh veggies, etc.
And bánh mì gà is one of the most common types because chicken meat is much easier to find than other ingredients. And its natural light flavor can go with almost all ingredients, creating numerous combinations.
Total time: 1 hour 10 minutes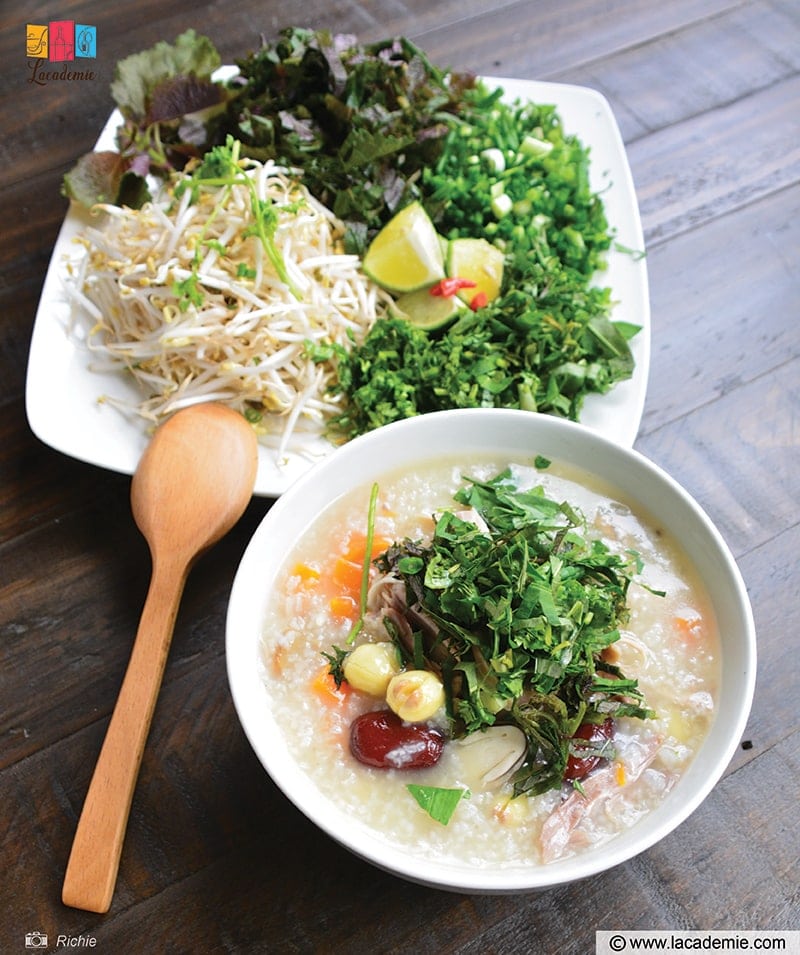 Congee is the Asian version of Western porridge. And in Vietnam, it's an excellent food for sick people. Besides that, you can also find it in street vendors or breakfast restaurants.
The best part about cháo gà is the rice getting cooked in chicken broth, making every bite full of chicken flavor. And don't forget the side dishes. Depending on the stores, there are various choices to choose from: century eggs, coriander, bean sprouts, etc.
Total time: 1 hour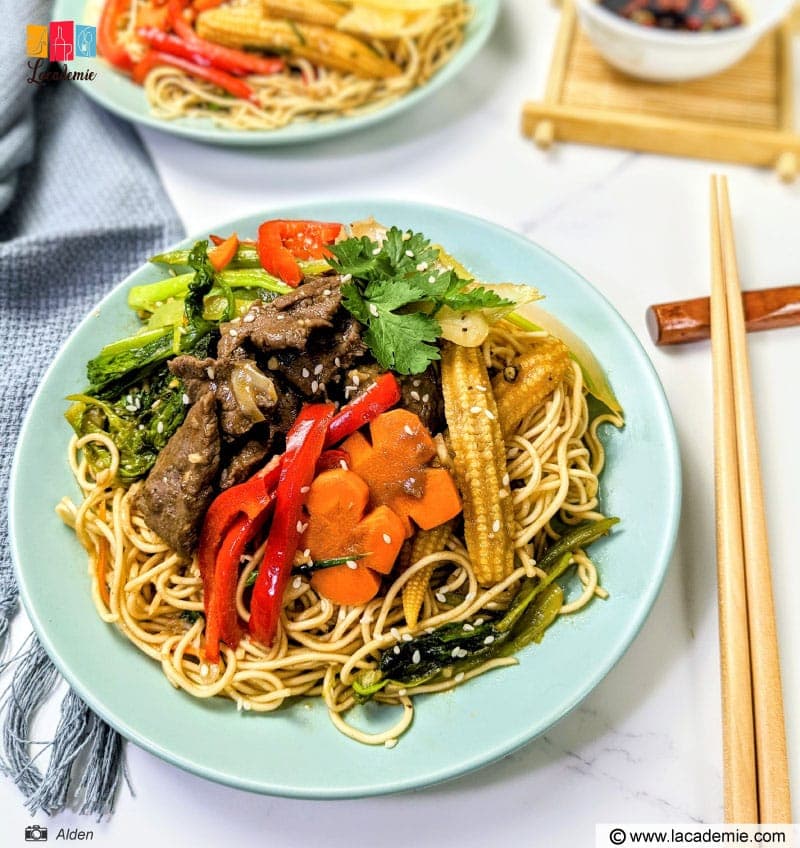 While phở will bring authentic Vietnamese feelings, it's not always available. So you can opt for this stir-fried mì version instead.
Mì xào bò is a highly customizable dish, as each diner has a way of cooking it, usually by combining their own choices of meat and vegetables. In addition, some places use egg noodles, while others choose a cheaper option: instant ramen noodles.
You can complete stir-fried noodles with beef (mì xào bò) in a short time.
Total time: 45 minutes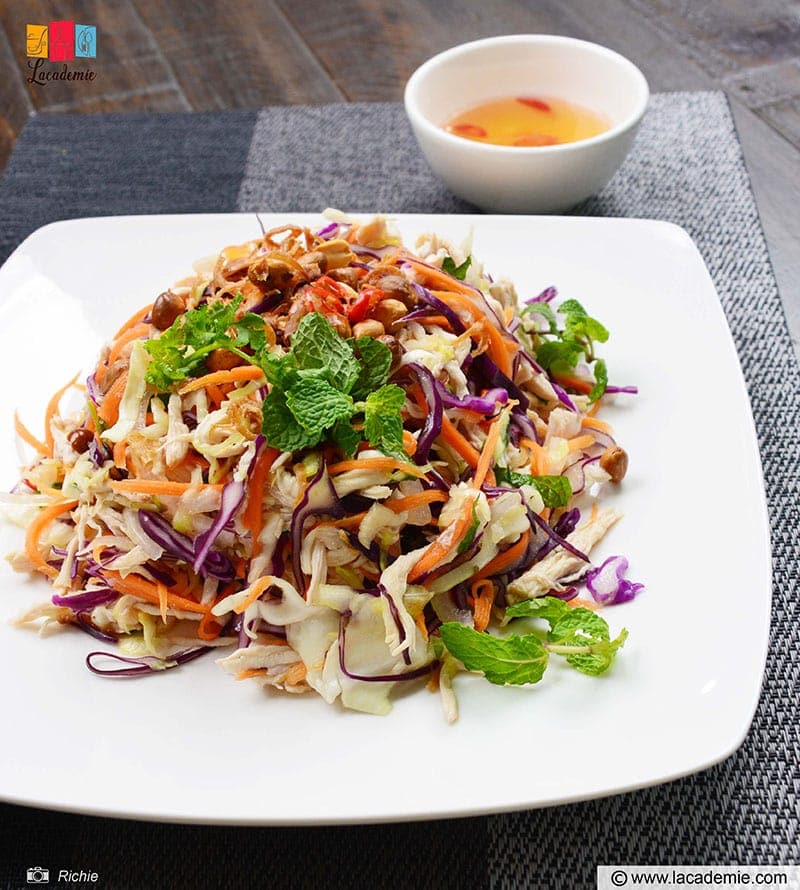 Are you tired of the same old salad? Come to Vietnam and try its salad! People there often call salad "gỏi" (in the South) or "nộm" (in the North). Apart from being a light meal or a side dish, it's an excellent Vietnamese choice for snack time.
Like other Vietnamese dishes, gỏi gà is full of fresh herbs and vegetables. Some typical options are cilantro, mint, lettuce, and cucumber. Combined with a tangy dressing made of vinegar and fish sauce, you'll have a perfect summer treat.
Total time: 1 hour 45 minutes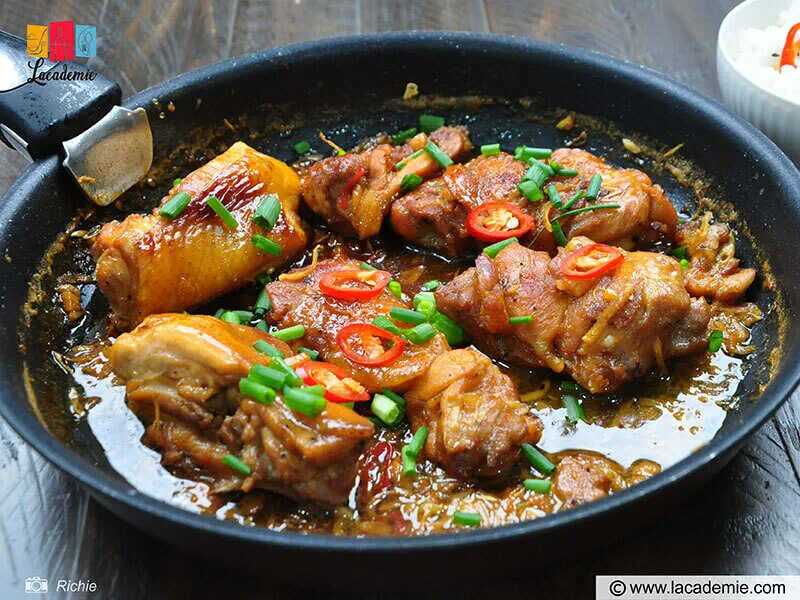 Although they both share the word "kho" in their name, gà kho has a totally different making method than bò kho. The latter is more like a stew, while this dish is undoubtedly a braised one.
Its rich and savory taste comes from simmering the chicken in a Vietnamese caramel sauce (nước màu) until tender. Due to its flavor profile, the best way to enjoy gà kho is by eating it with cooked rice and other boiled vegetables.
Total time: 1 hour 35 minutes (excluding marinating time)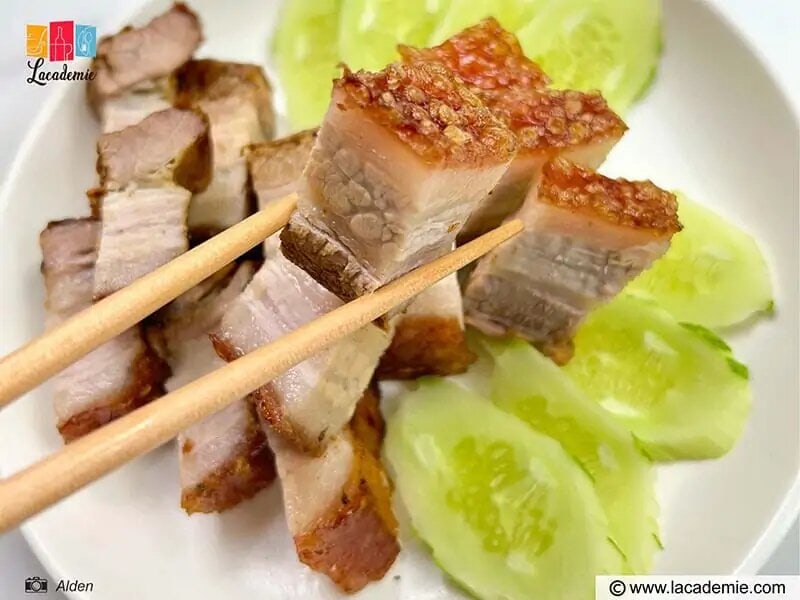 Heo quay is a well-known dish in all Asian countries, especially China, with its Beijing version. Today, I'll introduce you to the Vietnamese heo quay instead. Unlike the Chinese one, this variant comes with crispy pork skin.
Heo quay is an indispensable part of Vietnamese people's daily life. It appears in fancy events like weddings and everyday meals like breakfast or dinner. Since heo quay stands for prosperity, the local businessman will buy/make it every month to wish their business to keep growing.
Total time: 40 minutes (excluding refrigerating time)
Vietnamese chả lụa is different from your usual sausages. It still uses ground meat but doesn't need a casing from the intestine. Instead, the locals wrap the meat mixture with banana leaves to infuse a fragrant scent.
The wrapping step is vital because if this pork sausage isn't wrapped tightly, the water will leak inside and quicken the spoilage process. Chả lụa is a lovely partner for almost all Vietnamese dishes: rice, sticky rice, steamed rolled cakes (bánh cuốn), etc.
Total time: 2 hours 35 minutes
Have you ever tried Vietnamese sticky rice? If not, let me show you an iconic Vietnamese traditional dish: xôi. It usually has two versions: sweet and savory. Regarding the first type, Vietnamese peanut sticky rice (xôi đậu phộng) will be a decent first choice.
But the main star here is the savory one. There are tons of savory sticky rice recipes in Vietnam to try. The most familiar is a mixed treat with Chinese sausage, pork floss, and a boiled quail egg.
Total time: 1 hour
Once you try cánh gà chiên nước mắm, you don't want to return to regular fried chicken anymore. Apart from crispy chicken wings, you'll get a sweet and savory accompanying glaze made from fish sauce.
And those afraid of fish sauce's smell, don't get scared! Since it's cooked at high heat with other spices, the scent has already gone, and only its umami flavor remains. When eating them, don't forget to pour the sauce over the rice to enjoy these chicken wings to the fullest.
You can't find any dishes easier than these fish sauce chicken wings (cánh gà chiên nước mắm).
Total time: 1 hour
Besides the grilled pork chop, do you know which component is indispensable for Vietnamese broken rice (cơm tấm)? The answer is chả trứng! You can consider it an egg version of regular meatloaf.
But of course, this dish is much lighter and often acts as a side dish. The fillings vary from one store to another. The most common combination is ground pork, glass noodles, and eggs.
Total time: 20 minutes
When eating Vietnamese foods, especially street ones, you'll find some dried shredded meat with a savory flavor. It's the "chà bông" or "ruốc", meaning meat floss in English. It used to be a way of storing food. And now, the locals use it to add more flavor to their dishes.
Chà bông in Vietnam can be made with any type of meat you can think of. Pork and chicken are two common choices. Additionally, there are variants using shrimp, fish, etc.
Total time: 30 minutes (excluding marinating time)
Sườn xào chua ngọt is one of those delicacies with Northern and Southern versions having a big gap. In the North, people often fry the ribs and stir-fry them.
Meanwhile, Southern people often deep-fry the flour-coated pork before stir-frying. The sweet and sour sauce between the two types is also pretty different. The former will use a tomato sauce, while the latter has a vinegar-based sauce packed with fruits and veggies.
---
The meat dishes above reflect one part of Northern Vietnamese cuisine, which possesses unique culinary traditions and techniques. Let's find out about them now!
Total time: 1 hour 30 minutes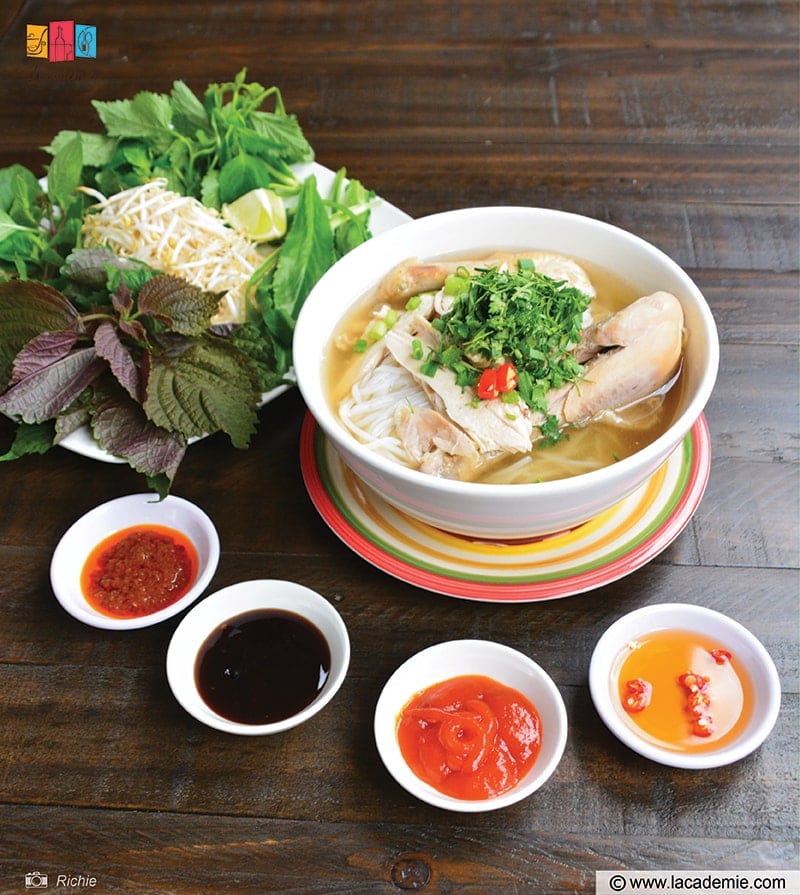 When it comes to Northern Vietnamese cuisine, the first dish popping up in everyone's head is phở. It's precisely the national dish of Vietnam, being loved everywhere it goes. And phở gà is among those typical versions in many diners.
Phở gà is quite light and elegant since chicken meat has little flavor. But its elastic texture makes up for the flavor. Also, you can eat it with different sauces, such as Vietnamese hoisin sauce (tương đen) or chili sauce (tương ớt), to enhance the taste.
Total time: 3 hours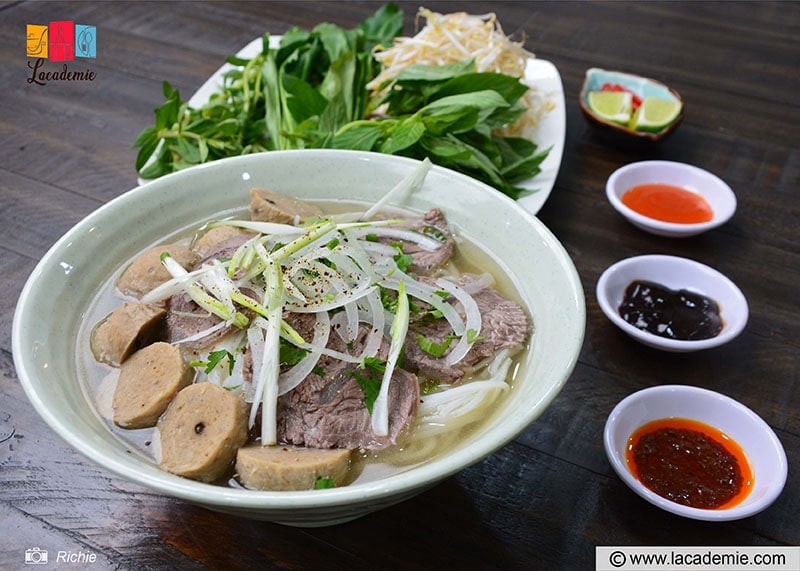 Of course, you can't discuss Vietnamese phở without mentioning phở bò. The locals eat it at breakfast, lunch, dinner, and even as a late-night meal. This version is a thousand times richer than the previous phở gà, so if you want a hefty dish, order it.
Moreover, phở bò comes in various types, using different meat cuts and their doneness levels. Besides beef meat, you'll get to enjoy the tendons, beef tribe, flank cut, and even boiled beef blood curds.
Total time: 1 hour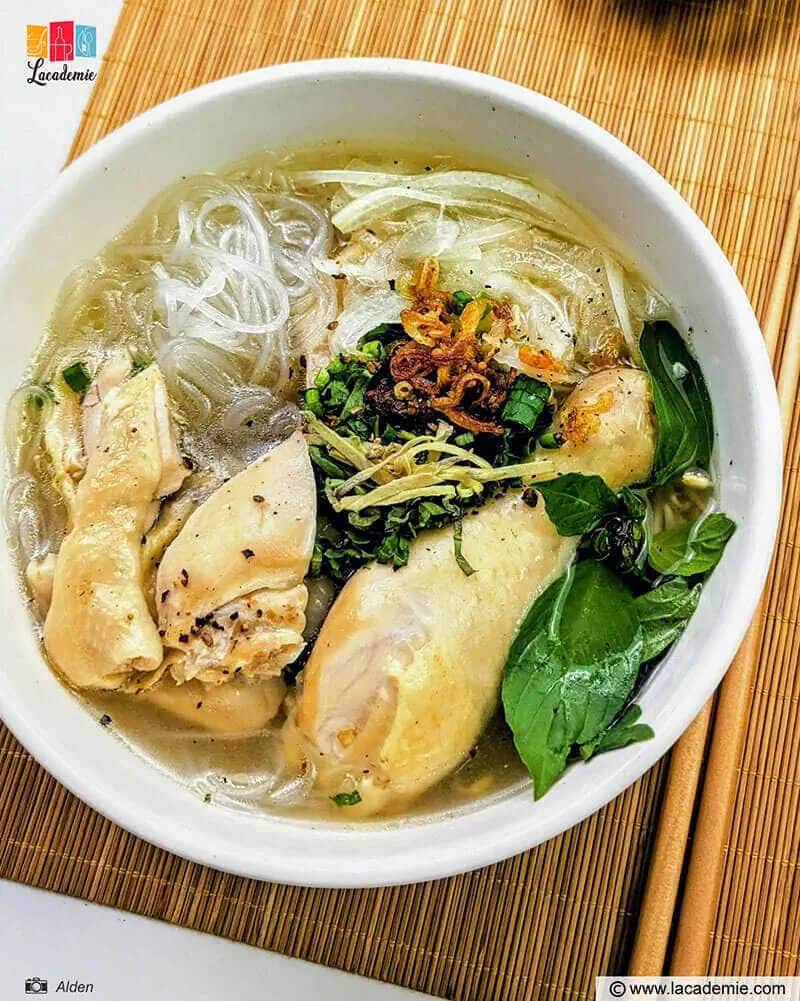 Miến gà is the exclusive Northern version of phở gà, with glass noodles (miến) taking charge of the starch part. While phở is soft, glass noodles are chewy with a transparent appearance.
Regarding flavor, miến gà tastes even lighter than phở gà, so it's suitable to feed sick people or elders. You can use the same herbs and veggies in phở gà to accompany this treat.
Total time: 1 hour 20 minutes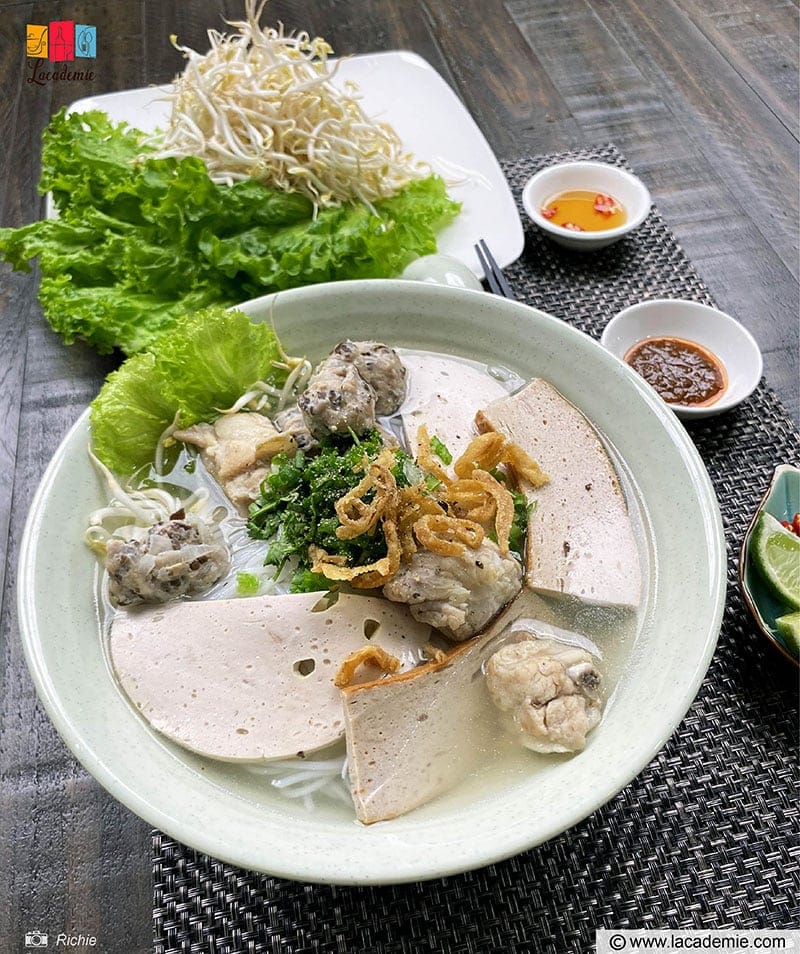 Forget your usual spaghetti and meatballs! This bún mọc will blow your mind with its distinctive flavor. The mọc in this dish refers to meatballs made from ground pork/pork paste, minced mushrooms, and onions, leading to a crunchier texture than regular meatballs.
Coming with the meatballs is the flavorful broth. In some places, the locals even roast the pork bones, onions, and root vegetables before cooking them to draw out their sweetness and infuse a smoky flavor into the stock.
Pork ball noodle soup (bún mọc) is a refreshing dish suitable for summer days.
Total time: 1 hour 15 minutes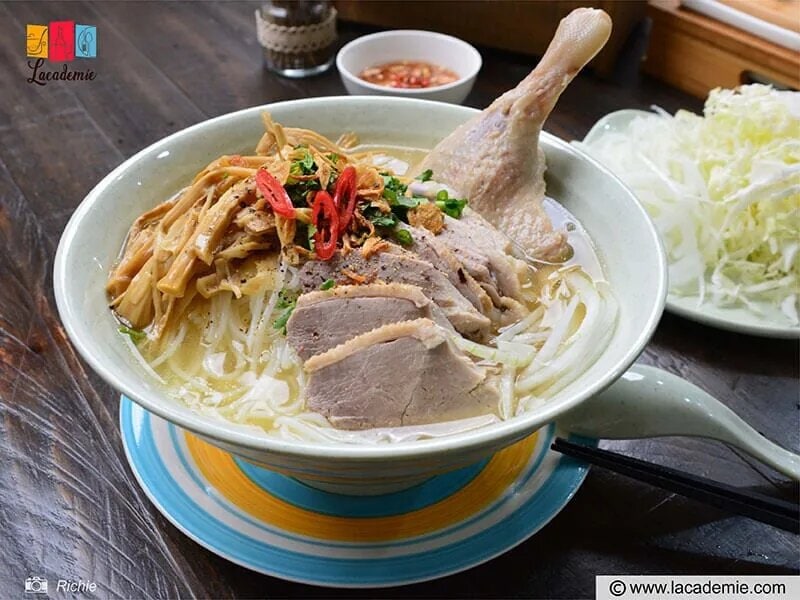 If the strong herbal flavor of mì vịt tiềm isn't to your liking, bún măng vịt can be the better alternative. Instead of numerous medicinal herbs, this one only uses simple root vegetables for the broth. Some stores will slightly roast the veggies in advance to infuse a smoky note.
Aside from duck and vermicelli noodles, bún măng vịt can't be complete without the bamboo shoots. Fresh or dried types are also possible, but traditional stores mainly use the former ones.
Total time: 1 hour
I have seen many think the word "thang" in its name means "ladder" and wonder why this dish has such a strange name. Actually, it originated from a Chinese term referring to a portion of medicine. The locals call it that since bút thang uses lots of herbs and spices.
Although the traditional method is pretty complicated, Vietnamese people nowadays have simplified it while still keeping the bún thang's spirit. Regular diners make it with chicken, fried eggs, pork sausage, etc., all thinly shredded.
Total time: 1 hour
Do you know which dish ex-president Barack Obama ate when he visited Vietnam? The answer is bún chả Việt Nam! One portion of bún chả may look quite humble, with rice vermicelli, a bowl of Vietnamese dipping sauce (nước chấm), grilled meat, and meatballs.
But believe me, you'll be surprised with its taste. All flavors harmonize perfectly together. And since bún chả is often served at room temperature, you can easily enjoy it on hot days.
Total time: 1 hour 45 minutes (excluding chilling time)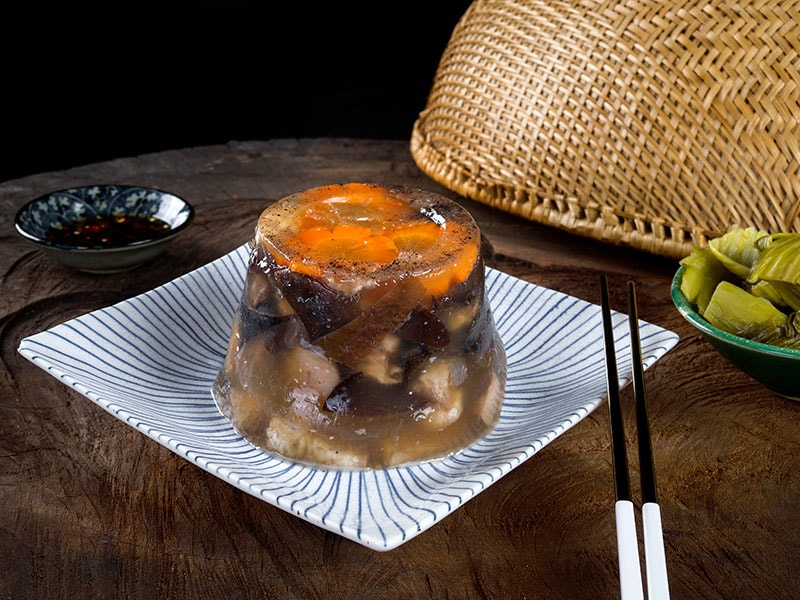 Is this dish a main dish or a dessert? The correct answer is "a main dish"! People call it "jellied meat" because it has a jelly-like texture. The origin of thịt đông is somewhat vague.
But most people agree the original was a meat stew with its broth being frozen due to the cold weather in the North. Since the result still tastes so good, the locals start making it that way. Later, it became a must-have dish for the New Year (Tết) party.
Total time: 30 minutes
You can't skip hot pot on your winter menu. Nothing can beat the feeling of sharing a steamy hot pot with your friends or family in chilly winter. While regular hot pot usually uses pork, beef, or seafood, this treat utilizes goat meat and bones.
Unlike other hot pots, where you can just dip the meat in the broth, here, the chefs need some extra steps to eliminate the goat's gamey smell. And the perfect partner for this hot pot is a small bowl of Vietnamese fermented tofu (tương chao).
---
Goodbye to Northern Vietnam; let's go to the Central region! While this area is more famous for its seafood dishes, that doesn't mean it lacks meat delicacies.
Total time: 1 hour 30 minutes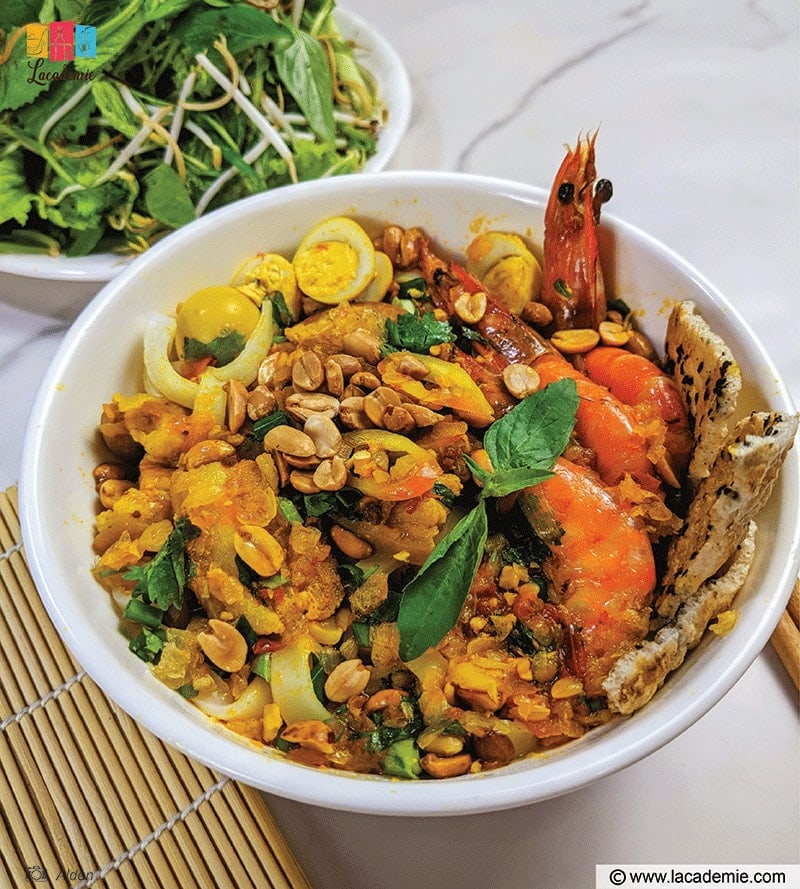 If you're tired of phở, try mì Quảng! This specialty stands out from other famous noodle recipes in Vietnam as it doesn't use much broth. Its accompaniments are also interesting, with toasted sesame rice crackers (bánh tráng mè) and peanuts besides herbs and veggies.
Mì Quảng has become an indispensable part of the daily life of Quảng Nam's citizens. Besides a local favorite snack and street food, it even appears in important events like family gatherings or death anniversaries.
Total time: 1 hour 5 minutes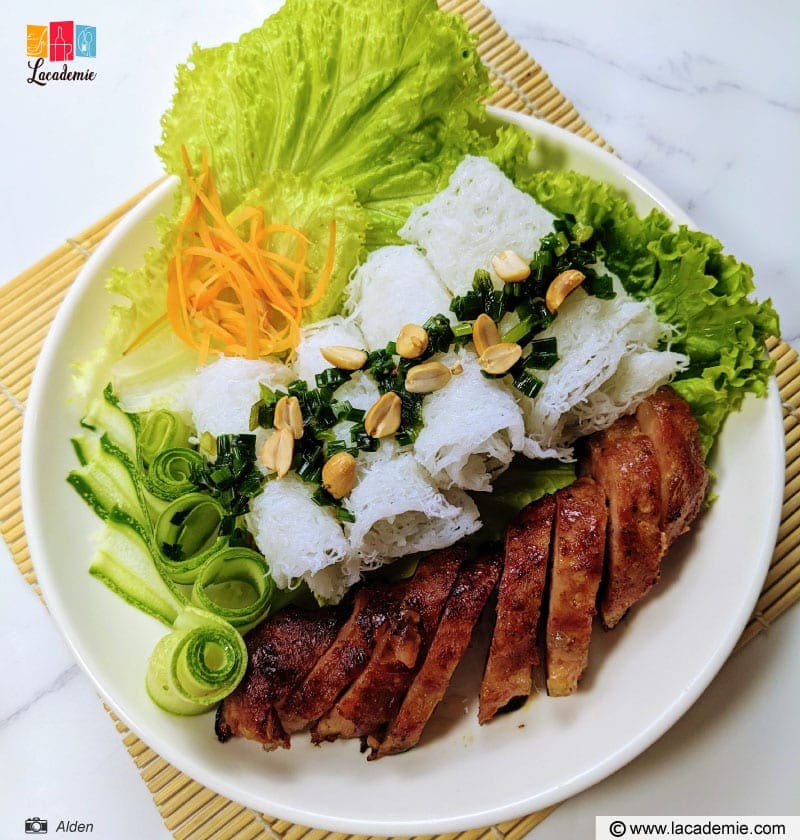 For those searching for a snack to accompany their beer, nem nướng will satisfy all your needs. You can think of nem nướng as a grilled meat cake made of ground pork, pork paste, and pork fat.
It sounds really simple, right? That's because this dish never intends to be a fancy treat. You can easily grab it at any street store and use it with the sour and sweet Vietnamese dipping sauce (nước chấm) for a quick midday meal.
Make this Vietnamese grilled pork sausage (nem nướng) to enjoy with your beer!
Total time: 1 hour 50 minutes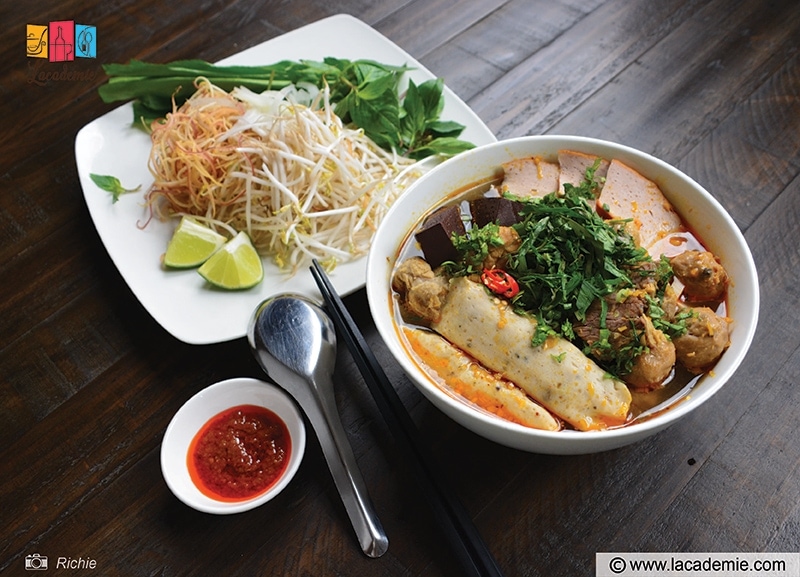 One signature flavor of Central Vietnamese foods is their spiciness. And let's learn about it through this bún bò Huế. Its heat comes from the Vietnamese lemongrass chili sauce (sa tế), which also brings it a vibrant red shade.
In addition, get prepared for a massive portion with various toppings on top. Some of them are quite unique. For example, pig blood curds can terrify some people, but their richness is a must-try.
Total time: 2 hours 30 minutes
Hội An (an ancient city in Vietnam) has recently become popular as one of the must-go Vietnamese destinations for foreign visitors. And when coming here, you should take the chance to try cao lầu, this city's specialty.
The first shocking thing about this dish is the color of the noodles. Since they're soaked in lye water, they have a unique grayish-brown color. Some stores even take some of these noodles and deep-fry them to make a crunchy topping.
Total time: 1 hour (excluding refrigerating time)
When you go to Central Vietnam, remember to buy some nem chua for your relatives so you guys can drink beer and eat it together. Its tangy flavor will make you unable to stop eating it. You can even find some types with a sweet taste.
Eating nem chua raw won't cause any severe harm since the locals often enjoy it that way. But if you're concerned about food safety, you can grill or cook it a bit before eating.
---
If the Central region emphasizes spiciness, most Southern Vietnamese dishes are quite sweet and sour. Although these flavors seem unrelated to meat, they make an excellent combination.
Total time: 1 hour 35 minutes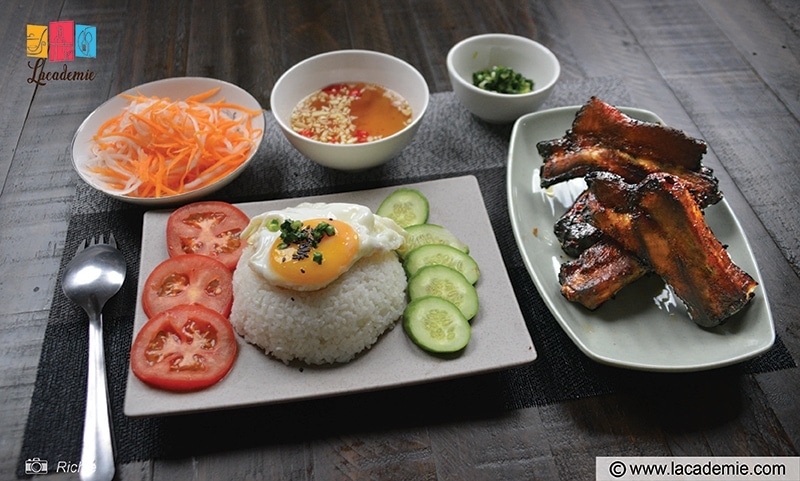 The signature dish in the Southern region is not a noodle delicacy like the other two, but this cơm tấm sườn que. Cơm tấm refers to a cheap, inferior type of rice: fractured grains during milling.
Before, only the poor ate it. But nowadays, with the popularity of cơm tấm, it has become a widely desired rice variety. A usual plate of cơm tấm sườn que will include rice, pork ribs, pickles, and a bowl of Vietnamese dipping sauce (nước chấm).
Total time: 1 hour 40 minutes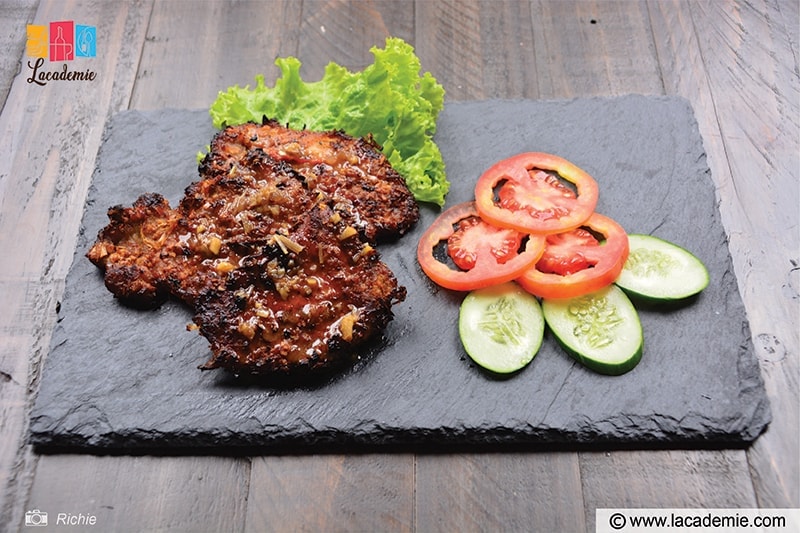 Are these grilled pork chops familiar to you? Yes! They're an irreplaceable component of the previous cơm tấm sườn que. The locals will marinate them first with oyster sauce, soy sauce, condensed milk, honey, and various spices for a flavorful taste.
Then, they grill the chops until golden brown on both sides, with the sides being slightly charred. You can enjoy it with rice and other regular accompanying dishes used for cơm tấm sườn que.
This Vietnamese grilled pork chops (sườn nướng) will steal all spotlights at the next BBQ party.
Total time: 2 hours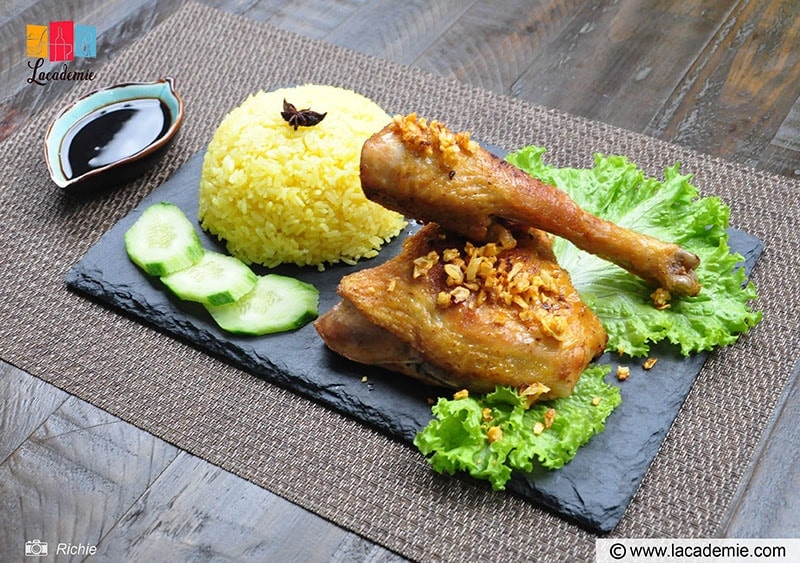 Of course, cơm tấm sườn que is not the only rice specialty in Vietnam. Cơm gà xối mỡ is another must-try dish. Whereas the previous option uses the grilling technique, this one deep-fries its main protein to create a crunchy texture.
However, the fried chicken here differs entirely from the regular ones in fast-food restaurants. The locals make it by pouring hot oil over the chicken until it's cooked thoroughly. If done properly, the meat will turn out crispy, without a trace of the oily feeling.
Total time: 2 hours 15 minutes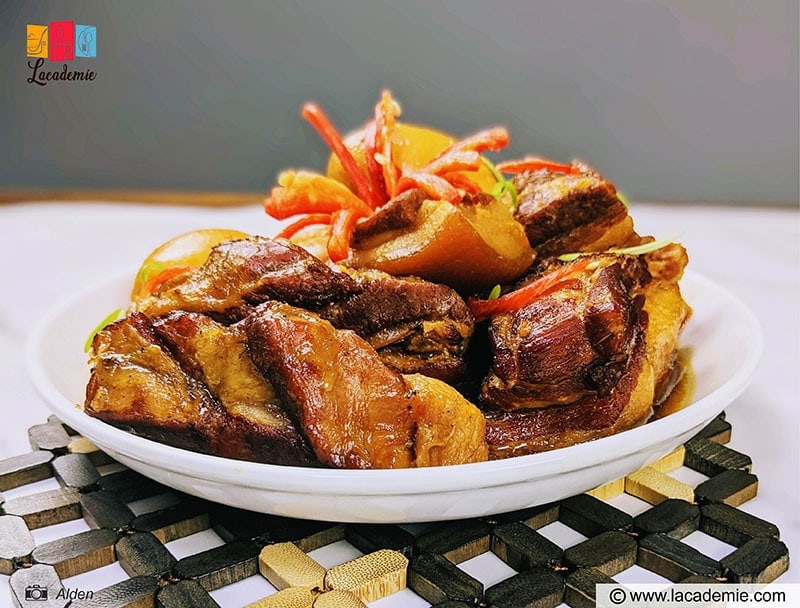 Hardly anything goes better with rice than thịt kho tàu. People often choose pork belly to make this dish since it has a moderate amount of fat, which increases the juiciness of the meat without making it feel overrich.
And don't think the word "tàu" in its name stands for "Chinese". This caramelized pork belly was a dish for tailors, so the "tàu" means "a ship" in Vietnam. Another explanation is that in the native language of the locals in the South, "tàu" refers to this dish's sweet and savory flavor.
Total time: 1 hour 50 minutes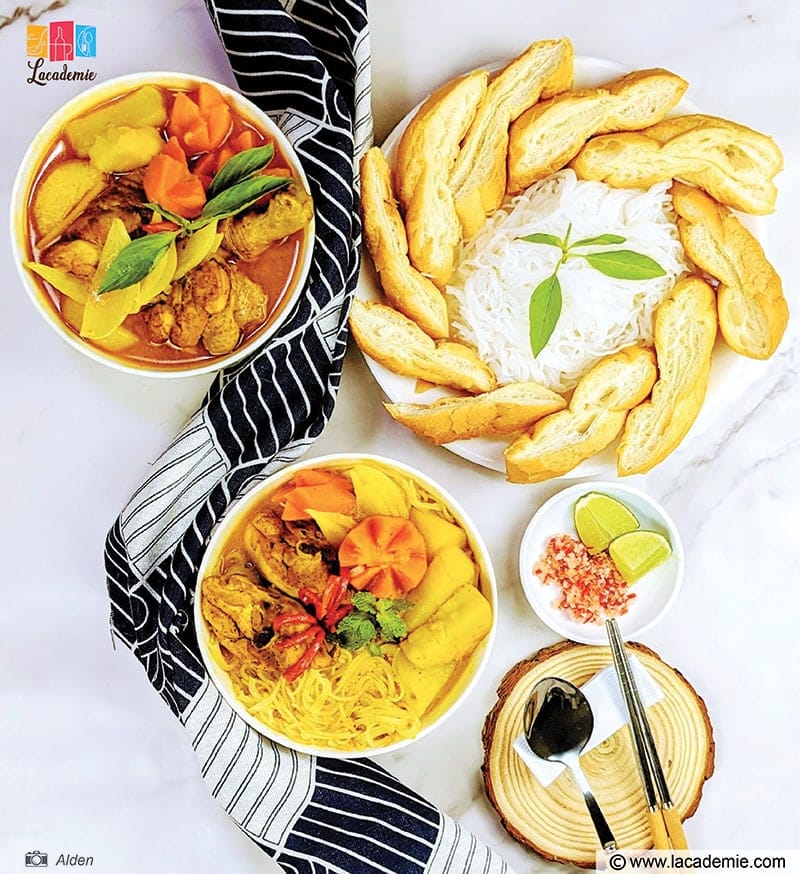 You may not believe it, but Vietnam has its own curry. Unlike curries in India or Thai, Vietnamese variants use coconut and soy milk for the broth, leading to a sweeter, fattier, and less rich result.
Besides using bread and rice as accompaniments like in other countries, the locals eat curry with different types of noodles since the broth is quite soupy. Other thicker types use cornstarch or tapioca starch to thicken the stock.
Total time: 1 hour 30 minutes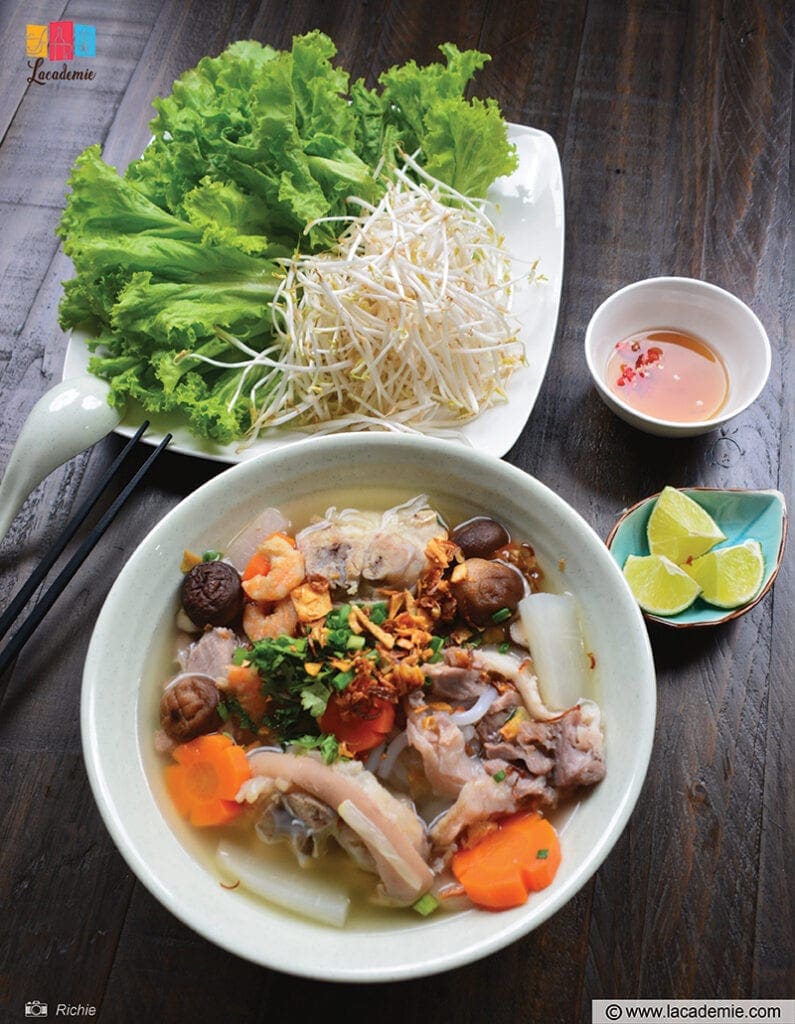 It's quite funny that the noodles' name literally means "soup cakes" in English. That may be because they're thicker than other types. Or some people say the reason is the noodle dough looks like a cake.
All in all, bánh canh is a well-loved noodle variety of Southern citizens. They make it into various Vietnamese soup delicacies, including combining it with pork knuckles and pig trotters for this bánh canh giò heo.
Total time: 1 hour 35 minutes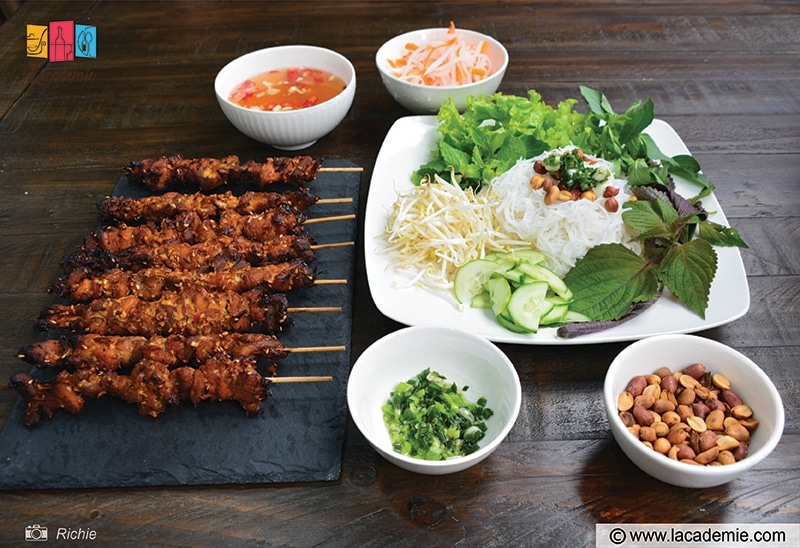 This bún thịt nướng is a Southern relative of the famous bún chả in Hà Nội. Despite also consisting of rice vermicelli noodles and grilled pork, how people eat it is completely different.
They will pour the dipping sauce over the noodles and meat and mix everything together before eating. The sauce is slightly sweeter and thicker than the Northern version.
And while the veggies are only an accompaniment in the North, they are a must-have part of bún thịt nướng. So you'll feel like eating a noodle salad.
Total time: 2 hours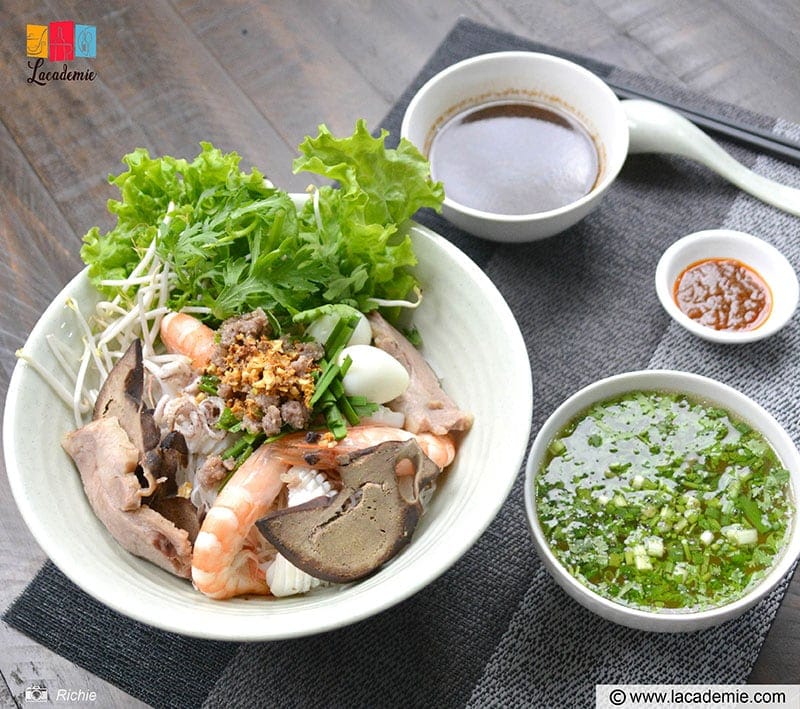 Since Vietnam shares its borderline with several countries, it gains a vast culinary knowledge from its neighbors, leading to numerous fusion dishes, such as hủ tiếu nam vang.
This dish originated from Campuchia, but the Vietnamese locals have changed it into their specialty. Instead of using pork intestine for the toppings, they utilize other native ingredients, like pork, prawn, quail eggs, etc.
Vietnamese pork and prawn clear noodle soup (hủ tiếu Nam Vang) is the epitome of Southern Vietnamese cuisine.
Total time: 20 minutes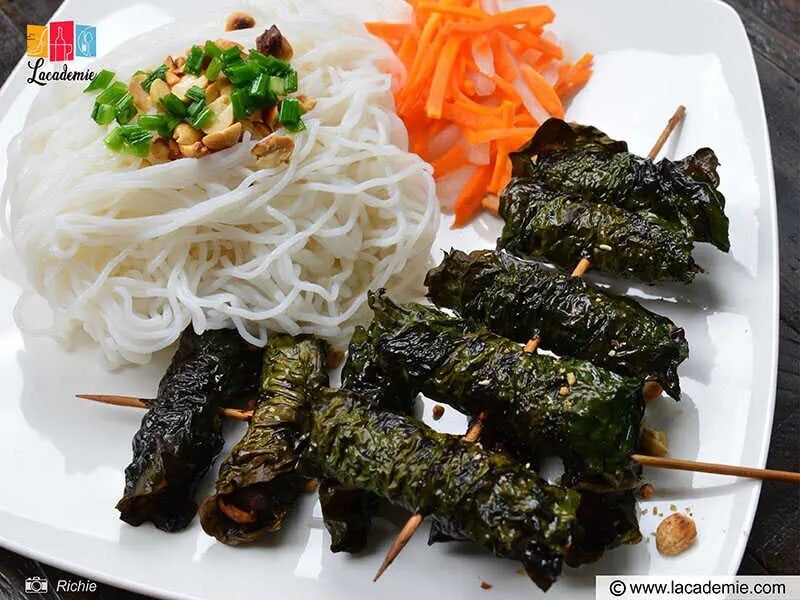 Betel leaves sound quite strange, but Vietnamese people have used them in several dishes. Most of the time, they'll play the wrapping part, such as bò nướng lá lốt. The locals will wrap the beef with betel leaves and grill them until slightly charred.
While bò nướng lá lốt is an ideal main dish to go with rice, you can make it as an appetizer or side dish for your next BBQ party. Betel leaves' light bitterness combined with savory grilled meat will easily charm all your guests.
Total time: 1 hour 15 minutes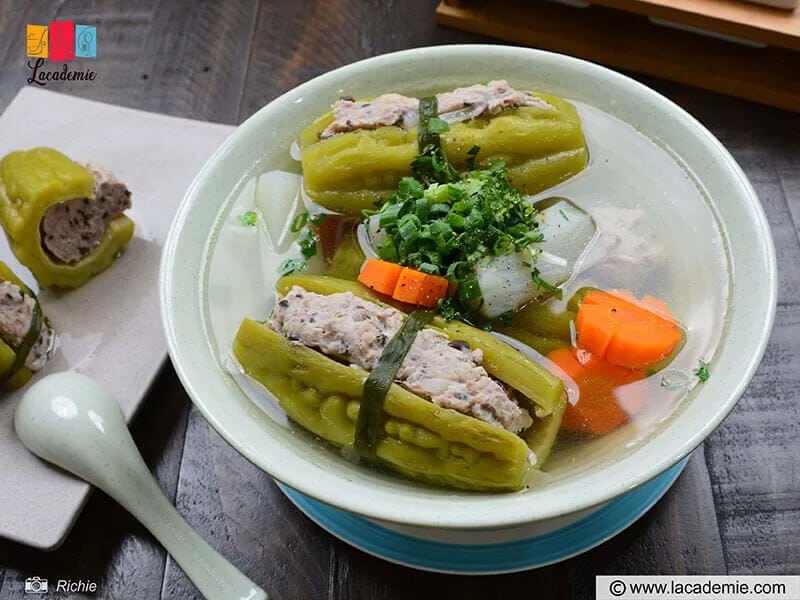 If you visit a Southern family during the New Year holiday, you'll surely see a bowl of canh khổ qua nhồi thịt on the dining table. Since the bitter melon's Vietnamese name means "passing hardship", the locals make this soup to hope for a peaceful year.
However, preparing bitter melons isn't peaceful at all. You have to go through several steps to remove their bitterness. Follow the directions correctly, and you'll receive a refreshing soup with a light sweetness from both vegetables and meat.
---
Vietnamese Meat Dishes: A Feast To Behold
Before long, meat has consistently appeared in every human's meal. And in Vietnam, it represents the diversity of local cultures from North to South. You will never feel bored trying the dishes on my list.
If you know other meat delicacies from Vietnam, feel free to state them in the comment section so I can revise my article. And make sure to spread the word about these incredible Vietnamese specialties.
Nutrition Facts
3 servings per container
---
Amount Per ServingCalories577
% Daily Value *
Total Fat 12.4g

19

%
Cholesterol 149mg

50

%
Sodium 3417mg

143

%
Potassium 2015mg

58

%
Total Carbohydrate 54.3g

18

%

Dietary Fiber 9.8g

36

%
Sugars 17.9g

Protein 60.7g

120

%
---
* The % Daily Value tells you how much a nutrient in a serving of food contributes to a daily diet. 2,000 calories a day is used for general nutrition advice.