Pork ball noodle soup is a mouth-watering delicacy from Vietnamese cuisine that is also popular in other Asian countries. It includes meatballs, pork ribs, different types of Vietnamese sausage, fresh vegetables, and a flavorsome broth.
Since this noodle soup is easy to make, you can have it any day of the week. It also makes an excellent choice for family gatherings where you need a tasty dish to serve many people. Try this recipe today; I'm sure it'll soon be your new favorite soup!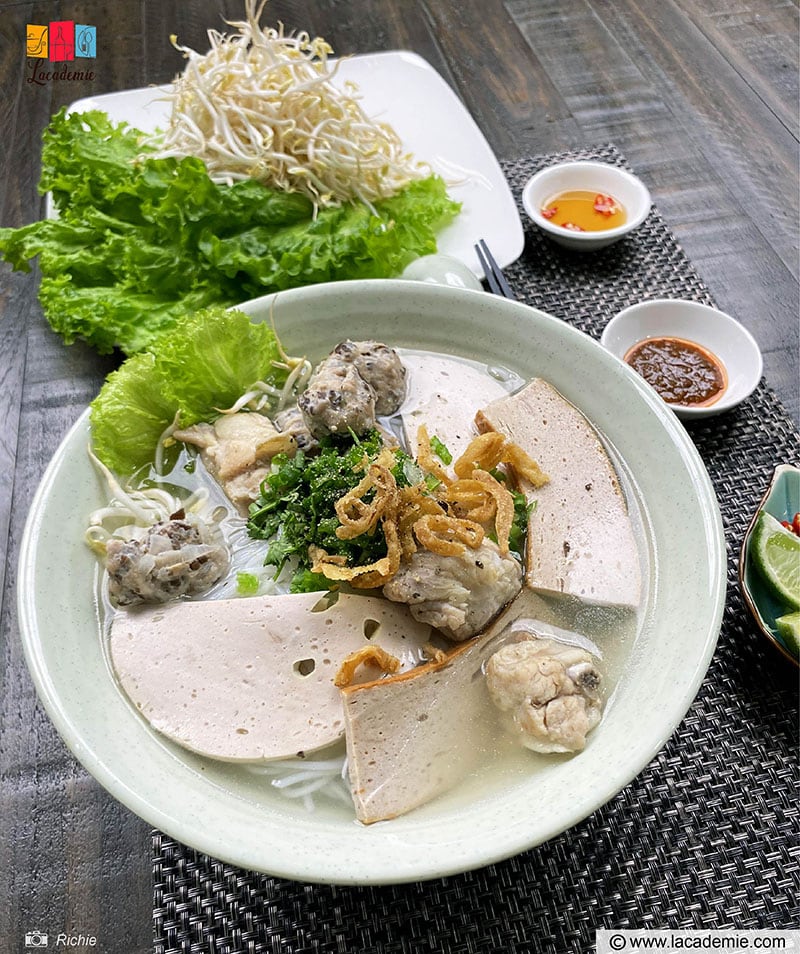 Bun Moc – A Vietnamese Take On Meatballs
Meatballs are a part of many cuisines worldwide, and for good reasons. I can't find a single person that dislikes these meaty little treats. Meatballs seem to have captured the hearts of countless food lovers everywhere in the world!
In Vietnam, the locals call a meatball made from pork paste and spices "mọc". "Bún Mọc" is the result of combining vermicelli noodles with Vietnamese pork balls. The dish originated in the Northern part of Vietnam, but it's now popular nationwide.
Besides noodles and pork balls, you'll also find Vietnamese pork sausage (Gio Lua), cinnamon pork pate (Cha Que), and plenty of fresh veggies in a serving of Bun Moc. Everything blends together and forms a refreshing yet filling noodle soup that's extremely hard to resist.
Tools
First of all, make sure that you have all the necessary kitchenware to make this recipe. They're all basic cooking tools that I believe you've already owned.
Chopping board and knife: For cutting up the ingredients.
Tongs: For transferring the ingredients in and out of the stock pot.
Ladle: For skimming the broth.
Pan: For stir-frying the pork ribs.
Big pot: For cooking the broth.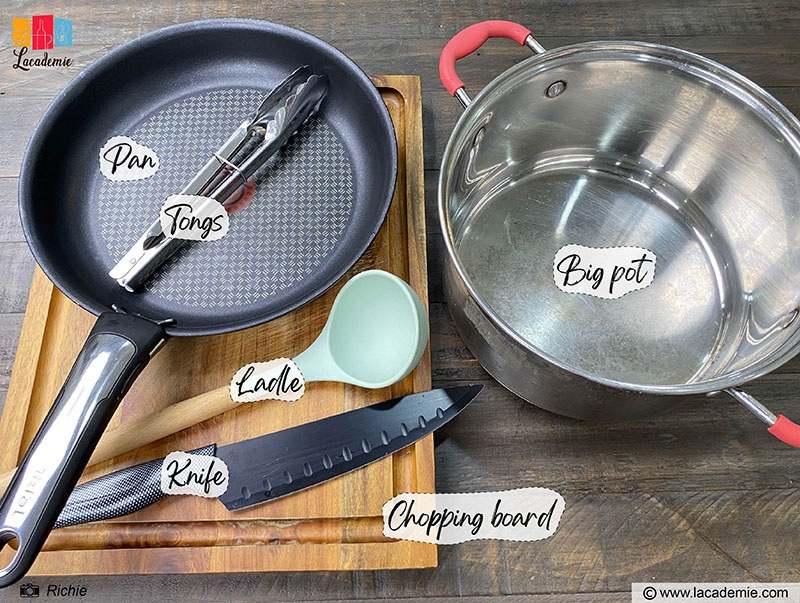 Ingredients
On to the ingredients! Since you'll need Gio Lua and Cha Que to make an authentic bowl of Bun Moc, I suggest taking a trip to the nearest Asian store.
Pork bone broth: Instead of using store-bought broth, I prefer making my homemade broth using pork bones. The broth is super easy to make and full of umami flavor. Plus, you'll save a bit of money this way!
Pork ribs: You can also use pork legs, but the cooking time will be longer.
Pork paste: For making the pork balls.
Vietnamese pork sausage: A smooth and soft kind of sausage made from lean pork.
Cinnamon pork pate: A special pork pate infused with a little cinnamon taste. It has a firm texture that's a little similar to Vietnamese pork sausage.
Vermicelli noodles: These thin and white rice noodles are the best option to pair with pork balls.
Fish sauce: An essential condiment in Vietnamese cuisine.
Fried shallots: For sprinkling over the noodles.
Wood ear mushrooms: For mixing with the pork paste.
Shallot and onion: Core flavor-building veggies.
Spices: Rock sugar, brown sugar, ground pepper, salt, soup powder.
Other vegetables: Lettuce, bean sprouts, leek, cilantro, scallions, lime, chili.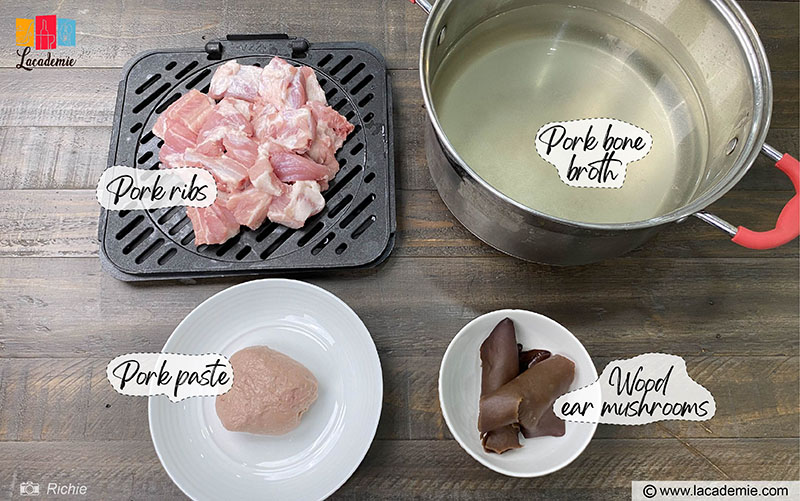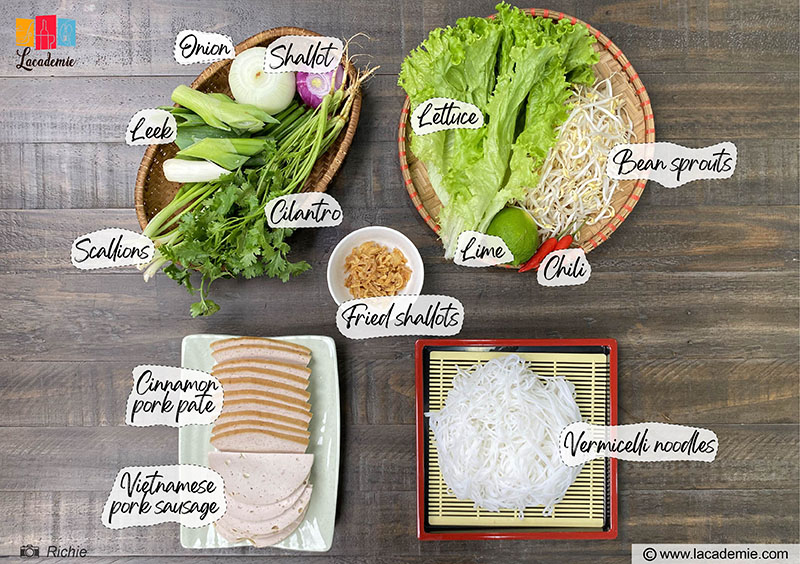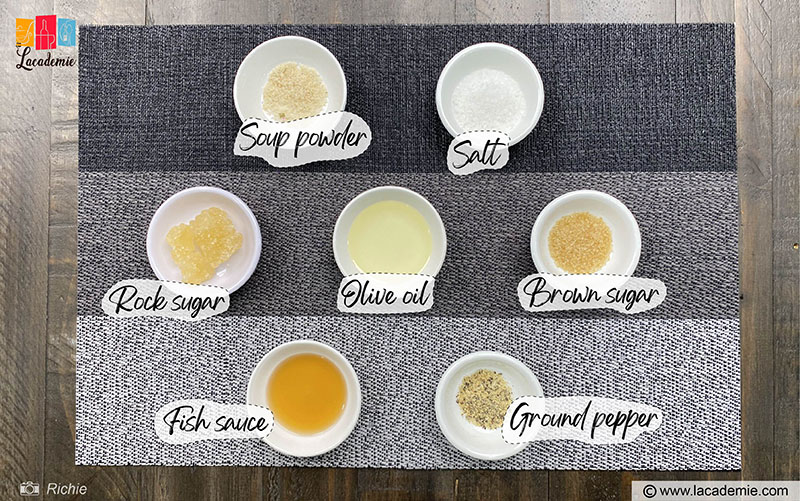 Directions
Now that you've got all the required tools and ingredients, let's start making this yummy noodle soup right away!
Step 1: Prepare the Ingredients
Soak the wood ear mushrooms for 20 to 30 minutes in advance. Wash the vegetables and pork ribs thoroughly.
Slice the cinnamon pork pate and Vietnamese pork sausage into bite-sized pieces.
Finely chop the scallions and cilantro while keeping the cilantro roots for cooking the pork bone broth.
Mince the shallots, half an onion, and wood ear mushrooms.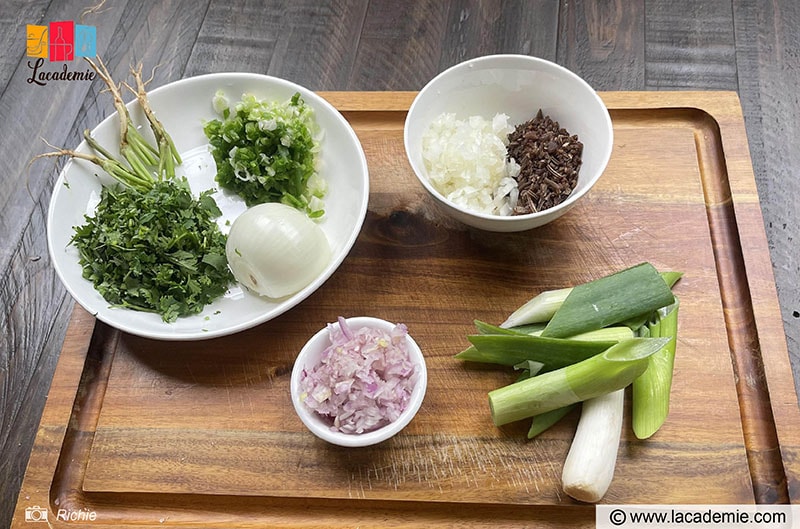 Step 2: Marinate The Pork Ribs
Season the pork ribs with 1 teaspoon of soup powder, 1 teaspoon of pepper, 1 teaspoon of brown sugar, 4 teaspoons (20 milliliters) of fish sauce, and minced shallots. Mix well and marinate the meat for 20 to 30 minutes.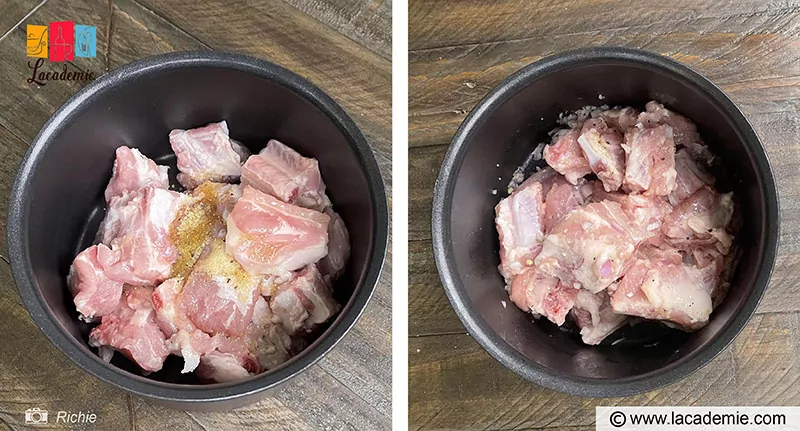 Step 3: Make The Pork Ball
Since the pork paste has already been lightly seasoned, you don't need to add any more spices. Mix the pork paste with the wood ear mushrooms and minced onion. Once well combined, form the mixture into small, bite-sized balls. Feel free to adjust the size of the balls to your liking.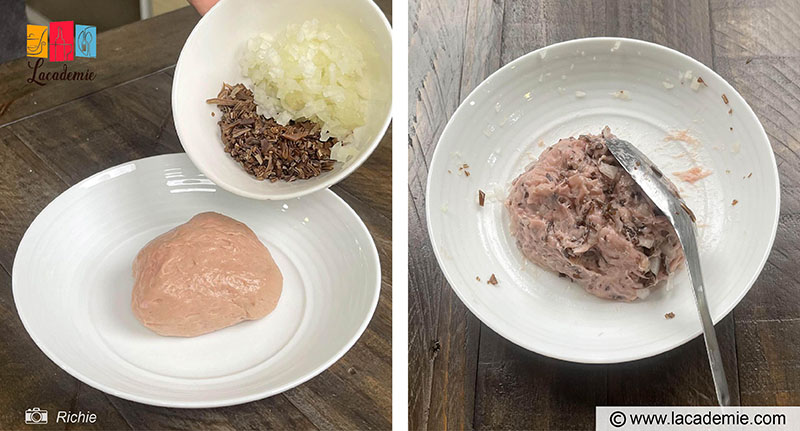 Step 4: Stir Fry The Pork Ribs
Add oil to a heated pan and add the marinated ribs. Stir fry the pork for 5 minutes over medium heat. This step gives the meat a firmer texture and better flavor.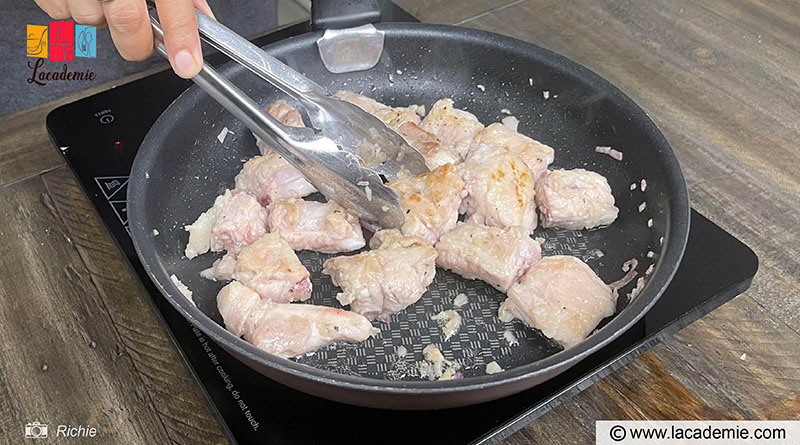 Step 5: Cook The Broth
Pour the pork bone broth into a pot and add the pork ribs, leek, cilantro roots, and the remaining onion. Cook the broth on low heat for 30 minutes and skim it frequently to ensure a clear broth.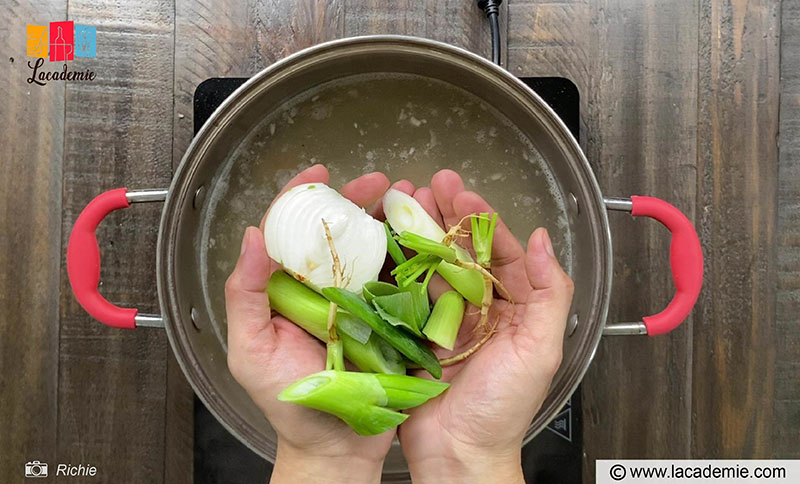 After 30 minutes, remove all the vegetables and leave only the pork ribs inside the broth pot. Then, add in the pork balls and cook them on low heat for 10 minutes. Don't forget to keep on skimming the broth.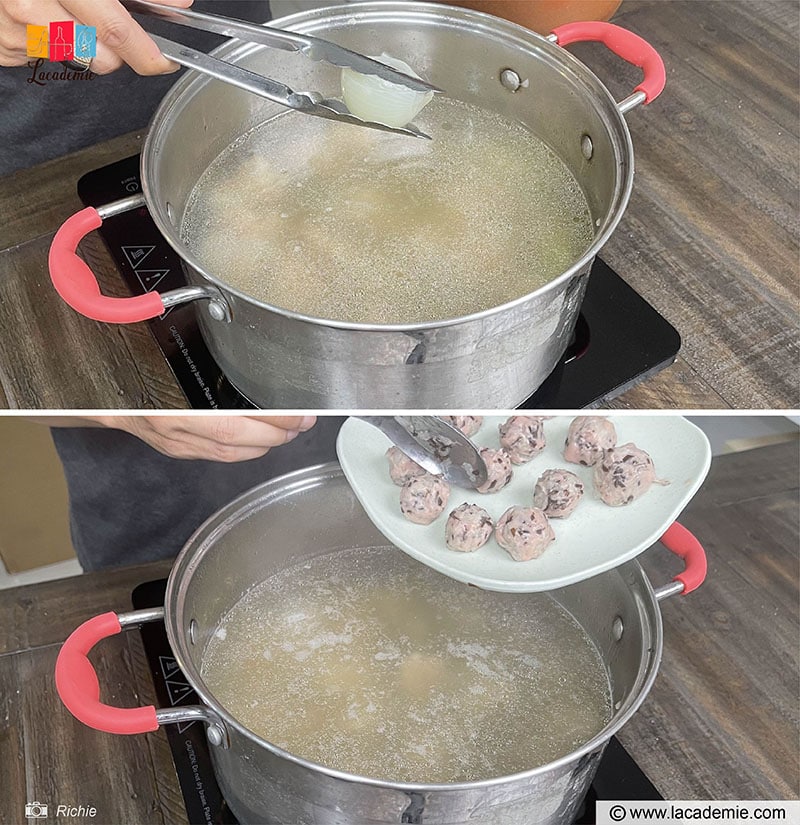 Season the broth with rock sugar, 4 teaspoons of soup powder, and 3 teaspoons of salt. Give your broth a taste test and add more spices if necessary.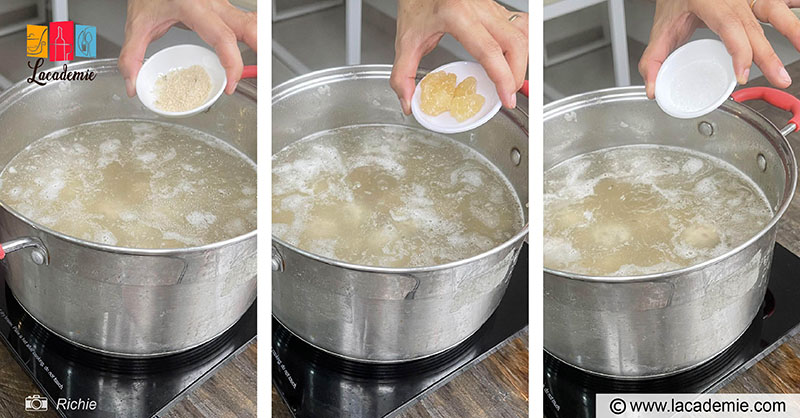 Step 6: Blanch The Noodles
Blanch the vermicelli noodles in boiled water added with a little cooking oil for 20 to 30 seconds. The oil prevents the noodles from sticking together.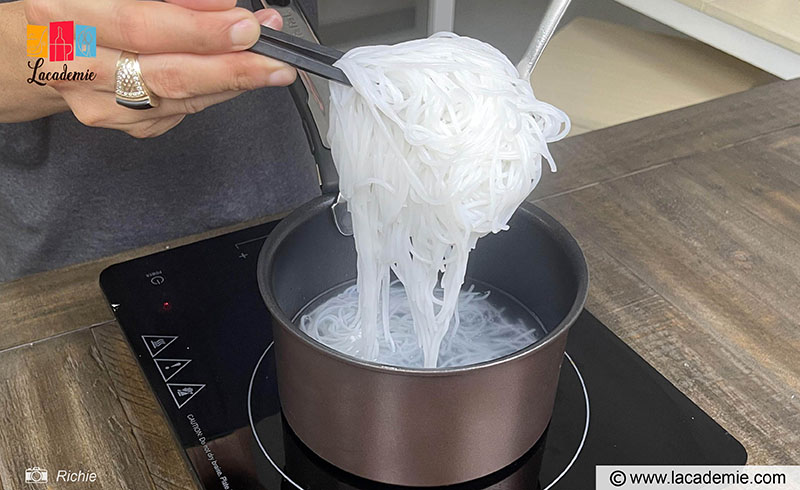 Step 7: Present The Dish
Place some bean sprouts and fresh vegetables in a bowl, then add the noodles. Put the Vietnamese pork sausage and cinnamon pork pate over the noodles. Fill the bowl with enough broth to cover the noodles, and add the pork balls and pork ribs.
Finish the dish with some scallions, cilantro, fried shallots, and ground pepper on top. Enjoy while it's still warm for the best flavor!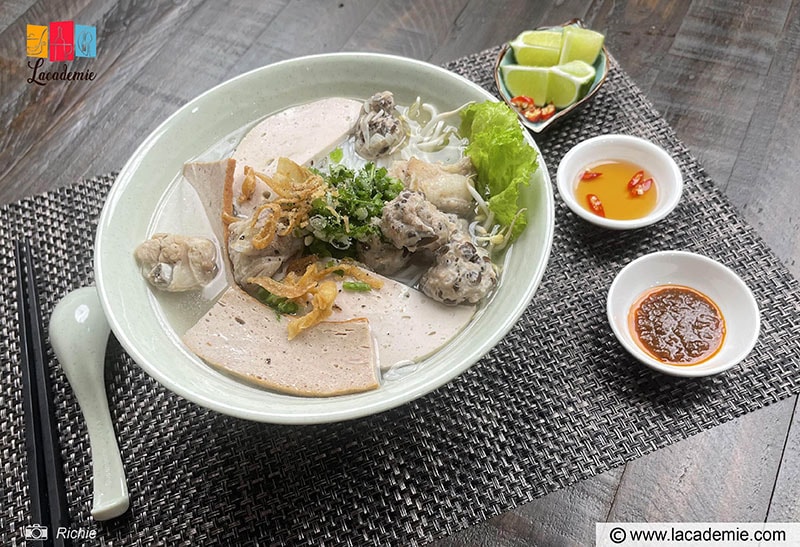 Additional Tips For The Best Bun Moc
Check out the following tips to enhance your Bun Moc and enjoy this Vietnamese delicacy to the fullest.
Make a dipping sauce for the meat using fish sauce and sliced chili.
Add sate sauce and chili peppers if you prefer a spicier dish.
Some Vietnamese will add a little shrimp paste to their Bun Moc, so feel free to try doing the same. Note that not everyone is a fan of this condiment, as it has a rather strong smell.
In addition to pork, you can also try making meatballs with ground turkey or chicken. Although these types of meat are not the traditional choices, they also make for incredibly tasty meatballs.
The added fresh vegetables are completely customizable. You can add any veggies that you want!
Enjoy Pork Balls Like Never Before With Bun Moc
Bun Moc is the best dish for meatball fans that want to try something new. Better yet, you can enjoy this dish any time of the day. When served as a breakfast, it's a refreshing noodle soup that's filling enough to keep you from getting hungry midday.
What are your thoughts on Bun Moc? Are you going to make this recipe for your loved ones soon? I'd love to read your answers in the comment section. Lastly, please share and like this Vietnamese recipe with other people. Thank you so much, and have a great cooking time!
Nutrition Facts
5 servings per container
---
Amount Per ServingCalories721
% Daily Value *
Total Fat 41.7g

64

%
Cholesterol 104mg

35

%
Sodium 4489mg

188

%
Potassium 926mg

27

%
Total Carbohydrate 36.5g

12

%

Dietary Fiber 1.6g

4

%
Sugars 4.3g

Protein 45.5g

90

%
---
Calcium

53

%
Iron

4

%
Vitamin D

52

%
* The % Daily Value tells you how much a nutrient in a serving of food contributes to a daily diet. 2,000 calories a day is used for general nutrition advice.