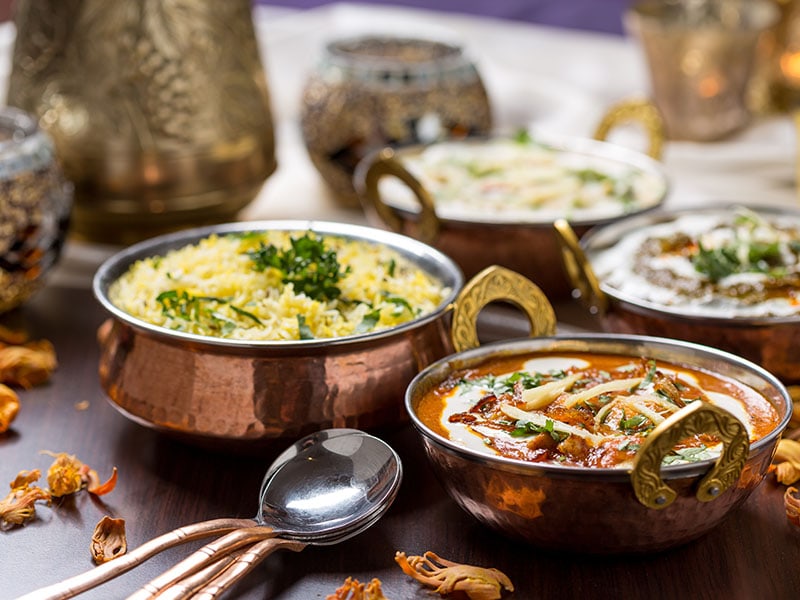 Bring restaurant and authentic Indian dinner recipes onto your family dining table today by referring to my humble article here! Even if you have (or haven't) tried Indian delights, you might have heard some rumors and facts about them.
Indian cuisine is indeed famous globally for its variety, and the chefs here always use a variety of flavors and spices in each dish. But you don't need to worry too much; these delicacies are pretty easy to prepare. Still questioning? Here is something for you!
Do you need some proposals for tonight's dinner? These traditional Indian dishes can liven up your weekly menu while remaining satisfying and straightforward for a busy family meal. Curious already? Scroll down now!
Naan or Indian Leavened Flatbread are generally nutritious, delicious, easy to eat, and addictive. Therefore, many families use this delicacy as a perfect starch base for their dinner.
Since Naan consists of flour, it will provide a moderate amount of carbohydrates to help you replenish energy quickly and stay full for longer. Based on that, Naan can also be your Indian-style breakfast or lunch. Eating it at any time of the day will make sense.
The garlic added to the cake is a variation that makes the dish's overall taste more diverse. The partners for Naan are unlimited; you can freely pair it with any savory Indian delicacy. Even if you only want to have Naan, you can have it alone. Its taste will still be good.
You will get to know how to have a perfect Garlic Naan through this.
Basically, Raita is a kind of yogurt condiment, sometimes considered an Indian-originated salad or dipping sauce. Maybe the reason for that lies in a wide range of fresh veggies in the ingredients and the saucy consistency.
On the side of chopped cucumbers and plain yogurt, fresh, leafy herbs are the must-have component for Raita to reach its best quality.
You can do every step to create a big batch of Raita quickly so that it can be your savior on a busy night with only some Naan or bread on hand.
Kebabs are a creation of people from the Indian subcontinent. Since the meaty treat is delicious and famous, there are many variations depending on different countries. In India, Galouti Kebab is more prominent than the others and local people love having it for dinners.
Traditionally, a portion of Galouti Kebabs consists of minced meats (mutton, beef, chicken), but you can still have a vegan-friendly option to choose from. As I'm not sure which recipe (meat or non-meat) you like, I will give you two of them.
The spices used are similar in both ways; you can still enjoy your beloved Indian treat without hesitating about quality gaps. In each bite into these toothsome patties, you can experience lovely succulent, juicy and flavor-loaded features of Galouti Kebab.
How to make some exquisite Galouti Kebab at home?
Malai Kofta refers to an Indian soup-y dish, usually vegetarian-friendly. In this recipe, you'll achieve a fascinating, rich taste from the gravy of tomatoes, cashews, cream, and various spices. This base will creep deeply into other components and unite them.
The meatball-like dumplings are indeed a combination of potatoes and other veggies (normally called "Kofta"). In some variations, they utilize Paneer (Indian cottage cheese) into the Kofta mixture so that these favorable balls become even more scrumptious.
After all the cooking steps, now serve your Malai Kofta with white rice. It hardly ever goes wrong when eating your savory, spicy treat with a bland base like rice.
Don't miss this Malai Kofta-making video! The result will please your taste buds.
Mentioning rice dishes in Indian culinary cuisine, it is necessary to talk about Khichdi. As its name suggests, Khichdi consists mainly of rice and lentils. Local people typically feed their young children/infants this dish because it is nutritious and easy to chew.
Yet, my recommendation for you today is the variation with Masala spices so that it might be a bit too hot for kids. Thus, if you plan to make this food for a whole family's dinner, you should prepare two separate batches, one for adults (with Masala) and one for kids (no Masala).
A North Indian specialty, Chana Masala is a fragrant chickpea Curry, often served as a snack, main meal, or breakfast. Although vegetarian dishes in India are varied, this Chickpea Curry is considered the most popular because you can find it anywhere.
To prepare, you must cook the chickpeas that are lightly soaked with a combination of spices and herbs. This dish will often be accompanied by rice or Indian flatbread like Roti or Naan.
You can also prepare sour cream or yogurt on the side. The slight sourness from these light accompaniments will further accentuate the deliciousness of Chana Masala.
Palak Paneer is a light flavored and super healthy dish as it is nothing more than spinach and Paneer (Indian cottage cheese) and typical Indian spices. Other components in a portion of this delicacy are red chili powder for a hint of spicy and cream for a light, rich note.
The general consistency of this ketogenic Indian specialty is relatively saucy and lumpy. Palak Paneer offers a lovely greenish color thanks to the spinach, helping this food look more eye-catching. About its partner, a piece of Naan is excellent already.
Follow this instruction, and your Palak Paneer will be done in a snap!
In short, Vindaloo is often known as a popular Indian curry, but it didn't originate from Indian cuisine 100%. This delicacy came from Goa and was strongly influenced by a Portuguese dish called Carne De Vinha D'alhos.
Therefore, there are many differences in its ingredients list. The typical Vindaloo has a prominent fiery, strong wine notes, and garlicky taste using some vinegar/cooking alcohol. After getting used to the spiciness, you can even sense the sweet notes.
Lamb is the most recommended protein for this dish as Indians prefer using it in their daily lives. If you worry about the unpleasant smell of lamb meat, the spices included have already helped you deal with it. So, feel free to cook it anytime you like.
How about a vegan option for Vindaloo? Basically, the way to make Aloo Vindaloo is relatively the same as other meaty Vindaloos. The tweak is to change the meat part into potato cubes (or sometimes sweet potatoes).
Signature Vindaloo spices and condiments also participate in a portion of this vegan Curry, so you can still experience the full original flavors.
India is known as the paradise of spices. The spices are essential in making the dish delicious and achieving the authentic "Indian" taste. But if you cannot eat spicy food, Butter Chicken is a way to go since it is still full of flavors but requires fewer hot components.
Instead, the creamy taste from all the buttery/dairy products is much more pronounced. After making Murgh Makhani a few times at home, I conclude that this dish needs approximately less than 40 minutes to cook.
Isn't that amount of time just perfect for a busy weekday dinner?
Dal Bukhara can be a dish out of anyone's repertoire or expectation when searching for recommended Indian delicacies. One astonishing fact about Dal Bukhara is its taste reminiscent of Butter Chicken gravy.
The main components for Dal Bukhara are whole urad dal (whole black gram) on the base of tomatoes and rich dairy cream. The spices like chilies and cumins help accentuate this food's signature features.
A significant drawback of this saucy dish takes a long time to cook through, but every effort is worth it. Imagine dipping a piece of Naan and Roti into a bowl of hot Dal Bukhara can make me drool.
Don't misunderstand this Dal Makhani with the previous Dal Bukhara! Makhani base with various vegan creams and butter is the evident proof of their differences. Besides, both take a pretty long time to cook and act well as irresistible dinner dishes.
Dal Makhani is regularly made as a vegan-friendly delicacy, so every component is plant-based. So if you are on a particular diet or follow some religious rules for foods eaten, this Butter Lentil Curry is a way to go. Grab some Naan and try it now!
I will show you the most recommended way to make Dal Bukhara.
The most accurate explanation of the origin of Chicken Tikka Masala is most likely northern India, or more specifically, the Punjabi ethnic group. It is because in Punjabi, "Tikka" means "meat chunks," while "Masala" means "mixing." The dish is also a famous Pakistani street treat.
However, no matter where this dish came from, it tastes satisfying. A serving of Chicken Tikka Masala consists of an oven-baked boneless chicken part (marinated in yogurt) with a gorgeous golden brown exterior and a pleasantly spicy tomato sauce accompanying.
To be honest, Chicken Tikka Masala is not a quick recipe to accomplish. So, it is better to make this Indian dish in a slow cooker to save your time. You just need to preset your cooker before going to work and enjoy a hot Indian treat at the end of the day.
The term "Tandoori" in this dish's name refers to an Indian traditional clay oven, and this chicken recipe is the most famous recipe cooked in that utensil. You can generally feel the lip-smacking spiciness from pepper/spices spread around your tongue when eating.
But the hot taste won't overpower the natural juiciness and sweetness from your main protein, making this humble treat appealing. However, without using this earthen oven, you can still taste the true taste of this unique dish by following the recipe I recommend to you.
To have a qualified piece of homemade Tandoori Chicken, you need about 50 minutes to cook and a few hours to marinate. Therefore, this recipe is a good idea for a Sunday dinner as you can spend time cooking with your loved ones. What a clever suggestion!
Do you wonder how Indian people make their Tandoori Chicken without an oven?
Lamb Rogan Josh is an Indian Kashmir region's specialty. It is a spicy and aromatic Curry that usually goes along with Naan or white rice as its rice base.
In a batch of Lamb Rogan Josh, you should also toss in plenty of spices and ingredients. The food requires a pretty long period to be done, yet your wait pays off.
The outcome of a perfect portion of Lamb Rogan Josh should include tender meats, and all the other ingredients are well-blended together. Since this Curry tastes strong, the mentioned starch base like rice of Naan works perfectly.
The burst of spices is absolutely what you can expect from an Indian Curry dish, so you can also meet those flavor layers here in a spoonful of Mutton Do Pyaza of Mutton Curry.
The traditional Mutton Curry is made in an earthen pot with all ingredients and is patiently cooked over a wood fire in an earthen oven.
Today, you may cook in a pressure cooker or slow cooker after briefly sautéing all of the ingredients and seasonings in a big pot with twice as many spring onions as in previous Curry types (Do Pyaza means " twice onions").
To be honest, the finest protein for this meal is mutton or goat because lamb takes longer to cook.
Why does Mutton Curry taste so good? The secret is shown here!
Indian gastronomy is not all about chicken, lamb, or mutton; you still have various fish or other seafood recommendations to choose from. The term Chettinad actually mentions the origin of this Indian Fried Fish.
Chettinad cuisine is famous for its richness of flavors and lovely pungency, which is one of the signatures of this fish dish. You have to blend all the condiments/spices until it forms a paste. After that, use that paste to marinate your fish before shallow-frying them.
Today's two recipes stand for two distinguished variations of this flavorsome dish. One requires pretty much spices, and one calls for much less. So, depending on what you have in your spice cabinet, you can choose one of them to try first.
Compared to the other Curries, Goan Curries always have tamarind paste, and so does this Goan-style Fish Curry. When enjoying a mouthful of this food with some rice/ Naan, you can immediately taste the gorgeous tangy harmonized with the spicy notes.
The fish used for this Curry is varied; you can choose from many kinds of fish filets. Personally, I love pomfret fish, but you can try barramundi or salmon. Last but not least, this delicacy takes only 40 minutes at most, making it an excellent dinner for a whole family.
Quick and easy way to prepare Goan Fish Curry is here!
If other Curry dishes make you hesitate a bit since it might ask for a long time to prepare, this Chingri Malaikari will require you to notice not to overcook such a delicate prawn. Among all of the Indian shrimp/prawn dishes, I think nothing can beat this Chingri Malaikari.
This delicacy from Bengal is a unique combination of the sweetness of shrimp, the spicy taste of typical Curry spices, and the fantastic freshness of vegetables. The partners for Chingri Malaikari can be rice or flatbreads, but I highly suggest jeera rice.
If Chicken Tikka Masala has its main ingredient (chicken) marinated well with various spices and yogurt, Fish Tikka applies the same idea.
Before grilling or baking the fish, you should never neglect the marinating steps as the lovely spices/yogurt add a beautiful tenderness and a tasty depth to the fish flesh.
There are two main ways to serve Fish Tikka: dry and wet (with gravy). You can pair this food with Naan, rice, or Roti no matter which way, based on your preferences.
It will let you know a proper way to accomplish your portion of Fish Tikka.
Dum Aloo or Aloor Dum is a dish made from potatoes (mostly small-sized potatoes). This is a traditional Kashmiri Pandit dish from the Kashmir Valley in India.
The potato pieces are deep-fried before slowly cooking in spiced gravy (including curd, cashews, cumin, coriander, etc.). You can shorten the waiting time if you cook this dish in the pressure cooker.
However, the overall time to accomplish a portion of Dum Aloo takes no longer than an hour. Let's gather everything you have in the fridge and make some Potato Curry!
The quality of a plate of Biryani depends on the rice, the meat, and how well the seasonings are mixed with each grain of basmati rice. In each region, the recipe of Biryani is different, forming a rich set of other methods on how to prepare this dish.
Proteins for this delicious Indian instant pot recipe are also varied, and chicken is the most common ingredient. The first step to do when cooking is to marinate the main protein with a mixture of yogurt, chopped fresh herbs, and spices for at least 30 minutes.
After cooking the chicken and rice separately, you should wait a bit before mixing them all together and garnish your rice with caramelized onions.
Otherwise, you can opt for this Vegetable Biryani. Trust me; it has its own allurement compared to the meatier ones. Now, instead of the well-marinated chicken, you can taste exquisite refreshing flavors from veggies (or nuts and raisins, sometimes).
The plant-based ingredients in a portion of Vegetable Biryani can range from any kinds of veggies, beans, or nuts. Feel free to make your own twists as long as you like having them.
Furthermore, the richness from coconut-originated products and the spiced rice parts have done their works so well that nothing can go wrong with them. Sounds impressive, right?
I promise you will receive the best Vegetable Biryani following this guidance.
Shahi Egg Curry is a breeze to make, so feel free to whip it up whenever you like! Want it for breakfast rather than dinner? Your perfect Indian-inspired egg dish is ready immediately. Otherwise, if you are getting bored of hot Curry, then this milder tasted recipe is for you.
This food is also quite versatile that you can eat with any rice-y or starch base you like. Flatbreads, rice, or Biryani, basically whatever you wish for. Its creaminess and mild herby flavors can match them well.
Born in 1840, local people first used the dish to cater to merchants who did not have much time to eat late at night. The fantastic taste has quickly made Pav Bhaji one of the favorite Indian bread delights in Mumbai.
A portion of this Maharashtrian delicacy consists of Pav (Indian bread/bread roll) spread with butter and an indispensable mixture of sauces made from Pav Bhaji Masala.
The remaining ingredients are primarily vegetables to enhance the flavor of the gravy. Overall, have you wanted to try making some at home?
Looking at the illustration of Thekua, you might think of it as an Indian-style dessert. But, it not only plays well at the position of a sweet treat after work, but it can also be a perfect ending for your Indian-inspired dinner.
Thekua or Indian Biscuits have a soft and crumbly texture. When eating the treat, you can easily taste the rich coconut flavor, natural sweetness from jaggery/gud, and some hint of nutty, menthol-like aroma from cardamom.
Don't forget a cup of Chai Tea (Milk Tea). They can complement each other well.
No More Further Ado, Prepare Your Indian Dinner Right Away!
There's no exaggeration to say that Indian culinary cuisine is a gem of Asian culture. With all the features of the fresh ingredients and well-thought spices/condiments applied, their dishes can straightforwardly tempt any picky eater.
In today's article, I have recommended some prevalent recipes that should exist in your daily dinner menus. From chicken, fish, shrimp to vegan-friendly foods, you can choose any of them.
Leave your experiences with my suggestions in the comment section right below! Otherwise, you can also find other people's helpful sharing there.
Nutrition Facts
3 servings per container
---
Amount Per ServingCalories491
% Daily Value *
Total Fat 12.5g

20

%
Cholesterol 4mg

2

%
Sodium 770mg

33

%
Potassium 840mg

24

%
Total Carbohydrate 80.7g

27

%

Dietary Fiber 9.3g

38

%
Sugars 17.2g

Protein 17g

34

%
---
* The % Daily Value tells you how much a nutrient in a serving of food contributes to a daily diet. 2,000 calories a day is used for general nutrition advice.