What is the easiest way to bring Indian vibes to your meal? It's Indian soup!
Indian culinary culture is always famous for its thick, buttery, and creamy texture but infused with spice flavor that surely will warm up your belly in a comfortable way. This fact is applied to Indian soup too.
Giving you these exotic ideas of Indian soup recipes, I'm confident that you and your family will be satisfied.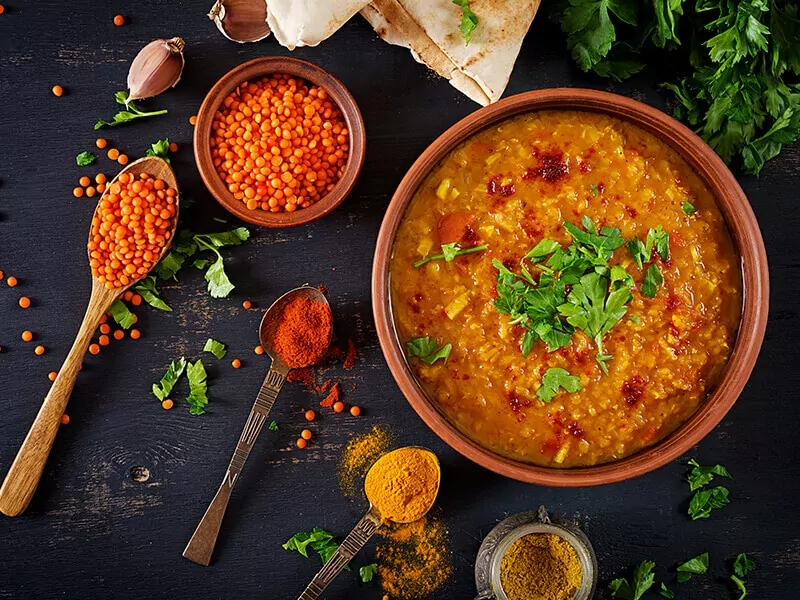 Vegetarian Indian Soups That Are Perfect For Your Appetizers
With only on-the-kitchen-shelves ingredients, these delicious vegetarian Indian recipes are most served to open the main course. Additionally, the recipes are well-matched with a vegetarian diet.
Palak soup comprises loads of healthy and leafy green palak Palak means spinach, a famous "super green" in every diet. That means this soup is super good for your health, thanks to its nutritional goodness.
To make palak soup, you will need to combine spinach with heavy cream and thicken it with sweet gram flour. Then, to add Indian vibes to the soup, a dash of pepper is a need! This touch of spice will level up your perspective toward soups.
An ideal time to serve this dish is on a winter evening. A warm and creamy texture with a lovely bright green color of the plate will bring you comfort immediately.
Tomato soup is not strange to you and me. But have you ever tried the Indian version?
Since it is infused with plenty of Indian signature spices, this tomato soup will change your mind forever.
You will be surprised because of the matchy combination of the sweet and sour taste of tomato paste and the warm and refreshed flavor of Indian herbs like turmeric, cayenne, ginger, garam masala. Guarantee to tickle your taste buds!
Ah, here is a fun Indian twist in flavoring – Garam Masala Carrot Soup. In my opinion, this soup is your solution for your children's carrot dislike. Do you want to give it a try?
This soup is warm, spiced, and delicate. You will taste a deep caramelized flavor from roasted carrots and onions, a rich taste of creamy coconut milk, then followed with a hint of spicy note and lime juice. It may sound complicated but actually kind of easy to make.
This warm homemade soup sometimes brings me a memory of dishes that come straight from the garden. Fresh and delightful! Last but not least, garam masala carrot soup is excellent for the fall or winter season or any occasion that you crave.
Indian lentil soup is a must-try dish when you want to explore Indian cuisine. It's flavorful, thick, creamy, full of nutritious fillings and herbs, nourishing your body well. It's just so India!
Moreover, the way to make lentil soup is straightforward to follow and effortless. The standard recipe will use coconut milk for cooking, but you can use alternative plant-based milk for low-fat/low-calorie lentil soup.
Chickpeas are not a strange ingredient in Indian dishes. These legumes appear as rice, bread, and definitely, soup.
Kadhi pakora soup is made from fresh chickpeas, lemon, ginger, turmeric, and cumin. You can see these are all inexpensive and easy-to-find ingredients. Nevertheless, the taste is unique and hearty. One bowl won't be enough!
In closing, Kadhi pakora is friendly to all diets, whether you are a vegetarian or a meaty one.
To be honest, among the intense flavor and spiced taste soups that represent India, this cream of a mushroom soup stands out as an insanely creamy and rich plate that is fully packed with umami goodness.
Besides, this is less spicy than others; hence, this soup is for all ages!
The way to make this dish is quick and straightforward. You can use either an instant pot or a pressure cooker to make it. My tip is to carefully pick fresh, firm, and plumpy mushrooms for good taste. New brown or cremini mushrooms are preferred.
You can serve this creamy mushroom soup with many yummy Indian side dishes like crisp bruschetta, pasta, or a crispy and light salad. Your dinner is well planned now.
Hot and sour soup is a fantastic mix and match plate of Indian and Chinese gastronomy. Spicy, hot, and sour – aren't they the most addictive taste across all the cuisines?
What will you taste if you eat this Indian hot and sour soup? First, a touch of spicy and hot flavor will lighten up your mind immediately. Then, the sour taste will come, giving you an additive feeling of having more.
Aside from that, vegetable toppings like bamboo shoots, mushrooms, and sprouts give you loads of nutrition and an exciting eating experience.
This quick, hot, and sour soup is best served with crispy noodles and a small bowl of typical Chinese accompaniments like vinegar, chili sauce, and soya sauce. Yummy!
Pumpkin soup is a perfect note for the fall season. If you are tired of the typical recipe of pumpkin soup, why don't you try this Indian version?
Follow the recipe, and you will get a hot bowl of a creamy beautiful golden color soup infused with the signature sweet taste of pumpkin, the creaminess of coconut milk, and…spices!
This pumpkin soup is both vegan and gluten-free, ideally for a healthy and tasty Indian appetizer! To add more flavor to the meal, you can serve it with garlic pita or grilled cheese on the side.
Lastly, this dish can get ready within only 20 minutes! Worth to be my all-time favorite.
I guarantee that the surprisingly tangy but creamy and rich flavor from this Indian tomato lime soup will satisfy your taste from the first spoon.
What's special? A mixture of sauteed tomatoes, onion, yogurt, and lime in a creamy texture, then be infused with cardamom and cumin. You may think this is a strange combination, but the result is impressive.
If you want to have this soup as an afternoon snack, I suggest you can serve it with homemade almond cashew crackers (or any of your preferred nutcrackers). Such a spoonful and nutritious dish!
Another supreme healthy soup for your meal plans is coming up! Say hello to curried cauliflower soup.
The soup contains coconut milk and curry in its base, followed by Indian signature spices, lime, and ginger. It's comfort food for your stomach, literally.
What I like about this soup is that it has a comfortable creamy texture, but without the cheese. Besides, cauliflower is a great low-carb vegetable, and you can have loads of it without worrying about the calories.
Moreover, it helps to thicken the soup nicely. You can add more or less cauliflower into your pot to thin or loosen the texture, as well as the creaminess level.
To serve curried cauliflower soup, you can top the bowl with more coconut cream swirl, fresh herbs or cauliflower, or roasted chickpeas, then eat while it is warm.
This soup is an Indian-American-inspired dish that has a deeply earthy but sweet flavor. The main ingredients are plant-based vegetables that are good for the body's health.
A pot full of butternut squash, carrots, curry, and various Indian spices will fulfill your home with a pleasant aroma.
The soup is very versatile. It matches well with many toppings like pumpkin seeds, shredded cheese (parmesan, cheddar, or mozzarella), heavy cream, or coconut cream. It all depends on your creativity.
In terms of eating, you can eat this butternut squash soup with one of three options: garlic bread, grilled cheese sandwich, or freshly made salad. Furthermore, a plate of homemade cooked chicken or turkey will be perfect for a set dinner.
A curry-based potato soup that combines starchy potatoes and traditional Indian curry fits well with every relaxing day.
Indian potato soup, or in its other name – Aloo curry, is one of the simplest Indian soups to make. You can never go wrong with this dish. It's ideal for days that you don't want to stand in the kitchen for a long time.
All you need to do is combine some common non-expensive ingredients with spice powders and herbs. Both a stovetop or an instant pot can be utilized well in this case.
I found one simple recipe below. Give it a try!
An easy way to make Indian potato soup is here for you:
Makai means "corn", and shorba, on the other hand, means "rich stew" in Indian. Makai Ka Shorba Soup is a spiced corn soup that warms up your day. You will see it under names as bhutte ka shorba or makki ka shorba also.
This soup is a very creamy sweet corn soup with desi notes. This soup's taste is unique because of the sweet and caramelized roasted corn. Furthermore, it combines the richness of milk and the aromatic spices that make the bowl too tasty to eat.
Regarding eating, you can eat this hot soup with a garnish of coriander, skillet rolls, loads of warm bread, or garden salads. Feel free to mix!
This soup is the best to eat with slices of crusty bread for late breakfast or brunch on the weekend.
Indian tomato and coconut soup are ready to serve within around 15 to 20 minutes only. It's immensely simple and quick to make. Additionally, this soup is vegan and gluten-free. It can pair well with many diets.
I guarantee the creamy taste of this soup will last long in your memory.
When it comes to the changing seasons, you may suddenly feel cold and weak. Think about this lemon and coriander soup. It will help you through the day.
Lemon and coriander soup is a famous healthy Indian soup that is generally preferred when you feel unwell.
The soup is a vitamin C bowl made from lemon, coriander, carrots, and cabbage. It helps to boost your immunity or relieve the cold/ cough as well. Having a big bowl of hot lemon and coriander soup is another name for being comforted.
Last but not least, it has other benefits like vegan and gluten-free. It is for all ages and all diets.
Learn how to prepare this vitamin C-rich soup within a few minutes! Let's see this video to know:
Bottle gourd is famous for its benefits to human health. Therefore, a kind of soup made from this vegetable has been born. You can call it bottle gourd soup or lauki soup.
The dish has white sauce, potatoes, and bottle gourd mixed under a creamy texture. A munch of onions and peppers adds milk but rejuvenating flavor. It tastes so well within very minimal ingredients.
You can have it alone or pair it with bread or rice as a complete nutritious meal.
How about trying a fruity soup? I would like to introduce you to this pineapple rasam.
This dish is a hearty South Indian rasam (a name for clear soup) with fresh pineapple and spices. Sounds interesting, right? You will taste a spicy, tangy, and mildly sweet flavor from it.
Fresh fruit in a typically rich and spiced Indian bowl makes it even more addictive. In India, pineapple rasam is popular in Tamil wedding food and Karnataka cuisine.
Try making your homemade pineapple rasam with a detailed instruction video:
I know you will feel stalled when you read the name of this soup. How can spice and yogurt, and soup come together under one dish? Let me give you a little more details of how many Indian people have preferred this.
The soup contains yogurt and besan (chickpea flour), making a smooth, rich, thick base. The sour flavor for the yogurt will mix with the spicy and tangy spices will make you feel like having a cozy blanket on a cold, windy day.
Add a sprinkle of chopped coriander to enhance the texture and serve while it is hot. It is best to eat with white rice.
Non-Vegetarian Indian Soups For Your Fully Nutrition-Packed Meals
Many soups are ideal when you want something nutritious enough to fill the stomach but not too heavy for the rest of the day. So do the Indian soups. Although their cuisine is more about meaty curries, you can still spot out some pleasant meat soups to try.
Chicken is a typical protein ingredient of Indian cuisine. It appears in almost every meal of them, including light meals like soup.
A famous soup is made from roasted chicken and tomato paste, appearing in most Indian daily meals. This soup is creamy and full of aromatic spices. In short, it is chicken cooked with curry sauce. You can call it chicken tikka masala soup or murgh tikka masala.
This dish is genuinely easy to make by everyone with only simple ingredients. Moreover, the combination of roasted chicken and the tangy taste of the curry will give you satisfaction after spoons.
Lastly, to enjoy this bowl in an authentic Indian way, pair it with pieces of garlic naan. Bon appetit!
"Shorba" means soup in the Arabic language. Murgh Shorba is a light Indian chicken soup. The broth is full of herbs, spices, and chicken pieces. You can have it at lunch or dinner, and both are suitable. The soup gets the best taste when being served warm.
On a cozy day, you can prepare some garlic naan on the side with a bowl of Murgh Shorba. It will be a healing medicine for the soul.
A quick guide to cook murgh shorba at home with this video:
Mutton bones Rasam is a thick soup made from masala powder.
The dish is tasty and flavorful that comes from tender mutton bones and fat cooked with various kinds of spices. The soup is full of nutrition and energy. It is preferred when you are cold or have nasal congestion. The rich taste of red meat and the aroma from herbs will help you recover quickly.
To have it as a full meal, you can serve it with naan or rice.
Let's have a look at the following video!
Chicken kozhi rasam is a signature South Indian chicken soup made from chicken, chicken stock flavored with garlic, pepper, and cumin seeds. The soup is flavorful and perfect for waking up your dizzy head when you are sick.
The best way to make this soup is to stew chicken bones in a pressure cooker to make crystal clear, rich chicken broth. Using a pressure cooker with an approximate time will allow all of the flavors to release entirely into the stock. It will take your time, but the result is worth it.
Chicken kozhi rasam is perfect for a family gathering meal! I recommend you make a whole pot of this soup for a late Saturday or Sunday lunch.
My last recipe today is mulligatawny soup of Anglo-Indian origin. In English, "mulligatawny" means "pepper water".
This is a curry and coconut-based soup infused with chicken, lentils, carrots, and apples. Of course, it will not miss ginger, garlic, onions, and spices to add heat and the typical flavor of Indian cuisine.
Mulligatawny soups have a solid thick texture that you can call a stew. This soup is perfect for days when you are too tired to prepare many dishes for a meal, and you just want one thing for all.
Serve it with a plate of warm white rice, and you are ready for a satisfying meal.
Now, Tell Me Your Pick-Up Indian Recipes
Soup is always my favorite. Through soup, my body can absorb and assimilate nutrients quicker than other kinds of dishes. Additionally, when it comes to Indian cuisine, you are always filled with lots of good herbs and spices.
Indian soups, in my conclusion, preferably comfort food for both the soul and body. Which recipes do you decide to try? And hey, if you know any other Indian soups that are worth trying, please let me know.
Don't forget to share this article with your friends. Maybe they are in need of searching for new recipes just like you and me. Stay tuned, and I will come back with more delicate cooking ideas soon!
Nutrition Facts
4 servings per container
---
Amount Per ServingCalories359
% Daily Value *
Total Fat 12.3g

19

%
Sodium 1152mg

48

%
Potassium 76mg

3

%
Total Carbohydrate 41.1g

14

%

Dietary Fiber 15.7g

60

%
Sugars 1.4g

Protein 19.8g

38

%
---
* The % Daily Value tells you how much a nutrient in a serving of food contributes to a daily diet. 2,000 calories a day is used for general nutrition advice.