Let's start with this astonishing fact: did you know that there are about 200 types of spices at the moment? Thus, it's no fun to cook with just salt and pepper, even if you live for the motto "less is more."
When it comes to the world of spices, the more, the merrier. Today, I'll show you some of the best spices to add to your kitchen rack, and rest assured your meals will become even more delectable from now on. Don't hesitate; let's scroll down right away!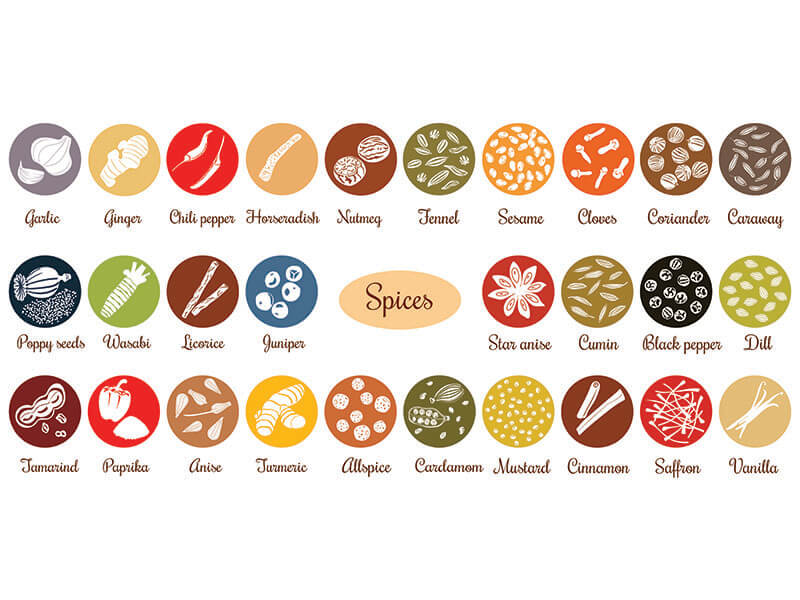 Spices, A Flavorful Addition For Your Recipes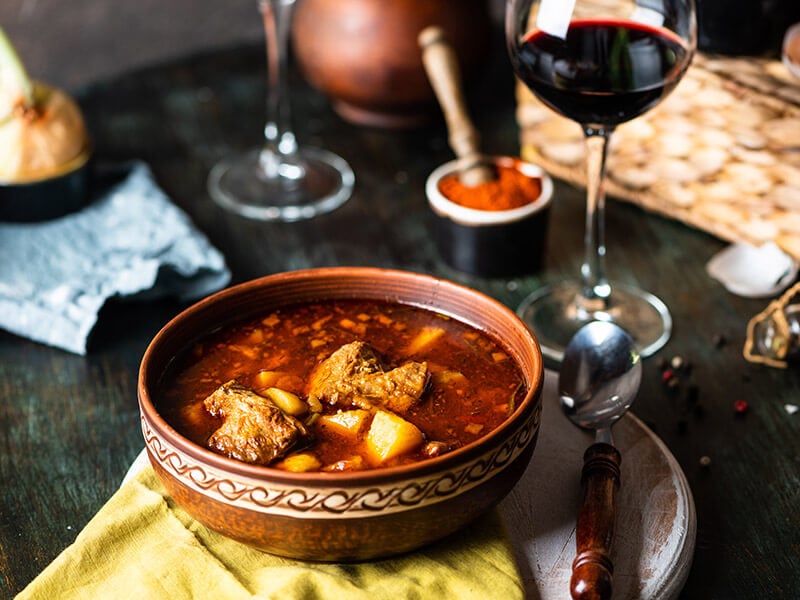 Spices are a game-changer. Thanks to their addition, your dishes receive extra flavor depths and a tantalizing smell that makes every stomach growl. Some spices can even enhance the curb appeal of your dishes with their colors, such as saffron or paprika.
Spices are also nutritious, though not too significant, as they are often used moderately. They are high in antioxidants, which can prevent the risk of critical health conditions like cancer or ischemic heart.
Given that, you want to use spices more frequently from now on. But what to use, and how should you use it? The following section will give you the answers.
Spices 101: Most Popular Spices You Cannot Miss Out
As mentioned, there are somewhat 200 varieties of spice in this world. They are categorized based on several factors, such as plant parts used or tropical requirements. But here, spices are classified according to their flavor profile, which is perhaps easier for you to follow.
Hot Spices To Take Your Dishes To The Next Level
If you are ready for some heat, dive into this post. Here, a wide range of hot spices, including cayenne pepper, hot paprika, and fennel are available, and I'm confident they will leave your throat with irresistible scorching flavors!
1. Cayenne Pepper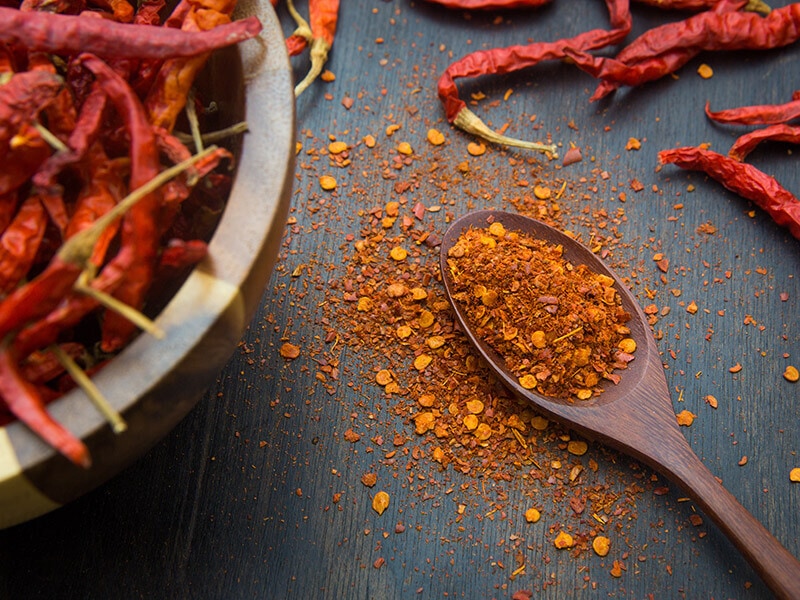 Speaking of fiery heat, you can't forget cayenne pepper – a moderately hot chili pepper kind. It is a cultivar of Capsicum annuum and is believed to originate in French Guiana. Once harvested, the fruits are dried, then ground into powder, and sometimes blended with other spices.
With 30,000-50,000 Scoville heat units, cayenne pepper will lend big, intense flavors to your dishes. You can add a pinch to your soup, hummus, and seafood recipes. It also pairs nicely with drinks like lemonade and hot chocolate.
Family
Capsicum annuum
Varieties

Cow-horn
Cayenne Sweet
Cayenne Buist's Yellow
Golden Cayenne
Cayenne Carolina and more

Substitutes

Paprika
Red chili flakes
Chili powder
Gochugaru
Hot sauce

Form
Fresh and dried, often found in ground form
Aroma
Sharp
Flavor
Spicy and earthy
2. Black Pepper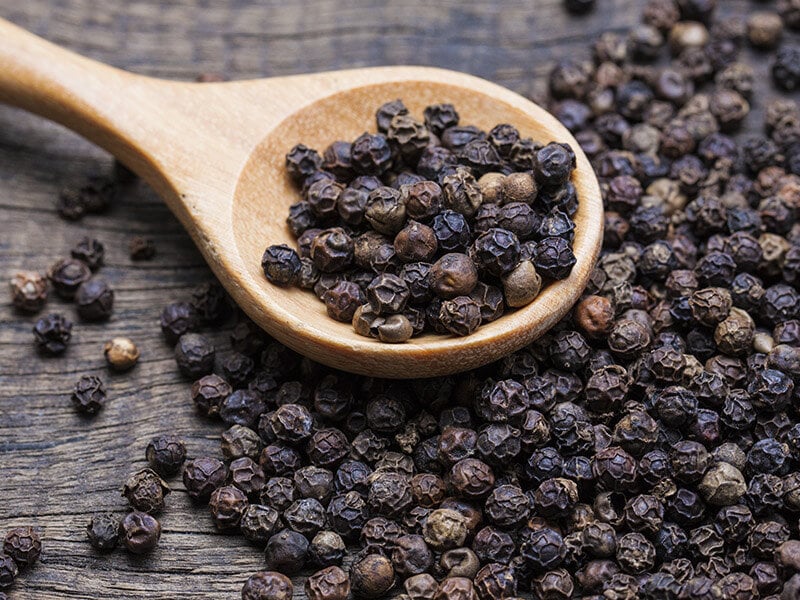 Black pepper is often compared to its white counterpart, but to tell the truth, everyone knows the winner is the former. Along with salt, it is a pantry staple with great versatility, adding just the right amount of heat to your recipes.
Native to India, the spice is believed to be one of the earliest to have ever existed. While the ground version is easier to store, you may find it loses its potency over time. Meanwhile, you don't have to worry about whole peppercorns since they can remain fresh much longer.
Family
Piperaceae
Varieties

White pepper
Green pepper
Red peppercorns
Pink pepper and more

Substitutes

One of its varieties
Sichuan peppercorns
Coriander seeds
Chili powder

Form
Whole and ground
Aroma
Aromatic and slightly musty
Flavor
Spicy and fresh
Dive in here and find out why pepper is in everyone's kitchen.
3. Ginger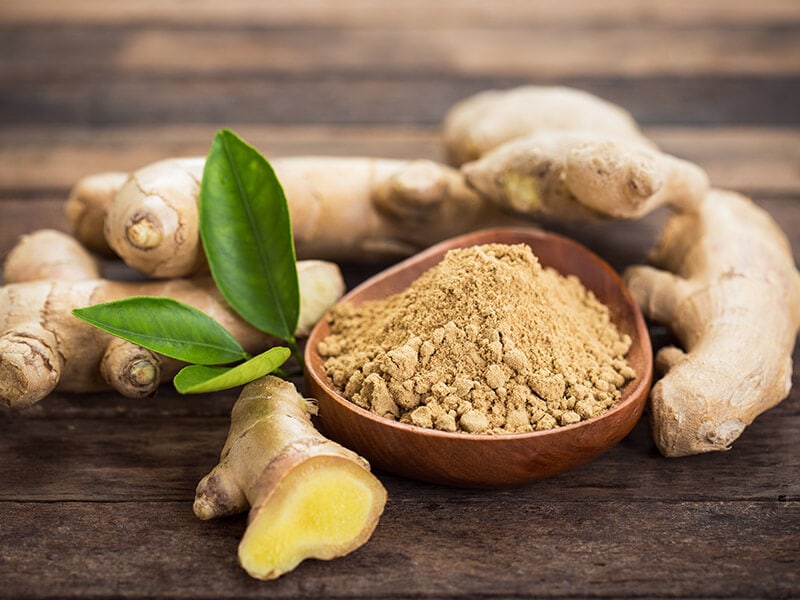 Much to people's surprise, the spice is not exclusive to savory dishes. Ginger is also used in desserts and drinks, providing sunny warmth with peppery, slightly sweet nuances. Not only do they taste good, but they also provide you with endless health benefits.
While it's true that ginger is mainly found in Indian cuisine, the spice also plays a vital part in Caribbean and Asian dishes. Besides its fresh and powdered form, there's also candied and pickled ginger.
Family
Zingiberaceae
Varieties

Yellow Ginger
White Ginger
Spring Ginger
Culinary Ginger
Blue Hawaiian Ginger and more

Substitutes

Galangal
Allspice
Turmeric
Cardamom
Cinnamon

Form

Fresh
Powdered
Dried
Pickled
Preserved
Crystallized/candied

Aroma
Spicy and citrusy with woody and floral notes
Flavor
Hot, sweet, and slightly peppery
Ginger comes with tons of health benefits; let's find out what they are!
4. Mustard Seed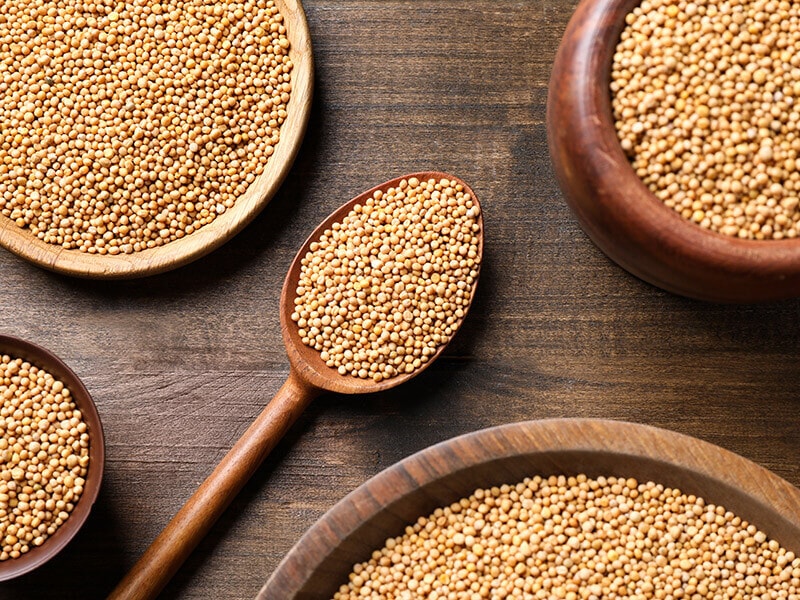 One of the greatest alternatives for fenugreek seeds, mustard seeds are another spice made for spicy eaters. At first, it goes easy on you with a mild, nutty flavor, but as soon as you take a bite, an explosion takes place.
These small, round seeds are of North African origin, but they are now popular in many parts of the world, including Asia and Europe. You can find it in any grocery store, and they should keep it well for about 3-4 years.
Family
Brassicaceae
Varieties

Yellow Mustard Seeds
Brown Mustard Seeds
Black Mustard Seeds

Substitutes

Turmeric
Horseradish
Mayonnaise
Wasabi
Caraway seeds

Form
Whole (seed) and ground
Aroma
Sharp
Flavor
Mellow, slightly spicy, and sweet
5. Paprika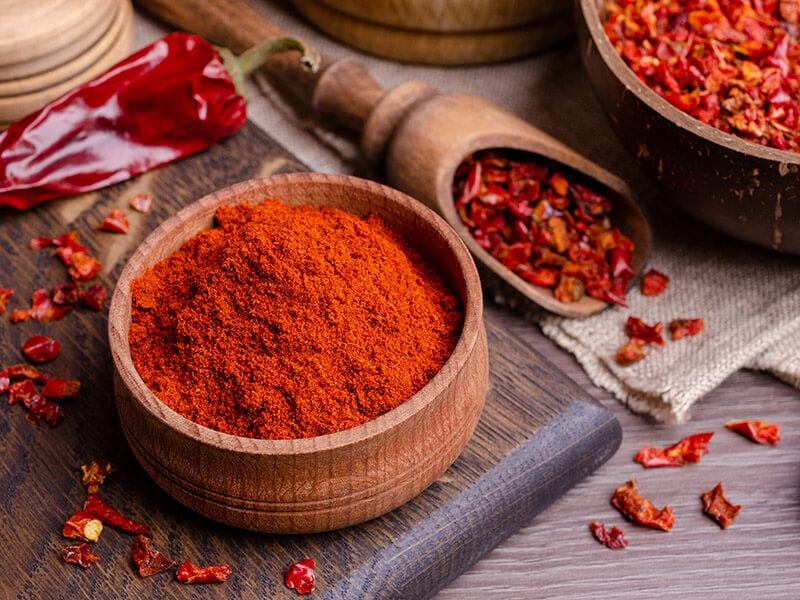 Paprika can elevate any dish with its exquisite flavors. It comes in three variants: hot, sweet, and smoked, with the first being the most popular while the latter does not pack much heat. Paprika can be substituted with other spices in its family, like cayenne or poblano peppers in a bind.
Just a sprinkle of paprika, and any dish can turn into a crowd-pleaser. To elevate the taste of this spice, you can quickly toss it in a pan with oil. While the spice has common uses in savory recipes, feel free to incorporate it into your favorite desserts and cocktails.
Family
Capsicum annuum
Varieties

Hot Paprika
Sweet Paprika
Smoked Paprika

Substitutes

Cayenne peppers
Chili peppers
Cajun seasoning
Hot sauce
Tomato juice

Form
Ground
Aroma
Sweet, musky, and umami savory
Flavor
Mild, sweet, smoky, to very hot (depends on variety)
Discover where paprika comes from with this informative video.
6. Red Pepper Flakes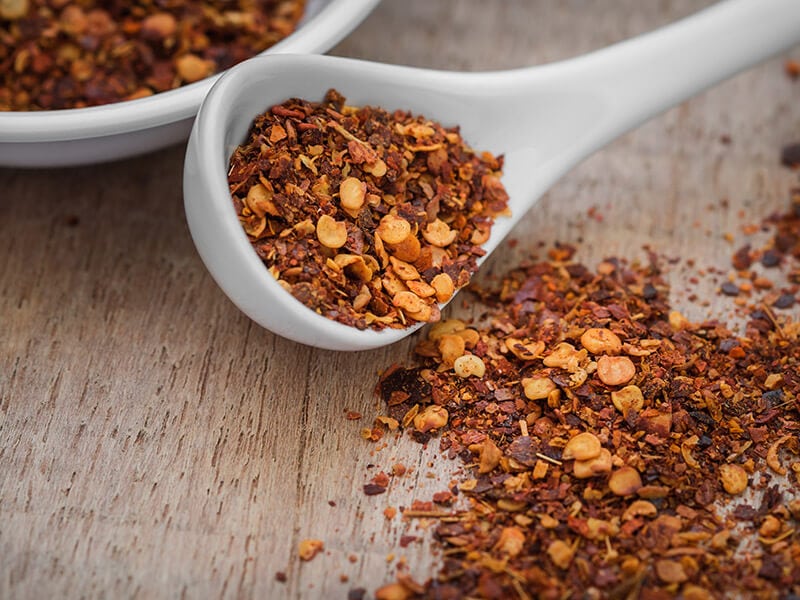 Also known as crushed red pepper, this spice was mostly associated with Italian dishes such as pizza, but its reputation has gone far and beyond. Just a shake or two, and even the most boring midweek dinner can turn into something scrumptious.
Also, there's this confusion about red pepper flakes and chili flakes that you want to clear up. While the former is a combination of more than a type of pepper, the latter is made up of one type and can set your taste buds on fire more quickly. But you love that, don't you?
Family
Diverse as it is made up of different types of pepper
Varieties
Many as it depends on what types of pepper are used
Substitutes

Chili powder
Chile de árbol powder
Cayenne pepper powder
Chili sauce
Gochugaru

Form
Crushed
Aroma
Slightly sharp
Flavor
Spicy, slightly sharp, and earthy
7. Chili Powder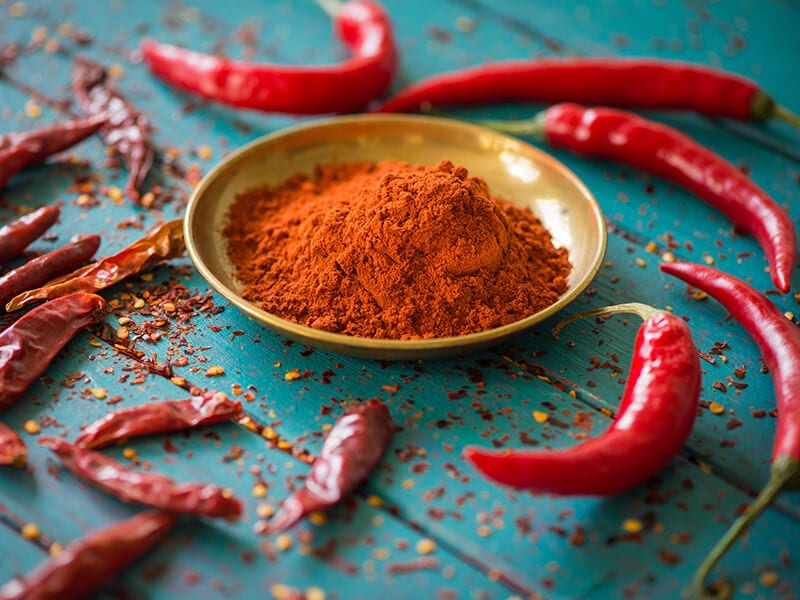 Chili powder is not just the ground version of red pepper flakes. It sometimes contains spices like cumin or garlic powder, so there are at least a hundred varieties of it with varying levels of heat.
Admittedly, it's blazing hot yet still a far cry from cayenne pepper powder. Should you want to make an alternative for chili powder, hot sauce and cumin powder can be just the ticket. You won't likely tell the differences apart unless you are that one spicy food enthusiast.
Family
Depends on what types of pepper are used
Varieties
Many as it depends on what type of peppers are used

Based on flavor intensity



Light chili powder
Dark chili powder

Substitutes

Cumin powder
Garlic powder
Hot sauce
Taco seasoning
A blend of different spices

Form
Ground
Aroma
Earthy
Flavor
Mild to spicy depending on the amount of cayenne pepper used
Wonderful Mild Spices For Those With A Sensitive Palate
Not everyone likes to be dripping in sweat while eating. If such hot spices make you feel that way, consider these mild alternatives. They range from mildly sweet to deeply earth, bringing your dishes to another taste dimension. Check them out!
8. Cinnamon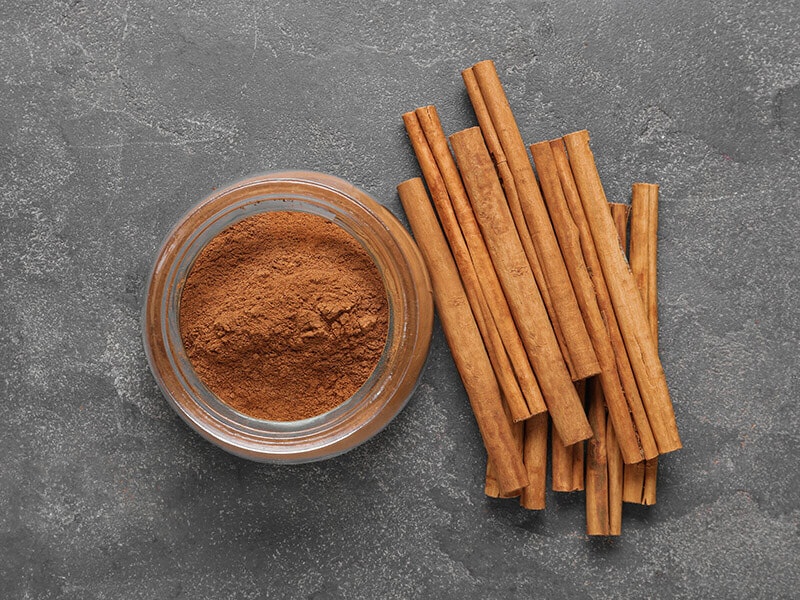 In the past, cinnamon was highly valued and typically served as a gift for the monarch. It is a perennial favorite in many kitchens nowadays with countless applications. You can lend your roasted items some warmth or put a fragrant twist on your desserts with cinnamon. Anything is possible.
Cinnamon is available in two forms: stick and powdered, the latter more frequently used because it is convenient. Speaking of its variants, there's Ceylon cinnamon (the regular kind), along with Korintje, royal, and Saigon.
Family
Lauraceae
Varieties

Ceylon Cinnamon
Korintje Cinnamon
Saigon Cinnamon
Royal Cinnamon

Substitutes

Nutmeg
Allspice
Ginger
Apple pie spice
Pumpkin pie spice

Form
Whole (stick) and ground
Aroma
Spicy and sweet
Flavor
Sweet, woody, and slightly citrusy
Here's the explanation of why Ceylon cinnamon is so costly.
9. Cardamom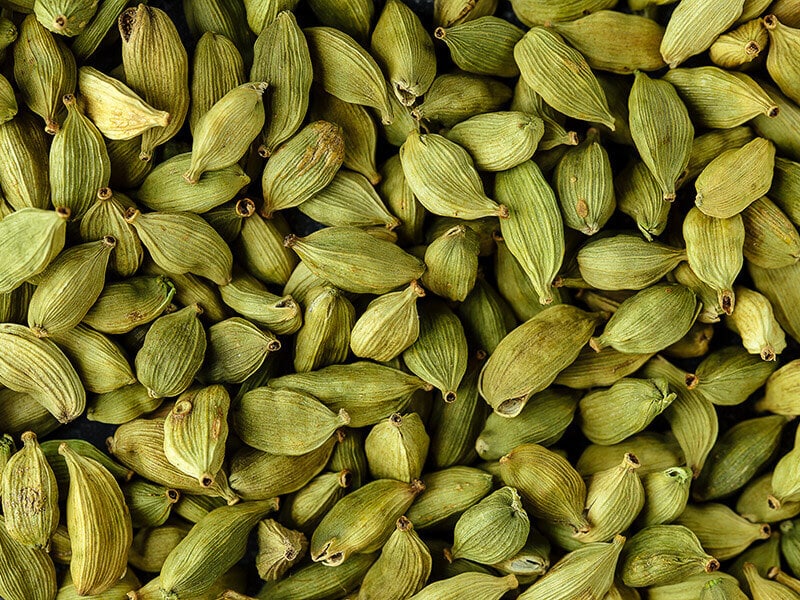 Cardamom has many stand-ins, but rest assured nothing comes close to this spice, which is regarded as one of the most expensive of its kind. The reason lies in the painstaking harvest method in which only 1 kilogram of cardamom is harvested from 6 kilograms of raw pods.
Some will tell you there are three types of cardamom (green, black, and white), but the white is, in truth, a bleached version of the green variant. With its herbal warmth underpinned by a hint of smokiness, people love to add a pinch of cardamom into red meat, rice, and so on.
Family
Zingiberaceae
Varieties

Green Cardamom (there's also White Cardamom, which is bleached Green Cardamom)
Black Cardamom

Substitutes

Cinnamon and nutmeg
Cinnamon and cloves
Cinnamon and ginger
Cumin and coriander
Allspice

Form
Whole and ground
Aroma
Sweet, earthy, smoky, nutty, and spicy
Flavor
Sweet, menthol-like, and slightly smoky
10. Allspice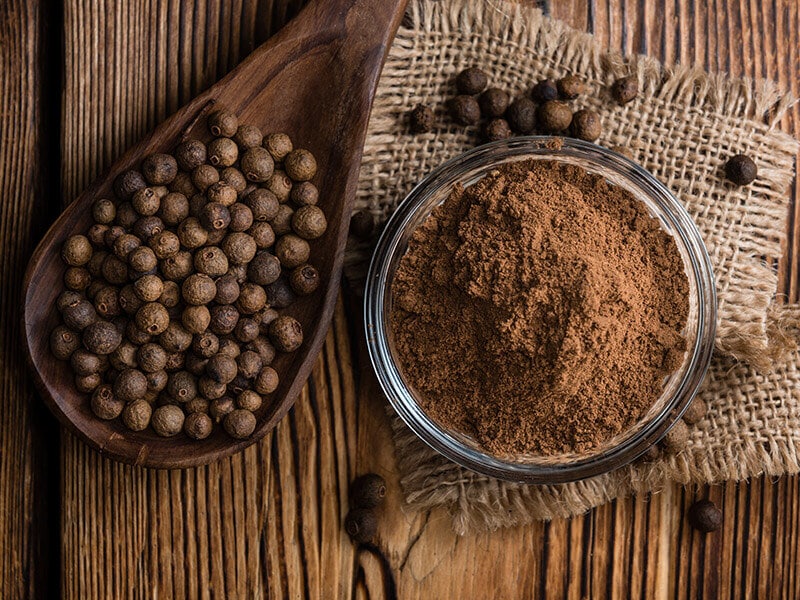 When the leaves start falling off the branches, you know autumn is here. And what's a better way to start this season than whipping up some desserts with allspice and its substitutes like pumpkin spice mix? The answer is nothing, evidently.
Decades ago, the Mayans did not put allspice into its maximum use. The spice served as an embalming agent or a chocolate flavoring. Until 1621, the British had access to it and named it "allspice," which refers to its strong aroma resembling cinnamon, clove, and nutmeg.
Family
Myrtaceae
Varieties

Japanese Allspice
Carolina Allspice
Wild Allspice

Substitutes

Cloves
Nutmeg
Cinnamon
Cloves
Mace
Pumpkin pie spice

Form
Whole and ground
Aroma
Similar to a mix of cinnamon, clove, and nutmeg
Flavor
Warm, fresh, and similar to a mix of cinnamon, clove, and nutmeg
Clear your confusion about allspice with this in-depth video.
11. Coriander Seed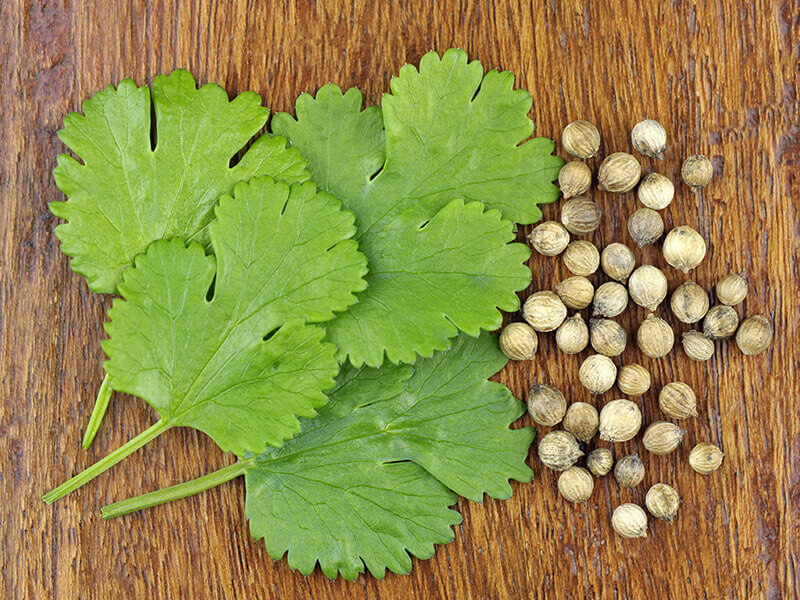 It is difficult to find a perfect replacement for coriander because this spice has such a unique flavor. Think of it as a delightful blend between a hot serving of curry and a bunch of fruits in addition to a nice crunch that makes it super fun to chew.
When ground, the seeds release an even more intense aroma, providing your yummy dishes with a perfect finishing touch. You can use this spice with pretty much everything, with stellar examples including curries, marinades, and even desserts.
Family
Apiaceae
Varieties

Moroccan Coriander
Indian Coriander

Substitutes

Cumin
Curry powder
Garam masala
Caraway
Fennel

Form
Whole and ground
Aroma
Warm, spicy, nutty, and citrusy
Flavor
Warm, refreshing, and citrusy
12. Sumac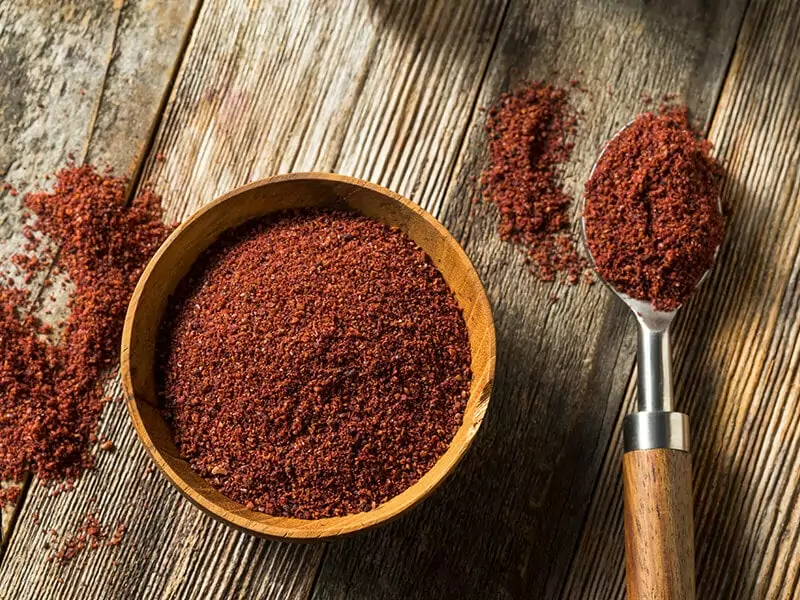 Although sumac is criminally underrated, you will still want to add it to your kitchen rack. This spice is a member of the Anacardiaceae family, perhaps the most well-known, and is a bright addition to grilled meat and vegetable dishes.
In particular, sumac opens up with an acidic flavor, followed by a fruity profile that rounds out the overall taste. Adding to its strong point, the spice features a deep purple-red hue that can enhance the curb appeal of your dishes significantly.
Family
Anacardiaceae
Varieties

Staghorn Sumac
Littleleaf Sumac
Sicilian Sumac
Winged Sumac
Sourberry Sumac

Substitutes

Lemon zest
Lemon pepper seasoning
Lemon juice
Vinegar

Form
Fragrant and smooth
Aroma
Lemony
Flavor
Tart and lemony taste
13. Mace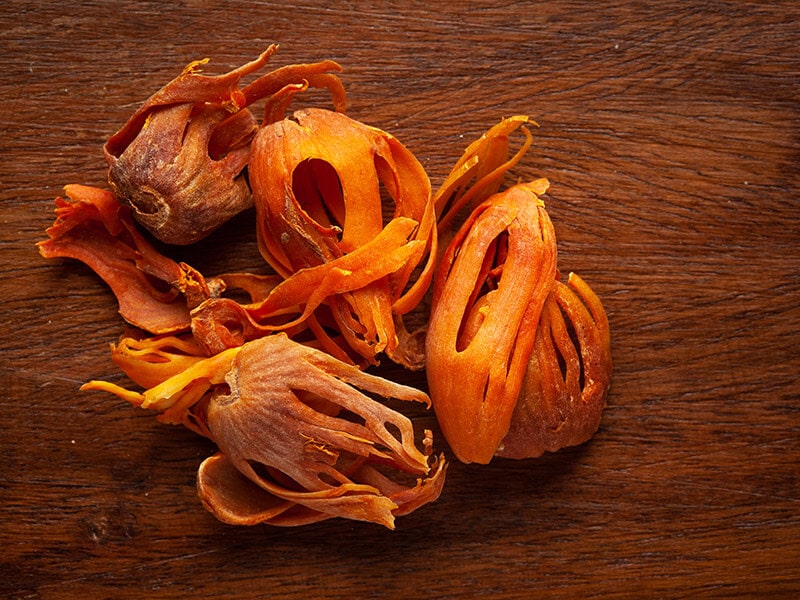 When combining mace with cinnamon, you have an excellent alternative for galangal. But do you know that this spice shines best when on its own? A key spice in Asia, the Caribbean, plus some other European cuisines, mace is praised wherever it goes.
Here's a fun fact: mace is actually the outer layer encasing the nutmeg seed. Hence, it has a taste that closely resembles nutmeg, which yields exceptional flavors when incorporated into stews, grilled items, and baked goods. The spice's health benefits are also considerable.
Family
Myristicaceae
Varieties

Indonesian Mace
Grenadian Mace

Substitutes

Nutmeg
Allspice
Cinnamon
Ginger
Pumpkin spice blend

Form
Whole (blades) and ground
Aroma
Sharp and slightly sweet
Flavor
Slightly intense with notes of pepper and cinnamon
Make Your Dishes More Drool-Worthy With These Aromatic Spices
Spices also have the power to stimulate your appetite. At the very first whiff, they will capture the attention of your family and friends, keeping them entertained until the very last spoonful. Without further ado, let's have a look at the following aromatic spices.
14. Turmeric
Turmeric is neither too strong nor too weak. The bright-hued spice has this distinctive earthy bitterness that makes it stand out in plenty of dishes, sometimes outshining other elements if you go overboard.
Hence, if you don't know too well about this spice, perhaps it's better to find options similar to turmeric. Another way to mellow out its potent characteristics is to use them in desserts such as chocolate, cupcakes, or chia pudding.
Family
Zingiberaceae
Varieties

Suguna
Suvarna
Prabha and more

Substitutes

Saffron
Ground ginger
Dry mustard
Paprika
Annatto seeds

Form
Whole (root) and ground
Aroma
Mildly aromatic
Flavor
Earthy, sweet, and slightly bitter
Here's what turmeric has to go through before reaching your hands.
15. Saffron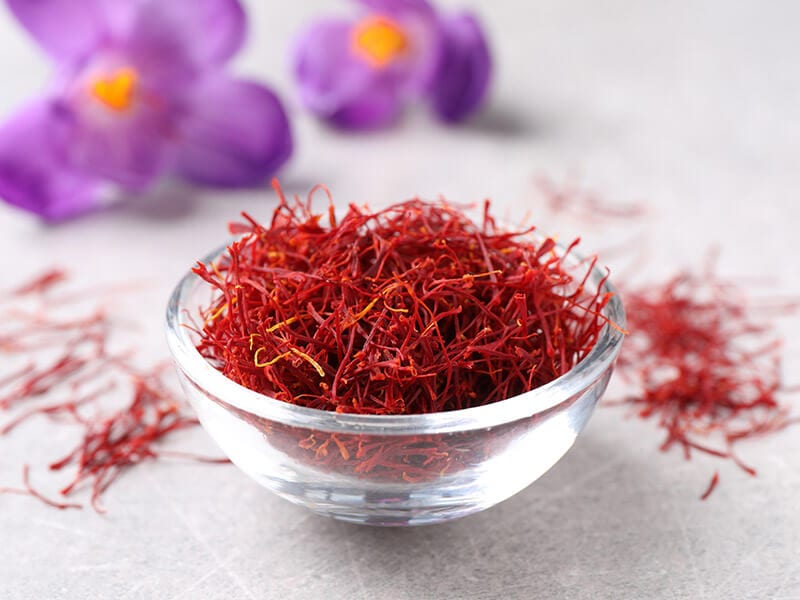 Not just you, but almost everyone has at least pondered about the taste of saffron and why it is so expensive. To harvest saffron, farmers must carefully pluck out the stigmas using a pair of tweezers, and this procedure can last for several days.
In contrast, cooking with saffron is a pleasant experience because the spice yields such soft, earthy aromatics. You can use a pinch of it right away, but some additional prep like toasting, boiling, or simmering can bring the best out of it drastically.
Family
Iridaceae
Varieties

Dasteh Saffron
Pushal Saffron
Sargol Saffron
Negin Saffron

Substitutes

Safflower
Turmeric
Cardamom
Sweet paprika
Cumin

Form
Whole (threads) and ground
Aroma
Strong, leathery, soft, earthy, and hay-like
Flavor
Sweet, floral, and earthy
The truth about the exorbitant price of saffron will leave you speechless.
16. Cumin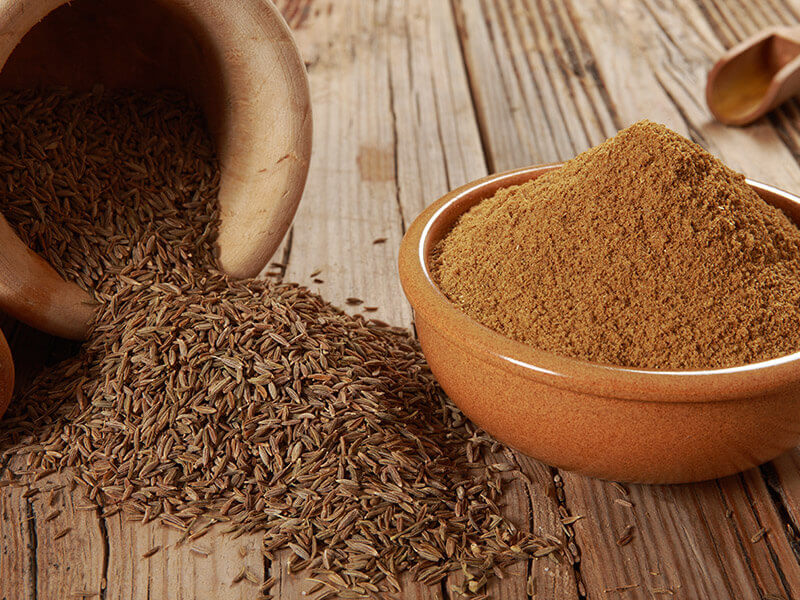 Does cumin even taste good, and will it overpower other ingredients in your dishes? Yes and no. Often mistaken for caraway seeds, which also belong to the parsley family, cumin stands out on its own with distinctive flavors and a bittersweet aroma.
Cumin does more than just give your taste buds a good time. Its health benefits are endless; to start with, the spice improves digestion, regulates blood sugar, and contains a rich amount of iron and other essential nutrients.
Family
Cuminum cyminum
Varieties

Black Cumin
Bitter Cumin
Brown Cumin
White Cumin

Substitutes

Coriander
Chili powder
Garam masala
Curry powder
Caraway seeds

Form
Whole (seed) and ground
Aroma
Warm, aromatic, smoky, and pungent
Flavor
Warm, earthy, slightly sweet, and bitter
17. Star Anise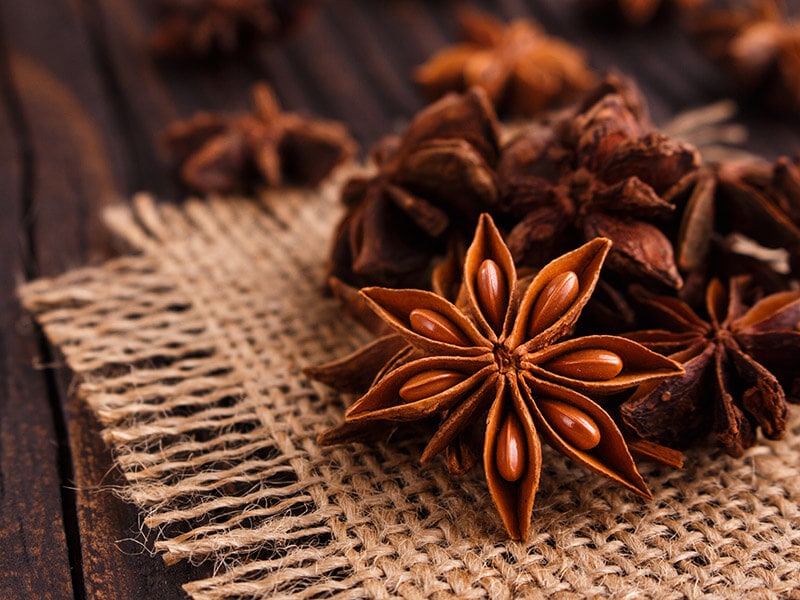 Immerse yourself into one of the best culinary experiences with star anise, an ingredient with depths of sweet, licorice-like flavor. However, don't mistake licorice with star anise, as they're two different plants. The spice is a key player in dishes like pho or biryani and drinks like masala chai, a refreshing spiced tea originating from India.
Star anise is of Chinese origin and has been put into use for more than 3,000 years, with early applications as a medicine. Not until the late 1500s did this spice be discovered by a sailor, who later brought it to Russia and other nations. The rest is history.
Family
Schisandraceae
Varieties
None
Substitutes

Anise seeds (a different spice with exact flavors)
Fennel seeds
Chinese five spice powder
Sambuca
Pernod

Form
Whole (pod) and ground
Aroma
Sweet, spicy, pungent, and licorice-like
Flavor
Sweet and licorice-like
18. Caraway Seed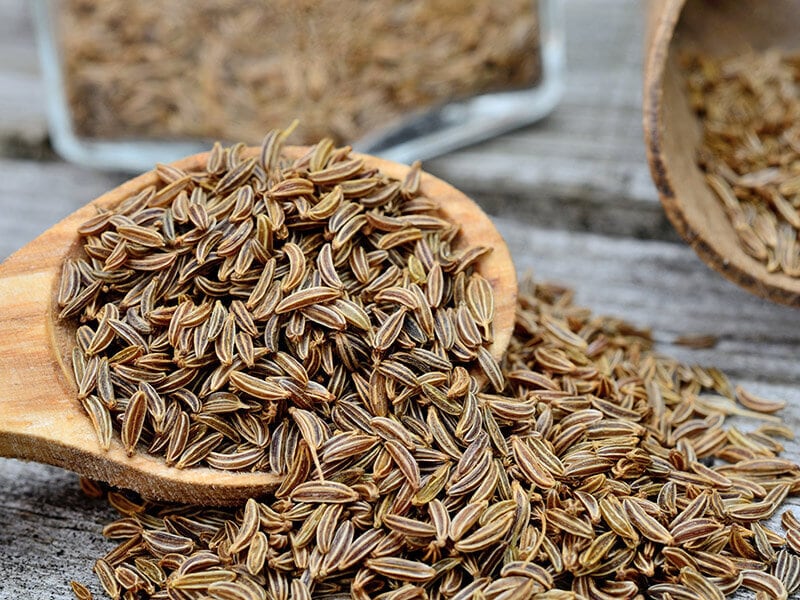 What else do you know about these seeds except that they can fit in the absence of star anise? Caraway seeds are much beloved on morning toasts; waking up your senses with an earthy sweetness, the seeds continue to deliver subtle citrusy and peppery nuances.
If you wish to bring out its earthy character, even more, don't hesitate to give them a toasting treatment. Then, add a pinch to your tomato soup, mix them with cheese dip, or let them join the fun with your batch of cookies.
Family
Apiaceae
Varieties

Egyptian Caraway Seeds
Holland Caraway Seeds

Substitutes

Fennel seeds
Anise seeds
Nigella seeds
Star anise
Dill seeds

Form
Whole (seed) and ground
Aroma
Herbal and woody
Flavor
Peppery, earthy, and citrusy
19. Clove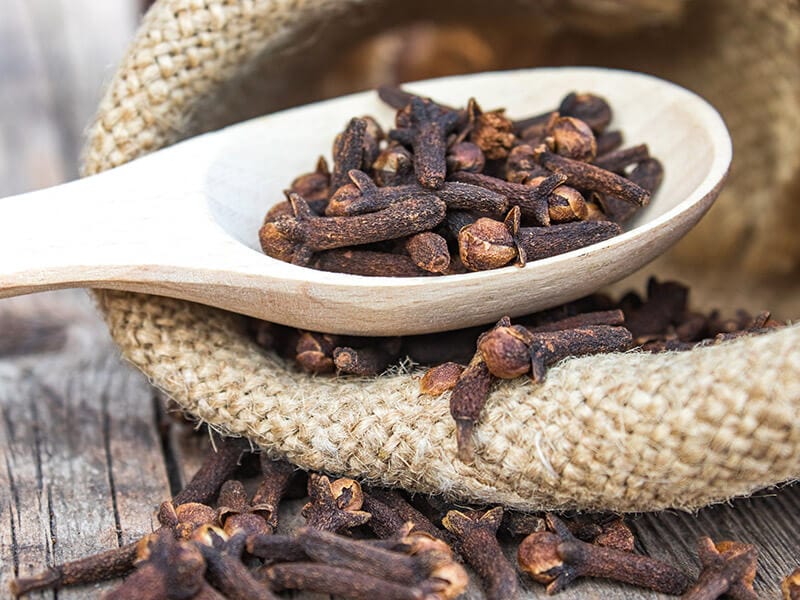 Whole or ground, clove knows how to keep everyone's attention with its pungent aroma. The spice is sourced from the flower buds of a tree in the myrtle family and has varied uses, both culinary and non-culinary.
With its warm, sweet, and noticeable flavor, clove is highly welcome in many dishes. To start with, seasonal desserts like pumpkin pie cannot be done without it. People also use it to jazz up meat, curry, and rice dishes, along with warm beverages like mulled wine or chai.
Family
Myrtaceae
Varieties

Zanzibar
Afo
Siputih
Posi-posi

Substitutes

Nutmeg
Allspice
Cardamom
Cinnamon
Pumpkin spice mix

Form
Whole (pod) and ground
Aroma
Sweet, warm, and woody
Flavor
Warm, sweet, and slightly bitter
20. Nutmeg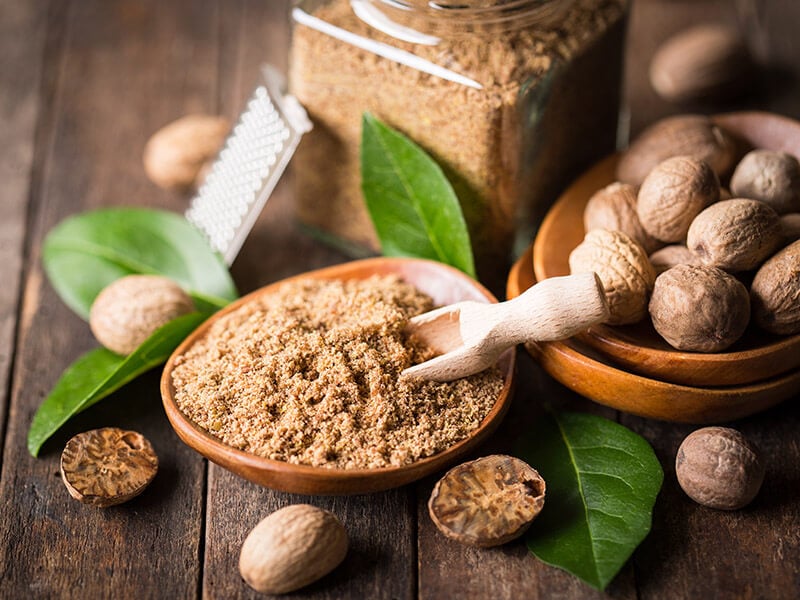 If you have been cooking with nutmeg, you know this one's a keeper. Sprinkle it over a warm bowl of oatmeal, and the unmatched flavor of nutmeg is more than enough to kickstart your morning. Otherwise, bake a batch of muffins with it or add a dash of it to your cup of eggnog.
Originating in Banda Islands, Indonesia, nutmeg is still heavily produced in this region, along with India and other hot climate zones. In the past, people took advantage of its warm aroma to make sachets and incense. Medicinal applications of nutmeg were also well-known.
Family
Myristicaceae
Varieties

Konkan Sugantha
Konkan Swad
Konkan Shrimathi
Vishwashree
Kadukanmackel and more

Substitutes

Mace
Cinnamon
Ground cloves
Allspice
Garam Masala

Form
Whole (pod) and ground
Aroma
Strong, earthy, slightly sweet, and spicy
Flavor
Warm, nutty, and slightly sweet
Did you know that nutmeg was the reason behind a war?
Wow Your Family And Friends With These Flavorful Spice Mixtures
What happens when you combine some of the spices mentioned above? The result will blow you away! Have a look and see what's in store for you in this section.
21. Pumpkin Pie Spice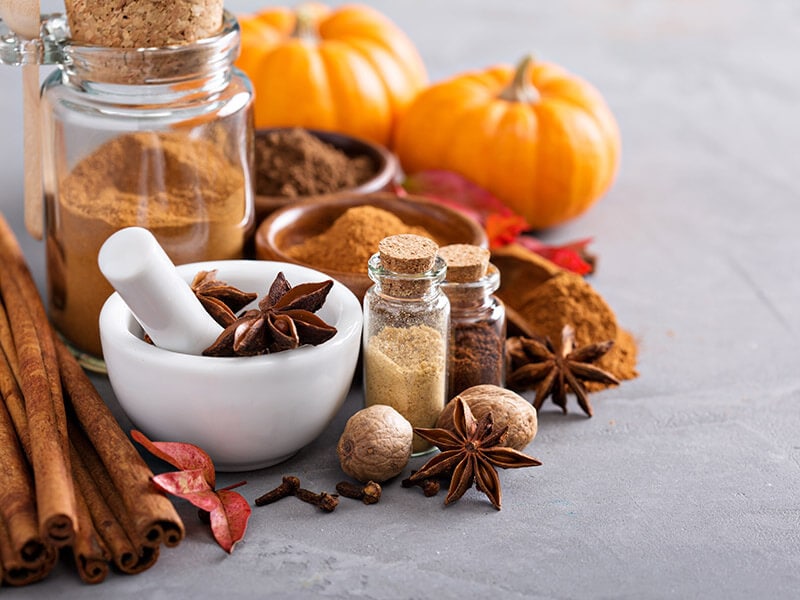 This spice blend is made for the holiday. It consists of cinnamon, clove, allspice, ginger, and nutmeg, with a ratio that can be adjusted based on your taste preferences. No one can confirm its origin, but most people give credit to Dutch East India Company.
Regardless of the name, this spice blend can help you more than just bake a pumpkin pie for the holiday season. Whether homemade or store-bought, you can sprinkle it on pasta, add it to your coffee, or stir it into pancake batter.
Family
Many as different spices are used
Varieties
Many as it depends on the ratio and the inclusion/exclusion of other spices
Substitutes

Cinnamon
Ginger and allspice
Nutmeg and clove
Cocoa and cinnamon
Clove and cinnamon

Form
Ground
Aroma
Similar to its components
Flavor
Similar to its components
Don't hesitate to make yourself a jar of pumpkin pie spice!
22. Jamaican Jerk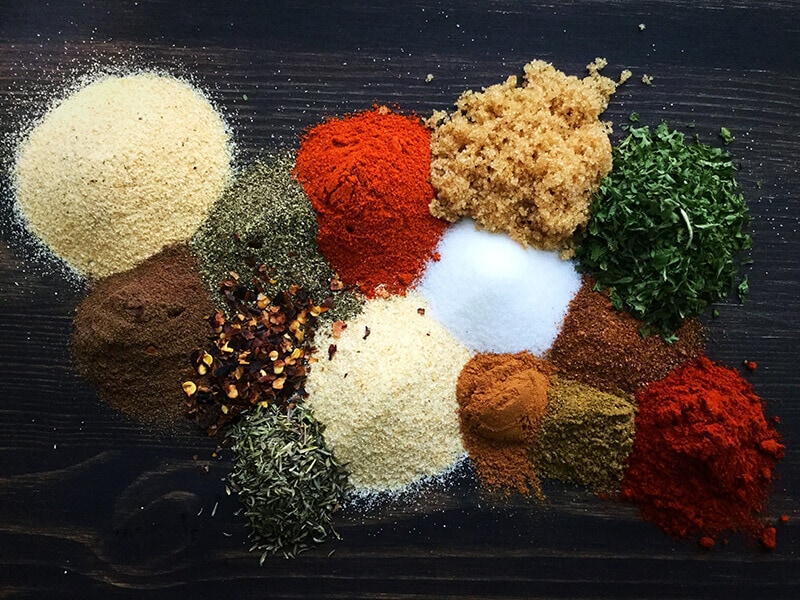 Also referred to as jerk spice or jerk seasoning, Jamaican jerk was brought to the land by the Arawak Indians over 2,500 years ago. The two main elements of this spice blend are allspice and Scotch bonnet peppers, plus secondary notes from other herbs and spices.
Once assembled, the ingredients are blended until a coarse powder is formed. The result will turn out incredibly fragrant, with the heat ranging from mild to very hot. Jamaican jerk is great for marinating meat, but you can stir it directly in dipping sauces or other dishes, too.
Family
Many as different spices are used
Varieties
Many as it depends on the ratio and the inclusion/exclusion of other spices
Substitutes

Rogan Josh seasoning
Ras el hanout
Baharat

Form
Wet or dry rub
Aroma
Similar to its components
Flavor
Similar to its components
23. Chinese Five Spice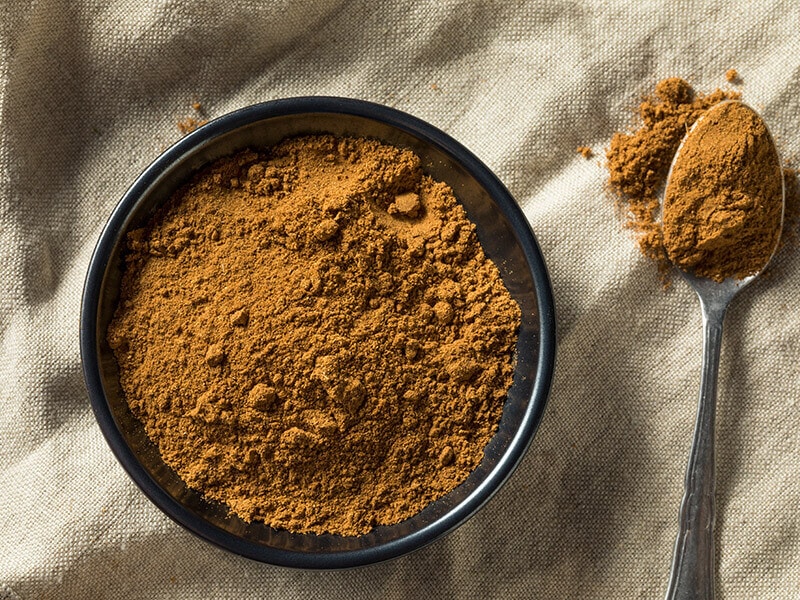 A delightful combination of cinnamon, fennel, star anise, cloves, and Szechuan peppers, you cannot help but want to bring it in whatever's cooking in your kitchen. Here, cassia cinnamon is used, while Szechuan peppers can be replaced with whatever you like.
From the name, you can tell that a plethora of Chinese dishes involves the use of this mixture. However, it is also the essence of Vietnamese, Taiwanese, and Hawaiian cuisine. To find the perfect substitute for this spice blend, graham masalat or baharat is worth considering.
Family
Many as different spices are used
Varieties
Many as it depends on the ratio and the inclusion/exclusion of other spices
Substitutes

Graham masala
Star anise
Cinnamon
Baharat

Form
Ground
Aroma
Similar to its components
Flavor
Similar to its components
24. Cajun Seasoning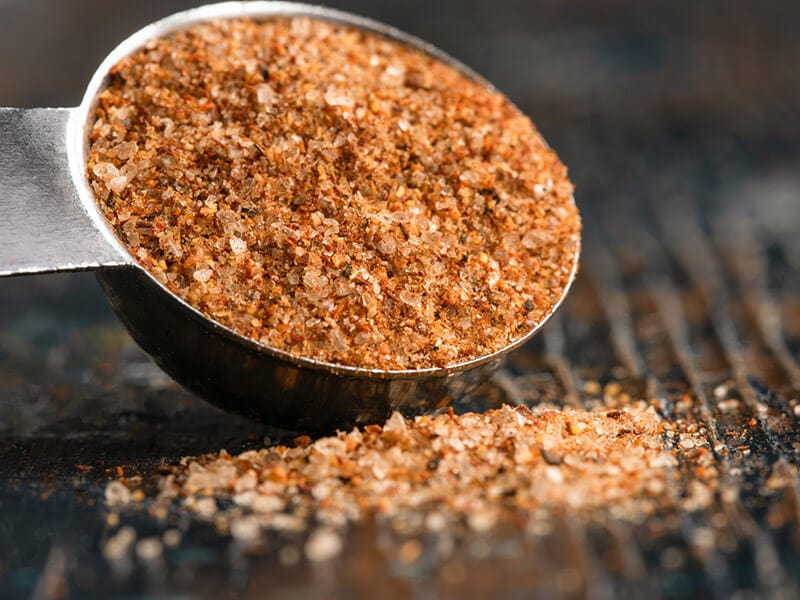 Without Cajun seasoning, your delicious, crowd-pleasing Cajun recipes will lose their charm. It is a spice blend made up of paprika, cayenne, garlic powder, onion powder, with some extra ingredients that can be included or excluded depending on taste preferences.
Cajun seasoning takes a bold turn in various dishes with its spicy, zesty flavor depths. It also offers extra visual appeal with its signature red hue and a rustic aroma that works well with a myriad of ingredients, from red meat to vegetables.
Family
Many as different spices are used
Varieties
Many as it depends on the ratio and the inclusion/exclusion of other spices
Substitutes

Creole seasoning
Adobo seasoning
Chili powder

Form
Ground
Aroma
Similar to its components
Flavor
Similar to its components
25. Curry Powder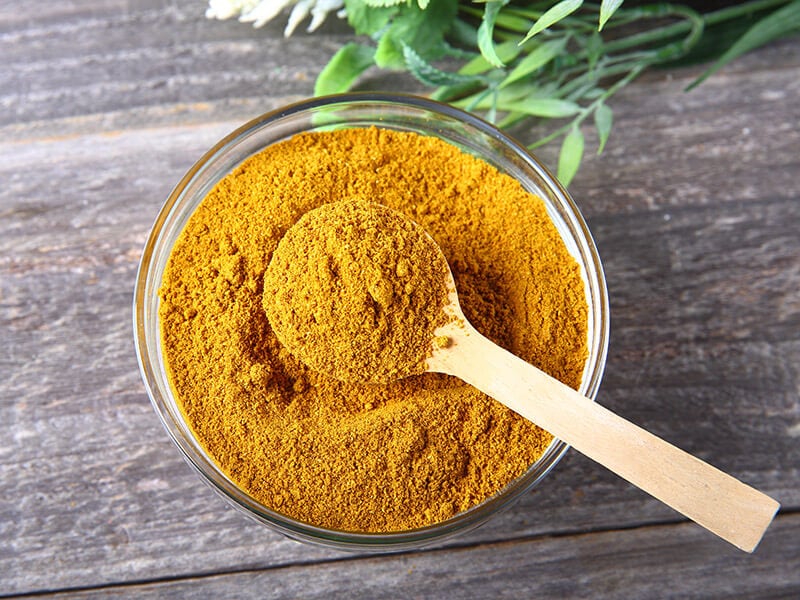 Don't let the name of this spice blend deceive you. While it's true that it's a superstar in many curry recipes, you can also use it to upgrade your fried rice, hearty stew, roasted vegetables, and even popcorn!
Surprisingly, curry powder owes its roots to the English colonists, who took part in the Indian spice trade as early as the 18th century. Like other spice blends, the ingredients (except the core ones: cumin, ginger, turmeric, and black pepper) can be modified to personal taste.
Family
Many as different spices are used
Varieties
Many as it depends on the ratio and the inclusion/exclusion of other spices
Substitutes

Garam masala
Chaat masala
Curry paste
Sambar powder
Curry and allspice

Form
Ground
Aroma
Similar to its components
Flavor
Similar to its components
26. Garam Masala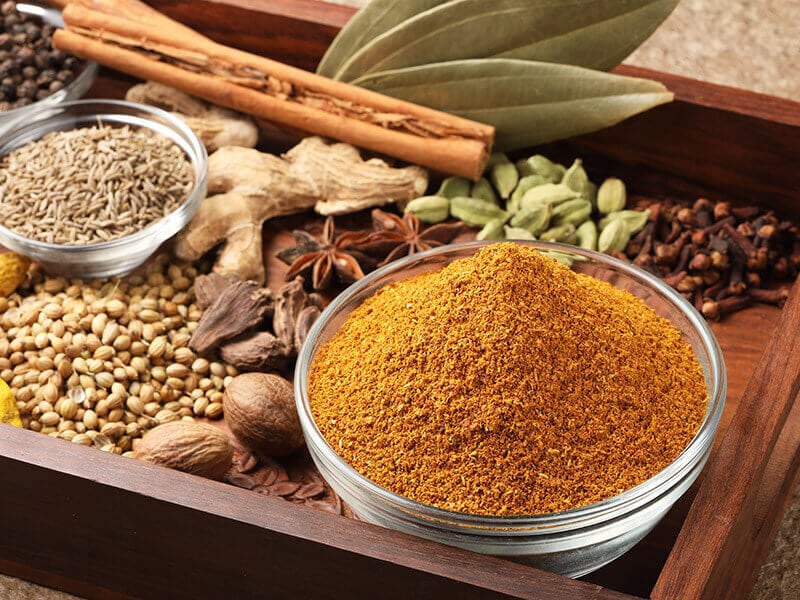 Similar to curry powder, garam masala establishes a strong bond with Indian cuisine, mainly in curry and chicken dishes. The spice blend is believed to originate from north India, with its first use in the 13th century.
Whatever goes in or is left out, garam masala is loaded with such fiery heat that it can keep your stomach warm during the winter days. Common elements include fennel, cloves, cumin, and mace, which are usually toasted in advance to yield more flavors.
Family
Many as different spices are used
Varieties
Many as it depends on the ratio and the inclusion/exclusion of other spices
Substitutes

Curry powder
Allspice and cumin
Chaat masala

Form
Paste and ground
Aroma
Similar to its components
Flavor
Similar to its components
27. Italian Seasoning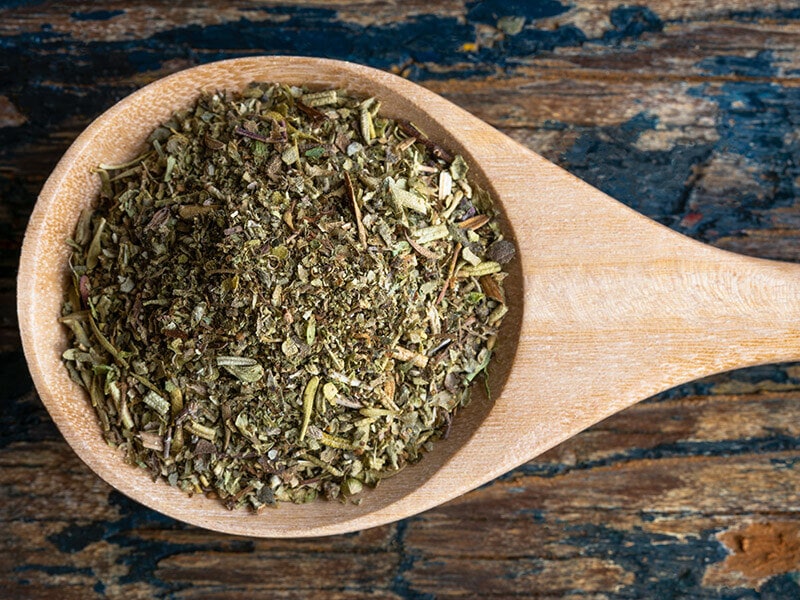 Italian seasoning has stirred up much controversy regarding its origin. Despite the name and the debate whether which region of Italy has invented it, many people insist that it was made by the Americans.
Regardless of its birthplace, Italian seasoning now graces its presence in every kitchen. This spice blend contains a bevy of fresh culinary herbs like basil, oregano, thyme, rosemary, and sage. As per the name, it's a match made in heaven with Italian dishes like pizza or pasta.
Family
Many as different spices are used
Varieties
Many as it depends on the ratio and the inclusion/exclusion of other spices
Substitutes

Basil
Oregano
Herbes de provence
A combination of different herbs

Form
Fresh and dried
Aroma
Similar to its components
Flavor
Similar to its components
28. Old Bay Seasoning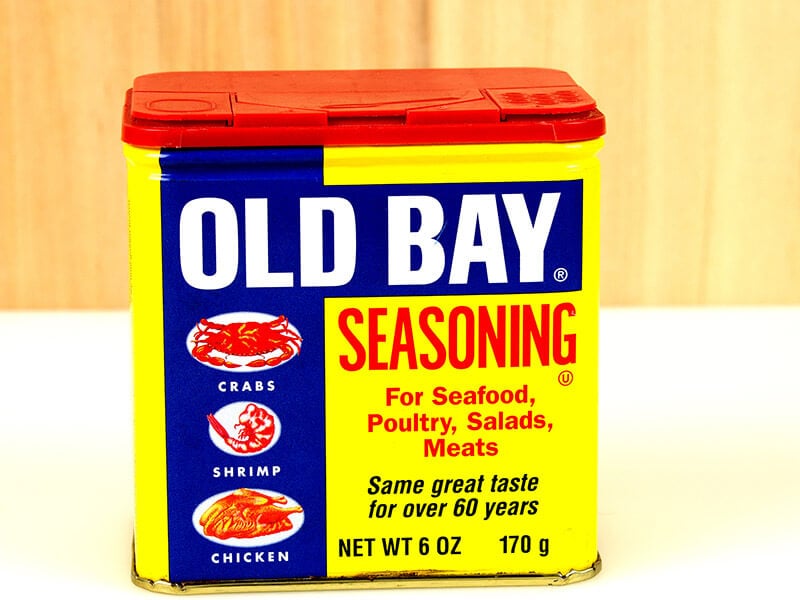 Thanks to McCormick & Company, Old Bay seasoning skyrocketed to fame. However, it was a German refugee named Gustav Brunn that brought this spice blend to life. Nowadays, Old Bay Seasoning is everywhere, from small corner shops to large grocery chains.
With a total of eighteen herbs and spices, you may think the flavors will clash. However, they go along with each other perfectly, starting with spicy, peppery notes. A smoky hint comes in, turning your boring midweek meals into a real deal.
Family
Many as different spices are used
Varieties
Many as it depends on the ratio and the inclusion/exclusion of other spices
Substitutes

Celery salt and paprika
Cajun seasoning
Crab boil
Pickling spice
Chinese five spice

Form
Ground
Aroma
Similar to its components
Flavor
Similar to its components
Other Amazing Spices To Add To Your Cooking Arsenal
These spices may fly off the radar, but that does not mean they are bad! Give them a shot, or you will regret it!
29. Fenugreek Seed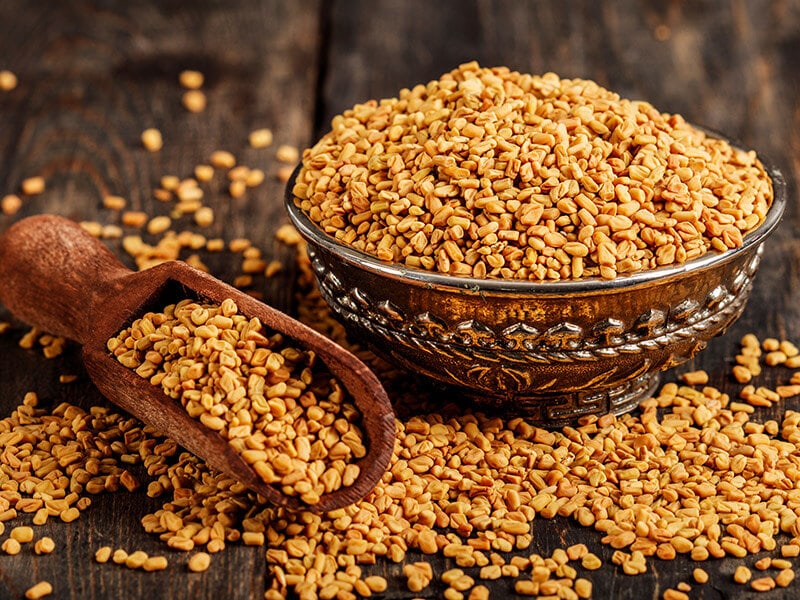 For a dish that can whet your appetite, you need fenugreek, a vegetable that originates from the Near East. While its leaves are treated as a herb, people use fenugreek seeds to impart bold flavors to salad, curry, and meat dishes.
Talking more about the seeds, they are rather bitter and firm to touch. Therefore, to bring out their best selves, soaking or toasting the seeds before serving is highly recommended. They can also be ground to make dry rubs or be a part of other spice blends.
Family
Fabaceae
Varieties

Rajendra kanti
Hisar suvarna
Hisar suvarna and more

Substitutes

Mustard seeds
Maple syrup
Curry powder
Fennel seeds
Celery leaves

Form
Whole (seed) and ground
Aroma
Maple syrup-like
Flavor
Tangy, bitter, and similar to burnt sugar
Sprouting your fenugreek has never been this straightforward!
30. Ajwain Seed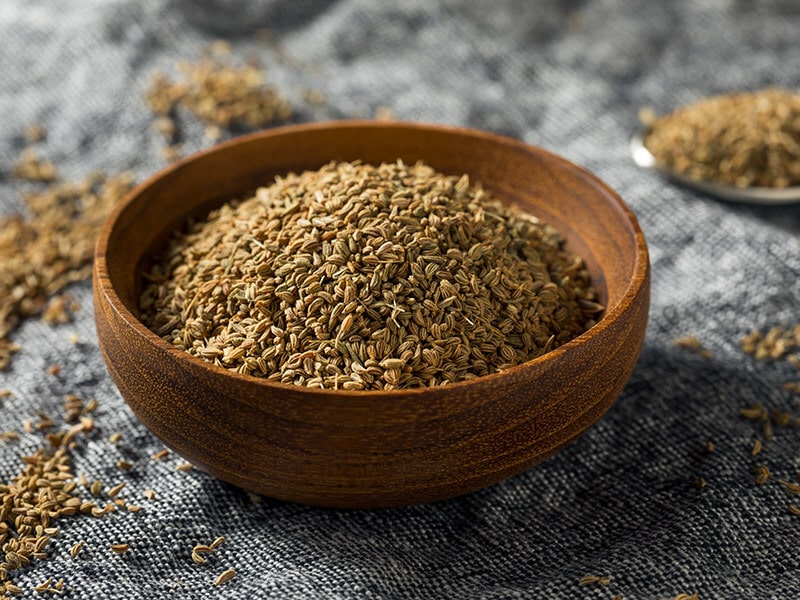 Also known as carom or oomam, these seeds are actually fruits of the ajwain plant. They are redolent of thyme, to some even more aromatic, with a taste reminiscent of oregano or anise seeds. Like fenugreek seeds, they are lightly toasted to become more fragrant.
With health benefits like preventing infection and treating digestive issues, these seeds are a crucial part of many cuisines, such as Indian. They make excellent fillings for pastries or as a tempering for traditional recipes like dals and pakoras.
Family
Apiaceae
Varieties
Substitutes

Dried thyme
Oregano
Cumin
Caraway seeds
Fennel seeds

Form
Whole (seed) and ground
Aroma
Fragrant
Flavor
Strong and bitter
31. Dill Seed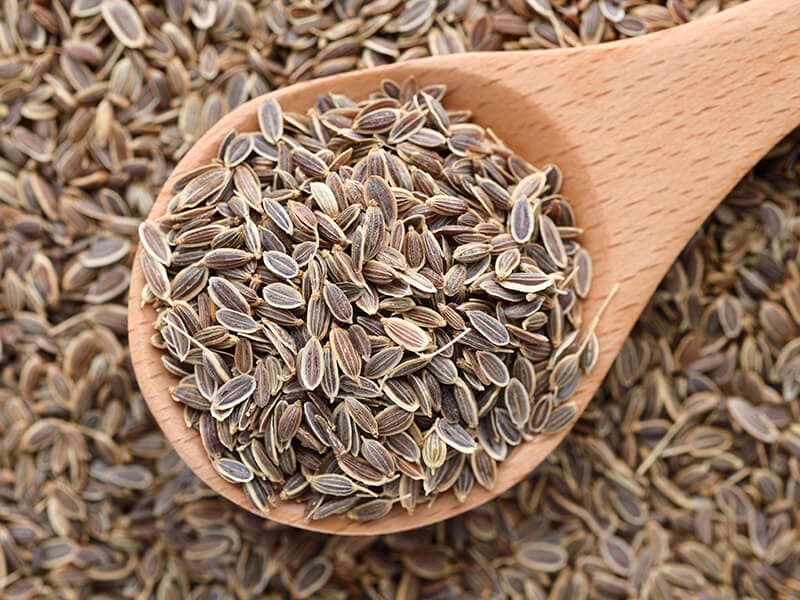 Moving on, you have dill seeds, which are also members of the Apiaceae family. They might be little yet packed with big flavors: a caraway flair underlined with slight hints of anise and is followed by a distinctive bitter finish.
Dill seeds are highly adaptable in the kitchen. Making pickles with them is old but gold; if you want a more creative spin, top your bread, soups, or vegetable dishes with a sprinkling. They can be used whole or crushed depending on what's cooking.
Family
Apiaceae
Varieties

Bouquet
Compatto
Delikat
Dukat
Elephant and more

Substitutes

Caraway seeds
Fennel seeds
Celery seeds
Dill seeds

Form
Whole (seed) and ground
Aroma
Pungent, similar to caraway yet lighter
Flavor
Similar to anise and dill weed with a slight bitterness
Don't miss out on these historical facts about dill seeds.
32. Asafoetida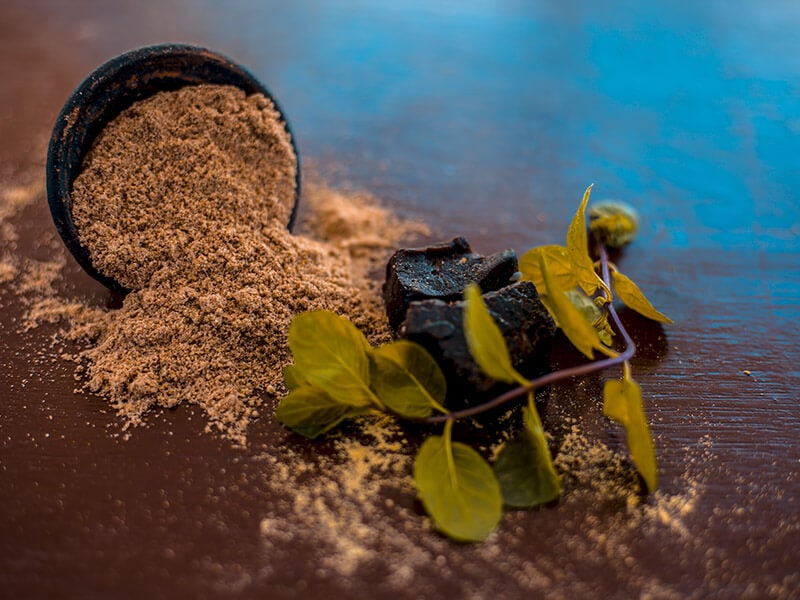 Another Indian spice that's full of characteristics, asafoetida stands out from the crowd with a distinctive pungent aroma, which explains the nickname "stinking gum." When sprinkled on a dish upon cooking, the smell will take over your house and remain for hours afterward.
Asafoetida has a smooth flavor profile with subtle notes of leek, garlic, and similar spices. No-fuss if you happen to add more than needed: this spice won't overwhelm the overall flavor of your dishes, which is why it's often used to prop up other spices.
Family
Umbelliferae
Varieties
Many, but the two most common are



Hing Kabuli Sufaid (Milky white asafoetida)
Hing Lal (Red asafoetida)

Substitutes

Garlic powder
Onion powder
Garlic and onion powder
Leeks and garlic
Shallot

Form
Whole (resin) and ground
Aroma
Strong and pungent
Flavor
Mellow when cooked and similar to spices like leek and garlic
33. Grains Of Paradise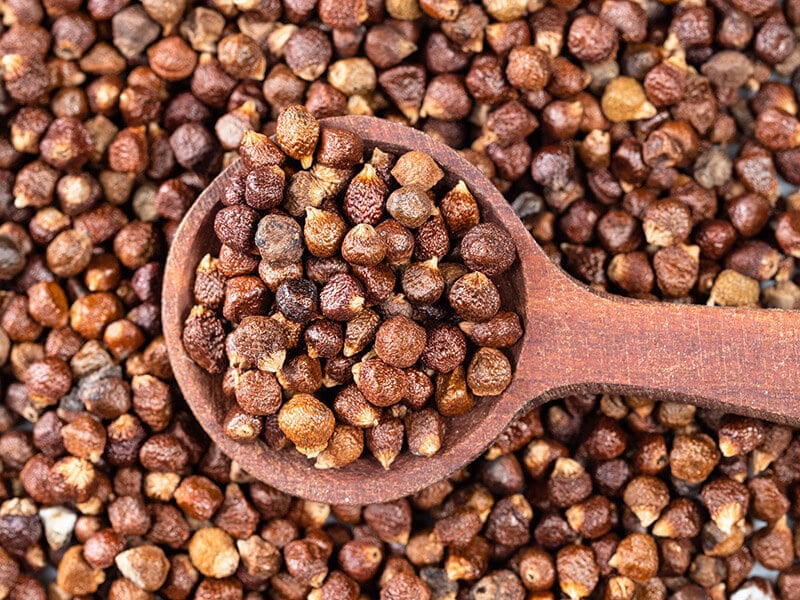 This kind of spice has one of the most gorgeous names that makes up for its modest look. At first sight, it looks like peppercorns, but the taste is far more complex. Adding to the peppery nuances is a subtle touch of jasmine, hazelnut, and citrus.
Like black and white peppercorns, grinding is optional if you want something more robust. In small amounts, grains of paradise can yield much warmth, which is gladly received in lots of dishes. And did you know that the chemicals in these seeds can even kill bacteria?
Family
Zingiberaceae
Varieties
Not specific
Substitutes

Cardamom
Black Peppers
Sansho Powder
Pink Peppers
Green Peppers

Form
Whole (fruit) and ground
Aroma
Sweet, earthy, floral, and nutty
Flavor
Complex, spicy, and peppery
34. Juniper Berries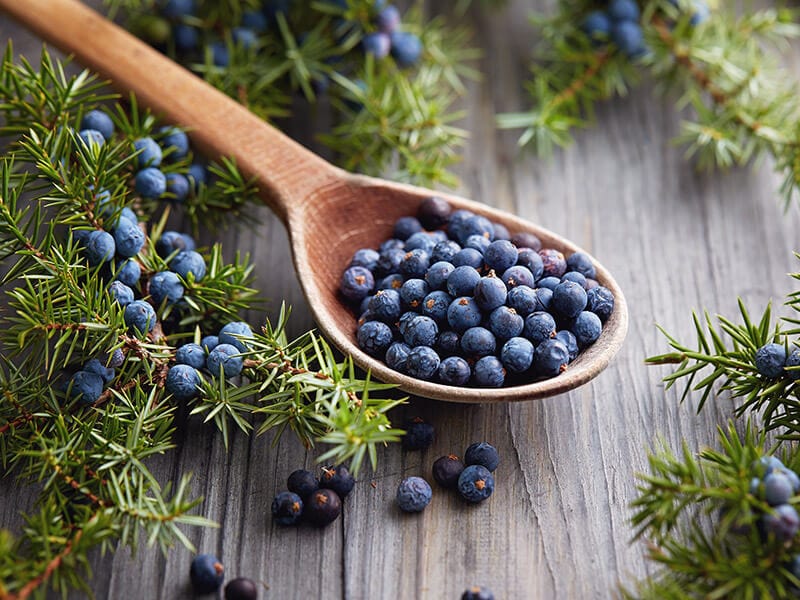 It's a shame if I forget to mention juniper berries, a spice that forms an inseparable bond with gin and European cuisine. While these berries are a good source of vitamin C, those derived from species like Juniperus Sabina are inedible, so don't go pick them in the wild.
If you are a frequent gin drinker, you should get an idea of how this spice tastes. It opens up with a fresh, piney taste, which mellows out with a pleasant hint of citrus. When incorporated into your dishes, it becomes more pungent and guarantees to make everything tastier.
Family
Cupressaceae
Varieties

Juniperus drupacea
Juniperus phoenicea
Juniperus californica
Juniperus deppeana

Some varieties are inedible or not pleasant to eat
Substitutes

Rosemary
Caraway seeds
Gin
Cardamom
Bay leaves

Form
Whole (fruit) and ground
Aroma
Aromatic, fresh, and piney
Flavor
Piney, woodsy, and citrusy
35. Vanilla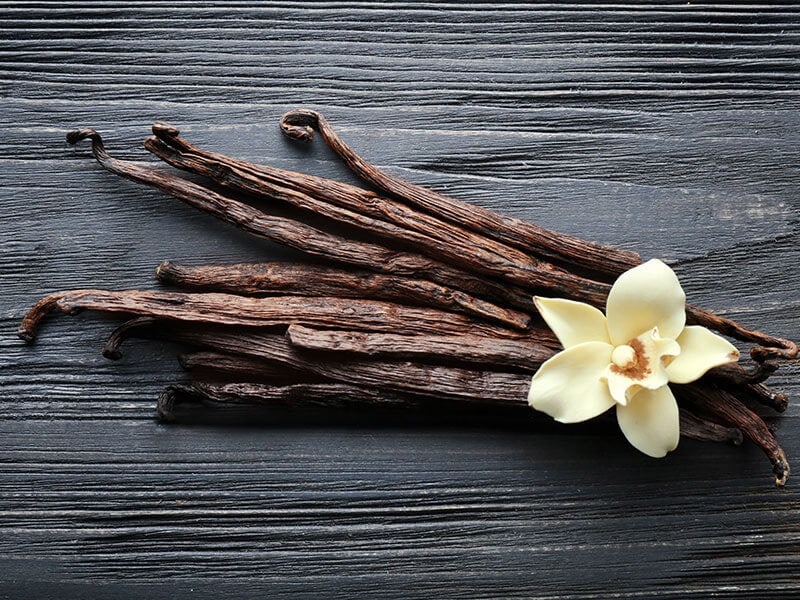 When thinking of vanilla, most people immediately think of it as a safe choice, say, when you go grabbing some ice cream. Yet, you can go bold with vanilla and not just with desserts. It's a match with cheese, marinades, and meaty dishes.
Vanilla comes in different forms, so it's important to know which one to use. Vanilla extract is commonly used, whereas vanilla beans offer the strongest flavor. Then, there's a vanilla paste, a perfect in-between that allows you to enjoy the best of both worlds.
Family
Orchidaceae
Varieties

Vanilla planifolia
Vanilla tahitiensis
Vanilla pompona

Substitutes

Maple syrup
Almond extract
Brandy, rum, or bourbon
Instant coffee or espresso powder
Citrus zest

Form
Whole (bean), paste, and extract
Aroma
Creamy, warm, and slightly exotic
Flavor
Sugarly and slightly floral
Learn more about vanilla and its exquisite flavor profile now.
Spice Up Your Life!
Without these divine types of spices, granted that cooking is less fun. After this post, I'm sure that you have picked yourself some new favorites to add to your spice rack. They are the key that helps you unlock the gates to the world of flavors!
If you enjoy my post, don't hesitate to link it to your loved ones; I'm positive that they are also in need of a flavor boost! As usual, the comment section below is where you share whatever you want, so go ahead and write down what's on your mind!