"How to mince ginger?" is a more common question than you might think. Fresh ginger is a must-have in my kitchen. With its spicy, sweet taste and aromatic nature, ginger can be a multi-purpose ingredient for even desserts or beverages besides regular dishes. Some also use it as a medicine.
You can mince ginger in a variety of ways. According to your recipe, you will need finely minced ginger or coarsely minced ginger. In this post, I will show you how to peel and mince ginger in different ways.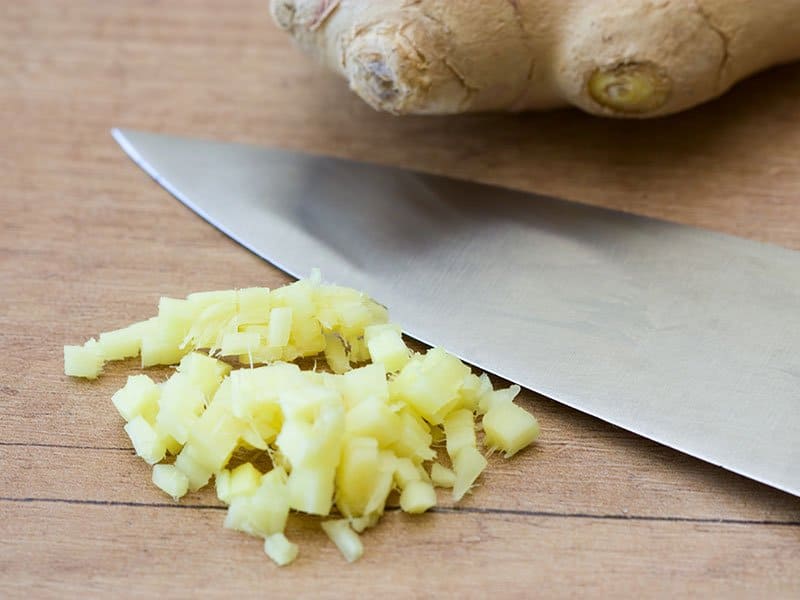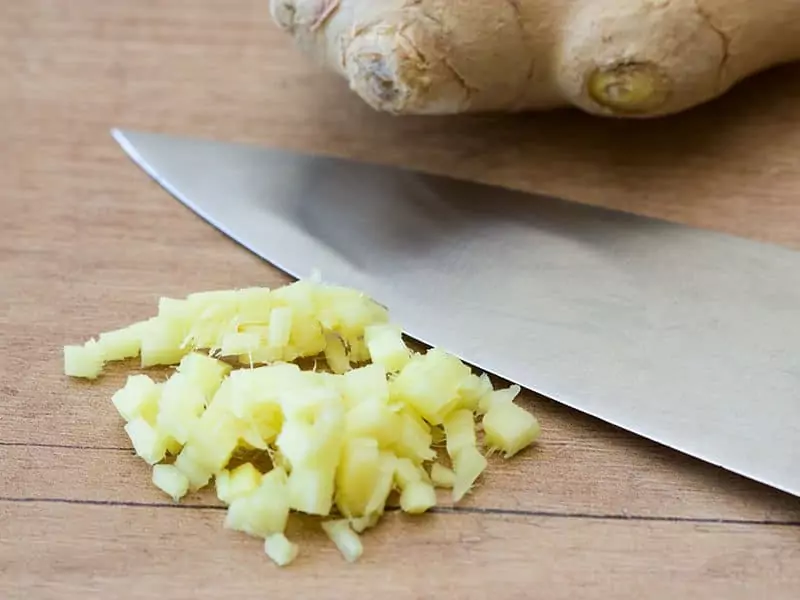 Ginger's Benefits & Why Should You Mince It?
For decades, ginger has been used to treat various diseases. Ginger is not only a delightful complement to cooking due to its spicy, aromatic, and distinct taste, but it is also beneficial to your well-being.
I will list some benefits of ginger to help you see why ginger has become such a common ingredient.
Improve Digestion: Many studies indicate that the enzymes in ginger will help the body break apart and remove the gas that accumulates in the intestinal tract during digestion. Ginger also tends to have a positive impact on critical digestive enzymes such as trypsin and pancreatic lipase.
Ease Nausea: According to some reports, ginger can help with morning sickness and nausea. Ginger comes with a compound called gingerol, which can reduce muscle pain and enhance gastric motility (the movement of food through the body). This will help calm the stomach and relieve vomiting and nausea symptoms.
Regulate Blood Sugar Level: Ginger can help people with diabetes regulate their blood sugar levels by raising glucose absorption in muscle cells.
Anti-inflammatory: Ginger has anti-inflammatory effects due to its antioxidant properties.
Aid Weight Loss: Ginger can aid weight loss because of its ability to improve calorie burn or minimize inflammation. Ginger has been shown to assist with weight-related measurements such as body weight and the waist-hip ratio.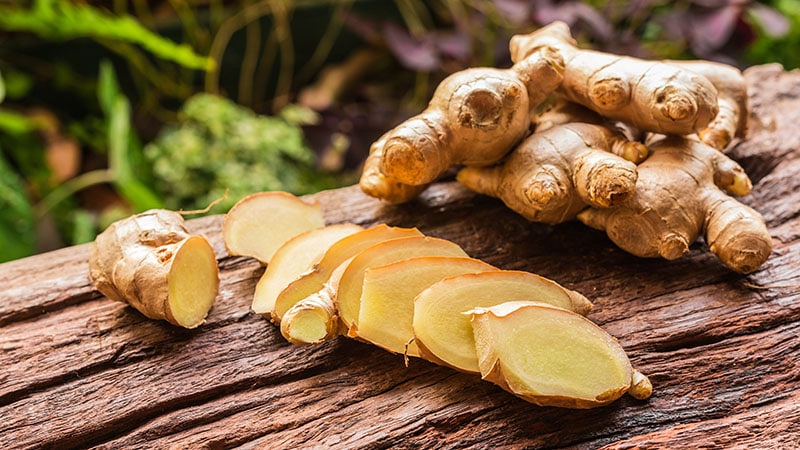 After looking through some notable benefits of ginger, I think you have already known why you should add ginger to your diet.
Luckily, mincing is one of the most effective ways to keep ginger fresh for a long time, and pre-minced ginger is an easy way to add this excellent ingredient to your daily meal. You can enjoy the ease of getting pre-minced ginger on hand whenever you need it.
Here Are Some Ways To Add Ginger To Your Diet:
Enjoy morning ginger tea by adding minced ginger to green tea.
Make morning smoothies with minced ginger.
Use minced ginger as an ingredient for baking goods.
Add finely minced ginger to stir-fries or curries.
Although ginger is safe and good for health, it's best to consume ginger in moderation. You should only consume less than 1g of ginger a day. Consuming too much ginger can lead to heartburn, gas, or throat burn.
What Should You Do Before Mincing Ginger?
Preparation plays an important role in most cooking tasks. And I am going to show you how to prepare the ginger before mincing.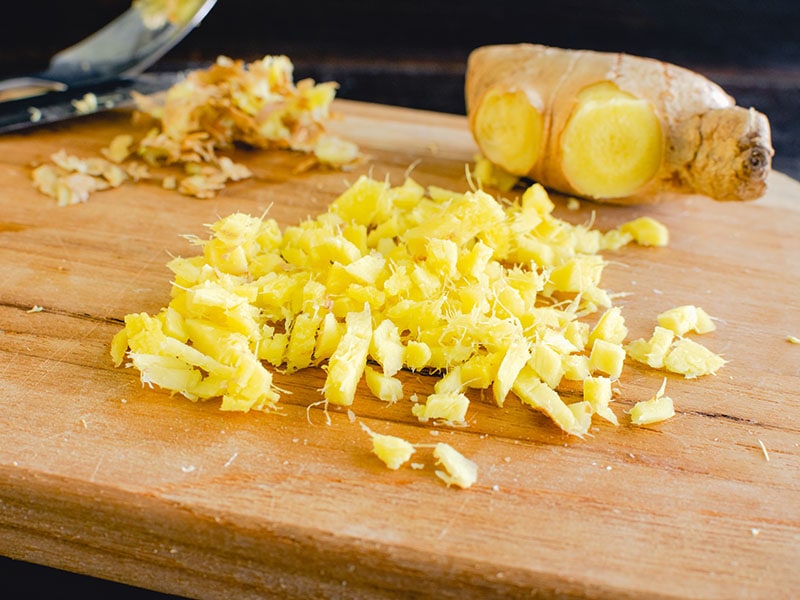 How To Pick Up Fresh Ginger?
When buying fresh ginger, you should choose the one with unwrinkled and firm skin. Moreover, ginger with thin skin is worth considering because ginger with thick skin is a sign of old ginger.
Also, when it comes to whether your ginger can last for a long time, the fresh ones have a higher chance than those with wrinkled skin. So, if you want to use ginger for a long time, make sure to pick the fresh.
It will be best if you choose the ginger that you can easily use your fingernail to scrape off its skin. Make sure you choose the ginger roots that are heavy for their sizes, and you can easily break off the large piece when you just need a small amount of ginger for a cup of tea.
It is worth your time watching the following video to know how to select fresh and high-quality ginger!
Clean And Trim The Ginger
To remove dust from the ginger root, you need to rinse the ginger under the water tap. After that, wipe it dry with a kitchen towel and leave it dry on the counter.
You know that ginger usually comes in large pieces with any small branches. Most of the time, you will need a large piece or only small branches for your cooking project. In case you need to use the entire ginger root, it will be easier to trim the branches and peel several parts of the ginger root separately.
Peel The Ginger
Organic ginger usually does not need peeling. You can clean it properly and start cooking. Apart from organic ginger, fresh ginger with such thin skin also does not require peeling.
In case you do not have organic ginger, you will certainly need to peel its skin before cooking. I myself find peeling ginger with the spoon most effectively, but using a peeler and knife also works well.
1. Use a Spoon
Most chefs prefer using a thin-edged teaspoon to peel the ginger because this method helps you easily remove the skin without affecting the meat of the ginger.
You can hold the ginger in your hand or lay it flat on the cutting board. Hold the spoon in the other hand and peel off the ginger's skin in the fast snapping motion. Since ginger can last longer with its skin on, you should only peel as much ginger as your recipe calls for.
The following video will show you how to peel ginger in seconds with a spoon.
Watch this video to know more:
2. Use a Peeler
Using a peeler is just as simple as using a spoon, only one thing to note is that you should be careful so that you won't hurt yourself with the sharp vegetable peeler. Moreover, you should also note that you may also remove some of the ginger's meat.
It is recommended that you prepare a big bowl to capture the flying ginger outer skin, or you can carry out the task over the kitchen sink for easy cleanup after peeling. Here is how to peel ginger with a vegetable peeler:
Hold the ginger in your hand at the bottom.
Move the peeler across the ginger, away from yourself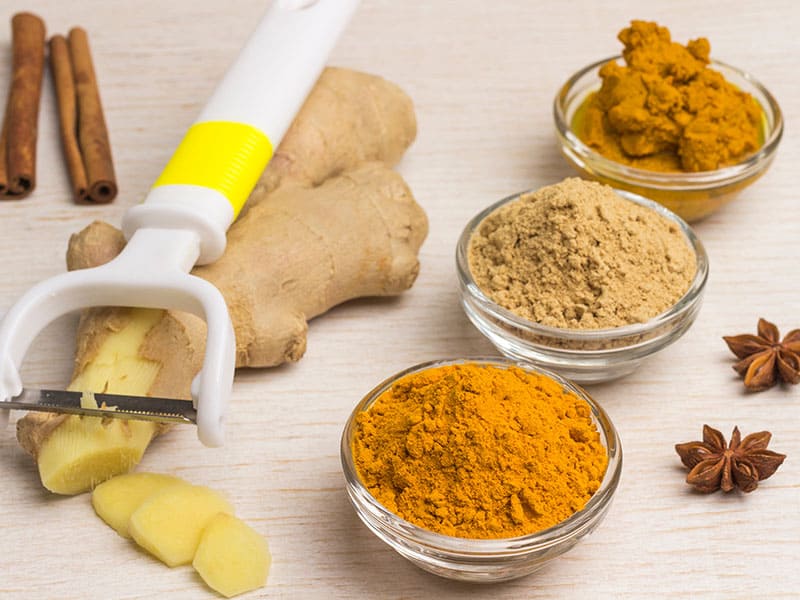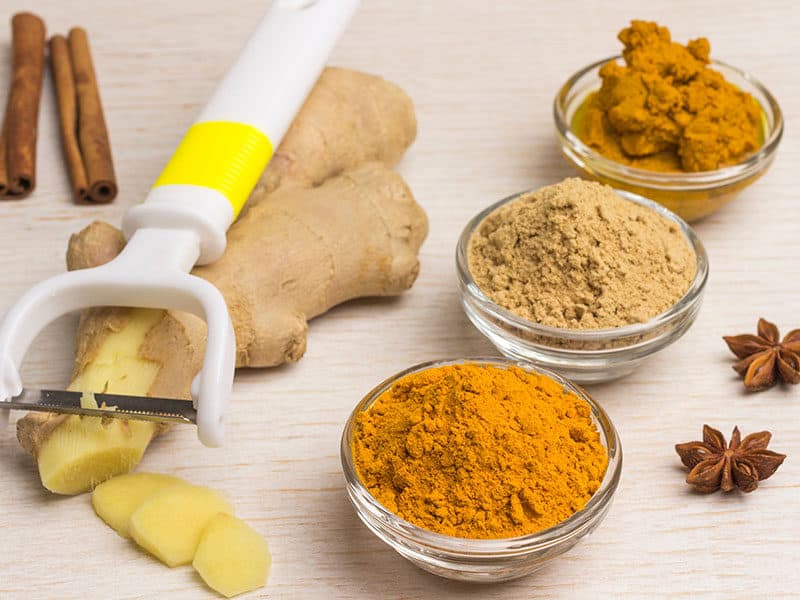 3. Use a Knife
In case you have stored the ginger for a rather long time, and the ginger starts to shrink or dry up, it will be more complicated to peel with a spoon. A knife will be a great option for this situation. Moreover, this method is also ideal when you are in a hurry. It works the best if you use such a small knife as a paring knife.
Hold the ginger with your opposite hand.
Like when you peel an apple, push the paring knife under the skin and place your thumb in front of the hidden blade.
Move the knife toward and past, use another hand to guide the cut in the right directions.
Notes:
Soaking ginger in warm water for a few minutes make it easier to peel
Using a knife will lose a lot of ginger's meat. Unless you are in a hurry, using a spoon is highly recommended.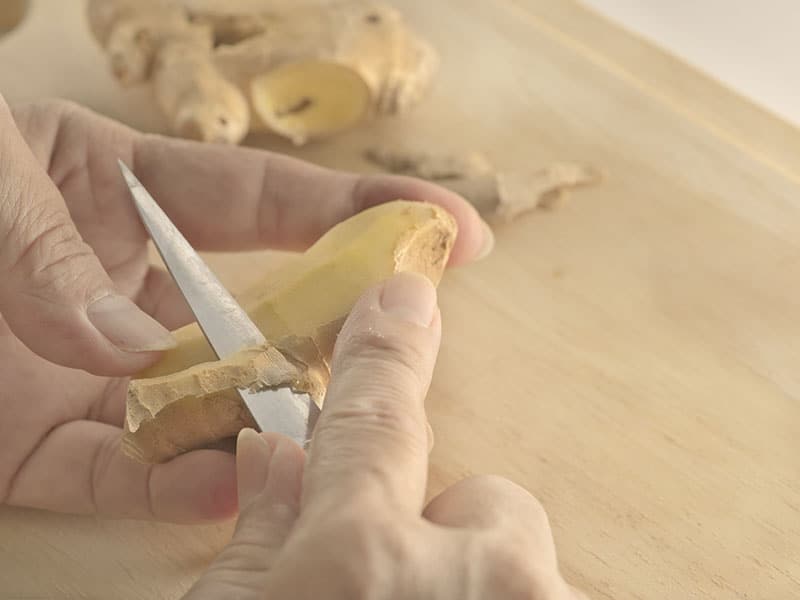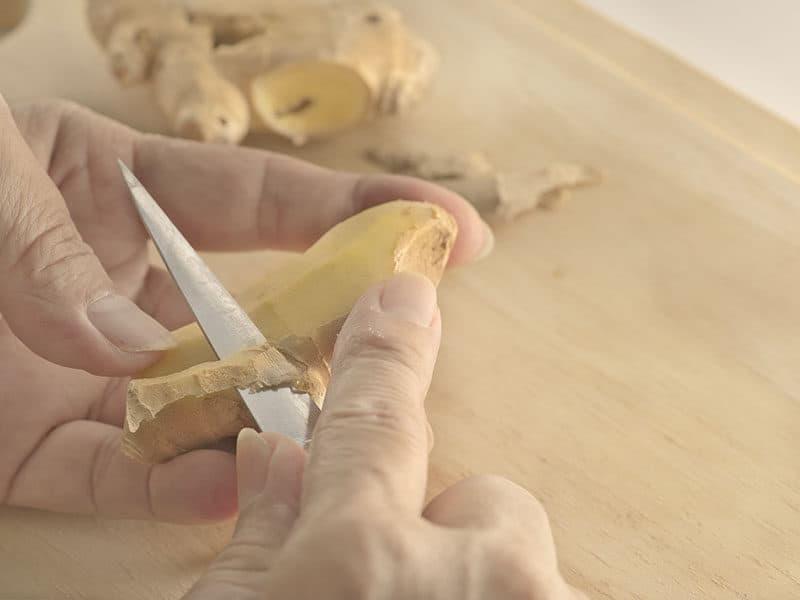 Basic Steps To Mince Ginger Efficiently With Different Tools
It's time to focus on the central part of this post. Here I will show you varied methods that make mincing ginger easier than ever. If you ever need ginger as a substitute for galangal, the following techniques will allow you to effortlessly prepare the ginger.
1. Mince Ginger Manually With a Knife
Using a sharp knife is one of the most effective ways to mince ginger, and there are three ways to carry out this task with this everyday kitchen tool.
Method 1: Cut the Ginger Into Round Pieces
What you need in this case is just the ginger you have peeled, a knife, and a cutting board.
Ginger brings a lot of fibers that run the direction of its lobes and roots. Therefore, you will need to slice the peeled ginger across the fibers' grain into round pieces or coins.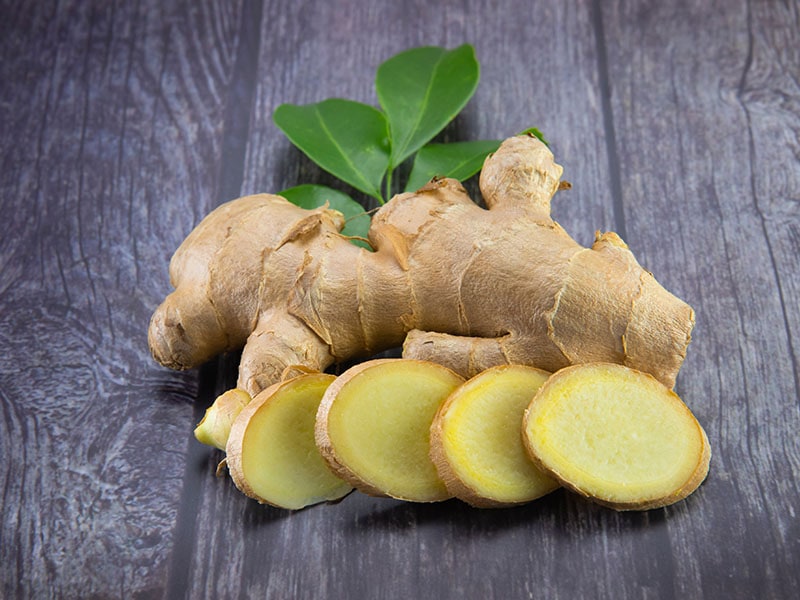 Step 2: Julienne The Ginger
Stack 1,2, or 3 round pieces of ginger that you have just sliced and cut into strips.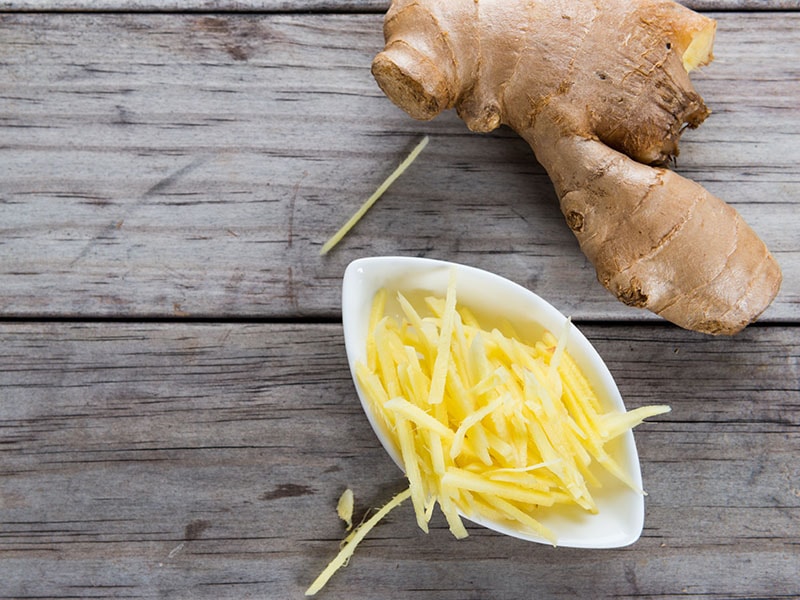 Arrange the strips or matchsticks you have just cut into a straight line and chop them into tiny cubes.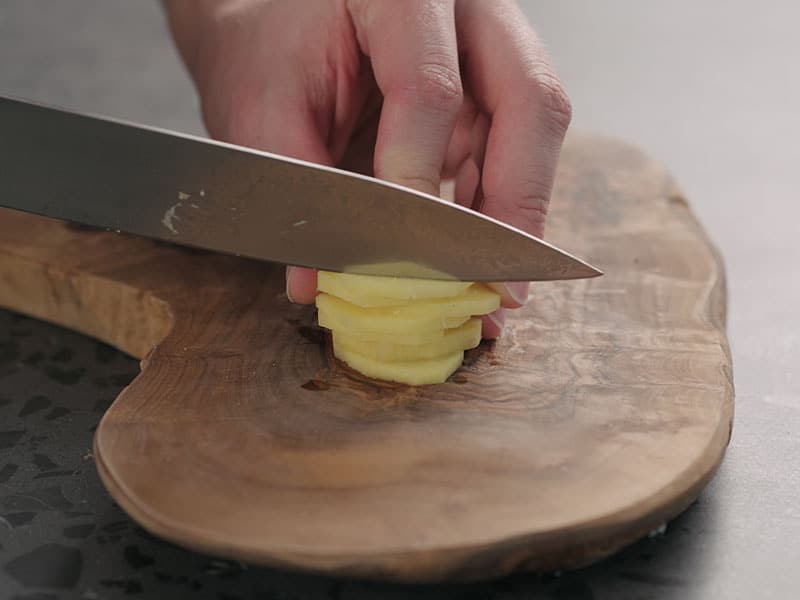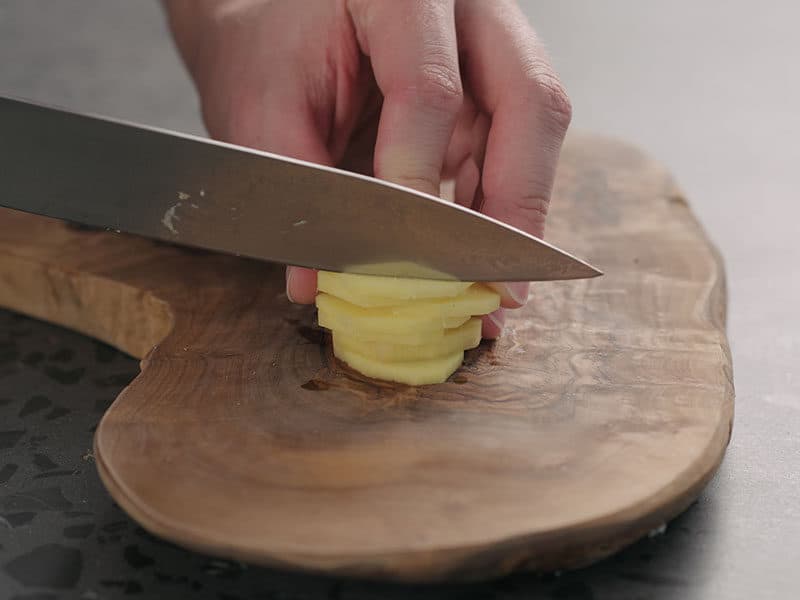 If you need smaller ginger pieces, use the knife to cut the tiny cubes randomly.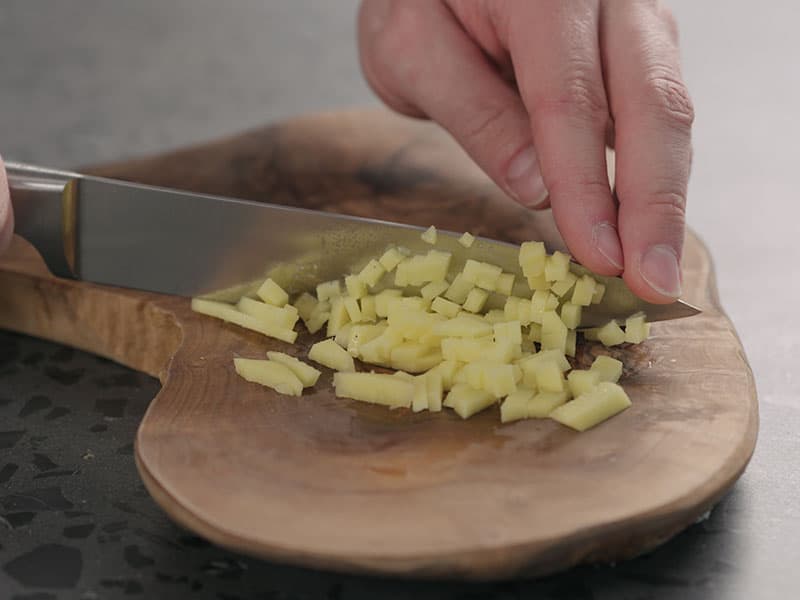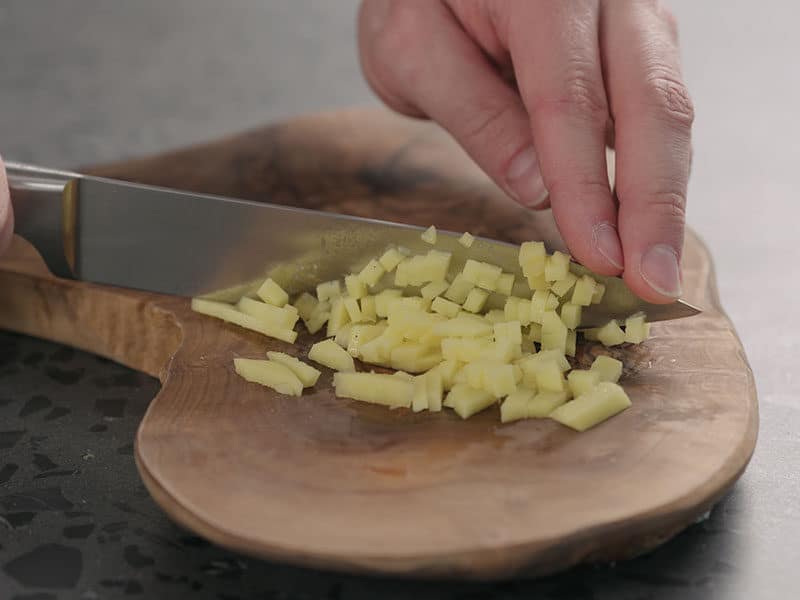 I think the following video will make it easier for you to imagine how to mince ginger with a knife.
Watch this video to know more:
Method 2: Cut the Ginger Into Long Strips Then Mince
If you don't like to cut the ginger into round pieces and you don't mind using larger pieces of ginger in your dish, you can follow this method.
Step 1: Cut the ginger along its length into strips or matchsticks.
Step 2: Cut these sticks into small cubes.
Step 3: To get smaller pieces, move the knife from left to right and vice versa.
Method 3: Press the Ginger Then Mince
To carry out this method, you will need a large and heavy knife like a Chinese cleaver or a large knife with a flat blade. Follow these steps, and you can mince ginger quickly and easily.
Step 1: Make thick coins out of the ginger.
Step 2: Press/ crush the coins with the flat blade of the knife/ cleaver into tiny fragments that can be easily minced.
Step 3: Mince quickly with the knife.
Helpful tips: Use the flat blade to strike the ginger coin with your palm if your knife is not strong or heavy enough.
2. Mince Ginger With A Food Processor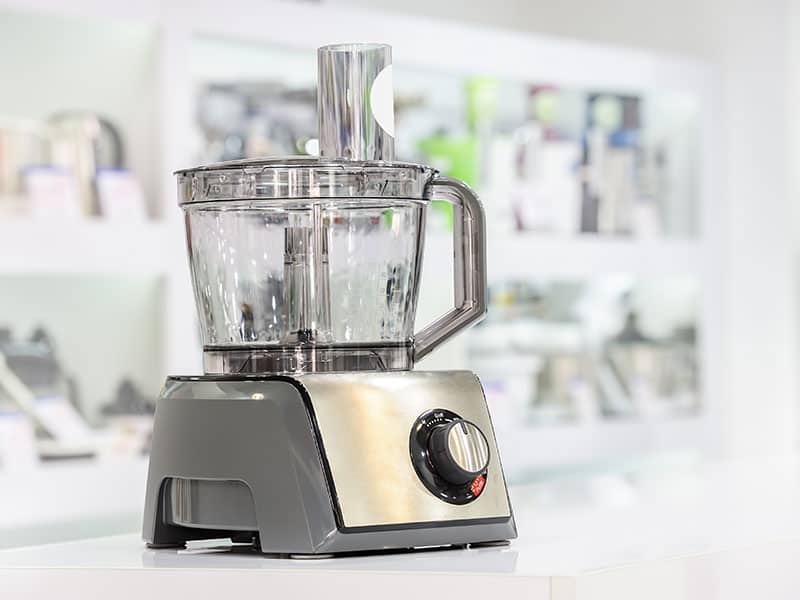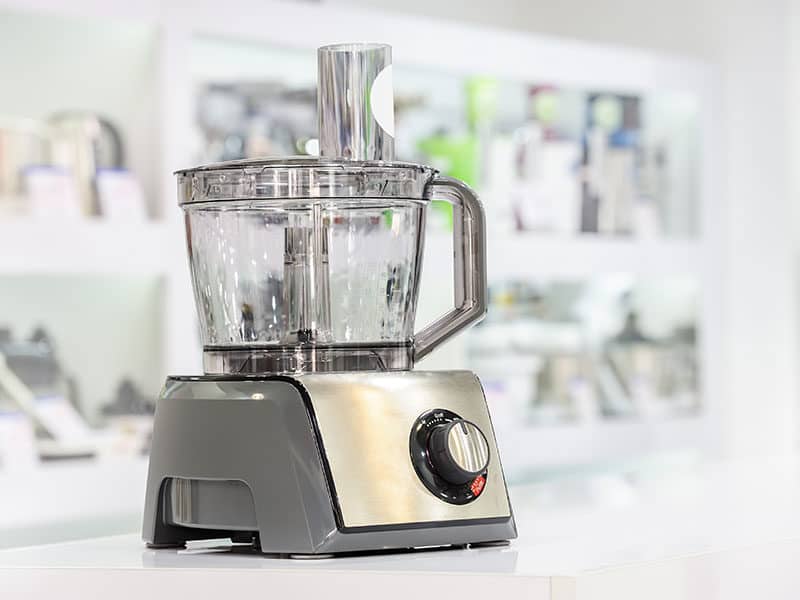 To mince the whole ginger root or a large amount of ginger, using a compact food processor blender combo or an electric spice grinder is the best choice. But it won't work with a small amount of ginger because most of the ginger will be strapped under the processor's blade.
Step 1: Cut the ginger root into small pieces.
Step 2: Place them into the food processor.
Step 3: Turn it on, and you are done.
Helpful tips:
If mincing the whole ginger root leaves you with too much ginger and you do not need to use such a large amount of them for your recipe, you can wrap the ginger in plastic and freeze it for later use.
There will be a lot of ginger stuck under the blade so that you can wipe off your blade and store the hidden ginger.
3. Mince Ginger With A Blender
It is a great choice to use a small, portable blender to mince grinder in case you need an ingredient for dressing, seasoning, or making a spice mix. This method is perfect when you need a liquid ginger base for your recipe since it requires water to prevent the machine from stalling.
Here is the 5-step guide to carrying out this task:
Step 1: Coarsely chop the ginger.
Step 2: Throw the ginger and other liquids into the blender.
Step 3: Make sure the mixture is fully blended.
Step 4: Take the blender off its base.
Step 5: Use a fork to search for large pieces to ensure no chunks.
You will realize how easy it is to mince ginger with a blender after watching the following video.
4. Mince Ginger With A Grater Or Zester
An excellent zester or grater can also work well with this task. Since this method also yields a lot of ginger juice, you will need to do it over something that can catch the liquid, such as a bowl or a plate.
Step 1: After peeling the ginger, scrape it over the grater or zester.
Step 2: Gather the pulp on top of the graters and add it to the pile once in a while.
Although this method may be more time-consuming than the previous methods, you will end up with fine ginger bits.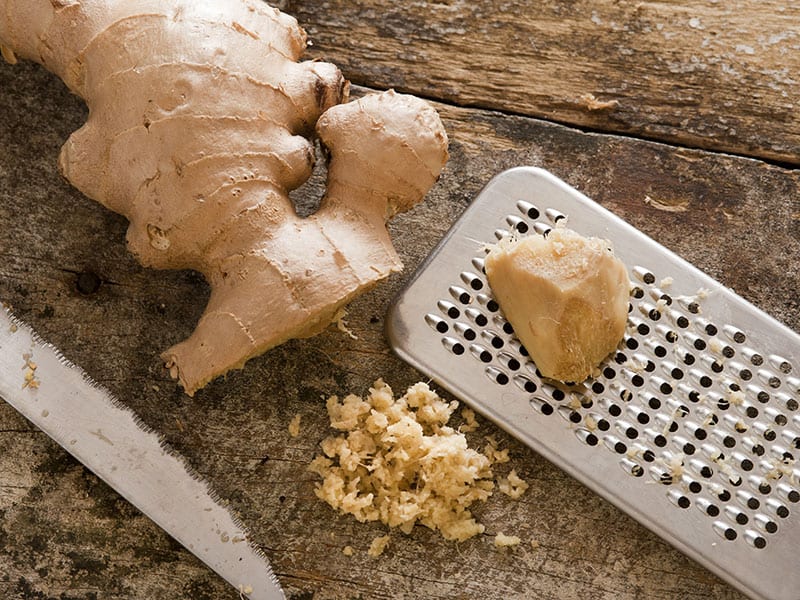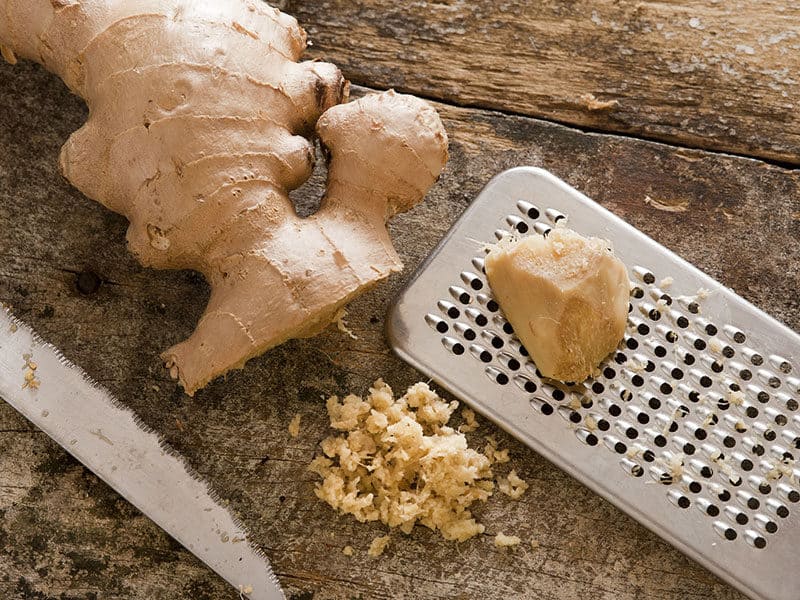 How To Preserve Minced Ginger For The Next Use?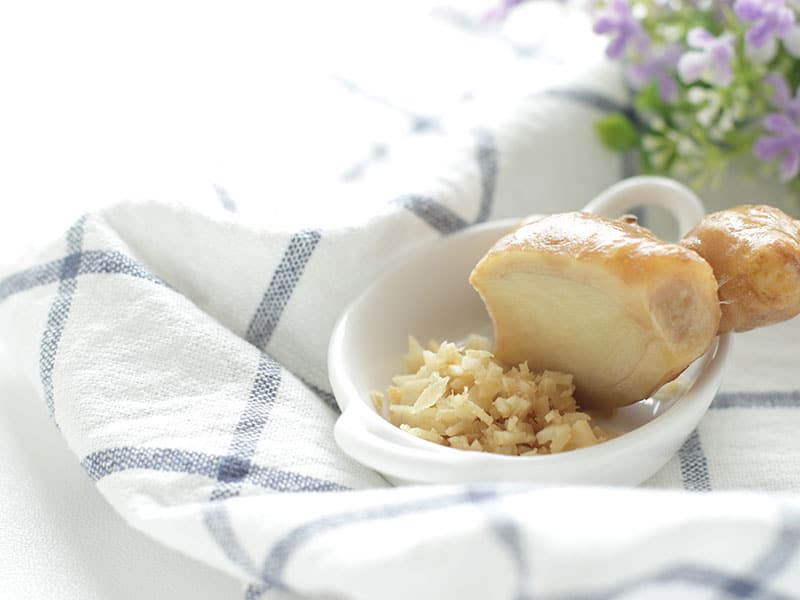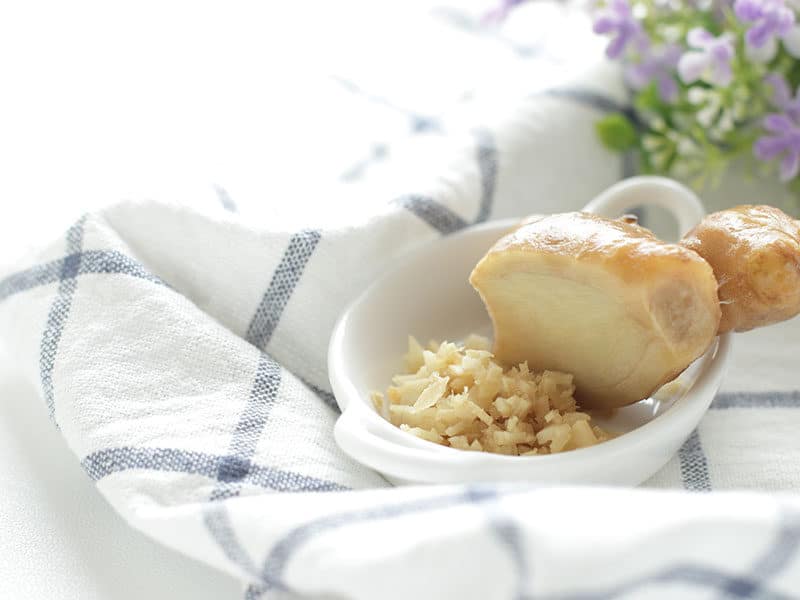 Pre-mincing the ginger and preserving it for later use does not only help keep the fresh ginger longer, but it also helps save a great deal of time. Moreover, it is also extremely simple to add ginger flavor to a sauce, stir fry, or smoothie whenever you want.
Here I will show you how to store the minced ginger for future use:
After mincing the ginger, it should be spread or scooped on a parchment-lined tray (it will be best to portion the minced ginger into teaspoon servings).
Put the tray in the freezer.
When the ginger becomes solid, move these scoops of frozen minced ginger into an air-tight container and continue storing them in the freezer.
By doing this way, you can keep the minced ginger fresh in the freezer for about six months. When you need minced ginger for smoothies or stovetop cooking, you can just use the ginger right into your dish without waiting for it to thaw.
When you need ginger as an ingredient for baked goods or raw dressings, you should wait until the minced ginger thaws. If you freeze the minced ginger in small chunks, it just takes a few minutes.
FAQs
After getting to know how to preserve ginger, I think you will need some commonly asked questions below to make everything clear.
Extra Handy Tips
If you have some leftovers after mincing, keep them in an air-tight glass container and store them in the fridge. On choosing ginger, you should choose the one that's not too crinkly but comes with a lot of big surface area to make cutting easier, and remember to select ginger that is firm and free of blemishes.
Since the ginger root may be pretty tricky to peel and cut, many home cooks are still uncertain about how to mince it. I hope the simple guides, helpful photos, and videos in this post will help you efficiently mince ginger for your recipe or pre-minced ginger to use whenever you need it.
Which method works the best for you? Do you know any other ways to mince ginger? How do you eat minced ginger? Feel free to share your thoughts with me via the comment below, and remember to share this post if you find it helpful!
Nutrition Facts
2 servings per container
---
Amount Per ServingCalories37
% Daily Value *
Total Fat 0.6g

0

%
Sodium 3mg

1

%
Potassium 156mg

5

%
Total Carbohydrate 6.9g

2

%

Dietary Fiber 0.7g

0

%
Sugars 1g

Protein 0.7g

0

%
---
* The % Daily Value tells you how much a nutrient in a serving of food contributes to a daily diet. 2,000 calories a day is used for general nutrition advice.