Are you looking for the best ginger teas on the market? If yes, you've landed the right place because these reviews will give you a closer look at the top-liked tea that you can easily buy at stores or on the internet.
But first, take your time to go through all the top benefits of drinking tea, especially the ginger teas for your endurance and gorgeous body shapes.
Health Benefits Of Ginger Tea
Anything beats cold like a hot cup of ginger tea? This famous variety of tea contains a high amount of vitamin C, magnesium, and other nutrients thanks to ginger root, which has been proven to be incredibly beneficial to your health.
Boosts Immunity
The ginger has volatile oils that have anti-inflammatory effects the same as non-steroidal anti-inflammatory products. An ideal antidote for flu, fever, and even menstrual pain.
People suffering from osteoarthritis have reported that daily ginger teas reduce medicine intake. Ginger also helps improve the digestive system, the first step to stay balanced and in shape.
Relieve Nausea
Having a cup of ginger tea while traveling will avoid nausea and vomiting due to motion sickness. You can also take at the first sign of nausea to alleviate the effects.
Increase Stomach Performance
Useful for increasing food absorption and improving digestion, ginger tea can bloat after consuming too much.
Reduce Inflammation
Ginger contains anti-inflammatory properties, an excellent home remedy for joint and muscle problems. Besides, it can also be used to soak inflamed joints.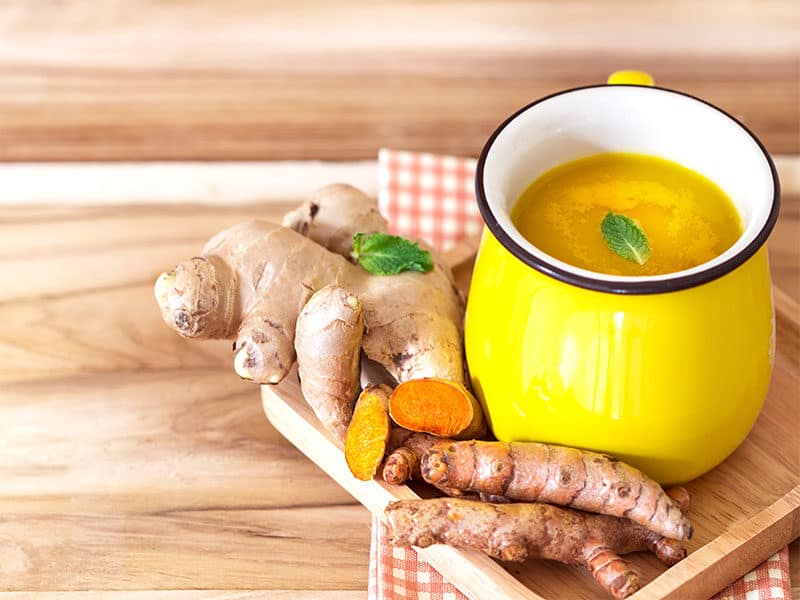 Counter Respiratory Issues
Ginger tea alleviates cough from the common cold. Try a cup of ginger-tea for respiratory symptoms from climate allergies.
Improve Blood Circulation
Minerals, amino acids, and vitamins from the ginger drink may help regenerate and boost blood supply, minimizing the risk of cardiovascular problems. Ginger prevents fat from depositing in the bloodstream, heart attacks, and strokes.
Relieve Menstrual Discomfort
This one is for women having menstrual cramps. Soak a small towel in ginger tea and apply it to the lower belly. It eases the pain and calms the muscles.
Relieve Stress
Ginger tea has relaxing properties that relieve tension and fatigue. It's a great combination of healing properties and intense aroma.
Which Are The Best Ginger Teas To Buy?
The best ginger teas are also used in herbal remedies to soothe sore throats and improve digestion. Experience the strong natural flavor of ginger root with a range of organic and conventional varieties from PRINCE OF PEACE and STASH.
More than that, MIGHTY LEAF and PUKKA HERBS are paying high concentrations on the luxury ginger tea-grades as well as the natural ingredients. A fresh, dried ginger herbal makes a bold and spicy remark!
Ginger Tea Comparison Table 2023
Drinking the best ginger teas has been considered one of the best and most effective solutions for cough and cold suffering. The ginger extracts clear your throat quickly and bring back your original voice again.
Down there, I have gathered all the top choices for you to have a comparison then keep enjoying this new herbal treatment.
My Reviews For The Best Ginger Teas in 2023
Although you certainly shouldn't go extreme, the best ginger tea is a simple, tasty, and all-natural way to encourage good health. Besides the numerous health advantages, you should only sit back with a cozy mug, breathe in, drink gently, and relax.
Below I will never let you down with the personal experiences as well as the reviews in detail. Do a tour; then, let me know which one will be your choice in the next teatime.
1. STASH 100 Bags Lemon Ginger Tea
(Best Overall)
Shop now at Amazon
Shop now at Walmart
Stash believes that tea should do more than just please you, leading you to a flavorful journey. Tea is in their heart, and they work to share that blessing with you in every cup. They're not just tea makers; they're tea people.
Liven up the mood and awaken the taste buds with the calming combination of sunny citrus, tangy, and lingering ginger warmth. Sit back and enjoy the much-needed comfort of this uplifting mix from STASH Lemon Ginger Tea.
Stash tea is your catalyst for strength, energy, comfort, and serenity. To taste the full flavor of this ginger tea, put fresh water to a boil. In a preheated pot or cup, pour hot water directly over the teabag. Brew for 1-3 minutes or to the perfect taste.
One ginger tea bag creates 8 ounces of hot tea. Dual power for brewing the iced teas!
Key Features:
Source only GMO-free ingredients
For delicious taste, tea bags are filled with fresh foil wrappers
The world's most flavorful, fragrant, and potent mint in tea (40 years+)
The rejuvenating tisane mixes earthy, citrusy lemongrass with soothing ginger
Pros
Accessible in flavors and a wide range of caffeine rates
A stay-fresh pocket, caffeine-free without the coffee crash and jitter
Herbal tea taste for gift sets, food service, or convenient personal use
Labeled to US standards; vary from its labeling, ingredients, and allergen warnings
Cons
Commonly apply for a quick drink
Product Specifications:
| | |
| --- | --- |
| Brand | STASH |
| Count Amount | 100 bags |
| Tea Type | Lemon Ginger Tea |
| Flavor | Ginger Lemon |
| Caffeine Content | Caffeine Free |
| Ingredients | Ginger Root, Lemongrass, Lemon Flavor, Safflower, Hibiscus, Citric Acid, Soy, Natural Ginger Flavor |
2. TWININGS 24 Cups Lemon Ginger Tea
(Best Budget)
Shop now at Amazon
Shop now at Keurig
For more than 2500 years, Chinese herbalists have known to use ginger's pungent flavor in tea. Today, Twinings' expert blenders have mixed these two exquisite flavors for a rich and pleasant herbal tea experience.
The zesty lemon citrus flavor has been inspiring the tea experience for centuries. Made without artificial materials, the TWININGS 24 Cups Lemon Ginger Tea gives you a balanced tea experience.
This is an extremely finest herbal tea with ginger blended perfectly with the tangy taste of lemon. It offers you a relaxing tea with a soft, enticing fragrance and a spicy taste of lemon.
A big note, the Twinings set to 10-ounces of brewing make a good glass of iced tea that stays full-flavored even though the ice melts.
Key Features:
Only the most delicate leaves with exacting standards
Provide a fair and balanced food, typical herbal teas
Involves roots, flowers, seeds, leaves, citrus or berry fruit
Common ingredients linden, blackberry leaves, and lemongrass
Pros
From a mixture of herbs and spices
Sourced by Twinings's specialist blenders
The amount of exclusive blends available is unlimited
Reach optimal flavors while brewing by a Keurig Brewer
Cons
The filter inside some pods is easy to tear
Product Specifications:
| | |
| --- | --- |
| Brand | TWININGS |
| Count Amount | 24 cups |
| Tea Type | Lemon Ginger Tea |
| Flavor | Ginger Lemon |
| Caffeine Content | Caffeine Free |
| Ingredients | Ginger Root, Natural Flavors, Linden, Lemon Peel, Blackberry Leaves, Lemon Grass, Citric Acid |
3. PRINCE OF PEACE 30 Bags Honey Ginger Tea
(Best with Honey Crystals)
Shop now at Amazon
Shop now at Walmart
Shop now at Ebay
Prince of Peace® gives you all the natural advantages of ginger and honey in their unique patented instant ginger honey crystal blend. The ginger in the tea is quite spicy but it can soothe your throat.
Every bag contains a concentrated extract of 12 grams of raw ginger, the basis for an appealing smell and a beautifully smooth taste. Instantly soluble, easy, and contains no artificial ingredients. You're going to enjoy the natural sweet and spicy taste!
I love how this PRINCE OF PEACE 30 Bags Honey Ginger Tea calms my stomach throughout stressful times, and I only wish I could find it in a larger quantity.
Key Features:
Not contain any form of caffeine
Its ingredients include honey, cane sugar, and ginger
These ginger crystals are much more than ginger tea
The taste is spicy, with a hint of sugar to clean the palette
Pros
Packets make it easy to take while traveling
Fry up wet coughs and ease asthma symptoms
Perfect half of the mini box recipe and always full of flavor
For people who suffer from persistent asthma symptoms and COPD
Cons
The organic sugar is quite sweeter than others
Product Specifications:
| | |
| --- | --- |
| Brand | PRINCE OF PEACE |
| Count Amount | 30 bags |
| Tea Type | Fresh Ginger Tea |
| Flavor | Honey Crystals Ginger |
| Caffeine Content | Instant |
| Ingredients | Cane Sugar, Honey, Ginger |
4. CELESTIAL SEASONINGS 20 Bags Herbal Ginger Tea
(Best Gluten-Free)
Shop now at Amazon
Shop now at Walmart
Love the CELESTIAL SEASONINGS 20 Bags Herbal Ginger Tea relaxing and uplifting mixture blends ginger, a healthy botanical abundant in its spicy taste. Get to know this product as a digestive aid with a taste of lemongrass and a vivid lemon flavor, lemon verbena, and natural lemon aroma.
Since these ingredients come from all over the world, the ginger tea mills and mix all the botanicals and herbs here in Boulder, Colorado to ensure high quality and freshness
Cultivated in the great Pacific Northwest, the sweet whistling freshness of classic peppermint is addictive. Keep calm and take your tea first!
Key Features:
Simple steep the ginger-tea bag in hot water within 4 to 6 minutes
Handcraft and authorize each batch of tea to ensure the consistency
Any cup of tea is a pledge of dedication to make inspiring and delicious blends
Teas, herbs, and botanicals of the highest quality, buy directly from the farming communities that produce them
Pros
Use pillow tea bags without tags, strings, or staples
From truly delicious herbal teas to comforting health teas
Hold material of 3.5 million pounds out of landfill every year
The 20 bags are wrapped in a tight cover in layers of 2 bags each
Cons
The two bags have partially perforated on one side
Product Specifications:
| | |
| --- | --- |
| Brand | CELESTIAL SEASONINGS |
| Count Amount | 20 bags |
| Tea Type | Fresh Ginger Tea |
| Flavor | Lemon Ginger |
| Caffeine Content | Caffeine And Gluten-Free |
| Ingredients | Ginger, Lemongrass, Lemon Verbena, Natural Lemon & Ginger Flavors, Natural Flavors, Rosehips, Roasted Chicory, Citric Acid |
5. THE REPUBLIC OF TEA 50 Bags Turmeric Ginger Tea
(Best Turmeric Tea)
Shop now at Amazon
Shop now at Republicoftea
Shop now at Walmart
It's time to enjoy this herbal mix of premium green tea and spices with an earthy yet mildly sweet palate. Cinnamon, ginger, and natural honey taste compliment the distinctive turmeric fragrance, mixed with invigorating freshness and body green tea with each drink.
Carefully go through this drinking usage to enjoy the best results ever! Heat fresh, purified water to a rolling boil. You place THE REPUBLIC OF TEA 50 Bags Turmeric Ginger Tea in a regular size tea mug. Add hot water and some orange peel.
Steep the ginger tea for the next 5-7 minutes. After that, take the tea bags and orange peel; add the lemon juice and the agave syrup. Garnish with rounds of citrus. Finally, take a seat, choose a book, and spend valuable time by yourself.
Key Features:
Unbleached tea bags, free from unwanted envelopes, tags, strings, or staples
Flavorings are from essential oils such as vanilla, lemon-fresh fruit, and almond
Each ginger-tea cup contains less than a quarter of caffeine in the same coffee amount
Certified organic USDA, certified gluten-free, sugar-free, carb-free, and Non-GMO project verified
Pros
An increase in alertness, knee pain, and fewer edema symptoms
Packed in a specially crafted air-tight tin, includes 50 signature rounds
A progressive brand devoted to enriching people's lives with the luxury tea
Turmeric has an anti-inflammatory effect; ginger settles the stomach on its own
Cons
The ginger doesn't come through as strongly as fresh-brewed
Product Specifications:
| | |
| --- | --- |
| Brand | THE REPUBLIC OF TEA |
| Count Amount | 50 bags |
| Tea Type | Organic Turmeric Ginger Tea |
| Flavor | Organic Turmeric Ginger, Green Tea |
| Caffeine Content | Natural, Unbleached Bags |
| Ingredients | Turmeric, Green Tea, Ginger, Cinnamon, Natural Honey Flavor |
6. GOLD KILI 20 Sachets Instant Ginger Tea
(Best for Morning Sickness)
Shop now at Amazon
Shop now at Walmart
Shop now at Ebay
But first, let me talk about the ingredients in this GOLD KILI 20 Sachets Instant Ginger Tea. Features in Chinese traditional medicine, ginger has been used to warm the spleen, stomach, and lungs and help facilitate good circulation and digestion.
Honey has been used to reinforce the digestive tract, moisten dryness, alleviate spasm, and remove toxic materials. Ginger drink was prominent for nausea and colds in China. Love it hot or icy, or add some milk.
The pure ginger tastes very much better than the honey since you like the honey, you're better off getting on a spoonful of the real deal.
Key Features:
The anti-viral effects support the immune system; encourage healthy inflammation
Cut down nervousness, relieve tendonitis, and enable sore throats to bounce back
The new, hygienic processing methods are to retain natural flavor, quality & scent
Made of top-quality ginger and honey; provides a soothing and refreshing sensation after drunk
Pros
An intense feeling that is positive for the digestive tract and throat tissues
The active compounds in ginger are oleo-resin and terpenes, called ginger oil
Healthy perspiration, inducing activity that is efficient in removing the toxin system
Reduce the cholesterol levels by lowering absorption in the liver and blood
Cons
No caffeine, but ginger can be a stimulant
Product Specifications:
| | |
| --- | --- |
| Brand | GOLD KILI |
| Count Amount | 40 sachets, pack of 2 bags |
| Tea Type | Fresh Ginger Tea |
| Flavor | Ginger |
| Caffeine Content | Instant, Caffeine Free |
| Ingredients | Premium Grade Ginger (ginger 60%), Honey, Tea, Sugar |
7. PUKKA HERBS 20 Bags Galangal & Turmeric Ginger Tea
(Best Organic/Best Ginger Herbal Tea)
Shop now at Amazon
Shop now at Walmart
Shop now at iHerb
While there are many alternative treatments to help boost digestion, such as lemon water and flat stomach water, the next one to add to the list is PUKKA HERBS 20 Bags Galangal & Turmeric Ginger Tea.
Every Pukka plastic-free teabag is packed in a recyclable envelope to hold the essential oils with the organic herbs. To allow the flavors to disperse entirely, pour hot water directly into the bag. Every herb enjoys the water, so let it steep for the ultimate brew.
Infuse it for up to 15 minutes. Remember to boil only a small amount you need for a Pukka ginger-tea cup to enjoy the full flavor of tea, the high aroma, and bitterness. You can use a fork to rub the teabag against the cup interior regarding the tea's intensity.
Key Features:
Natural, ginger root and slow-dried lemons, mixed with Manuka honey
Ethically sourced and naturally caffeine-free, 100% organically grown supplies
Pukka ginger tea supplements can help minimize blood loss during menstruation
Two chambers per bag, fantastic herbs spill in & unleash the full potency each cup
Pros
Case of three sets, each with 20 tea bags individually packed
60 individually wrapped tea bags that are compost tolerant to wildlife
Alive the amazing herbs by infusing in gently boiled water within 15 minutes
Create a better, prosperous planet by the incredible strength of organic herbs
Cons
Not so much of fresh gingers
Product Specifications:
| | |
| --- | --- |
| Brand | PUKKA HERBS |
| Count Amount | 60 bags, pack of 3 boxes |
| Tea Type | Organic Turmeric Ginger Tea |
| Flavor | Ginger, Organic Herbal |
| Caffeine Content | Naturally caffeine-free, Ethically sourced |
| Ingredients | Ginger Root, Galangal Root, Licorice Root, Turmeric Root, Licorice |
8. BIGELOW 18 Bags Lemon Ginger Tea
(Best for Weight Loss)
Shop now at Amazon
Shop now at Walmart
Shop now at Ebay
I am fond of how BIGELOW uses a unique foil pouch to cover the tea from any air, aroma, or moisture around it. So, open up and enjoy the unparalleled taste, freshness, and fragrance of this BIGELOW 18 Bags Lemon Ginger Tea wherever you go!
You should not miss the Vanilla Chai, English Breakfast, Antioxidant Green Tea types from Bigelow, too. Try decaffeinated organic teas & a selection of herbal tea bags for the morning, midday, and night relaxing. Soon you will get in shape with the supporters, especially this ginger drink!
Be ready to start with fresh, cold water and bring to a simmer. Pour over the bag, steep for 4 minutes or any longer, remove the cup, but please don't squeeze! In case you want a glass of iced tea, steep a little more, then pour it over the ice.
Key Features:
Calorie-free, gluten-free, and Kosher certified
An aromatic, strong lemon ginger tea with sweet, warm spices & lemon peel
Deliver single packaged in foil pouches with a strong taste, aroma, and freshness
Comply with the highest validated levels of social & environmental efficiency, accountability & transparency
Pros
A luxury line of Non-GMO project verified and USDA organic
The same unbending tea is enjoyed on the go
An organic tea that uniquely blends the etoxic and on-trend ingredients
Every soothing tea contains a special blend of flowers, herbs, fruit, and spices
Cons
Prefer a little bit of agave syrup for more tastes
Product Specifications:
| | |
| --- | --- |
| Brand | BIGELOW |
| Count Amount | 54 bags, pack of 3 boxes |
| Tea Type | Lemon Ginger Tea |
| Flavor | Lemon Ginger Herbal, Probiotics |
| Caffeine Content | Caffeine Free |
| Ingredients | Lemon Verbena, Rose Hips, Ginger, Licorice Root, Ganedenbc30™, Lemongrass, Lemon Peel, Cinnamon, Natural Gingersnap & Lemon Flavors, Soy Lecithin |
9. HONSEI 20 Sachets Honey Ginger Tea
(Best for Upset Stomach/Gastritis)
Shop now at Amazon
Shop now at Karmanfoods
I love and swear by the honey and ginger tea from Honsei. That's the perfect amount of ginger, and it's not too sweet. Not only does this ginger drink taste warm, but it is also soothing.
You will like the HONSEI 20 Sachets Honey Ginger Tea when you need a drink to tide you over before you have your next dinner or to drink before bed.
The sachets are upgraded to a little bigger, which makes it great with a giant mug. It's great to get to work, around the house, or on the go.
What a perfect balance between honey and ginger! Try it now!
Key Features:
No sweetness added
Well-made tea, no carbohydrates, no added sugar
All the ingredients are natural: fresh ginger and honey.
Approved by Halal Singapore: HACCP certified food safety
Pros
No caffeine
No artificial colors
No preservatives added
Stay dry well in a cool place.
Cons
Apply some lemon juice to cut down the sweetness.
Product Specifications:
| | |
| --- | --- |
| Brand | HONSEI |
| Count Amount | 40 sachets, pack of 2 boxes |
| Tea Type | Fresh Ginger Tea |
| Flavor | Honey, Ginger |
| Caffeine Content | Caffeine Free |
| Ingredients | Ginger, Honey |
10. MIGHTY LEAF 15 Bags Honey Ginger Tea
(Best Flavor)
Shop now at Amazon
The MIGHTY LEAF 15 Bags Honey Ginger Tea is a mixture of tropical fruits, lemongrass, and mint with a hint of ginseng and ginger. This ginger drink is a treat if you are a lover of ginger!
A lush and mystical infusion, Ginger Twist aims to empower focus, calm and good health. Packed with these silk tea pouches, herbal tea loose, Mighty Leaf takes on the gourmet-tea cups; as a result infusing the senses.
Take your notice on the ginger twist, and there's no caffeine so that you can enjoy this ginger sweet treat late at night. Go once, and you're going to agree with me that everyone should serve their families.
Key Features:
Provide a potent dosage of antioxidants
Herb and the fruity infusion is fully free of caffeine
Brew a calming, lush tea from ginseng and ginger
Go through intensive flavor testing and quality assurance
Pros
Imported from the USA
Packaged in handmade silk pouches
Get a well-rounded, minty cup of tea
All-natural by using whole tea leaves
Cons
Not as nice as new lemon, but it's the next best thing
Product Specifications:
| | |
| --- | --- |
| Brand | MIGHTY LEAF |
| Count Amount | 45 bags, pack of 3 boxes |
| Tea Type | Fresh Ginger Tea |
| Flavor | Ginger |
| Caffeine Content | Ginger Twist, Whole Leaf Pouches |
| Ingredients | Lemongrass, Tropical Fruits, Mint, Ginger, Ginseng, Orange, Mint, Ginger, Apple, Ginseng, Papaya, Citric, Licorice, Natural Flavors |
11. TRADITIONAL MEDICINALS 16 Bags Herbal Ginger Tea
(Best for Digestion and Nausea)
Shop now at Amazon
Shop now at Traditionalmedicinals
Shop now at Walmart
Shop now at Target
Traditional Medicinals tea uses sustainably sourcing their ingredients. The ginger overgrows with humidity and heat, then flourishing in tropical and subtropical climates.
Ginger's spicy, peppery taste has been a worldwide success for decades. The farmer made this TRADITIONAL MEDICINALS 16 Bags Herbal Ginger Tea with high-quality ginger roots or rhizomes to spice your day and soothe your tummy.
The root's bitterness helps activate the taste buds, contributing to digestive juices' processing from bile to saliva. It stimulates the body's detoxification processes and allows the liver to flush toxins.
Key Features:
All ingredients certified organic
Kosher, Caffeine-Free, and Non-GMO verified
Consistent quality plants from ethical trading alliances
The ginger roots sustain the liver and the digestive system
Pros
Great for black tea lovers or coffee lovers
Tastes nutty and strong, diuretic, gentle and natural
Suggest 1-2 cups a day, particularly good before or after meals
Sustainable sourcing experts, meticulous judges with best-standard herbs
Product Specifications:
| | |
| --- | --- |
| Brand | TRADITIONAL MEDICINALS |
| Count Amount | 96 bags, pack of 6 boxes |
| Tea Type | Black Tea |
| Flavor | Ginger Herbal Leaf |
| Caffeine Content | Caffeine Free, Organic, Gluten-Free, Organic Certified, Non-GMO Project Verified |
| Ingredients | High-Quality Ginger Rhizomes (Roots), Wild-collected Herbs, Medicinal-Grade Plants |
12. NIRWANA 20 Sachets Honey Ginger Tea
(Best Ginger Honey Tea)
Shop now at Amazon
Shop now at Nirwanafoods
Shop now at Walmart
Nirwana honey ginger has been consumed every day in many parts of the world. This NIRWANA 20 Sachets Honey Ginger Tea has an antifungal effect.
This drink is a perfect natural treatment to relieve the itching and burning of the athlete's foot. All you have to do is just prepare tea, let it cool off, and soak your foot a couple of times a day for 15 minutes.
More than that, this ginger tea has a lot of health benefits. It is known to avoid colds and treat motion sickness or digestion trouble. Plus, you can also use it as the primary treatment for sore throats and nausea.
Key Features:
Quick to drink and drop in hot water
Perfect amount of ginger with granule packets
Beautiful flavor, delicious, and no sugar is needed
Minimizes signs of allergies, other respiratory disorders
Pros
Suitable to treat stomach pain or digestion problems
Freshen bad breath; relieve sore throat
Low body temp and improves blood circulation
Relieves menstrual pain, flatulence; increases libido
Cons
Granular but not powered instant quickly dissolves
Product Specifications:
| | |
| --- | --- |
| Brand | NIRWANA |
| Count Amount | 20 sachets |
| Tea Type | Fresh Ginger Tea |
| Flavor | Honey Ginger |
| Caffeine Content | Instant |
| Ingredients | Ginger Extract, Honey, Lemon Extract, Sugar |
Common Options Of Ginger Tea
The essential note of best ginger tea is mildly spicy and piquant. The tea has an awakening fragrance that activates the senses. Read on to find out your favorite types of ginger tea.
Fresh Ginger Tea
Now you can buy ginger tea bags from hundreds of brands, including Stash Tea and Traditional Medicinals. The best ginger tea is made from scratch right at home.
Steep the teabag with hot water, add freshly sliced ginger in, and soak for 3 to 4 minutes. Apply a slice of fresh lemon and a little bit of honey to add a soft sound that blends nicely with the fiery ginger.
Lemon Ginger Tea
Lemon ginger tea is a potent, balanced drink that's smooth and tasty. The lemon citrus notes match well to ginger tea's spicy base and give a smooth, brisk finish.
Lemon covers high amounts of vitamin C, which further enhances the immune-boosting effects of ginger tea. The cooling taste of lemon will help you cool down in hotter months, and the ginger adds a fiery kick that makes it more exciting.
Ginger Green Tea
Ginger green tea is made with Japanese or Chinese green tea. Ginger adds a fiery kick to the mellow and vegetable flavors of green tea.
Since this herbal tea contains authentic-tea leaves, it also includes a moderate amount of caffeine. Chinese green teas appear to have a toasty taste as the leaves are roasted during the whole process.
Japanese green teas give a delicately herbaceous and vegetal taste as the leaves are steamed rather than roasted.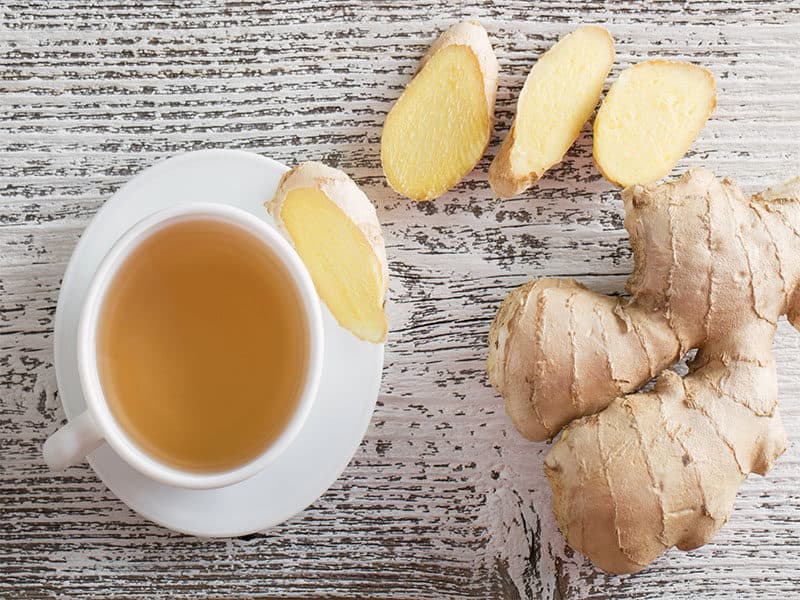 Organic Turmeric Ginger Tea
Turmeric provides a spicy and woody scent that mixes well with the hints of ginger. Touches of citrus and orange enhance the spicy flavor.
The bright yellow spice adds essential health benefits and improves vitality when used in ginger tea. This turmeric ginger caffeine-free tea is ideal for a cold morning.
Ginger Chai, Black Tea
Chai tea makes use of black tea as a basis for spices. The intense flavor of black tea captures the spicy blend and raises the spice level.
The raw ginger root is mixed with black pepper, cinnamon, cardamom, and cloves for a deliciously spiced tea that is never dull.
Chai tea goes with milk or honey. Create a chai tea latte by pouring steamed milk in the tea concentrate.
There are several types of ginger teas available, whether you like them in a teabag, loose-leaf, or combined with other ingredients. I remind you of the taste buds' factors to make the right choice and grade-up right from the standard qualities.
Buying Guide
The best ginger tea is a great wonder agent against colds. Nutrients such as magnesium, vitamin C, and iron combat bacteria and viruses. More than that, you can also find your favorite tastes and the top-pick brands within this section.
Here's what you need to consider in buying the best ginger teas and how to get the best out of the winter preparation:
Popular Ginger Tea Brands
For many tea enthusiasts, a large range of tea on the market can be daunting. I have listed the best tea brands for their freshness and production methods you'd like to try.
The Republic of Tea is classified as gluten-free tea by the Gluten-Free Certification Organization (GFCO). They provide more than 300 luxury teas containing different botanicals that allow the skin to boost and nourish from the inside.
One of the oldest tea makers in the world. Twinings offers a range of ethnic and aromatic teas such as the oil-scented black tea Lady Grey, the smoked Lapsang Souchong, coffee, hot chocolate, and infusions.
Stash tea company claims that tea packaging is made from plastic-free materials. Plus, their tea bags are produced from GMO-free cotton strings and organic, unbleached natural fiber.
Ruth C. Bigelow founded Bigelow Tea in 1945. The company supplies over 50 varieties of tea, including black and green herbal teas, which are all blended in Fairfield.
Flavor Ginger Tea
If simple ginger tea is not interesting enough for you, here are some pairings and preparations to intensify your ginger tea.
Maple Syrup
Maple syrup is the perfect sweetener for a ginger tea with its rich flavor profile. You may use honey or stevia, too.
Mint
Cool the ginger tea to room temperature, add the ice cubes, or put the strained ginger tea in the fridge. Add a few sprigs of mint to your batch when it's cold.
Cinnamon & Apple
Add some thin pieces of apple or a 1-inch cinnamon slice to your tea with fresh or dried ginger for sweetening and accentuating its warming.
Cayenne Pepper
If the ginger spiciness is not enough, apply a generous pinch of cayenne pepper to the brewed tea. This mix is likely to make you wake up!
FAQs
Thanks to the antibacterial agents and numerous antioxidants, the best ginger tea is a great choice to take at night or in the morning. However, there are some things you need to notice about the components and the frequency. Take your time here!
My Top Pick
With its spicy smell, fascinating taste, and fortifying effect, the best ginger tea is one of the healthiest beverages, particularly when you are having flu, cold, or an upset stomach.
To me, STASH 100 Bags Lemon Ginger Tea is the best overall product. This item overwhelmed me by the taste and gave me the most relaxing feeling. On the other hand, TWININGS 24 Cups Lemon Ginger Tea is the second best option as it is very affordable yet its quality is impressive.
Which one is your best ginger tea? Tell me how much you like it in the comments. And please give this post a like or share if you find it helpful. Thanks for your support!