When the outside temperature goes down constantly, what is better than staying at home and enjoying some ginger desserts with beloved family members? The slightly spicy ginger with a scent of warmness will definitely warm up everyone!
Ginger also comes with its pleasant aroma that can match so well with almost sweet desserts ranging from baked cookies to creamy milkshakes. Instead of overpowering your sweet, the ginger flavor complements its sweetness and creaminess.
In this article, I will provide you with 35 dessert recipes calling for forms of ginger, such as fresh, ground, or crystallized ones. Now, let's dive into the beautiful desserts and find your favorites!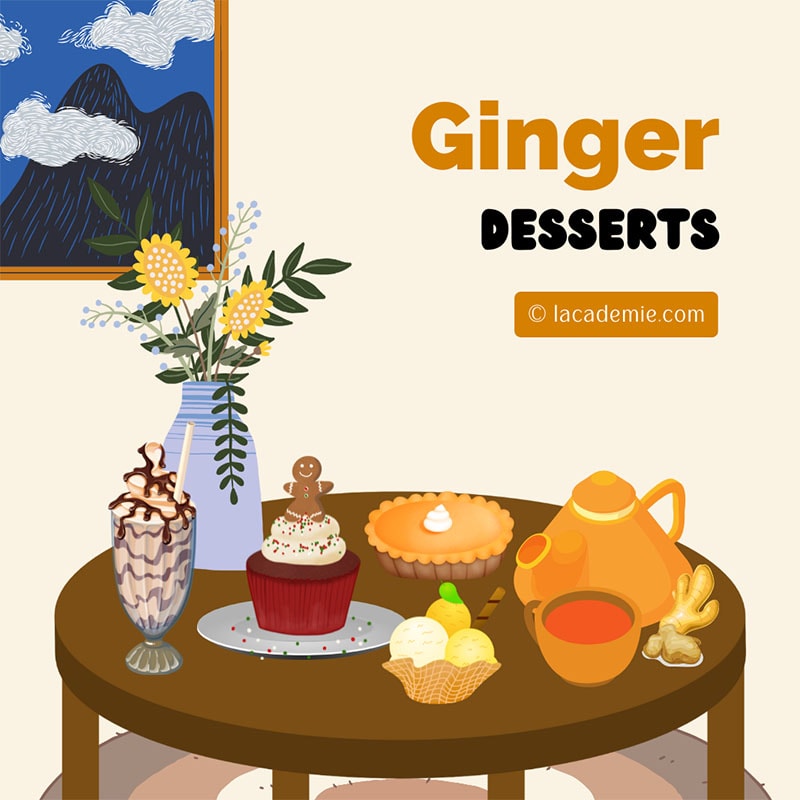 What Are Wonderful Ginger Desserts You Should Try?
If you have some ginger root, powder, or even candies, you can use them to make tons of worthy desserts. As long as you know the correct technique to mince ginger, the luscious desserts below are incredibly easy to replicate at home.
Triple-Ginger Rye Cookies
Gingerbread Men
Gingersnap
Chocolate Ginger Cookies
Ginger Sandwich Cookies
Spiced Gingerbread Cookies
Cakes
Caramel Gingerbread Cake
Jamaican Ginger Cake
Ginger & Apple Kuchen (German Ginger And Apple Cake)
Melt-and-Mix White Chocolate and Ginger Mud Cake
Black Sapote, Molasses, and Ginger Cake
Pies And Tarts
Rhubarb, Ginger And Almond Tart
Gingersnap Pumpkin Pie
Ginger Cream Tart With Mixed Berries
No-Bake Gingerbread Cream Pie
White Chocolate, Lime And Ginger Mousse Tarts
Puddings
Apple And Candied Ginger Self-saucing Pudding
Steamed Pear And Ginger Pudding
Pear, Honey, and Ginger Bread Pudding
Ginger Sticky Toffee Pudding
Ice Creams
Kiwi And Ginger Mess
Gingerbread Chocolate Chip No-Churn Ice Cream
Ginger And Rhubarb Swirl Ice Cream
Ginger Beer, Rum, And Coconut Sorbet
Roasted Plum, Ginger, And Honey Ice Cream
Cobblers
An Easy Plum, Pear, And Ginger Crumble
Apple Crisp With Ginger
Ginger Peach Cobbler
Blueberry Orange Ginger Cobbler
Strawberry Rhubarb Cobbler With Orange and Ginger
Drinks
Gingerbread Caramel Milkshake
Ginger Latte
Gingerbread Eggnog
Ginger Hot Chocolate
Ginger Zinger Green Juice
35 Stunning Ginger Desserts You Should Not Turn Down!
If you lack ginger dessert ideas for the cold weather, just store in your mind the following lovely recipes that you will be sure to love! Serve these with a warm cup of premium ginger tea to combat the cold, and winter days will no longer be daunting.
It's time for you to discover a cookie recipe calling for three forms of ginger. It sounds interesting! This kind of ginger cookie is crispy on the outside but dense and moist from the inside.
Some sprinkles of sugar on its top make it more appealing. Just try the recipe once, and you will repeat it many times in the future!
Gingerbread men cookies are a big hit for all children in the annual Christmas holiday. These foods beginning with "G" have a soft and moist inside texture with crispiness on the outside.
More importantly, people always crave its slightly sweet and aromatic flavor. Such a beautiful and yummy cookie!
If you want the simplest but still addictive ginger biscuit recipe, you should not skip this must-try recipe from Sweden. It comes with a simple appearance, but the flavor is much better than you expect!
When taking a bite of it, you will immediately realize the crispy and chewy texture of the slightly sweet and cinnamon-flavored cookies. Dare I say it's almost reminiscent of gingernut cookie, which is one of the most popular Australian cookies you must try, especially if you love ginger.
This video will show you how to make yummy gingersnaps.
This is a wonderful combination of sweet and spicy ginger with rich chocolate. You just spend about half an hour making each batch of cookies.
And the result will be chewy and moist baked dough. Just wow your whole family with chocolatey ginger cookies!
It's time to upgrade your ginger cookies to a higher level of creaminess and sweetness.
The special note in this recipe is the two discs of ginger cookies will be sandwiched together with fluffy and light marshmallow buttercream.
Try taking the recipe, and you will never go wrong with it!
Cinnamon-flavored gingerbread cookies are never outdated over time. Whenever you crave tender and eye-catching biscuits, you can make them easily at home.
In addition, the sweet glaze on their top makes them more savory.
5 Palatable Ginger Cakes
Ginger cakes are a hot trend of all time, so you save these pocket recipes to wow your family and friends!
Although it comes from the traditional gingerbread cake, this caramel version will surely blow your mind!
It contains layers of gingerbread cakes that are stacked on each other with the filling of caramel buttercream and topped with gingerbread streusel and drippings of homemade caramel.
This cake is perfect for any occasion, so just make it when you want to get your family members mouth-watering with it!
If you want the detailed instruction for making caramel gingerbread cake, watch this video!
Jamaican ginger cake is a perfect dessert for feeding a crowd. The dark, moist, and wonderfully delicious cake will be a big hit for everyone.
In case you prepare a big batch of the ginger cakes but cannot consume it within a day, you can freeze it and just heat it up for the next dessert time.
This ginger-flavored cake is made with ginger, apples, and honey. The moist and sweet apple cake is a year-round dessert. Serving it at tea time or morning coffee is also an ideal option you should try.
To make the cake, you can use either candied or fresh ginger. It is a quite simple recipe, but you will go crazy with the attractive honey glaze and sprinkles of powdered sugar on the cake's top!
In order to get a specific direction in making ginger and apple kuchen, you can watch this video.
This chocolate and ginger mud cake is worthy enough to be added to the list of top desserts to munch on during the winter. It is so easy to make the cake, but the result will go beyond your expectation. The combination of sweetness and a twist of warm ginger is the key point here.
For those who love dark and a little bit bitter chocolate, I have a pleasant ginger dessert for you.
This molasses and ginger cake has a dense but light texture. It comes with a rich and dark chocolate flavor.
In addition, it is also spiced up with a touch of ginger and cinnamon. To balance the bitterness of the cake, a creamy and slightly sweet frosting will be applied around it.
In case you need the step-by-step instruction for making molasses ginger cake, just watch this video!
It's Time for 5 Ginger Pies And Tarts To Shine!
I must say that the following moist, tender pies and tarts will never disappoint your sweet craving!
If you love ginger and almonds, you should not miss this tart recipe. It is the perfect mixture of aromatic and nutty flavors.
This is definitely the match of heaven! The tender pastry will be filled with sweet almond filling and rhubarb jam made with ginger, sugar, and of course, rhubarb.
And then, some sprinkles of roasted almonds will be used to top off the tart.
Why worry if your ginger might get spoiled if you can use all the remaining ones in your pantry for this decadent dessert from pumpkin and ginger? The pie crust will be made with crispy graham crackers, which will match well with the creamy and tasty pureed pumpkin mixture.
It is so simple with only one filling and no topping, but the rich ginger and pumpkin taste will satisfy you a lot!
If you have some kinds of favorite berries on hand, just add them to this creamy ginger tart, and you will have a new favorite dessert. In this recipe, the tart crust will be made with gingersnap cookies.
A slight ginger flavor will be blended well with a creamy and sweet filling. When it comes to serving the dessert, the mixed berries will top off it for an appealing look. You can make the dessert for home parties, and it will be a big hook!
Sometimes, you are thirsty for a rich cream pie, but you are afraid of turning on the oven. I have an instant solution for you. Just check out this no-bake ginger cream pie recipe!
All you need to do is make the pie crust from crushed speculoos cookies and then top them with whipped cream. But wait! How about the filling?
Yup, it is simply a mixture of cream cheese and whipped cream. So, what is better than a slightly sweet, creamy, spiced dessert pie?
The bite-size tart being packed with so many beautiful flavors from ginger to lemon zest will be sure to be loved by the most demanding guests.
The tart pastry will be made with flour, icing sugar, ground ginger, butter, egg yolk, and iced water. It is filled with a creamy and zesty white chocolate mousse.
When you take a big bite of it, everything will melt fast in your mouth except for the pleasant flavor resistance!
4 Addictive Ginger Pudding Recipes
When you want something moister than a tart, you will never go wrong with a pudding recipe!
If you have some apples on hand, just organize some other ingredients to make this appealing apple and ginger pudding.
This dessert contains a filling of caramelized apples, and then the batter made of brown sugar, milk, egg, candied ginger, golden syrup, and butter will be spread over the apples.
In case you run out of apples, you can substitute them with pears. This will bring you a sweet and warm taste for winter days. Just warm up everyone with this recipe!
You can watch this video for a visual direction in making apple and candied ginger self-saucing pudding.
Different from other kinds of pudding that are usually made with an oven, the pear and ginger pudding is cooked thanks to the steam.
In this recipe, pieces of sweet and tender simmered pear will be used to make the filling that is topped with the batter made with butter, sugar, golden syrup, flour, milk, and ginger.
The blending of soft ginger pudding with sweet syrup will make you very satisfied!
Now, we will bring a hint of ginger and honey to our pudding dessert. This recipe does not require any pounds of flour.
Instead, you will make the bread pudding with butter flake rolls with other ingredients like eggs, sugar, salt, honey, nutmeg, ground ginger, whipping cream, and of course, pears.
What is more special than the mixing of sweet honey, warm ginger, and fresh pears in the buttery batter?
In this pudding recipe, dates will be used to create a distinction of the pudding. It will be mixed with ginger flavor and other ingredients to make the wonderfully moist batter.
After baking time, the pudding with some drizzles of toffee sauce will be served warm with whipped cream or vanilla ice cream.
How About 5 Must-try Ginger Ice Creams?
When you are thirsty for creamy and sweet ice cream, you can fulfill it with the mouth-watering recipes, as below:
21. Kiwi And Ginger Mess
Kiwi and ginger seem to be a weird combo, but they actually can match well. The classic version of this recipe calls for berries, while today, let's make this dish with kiwis. It is a super easy but yummy treat for dessert that no one can resist.
The kiwis will be coated with a mixture of lime juice and rind and then topped with meringue and a scoop of ice cream with drizzles of ginger-flavored and citrus syrup. Thanks to a few tips to keep your kiwis fresh, you'll have the best-tasting ice cream ever. Let's enjoy it!
The soft and creamy ice cream has a sweet aroma of warm spices and especially ginger. It is mixed well with chocolate chips and gingerbread crumbs.
When it comes to serving, you can drizzle condensed milk, corn syrup, and molasses on the top of smooth and decadent ice cream.
Instead of using cherries, this recipe requires rhubarb. Aside from the signature flavor of rhubarb, this creamy ice cream boasts a zesty orange flavor and a touch of ginger. No matter who you serve this dessert to, they'll surely go crazy over it.
For a perfect dessert, you can serve the ice cream with some ginger cookies.
Have you ever tried any ice cream made with beer or wine? If not yet, I will introduce to you this special recipe. The mixing of coconut, ginger beer, and rum sorbet will create a refreshing summer dessert.
To make the ice cream, the ginger beer will be mixed with raw sugar, coconut milk, and grated ginger.
After it is frozen in an ice cream maker, the ice cream will churn up the rich and bold dark rum. Serve it with some lime zest topping, and your whole family will say "wow" with this!
25. Roasted Plum, Ginger, And Honey Ice Cream
This recipe will allow you to add the flavor of plums to the purple-colored ice cream that is so extractive with its appearance. This plum-packed dessert is the perfect treat to indulge yourself in when summer comes, as its taste is more than enough to rejuvenate you on hot days.
The plums will be roasted before they are blended with ginger and plum brandy to make the distinctive taste of the ice cream.
The thick and dense dessert with a touch of honey will surely rock your world!
5 Cobbler Recipes Calling For Ginger
If you get amazed at tender and sweet fruit jam in cobbler recipes, you will definitely go crazy with the warm ginger flavor put in the following fruit crisp desserts!
I can say that this is one of the simplest dessert recipes I have known. It contains two layers, including baked fruit and crispy cookie topping.
To make the dessert, half-cut plums and chunks of pears are folded with the mixture of lemon juice and sugar.
Then, the fruit filling will be topped with the crumble made with plain flour, butter, sugar, ground ginger, and cloves.
The pairing of sweet fruit and crunchy crumble will bring you a comforting dessert that can be served with scoops of ice cream.
Now, let's talk about the matching of apples and ginger in this cobbler recipe.
Instead of ground ginger, the freshly grated ginger will be added to the apple mixture to create the wonderfully bright flavor of the baking dessert.
Apple crisp with ginger will be a fun twist of tender apples and crispy topping that everyone will be sure to love!
Just watch this video if you need the step-by-step direction in making apple crisp with ginger.
How about peach, ginger, and a giant scoop of ice cream? Try it once, and you will make it again and again! The peach filling will be topped with an oat mixture.
After being baked, the ginger peach cobbler is better served warm with some ice cream on top.
The special note of this recipe is its fruit filling that is a mixture of blueberry, grated ginger, and orange zest. This creates a strongly flavorful and aromatic jammy dessert.
You will place homemade biscuit dough on the top of bite-size cobblers before they are put in the oven for baking.
The single-serving portion sweet with a scoop of vanilla ice cream on top will be a big hit for everyone!
It's time to upgrade your traditional strawberry rhubarb cobbler to a new level with a hint of orange zest and ginger flavor, which will bring you a scrumptious dessert!
In this recipe, the masa corn flour is used to make the cobbler topping that creates a pleasant sweetness for the dessert. It also goes well with the fruity filling.
4 Homestyle Gingery Drinks Perfect For Your Winter!
No matter they are cold or hot drinks, a touch of ginger will make a big difference!
Glasses of gingerbread milkshake with caramel drippings around will make you mouth-watering! You just need five ingredients for this glorious drink.
They are gingerbread cookies, whole milk, vanilla ice cream, caramel, and whipped cream.
All of them except for caramel and vanilla ice cream will be blended well for a sweet and creamy milkshake. Let's cheer!
A cup of ginger latte will be a delightful treat for cold nights. Although it requires only three main ingredients: almond milk, cane sugar, fresh ginger, you have to spend much time making ginger syrup that is the spirit of the drink.
The wonderful combination of spiced latte and sweet ginger syrup will satisfy you a lot!
Traditionally, eggnog is made with milk, cream, eggs, sugar, fresh nutmeg, and rum. However, you can dismiss the egg content if you love to.
Despite this, the drink still retains its creaminess with meringue garnish. The spiced-up beverage will never get old over time!
If you are a loyal fan of chocolate, you should not skip this drinking recipe. For the perfect treat, you should use fresh ginger.
But if you do not have it on hand, ground ginger can be a credible alternative. It is so simple to make ginger hot chocolate.
You heat up the milk and then add to it cacao powder, ginger, and sweetener. The result will be a rich, warm, and creamy drink.
Do you want to enjoy a healthy and refreshing drink after your meal? If yes, you can try the ginger zinger juice.
Just organize the green ingredients, including spinach, ginger, cucumber, apple, lime, and you will have the desired juice. So simple to make but super bright and healthy!
Warm Up Your Soul With Ginger Desserts!
I believe that everyone has different thoughts and feelings about dessert time. With mothers, preparing some sweet dessert for their husband and children to enjoy is a great pleasure.
Talking about children, it would be a valuable moment when they can sit near their parents, eat sweets while sharing daily life happiness and sadness with them.
For me, the warm and a little bit spicy flavor of ginger reminds me of favorite desserts that my beloved grandma usually prepared to serve the whole family on cold nights. This will be a remarkable memory that I can never forget!
Nutrition Facts
24 servings per container
---
Amount Per ServingCalories159
% Daily Value *
Total Fat 6.2g

10

%
Cholesterol 23mg

8

%
Sodium 152mg

7

%
Potassium 182mg

6

%
Total Carbohydrate 24.5g

8

%

Dietary Fiber 0.6g

0

%
Sugars 10.2g

Protein 2g

4

%
---
Calcium

34

%
Iron

1

%
Vitamin D

5

%
* The % Daily Value tells you how much a nutrient in a serving of food contributes to a daily diet. 2,000 calories a day is used for general nutrition advice.