I often wondered "What does rhubarb taste like and how is it consumed". And I believe many of you have the same concern as mine. So after tasting and analyzing its flavor, I will explain everything you need to know about rhubarb including its taste and consumption.
Rhubarb – food with the letter R at the beginning, is a healthy vegetable. The perfect time to enjoy this colorful veggie is spring since it's the season of rhubarb. Most people dislike raw rhubarb. It has a very tart taste that some individuals can't handle and find unpleasant.
This is why rhubarb is almost always consumed cooked with sugar to overpower the sour taste. I like this fruit because it's beneficial in many ways. That said, let's learn more about this superfood.
What Is Rhubarb?
Rhubarb is a precocious and prolific springtime vegetable that appears like stalks of pinkish green or magenta celery.
It has a very tart taste, making it a perfect companion for sugar in sweet dishes. That's why the combination of rhubarb with other ingredients in tasty ginger sweet courses is amazing. So if possible, try to make them in your leisure time.
You can use rhubarb in pies, compotes, and crisps. It also offers a puckery-tart fruitiness to savory foods and goes very well with poultry and pork. In the USA, this fruit grows best in northern states from Maine south to Illinois and west to Washington state. Worldwide, it's grown across Europe and China.
This plant is a member of the Rheum genus of plants. It's a perennial hardy veggie, so it's used more like a fruit. It's a well-known addition to backyard gardens since it's easy to grow and even get rid of.
Rhubarb needs cold weather to thrive and grows colored stalks ranging from red to pink to pale green in the spring. The stalks of this plant are the only edible part. The triangular and larger leaves aren't edible because they're poisonous with a higher concentration of oxalic acid crystals, so keep that in mind.
Other foods like cauliflower, broccoli, and spinach also contain oxalic acid but not in such high amounts. It's also believed that the leaves can have a more potent unidentified toxin that can be lethal if you take too much. However, smaller amounts can cause vomiting and nausea. To be safe, avoid the leaves.
Also, keep the leaves out of reach for pets and kids. Once you remove the leaves, cut the rhubarb with the choicest vegetable chopper according to your needs. The price of this fruit often depends on availability.
6 Common Types Of Rhubarb
Not all rhubarbs are created equally. Yes, they all belong to the same tarty section. However, they're not all the same. Let's take a closer look at some of the most common types of rhubarb out there.
Colorado Red
This is a celery-like type of rhubarb that's red both inside and out. It's a very interesting type that's used for jams and jellies.
Cherry Red
Cherry red rhubarb is a thick and tall plant that provides a tender, sweet taste. It's perfect for those who dislike the sour taste of this plant.
Holstein Bloodred
The Holstein bloodred fruit is a very vigorous fruit with deep red and juicy stalks.
McDonald's Canadian Red
The McDonald's Canadian red is a very dark red type of rhubarb. It's people's favorite variety for pies or freezing.
German Wine
The German wine is easily recognizable. It has green stems covered with pink speckles. I like this variety because it's super sweet. It's one of the sweetest rhubarbs available on the market.
Turkish
Mostly, Turkish rhubarb is green both inside and out. Therefore, it's the perfect companion for Colorado red.
Watch this video to know more:
What Does Rhubarb Taste Like?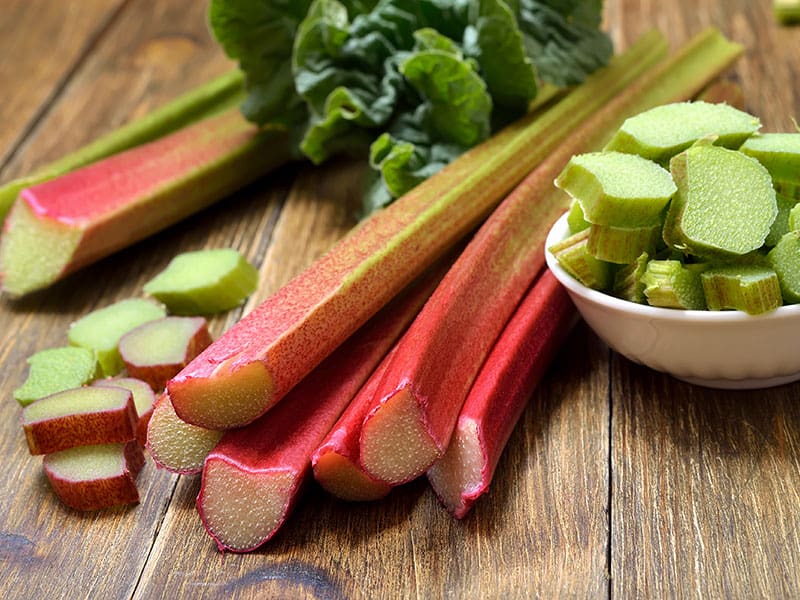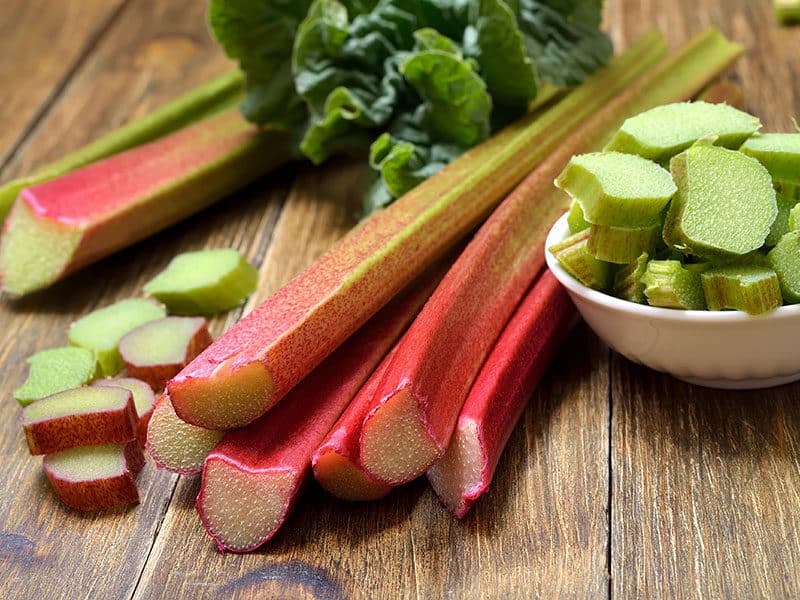 Rhubarb looks like a greenish-red or purple-red variation of celery. It's a perennial plant originating from Asia. This fruit is usually utilized for medicinal purposes.
It features wide leaves with fleshy and dense stalks and has a very interesting history. Unfortunately, the leaves of this plant aren't edible because they're poisonous.
Also, people had a hard time deciding if this plant is a fruit or veggie. In 1947, rhubarb was reclassified as a fruit because it was commonly being utilized in different recipes as a fruit.
Additionally, back in 1947, fruits were cheaper to import, so it allowed businesses to pay less tax when importing rhubarb. From a botanical aspect, rhubarb is a veggie. However, you should treat the stalks as fruit. Further, you will come across maincrop and forced rhubarb on the market.
Forced rhubarb features pinkish and long stalks with lime green or honeydew-yellow leaves. It's believed to have the best flavor. Maincrop rhubarb, on the other hand, has a deep red color. It's also thicker with bright-green leaves, pinkish-green or green stalks, and stronger taste and texture.
It's important to remember that you shouldn't associate the color of rhubarb with the taste. Some stalks look different but have the same flavor. Size is a better indicator of potential sweetness.
Meaning, the larger and more mature the stalks, the better the taste. Unlike beetroot, peas, and carrots, rhubarb is relatively low in sugar content. Raw rhubarb stalks have a juicy and crunchy texture.
It's often described as sour. And if you're like most individuals, you won't like eating raw rhubarb stalks. If you utilize them in a meal, you will most likely want to add strawberries, apples, sugar, or some other sweetener to make it more palatable. I like pairing rhubarb with asparagus for roasted delicacy.
Although rhubarb has a sour and tart flavor, it's quite popular in sweet treats, for example, palatable desserts with custard. It's also commonly utilized for stews, roasted snacks, jams, purees, sauces, salsas, relish, etc.
How Would You Describe The Taste Of Rhubarb?
Rhubarb is known for having a distinctive taste. You can describe the taste of this fruit in different ways. Usually, it's described as sour. However, it's nothing like the taste of citrus fruits.
The sour quality of this product can be almost bitter, depending on the type of rhubarb. The unique sour taste of this ingredient goes well with sugar in different dishes and baked goods.
How Do You Eat Rhubarb?
Regardless of the tart, sour taste, rhubarb is one of the most popular products utilized in sweetened pies and compotes. However, it's also popularly utilized for the following purposes.
Compotes
Salsas
Stews
Relish
Sauces
Salads
Consuming with dips
Jams
Purees
Roasted snacks
Juice
As you can notice, rhubarb can be used for different meals and snacks. I usually use it in the preparation of compotes paired with different fruits such as strawberries and apples.
You can also add maple syrup, honey, or sugar for a sweeter taste. I use it in different salads paired with other fresh produce in season. Just chop it into small pieces and you're good to go.
Puree made of strawberries and rhubarb is something you shouldn't miss. Mixed with a freshly-brewed cup of coffee and pancakes, you surely have a delicious breakfast that will wake you up.
If you're into sweet and tasty desserts, there are many lovely recipes that include rhubarb. My favorite is a traditional Norwegian dessert made from rhubarb and almonds called Rabarbrakake.
You can also use your ideal small-sized juice maker to create a refreshing drink with rhubarb. ​It's a fruit with health benefits that I will talk about later in this article, so make sure you stick till the end to inform yourself.
Last but not least, don't forget that only the stalks and leaf ribs are edible. Dispose of the leaves as they have higher levels of oxalic acid crystals that are toxic to humans and animals.
Can You Eat Rhubarb Raw?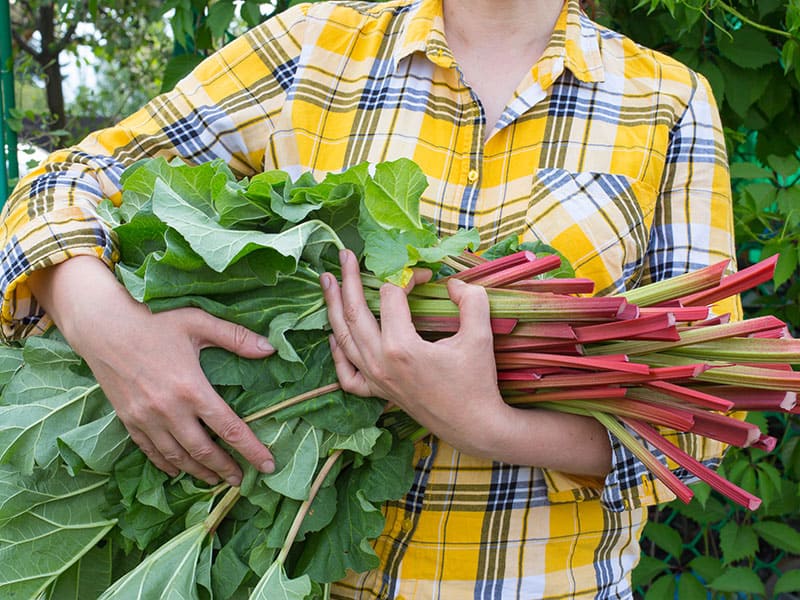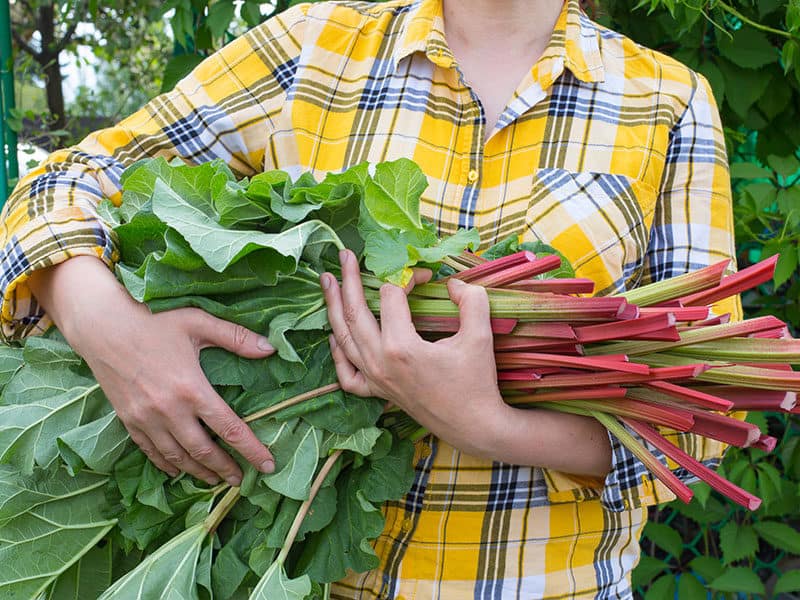 You can consume rhubarb stalks raw. Therefore, before you bake or cook with it, you should consume it raw. However, remove the leaves and dispose of them properly since they're poisonous.
Rhubarb is a leafy vegetable that's also considered a fruit. It's quite lovely when consumed raw. But not everyone enjoys the sour taste of this plant. Luckily, it can be overpowered by other ingredients.
Just break off a stalk, rinse properly, and peel off the stringy and tough outer fibers. Add a sweetener to the tender flesh for a better flavor. Some people dip their stalks in maple syrup, honey, and sugar.
Any type of sweetener will reduce the sourness of this veggie. Others prefer adding salt instead of sugar. You can also slice or dice peel stalks thinly. Sprinkle the pieces in your yogurt or cereal and enjoy.
As you can see, you can consume rhubarb stalks raw in different manners. Get creative in the kitchen so you can find what works best for you and your loved ones. I forgot to mention rhubarb smoothies.
They're a delicious and healthy snack. Just blend some rhubarb stalks, mangoes, coconuts, strawberries, and ginger, and enjoy a refreshing beverage. Experiment with almond milk, orange juice, etc.
Watch this video to know more:
When Should You NOT Eat Rhubarb?
Rhubarb stalks aren't poisonous as the leaves of the plant. Thus, you can harvest and consume them in spring and early summer. They can be consumed all summer long. However, in late summer, they don't taste as good. Also, they become woody, so they're best if eaten in spring and early summer.
Is Rhubarb Similar To Celery?
The stalks of rhubarb resemble celery. They're the edible part of the plant. However, rhubarb and celery aren't related. Rhubarb is a part of the buckwheat family. Celery belongs to the Parship family.
How To Store Rhubarb?
Keep trimmed stalks in loose plastic in the drawer of your refrigerator. Consume the stalks within seven days. Most cooks prefer to wash it before using it.
However, if you wash it before storing it, make sure it's dried completely. You can also freeze the stalks. Cut them into one-inch chunks and store them in a great freezable food container. Frozen rhubarb stalks will remain good for up to 1 year at 0 F.
How To Tell if Rhubarb Is Ripe?
Telling if rhubarb is ripe is very easy. You can notice if it's ripe or not as soon as you walk towards it. The ripeness isn't dependent on the color of the stalks only.
Ripe rhubarbs don't have to be red. Instead, consider the height and age of the stalks to determine their ripeness. They're meant to be left alone until the 2nd or 3rd year.
As long as your plant doesn't appear healthy, don't harvest it. Also, if it's not providing a lot of stalks, it's best to wait until the third year. The height of the stalks is also very important.
Generally, stalks grow up to 10 inches long but you can harvest it when it's about 9.8 inches. Your plants must have enough height to survive the year's harvest for the next year as well.
Harvesting rhubarb before it's completely ripe can destroy the plant. A ripe one can be harvested during spring. However, there's also a period to stop harvest for the season.
Typically, cultivators harvest till fall. You should inspect any plant before you harvest it. However, some plants might not be able to endure a long period of harvest yet.
Plants of this type need to store energy for winter. Some need slower harvesting while others need total stoppage once it's July. Therefore, it depends on the plant.
5 Health Benefits Of Rhubarb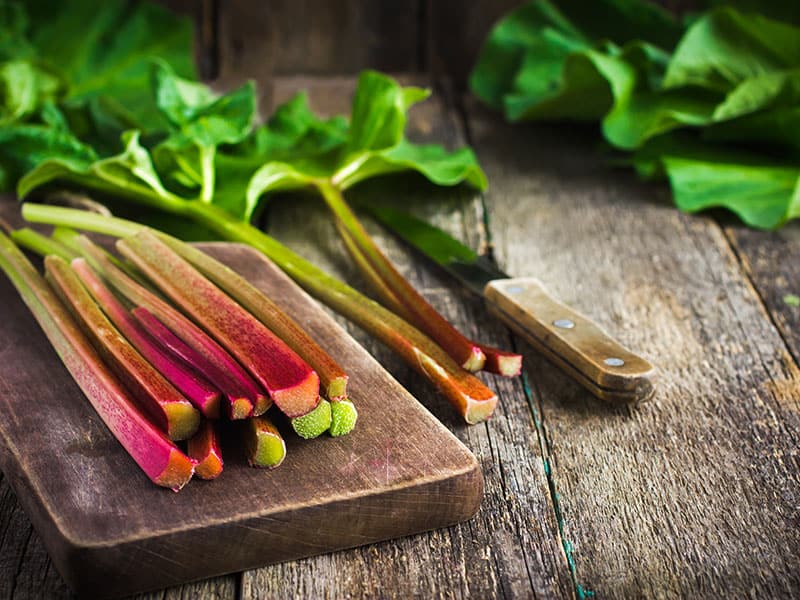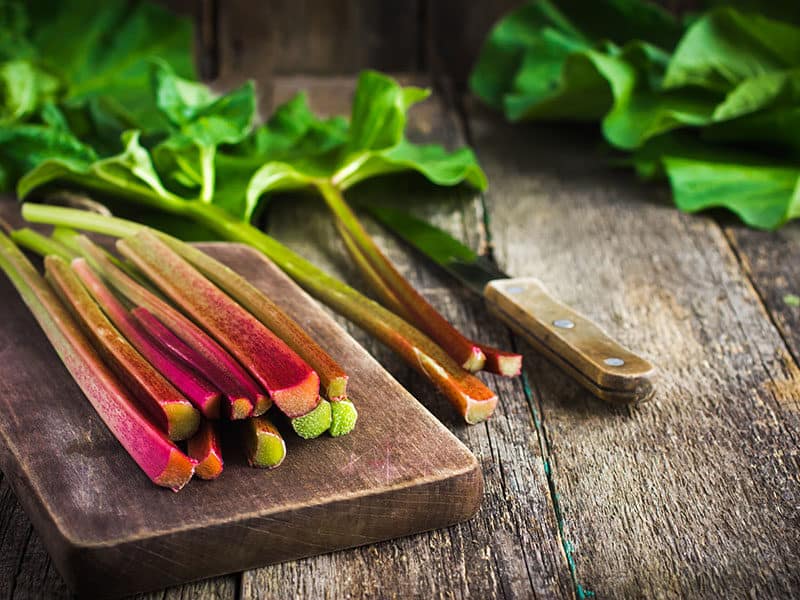 Since rhubarb is rich in different vitamins and minerals such as vitamin C, vitamin B-complex, potassium, calcium, and lutein, it can be a great addition to a healthy diet.
Thanks to the numerous health benefits, this fruit or vegetable also has a history of being used to boost stomach, liver, spleen, and intestinal health, along with other body parts.
It's been a part of Traditional Chinese Medicine for a very long time. That being said, let's take a look at some of the other benefits of this unique yet partially toxic plant.
1. Boosts Immunity
As you probably know, vitamin C is the ultimate antioxidant that plays a main part in lifting your immune system along with white blood cell activity. Rhubarb is rich in vitamin C, so consuming it is a great way to boost your immune system.
2. Improves Digestive Health
You probably know about the many health benefits of fiber for your digestive health. The rhubarb stalks contain a lot of fiber, so they can keep constipation at bay and improve your digestive health.
3. Strengthens Bones
Rhubarb is also rich in vitamin K. Therefore, each serving delivers about 45% of your daily needs. Vitamin K along with calcium and magnesium plays a key part in promoting healthy bone growth. Rhubarb stalks will strengthen your bones and prevent fragile bone ailments such as osteoporosis.
4. Helps Weight Loss
If you want to lose some weight before going to the beach, then rhubarb can help. Each serving of 100 grams has 21 calories only, making it a low-calorie and healthy addition to your diet.
5. Stabilizes Blood Sugar Levels
If you're suffering from uncontrollable fluctuations in your blood sugar, include rhubarb stalks into your daily diet. It has been proven to regulate the passive absorption of sugar into the bloodstream, thanks to the high fiber content.
Who's Up For A Refreshing Rhubarb Smoothie?
Now that you know what does rhubarb taste like, get creative in the kitchen and prepare yourself a meal that includes this beneficial plant. However, don't forget to dispose of the leaves.
As I already stated, they're poisonous. I forgot to mention that 90% of this plant is water. However, does that make it flavorless? On the contrary, rhubarb has a very unique and distinctive taste.
It tastes like sour green apples or cranberries. Typically, the sourness of the stalks depends on the plant. What's your opinion on rhubarb? Do you have some recipes that you would like to share?
Drop a comment and let's have a chat about rhubarb. Let's exchange some tips and recipes. If you found this article helpful, don't forget to share it with your social media friends and family.