Can you freeze sauerkraut? If yes, then how can you freeze them properly? Trust me, after reading this post, you will gain a lot of useful information, not just about freezing sauerkraut but also about sauerkraut in general.
You will find step-by-step instructions and several helpful hints on freezing sauerkraut as well. Therefore, do not miss it if you want to broaden your horizons about food, particularly when it comes to sauerkraut.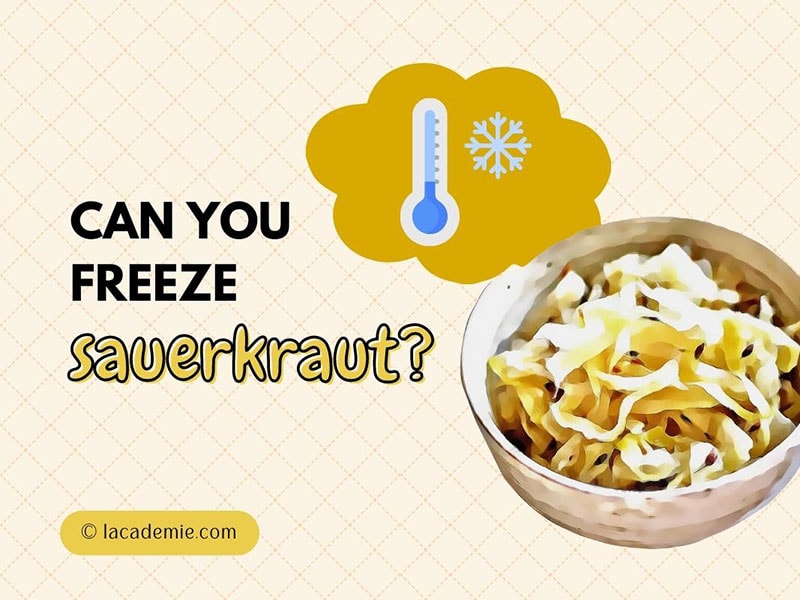 Freezing Sauerkraut? Can You Do That?
Short answer: yes. When you buy too much sauerkraut and cannot eat it all right at once, you may put it in the freezer to preserve it for longer shelf life.
However, the dos and don'ts of frozen sauerkraut will be explored in length in the following sections. So do not skip it.
But First, What Is Sauerkraut?
Sauerkraut might be well-known in Western nations, especially when it comes to famous dishes in German cuisine, yet certain Asian places might be unaware of it or they might have similar versions with different names. Let's begin by delving into the definition of sauerkraut first.
8 Exciting Facts About Sauerkraut
Sauerkraut is a fermented cabbage that has been chopped and fermented to extend the standard shelf-life of cabbage. Sauerkraut includes a lot of lactic acid bacteria during the fermentation process. Because of the influence of bacteria, this food has a long shelf life.
Sauerkraut literally means sour cabbage in German as 'sauer' is sour and 'kraut' is cabbage.
No, they are not from Germany. Unpredictably, China is where they were invented 2,000 years ago.
Back in that time, Chinese slaves who built the Great Wall of China had consumed cabbage preserved with rice wine as a source of food.
British explorer, Captain James Cook, used sauerkraut to avoid scurvy on his lengthy sea journeys.
Today, in America, 387 million pounds of sauerkraut have been consumed annually (1).
There are various varieties of sauerkraut in the world. In Eastern Europe, they combine cabbage with carrot to make sauerkraut.
The common heirloom cabbage varieties like Late Flat Dutch, Brunswick, Glory of Enkhuizen, and Golden Acre are the best cabbage to make sauerkraut.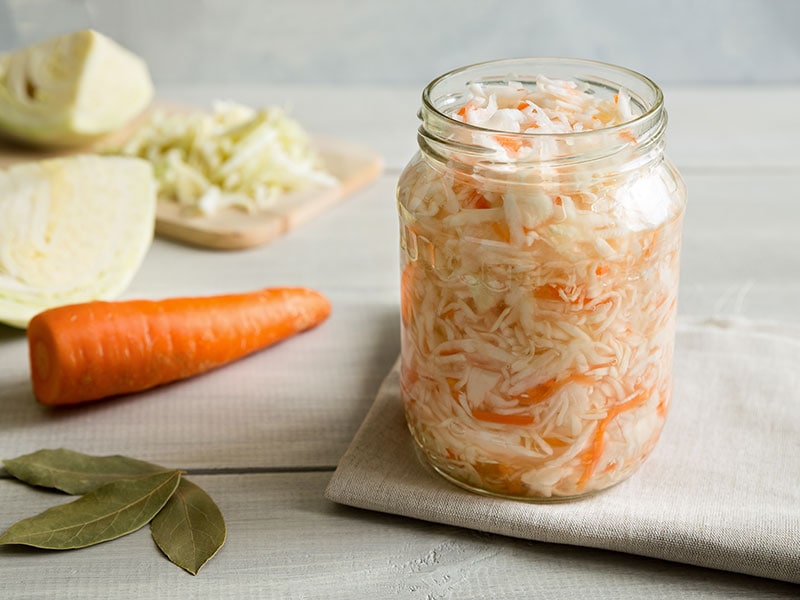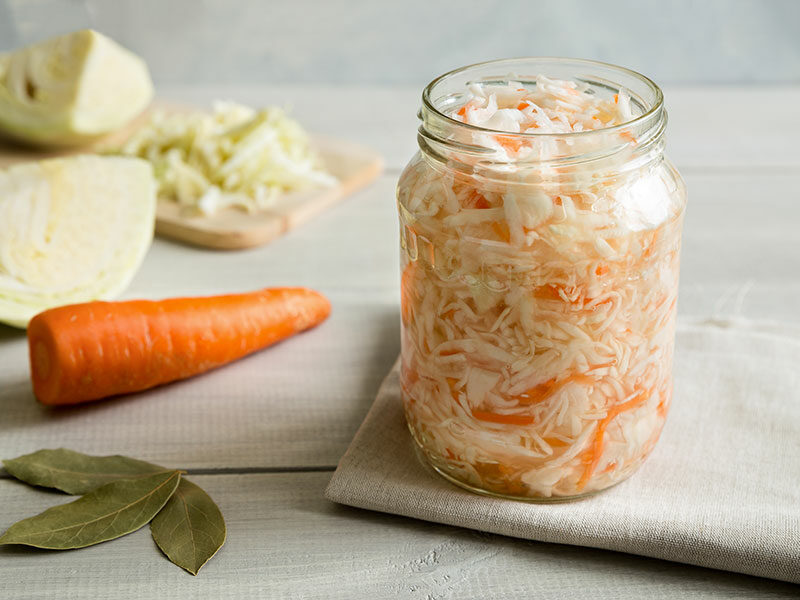 Health Benefits Of Sauerkraut
Sauerkraut is rich in vitamin A, B, C, K, dietary fiber, minerals, lactic acid and has only a few calories (approximately 80 kJ/100g) that have multiple benefits for your health (2). They are especially a perfect source for probiotics. Therefore, high-quality sauerkraut can support you to have:
A happy gut: By consuming sauerkraut, they provide your body with a large number of probiotics, keeping you away from bowel problems like ulcerative colitis.
A stronger immune system: With probiotics and other vitamins, sauerkraut helps you enhance your immune functions, reducing the risks of getting a normal cold, flu, or infection.
A fit body: Sauerkraut is ideal for your diet plan because it is low in calories. They are also high in dietary fiber and probiotics, so they will keep you in shape and help you lose weight.
A better brain function: Probiotics in sauerkraut can improve your memory and decrease the chances of depression and anxiety. Plus, by eating them, your gut will absorb the food, then create mood-regulating minerals, which makes your brain healthier.
A good heart: Vitamin K, fiber, and probiotics found in sauerkraut reduce the bad cholesterol, offer you a healthier heart.
Therefore, sauerkraut is a fantastic health food. It is critical to maintain all of the nutrients by using suitable storage methods. In this post, I will focus on frozen sauerkraut. So the bottom line is, can I freeze sauerkraut?
A full and detailed explanation about the health benefits of eating sauerkraut. You can see this video to know more:
Can You Freeze Sauerkraut? And Why?
Of course, yes, you can freeze sauerkraut. So if you accidentally bought or made a lot of sauerkraut and are confused about how to store them safely as you are not a food waster, freezing is a good option for your problem-solving.
Like many other foods, freezing sauerkraut's purpose is to preserve and extend their shelf life as the 0 degrees F in the freezer will prevent the development of bad bacteria. To be sure of the quality of frozen sauerkraut, keep reading for tips to freeze them effectively.
How To Freeze Sauerkraut Easily And Effectively With 3 Steps?
The important part of freezing sauerkraut is ensuring your sauerkraut is still fresh when it comes to freezing. Homemade or store-bought both need the same freezing technique to freeze them, and obviously, you should freeze them as soon as possible if you cannot consume them shortly.
All you need to prepare is freezer bags or airtight bags, a tablespoon, and, obviously, a freezer.
Here are 3 easy steps for you to freeze them properly and effectively in the freezer as:
Step 1: Freezer Bag Preparation
First, you should understand that putting jarred sauerkraut directly in the freeze is not the ideal option for an effective freezing method. Instead, using freeze bags is the optimal choice for you.
So prepare a sufficient amount of freezer bags for your sauerkraut. The advantage of freezer bags is they will not take too much space in your freeze yet ensure the quality of frozen sauerkraut.
Step 2: Place Fermented Cabbage Into Freezer Bags
Now, you just put them into these airtight bags. Open the top of the bags and use a tablespoon to scoop the sauerkraut in it, or you can pour it from canned/jarred sauerkraut into freezer bags. Do not fill the full bags. Because the water in sauerkraut will expand when they are frozen, you should leave 1 to 2 inches of space on top.
Step 3: Tightly Seal The Bags And Put Them In The Freezer
Now you can finish your freezing fermented cabbage storage by carefully sealing bags and place them in the freezer. Make sure that you can squeeze as much air in the bag out as possible.
Excess air will increase the possibility of frost appearance within the bags, resulting in decreasing the quality and shelf life of your sauerkraut.
Make sure your freezer also works smoothly without any electricity trouble during the freezing process. Also, remember to put the label of storage date to be sure that you will not leave them there for too long.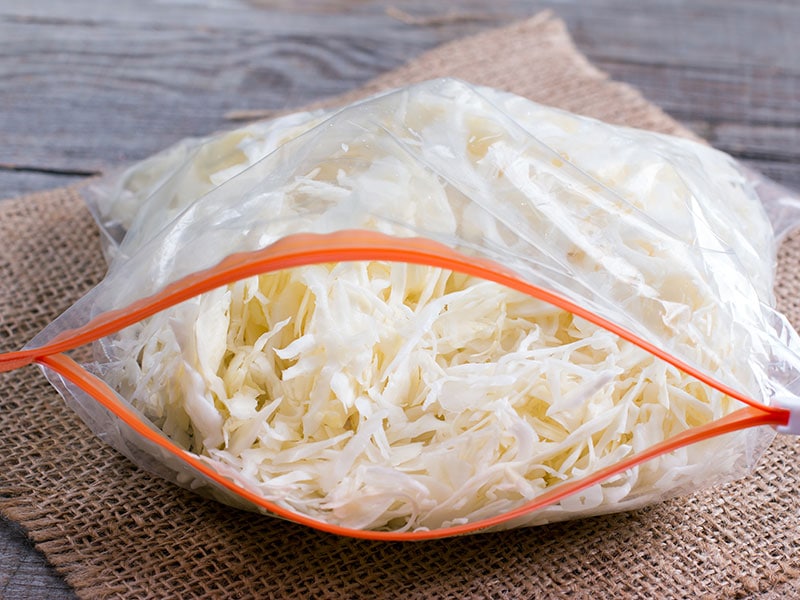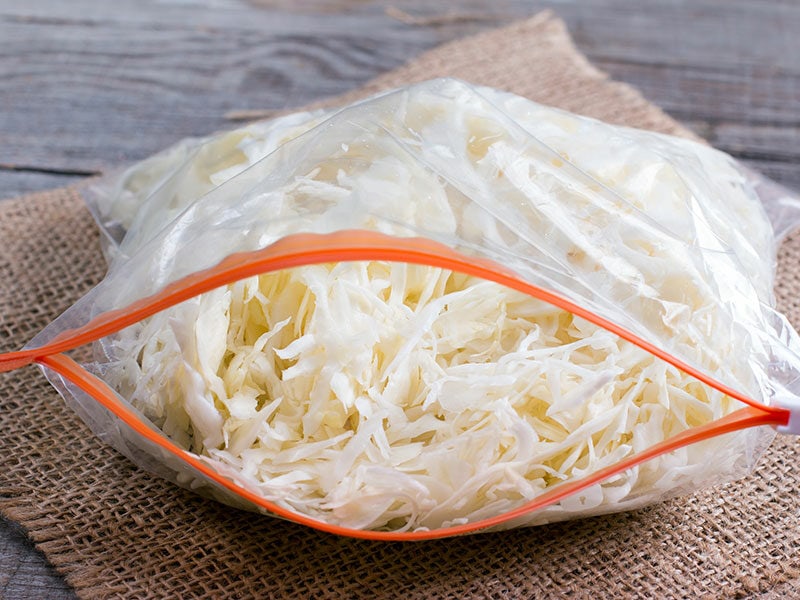 Useful Tips
Freeze smaller portions of sauerkraut: If you want to preserve them in a smaller portion per serving, you can use an ice cube tray to shape them first, then let them freeze in the freezer.
Once they are frozen, remove your sauerkraut from the tray and put them in the airtight bags for storage again in the freezer.
Freeze cooked sauerkraut: How about cooked sauerkraut? Is it possible to freeze them? Yes, you can still implement the same freezing steps as fresh sauerkraut.
At some points, cooked sauerkraut is better to freeze because they do not have too much liquid like the fresh ones, preventing the forming of frost and any change in the process.
If sauerkraut is in good care with proper storage, your fermented cabbage can be preserved in 8 to 12 months, ideally.
How To Freeze Commercially Bagged Sauerkraut?
As it is very convenient, many of you choose commercial bagged sauerkraut to buy. Therefore, I also show you how to freeze this ready-to-eat sauerkraut with only 4 tools:
A big bowl
A tablespoon
Freezer bags
And food containers
The step-by-step guide for this one is quite similar to the above parts. So, here are 5 steps to freeze commercially bagged sauerkraut.
Step 1: Remove bagged sauerkraut to a bowl
Step 2: Use a tablespoon to take sauerkraut into freezer bags. Do not forget to leave 3 inches of space on top.
Step 3: Remove excess air in the bags and tightly seal the top so they cannot leak.
Step 4: Label the date on the bags and put them inside food containers.
Step 5: Put all of them in the freezer. Remove the bags from the food containers after the sauerkraut has frozen.
With proper and good-care storage, your commercial bagged sauerkraut can be safe for up to 1 year.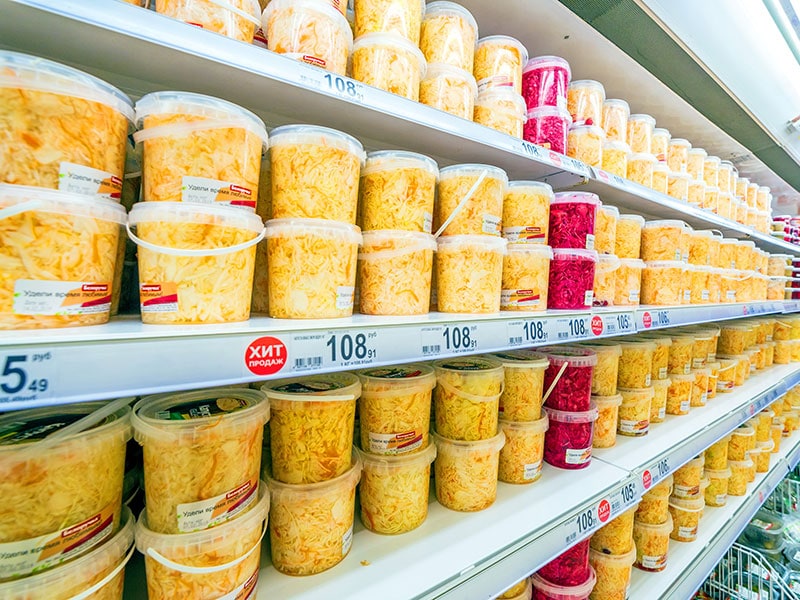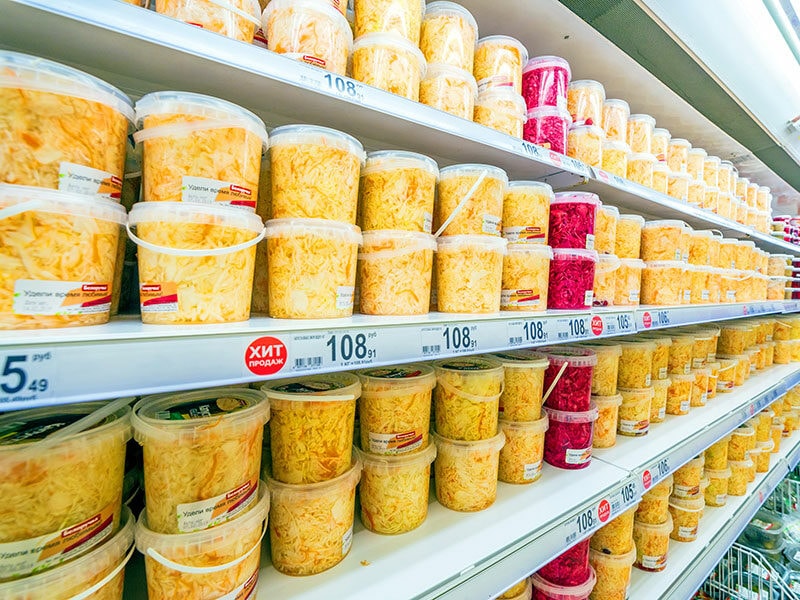 Defrost Sauerkraut – What People Have Not Told You?
As you are concerned about freezing sauerkraut, you might want to know how to defrost them properly, right? Let me help you to make it clear with some easy tips.
Tip 1: Let Them Thaw Slowly In The Fridge
This one is the most common method to thaw any food, not only sauerkraut. When you need something delicious to serve with sausage for the next meal, all you have to do is place the frozen sauerkraut in the fridge for 12 to 24 hours.
The good side of this tip is it can reduce the chance of flavor or texture alters, and they will be safe in the next 4 to 5 days in the fridge. The bad side is it might take too much time; therefore, if you want to serve them the next day, remember to do it the night before.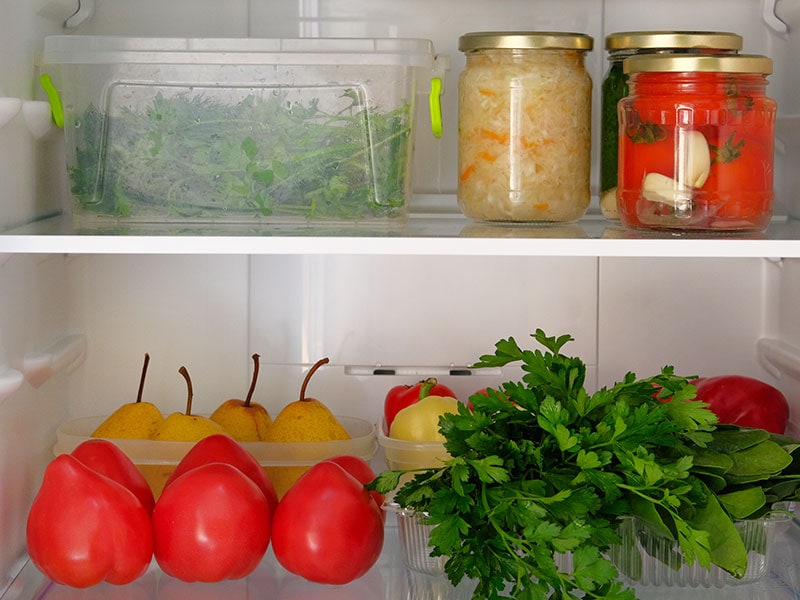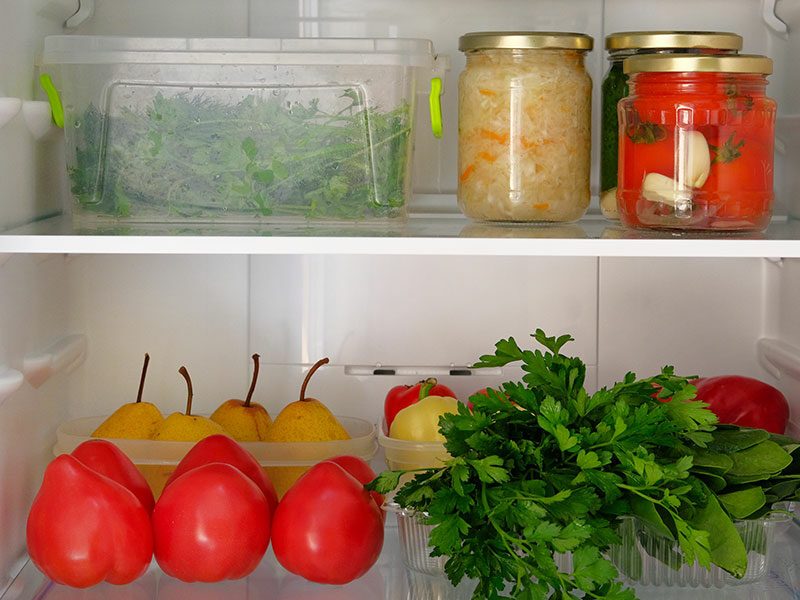 Tip 2: Defrost At The Room Temperature
As room temperature is higher than the fridge's temperature, if you cannot wait almost 1 day to enjoy sauerkraut, just leave them on your kitchen counter for a few hours to let them thaw.
However, once they have already defrosted, you have to consume them right away. If you cannot finish all of them, you should not put them back in the fridge or freezer to store them again.
The reason for this is that thawed food may include bacteria and germs that multiply at room temperature, so re-freezing or keeping them in the fridge would likely increase the bacteria inside them, negatively impacting your sauerkraut.
Tip 3: Use Microwave Heat
If you're in a rush to consume your sauerkraut, defrosting them by microwave is also an alternative method for you to thaw your sauerkraut in just 10 to 30 seconds.
Dividing your fermented cabbage into smaller parts is a good way to guarantee that these small portions can be defrosted thoroughly in the microwave. And similar to tip number 2, thawed sauerkraut must be served right away.
Tip 4: No Need To Defrost Sauerkraut For Cooked Dishes
One more note is that you don't have to thaw frozen sauerkraut for cooked dishes. You can apply this method to dishes such as sauerkraut soup – a classic recipe in Poland. You might expect a longer overall cooking time due to the defrosting process of sauerkraut during cooking.
Does The Freezing Process Impact On The Probiotic Function In Sauerkraut?
When I talk about sauerkraut, I am referring to its probiotic properties. There have been discussions regarding whether to freeze this food that begins with "S" since frozen fermented cabbage can reduce the advantages of the living probiotics included in the food.
So is it true that the freezing process impacts the probiotic function in your sauerkraut? Unfortunately, the answer is yes.
Sauerkraut themselves already contain many beneficial bacteria, which help them prevent spoilage organisms from attacking. Besides, during the fermenting process, the spoilage organism will slowly die.
The lactic acid inside sauerkraut enhances healthy microorganisms' development, benefiting your gut, like yogurt. The probiotics in sauerkraut are also great bacteria for bacterial balance in your gut and support your immune system.
Moreover, according to Bibek Ray and Arun Bhunia, Lactobacillus Brevis and Pediococcus Plantarum are 2 important bacteria to make high-quality sauerkraut. However, they will be killed during the freezing process [3].
In short, it is not recommended to store them by freezing though it can extend your sauerkraut shelf life when you cannot eat all of them in a short time. Therefore, in the next part, I will show you more ways to store sauerkraut effectively.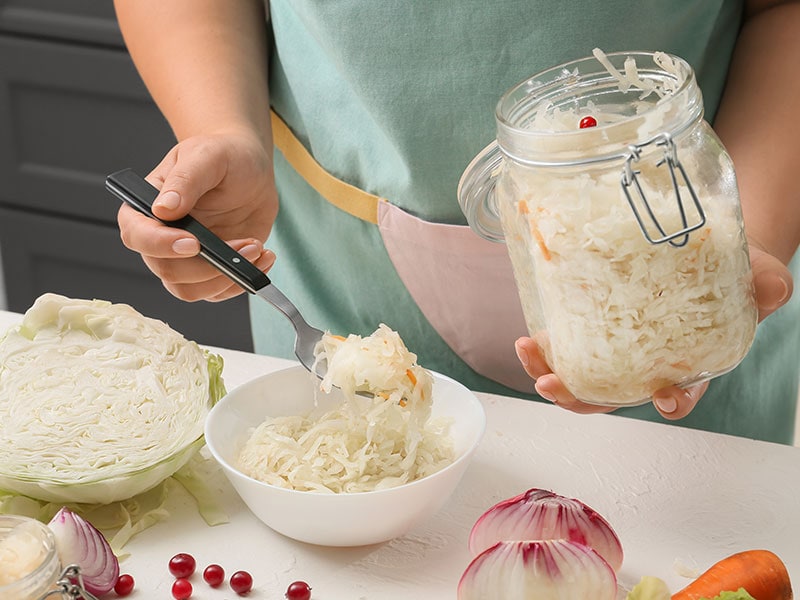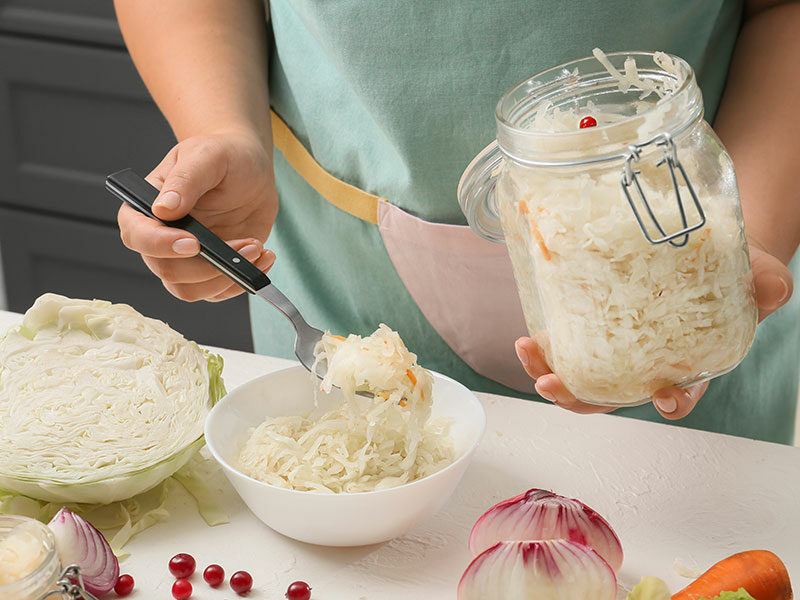 Other 5 Good Ways To Store Sauerkraut Properly
When it comes to fermented foods, many people believe that they can't go off. This is why you'll see that when asked if kimchi can spoil, many people will answer "no". However, sauerkraut can still go bad, especially if not stored properly. Here are 5 methods to store sauerkraut.
Method 1: Put Them In The Fridge
If a freezer is not ideal, then a refrigerator is not a bad option for storing sauerkraut. A normal temperature in the fridge around 32 F degrees (0 C degrees) is suitable for fermented food like sauerkraut.
Your fermented cabbage can be kept in the fridge well for up to 1 year without altering too much texture, however, their flavor is slightly affected during the fermenting process. Ideally, place them at the coolest parts of your fridge, for example, a lower shelf.
Method 2: Apply Canning Process To Sauerkraut
Old people prefer this method as they have been used for decades. And this method still works fine.
By putting them in jars, then heating them to high temperatures to prevent spoilage organisms from outside. This is referred to as the canning process.
These jars can last for years yet retain flavor and texture, which is very rich and unique and maintain the nutrients as well. This method is also suitable for the large harvest of cabbage. However, the heat might kill some beneficial bacteria and enzymes.
Let's try canning sauerkraut at home one day. Believe me; it is not too difficult.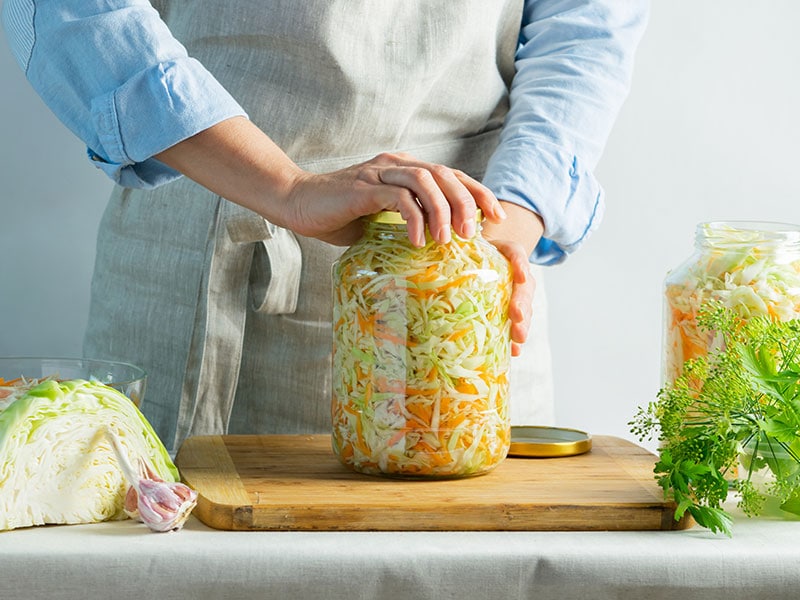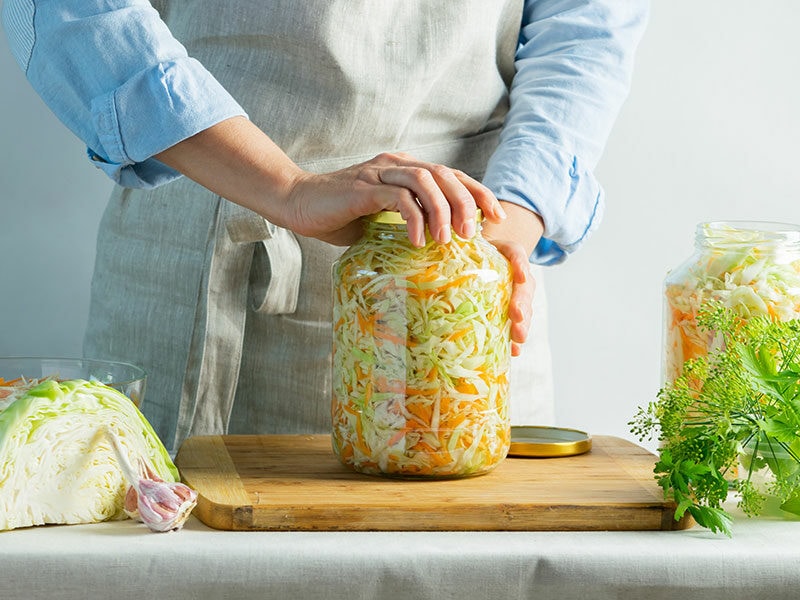 Method 3: Find The Coolest Place In Your Home To Preserve Them
Use your basement or DIY root cellar sounds potential. If you live in a cold climate country, your basement can be seen as an ideal place to store sauerkraut. They can be preserved well in the right weather. Therefore, if you live in tropical countries, this method is not a good solution.
Or try to make a root cellar for yourself. What you have to do is a shovel to form a root cellar shape, an old freezer, or an ice chest to store. It would be perfect with cold temperatures, or you can be sure to maintain the temperature of around 55 F degrees (13 C degrees).
Method: 4: Keep Them On The Kitchen Counter
The important note for this method is it is not suitable for hot and humid countries. In contrast, it would be totally fine if you live in cold countries.
Just simply place them on your kitchen counter. If they are fermented properly, the fermentation process will continue to make them ready to be served without mold or rot.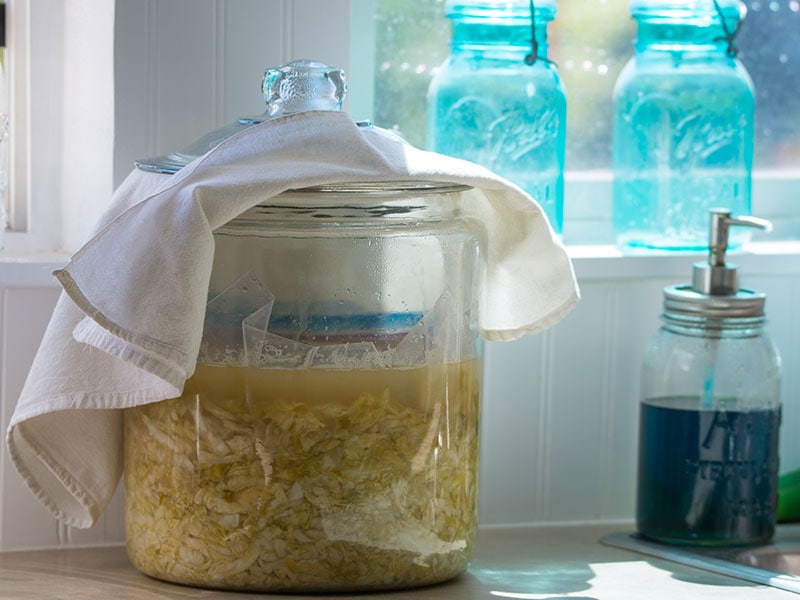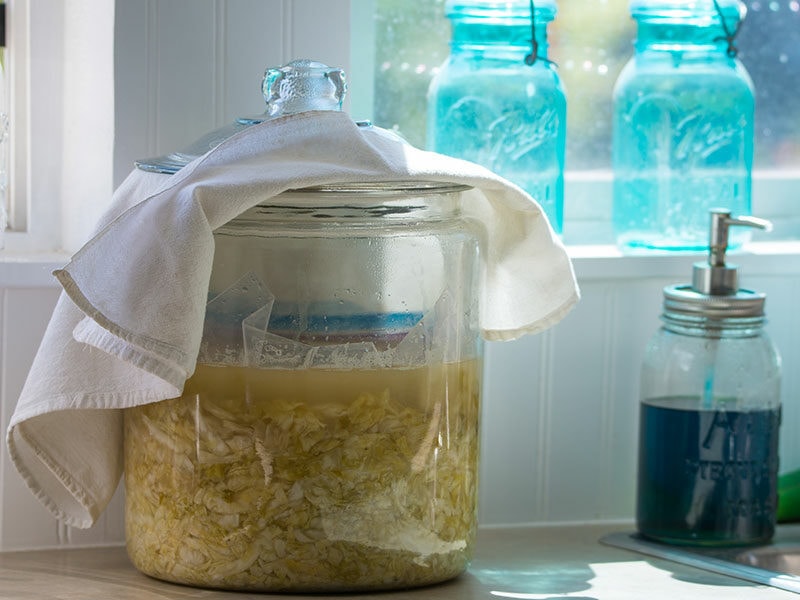 Method 5: Dehydration Of Too-Mushy Or Too-Salty Sauerkraut
In case you have too many sauerkrauts that are turning too salty or mushy, you can try dehydrating them. The dried sauerkraut can concentrate the nutrients and flavor of the food, so you do have to worry about it.
The dehydration process should be less than 106 F degrees (41 C degrees). Or you might use the oven and set the temperature at 170 F degrees (77 C degrees), however, they might kill lactic acid bacteria inside your sauerkraut.
A little warning: If you do not like the fermenting natural smell, then you might find it more annoying with dehydrating odor.
How To Tell If Sauerkraut Has Gone Bad?
There are many simple ways to check whether sauerkraut is still safe to consume or not. You can determine their condition by:
Just Smelling Them
As sauerkraut is a fermented dish; therefore, once you detect the weird smell that is somewhat funk, rotten, off-smelling, or strong odor, you should discard them immediately.
Checking Sauerkraut's Color And Texture
If you see their color and texture change like the color is discolored and green or blue fluff on the top of it, it means your sauerkraut has mold; therefore, it has gone bad already.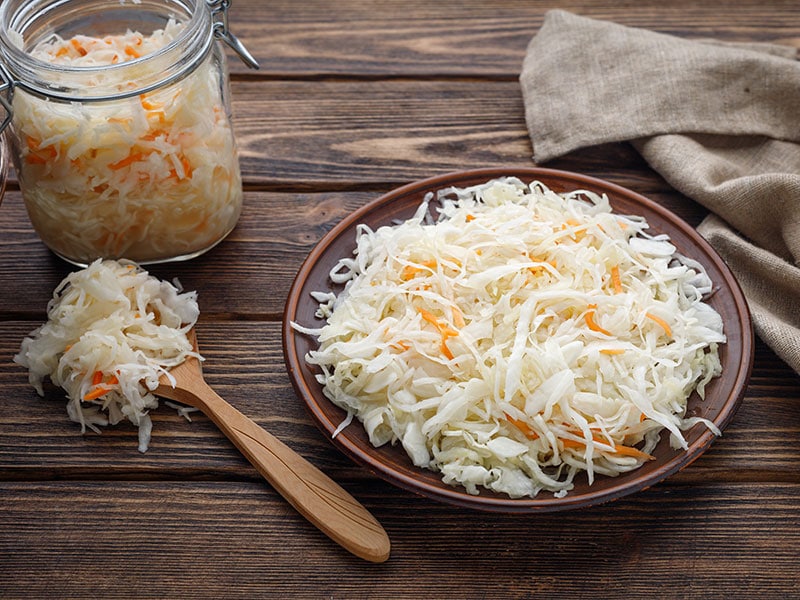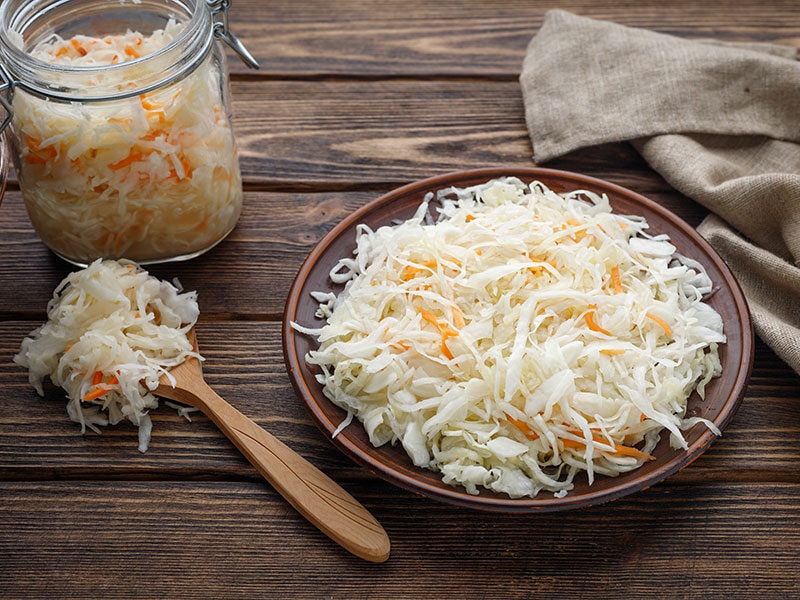 Or Tasting Them To Make Sure Again
Tasting sauerkraut is the last option if you cannot spot any spoiled signatures from its smell, color, and texture to check it is bad. If they taste weird and unpleasant, do not hesitate to throw them away as they are likely to be ruined and lose their flavors.
Still confused because of their fermented smell? Let's check how to know if your sauerkraut goes off.
FAQs
For more information, you can check these frequently asked questions to have deeper and detailed information to have the best and safe sauerkraut for your meal.
So, Any Thoughts About Freezing Sauerkraut?
In general, freezing sauerkraut is not a bad way to store your foods even though it has both pros and cons. However, as my preference, I choose to store sauerkraut in the fridge because it would be easier for those who do not have too much time to prepare food.
So how about you? What is your thought about it? And if you have tried to freeze sauerkraut at home, please share your result with me. Also, please feel free to share any ideas about freezing sauerkraut in the comment section. Thank you for reading.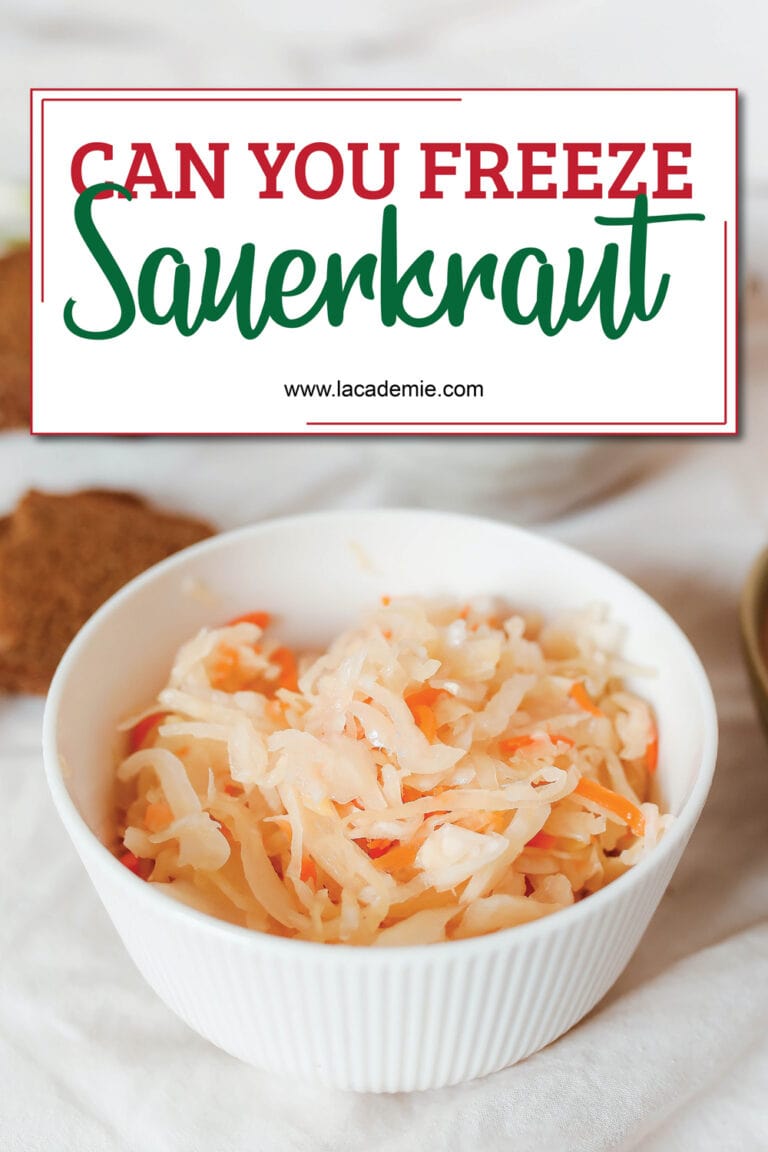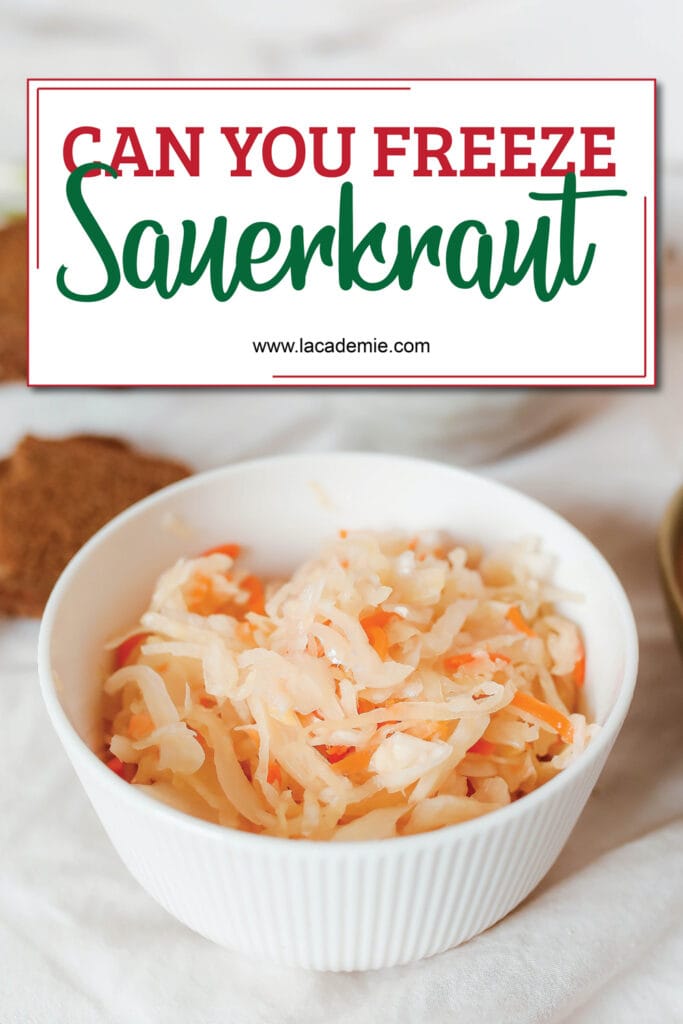 References
Pickle Packers International 2019. Americans Consume 387 Million Pounds of Sauerkraut a Year. fermentationassociation.org.
Christa, R., Thomas, O., Katja, B. & Friedrich, M. 2014, Regular Consumption of Sauerkraut and Its Effect on Human Health: A Bibliometric Analysis, Global Advances in Health and Medicine, 3(6): 12-18.
Bibek, R., Arun, B. 2014. Fundamental Food Microbiology. 5th edition. Taylor & Francis Publisher.