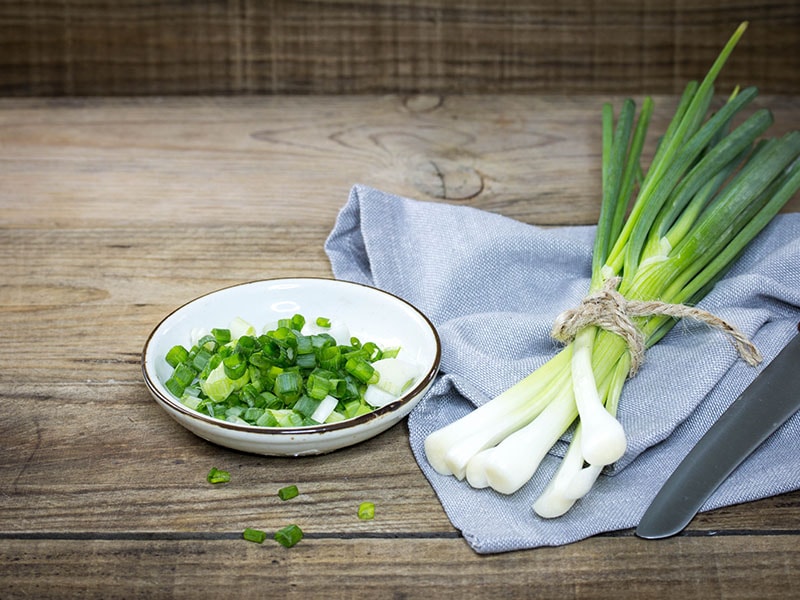 Not everyone notices that there are different types of green onions. Some may think that they are entirely different species. But the fact is stunning. Chives and leeks are also 2 varieties of green onions. And there are also some versions of green onions in other countries.
As a whole, green onion is one of the most popular onion kinds. In this article, I will guide you through the most well-known varieties of green onions. Make sure you read until the end not miss any useful facts about them. I will also provide you with some delicious recipes and some tips to store green onions.
Some Outstanding Features Of Green Onions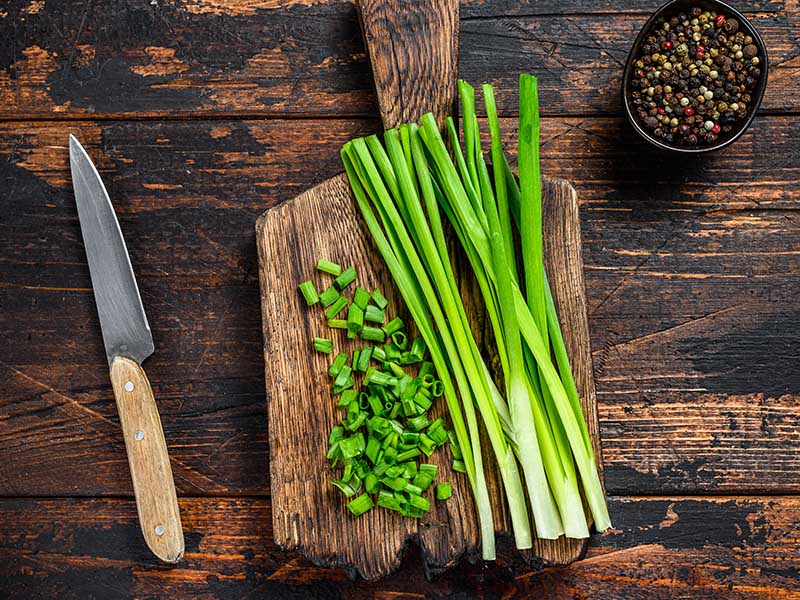 Green onions or scallions is a vegetable that belongs to the genus Allium. In this genus, there are also shallots. Yet there are some differences between green onions and shallots. These two are both common cooking ingredients.
They are mainly used to top savory dishes such as soups, stews, pizza, and others to add flavors and aroma. People also roast or grill them and serve them as a side dish.
This vegetable has a very intense flavor. That's why people just use a small amount of them at a time. Yet they are packed with plenty of nutrition.
Consuming green onions frequently helps lower cholesterol levels, reducing the risk of heart diseases and diabetes.
Furthermore, green onions can help prevent aging and cancers with many antioxidants.
8 Types Of Green Onions You Should Try At Least Once
I bet that you are very curious about these types of green onions. I will talk about them in detail right away. But before that, I want you to have an overview of all of them. Check out this table!
| Types of green onions | Appearance | Flavor | Uses |
| --- | --- | --- | --- |
| Spring Onions | Large white bulb | Sweet, savory, and crispy | Beef, chicken, gravies, mashed potatoes, fish, and fettuccine |
| Chives | Thin leaves, do not have bulbs or cloves | Mild, oniony, and garlicky | Dipping sauces, deviled eggs, soups, stews, and sandwiches |
| Leeks | Large, bulbless, light green leaves | Sweet, mild, earthy | Bean dishes, risotto, pizza, salads, pasta, stews, and soups |
| Classic Green Onions | Small bulb, green leaves | Mild | Stir-fried dishes, soups, stews, salads, and Cajun dishes |
| Tokyo Negi | Long, bulbless | Sweet, savory, and mild | Kushiyaki, Nabemono, salad, pasta, and cream sauces |
| Red Beard | Red bulbs, smooth and tender green leaves | Mild and tender | Soups, salads |
| Calçot | Smooth and slender | Mild, juicy and crispy | Grilled on open fire |
| Chinese Onions | Thin green leaves, white bulb | Mild and fresh | Green onion pancakes, curries, pickled green onions |
1. Spring Onions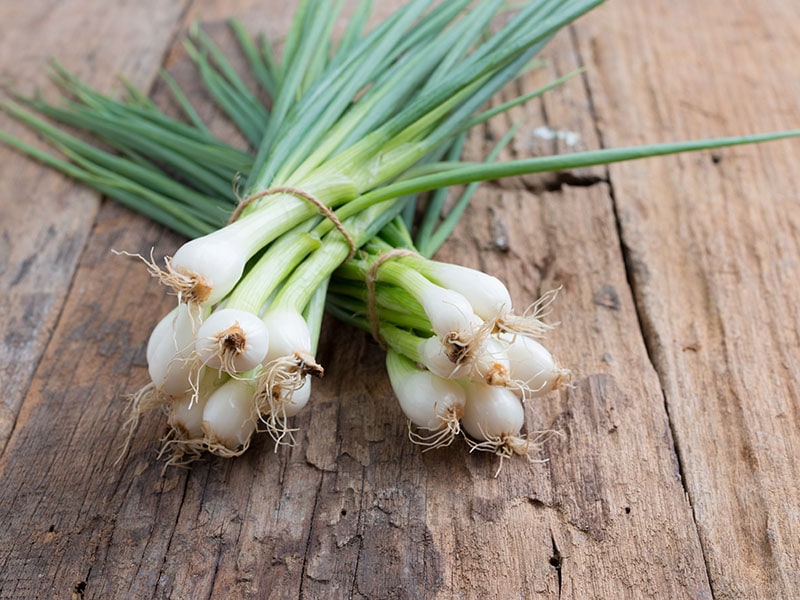 Many people think that spring onions and green onions are the same. However, spring onions are actually a type of green onions.
Compared to regular green onions, spring onions have larger white bulbs. But they are thinner and more slender. That's why they are also called "young onions." They take a longer time to grow than common green onions.
The name "Spring onions" comes from the fact that growers often collect them in spring. What people love about spring onions is their taste. They have a sweet and savory flavor and crispy texture. They are also more pungent than common green onions.
With such an amazing flavor, spring onions can elevate any dish. They pair well with beef, chicken, gravies, mashed potatoes, fish, and fettuccine. You can add them to any vegetable dish.
I want to tell you a little bit more about the shelf life of spring onions. It can last for 7 days if stored properly. It is best to store them in a mesh bag. Alternatively, you can wrap them in a damp towel or napkin and tie them with some rubber bands.
Spring onions with tomatoes is a perfect side for heavy meat dishes.
2. Chives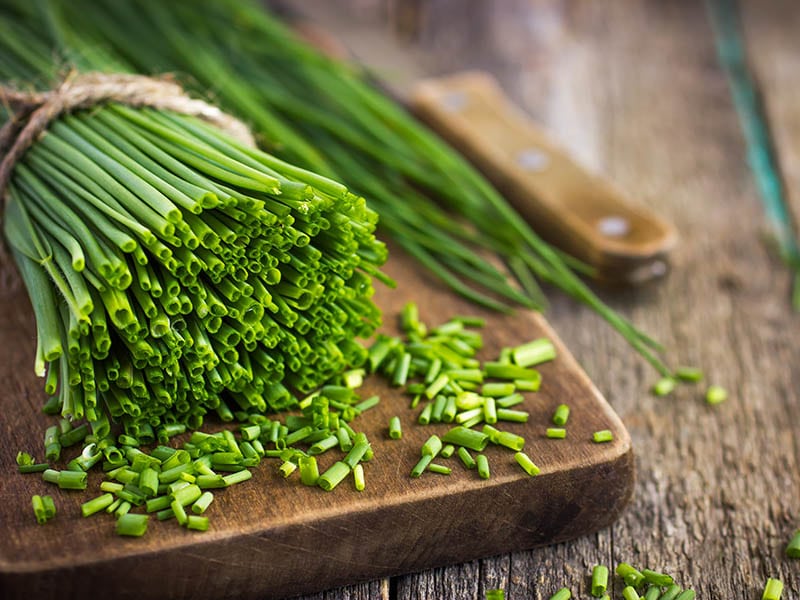 Chives have a mild, oniony, and garlicky flavor. Their aroma is also very mild. They will not leave a pungent taste. Due to the mild taste, people sometimes consider these thin leaves a herb rather than a vegetable.
However, I recommend that you eat a small number of chives at a time since they can sometimes be overpowering.
In terms of texture, they are a little bit crunchy, snappy, and crumbly. They are often added to dipping sauces, deviled eggs, soups, stews, sandwiches, rice dishes, lobster chowder, cream cheese, potatoes, and many other dishes.
While processing chives, I recommend that you use a sharp knife to get their best flavor. Another tip when cooking chives is to add them when you finish cooking the dish. Or else, the heat will make the flavor fade away.
Chives are more prevalent in many European cooking ideas like France, Poland, and Russia. In French cuisine, they are added to omelets and cheese soufflés. Russian and Polish people use them to complement a type of cheese called "Tvorog."
What is more amazing about chives is that their purplish-pink flowers are edible. They are also very nutritious, with a generous amount of vitamin A, C, calcium, and potassium.
3. Leeks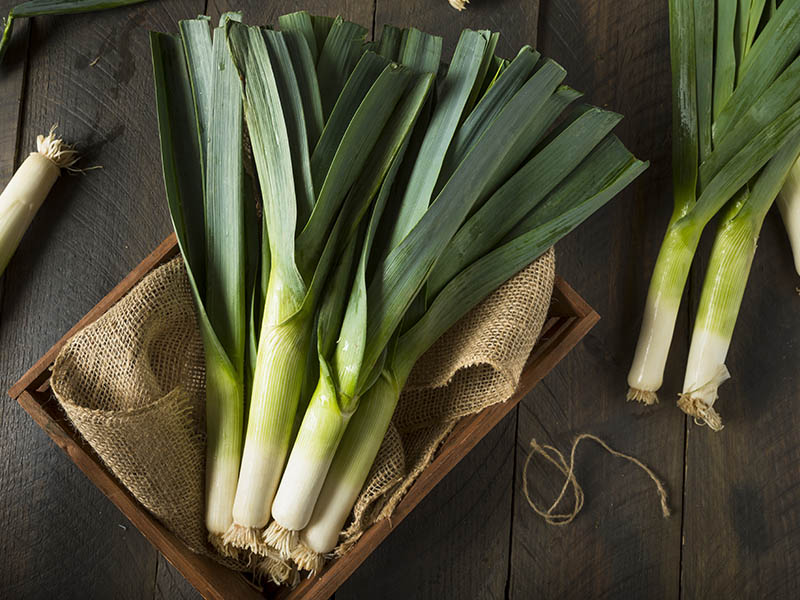 When I first saw leeks, I never thought that they were a variety of green onions because they are very large and they do not have any bulbs or cloves. They are about 10 inches long and 2 inches wide.
Now let's talk about the wonderful flavor of leeks. Leeks are mild, earthy, and crunchy. They are also sweeter than other types of onions. They are harvested in winter or early spring.
You can use them in bean dishes, risotto, pizza, salads, pasta, stews, and soups, especially potato-leek soups. You can also grill, saute, and roast them to make delicate side dishes.
This green onion variety has 2 parts: the dark green part on the top and the light green part on the bottom. But people mostly use the light green part for cooking. The dark green leaves are often used as a garnish. People also saute them.
Leeks are also a super delicious vegetable. They are loaded with iron and vitamin C.
Regarding the storing method for leeks, you can store them using the method above. I will have a more detailed section below.
Potato leek soup is a widespread recipe. But have you tried the best one?
4. Classic Green Onions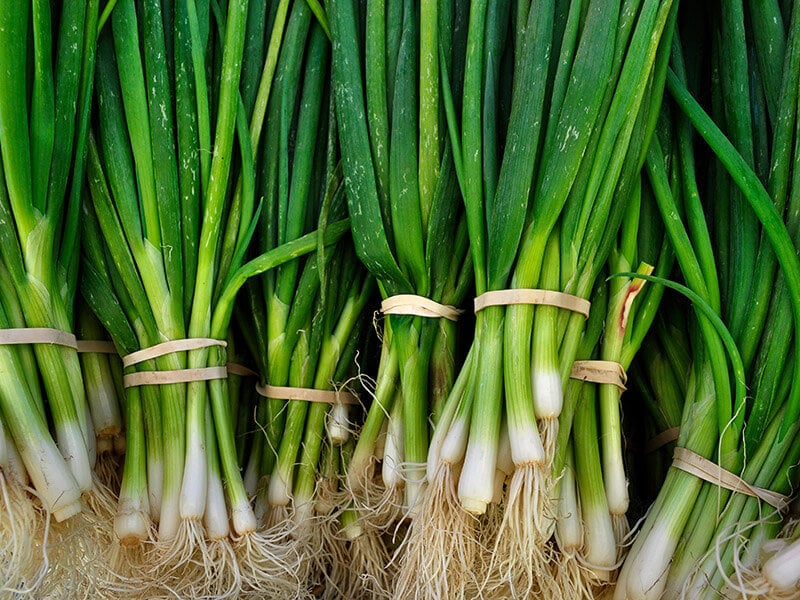 This is the most common type of green onions on the market. If you are asking yourself, "how is it different from scallion?" The answer is that they are the same.
I also want to emphasize these classic green onions are different from spring onions. Green onions have smaller bulbs. Their peak seasons are late spring and late summer.
Classic green onions have a very mild flavor. The white bulb tastes stronger than the green leaves. Chinese people often cut the bulbs and fry them with other ingredients such as meat and vegetables. Then they chop the leaves to garnish the dish afterward.
You can eat them raw or cook them. They are particularly popular in Asian dishes, such as stir-fried dishes. They are often added to soups, stews, salads, and Cajun dishes. Notably, they can be an alternative to chives if you lack them.
In some countries such as India, people serve green onions raw as an appetizer. In Vietnam, people fry them in oil and top them on dishes such as "cơm tấm" and "cà tím nướng."
If you are a fan of Korean food, don't miss this green onion kimchi recipe.
5. Tokyo Negi
Tokyo Negi is a Japanese variety. People also call it "Naga Negi" or "Japanese long green onions." These onions have a classic sweet, savory, and mild flavor of green onions. It is milder than traditional green onions. Notably, it is the sweetest variety.
What makes them different from common green onions is that they do not have bulbs but only have large white stems. This variety might be hard to find in America. But it is pervasive in California and Hawaii, where there are many Asian people.
Tokyo Negi is most often used to make traditional Japanese dishes, namely Kushiyaki (grilled skewers) and Nabemono (one-pot dishes).
Tokyo Negi onions can be eaten raw or cooked like classic green onions. You can chop and sprinkle them over salad, pasta, cream sauces, cheese, root vegetables, and herbs.
People also saute them with butter or olive oil, then pour them over mashed potatoes, gratin potatoes, and pan-fried fingerling potatoes.
6. Red Beard
Red beard is also a green onion variety coming from Kazakhstan and China. As the name suggests, it has red bulbs that look super attractive.
With a mild and tender taste, red bread onions are suitable for cooking and eating raw.
This variety is also an essential staple of Asian cuisine and European cuisine. People often use them to make soups, salads, and stir-fried dishes.
Red Beard is very easy to grow and often matures in 50 days. How about planting this gorgeous green onion?
7. Calçot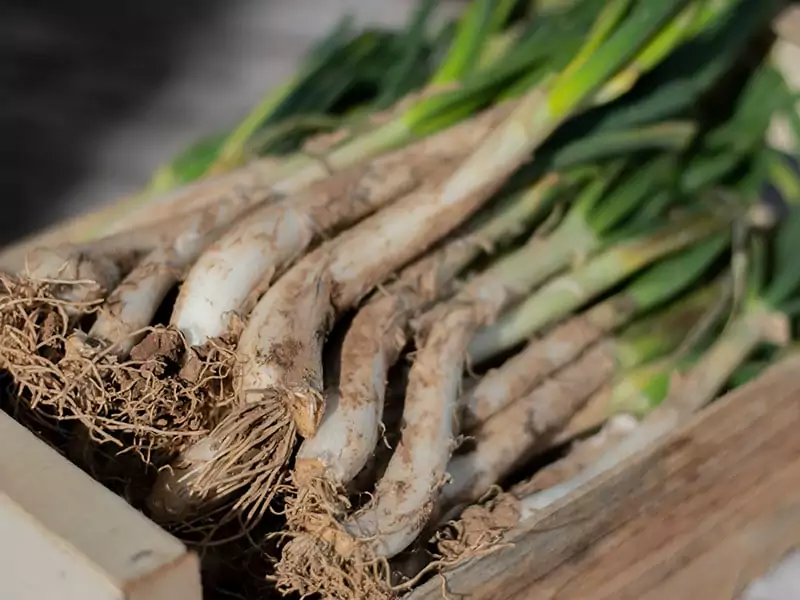 Another variety of green onions is Calçot. They are typically larger than other types of green onions. They are native to Catalonia, Spain.
The green leaves are smooth and slender, while the bulbs are mild, juicy, and crispy. They are milder than other varieties. They share the characteristics of leeks and spring onions. Their peak season is February. But they can be harvested between November and April.
There is a delicious Spanish dish called "grilled Calçot." People make it to celebrate an annual event called "Calçotada," which is held in winter.
Calçot onions are traditionally grilled on fire for barbecue. People cover them with newspaper to keep them tender. After grilling, they are placed on terracotta roof tiles and served warm. If the onions are charred, people will remove that part.
The Catalan always serve this dish with a delicious sauce called "salvitxada" and a glass of red wine. This sauce is made of vinegar, garlic, and toast.
8. Chinese Onions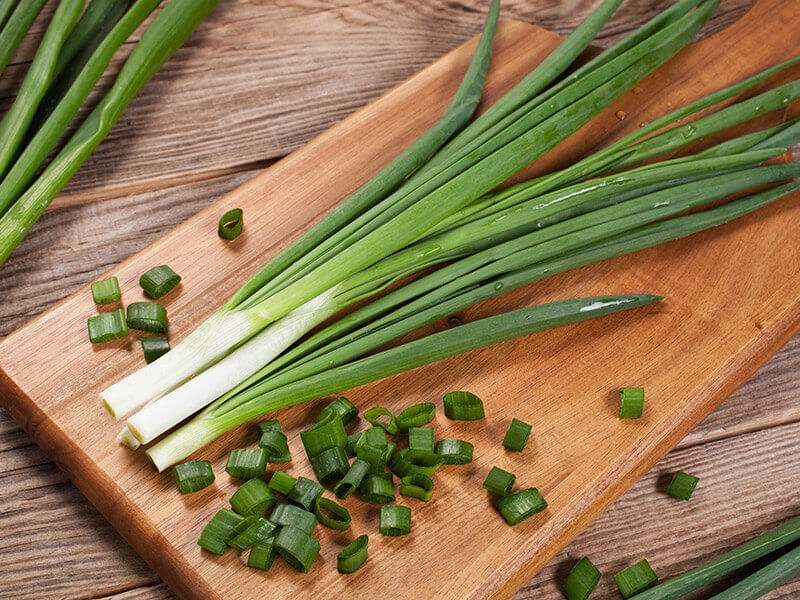 As you can guess from the name, this variety comes from China. The most notable characteristic of Chinese green onions is their mild and fresh taste. They are popular in China and in other nearby countries, such as Japan and Vietnam, and North America.
They look similar to common green onions with thin green leaves and white bulbs.
This type of green onion is used in most traditional Chinese dishes, such as green onion pancakes. The leaves are chopped and garnished on the dishes, as usual.
In Japan, people add this green onion to curries. They also make pickled green onions which are called "rakkyō." Vietnamese people also make this kind of pickled green onions and serve them on Lunar New Year.
Challenge your cooking skill with this Japanese pickled onion recipe.
A Concise Guide On Storing Green Onions
Green onions are an essential ingredient in a lot of savory dishes. I am sure that you should always have them at hand. Knowing how to store them the proper way will help. Here are some tips to keep green onions for as long as possible.
When bringing fresh green onions home, remove the rubber band and cut out the roots below the white parts. Then cut the rest in half. Next, you need to wash them using water and dry them with a paper towel.
Finally, roll the onions in a paper towel and place them in a plastic bag or container, and put the container in the crisper drawer. You can keep them fresh for up to 1 week.
Are you curious about whether you can store green onions in the freezer? To keep them for months, freezing them is the best way. First, wash and dry them, then chop them.
The next and last step is to place the chopped green onions in an air-tight container and freeze them. They will remain edible within 4 months.
4 Green Onions Recipes That Are Better Than Take-Outs
In the previous content, I have presented the most notable characteristics of the varieties of green onions. Now, let's turn to some classic recipes that you can make.
This is a traditional Chinese dish often served for breakfast. It is also very famous street food. These pancakes are thin, crispy, and full of flavors. They are accompanied by a delicious dipping sauce. I am sure that both kids and adults will die for them.
To make the best Chinese scallion pancakes, you need an authentic recipe.
Grilled green onion is perhaps the easiest dish to make. When grilled, the white bulbs of green onions have the best taste. Besides the typical sweet and savory taste, they are also salty. You can add some richness with butter.
When it comes to stir-fried green onion dishes, the choice is yours. Feel free to add your beloved seasoning like sesame oil, soy sauce, and oyster sauce, as long as it tastes good. You can use spring onions or common green onions.
This is my favorite recipe. I often make it for winter dinners. It is so fresh, warm, and hearty. A bowl of spring onion soup will warm you up whenever you feel cold. If you have a common cold, it will be a relief.
Green Onions Are One Of The Best Seasoning
After reading this article, what do you think about green onions? For me, they are a crucial part of the dishes. So I always have them in my kitchen. They are not only for garnish. They add some complexity to the dishes.
If you suddenly fall for green onions after reading this article, I will be pleased about that. Express your love for them by sharing this article with your beloved friends and relatives. Everyone should know about such a tasty and nutritious vegetable.