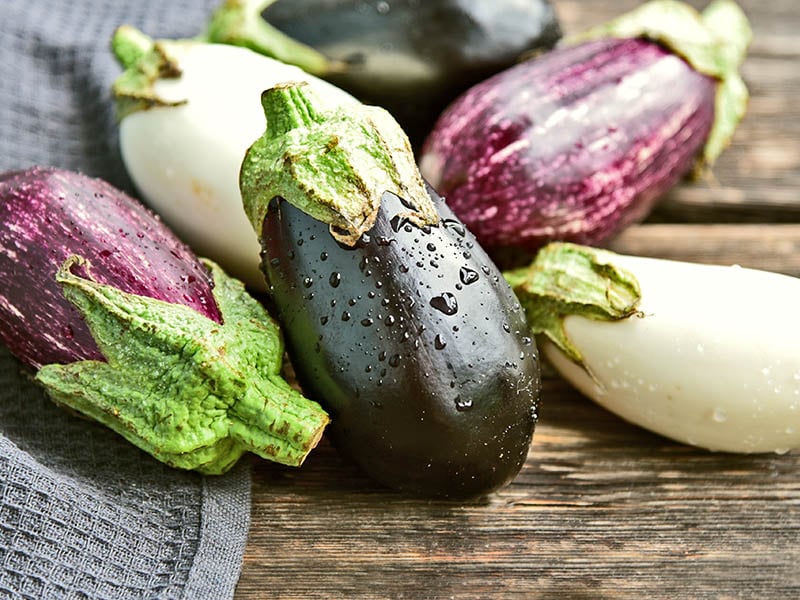 I used to think that there were only a few types of eggplant. So it came as an exciting surprise when I found out just how many varieties this veggie has. I want to share them with you so that you have more choices in cooking with eggplant.
As you read through this article, you will not only see the names and pictures of the varieties of eggplant, but you will also get a lot of helpful information about them, such as notable characteristics and uses.
The Wonderful Nutritious Profile Of Eggplant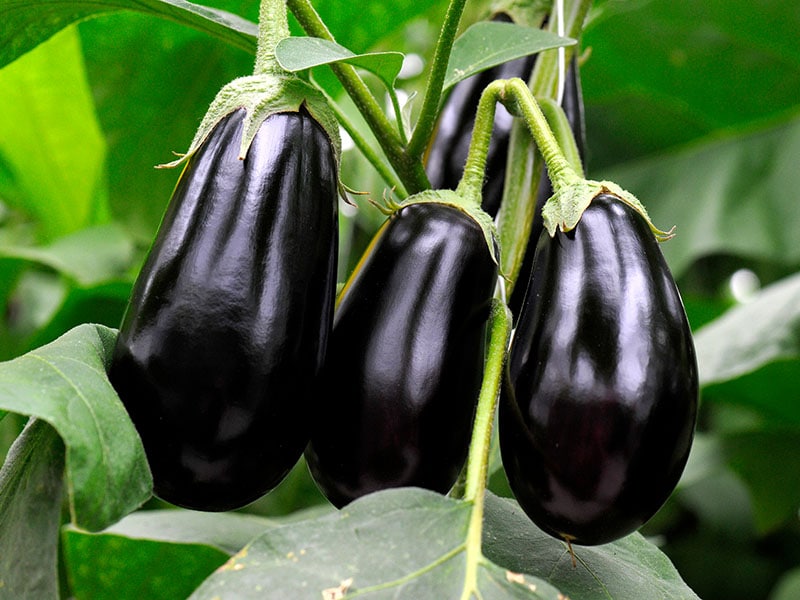 Eggplants are a very versatile and popular plant. People love it so much because of the distinctively delicious taste of eggplant. However, not everyone knows that this tasty plant actually has a lot of benefits for your health.
This antioxidant-packed veggie is among the best foods you can eat to lower chances of diabetes because it has a substance called polyphenols, which can control the sugar content. In addition, it can ease the symptoms of asthma.
19 Different Types Of Eggplant You May Not Know
Are you ready to discover the most delicious types of eggplant? Let's get straight into it! I have been waiting for so long to tell you what I love most about these varieties.
1. Thai Eggplant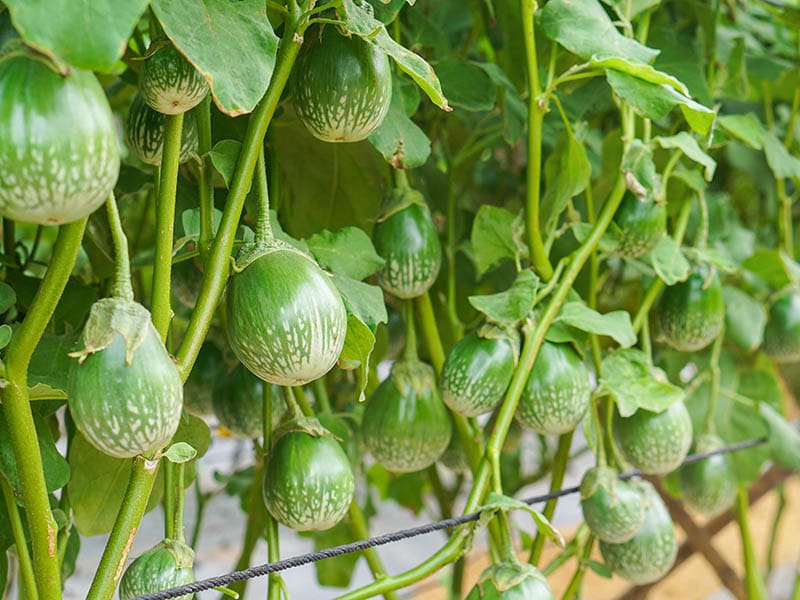 If you expect the long shape and shiny skin of ordinary eggplant, you will be stunned when looking at Thai eggplant. As the name says, it is a variety of Thailand. It is round in shape and small in size.
People often use it to make curries and stuffing. It is also a popular ingredient of many vegetarian dishes that belong to Asian cuisine.
Thai eggplant can be purple. Butthey are mostly green with some white or yellow shades. The flesh inside has a pretty pale pink color. It can be bitter if you keep the seeds, so remove them to make the eggplant taste sweeter.
2. Japanese Eggplant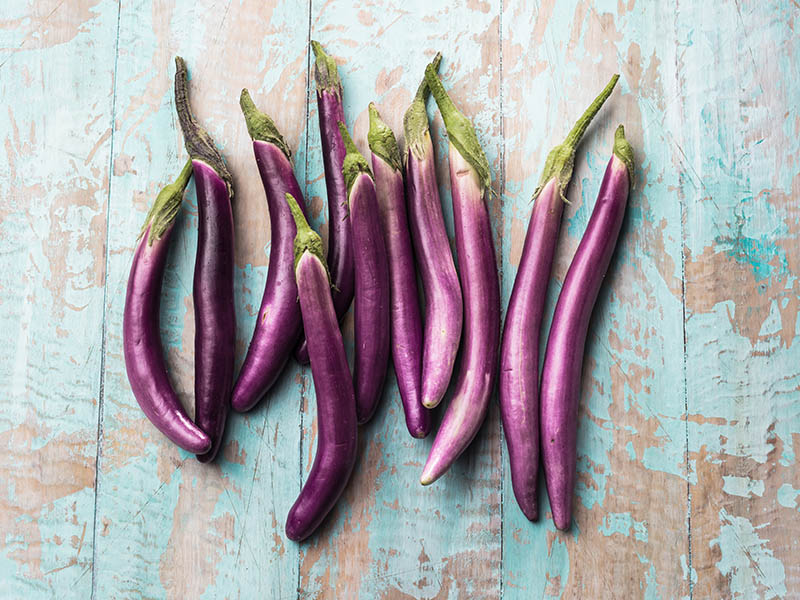 Japanese eggplant will make your dish look more delightful with a deep purple color. Its shape is long and thin. It has a mild taste with some sweet notes.
It does not take much time to cook Japanese eggplant. You can use it to make plenty of vegetable dishes in Japanese cuisine, such as stir-fried and braised delights. You can also roast them to make mouth-watering side dishes. By grilling them, you will get a wonderful smokey taste.
Feel free to cut it according to an angle, into round slices, or any other way that you prefer. It pairs well with all sorts of flavoring.
3. Globe Eggplant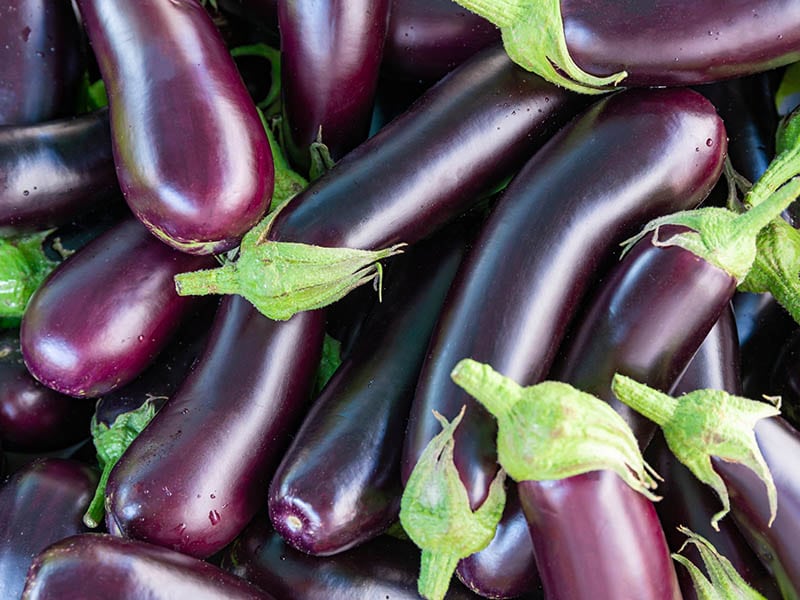 Globe eggplant is one of the most popular varieties in the United States. Therefore, many people call it "American eggplant." Its deep purple skin is very glossy and attractive. Its squatty shape is also fantastic.
It is large, meaty, and versatile, so people also use the veggie as a source of protein in place of meat. When cooking Globe eggplant, you should note that it can easily absorb oil and become greasy, so coat eggplant slices with some flour first.
4. Santana Eggplant
I like large eggplants because processing them is quite easy. In this regard, Santana is my favorite variety. I love to grill it to keep its shape, though baking and frying can create equally tasty dishes. You can also use this variant to make stuffing and pickling.
In addition, while other varieties have a distinctive stringy texture, Santana eggplants do not. But that isn't the only unusual thing about it: This veggie looks like a large-sized teardrop.
5. Turkish Orange Eggplants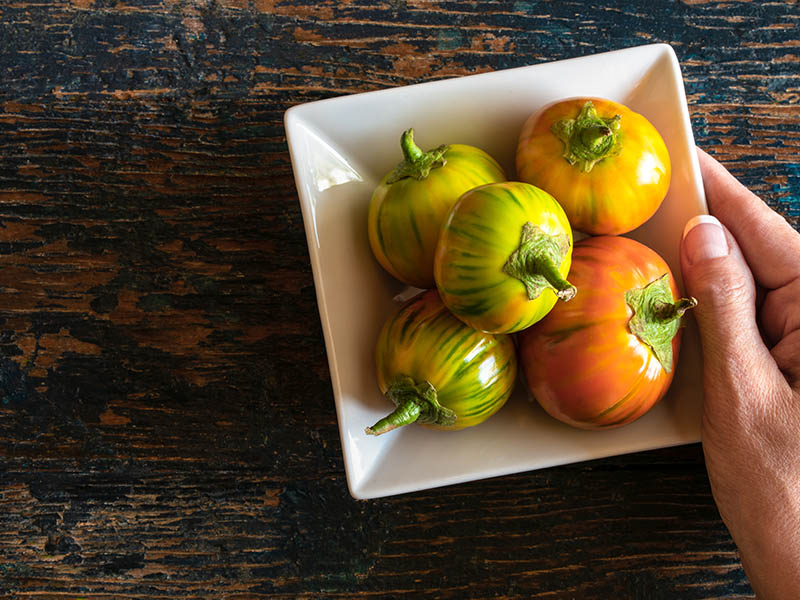 Have you ever seen an eggplant that does not look like an eggplant? If you have had that experience, you probably came across Turkish Orange eggplants. They have an attractive orange color and a round shape that looks much like tomatoes.
Inside the appealing fruit is tender and sweet flesh. However, it will get bitter when fully ripe. People often grill it with some salt and oil.
6. White Eggplant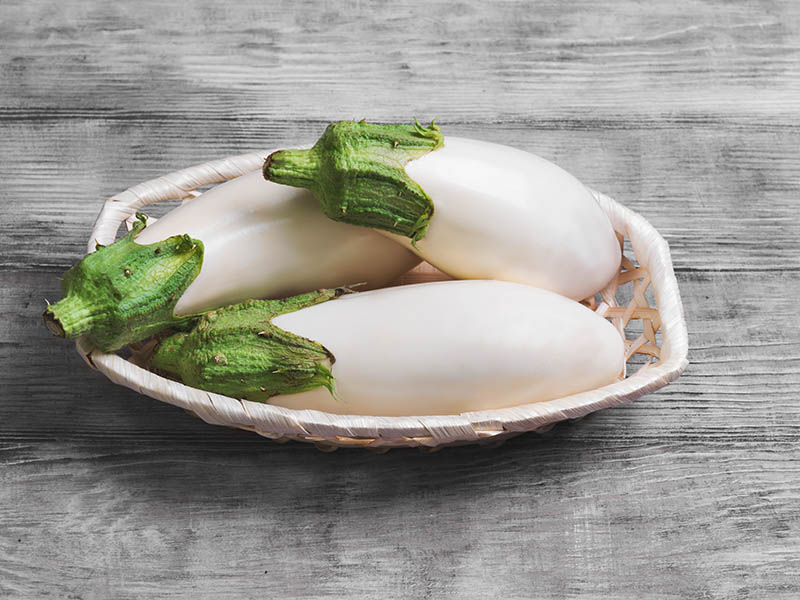 White eggplant looks and tastes exactly like Globe eggplant, except for the color. It is white instead of purple. Raw white eggplants have a mild, slightly sweet, and fruity taste.
When cooked, they are quite mellow. They are considered as being more bitter than common eggplant. Since they taste like common eggplant, you can use them in any recipe that calls for Globe eggplants, such as roasted and grilled dishes.
7. Italian Eggplant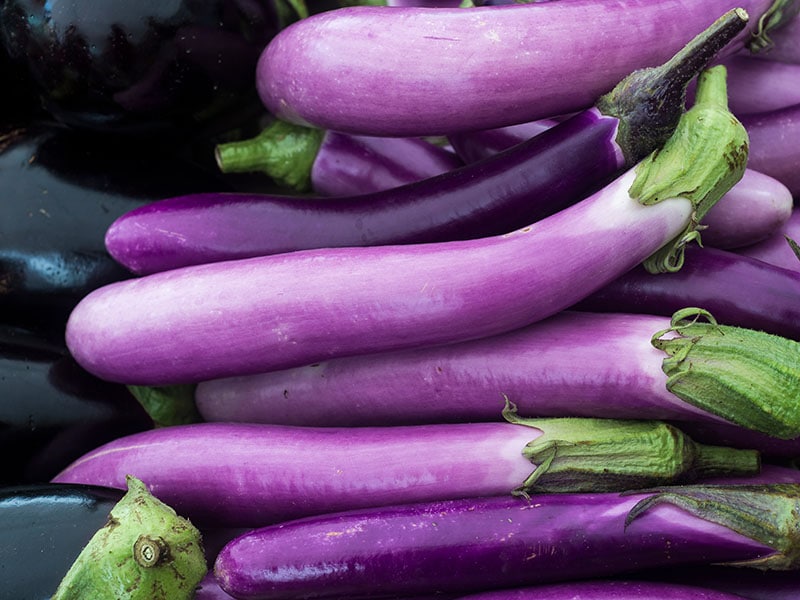 Italian eggplant has the typical deep purple color of common eggplant, but it is squatter, smaller, and flatter. It is medium in size and has a sweeter taste than common eggplant. In terms of texture, it is spongier and more tender than other varieties.
Suppose you have some Italian eggplants in hand, you can use them to make lasagna, curries, ratatouille, caponata, and other Italian dishes that are served with the main course.
Also, they go well with salty food like cheese. They are ideal for making roasted, boiled, sauteed, and baked dishes.
Have you ever thought of making preserves with Italian eggplant? Try it!
8. Calliope Eggplant
Among eggplant varieties with an egg-like shape, the Calliope cultivar is one of the best in every aspect. It has good-looking purple skin with some white shades on the bottom.
The slightly sweet taste of Calliope eggplants makes them a perfect ingredient in fried dishes, grilled dishes, soups, stews, egg dishes, and many others. Growers love this variety a lot because they can harvest the fruit anytime, even when it is immature.
9. Little Green Eggplant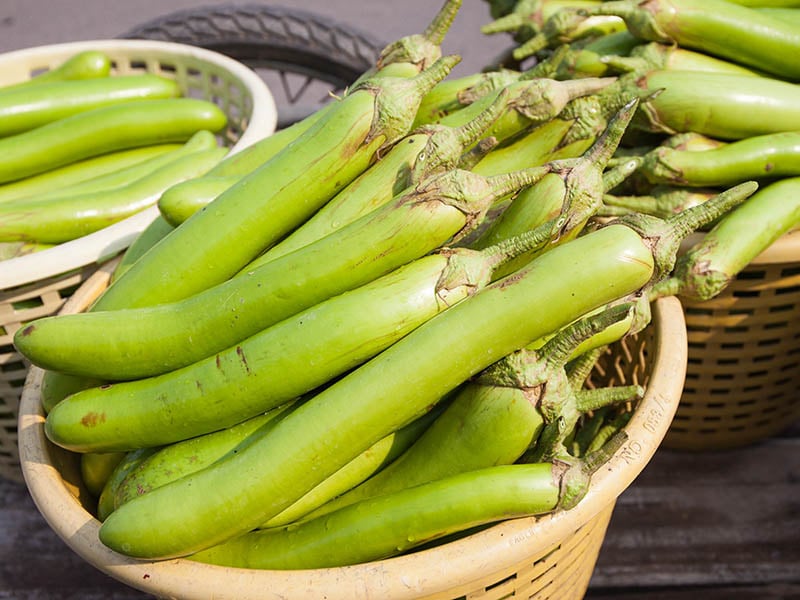 You can hardly ignore these adorable Little Green eggplants. Their mild flavor and creamy texture are incredibly amazing. As the name says, they are small, short, and green in color.
Not only are they tasty, but they are also very versatile. You can chop them and add them to soups, stews, and curries. Eggplant stew is one of the most beloved dishes in Liberia as well as many other countries.Stir-frying or roasting them is also a great way to bring out their excellent flavor.
10. Tango Eggplant
You already know about White eggplants, so let's come to another variety which also has this color. Tango eggplant will remind you of an egg or a pear. But when Tango eggplants are about to mature, they have a yellow color, firm texture, and a stronger taste.
What you should know about Tango eggplants is that their skin is inedible. Make sure you peel it before cooking. Their creamy texture makes them suitable for roasting and grilling.
11. Barbarella Eggplant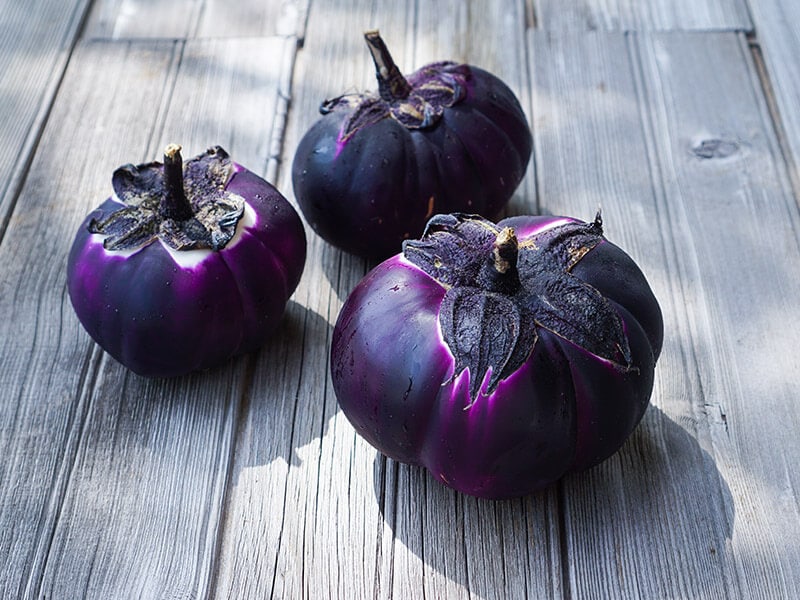 While most eggplants have a typical purple color, Barbarella eggplants, a Turkish variety, have a very deep color that almost looks like black. Due to its bread-like texture, it is a great alternative for food that is rich in gluten.
This Turkish variety is used in plenty of savory dishes, such as baked, roasted, and grilled dishes, lasagna, and eggplant parmesan. You can also take the meat out to make stuffing.
12. Chinese Eggplant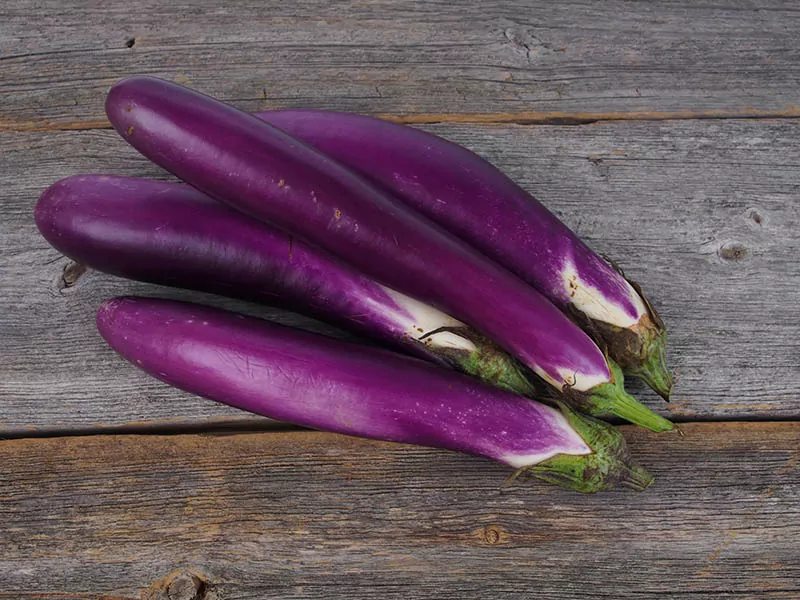 Do you know that China is the world's biggest eggplant producer and surpasses India, the runner-up, by a large margin? Chinese eggplants have a long shape with curved ends. Some of them are not curved. They can be either bright or deep purple.
This type of eggplant is less bitter than common varieties because it has very few seeds. Its sweet taste makes it perfect for side treats in Chinese cuisine such as sauteed dishes and stir-fried dishes. It pairs extremely well with garlic sauce.
Let your Chinese eggplant absorb the delicious garlic sauce!
13. Kermit Eggplant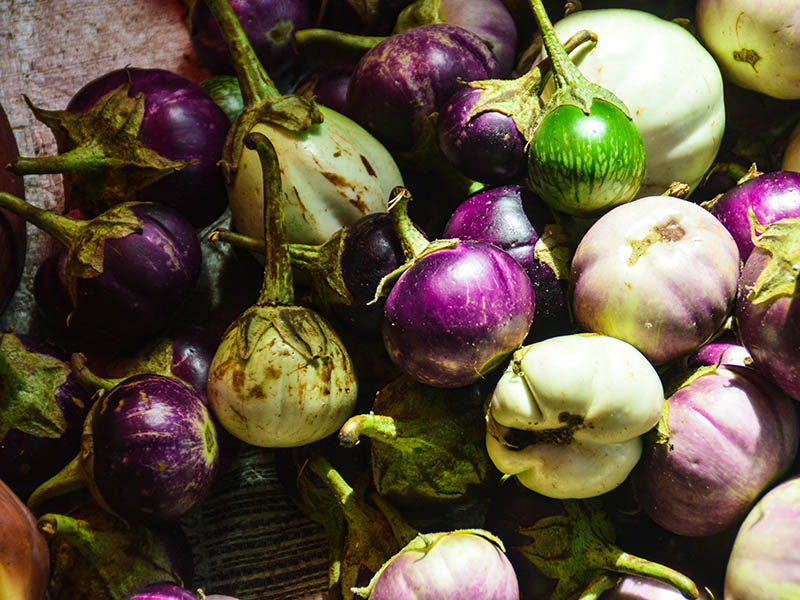 There is no better eggplant variety for curries than Kermit eggplant. Thanks to its dense texture, it does not tear apart and can absorb the flavor of the dish very well. This variety is very popular in making Asian-style accompaniments for main dishes.
Kermit is an American-made hybrid variety that is usually green or lavender. It is round like a ball. It is also referred to as "Bitter Ball" or "Garden Eggs." This type of eggplant has a mild taste and crunchy texture. But it can sometimes be bitter if you leave them too long on the plant.
14. Indian Eggplant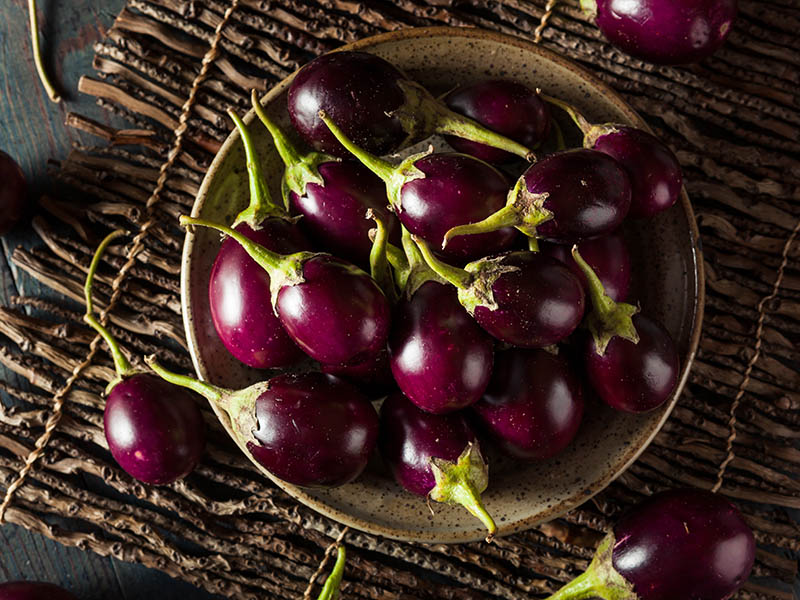 You can stuff Indian eggplants, which have a round shape, with all kinds of ingredients. Having the typical purple color, they will make a beautiful addition to your dishes.
Not only are Indian eggplants popular in India, but they are also an important staple of many wonderful dishes from Pakistan. Baingan (grilled eggplants minced with herbs) is a very famous Pakistani dish made with Indian eggplant.
People also call them "Baby eggplants" because they are as small as cherries or grapes. Besides stuffing, you can use Indian eggplant to make curries, stir-fried dishes, and stews.
This roasted Indian eggplant will definitely be a crowd-pleaser.
15. Fairy Tale Eggplant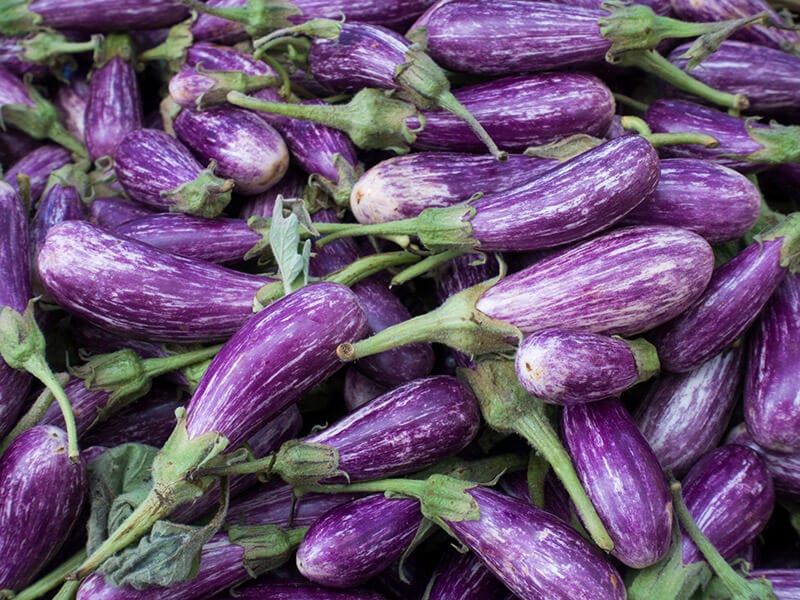 This variety does not just have a cute name; it looks pretty, too. Fairy Tale eggplant can make you hesitate to cut it because it has a small size (as big as your palm) and plenty of attractive white and purple stripes on the peel.
Not only does it look stunning, but it also has a sweet taste and a creamy texture that is incredibly delicious.You can grill or stir-fry it. Since this eggplant variety is small, it will be ready in a short period of time.
16. Orient Express Eggplants
Orient Express eggplants have the typical glossy deep purple skin and the slender shape of regular eggplant. The flesh inside is very tender. It is perfect for roasting and grilling. You can add it to curries, casseroles, and vegetable dishes as well.
This type of eggplant is used a lot in traditional Greek dishes such as garlicky baked eggplant. What I love about them is that they have very thin skin, so I never have to peel it. In addition, it only takes a short time to cook them.
People love this variety because the plant can withstand extreme weather conditions. The seed takes quite a long time to sprout, but the plants can grow and fruit quite quickly.
17. Ping Tung Eggplant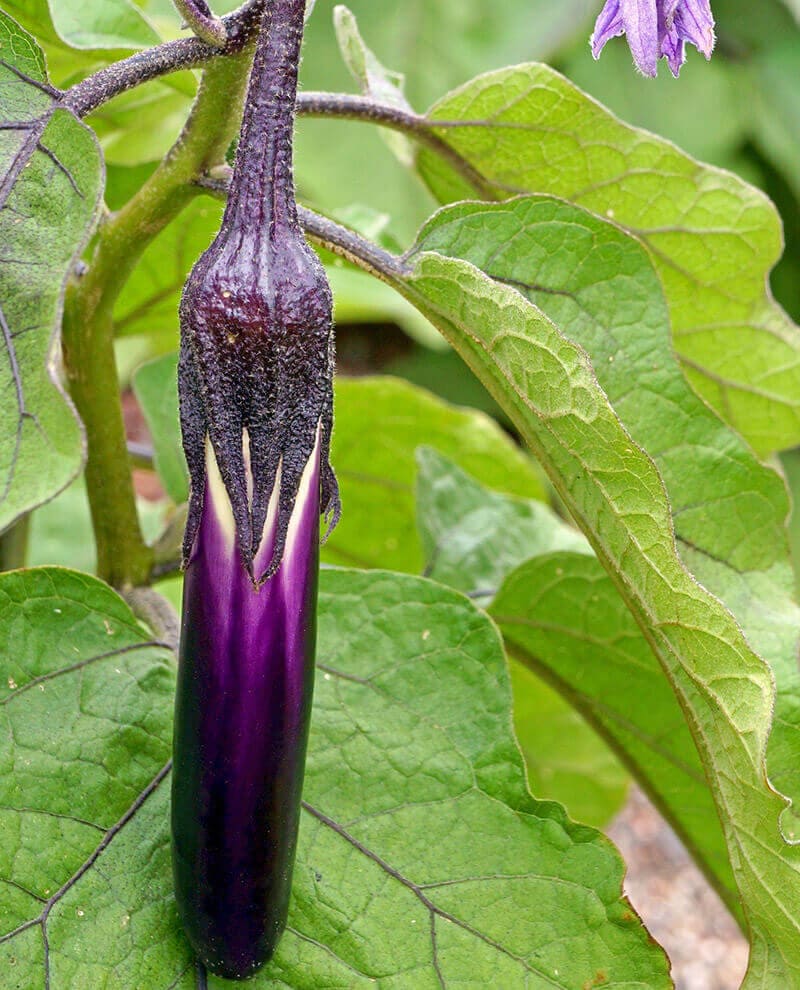 Looking at this Asian name, can you guess where this eggplant type comes from? It is native to Taiwan. It is long, thin, and has a deep and shiny violet hue.
What is great about Ping Tung eggplant is that you don't have to remove its peel. Its sweet taste and tender texture will please anyone. Thanks to these incredible traits, this veggie is a prevalent ingredient in many Taiwanese dishes.
Since it is not bitter, you can serve it to your kids. They will definitely love it.
Ping Tung eggplants do not contain much water. So even if you don't salt them before cooking, they will come out tender, creamy, and incredibly delicious.
18. Machiaw Eggplant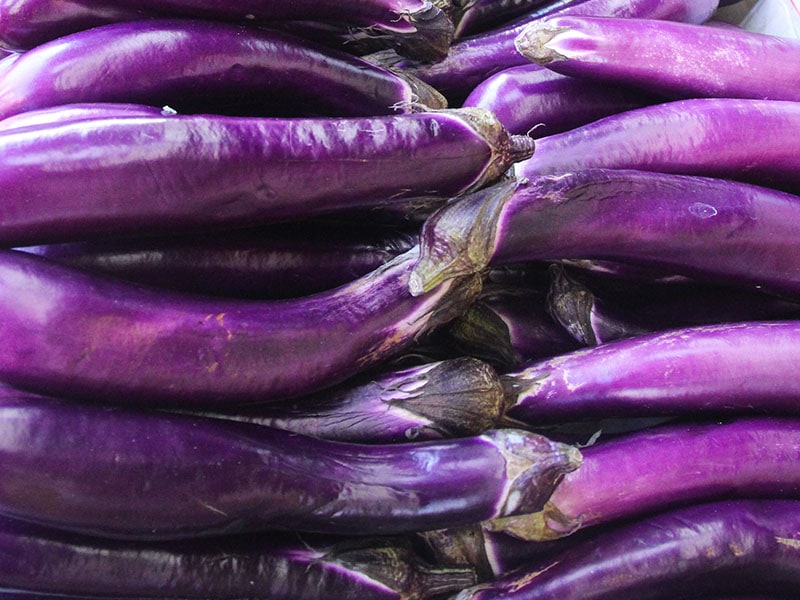 Machiaw eggplants are a Japanese variety that comes in a variety of colors. They can be bright purple, deep purple, or dark pink. They have a long and thin shape, just like other varieties.
Notably, this variety has a very thin skin. It also has little or no seeds. If you prefer a seed-free variety that is easy to peel, Machiaw eggplant is definitely for you.
19. Rosa Bianca Eggplant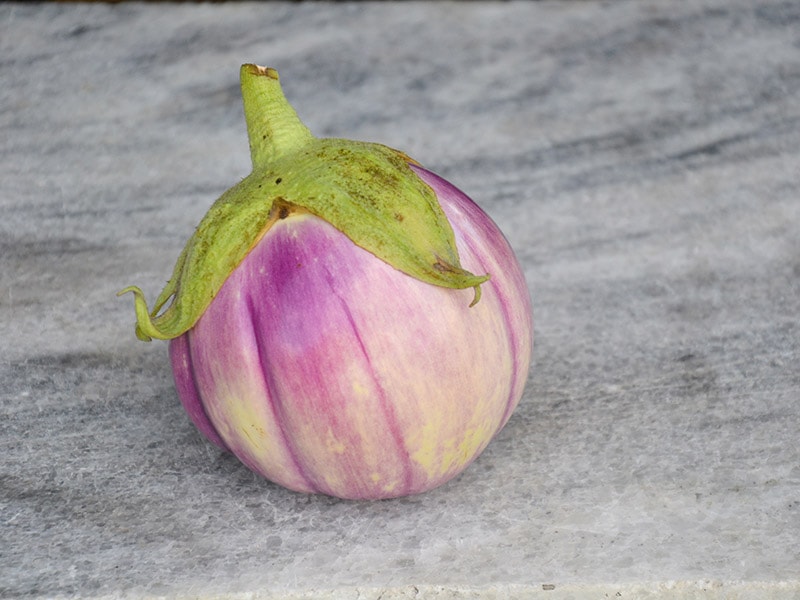 Such a beautiful variety will catch your attention in the grocery store. Unlike other varieties which have a deep purple hue, Rosa Bianca eggplants have shades of white, purple, and sometimes pink. They came from Italy and had a small and round shape.
This lovely variety has a mild, sweet, and meaty taste. It is less bitter than most other varieties and suitable for grilling or roasting.
4 Best Eggplant Recipes To Amaze You
In this section, I will provide you with the most popular recipes that you can make with eggplants right away. These healthy dishes are simple yet delicious and will make your meals more interesting.
Grilled eggplant is a very versatile recipe that can be cooked with every type of eggplant. The taste of grilled eggplant is amazingly tasty. The edge is quite charred, while the flesh inside is still very tender with a sweet and garlicky taste.
Let's try making grilled eggplant the Italian way.
Some types of eggplant, such as Thai eggplant and Japanese eggplant, have a firm texture that does not break apart easily. This feature makes them perfect for stir-frying. The flavor is up to you. Add some Jalapeño peppers for a little bit of heat or some basil leaves for a herby taste.
Roasted eggplant is a classic eggplant recipe. You can cut the eggplants into cubes or simply slice them into 2 halves to keep their shape and texture. This is also one of the simplest recipes to make because it only requires some salt and olive oil, but the flavor is out-of-this-world.
If you need a hearty recipe for dinner, why not make eggplant lasagna and serve with cheese? The sweetness of eggplant and richness of cheese create a mouth-watering flavor that will please the crowd.
Make An Eggplant Dish Now!
What do you think about those eggplant varieties? I am sure that you want to taste them right away. Have you thought of a variety and a recipe to create a delicious eggplant dish? If yes, go ahead with it. You will regret not trying these delightful varieties.
Support me by sharing this article on your social media account so that more people know about these mouth-watering eggplant varieties. Don't hesitate to show people what you are interested in!