"Are pickles a vegetable or a fruit?" Pickles are one of the most beloved foods of all time, but are you sure you can give a clear answer to that question? Let's find out the secret of pickles in this article.
To answer this question, it's necessary to look from multiple angles. First thing first, do pickles exclusively denote cucumbers? The answer is no. Pickles can be many kinds of vegetables, fruits, and berries.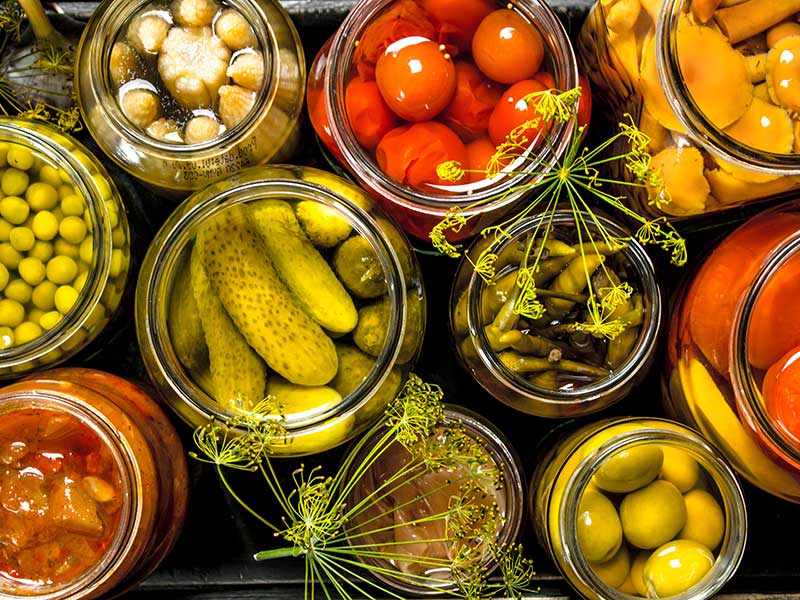 What Are Pickles And How Are They Made?
Pickles are a wonderful food. They are tasty, nutritious, and hard to go bad. Pickling is one of the most ancient methods of processing and preserving foods. People have practiced this method throughout many cultures in the world.
What Are Pickles?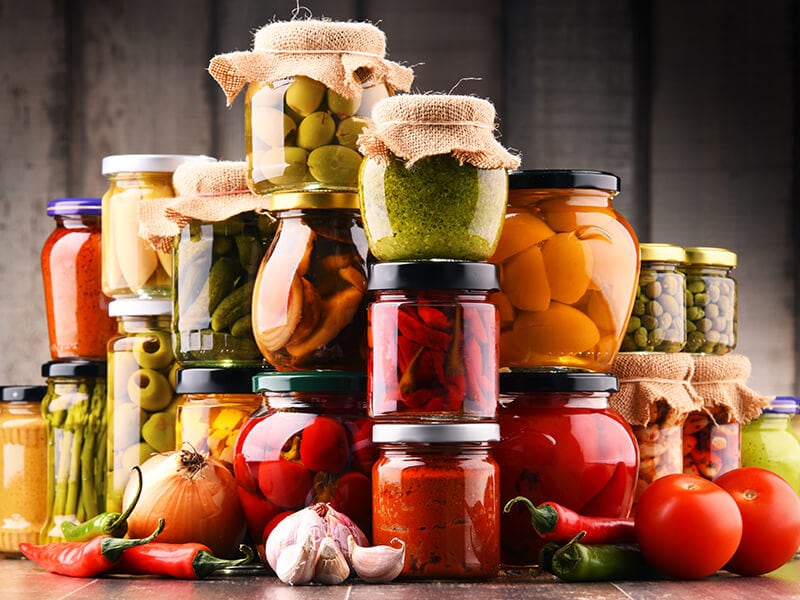 Pickles might be one of the most ancient foods, dating back more than 4000 years ago when Mesopotamians practiced soaking cucumbers in acidic brine to preserve them.
Today, pickles are usually referred to as Lacto-fermented vegetables. Pickles are commonly made with salt and vinegar-brine. There are wide pickle varieties, such as gherkins, sweet pickles, dill pickles, and so on.
Pickles have become one of the most-eaten dishes ever since because it is easy to make them with a palatable taste.
Methods Of Pickling
There are countless types and brands of pickles worldwide, but they boil down to 3 different categories, which are the methods to make pickles.
| Pickling Method | Definition | Taste |
| --- | --- | --- |
| Salt Brine pickles | Salt keeps the liquid content from the ingredients, thus preventing spoiling | Salty |
| Fermented | Natural fermentation produces probiotics to maintain the pickling base | Salty and sour |
| Vinegar brine | The acidic environment from vinegar harnesses the activity of spores and bacteria | A strong taste of vinegar |
Salt Brine Pickles
This pickling method's mechanism is to utilize salt's water-retaining ability. The salty solution helps draw out the excess moisture in the ingredients and develop a pickling base. Therefore, this method is suitable for vegetables containing a lot of water.
This way, the pickling solution can pervade the ingredients inside and integrate the flavors with the ingredients.
After soaking in the salty solution for a few hours, you can rinse the ingredients thoroughly. People usually add vinegar to complete the process. Salt-brine pickling is a classic way to produce pickles with good flavor and a long shelf-life.
Furthermore, it's also a way to provide a crunchy texture to the vegetables.
Fermentation Method
Fermentation is the most traditional and natural way to pickles. Fermentation is when good microorganisms thrive in the pickling liquid, with sugar as the main energy source. Thus, preserve the pickles.
Those microorganisms digest the sugar and produce a lactic acidic environment. During the digestive process, the microbes also create a low-pH environment to preserve the produce. Adding sugar, vinegar, or citrus is not necessary for the process.
Vinegar-Brine Pickles
Like salt brine, the vinegar method draws the moisture in the ingredients out to allow the pickling solution to penetrate the food cells, allowing the pickling liquid to saturate the ingredients.
The process will make your pickles more savory and improve their texture. The soaking and draining process will repeat multiple times until the ingredients are ready to go into jars.
This method allows the flavor to penetrate the ingredients' cells and improve their texture. This traditional method may take a while to be ready for consumption.
In pickling, microbes will digest the sugar and turn the solution into a lactic acid environment. This low-pH environment will become a preservation solution for the pickles. Adding more vinegar or sugar is unnecessary since the process will take care of itself.
Making pickles is not rocket science at all. Try this at home!
Fruit Vs. Vegetables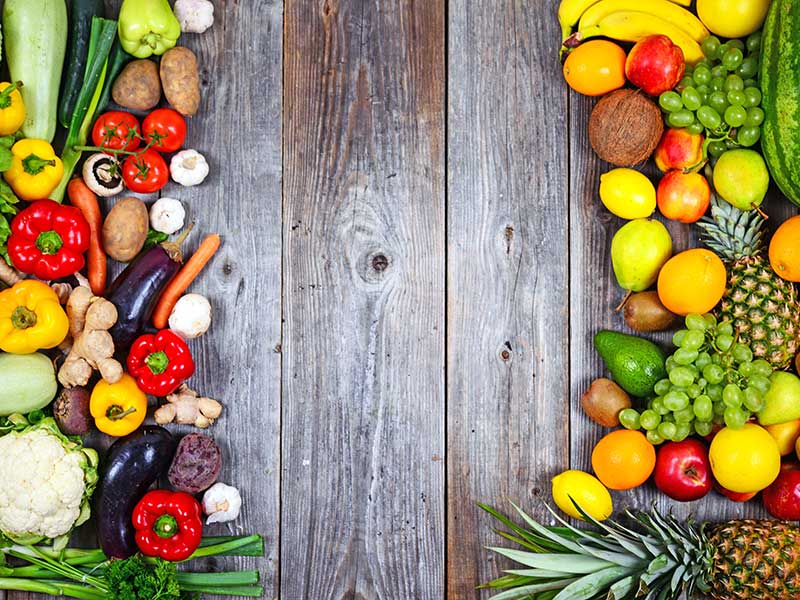 Everyone should eat more fruits and vegetables, but not many people can tell the differences between these two greenies.
Here is a brief table for your knowledge:
| Feature | Fruits | Vegetables |
| --- | --- | --- |
| Botanic qualification | Develop from the flower of a plant | Edible parts of the plant |
| Biological structure | Contain seeds | Roots, stems, fruits, and leaves |
| Culinary standpoint | Generally sweeter; used in juice, desserts, and snacks | Savory taste; side dish or main course |
This table is the most basic distinction between fruits and vegetables, but this is not in any way the most precise scientific information.
What Are Vegetables?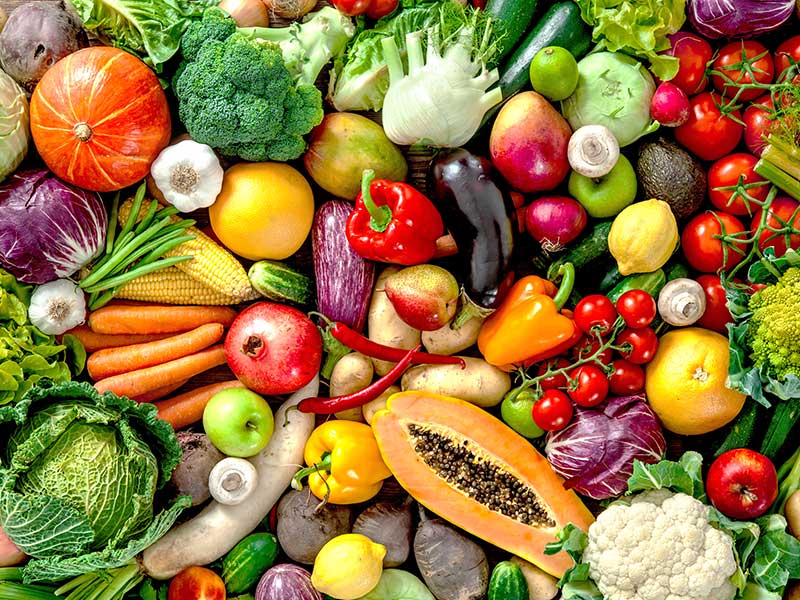 Technically, any part of plants that humans or animals can consume is a vegetable. Those parts include flowers, leaves, stems, seeds, and fruits. (1)
In that sense, flowery parts such as broccoli, cauliflower, and seeds like legumes are vegetables.
In terms of botany, fruits are listed as a part of vegetables. But that's not always the case. Things are more complicated in terms of culinary and culture. Because of their traits, vegetables can include fruits such as tomatoes, cucumbers, and broccoli.
In short, vegetables is the wider term that includes even fruits.
What Is A Fruit?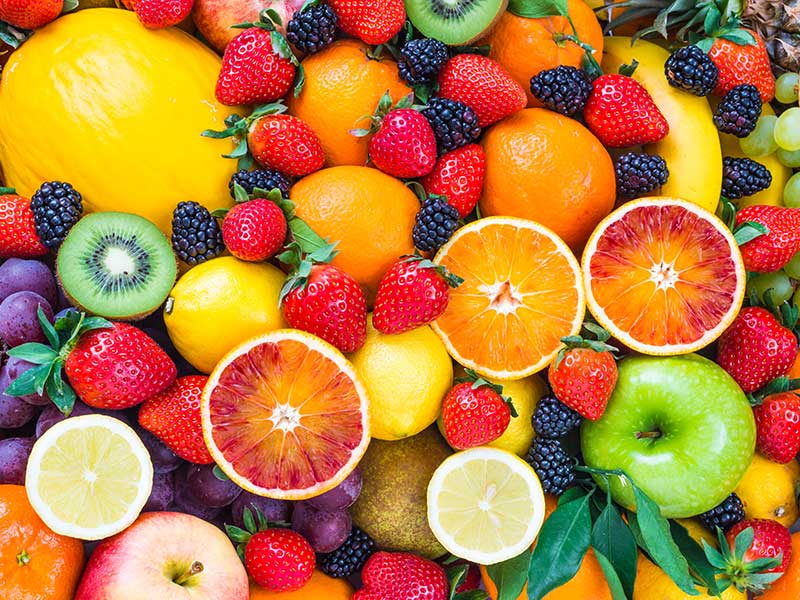 Botanically speaking, a fruit is a part of a plant that bears seeds and is formed after flowering. Most fruits are naturally edible because plants use human and animal movement to disperse seeds. In return, fruits supply nutrition for them.
In culinary terms, people usually refer to fruits as something we can eat raw without the need to cook. Fruits like apples, pears, or red grapes may be sweet, but some fruits, such as oranges or citrus, can give you a pucker as they are too sour.
Sometimes, people even mistake some fruits for vegetables or grains. A few candidates for this misconception are peppers, beans, peapods, and nuts.
There is an easy (but not absolute) way to determine whether something is a fruit or not; just ask yourself: "Does this thing come with seeds?". If you say yes, you can technically call it a fruit. Overall, it depends on your preferences.
What Is Cucumber Categorized As?
You may think categorizing cucumbers is child's play, but there is a whole scientific aspect after your little greenies.
Is Cucumber A Fruit Or Vegetable?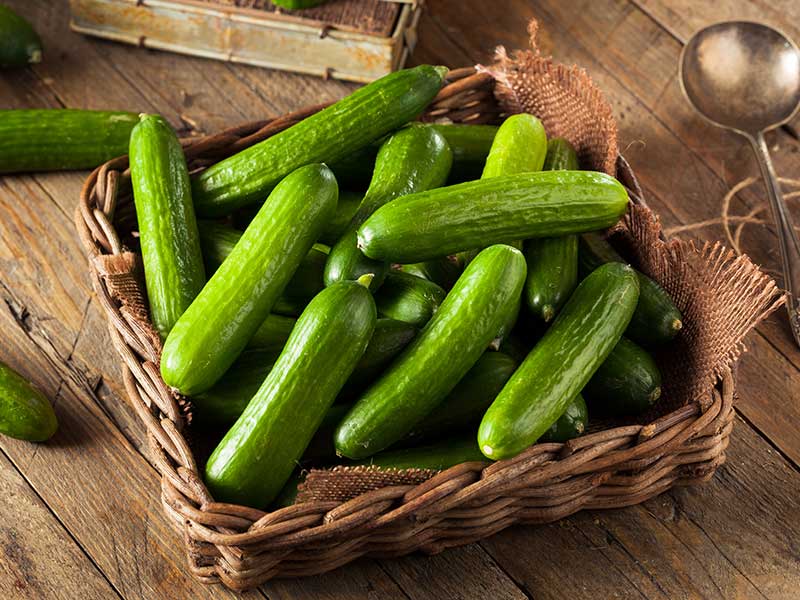 Everyone is familiar with cucumbers. The popularity and tastiness of these greenies are unquestionable. However, there is a question about them that can make most people go hmmm: "Is cucumber a fruit, a vegetable, or a berry?"
Again, in botanical assessment, based on the structure and organization of the plant, cucumbers are fruits as they contain tiny seeds inside and develop from the flowers of their plant.
In the scope of chefs, food critics, or your mother, you should apply the culinary assessment to look at cucumbers.
Based on the ingredients used and their flavors, vegetables are usually referred to as food with a blander taster and often require cooking or adding spices to get to their perfect flavors. So in terms of cooking, cucumbers are vegetables.
Although being more or less a savory fruit, people usually consume cucumbers as vegetables.
Cucumbers are also vegetables since scientists decided that fruits are also vegetables. Vegetables don't have a clear set of definitions, so any edible part of a plant, including roots, leaves, and even stems, can be vegetables.
Cucumbers possess a crunchiness and refreshing profile without the need for further processing. But cucumbers are also famous for their savory selves, such as pickles and salads. That's also the reason why cooking enthusiasts think about them as vegetables.
Cucumbers As Berries
There is another surprising classification of cucumbers which is berries. In botany, a berry is a fruit without a pit produced from one single flower with one ovary on a flowering plant. Cucumbers can be berries by this definition since they meet all the criteria.
In culinary terms, a berry is a fleshy fruit without a stone in the middle, such as blueberries, cranberries, grapes, and kiwifruit. For that reason, a cucumber is also a berry in both botanic and culinary senses.
Learn more about your favorite veggie's identity!
Are Pickles Always Cucumbers?
In the US, when you mention pickles, people will assume you're referring to a pickled cucumber. But the term is not as restricted in other parts of the world. Pickles can be any kind of vegetable, fruit, or even meat.
You can have mango pickles in India, pickled lemons (L'hamd markad) in Morocco, or pickled ginger (gari) in Japan.
Therefore, if you're not in the US or in a foreign restaurant, don't be too fast to assume you're getting pickled cucumbers when ordering pickles for your dinner. Some pickles can feel a bit too weird for your taste.
Pickling is only a method of preserving foods. It has been a common practice of many cultures (with or without cucumbers) since ancient times, so it is in no way exclusive to cucumbers.
Learn the differences between cucumber and pickles.
Other Varieties Of Pickles
As I have discussed, pickles come with various ingredients and pickling methods. Pickles can also be fruits, vegetables, or even berries.
Getting to know pickles outside of its "cucumber boundaries" can introduce you to the boundless and unique culinary cultures worldwide.
Pickles are among the best representatives of a culinary culture since they reflect the tradition and botanical diversity of the country. Moreover, they display the culinary mind of a group of people about their ways of processing and preserving foods.
Here are some eye-opening types of pickles from different cultures:
Using Fruits For Pickling
Fruit pickles are fascinating because of their color looks and diversified tastes. Let's get to know some of these cute little guys in the jars!
Mango Pickle (India)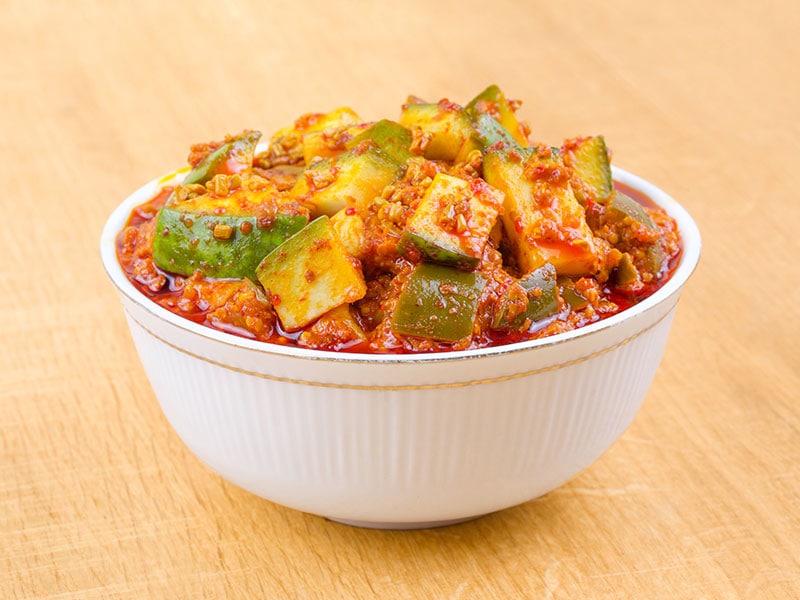 Mango is among Southeast Asia and India's most common types of fruits. Pickled mangoes are not exclusive to India. They grow in many parts of Asia as well. However, the Indian achar (pickle) is the best known outside its boundary.
People make this particular type of pickles with oil. They chop Green mangoes into small pieces and mixed with oil, salt, and other spices. The dish has a unique, intense heat because of its Indian origin.
You can eat mango pickles with rice or traditional Indian foods like dosas or Chapati.
Lemon Pickles (Morocco)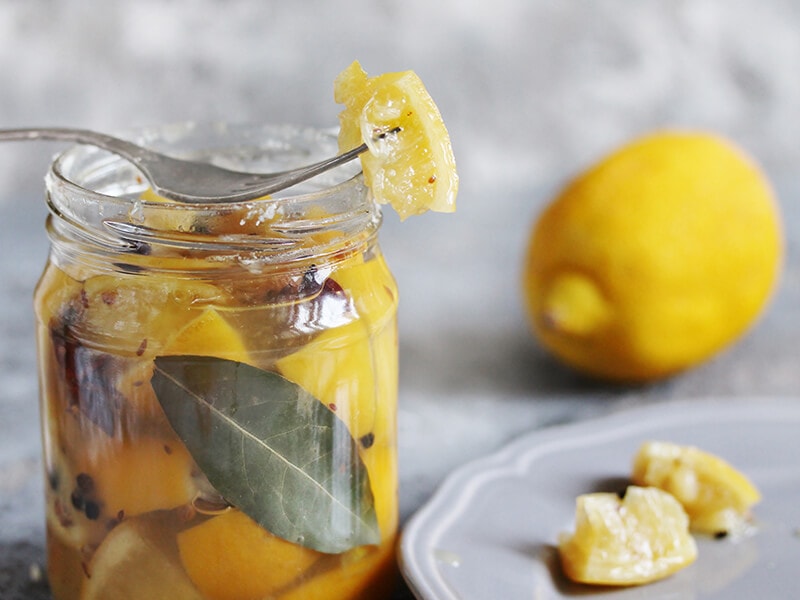 Pickling lemons is a traditional way for Moroccans to preserve unused fruits. These recipes can be the most simple pickling method. People put chopped lemons in a pickling brine consisting of lemon juice, water, and salt.
Vinegar is unnecessary since lemon juice maintains an acidic environment to retard the growth of fungus spores and bacteria. In some other recipes, people add spices to step up the flavor.
The best foods to go with lemon pickles are salmon or roasted lamb.
Using Vegetables For Pickling
Pickling vegetables helps preserve them longer and improves their flavors along with their texture. Just imagine pickling is the magical way to turn bland and boring vegetables you have to consume every day for the sake of nutrition into colorful and flavorful dishes.
Here are some pickles as vegetables that you can add to your must-taste list:
Kimchi (South Korean Fermented Cabbage)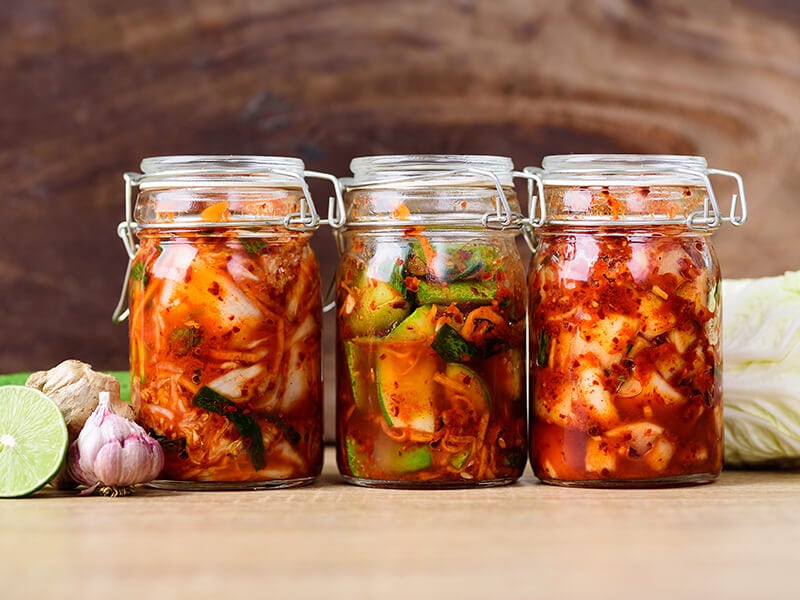 Kimchi is a Korean dish well-known worldwide for its pungent smell and taste. Kimchi has been an iconic part of South Korean cuisine culture for centuries.
There are many variations of kimchi, but the traditional recipe's main ingredient consists of napa cabbage and Korean radish.
There are also many kinds of kimchi, such as Oi Sobagi (cucumber kimchi), Dongchimi (radish kimchi), Baek kimchi (white kimchi), and so on.
A wide range of spices, including gochugaru (Korean chili powder), ginger, garlic, spring onions, and jeotgal (salted seafood), give kimchi such rich flavors and complex taste. Consuming those spices and chili also warms your body up in a cold climate like Korea.
Kimchi is usually added to the stew, hotpot, Korean BBQ, or fried rice.
Sauerkraut (German Fermented Cabbage)
The famous Sauerkraut is known as a traditional German dish, but it has its first origin in Chinese. In ancient Chinese, people pickled cabbages to preserve and give to the workers who built the Great Wall of China. This dish came to Europe thanks to the Mongolians.
People left cabbage to ferment naturally in the salt brine. Modern cuisine calls it the Lacto-Fermentation process, which kills off or harnesses the growth of bad bacteria while assisting healthy bacteria in thriving.
In Germany and Austria, people add juniper berries or caraway seeds to the pickles to give them more flavor. People also add sauerkraut to stews, soups, and pork chops.
You will never know how good Sauerkraut is until you make it and eat it yourself!
Kyuri Zuke (Japanese Pickled Cucumbers)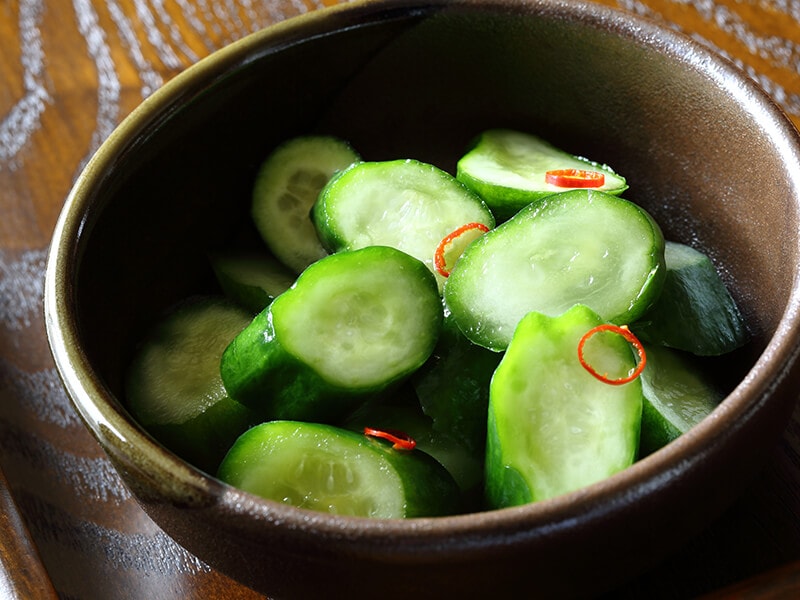 Japan has a large variety of pickle recipes, and Kyuri Zuke is one of them. This pickle is a lightly salted cucumber with seaweed soaked into a pickling liquid consisting of soy sauce and rice vinegar.
Since this recipe is a type of quick pickles, I recommend eating them within a few days. This dish is usually served with rice as a garnish.
Health Benefits Of Pickles
Consuming pickles can yield many benefits for your health. Pickles' most prominent health feature is a high level of probiotics, which benefits your brain and gut condition. (2)
Foods left outside or not stored properly can become a nurturing ground for bacteria and fungus spores. These "airborne colonizers" are detrimental to your health.
But in the case of pickled food, the acidic and high salt concentrated solution can hinder bad microorganisms' growth while making room for probiotics.
Eating pickles can assist your digestion, provide antioxidants, and curb sugar spikes in your blood. Not to mention the full-scale nutrition that is almost intact in the ingredients since most pickles are processed rawly.
FAQs
Here are some FAQs to complete your knowledge about the interesting question of whether pickles are a vegetable or a fruit. Know more about pickles through these FAQs!
Pickles And Beyond!
Pickles come in all colors and kinds. Now that pickles can be vegetables, fruits, and berries, you should not contain your creativity when making home pickles. Try all the recipes worldwide and turn your kitchen into a continental restaurant.
But always be mindful of the location you're dwelling in. The definition of pickles may vary greatly depending on whether you're in the US or other parts of the world. Comment and share this article to inform more people about this valuable information!
Paragraph
Vegetable (2022) Wikipedia. Wikimedia Foundation.
Are Pickles Good for You? (2022).