You are familiar with asparagus, but do you know the differences and similarities when comparing white asparagus vs green asparagus?
Asparagus is a common kind of food with a good taste and high nutritional value. It is used widely in people's daily meals. Among the main kinds of this food, there are white and green asparagus.
Each of these kinds has its characteristics and advantages to human health. In this article, you will gain knowledge about the overall and detailed information about their general and distinguished features.
After reading this post, you will thoroughly comprehend white and green asparagus. Therefore, you can make your perfect choice in deciding how and when to consume each of them.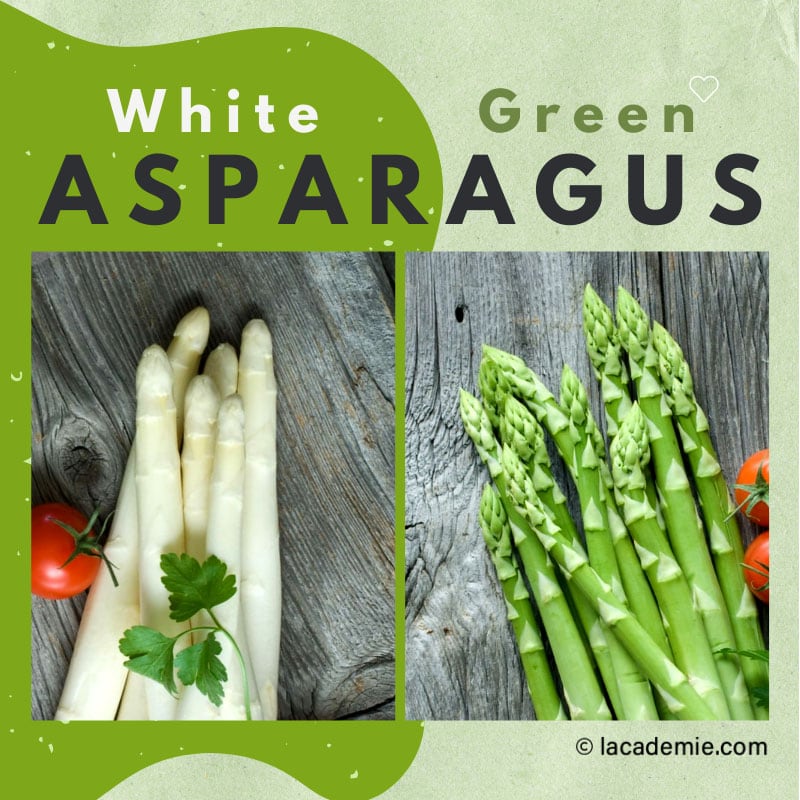 The Overall Understanding Of White And Green Asparagus
Asparagus, scientific name Asparagus officinalis, is a kind of plant with a long stem and its tiny leaves grow in a rose-like shape at one end. It is a lily family-classified herbaceous plant of which young shoots are consumed as a kind of spring vegetable.
White asparagus is a special kind of asparagus, which has its own particular attributes. White asparagus is well-known mostly in Europe and Western Asia. It is the result of applying the technique of blanching in cultivation.
The name of white asparagus has already disclosed its most visible feature: the color. It is white outside with a delicate and slightly bitter flavor and is considered "white gold," "royal vegetable," or "edible ivory," thanks to these unique and special features.
Asparagus in general, and white asparagus in particular, provide people with a kind of food rich in vitamin A, vitamin C, iron, calcium, and potassium. Asparagus and broccoli are often compared since they're both nutritious. This "royal vegetable" is usually served seasonally, from late April to June.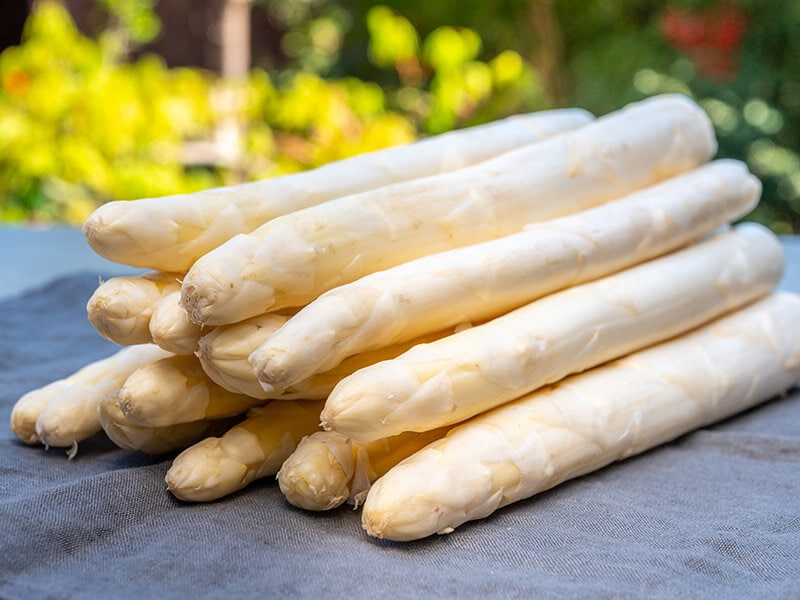 While white asparagus is more popular in Europe, green asparagus is more widely-known in America. It is considered a good source of vitamins for humans.
Green asparagus grows robustly in temperate and cooler climates, especially in long winter. A planted green asparagus may need up to 2 to 3 years to get established and start to produce. However, it is worth waiting as it can be productive for decades.
Green asparagus has low calories, making it valuable for consumption as it is good for health. The taste of green asparagus is a little bit similar to beans but bolder than beans, and it is also nutty and mild.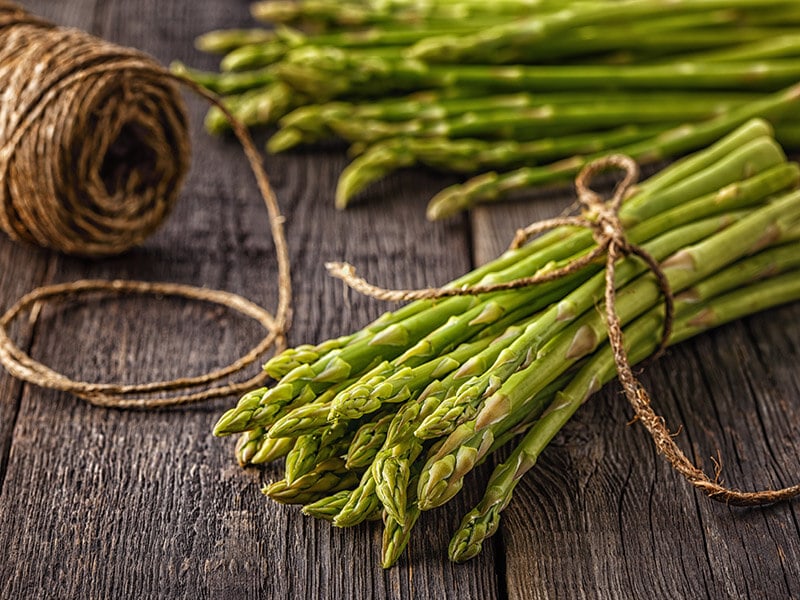 Differences Between White Asparagus And Green Asparagus
The main differences between the two types of asparagus are their appearance, growing process, and other features, including taste, price, etc. You can see the table below to get an entire view of those differences.
| Main Aspects | White Asparagus | Green Asparagus |
| --- | --- | --- |
| Colors | White | Green |
| Growing process | In darkness | Under sunlight |
| Harvesting approach | Must be harvested before rising out of soil | Harvested normally when they grow up |
| Taste | Delicate and a little bit bitter | Grassy and nutty |
| Price | More expensive | Cheaper |
| Shelf life | 3 - 14 days based on different conditions | 3 - 14 days based on different conditions |
| Cooking methods | Needs peeling | Depending on the thickness of the stems |
| Nutritional values | Quite similar to green asparagus but not as nutritional-packed | Richer in fiber, calories, protein, fat, carbohydrates, iron, and calcium |
| Health benefits | Quite similar to green asparagus but contain fewer antioxidants | Heart-healthy and high in antioxidants |
Colors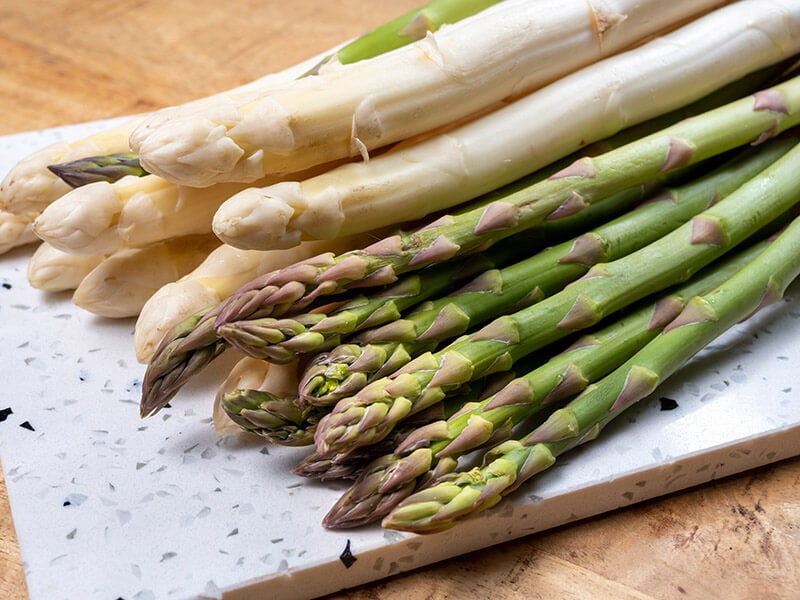 It is obvious that the main and very first distinguished feature between white and green asparagus is the color. You can notice this at the first look at these two kinds of asparagus.
The difference in the color outside begins inside the asparagus. The reason why green asparagus has this color is that there is chlorophyll inside it. This compound makes asparagus look green.
Inside white asparagus, there is no chlorophyll as it is in green asparagus. Without this pigment, it does not have a green color and remains white even after cooking. Peeled white asparagus looks quite like "scallions" of green onions.
There is another interesting fact about their color. While white asparagus never changes its color even when you cook, green asparagus transfers to white when they have been cooked for a long time.
More About Chlorophyll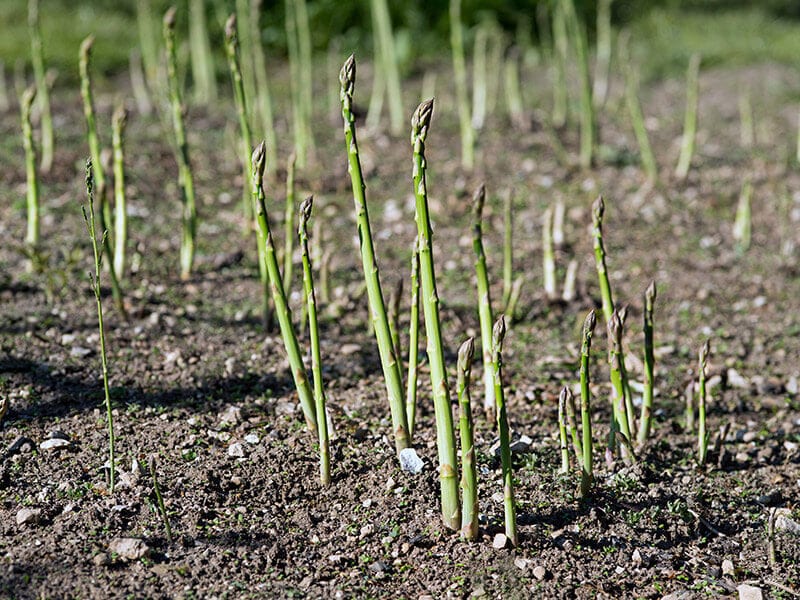 Chlorophyll not only creates the difference in white and green asparagus color but also impacts the nutrient elements inside these plants.
Chlorophyll is a substance inside the plants that come into being when the plants expose to sunlight. It is the element that makes the plants look green.
Through a biological process called photosynthesis, chlorophyll helps the plants absorb the energy from sunlight and get their sustenance.
Chlorophyll has many advantages to human health. First and foremost, it is a dominant antioxidant that makes it anti-aging.
Other positive effects of chlorophyll are preventing certain types of cancer, stimulating the immune system's functions, and providing energy. It also plays a sufficient role in skin protection and acne treatment.
The unique nutritious value of green asparagus compared with white asparagus is the chlorophyll pigment and its benefits.
Surprising benefits from chlorophyll to the human body.
Growing Process
The formation of chlorophyll inside green asparagus and the different colors between the two categories of asparagus result from the distinct growing process of these plants.
White Asparagus – Growing In Darkness
The growth of white asparagus requires darkness. This factor is the root that causes other dissimilarities between it and green asparagus.
White asparagus is grown under the ground and carefully covered. This is to prevent it from being exposed to sunlight. Once it meets sunlight, it will naturally produce chlorophyll and grow to be green asparagus.
The growing of asparagus in the absence of sunlight is called "etiolation." To conduct this approach, the farmers need to load a thick dirt mold on the asparagus or use black plastic to cover them to avoid sunlight exposure absolutely.
An ideal place to grow white asparagus is a dark environment.
Green Asparagus – Growing Under Sunlight
On the contrary, green asparagus needs sunlight to grow properly. Under sunlight, green asparagus produce chlorophyll, making them look green and get the related nutrients inside the plant. It develops most properly under the direct full sun (from 6 to 8 hours per day).
Harvesting Approach
Being separate in the growth, of course, the harvesting approaches for each of these two kinds of plants are also different.
The difference in harvesting approaches of these two kinds of plants lies in the time. While farmers harvest green asparagus after they grow out of the soil and stay under sunlight, the way to pick white asparagus is different. It must be harvested before rising out of the soil.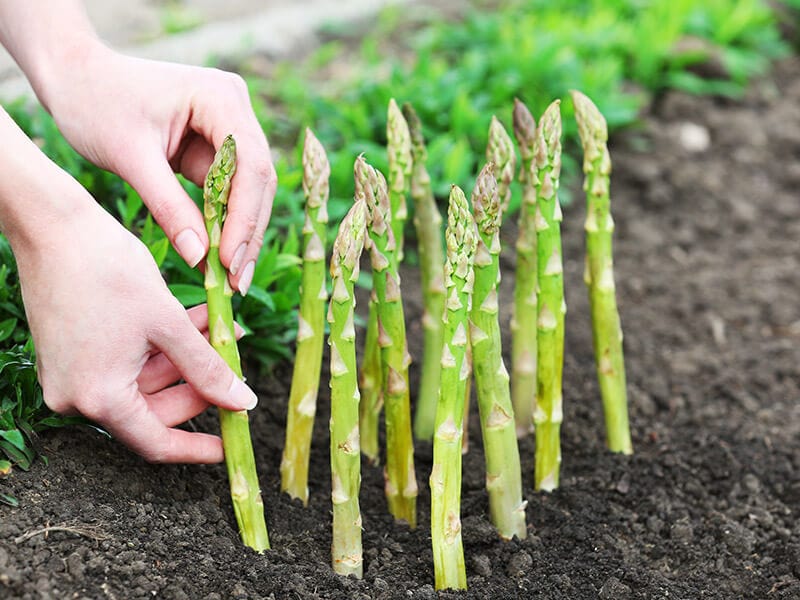 White asparagus must not peak out of the soil before harvesting. This ensures that it does not produce chlorophyll and keeps the quality and characteristics of white asparagus.
Taste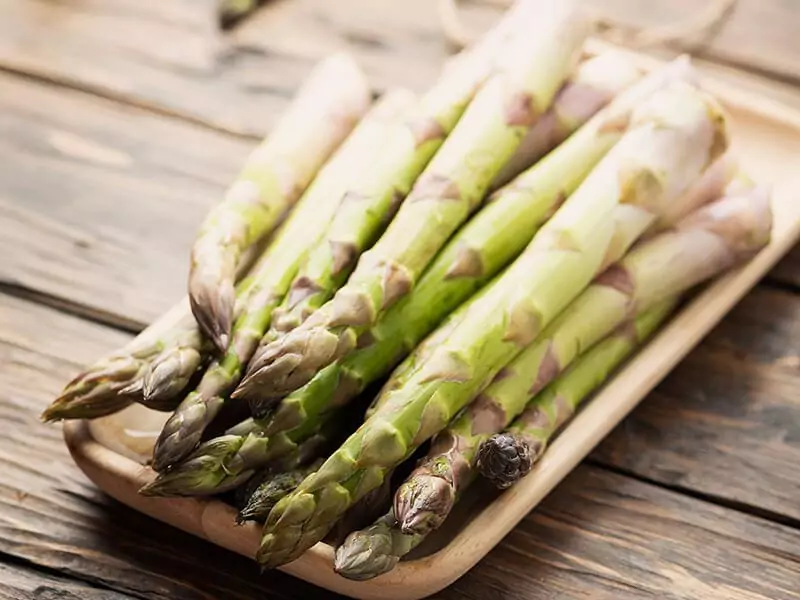 Both green and white asparagus have a mild taste. Although they both have the distinct flavor traits of asparagus, there are still slight dissimilarities in their flavor.
White asparagus has a delicately sweet and a little bit bitter flavor. Green asparagus is somewhat grassy and nutty. Green asparagus is also somehow heartier and earthier.
Some people also find white asparagus sweet and vegetal compared to peas and turnips. With its unique taste, white asparagus is usually served with lemon, mayonnaise, mustard, hollandaise sauce, and butter to enhance the dish's flavor.
Price
In comparison with green asparagus, white asparagus requires more attention and special conditions to grow properly, so its price is higher than green asparagus. Another reason for this higher price is its availability, which is only a few weeks in a year.
Farmers need to concentrate and keep their eyes on the whole growing process of white asparagus to ensure it is not exposed to the sun. This labor-intensive requirement makes the price of white asparagus more costly than green asparagus.
Shelf Life
The storing time of white and green asparagus is the same. The best way to keep asparagus is to refrigerate it. Based on different conditions, the timeframes to store asparagus in the fridge are different.
Different conditions of asparagus include asparagus in different containers and how you have prepared it. They are bare fresh asparagus, asparagus wrapped in a wet paper towel, cooked asparagus, and asparagus in a far with a little water inside.
The table below indicates the period to keep asparagus in the fridge:
| | |
| --- | --- |
| Asparagus Condition | Storing time in the fridge |
| Fresh Asparagus | 3 – 4 days |
| Cooked asparagus | 3 – 5 days |
| Asparagus in a jar with a little water inside | 10 – 14 days |
| Asparagus covered with a wet paper towel | 5 -7 days |
You can also store asparagus in the freezer with proper preparation. If you want to store your veggies for a long time, feel free to freeze them!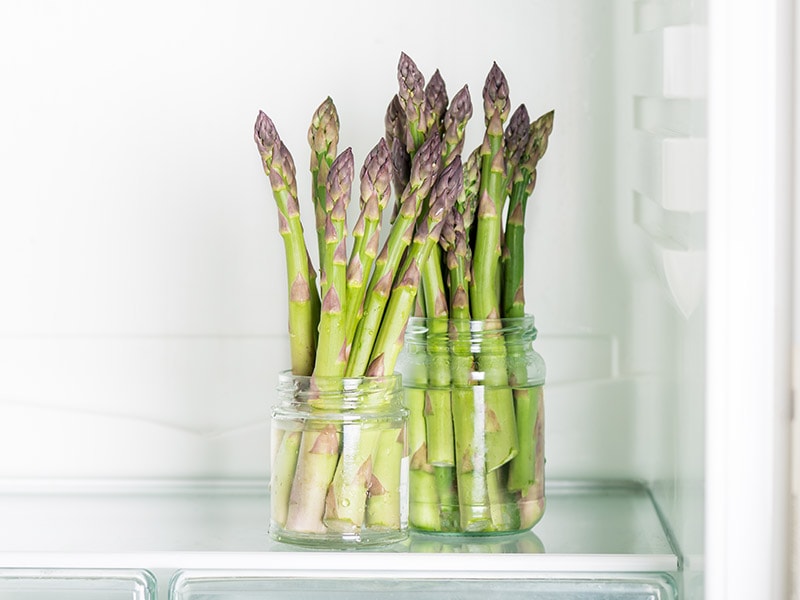 Peeling It Or Not
Peeling is a minor difference between green and white asparagus. In preparing this kind of food, there is a small notice regarding whether you should peel the asparagus or not.
White asparagus has a thick fibrous layer outside and thus requires peeling. You can use a vegetable peeler to eliminate this layer so that it will be tender when you cook.
Green asparagus, on the other hand, is not as thick and tough as the white ones. However, you may need to cut the end and peel the outside thick layer depending on the pencil, regular or large size.
A vegetable peeler is a useful tool for you to peel white asparagus.
Time For Cooking Green Asparagus Vs. White Asparagus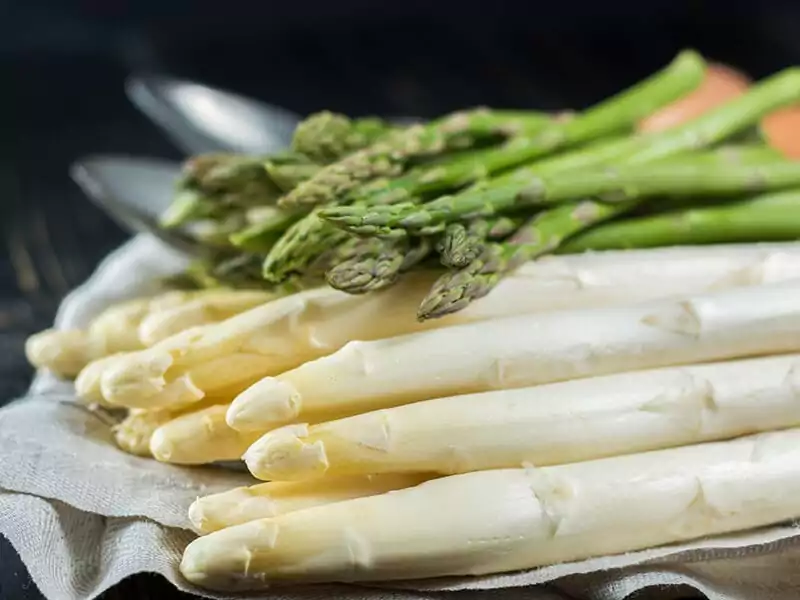 Time for cooking green asparagus and white asparagus is another difference between these two veggies.
Green asparagus is thin, so the time for cooking it is shorter than white asparagus. It requires al dente cooking until becoming tender. White asparagus is thicker and coarser, requiring a longer time to cook. Both of them are great for grilling and toasting.
If you want to try combining white and green asparagus in one dish, you should cook them together only if they have the same relative thickness. Otherwise, you should prepare them separately before putting them together.
Cooking Methods
Although they are quite different in many characteristics, the main methods for cooking white asparagus and green asparagus are similar. There are five common methods to cook asparagus.
In addition to the main cooking methods, asparagus can be prepared with other approaches: sauteing, baking, shaving in salads, etc. One tip for best cooking asparagus is applying sautéing, savory tarts, and stir-fries for thin stalks and grilling or roasting for thick stalks.
Roasting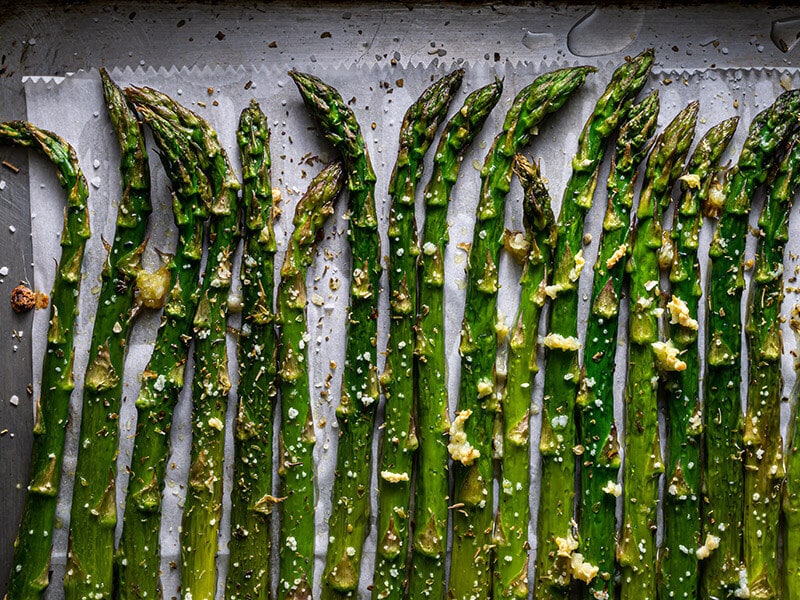 Roasting is the method of cooking asparagus with direct heat. When roasted, asparagus is cooked for a long period from outside to inside.
You can roast asparagus directly to a flame, in an oven, or in any other heat source. You can spice asparagus with olive oil, salt, and pepper and then roast it with the heat of about 425⁰F (220⁰C).
Alternatively, you can bake asparagus at 400 for the right amount of time. This temperature is suitable if you don't want to cook with too much heat.
Grilling
Grilling asparagus is a quick method to cook it into a flavorful dish. Thick stems of asparagus are best for grilling as they become tender after cooking.
It takes only 5 minutes to grill asparagus. After preparing the grill pan, you need to season asparagus with salt, pepper, and olive oil, then grill it on the pan until becoming tender and ready to serve.
Blanching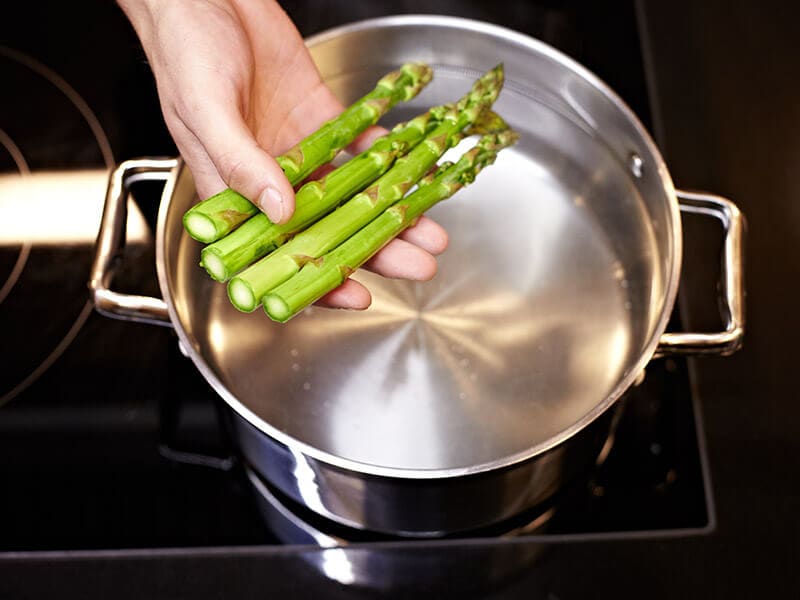 In cooking asparagus, blanching is the technique where you briefly dip it into boiling water, adding a little salt as seasoning.
For different purposes, the time to blanch asparagus varies between 3 and 4 minutes. This cooking method is one of the most simple and easy ways to prepare asparagus. You also need to prepare an ice bath to transfer the blanched asparagus right after cooking.
This is how you can blanch asparagus at home.
Frying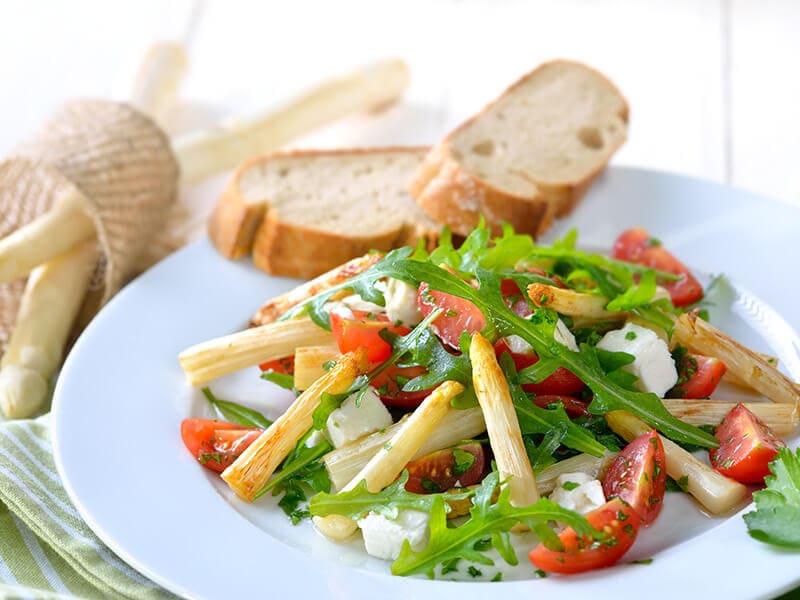 Frying is a common method of cooking asparagus. This method takes asparagus to cook in oil or other fat liquids.
You can also season it with salt, pepper, and garlic when frying asparagus. This makes the dish more attractive and tasty.
Steaming
Steaming is a cooking approach that boils water until hot steam is produced to heat asparagus.
In steaming, you need to boil water and put asparagus in the steamer, then cook until it grows tender. For better taste, you can drizzle asparagus with olive oil, pepper, and salt.
Guide on how to steam asparagus.
Nutritional Values
Both white and green asparagus are beneficial to the body. However, there are some small differences in the nutritional values between these two kinds.
You can have a look at the table below to see the accurate features of nutrition differences between 100 grams of green and white asparagus:
| Nutrition | Green Asparagus | White Asparagus |
| --- | --- | --- |
| Calories | 19 | 15 |
| Protein | 2.14 g | 1.54 g |
| Fat | 0.65 g | 0 g |
| Carbohydrates | 2.46 g | 2.31 g |
| Fiber | 1.6 g | 1.5 g |
| Iron | 10 mg | 2.08 mg |
| Calcium | 16 mg | 15 mg |
| Sodium | 287 mg (1) | 392 mg (2) |
In comparison, green asparagus is richer in calories, protein, carbohydrates, fiber, etc. White asparagus contains more sodium than its green counterpart, but the preparation method often affects this difference.
Overall, the nutritional gap between green and white asparagus is not that big.
Health Benefits
White and green asparagus have some minor differences in the nutrition components, but both of them have wonderful advantages for health.
Rich In Fiber
Fiber helps control blood sugar levels, maintain bowel health and lower the cholesterol level in your body.
Green and white asparagus are rich in fiber, which is a great source of fiber for you on daily consumption. They can also help you feel full for longer and therefore aid you in achieving a healthy weight.
High in antioxidants
In terms of antioxidants, green asparagus has more antioxidants than white asparagus. It is high in vitamin E and flavonoids, which help ease the oxidative process in the body.
The antioxidant level in asparagus varies based on color and variety. White asparagus contains a lower rate of antioxidants than green asparagus. Eating food rich in antioxidants helps reduce the risk of having heart and cancer.
Heart-healthy
Both white and green asparagus are rich in vitamin K, which is beneficial nutrition to your heart.
Vitamin K reduces the risk of heart disease. Sufficient consumption of vitamin K will help you lower heart diseases.
Low In Calories
Asparagus is a kind of food that is rich in water and contains few calories. This means that you have little calorie intake when you consume asparagus.
This helps you to keep fit and control weight. This low-calorie level coupled with rich fiber type of food makes it an ideal choice for weight loss.
A Good Source Of Calcium
Your body needs Calcium because it is the essential mineral to maintain the development and function of bones. Asparagus is a healthy and helpful source that supplies you with a positive amount of calcium.
Popularity – Availability
White asparagus and green asparagus have other differences related to their availability in different countries.
China is the biggest producer of green asparagus. In the States, the green version is more popular than its white counterpart.
While you can find white asparagus in the US, it's not very common due to the lack of domestic cultivators. The consumption of white asparagus in North America comes mainly from Peru.
White asparagus is mainly grown in Europe countries such as France, Germany, Spain, Switzerland, Greece, and the Netherlands.
Tried And True Recipes With White Asparagus
Now, you can have a look at the following recipes to turn this "white gold" into a yummy party of flavors!
Total time: 42 minutes
White asparagus is a very popular dish, especially in the spring. This simple soup is one of the favorite dishes in Germany.
This soup can be made by cutting asparagus into small pieces, then cooking in the butter liquid. One note while making this soup is to be careful with seasoning. As the overall taste of this soup is slight, excessive flavors such as salt or lemon will make it over-flavored.
Easy, happy cooking with white asparagus cream soup.
Total time: 25 minutes
The tenderness of white asparagus is good to mix with different kinds of salad. With crab salad, they create a good choice for you on Easter.
The delicate flavor of white asparagus is the dominant element of this dish. Other ingredients are prepared in the simplest way to save the freshness and avoid excessive seasoning.
Total time: 40 minutes
Shrimp salad is another type of salad that combines well with white asparagus to make a delicious dish.
In this dish, gray shrimp, known as brown shrimp, is a perfect ingredient to mix with white asparagus. It is a small type of shrimp with a salty-sweet flavor that comes with white asparagus to create the impressive flavor of this dish.
Top Recipes For Cooking Green Asparagus
You can make dishes with wonderful taste and golden nutrition values by combining green asparagus with other kinds of food and using different cooking methods.
Total time: 20 minutes
Grilling salmon with a foil back can create new flavors for your salmon. It helps prevent the salmon from sticking to the grill.
The pack comprises salmon, asparagus, lemon, and butter. This combination creates a dish with a light taste for any occasion in the year.
Total time: 35 – 40 minutes
Surely, this dish has an irresistible and unforgettable taste and will be the perfect choice for any meal of the day.
You can adjust this recipe according to your taste and what is available. With each ingredient, you can choose any brand you like or make them yourself. Doing this ensures not only the taste of the dish but also makes your version unique.
Total time: 12 minutes
Among the dishes with asparagus, air fryer asparagus has only one main ingredient: green asparagus.
The total time for cooking it is less than 15 minutes, which is suitable for a fast and easy meal. Without meat, it is also a delicious dish for vegetarians. To make this, you need an air fryer.
FAQs
Now that you have read all the overall and detailed information about white and green asparagus, you can have another look at these popular questions to have a clearer understanding of asparagus in general.
White Asparagus Vs. Green Asparagus – What Is Your Choice?
Although the root is the same, white asparagus and green asparagus have some noticeable differences. Each of them has its own advantages and disadvantages to human health in terms of consumption, preparation, nutritional values, and cooking methods.
This article has led you to a full understanding of each type. So, according to your preferences, you can choose between these two. If you find this helpful, please comment and share it with your surrounding people to help them know about this topic more clearly.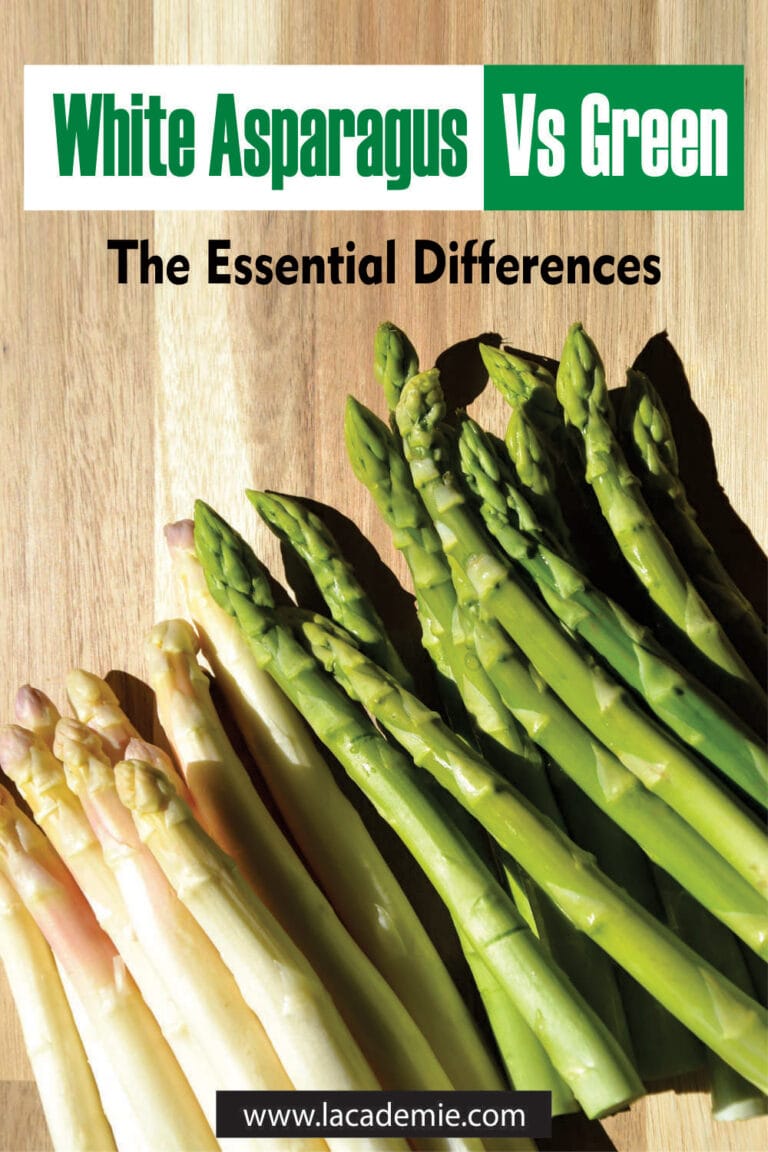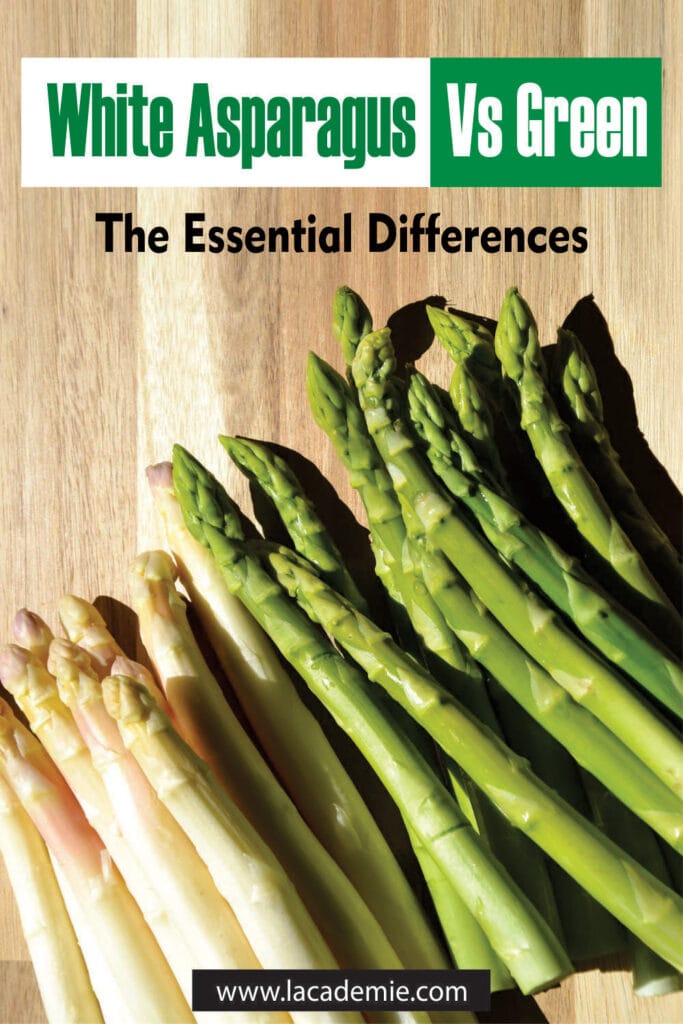 References
https://fdc.nal.usda.gov/. 2022. U.S. DEPARTMENT OF AGRICULTURE.
https://fdc.nal.usda.gov/. 2022. U.S. DEPARTMENT OF AGRICULTURE.