Do you know how long it takes to bake asparagus at 400℉ (about 200℃)? You have bought all the ingredients, you lay it all on your kitchen table, now what? What should I do next? How do I bake asparagus? What should I serve it with?
Here I have all the answers to your questions! The answers are pretty straightforward, but there's more to it. The methods involved and the ingredients you use may affect the baking duration. Nonetheless, keep reading, and you will find out all the information you need!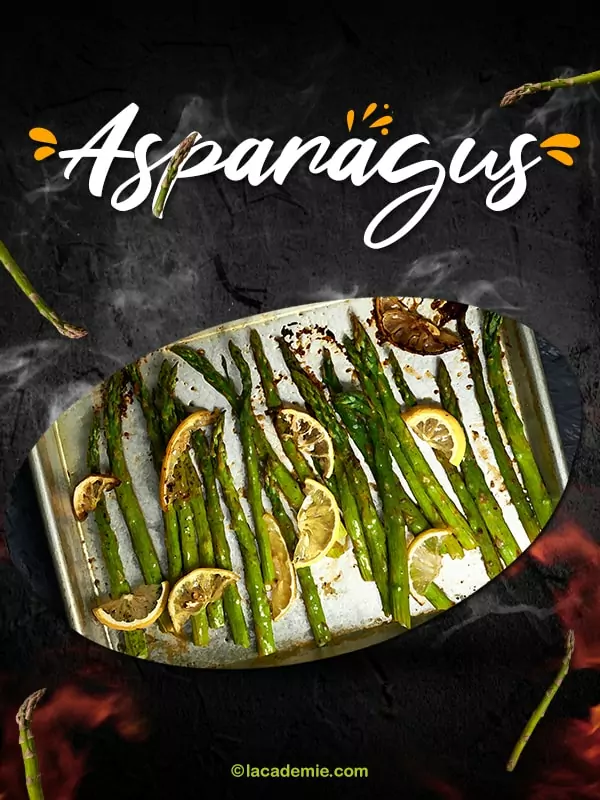 How Long To Bake Asparagus At 400℉
You should bake asparagus as this cooking method enhances the already delicious flavor of asparagus further. It helps this green dish gain extra flavors. The typical time it takes to bake asparagus at 400℉ is between 12-15 minutes.
To see whether your asparagus has been done, use the folks to stab it. It should be tender-crispy or crunchy rather than mushy and limp. Other visual cues include the light browning or char on the spears. They also have a "unique aroma" once cooked. (1)
But since asparagus has various types, you'll need some detailed guides to ensure that your asparagus's freshness and texture won't be damaged. Keep scrolling for the following instructions.
| | |
| --- | --- |
| Types of asparagus | Time (minutes) |
| Thick | 16-20 |
| Thin | 8-11 |
| Frozen | 15 |
| In Foil | 18 |
Thick Asparagus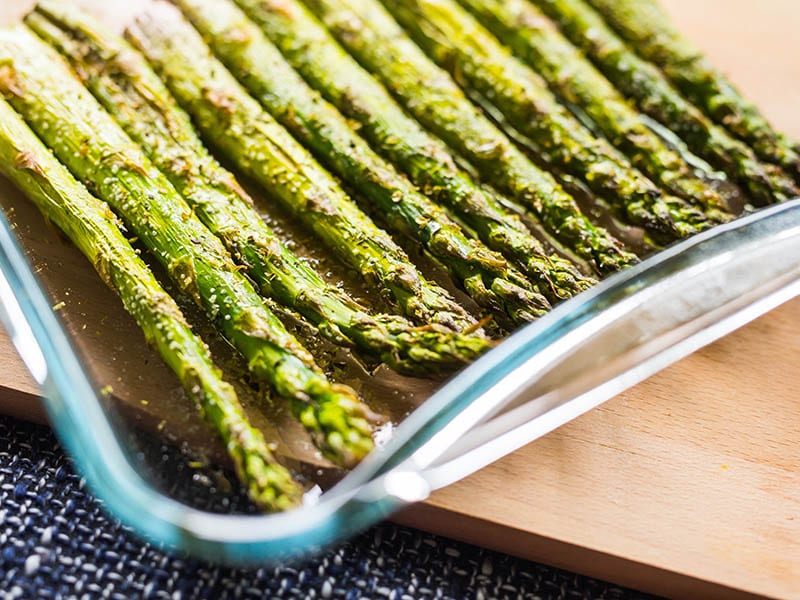 The thick ones can be a tough nut to crack. But worry not! All it takes is just a little more time to get these done. You should add in an extra 5 minutes to the average baking time, meaning you should bake thick asparagus for about 16-20 minutes.
Thin Asparagus
On the other hand, some asparagus are thinner than average. Try not to bake them as long as the thicker ones. You just need about 8-11 minutes, or 7 minutes for pencil-thin asparagus, depending on the amount of asparagus you throw into the oven at the same time.
Frozen Asparagus
Freezing is one of the wonderful ways to store your asparagus for later use. They are as healthy as the fresh ones, so don't worry about it. The amount of time it takes to bake frozen asparagus at 400℉ is 15 minutes.
Note: No matter which methods you use to freeze asparagus, you don't need to thaw them before baking. Just toss them directly into the oven.
Asparagus In Foil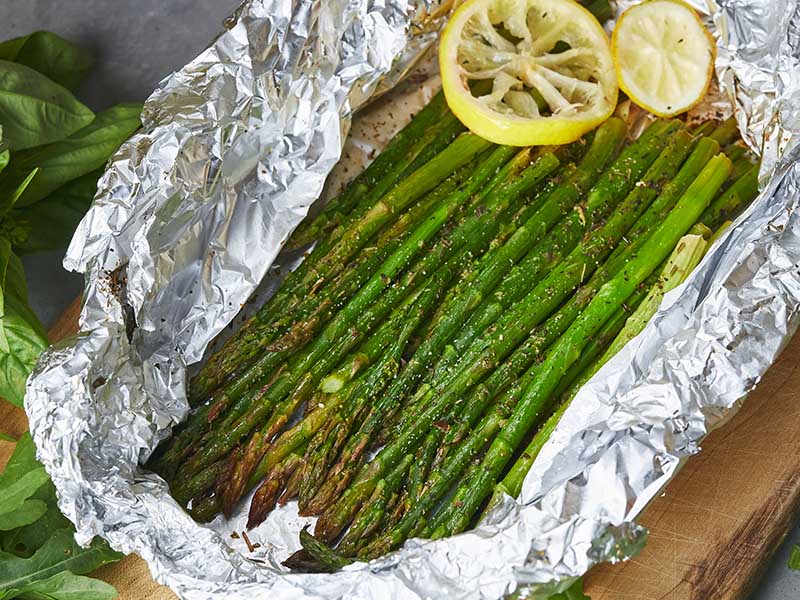 These shouldn't be baked longer than 20 minutes at 400℉. 18 (minutes) is the magic number here. If you want to lower the temperature, you may want to pump up that number to 25-30 minutes.
You should wrap asparagus in foil because it helps lock in their natural flavors and nutrients. Plus, the foil also acts as a barrier that prevents the foods from leaking into the oven and from overbaking. That's killing two birds with one stone, isn't that right?
Tricks & Tips To Choose Fresh Asparagus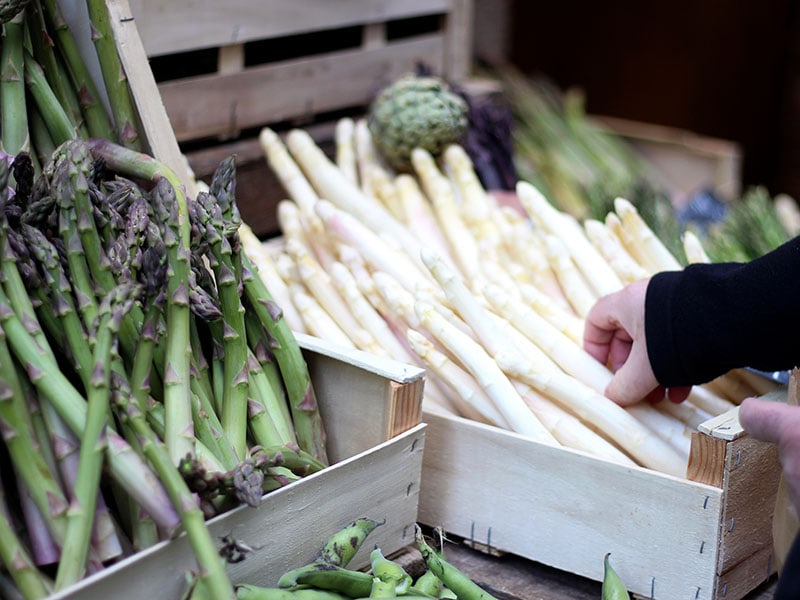 First and foremost, you have to get some asparagus from the market or grocery store. Well, you should ensure that the asparagus you get are fresh and of higher quality, or else you may have to exchange them (which may or may not be feasible).
Furthermore, consuming fresher asparagus reduces the chance of getting stomach pain. Plus, you also get a more flavorful experience. To ensure that you can get the best of what you are looking for, check out these signs:
Texture
Make sure that the asparagus you choose hasn't gone limp or black. The stalks should be firm and smooth.
Another good sign of the quality is the stiff spears, not soft or mushy. Look for asparagus with tightly closed and compact spears, not soft to the touch or spreading.
The leaves at this part should also be dry, firm, and hang close to the stalks. Should the leaves be wet and start to fall, it's a bad sign.
Color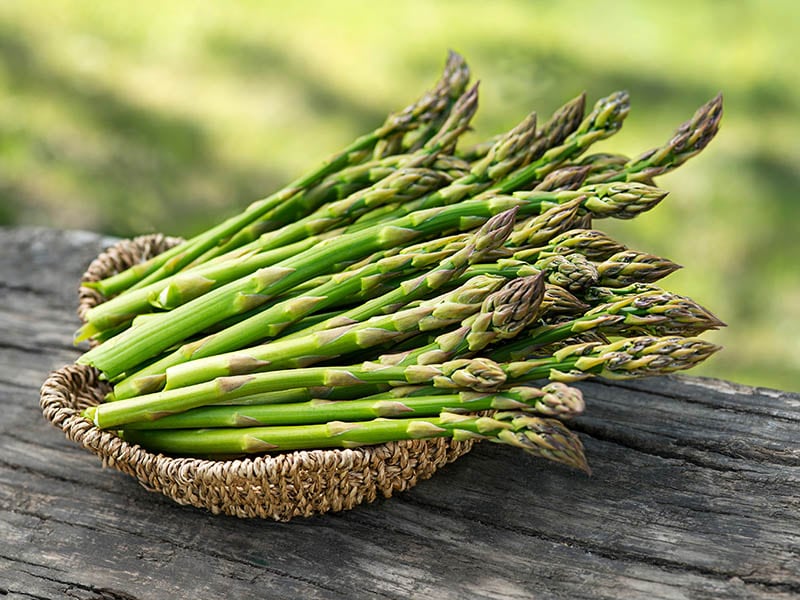 Pay attention to the color also. Your asparagus can be green, purple, or white, but the color shouldn't be faded. A rich hue is a good indicator.
Look at the stems, there should be a certain amount of white. If you see dull color or wrinkles at the bottom of the stalks, put it down as that asparagus is old.
Another good visual cue is the tips, you should see dark green or purple highlights on this part.
Size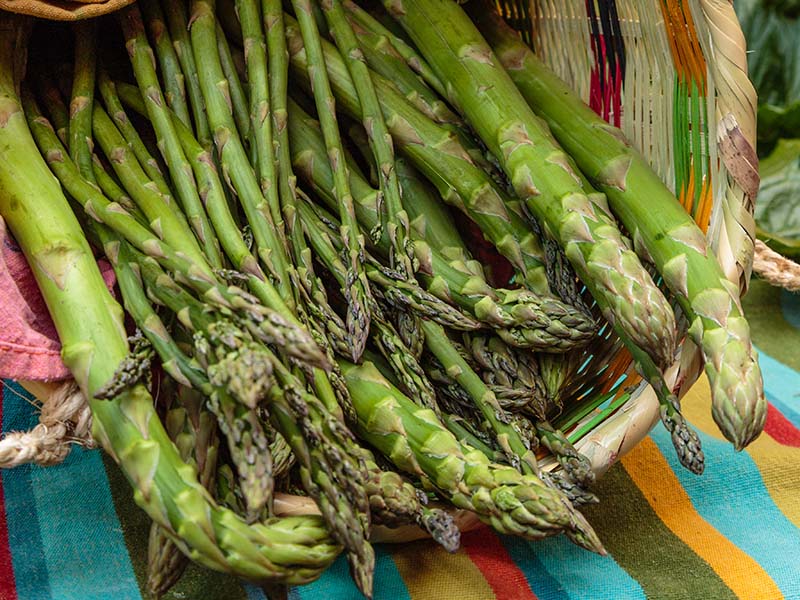 The taste also varies slightly between thicker or thinner asparagus. Specifically, the former is more robust in flavor and chewier, sometimes has a "woody" texture, and often needs to be peeled or trimmed for consumption.
On the other hand, thinner asparagus is tender and more suitable for sauteing, steaming, or grilling with olive oil. Its tenderness and delicacy are the highlights here. Thinner asparagus takes less time to cook than the fatter ones.
Overall, thick or thin, it's all about personal preferences. Ideally, you would like to buy a bundle of asparagus of similar sizes so you can cook them nicely done at the same time.
Storing Method
To ensure asparagus stay fresh for the longest time, put them in a jar standing upright in the water. Thus, check if the sellers store them this way or not. It's even better if you keep them chilled. When done right, the asparagus can last up to 5-7 days.
Check out this quick and easy guideline on choosing and storing asparagus here.
Prep Time: Ensuring The Asparagus Is Well-Prepared For Cooking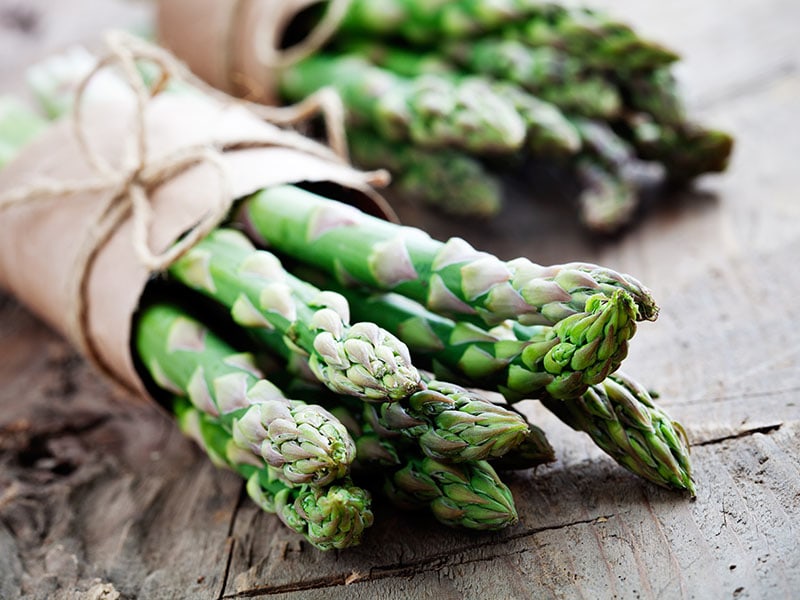 Ok, now that you've got the finest asparagus one can get. With just 2 steps of meal prep, your asparagus will become even more flavorful after baking. They are straightforward and won't take much of your time:
Cut The Woody, Fibrous End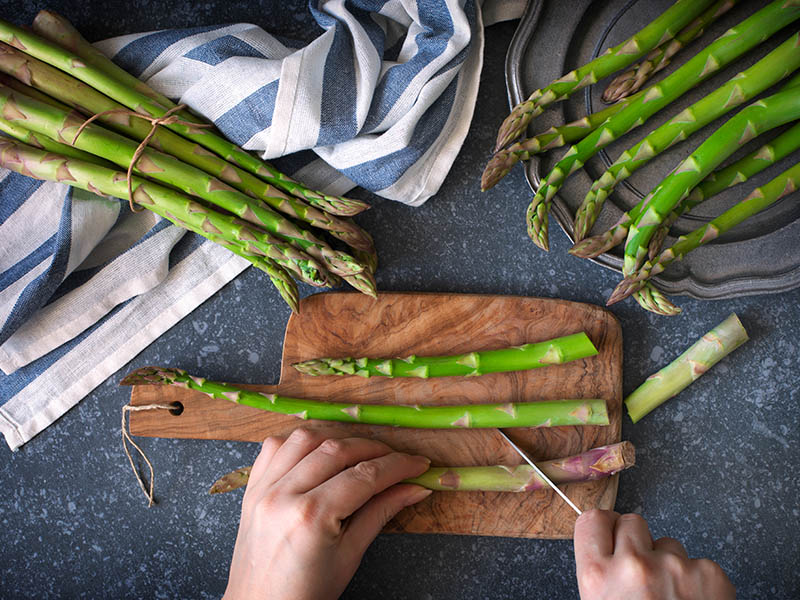 First of all, you should trim off the woody end of the stalk. Look for where the color begins to fade and chop it. This part is tough to swallow and bitter. Remember not to remove the spears at the top of the vegetable.
An alternative way to achieve this is by snapping. Hold the asparagus on both ends. Start bending until it snaps. When done properly (and gently), the asparagus will break off where you want it to.
Tips: Should you find the stalks to be thicker than liking, try peeling them thinner.
Wash In Water And Let Them Dry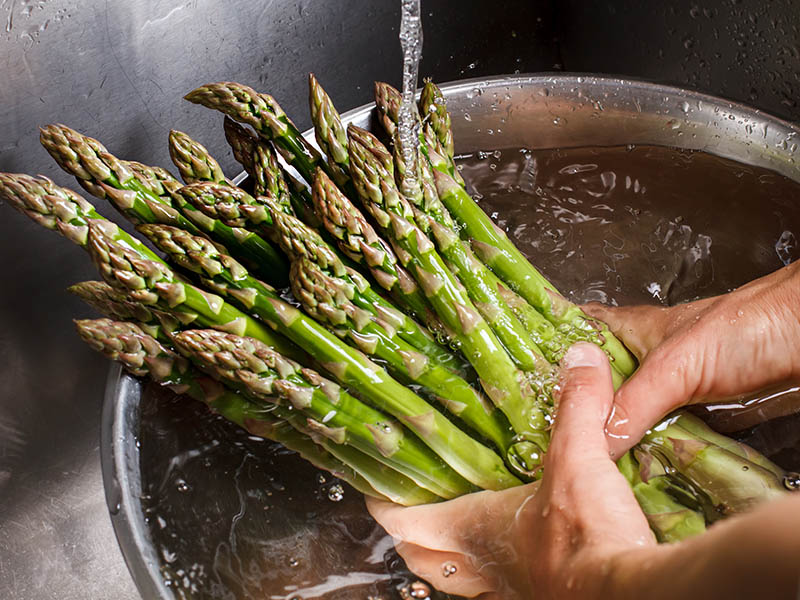 Whether you want to steam, roast, bake, or grill your asparagus, it all requires this essential step. You want to clean them because the freshly-purchased vegetables may contain dirt, pesticides, or even small insects.
Simply put, rinse the asparagus (especially the spears) under cold running water. Then pat them on paper towels or dishcloths. You can either use them whole or cut them into smaller bite-sized pieces.
Learn how to rinse raw asparagus within 3 minutes here.
Bring Out The Ingredients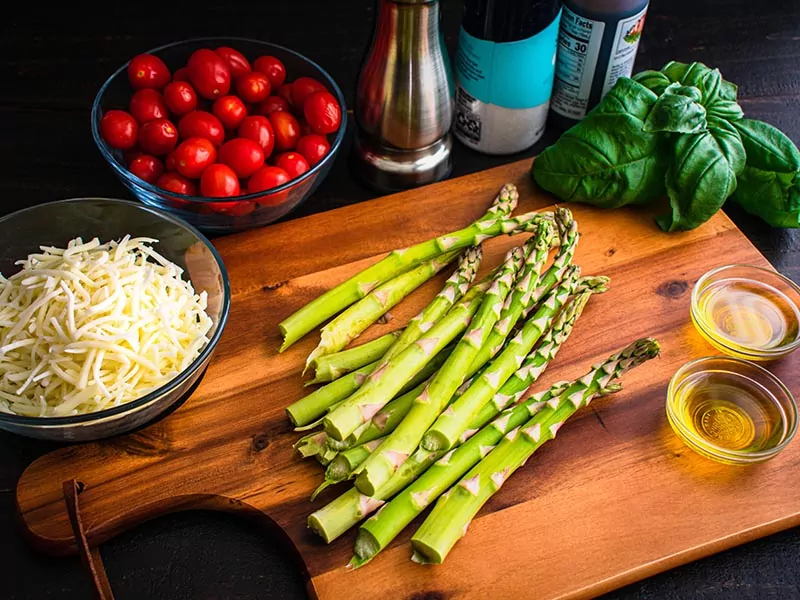 Now that you've got all the asparagus and washed and chopped them properly. The next step is to make sure you have all the necessary ingredients. Lay them all out on your tables and see if you are missing anything.
Here's a short checklist of the most common items you would find in most baked asparagus recipes:
Asparagus
Pepper
Olive oil
Salt
Lemon juice (optional)
Cheese or garlic (optional)
How To Bake Asparagus At 400℉: The Key To Lusciousness
Did you get everything down? Good. Prep time's done. Now it's the real thing. With these 3 simple steps and as little time as 15 minutes, you will get yourself a nicely done baked asparagus.
Step 1: Preheat Oven
Just like the name implied, preheat your oven to 400℉. In the meantime, you can rinse and chop the asparagus (refer to the previous section for more details). If you are impatient and put them in too soon, you'll end up with a sad and soggy experience.
Step 2: Drizzle With Spices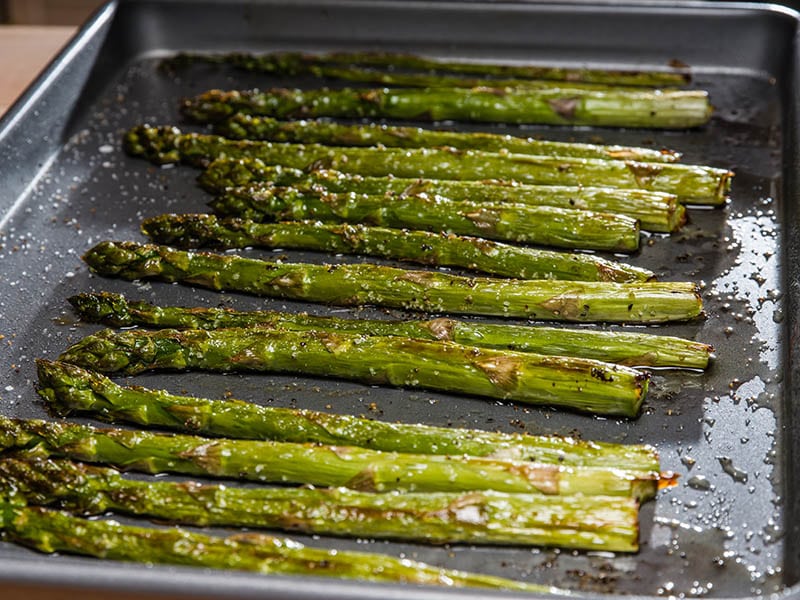 Arrange the asparagus in a single layer over the baking sheet. Prepare some premium cooking olive oil, spices, and herbs to drizzle over them. Sprinkle in salt and black pepper, you can also get creative with red pepper flakes. Make sure that the spears are covered.
Step 3: Wait No More And Bake Them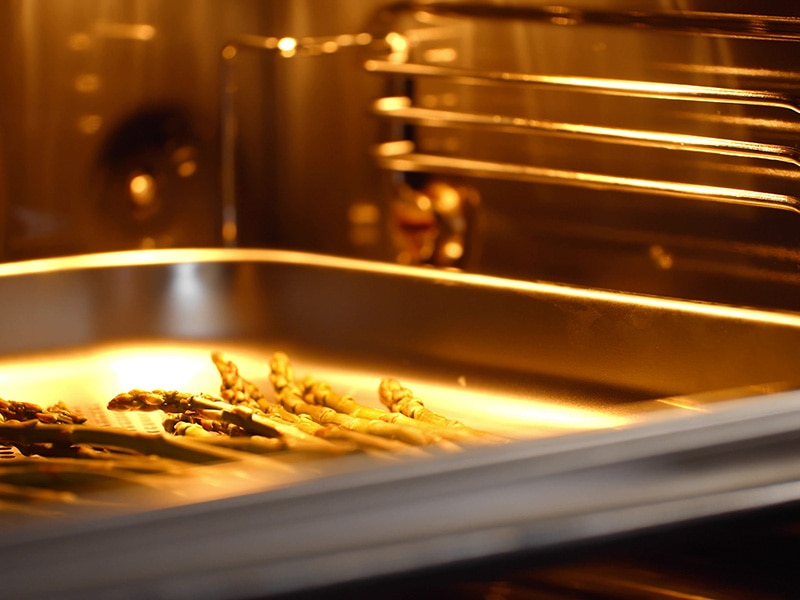 Put them into the oven and wait for about 12-15 minutes. The baking time varies based on the thickness and number of the asparagus. Don't overbake, or your green veggies will lose their flavor and become mushy. You don't want that, do you?
If you fancy a cooking guide about making oven-roasted asparagus, here you are.
Ok, I'm Done. What Does Baked Asparagus Go Well With?
That wasn't so hard, was it? Now you can dig into your hard-earned baked asparagus at 400℉! If you fancy taking your meal to the next level, then I have just the thing for you. Try to eat asparagus with these, and your mind will get blown:
Eggs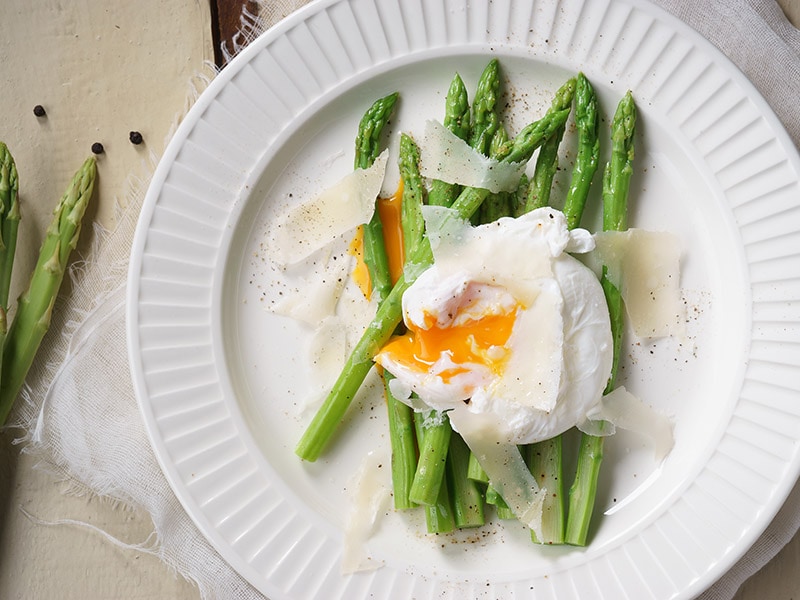 The asparagus and eggs combination is the classic duo. To get this elegant light meal, simply top the baked asparagus with poached eggs. The highlight here is the soft yolk that melts beautifully with the green veggies. To top it off, you can add in parmesan!
Fruit Salad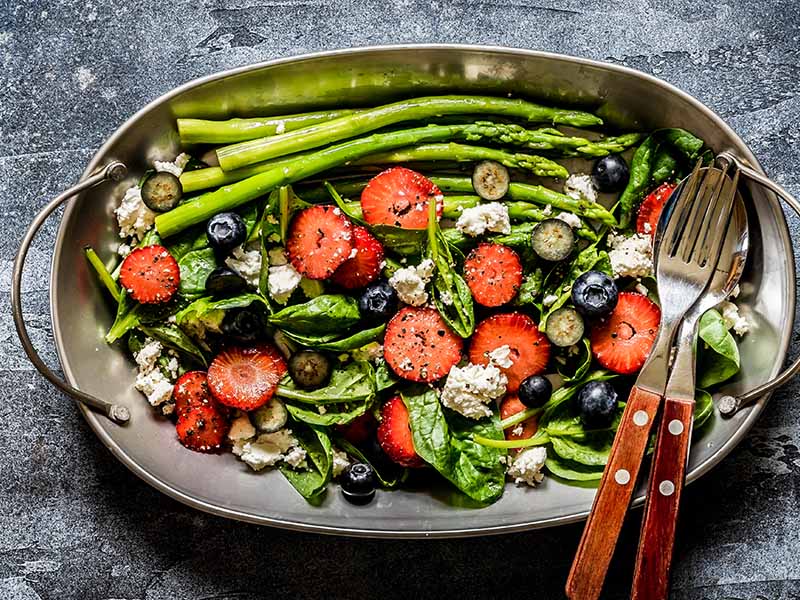 What's more healthy than eating a fruit salad with asparagus? They compliment each other well without adding in too much fat or calories. If you can't take greasy or fried food anymore for dinner, this is the right choice for you.
Salmon Or Tuna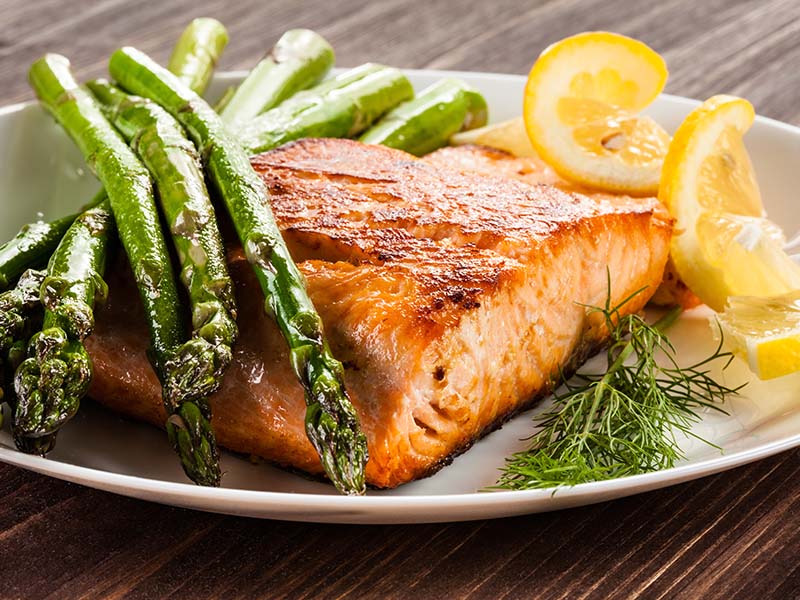 Typically, fishes go well with baked asparagus. Grilled, baked, or air-fried salmon is also simple to make. They make for an approachable and rich pairing that takes minimal effort and time to prepare. Tuna is also another noteworthy option.
Be surprised with this foil-baked salmon and asparagus.
Chicken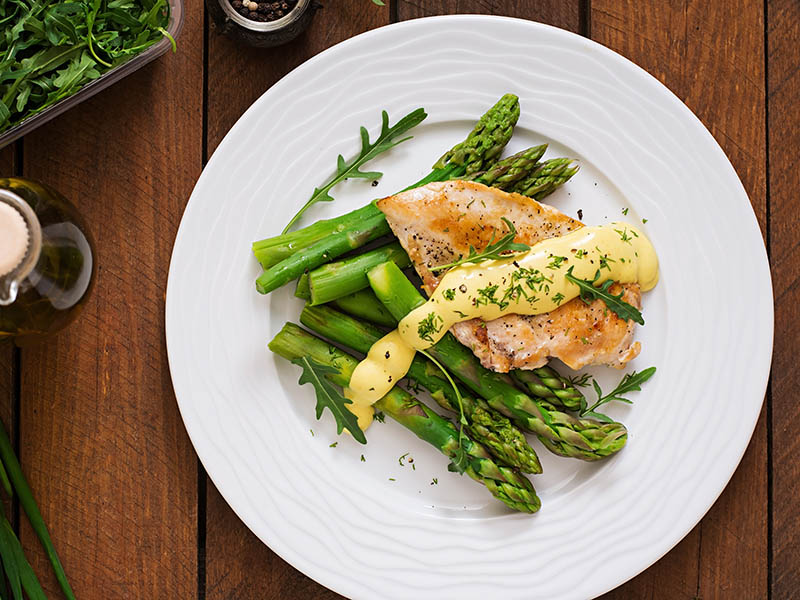 Another easy meal goes well with asparagus. You can throw the baked asparagus directly into the roasted chicken! If you want something creamy, chicken casserole won't disappoint. To extend even beyond, try making something like chicken and asparagus pasta.
Alternative Ways Of Baking Asparagus
The baking procedure largely remains unchanged, it's the seasonings and ingredients that make all the difference. Now, let's venture into the world of baking asparagus in various ways that you may or may not know about:
With Garlic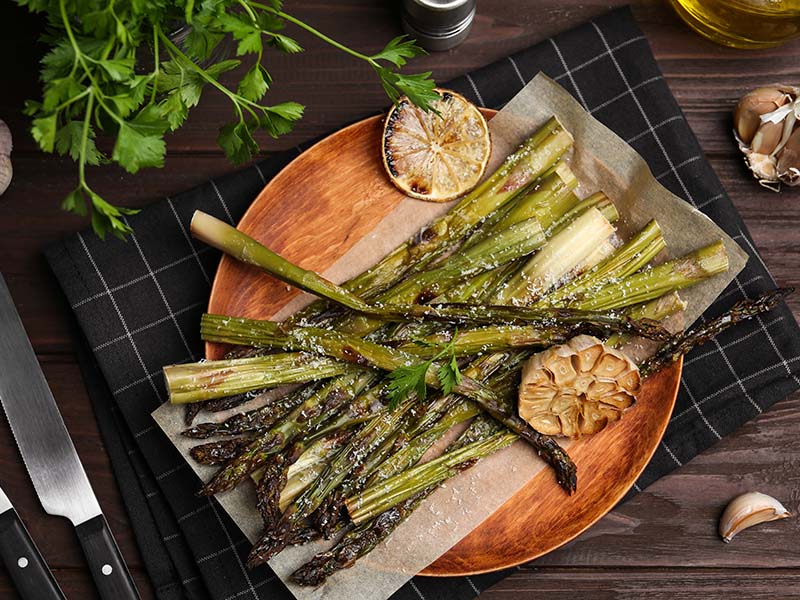 Put aside a bowl of olive oil. Toss the minced garlic in and stir. Then after you have arranged the asparagus laid out neatly on the baking sheet, drizzle the mixture evenly.
As for the rest, proceed as normal. After getting the final product, you may want to squeeze in some lemon juice. Voila! Here's the perfect side dish for any occasion. And it is easy to make, to boost!
Lemon garlic roasted asparagus is easy and quick to make. Check it out here!
With Bacon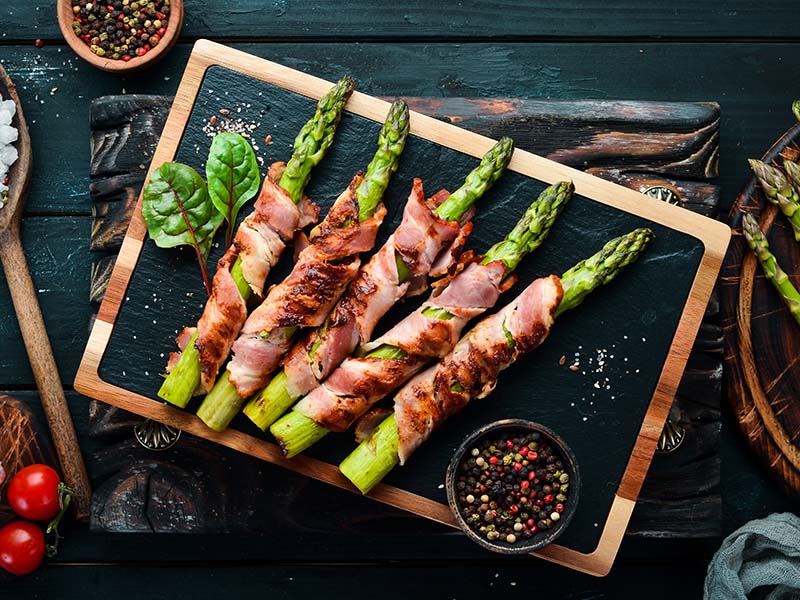 Here's the part where it gets interesting: you can wrap the asparagus with bacon! Yes, this combination is among the well-loved breakfasts with bacon. Sliced bacon is recommended here, the thinner pieces ensure both the bacon and asparagus are evenly cooked at the same time.
Just wash, cut the bottom part, and drizzle the asparagus with spices as normal. Then before baking, wrap the bacon around them. Once they come out of the oven, top the freshly made dish with Parmesan cheese.
Made Into Fries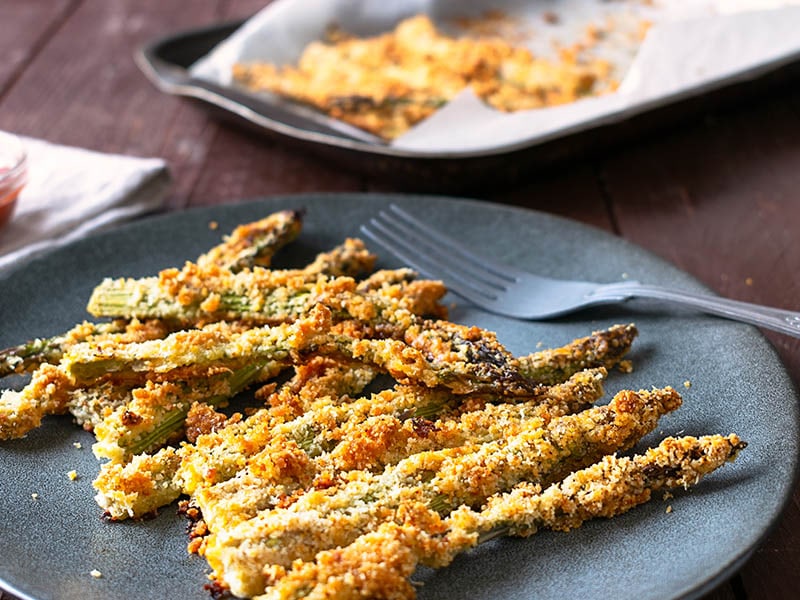 Do you want something even crisper? Look no more! These baked asparagus fries are one of the most prominent types of fries besides French fries. I know that is a bold statement. But they are just that delicious (and healthy)!
You need to toss the asparagus into the flour, egg, and milk mixture and panko orderly. Then just bake them for about 20 minutes until they turn crisp and golden. I'm sure that all fans of asparagus will enjoy these "fries" immensely.
What Benefits Do I Get From Eating Asparagus?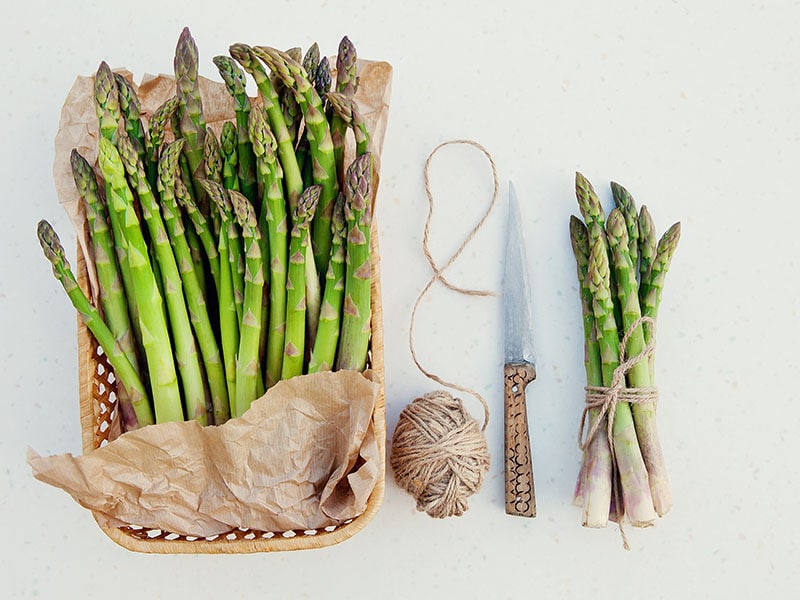 This green veggie sure is a nice and healthy addition to your meals. It's a rich source of vitamin C, A, E, chromium, antioxidants, etc. Half a cup (90g) of asparagus provides us with 57% and 34% of the RDI Vitamin K and Folate, respectively. (2)
Due to being low in fat and calories, eating asparagus is a good way to lose weight. Other benefits include easing hangovers, promoting gut health, and relieving inflammatory conditions.
Some people report releasing a "strong unpleasant odor" after consuming asparagus. Rest assured! It's normal. This effect has been observed for centuries, some people may experience it while some don't.
Explore the amazing benefits of asparagus consumption with this 2-minutes explanation.
Mind-Blowing Recipes To Make Delicious Baked Asparagus
There's no shortage of mouth-watering recipes that will take your baked asparagus to the next level. Here are some of the noteworthy ones that will make your day even better:
Now it's the most conventional and reliable recipe for a quick-to-fix side dish. The ingredients are all simple: asparagus, olive oil, salt, pepper, and Parmesan cheese. Sometimes it's the simple things in life that get you going. You can't go wrong with this one!
Another heavenly asparagus recipe! This makes for a perfect side dish to enjoy alongside appetizers. The bacon and asparagus is a duo that will satisfy even the pickiest eaters. Or it could be a good way to introduce some people to the world of healthier veggie eating.
Here comes a healthier and guilt-free alternative to fast food. So crispy and yummy! Once you try it, you can't help but exclaim out loud, "I can't have enough of this!". The highlight here is the sauce which has various versions. You can easily fix one by yourself.
And here's something crispy perfection! What sets this recipe apart is that it is lighter and less creamy than other pasta. The tender chicken also helps with the flavors. It may become that dish you will enjoy for years to come.
One look and you can tell what's special about this recipe, the unusual ingredients: baby potatoes and rosemary. If you want to use the regular tomatoes, make sure that your baking tray is large enough. Why don't you try out this creative asparagus recipe now?
Spring Vegetable Gnocchi is truly a dish that represents spring! Taking a quick look at the required ingredients, you see they are mostly vegetables: asparagus, cup peas, shallots, and lemon juice. What else is more fitting to taste what the warmest season has to offer?
Learn how to make bacon-wrapped asparagus within 15 minutes here.
FAQs
I'm sure by now you have become some sort of expert at baking asparagus at 400℉. But there are always questions about other relevant aspects of this procedure. Fear not, for here in this section, you can find the answers to the most common questions:
That's Everything You Need To Know About How To Bake Asparagus At 400℉
I hope this article has helped you achieve what you come here for: learning how to bake asparagus at 400℉. There was more to it than you thought, right? But, in the end, it's a fairly simple process that anyone can do.
Now, you can tell everybody with confidence the amount of time different types of asparagus need to bake at 400℉, the methods to prepare them, as well as the side dishes that go with it.
If you find these tips and tricks helpful, don't hesitate to tell the people around you where you get them from!
Nutrition Facts
4 servings per container
---
Amount Per ServingCalories78
% Daily Value *
Total Fat 5.2g

8

%
Cholesterol 5mg

2

%
Sodium 359mg

15

%
Potassium 239mg

7

%
Total Carbohydrate 5.1g

2

%

Dietary Fiber 2.5g

8

%
Sugars 2.2g

Protein 4.8g

8

%
---
* The % Daily Value tells you how much a nutrient in a serving of food contributes to a daily diet. 2,000 calories a day is used for general nutrition advice.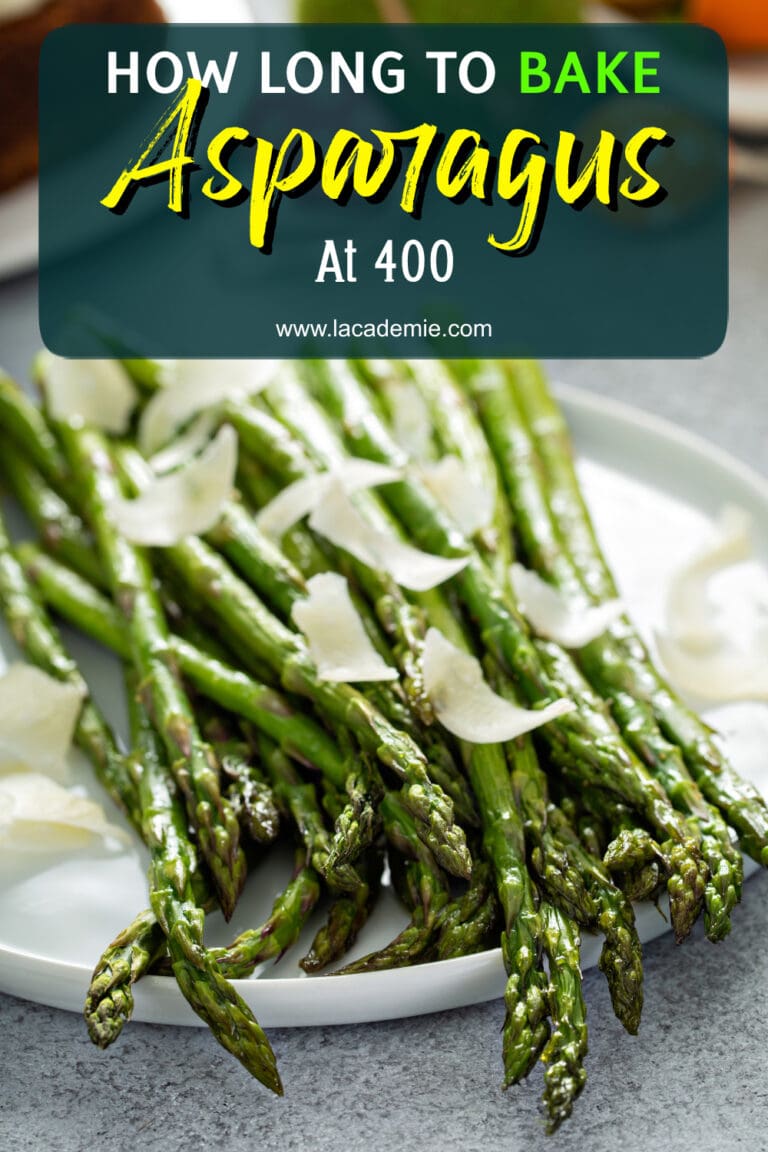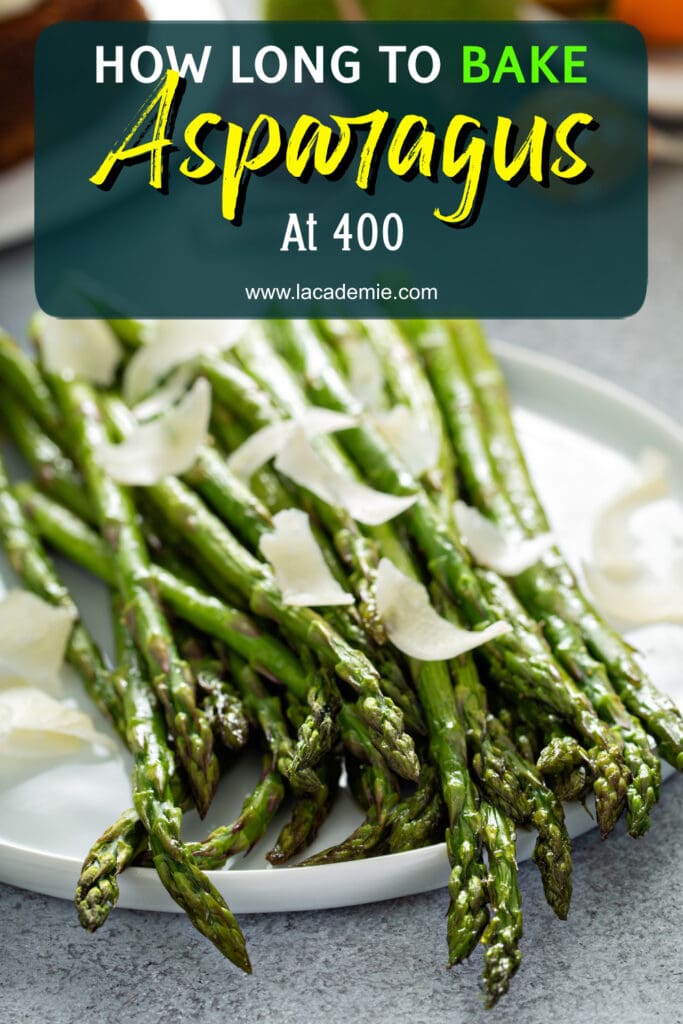 References
Pegiou, E., Mumm, R., Acharya, P., de Vos, R. and Hall, R., 2019. Green and White Asparagus (Asparagus officinalis): A Source of Developmental, Chemical and Urinary Intrigue. Metabolites, 10(1), p.17.
[online] Available at: <://fdc.nal.usda.gov/fdc-app.html#/food-details/168390/nutrients>.