The question of "How to store spaghetti squash" has always been on my mind, especially since this well-loved type of zucchini is only available from late fall to early spring, which means that you can't typically find them to enjoy during warmer weather.
When not appropriately preserved, spaghetti squash can yield indesirable results such as unpleasant flavors and soggy texture to more severe outcomes such as molds, fungi, and nasty odor, and can cause serious illness linked to "toxic squash syndrome".
Therefore, it is crucial to know how to store your spaghetti squash properly so you can enjoy its delicious taste all year round without compromising on essential nutrients. Let's discuss in a more in-depth manner, shall we?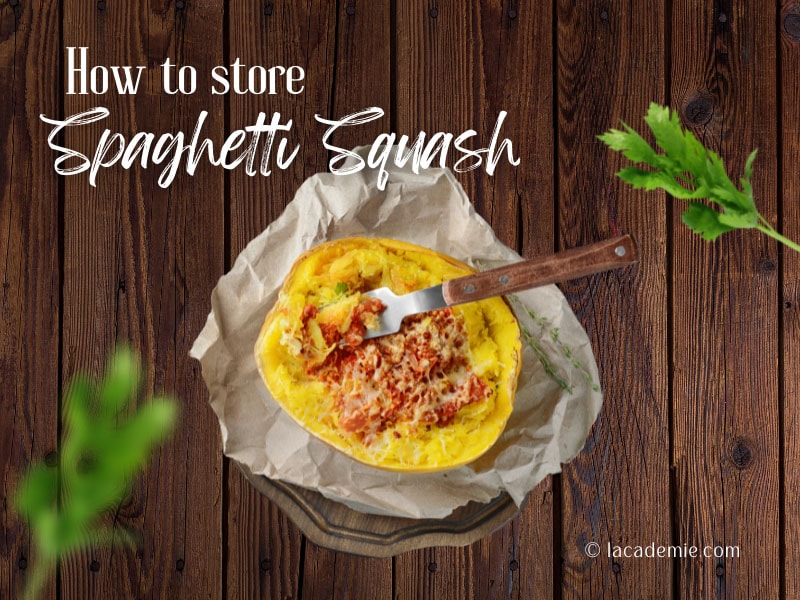 What Is Spaghetti Squash?
Spaghetti squash, otherwise known as "vegetable spaghetti ", is an oval-shaped winter squash of native America. When cooked, the texture of its flesh falls off into strands, creating a "lookalike" appearance to the original spaghetti.
Its plant is monoecious, meaning successful reproduction requires the male flowers' pollen grains (whose stems are long and thin that extend upwards from the vine) to be transferred to the female flowers, which are shorter with small round growth underneath the petals.
Key Health Benefits Of Spaghetti Squash?
Spaghetti squash contains high levels of Beta Carotene, an excellent antioxidant known for its miraculous health benefits, including promoting eye health and vision, skin and hair youth, and appearances, along with its ability to protect the body from free radicals.
Other essential health benefits include:
Promote weight loss and weight management
Cancer risk reduction
Improve colon health
Reduce tooth decay risks and enhance dental health
So How Many Ways Can You Store Spaghetti Squash?
Here are three of the most popular methods to preserve your squash all year round: whole, cut, and cooked. Each methods has its pros and cons; therefore, you should consider and apply to your needs.
Foolproof Method For Storing Whole Spaghetti Squash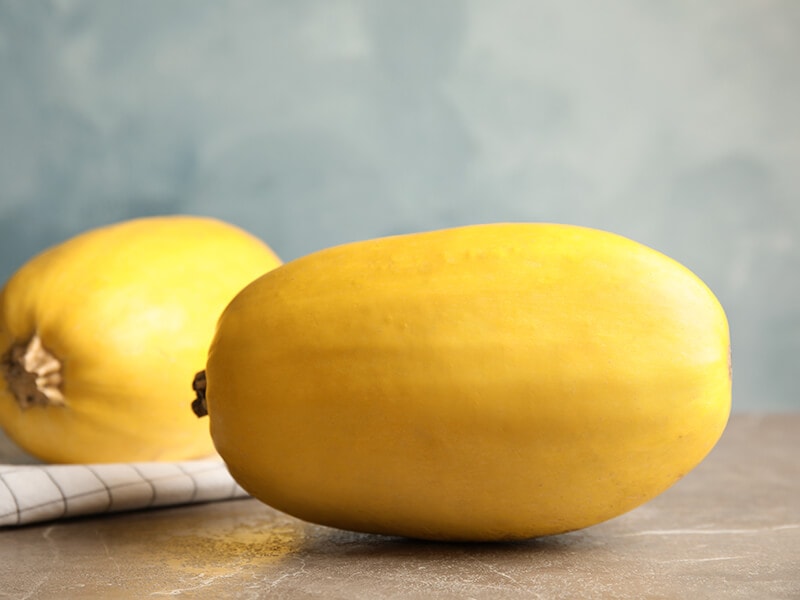 Before diving into the question of storing spaghetti squash, first of all, how do you pick the best spaghetti squash?
Choosing The Best Spaghetti Squash For Storage
The ideal spaghetti squash requires two criteria – hard and blemish-free. Does the skin have a shiny and healthy appearance? Is it bruises-free and mold spots-free? Does it have a hard, thick, and dark color appearance?
If the answers are yes, then you should go ahead and make the purchase. If it does not tick any of the above boxes, you should not buy it as it will rot quickly and become inedible.
So How Do You Best Store Whole Spaghetti Squash?
Just like how you store butter squash or other winter squash varieties, pick a dry, cool, and dark, such as kitchen cabinets, pantries, and closets, for your whole spaghetti squash. With temperatures between 55 and 60°F (13 to 16°C), it lasts up to 3 months without going bad.
The next option is to store it on the counter at room temperature (approximately 68 degrees Fahrenheit or 20 degrees Celsius). In this case, your spaghetti squash will last for about a month.
There are important things to note when storing whole spaghetti squash:
Try to monitor the humidity level to 50 to 70% to avoid quick rotting
Regularly weekly check to ensure spaghetti squash has not developed molds/gone bad.
Immediately discard spaghetti squash if it becomes leaky/significantly soft/foul odor. Consuming it may cause food poisoning and be toxic to your health.
3-Step Method For Storing Cut Spaghetti Squash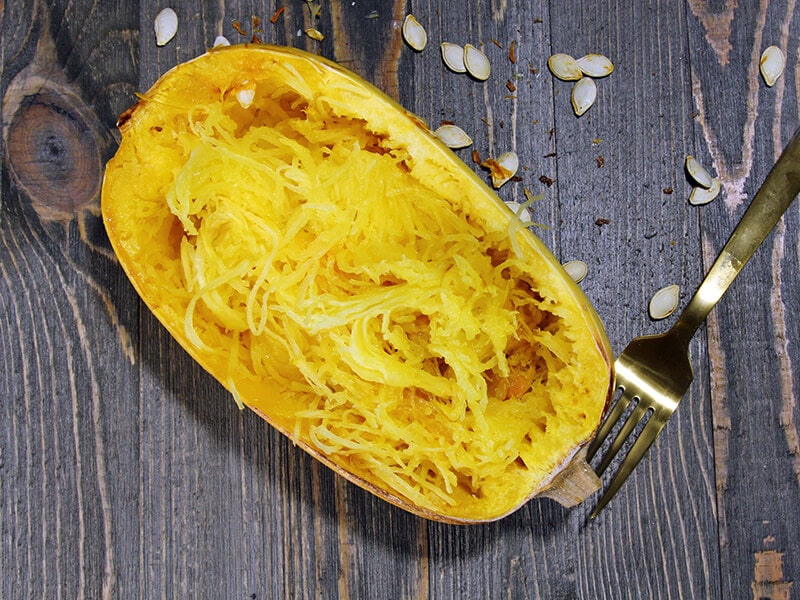 Whole spaghetti squash is quite a handful for one to consume. However, the good news is, you can eat half of it and store the other half with just a few easy steps and tools in your kitchen.
1. Seal spaghetti squash in plastic wrap:
Seal your spaghetti squash in plastic wrap. Doing so avoids air and bacteria to latch on and build upon your cut spaghetti squash, even when you put it in the fridge. Another alternative is using Tupperware (a glass container with a plastic top) to store it.
2. Place cut the spaghetti squash in the humidity-controlled drawer on your fridge:
Storing your cut spaghetti squash in the humidity-controlled drawer as squash typically requires a low humidity level to preserve taste and prolong freshness.
3. Cook and eat the squash before the 5-day storing period:
You need to consume the cut squash within five days after putting it in the fridge. There are various cooking methods to choose from, such as boiling, roasting, or slow cooking. Cooking recipes/tips are detailed below in this article.
Perfect Way To Store Cooked Spaghetti Squash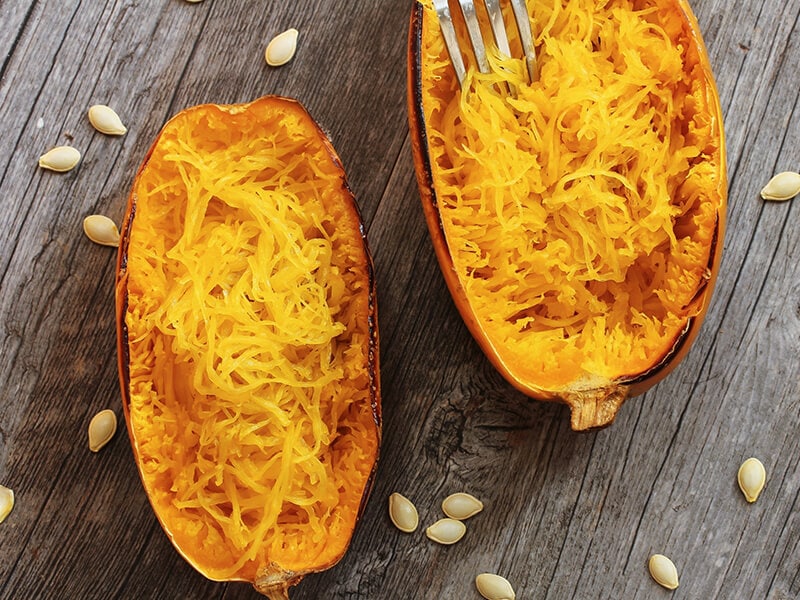 Storing cooked spaghetti squash is another great way to preserve it with just a few simple steps so that you can savor your dish for later.
How To Prepare Cooked Spaghetti Squash For Storage
There are 5 steps that you can follow to prepare cooked spaghetti squash for storage:
Scrub the squash with a nice and clean kitchen towel to remove any residual dirt. Then, run it under cool water to wash it thoroughly.
Use a clean cloth and pat gently to dry the squash
Cut the spaghetti squash in half lengthwise
Preheat your oven to 400 degrees Fahrenheit (about 204 degrees Celsius).
Line squash on a large baking sheet with parchment/vegetable paper or aluminum foil.
Scoop out all of the seeds before proceeding to bake.
Note: For a more optimal result, cut the spaghetti squash into 1 to 2 inches of a disc for long, great-looking strands of squash noodles.
Ultimate Storing Instructions To Help Your Spaghetti Squash Last Longer
Not sure how you should store cooked spaghetti squash? No worries, with the detailed instructions below, you'll find extending spaghetti squash's shelf life easy as pie.
Seal your cooked spaghetti squash in a clean and airtight condition:
Ziplock bags and Tupperware are essential tools to preserve squash in clean and airtight conditions. Investing in a suitable vacuum extractor is a good idea. Once the air is taken out, your food can maintain for much longer without the need to consume it quickly.
Place your cooked squash in the freezer:
Make sure the surface of the freezer is clean, and there is no raw meat/seafood nearby as it can affect the smell of your food. If you're planning to eat it sooner – a day or two, then keeping it in the fridge is also acceptable. Reheat it properly before eating.
Essential Thawing Spaghetti Squash Process You Need To Know
It is essential to note that the cooked squash must be thawed partially instead of placing it completely outside at room temperature as it can cause the squash to become mushy.
Place the frozen squash in the fridge for 2-3 hours to become softer but still very cold to touch.
Steam the partially thawed squash in a steamer basket to ensure its texture becomes tender and has a firm level.
How Long Does Spaghetti Squash Last?
The table below will give you a snapshot of appropriate methods and suitable time frames accordingly for storing each different type of spaghetti squash:
Preserved type
Room temperature
Fridge
Freezer
Whole spaghetti squash

Dark, dry & cool places (e.g., kitchen cabinets): up to 3 months
On the counter: about a month

Not recommended
Not recommended
Cut spaghetti squash
Not recommended
Up to 5 days
Not recommended
Cooked spaghetti squash
Not recommended
Not recommended
Approximately 6-8 months (best before month 5)
4 Signs To Look For To Check Your Squash Health
There are several ways to check if your spaghetti squash is still edible or has gone bad. These signs often appear as below:
Stem – Check the squash's stem/stem area. If it becomes dark/black, moist, or faded, then it is time to chuck out the squash as it has begun to rot.
Rind – A healthy, edible spaghetti squash should give out a dull sheen. If the skin becomes shiny, cracked, watery-looking, or brown and yellow spots/molds start to appear, those are indications that the squash is rotting.
Foul Odor – Best way to detect foul is through smell. Fresh spaghetti squash should not emit a strong odor. Offensive fragrance signifies a decaying process.
Significantly Softer Sensation – Typical fresh spaghetti squashes have tough skin and are difficult to scratch with fingernails. However, inedible squashes are mushy and are much softer when picked up.
Can You Get Sick From Consuming Bad Spaghetti Squash?
A toxic compound called cucurbitacin E can sometimes be found in spaghetti squash, which can eventually cause cucurbitacin poisoning, popularly known as "toxic squash syndrome".
Although cucurbitacin is rare, swallowing even a small amount of cucurbit can cause serious illness, specifically:
Diarrhea
Stomach cramps
Abdominal pain
Nausea
Vomiting
Dizziness (especially when standing)
An extreme level of hair loss (in severe cases) that lasts up to months
The best way to avoid the toxic squash syndrome is to take immediate action after your first bite. Spit it out and stop eating immediately if you experience a nasty flavor and bitterness after biting into the squash.
Delicious Recipes From Lunch Box To Dinner Table
Spaghetti squash can be a delicious dinner or packed in your premium insulated lunch box for your lunch break at school/work. Here are some of the three easy ways to turn your spaghetti squash into delicious meals without all the hassle:
Italian Spaghetti Squash: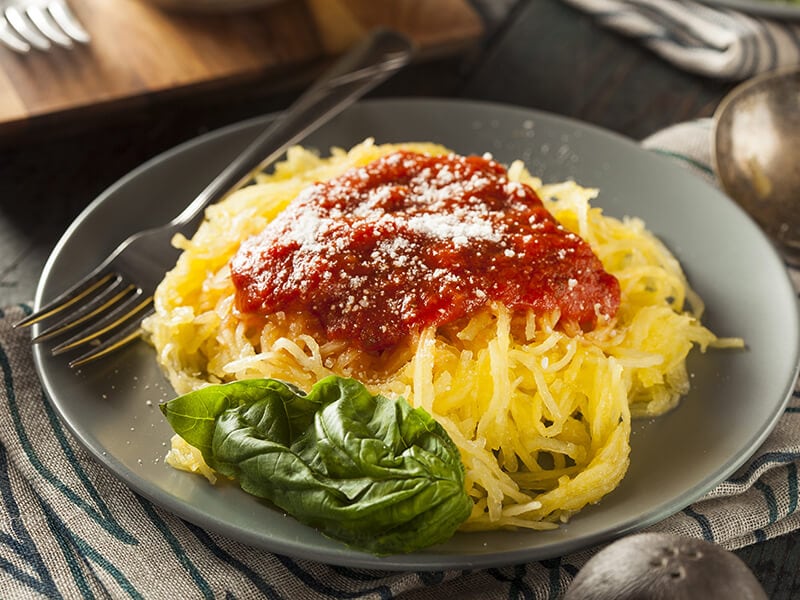 Prep the squash by washing it thoroughly underwater.
Cut squash in half lengthwise.
Remove all the seeds inside the squash.
Drizzle it with some olive oil, season with salt and pepper, and then put it on the baking tray cut-side down on a baking sheet.
Bake in the oven at 400 degrees Fahrenheit (204 degrees Celsius) for 40 minutes.
Use the tines of a fork and drag it on the cut-side to test the squash. If spaghetti strands are quickly released from the skin, then it is cooked. If not, keep in the oven for another 5-10 minutes.
Do not over-roasting as it will make the texture of the squash soggy.
Once cooked, shred it with a fork to create spaghetti strands.
Serve with heated marinara or Alfredo sauce along with a splash of parmesan cheese for a perfect Italian spaghetti experience.
The Microwave Method:
This method is perfect for those who are constantly on the go and don't necessarily have a lot of time on their hands. All it takes is 5-10 minutes from prep to ready to serve.
Pierce squash with a fork – you can leave it whole as long as it is pierced; it should not explode in the microwave.
Place the squash on the microwave plate and microwave for 5-6 minutes on each side.
Once cooked, let the squash cool down for a few minutes to avoid burning.
Cut it open in half lengthwise with a sharp knife and remove all the seeds.
Rake a fork back and forth across its flesh to create strands
Season it with salt and pepper to your liking and serve.
Easy step-by-step oven and microwave cooking methods for spaghetti squash with this video:
Air Frying Method:
Air frying spaghetti squash is a great way to mix up your dish. You can eat it as a meal or a snack while watching a movie at home. All you need is an air fryer, salt and pepper, paprika and some avocado/olive oil, and of course, a spaghetti squash.
Prep squash and cut in half lengthwise,
Scoop out all the seeds
Place the half pieces cut-side up in the air fryer
Season with paprika, salt, pepper, and drizzle some avocado/olive oil
Cook till flesh can be easily pierced with a fork to create noodles strands
Serve as it is, or sprinkle with some spring onions and vegetable cheese.
FAQs
If you still need further guidance, here are five frequently asked questions and answers that you can follow to make the storing process easier.
The Verdict – Storing Spaghetti Squash Is A No-Brainer
As you can see, storing spaghetti squash is not a difficult task after all. Whether you want to keep it whole, cut, or cooked, make sure you take all the necessary steps to help preserve your food correctly (and please, always check before eating!)
Which method do you find gives the best result? Do you like storing your squash whole, cut, or cooked? If you have any other tips/information, you would like to add, please feel free to share with me via the comment section. Bon appetit!
References
En.wikipedia.org. 2021.Spaghetti Squash – Wikipedia.
WebMD. 2020. [online]. Available at <webmd.com/diet/health-benefits-spaghetti-squash#1>