Are you wondering how to store zucchini correctly? While everyone loves a bite of these refreshing squash, especially in the summer, storing them is a different story.
I will deliver the best ways to keep your zucchini from spoiling in this post. I will also elaborate a little bit about this kind of squash along with its benefits to show you why it is worth consuming zucchini in the long term.
Moreover, it is not just about storing it. You will also learn how to recognize "good" and "bad" zucchini, so you do not overload your fridge. Lastly, terrific dishes with zucchini are brought to you by simple yet elegant recipes throughout.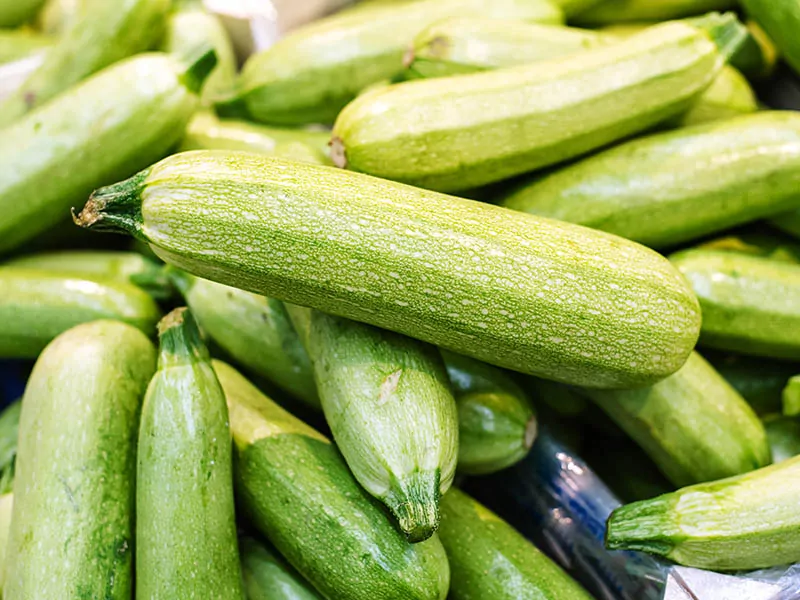 Zucchini: A Gift Of Nature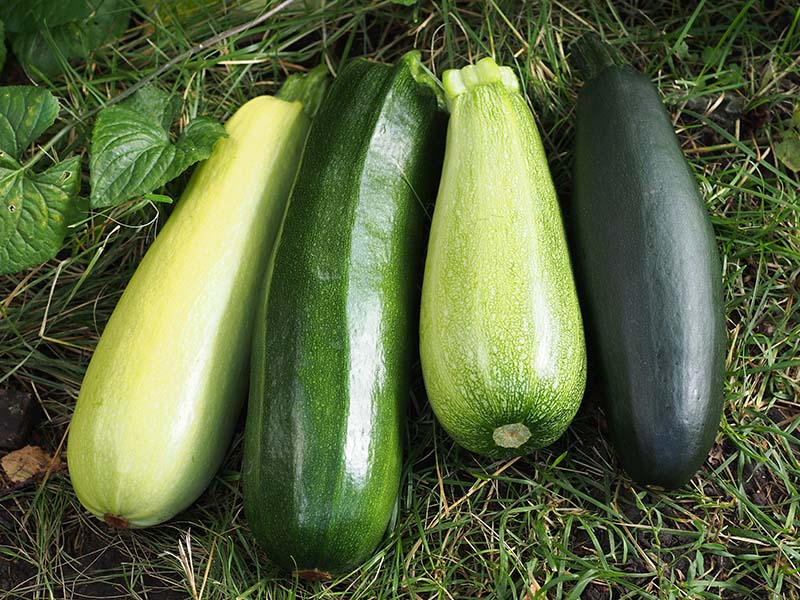 Zucchini can sound quite strange to some people as the word originated from the Italians who pioneered their growth. Botanically speaking, zucchini belongs to the summer squash plant family. Now, shoppers tend to buy this common vegetable in droves from local stores and supermarkets. (1)
At first glance, it has similar appearances to a cucumber with smooth green skin and a long, cylinder shape. However, it differs in the core, where zucchini is much juicier.
Zucchini come in various types with different colors such as yellow, and orange, and can be with or without stripes. In addition to the classic elongated shape, you will also find round or crookneck zucchini on the market.
Zucchini may be bitter, but it comes with a myriad of health advantages: improving your blood flow, strengthening your body, and aiding your digestive system (2). In addition, it is an excellent choice in baking or makes for great yet simple ingredients in all kinds of soup, salad, and pasta.
A quick taste test of 4 delicious zucchini varieties.
Selecting The "Right" Zucchini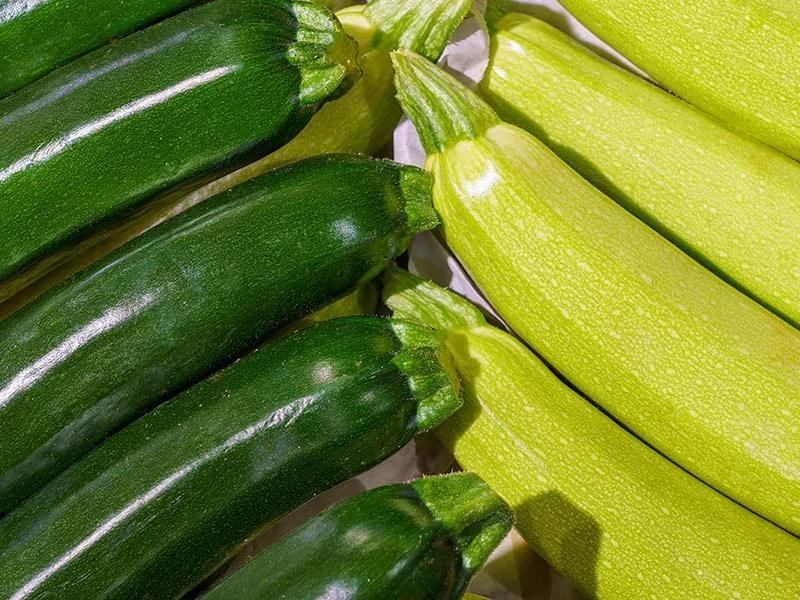 Zucchinis are quite common in farmer markets and grocery stores. Opt for zucchinis that are vibrant green, small to medium size, not too squishy or too hard, and still have about an inch of stems. Their skin should also be a little prickly yet shiny without wrinkles, cuts, or bruises.
In general, a great zucchini should be no more than 6 inches in length and about 1-2 inches in diameter. Don't be too tempted by large zucchinis as they're often pulpy and contain more moisture, thus spoiling more quickly.
The factors above will affect the quality of your squash and will also determine how long you can store it.
Useful tips for choosing and buying zucchini.
A Quick Overview Of Zucchini Shelf Life
Below is a summary of the best ways to store zucchini and the expected shelf life for each method. More details will be included in the following sections, so keep reading!
| Zucchini's Forms | At Room Temperature | In The Fridge | In The Freezer |
| --- | --- | --- | --- |
| Whole, raw | 2 - 3 days | About a week | Not recommended |
| Sliced or grated, raw | About 1 hour | 3 - 4 days | 3 months |
| Cooked or left-over | About 1 hour | 3 - 4 days | Not recommended |
| Sliced, blanched | Not recommended | Not recommended | 3 months |
| Grated, blanched | Not recommended | Not recommended | 1 year |
| Dehydrated | 1 year | Not necessary | Not necessary |
| Pickled | Not recommended | 2 -3 weeks | Not recommended |
| Zoodles, fresh | About 1 hour | 4 - 5 days | 1 year |
| Zoodles, cooked | About 1 hour | 2 - 4 days | Not recommended |
| Zucchini flowers | Not recommended | 1 - 2 days | Not recommended |
Store Whole, Raw Zucchini This Way
Now that you know the basics of zucchini, let's get to the article's main focus. As I said before, knowing which ones to buy is the first step to storing zucchini for a long time. After buying, there are multiple ways to keep your summer squash from spoiling.
At Room Temperature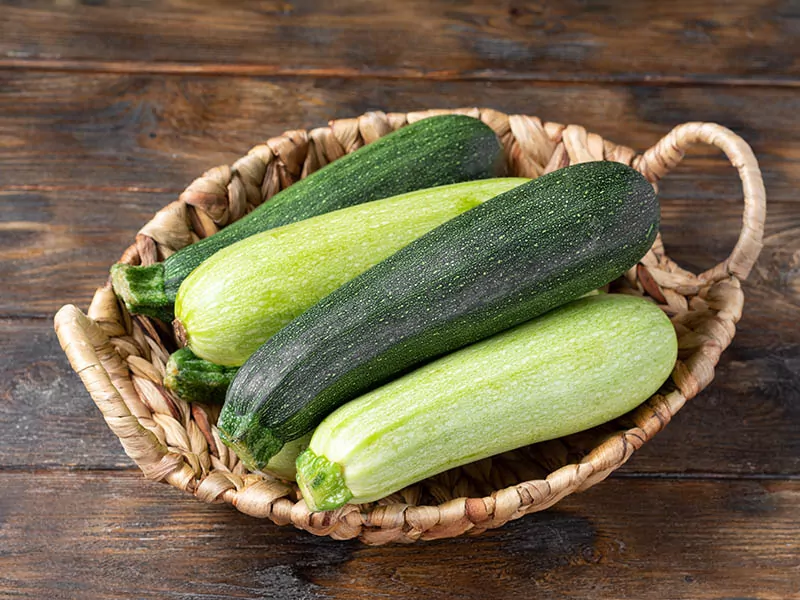 This is only a temporary solution when you suddenly have a broken fridge or plan to cook your zucchini shortly after. Keep your veggie somewhere dry and cool for the best results, such as in a pantry or a kitchen cabinet.
Keep in mind that zucchini will only last from 2 to 3 days at room temperature, so you'd better consume them as soon as possible. Hold off on washing the veggies until you're ready to cook them, as moisture will shorten zucchini's shelf life.
When it's time to cook the squash, simply rinse them lightly with cold water.
In The Refrigerator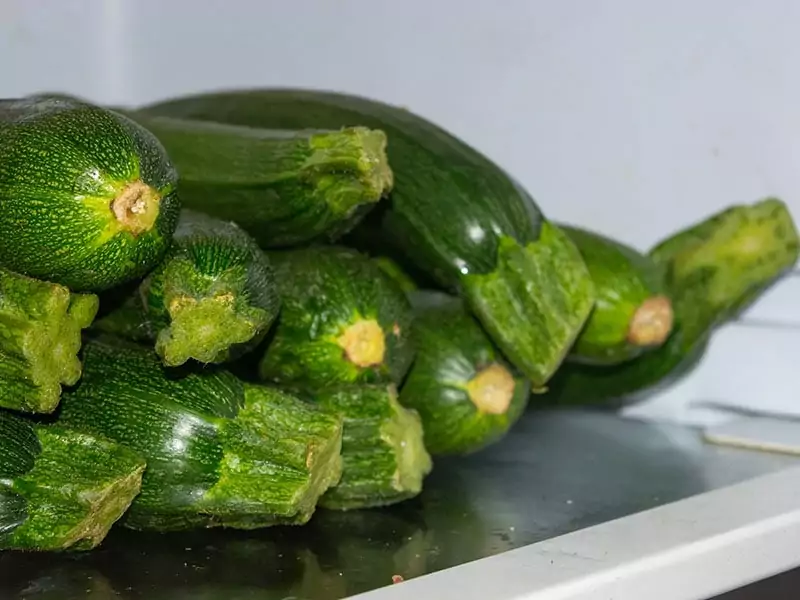 Refrigerating is one of the best ways to store fresh zucchini. Like most vegetables and fruit, you can place the zucchini in reusable plastic bags and paper bags, then store them in the crisper drawer.
Step 1: Pat The Zucchinis Dry
As mentioned above, moisture is zucchini's greatest enemy, so do not wash it until right before cooking. To ensure no excessive moisture is left on the veggies before storing, use a paper towel and pat them down.
Step 2: Place The Zucchinis In The Plastic Bags
Take out some plastic bags or paper bags and place the veggie inside. Don't stack too many zucchinis together in one bag to avoid accidental crushing.
Step 3: Refrigerate
Make sure the bags are ventilated by leaving them unsealed, or poke some small holes in closed ones. Store the bags in the crisper drawer to keep the humidity low and let the fridge do the rest. I recommend taping a sticker on the bags with the date you put it in the refrigerator.
With this method, your zucchini should last for about a week. Some zucchinis might turn soft or shrivel faster than others, depending on their initial freshness. Use the ones with such signs right away. In addition, swap the bag for a perforated one if you see any water building up inside.
If you plan to eat the zucchinis in about 3 to 5 days, you can also put them in the crisper drawers without the bags.
The Best Methods For Storing Sliced Or Grated, Raw Zucchini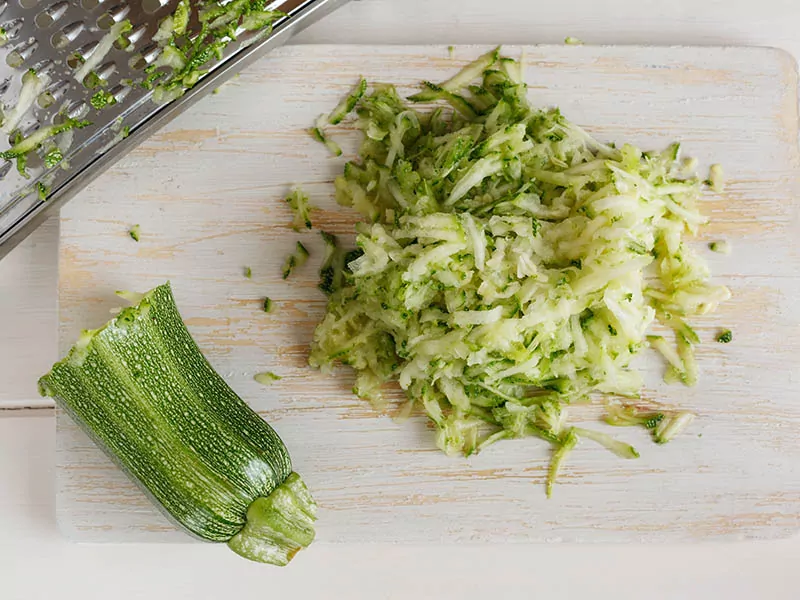 In addition to storing zucchini whole, you can also keep pre-sliced or grated zucchinis in the fridge or even the freezer for later uses. I wouldn't recommend leaving cut zucchinis out in the open, though, as they will only last for about 1 hour or so.
In The Refrigerator
Instead of putting your squash in opened-end bags, you'll need to keep them in air-sealed containers this time. This is to prevent the cold air inside the fridge from harming the cut veggies. Your zucchinis will stay fresh for about 3 – 4 days this way.
In The Freezer
Truth be told, the freezer isn't the best place to store raw zucchini because they tend to get watery when thawed. However, if you insist on freezing them without cooking, it's best to slice them up and flash freeze first.
Step 1: Flash Freeze The Zucchinis
Flash freezing will prevent the Zucchinis from sticking together in the freezer. To do so, lay the slices on a baking sheet and put them in the freezer for 2 – 3 hours.
Step 2: Freeze The Zucchinis
After a couple of hours, transfer the flash-frozen slices to a freezer bag or an airtight container and freeze them as normal. You can enjoy the squash for another 3 months (at most).
Don't want to blanch your zucchini before freezing? Well, you don't have to!
Storing Cooked And Left-Over Zucchini
If you have some left-over zucchini that you don't want to throw away, you can store them in the refrigerator for another 3 to 4 days. Remember to transfer them into airtight containers first.
Cooked zucchini will generally last for about 1 hour at room temperature and 3 to 4 days in the fridge. Before refrigerating them, make sure that they've completely cooled, then put them in a sealed container.
A Guide To Freezing Blanched Zucchinis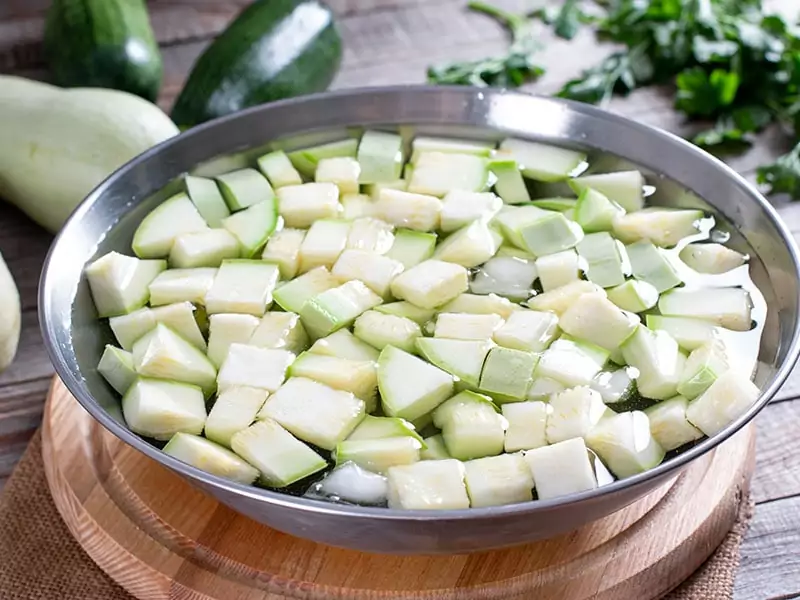 As I said, freezing raw zucchinis might not be the best idea. To effectively freeze these vegetables, I recommend blanching them first. Doing so will retain their nutrients and stop your summer squash from changing colors or texture.
Blanch And Freeze Cut Zucchinis
Remember when I told you not to wash the zucchinis until you're about to cook them? Well, since blanching is technically a cooking method, you can now rinse the squash without any worry.
Step 1: Wash And Cut The Zucchinis
Wash your zucchini with cold water and cut them into half-an-inch rounds.
Step 2: Blanch The Zucchinis
Pour some salted water into a pot, then bring it to a boil. Once the water starts bubbling, add the zucchini cuts and blanch for about 1 to 2 minutes, just until they turn slightly tender and vibrant.
In the meantime, prepare a bowl of ice water.
Step 2: Drain And Cool
Quickly drain the squashes in a colander, then toss them into the ice bath for about 2 minutes to cool and stop the cooking. Once completely cool, drain them once again and pat them dry.
Step 3: Packing And Freeze
Flash freeze the slices as instructed above (optional). After that, transfer them into freezer bags or airtight containers in a 1 or 2-cup proportion. Remember to label each bag with the freezing date.
Freeze them and enjoy your summer veggies for another 3 months.
Blanch And Freeze Grated Zucchinis
The same process applies to grated zucchinis. However, don't squeeze them while draining off the water, as shredded zucchinis require a bit of moisture. Ideally, you should only fill up about ¾ of a freezer bag and remember to squish as much air out as possible.
Frozen shredded zucchinis will keep for about 1 year.
An easy-to-follow guide to blanching zucchini.
Dehydrating Zucchini – Why Not?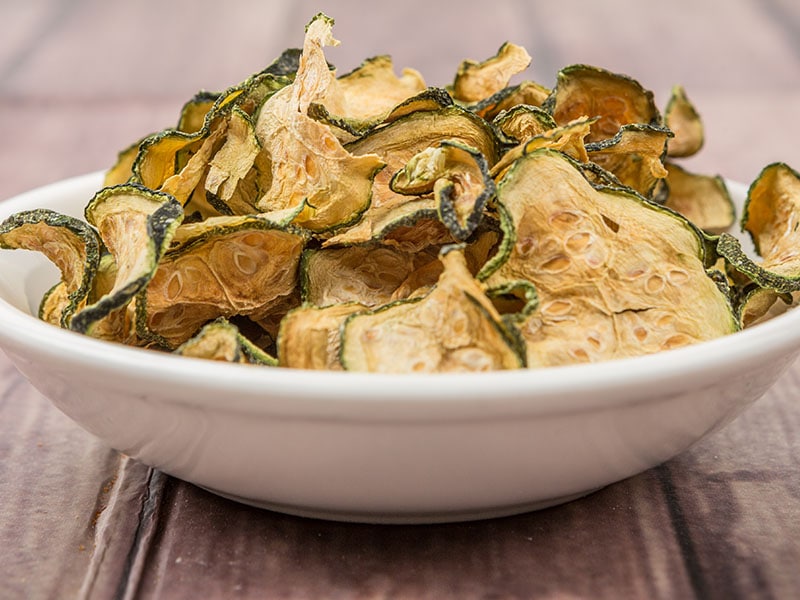 Dehydrating is a popular preserving method for fruits and veggies, and zucchini is no exception.
The drying process will be a breeze if you have a dedicated dehydrator. In addition, you can also dry your summer squash in an oven.
With this method, you can store these summer veggies for about 1 year.
Using A Dehydrator
A food dehydrator is your best option when it comes to drying any type of food, not just zucchini. It takes about 5 to 11 hours to finish drying your squash.
Step 1: Preparation
Wash your zucchini, then wipe them with a soft cloth and pat them dry. Cut off the stems and slice your zucchini into ¼-inch pieces.
Step 2: Place Your Zucchinis On The Dehydrator Tray
Place the slices on your dehydrator trays evenly. Ideally, there should only be one layer of zucchini. The pieces can touch but should not overlap each other.
Step 3: Dehydrate The Squash
Set your dehydrator's temperature to between 125 and 135 degrees Fahrenheit and start the drying process. Depending on your squash's humidity and moisture content, this process can take about 5 to 11 hours. Change the tray halfway through.
Step 4: Cool The Dried Zucchini
Remove the squash from the food dehydrator and let them rest for about 10 – 15 minutes.
You have two choices at this point: stuff them in airtight glass jars instantly or grind zucchini to powder, then pour into sealed containers.
Either way, label the jars with stickers or markers and place the containers in cool, dark spots on shelves or in cupboards. Voila! One year's worth of zucchini awaits in the darkest corners of your kitchen.
Using The Oven
The oven is a great alternative to a food dehydrator. In fact, it will take less time to dehydrate zucchini in the oven. However, you'll need to be mindful not to accidentally burn your squash "into ashes".
The process is pretty similar to that of a food dehydrator. Start with washing and slicing your zucchini, then place them evenly on a baking sheet lined with parchment paper. Remember not to stack them on top of each other.
Then, set your oven's temperature to the lowest (usually about 150 degrees Fahrenheit) and dry the slices for 2 to 5 hours until brittle.
5 different ways to dehydrate your zucchinis and turn them into delightful snacks.
Want To Add More Flavors? Try Pickling Your Zucchinis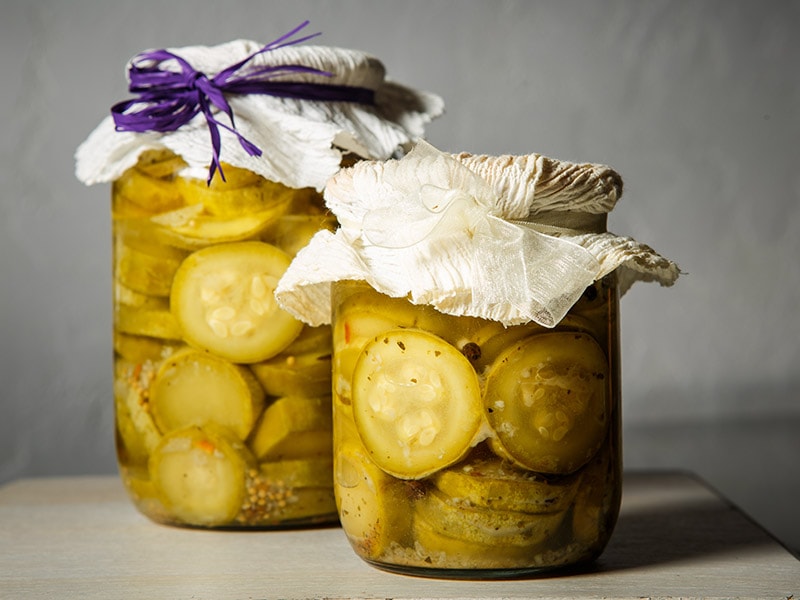 Not only is this a great way to store zucchini, but it also turns them into an excellent ingredient for many recipes. However, take care to follow every step, or you might ruin the experience in the blink of an eye.
Step 1: Prepare The Veggies
Wash zucchini, dill, and some carrots (optional) and dry them. Slice the carrots, some onions, and garlic into thin pieces. Chop dill leaves as small as you can. Cut zucchini into medium slices and strip off the seeds.
You might want to consider preparing a spoon of mustard seeds, a couple of dried bay leaves, and some black peppers.
Step 2: Prepare The Pickling Water
Pour some water into a cooking pot. Mix it up with around 250 ml of vinegar, then add 30ml of salt and 2.5 tablespoons of sugar. Boil the mixture in the pot until the liquid turns transparent. Remember to stir it periodically.
Step 3: Fill The Pickle Jars
Stuff zucchini in the pickle jars along with dill, carrots, onions, and garlic. Spread mustard seeds, bay leaves, and peppers on top of zucchini. Fill the jars with the boiled mixture, then seal them completely.
Step 4: Pickle The Zucchinis
Place all jars in a stockpot. Fill the pot with water to fully cover the glass containers (right below the seals). After that, boil for 10 minutes with the lid closed. Cool them for half an hour before storing them in the fridge.
*Note: Alternatively, you can place all ingredients in a large bowl with the boiled mixture of vinegar, salt, and sugar. Then, boil them all together in the stockpot and distribute them later into glass jars.
You can enjoy them after at least a day in the cold air. Pickled zucchini usually last about 2 to 3 weeks refrigerated. Be sure to eat them soon, then cook a new batch.
You won't get enough of these mouth-watering zucchini pickles!
Storing Zucchini Flowers The Right Way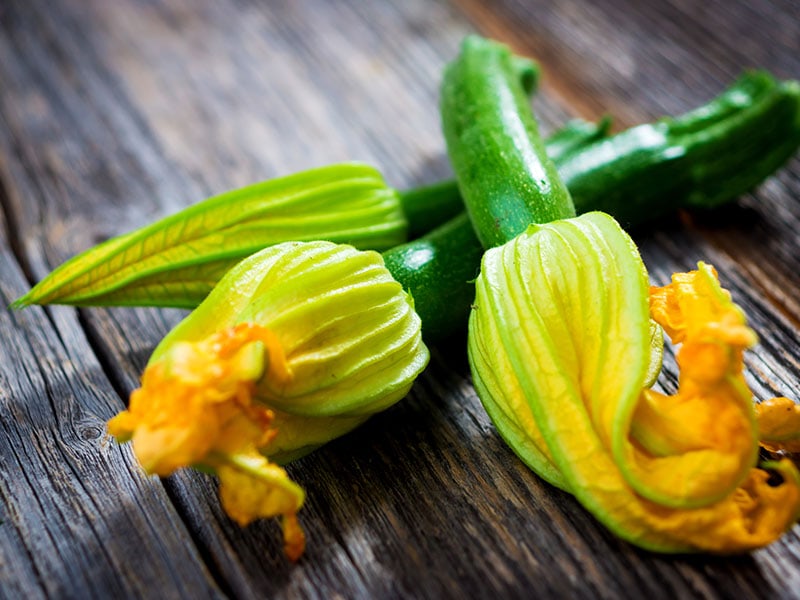 Zucchini flowers make for an excellent side dish for lasagna and will pair excellently with an array of pasta dishes. The only downside is that you won't be able to store them for long. I recommend consuming your zucchini flowers on the same day you buy them for the best flavor.
If you insist on storing them, you can refrigerate them in the crisper drawer for 1 – 2 days. Remember to put them in an open plastic bag first.
How To Properly Store Zoodles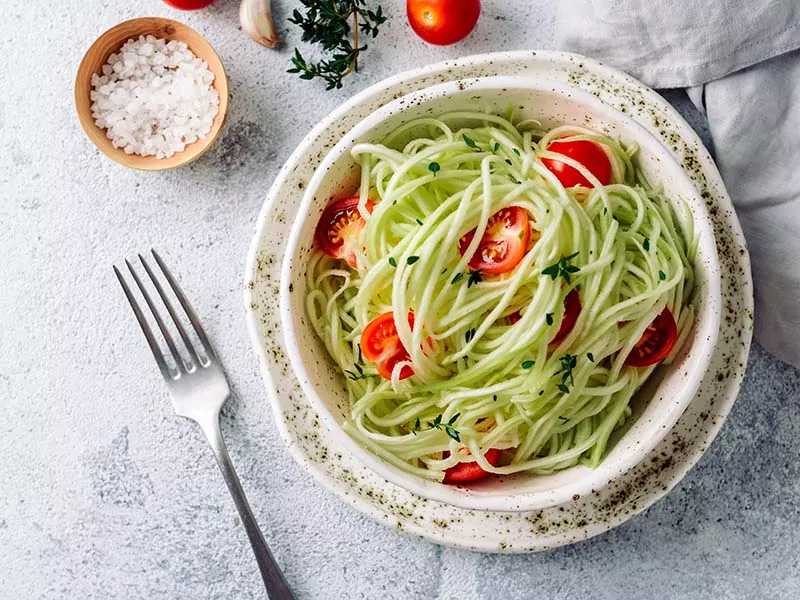 Zucchini noodles (or Zoodles for short) are a delicious gluten-free pasta alternative. You can turn your squash into noodles using a mandoline, julienne peeler, or spiralizer. You can either store them in a fridge or freeze them.
In The Refrigerator
Put uncooked Zoodles in a sealed plastic bag or paper towel-lined glass containers to store in the fridge for 4 – 5 days. Cooked Zoodles should last in the fridge for about 2 – 4 days, provided you wrap them carefully. Simply microwave or stir-fry them again when you feel hungry.
In The Freezer
While it only takes about a minute to put fresh Zoodles into a container and refrigerate, freezing them takes a bit more than that. To prevent the zucchini noodles from getting soggy, you'll need to add Kosher salt as a preservative.
Step 1: Add The Zoodles And Salt
For every 2 cups of Zoodles, prepare 1 tablespoon of Kosher salt. Add the Zoodles and the salt into a large bowl and start "kneading" to spread the salt evenly. Feel free to add more salt in order to coat the Zoodles if needed.
Step 2: Knead Until The Zoodles Feel Tough
After a while, the Zoodles will become firmer and produce a bubbly liquid. Keep on turning the Zoodles over for 2 to 3 minutes more until they turn tough.
Step 3: Drain The Zoodles
Line a thin cloth on a colander, then transfer the zucchini noodles into it. Use the fabric to form a bag and squeeze the Zoodles to remove moisture. After that, let them dry inside the cloth for about an hour.
Step 4: Freeze The Zoodles
Divide the Zoodles into small proportions and put them in freezer bags. The final step is to freeze them. Your Zoodles will keep their best quality for up to 1 year.
The Best Ways To Thaw Frozen Zucchini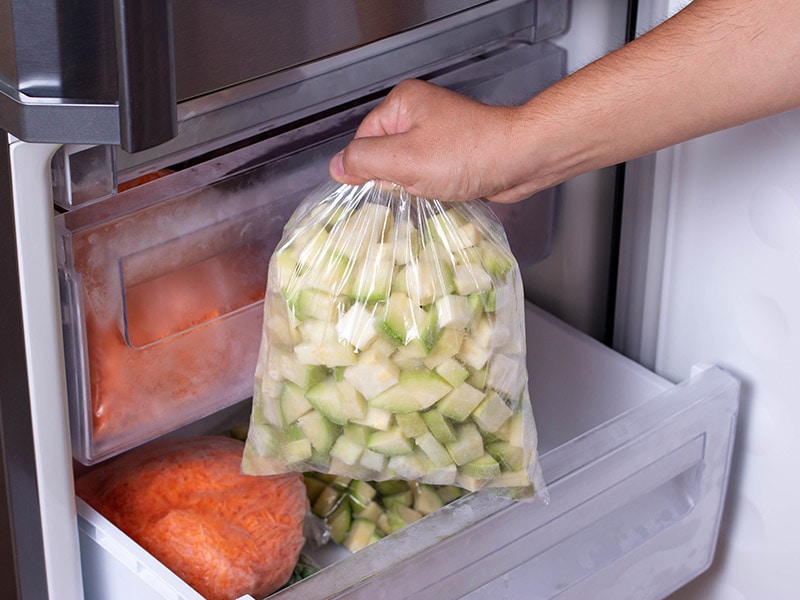 To defrost your zucchini, simply transfer bags of frozen zucchini to your fridge at least one day before using. However, if it is an emergency, place the bags in a bowl of water for about 10 minutes or microwave the veggies for 2 minutes.
If you thaw your summer squash in the fridge, they will last for another 3 to 4 days. However, you should consume them immediately if you defrost them in a microwave or in a water bath.
Alternatively, you can cook the zucchini instantly or boil them for 1 minute, though they may taste slightly soggier.
Cooking Time With Zucchini!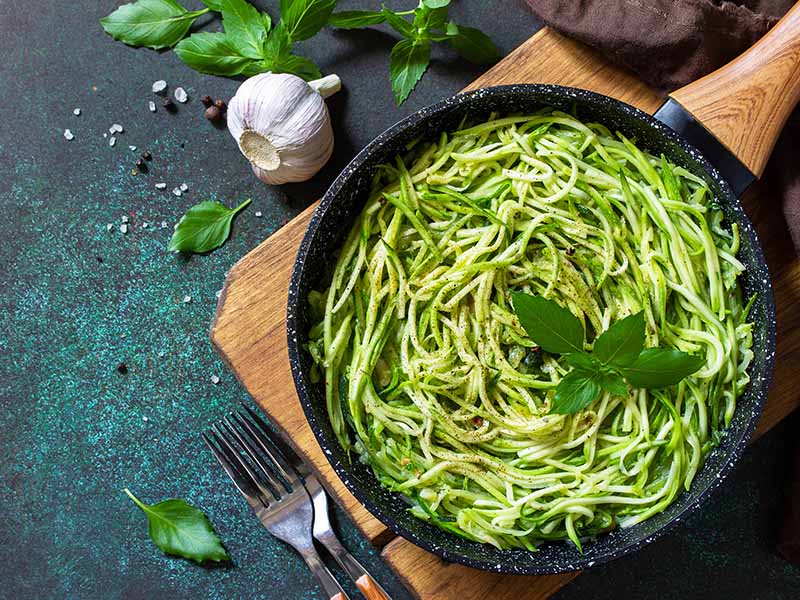 In this section, I will briefly introduce some of the simplest and most common ways to taste zucchini. Let's get cooking!
Boiling Zucchini
Step 1: Wash and slice your zucchinis into half slices.
Step 2: Dip them in boiling salted water for seven to ten minutes.
Step 3: Use a colander to drain the water.
Step 4: The zucchinis should be soft, tender, and ready to rock with soy sauce, salt, and pepper. You can also eat them with soup as well.
Baking Zucchini
Step 1: Cut the zucchinis into quarter pieces or thin strips.
Step 2: Season them with salt, black peppers, and dill leaves.
Step 3: Coat them with oil to make the baking process smoother. Divide thin strips of cheese on top of zucchini pieces.
Step 4: Set the timer from 25 to 35 minutes at around 350 – 400 degrees Fahrenheit. You can enjoy your veggies fresh out of the oven or after 5 minutes of cooling.
Zucchini Pasta (Zoodles)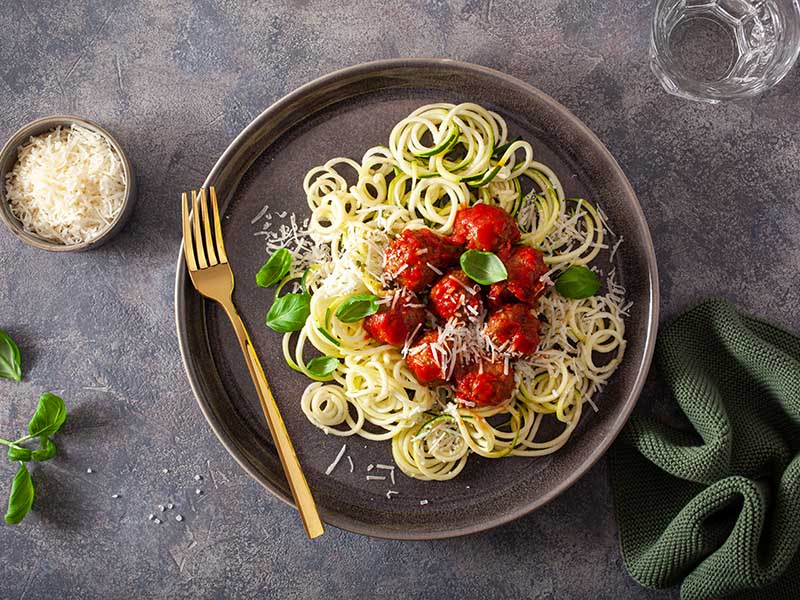 Either use a spiralizer or manually slice zucchini into thin strands. Season zucchini with enough vinegar, teaspoons of salt, and sugar. Here are four methods to enjoy your Zoodles.
Raw Zucchini Noodles
Raw zoodles are great for cold pasta salad recipes. Simply replace them with pasta, then add your preferred sauce. Add extra pepper, onion, garlic, and any vegetables if it is still not to your liking.
Boiled Zucchini Noodles
Boil zucchini strands with a cooking pot. Use a strainer to avoid turning them soggy. Add any topping you want and warm pasta salads are ready to serve.
Stir-Fried Zucchini Noodles
Soak the zoodles in salted water for half an hour, then squeeze gently. Stir-fry for five minutes over medium heat but be sure to spread them evenly on the pan. Serve with sauce and extra vegetables.
Baked Zucchini Noodles
Arrange the zucchini noodles on the oven tray and set the timer for 20 minutes at 350 degrees Fahrenheit. Put them in a basket covered with a sheet of kitchen paper towel and give it a few shakes. Have a taste with sauce and toppings of choice.
Five unforgettable zucchini recipes you must try.
Watch Out For These Signs To Spot A Bad Zucchini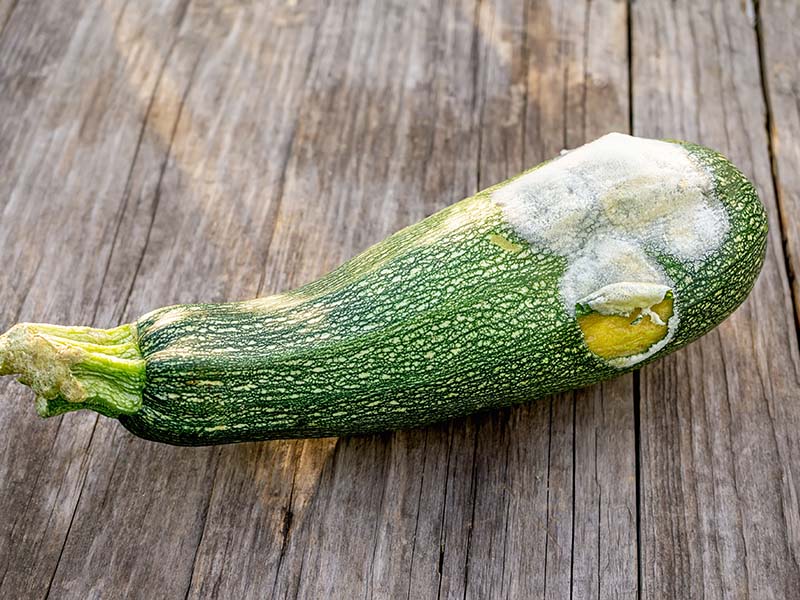 Learning how to store zucchini sometimes is not enough. No matter how perfect your methods are, zucchini will eventually turn bad. As a result, it's necessary to know how to spot spoiled zucchini.
Bad ones tend to have pale or even musty skin and may smell awful. It feels squishy when you give them a light squeeze like other squashes. Moreover, you will see long, thick fibers covering seeds larger than normal when cut open. Worse is when you actually see signs of rot and decay.
If you cannot find any surface problems, you can taste test your zucchini. Poor zucchini is much more bitter than your typical zucchini. If you're unsure whether the squash is still edible, it's best that you throw them away. If you test it and the veggie turns out bad, please do not swallow.
Tasty Zucchini Recipes For Your Eating Delight!
Now that you've known pretty much everything about storing zucchini, it's time to try some delectable recipes with these veggies!
Zucchini fritters are healthy and delicious snacks that everyone in your family will love. The zucchinis are mixed with an array of fragrant herbs and seasoning, resulting in an amazing taste. You can either fry these fritters to perfection or bake them in an oven for a more healthful option.
You'll instantly fall in love with this zucchini gratin recipe, even if you aren't a fan of vegetables. With a generous amount of whipping cream and cheese, the dish becomes so creamy and tasty that you won't be able to stop eating! You can also add some yellow squash for a healthier twist.
Are you having trouble telling your kids to eat vegetables? If so, this irresistible zucchini muffin recipe is exactly what you need. Packed with pleasantly sweet flavors from cinnamon and vanilla, these delightful snacks are an excellent way to sneak some green goodness into the younglings' diet.
FAQs
If you still have any unanswered questions about storing zucchini, check out this FAQs section.
Zucchini For Life!
That is about all the basic information on how to store zucchini. Follow the steps, and you are golden for some tasty bakes, salads, soups, and many more dishes.
Furthermore, if you have a passion for planting or it is already your job as a farmer, then zucchini should be on the list because it is quite easy to plant and very nutritious. After that, the remaining job is to store them properly.
Ultimately, please share this useful information with your friends and family, especially those who love cooking, so everyone can store zucchini the right way to prepare for their delightful dinners.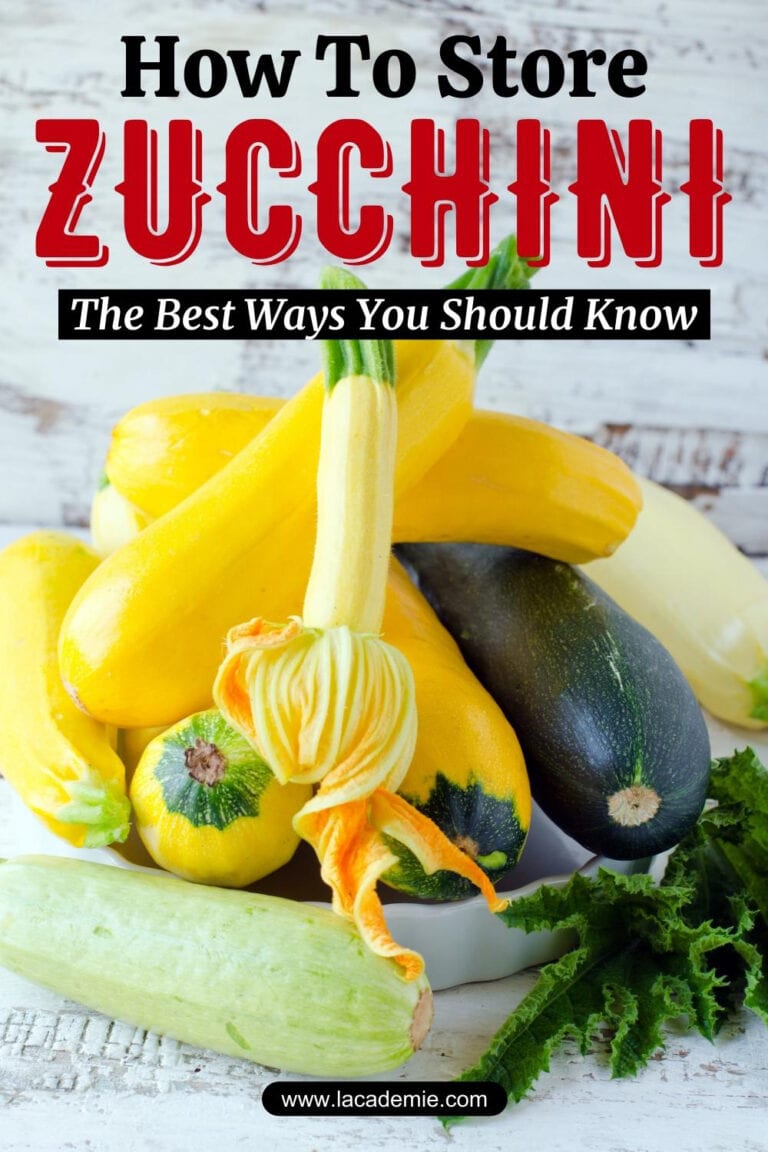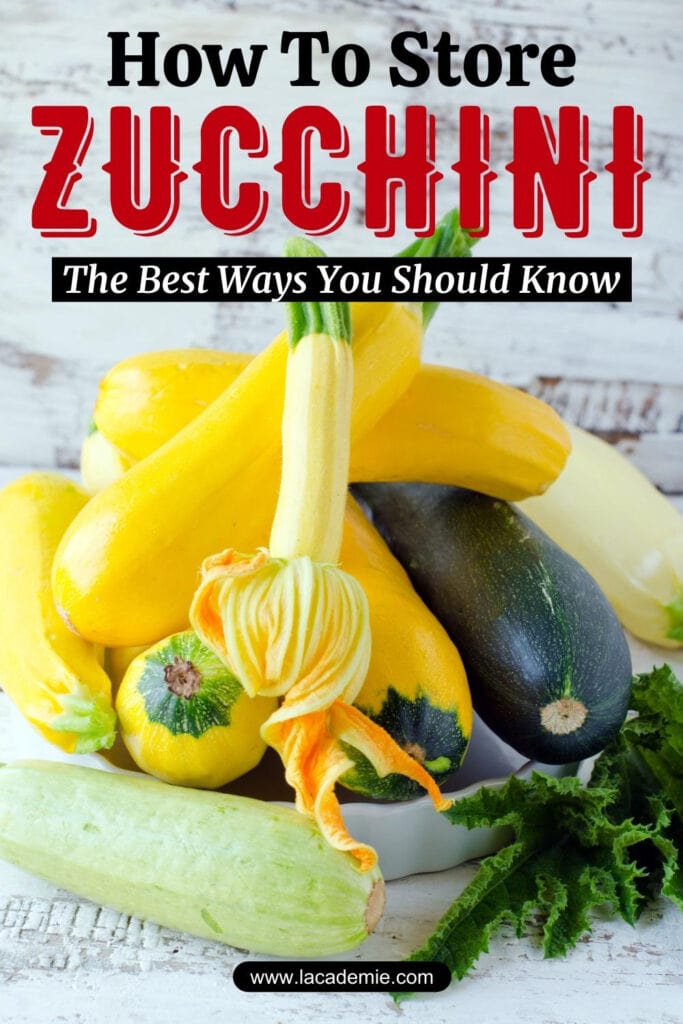 References
Contributors to Wikimedia projects, (2004). Zucchini – Wikipedia
(NL), A. P. M. R., (2019). 12 Health and Nutrition Benefits of Zucchini