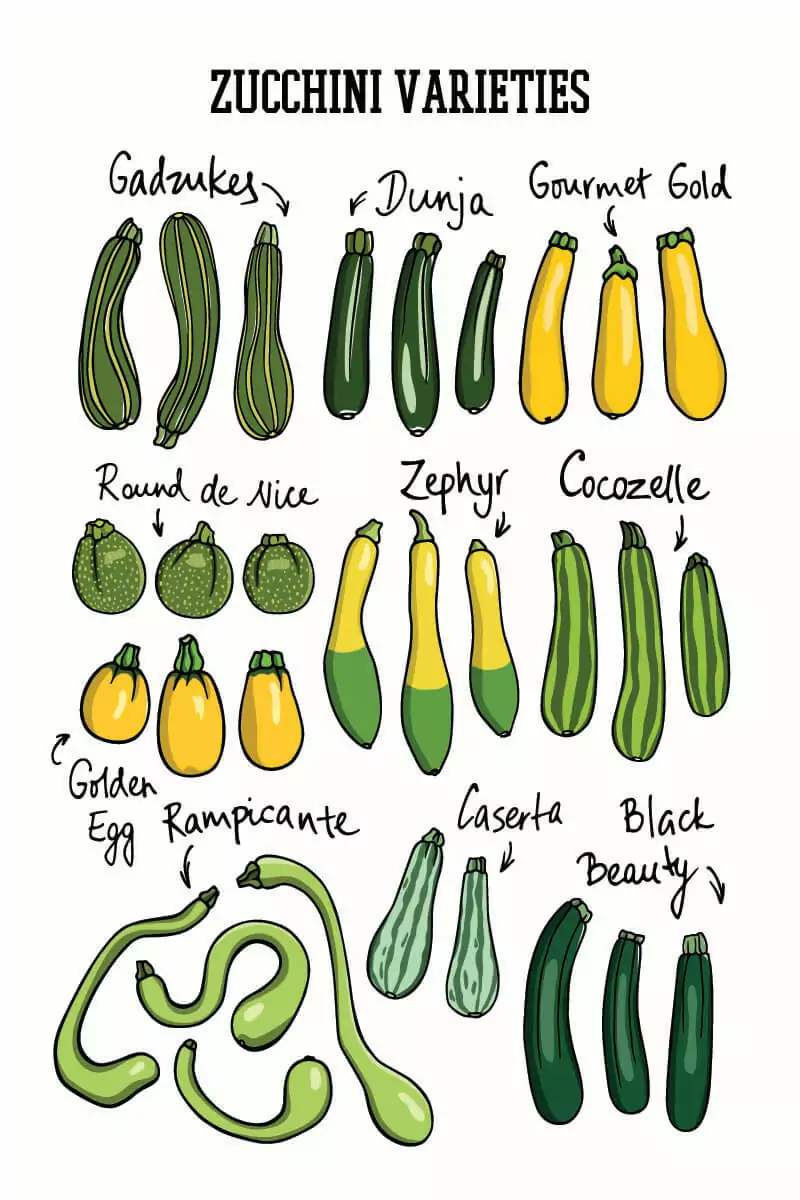 There are a lot of different types of zucchini in the world. But which one is right for your dishes? And you may already wonder about the right ways to keep your zucchinis, their flavor, and preferable growing conditions. You can figure out the answer in this article.
This extensive article features a list of zucchini varieties. I will cover their most distinguishing features so that you know whether you should buy or grow them. There is also plenty of fascinating truth about them. Let's discover!
The Reasons To Love Zucchini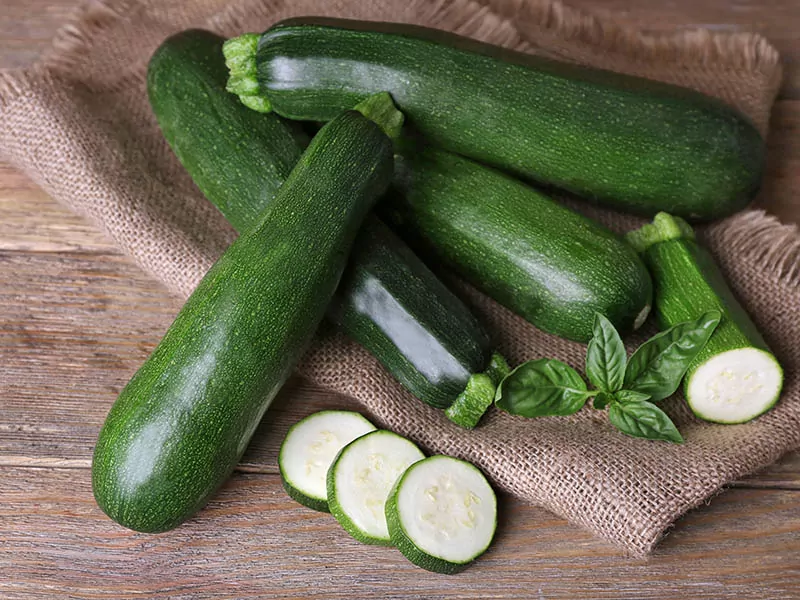 Zucchini is a great summer vegetable that originated in Italy in the 19th century. Nowadays, it has become one of the most popular veggies in the United States and all over the world.
Before going any further, I want to present some benefits of zucchini so that you know how amazing it is. You will feel super comfortable and satisfied when enjoying it.
Zucchini is packed with plenty of vitamins and minerals, notably vitamin A, C, and calcium. These nutritions will help you maintain excellent health. The amount of vitamin B6 plays a role in controlling weight.
In addition, it also contains zeaxanthin, a substance that helps to prevent cancers.
15 Best Types of Zucchini You Should Note Down
Now, let's get to the main topic. You are about to get plenty of useful information about the varieties of zucchini in this section. Before that, take a look at the summary of the main features of each type.
| Types of zucchini | Taste | Color | Uses |
| --- | --- | --- | --- |
| Round Zucchini | Mild sweet | Dark green | Stuffing, grilled dishes, cook in oil |
| Pattypan Squash | Sweet | Green, yellow, white | Stuffing, grilled, fried, and roasted dishes |
| Black Beauty | Mild sweet | Dark green | Pickling, soups, gravies, salads |
| Gourmet Gold | Mild sweet | Bright yellow | Zucchini frittata, fries, desserts, salads |
| Magda | Nutty, sweet | Light green | Stuffing, pickling, sauteed dishes |
| Zucchini Flowers | Squash-like | Orange and yellow | Omelet, stuffing |
| Golden Egg | Chartreuse-like sweet | Bright yellow | Muffins, pancakes, fritters |
| Rampicante Zucchini | Mild sweet, nutty | Lime green | Baked dishes, pies, vegetable and fish dishes |
| Cocozella | Rich, mild sweet | Dark green and light green stripes | Grilled and baked dish |
| Gadzukes | Sweet, crispy | Dark green | Salads, casseroles, pasta |
| Zephyr | Nutty | Yellow and green | Salads, crudités trays |
| Crookneck Squash | Mild sweet | Yellow, light green | Fried, baked, and sauteed dishes |
| Caserta | Rich and flavorful | Light green with some dark green stripes | Stir-fried, sautéd, and steamed dish |
| Dunja Zucchini | Mild sweet | Dark green | Chips and fritters |
| Tromboncino Zucchini | Mild sweet | Light green | Gnocchi, pasta, noodles, spaghetti, and sautéd dishes |
1. Round Zucchini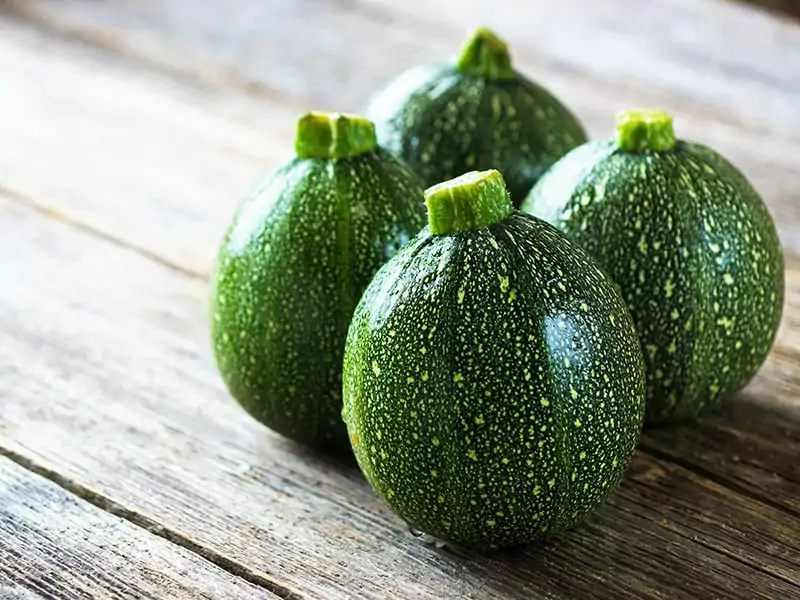 This variety has the signature taste of zucchini. It has a mild sweetness and bitterness. Its texture remains tender when eating raw and cooking. However, its shape is different from other zucchini varieties. It has an adorable round shape that will stun you.
Given the distinctive shape of round zucchini, what do you think about its uses? People use this zucchini to make stuffing. Amazing, isn't it? The colorful ingredients hide the dark green shell. Your mouth will water when you see it.
In addition, you can also slice it and grill it to make a perfect summertime snack. Cooking it in oil is also a great idea.
You can feel free to keep plenty of round zucchini in your kitchen because it can be frozen. Ensure that you know the spoilage symptoms of zucchini to know whether it is still edible.
It is also very easy to grow. You will get these gorgeous balls after 45 days of planting. It is about 3-4 inches in diameter.
2. Pattypan Squash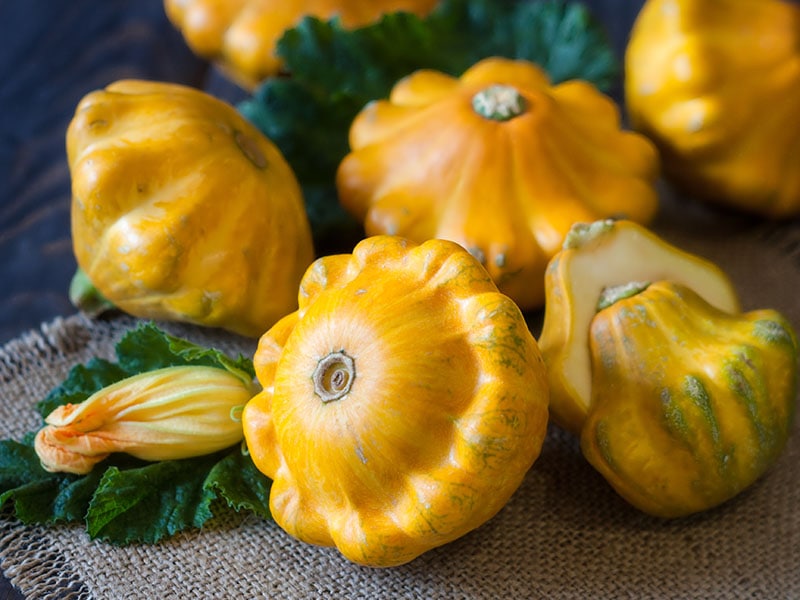 Look at that beautiful appearance! I bet that Pattypan squash is a variety that has the most impressive look. It is hard to say that it looks like anything because its shape and bright yellow color are so unique.
This type of zucchini comes in various sizes and colors. It can be green, yellow, or even white and is perfect for stuffing dishes.
Pattypan Squash tastes quite similar to common zucchini but has more sweetness. Buy the young ones to get their best taste. Besides stuffing, you can grill, fry, or roast it.
Pattypan squash can be harvested between 45 to 70 days after planting. As it grows up, it will have a potato-like taste.
Make a simple yet delicious dish with Pattypan squash today!
3. Black Beauty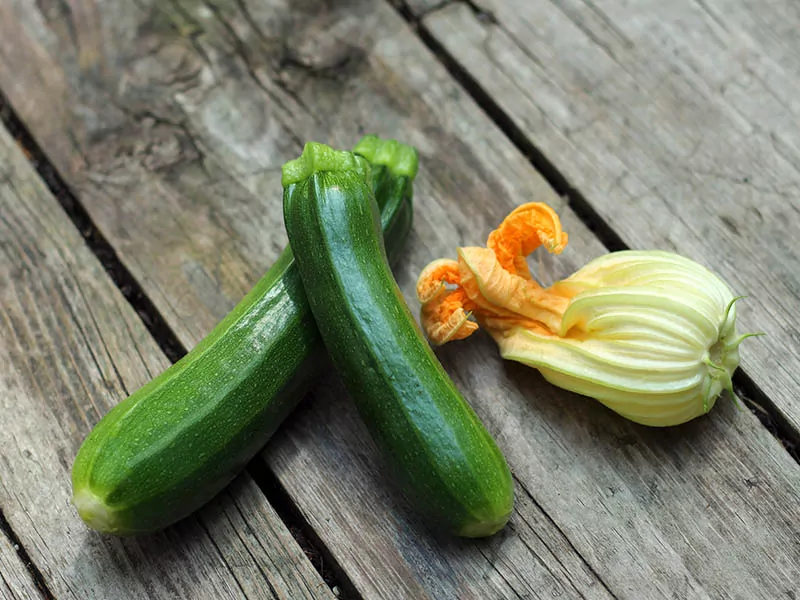 This is undoubtedly the most common type of zucchini in the market. It has the typical long and thin shape and a subtle sweetness. The skin is dark green, while the flesh inside has a pale white color.
With this variety, you can make any dish that calls for zucchini, from salads, baked dishes, to gravies and soup. You can use it to make pickling or enjoy it raw.
Black Beauty is common because it is very easy to plant and take care of. The plant can yield a large amount of zucchini after 50 days. Both young and mature Black Beauty tastes great. For the matures one, grill them in olive oil to make them more tender.
4. Gourmet Gold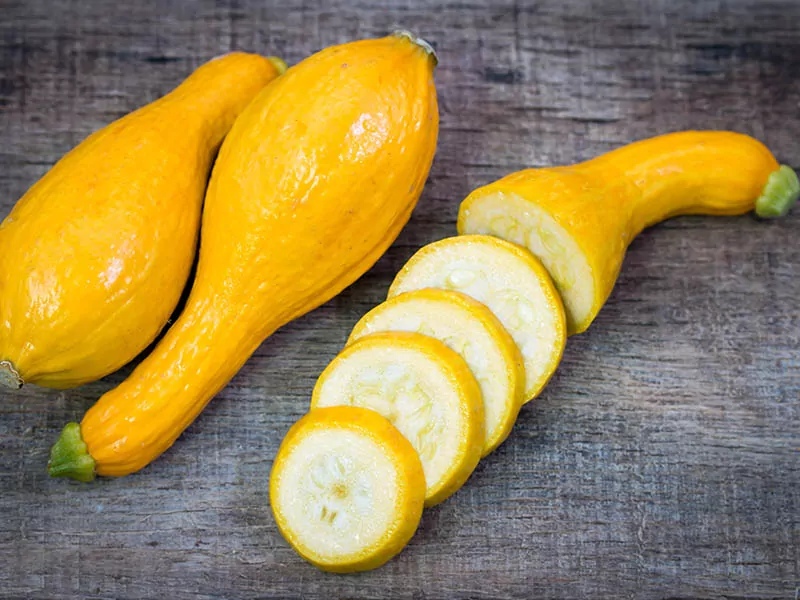 With this unusual shape and delightful bright yellow color, Gourmet Gold will attract the attention of everyone. Regarding the taste, it has the flavor of common zucchini, which is the iconic mild sweetness.
Gourmet Gold is used inclusively in a recipe called "zucchini frittata" because it is incredibly soft. But you can use it in a lot more dishes, such as fries, pizzas, and desserts such as muffins. It can absorb the flavors of other ingredients and make your salads more delightful.
If you intend to plant Gourmet Gold, I have good news for you. The plant can produce crops for a long time.
5. Magda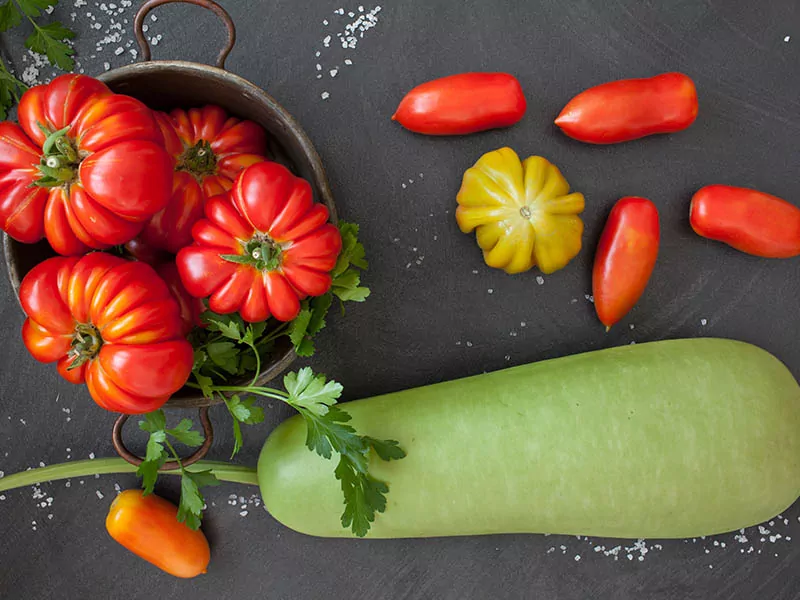 While other varieties have a dark green color, Magda has a light green hue that is very easy to recognize. It tastes sweet, similar to other varieties, but with nutty notes. Magda is neither thin nor round. It lies in between with a length of 3-4 inches.
When you cut Magda, you will see the dense and crispy flesh that is incredibly mouth-watering. Due to that excellent texture, it makes an ideal ingredient in sautéd dishes and grilled dishes.
Grilled zucchini is very crunchy, thanks to the juice. It will be a perfect summer BBQ appetizer. You can also use it for stuffing and pickling.
Unlike other varieties, Magda should not be stored because it tastes best when fresh. Just sprinkle it with some salt, and you will have a mouth-watering dish to enjoy.
The Magda plants are very productive. It produces plenty of fruit in 50 days. However, you should collect only some of them at a time to ensure that the vines are always in good condition.
6. Zucchini Flowers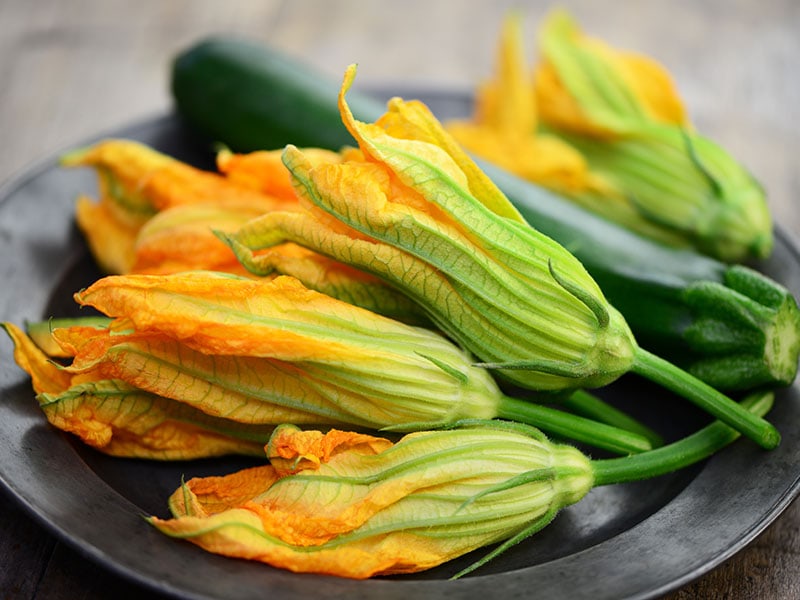 I have been talking a lot about this tasty Z-something fruit. But what about the flowers? Is it edible? My answer is a huge "Yes." Not only is it edible, but its squash-like taste is also amazingly delicious.
The flowers can be found on the top of the fruit. The bottom is light yellow while the top is orange. People often use it to make Quesadilla and stuffing, along with mushrooms, ricotta, and bacon. It is also a popular ingredient in egg dishes such as Omelets and Frittata.
If you are still wondering what to do with zucchini flowers, make this recipe.
7. Golden Egg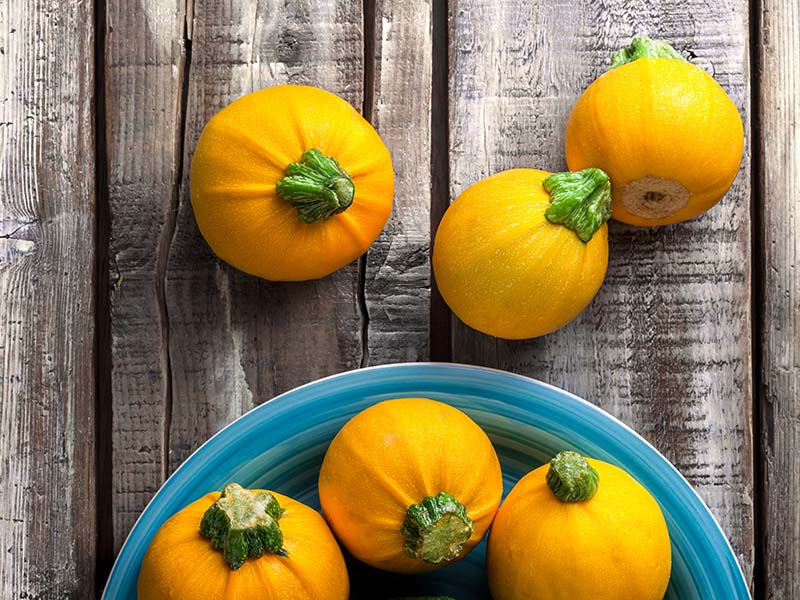 The name says everything about its appearance, right? It looks just like a giant yellow egg. What people love about this variety is that it does not take much time to grow. You can harvest in 41 days.
This beautiful variety has creamy flesh that everyone dies for. It has a strong sweet taste that is often described as chartreuse-like. Such an amazing taste makes it a perfect candidate for muffins, pancakes, and fritters.
8. Rampicante Zucchini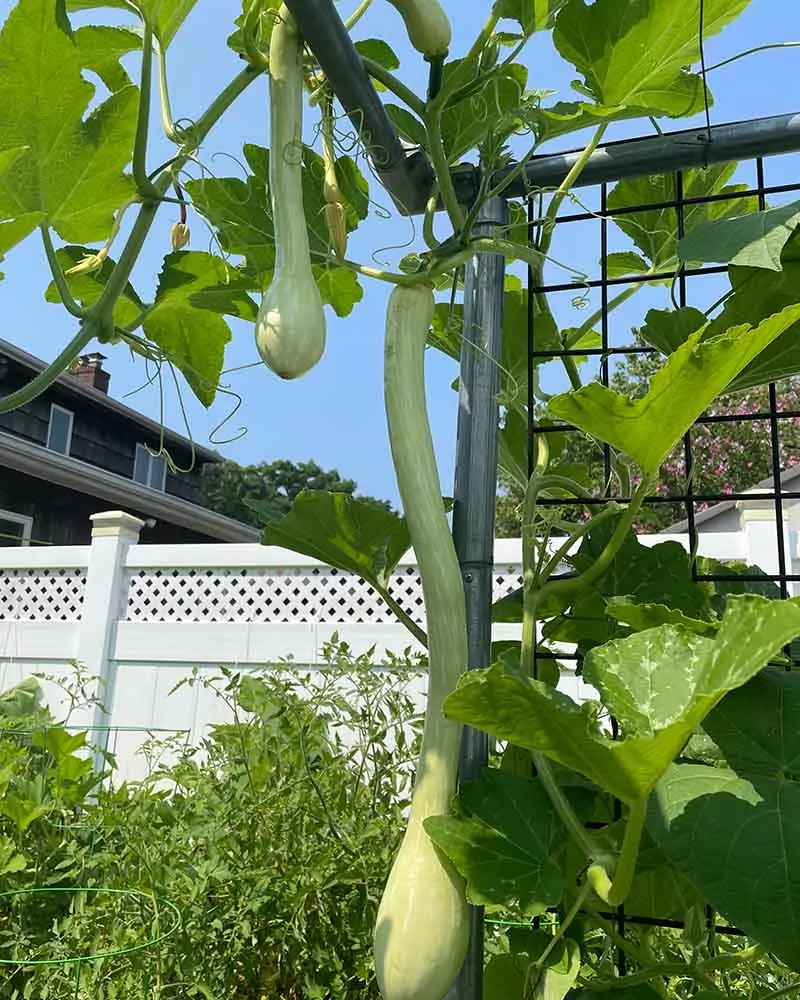 I bet that you have never seen any type of zucchini that looks more exotic and unique than Rampicante. It comes in long and slender fruit with a flat and fat part at the bottom. This variety is the signature zucchini of Italia. It can be up to 15-inch long.
Another great thing about Rampicante is that it can produce high yields in the summer and winter seasons, which means that you can find it almost all year round.
The flesh of Rampicante zucchini is mildly sweet and tender, similar to other varieties. But some people say it tastes even better than them. That's why it is always fastly out of stock.
Traditionally, this variety is used in Italian dishes, such as Gnocchi and Ravioli. You can also use it in baking dishes, vegetables, fish dishes, stuffing, and pies. In addition, this type of zucchini is perfect for making soups and stews. Grill it to make your BBQ party more delicious.
Rampicante zucchini is exceptionally nutritious. It is very rich in vitamin A, C, and beta-carotene.
Let's see more clearly how Rampicante zucchini grow.
9. Cocozelle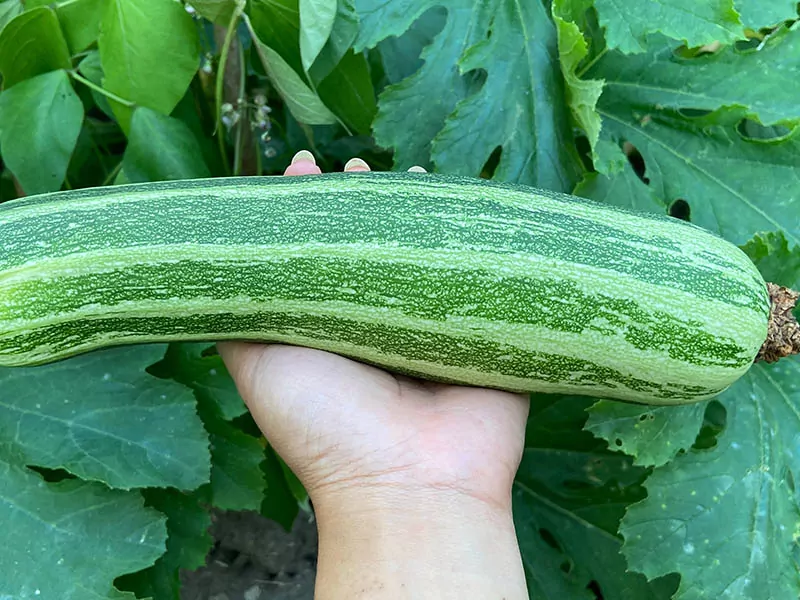 You can spot out Coccozella by its distinctive skin. It features light green and dark green stripes. With this variety, you can make delicious grilled and baked dishes.
Unlike other varieties, Coccozella has a firm texture. It has low water content, so you don't have to worry about the chance that it will fall apart.
What should be noted about Cocozella is that it should be harvested on time. It will mature roughly 50-60 days after plantation. If you collect it later, it may become dry, which will not be so tasty.
10. Gadzukes
Gadzukes is another Italian variety of zucchini. It has an incredibly sweet taste and crispy texture that will refresh you. The outer skin is mostly dark green. Sometimes, there are some light green stripes or spots. When you cut it out, you will see the star-like shape in every slice.
If you have some Gadzukes in your kitchen, you can use it to make any dish that requires zucchini, such as salads, casseroles, and pasta, to name a few.
It is also a good idea to plant Gadzukes right at your home. This variety does not require special care. It also grows up very fast. You can harvest the zucchini only after 50-55 days after you planted it.
11. Zephyr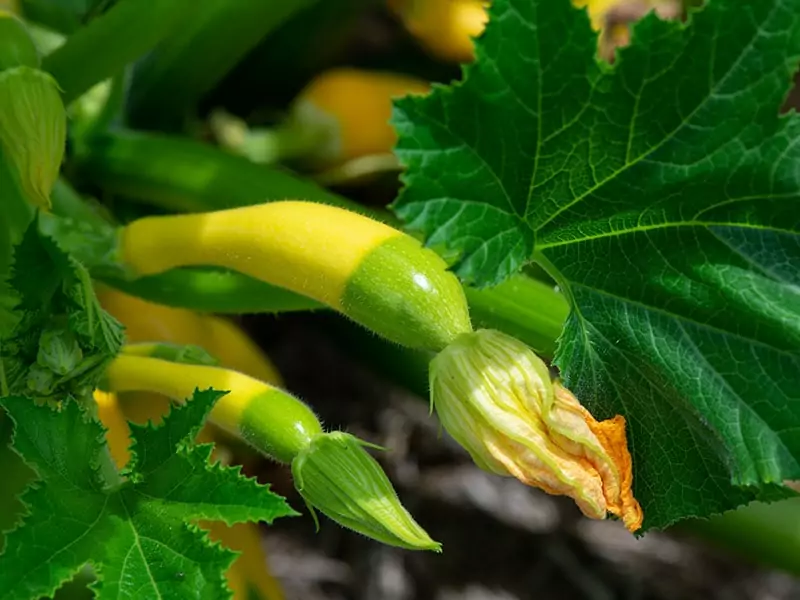 I bet that you have never seen any type of zucchini that is more beautiful than Zephyr. I was excited when I saw it for the first time. The yellow flower is attached to the fruit. And the fruit itself has 2 parts, a light green one and a yellow one. It is not as smooth as other varieties.
Zephyr has a distinctive nutty taste. The exterior is firm while the interior is juicy and tender, making it perfect for salads, crudités trays, and many other dishes, especially sautéd dishes.
What is more amazing about Zephyr is that its flower is completely edible.
Some tips on growing and harvesting Zephyr would be helpful to you.
12. Crookneck Squash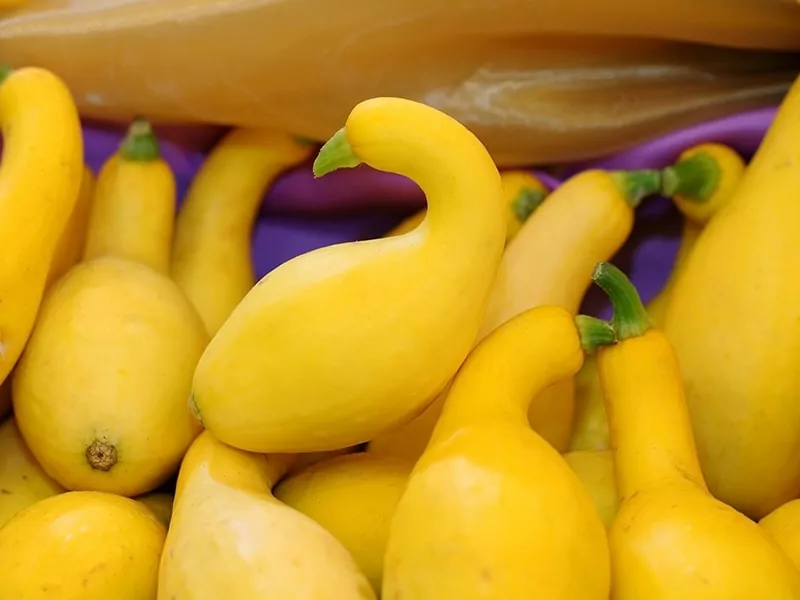 Crookneck Squash has an unmistakable appearance. It has the neck part and the body part. The body is oval, while the neck is thin and curvy. By looking at this unusual neck, I am sure that you can easily recognize this variety.
This variety does not have a fixed color. Sometimes it is bright yellow. But it can also be green or both green and yellow. People often harvest it when it reaches 2 inches long, then they use different ways to store this squash.
With a mild sweet taste, Crookneck Squash can be used in a variety of recipes. You can eat it raw or use it in Casseroles and in baked, fried, and sauteed dishes. Of course, I have only mentioned a few of them. You can do more with this tasty variety.
13. Caserta
Caserta is a zucchini variety of medium size. It also has light green and dark green stripes, but the dark green part is wider. Compared to other varieties, Caserta is thinner.
The flesh inside is tender, rich, and bursting with flavors. If you are thinking of planting zucchini in a small space, Caserta is what you should go for. I highly recommend that you harvest the fruit when it is tender enough. That's when it tastes best.
Like other types of zucchini, Caserta is a great summer vegetable. You can stir-fry, steam, grill, or sauté it to create delicious dishes that will please the crowd.
14. Dunja Zucchini
Other varieties are famous for their unique appearance and delicate taste. But Dunja zucchini is loved by a lot of gardeners because it can be picked easily thanks to the small spines and the open space of the plants.
Although Dunja Zucchini does not have a special appearance that can wow people. It looks elegant with shiny dark green skin and a straight and long shape.
Like other types of zucchini, you can use Dunja zucchini in many dishes, such as chips and fritters.
15. Tromboncino Zucchini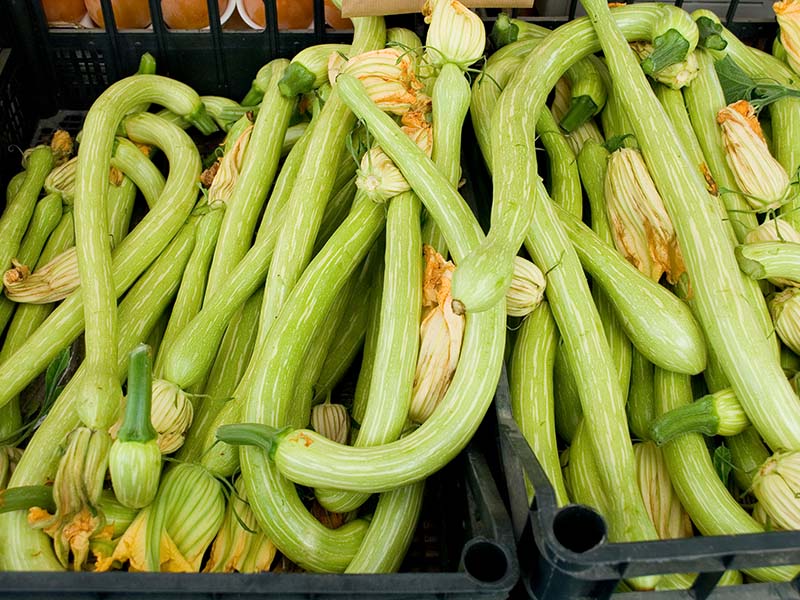 The last type of Zucchini I am going to introduce to you is an Italian variety. It has a light green color. The fascinating truth is that Tromboncino zucchini is very long in shape. It can be up to 3 feet long.
The name "Tromboncino" came from the Italian word for "trombone," an instrument with a straight and long shape.
Regarding the taste, it is dense, mildly sweet, and of course, very delicious. Italian zucchini will never disappoint you. This variety is said to taste even better. You can also fry and grill Tromboncino zucchini to make tasty Italian side dishes or use it in soups and stews.
You can use it to make Gnocchi, pasta, noodles, spaghetti, and sautéd dishes.
Are you curious about how people cook such a long Tromboncino zucchini?
5 Delicate Zucchini Recipes To Make Today
Zucchini is an amazingly delicious and healthy vegetable. I bet that you want to try them right away. Below are the easiest and most classic zucchini recipes that you can make. Don't miss them!
Roasted vegetables are a classic BBQ side dish. But with zucchini, your roasted dish will be more fascinating. This recipe requires minimal time and ingredients. But what you get is salty, sweet, and crispy zucchini slices that are incredibly delicious.
Another star of this dish is Parmesan cheese. It provides a subtle richness to enhance the flavor. If you place it on the party table, it will disappear in a second.
With a unique sweet taste, zucchini is perfect for making soups. The green color of the soup is refreshing, while the warm and sweet taste is so hearty and delicious. This soup is ideal for enjoying in both summer and winter.
Besides zucchini, you only need a few other basic ingredients to make this soup. If you want some richness, add some sour cream and grated Parmesan cheese.
If you haven't found a perfect Zucchini soup recipe, check out this one!
I have mentioned a lot in the above content that zucchini is suitable for sauteed dishes. If you intend to make it, this is the best and easiest recipe to pick.
Sauteed zucchini is an amazing summer side dish. It is salty, gralicky, and sweet. I always make this recipe whenever I need a quick lunch. All you need to do is sauteing everything in 15 minutes.
If you have planted plenty of Italian zucchini, why not use it to make this famous Italian food? It features zucchini covered with Marinara sauce and Mozzarella cheese. Then everything is baked until perfection.
Italian baked zucchini is a party dish. It has a richness provided by cheese and the tanginess from Marinara sauce. Serve it at your dinner party!
Zucchini casserole is a hearty and flavorful dish you should never miss. It has the subtle sweet taste of zucchini and onion, the richness of cheese, and the tanginess of tomatoes. A lot of flavors are combined together, creating a mouth-watering dish that everyone must try.
This casserole is a great summer dish. If you want to make it more fulfilling and flavorsome, add some rice or ground beef. After 30-40 minutes of baking, you will get a heavenly zucchini dish.
Always Keep Zucchini In Your House
Given that zucchini is such a tasty and nutritious vegetable, who doesn't love it? You can make plenty of dishes with zucchini, and you have a lot of different types of zucchini to choose from. Is there anything better than that?
If you have anything to share about these zucchini varieties, feel free to leave it in the comment section. Don't forget to hit the like and share button so that more people can expand their knowledge about zucchini.