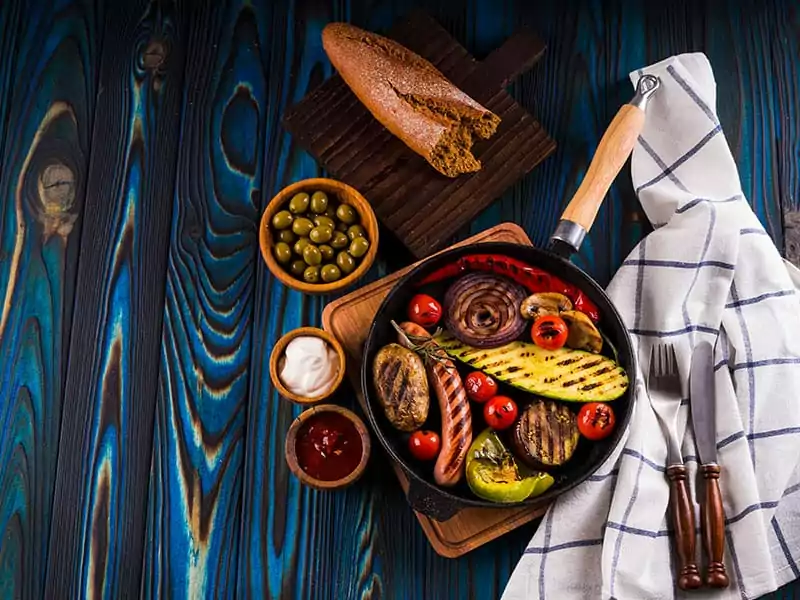 I love veggies, especially roasted, and I always wonder what to eat with roasted vegetables. There's just something very special about this kind of cooking technique that makes everything taste much better!
That's why I decided to make a list of food that goes well with roasted veggies. I and you can both use it every time we lack cooking ideas. Some of the recipes I found are full meals, and some are sides.
I also included vegetarian and vegan options. If you're following a plant-based diet, don't worry. There is something for everyone on this list. The best part? They're super easy to make, healthy, and tasty.
So grab your apron, cookware, or an ideal veggie chopper, and let's get started!
What To Eat With Roasted Vegetables?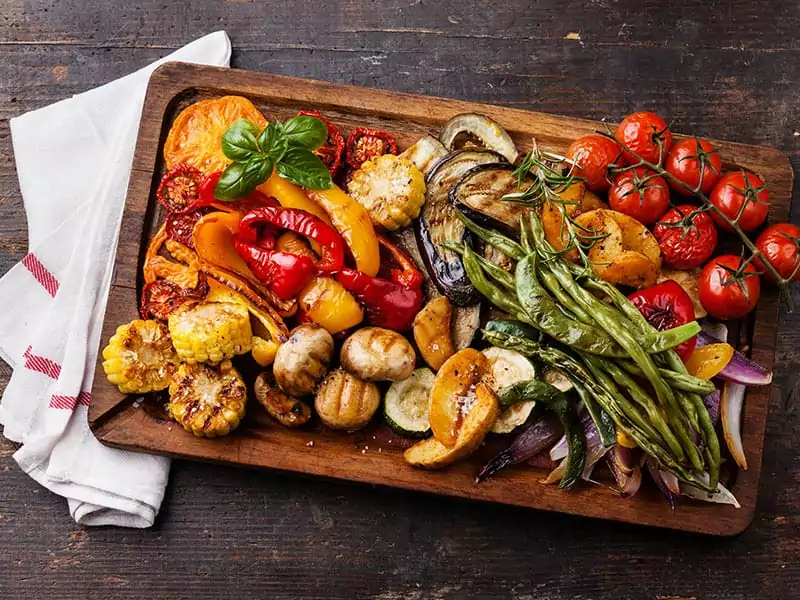 What's your idea of a complete meal? For many, it's a protein-rich main dish combined with some fresh or roasted veggies as a side dish. And why wouldn't you like that combination?
It's the perfect weeknight meal as well as part of any healthy diet. In the following section, I will share a few delicious foods that you can pair or cook with roasted veggies, so let's begin.
1. Quesadilla
Quesadilla is a cuisine meal consisting of a corn or flour tortilla filled mainly with cheese, spices, meats, and other fillings that you can serve as a Mexican-style accompaniment. Then, it's cooked on a stove or griddle.
You can either fill your quesadilla with roasted veggies or use them as a side dish. Serve this with tasty guacamole for dipping. Watch the following video for instructions.
2. Omelet With Roasted Vegetables And Cheese
If you have roasted veggies on hand, make a delicious omelet. Omelets are so quick to make, whether you make them for breakfast, lunch, or dinner. Cut up your roasted veggies into smaller pieces if you're not a fan of a chunky omelet. Follow the next steps in the video for help.
3. Roasted Vegetable And Quinoa Salad
The quinoa and roasted veggie salad are easy to prepare in advance and very portable, so it's perfect for potlucks and picnics. Great as a healthy side salad or a main dish, and perfect for lunch boxes.
With little effort, you can prepare the base for a super easy meal. For this easy salad roughly chop your veggies, toss them with healthy grapeseed oil or olive oil, season with salt and pepper, and slide the tray of veggies into the oven. You can either use what you already have on hand. Or buy some veggies.
If you don't like quinoa, use your favorite grain instead. You can season the salad with coriander, chives, parsley, basil, dill, or something else of your choosing. Here's a quick recipe just in case you need it.
4. Hummus And Roasted Vegetable Wrap
I'm a big fan of hummus flavor and in this recipe, I will combine it with wraps. Everything about this mix is yummy. The juice of roasted vegetables combined with homemade hummus and feta cheese will become your new favorite meal.
It's great served cold or warm. It's the easiest and healthiest meal you will ever prepare. You can use any vegetables you have on hand. Just follow the next steps and you will enjoy it in no time.
5. Crispy Sheet Pan Gnocchi And Veggies
Store-bought gnocchi has always been one of the easiest dinners. However, if you want to take your food to the next level, grill the gnocchi instead of boiling them.
Just toss them onto a sheet pan with some of your favorite veggies, and roast them for 20 minutes. It's a super easy recipe. Please, check the next video for details.
6. Veggie Pizza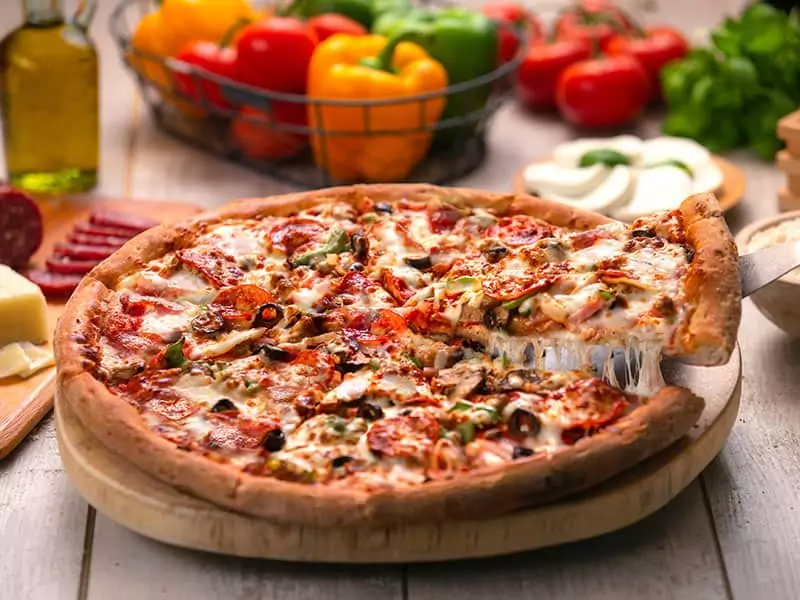 I'm not a huge fan of cheese. However, pizza isn't pizza if there's not a thick layer of the first-rate mozzarella or some tasty cheddar cheese melted on top, am I right?
If you're following a plant-based diet but still want to eat pizza, just use a vegan parmesan. Also, to step up your pizza game, add some roasted veggies on top.
You can use raw veggies as well. However, roasted ones give the pizza a whole different flavor. Sprinkle some sea salt, garlic powder, and pizza seasoning.
Let's see this video to collect more:
7. Delicious Frozen Lasagna
If you think that superb frozen lasagna in stores can never taste as good as a homemade one, think again. It tastes even better. You can use your roasted veggies as a side dish and enjoy a warm meal.
Let's see this video to collect more:
8. Italian Oven-Roasted Vegetables
This isn't your typical meal with roasted vegetables. The oregano and thyme come together for a great flavor combination. Serve it with some freshly grated hard cheese and enjoy. This recipe goes well with fish or chicken. However, if you're vegan, serve it on top of quinoa or rice.
Let's see this video to collect more:
9. Chickpea Bowl, Roasted Vegetables, And Lemon Sauce
This meal is one of the first vegan meals I used to make regularly when I started my plant-based journey. It's a versatile and easy recipe. You can use any veggies you have on hand. The result is a delicious mix. If you have never heard of this recipe before, watch the next video for instructions.
10. Quick And Easy Roasted Vegetable Pasta
This is a vegetarian dish that's tasty and easy to make. It's just perfect for busy weeknight dinners in Italian style. It can be made in less than 30 minutes.
The best part? It's filling and delicious without the guilt you get with most pasta dishes. Mix your roasted vegetables with some garlic and pasta.
Add a little seasoning, grated cheese, and fresh herbs, and it's done. I cook this a lot, especially when I'm watching what I eat or feeling lazy.
11. Garlic Roasted Vegetable Pasta
This garlic-roasted vegetable pasta can be served as both a healthy main or side dish. You and your loved ones will love this vegetarian meal.
All you have to do is peel, chop, and roast your favorite veggies. For a caramelized and sweet note, add a whole garlic clove. Then, cook some pasta.
Once they're done, mix all the ingredients in a bowl and top with Parmesan cheese and olive oil. Sprinkle with some fresh parsley and serve.
Let's see this video to collect more:
12. Pasta Primavera With Roasted Vegetables
I'm all for a veggie-loaded weeknight dinner, especially if it's easy to make and doesn't take much time. The pasta primavera with roasted vegetables is just that.
Made with a mix of your favorite veggies roasted with Italian seasoning, then tossed in tomato and herb butter sauce, this pasta will become your next favorite meal.
The primavera sauce is so flavorful and light because it's made with tasty tomato herb butter and fresh veggies. To make this dish, you will need veggies, pasta, olive oil, butter, parmesan, and grape tomatoes. Mix sliced veggies with olive oil and some Italian seasoning.
Cook until tender. Once they're roasted and the pasta is cooked, mix the two in a bowl. Add the butter, grape tomatoes, olive oil, and top with Parmesan.
Watch this video to know more:
13. Smoked Or Canned Salmon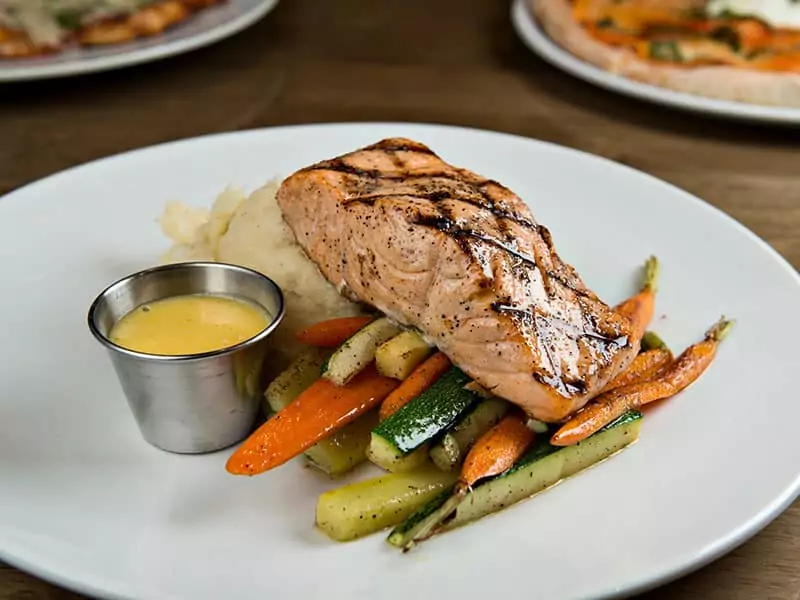 You can prepare the smoked salmon as you usually do and use roasted veggies as a side dish. It's an easy and quick meal that you and your family will love.
You can also mix your handy and best-ranking canned salmon and roasted veggies and make a quick healthy salad in no time. Just add your favorite herbs, spices, and liquids, and enjoy.
14. Turkey Meatloaf With Roasted Vegetables
If you think veggies are boring, think again. Combining roasted veggies with turkey meatloaf will awaken all your senses. I often make it with asparagus and potatoes. Just toss it together on a sheet pan and you can enjoy this delicious combination in just 30 minutes.
Watch this video to know more:
15. Roasted Vegetables With Tzatziki Sauce
If you're not in the mood for cooking, just toss your roasted veggies in a bowl and add Tzatziki sauce. It's a light and healthy snack. The best part? It's super easy to make.
You can also add your favorite herbs, olive oil, and seasoning with some delicious string cheese, or garlic sticks on the side. Make Tzatziki sauce by following the next video.
16. Roasted Vegetable Pasta Bake
Remember your family's favorite pasta dish? Now, what if I tell you that you can make it even better? All you need to do is include some veggies of your choosing.
This dish is customizable, so you can use various types of pasta. The roasted vegetable pasta bake is the perfect comfort food and something that even meat-eaters won't be able to resist.
First, cook the pasta. Then, roast veggies of your choosing. I mix onion, red and yellow peppers, zucchini, minced garlic, tomato paste, and some seasoning. Then, I add two tins of chopped tomatoes along with heavy cream. Add the cooked pasta in the veggies, fresh spinach and you're done.
Place everything in a baking dish and top with grated cheddar or mozzarella. Bake in the oven for 20-25 minutes. Sprinkle some chopped parsley and enjoy your meal.
Let's see this video to collect more understanding:
17. Frozen Meatballs With Roasted Vegetables
If you're looking for a quick and delicious meal for yourself or your family and friends, get those delectable frozen meatballs from your fridge and use your roasted veggies as a side dish. You can cook frozen meatballs in the microwave, air fryer, stovetop, or conventional oven.
Let's see this video to collect more:
18. Chicken Sausage With Roasted Vegetables And Apples
The original recipe asks for broccoli, sweet potatoes, and Brussel sprouts, so the meal is rich in vitamin A, fiber, protein, and other nutrients.
The rosemary and cinnamon along with the apples make the meal both savory and sweet. Keep in mind, the original recipe is customizable.
You can substitute any seasonal vegetables. You will also need some chicken sausage, paprika, salt, and pepper. Follow the video for instructions.
19. Roast Chicken And Vegetables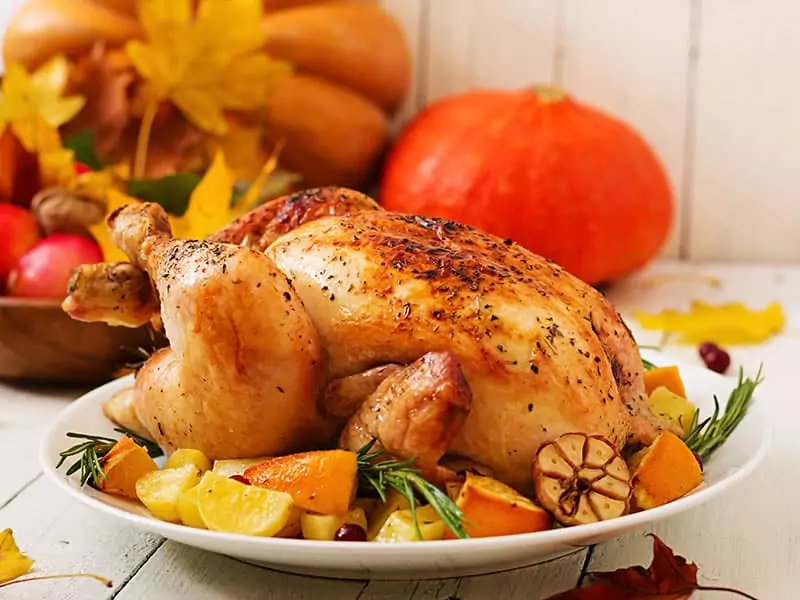 Roasting a chicken seems like a time-consuming and difficult task. However, it's easy if you follow this recipe. It includes minimal prep beforehand. And since the veggies cook alongside the chicken, you will save a lot of time in the kitchen. Serve with dinner rolls for a more complete meal.
Let's see this video to collect more:
20. Sheet Pan Roasted Tofu And Vegetables
If you're vegan, this recipe is perfect for you. The roasted tofu goes well with some vegetables. The tofu is crispy on the outside and soft on the inside with a lovely flavor profile. Complete the dish with roasted veggies like carrots, Brussel sprouts, and cauliflower, or something of your choosing.
Let's see this video to collect more:
21. Vegan Chickpea Meatballs With Roasted Vegetables
Another vegan dish that will impress even the meat-eaters is this combo of homemade vegan meatballs and roasted veggies. The meatballs are easy to make and incredibly delicious.
They're made of chickpeas. Pair them with some marinara sauce, your favorite pasta, or roasted veggies, and enjoy a light, nutritional meal. Follow the next video for more instructions.
22. Roasted Garlic And Vegetable Cheese Bread
Last but not least, I have simple garlic and herb toasted bread loaded with cheese and roasted veggies. First, top the bread with olive oil, roasted garlic, and some fresh herbs.
Then, load the bread with roasted veggies and your favorite cheese. Bake it in the oven until the crust is lightly toasted and warm. Serve this bread with salad or soup and enjoy.
Healthy And Tasty
Roasted veggies go well with pretty much anything you can think of. The next time you wonder what to eat with roasted vegetables, just scroll through this list of ideas and pick one.
Since I'm following a plant-based diet at the moment, I usually pair roasted veggies with pasta, bread, or vegan meatballs. I also use leftover veggies on a pizza or make a healthy salad.
What do you usually pair roasted veggies with? Feel free to share your cooking tips and questions in the comments. Also, don't forget to share this article with your social media friends.