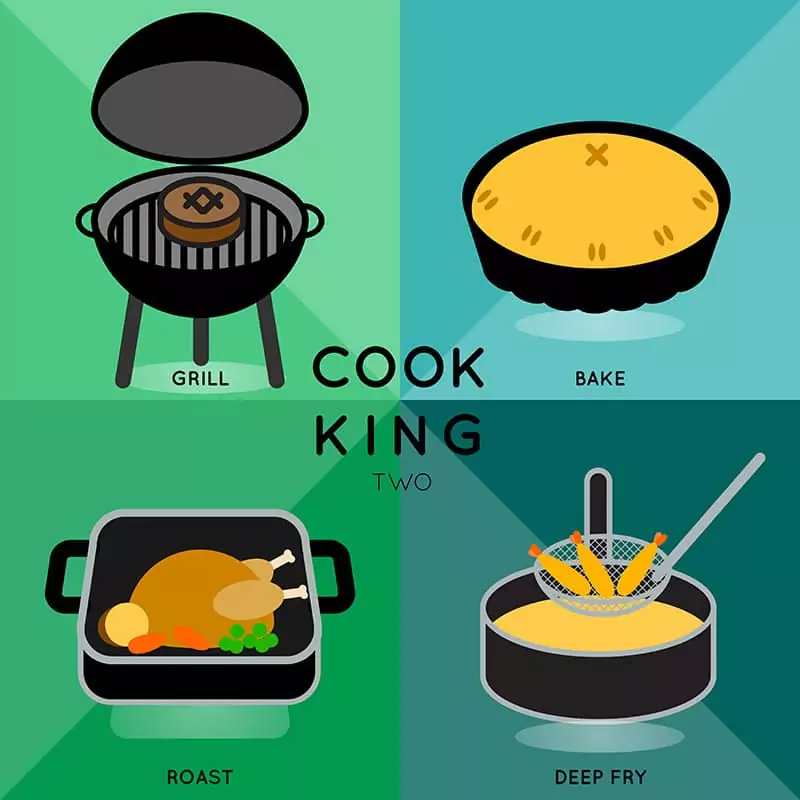 To master all types of cooking methods, all you need is time and, of course, an informative guide. And everything you need to know about the most common ways of cooking is right here!
Believe me! Cooking is not difficult at all. Just invest some time and effort in it, and you will be successful. The more cooking methods you know, the more dishes you can make. Now, let's start the learning journey!
16 Excellent Cooking Methods To Learn Today
I will go into the main topic right away. This section will present the technique of 16 different cooking methods. Then you can apply these methods to prepare some recipes in the next section.
4 Amazing Dry Heat Cooking Techniques
Dry-heat cooking is an amazing technique because it does not add more calories to the food yet provides it with a tender texture. Let's discover these 4 types of dry-heat cooking.
| Type of cooking methods | Technique | Application |
| --- | --- | --- |
| Grilling | Heat the food on a direct open flame | Meat, fish, burger, poultry, fruit, vegetables |
| Roasting | Cook the food from all sides of the oven | Meat, vegetables, chicken, turkey |
| Broiling | The heat is above the food | Fruit, vegetables, poultry |
| Baking | Cook the food from all sides of the oven | Cake, pastries, bread, and pizza |
1. Grilling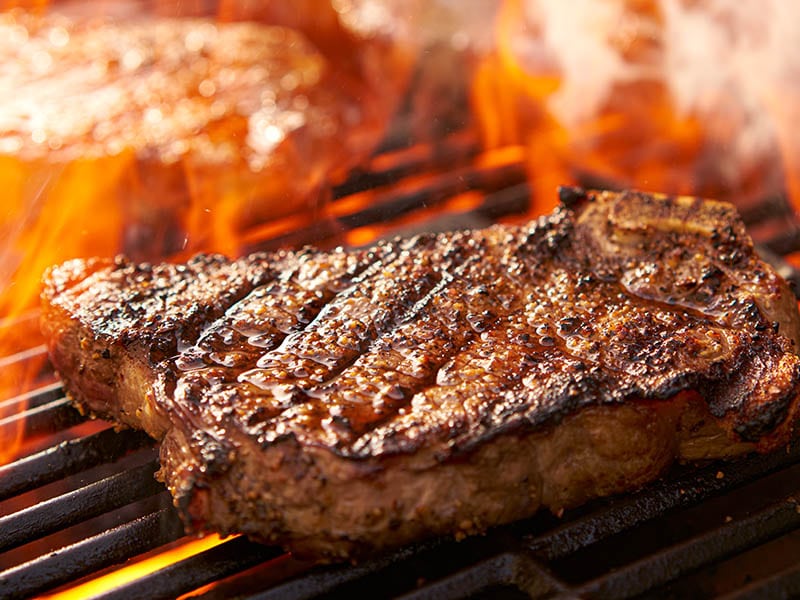 Who doesn't love grilled food? Grilling is one of the popular cooking methods. You can grill anything, from meat, cheese, fruits to vegetables. To grill food, you need to put it directly on an open flame.
When grilling, the most important thing is to adjust the temperature and manage the grilling time so that the food does not become too charred. Also, you should flip the food to ensure even browning.
Grilling is applicable to many types of food. Grilled meat is one of the most loved dishes. You can marinate the meat before grilling. You should pick fatty meat. Common choices are strip steaks, t-bones, ribeyes, and porterhouses.
It is also amazing to grill fish, such as tuna, salmon, and swordfish. People often use foil to wrap it.
Grilling is an essential cooking technique. Learn it now!
2. Roasting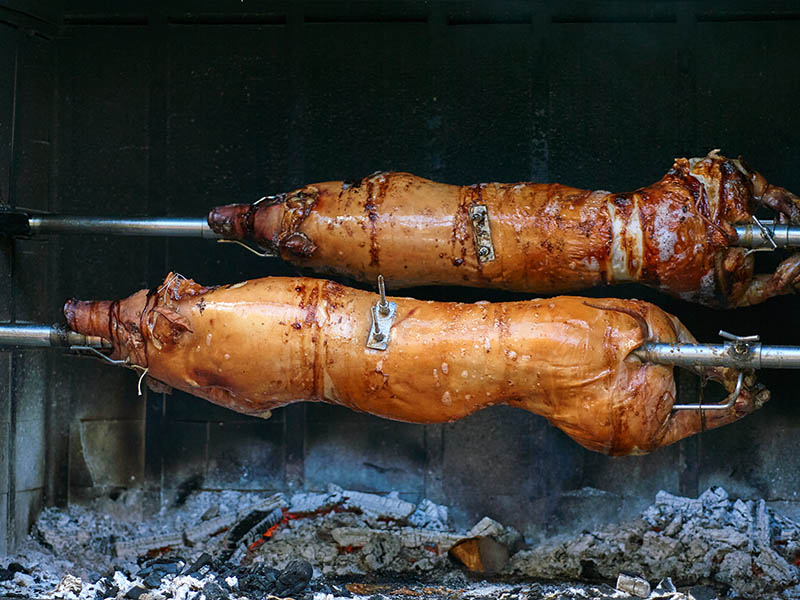 Roasting is also a very common cooking method. People roast meat, such as beef tenderloin, prime rib, pork loin, fruit, and vegetables.
There are several types of roasting based on the equipment used. Oven-roasting is suitable for poultry, high-quality meat, and vegetables. Another type is pot-roasting, which uses low heat. If you have wood, I recommend that you try spit-roasting.
An oven is obviously common equipment. The temperature often ranges between 200 and 450 degrees Fahrenheit, depending on the thickness and the desired degree of tenderness.
The food is exposed to indirect heat from all sides of the oven. The low temperature may affect the flavor and texture of the food.
Tandoor roasting involves the use of clay ovens. It is ideal for several types of Italian bread, fish, meat, and vegetables.
If you are considering roasting vegetables, go for it! This is a great idea to upgrade the taste of the vegetables. It is best to roast eggplant, squash, pumpkin, and cauliflower.
Another ideal food for roasting is whole chicken or turkey. Roast it in a roasting pan or rotisserie spit.
3. Broiling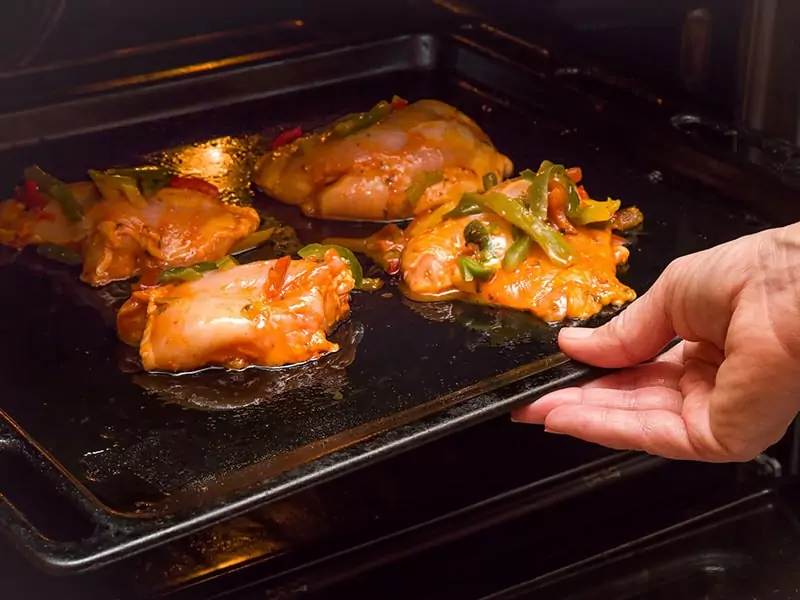 Broiling is an excellent method that is very similar to roasting. Both involve getting the food exposed to heat. However, broiling utilizes the heat from above to cook your food.
In addition, broiling makes use of a very high temperature, which is at least 400 degrees Fahrenheit. After a short time, the food will reach a crispy exterior and juicy, tender interior.
While broiling, you should check the food frequently to prevent burning. You can also use a timer. For commercial purposes, people often use a broiler oven or a salamander. You should choose the most effective broiler pans in order to make delicious dishes.
It is best to broil seafood and meat. To prevent the meat from drying out, you should use thin pieces of meat such as pork chops, steaks, and hamburger patties.
You can also broil vegetables and even fruit, such as grapefruits and peaches. Broiling poultry is also a great idea. Use breast halves, quarters, or chicken cutlets to create hearty and delicious dishes.
4. Baking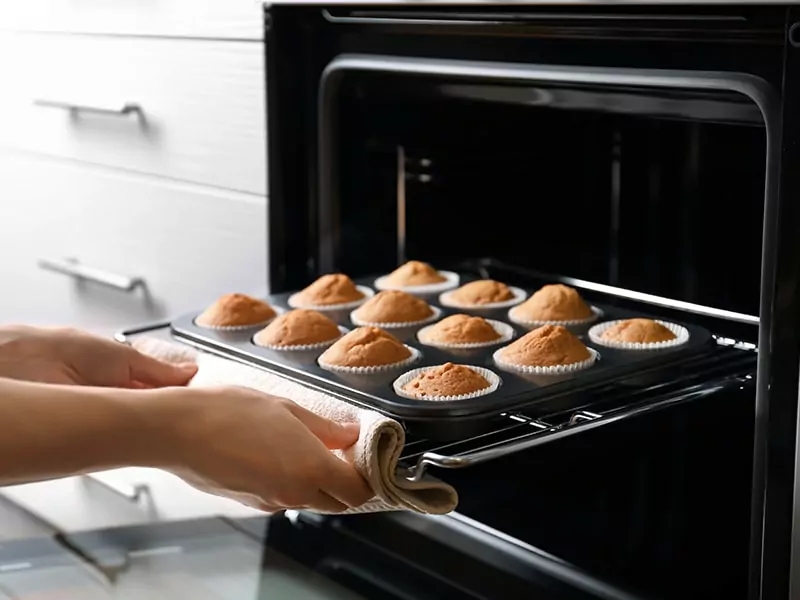 Can you spot the difference between baking and roasting? Regarding the technique, both of them are the same. Similar to roasting, baking involves heating the food with indirect heat coming out from all sides of the oven.
The main difference between these methods is that people use lower temperatures for baking, compared to roasting temperatures. Therefore, if you need a technique to enhance the food color, like browning, roasting is better than baking.
Moreover, when it comes to baking, it is more applicable for desserts, such as cakes, pastries, bread, and pizza.
4 Oil-Based Cooking Techniques To Make Your Dish More Flavorsome
Sometimes, oil is a must-have ingredient to make the food moist and flavorful. In this section, I will introduce you to 4 methods that include the use of oil. Stay tuned!
| Type of cooking methods | Technique | Application |
| --- | --- | --- |
| Sauteing | Cook the food on an oiled or buttered pan, then stir and flip it | Meat, vegetables, poultry |
| Frying | Cook the food in boiling oil | Potatoes, hot dog, chicken, and plantains |
| Searing | Cook the food on extremely high heat | Steak, meat, vegetable, and seafood |
| Stir-frying | Cook the food in an oiled wok, then stir and rotate it | Vegetables, meat, beans, noodles, and rice |
5. Sauteing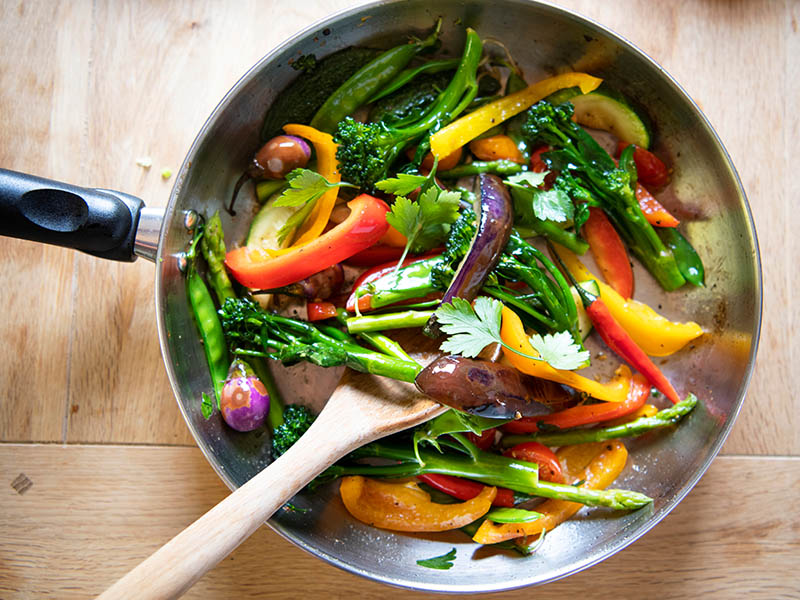 In French, the word "saute" means "jump". By sauteing the food, it absorbs the oil, butter, and other seasoning and becomes incredibly flavorful. First, people turn on the heat and add oil or butter into the pan.
When it heats up, they add the food and stir and flip the food constantly so that it gets tender quickly and evenly. Make sure that you only add the food when the oil is hot. Also, don't saute too much food at a time.
People saute food in a saute pan. Most often, they saute vegetables and meat. It is best to use medallions, ground beef, and tenderloin.
Make sure you cut it into small pieces of the same size so that you can cook it evenly. You should note that a saute pan is different from a skillet.
You can also saute poultry, such as cutlets, boneless breasts, and strips. Vegetables are undoubtedly an ideal candidate for sauteing. People often saute leafy greens, carrots, squash, and zucchini in butter or olive oil.
Start with sauteing vegetables! Here is the best tutorial for you.
6. Frying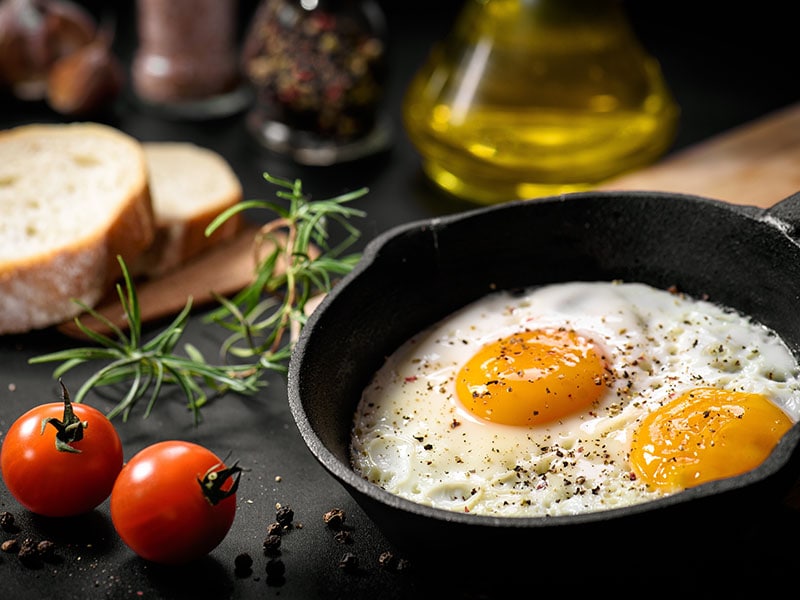 Needless to say, frying is among the most loved cooking methods. Everyone loves fried food, especially the kids. People use this method to make fast food. By emerging the food in boiling oil, it comes out crispy and incredibly delicious.
There are 2 methods of frying, namely pan-frying and deep-frying. Deep-frying involves emerging the food completely in oil. It will come out evenly cooked and crispy on the outside.
When people pan-fry food, they just use a medium amount of oil. It often accounts for ½ inch of the pan. People submerge the food in the oil. When one side becomes crispy, people flip it over to fry the other side.
People often fry food in a fryer or shallow pan. You can fry any type of food, literally, any. The most common choices are potatoes, hot dogs, chicken, and plantains.
To make it more crispy, you may want to coat it with flour or breadcrumbs.
7. Searing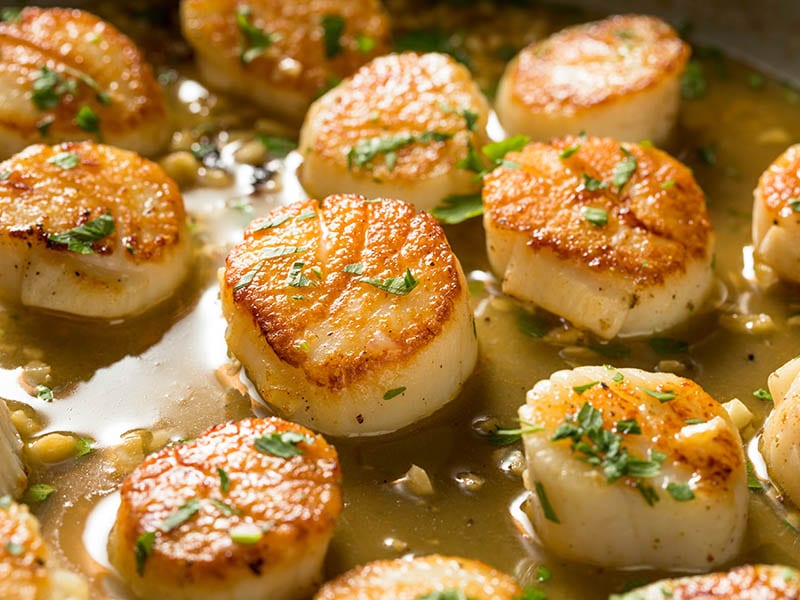 Searing is a fancy cooking technique. It produces food that is crispy on the outside and moist, tender on the inside. When searing food, people heat the pan to an extremely high temperature, even more than 800 degrees Fahrenheit, and add the food.
People often use this method to make steak. People also use it for seafood, vegetables, and other types of meat.
8. Stir-Frying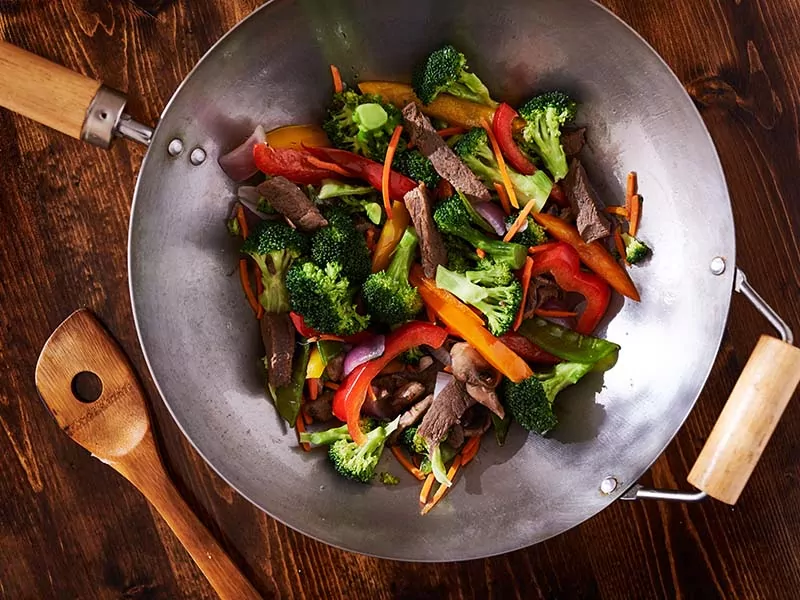 If you are a fan of Asian dishes such as Chinese dishes and Korean dishes, you probably know the stir-frying method. They cook the food in an oiled wok. They often add some spices to add flavors.
While cooking the food, the cooks stir it spontaneously with a spatula or a pair of chopsticks to ensure that the food is uniformly tender. Sometimes, they also rotate the wok.
There are 2 methods of stir-frying, namely the Chao method and the Bao method. In the Chao method, people first heat the wok using a high temperature, then add dry seasonings, such as garlic, scallions, or ginger. When everything becomes aromatic, they add other ingredients.
The Bao method is quite different. It is popular in Chinese cuisine. Firstly, people heat the wok to an extremely high temperature. Then they add oil, seasonings, and the main ingredients at the same time. Thus, you'll need some oil specialized for stir-frying with this method.
This technique aims to minimize the amount of seasoning and retain the natural taste of the food. When stir-frying, it is best to use a high-quality carbon steel work.
This method is suitable for a wide range of food. You can stir-fry vegetables, meat, beans, noodles, and rice.
6 Liquid-Based Cooking Methods To Tenderize Your Food
Liquid and heat are two factors to transform your food into a tender, healthy, and delicious dish. Moreover, these methods do not require much cooking skill. Let's learn about it!
| Type of cooking methods | Technique | Application |
| --- | --- | --- |
| Boiling | Emerge the food in boiling water | Vegetable, pasta, eggs |
| Steaming | The food gets tender by the heat of boiling water | Dessert, dumplings, seafood, tamales |
| Blanching | People boil the food halfway then submerge it in ice water | Vegetables |
| Pressure cooking | Cook the food using low temperature and high pressure | Stews, pasta, and meat |
| Poaching | Submerge the food in hot water | Vegetable and light fish |
| Simmering | Add the food after lowering the heat of boiling water | Rice, grains, meat, legumes, beans, and root vegetables |
9. Boiling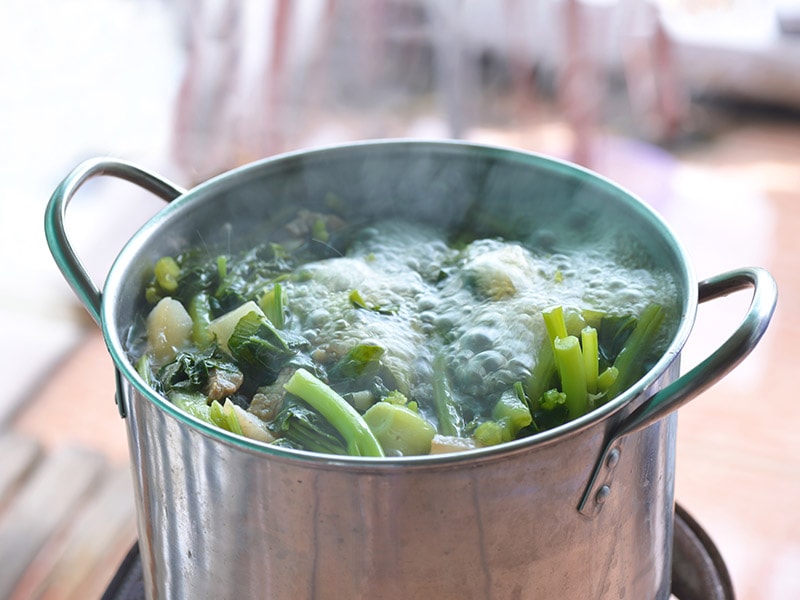 Boiling requires no cooking skill at all. Your job is to let the food simmer in boiling water at about 212 degrees Fahrenheit. You can put the food in the water when it is boiling or when bubbles just start to emerge.
One of the most common foods that people boil is pasta. Boiling turns it from the dried form to a chewy and soft texture. Pasta is a delicious and classic dish of Italian cuisine.
Boiled eggs are one of the most common food toppings. You can make hard-boiled or soft-boiled eggs. Soft-boiled eggs have creamy egg yolks, while hard-boiled eggs have firm egg yolks. Learning to peel soft-boiled eggs is an essential step if you want to make this delicate dish.
Vegetables are certainly a candidate for boiling. With root vegetables, you have to check them frequently so that they do not become too mushy.
10. Steaming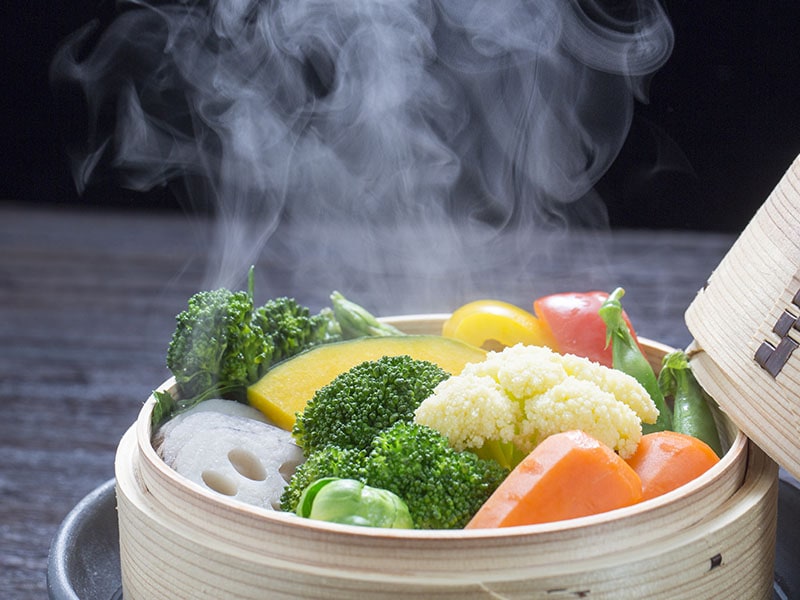 Steaming is quite similar to boiling because it involves boiling water. However, if you steam the food, you will mainly use the heat from the boiling water instead of the water itself. You will need a specialized steaming pot to do it.
You can steam food if you want it to be moist afterward. People often use steaming to make dumplings and some dessert recipes, such as flan, panna cotta, and creme brulee. They come out super moist and silky.
You can steam food in 2 ways. The first way is direct-steaming. People place the food on a plate and place it directly on the water. In contrast, in indirect steaming, the food is only surrounded by the steam produced by boiling water. People perform it in a closed pan.
If you are thinking of a method to cook seafood, such as mussels, crabs, and lobsters, steaming is a wise choice. It brings about the best flavor of seafood. You can use wine or broth instead of water to make the food more aromatic and flavorful.
Steaming is the method to make tamales, which consists of tender and moist corn dough and filling covered by cornhusk. To make perfect tamales, buy a good specialized steamer for tamales.
Finally, you can make a healthy dish by steaming vegetables. Leafy greens get tender quickly. But for root vegetables like potatoes, carrots, and beets, you need more time.
11. Blanching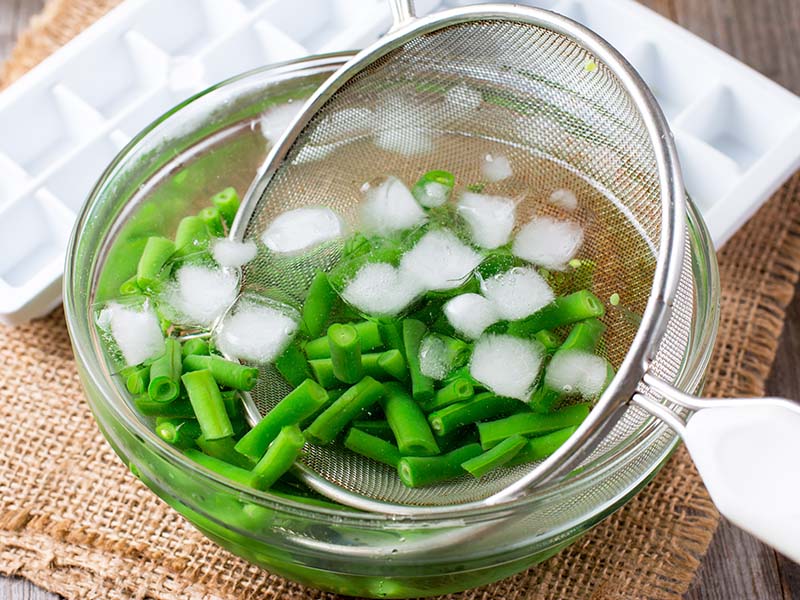 This cooked method is suitable for vegetables, such as asparagus. The aims are to keep the original flavor and texture.
The first step in blanching is boiling the food halfway. Then take it out and submerge it in ice water. The amazing thing about blanching is that it helps prevent the loss of flavor and eliminate pesticide residue and microbial load.
However, it does have some weak points. Blanching can remove the nutrients that do not go well with heat. It can also release effluent and cause the leaching of water-solute.
Blanched vegetables taste delicious. You should never miss this method.
12. Pressure Cooking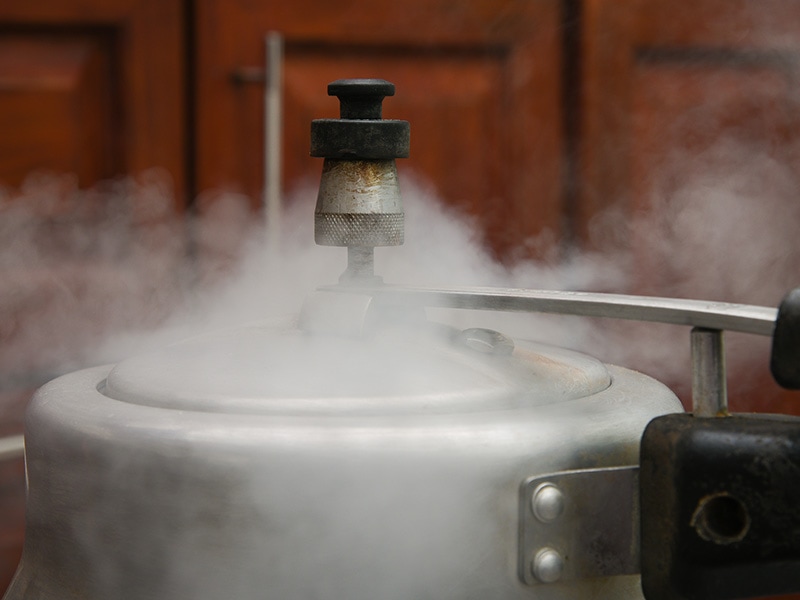 Pressure cooking turns a complicated process into an easy one. All you need is a pressure cooker or slow cooker. Put the food in and let the cooker do the rest. The pressure cooking method employs low temperature and high pressure.
The only disadvantage of this method is the long cooking time. But when looking at the tasty, tender piece of meat, that amount of time is worth spending. People use this method for cooking stews, pasta, and meat.
Pressure boiling has many advantages over boiling. Firstly, it saves you time. It can also retain the vitamins in the food. Most steamers have several baskets so you can cook multiple foods together.
13. Poaching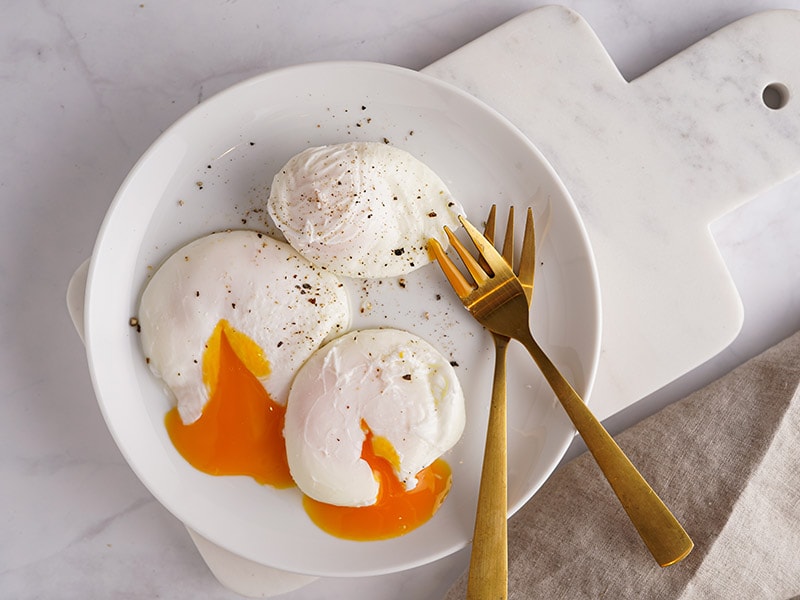 Anyone who loves calorie-free dishes must know about this cooking method. It involves submerging the food in hot water rather than boiling water. The water should be between 140 degrees and 180 degrees Fahrenheit.
Poaching is particularly ideal for fragile food such as grains, poultry, fruit, eggs, and some types of vegetables. It is a great method to prevent the loss of flavor and texture. In addition, poaching does not cause these types of food to tear apart or dry out like other methods.
Apart from water, you can use other liquids such as wine, juice, and broth.
With poaching, you can create healthy and delicious dishes. Poached eggs have a wonderfully soft and creamy texture without the use of oil. You can also poach light fish, such as cod, sole, and tilapia. People often poach fish with a broth called "court bouillon" to make it more flavorful.
In addition, you can poach poultry, such as chicken breast. After poaching, it will become tender. Then you shred or cube it and serve it with sandwiches, pasta, or salads.
You can poach pears, apples, and other fruit to make desserts. They will get incredibly tender and soft. If there is some remaining liquid, you can make a syrup to enjoy along with the fruits.
You will be a skillful cook after learning this poaching technique.
14. Simmering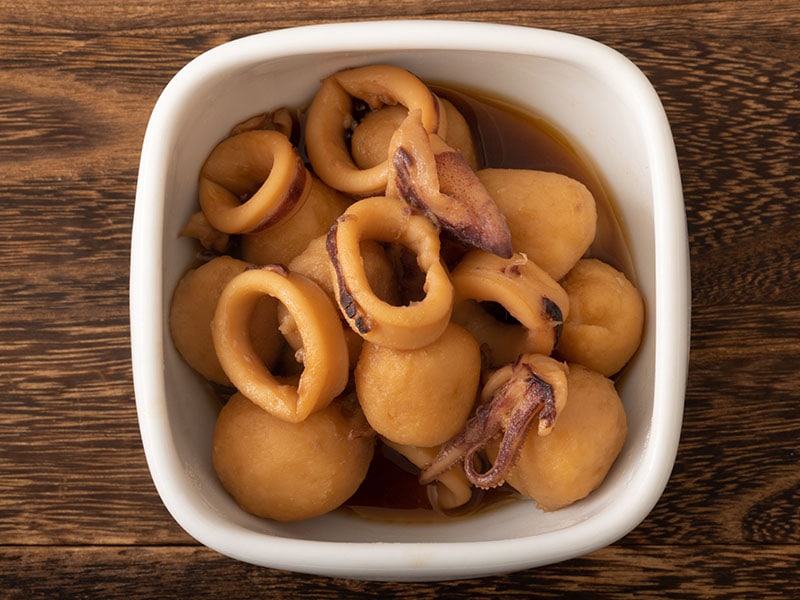 Simmering also bears some similarities to boiling. All of them include the use of boiling water. However, when simmering food, people first boil the water then set it to lower heat before adding the food. The degree ranges from 180 to 205 degrees Fahrenheit.
This method is applicable to rice and grains, such as oats, quinoa, and millet. You will get a delicious cereal or porridge for breakfast by simmering grains.
You can apply the simmering method to make soups and stocks. That protein and fats from the meat make a perfect broth for soups and stews. You may also want to simmer root vegetables, such as potatoes and carrots, to make them tender.
People also simmer legumes and beans to give them a deliciously soft texture. It may take several hours for them to become tender.
2 Cooking Methods That Involves More Than One Technique
Sometimes you have to combine different cooking methods to create tasty dishes. Here are 2 methods that consist of more than 1 technique. However, they are not difficult at all.
15. Braising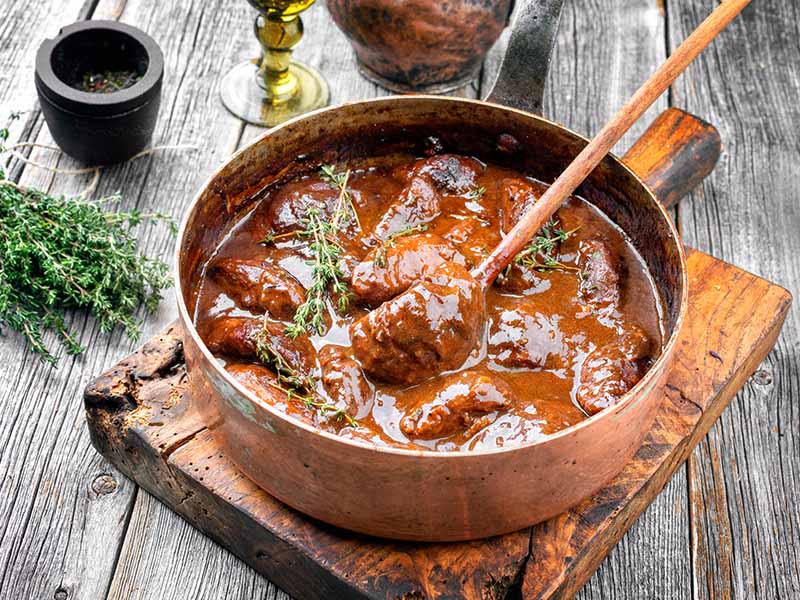 If you have ever eaten braised food, did you notice that it is very tender, bold, and flavorful? To create such a complex taste, people first sear the food with oil in a pan. Then cook it in a large pot filled with a small amount of liquid, broth or butter.
Braising is a complicated cooking method. But what it brings to the food is fantastic. To braise any food, you just need a standard pot. You can also use a dutch oven or casserole dish.
People often braise meats, such as chuck roast, lamb, shank, or pork shoulder. These tough and cheap meat types will get tender quickly. Sometimes, people also add vegetables, such as root vegetables and leafy greens like celery and fennel.
Besides vegetables, you can stew legumes, such as green beans, chickpeas, and lentils. Braising it with wine or a broth gives it a soft texture.
16. Stewing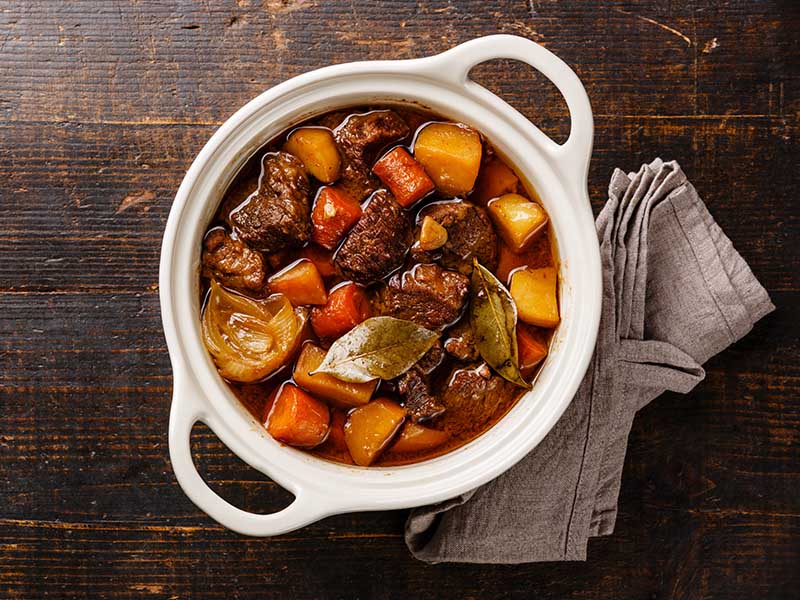 Stews are everyone's famous dish. The tender meat goes with a delicious gravy. They are a perfectly comforting dish for a cold night! The procedure of stewing is very similar to braising, so let me clarify them for you.
The main difference between stewing and braising is that people cut the meat into small pieces in stews, while a braised dish includes large chunks of meat. In addition, people immerse the food partly in the liquid when braising, whereas the stewing method requires the food to be immersed fully.
The best food to stew is meat, but you should not choose chuck roast, oxtail, or brisket since lean cuts are not good for stewing. In addition, you can stew vegetables, such as carrots, onions, parsnips, rutabaga, turnips, or potatoes.
Another dish similar to stew is soup. Compared to soups, stews are weight thicker and contain less liquid. Furthermore, people mostly serve stews on a plate while they serve soups in bowls.
5 Recipes To Practice Your Cooking Skills
There are countless recipes out there for you to apply the cooking method you have learned. But I want to make everything as simple as possible by suggesting some easy yet delicate recipes to try. Check them out!
Beef stew is a very mouth-watering dish, yet it does not require complicated cooking skills. It is the best start if you want to learn to make stews. This warm and comforting stew is obviously a must-have dish for winter dinner meals. It will keep you warm and cozy
Is there anything better than enjoying a moist and flavorful cabbage dish at lunch? It is rich, tangy, and salty. I bet that it goes very well with rice, creating a fulfilling meal. You have 2 options in the choice of tanginess. You can add lemon or apple cider vinegar.
Grilled pork chops are an excellent summer dish. The meat has a delicious brown color outside. The edges are quite charred. Inside is the juicy and tender center. The pork chops are well-marinated before grilling. Try the standard US-style or the classic Vietnamese recipe.
Making grilled pork chops can never be simpler with this recipe.
I have mentioned that steamed seafood tastes very delicious. That's absolutely true in this case. Steamed mussels have a sweet taste and aromatic scent that are irresistible. Serve this mussel dish with a delicious side and a cup of wine! It will be over-the-top good.
Upgrade Your Cooking Skills With These Cooking Methods
I know that some cooking methods are difficult to excel at. But with constant learning and practicing. I strongly believe that cooking will be a simple task. Practice makes perfect, after all. After you master these methods, no recipe can challenge you.
If you want to express your passion for cooking, why not share this article on your social media to let everyone become a skillful cook like you? If you like my post, please also click like. Thank you for your support!