Do you long to know what the best oil for stir fry is? You must know the principles of this cooking technique to get the exact answer. Thanks to this, you can ensure not to destroy the nutrients in the food, and at the same time, not create harmful toxins for the body.
If you do not master these critical principles, you can choose the wrong cooking oil and turn the most nutritious ingredients in your stir fry into a poor-quality meal both in flavor and nutrition.
This post will help you in choosing the right oil for stir fry. Hence, you can increase the nutrient content of your recipe, create the best taste, and avoid making toxins in your dishes.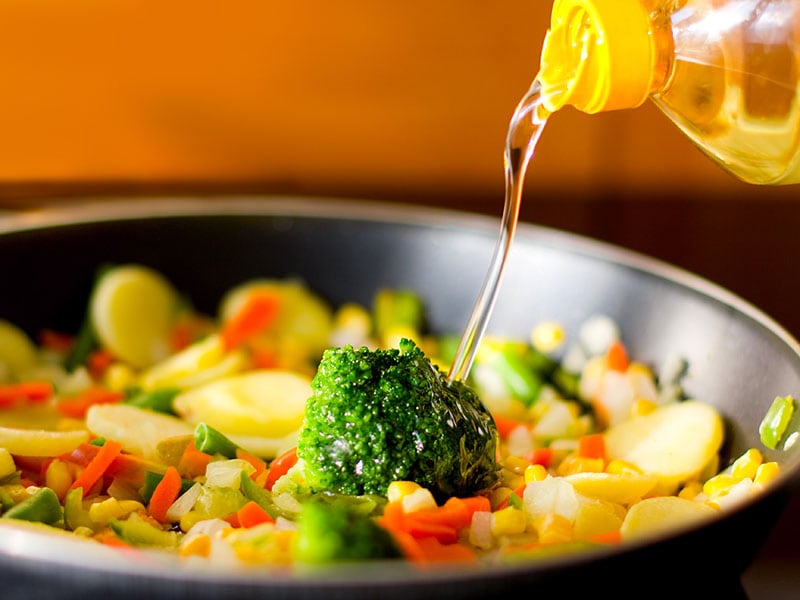 What Is Stir Fry?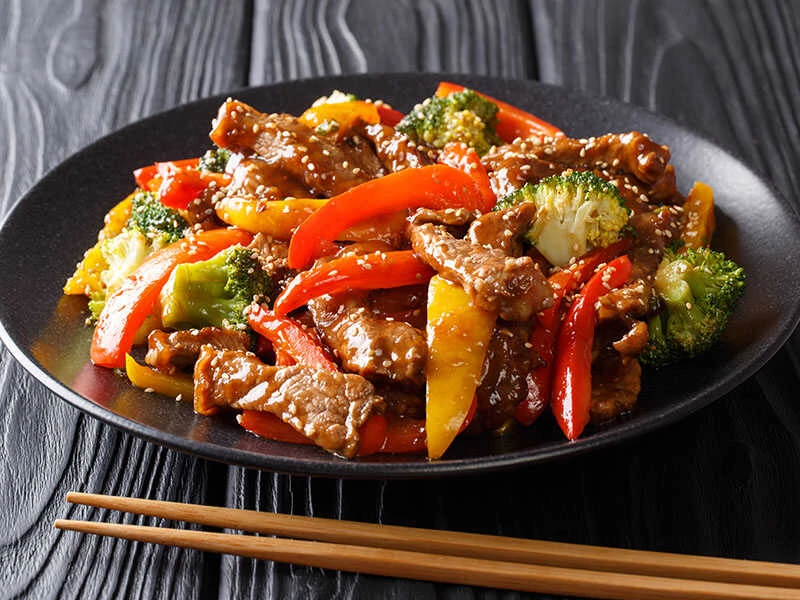 Stir fry is a type among various well-known cooking techniques: putting the food in a wok and frying over high heat, using a small amount of extremely hot oil to prevent the ingredients from burning (1).
This cooking method helps flavor foods, refresh meat and vegetable dishes. The technique originated in China and, in recent centuries, has spread to other parts of Asia and the West.
The frying technique also has many variations to make the dish always attractive. These include stir fry with garlic, a common way of cooking vegetables; stir fry with lemongrass and chili pepper; stir fry quickly to cook raw meat; etc.
When stir-frying food, the commonly used fat will be vegetable oil, which is good for health. The oil will give the dish a great flavor and is less likely to be burnt than margarine.
Must-Remember Principles When Choosing Stir Fry Oil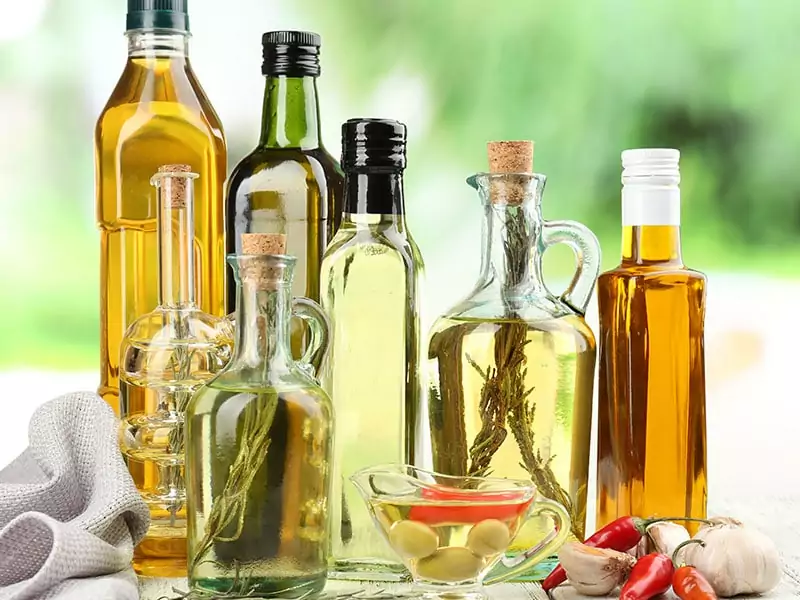 Before discussing what oils are excellent for stir fry, you must learn the general principles that should always be kept in mind. These principles will help you choose the right stir fry oil for the best-tasting dish.
Stir fry is a kind of high-temperature cooking, so you should select refined cooking oil due to its high smoke point. They can be stable in high-temperature better than the unrefined or pressed oil.
Remember that each cooking oil has a different smoke point, which is also affected by the oil's impurities and quality.
How long you heat your cooking oil is also a critical factor that decides the quality of your recipe. If the heating time is too long, your oil can break and become rancid, which creates a bad taste and harmful health effects.
If you aim for a stir fry recipe with a high temperature and long cooking time, you must choose a refined oil with a high smoking point.
16 Excellent Cooking Oils You Should Use For Stir Fry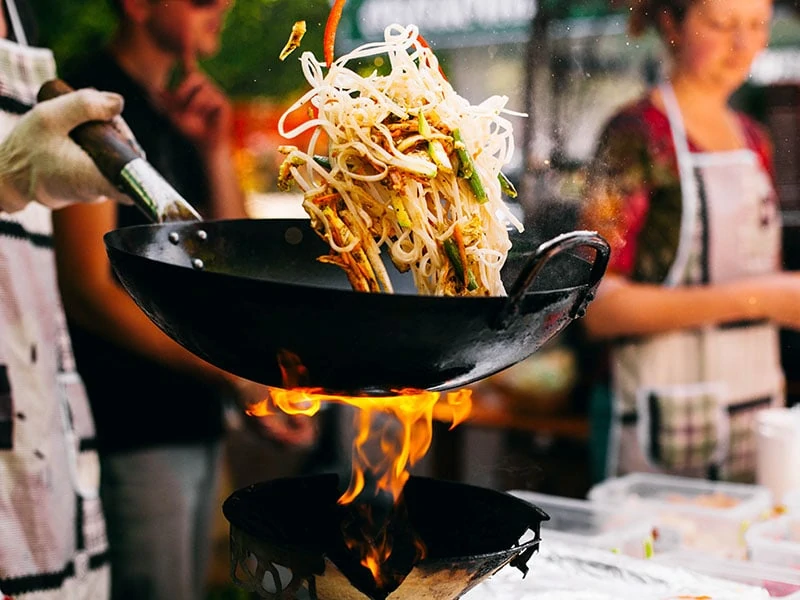 You can use several good cooking oil types to make excellent stir-frying recipes, depending on the above principles. Let's jump in right now to see the best oils and their smoke point:
| Best Oils for Stir Fry | Suitable Type For Stir Fry | Smoking Point (2) | Taste |
| --- | --- | --- | --- |
| Avocado Oil | Refined | 270°C/520°F | Buttery, smooth, grassy, and nutty |
| Olive Oil | Refined/Light | 199–243°C/390–470°F | Fresh herb, fruity, bitter, and peppery |
| Almond Oil | Cold Press/Roasted | 221°C/430°F | Light sweet and nutty |
| Canola Oil | Refined | 204°C/400°F | Neutral and mild |
| Cottonseed Oil | Refined | 220–230°C/428–446°F | Mild and nut-like |
| Soybean Oil | Refined | 234°C/453°F | Mild and neutral |
| Safflower oil | Refined | 266°C/510°F | Mild and unobtrusive |
| Peanut Oil | Expeller-pressed | 232°C/450°F | Mild and slightly nutty |
| Pecan Oil | Refined | 243°C/470°F | Naturally nutty |
| Rice Bran Oil | Refined | 232°C/450°F | Subtle |
| Coconut Oil | Refined, dry | 204°C/400°F | Neutral |
| Grapeseed Oil | Refined | 216°C/421°F | Light, plain, fruity, nutty, grassy |
| Corn Oil | Refined | 230–238°C/446–460°F | Mild and nutty |
| Sunflower Oil | Refined/High oleic | 232°C/450°F | Light and delicate |
| Sesame Oil | Light/Toasted | 232°C/450°F | Rich with a distinct toasted flavor |
| Vegetable Oil | Refined/Blend | 220°C/428°F | Tasteless |
1. Refined Avocado Oil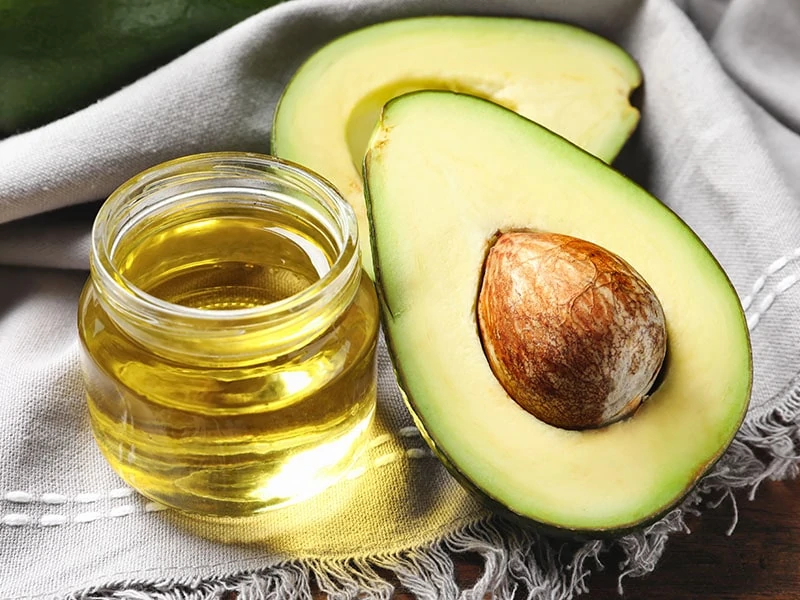 In many countries, avocado oil is considered an indispensable ingredient for preparing healthy dishes. Avocado oil is made from avocados, so the oil has a distinctive taste of this fruit and is suitable for cooking various dishes.
Refined avocado oil has an impressive high smoke point at 270°C/520°F that is excellent for stir-frying and also deep fry, even during a long cooking time.
It adds a buttery, grassy, nutty flavor and a smooth texture to your stir fry dish. This remarkable oil is also the best to add color and flavor to salad dressings. This oil is cholesterol-free, rich in vitamin E, Omega 3, 6, and monounsaturated fats (3) .
BetterBody Foods Refined Avocado Oil is a good option if you need an avocado oil specialized for cooking for your stir fry. This perfect all-purpose cooking oil has a smooth and subtle taste to enhance the flavors of your recipe.
2. Refined/Light Olive Oil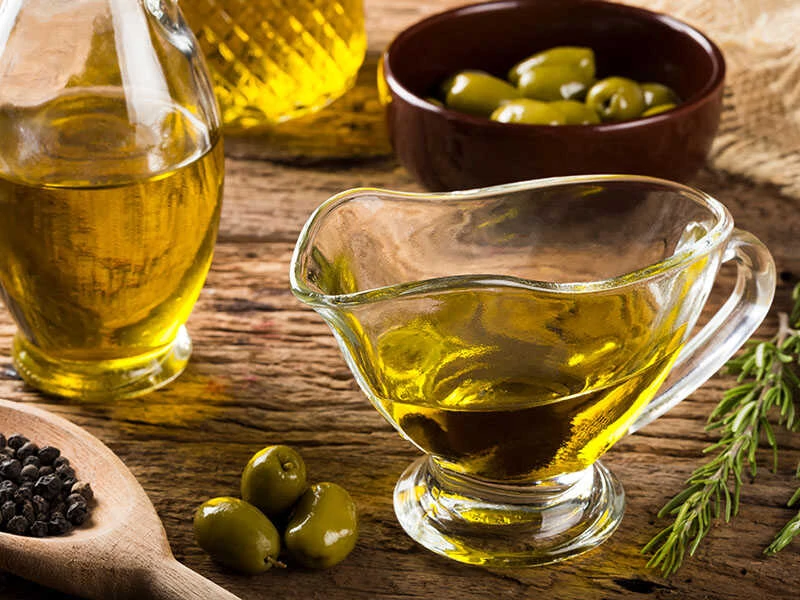 Olive oil is extracted from fresh olives, a typical fruit in the Mediterranean, and has now been replicated and grown worldwide. Olive oil contains many vitamins good for health and beauty, such as vitamin E, vitamin A, vitamin K, vitamin D, etc.
When it comes to premium cooking olive oil, you can find many types of olive oil on the market, such as extra virgin, virgin, pure, light, or pomace. You should note that extra virgin olive oil is not suitable for high heat cooking since it has a low smoke point.
In the case of stir fry, if absolutely necessary, you can choose refined light olive oil as it has a high smoke point up to 390–470°F. This oil tastes like fresh herb with fruity notes, sometimes adding an interesting bitter and peppery flavor to your recipes.
You can choose Happy Belly Extra Light Tasting Olive Oil as a high-quality light olive oil for all-purpose cooking. This oil is Kosher with a subtle taste that is safe and suits most stir-frying recipes.
3. Cold Press/Roasted Almond Oil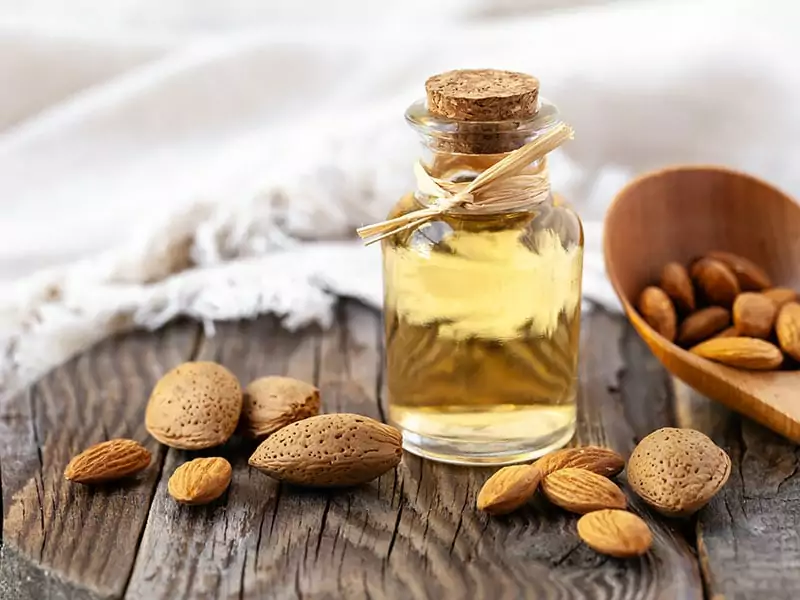 Besides olive oil, almond oil also has outstanding benefits. This is one of the best essential oils and is considered a vital ingredient for culinary and beauty care.
Almond oil is pressed from fresh almonds and is rich in monounsaturated fatty acids, vitamin E, and several other vitamins and minerals your body needs. The benefits of almond oil range from its ability to help with weight loss to aid the digestive system.
With a high smoke point up to 221°C/430°F, cold-pressed/roasted almond oil is definitely the best for stir-frying many other cooking purposes. This oil contributes a rich note to your recipe with a lightly sweet and nutty taste.
Fresh Vintage Farms Almond Oil can be an outstanding option among the almond oil with the highest quality in terms of flavor and health benefits.
4. Refined Canola Oil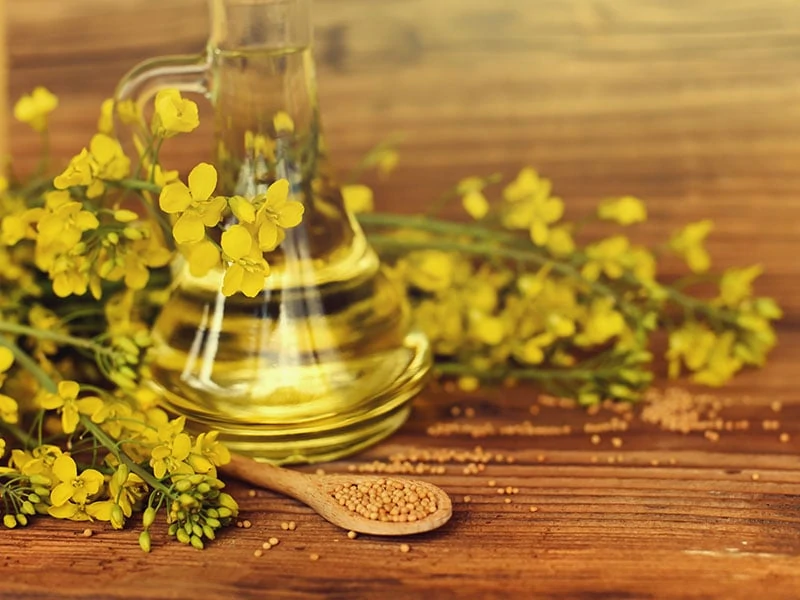 Not only is it the third most consumed vegetable oil in the world (according to the US Department of Agriculture), many experts also consider canola oil to be healthier than other conventional oils.
You may know canola oil most in the role of salad oil. Canola oil can also be the best for every stir fry recipe with a neutral and mild taste. Refined canola oil has a smoke point around 204°C/400°F, which is safe for cooking.
Also known as a replacement for vegetable oil in frying and stir-frying, canola oil provides less than 10% saturated fat, low trans fat, and low cholesterol content. Specifically, canola oil is rich in unsaturated fats that are omega-3 fatty acids (4).
Spectrum Naturals Refined Organic Canola Oil will be an excellent stir fry oil for your kitchen. This oil is an organic expeller-pressed neutral taste for all other cooking purposes.
Why is canola oil the best oil for stir-fry? Find out four reasons now!
5. Refined Cottonseed Oil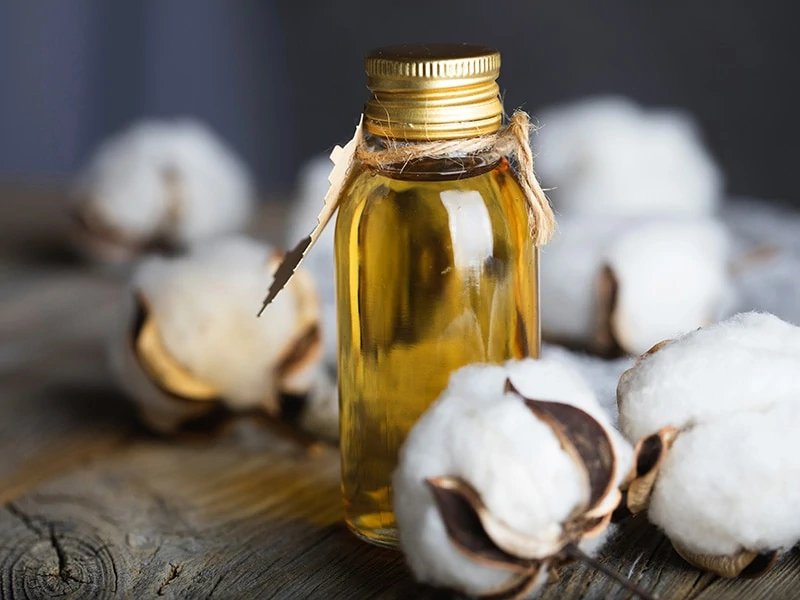 Cottonseed oil is a vegetable oil commonly obtained from the seeds of the cotton plant. The whole cottonseed contains about 15-20 percent oil. The oil must be purified to remove gossypol, the natural toxin that gives the oil its yellow color.
Oil made from cottonseed is commonly used in food preparation because it helps prolong the shelf life of food. Many fast-food chains also use this oil for stir-frying since it enhances the flavor of the food with a mild and nut-like taste.
This oil in refined form is suitable for most recipes with the smoke point at 220–230°C. The best thing is that cottonseed oil contains nutritional components that are very beneficial to human health, such as unsaturated fatty acids.
Not only cooking, but this oil is also used in skin and hair treatment. You can try Velona Refined Cottonseed Oil with a high concentration of vitamin E, fatty acids, and antioxidants, so it has many beneficial uses for your health.
6. Refined Soybean Oil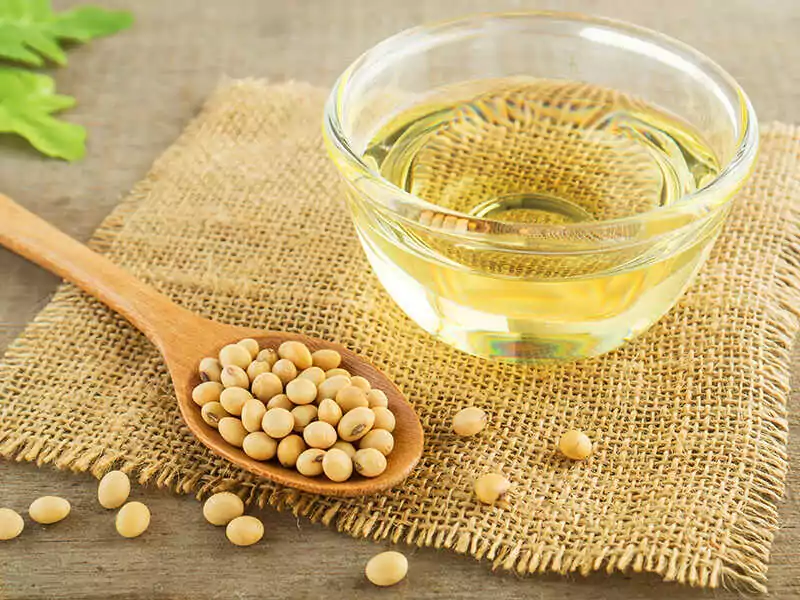 Soybean oil is currently one of many families' most widespread and trusted vegetable oils. This oil is extracted from soybean seeds, a nutritious bean with high protein and fat content.
To get the amount of fat in soybeans, people heat the beans and refine them into soybean oil. Once finished, a good quality refined soybean oil should be light yellow, almost tasteless, and contain more than 60% unsaturated fatty acids.
This oil has a high smoke point up to 234°C/453°F, so you don't need to worry about the oil changing its structure and turning into saturated fat during stir-frying and even deep-frying.
The fats in soybean oil are unsaturated fatty acids, plus many other vitamins and minerals that are essential for the human body. Try Nutrioli Pure Soybean Oil for your stir fry and see how it works!
7. Refined/High oleic Safflower Oil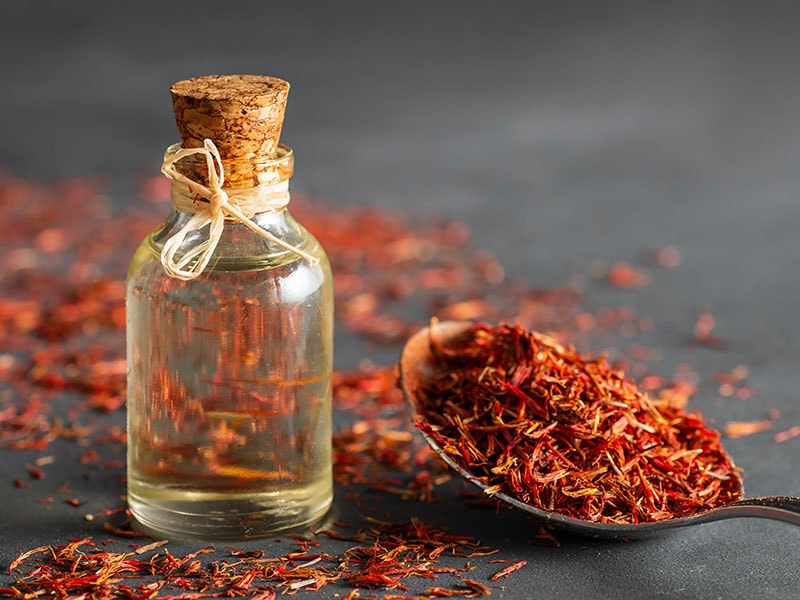 Safflower oil is a vegetable oil extracted from the safflower tree, one of the oldest plants with origins dating back to ancient Egypt and Greece. To extract this oil, safflower seeds are crushed, pressed, or treated with chemical solvents.
The smoke point of refined/high oleic safflower oil is suitable for stir fry, 266°C/510°F. The mild and unobtrusive flavor contributes to a neutral taste for your cooking recipes without making them greasy.
This oil is usually used in food preparation or on the skin. It is rich in monounsaturated fats, omega-6 fatty acids, and vitamin E. Safflower oil can provide us with health benefits especially assisting in treating diabetes, cholesterol, and reducing inflammation.
If you decide to use safflower oil, you can start with Hollywood Expeller Pressed Safflower Oil, which is excellent for medium heat cooking like stir fry and salad dressing.
8. Expeller-Pressed Peanut Oil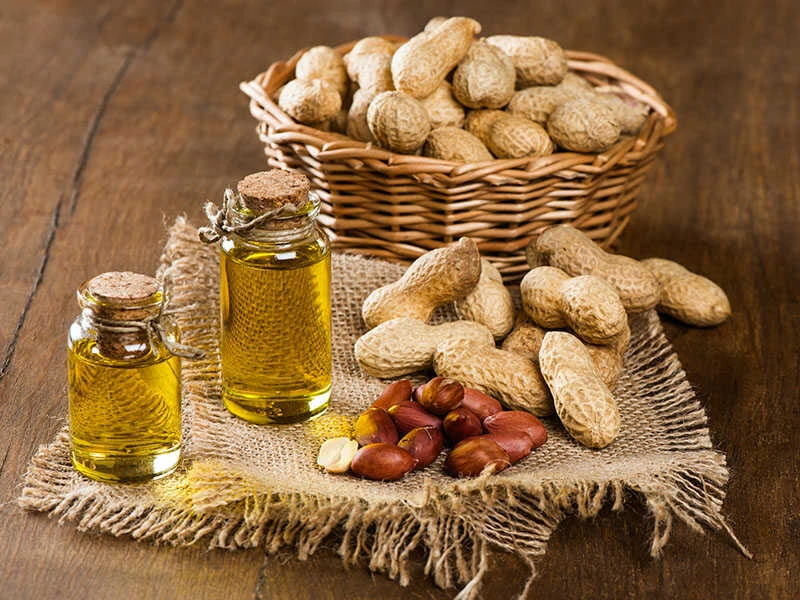 Peanut oil is made from peanut seeds, so it is also known as peanut oil or Arachis oil. You may not know nearly two-thirds of the world's whole peanuts are used to make peanut oil!
Peanut oil has different flavors depending on the processing method, from light-sweet to bold-aromatic with a nutty note. Because of its high boiling point (reaching 232°C/450°F), peanut oil is often used to stir fry foods.
The expeller-pressed peanut oil can even be used for baking with its smoke point up to 600F! Moreover, peanut oil is high in monounsaturated fats and omega-6 fatty acids. For people that are concerned about peanut oil turning bad, this kind of oil can last for a long time.
Bring La Tourangelle Roasted Peanut Oil into your stir fry dish to get the aromatic roasted peanut smell covering all ingredients! This is a secure way of having a healthy meal on your table.
9. Refined Pecan Oil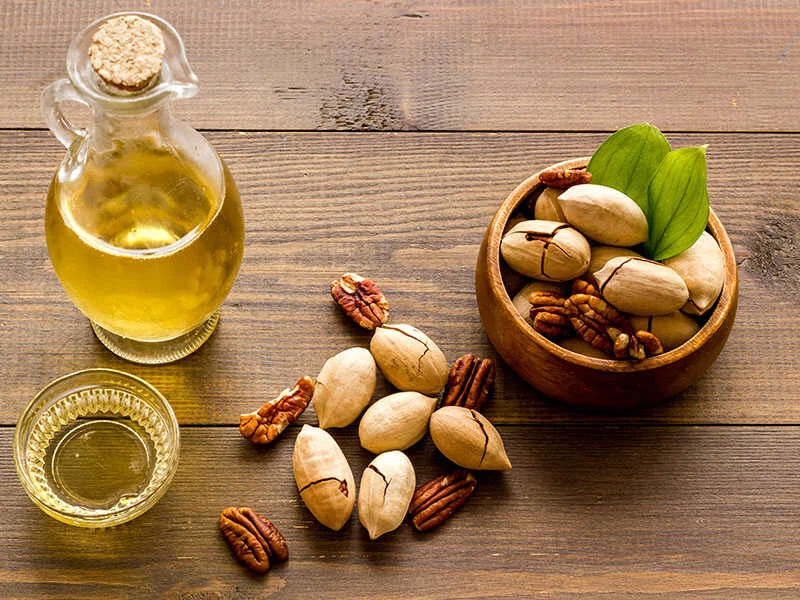 Another option for stir fry is refined pecan oil, with smoke point 243°C/470°F in the refined form. This oil has a naturally nutty flavor similar to the taste of pecan nut to enhance the overall taste of your recipes.
This is vegetable oil with high nutritional ingredients and many good uses for human health. The healthy fiber and protein content in the seeds helps the human body to prevent many diseases and strengthen resistance.
To make a good choice of pecan oil, Kinloch Plantation Products Pecan Oil can be the best for your stir-frying recipe. This is the expeller and refined version of pecan oil with a neutral taste and non-GMO components, suitable for most cooking purposes.
10. Refined Rice Bran Oil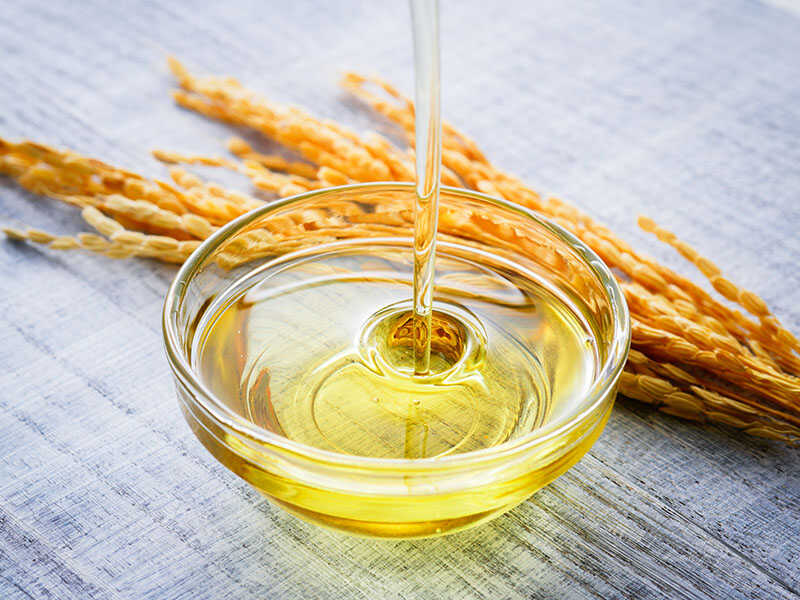 Rice bran oil is increasingly popular and widely promoted thanks to its good health effects and versatility in cooking. This mechanically refined vegetable oil retains all the vital nutrients and vitamins from the brown rice shell.
You will be impressed by the high smoking point of refined rice bran oil – 490˚F, suitable for all cooking methods, including stir fry. Moreover, this oil is what you call a particular oil for salad dressing and marinade since its taste is subtle and does not overpower your recipe.
Furthermore, rice bran oil is a good cooking oil that breathes good taste to the dishes and plays a crucial role in improving your health. This oil has effects such as affecting cholesterol levels, affecting metabolism, or helping to reduce inflammation (5) .
And yes, this oil is the most common cooking oil that suits most Asian cooking styles. Just buy one bottle of Bon Vital' Rice Bran Oil and see how it enhances your dish's flavor!
11. Refined/Dry Coconut Oil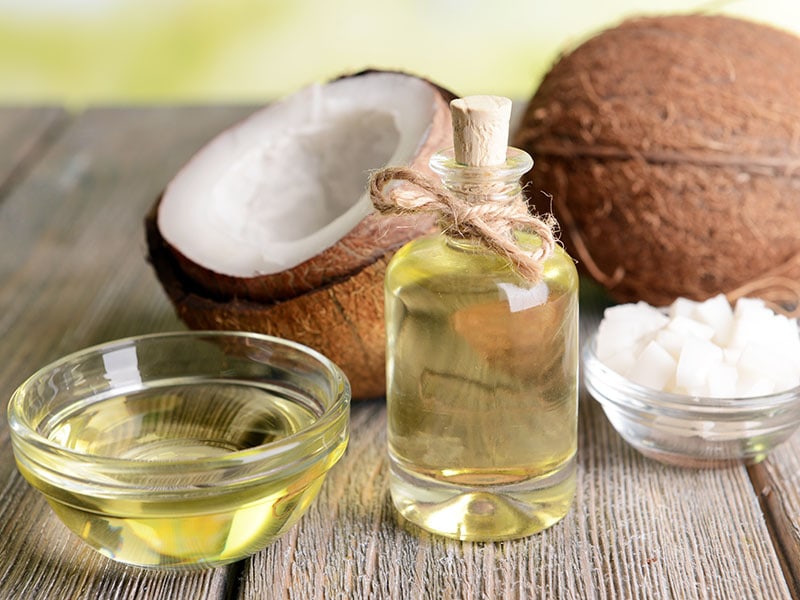 Refined coconut oil is the best coconut oil that you can use for cooking, especially high heat ones like stir-frying, sautéing, grilling. This coconut oil has a high smoke point at 204°C/400°F.
The neutral taste of refined coconut oil will not overpower your delicious stir fry recipe. Coconut oil has many advantages, such as less broken structure and color change at high temperature, making stir-fried food crispy, evenly cooked from the inside.
Besides cooking, coconut oil helps improve your skin and hair. It can take the role of a natural moisturizer for the driest skin and hair. This oil can also soothe and reduce sunburn.
With BetterBody Foods Organic Refined Coconut Oil, you can believe that your health is keeping safe with the USDA Organic, Non-GMO, and Kosher certified. This oil also helps to boost your energy with every meal naturally.
12. Refined Grapeseed Oil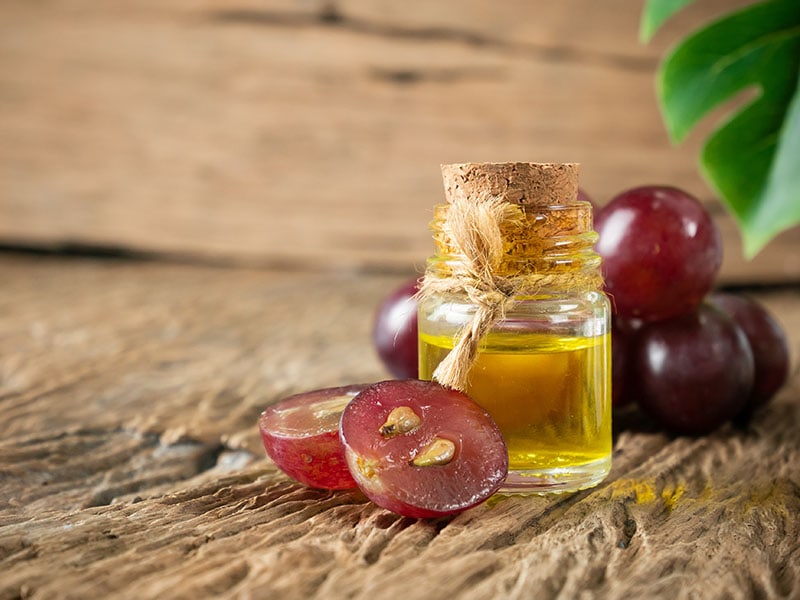 Not everyone knows that grapeseed oil is one of the healthiest cooking oils. Indeed, compared grapeseed and avocado oil, this oil has vitamin E and other nutrients. With its smoke point being 216°C/421°F, this is an all-around grapeseed oil choice for frying, stir-frying, baking, and sautéing.
Using grapeseed oil means you add a little fruity, nutty and grassy into your stir fry recipe. Don't worry; the refined form's taste is actually relatively light, mind, and plain that will not infringe on your dish's overall flavor.
La Tourangelle Expeller-Pressed Grapeseed Oil is a pack of vitamins that features organic, non-GMO, and natural oils made from fresh grape seeds. This is a must-have product in your pantry and is suitable for most purposes, from cooking to salad dressing.
13. Refined Corn Oil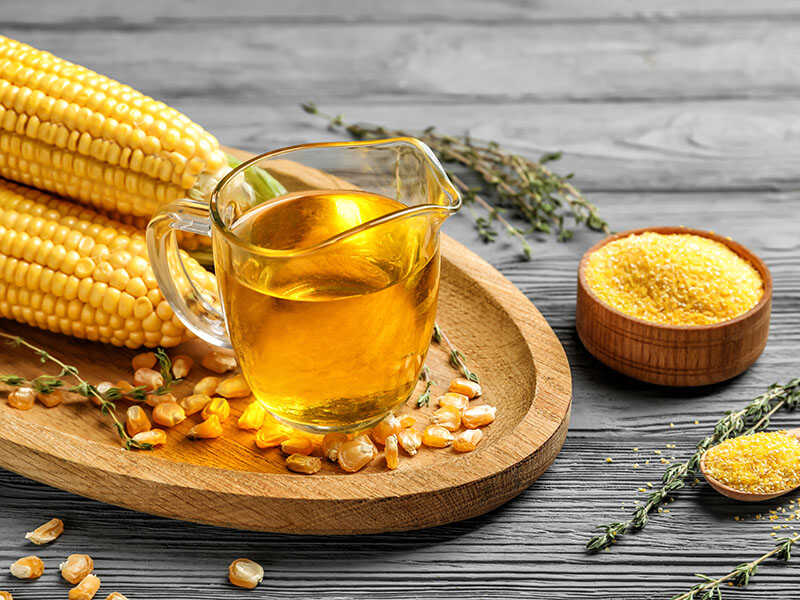 You may not be aware that corn oil can reduce your cholesterol level better than olive oil (6) ! This oil also keeps the fresh flavor of your stir fry ingredient and adds some roasted and buttery notes. The reason is corn oil has the most neutral taste.
The refined form of this oil works for all kinds of cooking: sautéing, stir-frying, baking, and grilling with the smoking point 230–238°C/446–460°F. You can also mix corn oil with another type of oil to sprinkle over your salad.
The unique thing about Mazola Corn Oil is that it has plant sterols. This content can help your body block cholesterol absorption better than other vegetable oils. Try this oil now to maintain good health!
14. Refined Sunflower Oil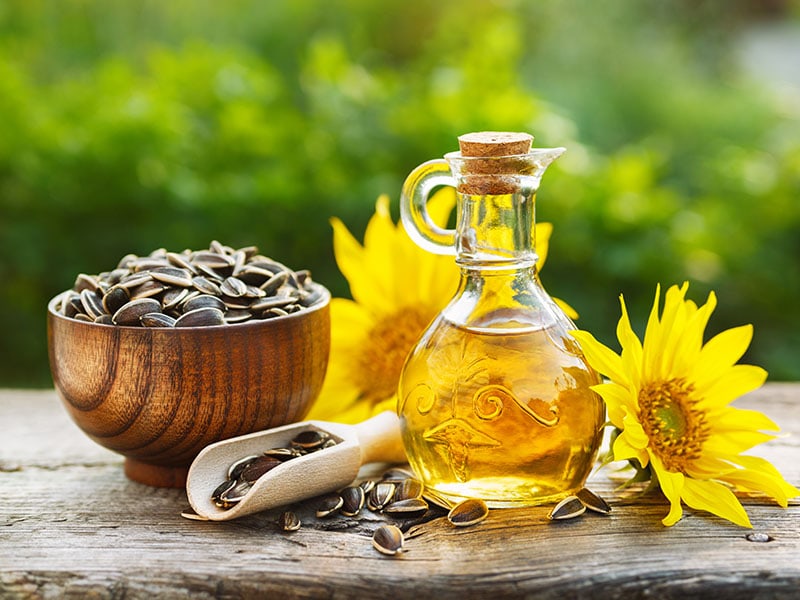 Sunflower oil is a natural oil extracted by cold-pressing and refining the seeds of sunflowers. It is often touted as one of the healthiest cooking oils since it is high in unsaturated fats, the best for heart health.
In particular, sunflower oil has four times more antioxidant capacity than conventional vegetable oils. The oil is lighter in color than other vegetable oils and has a light and delicate taste with a mild fragrance.
Sunflower oil will bring excellent taste to any dish. In the refined form with 232°C/450°F smoke point, this oil can complete most cooking goals. This oil will contribute the best flavor and texture from stir-frying, sauteing to frying, baking, and salad dressing!
In addition, Spectrum Naturals Organic Sunflower Oil is a non-GMO product beneficial for heart health, thanks to its high content of unsaturated fats that help lower cholesterol levels in the body.
15. Light/Toasted Sesame Oil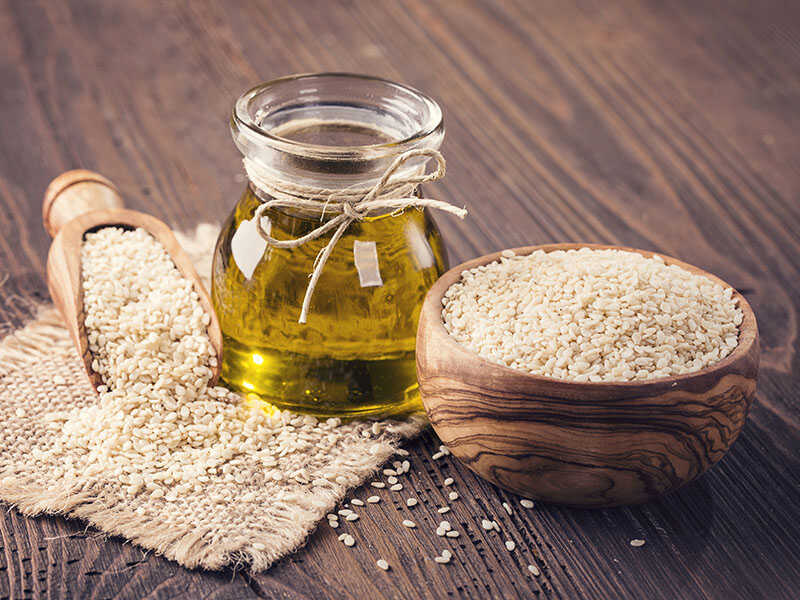 Sesame is an agricultural product grown in many tropical countries. The tiny sesame seeds contain a lot of oil, so they are extracted into sesame oil.
This unique oil is used for many different uses, most commonly in food processing and beauty. You can use it to mix salads, marinate foods, knead dough, fry, and especially stir fry for more crispy dishes. Its smoke point is relatively high, at 232°C/450°F.
Both light and toasted versions can be your beloved sesame oil for different dishes. The former has a mild, light, and neutral taste, while the latter is richer and has a more distinct toasted flavor.
If you love a more pungent taste for your stir fry, you can choose La Tourangelle Toasted Sesame Oil to enhance the overall flavor!
Make a great chicken stir fry with the rich taste of sesame oil!
16. Refined/Blend Vegetable Oil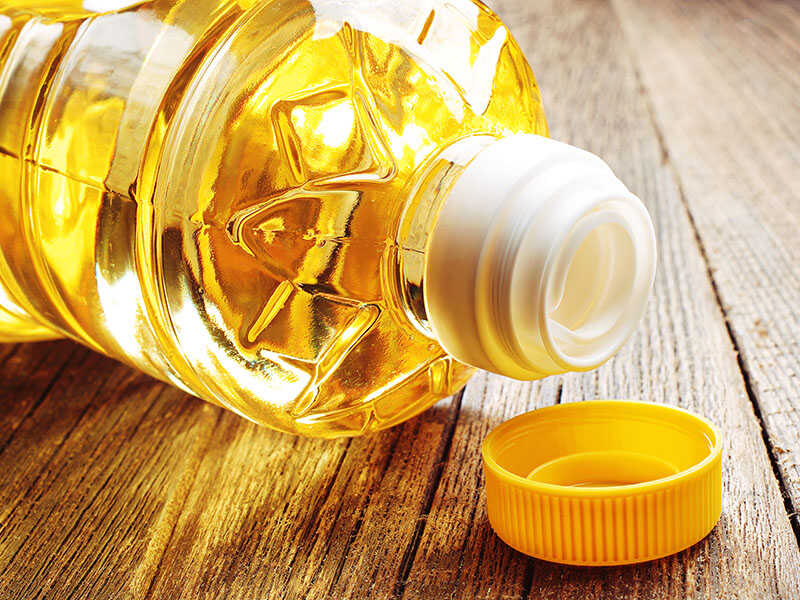 Vegetable oils are oils extracted, distilled, and refined from plants rich in essential oils. It's a little hard to tell precisely the ingredients used to make vegetable oil. They are usually soybean, safflower, sunflower, and canola oil blending.
The main components of vegetable oils are unsaturated fatty acids, liquid at room temperature for easy absorption by our bodies. In vegetable oils, cholesterol has a shallow dose that is negligible and is not likely to cause harm to human health.
Refined vegetable oil is a stable form of oil. It works best for stir-frying, sauteing, wok frying, and all other medium-temperature cooking with smoking points up to 220°C/428°F. It is tasteless and works well to enhance your recipe's flavors.
Go ahead to make your best stir-frying version with Native Harvest Expeller Pressed Vegetable Oil. This oil is excellent and stable for high-temperature cooking and provides you with many monounsaturated fats.
Useful Stir Frying Tips With Cooking Oil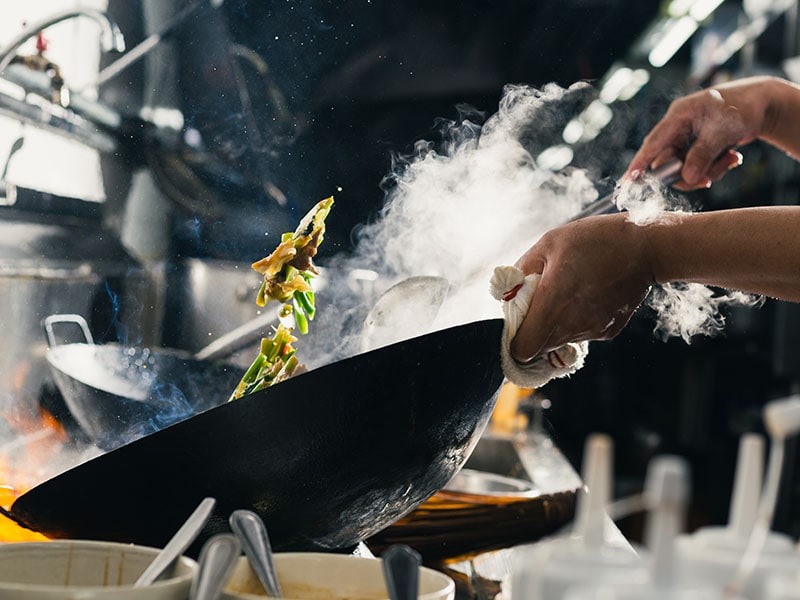 Now you've known about the best oil for stir-frying, and maybe you've already had the most wonderful wok made with carbon steel in your kitchen. But is this enough to get the best stir-frying? I'm afraid not. Below are some must-know tips for your cooking oil and your wok.
Do Not Let The Oil Smoke In The Wok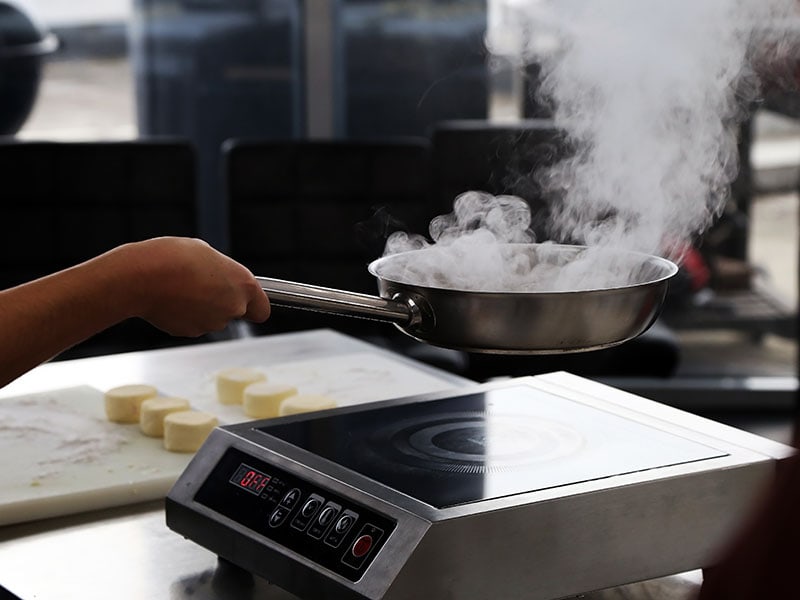 The most important rule with stir-frying is that both the wok and the fats are heated to a high temperature before putting in the main ingredients. Otherwise, the food will not cook properly. In that case, they will absorb, draw more fat to it and then stick to the wok.
Moreover, if you wait for the oil to smoke, the temperature in the wok is very high, and it is easy to make the vegetables lose nutrients. The correct way is when the oil is hot but not enough to smoke in the wok, and you put the vegetables in and stir-fry.
To check if the wok is hot enough, it is best to add a few drops of water to the wok. If they boil vigorously and evaporate quickly for a few seconds, then the wok is hot enough.
You can use chopsticks, too. Put the tip of the chopsticks into the oiled wok on the stove. If the oil at the tip of the chopsticks is bubbling, the heat is enough.
Remember, do not heat the oil if you have not cut up all your ingredients. Stir fry is a relatively high heat cooking method, so you must act quickly before your oil turns into something toxic.
Do Not Use Too Much Oil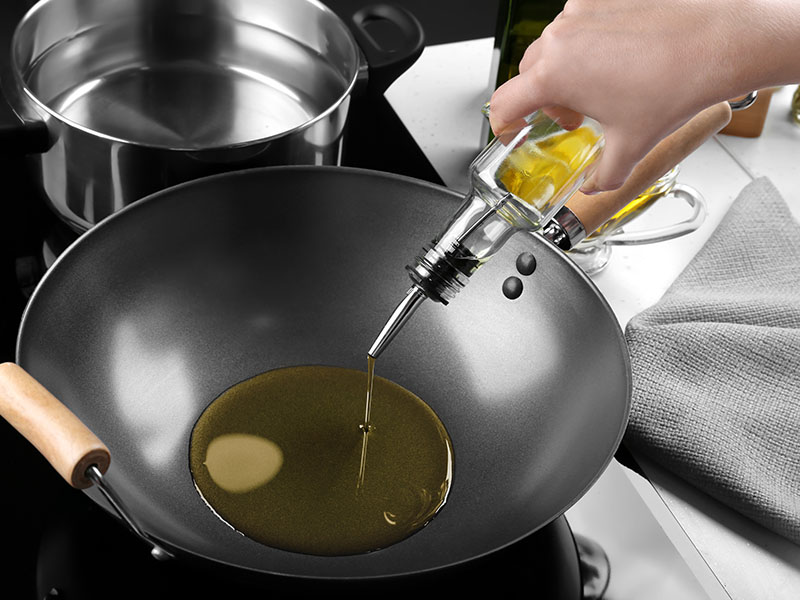 In all oils, the fat content is greater than 98%. The characteristic of vegetables is that it absorbs grease very strongly. If too much oil is used, the food will be covered with oil.
Other spices are difficult to penetrate vegetables, affecting the taste of dishes, and doing so is not suitable for the digestive system. The reasonable way to prepare is not to add more than one tablespoon of oil and use a non-stick wok; the heat will be even.
Do Not Stop Stirring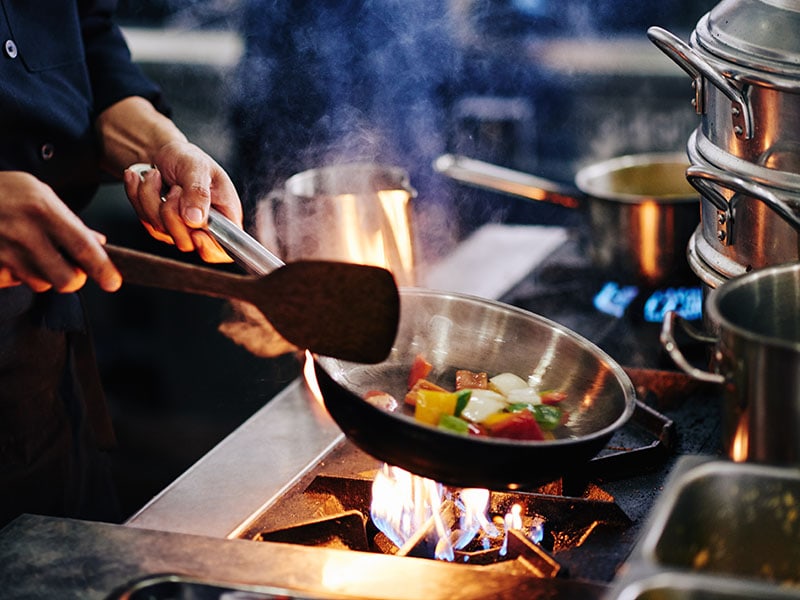 When placing food in the wok, it is essential to keep the food in constant motion to cook evenly, and the wok stays hot. Keep moving your hand continually when you stir fry. If not, everything can stick into your wok and not be cooked rightly at all.
Do Not Cook For Too Long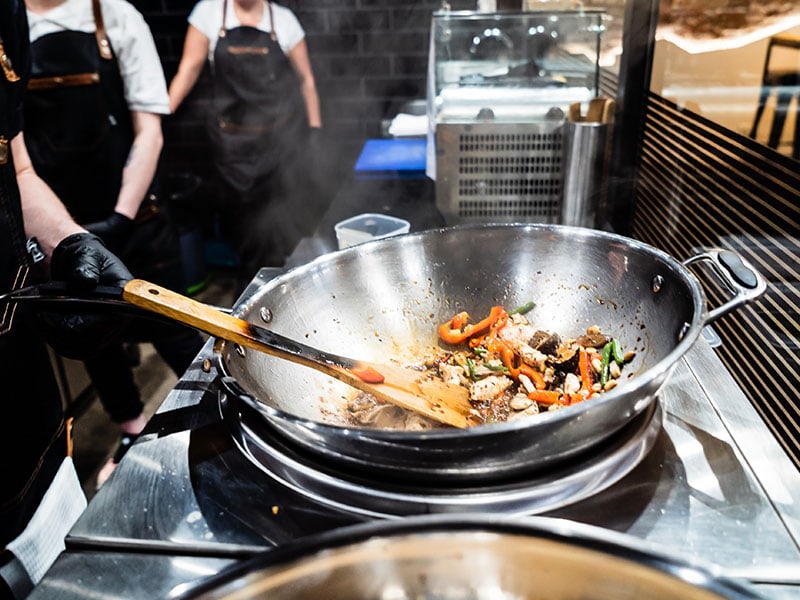 The vitamins in vegetables are sensitive. If cooked under a low flame for a long time, it is easy to decompose. Therefore, nutritionists advise that vegetables' cooking time should not be prolonged. It is best to cook with a high flame and not add too much water to minimize vitamin loss.
Do Not Stir Unsuitable Fry Ingredients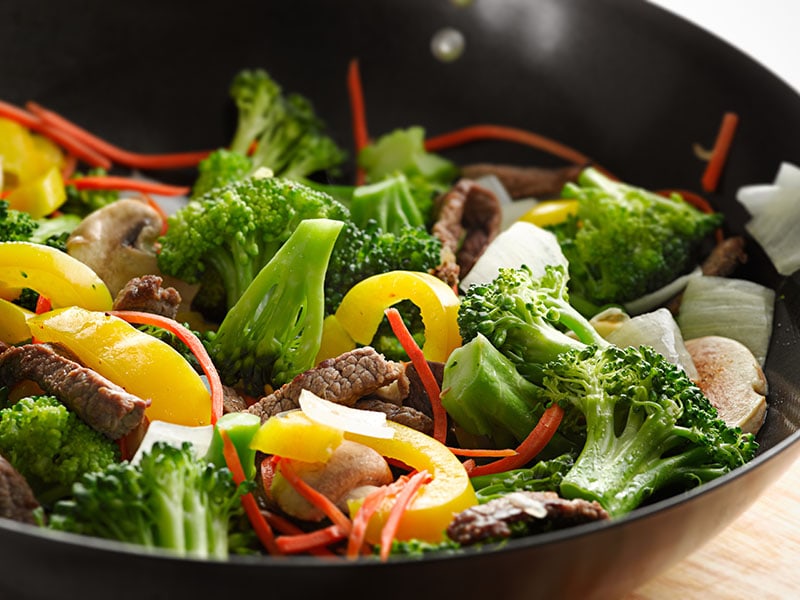 The right amount of food should be given to the wok to avoid overloading and unevenly cooked food. And you need to consider which ingredients you want to add, too.
Any type of food can be used with a wok to stir-fry, but if the food is too thick, too hard, like chicken bones, or hard vegetables, they are not suitable since they need a longer cooking time than stir fry.
Also, pay attention to the proper order in which you should put your different ingredients. Based on how long they need to be cooked, you will decide which one should take the first place.
In case you want to use meat or poultry (minced) to enhance the overall flavor, cook it thoroughly with oil before putting the vegetables in.
Do Not Add A Lot Of Spices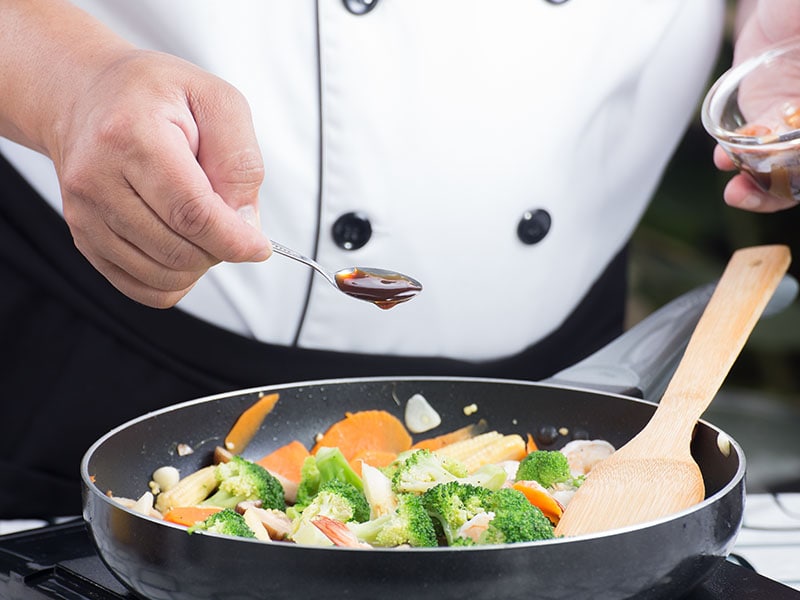 In soy sauce, the salt content is 15% – 20%. Chicken starch has a salt content of 10%, soy sauce and oyster sauce also contains a lot of salt. If you add these spices, you need to reduce the amount of salt. Otherwise, it will make the dish salty.
Many people prepare stir-fried vegetables. They have a habit of adding sugar because the salty and sweet tastes reduce each other's flavor. It is easy to make the taste pale, so they have to add more salt.
The right way to season is by adding salt, a little seafood soy sauce, and chicken starch or MSG (monosodium glutamate) should be used sparingly or not at all.
You can add garlic or onions, pepper, and ginger as needed to provide more flavor to the dish without losing the original taste.
The Best Cooking Oil Brands You Should Know
Since there are numerous cooking oil brands on the market, it can be hard to decide which one to buy. Since I want nothing but the best for you, here are some reputable cooking oil manufacturers that you can always turn to.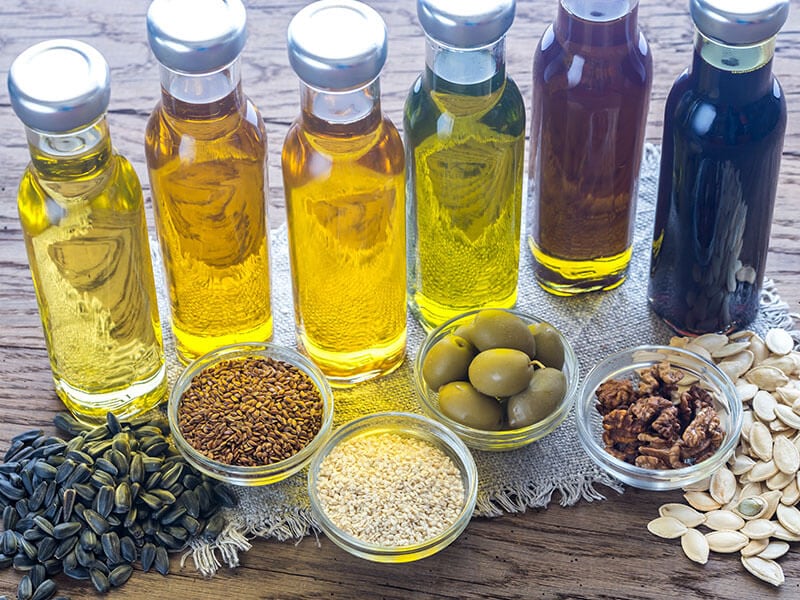 La Tourangelle stands as one of the most well-known oil-making companies globally. The company specializes in producing artisan nut oils and has won many awards for its outstanding products.
La Tourangelle has its roots in Loire Valley, France. It came to the United States in the 1900s and is owned by the Kohlmeyer family. Interestingly, this company still uses the century-old French press technique to create its oils, resulting in unique flavors.
If you've been using corn oil to make your dishes, you've probably already know about Mazola. The company was founded in 1911 and has been a big player in the cooking oil market since then.
Besides corn oil, Mazola also produces canola oil, vegetable oil, cooking sprays, and bouillon. The company promises that its products are free of cholesterol and contain zero additives.
Fans of organic cooking products must know about Spectrum Naturals. The brand was established in 1986 and committed to using organic, non-GMO ingredients to produce the highest quality vegetable oils.
Today, it's one of the most renowned companies when it comes to certified organic culinary oils. Spectrum also has a sub-brand called Spectrum Essentials that focuses on dietary supplements.
FAQs
You will love the helpful information around the best oils for your stir-frying below! Let's check it out now:
Let's Find Out Your Ideal Stir Frying Oil!
Hopefully, with the information that I share, you have been able to choose for yourself a suitable cooking oil for stir-frying. Not only is high-quality oil good for health, but it also enhances the taste of your recipe.
You know, there are many types of cooking oils on the market today. And not everyone knows how to choose the right oil for its intended use, especially for stir-frying. Let's like, comment and share this post and help more people choose the right stir fry oil!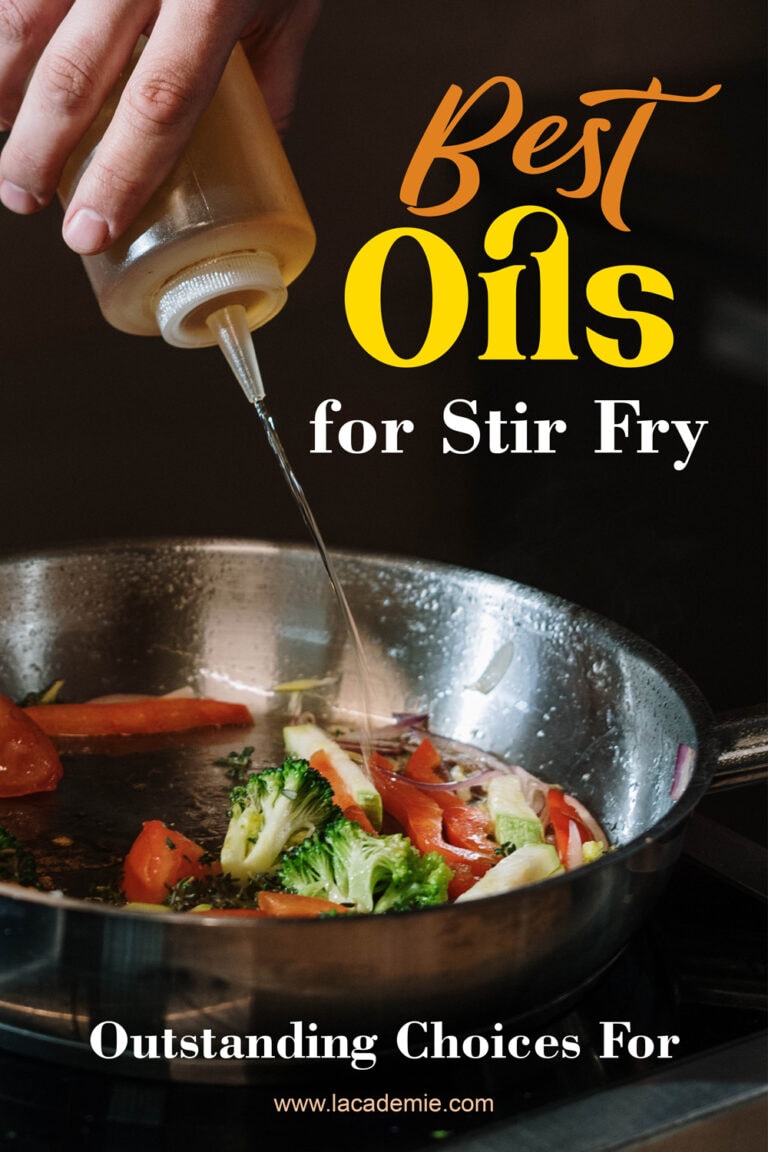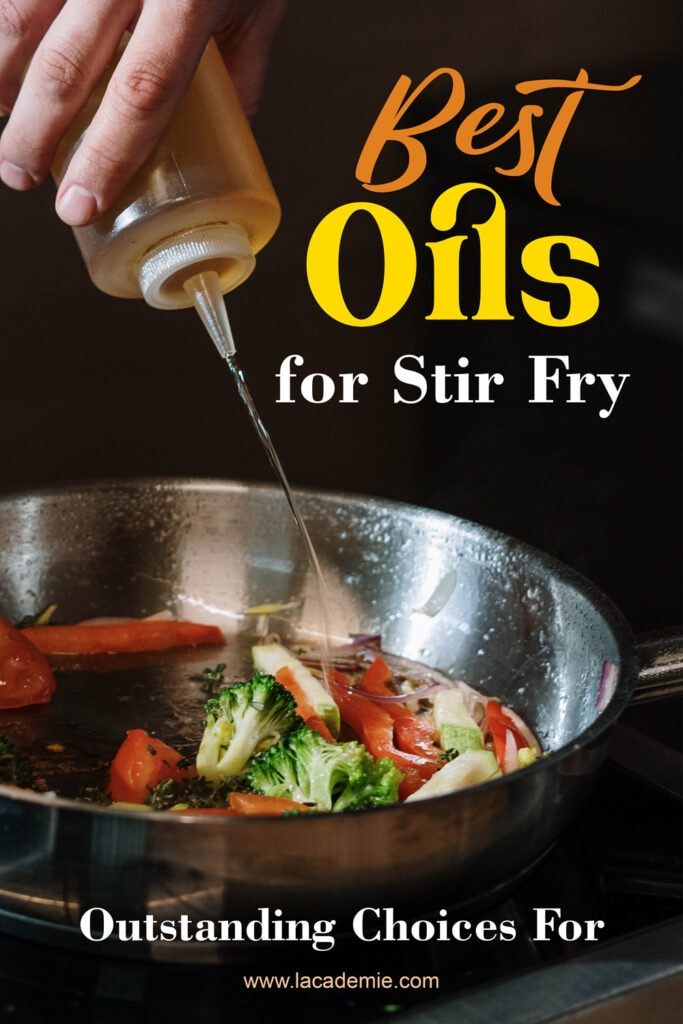 References
En.wikipedia.org. 2021. Stir frying – Wikipedia.
Anon, 2021. Template: smoke point of cooking oils. Wikipedia.
Palsdottir, H., 2021. 8 evidence-based health benefits of avocado oil. Healthline.
Staff, A., 2018. Ask the expert: Concerns about canola oil. The Nutrition Source.
Brennan, D., 2020. Is rice bran oil good for you? pros and cons, nutrition information, and more. WebMD.
Opp, J., 2015. Is corn oil better than olive oil at lowering cholesterol? Des Moines Register.