Avocado vs. grapeseed oil is a pretty common ingredient in most kitchens. However, what happens if you make a mistake between 2 kinds of oil and use them for various recipes? Do the overall flavor of dishes change?
If you have a headache with these questions, this post will help you treat them. It will provide you with all information about these oils and their differences. Let's check them out.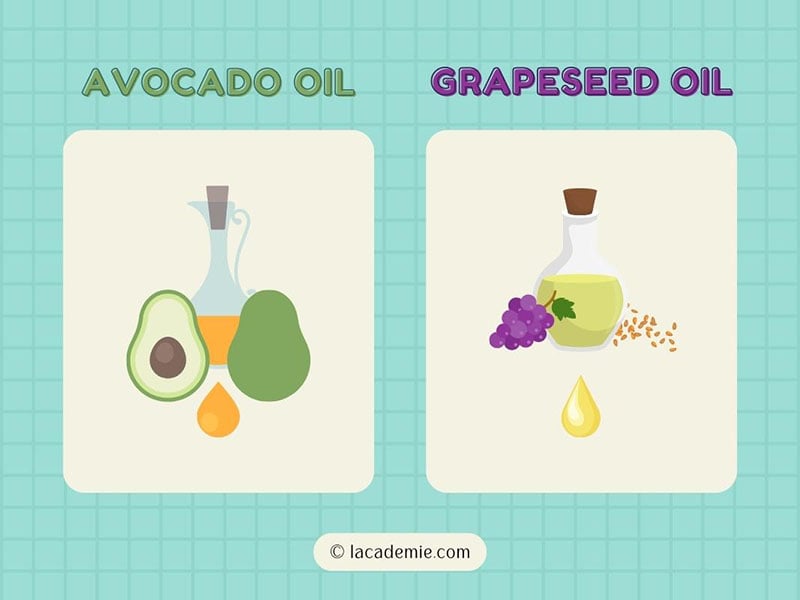 Overview Of Avocado Oil And Grapeseed Oil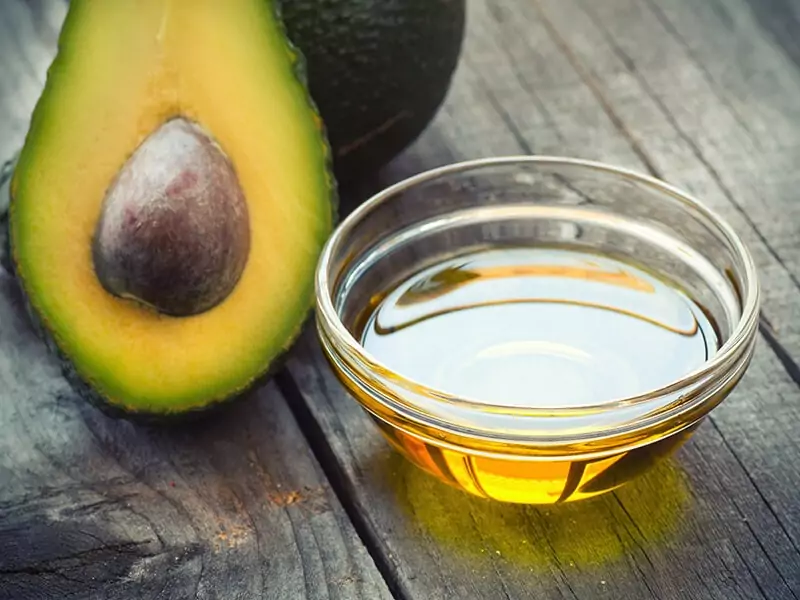 I will keep the precious information of avocado and grapeseed oil in the comparison section to help you have a specific view of them. However, don't underestimate this overview since you don't want to dig into something without knowing its base.
Using avocado and grapeseed oil is a trendy phenomenon when people are caring for themselves more and more. Both of them come in 2 types of oil: unrefined and refined. Each variety possesses its characteristics but is beneficial for your health.
They are staple ingredients in cooking; you can deep-fry, air-fry, make salad dressing, and more. You will get substantial health benefits when consuming them; therefore, don't hesitate to place 2 bottles of excellent grapeseed oil and the healthiest avocado oil for cooking in your cart.
Avocado And Grapeseed Oil: A Summarized Table
Stop here to know several outstanding features of avocado and grapeseed oil! You will not waste any second when reading my chart as it is really useful.
Criteria
Avocado Oil
Grapeseed Oil
Ingredient
Avocado flesh
Grapeseed
Manufacturing Process
Unrefined: Cold-pressed
Refined: Undergo bleaching or deodorizing process
Unrefined: Cold-pressed
Refined: Undergo bleaching or deodorizing process
Flavor
Unrefined: Stronger the refined, slightly grassy, buttery, and natural flavor
Refined: Gentle, and delicate flavor
Unrefined: Light and nutty flavor, more neutral than avocado oil
Refined: Light, and pretty plain, a general "clear" taste
Smoke Point
480-520F
400-420F
Nutrition Value
Contain over 50% monounsaturated fat A rich source of oleic acid; omega-9 fatty acids, vitamin E, and lutein
Contain a significant amount of omega-6 fatty acids, and vitamin E
Culinary Uses
Unrefined oil: Salad dressing and dipping sauce
Refined oil: Deep-frying, searing, and more.
Unrefined oil: Drizzling on salad (mix with herbs)
Refined oil: Deep-frying (moderately high heat), searing, and more.
Beauty Uses
For straight hair
For discoloration skin
For thin and light hair
For discoloration skin
Best Substitutes
Unheated food: Extra-virgin olive oil, macadamia, or pistachio oil
Heated food: Grapeseed oil, coconut oil, and extra virgin olive oil
Unheated food: Unrefined oils
Heated food: Canola oil or vegetable oil, and avocado oil
Price And Popularity
Higher and less popular
Affordable and abundant
The Differences Between Avocado And Grapeseed Oil
This is the central part of my post; let's take a closer look at 2 exciting ingredients. You will understand every aspect relating to these oils.
In case you are hunting for the best avocado oil and grapeseed oil, let's consider adding La Tourangelle 8.45 Oz Avocado Oil or La Tourangelle 16.9 Oz Grapeseed Oil These products are made from premium ingredients and can be used for both cooking and beauty purposes.
The volume of each oil is quite small; thus, you don't need to worry that their quality will decrease over time. When you have these oils, cooking excellent dishes is not impossible.
For more detailed information, keep scrolling down and explore more!
Ingredient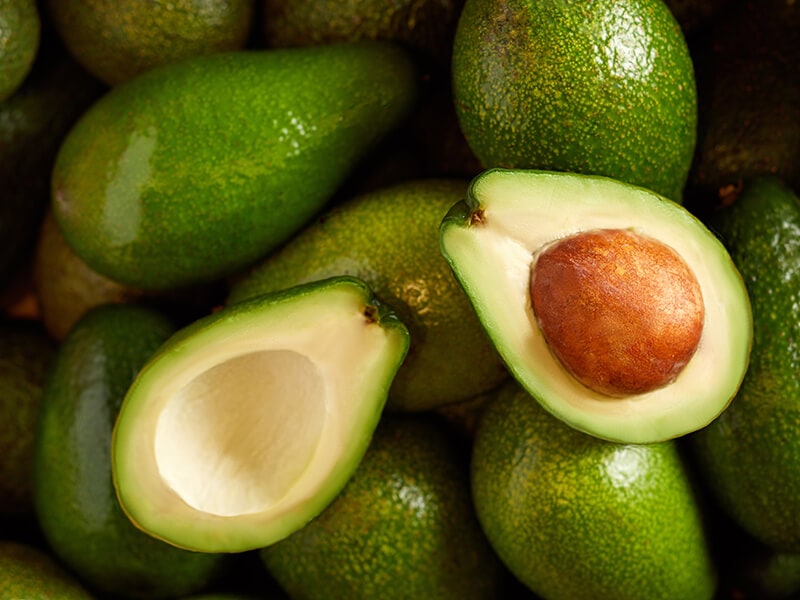 Avocado oil is made from avocado flesh; it is one of the few oils not extracted from seeds. Have you ever wondered about the natural flavor of avocado and avocado oil? Keep scrolling down, and you will know it.
Grapeseed oil is produced from seeds, and it is a byproduct of winemaking since after people press grapes to take their juice, the seeds are retained.
Manufacturing Process
Although the 2 oils are made from different ingredients, the processing is quite similar. The avocados are removed pit and skin before pressing. There is a specialized machine to squeeze the flesh without contaminating the result.
The oil is lighter than water; therefore, it flows out through a hole and what you get is unrefined avocado oil. Unlike the cold-pressed one, refined avocado oil must undergo the bleaching or deodorizing process before coming to your kitchen.
That's why the unrefined oil has a green color and is slightly thick while the other has a clear yellow color.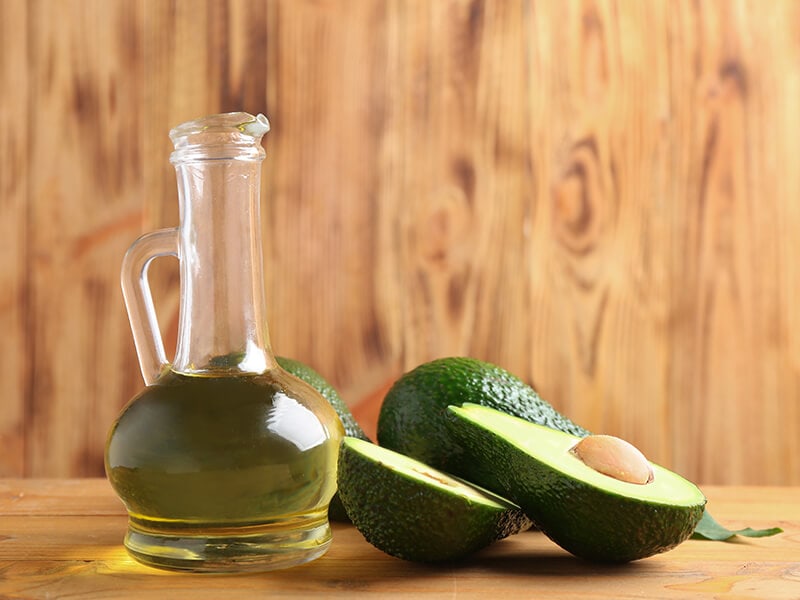 As I mentioned, grape seeds are retained after making wine. It helps farmers have more profits thanks to selling the seeds. There are 2 choices of producing grapeseed oil that is expeller-pressing seeds or using chemicals.
Like avocado oil, the seeds will be pressed in a special machine in controlled condition to ensure that the seeds and their result don't exceed 120F. It is considered a traditional method to retain almost all nutrients.
The second way is to use solvents to eliminate almost all the scent and flavor but make it more tolerant to heat. These typical characteristics also appear in avocado oil.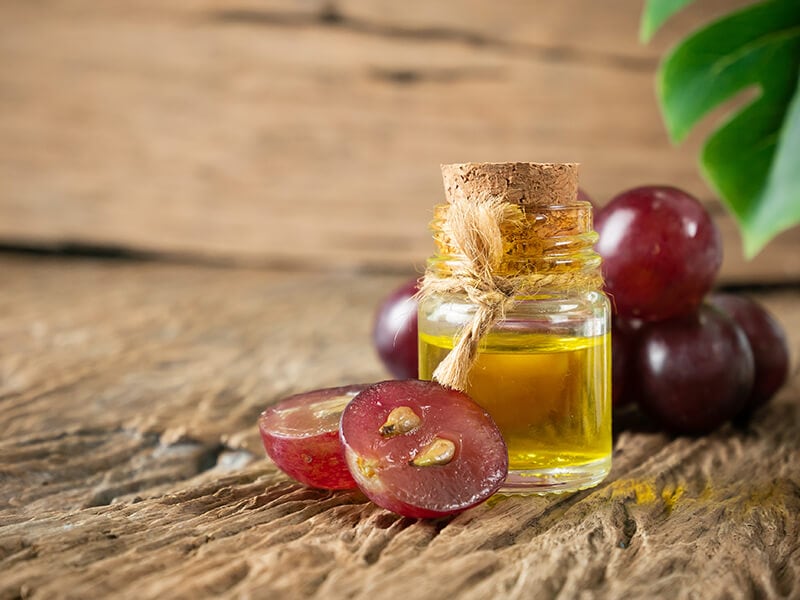 Have you ever wondered how grapeseed oil is produced? Watch this video:
Flavor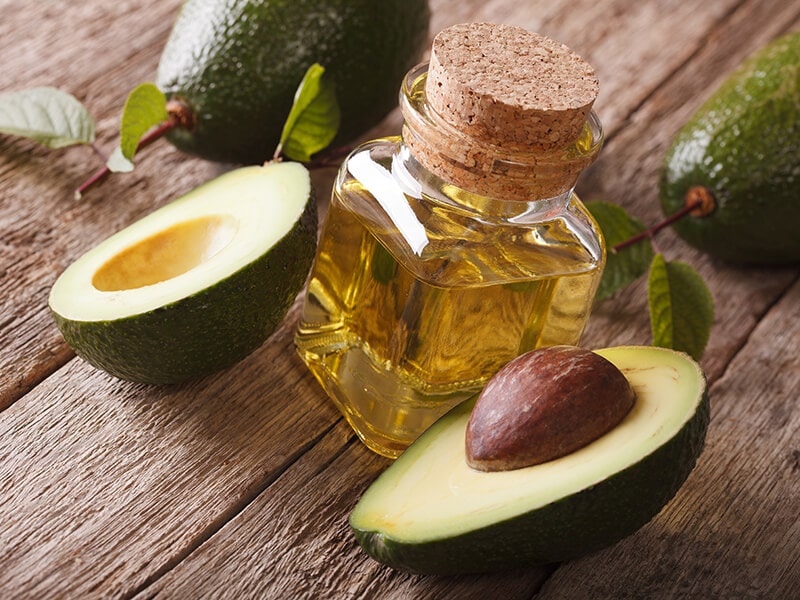 The flavors between unrefined and refined oil are quite different. The cold-press avocado oil will be stronger than the other, with a slightly grassy, buttery, and natural flavor. Besides, its texture is quite thick and a little bit creamy. The other offers you a very gentle and delicate flavor.
The virgin grapeseed oil has a light and nutty flavor, but it is not prominent and more neutral than avocado. The refined grapeseed oil is still light and pretty plain and has a general "clear" taste. Neither oil cannot change your food's flavor dramatically.
For those looking for the appropriate grapeseed oil for cooking, you can choose both virgin and unrefined for different purposes.
Therefore, if you make a mistake between the 2 oils, this will not damage your dishes. Your food is still delicious and safe to enjoy.
Smoke Point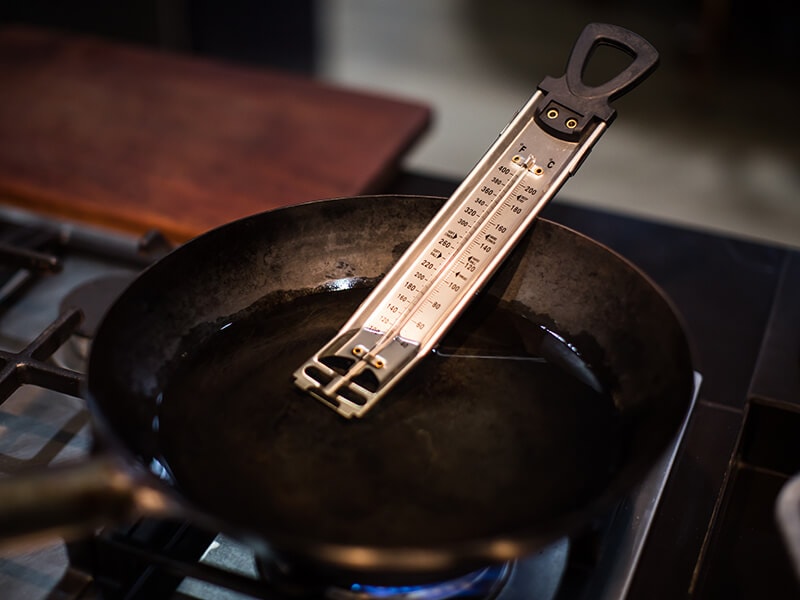 Avocado is one of the highest smoke point oils; the refined is higher than the unrefined. The smoke point ranges from 480F – 520F.
If you are a fan of deep-fried chicken dishes, you should choose the suitable oil for frying chicken as well as fried chicken companion foods (such as fries). The oil should have a high burning point to ensure that the heat is stable.
Usually, it's a good idea to pick unrefined oil as it can be used for stir-frying, searing, and more to protect your family's health.
The difference in the smoke point of grapeseed oil is quite small. The unrefined oil can stand up to 400F while the other can go up to 420F without releasing unpleasant odors. You can cook various recipes within this range, including baked goods, searing, and more.
Especially, you can add it to mayonnaise to create an excellent flavor.
Nutrition Value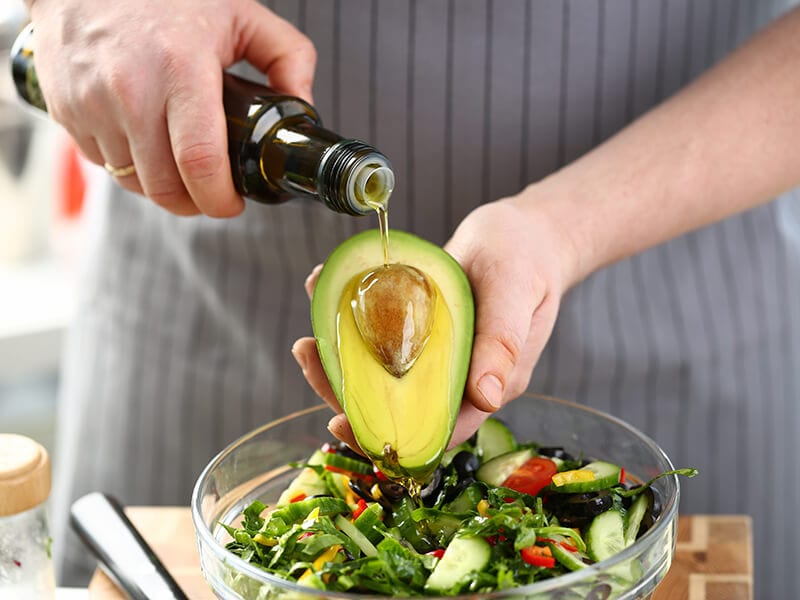 Avocado oil contains over 50% monounsaturated fat; thus, you can store it for a long time at room temperature. Its fat is also beneficial for your heart health and more stable than polyunsaturated fats (1).
Besides, unrefined avocado oil is a rich source of oleic acid that can balance the cholesterol level in your blood. Carrots are not the only vegetable offering you healthy eyes; avocado oil can do that.
This oil consists of a high amount of omega-9 fatty acids, vitamin E, and lutein in the nutrient list. These substances play a significant role in improving your vision. Moreover, you can find various vitamins: A, K, D in this oil. All of them will promote your smooth skin and overall health.
Unlike avocado oil, grapeseed oil includes a significant amount of omega-6 fatty acids and vitamin E that help your body fight against free radicals and support your immune system.
However, you should consider using it at the moderation rate since polyunsaturated fat (68%) is higher than monounsaturated (16%) and saturated fats (11%). That's why there is a little controversy around the nutrient aspect.
What advantages does avocado oil provide you? Watch this video to know:
Culinary Uses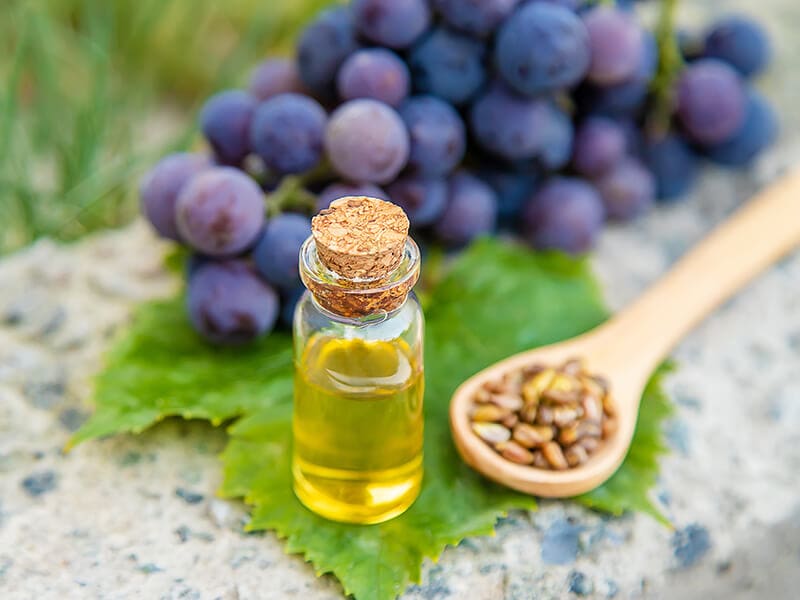 You can use the 2 oils for cooking several recipes: sauteing, searing, or any dishes requiring low and medium-high heat oil. The extra-virgin avocado oil is an indispensable ingredient in preparing salad meals and dipping sauce for bread. The other can be drizzled on your salad. It is greater if you mix it with herbs (rosemary is an excellent example)
If you want to deep-fry, I recommend you should use avocado oil. Although grapeseed oil can deep-fry food, you still should use it for a moderately high burning point. The polyunsaturated fats can react with oxygen and form free radicals when exposed to high heat.
On the contrary, avocado oil has an insane-high smoke point; you can use it for cooking any recipes without worrying about the nasty smoke. However, have you ever wondered if you can use avocado oil for baking? You can keep the natural taste of dishes when you use refined avocado oil for them.
That's why avocado oil is also one of the top alternatives for vegetable oils for making brownies. It blends incredibly well with the buttery and rich flavors of brownies, and it excels at keeping this delectable dessert moist and fluffy.
You can even use unrefined avocado oil to fry your food, yet the buttery, rich and nutty flavor will disappear.
Beauty Uses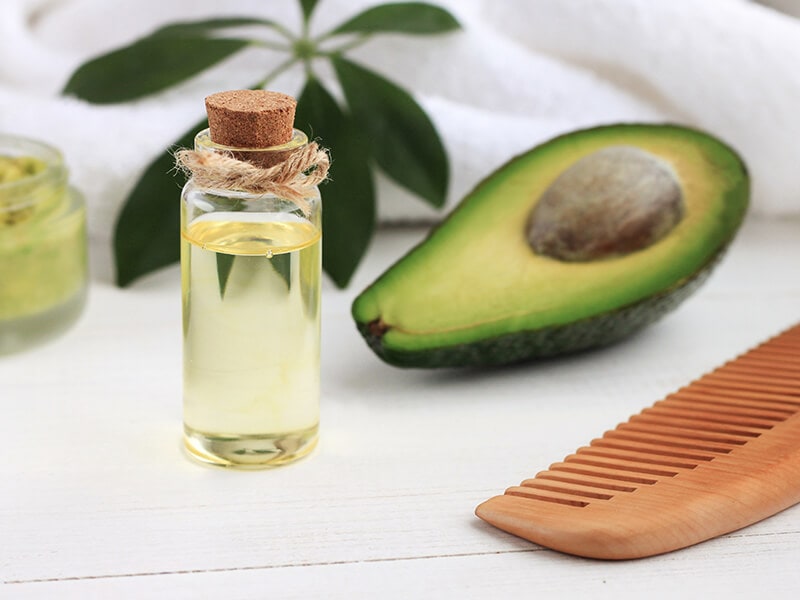 If you are curious about which oil you can apply to your face, hair, my answer is both oils can be used. However, note down several specific situations you should use. Avocado oil can help your curls and dried hair become soft, fluffy without being oily. For daily application, you need to use less than 1 teaspoon in the morning after showering the previous night.
For deep care, you have to use 2 full palms, apply it to your hair and wait for a while. After shampooing, you can feel your hair improve. You can cover this oil on straight or fine hair to get the best results; nevertheless, it can frame your curly hair. Its scent will lose after 1 hour.
Like avocado oil, grapeseed oil can give you a soft and fluffy finish. You should apply a dime-sized amount for everyday use and a generous amount for deep conditioning. This oil is perfect for thin and light hair.
Since its texture is quite heavy, you have to use it between showers to have great hair. Not only for hair, but these oils also work hard on your skin if you use them. Both grapeseed and avocado oil are best for discoloration, thanks to their antioxidant content (2).
The proanthocyanidin in grapeseed will make your discolored skin bright, and vitamin C and E in avocado help beat premature aging.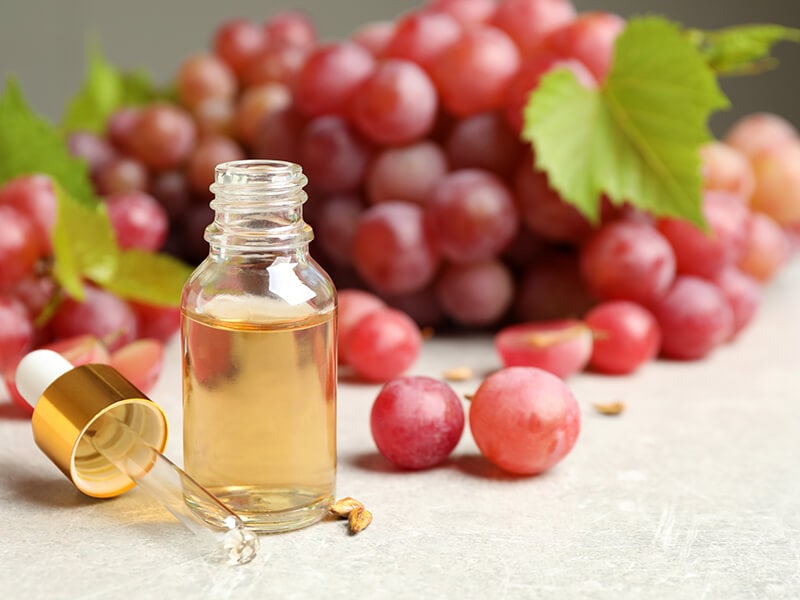 Can you see? They are such versatile oils and deserve to achieve King And Queen at Oil Prom.
Are you curious about the actual results that grapeseed oil brings to your hair? Watch this video:
Best Substitutes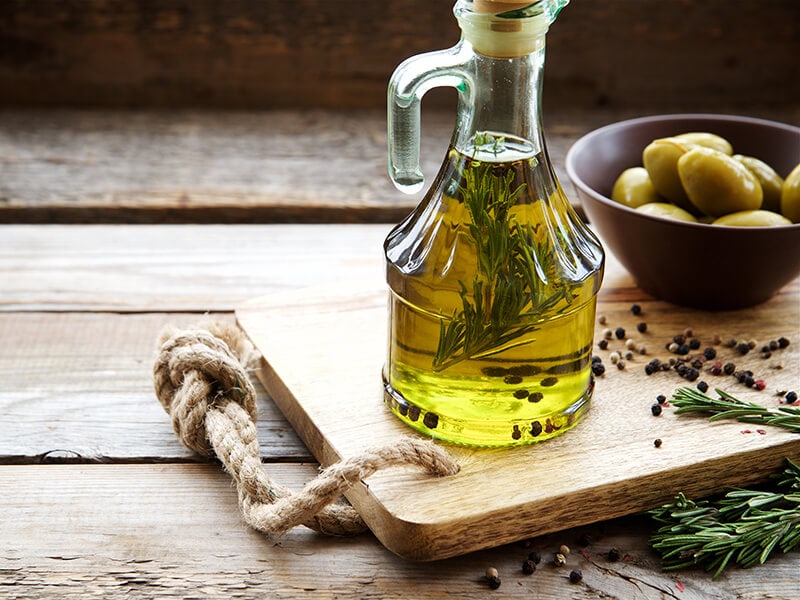 There are numerous potential candidates to replace grapeseed and avocado oils. In this post, I just shout out the best oil that can do alternative missions perfectly. This way, when the standard shelf life of avocado oil or grapeseed oil run out, you'll know what substitute you can use.
The wonderful avocado oil substitutes will be divided into 2 categories: unheated and heated food. If you want to find replacements for unheated dishes, let's consider extra-virgin olive oil, macadamia, or pistachio oil. For heated food, there is no better choice than coconut oil and extra virgin olive oil.
Make sure that you check the coconut oil before using it to know whether coconut oil can go bad since tasting the spoiled oil is unpleasant.
The grapeseed oil can be an ideal alternative for higher heat than the 2 formers. Keep in mind to search for the smoke point of the 3 to ensure it is suitable for your recipes and doesn't harm yourself.
Now, it's grapeseed oil's turn. You should use canola oil or vegetable oil; they are refined oil; thus, it has a neutral flavor and can tolerate high heat. In case you are looking for oils with the same nutrients, unrefined oils are a perfect choice.
Although the flavor is not entirely similar and the burning point is not as high as the refined, their flavor will be retained naturally and offer you a lot of vitamins and healthy substances. EVOO is still my favorite grapeseed oil substitute.
Price And Popularity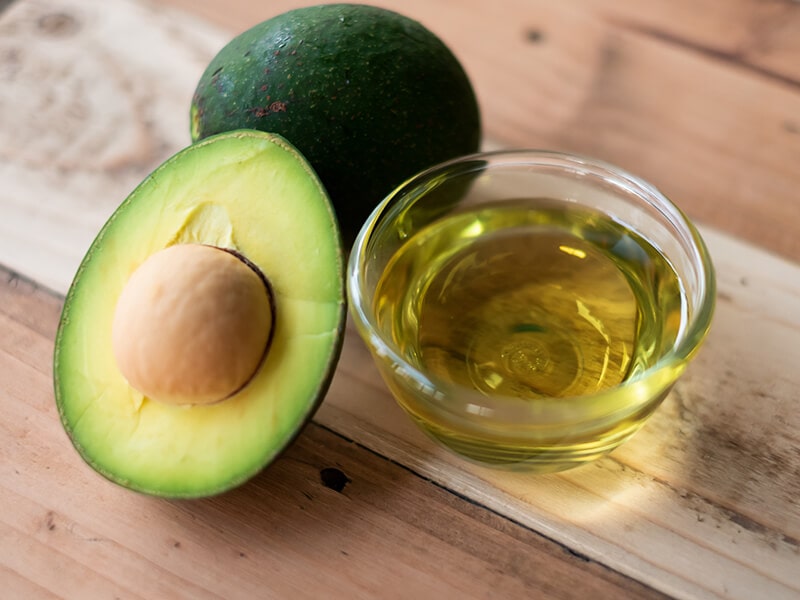 The price of avocado oil is relatively high, and it is not as common as the other. The reasons are that manufacturers just produce a smaller amount of avocado oil, and it is pretty tricky to buy.
On the other hand, grapeseed oil is a byproduct of winemaking; thus, it is abundant, and you can own it without hurting your wallet.
FAQs
If you still wonder about the topic, don't hesitate to reference this section. All you need to do is to read it slowly to find out the satisfying answers.
Despite Differences, Grapeseed And Avocado Oil Are Best
You can use avocado oil to substitute grapeseed oil and vice versa. Each oil has its flavor, yet their missions are to provide health benefits for you and enhance the dishes' flavor.
Do you find it helpful? Don't forget to leave some words in the comment box chat to show me your opinion. You don't know how excited I am when seeing them. Share this post for anyone needing it. Thank you for your companion!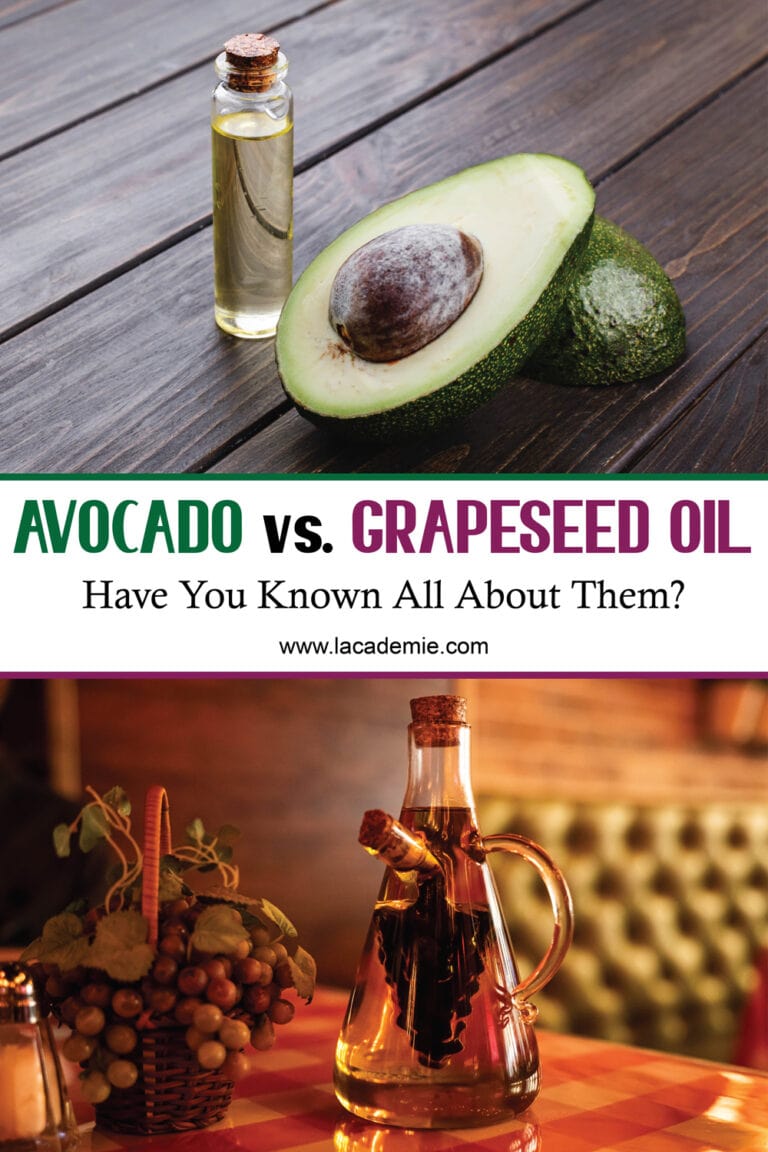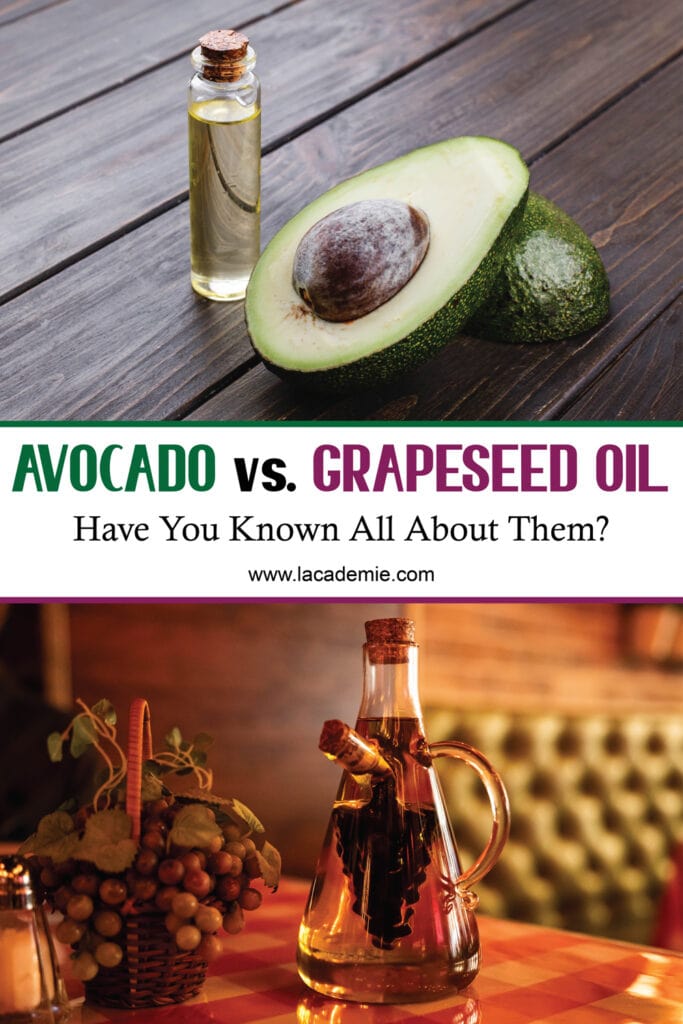 References
Dr. Axe. 2021. The Crazy Health Benefits of Avocado Oil.
Healthline. 2021. Grapeseed Oil for Skin.