Considering the best oil for frying chicken and choosing the high-quality frozen chicken wings will save you from failures as using the wrong oil is one of the most common reasons for chewy and greasy chicken.
It's such a pity when you spend a fortune on ingredients, but receive unexpected results. Don't worry, you can avoid all mistakes and will have excellent fried chicken after reading this post. What are you waiting for? Let's jump into the article now.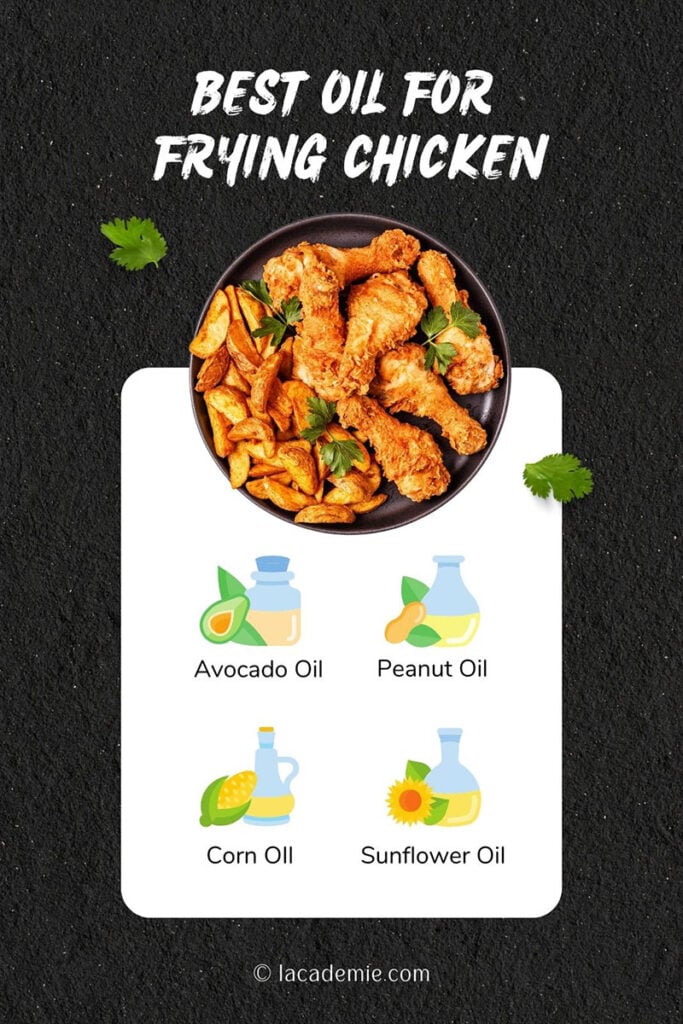 Why The Right Oil Is Significant In Frying Chicken?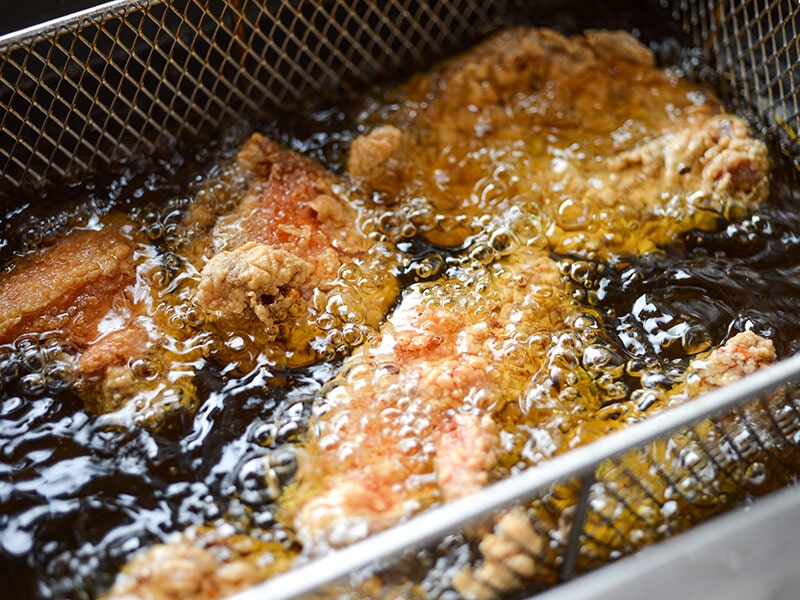 Wait, wait! Before I introduce to you my favorite oil for frying chicken, allow me to mention the importance of picking the right oil. Deep-frying is the corresponding interaction between oil and water content in the meat.
However, not all oils are the same. Depending on the kinds of fats, the oil is categorized into the proper group. Have you ever wondered why your oil is solid at room temperature while the others are liquid?
The answer is that your oil contains saturated fats and the others include unsaturated fats. This factor will affect the final results since too much-saturated fats will create a waxy layer on your chicken, and too few saturated fats cannot produce crunchiness.
Therefore, choosing suitable oil is a more significant task than ever. Are you curious what oil will appear on my list? I will not waste your precious time anymore; scroll down to find out the answer.
Let's Take A Quick Look At The Best Oil Comparison Chart
You shouldn't underestimate this table as it will provide you with a general view of the oil. It just takes you several seconds to glance at, so don't skip it.
| Best Oils | Smoke Point | Flavor | Cost |
| --- | --- | --- | --- |
| Avocado Oil | 482F - 520F | Unrefined: natural, fatty, and buttery flavor; Refined: Delicate, and mildly nutty flavor | Quite pricey |
| Peanut Oil | 450F | A pleasant, neutral, light, and nutty flavor | Affordable price |
| Vegetable Oil | 450F | Neutral taste | Reasonable cost |
| Soybean Oil | 453F | Unrefined: A stronger with greenbeany flavor; Refined: Bland | Cost-efficient |
| Sunflower Oil | 475F - 520F | Neutral flavor, a slightly nutty, buttery taste with a faint hint of earthy bitterness | Budget-friendly |
| Canola Oil | 400F | Neutral, and pleasant taste | Won't hurt your wallet |
| Safflower Oil | 510F | An unassertive flavor with a neutral scent | Affordable price |
| Corn OIl | 450F | A mild roasted corn and buttery flavor | Cost-efficient |
| Cottonseed Oil | 420F | A gentle, nut-like flavor | Reasonable cost |
| Grapeseed Oil | 420F | A light and surprisingly neutral taste | Low cost |
Excellent Oils For Golden Brown And Crunchy Chicken
It's now time for the most expected section in this post. I will provide you with specific information and why you should opt for these kinds of oil. Let's get started!
Avocado Oil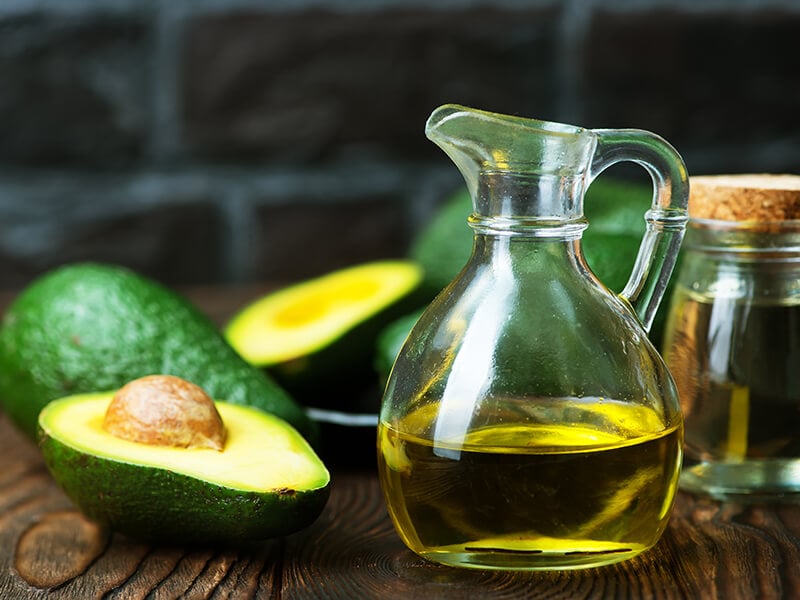 There is no doubt about this choice, avocado oil is one of the ideal oils for frying chicken. There are 2 types of avocado oil: extra-virgin and refined, and they also have different smoke points, 482F and 520F.
The unrefined oil can keep the most natural flavor; thus, it has a deep green color with a fatty and buttery flavor. However, it is not a perfect selection for frying chicken. Can you guess why?
Refined avocado oil is the best companion for fried chicken. The flavor is more delicate than its counterpart since it underwent deodorizing or bleaching. This oil also possesses a mildly nutty flavor that will infuse into the chicken and give you a pleasant taste.
The smoke point of refined avocado is really high (520F), you can be confident to deep fry without breaking down the nutrients in chicken or turning healthy substances into toxic chemicals.
Therefore, you don't have to worry that the oil will change the taste of your dishes. Avocado oil is perfect for the Paleo diet and people suffering from heart diseases, thanks to monounsaturated fat content (1). The what-to-hate about avocado oil is that it is quite pricey.
If you are looking for excellent avocado oil for cooking, please consider choosing non-GMO products made from 100% natural refined avocados and can be used to cook with anything due to a mild flavor.
The brand I want to say is Chosen Foods 100% High-Heat Avocado Oil. Besides frying, you can add it to salad dressing, marinades, and more.
Explore more about avocado oil immediately! Watch this video:
Peanut Oil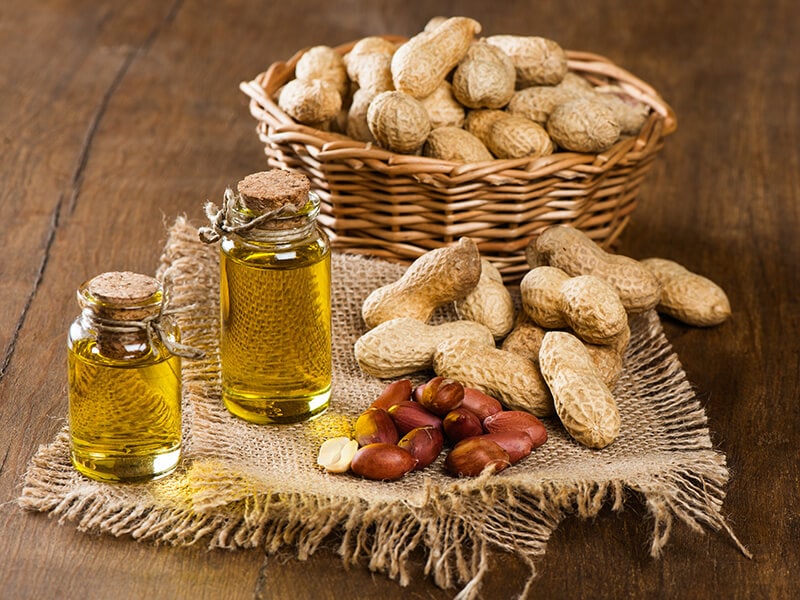 The smoke point of peanut oil is 450F, which helps it become the favorite oil of many chefs. With this figure, it can even pose as the most suitable oil for stir-frying or deep-frying anything, including chicken.
The typical peanut oil has a pleasant, neutral, light, and nutty flavor. You can even use it to make French fries or prepare delicious fried chicken side dishes, as it doesn't absorb the taste of foods. Its affordable price makes it popular in any kitchen.
What is better than a crispy and moist chicken without lingering greasiness? Let's pick 1 (or a few) bottles of LouAna 128 Oz 100% Pure Peanut Oil and make a big bowl of fried chicken for the movie night.
This oil doesn't contain trans fat, so you can be comfortable enjoying it without worrying too much about your weight. The smart design with a built-in handle helps you pour precisely.
In case you don't have peanut oil right at that moment, you can consider using the appropriate peanut oil alternatives to save your dishes. First and foremost, check the smoke point before cooking.
What is the flavor of chicken fried in peanut oil? Let's watch this video:
Vegetable Oil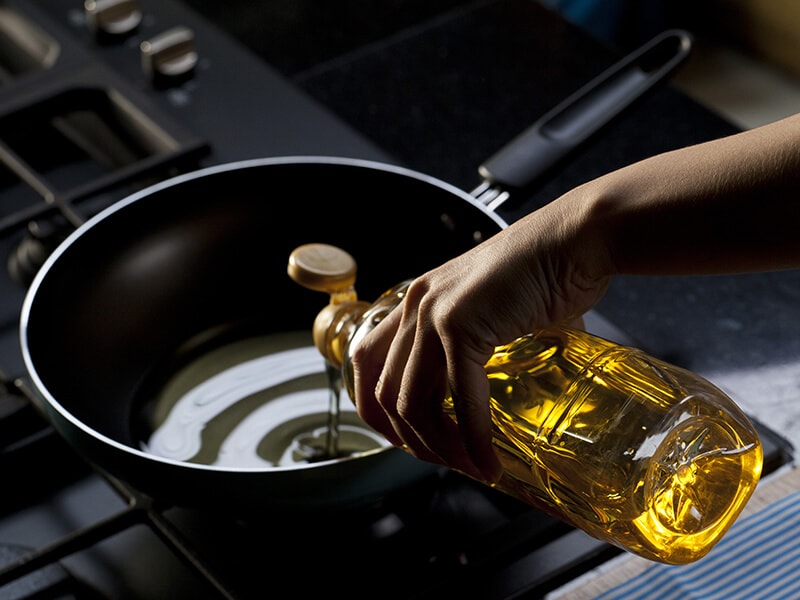 Vegetable oil is a multi-purpose oil that I'm sure almost every kitchen has at least one bottle of. As its name implies, vegetable oil is produced from different oils, including canola, soybean, sunflower, peanut, and safflower. And your budget doesn't suffer as much.
Its flavor is neutral, and there is no taste transfer when you submerge the chicken in oil. The highest smoke point vegetable oil can stand is 450F, while the temperature of deep-fried chicken can go up to 375F.
Aside from making the best fried chicken, including chicken wings, vegetable oil is also suitable for preparing a plethora of delectable chicken wing side dishes. Anyone looking for a versatile oil can definitely rely on this oil
Vegetable oil provides fat in brownies. However, don't worry if you run out of it. The best-match vegetable oil replacements for brownies can complete this mission excellently.
For those who wonder what brand to choose when buying vegetable oil, Crisco 32 oz Pure Vegetable Oil is also a wonderful option. Its taste is light and never leaves a greasy feeling after you enjoy fried food.
Soybean Oil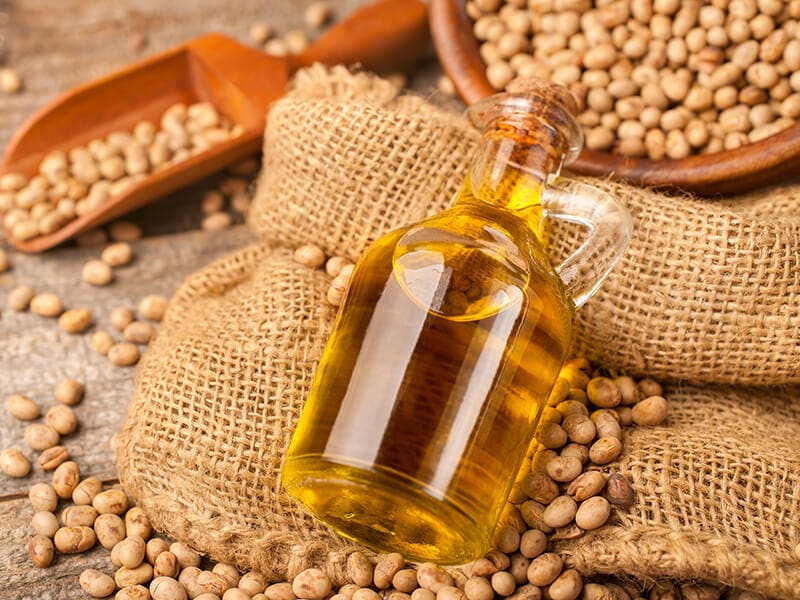 You will be surprised if you know that the smoke point of soybean oil is 453F. Therefore, you can freely deep fry your chicken thighs, wings, and more in this oil without concern about the nasty smoke.
Moreover, it is one of the most flexible oils as it fits nearly all recipes perfectly. Like other oils, unrefined soybean oil has a stronger characteristic with green-beany flavor. The refined one is bland with light color.
Of course, you should pick the latter for excellent fried chicken. For salad lovers, you can also mix this oil with vinegar, a little bit of salt, and pepper to create a delightful dressing. You can even use soybean oil as a proper oil for popcorn, the results will meet your expectation with fragrant and crispy popcorn.
In case you have a headache with opting for the best brands among various brands in the market, don't hesitate to order Wesson 100% Soybean Oil. It is made from 100% natural soybean. When you purchase a bottle, you will donate one meal to Feeding America.
Sunflower Oil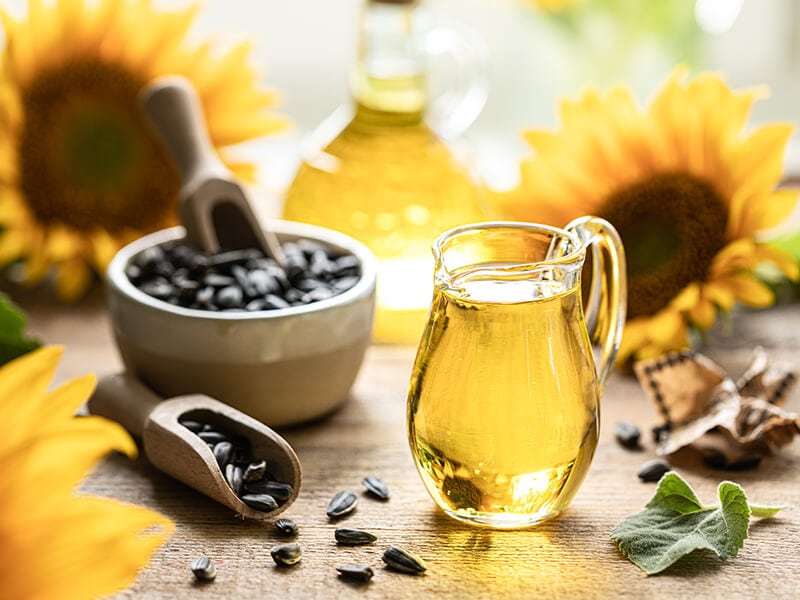 Who thinks the tiny sunflower seed can produce beneficial oil? You probably have tasted sunflower oil in vinaigrettes, but you even realize that. It is added to this dressing to upgrade the overall flavor without overwhelming other ingredients.
Particularly, the oil has a slightly nutty, buttery taste with a faint hint of earthy bitterness that you have to be sensitive to catch this feeling. Apart from deep-frying chicken, many bakers add it to baked goods.
When frying chicken, this oil can go up to 520F (smoke point ranges from 475F – 520F); therefore, you will taste nothing but crispy skin and juicy chicken. I have used this Healthy Harvest Production Non-GMO Sunflower Oil, and I want to recommend it to you.
It features a neutral flavor that will not change the final taste of fried chicken. Besides, it is a rich source of monounsaturated fats like avocado oil; thus, both are ideal choices for high heat cooking.
Sunflower oil advantages are inferior to any oil. Watch this video:
Canola Oil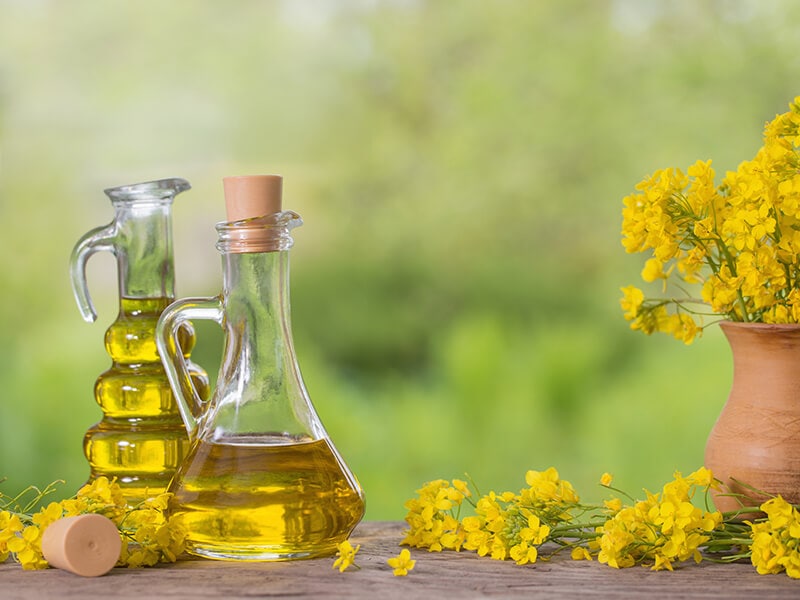 The prominent feature of canola oil is its neutral and pleasant taste. You don't need to worry about its flavor transferring into your fried chicken. You can use this oil for cooking any recipes, including stir-frying, deep-frying, and more.
Canola oil is a potential replacement for sesame oil in high-heat recipes, so if you are short of sesame oil, don't hesitate to grab the canola oil bottle.
It even can be used for baked goods. The smoke point of canola oil is around 400F, so you can comfortably fry chicken without having a greasy and unpleasant scent. In terms of health benefits, canola oil provides you with omega-3 and 6 fatty acids.
It's time to explore a well-known product for your recipes; the brightest candidate is 365 By Whole Foods Market Canola Oil. Do you know what 365 means? Using this oil can keep you healthy in 365 days. This item can stand the heat going up to 450F, such an impressive figure.
Learn how to make garlic chicken in canola oil for the next party. Watch this video:
Safflower Oil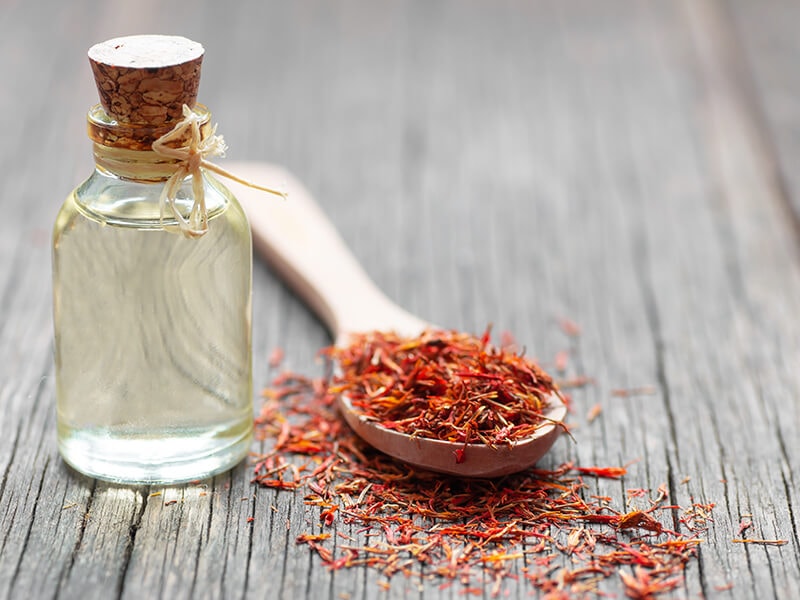 The runner-up of the smoke point is safflower oil. Congratulations, "Miss Safflower"! Impressively, you can fry chicken in this oil at 510F without any problem. Like other oils, it also has an unassertive flavor with a neutral scent to help you keep the juicy and umami taste in chicken.
Don't underestimate this light flavor since it is an excellent base for dressing, especially when combined with citrus juice, herbs, and spices. It has more than 75% monounsaturated fats, making it heat-stable even when you cook on high heat for a long time.
Safflower looks quite similar to saffron, and it is an easy-to-find saffron substitute. It will add more colors to recipes requiring saffron without changing the dishes' flavor.
I suggest this Oleico High Oleic Safflower Oil for multi-purpose uses: cooking, baking, and more. This product is flavorless and odorless, so it is a perfect gift for folks with sensitive senses.
Corn Oil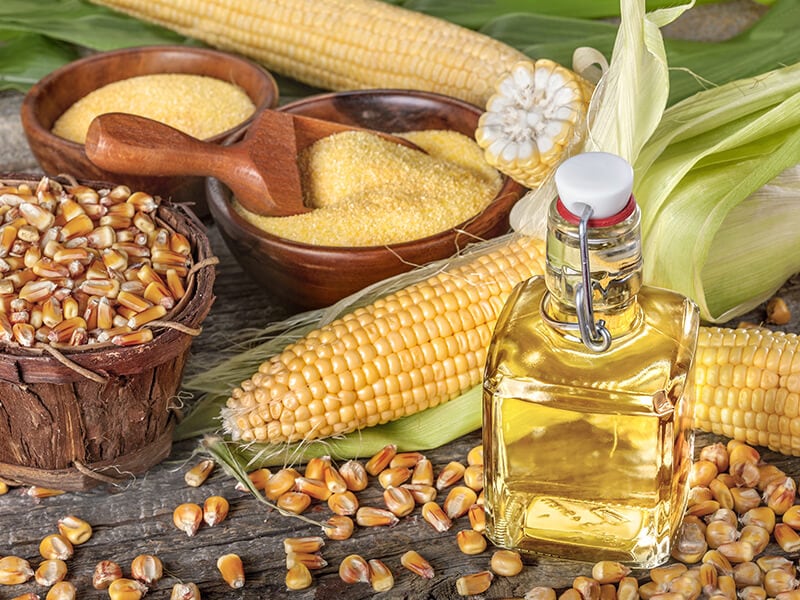 Corn oil is another wonderful choice for flexible cooking, including stir-frying and deep-frying since its smoke point is 450F. As you know, corn oil has a dark yellow color, and it is one of the most consumed vegetable oils in the US.
It seems not to be completely flavorless like safflower; it has a stronger taste than canola oil and offers you a mild roasted corny and buttery flavor. In addition, you can catch this familiar taste in mayonnaise and some baking goods.
If you don't know which corn oil to choose, let's consider Mazola 40 Oz Pure Corn Oil. You can serve this product to people suffering from heart problems as its substances are heart-friendly without cholesterol.
Corn oil is so familiar even if you are not a good cook. Watch this video to know:
Cottonseed Oil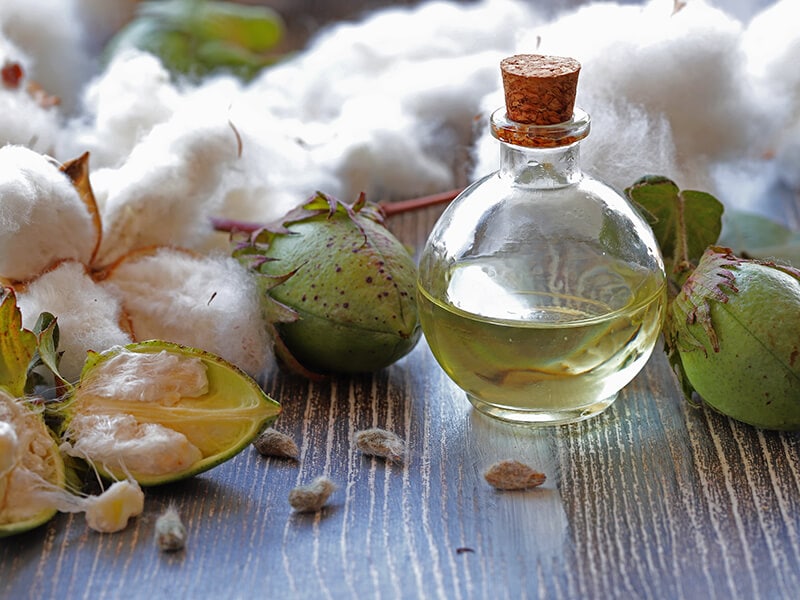 In case you are a lover of fast food, you surely know cottonseed oil; therefore, it is not strange when appearing on my list. In general, cottonseed oil has a gentle, nut-like flavor, with the color depending on the level of refining.
When purchasing this oil, make sure that you will use it up in a short time as it can become rancid easily and release unpleasant smells. The smoke point is quite high, at 420F, so you can use it for frying chicken and anything else.
However, it is not the healthiest option if you cook food too frequently since it contains a high amount of saturated fats. Nut Ola 48 Oz Cottonseed Oil is my recommended item since it has a reasonable price and doesn't include preservatives.
Grapeseed Oil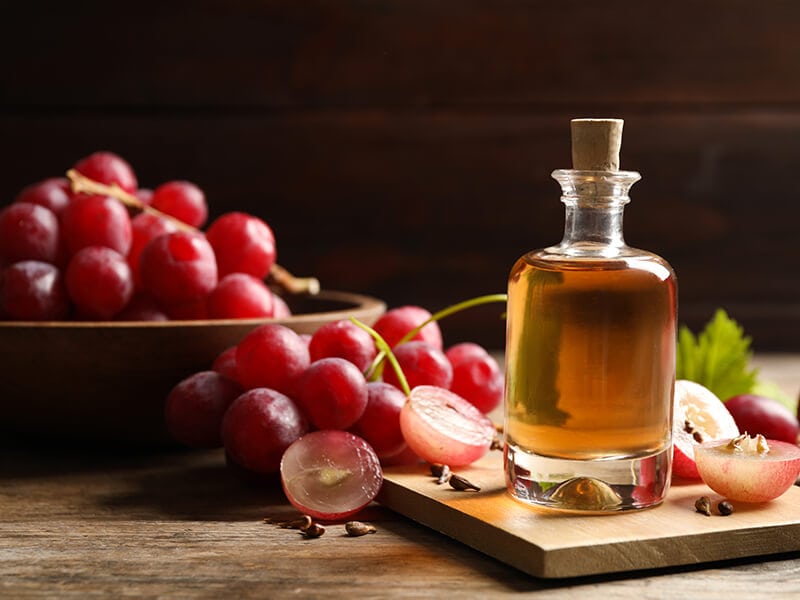 Grapeseed can be used to extract the oil, can you believe it? It is an ideal oil that always appears in my kitchen because the flavor is light and surprisingly neutral. It is a byproduct during the winemaking process, but you cannot taste wine or grape flavor in it.
The advantage of this oil is high smoke oil that can go up to 420F; thus, your chicken and other foods will be crunchy and delicious. You can be comfortable cooking food without creating any burns or acrid flavor.
It can last for up to half a year when you store it in dark, cool areas or in the fridge. This Pompeian 100% Grapeseed Oil comes from France – the birthplace of the most flavorful wine, so you don't need to worry about its quality.
Don't hesitate to find the top-tier cooking grapeseed oils if you are looking for a multi-purpose and safe time for your family, thanks to its non-allergenic, non-GMO features.
As you might know, grapeseed oil and avocado oil have several similarities: 2 subtypes of oil, the refined oil is neutral, and more. However, to avoid mistaking the two, you should know the different features between avocado vs. grapeseed oil.
Grapeseed oil is also an excellent choice for frying chicken. Watch this video:
Essential Buying Guide For Best Oils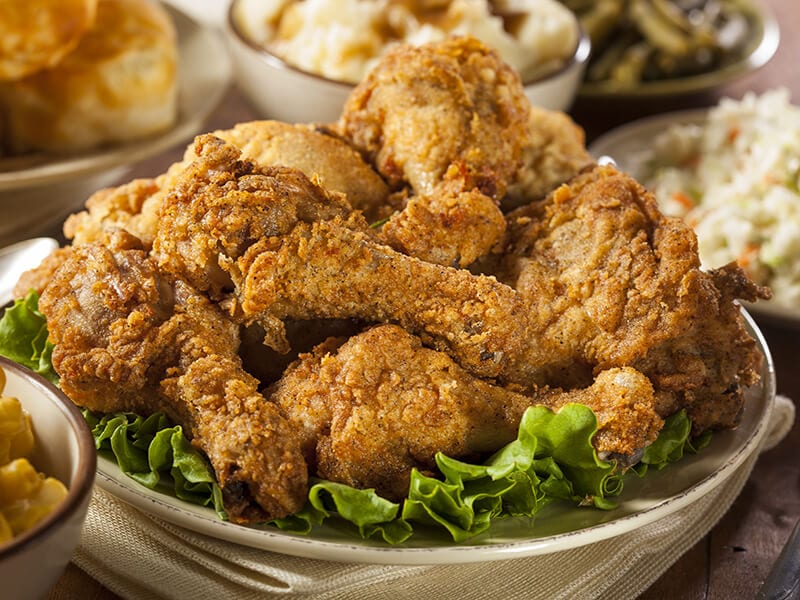 I cannot cover all the best oil for chicken in just this post; however, I will equip you with the significant factor to focus on when choosing an oil. There are 3 factors you should pay attention to the smoke point, flavor and cost.
Smoke Point
Let's get started with the most vital element: smoke point. A smoke point is a temperature at which your oil will stop simmering and start smoking. Each high-heat oil will have different burning points that range from 350F to 520F.
When your oil releases smoke, it breaks down and creates toxic substances with an unpleasant and bitter flavor (2). Therefore, you have to choose an oil with a high smoke point and stable heat for deep-frying chicken.
If you ever wondered whether it's okay to reuse oil after frying chicken, you should care about your oil choice. Choosing the right oil also helps you save your budget since high-burning oil allows you to reuse it. Remember to store it in a tight container for the next use.
Flavor
Transfering oil flavor to your fried chicken is not always a good idea. Your chicken can absorb the flavorful taste of seasonings and marinade; therefore, let the spices shine on their own.
You should opt for a neutral-taste oil to keep the chicken juicy and umami. However, there is no fixed rule for culinary; you can freely add a nutty flavor to your chicken if you want by using suitable oils.
Cost
The cost of oil always goes around and around in your mind when you come to food shelves. How to cook flavorful fried chicken with a tight budget? Fortunately, almost all the suggested oils have a reasonable price except for avocado oil.
All oil can bring the expected results; therefore, you don't have to pay a fortune to own a bottle of oil.
The Most Popular Brands Of Cooking Oil
After knowing the criteria for high-quality cooking oil, you now need to select the right brand. Here are some of the most reputable companies that you can't go wrong with.
Mazola is among the most popular brands of corn oil, and for good reasons. Since its establishment in 1911, the company has been dedicated to making cholesterol-free and high-quality culinary oil. In addition to corn oil, it also produces vegetable oil, canola oil, and more.
Whole Foods Market is a subsidiary of Amazon that focuses on making products that are free of artificial colors, flavors, preservatives, and hydrogenated fats. 365 By Whole Food Markets is the more affordable brand that many people are familiar with.
Crisco is known for its top-notch shortening, cooking spray, and cooking oils. The brand was introduced more than a hundred years ago and is a subsidiary of B&G Foods. You can find multiple kinds of oil under this brand name, including peanut oil, canola oil, coconut oil, and many more.
How To Fry Chicken Perfectly?
You have chosen an excellent oil for frying chicken, but you don't know how to fry it. This section is another gift for you. Note down right now and show your talent to your family at dinner today.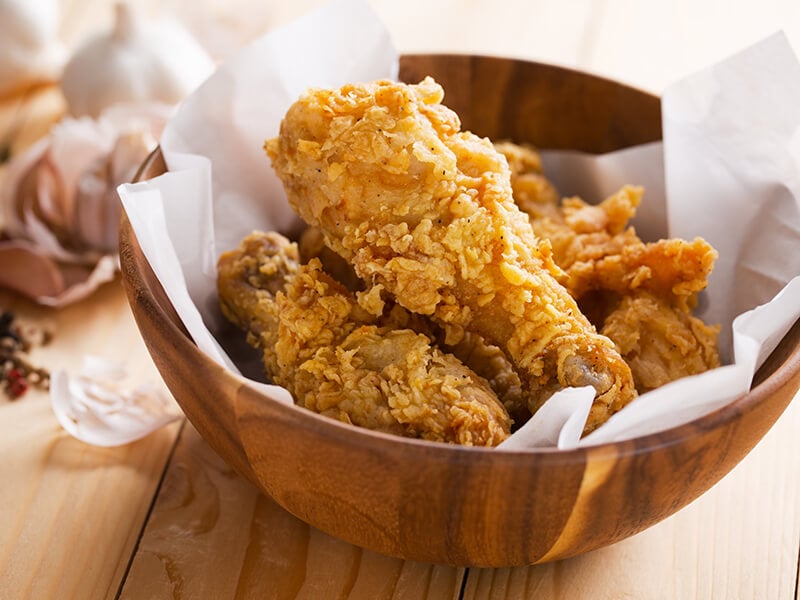 Ingredients:
2 fryer chicken ( divide into 16 pieces)
4 ½ cups of buttermilk
3 tbsps of seasoned salt
2 tsps of each paprika, ground black pepper, and dried thyme
5 cups of all-purpose flour
1 tsp of cayenne pepper
¼ cup of oil
Any high smoke point I recommended
How To Cook:
Step 1: You can implement this step in advance since you need to soak chicken with 4 cups of buttermilk overnight or 24 hours.
Step 2: The next day, take the bowl of chicken out of the fridge and let it chill off for about 30 minutes. At the same time, you can preheat the oven at 360F and mix flour, salt, pepper, cayenne, and thyme up in a bowl. Ensure everything is whisked completely.
Step 3: Leave the flour bowl aside; you need to pour the rest of the buttermilk and milk into another bowl. After that, mix flour and the mixed milk until the breading is smooth.
Step 4: Pour the oil into a deep skillet; it reaches 1 ½ – 2 inches. Wait until the oil heat goes up to 365F and turn down the heat to prevent oil from getting hotter.
Step 5: Coat each chicken piece with the breading and place them on a plate.
Step 6: Add 3-4 pieces to the skillet and separate them while frying. Close the pan, cook for 5-7 minutes, then turn them over and fry for another 3-5 minutes. Check the chicken frequently to avoid burning.
Step 7: Take the cooked chicken out of the pan and continue to cook the remaining. Place all pieces on a rack over a baking sheet lined with a paper towel and cover them.
Step 8: You should bake your chicken for 15 minutes to ensure no pink juice in the meat.
Learn how to have a perfect batch of fried chicken right now!
Useful Tips For Wonderful Fried Chicken
There is nothing better than exploring some tricks and hacks to help you perform your cooking task excellently. The lesson for today is about fried chicken. Yeah!
Divide chicken into the appropriate size: You shouldn't fry a whole chicken since it takes a long time to be cooked; thus, cutting it is a wise choice. You can choose pre-cut chicken or separate it by yourself.
For each breast chicken, let's cut it into 2-3 smaller pieces. In this way, you can make sure the breasts, thighs, and legs can be cooked simultaneously.
Soak the excess moisture on the chicken before breading: Use a paper towel to pat your chicken to ensure it is crunchy after frying.
Chill off the meat: Let the chicken chill off for about 30 minutes since the cold meat will lower the temperature of the oil and can cause the chicken to cook unevenly.
Cook the chicken at the right temperature: You can purchase a cooking thermometer to check the oil. Many experts recommend the sweet point to fry chicken is 350-375 F that allows you to get juicy but crispy chicken.
You can start by frying the chicken with high heat then slow down to achieve a perfect result.
Marinate chicken in advance: You can find various ways to marinate your chicken; some choose buttermilk while the others opt for brine. I love using buttermilk to soak my chicken.
However, no matter what you choose, you have to soak the chicken for 24 hours in the fridge. The key to a successful dish is patience.
Add seasoning freely: Don't save the seasonings when marinating chicken. They will upgrade the fried chicken flavor to a new level. You can even stir milk into hot sauce or Sriracha to bread chicken. Yet, don't add too much if you don't want to taste a salty chicken.
Use a suitable oil: I have explained a lot in the previous part, yet I repeat that never, never use oil with strong flavor and low smoke point. This oil will damage your dishes and negatively affect your health.
Don't place fried chicken directly on a paper towel: This makes your chicken steamed and become soggy, greasy instead of crispy. Let's use a rack to hold the meat after taking it out of the pan to allow the excess oil to drain away.
Store leftover fried chicken properly: Many people want to know whether fried chicken is safe in the freezer. The answer is yes, but you'll need to know the proper technique. If you want to store the chicken in the fridge, remember to put it in an airtight container.
FAQs
You've reached the last section, but several questions still appear in your mind. Don't worry, this part will erase them, so scroll down!
Homemade Fried Chicken With 5-Star Quality
Now, you don't have to pay a fortune to enjoy crunchy and moist, juicy chicken as I can cook it at home perfectly. Choosing oil seems to be the hardest task, but you did it. No barrier can slow you down.
Let's make a huge bowl of fried chicken and tell me more about your family's experiences in the comment box. I am so excited to hear from you. Don't forget to like and share this post with your friends. Thank you for your reading! Love you so much!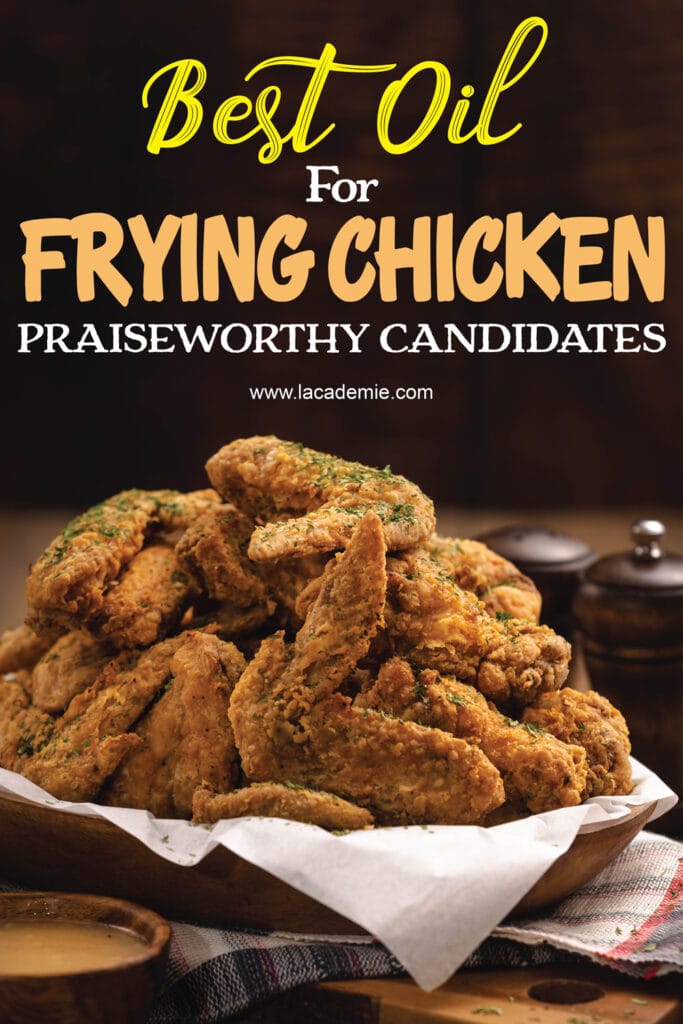 References
Dr. Axe. 2021. The Crazy Health Benefits of Avocado Oil.
En.wikipedia.org. 2021. Smoke point – Wikipedia.