Every dessert expert knows that butter is a superior vegetable oil substitute for brownies, and what else besides the sticky spread is available? Surprisingly, there are more than ten options, all bringing a unique touch to your decadent baked treats.
Thanks to vegetable oil, brownies have become miles better. They will have your heart with a warm, fudgy center that ambushes your taste buds with a mesmerizing chocolate flavor. If my description gets you all hungry, it's time to head to the kitchen.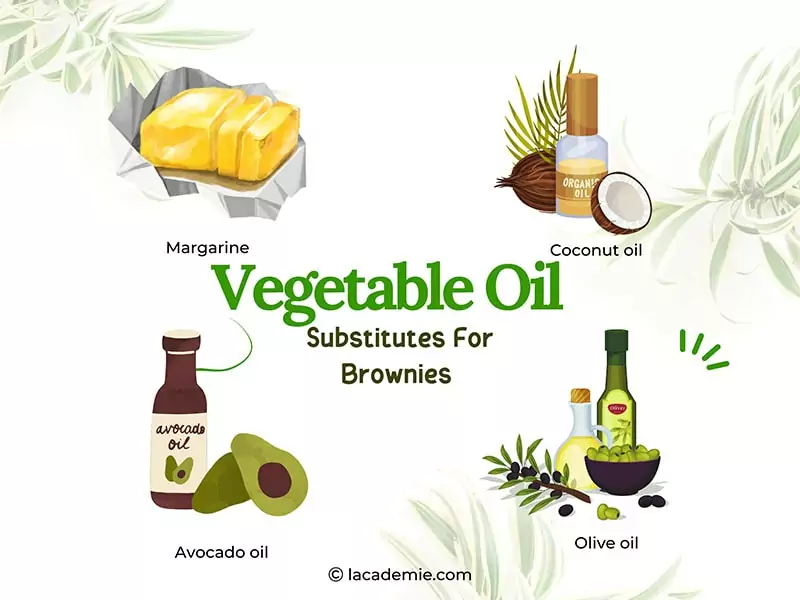 14 Superb Vegetable Oil Substitutes For The Best Brownies
No vegetable oil? Or has yours long passed the shelf-life of vegetable oil Here's what you can do in this situation. Skim through the list I've rounded up for you to see which can fit the role of vegetable oil in your brownies.
Oil-Based Substitutes For Vegetable Oil
Margarine
Olive oil
Canola oil
Avocado oil
Sunflower oil
Coconut oil
Shortening
Other Substitutes For Vegetable Oil
Butter
Applesauce
Fruit puree
Vanilla extract
Greek yogurt
Buttermilk
Cornstarch
These substitutes can wait, but your brownies can't. Let's go!
What Is Vegetable Oil, And Why Do Your Brownies Need It?
As the name implies, vegetable oil is made from vegetables. Yes, that's correct, but what else do you know about this pantry staple? And why does the success of your dessert greatly depend on it? The answers are below, my friend.
Everything You Need To Know About Vegetable Oil
Vegetable oil, sometimes known as vegetable fats, is a kind of oil extracted from a plant source (not necessarily from vegetables, can be fruits, seeds, or grains). Most bottles you see on the rack are a blend of different types of oil: canola, sunflower, palm, and so on.
Overall, it's a popular choice for cooking since it's inexpensive and has a neutral flavor, which does not affect the final taste of your recipe. With a high-medium smoking point, vegetable oil is ideal for stir-fried dishes, grilled items, or baked goods – brownies included.
Vegetable Oil And Its Role In Baked Goods, Including Brownies
Besides brownies, other delicious baked goods such as bread or muffins sometimes call for this type of oil as well. But what's the reason, though, since it does not impart any flavor or color to the final result?
The answer is that vegetable oil keeps your baking desserts fluffy and ultra-moist. It does that by retaining gasses released from a chemical reaction caused by baking powder and baking soda and preventing gluten formation since it has a high-fat content.
Satisfactory Substitutes For Vegetable Oil In Brownies
With such incredible benefits, vegetable oil is a pantry essential in every household. Provided that you are not a fan or happen to have none of it left, turn to the following substitutes.
Most alternatives below are vegan-friendly, some have less fat than others, and few won't be suitable if you have special dietary requirements. Whatever your choice or whatever unique kinds of brownies you're making is, the result will not let you down, trust me.
The chart below offers you a quick look at the substitutes and their corresponding ratio for vegetable oil in brownies. Check it out!
| Substitutes | Substitute Ratio In Brownies |
| --- | --- |
| Margarine | 1 tbsp of vegetable oil = 1 tbsp of margarine |
| Olive oil | 1 tbsp of vegetable oil = 1 tbsp of olive oil |
| Canola oil | 1 tbsp of vegetable oil = 1 tbsp of canola oil |
| Avocado oil | 1 tbsp of vegetable oil = 1 tbsp of avocado oil |
| Sunflower oil | 1 tbsp of vegetable oil = 1 tbsp of sunflower oil |
| Coconut oil | 1 tbsp of vegetable oil = 1 tbsp of coconut |
| Shortening | 1 tbsp of vegetable oil = 1 tbsp of shortening, melted |
| Butter | 1 tbsp of vegetable oil = 1 tbsp of butter |
| Applesauce | 1 tbsp of vegetable oil = 1 tbsp of applesauce; 1 tbsp of vegetable oil = ¼ tbsp of applesauce + reduce sugar amount if the taste is too strong; Reduce other liquid ingredients by half |
| Fruit puree | 1 tbsp of vegetable oil = 1 tbsp of fruit puree; Reduce other liquid ingredients by half |
| Vanilla extract | Start with a tiny amount and add up to taste |
| Greek yogurt | 1 tbsp of vegetable oil = 1 tbsp of yogurt; ½ tbsp of vegetable oil = ½ tbsp of yogurt + 2 eggs for box recipes |
| Buttermilk | 1 tbsp of vegetable oil = ½ tbsp of buttermilk. Reduce baking time by at least 10 minutes and add a little water. |
| Cornstarch | 1 tbsp of vegetable oil = 1 tbsp of cornstarch |
Oil-Based Alternatives For Vegetable Oil In Baking Brownies
Most cooking oils can be replaced seamlessly without problems, so long as you are not too picky with your food. They come in a myriad of variants: strong or light, refined or unrefined, so ensure to do a quick taste test before taking the plunge.
What's the better substitute for vegetable oil other than its by-product, margarine? It is preferred to slather on bread or sprinkle on crackers and is often used interchangeably with butter, which is also a vegetable oil substitute.
Margarine is usually most people's choice when they need an alternative for shortenings as well. So next time if you're not sure whether your Crisco can become rancid and don't want to take the rist, just opt for margarine. The difference is so minute you probably won't notice it.
Margarine has a mildly pleasant taste that is akin to butter. Thus, you can be assured that the naturally sweet and rich chocolate flavor of brownies is not affected, not even in the slightest. It also offers brownies a smooth exterior that entices people into taking a bite.
For one serving of vegetable oil, replace it with an equal amount of margarine.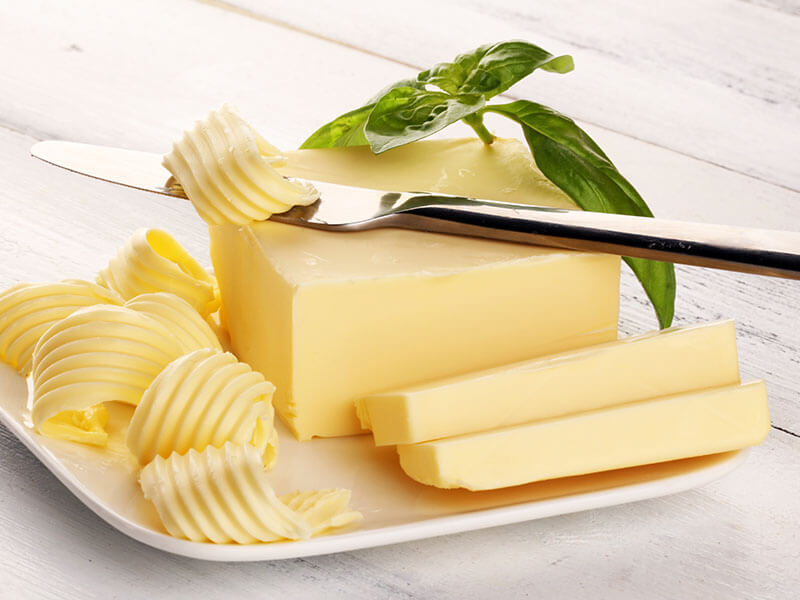 Olive oil is another option you may want to weigh up when vegetable oil is not at hand. Some love to use it as dressings, some prefer to drizzle on pasta, while some think it's best in brownies.
What sets olive oil apart from other kinds is its distinctive aroma and taste, which vary based on quality, age, and other factors. For example, top-quality bottles have quite a pleasant grassy flavor, while those on the lower end of the price scale taste just like oil.
Olive oil can sometimes be overpowering, so go for light or extra light variants instead of strong ones. When incorporated into the brownie mix, you will notice a significant change in taste: fruity nuances with a slightly bitter aftertaste.
What's unique about olive oil is that it can be a stand-in for many other oil varieties. One of the most accessible alternatives for peanut oil is olive oil. And when it comes to the best replacements for sesame oil, the prime candidate is, you guessed it, olive oil.
To substitute olive oil for vegetable oil, follow the 1:1 ratio.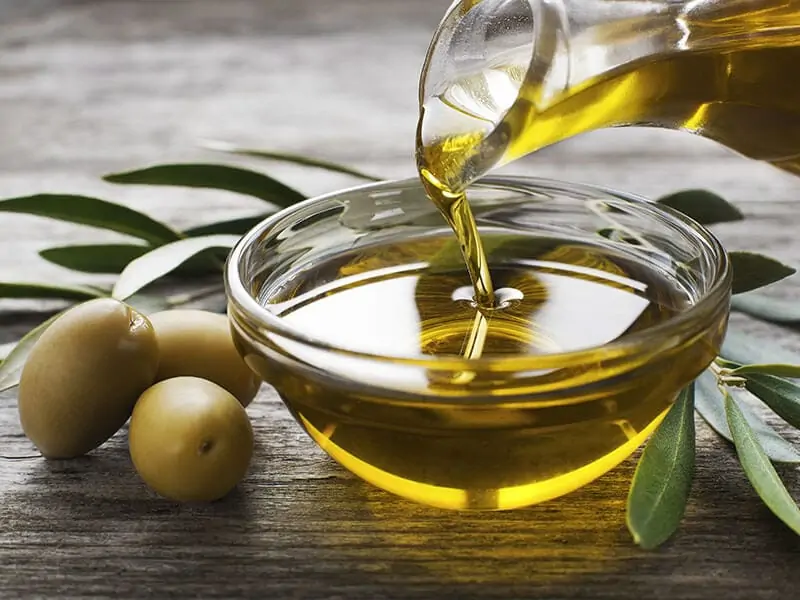 3. Canola Oil
Not many people have a soft spot for canola oil because it is often regarded as toxic for people's health. They are not wrong, though, since it's derived from rapeseed. However, once refined and processed, canola oil is perfectly safe to consume.
In fact, canola oil has been proven to be low in saturated fat and rich in essential vitamins. It has a neutral taste, so it's a great addition to your brownie recipe when vegetable oil is nowhere to be found.
Thanks to canola oil's high smoking point, it's also among the top oils for making popcorn. Although it's not as rich or buttery as coconut oil, a classic combination for popcorn, canola oil is great when you want the added seasonings and flavors to shine.
If the recipe requires a cup of vegetable oil, swap it with the same amount of canola oil.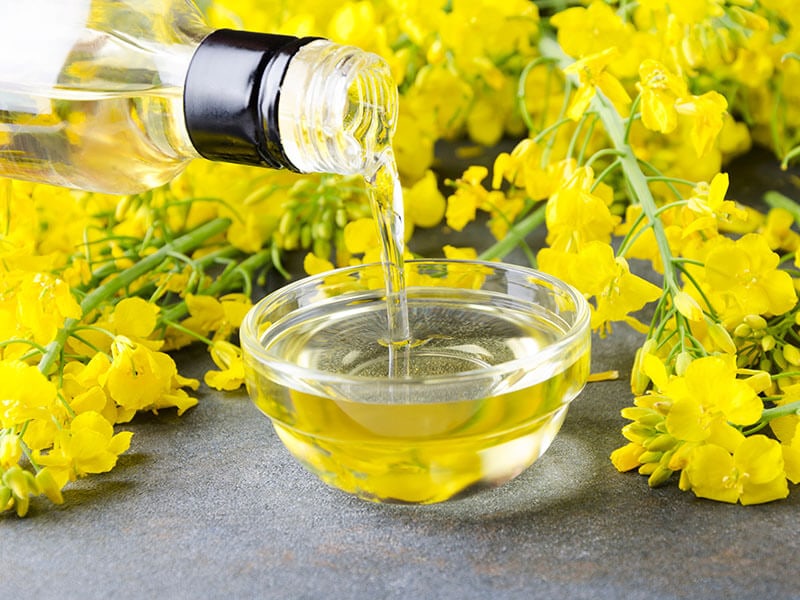 Avocado oil is more than welcome in your pan-fried dishes, barbecue items, and baked goods. It is known for countless health benefits, namely reducing cholesterol, improving eye health, and enhancing wound healing. (1)
With a delicate taste, avocado oil won't mess with your brownies. Instead, it complements the sweet, earthy flavor with a touch of buttery richness. Like vegetable oil, avocado oil does an excellent job of keeping the center moist and tender.
The substitute ratio would also be 1:1.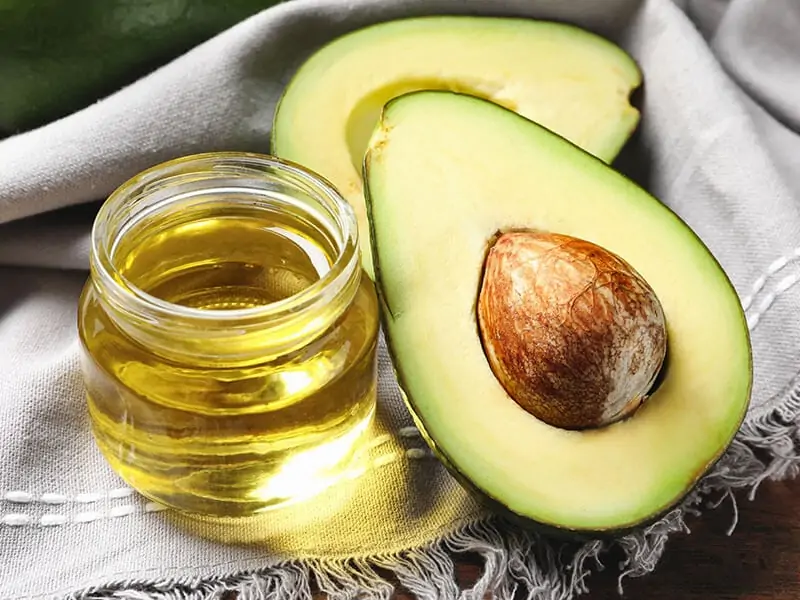 This homemade avocado oil is miles better than store-bought products. You can see this video to know more:
Sunflower oil is no stranger to the medical field. It has long been associated with skin, hair, and heart health, (2) but it's also a staple in the kitchen. With a high smoking point and a nutty relish, it is commonly used as a frying oil or to make creamy mayonnaise.
Sunflower oil works on the same principle as vegetable oil when used in brownies. It does wonders to the interior, making it extra fudgy. If you are one of those supertasters, you can tell that brownies made with sunflower oil are loaded with nutty undertones.
Use sunflower oil as a 1:1 replacement ratio.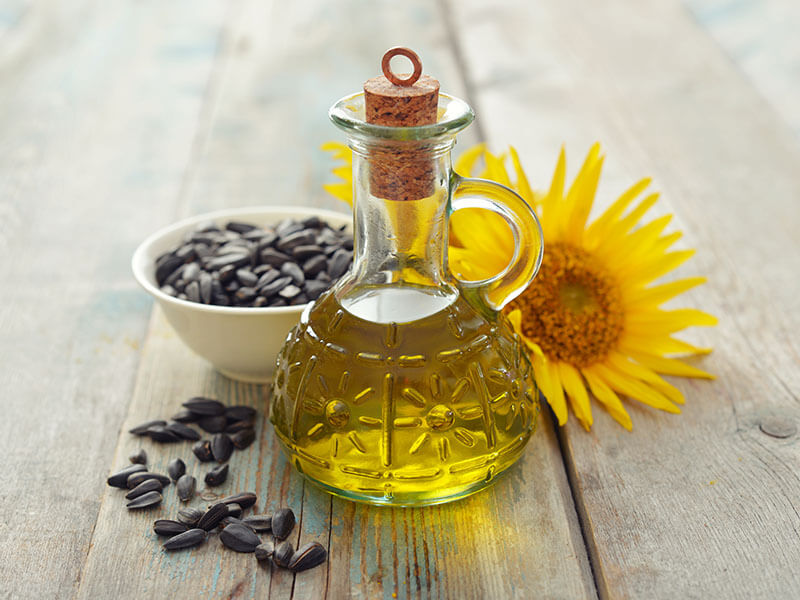 One of my favorites on the list, coconut oil genuinely deserves the hype. It's a versatile beauty product, a health booster, and a key ingredient that turns your dessert into an instant crowd-pleaser.
People are obsessed with coconut oil because of its sweet, nutty aroma. Sadly, this hallmark is dampened when baked. Like other alternatives, coconut oil will also give brownies a wonderful texture, and rest assured that you won't stop at just one.
Refined coconut oil is your best bet. Likewise, the substitute ratio is one to one.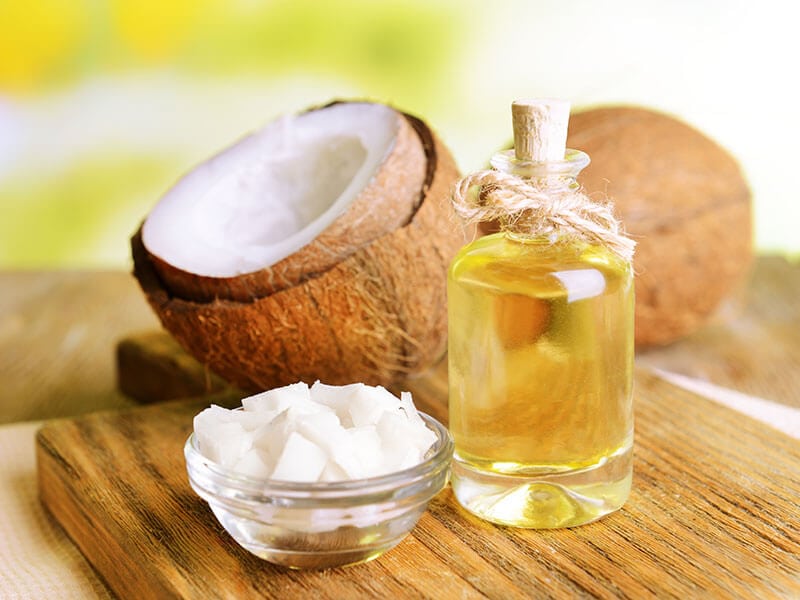 7. Shortening
Shortening has been around since the 18th century. The product was traditionally made from vegetable oil or animal fat, but modern versions are mainly associated with the first choice. It is typically used to improve the texture of baked goods.
Nonetheless, that does not mean shortening is an ideal substitute for vegetable oil. Since it's a solid fat, it allows air to enter the batter when beaten, resulting in a cakey texture. Thus, it should be the last resort if you cannot find the oil substitutes mentioned above.
To replace one tablespoon of vegetable oil, melt an equal amount of shortening.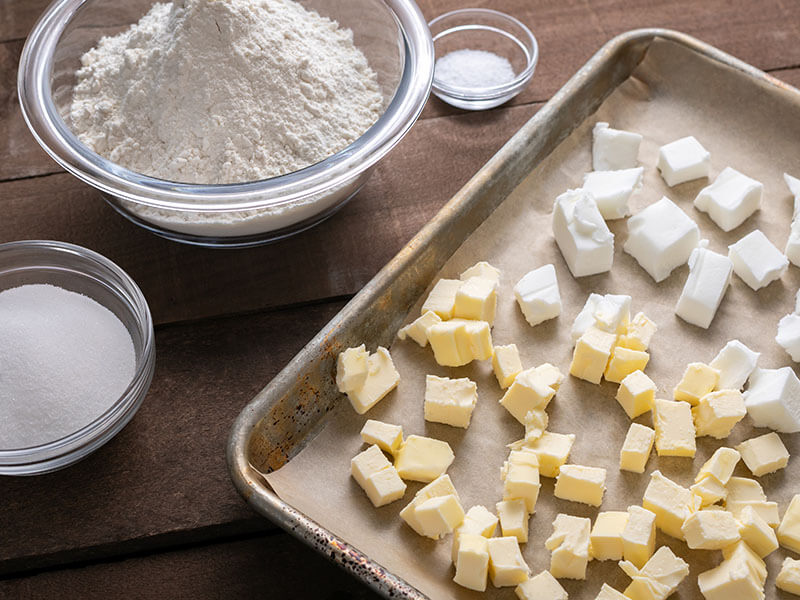 Other Handy Alternatives For Vegetable Oil That Take You Aback
You may already know butter, but what else can substitute vegetable oil without changing the taste and texture of brownies much? The possibilities will undoubtedly make your jaws drop to the floor.
There are two types of people in this world: those who use vegetable oil in their desserts, and the rest opt for butter or margarine. Each ingredient has its pros and cons, and here's the scoop.
Butter is made up of fat (80%), milk solids (5%), and water (15%). The proportion of water, although not significant, has a say in your brownies. It strengthens the flour, making the texture less airy and tender. This does not happen with vegetable oil because it's only fat.
However, when it comes to taste, butter is indeed a better choice. It lends a deep richness to your chocolatey treats, making them more indulgent. Therefore, butter does not sound like a bad choice when you have run out of vegetable oil.
You can also trust butter not to impact the average length of time brownies can stay fresh as butter itself can last for a rather long time. This is why butter remains among the prime candidates for vegetable oil substitutes in brownies.
With one tablespoon of vegetable oil, substitute with an equal amount of butter.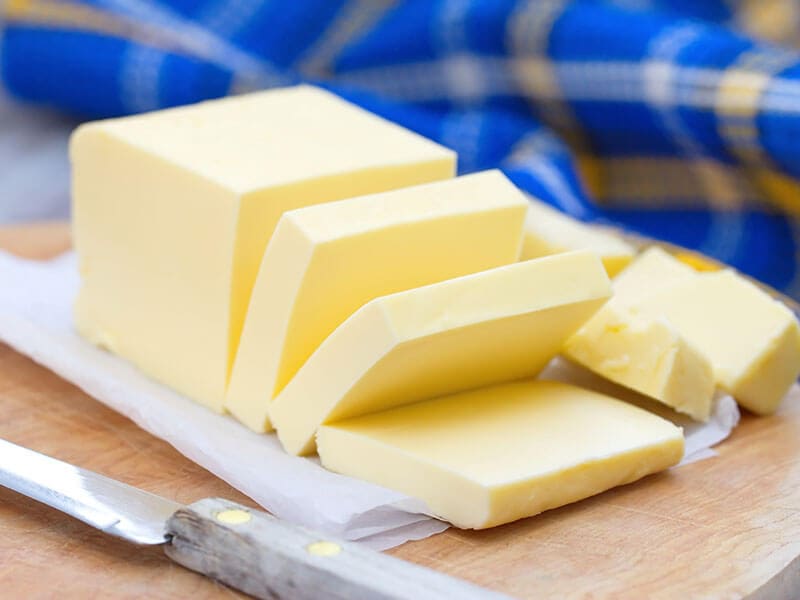 Make butter with only two ingredients – yes, it's real. You can see this video to know more:
Applesauce is not only delicious but also makes a great substitute for vegetable oil in your brownies. Yes, it's true. The best part is, you can quickly whip up a batch of applesauce at home or grab a store-bought jar at any local grocery store and supermarket.
Most people are skeptical about this swap since applesauce has a distinctly fruity taste, so it may not pair well with the chocolatey flavor of brownies. However, you'll be glad to know that the taste is not affected but only the consistency – in a good way, of course.
Applesauce does a beautiful job of keeping brownies moist and fudgy, especially when you're trying to figure out how to make cakes from brownies mix. Besides, the sauce is an excellent alternative for weight watchers since it reduces calories. These two are truly a match made in heaven.
The substitute ratio is 1:1. If the taste is too pronounced, lessen the amount of sauce by ¼ cup. Also, use less sugar than the recipe initially requires.
If you can replace vegetable oil with applesauce, which is apple puree, you can expect to do the same with other kinds of fruit. Mild flavors like avocado or banana are highly recommended, but feel free to experiment with whatever is at your disposal.
Here's a thing about teaming up fruit puree with brownies. When baked in the oven, they will puff up and be more cake-like instead of flat. Plus, you will have to be careful with liquid content. Otherwise, you will end up with a batch of soggy chocolate cubes.
Replace one tablespoon of vegetable oil with one tablespoon of fruit puree and reduce other liquid ingredients by half.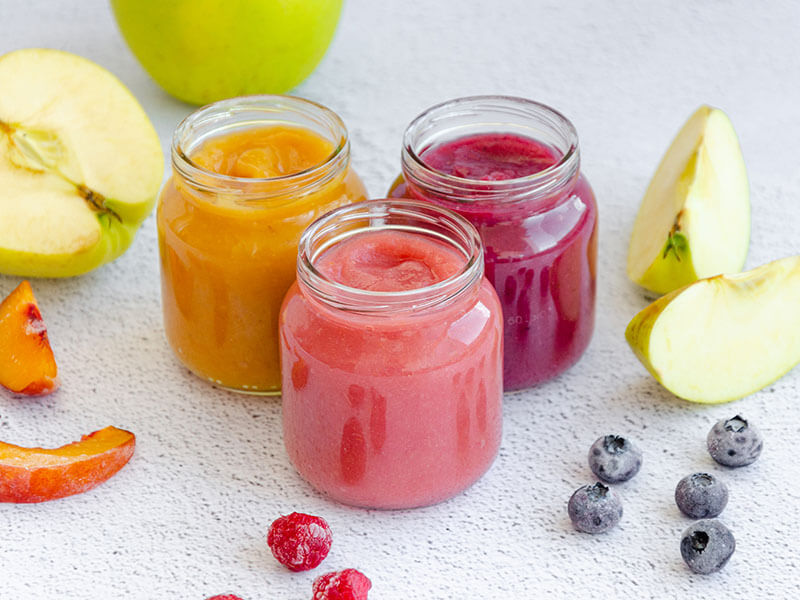 Fruit puree has never been easier this way.
Without vanilla extract, many desserts lose their charms. It carries a lovely fragrance that is certain to lift your spirit at the very first whiff. Besides cakes and pastries, vanilla is the star of many hot beverages and even savory meals.
And yes, vanilla extract can stand in for vegetable oil so long as you adjust the amount of sugar you use, or your brownies would be way too sweet. Vanilla does not help much with the texture, but sure enough, it makes your treats taste a million times better.
There's no straight ratio for this option, so start with a tiny amount first. Otherwise, the potent sweetness will overwhelm the chocolate flavor of brownies.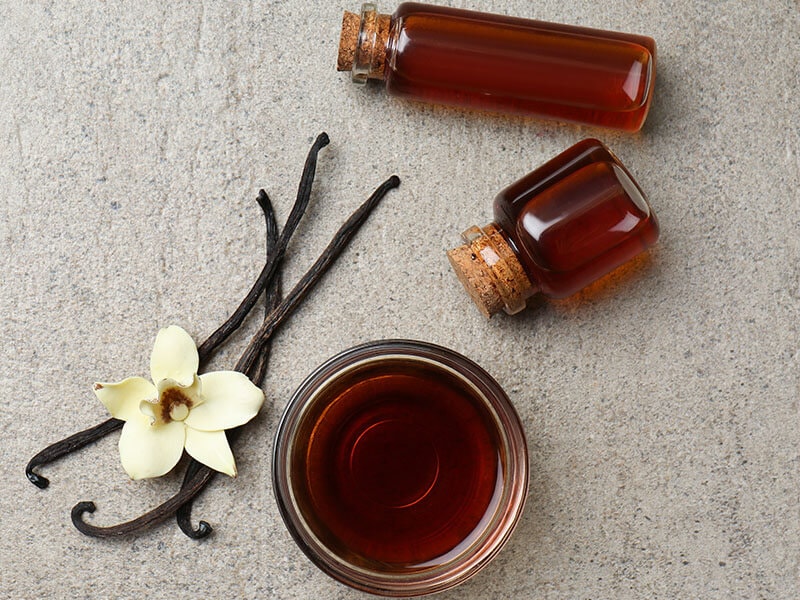 Yogurt is terrific on its own, but did you know that you can add a dollop to brownie mix? If you didn't, it's not too late to try this bold move, especially if you have run out of vegetable oil and are looking for an alternative.
With a characteristic tartness, yogurt is initially thought to clash with the chocolate flavor of brownies. However, the result is entirely unexpected. The flavor is unparalleled, and you'll be surprised how moist and tender it is on your tongue.
Replace yogurt with vegetable oil as a 1:1 substitute. For a box recipe, substitute ½ cup of yogurt and two eggs for ½ cup of vegetable oil.
Note: Yogurt is a dairy product, so it is not ideal for those who are lactose intolerant.
Your hunger pangs will kick in when you see this fantastic yogurt recipe.
13. Buttermilk
Another daily product you can pick instead of yogurt is buttermilk. As the name suggests, it's made from butter, milk, and an acid of choice. It's sort of tangy, but not too much to outshine the chocolate flavors of brownies.
Buttermilk is famous for making baked treats rise well. But this ingredient does not last long. You can store it in the fridge for approximately two weeks. One of the signs indicating your buttermilk has gone bad is the strange odor or the appearance of mold.
A half part of buttermilk will equal a part of vegetable oil. To avoid the finished products from drying out, reduce the baking time for about 10 minutes or add a little water.
14. Cornstarch
Astonishingly, cornstarch is an ideal option to fill in vegetable oil's absence. In truth, it has long been added to brownie mix, resulting in a mouth-watering batch of brownies with crispy edges and a super-moist center.
You will combine cornstarch with water, then heat the mixture until the desired consistency is achieved. Add the mixture to the brownie mix and enjoy the result without worrying about the amount of fat and cholesterol.
Again, the swap ratio is 1:1.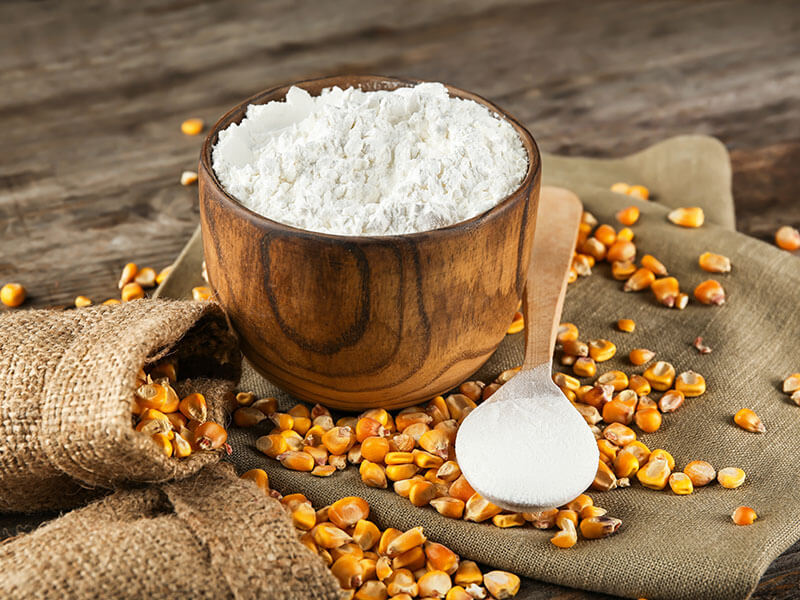 FAQs
Feeling dazed and confused after scrolling through the post? Well then, don't skip the next section, where all the answers to your questions are waiting.
The Two-Minute Rule
Have you decided which is the best vegetable oil substitute for brownies? I bet you have! Whatever it is, I'm positive that the result will be splendid and won't last long on the table. And now, brownie master, it's time for a classic trick when using these substitutes.
I like to call it "the two-minute rule," which means you will be leaving these little brownish guys in the oven for an extra two minutes as per the time you bake. This helps your brownies receive the same taste and texture as you would with the original recipe.
I hope you find this post and the provided replacements helpful. As usual, I'm waiting for you to show off the results in the comment section. More questions or tips are more than welcome here. Have fun baking!
Nutrition Facts
16 servings per container
---
Amount Per ServingCalories139
% Daily Value *
Total Fat 6.8g

10

%
Cholesterol 38mg

13

%
Sodium 85mg

4

%
Potassium 55mg

2

%
Total Carbohydrate 20.1g

7

%

Dietary Fiber 1g

4

%
Sugars 15.8g

Protein 1.8g

2

%
---
Calcium

9

%
Iron

1

%
Vitamin D

6

%
* The % Daily Value tells you how much a nutrient in a serving of food contributes to a daily diet. 2,000 calories a day is used for general nutrition advice.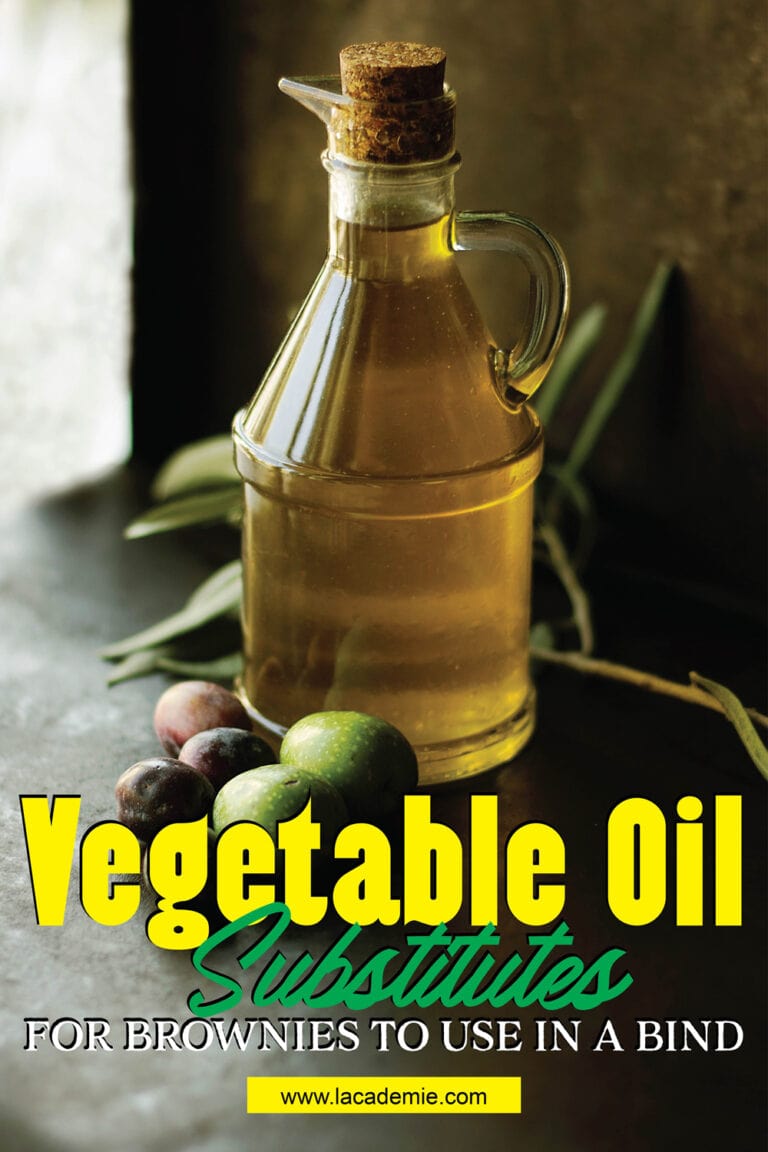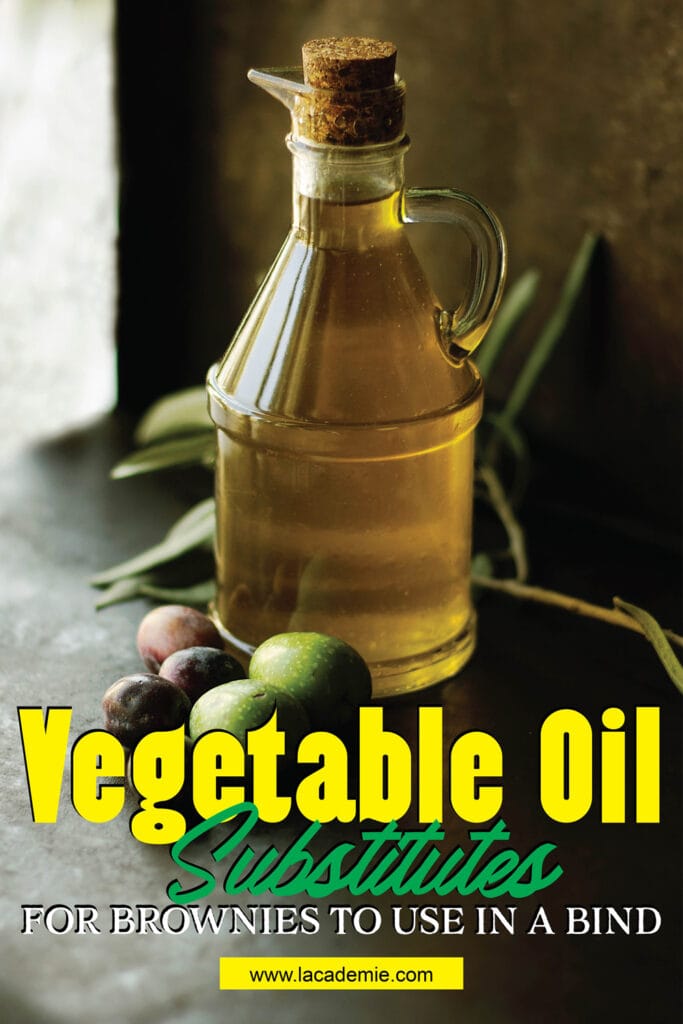 References
Healthline. 2021. 8 Evidence-Based Health Benefits of Avocado Oil. [online] Available at: <https://www.healthline.com/nutrition/9-avocado-oil-benefits>.
Dalziel, L., 2021. Sunflower Oil: Is it Good or Bad for You?. [online] New Idea. Available at: <https://www.newidea.com.au/sunflower-oil-healthy>.