Shortening substitutes may be easy to look for, but do you know the best replacements and how you can use them in specific recipes? I bet that you don't know. These alternatives in this article will help you prepare some kitchen tips for shortening uses.
In fact, shortening is easy to buy in the supermarket. A famous brand of them is Crisco. And if you are unsure whether your Crisco can be spoiled, yes, they can become rancid, like other normal food.
So when you intend to bake a delicious cake, what would you do if you find your shortening gone bad and it is too late to go out for another one? I am sure this experience will be an unpleasant feeling.
Don't let this situation make it hard to complete your cake since you can choose lots of shortening substitutes. Keep reading and find out exciting information. Especially if you love cooking biscuits, bread, or cream cakes, you can't miss this post.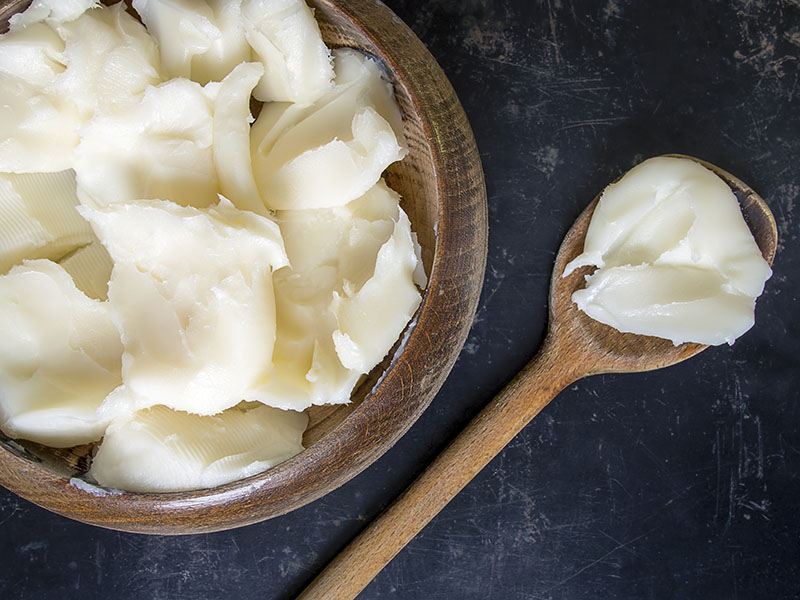 An Amazing List Of Best Shortening Substitutes
Right now, I will indicate to you the best list of shortening substitutes that you might not know. The list is categorized into three groups: animal types, vegetable oils, and other shortening swaps. Each replacement will have its unique flavor and texture.
Shortening Replacements From Animals
Lard
Bacon Grease
Other Animal Fat
Vegetable Oils As Shortening Substitutes
Avocado Oil
Coconut Oil
Olive Oil
Palm Oil
Safflower Oil
Sesame Oil
Other Shortening Alternatives
Applesauce
Butter
Vegan Butter
Ghee
Margarine
Cooking Spray
Quick Description Of Shortening
If you are a fan of homemade baked cakes, you must be familiar with shortening. It is an indispensable ingredient in baking cakes, cookies, biscuits, pastries, and pie crusts in a solid state to create a flaky and crumbly texture, while the shortening liquid is often used in fry dishes.
Shortening is usually a kind of solid fat at room temperature made from animal sources or vegetables. It is versatilely used in many dishes, especially in baking recipes, like in Chilean sweet courses. Traditionally, shortening commonly comes from lard as the first ingredient in baked dishes.
Making shortening requires a process of hydrogenation of soybean, vegetable oil, or palm oil. Shortening is flavorless, so it is suitable to combine with a variety of dishes. Due to low water content, it's the perfect match in baking recipes.
There are plenty of variations of shortening, such as solid, liquid, all-purpose, and cake/icing. Each variation has its purpose and is used in different dishes to get the best result. Therefore, to choose a suitable replacement for shortening, it depends on what you intend to cook.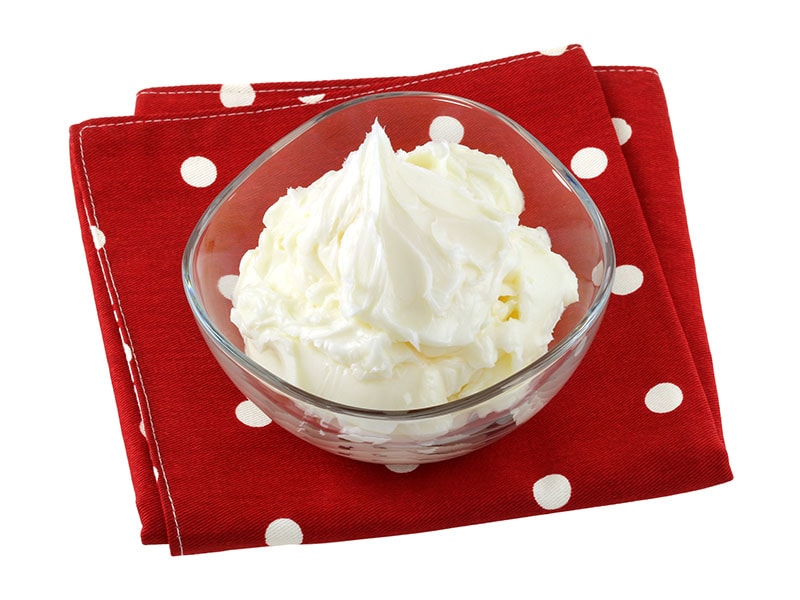 Why Should You Use Shortening Substitutes?
As you know, the process of making shortening is the hydrogenation of soybean, palm oil, or vegetable oil, which leads the liquid to turn into a solid state. As a result, trans fats are formed.
Unfortunately, this substance may harm your health, mainly promoting the risk of heart disease and stroke. Due to this fact, many factories have enhanced the shortening formula to reduce trans fats, but the situation doesn't still become better. (1)
Thus, you had better use healthy substitutes instead of using shortening. Do not worry since you will find the best shortening swaps that seem healthy for your body in the next section.
Comparison Chart Of Substitute Ratio That You Are Finding
Take a look at the table below to compare the substitute ratio between the above fantastic substitutes for shortening.
| | |
| --- | --- |
| Substitutes | Substitute ratio |
| Lard | 1 cup of shortening = 1 cup of lard |
| Bacon grease | 1 cup of shortening = 1 cup of bacon grease |
| Other animal fat | 1 cup of shortening = 1 cup of animal fat – 2 tablespoons |
| Avocado oil | 1 cup of shortening = 1 cup of avocado oil |
| Coconut oil | 1 cup of shortening = 1 cup of coconut oil |
| Olive oil | 1 cup of shortening = 1 cup of olive oil |
| Palm oil | 1 cup of shortening = 1 cup of palm oil |
| Safflower oil | 1 cup of shortening = 1 cup of safflower oil |
| Sesame oil | 1 cup of shortening = 1 cup of sesame oil |
| Applesauce | 2 cups of shortening = 1 cup of applesauce |
| Butter | 1 cup of shortening = 1 cup of butter |
| Vegan butter | 1 cup of shortening = 1 cup of vegan butter |
| Ghee | 1 cup of shortening = 1 cup of ghee |
| Margarine | 1 cup of shortening = 1 cup of margarine + 1 tablespoon |
Incredible Shortening Alternatives That You Have Never Heard
Now I will tell you everything about great shortening substitutes you can use when you're out of shortening. These products will work well with your recipes, maybe better than shortening. However, your dishes might change a little bit in flavor and texture to fit with them.
Fantastic Shortening Replacements From Animal Sources
Firstly, I will discuss shortening substitutes that come from animal sources. Of course, these options are not suitable for vegans and vegetarians.
1. Lard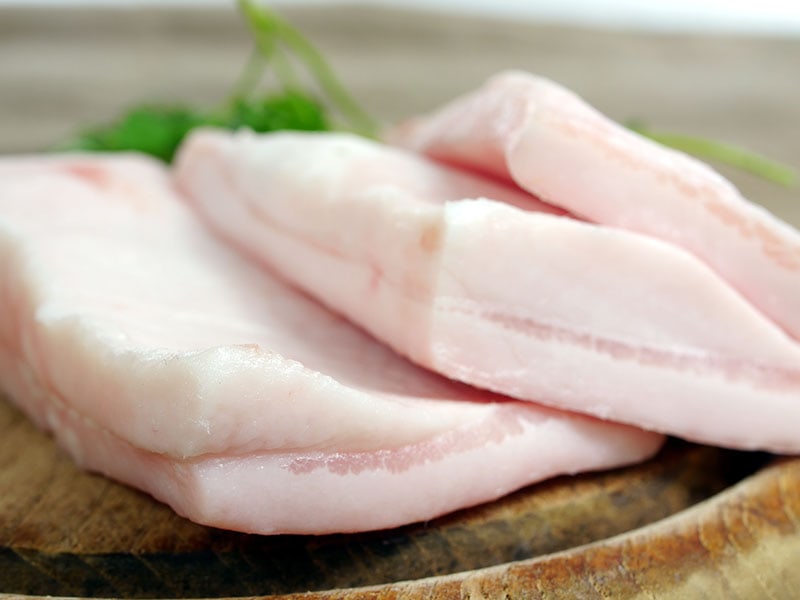 You must be familiar with this food beginning with L. Indeed, lard may be an available ingredient in your kitchen. This fantastic alternative is acceptable to combine in most recipes instead of using shortening. However, if you are on a diet and have to eliminate the fat content, you should not use lard.
Lard is a wonderful swap for shortening to make savory dishes. It is ideal to use lard in making biscuits, pot pie, or cornbread. You can replace lard for shortening at a 1:1 ratio in baking.
In addition, it is also a great idea to use lard in fried dishes because of the high level of smoke point and low water content. (2)
2. Bacon Grease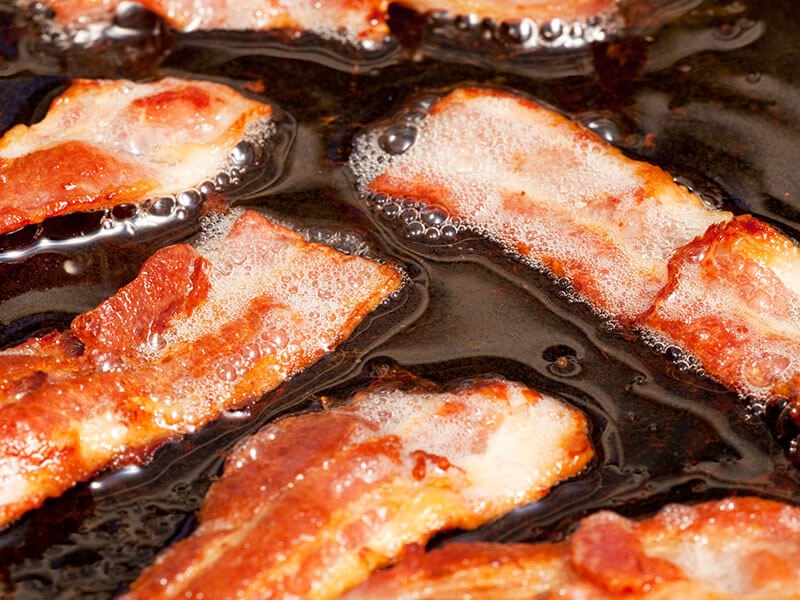 If you usually enjoy bacon grease in your breakfast, you should know this secret. Do not waste the fat from bacon after cooking your favorite dish since it is a rich ingredient to substitute for shortening.
Nevertheless, you should know that this replacement has a distinctive flavor, so your finished product will have a significant change in taste. If you want to experiment with your biscuits with a hint of bacon, try this fantastic shortening swap immediately.
To substitute bacon grease, you should use the same quantity as shortening. For example, if your recipe calls for a cup of shortening, then you need to use a cup of bacon fat to replace shortening.
3. Other Animal Fats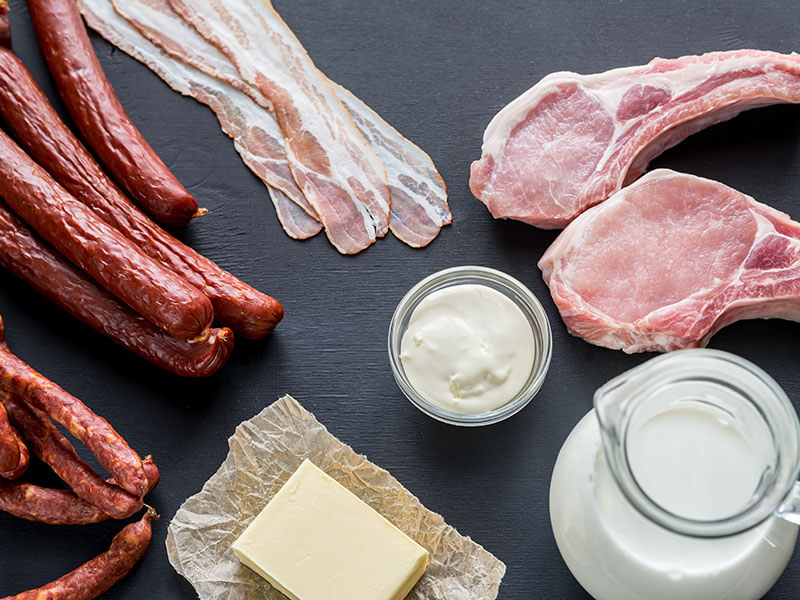 Animal fat is an excellent choice to replace shortening if you don't care about the high content in fat. Because animal fats primarily consist of saturated fat, they can be kept longer than vegetable fats and do not produce toxins in high heat.
If you run out of shortening in your kitchen, you can consider using any animal fat. Remember to use an amount less than shortening due to their high-fat content. I am sure that you don't want your goods to contain lots of fat.
In particular, if your recipe requires a cup of shortening, you can substitute a cup of animal fat minus two tablespoons compared to the use of shortening.
Fabulous Shortening Alternatives From Vegetable Oils
Vegetable oils are made from nuts, oilseeds, legumes, or the flesh of some fruits. Vegetable oils have lower saturated fats than other shortening alternatives, but they may give an unexpected texture to your baked products because they are liquid at room temperature.
It is best to use vegetable oils in deep frying or other dishes calling for melted shortening. Moreover, vegetable oils like avocado oil, coconut oil, olive oil, palm oil, safflower oil, sesame oil are healthy options to bring distinctive flavors to your recipes.
4. Avocado Oil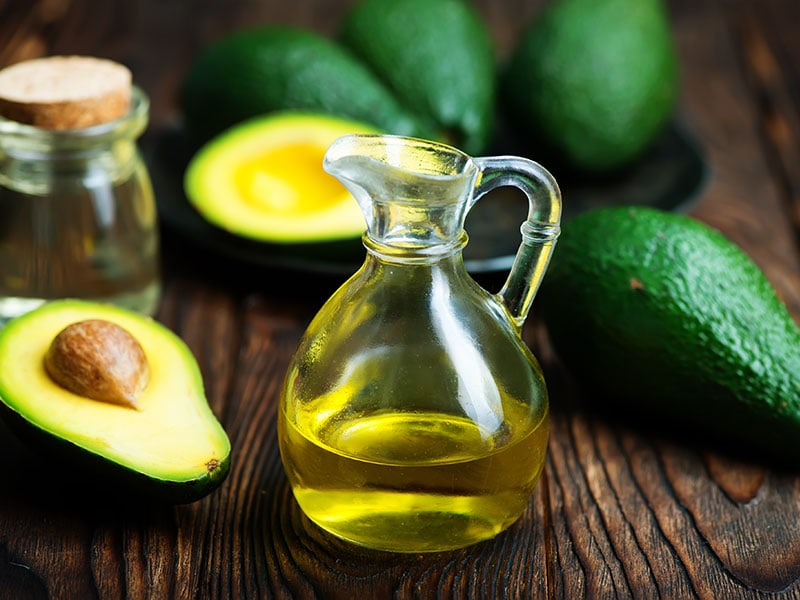 Avocado oil is a fabulous replacement for shortening with antioxidants and healthy fats. You can find many excellent choices for avocado oil on the market. And thanks to its high smoke point, avocado oil matches with fried dishes, baked or roasted recipes.
You should substitute 1 cup of avocado oil for 1 cup of shortening. By using avocado oil, the texture of your products will be creamy, and the flavor is quite nutty and mild.
5. Coconut Oil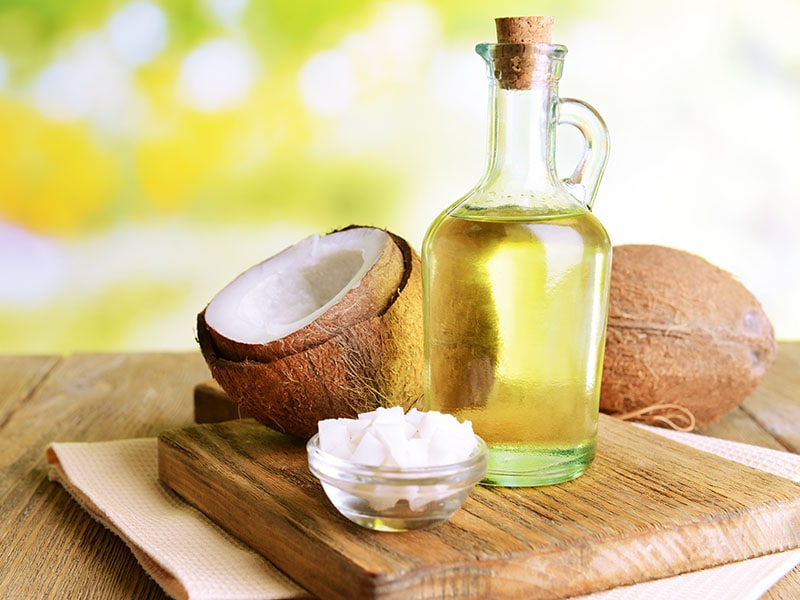 Coconut oil is a healthy swap for shortening. The consistency of coconut oil is similar to butter due to its solid state at room temperature. This fantastic oil will surprise you because it contains a higher fat level than even lard.
Will coconut oil become rancid? Unfortunately, it will, if you don't store it properperly. Therefore, before using it to replace shortening, you have to make sure your coconut oil is safe to consume.
Coconut oil can be used in the same measurements as shortening. To make it clear, you should follow a 1:1 ratio when swapping coconut oil for shortening.
You should notice that coconut oil will make your products taste coconut flavor and have a unique aroma. Therefore, go to this routine if you want your products to have a hint of coconut.
6. Olive Oil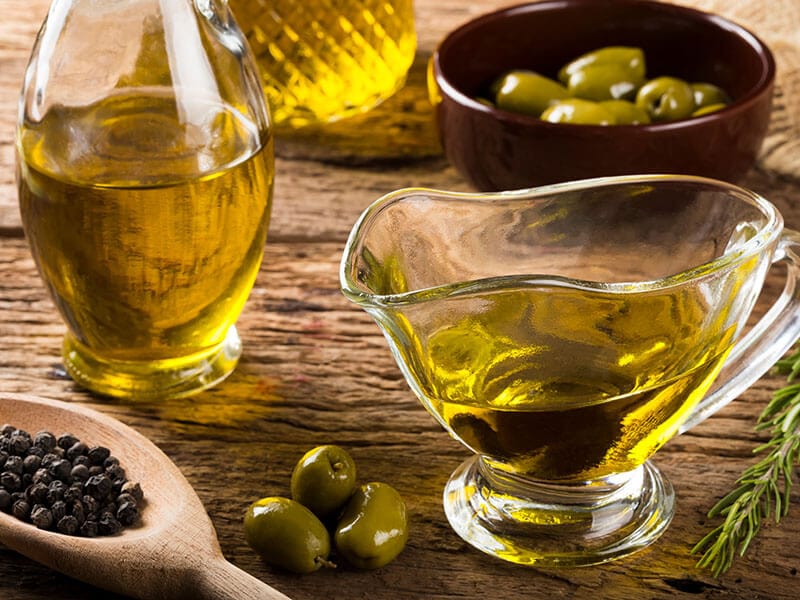 Olive oil can be seen as a healthy cooking oil because this fantastic oil is an excellent source of vitamins, minerals, and antioxidants. Olive oil is a liquid fat extracted from olives, so it brings positive effects on your heart as well as cholesterol levels.
This healthy oil does not oxidize when cooking with high heat and still retains its health benefits. You can use olive oil in baked goods, although the finished products may have a strong flavor of olives.
You can use olive oil in the exact measurements as shortening in your recipes. In other words, you can use one cup of olive oil instead of one cup of shortening.
7. Palm Oil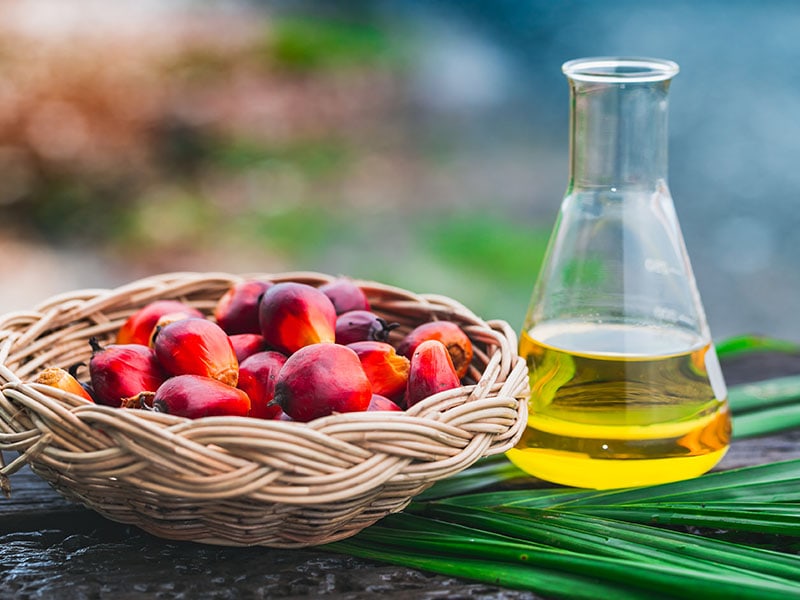 Palm oil is a kind of cooking oil extracted from palm trees. This natural oil is high in fat content and smoke point, so it is an excellent substitute for shortening in frying, sauteing, and baking. Besides cooking uses, palm oil is also used in cosmetics or pharmaceuticals.
Adding palm oil to your baked recipes will give the products a savory flavor, and the texture will become crispy and creamy. You should use a cup of palm oil to replace a cup of shortening.
8. Safflower Oil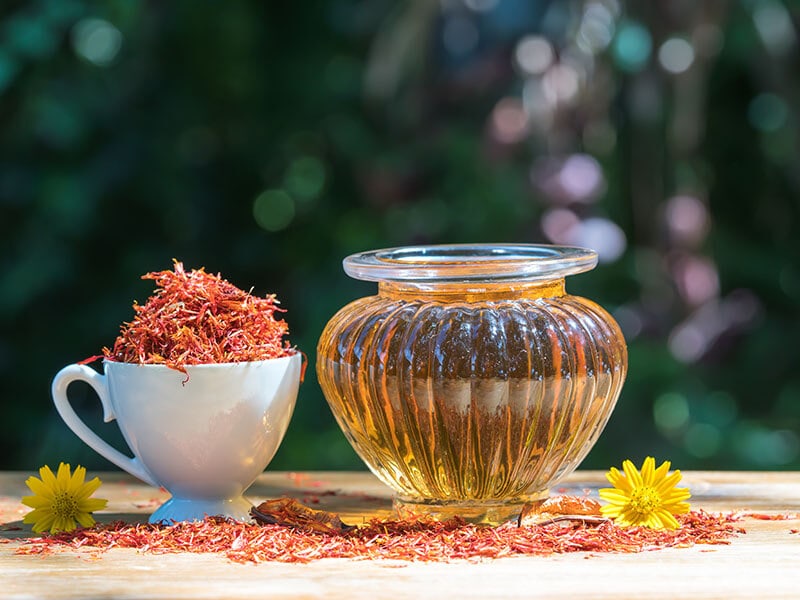 Safflower is one of the healthiest shortening substitutes and is a good recommendation if you want to reuse oil after frying chicken. This excellent oil has a neutral flavor and is high in smoke point, so it is ideal for adding to your baked recipes, fried dishes, and cooking on high heat.
Safflower oil also brings health benefits to your body, such as improving heart health because safflower seeds produce unsaturated fat. You can substitute shortening with safflower oil as a 1:1 ratio.
9. Sesame Oil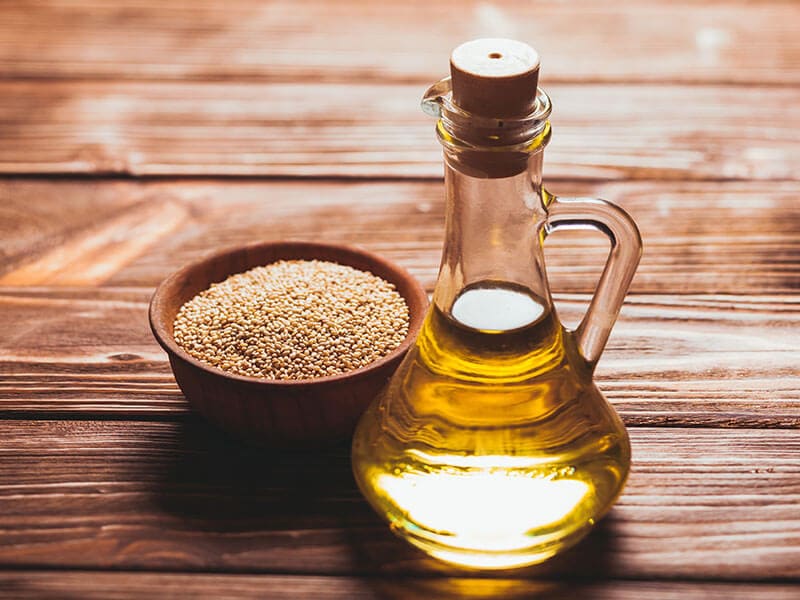 Like safflower, sesame oil also has a high smoke point with a unique and nutty flavor due to sesame seeds. This fantastic oil will work well in baked or fried goods. You should use refined sesame oil instead of an unrefined one to get a lighter taste in your dishes.
There are several good-quality sesame oils to choose from. Indeed, sesame oil is a wonderful ingredient for dishes that require high heat. This oil is prevalent in Japanese, Asian, and Korean dishes. It also consists of antioxidants that help you soothe the skin and diminish lipids in the blood.
How to substitute sesame oil for shortening? It's super easy since you just need to replace one cup of shortening with one cup of sesame oil.
Other Fantastic Shortening Substitutes That You Can't Resist
Besides animal sources and vegetable oils, there are other amazing substitutes for shortening. Below are the most excellent alternatives for shortening in addition to animal fat and vegetable oils, but they may have their unique flavors and fit in different recipes.
10. Applesauce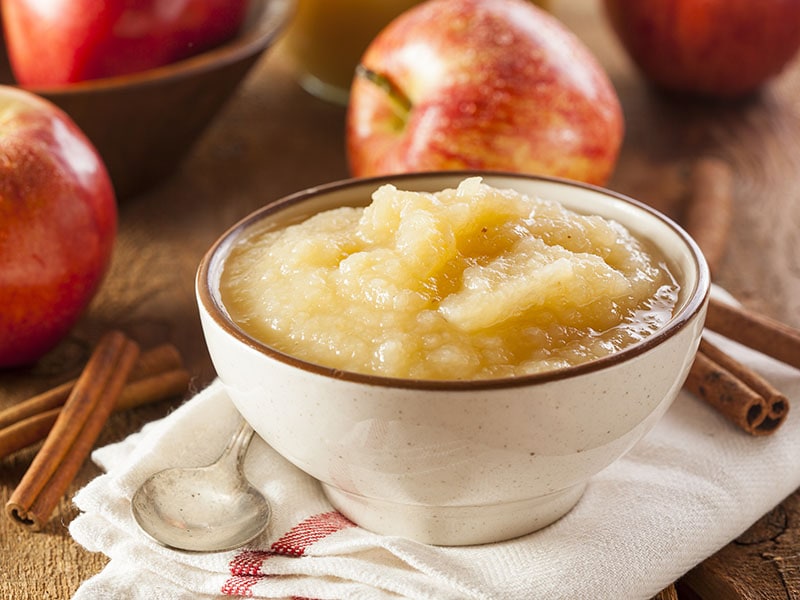 Applesauce is a remarkable swap for shortening, especially in baking with many delectable ideas to cook with applesauce. Applesauce will help your baked goods have more moisture and decrease the fat content.
Due to the natural sweet flavor and the dense texture of applesauce, you had better reduce the amount of applesauce instead of using the same amount as shortening. Despite applesauce's advantages, the texture of your finished product might change due to its low-fat content.
With this substitute, you had better use a half quantity of applesauce compared to shortening. For instance, if you want to replace two cups of shortening, you just need to use a cup of applesauce.
11. Butter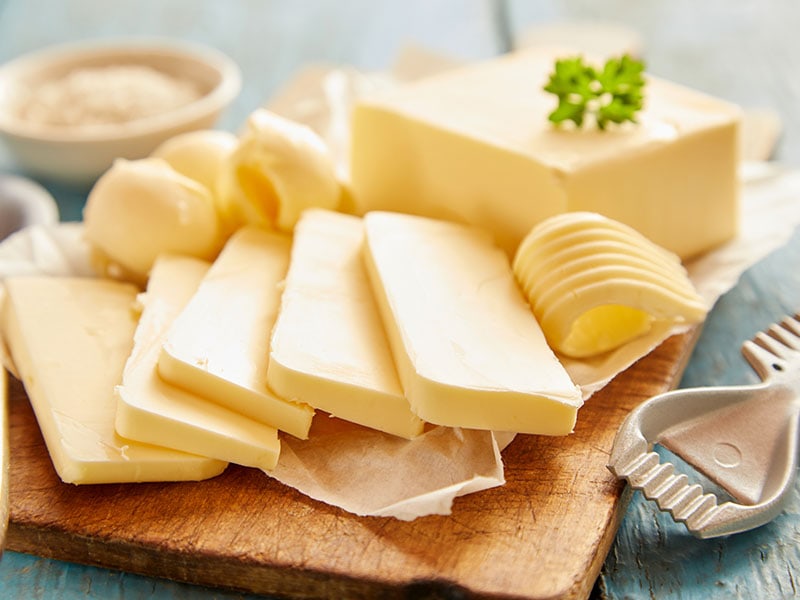 Butter is commonly used to replace shortening because it is mostly available in every household. Butter is versatile and used in many tasty dishes, especially pastry, cookies, and cakes. Using butter will help your baked goods to be flaky and rich in flavor.
Butter has a dash of salty flavor. Thus, when your recipe calls for salt, remember to use less salt if using butter. You should use the same amount of butter as shortening. Try cooking your cakes using butter, and you will be surprised with the result that is full of buttery flavor.
12. Vegan Butter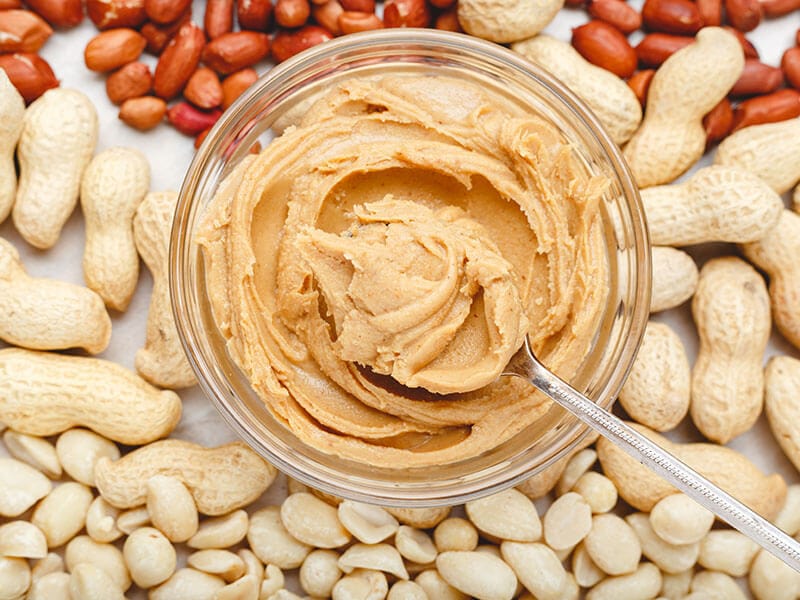 Vegan butter is the combination of water and vegetable oils such as avocado, coconut, olive, or palm oil. This butter is also high in fat content to be a great swap for shortening. It consists of some additives like flavors, emulsifiers, colorings to make the texture and taste perfect.
Sometimes, you can find this butter in the sticks, so you should soften them to be able to use them. Do not expect your products to have the same texture as using shortening. When substituting vegan butter, the texture of your baked goods will change slightly.
You can use an equal quantity of vegan butter in comparison to shortening for a perfect substitute. Try making your recipe with vegan butter as a swap for shortening to see a fantastic result.
13. Ghee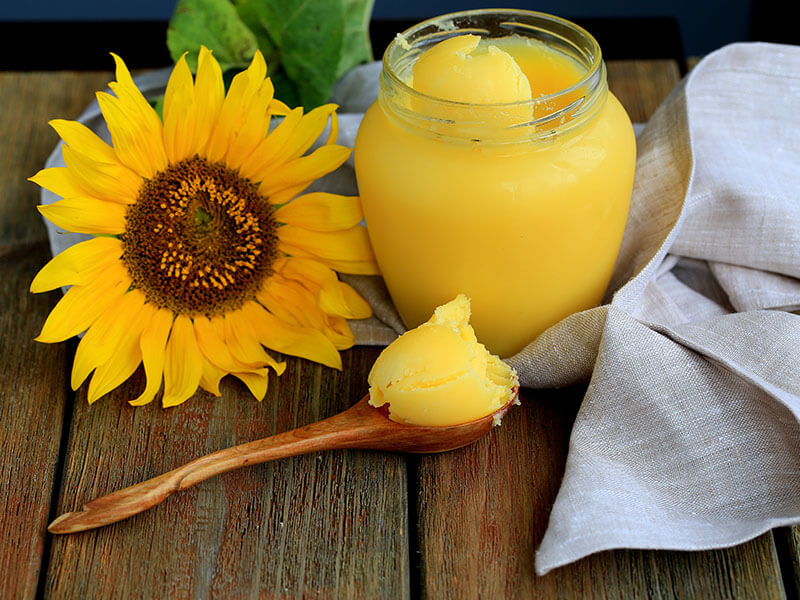 Ghee is also an excellent replacement for shortening, which will give your baked products a buttery flavor like butter. Ghee is similar to butter in both taste and texture. This purified butter has less water content than regular butter.
Like butter, to substitute for shortening, you should use ghee at a 1:1 ratio in the comparison of using shortening. If you love the buttery flavor, try adding ghee in your recipes to see the differences between ghee and butter.
14. Margarine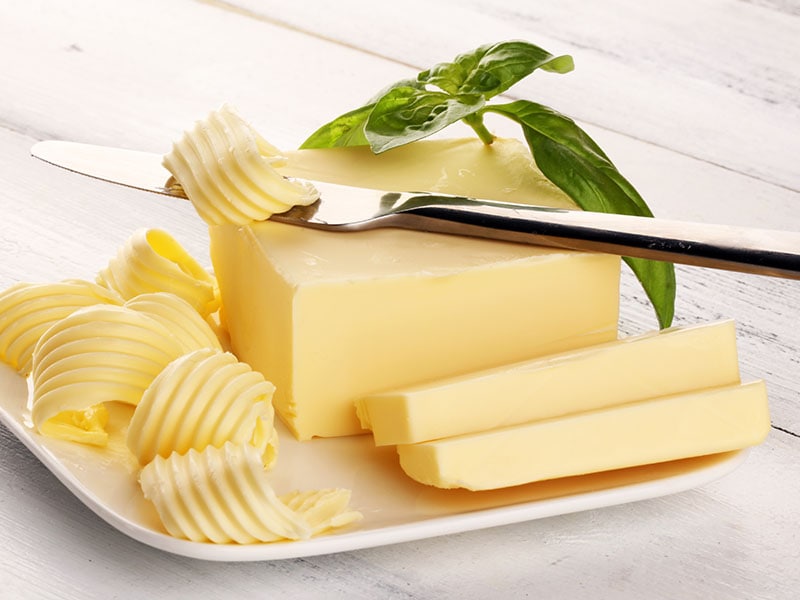 Margarine is also a spectacular alternative for shortening, similar to butter, but it is more special. Like shortening, margarine is made of water and hydrogenated vegetable oils. However, margarine is less in fat content than shortening that consists of 100% fat.
Besides critical ingredients, margarine is usually made of milk and other ingredients to create an impressive flavor. Margarine should be used in baking recipes instead of shortening. It is advisable to add margarine with an extra tablespoon for every cup of shortening.
15. Cooking Spray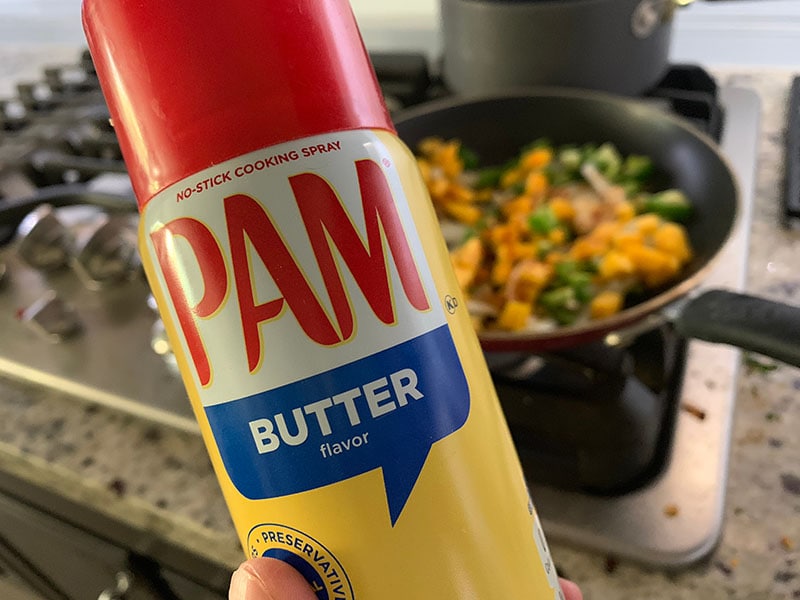 Cooking spray is an excellent alternative for dishes requiring small amounts of oil like grilling, baking, and roasting. If you are finding a shortening substitute to grease your baking pan, the cooking spray will be the best choice since it has a lighter texture and is more convenient.
Cooking oil is lower in calories than conventional oils, so it is suitable for people who want to lose weight. In addition, the cooking spray doesn't need to be exposed to heat, which can produce some hazardous substances for consumption like other oils when cooked on high heat. (3)
Essential Tips For Using Shortening Substitutes
Different recipes will require different shortening substitutes to match these recipes. To gain the best results you expect, you need to choose a suitable swap for shortening in every recipe.
Do not worry since I will help you pick excellent alternatives for shortening to use in your cookies, biscuits, bread, frosting, pie crust, and deep-frying.
The Best Shortening Swaps For Bread
Adding the types of fat to your bread is a great choice to make your bread more delicious and have the best texture. You can use margarine, butter, bacon fat, oil, or lard with the same amount as shortening in your bread recipe to make your bread flavorful and savory.
These substitutes used in bread instead of shortening will not change the texture and have any issue with your bread.
If your recipe for making cookies calls for shortening, you can substitute butter or margarine. More surprisingly, these swaps can make your cookies richer, butterier, flatter, and crispier than using shortening, while cookies with shortening have a milder texture.
You can use butter and margarine at a 1:1 ratio in comparison to shortening. In addition, you can mix butter and coconut oil to get better results and have a hint of coconut flavor.
Excellent Shortening Alternative For Frosting
Butter, margarine, and coconut oil are great swaps for shortening in frosting in spite of significant differences in flavor and texture. Frosting made with shortening is stable and tastes neutral, while frosting made with butter seems to separate and melt at room temperature.
You can substitute a cup of butter for a cup of shortening in frosting. Besides, you can also mix three of these substitutes to make your frosting richer and more flavorful.
Amazing Shortening Replacement For Pie Crust
Butter and margarine can be considered the best alternatives for pie crust. However, pie crust made with shortening will be flakier than using butter.
Therefore, if you don't like a flaky pie crust, you can replace a cup of shortening with a cup of butter plus two tablespoons to get the most delicious pie crust with buttery flavors.
Incredible Shortening Swaps For Biscuits
You can use butter, margarine, or even lard to substitute for shortening at a 1:1 ratio in making biscuits. These shortening substitutes will not cause a change in the flaky texture of your biscuits. Moreover, you can also use coconut oil in place of butter or shortening.
Fabulous Shortening Substitutes For Deep-frying
You can choose among olive oil, avocado oil, palm oil, coconut oil, peanut oil, depending on your preference. It is also ideal for using lard and ghee in deep-frying.
These vegetable oils have unique flavors, so your duty is to choose your favorite flavor. To substitute vegetable oils in deep-frying, you can replace a cup of shortening with a cup of vegetable oil. You shouldn't use margarine or butter in deep-frying due to its dense texture.
Some Fantastic Recipes For Shortening Substitutes
After seizing the best shortening substitutes, I will reveal the most fabulous recipes using these incredible shortening substitutes that you can not miss. Let's discover together.
The vegan vanilla cake definitely fits vegetarians. If you are a fan of moist and fluffy cake, you must know this recipe. The key ingredient to make frosting is vegan butter, which is one of the best shortening substitutes.
The vanilla flavor will make you addicted to its unique aroma. To make the vanilla frosting, you need powdered sugar, vegan butter, soy milk, and vanilla extract. This recipe also calls for fresh strawberries to decorate the cake.
Strawberry toppings will make your cake gorgeous. If you don't like strawberries, you can choose other fruits for decoration depending on your preference.
Follow this amazing recipe to make your vegan vanilla cake for any occasion like your birthday or your party.
Without shortening, you can also make a successful pie crust with olive oil, which can be seen as one of the healthiest shortening alternatives. Not only is this recipe easy to cook, but it is also friendly to your health. A pie crust with olive oil will be a good option for your dessert.
The critical ingredients in this recipe are very simple and easy to find in your kitchens, such as flour, salt, olive oil, and milk. Moreover, it is super quick to cook since you just need to mix all ingredients together and bake.
This is the best olive oil pie crust recipe that you expect.
This recipe doesn't require complicated techniques or fancy ingredients. To make this fantastic coffee cake, you just need a jar of applesauce and some common baking ingredients. This recipe is easy to make for every home cook.
It only takes you about 30 minutes to get a fantastic dessert for fall days. If you are a fan of sweetness and moistness, this perfect applesauce cake is for you. Its sweet flavor is due to the natural taste of applesauce, and the moisture is thanks to extra egg yolk.
This incredible recipe will make your applesauce cakes have the best results.
FAQs
If the above information does not satisfy your issues with shortening substitutes, I believe that you can find the answer to your problems in these frequently asked questions below.
Awesome Uses For Shortening That You Will Surprise
In addition to cooking uses, shortening also has plenty of great uses in your daily life. You must be familiar with shortening in a variety of baked goods, especially pies and cookies. Shortening will help your cookies softer and your pie crusts flakier.
More surprisingly, shortening can be used to make your dry skin moist, grease locks and hinges, in popping popcorn, waffles, etc. Because of its versatile properties, shortening can be seen as an essential ingredient in households.
You don't need to rely on shortening too much since you have many options to substitute shortening. Some of them are even healthy for your body. I hope this post will help you to choose a suitable shortening substitute for your tasty dishes.
If you're interested in the information in this article, please like and share with your friends and relatives to spread the helpful cooking tips. If you have any ideas for other shortening substitutes rather than the above items, please leave a comment to let me know.
Nutrition Facts
1 servings per container
---
Amount Per ServingCalories115
% Daily Value *
Total Fat 13g

20

%
Cholesterol 12mg

4

%
---
* The % Daily Value tells you how much a nutrient in a serving of food contributes to a daily diet. 2,000 calories a day is used for general nutrition advice.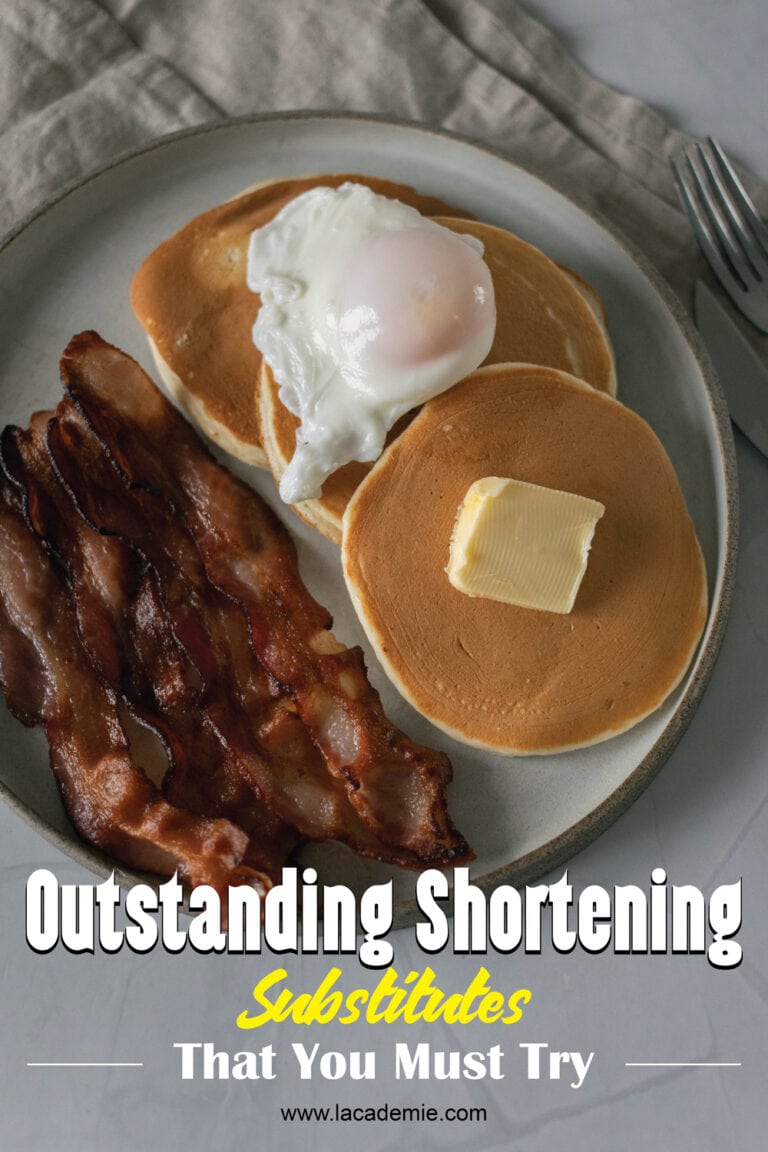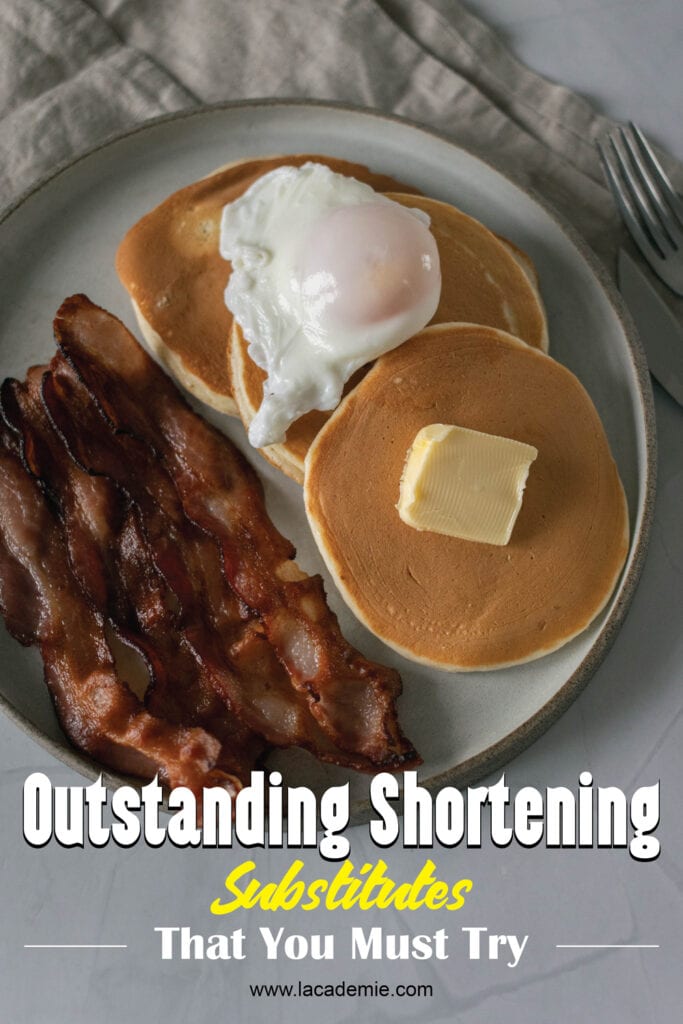 References
Healthline. 2021. Shortening: Good or Bad?.
The Spruce Eats. 2021. Look at the Smoking Points of Common Cooking Fats and Oils.
LIVESTRONG.COM. 2021. What Are the Dangers of Heating Cooking Oil? | Livestrong.com.