"What are the best rice flour substitutes?" is a question that many people ask when they realize that there's no rice flour left in the middle of cooking. If you ever find yourself in that situation, there's no need to worry as you can replace rice flour with a number of ingredients.
In today's post, I'll be covering a dozen viable rice flour replacements and how you can easily make rice flour at home. Sounds good? Keep reading to know what ingredient to use the next time you run out of rice flour!
Rice Flour Alternatives Ratio Roundup
Rice flour is a no-gluten ingredient that is made from finely ground rice. Thanks to its unique texture, rice flour is an essential component for a wide variety of Asian noodles and is commonly used in both gluten-free and gluten-included baked goods.
Here's a table of all the viable alternatives to rice flour and their substitute ratios.
Rice Flour Alternatives
Substitute Ratio
Best For
Cornstarch
1 part rice flour = 1 part cornstarch
Thickening and frying
Coconut Flour
1 part rice flour = ½ part coconut flour
Baking, frying, and thickening
All-Purpose Flour
1 part rice flour = 1 part all-purpose flour
Baking, frying, and thickening
Tapioca Flour
1 part rice flour = 2 parts tapioca flour
Baking and thickening
Millet Flour
1 part rice flour = ¼ part millet flour + ¾ part all-purpose flour
Baking and frying
Chickpea Flour
1 part rice flour = 1 part chickpea flour
Baking flat, dense goods
Potato Starch
1 part rice flour = 1 part potato starch (for frying recipes)

2 tablespoons of rice flour (for thickening 1 cup of liquid) = 1 tablespoon of potato starch + 2 tablespoons of water
Frying, dusting, and thickening
Oat Flour
1 part rice flour = 1 part oat flour
Baking
Almond Flour
1 part rice flour = 1 part almond flour
Baking sweet goods
Sorghum Flour
1 part rice flour = 1 part almond flour
Baking, especially good at rising bread
Amaranth Flour
1 part rice flour = 2 parts Amaranth flour
Baking pan cakes and flat bread, thickening
Soy Flour
1 part rice flour = 1 part soy flour
Baking, frying, and thickening
Buckwheat Flour
1 part rice flour = ¼ to ½ part buckwheat flour + other types of flour
Making soba, baking
13 Perfect Alternatives To Rice Flour
These 13 substitutes are truly a lifesaver in the kitchen when you've run out of rice flour. Each ingredient is best suited for specific kinds of recipes, so make sure to read through them all.
1. Cornstarch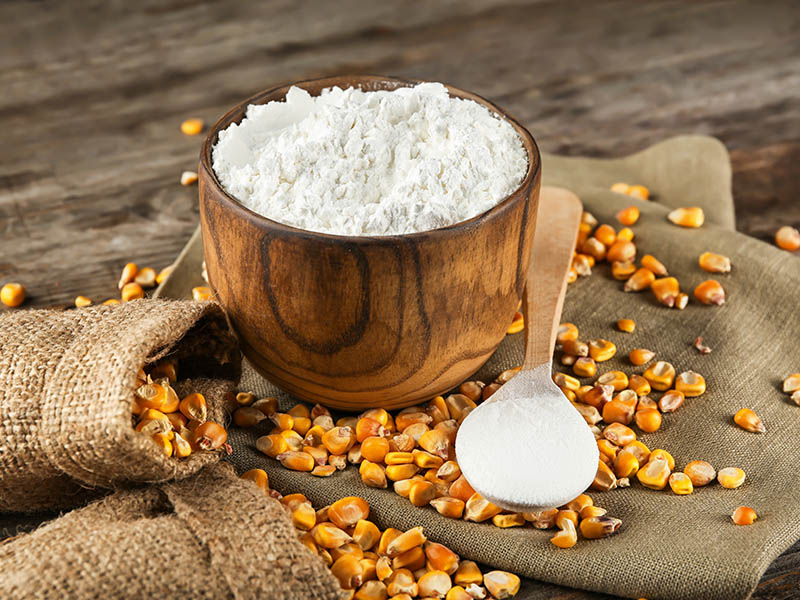 Apart from being one of the most frequently used thickeners, cornstarch is also a top-notch alternative for rice flour, especially in soup, gravy, sauce, or pie filling. Much like rice flour, it's gluten-free, and the prominent taste of cornstarch is rather neutral, making it a perfect 1 to 1 substitution.
In addition, you can also replace rice flour with cornstarch in frying recipes as it is an exceptional breading ingredient and will give your treats a crispy texture. The same 1:1 substitute ratio is still applicable here.
On the flip side, cornstarch might not be the best choice for baked goods as it can be a bit lacking on its own. That said, it will make for a good-enough option in a pinch.
You may be concerned with whether cornstarch can get spoiled. However, I'd say that you can rest assured. Cornstarch is one of the foods with the longest shelf-life I know, and as long as you know the proper way to store it, there's nothing to worry about.
2. Coconut Flour
Coconut flour is what I consider an all-rounder when it comes to substituting rice flour. The flour is both grain-free and gluten-free, so you don't have to worry about a thing when using it.
More importantly, coconut flour fits in practically any role. Baking, frying, thickening, this magical flour can do it all. Plus, it's also quite rich in fiber, vitamins, and minerals whilst low in calories.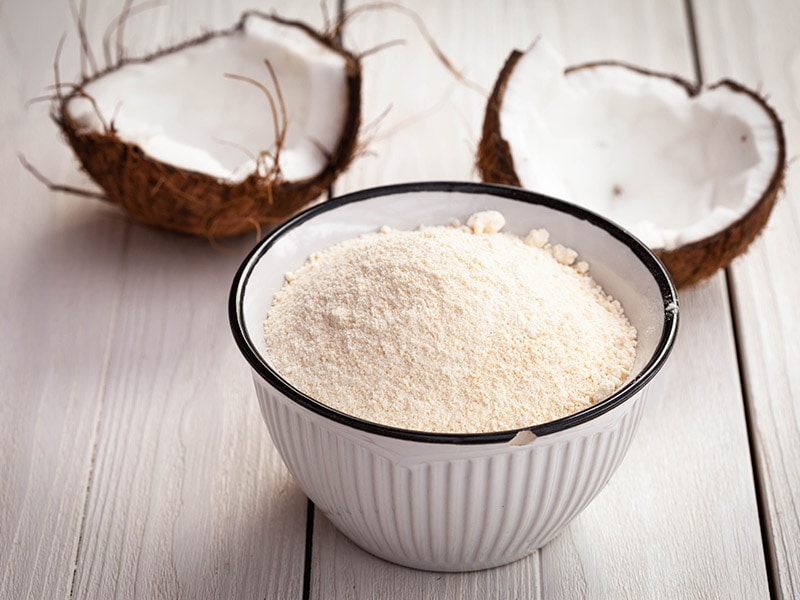 While coconut flour's natural sweetness makes it an outstanding addition to baked recipes, especially toothsome coconut sweet treats, you'll need to be careful not to overuse it, especially in frying. Otherwise, the food may come out more "coconuty" (if that's a word) than you'd like.
The best way to use coconut flour as a rice flour alternative is to scale down the volume. Typically, you'll only need about half the amount of rice flour that the recipe calls for.
In addition, make sure to increase the volume of liquid ingredients by 10% since coconut flour is denser than rice flour and will suck up more moisture. You can also use less sugar than usual, thanks to the flour sweetness.
Follow this tutorial for a simple way to make coconut flour.
3. All-Purpose Flour
As its name implies, all-purpose flour is a versatile ingredient that can be used in any recipe, be it baking or frying. In fact, many people will accept nothing but all-purpose flour in their cupcakes, cakes, pastries, or bread as it gives these treats an incredibly fluffy texture.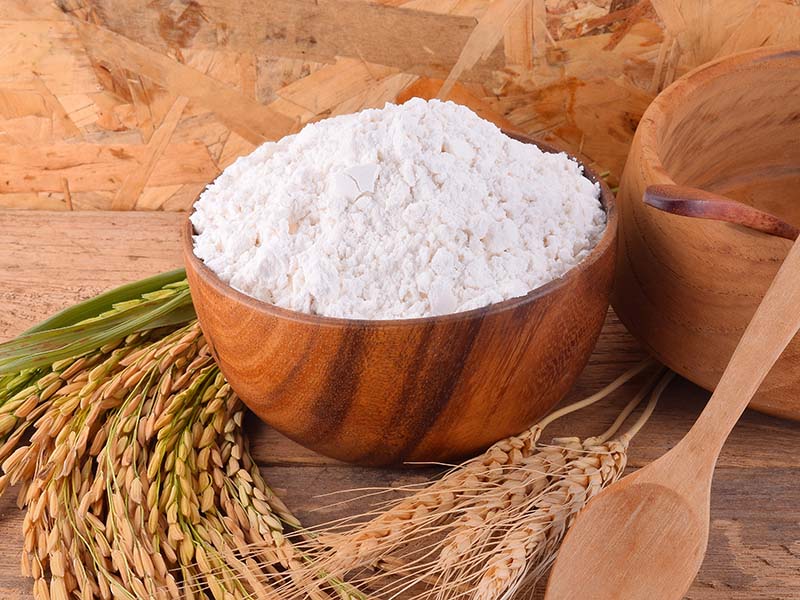 Another great thing about all-purpose flour is that it's relatively cheap and is widely available in almost every grocery store. Plus, all-purpose flour tastes almost like nothing, which is a good thing since you don't have to worry about it overwhelming other flavors.
However, keep in mind that all-purpose flour usually contains gluten, though you can also find some gluten-free variations. If you want to swap rice flour for all-purpose flour, simply do so in a 1:1 ratio.
4. Tapioca Flour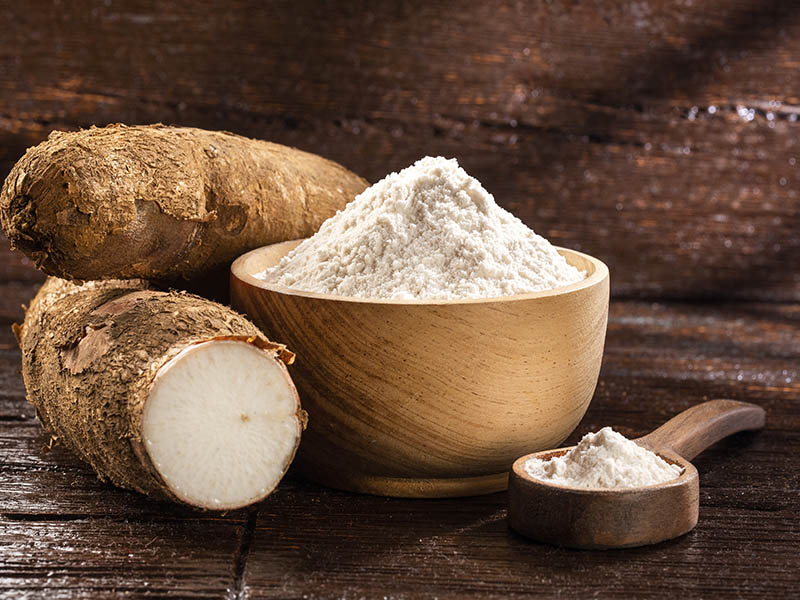 Tapioca flour is a cassava root-based ingredient that has a slightly sweet flavor. It makes an amazing gluten-free substitute for rice flour in baking and will shine when utilized as a thickening agent.
Add the flour to any condiment, sauce, pie filling, or soup to enjoy a smooth, creamy texture or make use of its subtle sweetness in pastries, cookies, donuts, and waffles. Whatever you choose to do, tapioca flour won't let you down.
For tapioca flour, you'll need to use double the amount of rice flour required.
5. Millet Flour
While millet flour is a more suitable alternative for brown rice flour due to its sweet and nutty flavor, you can also use it in place of white rice flour with a bit of tweak.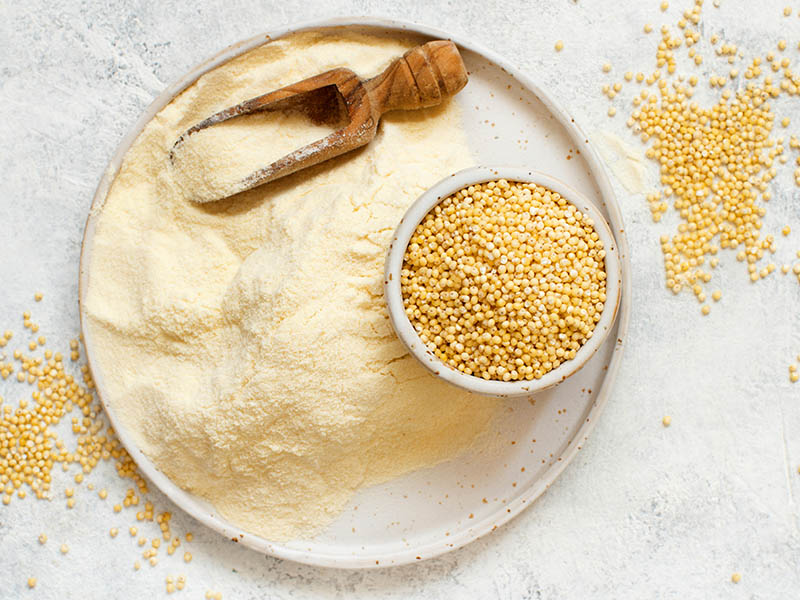 When used in baked goods, millet flour helps to create a soft and fluffy texture comparable to that of all-purpose flour. Plus, its delightful sweetness means that your pancakes and pastries will become even tastier.
Millet flour is also the go-to option for many people when pan-frying meats and fish. If you want your fried foods to have mouth-watering crispiness and perfect golden crusts, you can't go wrong with millet flour.
To make the best out of millet flour, you should mix ¾ of all-purpose flour with ¼ of millet flour before using it as a rice flour substitute.
Fun fact, this unique type of flour is an essential part of the food culture in Chad – a North African country. The locals roll millet flour paste into balls and deep fry them to create a specialty called Aiyash.
6. Chickpea Flour
Chickpea flour is an extremely healthy gluten-free alternative to rice flour that tends to fly under the radar of many people. Like a lot of substitutes ingredient for chickpea four, it is packed with protein, fiber, essential vitamins and is low in carbs and calories.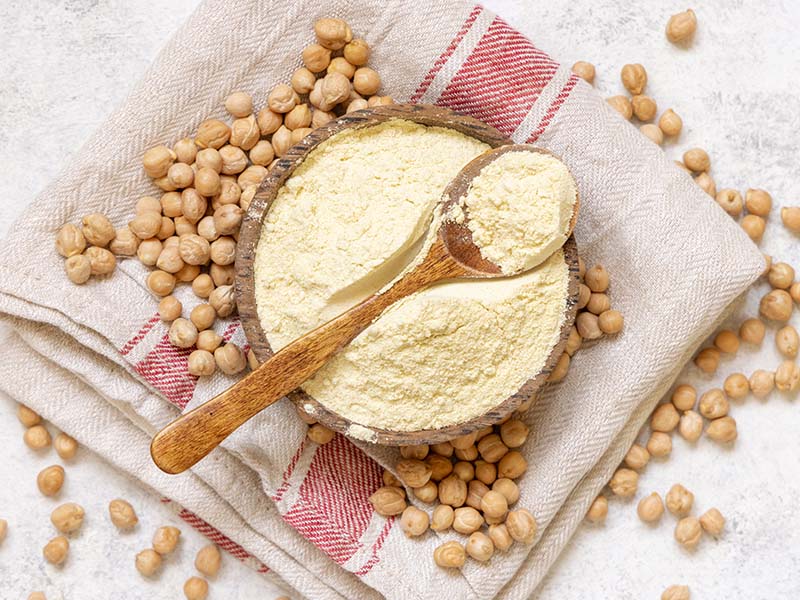 Unlike most gluten-free flour, chickpea flour possesses a potent binding attribute, making it an excellent option for baking. Although light and fluffy goods are not its strongest suit, chickpea flour works exceptionally well in flat and dense treats like tortillas and pancakes.
It's also nearly impossible to ruin your food flavor with chickpea flour as it has a very light taste. Most of the time, you can easily swap rice flour with chickpea flour in a 1 to 1 fashion.
Keep in mind that since chickpea flour is great at absorbing moisture, you might need to increase the volume of liquid ingredients used.
Can't find chickpea flour at a grocery store? You can make some at home!
7. Potato Starch
Potato scratch is one of (if not) the best substitutes for rice flour in frying and dusting. Some people might even argue that potato starch is the superior ingredient between the two when used in making airy and crispy fried foods.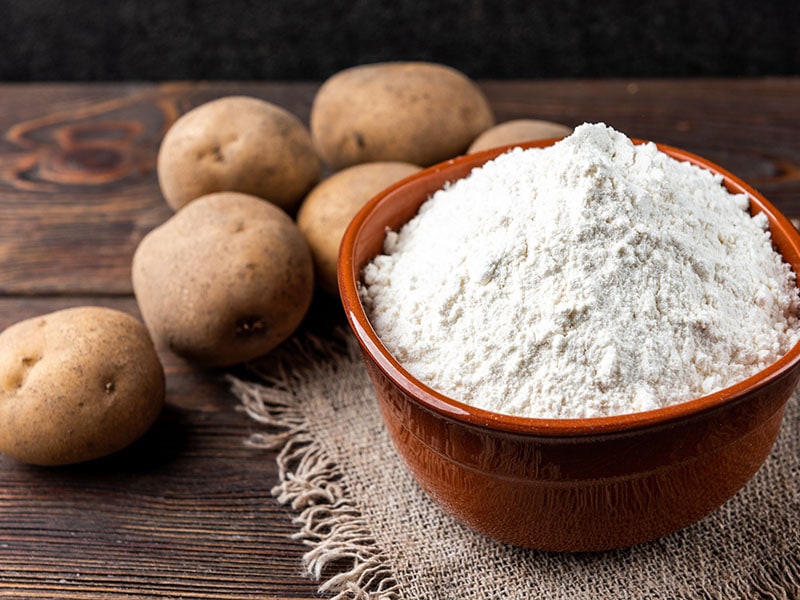 Potato starch and rice flour function almost the same in frying recipes and can be swapped in a 1:1 ratio most of the time. However, since potato starch is a much stronger thickener than rice flour, you'll need to mix it with water to make a slurry first.
Typically, 2 tablespoons of rice flour are enough to thicken 1 cup of liquid. When using cornstarch as a thickener, it's recommended to mix one tablespoon of potato starch with two tablespoons of water per cup of liquid.
Can't decide between potato starch and cornstarch? If you need to add flour at the end of the cooking process, go for potato starch. Likewise, for foods that require flour at the very beginning, opt for cornstarch.
8. Oat Flour
Oat flour is another terrific gluten-free option when there's no rice flour left in the kitchen. Like chickpeas, oats are full of nutrition and antioxidants. In fact, they are among the healthiest grains that you can find! (1)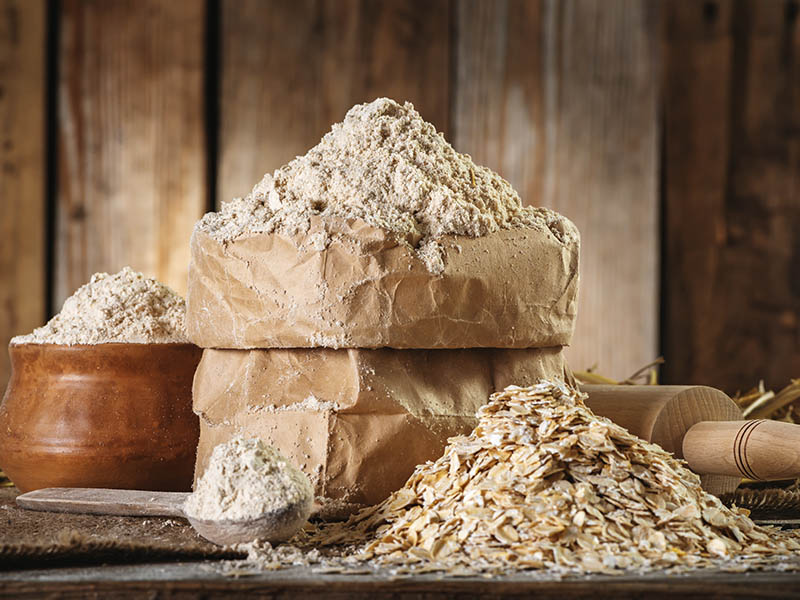 In terms of color, oat flour is more similar to brown rice flour than white rice flour. This flour is best used in baking recipes where it adds a welcome earthy flavor to the goods. You can also expect your baked treats to have a chewy texture when using oat flour.
For oat flour, use the same amount of rice flour needed.
9. Almond Flour
Almond flour is made by grinding blanched almonds, thus bearing these seeds' nutty flavor and tremendous health benefits. If you're concerned about whether almond flour is suitable for a gluten-free diet, rest assured since high-quality flour is completely free of gluten.
This flour is best used for baking recipes where its subtle nuttiness blends perfectly with other sweet ingredients like vanilla and chocolate. While you can use top-tier almond flour to coat and fry foods, keep in mind that almond flour burns easily, so it might not be the ideal choice.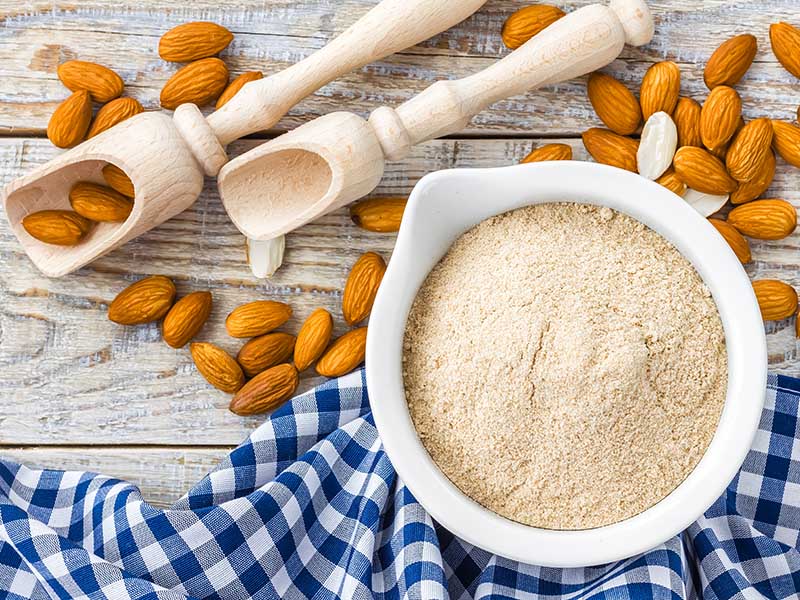 There's a workaround for this, though, as you can bake the almond flour-coated foods instead of frying them. Your food will come out just as crispy whilst saving from you the risk of accidentally burning them.
When utilized as a rice flour alternative, a 1:1 ratio usually works the best for almond flour.
10. Sorghum Flour
To be honest, I have a love-hate relationship with sorghum flour.
On the one hand, sorghum flour ticks all the boxes for a healthy, gluten-free rice flour alternative. Plus, using it is incredibly simple as you can practically apply the 1:1 substitution ratio to every kind of flour, not just rice flour.
Sorghum flour is especially great at making bread rise, though you might want to look elsewhere if you're frying food.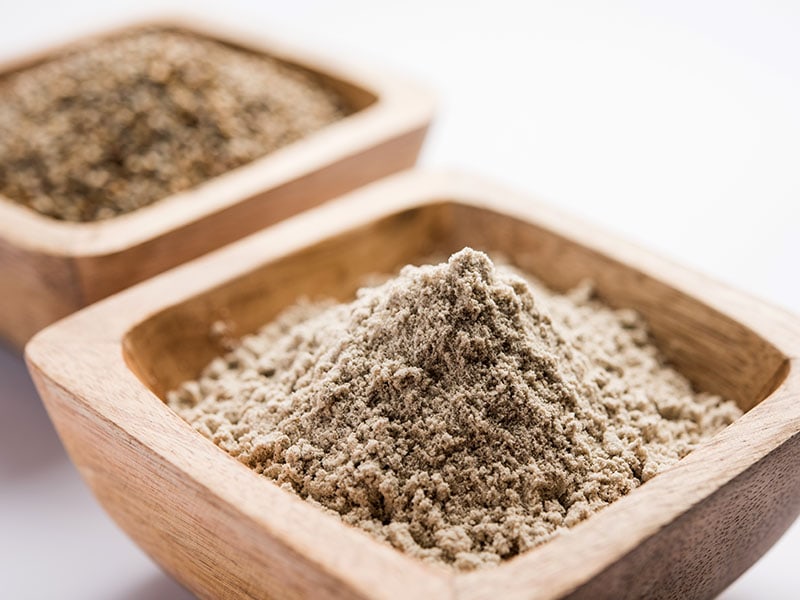 What makes many people shy away from sorghum flour, however, is its intense, oftentimes overwhelming flavor, and not in a good way. If you're using this flour for the first time, you'll probably be taken aback by its bitterness.
Everything to know about the health benefits of sorghum.
11. Amaranth Flour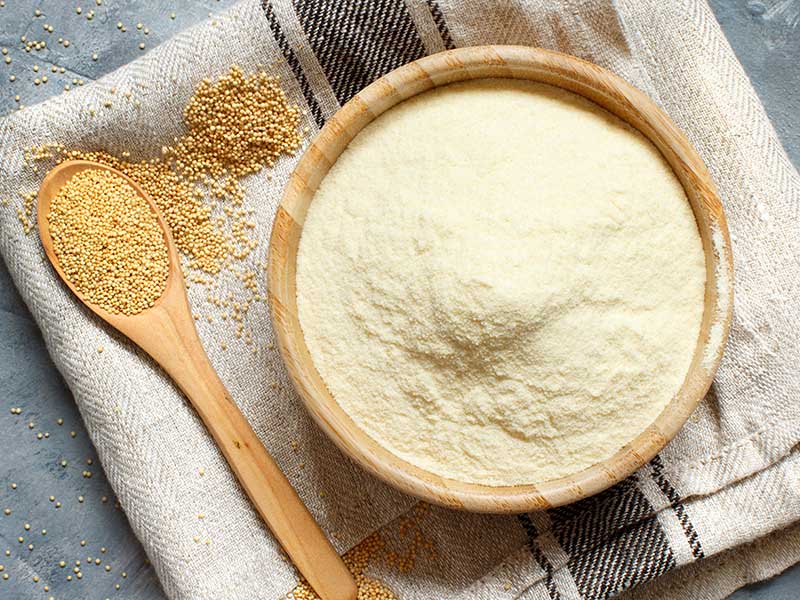 Amaranth flour is made from the seeds of a Mesoamerica-native flower called, you guessed it, Amaranth. The flour has a mild and nutty flavor that blends well in numerous baking recipes. In addition, you can also use it to thicken stews, soups, and sauces.
Although it is not particularly good at making dough rise, amaranth flour is the perfect gluten-free and grain-free choice for making flatbread and pancakes.
If you want to use amaranth flour in place of rice flour, you should opt for double the amount of rice flour required.
12. Soy Flour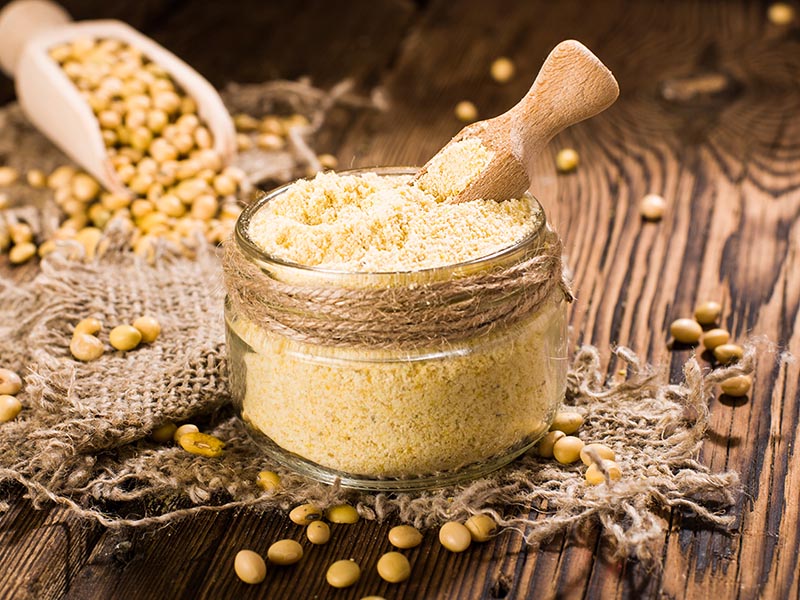 Soy flour is a fantastic 1 to 1 alternative to rice flour as they serve pretty much the same purposes in cooking. You can use soy flour to effectively thicken sauces and gravies or add some into your pies, donuts, and fudges.
Since soy flour is made from dehulled and roasted soybeans, it is 100% free of wheat and gluten.
Making soy flour is not as difficult as you might think.
13. Buckwheat Flour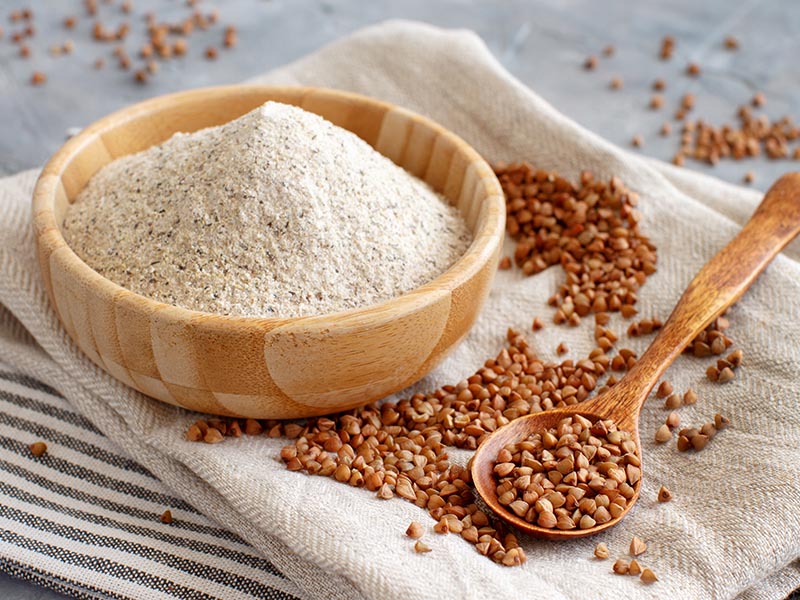 Even though it has "wheat" in its name, buckwheat flour is actually gluten-free. The flour comes in two forms: light (ground from hulled grains) and dark (ground from unhulled grains).
Buckwheat flour is the core ingredient of soba – a kind of traditional Japanese noodles, and is a sterling choice for making yeast bread or quick bread. Its earthy flavor also lends well to French Brittany crepes and Russian Blinis.
To replace 1 cup of rice flour, you can mix ¼ to ½ cup of buckwheat flour with other types of gluten-free flour like tapioca flour, almond flour or sweet rice flour. Note that the longer you mix buckwheat flour, the chewier it'll become.
How To Make Your Own Rice Flour
If you have some rice and a blender at home, it's surprisingly easy to make your own rice flour. Here's how:
Step 1: Wash The Rice
Pour the needed amount of rice into a bowl and wash it under running tap water until the water is cleared.
Step 2: Soak The Rice
When you have done washing the rice, soak them in warm tap water for 6-8 minutes to soften the grains a bit.
Step 3: Drain The Rice
Drain the water and leave the rice to dry. 2 hours is usually enough for the rice to dry completely.
Step 4: Blend The Rice
When all the rice has dried, blend them in a blender until they turn to flour, and you're done! Now it's time to try some new recipes with your rice flour! Easy, isn't it?
Learn how to make homemade rice flour in under 4 minutes.
FAQs
If there are more things you want to ask about rice flour, this FAQs section is exactly what you need.
Don't Be Afraid To Experiment With Different Alternatives
Although all 13 ingredients above are amazing rice flour substitutions, each has its unique characteristics that might bring a different flavor and texture to your dish. And who knows, maybe you'll like the new taste better than the original one!
Did I miss any rice flour alternatives? If you'd like to add some more, please leave your suggestion in the comment below. Thank you for reading, and please like and share the post if it has helped you in any way!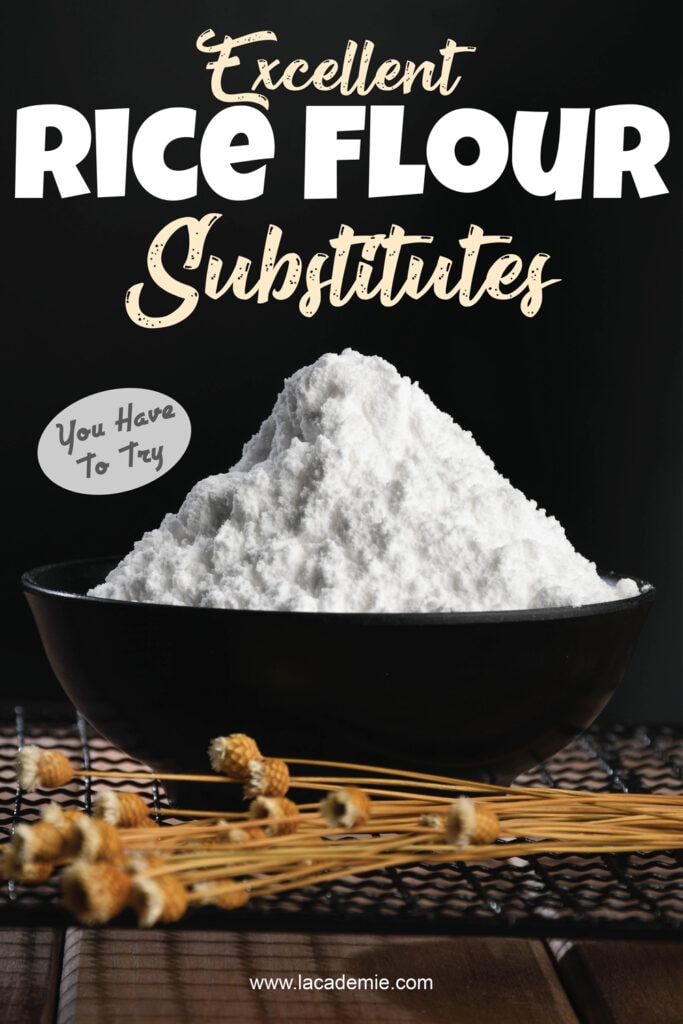 References
Oats [online]. The Nutrition Source.