Finding a suitable brown rice flour substitute is not a simple task. First, you'll need to ensure that your food's texture won't change too much. Second, the flavor must remain the same or at least nearly identical. Then there's also the gluten-free aspect of brown rice flour.
But don't give up just yet! This post is here to make your life easier. In today's post, I'll go through 11 excellent alternatives for brown rice flour and, better yet, a simple way to make it right at home!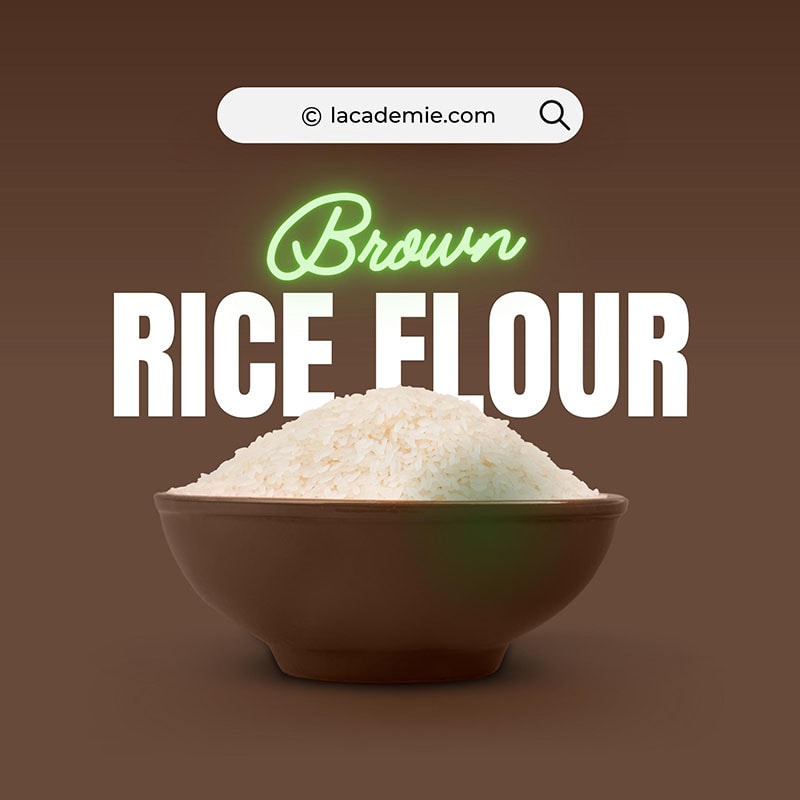 A Brief Introduction To Brown Rice Flour
Brown rice flour is a fine albeit slightly coarse-textured flour made from ground whole grain brown rice. Its somewhat gritty consistency comes from the rice bran, which is kept intact throughout the milling process. (1)
Compared to white rice flour, which is ground from non-glutinous white rice with the bran removed, brown rice flour has a denser and grainier texture. They're also different in colors as brown rice flour is creamy white while its white rice cousin is solid white.
Brown and white rice flour are often confused with glutinous rice flour – another rice-based flour milled from sticky rice. However, regular rice flour and glutinous rice flour are different in a lot of ways, so be careful not to purchase the wrong type.
Brown rice flour has a subtle toasty and nutty flavor that fits well in baked recipes. This flour is also a sterling option for frying and thickening sauces or gravies.
But does brown rice contain gluten? The great news is that brown rice is 100% gluten-free, and so is brown rice flour. Plus, this flour is full of nutrients like fiber, protein, iron, and vitamin B.
Watch this video to know more:
In A Hurry? Here's A Quick Conversion Table
Since it contains no gluten, brown rice flour is often used instead of wheat flour in gluten-free baking. If you're running short on time and need a quick alternative to brown rice flour, check out this quick conversion table of all the suitable options.
| Brown Rice Flour Alternative | Conversion Ratio | Cooking Utilization |
| --- | --- | --- |
| White Rice Flour | Start with the same amount, then increase accordingly | Baking, frying, thickening |
| Arrowroot Flour | 1 to 1 ratio | Baking, frying, thickening |
| Tapioca Flour | 1 to 1 ratio | Baking, frying |
| Potato Starch | 1 to 1 ratio | Frying (most optimal), baking, thickening |
| Oat Flour | 1 to 1 ratio | Baking |
| Amaranth Flour | 1 to 1 ratio | Baking (most optimal), thickening |
| Sorghum Flour | 1 to 1 ratio | Baking |
| Almond Flour | 1 to 1 ratio | Baking, frying |
| All-purpose Flour | 1 to 1 ratio | Thickening (most optimal), baking, frying |
| Coconut Flour | 1 cup of brown rice flour = 3/4 cup of coconut flour | Baking |
| Cornstarch | 1 to 1 ratio | Baking, frying, thickening |
11 Brown Rice Flour Alternatives To Opt For
What to do when there's no brown rice flour left and the recipe calls for it? The obvious answer is to go buy some, right? But hold your horses! Before spending your hard-earned money on a new bag of brown rice flour, take a look at these 11 excellent substitutes first.
White Rice Flour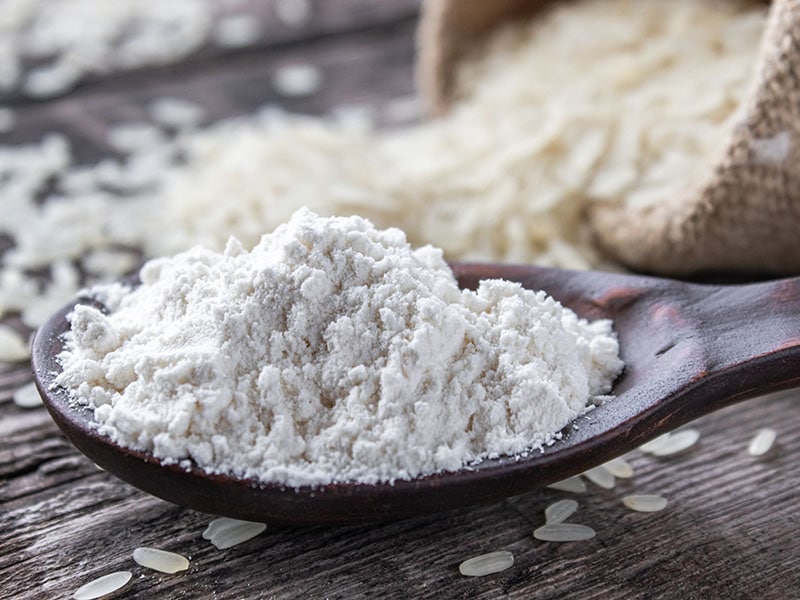 White rice flour is probably the first ingredient to cross people's minds when thinking of an alternative to brown rice flour. This is because, like brown rice flour, white rice flour is also milled from rice grain and contains no gluten.
While it's true that you can use white rice flour in place of its brown rice counterpart in almost every recipe, there are a few things that you should keep in mind.
First, white rice flour is milder in flavor than brown rice flour, which can sometimes result in your food tasting slightly different. That said, brown rice flour's nuttiness isn't particularly strong, so there's a high chance that you won't be able to notice the difference.
More importantly, brown rice flour is denser than white rice flour and absorbs more liquid. As a result, you'll often need to increase the amount of white rice flour used in order to reach the ideal consistency, especially in baking.
When using white rice flour, start with the same amount of brown rice flour that the recipe calls for, then add more accordingly.
Making white rice flour is much easier than you think.
Arrowroot Flour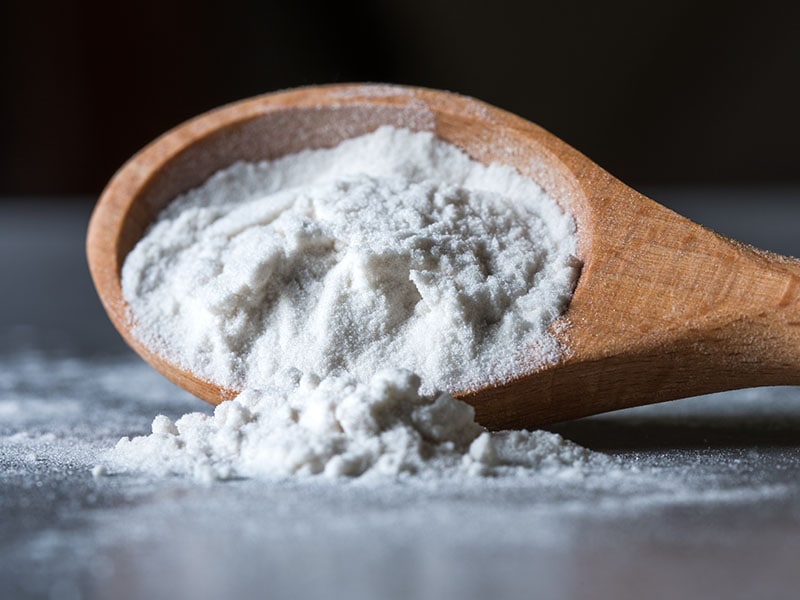 Although it's not as commonly used as rice flour, arrowroot flour is a great gluten-free and grain-free ingredient. This vegetable-based flour is practically flavorless and can act as a stand-in for brown rice flour in baking, thickening, and even frying.
Another lesser-known application to arrowroot flour is that it's among the ultimate replacement for file powder, an essential ingredient for cooking Gumbo. However, as file powder can be hard to find in many places, you can opt for arrowroot flour. Isn't it such a versatile ingredient?
Among its three uses, baking fits arrowroot flour the best. Swapping brown rice flour with arrowroot flour is as easy as ABC since you can simply use the 1:1 ratio.
Tapioca Flour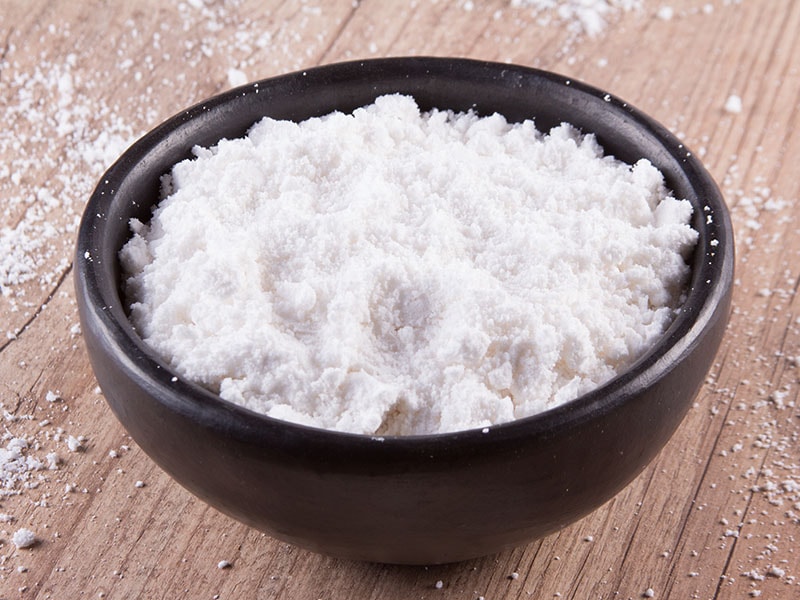 Tapioca flour (also called tapioca starch) is a cheap and gluten-free option for replacing brown rice flour. This flour is made by drying and grounding cassava root, which explains its starchy consistency and mild flavor.
When cooked, it will give baked goods a chewy and thick texture. You can also use tapioca flour to thicken sauces, soups, and gravies, or add it to deep-fried batters to give your meats and vegetables a light and crisp coating.
To utilize tapioca flour as a brown rice flour substitute, use the same volume of brown rice flour needed. Remember to add tapioca flour gradually to prevent it from getting too thick.
Potato Starch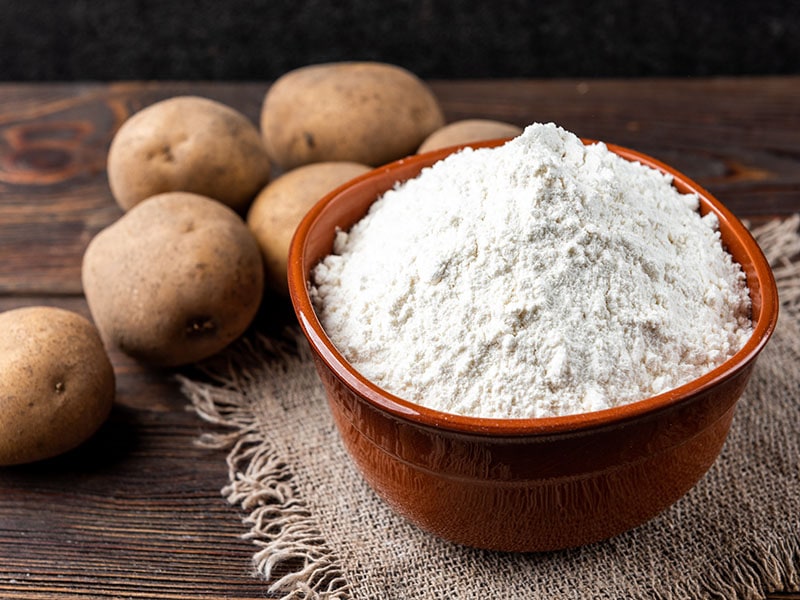 Potato starch is the secret to crispy fried foods with perfect golden crusts. Similar to brown rice flour, potato starch does not suck up oil, meaning that your fried foods won't become overly greasy.
In addition to frying, potato starch is a decent gluten-free substitution for brown rice flour in thickening and baking, making it the perfect substitute for cornstarch as well. It has no real flavor, so you can freely use it in any recipe without worrying about affecting other ingredients.
The 1:1 substitution ratio usually works well for potato starch.
Oat Flour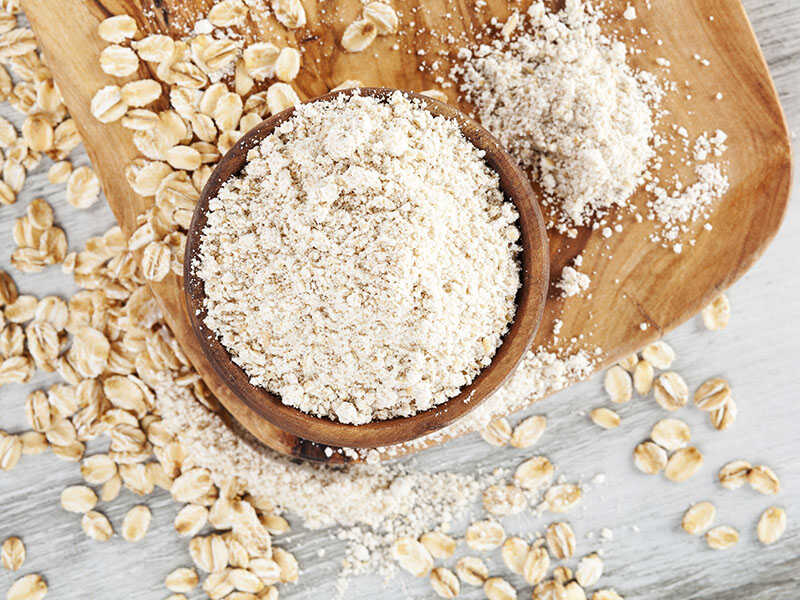 Oat flour is a highly nutritious ingredient, even more so than brown rice flour itself. It's gluten-free, rich in fiber, vitamins, minerals, antioxidants while being low in calories. Additionally, it's a great choice if you care about whether flour is suitable for veganism.
This flour resembles brown rice flour greatly in color and flavor. Its earthy flavor makes oat flour an outstanding choice for baking. If you want to give oat flour a try, simply replace brown rice flour with it in a 1 to 1 ratio.
Amaranth Flour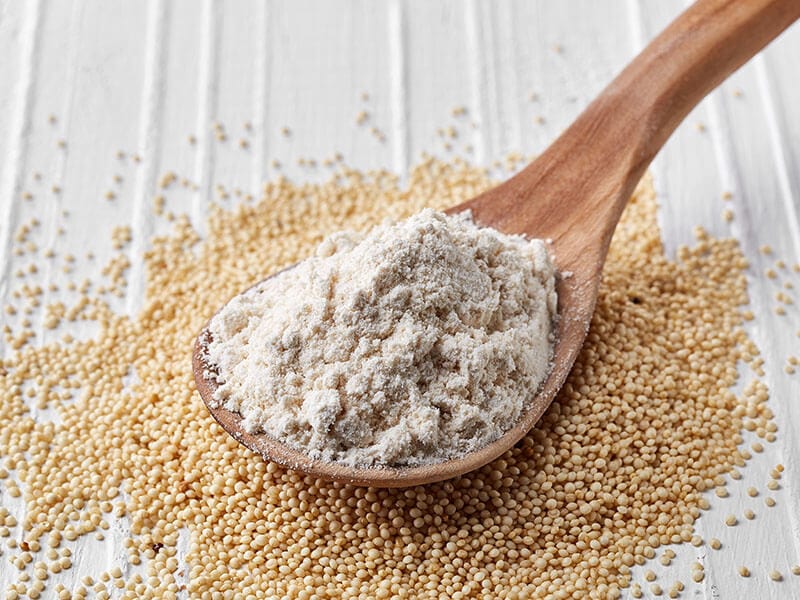 Amaranth flour is the result of grinding amaranth plant seeds into a fine powder. In Greek, "amaranth" means "everlasting" or "immortal". The flour is packed with protein, fiber, along with many essential nutrients and, like brown rice flour, free of gluten.
While you can use amaranth flour as a thickening agent, it shines the best in baking recipes. Since it contains no gluten, amaranth flour is not really good at making bread rise. That said, you won't regret adding amaranth flour to your flatbread or pancakes.
Much like other gluten-free flour in this list, you can use amaranth flour in lieu of brown rice flour in the same amount.
All you need to know about the amazing grain that is amaranth.
Sorghum Flour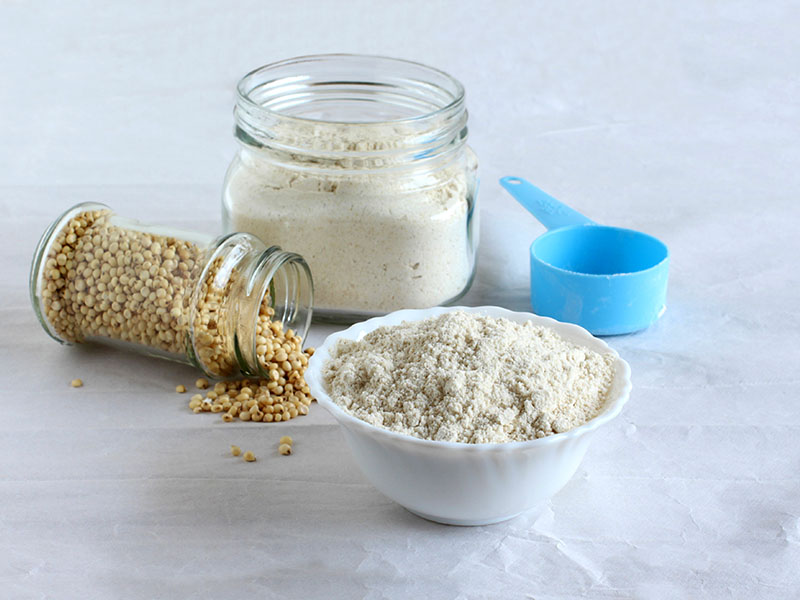 Sorghum flour has a similar flavor profile to brown rice flour, which is slightly nutty and earthy. Thanks to its incredible nutritional value, sorghum is considered by many to be a "superfood." It's a prevalent food in Chad and many countries in Africa, South Asia, and Central America.
To make the best out of sorghum flour, you should use it in baked recipes. This flour works exceptionally well as a 1 to 1 alternative to brown rice flour in bread, rolls, and muffins as it's great at making bread rise.
However, note that you might need to add a stabilizer like xanthan gum when baking with sorghum flour to prevent your treats from being too crumbly. Some people also find the flour a bit bitter.
Lastly, sorghum flour can be a little hard to find. If your nearby grocery store doesn't sell brown rice flour, there's a high chance that you won't be able to purchase sorghum flour there.
Almond Flour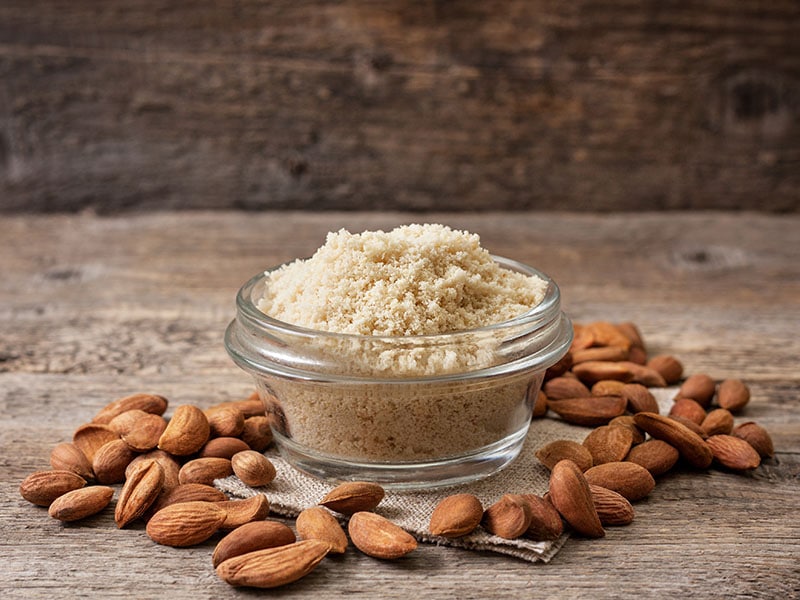 Almond flour has a stronger flavor than most options in this list. This can either be a bad or good thing, depending on whether you like almonds or not.
For most people, almond flour's sweet and nutty notes are perfect for making sweet baked treats and coating fried meats. People often ask whether almond flour includes gluten or not, but you don't have to worry about this as most high-quality products are gluten-free.
Although excellent almond flour is packed with nutrients, it's not the best choice if you're serving guests with nut allergies. Plus, it can be a bit pricey compared to other flour. Some might also worry about the possibility of almond flour going bad, but you just need to store it properly.
To replace brown rice flour with almond flour, use the 1:1 ratio.
If you have the time, you can try making almond flour at home.
All-Purpose Flour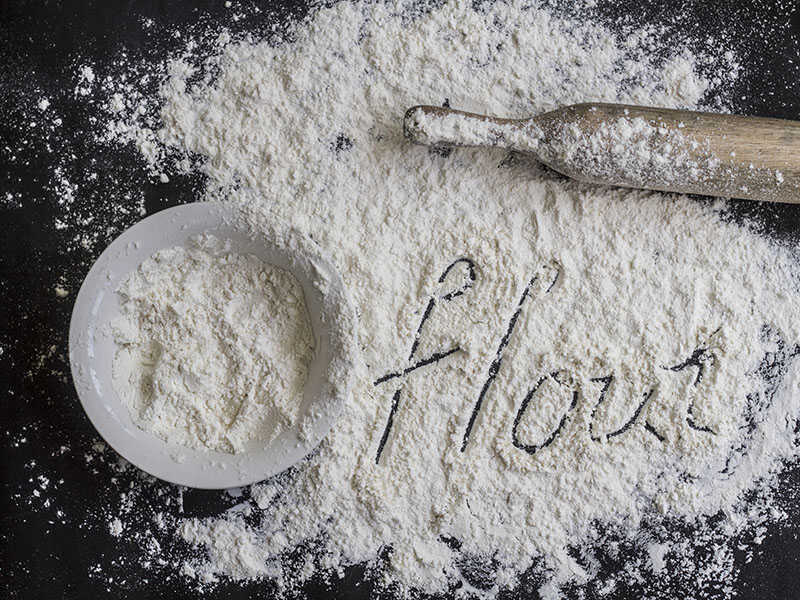 If you don't mind wheat in your food, then all-purpose flour (or regular flour) is an all-rounded replacement for rice flour, whether it's brown or white. As its name implies, all-purpose flour is a jack-of-all-trades, meaning that you can freely use it in baking, frying, and thickening.
That said, in the case of brown rice flour, all-purpose flour works best as a thickening agent. When used in coating, be mindful that the result will be heavier than that of brown rice flour.
Most of the time, the 1 to 1 ratio is all you need to substitute brown rice flour with all-purpose flour.
However, keep in mind that it might be necessary to make minor alterations to your recipes, be it liquid, binders, or mixing time, due to the difference in gluten content.
Coconut Flour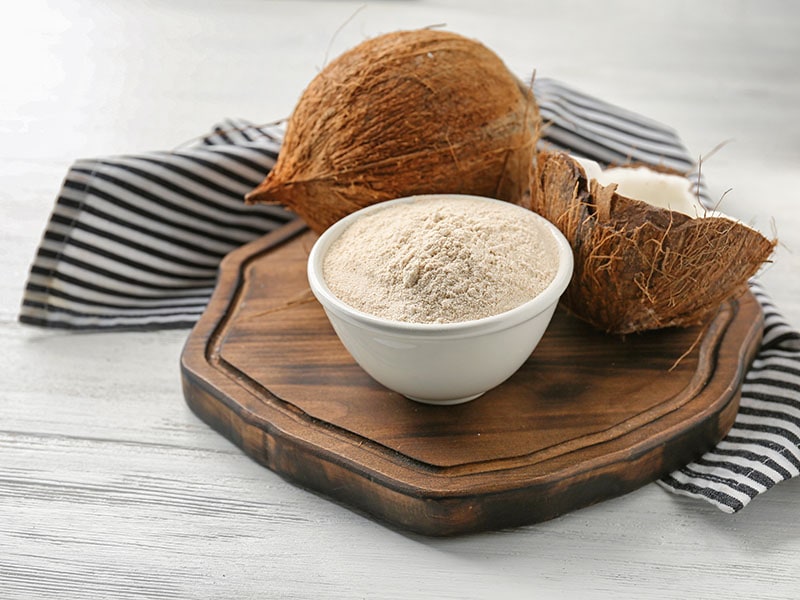 Coconut flour is among the best choices if you need to switch brown rice flour for something else in baking. It will infuse your baked goods with a wonderful coconut smell that's especially fitting for sweet treats from coconuts. Note that it's also sweeter than your typical rice flour.
It also contains zero gluten and can promote healthy digestion, stabilize blood sugar, and reduce the risk of heart diseases (2) . On the flip side, this flour can dry out your goods, so make sure to increase the volume of liquid ingredients.
For example, you can use more milk or eggs than the recipe calls for to make sure that the goods will be moist on the inside. Since coconut flour is more absorbent than brown rice flour, increasing the fat content is also a great idea.
You only need ¾ cup of coconut flour to replace 1 cup of brown rice flour.
Cornstarch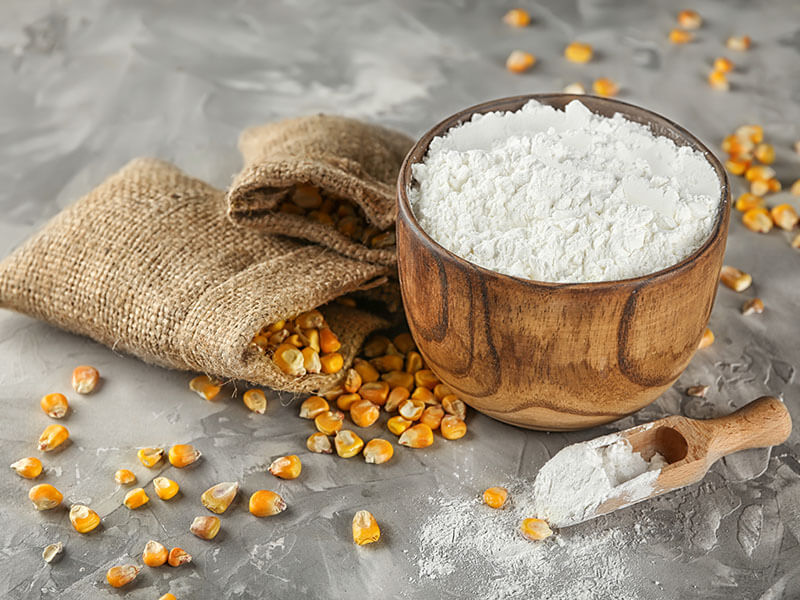 Like potato starch, cornstarch is the go-to when you're making fried foods. While there are quite a few key disparities between potato starch and cornstarch, they're both good brown rice flour alternatives. In addition, you can also utilize cornstarch to thicken liquid and bake savory goods.
While cornstarch can be used in the same manner and amount as brown rice flour in baking and frying, you'll need to switch things up a bit when using it as a thickener.
Rather than sprinkling it directly into the sauce, you'll have to make a slurry with cornstarch and 1 tablespoon of water first. After adding the semi-liquid mixture to your sauce, remember to cook it over low to medium heat to get rid of the starchy flavor.
Homemade Brown Rice Flour, Why Not?
Rice flour is among the simplest kinds of flour to make at home, provided that you have a high-speed blender. Any recipe that requires rice flour will become a breeze when you can make your own rice flour. The best part? You won't have to look for other alternatives!
Here's every step you need to make homemade brown rice flour.
Step 1: First Round Of Blending
To make your own brown rice flour, start with pouring 1 cup of raw brown rice made by reputable brands into your blender, then blend it for about 30-60 seconds.
Step 2: Sift Your Rice Flour
Dump the rice flour into a fine-mesh strainer and sift it to separate fine flour with grainy flour. The part that hasn't reached a smooth consistency will have to be processed again.
Step 3: Second Round Of Blending
Pour the remaining flour in the filter into the blender and blend for another 30-60 seconds. Repeat steps 2 and 3 until your flour is completely smooth.
Learn how to make brown rice flour at home in just 1 minute!
FAQs
For more brown rice flour-related information, give these frequently asked questions a read.
You Can Go Gluten-Free Without Brown Rice Flour
Although brown rice flour is one of the most popular kinds of flour to use in gluten-free cooking, it's not an absolute must. If you happen to run out of brown rice flour or simply don't like its flavor, the 11 ingredients above are all excellent alternatives.
Do you know any other brown rice flour substitutes? Let me know what you think about this post in the comment. If you find the content useful, please like and share it with your friends.
Nutrition Facts
1 servings per container
---
Amount Per ServingCalories688
% Daily Value *
Total Fat 5.1g

8

%
Sodium 8mg

1

%
Potassium 509mg

15

%
Total Carbohydrate 144.7g

48

%
Protein 14.3g

29

%
---
* The % Daily Value tells you how much a nutrient in a serving of food contributes to a daily diet. 2,000 calories a day is used for general nutrition advice.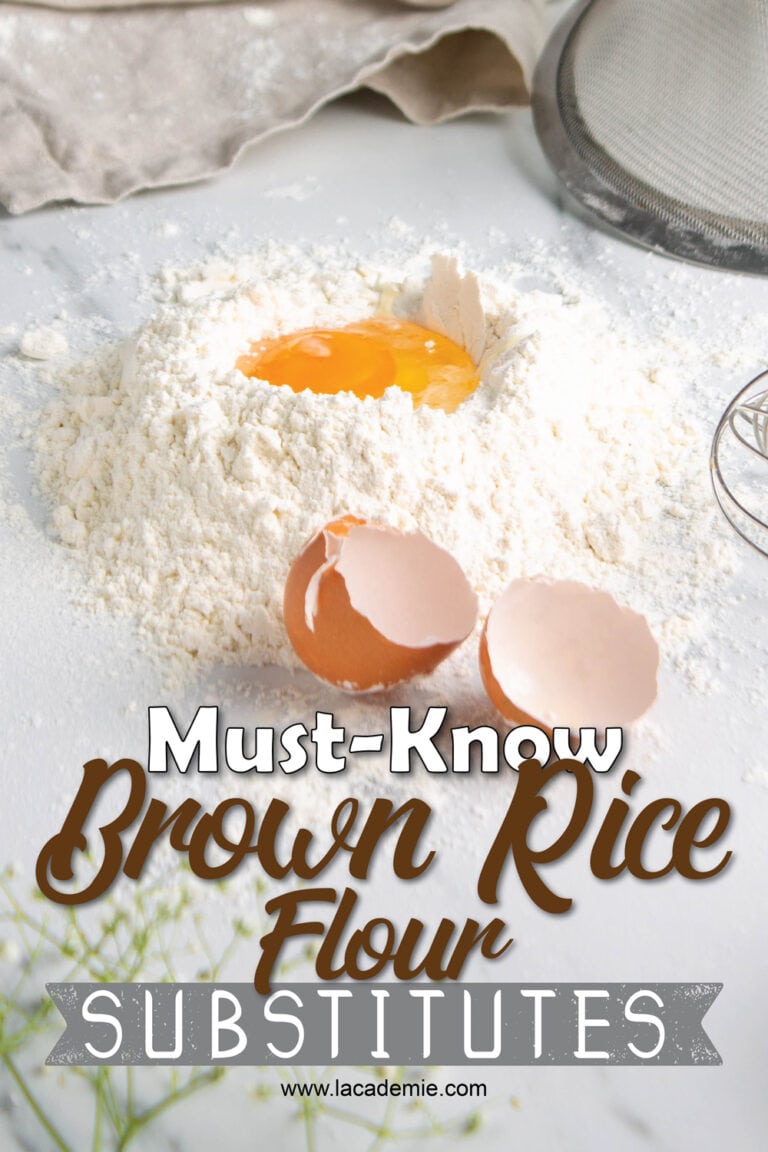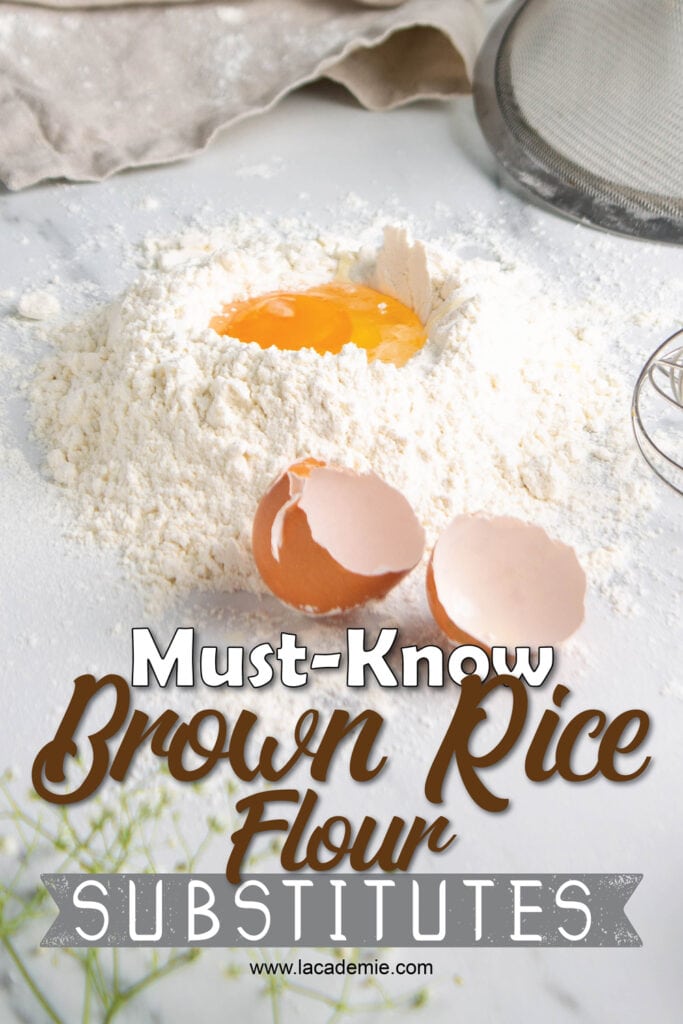 References
Contributors to Wikimedia projects, (2007b). Rice flour – Wikipedia.
(NL), A. P. M. R., (2019). Coconut Flour: Nutrition, Benefits, and More.