Everyone knows that Thai rice dishes have no limit for customization. However, you can't just throw a bunch of ingredients together with rice and call it a meal. Instead, you need this article to provide you with the necessary knowledge of executing Thai rice correctly.
After reading this article, you will become an expert in various Thai dishes that involve rice. So just relax and keep your appetite up. Rice is always a solid choice for any meal if you know how to process it properly.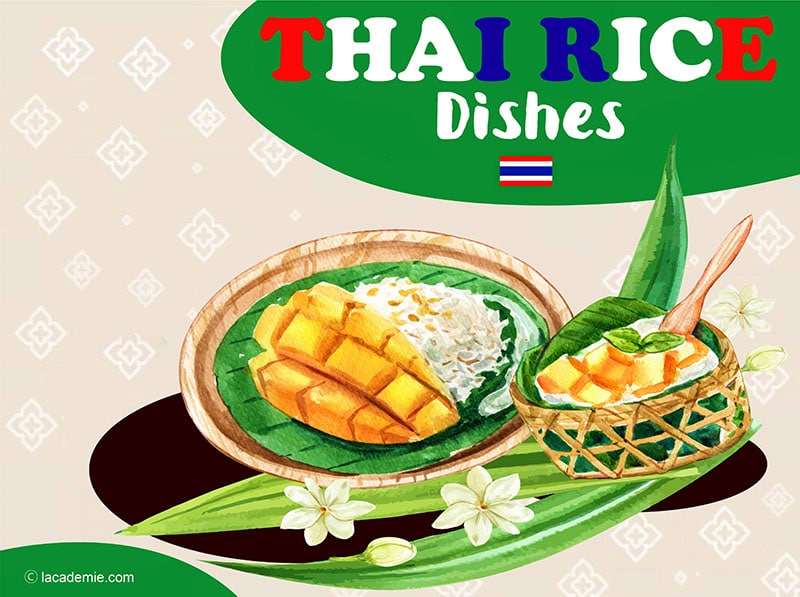 Various Ways For You To Work With Rice From Thai Cuisine
It's time to make full use of your left-over rice, or better yet, invent an entirely new dish from these wonderful recipes from Thai cuisine. You will never be disappointed by the rice dishes from one of the biggest titans of rice production around the world.
Total time: 30 minutes.
Whether you're coming to Thailand or not, pineapple fried rice is a dish you still have to give a go in your kitchen. In addition, the epic way of presenting the rice on the pineapple will surely impress anyone at your dinner table.
Let's learn how to deal with the pineapple first. Since you will be using the pineapple as a container for the rice, I suggest cutting the fruit lengthwise. Then scoop out the pineapple's interior and reserve it for later use. There, your natural rice bowl is good to go.
The recipe works best if you have left-over rice. Next, make use of the pineapple interior by stir-frying it with a variety of vegetables like bell pepper, pea, and corn alongside the rice. To get a beautiful bright yellow color on the rice grain, locals usually throw in a pinch of turmeric.
Most often, Khao Op Sapparot tastes best with a generous amount of garlic which brings out the smokiness and fragrant flavor of the rice. People usually serve the rice in a pineapple boat. The pineapple also adds a slightly sour and sweet flavor to the already delicious fried rice.
Uncover how easy it is to make pineapple fried rice right at home.
Total time: 20 minutes.
Here's another basic fried rice from Thai cuisine that is incredibly easy to recreate right at home. In Thailand, locals utilize chicken as the main focus of this fried rice recipe. Khao Phat Gai is commonly characterized by the flavor of Prik Nam Pla, a unique Thai fish sauce.
Aside from the rice and chicken breast, people also use tomatoes to add moisture to the stir-frying process. Furthermore, people often crack an egg over the rice and scramble it well so that every grain is coated with egg liquid.
If you want to process the chicken breast separately. Then try out some chicken recipes with Thai tweaks to accompany the rice. Don't worry about the flavor combination, as fried rice is versatile to go with any chicken dish.
For seasoning, a popular choice of many Thai is a combination of oyster sauce and soy sauce. Don't forget the Prik Nam Pla, which is a simple concoction of fish sauce with lime juice and bird's eye chili. The mixture should have a little sour taste with mild spiciness.
For garnish, you can dice in some crunchy cucumber slices to have along with the rice. Make sure you drizzle a decent amount of Prik Nam Pla over the rice to get the best flavor from Khao Phat Gai.
Total time: 50 minutes.
Papaya in fried rice may sound like a strange idea, but it magically works wonders in the end. This type of tropical fruit gives an extra crunchy texture to the fried rice dish. The recipe is also quick to make and perfect to serve for lunch or dinner.
However, the best thing about papaya fried rice is that it fits any requirements for a vegan-friendly recipe from Thai cuisine for your healthy meal. It's always nice to have a recipe that motivates you to go meat-free.
A little note: you want to use young papaya to get that crunch factor since the ripe ones are too mushy. As for the rice, you will need to lay your hands on Thai curry paste for a traditional flavor and a nice bright yellow color.
However, I like making the curry mix by myself. Usually, you will need lemongrass stalks with dried chilies, turmeric powder, and ginger for the base flavor. Turn the mixture into a paste by pounding the ingredient constantly in a mortar.
I always love to throw in a few basil leaves for a balanced sweet and savory taste to the dish. The rice should only come in after you have already sauteed all the vegetables, including the papaya. Finally, sprinkle crushed peanuts on top for garnish before serving the dish.
Total time: 45 minutes.
Instantly please anyone in your family with a Thai shrimp fried rice recipe! Better yet, you will take advantage of the Tom Yum flavor to make this fried rice. If you don't know, the taste of Tom Yum soup is mainly depicted as an addicting sour flavor of herbs and spices.
The nice thing for you is that the Tom Yum spices often appear in many Asian stores, so it should be easy for you to find one. Besides the Tom Yum paste, you should also add a little bit of sugar to deepen the overall flavor.
As for the shrimps, I recommend peeling them before stir-frying with the rice and other ingredients. To diversify the texture of the fried rice, my recommendation is to complement the shrimp with tomatoes, lime leaves, and broccoli.
Re-invent your fried rice recipe by adding Tom Yum flavor to it.
Total time: 25 minutes.
Saffron is a high-end condiment that commonly appears in many luxury dishes. When combined with coconut rice from Thailand, it makes for an over-the-top flavor. Furthermore, the saffron gives the rice a striking yellow color.
On average, authentic saffron costs way more than any condiments per gram, so make sure you only buy a sufficient amount to use for the recipe. The addition of saffron gives the rice a slightly floral and sweet taste.
Commonly, people serve saffron coconut rice as a fragrant Thai-style side dish to accompany various foods. To prepare the coconut rice, people often create the stock mixture first by using chicken broth with turmeric, saffron, and cumin.
After adding rice and coconut milk to the mix, you need to constantly stir the concoction so every ingredient is evenly distributed.
When serving, I like puffing up the rice and taste testing it to make any necessary final adjustments to the flavor. A light splash of lime juice on the rice helps balance the overall taste.
Total time: 20 minutes.
I know shrimp paste is notorious for its intimidating smell and flavor, but once you get over that, it's a holy condiment to use in fried rice. In Thailand, people call any rice mixed with shrimp paste Khao Kluk Kapi.
The original recipe of Khao Kluk Kapi doesn't call for a stir-frying step. However, people now adopt the stir-frying method to reduce the pungent flavor of the shrimp paste. Thai locals usually have fried eggs with Khao Kluk Kapi.
For this recipe, you use either of the two methods. If you have no problem handling shrimp paste, then mixing directly with the cooked rice is the best way to enjoy the authentic flavor of Khao Kluk Kapi.
As for stir-frying, people usually process other ingredients like vegetables and Chinese sausages before using the same pan for the shrimp paste. Remember: you do not want to stir-fry the shrimp paste first because its strong flavor may ruin other ingredients that come after.
For serving, pack your mixed rice in a bowl and flip it around. That way, you can neatly present the rice on a plate along with other ingredients.
Total time: 25 minutes.
Khao Tom means boiled rice in water; however, the dish is more familiar to you as a hearty soup recipe in Thailand because of how liquid the rice is. Many Thai locals often have Khao Tom while they're sick. Thanks to the light nature of the soup, it's super friendly for digestion.
A quality Khao Tom relies on Jasmine rice to give the recipe a sweet and nutty flavor. Better yet, you should cook the rice using chicken stock to enhance the taste of Khao Tom. If you're cooking rice in a saucepan, be sure to stir the mixture occasionally to avoid burning.
I prefer utilizing minced chicken for Khao Tom because it combines well with other condiments like soy sauce, palm sugar, and olive oil. Furthermore, the addition of mushroom seasoning brings an additional earthy flavor to the dish. Khao Tom tastes best when served hot.
Khao Tom is an easy meal to make for anyone at home.
Total time: 45 minutes.
Khao Mok Gai is a popular rice meal in the Southern area of Thailand. Commonly, people around the world refer to Khao Mok Gai as Thai biryani. Interestingly, the dish is also a specialty of Thai Muslim cuisine.
The chicken pieces of Khao Mok Gai are often coated in a layer of thick gravy and sprinkled with crunchy fried shallots. The addictive gravy is a blend of numerous seasonings like ground turmeric, chili powder, and plain yogurt with Thai curry powder as the main flavor.
To make the ultimate rice for Khao Mok Gai, locals usually throw in cinnamon sticks, cloves, and turmeric to dye the rice a yellow color. To free yourself from the rice cooking process, you should go for a rice cooker to simplify the procedure.
Finally, the chicken pieces need some time bathing in a seasoning mixture of Thai curry powder, turmeric, and coriander. After cooking, those pieces tend to have a dark brown color, furthermore enhanced by the curry gravy.
Total time: 25 minutes.
Thailand is an agricultural country, so it's no surprise that locals have many ways to enjoy rice. One of the most popular choices is to cook the rice with sweet coconut water. Then top it off with shredded coconut for serving.
While cooking the rice, you may want to season the rice with a pinch of salt. To bring out even more coconut flavor in the rice, I prefer adding a splash of coconut oil in the cooking process. The result is a bowl of rice that has a strong coconut flavor and a mild sweet taste.
Total time: 2 hours 35 minutes (with 2 hours of soaking).
Sticky rice with mango is a traditional Thai treat that will mesmerize you with a harmonious flavor of sweet and sour. The rice grains are super soft since people tend to cook the dish for quite some time.
The key to success in making perfect sticky rice is choosing the correct type to use. You want to use glutinous rice that is bigger than regular rice grains. Note that you need to soak the rice for a few hours before cooking.
As for the coconut sauce, locals use coconut milk as the base with a little cornstarch to thicken the mixture. Once your rice is cooked, drizzle the coconut sauce and place a few slices of ripe mangoes on top. Proceed to sprinkle the rice with sesame seeds for an extra nutty flavor.
Khao Niaow Ma Muang is a wonderful dessert to make in your free time.
Total time: 40 minutes.
Get ready to experience a rice dish that is packed full of seafood flavor from Thai cuisine. Mixing fried rice with crab meat makes a flavorful Thai starter for your big mealtime. The main highlight of the dish is the crab which provides a firm and moist meat texture.
First, you can start frying the shallots in high heat to build the base flavor. My sauce blend is a combination of soy sauce, fish sauce, and Sriracha (Thai chili sauce). Make sure you stir the sauce constantly until you achieve an aromatic smell coming from the mixture.
Next, start adding rice into your pan and gently break up the rice clumps. Try not to move the rice around too much in this step. Pour in the egg and start mixing the two with a spatula or spoon. Keep doing it until the rice is fully coated with the egg.
Finally, you will need to know how to handle the crab. To make it simple, you can use store-bought crab meat for the fried rice. Gently fold the rice over the cooked crab so that you don't accidentally break the meat.
Total time: 1 hour.
Thai chicken wild rice soup is full of refreshing and creamy curry flavors. Better yet, you can turn the rice soup into an easy instant pot Thai recipe right at home. The required ingredients are surprisingly easy to find at any Asian market or store.
In an instant pot, you need to prepare a vegetable mixture of bell peppers, carrots, and mushrooms. For the protein, you want to use chicken breast to get the most meat. In addition, people also use coconut milk and chicken stock to set the base flavor of the soup.
Don't forget to grab your favorite Thai red curry paste to add to the instant pot. Stir the mixture until all the ingredients are well combined. You will need to cook for around 30 minutes before having a 10 minutes break period for the instant pot to rest.
The rice is a unique feature of this recipe. Wild rice is slightly different from conventional rice in terms of flavor: it has a grassy and smokey taste. Another distinct feature is the natural black color of wild rice. However, it is cooked in the same way as regular rice.
Rice With A Thai Twist Is Never Bland
As you see, there are many ways that you can turn a simple rice dish into different variations with the use of simple ingredients. Rice is a solid choice for a meal since it provides you with a decent amount of carbs. Therefore, it's always good to have various options at your disposal.
So whenever you don't know what to do with your rice, make sure you pop this article up to resolve your problems. Feel free to let me know more about what you think about these fascinating Thai rice recipes. Don't mind sharing it with your close ones.
Nutrition Facts
2 servings per container
---
Amount Per ServingCalories695
% Daily Value *
Total Fat 22.4g

34

%
Cholesterol 227mg

76

%
Sodium 1813mg

76

%
Potassium 1425mg

41

%
Total Carbohydrate 61.8g

21

%

Dietary Fiber 3.7g

12

%
Sugars 8.2g

Protein 59.2g

118

%
---
Calcium

86

%
Iron

5

%
Vitamin D

8

%
* The % Daily Value tells you how much a nutrient in a serving of food contributes to a daily diet. 2,000 calories a day is used for general nutrition advice.