The world of Asian drinks has endless options to diversify your beverage arsenal. Asia is a diversified continent with numerous cooking cultures filled with amazing flavors and fascinating stories behind them.
With this article, you'll gain insights into the signature drinks of many countries while discovering tasty new flavors. So, if you're ready to break free from the mundane, this exploration of Asian drinks is your passport to a new world of refreshment!
East Asian Drinks
Chinese Drinks
Baijiu
Soy Milk
Longjing Tea (Dragon Well Tea) (Hangzhou, Zhejiang Province)
Pu'Er / Pu Erh (Yunnan Province)
Mijiu
White Tea
Oolong Tea
Kombucha
Rice Wine
Green Tea
Black Tea
Chrysanthemum Tea
Wong Lo Kat (Herbal Tea Brand)
Suanmeitang (Sour Plum Drink)
Jinyinhualu (Honeysuckle Water)
Shaoxing Wine
Japanese Drinks
Sake
Matcha Tea (Green Tea Powder)
Shochu
Sencha
Bancha
Japanese Whisky
Hōjicha/Houjicha
Highball
Chūhai
Kamikaze
Midori
Awamori
Umeshu (Plum Wine)
Yakult
Ramune
Pocari Sweat
Calpis/Calplico
Korean Drinks
Soju
Makgeolli
Korean Tea
Sikhye (Rice Punch)
Dalgona Coffee
Other East Asian Drinks
Hong Kong-Style Milk Tea
Yuenyeung (Hong Kong Style Tea and Coffee)
Bubble Tea – Taiwan
Apple Sidra – Taiwan
Barley Tea – China, Japan, Korea, and Taiwan
Southeast Asian Drinks
Thai Drinks
Thai Iced Tea
Krating Daeng (Red Bull)
Lao Khao
Oliang
Vietnamese Drinks
Vietnamese Iced Coffee
Vietnamese Egg Coffee
Bia Hoi
Pennywort Juice
Filipino Drinks
Tuba (Coconut Wine)
Calamansi Juice (Filipino Lemonade)
Tanduay Rum
Other Southeast Asian Drinks
Coconut Water – Throughout Southeast Asia
Sling – Singapore
Avocado Shake – Vietnam, Indonesia, Brazil
Ipoh White Coffee – Malaysia
Teh Tarik (Milk Tea) – Malaysia
Bandung – Brunei, Indonesia, Malaysia and Singapore
Lao-Lao (Rice Whisky) – Laos
Kopi Luwak (Civet Coffee/ Weasel Coffee) – Indonesia
South Asian Drinks
Indian Drinks
Masala Chai (Tea Mixed With Spices)
Lassi (Creamy Yogurt-Based Drink)
Masala Soda
South Indian Coffee
Darjeeling Tea – India (Darjeeling region)
Gin And Tonic
Feni (Cashew Liqueur)
Falooda (Cold Noodle Dessert/ Beverage)
Pakistani Drinks
Rooh Afza (Herbal And Fruity Drink)
Sugarcane Juice
Sri Lankan Drinks
Ceylon Tea
Toddy (Palm Wine)
Other
Borhani (Yogurt-Like Drink) – Bangladesh
Central Asian Drinks
Airag/ Ayrag (Fermented Horse Milk) – Mongolia
Suutei Tsai (Mongolian Salty Tea) – Mongolia
Kumis (Fermented Mare Milk) – Kazakhstan
Shubat (Fermented Camel Milk) – Kazakhstan
West Asian (Middle Eastern) Drinks
Turkish Drinks
Turkish Tea
Ayran (Yogurt Drink)
Boza (Fermented Grain-based Beverage)
Rakı (Anise-flavored Brandy)
Salep (Hot Milk With Cinnamon)
Iranian Drinks
Doogh (Yogurt Drink)
Persian Tea
Other West Asian (Middle Eastern) Drinks
Arak (Distilled Anise-Flavored Spirit) – Middle East (Lebanon, Syria, Jordan, Palestine)
Arabic Coffee
Definition And Overview of Asian Drinks
Asian drinks refer to the variety of beverages originating from the numerous countries and cultures within Asia. These can range from teas, traditional fermented drinks, and juices made from unique regional fruits, to modern concoctions like bubble tea.
Historical Background of Asian Beverages
The history of Asian beverages dates back thousands of years. For instance, tea, which originated in China around 2737 BC, has played a significant role in Asian history (1).
Sake, a rice-based alcoholic drink from Japan, has been consumed for over a thousand years, while Soju from Korea also has a history dating back to the 13th century.
Cultural Significance and Role in Traditional Asian Cuisine
Asian drinks hold immense cultural significance. For instance, in many Asian societies, tea is more than just a beverage, it is a part of important ceremonies and rituals. Similarly, drinks like Sake in Japan and Soju in Korea are integral to celebrations and social gatherings.
Étiquettes Of Consumption
Tea Ceremonies:
The Japanese "Sado/Chanoyu"
The Japanese Sado, or Chanoyu, is a ceremonial event centered around matcha, a powdered green tea. Also, the intricate procedure, known as "temae," is heavily influenced by Zen Buddhism.
In some instances, leaf tea, mainly sencha, is used in practice called senchadō. These ceremonies highlight the deep cultural significance of tea in Japanese society.
There are two types of gatherings that exist within this tradition. The first is chakai, a more informal gathering where guests are offered confections and thin tea, sometimes alongside a light meal.
On the other hand, chaji is for formal and more elaborate occasions. It involves a full-course kaiseki meal, followed by confections, thick and thin tea, and can extend up to four hours.
The Chinese "Gongfu Tea Ceremony"
The Chinese gongfu tea ceremony, also known as kung fu tea, is a captivating tradition deeply rooted in Fujian and the Chaoshan area of eastern Guangdong.
Normally, people use smaller brewing vessels and a higher leaf-to-water ratio in this ceremony, a technique favored by tea connoisseurs and teashops. This approach intensifies the taste, bringing out the tea's full potential.
Drinking Customs
Korea
Korean drinking customs are deeply rooted in respect and tradition. When an elder offers you a glass, it's customary to accept it with both hands while bowing your head slightly.
As you sip, remember to turn away from the elder, covering your mouth and glass with your hands. And don't forget; you need to finish the first drink in one shot.
The Philippines
In the Philippines, drinking customs are communal, blending respect, camaraderie, and entertainment. Usually, rejecting an offered drink can be seen as disrespectful.
People also engage in "Tagayan," or "tagay," a practice where a single glass is passed around in a sequence. These convivial gatherings often feature shared food, community singing, and the ever-popular karaoke, turning drinking into a vibrant social event.
East Asian Drinks
Chinese Drinks
1. Baijiu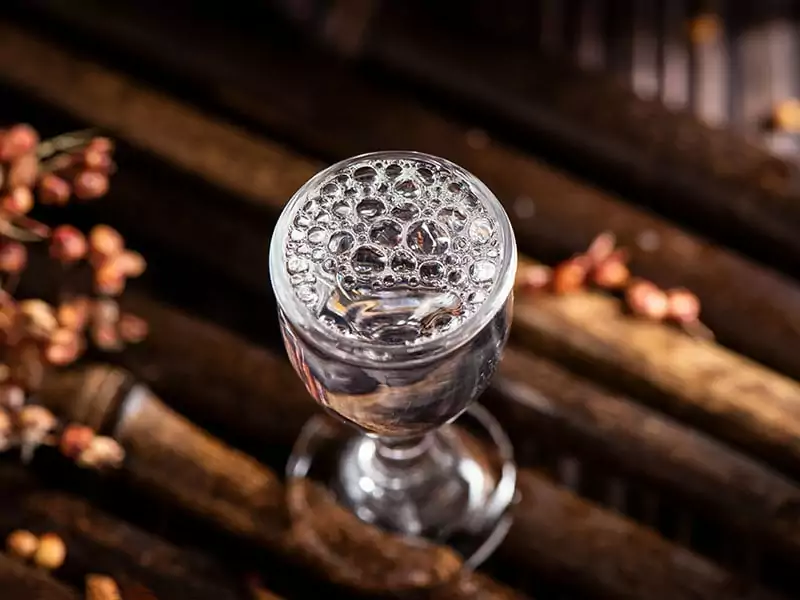 Baijiu, a clear, potent liquor, is the world's most consumed spirit, which holds a special place in my heart. Distilled from fermented grains like sorghum, wheat, rice, and corn, I can feel its distinct flavor profile and varying aromas, making every sip unique.
Additionally, it can be quite potent, with an alcohol content of around 40 – 50%. Quality Baijiu tends to have a full-bodied flavor. As the national Chinese drink, it's common to see Baiju in small wine goblets during social events or business meetings.
Also, Baijiu is more than just a drink; it carries cultural significance and creates a sense of camaraderie.
2. Soy Milk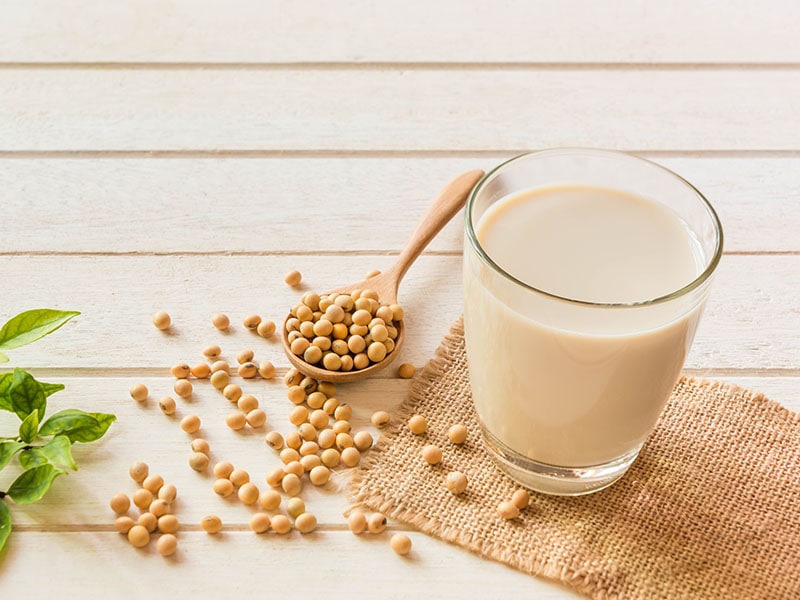 Soy milk, known as "doujiang" in China, has been a beloved part of my travels in China and Taiwan. Plus, the drink is popular in Japan and Malaysia. It holds cultural significance in Asian communities and has become a comforting breakfast staple.
I remember the bustling streets filled with freshly made soy milk from street vendors. This plant-based drink, crafted from water, oil, and soybeans, is a fantastic dairy milk substitute for vegans and lactose intolerant.
Whether hot or cold, sweet or savory, soy milk offers a versatile and pleasing taste. As a vegan and lactose intolerant, it served as a fantastic dairy milk substitute. Beyond its deliciousness, soy milk has health benefits like lowering cholesterol and reducing the risk of heart disease (2).
3. Longjing Tea (Dragon Well Tea) (Hangzhou, Zhejiang Province)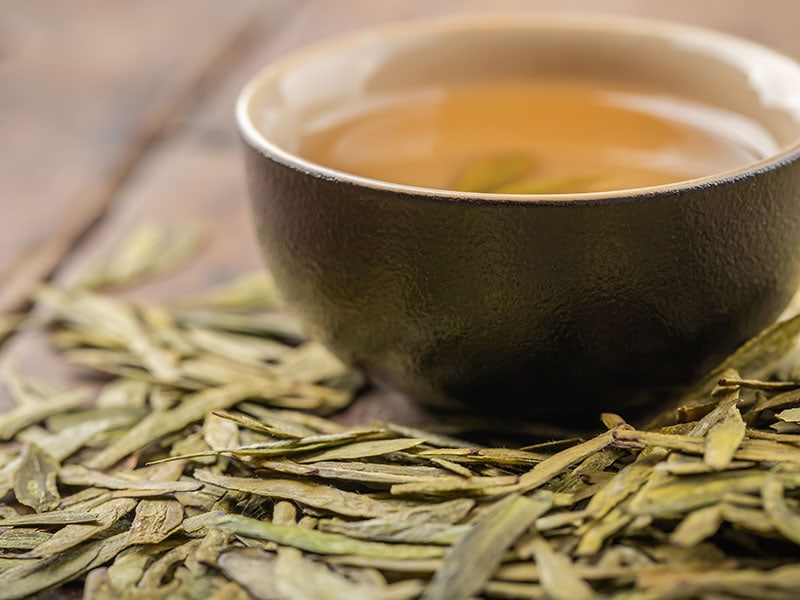 Longjing tea, a top-tier Chinese tea, has won everyone's hearts (including mine) with its pan-roasted green tea leaves that release mellow vegetal aromas. It's like a symphony of buttery, toasty, and nutty notes with a hint of chestnut.
This prized brew primarily comes from Zhejiang province, particularly the West Lake area around Hangzhou. Normally, springtime brings the highest-quality harvest, while summer yields tend to be of lower quality.
Once honored as imperial tea by Emperor Qianlong in the Qing dynasty, it pairs beautifully with fried, grilled, or smoked seafood, cheese, and various desserts.
4. Pu'Er / Pu Erh (Yunnan Province)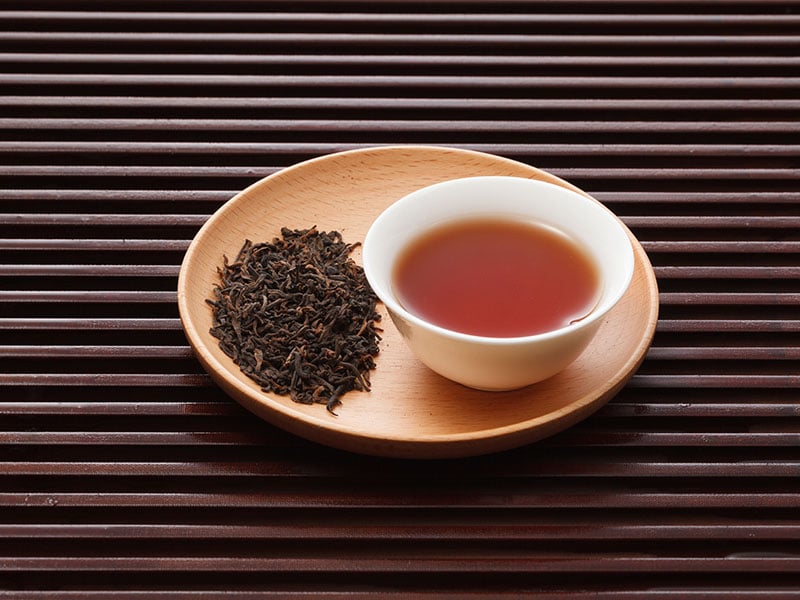 If you have a chance to visit Yunnan province, you should not miss Pu Erh, a vintage tea from this region. It is like a fine wine when it gets better with time.
There are two main varieties: raw Pu Erh, which has a fresh, vegetal flavor with a hint of bitterness and a sweet note, and ripe Pu Erh, known for its mild, distinctive, and earthy flavor due to fermentation.
Both types, whether loose or compressed into unique shapes like bricks, cakes, bells, or mushrooms, can be stored for a long time. Surprisingly, the longer you store Pu'er tea, the better the flavor.
However, sipping Pu Erh isn't just about taste, as the tea offers potential health benefits ranging from well-being and weight loss to even cancer-prevention claims (3).
5. Mijiu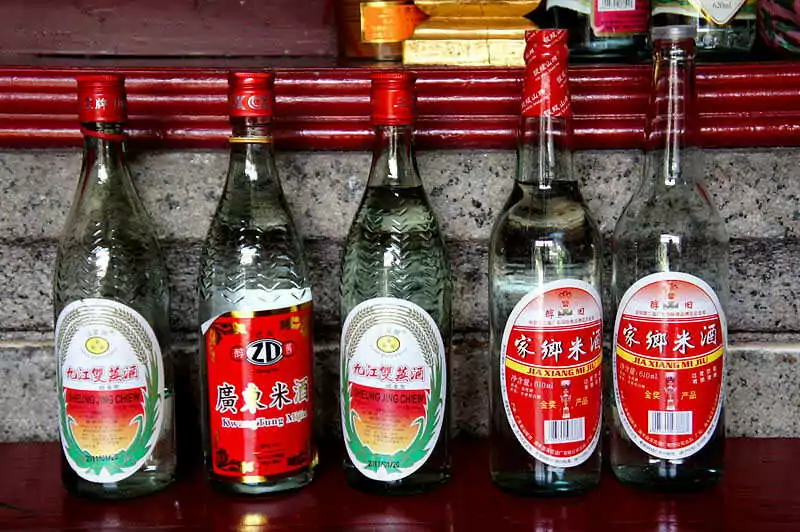 Another alcoholic drink that I'd like to introduce is Mijiu or Michiu in Taiwan. It is a clear, basic Chinese rice wine brewed from fermented glutinous rice. With an alcohol content ranging from 15% to 20%, it also boasts an acidic, sweet, and subtly bitter taste.
Like Japanese sake, remember to heat up Mijiu before sipping it. Additionally, the spirit doubles as a popular cooking wine, with some varieties having a salty taste to serve their culinary purposes.
6. White Tea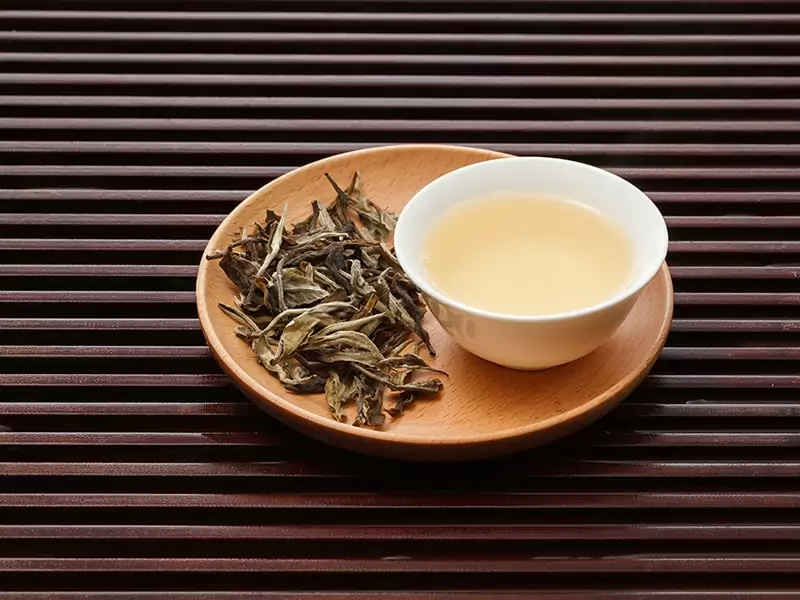 White tea, from the Fujian province of China, is another famous variety in the wide world of tea. This exquisite category of Chinese tea has reached far beyond its birthplace, with production now also in Taiwan, Eastern Nepal, Thailand, Galle in Southern Sri Lanka, and northeast India.
Usually, hand-picking is the preferred harvesting method when the tea leaves of the Camellia sinensis plant are not fully opened, and the buds are still covered in tender white hairs. The tea can appear non-oxidized or lightly oxidized, which helps to keep its delicate character intact.
When you brew white tea, expect a light straw color and subtle aromas and flavors that remind you of flowers, fruit, honey, vanilla, herbs, or citrus fruit. The tea is lighter in color and flavor than green or black tea but pricier due to the time-consuming production process.
You'd want to skip pairing it with mild cheese varieties, subtly-sweet desserts, light salads, and fish dishes. It's best savored before the meal or between the courses.
7. Oolong Tea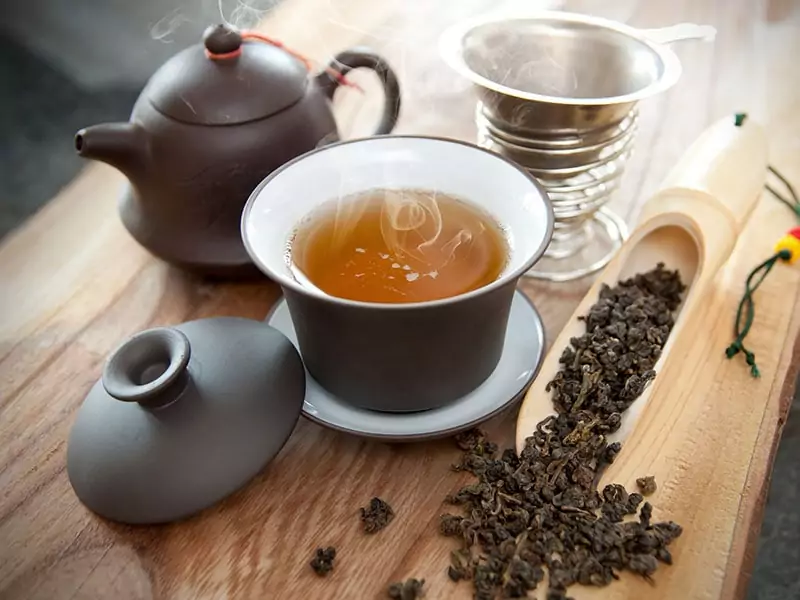 Oolong tea, with roots probably from the Wuyi Mountains of China, is a semi-oxidized tea cultivated in Taiwan. The unique part about it is the varying oxidation level – anywhere from 10% to 80%.
Oolong can present a wide spectrum of flavors and aromas depending on the leaf style, oxidation level, color, and roasting degree. You might catch notes of melons, apricots, wood, orchids, or spices.
Color-wise, it can be a pale green or yellow to dark orange. It straddles the line between green and black teas – less oxidized styles lean towards green teas, while more oxidized ones (over 50%) share black tea characteristics (4).
For pairing food with oolong tea, you want to accompany lightly-oxidized teas with lighter dishes and seafood, whereas darker styles pair well with smoked or cured meat and desserts. If you're trying Taiwanese varieties, they're generally less oxidized.
8. Kombucha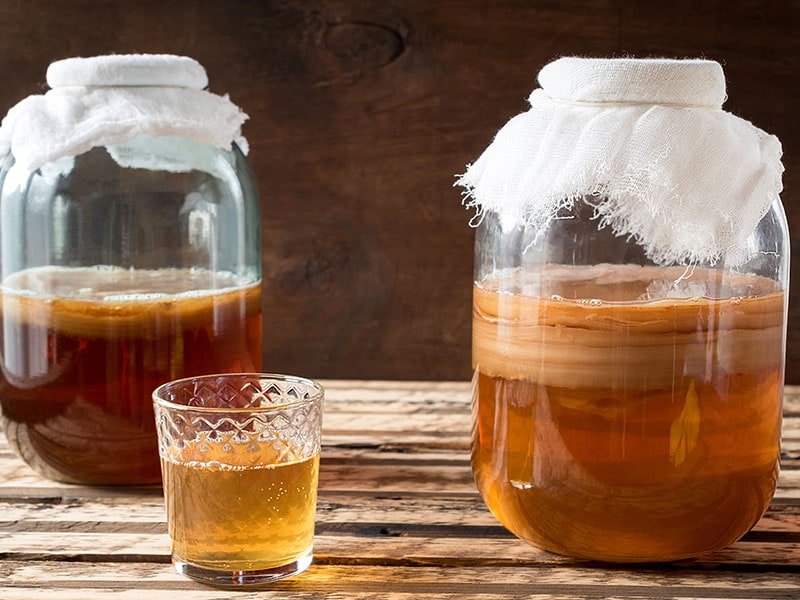 Kombucha is a homemade, bubbly Chinese beverage made from fermented black or green tea. Over time, the concoction traveled with the tea trade, finding a home in Korea and Japan, where it likely got its name.
The magic of making Kombucha starts with sweetened tea and a SCOBY, a friendly little community of bacteria and yeast. Think of it as your tiny brewing partner that helps kick off the fermentation process!
Then, you'll need to give it a couple of weeks to work its magic. For the second fermentation procedure in the bottle, you can get creative, adding fruits, juices, or even spices and herbs for an extra burst of flavor. Once it's bottled up, you'll want to chill it in the fridge while keeping an eye out for the carbonation.
Ideally, Kombucha should have a distinctive blend of tangy and subtly sweet notes. The drink is also a nutrient-rich, non-alcoholic drink (well, mostly – it does contain less than 0.5% ABV) that offers probiotics and antioxidants.
However, if left to ferment in the bottle for too long, it can surpass that alcohol limit, ending up as a harder version called kombucha beer.
9. Rice Wine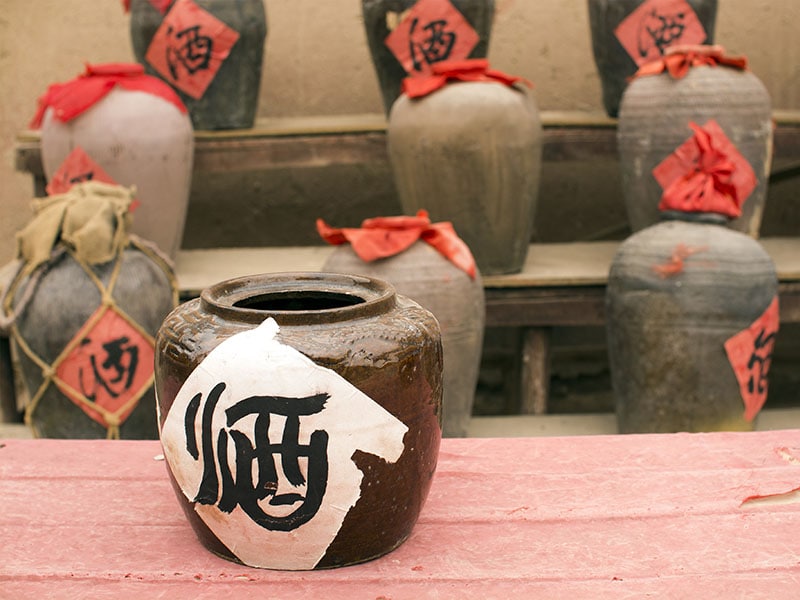 Rice wine, a product of China's ingenuity, has spread throughout Asia, where each nation adds its own unique twist. Typically, the brewing process begins with a steamed rice mash and a regional starter like China's jiuqu, Japan's koji, or Korea's nuruk.
This combination triggers a chain reaction where starch turns to sugar, and then, thanks to the yeast, sugar becomes alcohol. This base wine is sometimes sweetened, diluted, fortified, or jazzed up with fruit juice.
Normally, a typical rice wine will have an alcohol content of around 18-25% ABV, making it a mainstay at formal dinners and banquets and an ingredient for cooking.
Notable examples include China's Shaoxing and Mijiu, Vietnam's rượu cần, Malaysia's lihing, Korea's Makgeolli and Cheongju, and Japan's sake and mirin.
10. Green Tea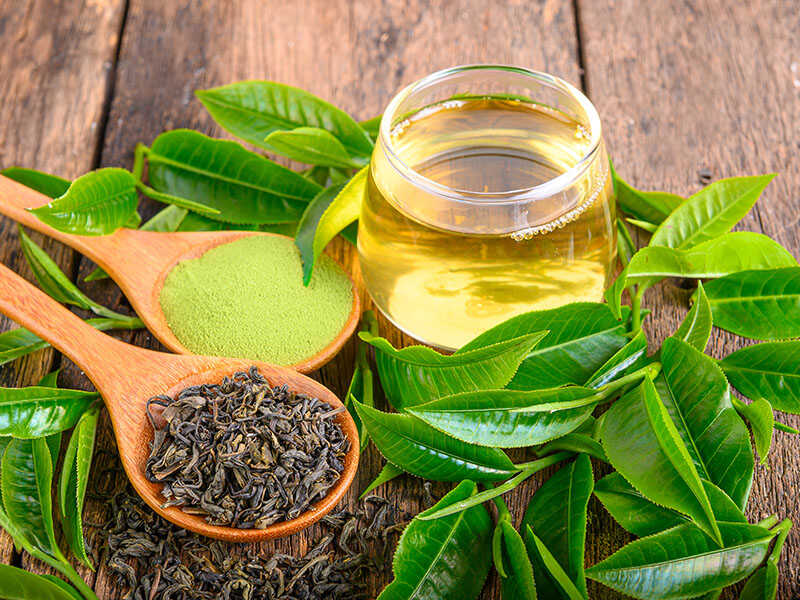 Having experienced the wonders of green tea firsthand, I am captivated by its rich history and remarkable benefits.
Green tea is a gift from China dating back 3000 years, possessing delicate flavors and impressive health benefits. In China, I often encounter steamed and pan-fried leaves from the evergreen tea shrub used for making a refreshing non-oxidized brew with grassy and herbaceous notes.
Among the celebrated varieties are Longjing and Biluochun, China's two most consumed tea. In fact, the two tea varieties have been linked to weight loss, improved digestion, enhanced cognitive function, and even a lower risk of cancer.
11. Black Tea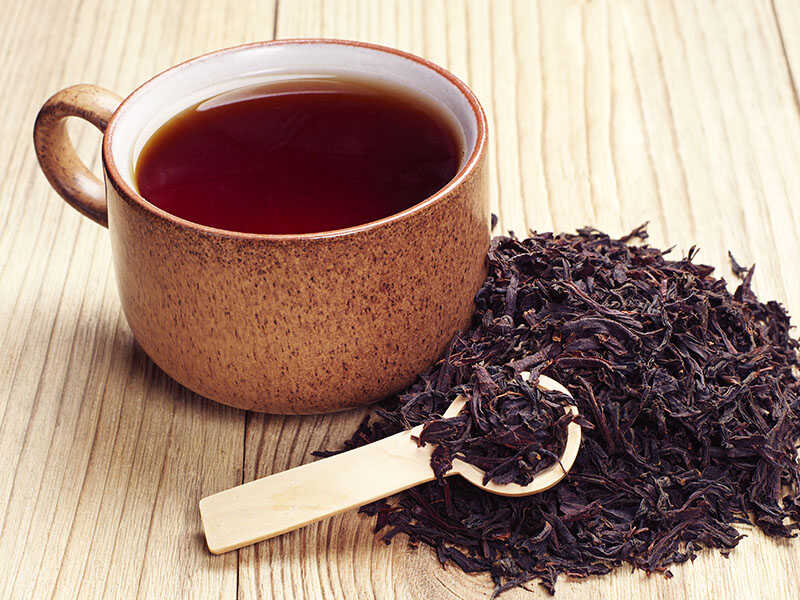 Known in China as red tea or hong cha, black tea sports a striking red hue. It's a product from brewing camellia sinensis, but unlike its green and white siblings, it undergoes heavy oxidation.
This four-step procedure of withering, rolling, fermenting, and baking produces dark-colored leaves with a robust, earthy flavor ranging from savory to sweet. Furthermore, people even ferment the tea. Commonly, there are three main varieties: Xiao Zhong, Gongfu, and Broken black tea.
Thanks to British and Dutch traders, black tea found its way to Western markets, where it quickly became a favorite. This rich brew pairs beautifully with afternoon tea treats, savory dishes, desserts, and even chocolate. Today, the top producers are China, India, and Sri Lanka.
12. Chrysanthemum Tea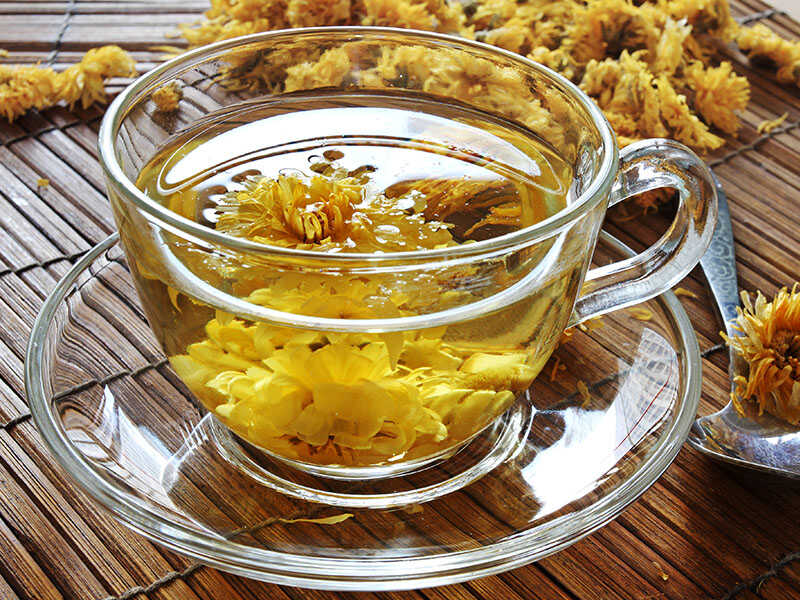 Chrysanthemum tea is a staple in many Asian households, made from simply steeping chrysanthemum flowers in water. This soothing brew offers a floral, slightly earthy flavor that is loved in Chinese restaurants and teahouses.
The tea's fame stretches from Hubei to Hangzhou and up to Mount Huang. Beyond its taste, this herbal remedy from the Asian native Aster family is also a healthy option in aiding or managing blood pressure, reducing inflammation, and more (5).
Some of the notable brands, such as Vitasoy and Yeos, even have Chrysanthemum tea sold in a bottle.
13. Wong Lo Kat (Herbal Tea Brand)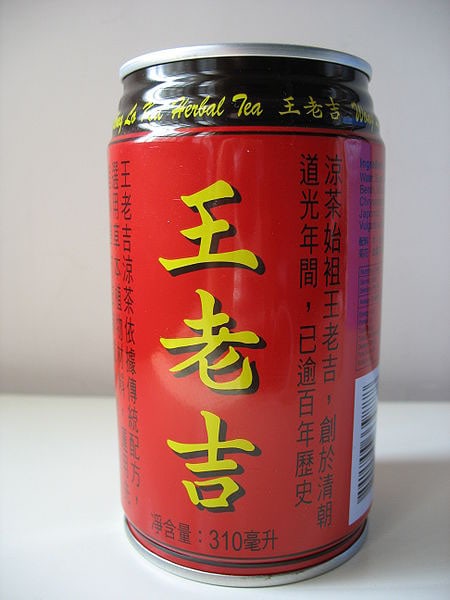 Wong Lo Kat is my beloved tisane drink from China with a rich history dating back to the Qing Dynasty. Its vibrant red cans and distinctive flavor, combining bitter and sweet herbal notes, immediately caught my attention.
Whether in a can or a cardboard container, Wong Lo Kat is easily accessible. Its unique taste and refreshing qualities make it a delightful choice for those seeking an invigorating beverage. Don't miss the opportunity to try this iconic Chinese drink and indulge in its harmonious blend of flavors.
14. Suanmeitang (Sour Plum Drink)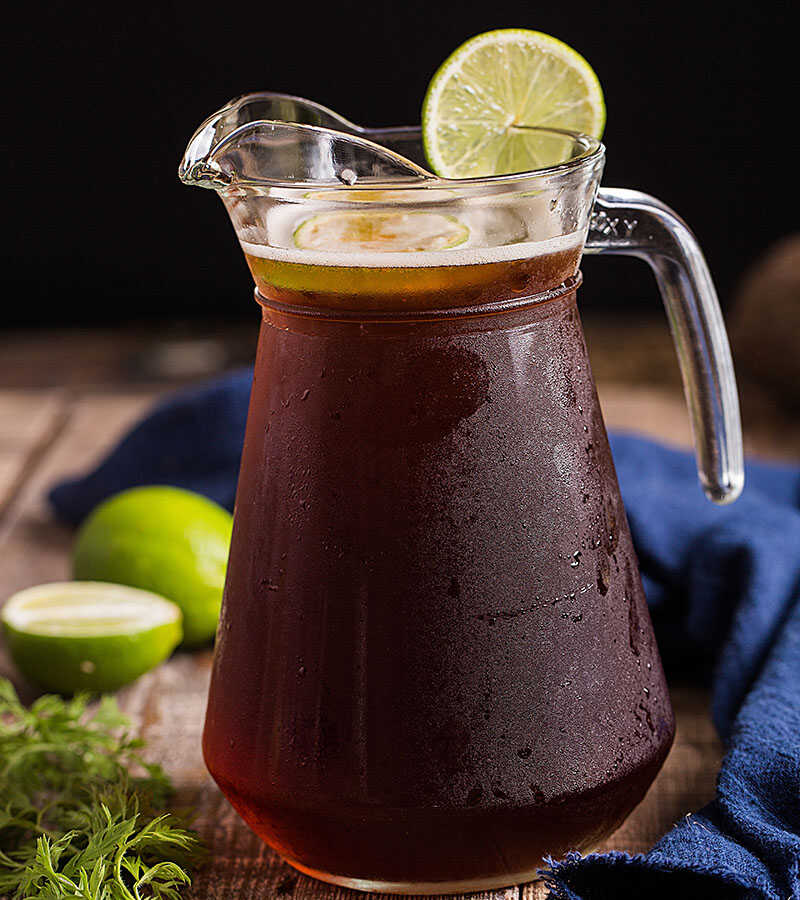 Suanmeitang is a summer favorite in China, combining a unique blend of smoked plums, rock sugar, sweet osmanthus, licorice root, and Chinese hawthorn. This results in a sour, sweet, slightly salty flavor and spicy undertones.
While some might find Suanmeitang potent and choose to dilute it, many adore it poured over ice for its thirst-quenching and hydrating properties. Plus, the tea aids digestion and soothes ailments like a sore throat.
Suanmeitang is also a go-to drink to cool down the heat of hot pot and spicy dishes. Available in various forms – powder, liquid concentrate, or bottled – it's easy to find in grocery stores.
15. Jinyinhualu (Honeysuckle Water)
Honeysuckle water is a delightful infusion adored in China, especially during the summer heat. Interestingly, this refreshing drink also comes with a herbal flavor.
Highly regarded for its healing properties, honeysuckle is known to clear toxins and promote weight loss. Not just that, its pleasant taste encourages a higher water intake, assisting in keeping you well hydrated.
16. Shaoxing Wine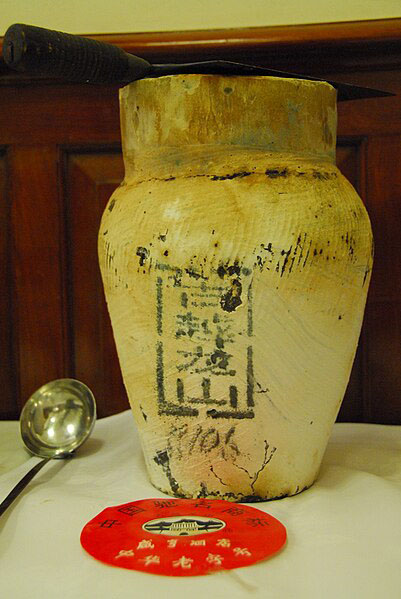 Shaoxing wine is a distinctive Chinese rice wine from Shaoxing in China's eastern Zhejiang province. This amber-colored nectar, carefully crafted from fermenting glutinous rice, water, and wheat-based yeast, is often aged for decades.
It presents a mild, mellow flavor, warming finish, and nutty aroma. With an alcohol content of around 18%, it's not just for cooking but also a pleasing drink. In culinary, locals employ the spirit for adding depth to fillings, marinades, stir-fries, sauces, or braised dishes.
The Shaoxing wine also earns its fame in mainland China, Taiwan, and Southeast Asia. Interestingly, authentic Shaoxing is much better as a drink than in the cooking process.
Japanese Drinks
17. Sake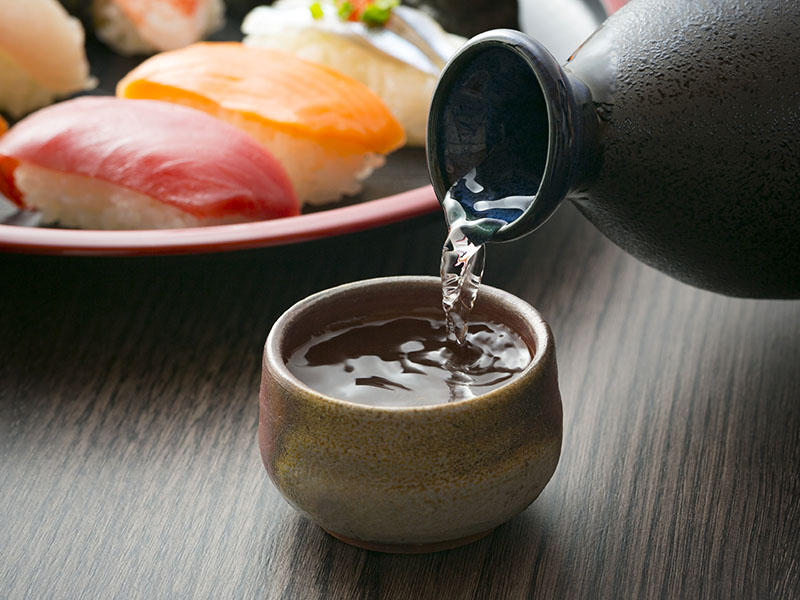 Sake, or "Nihon shu," is a cultural cornerstone in Japan that dates back to the third century. This ancient alcoholic beverage is crafted from a precise blend of fermented rice, water, rice koji, malt, yeast, and lactic acid, resulting in a 15-20% alcohol content.
Sake is connected to ancient rituals and festivities, an offering to deities. Its flavor varies, from sharp and alcoholic to a grainy umami punch, even leaning towards rich dessert-like sweetness. Pair it with umami-rich side dishes, and you've got a treat.
Surprisingly, there are over 1,500 breweries across Japan that offer popular variations such as Mizore, Junmai, and Genshu, each having a unique taste.
18. Matcha Tea (Green Tea Powder)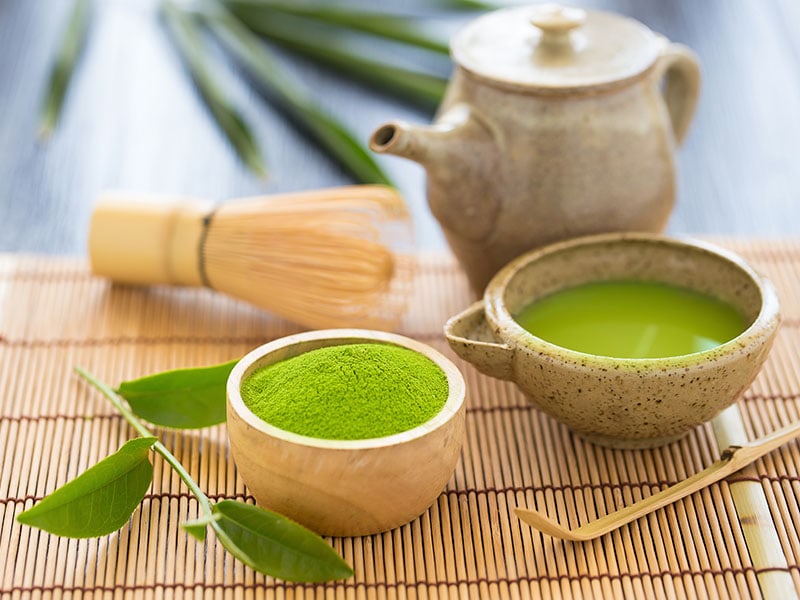 Matcha tea, with roots in China, appeared in Japan by the 9th century. It's a deep green powder obtained from the Tencha leaves, grown in the shade to boost their chlorophyll and nutrient content.
Flavor-wise, it's robust, slightly sweet, with a hint of bitterness. Mix this powder with water using a delicate bamboo whisk, or "chasen," and watch it froth into a soothing cup of tea. Matcha isn't just for tea, as it's a flavor sensation in mochi, ice cream, desserts, chocolate, lattes, and cookies.
Fun fact: Matcha flavor is one of the most exported condiments in Japan.
19. Shochu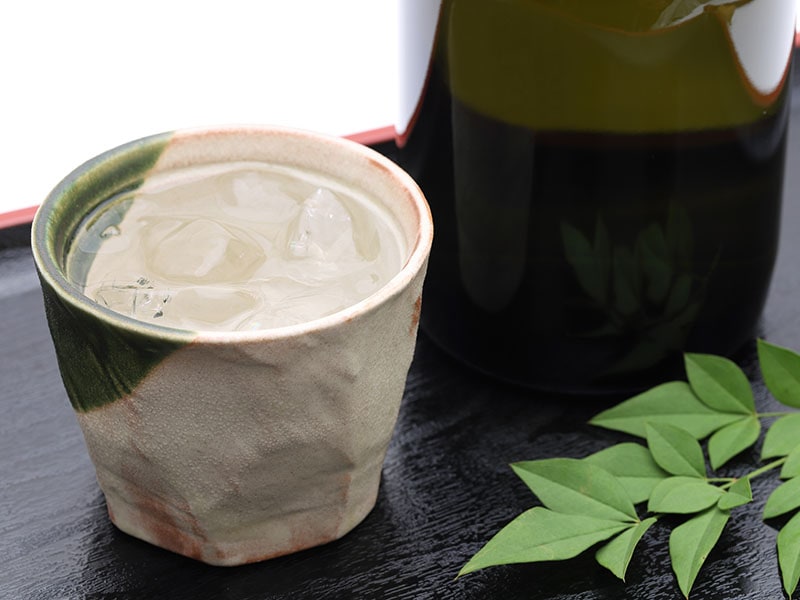 The Japanese distilled liquor, shochu, carries notes of vodka or brandy but with a lighter touch. Favored by older Japanese gentlemen and a hit during work parties for salary workers, it dates back to 1559 and is still a staple at the izakaya, a Japanese pub.
You can find shochu made with various ingredients such as sweet potato (imo shochu), barley (mugi shochu), rice, brown sugar, buckwheat, sugar cane, and chestnut.
With a clear, pure taste and around 30% alcohol content, it's usually sipped neat or on the rocks, although some people prefer it with a splash of water, soda, oolong tea, or lemonade. Plus, the high enzyme content means fewer hangovers!
Typically, you want to visit Southern Kyushu, especially in Kagoshima, Miyazaki, and Kumamoto prefectures, for their popular shochu.
20. Sencha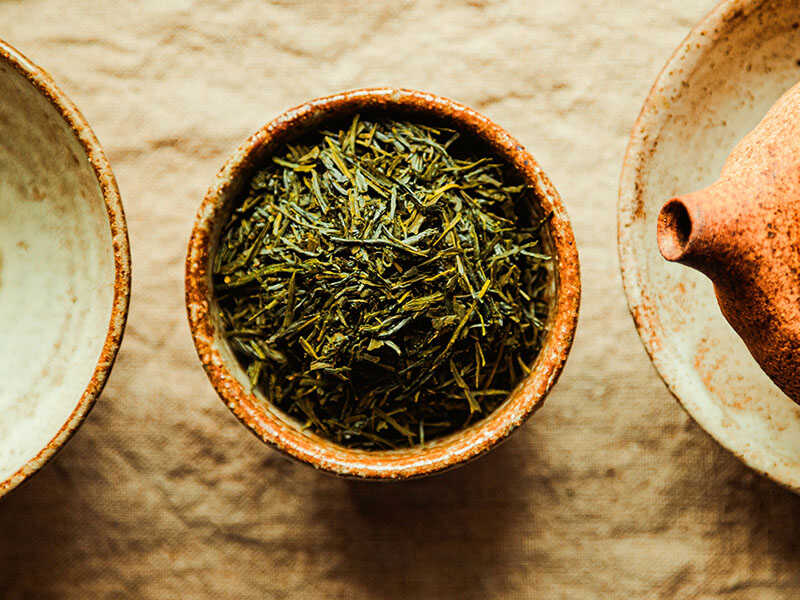 Sencha is Japan's most well-known beverage, making up around 80% of the country's green tea production. This tea involves placing green, needle-like leaves in direct sunlight before they're steamed, rolled, and dried.
The result is a vegetal, grassy flavor with a mild sweetness and a hint of astringency. Usually, Sencha and seafood, or rice, create a harmonious culinary combination.
Among the varieties of sencha, shincha stands out the most. It's also known as ichiban-cha and is celebrated for its high quality from the first seasonal tea harvests, offering a sweeter, more delicate flavor.
21. Bancha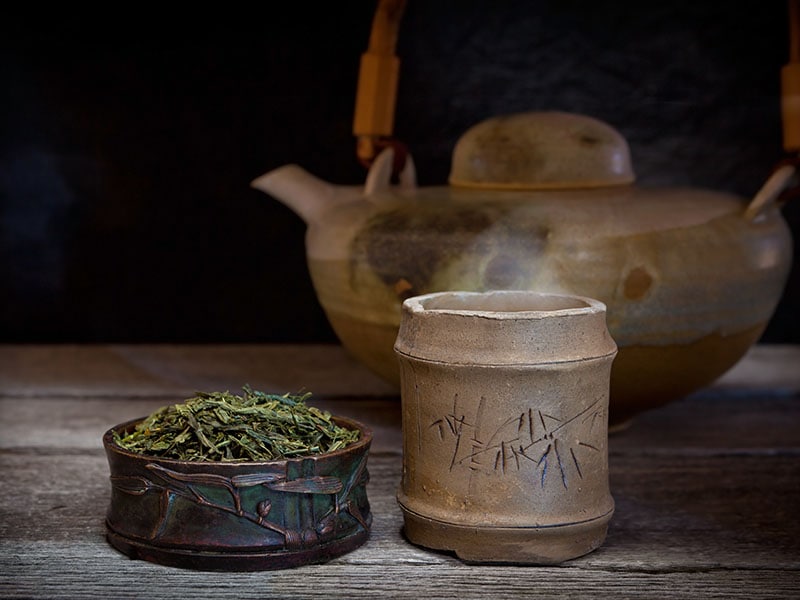 Bancha green tea holds a regular spot on the Japanese tea table, known for its mature, firm leaves and inclusion of stems and twigs. Picked from the same plant as sencha but later, between summer and autumn, it exudes a slightly harsher and less fragrant aroma.
This type of tea is considered the lowest grade of Japanese green tea that is not on the same level as sencha or gyokuro.
Bancha presents a lighter and more astringent taste when steeped shortly than other Japanese green teas. Commonly, you might come across premium bancha under the label senryu.
22. Japanese Whisky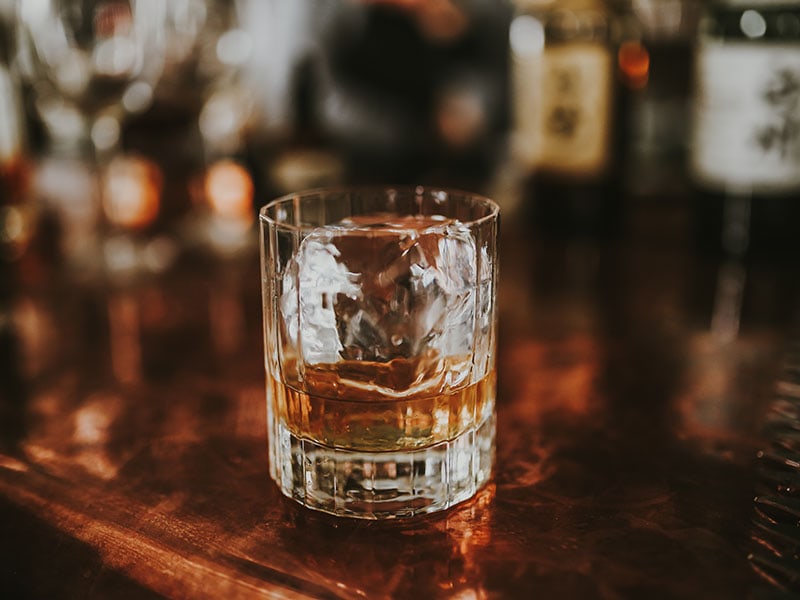 Japanese whisky, with its official production roots dating back to 1923, adds a unique spin to your journey in the world of spirits.
Originating from Kyoto's Yamazaki distillery, pioneers Shinjiro Torii and Masataka Taketsuru laid the whisky foundation. Then, Masatake Taketsuru eventually established the award-winning Nikka distillery in Hokkaido.
This whisky, available as single malt, blended malt, or blended, draws inspiration from the Scottish tradition, yet it's more delicate than its Scottish counterpart. Double distilled from malted barley and fermented grains, some peated, the spirit is usually aged in oak casks.
This type of container is popular for aging various spirits, including American, Scottish, Sherry, or Japanese Mizunara oak. While you're in Japan, get to know names like Hibiki, Nikka, and Yamazaki to enjoy the very best of Japanese whisky.
23. Hōjicha / Houjicha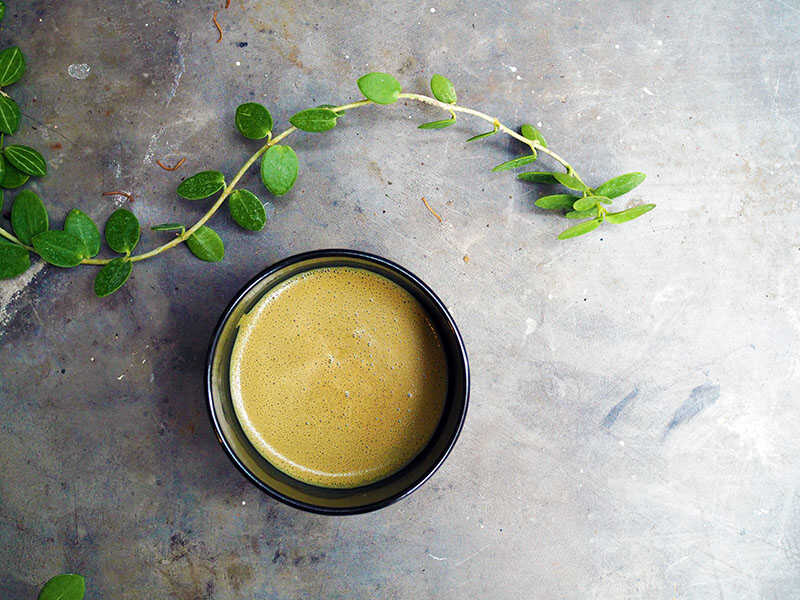 Hōjicha, a roasted green tea of Kyoto, first emerged in the 1920s. This unique tea involves roasting bancha or sencha green tea in a porcelain pot at high temperatures (302 °F), thereby preventing oxidation.
This process gives Hōjicha the distinctive reddish-brown color that differentiates it from traditional green tea hues. Once brewed, hōjicha has a warm, earthy, and subtly sweet flavor with virtually no bitterness.
Its roast-like notes may remind you of coffee, cocoa, and caramel without overwhelming your taste buds. With less caffeine and tannins, hōjicha is a fantastic afternoon or evening tea for anyone wishing to limit caffeine intake. Also, hōjicha is ideal for making steamed milk drinks.
24. Highball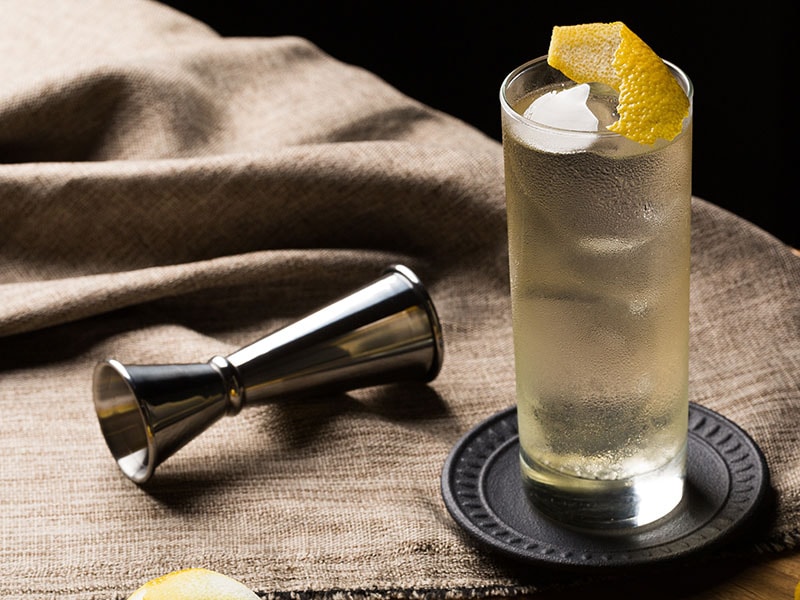 Highball is a refreshing cocktail that combines Japanese whisky and soda water. I once had this fantastic mix at a local izakaya, and the bartender shared some tips for making the best version.
You should start with a perfectly carved ice cube, stirring until frost appears on the glass. Remove excess water, add another block of ice, and slowly pour whisky. Also, you may want to add a third ice block and top it off with soda water.
Additionally, you may include a lemon wedge to make a great optional garnish. If you're ever in Japan, Kaku-highball, made with Suntory's Kakubin brand whiskey, is a staple in Japanese bars.
25. Chūhai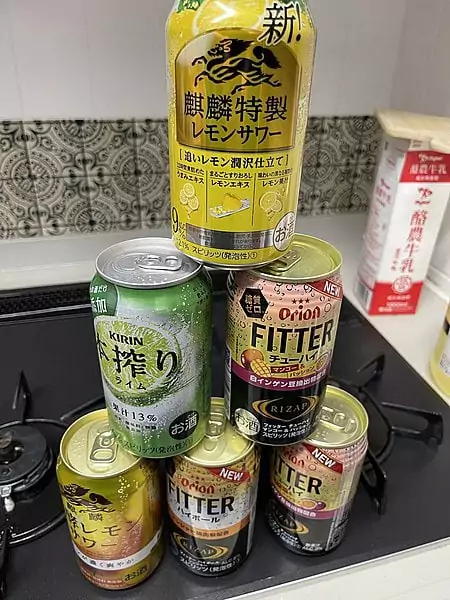 Chūhai or Chu-HI from the vibrant izakayas of Tokyo is a lovely Japanese cocktail that infuses soda water with shochu to get a humble alcohol content of 3% to 7%. The name itself is a clever fusion of the words shochu and highball.
Typically, its original variant is a refreshing mix of barley shochu and lemon-flavored carbonated water, which remains the most beloved. Interestingly, vodka can replace shochu to pair with an array of fruit flavors, juices, or syrups to diversify its taste.
Chūhai is a convenience store staple, a frequent companion to Japanese university students on weekend nights.
26. Kamikaze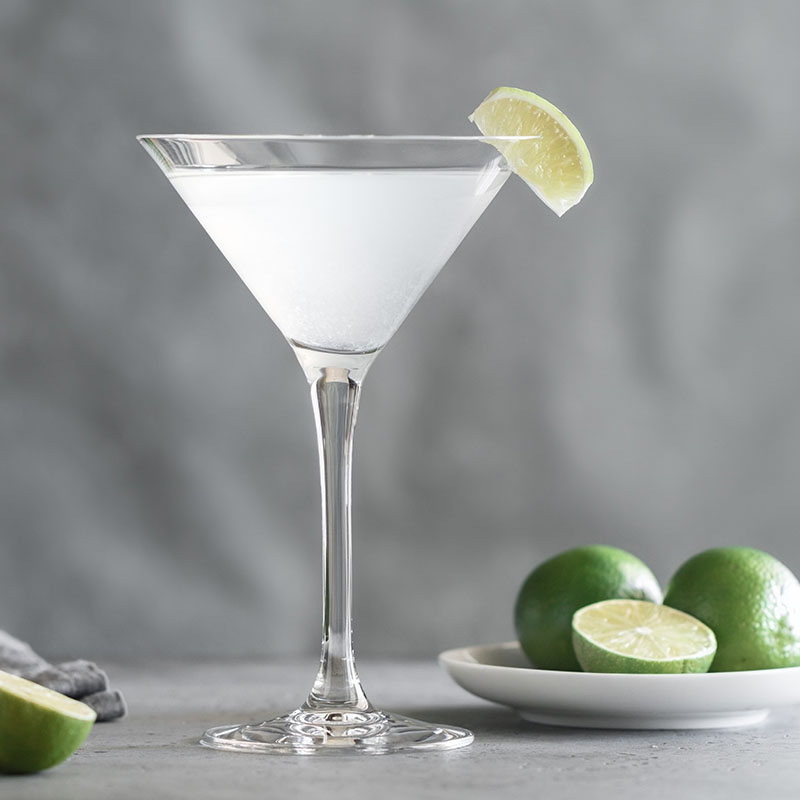 Kamikaze is a cocktail with a punchy name that translates to 'divine wind' in Japanese. The mix is balanced with vodka, triple sec, and lime juice, with some folks adding a sprinkle of cane sugar for that extra zing.
This mixed concoction's origins are contested, with some pointing to post-World War II Tokyo, and others to the disco-fueled 1970s. Served straight up in a cocktail glass, often with a lime garnish, kamikaze is a preferred apéritif, especially for pairing with pasta dishes or spicy chicken wings.
27. Midori


Midori is a vibrant green, melon-flavored liqueur with a sweet profile that can be sipped or used to jazz up cocktails. Infused with yubari and muskmelons, its subtle melon flavor and sweetness come from additional ingredients like sugar, brandy, and artificial coloring.
First named Hermes Melon Liqueur in 1964, the liqueur was rebranded as Midori in 1978 and launched at the iconic "Studio 54" in New York.
28. Awamori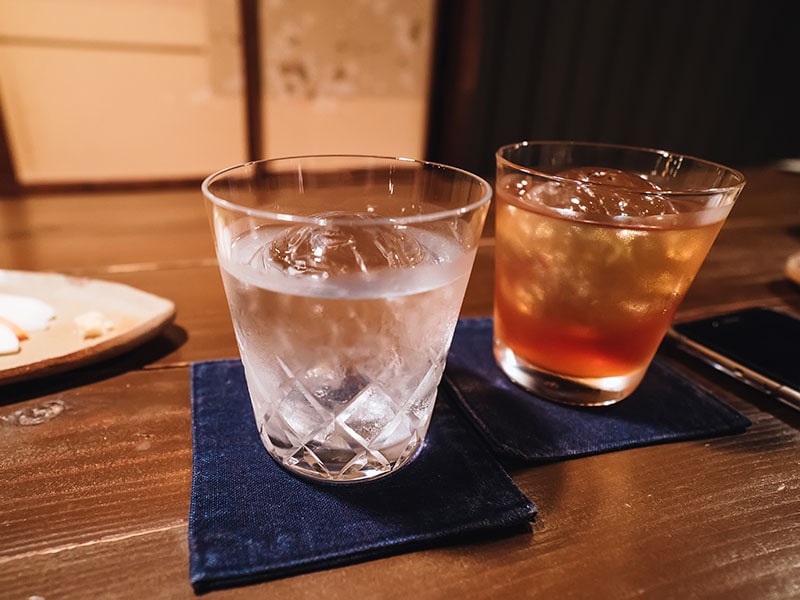 With its deep roots in Okinawa, Awamori is Japan's oldest distilled drink. It's a product of long-grained rice and black koji mold, following an unchanged 500-year-old recipe. Furthermore, the specific climate conditions of Okinawa make it the sole place where Awamori is crafted.
Commonly, the Japanese will store Awamori in clay pots and allow it to mature in time. In Okinawa, this drink is a staple, served with water and ice or mixed into cocktails. Some locals blend it with soda or coffee-flavored milk as an alternative twist.
29. Umeshu (Plum Wine)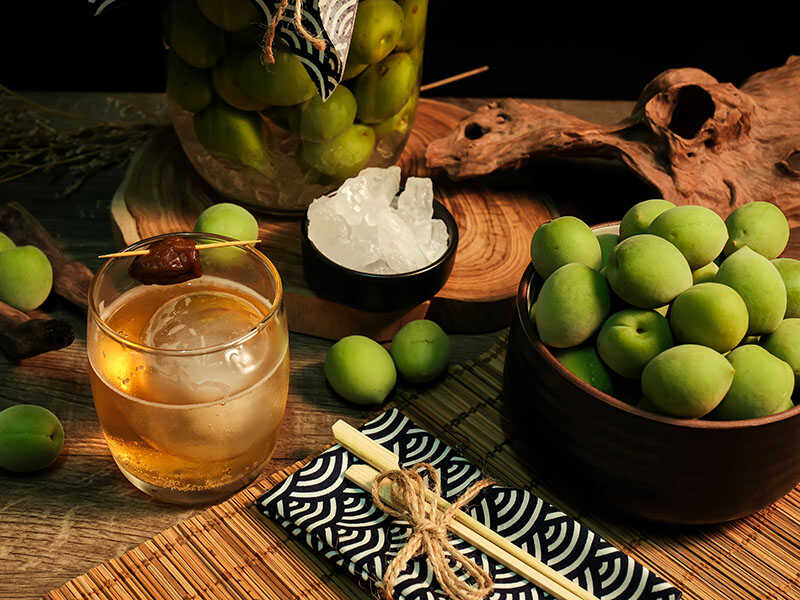 The syrupy plum wine, umeshu, is a sweet pleasure Japan proudly presents. This mild liquor combines Japanese plums with shochu or another white liquor with a touch of sugar to create this rich, plum-flavored delight.
Aside from being just a dessert drink, umeshu is versatile and can be enjoyed straight. Alternatively, you can mix it with a sweet or sour sparkle, soda water, or dilute it with water. With its 10-15% alcohol content, Umeshu is relatively friendly for newcomers.
When I first visited a Japanese household, I was offered a glass of chilled umeshu as a perfect welcome. Plus, the spirit contains antioxidants, vitamins, and minerals. Surprisingly, home-brewed umeshu is allowed, making it a personalized gift that hosts can offer to their guests.
30. Yakult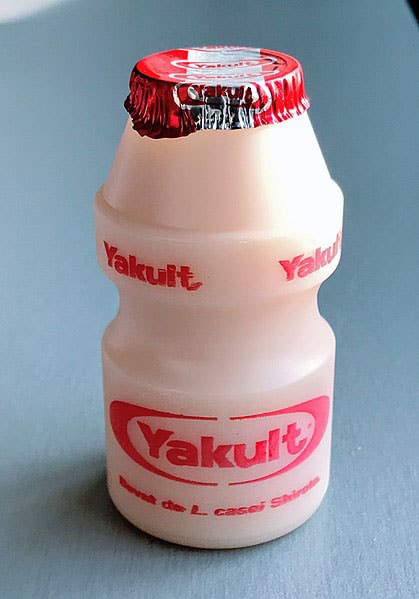 Yakult is a probiotic milk drink created in Japan in the 1930s. It's a sweet, citrusy, yogurt-like beverage housed in a small 65ml cylindrical plastic bottle, sealed with a signature foil lid. Made with a Shirota strain of lactic acid bacteria, Yakult is a healthy option to improve your gut health.
Back in the 1980s, Yakult Ladies would sell it door-to-door. Now, it's conveniently available in supermarkets and corner stores across 40 countries and regions. Astonishingly, around 35 million Yakult products find their way to consumers every single day.
I've tried freezing it to make a lovely instant dessert. However, I prefer the beverage with a dash of soju for a convenient cocktail.
31. Ramune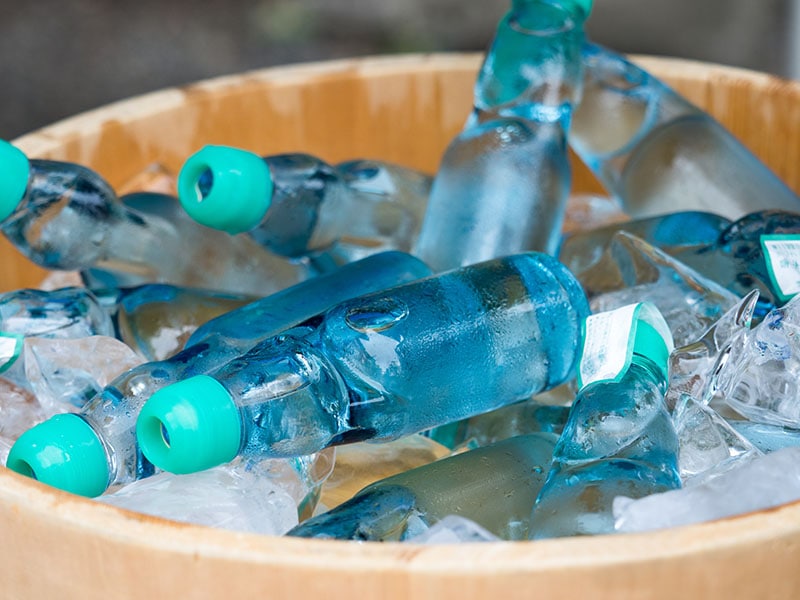 Ramune is a carbonated soda from Japan. It was first invented by a British pharmacist who first mixed it up in 1884 before appearing in Japan during the Meiji era thanks to a Scottish pharmacist.
You can easily recognize it by its distinct "Codd-neck" glass bottle, sealed by a tiny marble. To take a sip, you have to dislodge the marble using the lid's rubber stopper. I admit, it can be quite tricky, but it's all part of the fun.
With flavors from strawberry to pineapple to blueberry, Ramune always has a flavor to satisfy your thirst. You can find this bubbly beverage at Asian supermarkets or Japanese restaurants. It's also a favorite at local summer festivals in Japan called Matsuri.
32. Pocari Sweat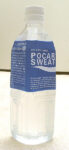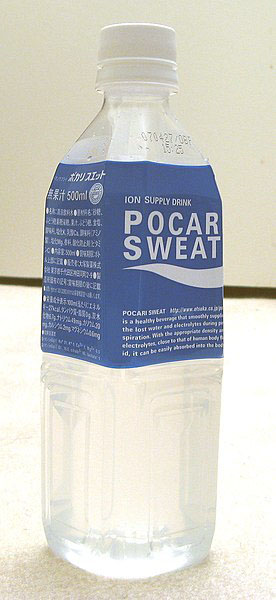 Pocari Sweat is Japan's answer to Gatorade. It's a non-carbonated isotonic sports drink, launched in 1980 with a light citrusy sweetness and a hint of saltiness. Pocari quickly became a best-seller, achieving over $1 billion in product shipments.
Fascinatingly, Pocari also provides vital minerals and electrolytes. I remember grabbing a bottle from the local convenience store before a big hike since it supplies a great ion source.
Whether you're engaging in intense physical activities or just need a hydration boost, Pocari Sweat has got you covered.
33. Calpis / Calplico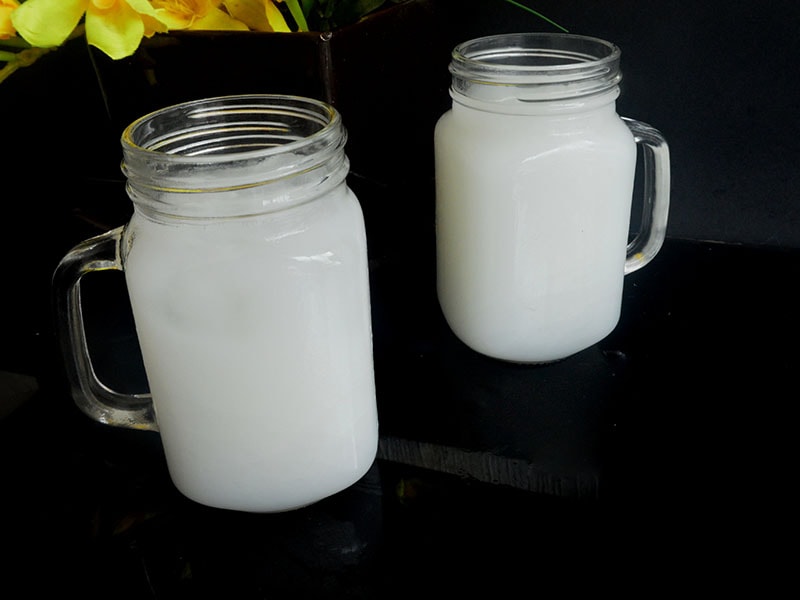 The yogurt-flavored drink Calpis has been a mainstay in Japan since 1919, inspired by the ancient Mongolian drink Airag. It's a sweet, creamy treat with a slightly acidic aftertaste, fermented from lactic acid bacteria, yeast, and raw milk.
Whether in supermarkets or vending machines, it has become the favorite drink of many Japanese children. It's no surprise that the makers of Calpis call it the "taste of first love."
There's more to Calpis than just a milky drink, as the brand also offers soda, water, chuhai, and even ice cream.
Pro tip: pure Calpis is best enjoyed mixed with water, especially with a three-to-one ratio (3 parts water and 1 part Calpis).
Korean Drinks
34. Soju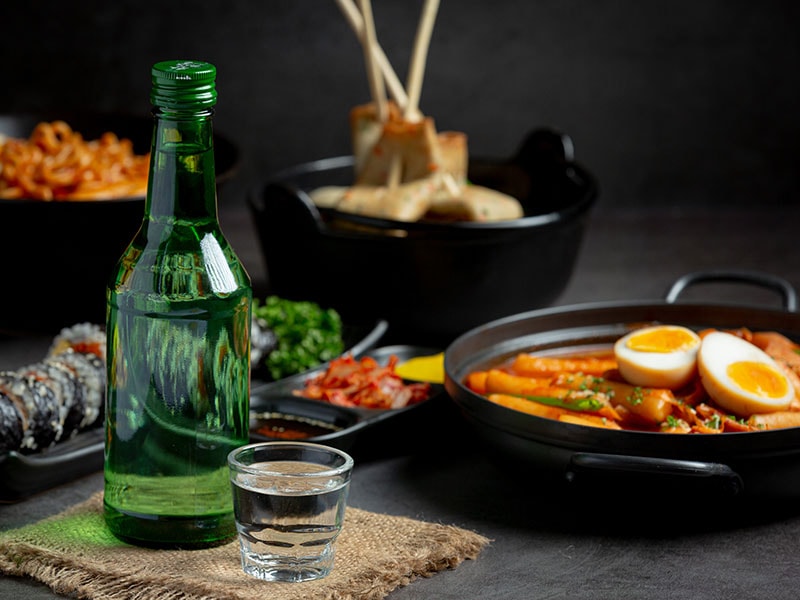 Soju is a clear alcoholic beverage from Korea, having an ABV ranging from 12.9% to 53%. Its traditional base is rice, but barley, sweet potato, tapioca, or a combination of those ingredients may also form a spirit mingling with sweeteners or flavorings.
Despite the potent alcohol content, Soju's taste is relatively sweet and neutral, akin to vodka, without a harsh alcohol note. It's quite easygoing on the palate, with Koreans sipping it chilled, straight from a small glass, or mixed into cocktails.
In addition, there's a popular local practice involving combining Soju with beer, like Hite and Cass, to make the beloved Somaek.
35. Makgeolli
Makgeolli, also known as makkoli, is an off-white alcoholic beverage from Korea, with its name denoting a "roughly done" or "filtered" process. This humble drink begins with steamed rice, yeast (nuruk), and water, all fermenting together for weeks in a clay pot.
With an alcohol content of 6-8%, Makgeolli presents a slightly sweet, bitter, and tangy profile alongside the floral and fruity flavors. Its chalky texture is also a signature trait, and while it's easy to drink, don't underestimate it, as Makgeolli can easily knock you out.
For drinking etiquette, after a savory bite, take a sip of Makgeolli to cleanse your palate. The spirit can also feature in many dessert or cocktail recipes. Plus, it's easy to find in Korean bottle shops, convenience stores, and restaurants at a very affordable price.
36. Korean Tea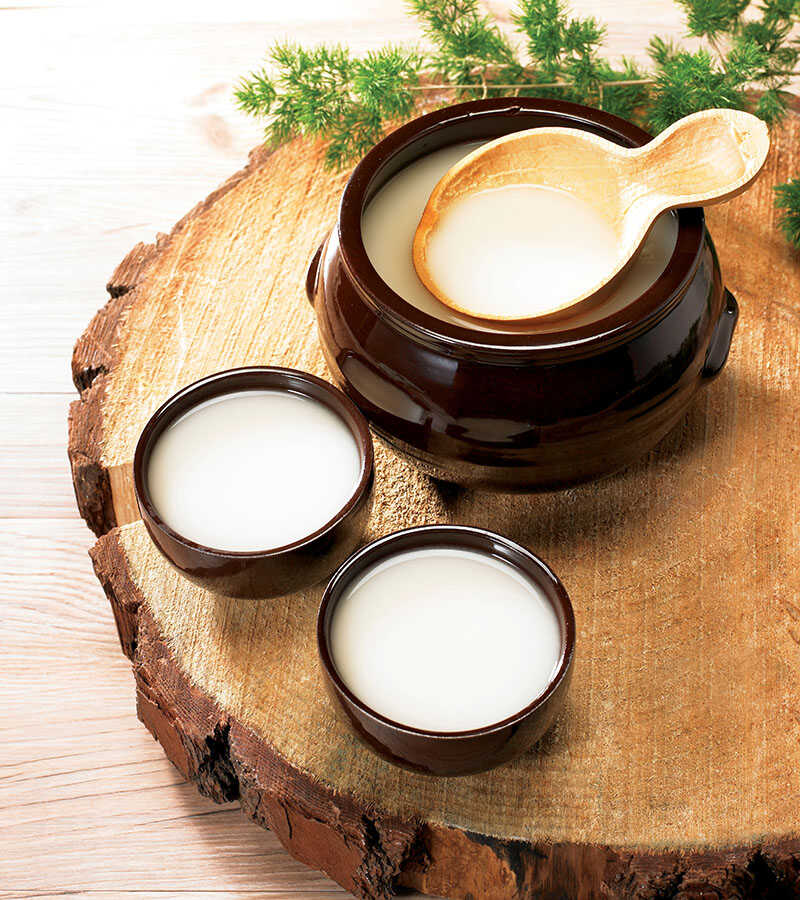 Deeply intertwined with Buddhist culture, Korean tea is more than just a warm beverage. It's a medley of infusions from the tea plant (Camellia sinensis) and a rich assortment of fruits, flowers, roots, grains, even seaweeds.
Typically, fruit teas like Daechu-cha (jujube) and Eunhaeng-cha (ginkgo), or root teas such as Insam-cha (ginseng) and Saenggang-cha (ginger) offer a spectrum of flavors. Sweetened to taste, served hot or cold, these teas carry a wealth of health benefits.
Favorites include Nok-cha, a pure green tea, and Bori-cha, a soothing barley tea. Exploring further, you'll encounter floral delights like Gukhwa-cha, chrysanthemum tea, and Mindeulle-cha, mild dandelion tea.
37. Sikhye (Rice Punch)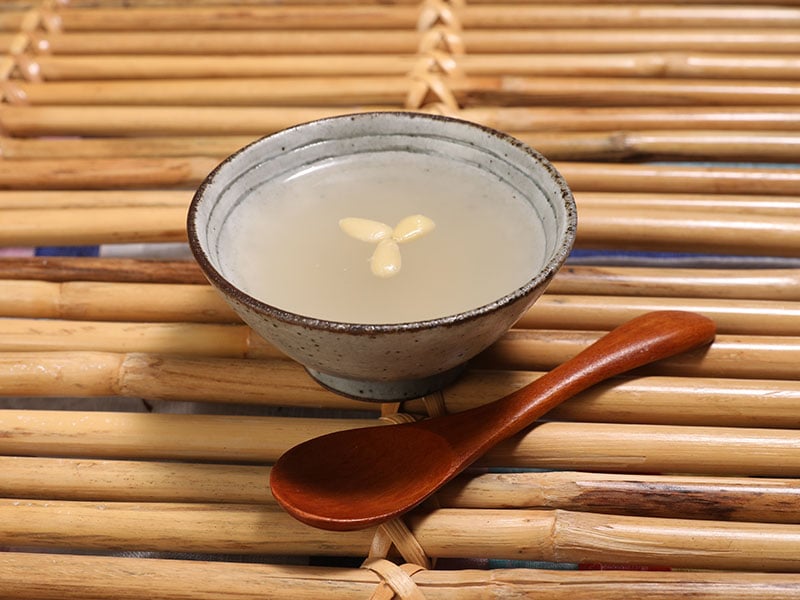 Sikhye is a traditional Korean drink and is a festive favorite during New Year's Day alongside the Korean Harvest Festival. Normally, it's a sweet concoction of fermented malt and rice with a distinctive barley aroma and a little kick. Plus, it also has an alcohol content between 6 and 7 percent.
Sikhye is also rich in dietary fiber, probiotics, and antioxidants, making it a great item for promoting digestion (6). That's why it's often served as a dessert! If your stomach's not feeling its best, a glass of Sikhye can be just the soothing remedy you need.
38. Dalgona Coffee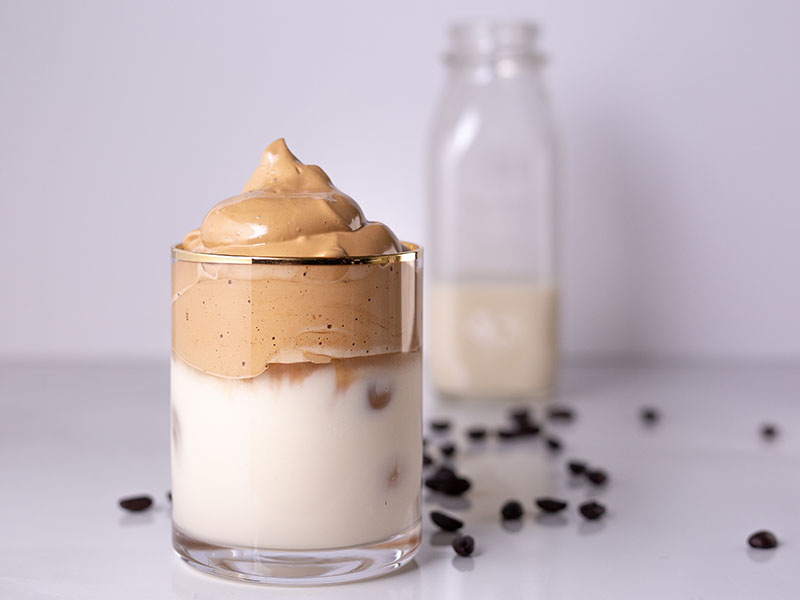 Dalgona coffee is a hand-beaten sensation that's won hearts worldwide. This fluffy, creamy creation is a blend of instant coffee, sugar, hot water, and milk, whipped to perfection.
With your trusty hand whisk or electric mixer, you can whip up this treat in no time. Commonly, it may take some time, but oh-so worth it. The result is a beverage with a robust coffee flavor, lightly sweetened, and an enchanting cloudlike foam.
Just a tip: Be generous with sugar, as it's the secret to that dreamy froth.
Other East Asian Drinks
39. Hong Kong-Style Milk Tea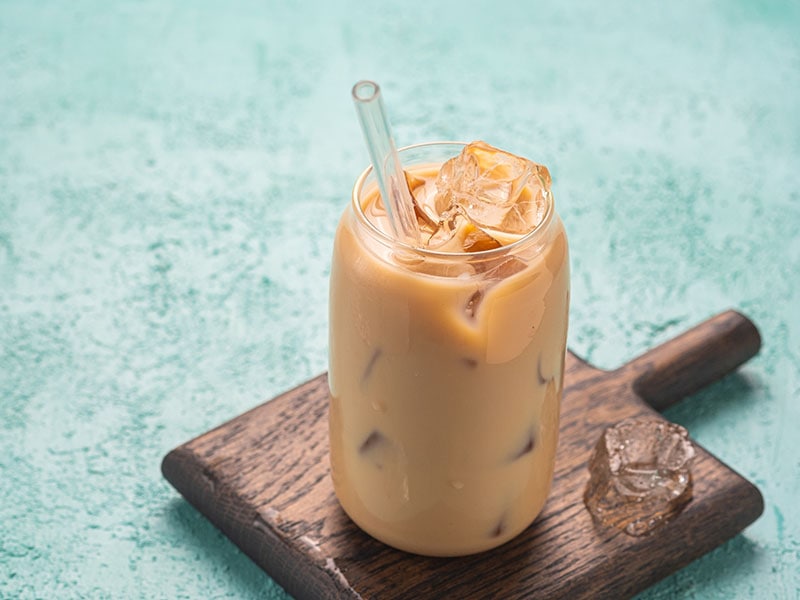 I've always had a soft spot for Hong Kong-style milk tea. Its rich history fascinates me as it dates back to the British colonial rule over Hong Kong. Unlike the regular milk tea you might know, this special mix is a harmonious blend of Ceylon black tea, evaporated or condensed milk, and sugar.
The outcome is a sweet, creamy delight with a smooth texture. What makes it unique is that Hong Kong has a charming tradition of using a sackcloth bag to filter the tea leaves, giving it a special character that's hard to replicate.
The drink is ideal to have for lunch, hot or chilled, or as a refreshing start to your day as a breakfast item.
A staggering fact is that Hong Kong people consume approximately 900 million glasses of this beloved beverage annually, making it the 4th most popular food/drink in the country.
40. Yuenyeung (Hong Kong Style Tea and Coffee)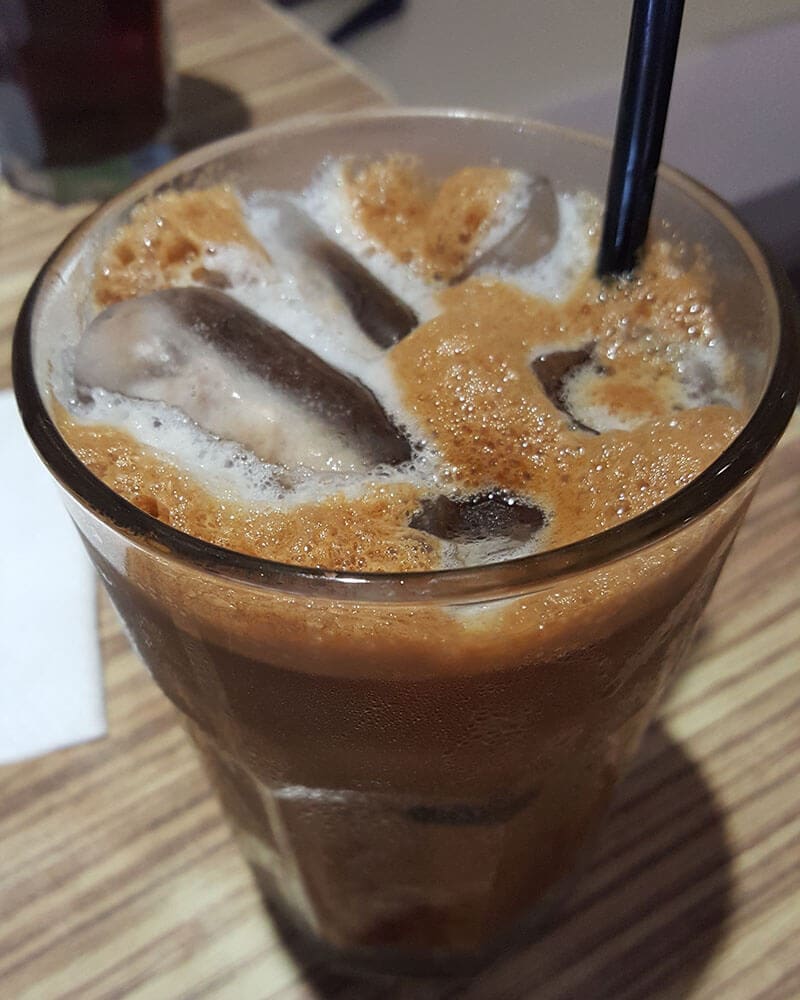 Yuenyeung, or yuan yang, is a delightful blend of coffee, black tea, milk, and sugar. This fascinating drink offers a sweet, creamy taste with a bitter hint of coffee that differs by vendor and region.
For the kiddos, there's even a caffeine-free version made with Horlicks and Ovaltine. You can savor Yuenyeung hot or chill it down with ice cubes. Fun fact: its name means "mandarin ducks".
41. Bubble Tea – Taiwan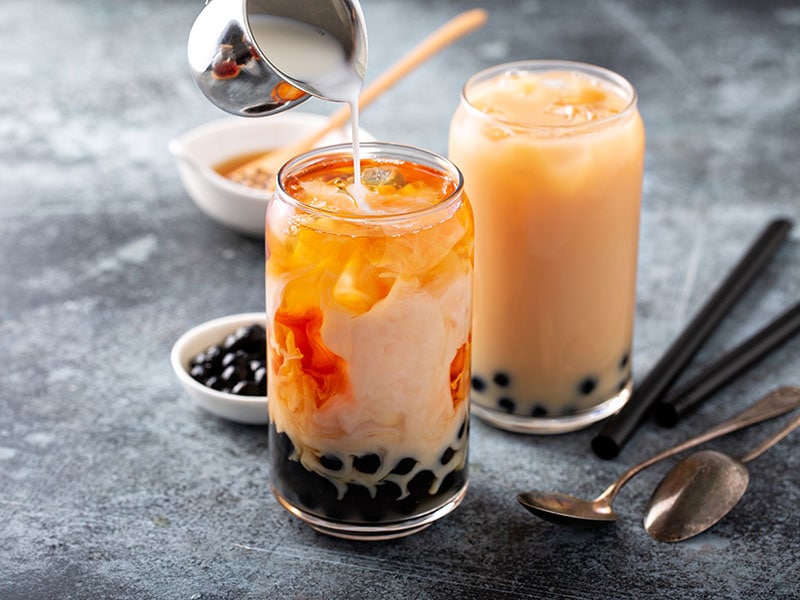 Bubble tea is a creation of Taiwanese Liu Han-chieh from the 1980s, a tea-based delight featuring "boba" or "pearls" made from tapioca starch. These chewy, lightly sweet additions add an element of attractiveness to the drink.
Traditionally mixed with milk, bubble tea can also embrace flavors like fruits, chocolate, or matcha. The refreshment has also gained fame across many Asian countries. But remember to enjoy this sweet indulgence moderately, as its high sugar content can cause obesity and diabetes (7).
42. Apple Sidra – Taiwan
T sweet carbonated soft drink apple Sidra debuted in 1963 by Oceanic Beverages Co., Inc. This favorite Taiwanese refreshment offers a genuine apple taste and scent that's not too sugary, with a beer-like golden hue.
What's remarkable about apple Sidra is that it's free from preservatives and artificial flavors, a rarity in the world of sodas. So, no wonder why it's considered a national soda in Taiwan.
43. Barley Tea – China, Japan, Korea, and Taiwan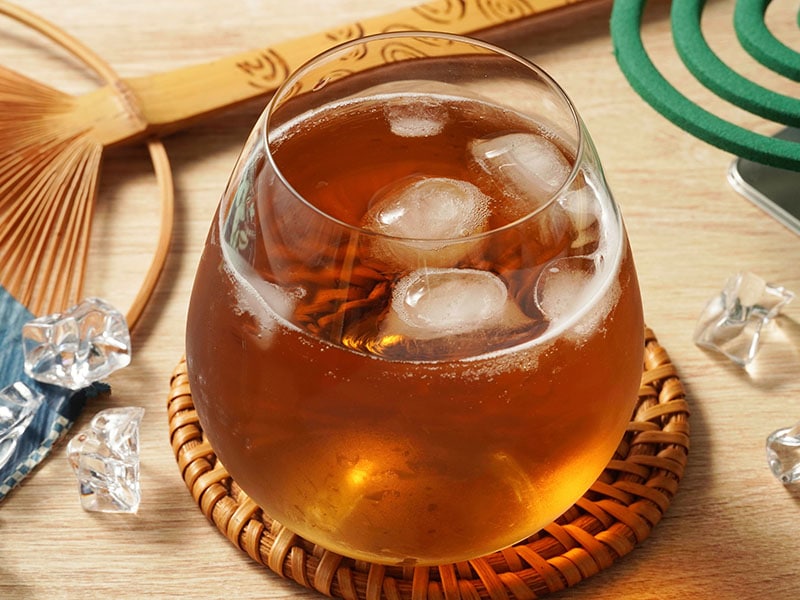 Barley tea is a light amber-hued beverage resulting from roasting barley to perfection. It provides drinkers with a toasted flavor that's just mildly bitter. While traditionally unsweetened, I suggest swirling in milk or cream for a richer taste.
Known for its health benefits, barley tea offers a rich source of antioxidants and contains melatonin, promoting sleep (8). It's a well-loved drink in Korea, appreciated for weight loss support and digestive health. However, it's unsuitable for gluten- or grain-free diets.
Southeast Asian Drinks
Thai Drinks
44. Thai Iced Tea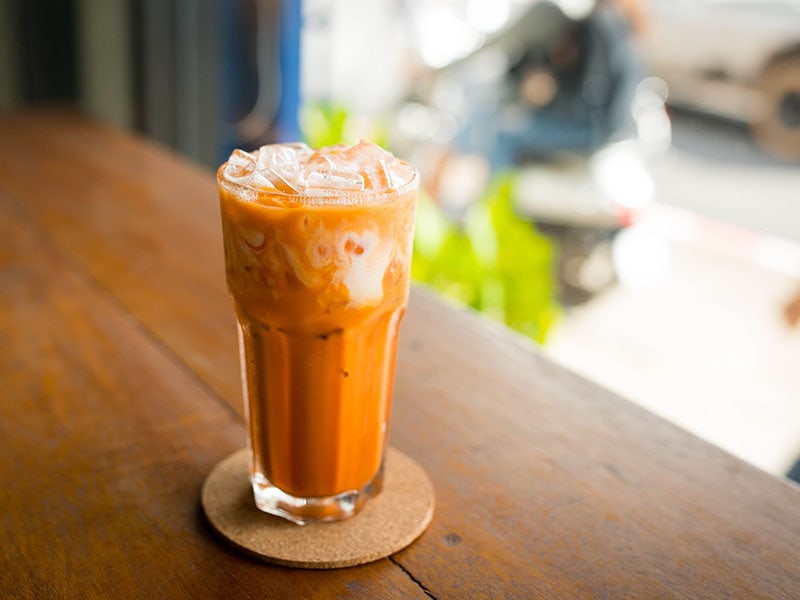 Thai iced tea, with its signature bright orange color, offers more than just strongly brewed black tea. It's a fusion of sweet condensed milk, sugar, and a sprinkle of spices such as vanilla, cardamom, cinnamon, or star anise.
Don't worry about the caffeine messing with your sleep, as it's not higher than what you'd find in coffee. To make the tea, brew a bag of authentic Thai tea with sugar and water, then give it time to cool down and intensify its flavor.
Then, strain the leaves using a clean cloth, mix the liquid with milk, and serve over ice. Just a small note: 15 to 30 minutes is the ideal time to aim for while cooling the tea.
45. Krating Daeng (Red Bull)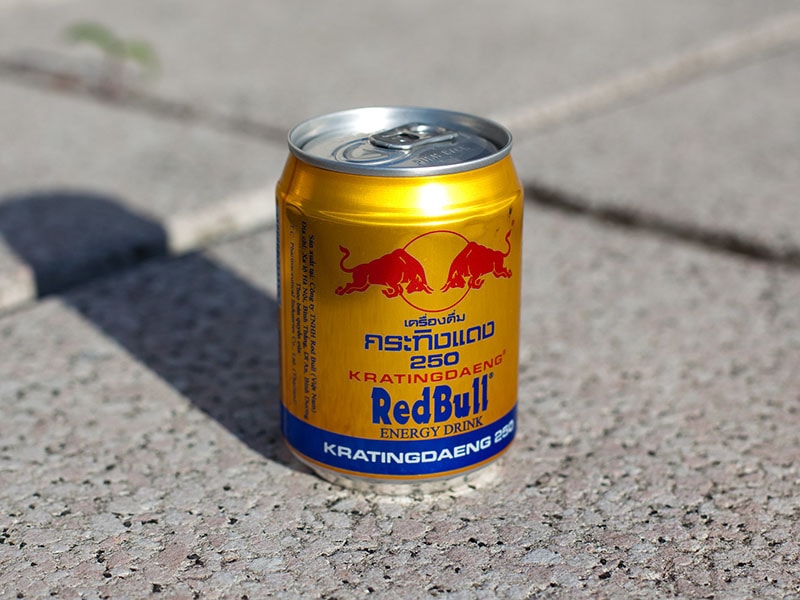 Krating Daeng is a non-carbonated energy drink introduced in 1976 by a Thai entrepreneur named Chaleo Yoovidhya. Don't mix it up with Red Bull because this beverage has less caffeine. Also, Krating has a fruity, sweet taste that distinguishes it.
This unique version of energy drink is full of vitamins A, B12, and C, making it a high-energy option. Whether you need a quick pick-me-up or a long-lasting energy boost, Krating is always available in both 100 and 250-ml cans.
46. Lao Khao
Lao Khao, despite its name, is a spirited Thai favorite drink, not from Laos. Known as white whisky, this clear, colorless liquor originates from fermented rice and packs a punch with a 30% ABV.
Especially loved in rural Thailand, Lao Khao adds a sharp, distinctive flavor to any gathering. Sip it straight, or blend Lao Khao with a soda or energy drink if you prefer a mix. Alternatively, Lao Khao is perfect for pairing with snacks or local dishes.
47. Oliang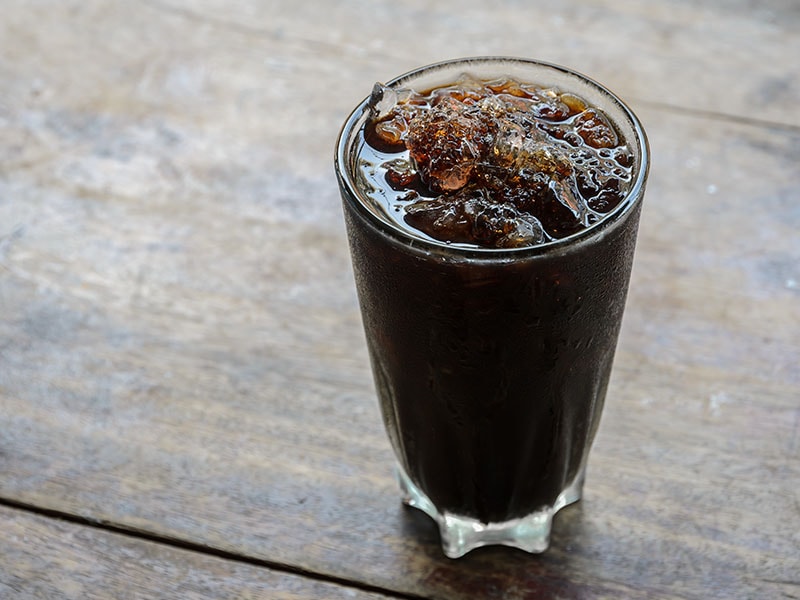 True to its name, Oliang, which translates to "black and cold," is an iced black coffee that begins its journey with Robusta coffee grounds. But what makes it unique are the additions of brown sugar, grains (rice, corn, soybeans), seeds (sesame), and cardamom.
These aromatic extras give Oliang a memorable spiced note that makes it different from your regular coffee. Furthermore, Thai street vendors have perfected the art of brewing coffee using a bag filter, or tungdtom, in around 10 minutes, and serving it over ice.
For those with a sweet tooth, a splash of condensed or evaporated milk takes Oliang to a whole new level.
Vietnamese Drinks
48. Vietnamese Iced Coffee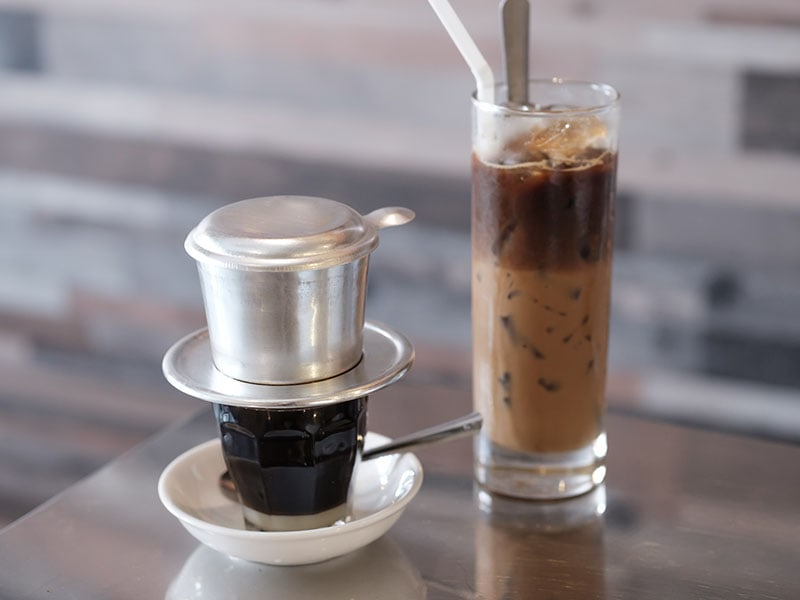 Vietnamese iced coffee, or as the locals say, Ca Phe Sua Da, is an iconic breakfast staple in Vietnam. It's a potent brew with a bold flavor that stems from the use of robusta beans, which contain nearly double the caffeine of arabica beans.
The ingredients are very simple with roasted coffee, hot water, and condensed milk. Plus, you will also need a Vietnamese phin filter, consisting of a filter chamber, coffee press, bottom filter, and lid.
The fun begins in the brewing process when you pour your ground coffee, usually robusta, into the chamber, press it down firmly, and place the bottom filter on top of a cup with condensed milk.
Then, add hot water into the chamber and seal it with a lid. As you wait, the coffee slowly drips into the cup, mingling with the condensed milk.
Once it's done, mix it well, add ice, and voila! You've got a Vietnamese-style iced coffee ready. You can also sip it hot or even go for black iced coffee, which follows a similar technique minus the milk.
49. Vietnamese Egg Coffee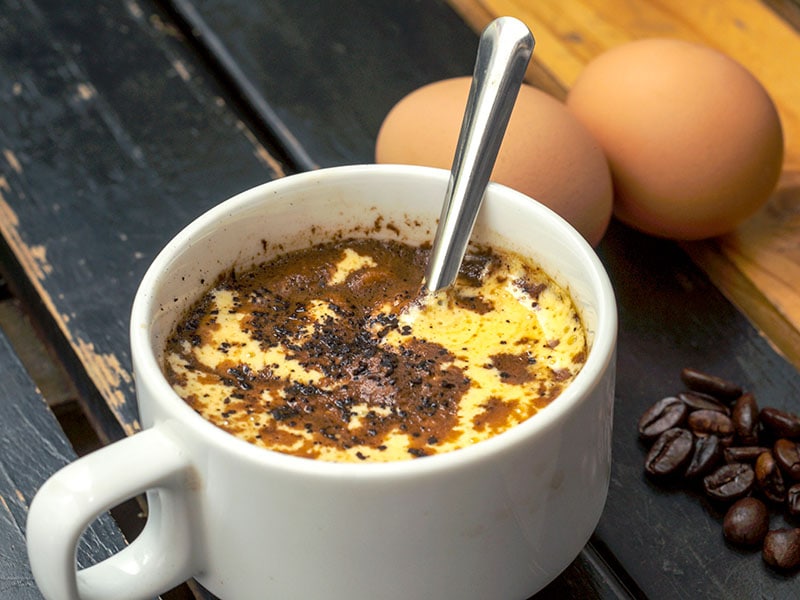 One cold morning in Hanoi, I found myself sipping Vietnamese egg coffee at The Giang Cafe, the renowned birthplace of this unique drink. Furthermore, my trip to Saigon also revealed that this wonder blend isn't confined to Northern Vietnam, as Saigon, too, has embraced this drink.
This exotic coffee uses a trio of simple ingredients: beaten egg yolk, sweetened condensed milk, and ground robusta coffee, but they harmonize into a sweet, creamy concoction akin to a strong tiramisu. Also, the coffee blend is ideal for people who can't handle strong coffee.
I was intrigued to replicate it at home. As the robusta coffee brewed, I whisked egg yolk and condensed milk into a frothy cream, adding a hint of vanilla for extra aroma. The resulting egg cream is layered atop the coffee, creating a thick, frothy delight best served hot in a small cup.
50. Bia Hoi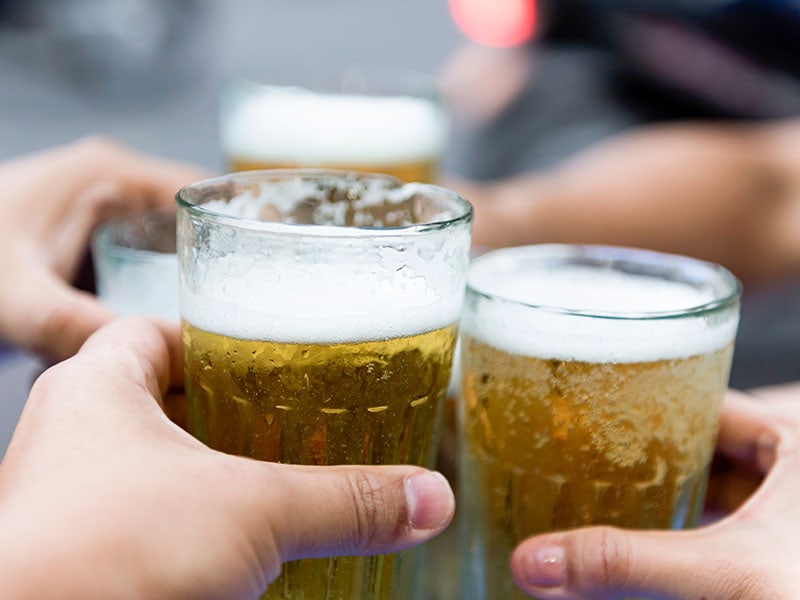 During a trip to Vietnam, I discovered Bia Hoi, also known as bia tuoi or fresh beer. This draught beer, distinctive to the Northern regions, is light with a low ABV of around 3% and no strong aftertaste.
I find it surprisingly refreshing after a long day of exploring under the tropical sun. The beer is a quick brew of sugar, rice, and malt that's sold straight from the keg on street corners. What struck me most was the low price of around 50 cents per glass.
51. Pennywort Juice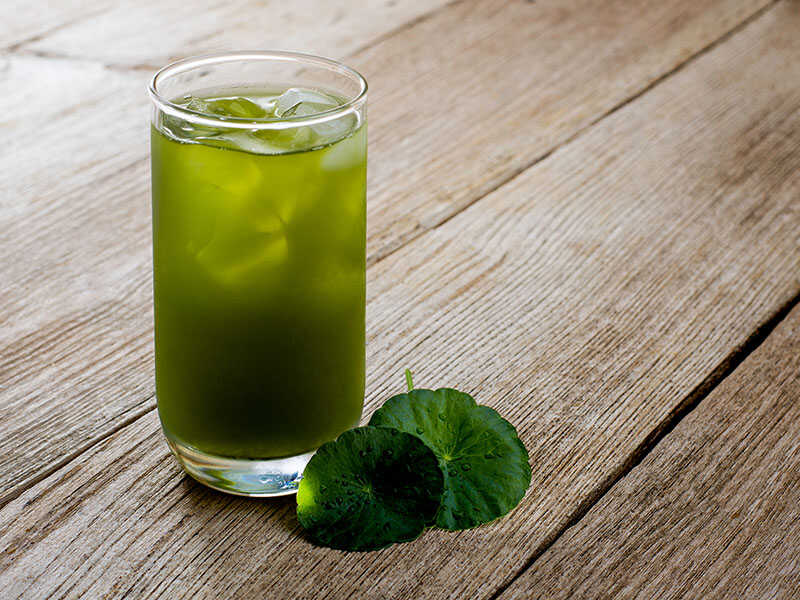 While navigating the bustling streets of Vietnam, I stumbled upon a unique drink called rau má, or pennywort juice. This cool, slightly bitter beverage is made from pureed pennywort, a swamp plant, mixed with water.
The concoction is dark green, with a grassy taste tempered by added sugar. Besides being a great refresher in the tropical heat, it also improves cognitive function and reduces stress, insomnia, and Alzheimer's (9). I find it available at small pennywort juice stores and street vendors at an affordable price.
Filipino Drinks
52. Tuba (Coconut Wine)
While venturing to the rural parts of the Philippines, I found myself enjoying Tuba, a local pride. Far from the eyes of big stores and restaurants, this milky white drink is crafted from the sap of coconut or other palm trees, then fermented.
Typically, Tuba has a mild sweetness, but don't be fooled; with more fermentation, it gains a sour edge. Despite its low liquor content of around 4%, it's a fascinating brew. Variations do exist, like the orange to brown Bahal from the Visayas Islands, made with extract of mangrove's dried bark.
53. Calamansi Juice (Filipino Lemonade)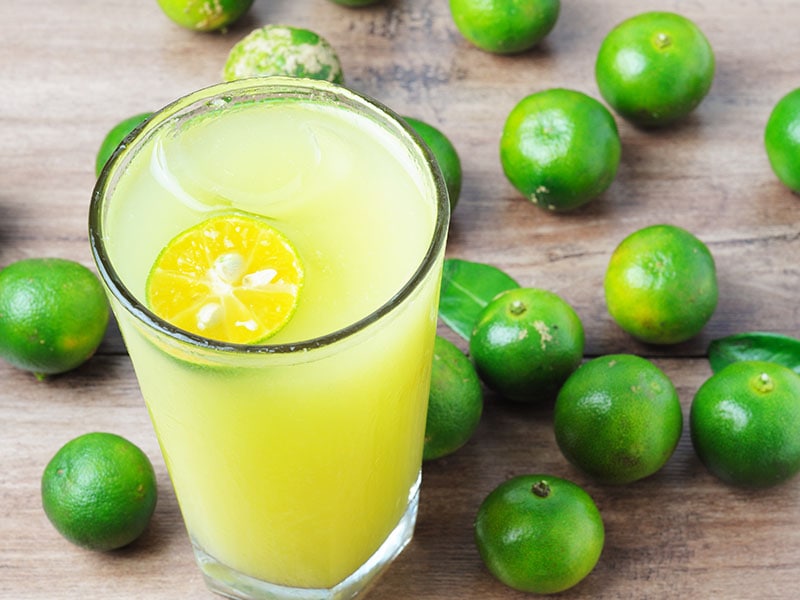 One of my favorite refreshments has to be Calamansi juice, a brilliant concoction from Southeast Asia. This citrus mix is an important part of Filipino cuisine, having a distinctly sour taste but mixing in a little sugar for a touch of sweetness.
Home preparation is a breeze with Calamansi, as you can slice and squeeze out the tangy goodness, strain, and sweeten the juice with a bit of sugar. Served over ice, the juice becomes a thirst-quenching antidote to summer heat.
54. Tanduay Rum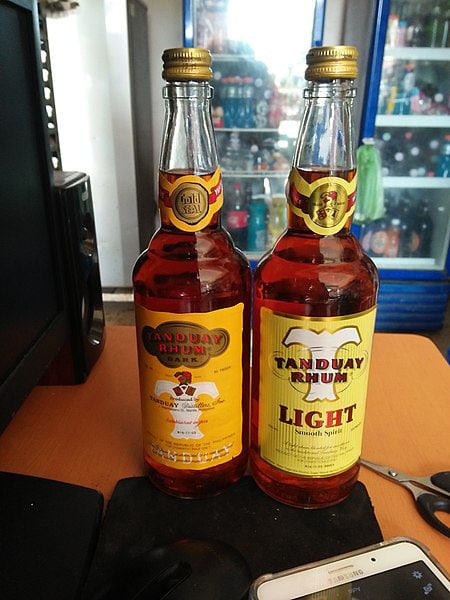 As a fan of fine spirits, I find Tanduay rum truly memorable. This common Filipino beverage, crafted by Tanduay Distillers, earned the title of the world's leading rum brand in 2021 based on sales (10).
Created using heirloom sugar cane and A-grade molasses, the spirit results in a vibrant amber color. As for the taste, its mellow and woody profile also comes with a hint of tropical fruit flavors.
Other Southeast Asian Drinks
55. Coconut Water – Throughout Southeast Asia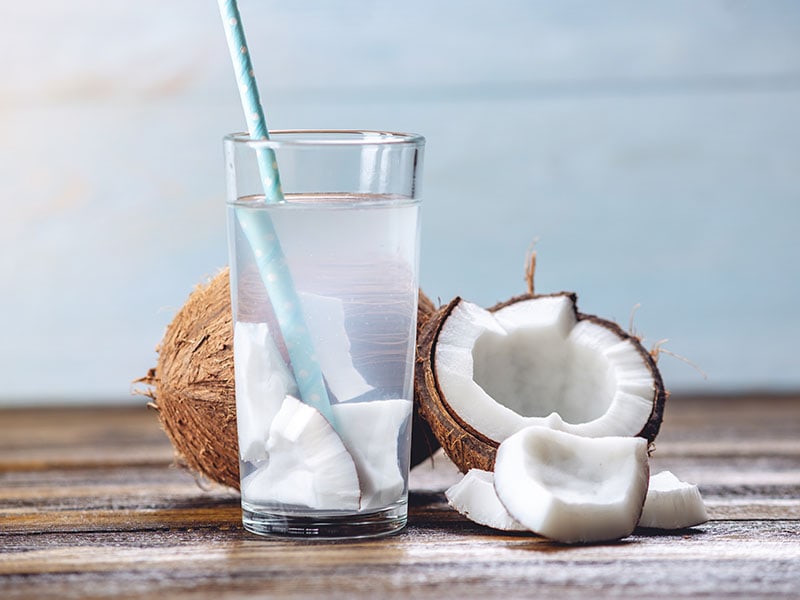 Coconut water is the clear fluid inside the fruit, entirely distinct from coconut milk, a thicker liquid. I encountered it on bustling streets in tropical Asian countries like Vietnam and the Philippines.
With a hint of sweetness and its hydrate property, coconut water is a great natural source of electrolytes and nutrients (11). It's also good for your heart, kidney, skin, and blood conditions.
Also, drinking it straight from the coconut was part of the charm. However, locals will also pour the water into a cup if you'd like.
56. Sling – Singapore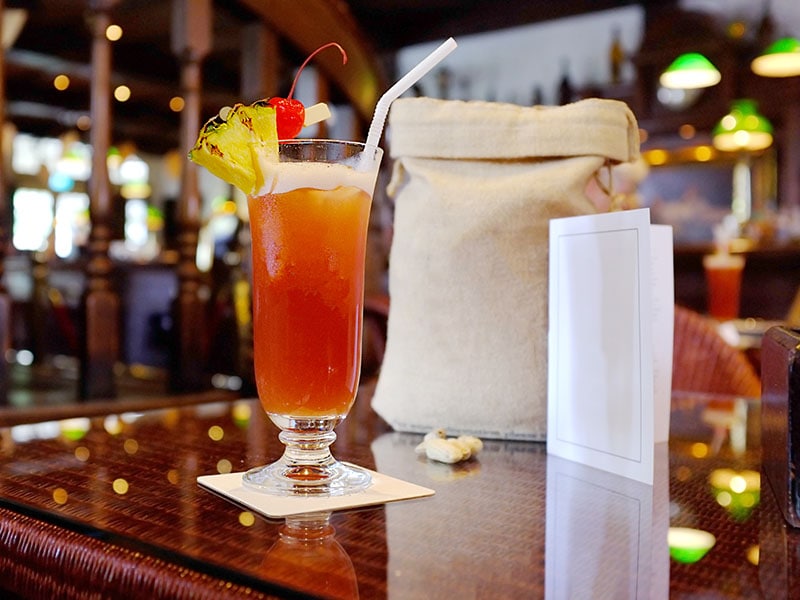 Sling is a gin-based cocktail that holds a special place in my memories. Handed a tall glass, this unique concoction debuted before 1915 under the hand of Ngiam Tong Boon. It's a nuanced mix, so different from the simpler gin, sweet and sour, and grenadine recipe of the 1980s.
Furthermore, you may be surprised because Sling is originally a North American blend built on the base of water and spirit alongside sweeteners and flavoring ingredients.
The taste is a well-balanced cocktail with a kick of citrus acidity, liqueurs' subtle sweetness, and a hint of herbal bitterness. Yet, it's the gin flavor that truly captivates many into this Singaporean Sling.
57. Avocado Shake – Vietnam, Indonesia, Brazil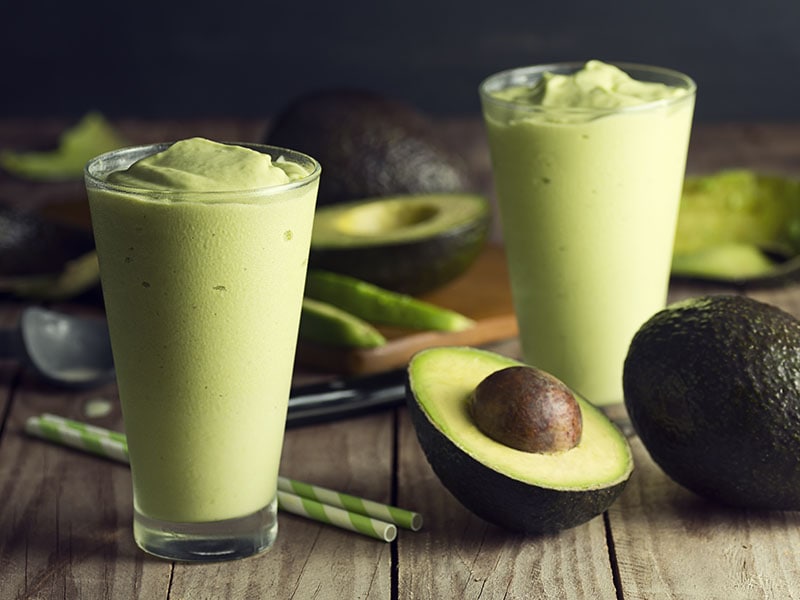 I've had my fair share of avocado shakes, and trust me, they are a delicious, creamy dessert. Made with ripe avocados, milk, sugar, and ice, it's served cold and offers an earthy, nutty taste from the avocado, with a bit of sweetness.
I've tasted variations around the world, like sinh to bo in Vietnam, es alpukat in Indonesia with a dash of chocolate syrup, and vitamina de abacate in Brazil. Each has a unique twist, but that rich avocado flavor always takes center stage.
58. Ipoh White Coffee – Malaysia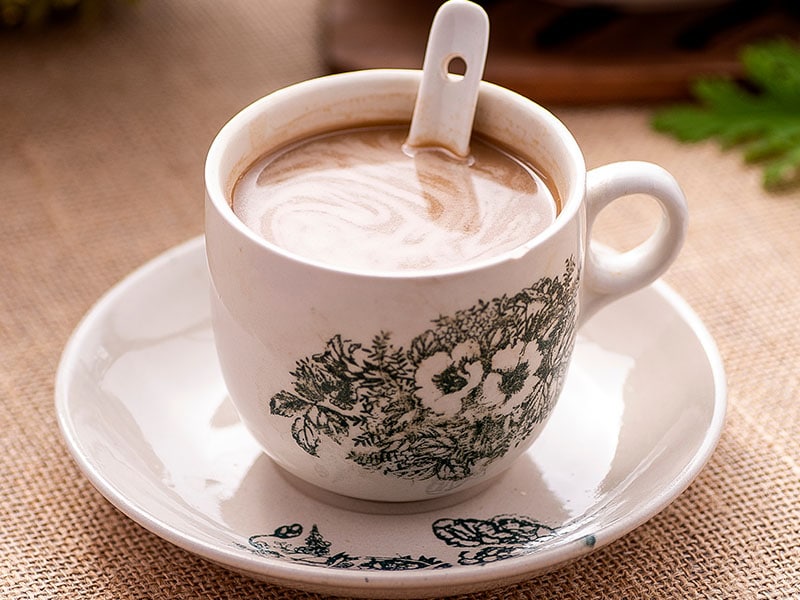 In my travels, I've adored Ipoh white coffee, a famed drink hailing from Ipoh, Perak, Malaysia. Interestingly, this coffee has a distinctive smoky taste, owing to the coffee beans roasted in palm oil margarine.
Normally, I like enjoying Ipoh white coffee with condensed milk, creating a smooth, frothy, and rich drink. Whether you're trying the instant version or the traditional brew, the balanced taste is a marvel, especially after having dinner.
Also, the coffee pairs beautifully with a decadent coffee cake or Malaysian specialties like curry mee and nasi lemak.
59. Teh Tarik (Milk Tea) – Malaysia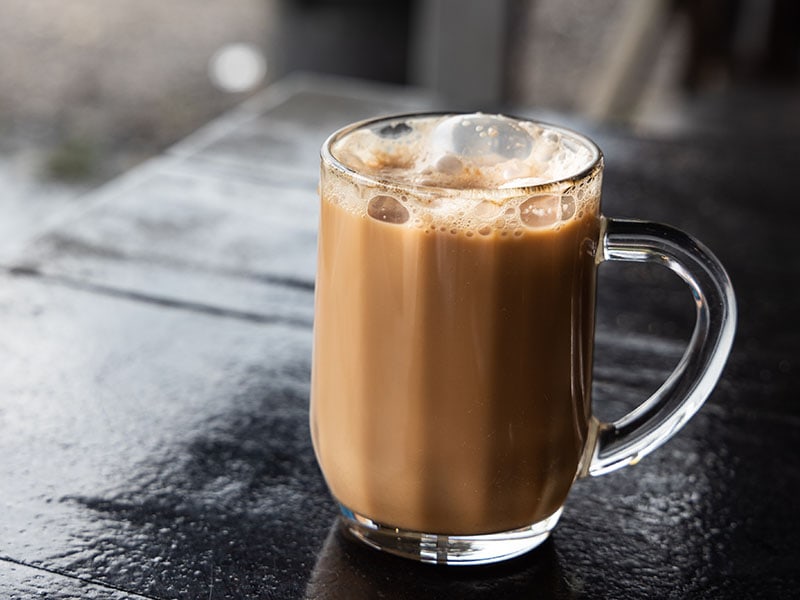 I have a soft spot for Teh Tarik, the national drink of Malaysia. You can find this hot milk tea beverage in restaurants and outdoor stalls, offering a sweet, earthy taste that's less sweet than other milk teas.
However, the magic lies in the blend of strong black tea with condensed milk, resulting in a creamier and richer drink with a thick frothy top. The name "Teh Tarik" itself also derives from the unique preparation process of pouring the tea back and forth from one container to another, with arms extended.
Fun fact: in Malaysia, brewers often showcase their pouring skills in Teh Tarik competitions! The beverage is perfect for pairing with a local snack, and you're set for an authentic Malaysian experience.
60. Bandung – Brunei, Indonesia, Malaysia, and Singapore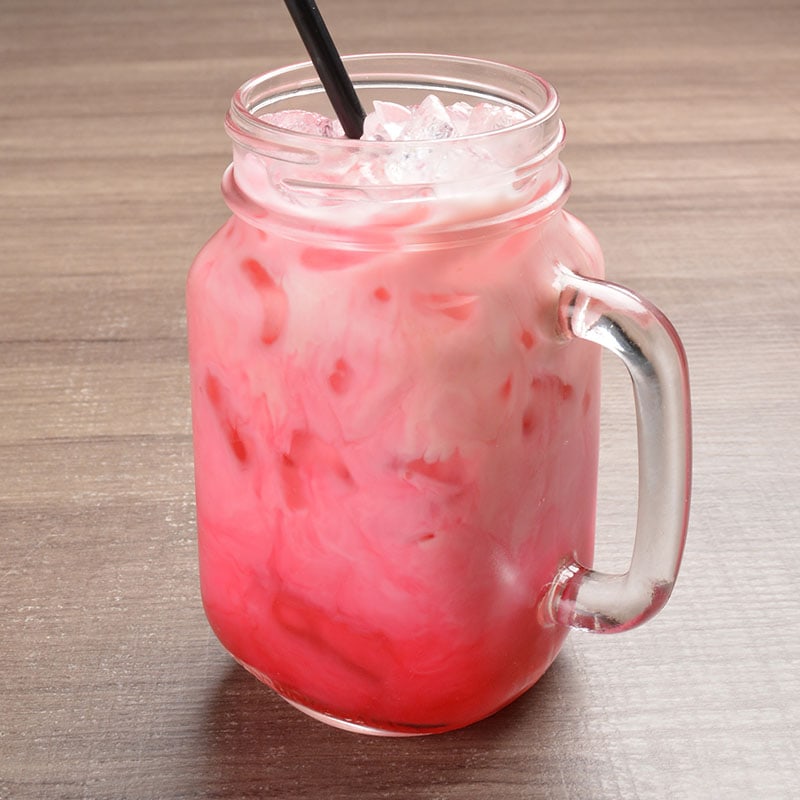 My first sip of Bandung, a staple in Maritime Southeast Asia, was like savoring a rosy treat. The pink-hued drink is a blend of evaporated or condensed milk and rose syrup.
Better yet, its main allure lies in the harmonious pairing of milk and rose, embodying the term "Bandung," which means "pairs." The drink is a bit of a cultural icon, especially among Singaporean Malays.
Also, this sweet, comforting beverage has even morphed into a street food staple. Nowadays, it's not unusual to stumble upon intriguing variations like grass jelly or soda water-infused Bandung.
One innovative spin-off that captured my heart is the Soda Gembira featuring soda instead of milk in the mixture. Whether you buy it pre-mixed or make it at home, the milky-rosy taste of Bandung is always a comforting option.
61. Lao-Lao (Rice Whisky) – Laos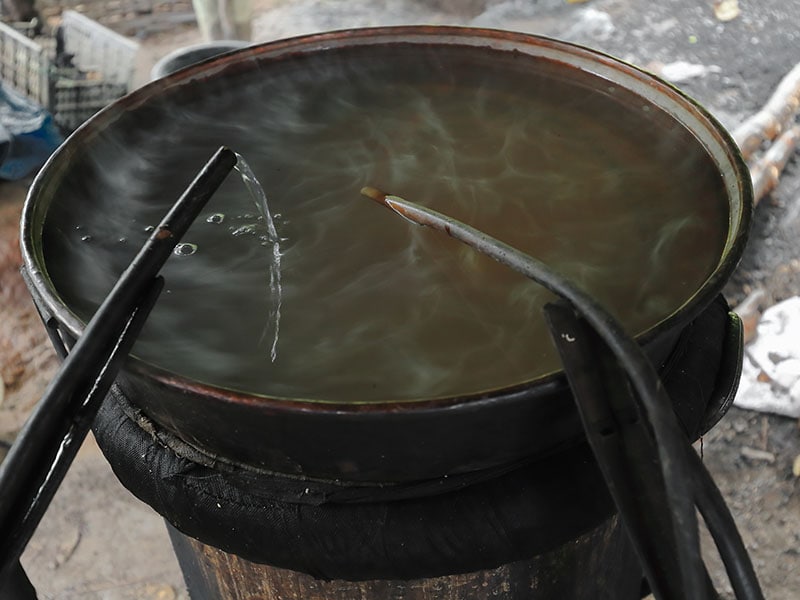 Lao-Lao is a staple drink in Laos that catches my attention with its low price and distinct making process. This clear or amber-hued spirit, boasting a 40% to 45% ABV, is crafted from dried rice, yeast, and sugar.
I've seen it infused with everything from honey to scorpions, each ingredient intensifying flavor in different ways. Often served neat, Lao Lao is a drink that delivers a raw, authentic experience. Commonly, the second "lao" in the name is pronounced with a higher tone.
62. Kopi Luwak (Civet Coffee / Weasel Coffee) – Indonesia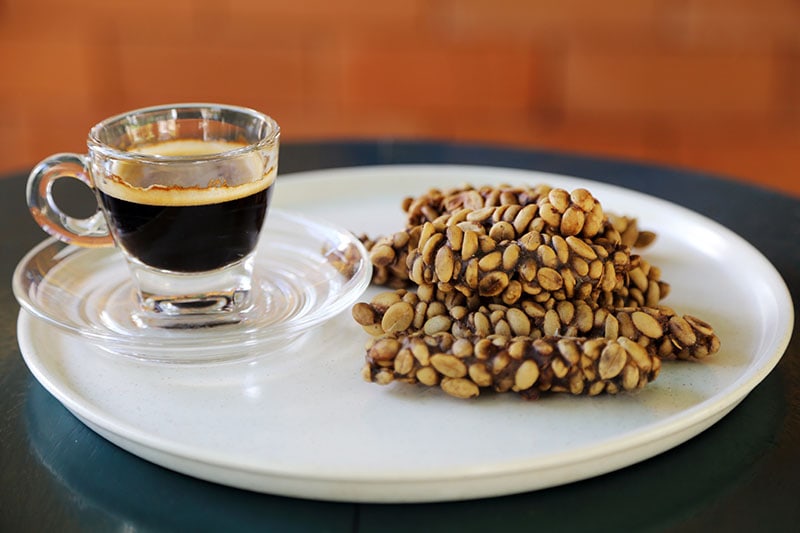 In my quest for coffee, Kopi Luwak stands out as one of the world's priciest brews. This Indonesian gem owes its unique taste to the Asian palm civet, or "luwak." The civets usually only consume the ripest coffee beans, ferment them internally, and then excrete them.
I realize that this odd process imparts the coffee a distinctive, irresistible flavor. While also produced in countries like Vietnam and the Philippines, it's vital to note that it's linked to some ethical issues.
Some farms are criticized for their poor conditions in taking care of the civets. So, when I choose my Kopi Luwak, I ensure it's from a brand that respects these incredible animals.
South Asian Drinks
Indian Drinks
63. Masala Chai (Tea Mixed With Spices)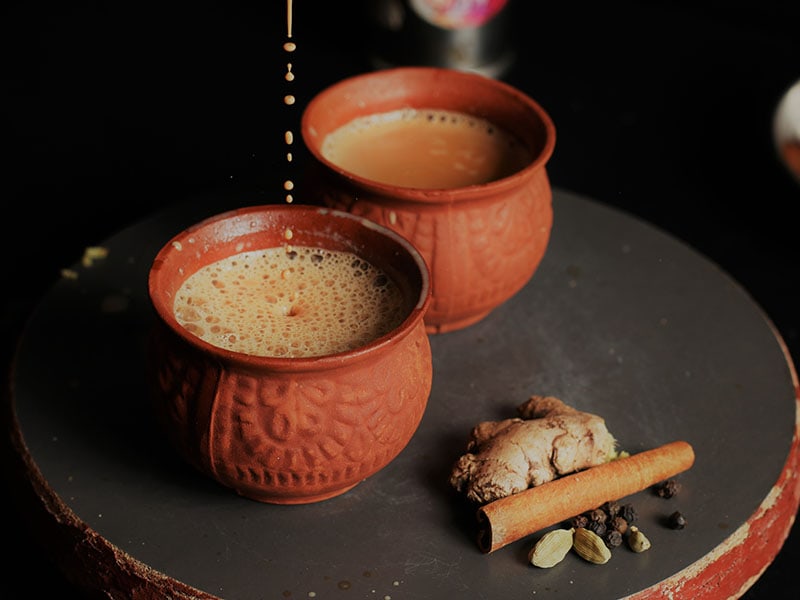 Masala Chai, known as just Chai, is inseparable from my travels through the Indian subcontinent. This warm, inviting concoction combines black tea, milk, sugar, and an intoxicating blend of spices like ginger, cinnamon, and cloves.
Every sip is a perfect balance of sweet, spicy, and fragrant flavors. While water buffalo milk is a traditional option, I've learned that powdered or plant-based milk offers a different, yet still delicious, twist. Plus, Chai is a symbol of comfort and hospitality.
64. Lassi (Creamy Yogurt-Based Drink)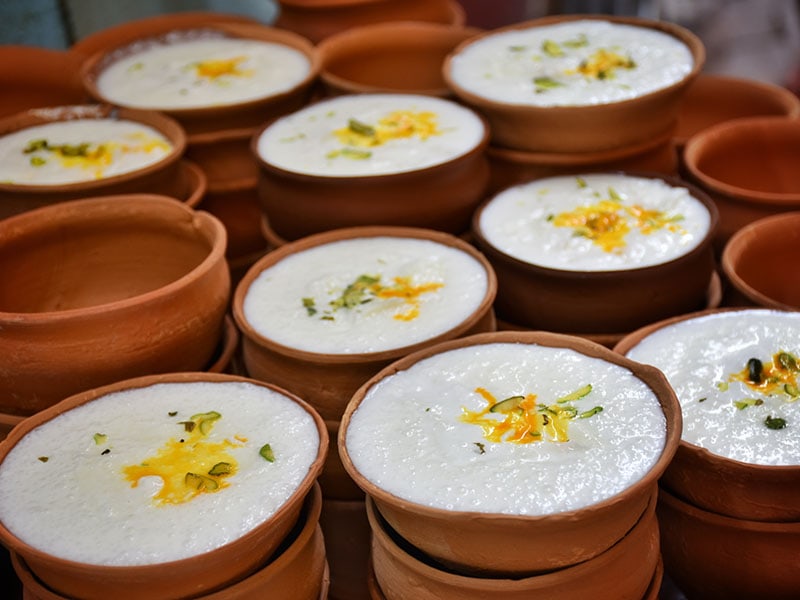 On a hot afternoon in India, I had my first taste of Lassi. It's a beloved beverage across the subcontinent as a smoothie-like blend of yogurt, milk, sugar, salt, fruits, and spices such as cardamom and cinnamon, all working together to create a vitamin- and calcium-rich refresher.
Depending on the ingredients, the flavor can be sweet, savory, or spicy. But my personal favorite is the Mango Lassi, which uses ripe or frozen mangoes. Though some mistake Lassi for buttermilk, Lassi is thicker and creamier, thanks to the yogurt base.
Most often, you will see Indians serving these creamy beverages in a "kulhar," a clay cup.
65. Masala Soda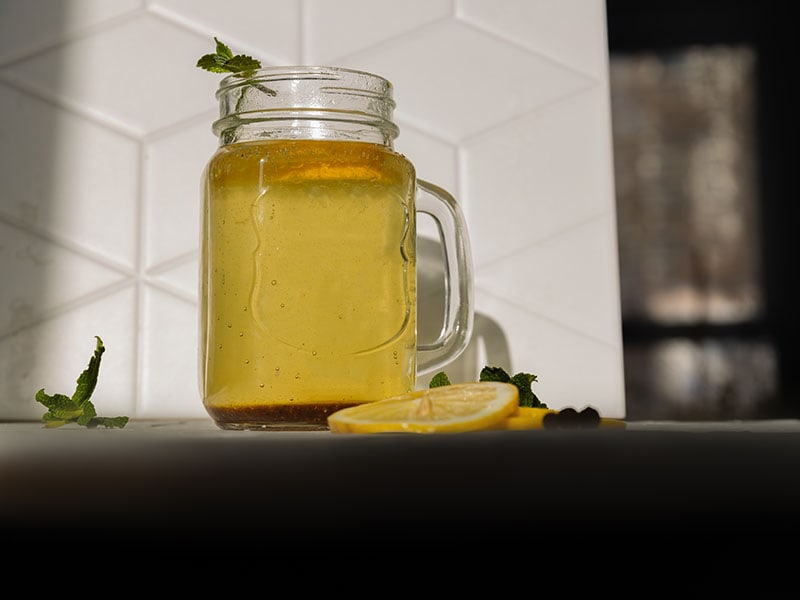 This refreshing, street-style Masala soda is a beverage that personifies Indian summer, especially with numerous spices added. The concept is rather simple when combining mint, ginger, lime juice, cumin powder, sugar, and chaat masala for a tasty, zesty punch.
Commonly, vendors will strain the soda mixture after mixing to remove any impurities before adding ice. Plus, the addition of the iconic masala, a spice mix, brings an authentic Indian touch to Masala soda.
66. South Indian Coffee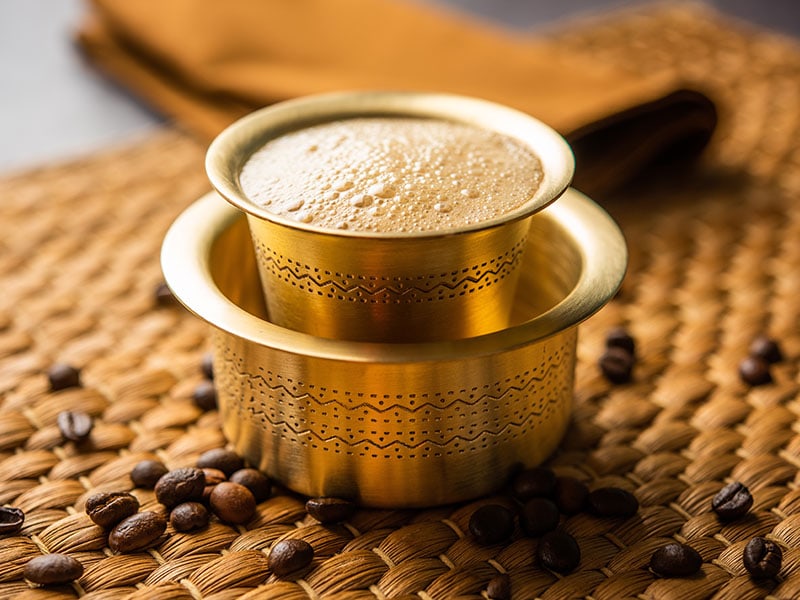 South Indian coffee is affectionately known as Indian filter coffee. I love enjoying the medium-roast Arabica or Robusta beans mixed with a bit of chicory for a rich brew in a stainless steel coffee filter.
The two-chambered filter device, with an upper chamber punctuated with holes and brimming with ground coffee, is rather similar to Vietnam's famous coffee. The lower chamber collected the drips, which were then mixed with milk and sugar.
The result should be a strong, milky drink with bitter and smoky undertones, served in a metal tumbler. When I was in India, this variety of coffee became my morning routine.
67. Darjeeling Tea – India (Darjeeling region)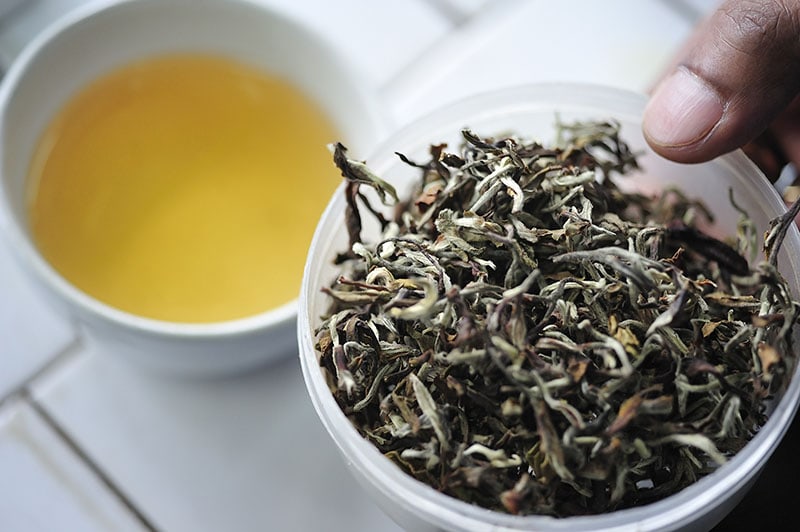 Darjeeling tea is a black tea of West Bengal, having a special spot in my favorite Indian drink list. Less oxidized than its black tea siblings, Darjeeling is renowned as one of the finest globally.
Usually, the tea is a symphony of grassy and citrusy flavors alongside with a musky, fruity aroma. Plus, its golden or bronze color justifies its nickname – the "Champagne of Teas." Ideally, you want to enjoy Darjeeling brew without additives.
68. Gin And Tonic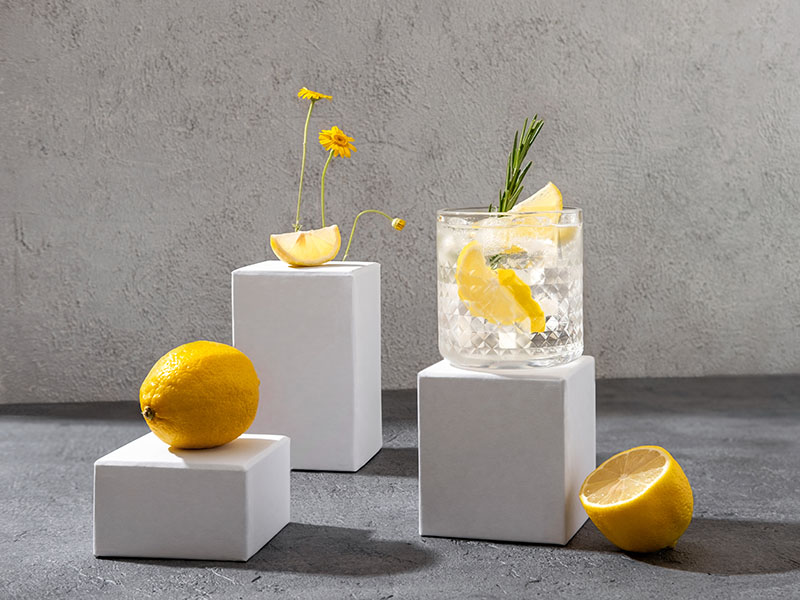 In my personal experience with cocktails, Gin and Tonic is a great drink. Though the British military in the 19th century invented it, the drink wouldn't exist without India's influence.
Initially, gin and tonic were a malaria deterrent, but people appreciate it as a refreshing highball cocktail with ice. Also, it's among the most adored cocktails in India and globally.
I particularly love it with a garnish of lime slices, elevating the drink's brightness. What's exciting is the modern variations, adding lime juice, orange juice, or even tea for extra flavors!
69. Feni (Cashew Liqueur)
Feni is a spirit I've grown fond of, native to Goa on India's southwestern coast. It's usually made from cashews, courtesy of the Portuguese, who introduced cashew trees to Goa in the 17th century. However, you may also find another version of Feni using coconut as the main ingredient.
This unique liquor will hit you with a robust blend of tropical flavors, like jackfruit and guava. With a potency lying between 42%-45% ABV, you can serve it neat, over ice, or mix it into cocktails.
I've tried it with tonic water, Sprite, and even sugar syrup. What surprised me was its culinary use, particularly in creating the spicy Vindaloo curry.
70. Falooda (Cold Noodle Dessert / Beverage)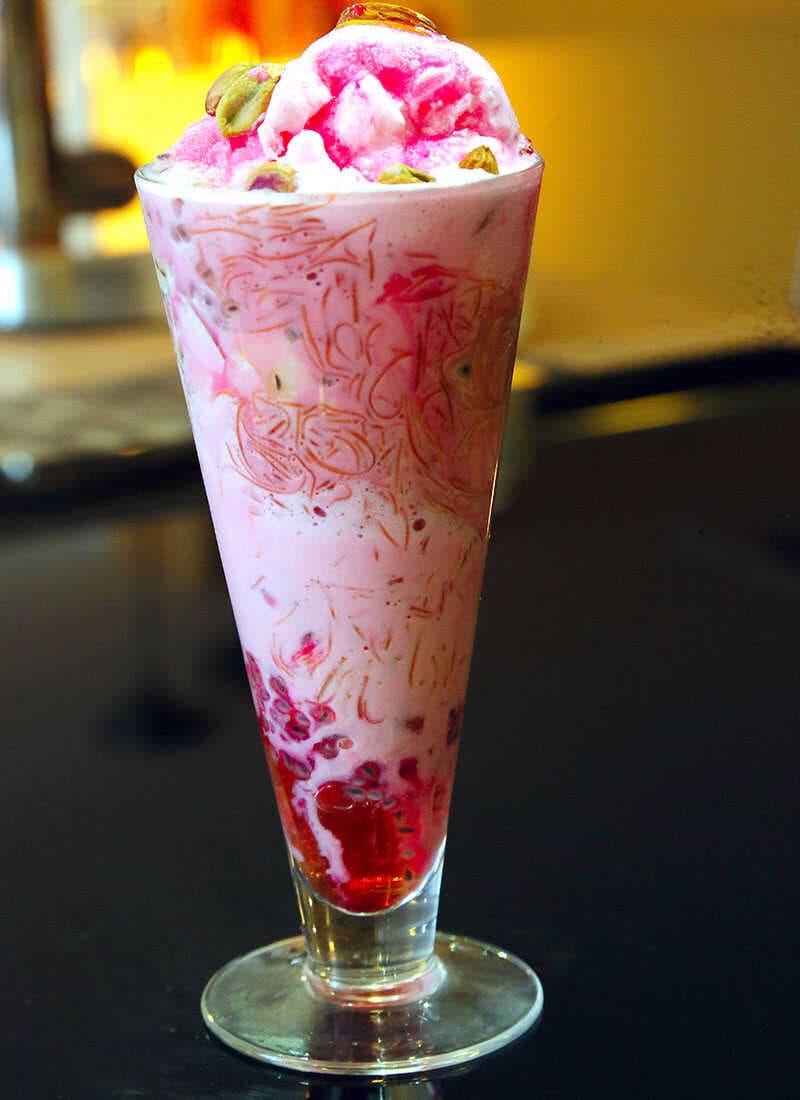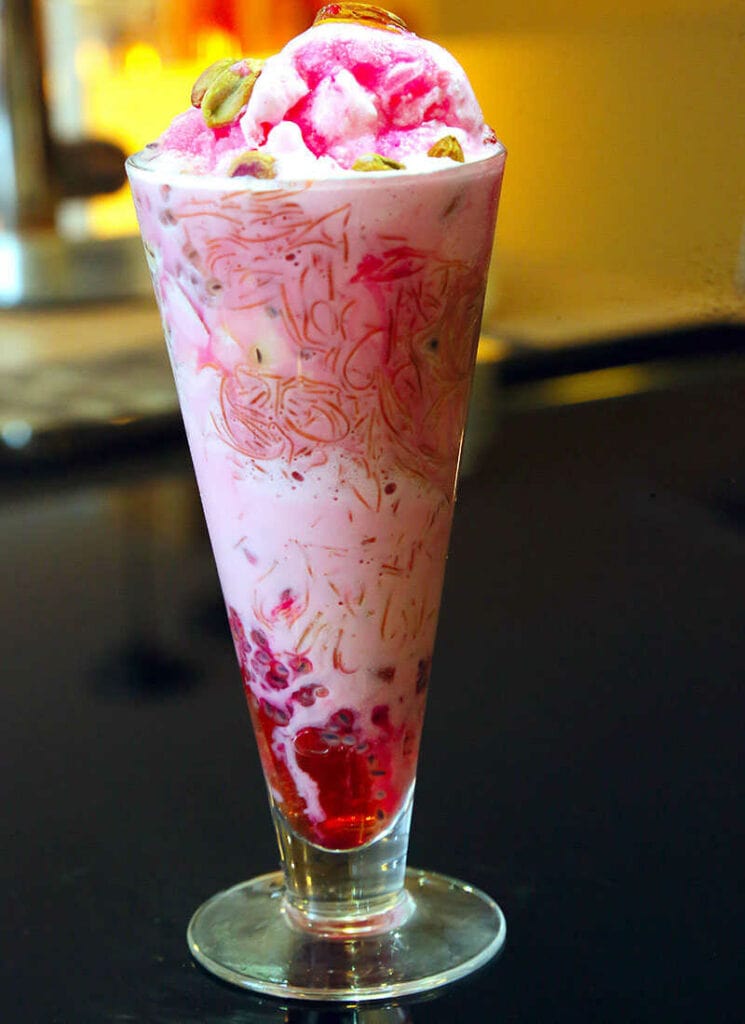 Falooda is a Mughal creation popular in South Asia. The unique refreshment is also part dessert, part drink, brimming with wheat noodles, sweet basil seeds, rose water, milk, and ice.
The beauty of Falooda is in the add-ins, from Kulfi and nuts to fresh fruits and even black tea. As for the flavor profile, Falooda bounces between a floral and sweet note as unique as its ingredients.
However, the main attraction is the chewy noodles and basil seeds that made me fall in love with this drink. On a hot summer day, there's nothing quite like it to cool down and indulge a little.
Pakistani Drinks
71. Rooh Afza (Herbal And Fruity Drink)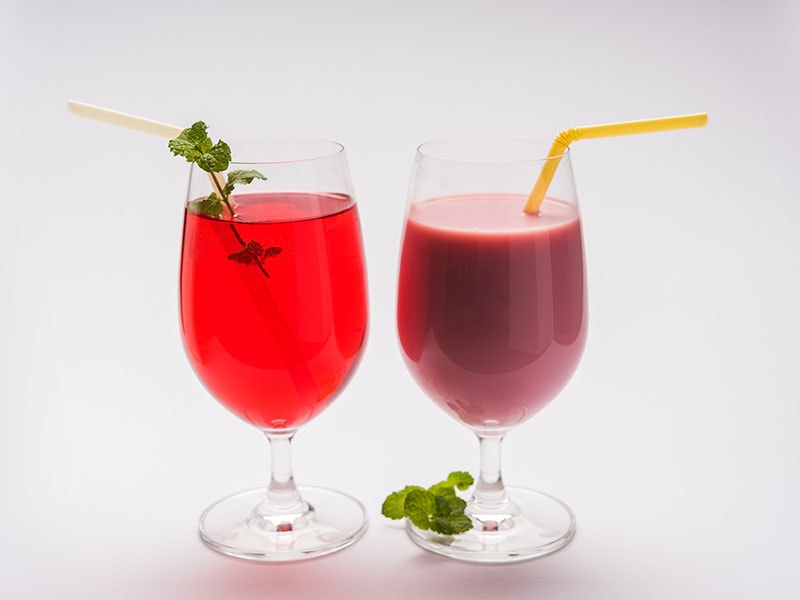 Rooh Afza is a rose-colored syrup that first made its appearance in 1906 in old Delhi, India. This sugary liquid always reminds me of long, hot summer days.
Now produced by Hamdard Laboratories in Pakistan, India, and Bangladesh, this sweet and fruity Pakistani beverage is a unique blend of herbs, fruits, and vegetables. Furthermore, people even infuse the drink with rosemary, chicory, pineapples, oranges, and even spinach.
One sip can deliver a sweet and fruity flavor that's simply captivating. I love mixing Rooh Afza with milk or water, but it also finds its way into my desserts like Falooda, sherbets, and milkshakes.
72. Sugarcane Juice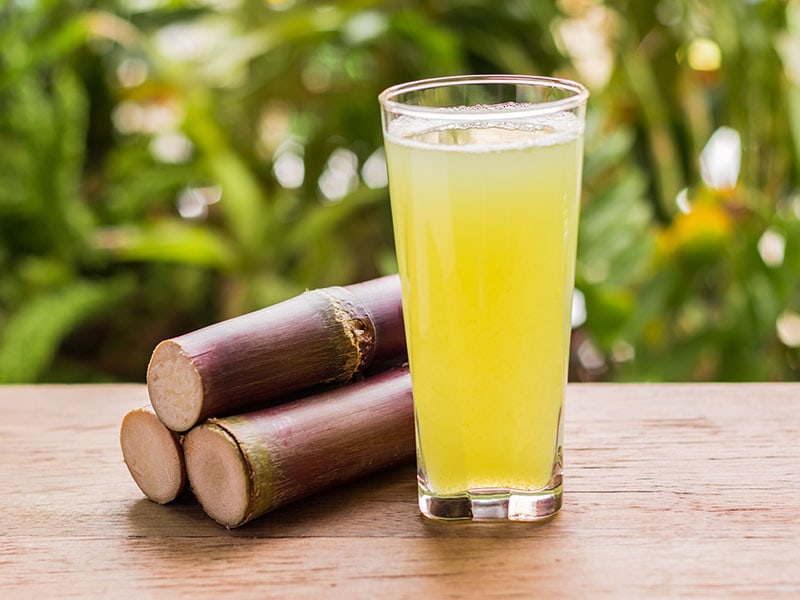 Sugarcane juice, or "Ganne ka Ras," is a significant part of my summer memories in Pakistan. With street vendors all over the country, you will easily find sugarcane juice at these places as a much-needed option for relieving the heat.
In fact, the love for this drink runs so deep that in 2019, after a Twitter poll, the Pakistani government declared it the national drink. Each sip is a refreshing burst of sweetness, instantly cooling me down on sweltering days. Also, sugarcane juice is especially popular across Asia.
Sri Lankan Drinks
73. Ceylon Tea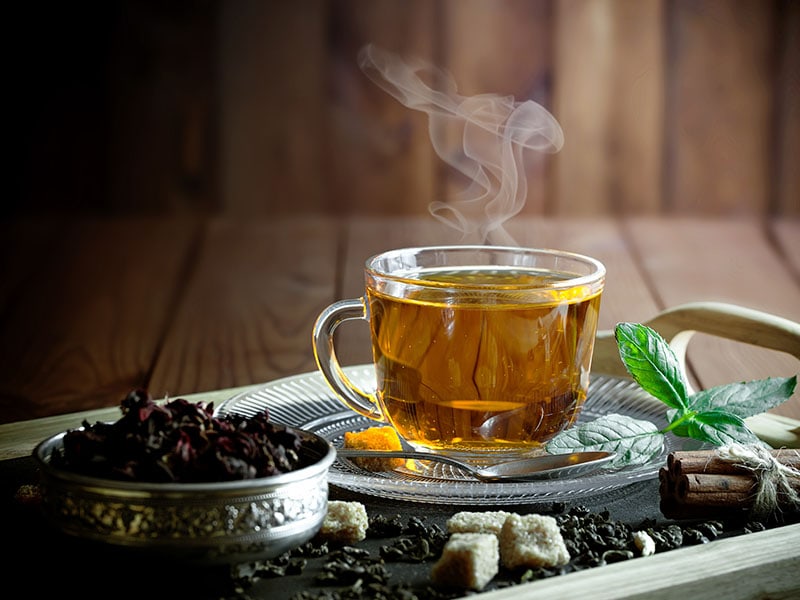 I've learned Ceylon tea is a revered term from Sri Lanka and is still highly regarded today. However, only those teas regulated by the Sri Lanka Tea Board can bear the name and the Golden Lion Logo on the packaging.
Originally, the traditional version was black tea, but I've also tried the green, white, instant, and iced varieties. As for the black tea, it's nuttier and stronger than other variants.
Whether enjoyed with a splash of milk or a spoonful of sugar, Ceylon's rich, fruity flavor shines through with noticeably less bitterness than teas from other countries. Besides, knowing that the tea is rich in antioxidants gives me another good reason to keep enjoying it.
74. Toddy (Palm Wine)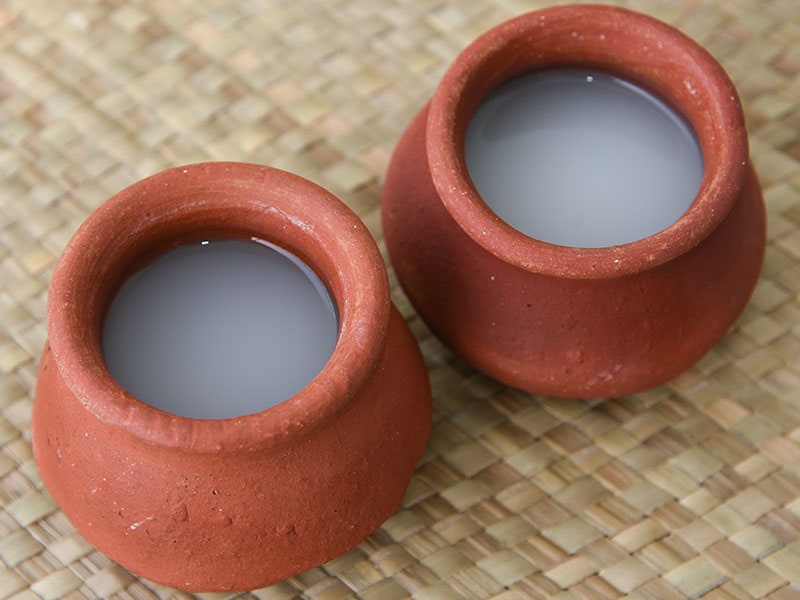 Toddy, also called palm wine, is quite a unique drink. It's a cloudy alcoholic mix that ferments the sap from a coconut's flower using natural yeast. On my trip to Sri Lanka, I admire the toddy tappers who scale over 90-foot palms to collect this sap, a task less dangerous now than in days past.
The result is a beverage with a low alcohol content, between 4% – 8% ABV, and a mildly sweet flavor, which I prefer pairing with sweet and fatty foods.
Other
75. Borhani (Yogurt-Like Drink) – Bangladesh
Borhani, a Bangladeshi classic, has a charming creaminess similar to yogurt. I remember my first sip, feeling the cool yogurt-like drink mingle with the spiciness of green chili, mint, coriander, and mustard seeds.
Prepared from sour milk curds and black salt, Borhani is a unique combination that's perfect after a spicy or sour meal. In some ways, Borhani is akin to India's lassi.
Central Asian Drinks
76. Airag / Ayrag (Fermented Horse Milk) – Mongolia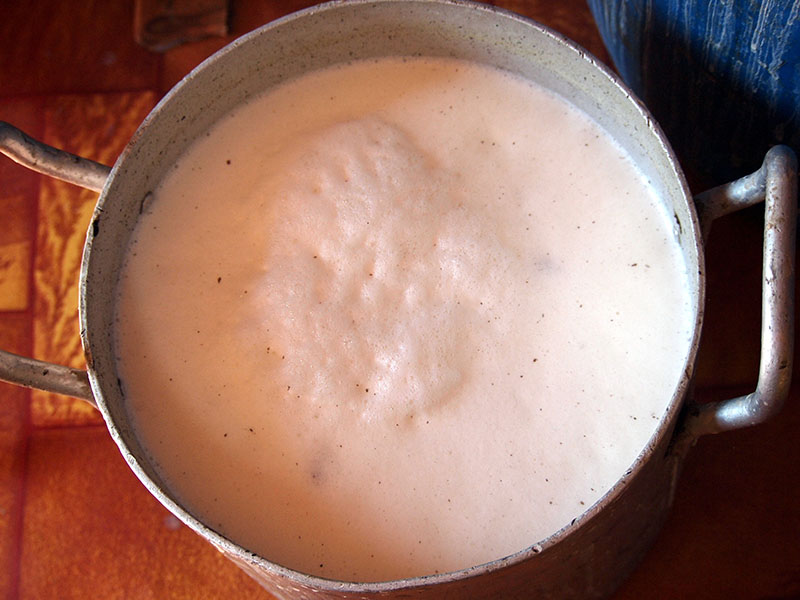 Airag is the Mongolian name for what's known in Central Asia as Kumis, a fermented horse milk with an intriguing blend of tart and sweet flavors. Called Kumis outside Mongolia, Airag is lightly alcoholic, barely touching 2%.
However, the aroma is something else that may pose a challenge for newcomers. But, once you get past that, it becomes a drink to cherish in Mongolia, considered to be a cultural treasure.
77. Suutei Tsai (Mongolian Salty Tea) – Mongolia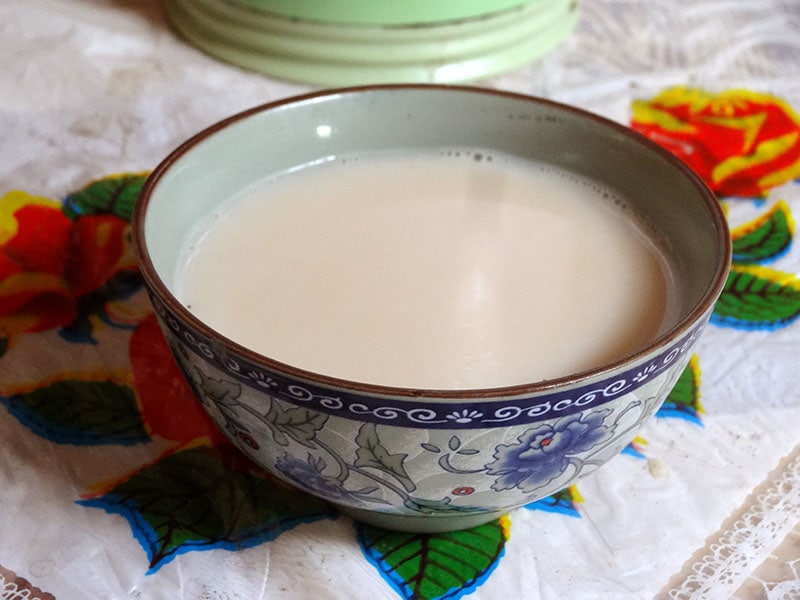 Once during a visit to Mongolia, I was invited into a nomadic tent and handed a warm cup of Suutei Tsai or Tstai Tsai. This staple Mongolian drink is a blend of green tea, milk, water, salt, and occasionally fried millet or butter.
The taste was nothing short of intriguing, with a rich, tangy, and unexpectedly salty profile, especially with the butter version. Served at every meal or reserved for guests, it took me a few sips to get used to this unique flavor profile of Suutei Tsai.
78. Kumis (Fermented Mare Milk) – Kazakhstan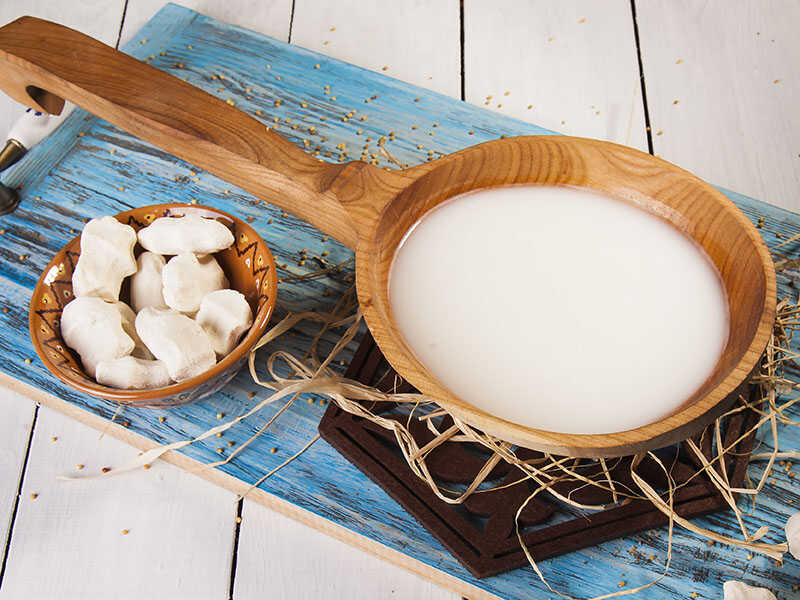 Kumis is a fermented dairy drink, a national pride of Kazakhstan, with a foamy white hue with a flavor profile that waltzes between sweet and tart. It's different from kefir in not using solid "grains." Instead, locals employ a concoction of mare milk and a liquid starter culture.
Aside from Kazakh cuisine, this mare milk also appears in many Turkic and Mongol-origin cultures, such as the Kalmyks and Yakuts. Despite its initial punch, Kumis' known benefits, like aiding digestion and reducing bloating, make it a worthy culinary adventure.
79. Shubat (Fermented Camel Milk) – Kazakhstan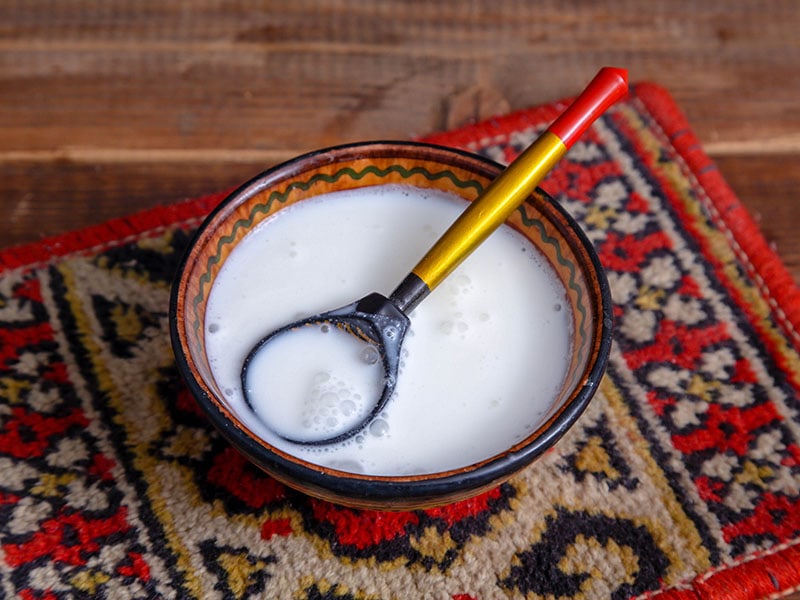 Shubat, or Chal as it's also known, has its roots in Central Asia, where the two-humped Bactrian camels roam. In the steppes of Kazakhstan, camel milk is fermented into this white, tangy drink. It's widely available in local supermarkets and restaurants, each with a different twist.
Commonly, the fresh version at a restaurant is less acidic than the bottled one. I had the chance to try both, and they do pack a punch. Outside the region, it's not easy to come across Shubat. Also, this unique camel drink nourishes your skin and digestive system.
West Asian (Middle Eastern) Drinks
Turkish Drinks
80. Turkish Tea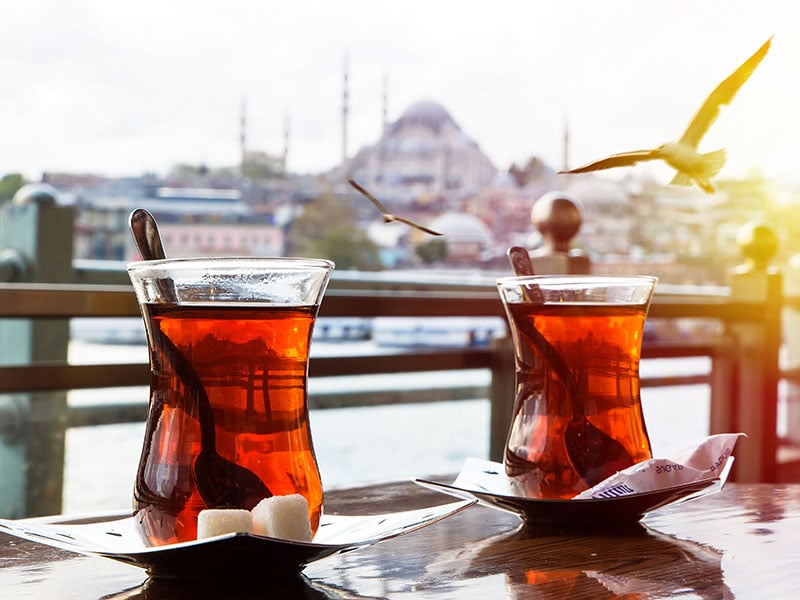 On my mission to explore Turkey, I found myself immersed in their tea culture. Here, it's called "çay" (pronounced chai), a robust black tea brewed from the leaves of the Camellia sinensis plant.
Turkish people, with the highest per capita tea consumption in the world as of 2022, absolutely adore their çay (12). Typically, it's brewed in a dual teapot, reminiscent of Persian and Russian methods.
It creates a charming brew that goes in clear, handle-free glasses set on tiny plates. But be warned, çay often arrives piping hot, a lesson my tongue learned the hard way! In Turkey, çay is the go-to offer for guests, with hosts often nudging for refills.
If you don't want any extra refills, a simple signal is to place the teaspoon atop your glass to get the message across.
81. Ayran (Yogurt Drink)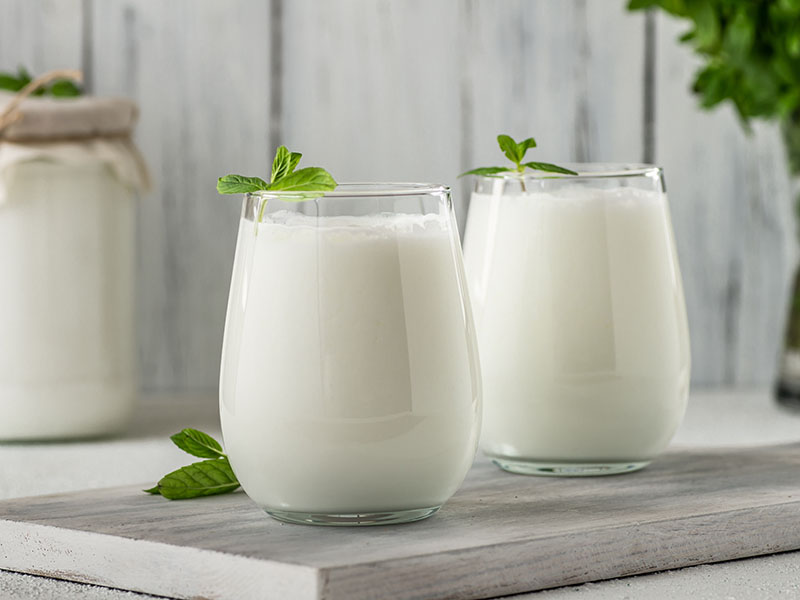 During hot summer days in Turkey, Ayran is a simple yet delectable concoction of yogurt, water, and salt that locals enjoy as a refreshment. Always served cold, Ayran has a unique tart and salty profile that can be altered with herbs like mint or even carbonation.
After enjoying spicy Turkish beverage delights, this drink is a real lifesaver! You might know it as Laban in Arabic or have tasted its close cousin, Doogh, in Iran.
82. Boza (Fermented Grain-based Beverage)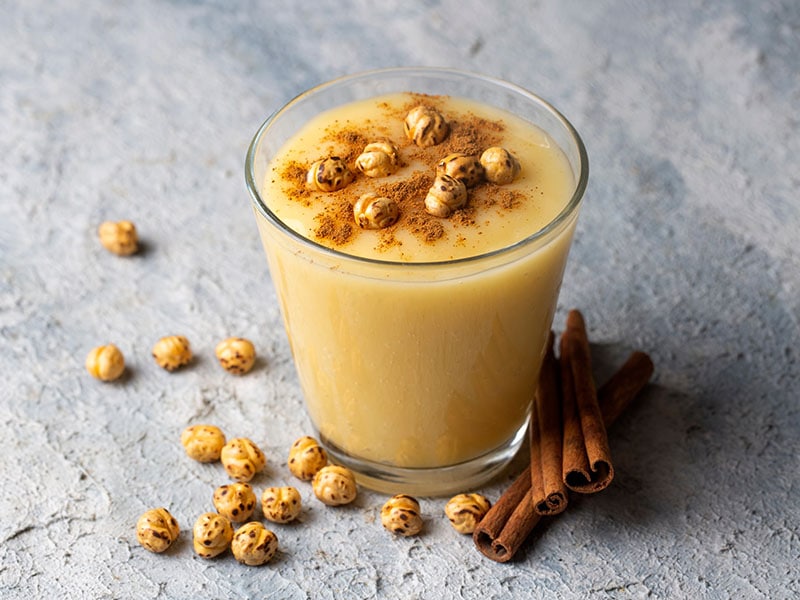 One of my most memorable moments was sipping Boza in a bustling Turkish market. This drink, with an ancient history tracing back to the 9th and 8th millennia BC, is a malted delight fermented from grains like corn, wheat, millet, or barley.
The signature smoothie-like texture and low alcohol content of Boza create a unique drinking experience. Also, the subtle blend of mild sweetness and tanginess is a unique touch of Boza. You can find numerous interpretations of the drink across Central and West Asia and Europe.
83. Rakı (Anise-flavored Brandy)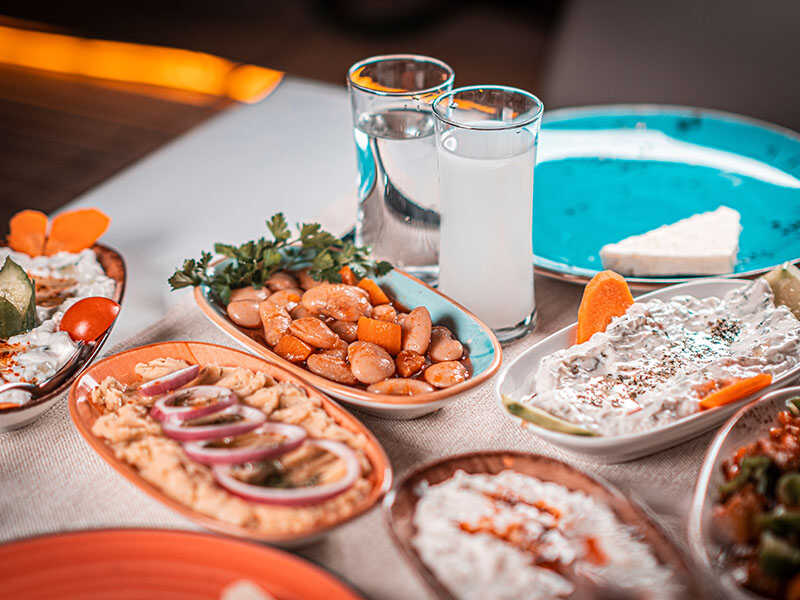 I remember first tasting Rakı, Turkey's prideful national drink. Distilled twice from grapes and given a hint of anise, Rakı possesses an unforgettable fruity and floral flavor.
With a hefty 40% – 50% ABV, water and ice are Rakı's best friends to tone down the potency. In addition, its color can magically transform from transparent to a milky-white hue alongside the nickname Aslan Sütü or "lion's milk".
Normally, Rakı is best savored with mezzes for the best experience. Furthermore, this drink is a favorite across the Balkans too!
84. Salep (Hot Milk With Cinnamon)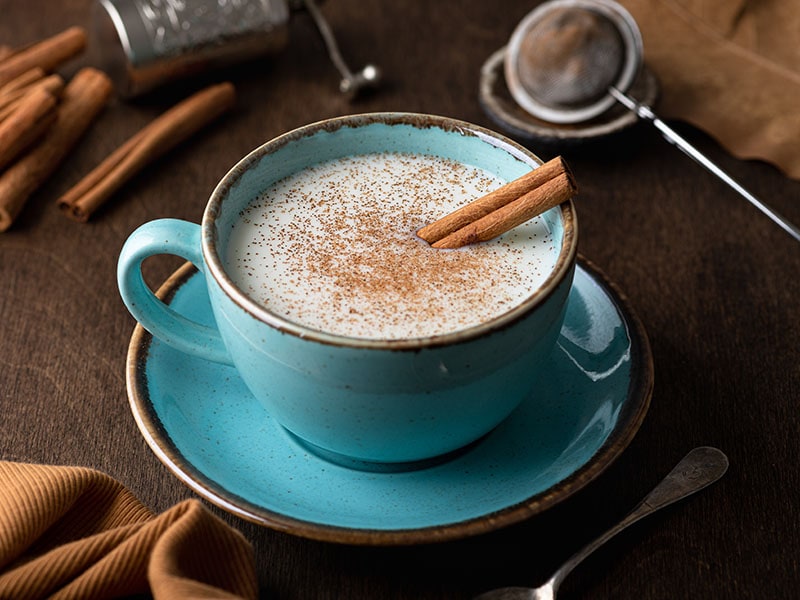 Whenever I get my hands on a cup of Salep, I always savor the creamy texture and the mild balance of this sweet and savory refreshment. The rich beverage is a blend of hot milk, ground cinnamon, sugar, and a special ingredient, like Salep flour, for a comforting experience.
Most often, the flour comes from the tubers of an orchid native to Turkey. Its unique thickening qualities make it a special ingredient in Turkish ice creams and desserts, adding a smooth richness.
Unfortunately, authentic Salep flour is now a rare luxury. Nowadays, a lot of instant Salep in supermarkets consists of corn flour and artificial flavorings, but it doesn't deliver the same flavor.
Another bonus point for Salep: it's said to be quite gentle on the stomach, soothing heartburn and aiding digestion.
Iranian Drinks
85. Doogh (Yogurt Drink)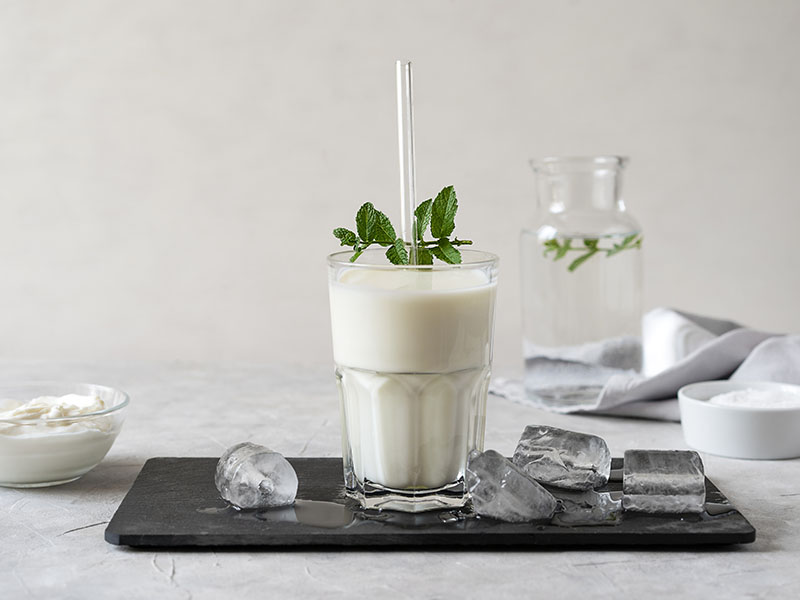 Doogh, a fermented dairy drink, always takes me back to the bustling markets of Asia and Europe. This Ayran's related drink is especially popular across Asia and Europe.
The mixture is a blend of yogurt, salt, and water, often sparkling. Tangy with a hint of saltiness, the drink is rather refreshing when enjoyed cold with generous ice.
Additionally, the herbal accents can vary, but dried mint is a classic, with fresh mint, rose petals, and dried celery. You can look for Doogh in its carbonated form, known as yogurt soda or Persian coke for a fizzy surprise you won't forget!
86. Persian Tea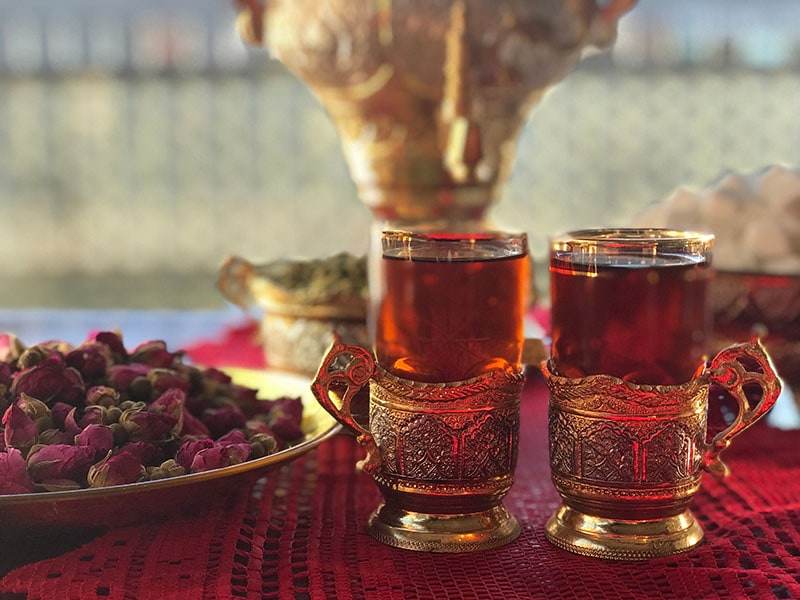 Persian tea is a treasure from the Caspian Sea shores of Northern Iran, the nation's premier tea-growing region. Steeped with loose-leaf black tea, the brew is best infused with cardamom and rose petals, resulting in a deep reddish-brown hue.
Persian tea isn't for the faint-hearted, as its rich tannin and caffeine content offers a robust flavor. Interestingly, Iranians have a unique approach to this tea by savoring it with a lump of rock sugar or candies.
As for serving, people prefer glass cups over ceramics to serve this tea. Nothing pairs better with Persian tea than sweet pastries, especially in a châikhâne, an Iranian tea house that's perfect for social gatherings.
Other West Asian (Middle Eastern) Drinks
87. Arak (Distilled Anise-Flavored Spirit) – Middle East (Lebanon, Syria, Jordan, Palestine)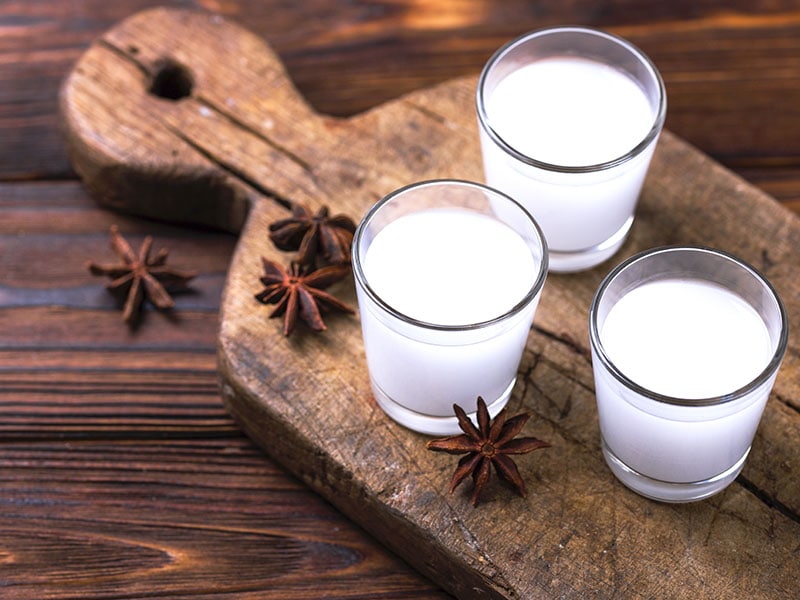 Contrary to popular belief, Arak, also known as Araq, is a reminder that the Middle East does have its own alcohol. This potent drink is a distilled anise-flavored spirit with a popularity that spreads across those countries.
Colorless and unsweetened, Arak is an intense experience, with an ABV ranging from a strong 40% to a whopping 95% for the moonshine version. Commonly, its magic lies in the blend of anise seeds and grapes, transforming it into a milk-white elixir when mixed with water.
Dating back to some of the earliest flavored spirits, Arak fits seamlessly into a mezze meal, adding a robust note to the tapestry of tapa-like small plates.
88. Arabic Coffee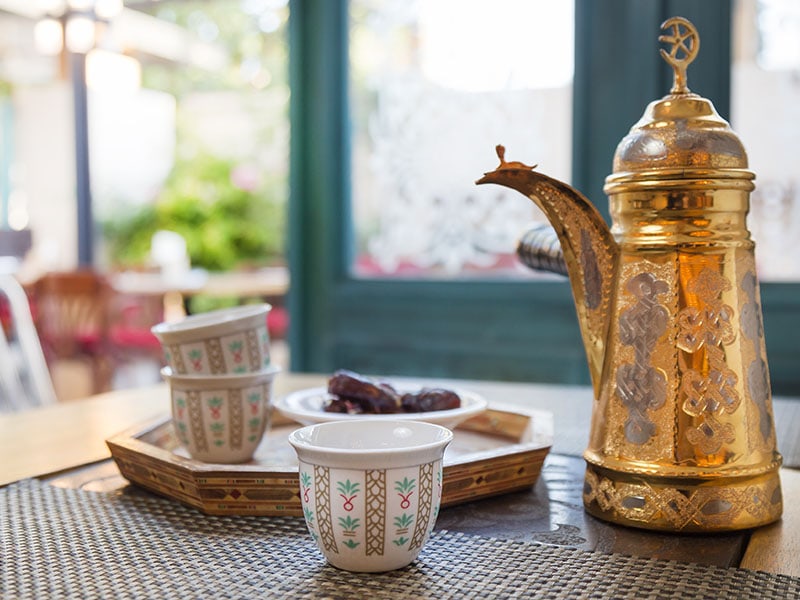 Arabic coffee, brewed from lightly roasted Arabica beans, offers a different experience for Western palates. Particularly cherished in Arab countries and among Muslims, this coffee offers a black color and a smoother, more mellow flavor with hints of berries and chocolate.
What takes Arabic coffee to another level, though, is the stimulating mix of spices, including saffron, ginger, and cloves. With a lower caffeine content than American coffee, it's an alternative for people who can't handle caffeine.
While it can be served with sugar, Arabic coffee is traditionally unsweetened and tastes splendid alongside candied fruits, dates, or dried fruits.
FAQs
---
Beverages In Asia – How Abundant They Are!
Embracing the vast array of Asian drinks is like unlocking a treasury of unique flavors and cultural narratives. As you try some of these beverages, you'll realize it's more than just quenching thirst.
If you've enjoyed this exploration, show your appreciation by sharing this article and joining the conversation in the comments below. I'd love to comb through your opinions to learn more about exciting drinks from Asia.
References
History of tea in China (no date) Wikipedia.
Soy milk: Health benefits, nutrients per serving, preparation information, and more (no date) WebMD.
Shoemaker, S. (2020) Pu-Erh Tea: Benefits, dosage, side effects, and more, Healthline.
MS, S.O. (2019) Green tea vs. Black Tea, Healthline.
Chrysanthemum tea: Health benefits, nutrients per serving, preparation information, and more (no date) WebMD.
Official website of the Seoul Metropolitan Government – (no date) Official Website of the.
Boba tea: Is it good for you? nutrients per serving, preparation information, and more (no date) WebMD.
Barley tea: Health benefits, nutrients, preparation, and more (no date) WebMD.
Cronkleton, E. (2018) Gotu Kola: 10 benefits, side effects, and more, Healthline.
Published by Jan Conway and 10, O. (2022) Leading rum brands worldwide based on Sales Volume 2021, Statista.
7 health benefits of coconut water: Electrolytes, vitamins, and more (no date) Medical News Today.
Which countries drink the most tea? (no date) The Wire.