What is Wasabi? If you are a fan of unique Japanese cuisine, you can surely say that Wasabi is the spicy green paste served alongside sushi or sashimi. However, the story behind this fiery taste is long and interesting.
Well, do you know that most of the wasabi products you see at the grocery stores are not made from real wasabi? Why is there such a funny situation? I will get you covered.
In this post, I'll give an overview of wasabi, its benefits, and how to distinguish between real wasabi and imitation ones. Later on, I believe you'll have abundant knowledge about this famous Japanese staple. Without further ado, let's get started!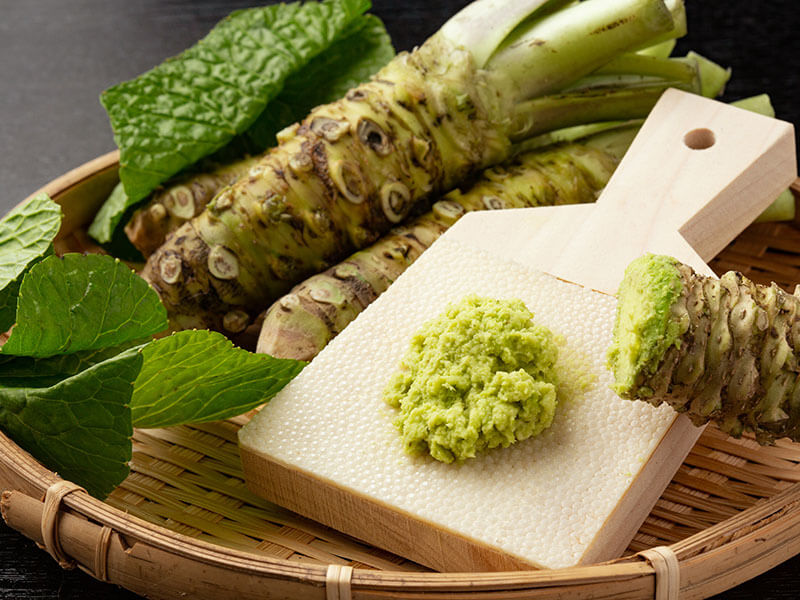 An Overview Of Wasabi
Originating from Japan, wasabi has spread around the world and is infamous for its potent spiciness. But when was it found and used by humans for the first time? This section will provide you with the correct answer.
The Interesting History That You May Not Know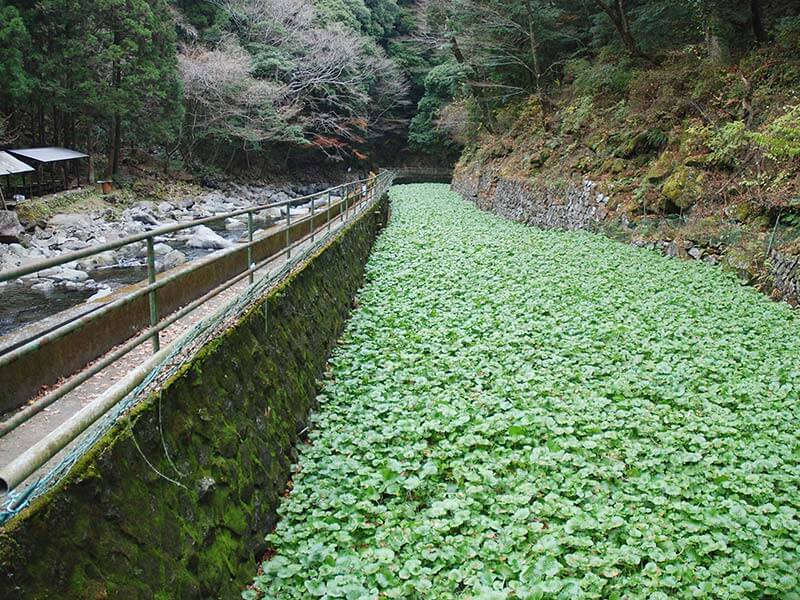 According to excavations, ancient Japanese started eating wasabi, a perennial plant named Wasabia Japonica, during the Jomon period (14,000 BC to 400 BC).
At that time, people utilized wasabi plants growing in mountain streams as medicine because they could sterilize and kill helminths.
The first wasabi cultivation started in Utogi village, located in Abe River's upper reaches in Shizuoka Prefecture, Japan, during the Keicho era (1596-1615). A villager tried to plant wild wasabi plants. Afterward, other villagers also followed his step and started growing wasabi.
Nowadays, most wasabi is grown in many places in Japan, with some in China, Korea, and New Zealand. In North America, some firms achieved initial success when trying to plant wasabi in North Carolina and Tennessee in rainforest conditions.
Types Of Wasabi
Wasabi can be classified into 2 main categories: Japanese native wasabi (hon-wasabi) and horseradish (seiyo-wasabi). Here is a summary table of them.
Types
Wasabi Planted On Stream Beds (Sawa-Wasabi)
Wasabi Planted In A Field (Hatake-Wasabi)
Horseradish (Seiyo-Wasabi)
Origins
Japan
Japan
Northern Europe
Growing places
Natural valleys or mountain gorges

Places with similar conditions
Fields & greenhouses
Fields & greenhouses
Environmental requirements
Cool, damp, shady environment with running water.
Cool, shady field
Cool, shady field
Main uses
Fresh wasabi rhizomes
Wasabi paste

Powdered wasabi
Powdered wasabi

Wasabi paste
Japanese Native Wasabi (Hon-Wasabi)
Japanese native wasabi refers to wasabi that originated and grown in Japan. It consists of 2 types: wasabi planted in stream beds (sawa-wasabi) and wasabi planted in a field (hatake-wasabi).
Wasabi Planted On Stream Beds (Sawa-Wasabi)
Sawa-wasabi belongs to the Brassicaceae family. This wild plant grows in the clean, moving water in valleys or mountain gorges and is planted in similar semi-aquatic places. The suitable shady environment with a temperature between 10-16°C to grow.
The environment in Shizuoka Prefecture meets all of these requirements for growing hon-wasabi. That's why this is where the most wasabi is produced.
Visit a wasabi farm in Japan and learn more about it.
Wasabi Planted In A Field (Hatake-Wasabi)
Hatake-wasabi is field-cultivated wasabi growing from seeds sowed in soil like other vegetables. Farmers grow it in greenhouses and harvest its stems and leaves for making commercial products such as pickled wasabi (wasabizuke) and wasabi paste.
Hatake-wasabi cultivation occurs in Japan (Shizuoka, Nagano, Shimane, Yamaguchi, Tokyo), Taiwan, Indonesia, and Canada.
Horseradish (Seiyo-Wasabi)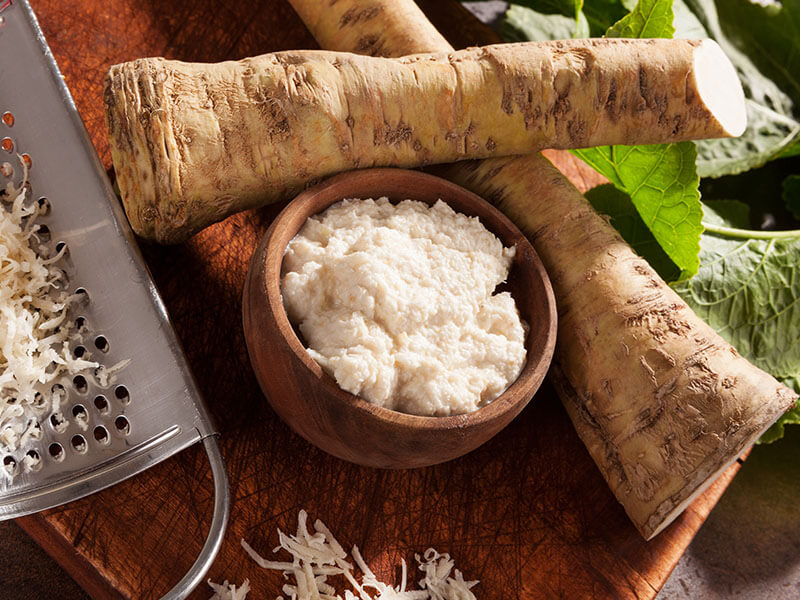 Unlike hon-wasabi, seiyo-wasabi (horseradish) comes from Northern Europe. In Japan, people also call it wasabi-daikon, in which daikon is the Japanese white radish. People use it as a spice because of its spicy flavor comparable to that of hon-wasabi.
People also use its sliced root to decorate dishes or make sauce from it. Besides, it is dried and processed to make powdered wasabi.
Wasabi Products
It may be surprising that most processed "wasabi" products on the market are not made from the Japanese native wasabi I mentioned above. Let me tell you about two broad categories of wasabi products: real wasabi and imitation wasabi.
Real Wasabi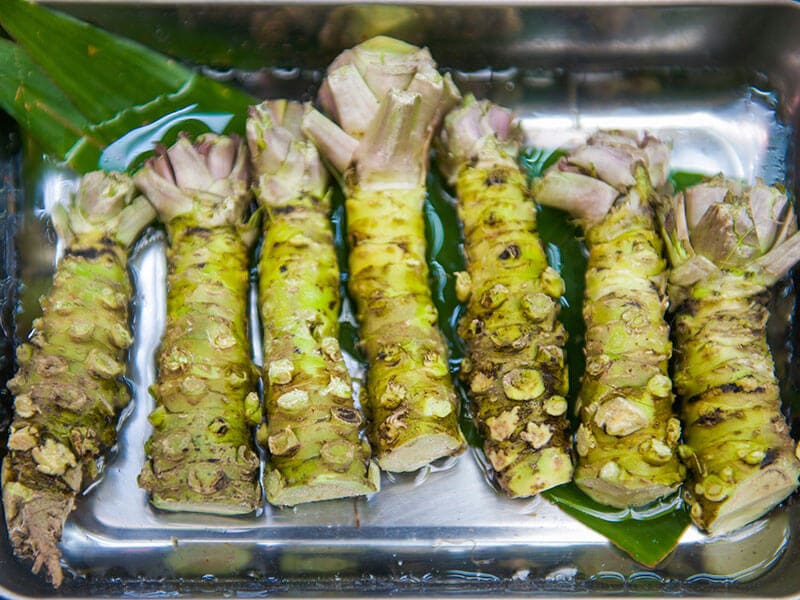 Fresh real wasabi refers to the fresh rhizome of the Japanese native wasabi. For consumption, you will finely grate it on a sharkskin grater to make fresh wasabi paste.
The price of real fresh wasabi is extremely high, with its fresh and special fragrance and limited availability and how delicate it is to grow.
Another type that contains real wasabi is the wasabi paste tube. It's grated wasabi and contained in tubes cheaper than fresh wasabi.
Wasabi powder is also popular. In the form of powder, it's cheaper than the paste tube or the fresh plant's rhizomes. However, this type does not bring you the fresh and nasal-clearing taste as the other two do.
Imitation Wasabi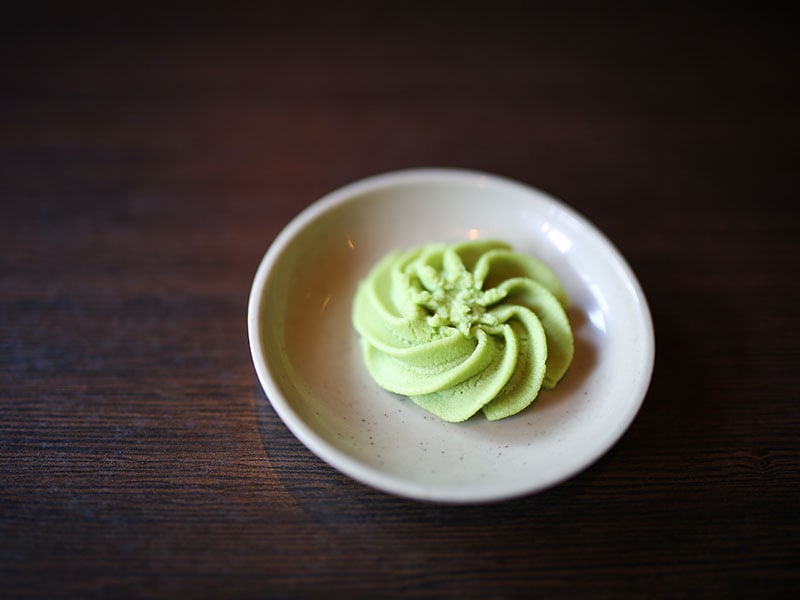 Imitation wasabi appears in most restaurants and grocery stores. It combines horseradish, mustard powder, and green food dyes.
Like wasabi, horseradish and mustard also belong to the Brassica family. They offer nasal-clearing effects that make you feel like you are eating the real wasabi, while green food dyes help to create the wasabi's bright green color.
Imitation wasabi paste has a thick and pasty texture because it's made from horseradish, while its spiciness comes from the mustard seed powder.
Besides, creamy imitation wasabi sauce made with horseradish, oil, eggs, sugar, and cornstarch is often available at most grocery stores.
What To Serve With Wasabi?
Typically, both real and imitation wasabi can accompany various dishes. Among those types, wasabi paste is the most popular accompaniment. Here are the most popular dishes that you can serve with wasabi.
Sushi And Sashimi
Wasabi, soy sauce, and pickled ginger are indispensable partners for savory Japanese sushi and sashimi. Wasabi is usually put on a plate or on top of the sushi. One thing to remember is that you shouldn't mix the Wasabi with the soy sauce.
See how wasabi is grated before serving with sushi and sashimi.
Soba (Japanese Buckwheat Noodles)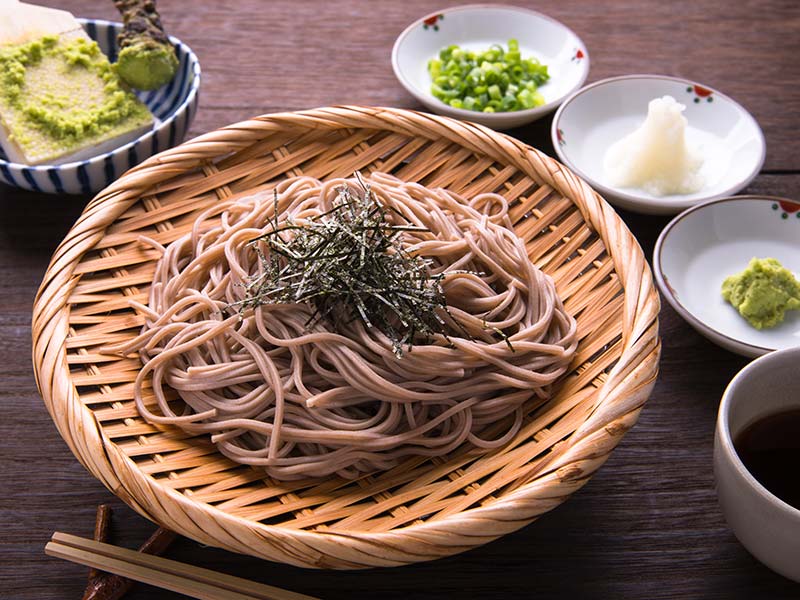 Soba is a well-known Japanese noodle variety made from buckwheat flour and served with only dipping sauce. Therefore, Wasabi paste is a fiery kick to supplement the dish's mildness.
Salads
A mixture of wasabi, rice vinegar, and soy sauce can be a perfect salad dressing. A sushi salad will satisfy your cravings, especially with a highlight of wasabi paste.
Soups And Stews
As a slight twist on various Japanese-style soups and stews, Wasabi adds a kick to any of them, including beef stews, spring pea soup, broccoli soup, and so on. The new fragrance coming from Wasabi will fulfill a chilly winter night.
Sandwiches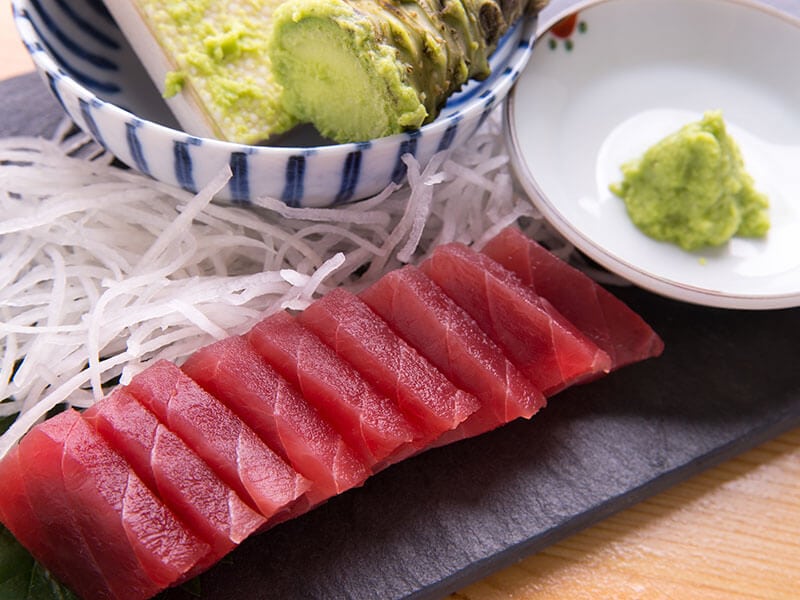 As you are familiar with mayonnaise in sandwiches, you can add some wasabi to bring your sandwiches to another level of heat. These wasabi-flavored sandwiches are ideal for lunch or even picnics.
Wasabi's Taste: Why Is It So Spicy?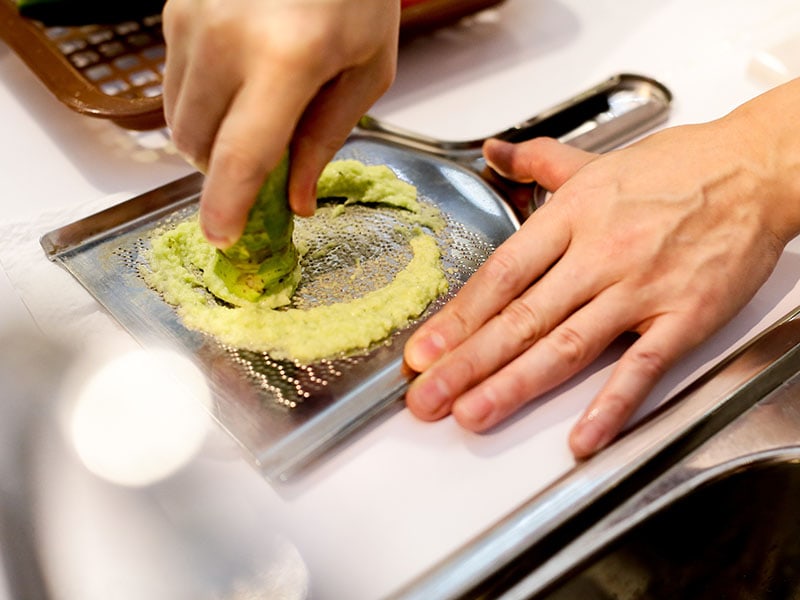 One of the reasons why Wasabi can be a substitute for dry mustard or horseradish is that it has the same aromatic and intense flavor. But besides that, Wasabi releases spiciness through fumes.
Thus, when you eat freshly grated Wasabi, you will feel its flavor traveling in your nostril and give a kick to your whole head.
Real wasabi has a short-lived taste created when you grate the rhizomes. The grating process produces chemical reactions sparkling a special heat that will rapidly disappear after some minutes. That's why authentic wasabi is served immediately after being freshly grated.
Why is wasabi so spicy? Its spiciness comes from the chemical compound named allyl isothiocyanate (AITC), different from capsaicin found in chili peppers. AITC is found in horseradish as well.
Allyl isothiocyanate is formed when you grate the wasabi rhizomes in circles into a paste with a sharkskin grater. Sinigrin, a glucosinolate in wasabi, reacts with myrosinase, an enzyme upon grating to form AITC.
When eating grated wasabi, AITC reacts with your "wasabi receptor," which gives you the stingy sensation and spiciness. Also, you will experience a burning sensation and tear triggering because the chemical is foreign to human bodies.
Nutrition Values And Health Benefits Of Wasabi
Used since ancient times, wasabi is rich in nutrition and offers many health benefits. In this section, I'll explain how wasabi in meals can contribute to your health.
Great Nutrition Values
Wasabi contains plenty of nutrients essential for your daily intake. For details, please look at the chart of nutrition values found in 100 grams of raw wasabi below.
| Nutrients | Amount | Nutrients | Amount |
| --- | --- | --- | --- |
| Water | 69.1 g | Zinc, Zn | 1.62 mg |
| Calories | 109 kcal | Copper, Cu | 0.155 mg |
| Protein | 4.8 g | Manganese, Mn | 0.391 mg |
| Total lipid (fat) | 0.63 g | Vitamin C | 41.9 mg |
| Ash | 1.92 g | Vitamin B1 | 0.131 mg |
| Carbohydrate | 23.5 g | Vitamin B3 | 0.743 mg |
| Fiber | 7.8 g | Vitamin B6 | 0.274 mg |
| Calcium, Ca | 128 mg | Vitamin B9 | 18 µg |
| Iron, Fe | 1.03 mg | Vitamin A, RAE | 2 µg |
| Magnesium, Mg | 69 mg | Vitamin A, IU | 35 IU |
| Phosphorus, P | 80 mg | Riboflavin | 0.114 mg |
| Potassium, K | 568 mg | Pantothenic acid | 0.203 mg |
| Sodium, Na | 17 mg | Carotene, beta | 21 µg (1) |
Containing many essential nutrients, active compounds, and A, B, C vitamins, wasabi offers many health benefits. They mainly include boosting your immune system, preventing cardiovascular diseases and cancers, and promoting fat loss.
Boost Your Immune System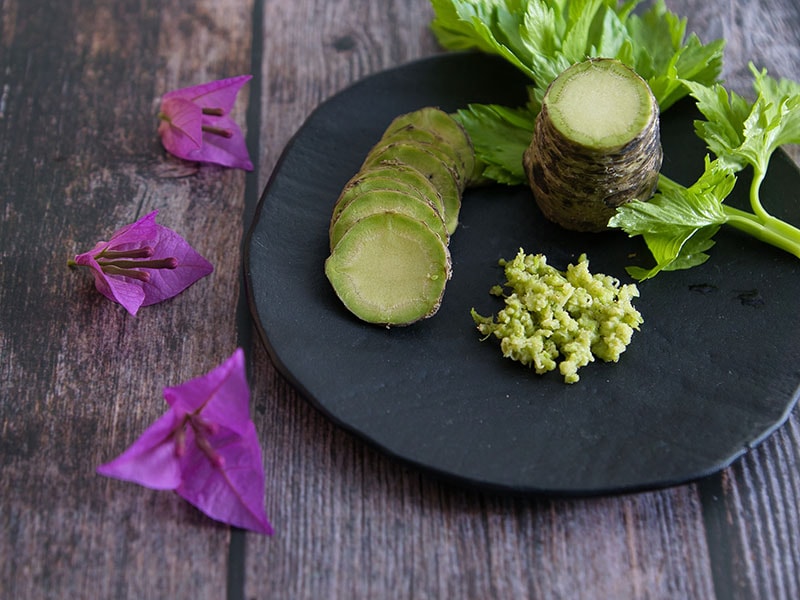 Wasabi contains Vitamin C (41.9 mg out of 100 g of wasabi) and other antioxidants that help to maintain a healthy immune system.
Besides, anti-inflammatory properties in wasabi, such as sinigrin, can prevent inflammation, clear congestion, and thin mucus (2). And copper found in wasabi can help in healing wounds within the stomach and producing new cells (3).
Prevent Cardiovascular Diseases
You can prevent many cardiovascular diseases by eating wasabi regularly. Wasabi can reduce the level of "bad" cholesterols in your blood when it gets high.
Isothiocyanates (ITCs) are the main active compounds in wasabi⁠. They aid in inhibiting platelet aggregation, which may lead to the formation of blood clots. As you may know, many heart diseases such as strokes are caused by these harmful blood clots.
May Have The Potential To Prevent Cancers
AITC also prevents the development of acrylamide, whose excessive intake can lead to some cancers, including kidney, endometrial, and ovarian cancers (4).
Some studies show that ITCs inhibit the development of colorectal, oral, pancreatic, and breast cancer cells. Therefore, wasabi is believed to be preventive against many common cancers.
6-MSITC, a form of isothiocyanates in wasabi, can remove the free radicals and inhibit the growth of leukemia and stomach cancer cells (5). Preventing these cancerous cells' development is beneficial before they become larger cancerous tumors.
Promote Fat Loss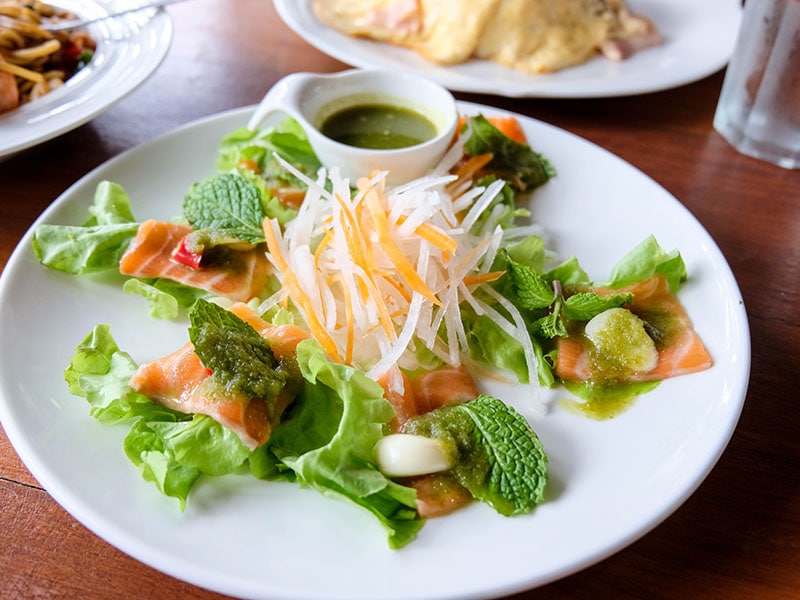 Low in fat and calories and high in fiber, wasabi is suitable to include in your diet if you want to lose weight. Of course, adding more fiber into your daily intake benefits your digestive system metabolism, which helps you stay in shape.
Additionally, some studies in animals and test tubes showed that wasabi leaves contain compounds that can stop the growth of fat cells (6). However, more tests on humans are still needed.
Here's Why Real Wasabi Is High-Priced
Known as one of the most expensive condiments in the world. What makes it so valuable? Here are 02 main reasons to address your concern.
Limited Availability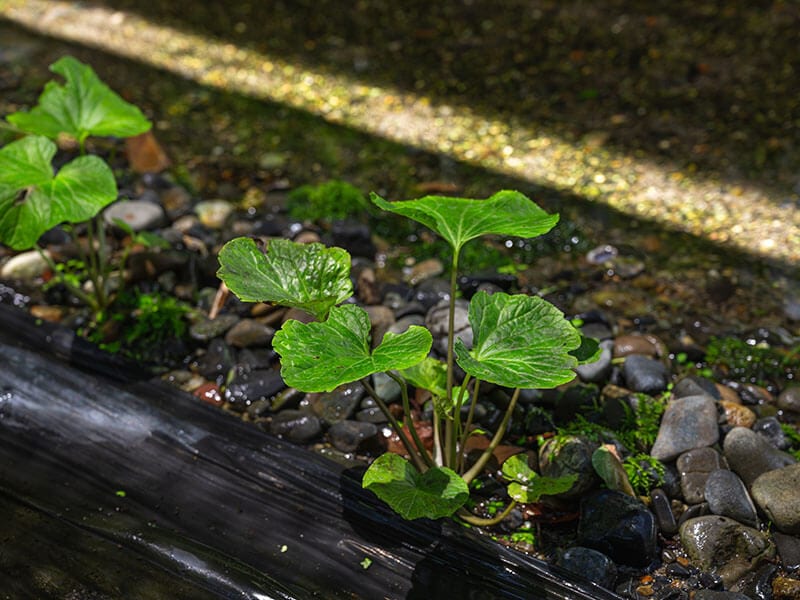 Most real wasabi around the world comes from Japan, although some producers in countries like China, Korea, New Zealand, and North America also grow it. This limited availability and high overseas transport costs level its price to about $160 per kilogram (2.2 lbs).
Wasabi Is Difficult To Cultivate And Process
A more important reason for pricey wasabi is its laborious cultivation. Wasabi plants need a cool, shady, and damp environment with running water to grow, so river stream beds are where they can grow the most.
The ideal temperature for growing wasabi is between 10-16°C. Any environmental changes can significantly affect its growth.
Besides, wasabi plants need to be partially submerged in flowing water. This makes its growing condition even harder. Normally, a baby wasabi plant takes up to 15 months to two years to be ready for harvesting, making it a high-end staple.
Last but not least, it's also challenging to process and preserve fresh wasabi, not to mention that its distinct taste is short-lived. Therefore, real wasabi is a valuable product you don't usually see around.
Here's why real wasabi is rare and high-priced.
Real Wasabi Vs. Imitation Wasabi: How To Tell The Differences?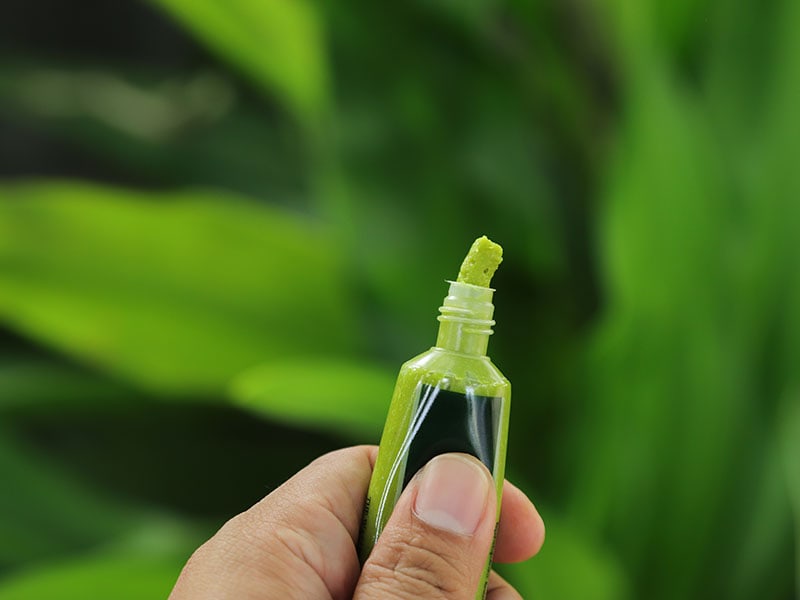 Real wasabi is in the form of fresh rhizomes, paste tubes, and powder. Imitation wasabi is also in the same form but is made from horseradish, mustard, and green food dyes. So, you can read the labeled ingredients to know if you are buying authentic wasabi.
What if you are dining in a Japanese restaurant? There are no packages for you to read, right? All you have is a small amount of wasabi paste accompanying your main dishes. In this case, you can rely on its appearance.
Real wasabi is usually freshly grated on a sharkskin grater just before serving to preserve its pungent aroma. Therefore, real wasabi paste is in a gritty, loose texture. Meanwhile, imitation wasabi is pasty and has a thick consistency.
Can Wasabi Hurt You?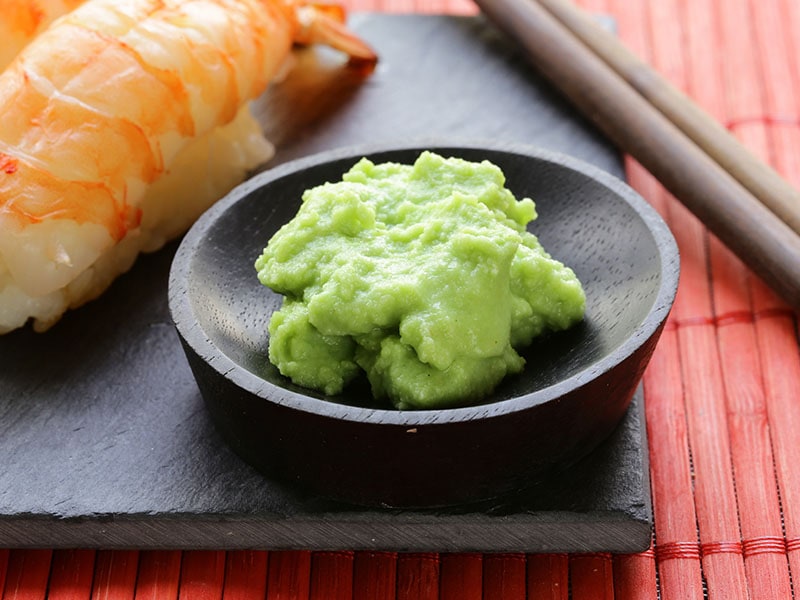 There are usually no severe influences on your health. Nevertheless, consuming a lot of real wasabi at once may give you an overwhelming lachrymatory sensation on your tongue and nose.
Besides, a high concentration of AITC found in wasabi can hurt cells, and direct exposure to it may damage your eyes and skin and create delayed effects. In addition, people with a wasabi allergy reaction shouldn't include wasabi in their meals.
You should be more careful when eating imitation wasabi because it may contain many ingredients such as horseradish, mustard powder, green food dyes, oil, eggs, sugar, cornstarch, etc.
Therefore, you may get skin rashes or dry flakes if you are allergic to these ingredients. Also, imitation may have gluten, so it's not usable for hypersensitive people.
How To Store Wasabi Properly?
For fresh wasabi rhizomes, you can store them in clean water with the stem out of the water in your refrigerator. Remember to change the water daily.
If it's a hassle for you to change the water daily, you can just wrap it with a muslin cloth or a damp paper towel and put them in your fridge. When applying these storing methods, wasabi is good to use for about two weeks.
If the Wasabi darkens, you can peel it before grating. You should only grate the amount of wasabi you will serve each time. Do not grate in advance, or if you have to, you can store the grated amount in a ramekin and put plastic wrap over it.
You can store newly-bought packages in your pantry or fridge for the paste form. After you open them, you can store them in your fridge. Unopened wasabi paste can last 1-2 years in your fridge, while it's 6 months to a year for the opened one.
For the powder form, since they are shelf-stable, you can store it in your pantry or cupboard. Remember to seal it tightly right after use.
Store your fresh wasabi easily with damp paper towels.
Try These Fantastic Wasabi Recipes Now!
I provided you with sufficient information about wasabi. So for now, let's enjoy cooking! Here are some fantastic recipes with the use of wasabi. I hope these dishes will bring out a distinctive yet interesting flavor of wasabi.
The first highly recommended recipe is wasabi soy wings. You will get the chance to enjoy delicious grilled wings that are well-marinated with wasabi, soy sauce, honey, and garlic. It's time to feel the slight hint of wasabi spice and a little soy fragrance.
If you are a fan of snacks, these spicy, crunchy roasted chickpeas are for you. Another savory snack, wasabi peanuts, inspire this recipe, yet aquafaba from the beans acts as the binder instead of eggs for this dish. Let's see how it goes!
Make spicy, crunchy roasted chickpeas with simple ingredients now!
Fish tacos are what you would like to have to enlighten your day. They are crunchy and flavorful, especially with delicious fish and an aroma of wasabi. This recipe is also a good chance for a family cooking time when members enjoy making it together.
FAQs
I know you may have some other questions about wasabi. To know more about it, look at these frequently asked questions.
Wasabi Brings You Fulfilled Meals
So, you got to know almost everything about wasabi, including its history, uses, and health benefits. I hope you will have a chance to use authentic wasabi soon (or it's fantastic if you have tried it before!).
If you find my post informative, share it with your beloved ones! Also, don't forget to leave a comment below if you have any ideas to share with other readers and me. Hope to see you next time!
References
FoodData Central
Mazumder, A., Dwivedi, A. and du Plessis, J. (2016). Sinigrin and Its Therapeutic Benefits. Molecules,
Kornblatt, A.P., Nicoletti, V.G. and Travaglia, A. (2016). The neglected role of copper ions in wound healing. Journal of Inorganic Biochemistry, 161, pp.1–8.
Shimamura, Y., Iio, M., Urahira, T. and Masuda, S. (2016). Inhibitory effects of Japanese horseradish (Wasabia japonica) on the formation and genotoxicity of a potent carcinogen, acrylamide. Journal of the Science of Food and Agriculture, 97(8), pp.2419–2425.
Hou, D.-X., Korenori, Y., Tanigawa, S., Yamada-Kato, T., Nagai, M., He, X. and He, J. (2011). Dynamics of Nrf2 and Keap1 in ARE-Mediated NQO1 Expression by Wasabi 6-(Methylsulfinyl)hexyl Isothiocyanate. Journal of Agricultural and Food Chemistry, 59(22), pp.11975–11982.
Oowatari, Y., Ogawa, T., Katsube, T., Iinuma, K., Yoshitomi, H. and Gao, M. (2016). Wasabi leaf extracts attenuate adipocyte hypertrophy through PPARγ and AMPK. Bioscience, Biotechnology, and Biochemistry, [online] 80(8), pp.1594–1601.