A trip to Japan won't be complete if you ignore Osaka street foods. In case it is too confusing when looking for some suggestions on the Internet, you can find some palatable dishes here!
Osaka is one of Japan's famous culinary capitals, featuring food lanes that are usually bustling and congested. People in Osaka know how to impress visitors with various appealing dishes, making this place more than a lovely tourism destination.
Did my words make you curious enough? Then, you should scroll down for more information right now!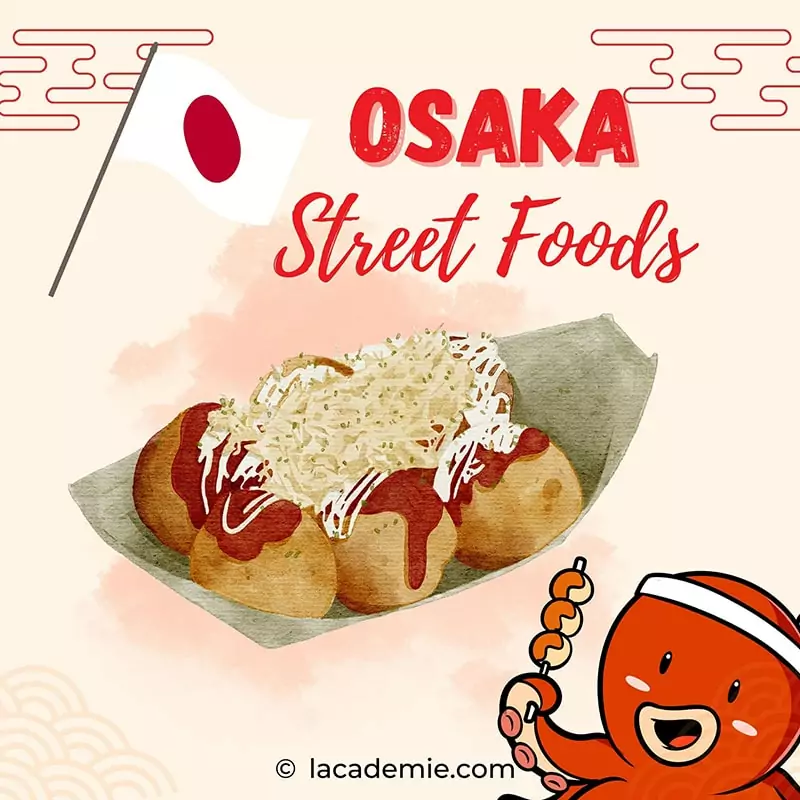 Just as in many other Asian countries, Japanese cuisine or Osaka gastronomy has a lot of familiar Asian dishes, some of those are rice and noodles. These delicacies can appear in many families' everyday meals.
1. Ramen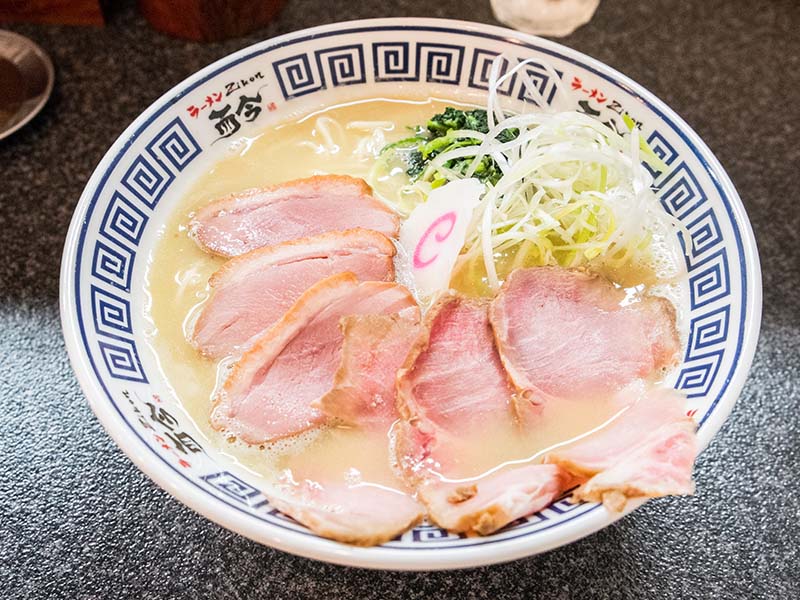 Ramen is a famous dish associated with Japanese culture that you shouldn't miss when visiting Japan in general and Osaka in particular. Japanese people made this dish with inspiration from the Chinese La Mian (meaning "pulled noodles").
Ramen is the pinnacle of Japanese cuisine. People in Japan adore this dish so much that they will line for hours just to get a bowl of hot noodles with rich Shoyu/ Miso or pork bones soup base.
Indeed, savoring a bowl of hot noodles will be ideal for the cold weather. Ramen requires a chef to put a lot of heart into it. He needs to prepare the broth, noodles, and toppings carefully by hand to preserve the goodness in each ingredient. 
2. Kitsune Udon
(Wheat Noodles With Fried Tofu)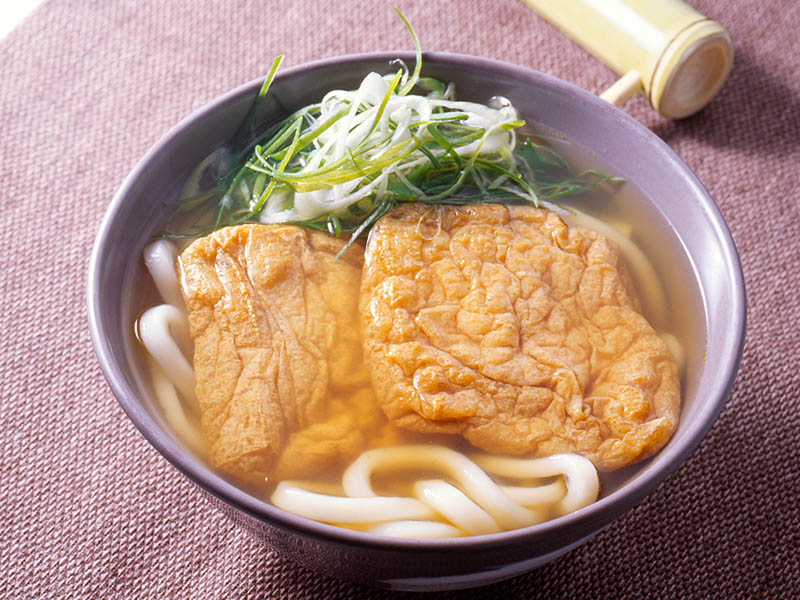 Kitsune Udon is a must-try if you're visiting Osaka. This dish traces back to the Edo era (1603-1868) and consists of Udon noodles (an exclusive noodle variety only in Japan), hot broth, and fried tofu (Inari Age and Aburaage).
Of course, the thick, chewy noodles are a vital component of Kitsune Udon. The broth is also essential; it will have a distinctive light brown hue and be made up of Dashi, soy sauce, mirin, and sugar.
When you take your first spoonful, you'll feel the tender noodles mixed with the sweet broth and fatty tofu. This culinary combination is likely to leave diners with a favorable impression.
3. Yakisoba
(Stir-Fried Noodles)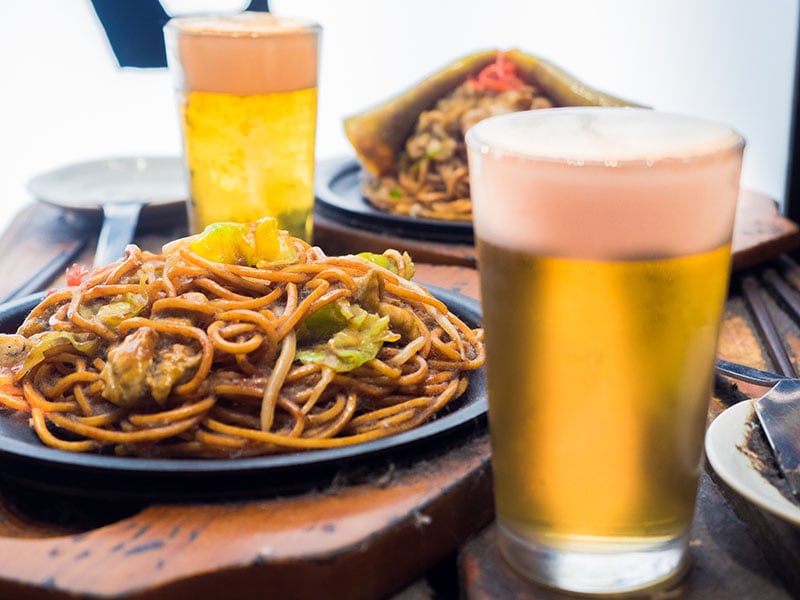 People often call this dish by the full name Sosu Yakisoba, "Yakisoba" meaning "fried noodles" in Japanese. Basically, this dish is a stir-fried noodle dish with Japanese sauce but is derived from Chinese noodles.
The first Yakisoba restaurant in Japan appeared in the 1930s. These Japanese Fried Noodles have a particular taste and mouthfeel thanks to thick noodles and a special sauce resembling Worcestershire sauce.
This is  a terrific Japanese side dish as well as main dish in daily meals. Don't forget to eat this with fresh ingredients like chopped cabbage, onions, bean sprouts, and carrots. They will make this stir-fry dish less greasy and more balanced.
4. Kare Raisu
(Curry Rice)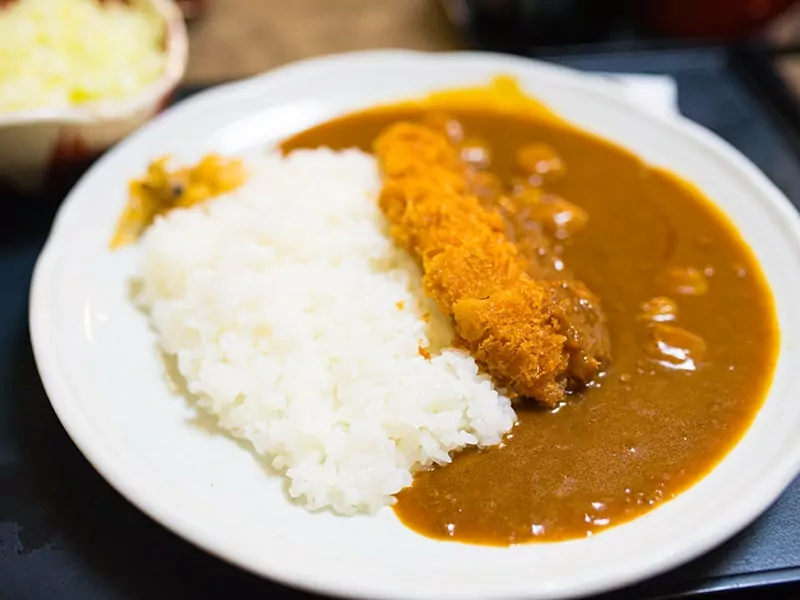 Suppose you are quite reluctant to the spiciness from regular curry, the signature Indian delicacy, then you should try the Japanese-style version. This dish was introduced to Japan during the Meiji period in the 19th century.
Later on, Japanese people changed the typical curry to taste much milder, sweeter, and less spicy than the original variation. A plate of Japanese rice curry includes hot rice and luscious curry with soft, braised vegetables and proteins (meat/chicken).
You can opt for a plate of Kare Raisu as the main dish for any meal of the day. You can even have it to fill your belly quickly during your trip. Although the food doesn't have a luxurious look like some other dishes, it still tastes good.
In Osaka, locals love to pair this specialty with other dishes. Some most favorable accompaniments are Tonkatsu (fried cutlets), fried chicken, Tempura (fried shrimps/ octopus).
---
Japan is surrounded by the ocean, and the waters of this country are also famous for their rich and abundant seafood. That's why Japanese people love using seafood as the main ingredient for their food.
In Osaka, you can easily find irresistible seafood dishes on the streets. Now, join me to learn more about them!
5. Takoyaki
(Grilled Octopus Balls)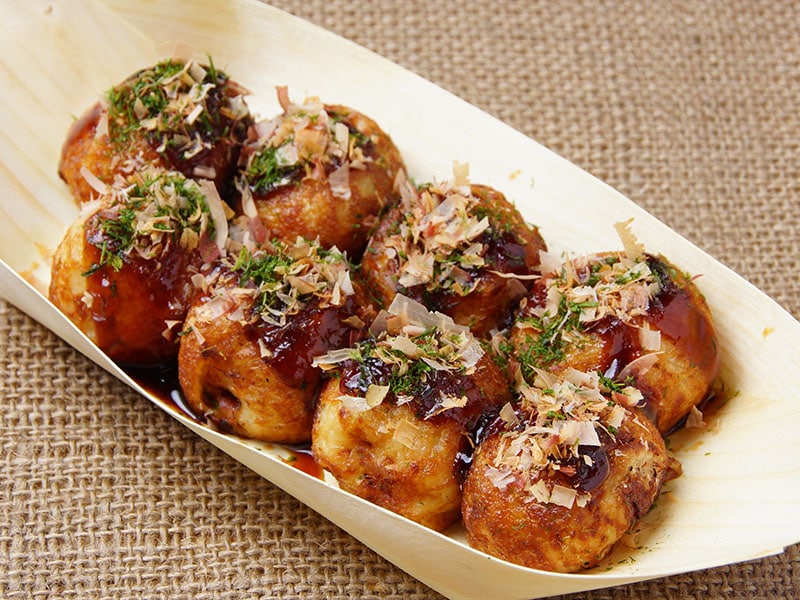 Takoyaki is the most well-known and appealing street cuisine in Osaka, and you can find it all across the country. That is why, if you are visiting Osaka, you should not miss out on Takoyaki.
Tomekichi Endo was the first one who created this delicacy, and his initial idea was to make a snack for children with the beef tendon (Rajioyaki) in 1933. Two years later, he used new ingredients and developed the original recipe into what would later become Takoyaki.
Takoyaki's name provides some information about this dish. This food consists primarily of chopped octopus (tako) stuffing, with the vendors grilling (yaki) parts of the food in a tray with characteristic semicircular holes.
Chefs regularly serve Takoyaki with its distinctive sauce (dark brown), mayonnaise, dried seaweed, shredded fish, and other foods. Visitors may stand in front of the counter and observe the sellers prepare this delicacy.
6. Tako Tamago
(Egg Inside Octopus Head)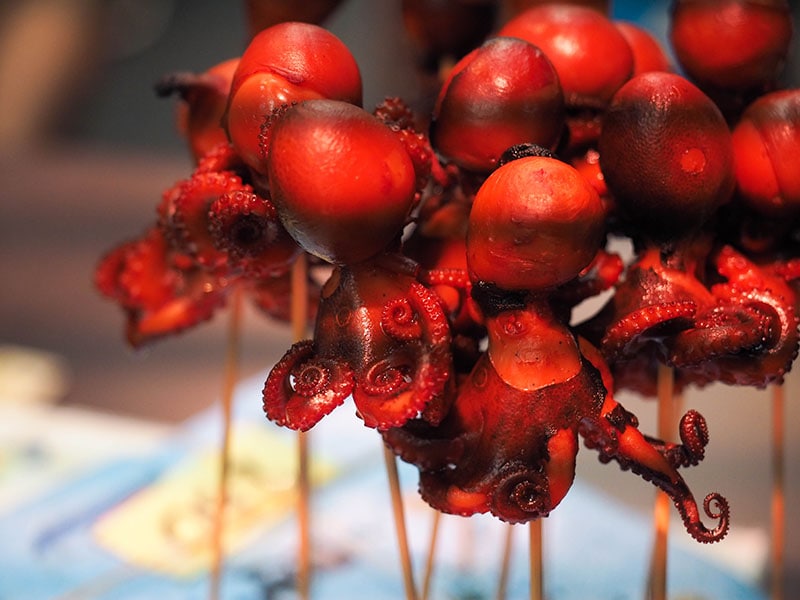 Tako Tamago is a dish that is both unique and tasty. Once you take a bite into the octopus head, you can immediately taste the quail egg stuffed inside it, which is also the distinctiveness of this delicacy.
This dish has its roots at Nishiki Market in Kyoto, from which this famous food spread to other regions of Japan.
The Tako Tamago variation in Osaka has almost all the original version features. Sellers usually skewer the stuffed octopus into a long stick. Therefore, this food is a perfectly handy street food that you can always enjoy on the go.
7. Okonomiyaki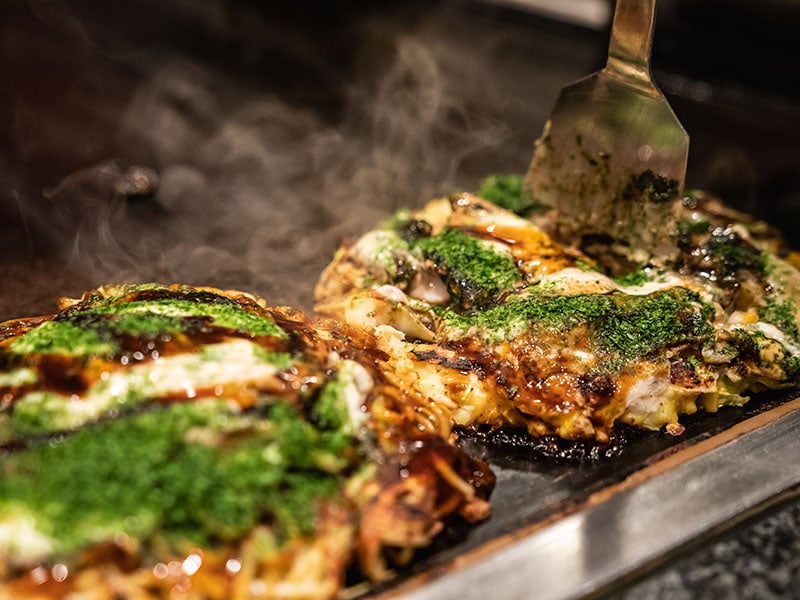 Okonomiyaki or Japanese Pancakes is an authentic Osaka food since people in this area created it in the 1930s. In Japanese, the name of this food means "grilled as you like it," and the Japanese chefs usually make it with shredded cabbage, prawn, octopus, and squid.
The food became more widespread due to the shortage of rice during the time after World War II in Japan. At that time, Okonomiyaki was an ideal second-choice for food because it cost less.
After the pancakes are cooked, the sellers will serve this treat with a special brown sauce, mayonnaise, bonito flakes, and powdered nori seaweed. The Kansai variation often uses a type of long yam called nagaimo, and the chefs will prepare the food on teppan.
Okonomiyaki or the "Osaka soul food" would definitely taste better when it is hot, so you should have a bite right away once you receive your order.
8. Oshizushi
(Pressed Sushi)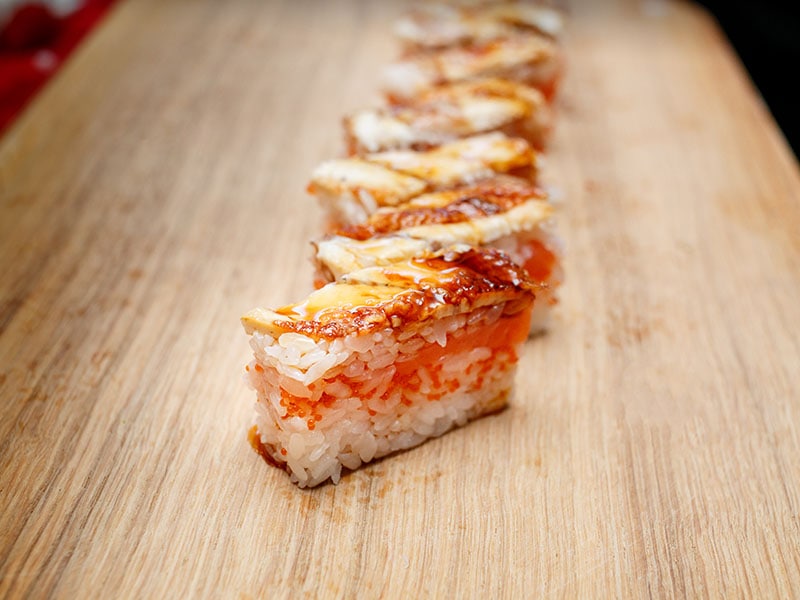 When it comes to the most popular Japanese foods, you should never forget Sushi. But I want to recommend a special kind of Sushi that originated from Kansai (Osaka): Oshizushi.
In general, the ingredients of this dish are pretty similar to traditional Sushi, but it has a slightly different shape. That's because people use a wood frame to create pieces for Oshizushi.
The chefs will press the Sushi to square before cutting them into bite-sized pieces. You will only need to take one bite to enjoy the full flavor when eating.
Unlike regular Sushi, Oshizushi does not call for raw fish or wasabi (because Teriyaki sauce is often used instead). So if you want to try Sushi but don't like those ingredients, you'll definitely love this dish.
9. Fugu
(Blowfish or Puffer Fish Dishes)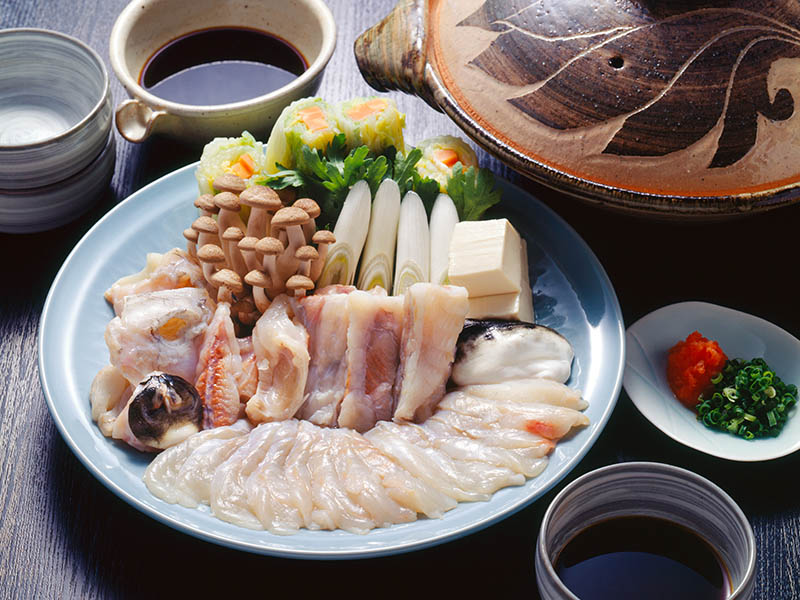 Fugu or blowfish is a dangerous kind of fish that might make people feel a bit hesitant, yet the Japanese have been eating this fish as raw seafood for centuries. It will be a chance of a lifetime, so you should opt for it once you have an opportunity.
Before a chef can legally serve this fish, they must undergo a rigorous training process. In Osaka, you may eat Fugu in various ways, such as Sashimi (thinly sliced meat on a large platter), Hotpot, Tempura, or other dishes. All of them are delicious!
10. Kani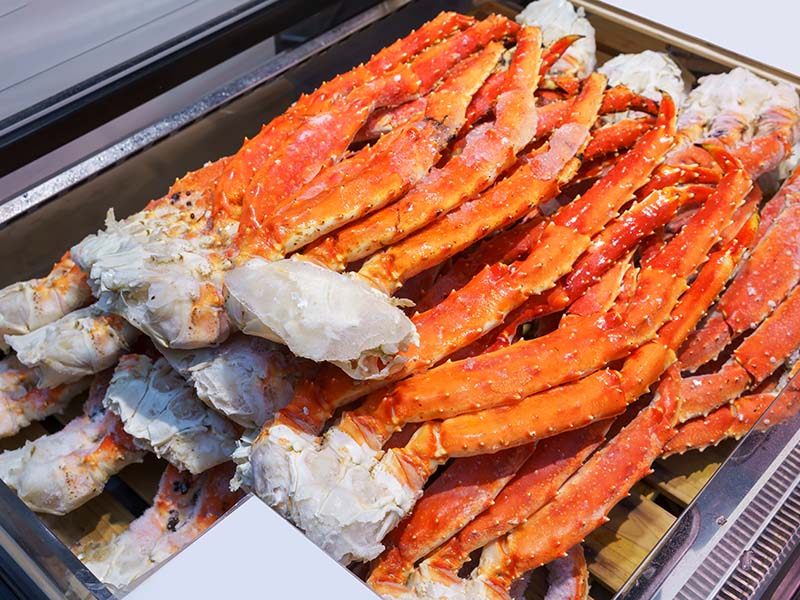 Osaka lies on the seaside of Japan; therefore, the seafood here is absolutely fresh and worth trying once. Besides Sushi or Takoyaki, Osaka crab is another delicious delicacy. Locals usually cook it in simple ways to preserve the ingredient's natural sweetness.
Japanese prefer eating giant crabs since they will offer more succulent flesh. You should definitely experience the feeling of picking the fresh crab yourself and looking at the chefs preparing your food in front of your eyes. How exciting!
11. Oden or Kanto Daki
(Japanese Winter Stew)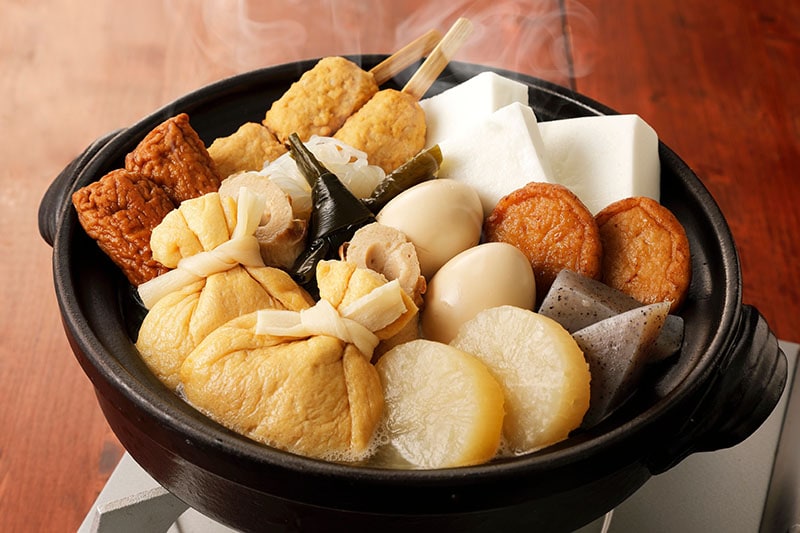 Oden is an authentic Japanese dish prepared with many different ingredients. Some of them are grilled fish cakes, meat (beef/pork), boiled eggs, and some other vegetables. In general, this Osaka typical street food has a stronger taste than ones from other regions.
However, soup is the main feature that makes Oden prevalent in Japanese cuisine. Oden's soup base is made from a mixture of grated fish, kelp, and light Japanese soy sauce. Combining the above ingredients with this broth will make an extremely harmonious dish.
The Japanese love to enjoy this dish when the weather turns cold. Believe me; you will definitely want to try to feel the warmth coming from the big Oden pots beneath the frigid air of Osaka's night sky.
---
Osaka gastronomy is one of Japan's most prominent culinary cuisines. Therefore, the above recommendations are not all you can expect from such an outstanding Japanese street food style. You should take a look at my additional suggestions below!
12. Warabi Mochi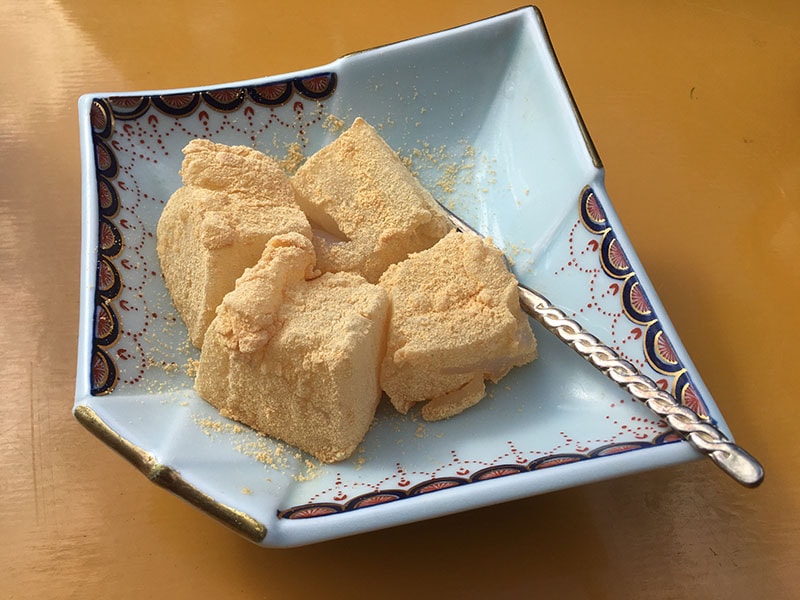 Warabi Mochi is a dessert similar to Mochi but usually feels cooler and smoother when eaten. Usually, what makes Warabi Mochi different from other Japanese desserts in terms of taste and texture is Kinako (powdered soybeans) and sugar.
To make this cool delicacy, the chefs don't use glutinous rice powder but apply warabiko (bracken starch) to make Warabi Mochi look more transparent.
This dish is a summer treat that people in this country have enjoyed for thousands of years (from the Heian era). In Osaka, you can find vendors selling this treat in the food trucks, which looks somehow like the ice cream truck in the Western countries.
13. Yakitori
(Grilled Chicken Skewers)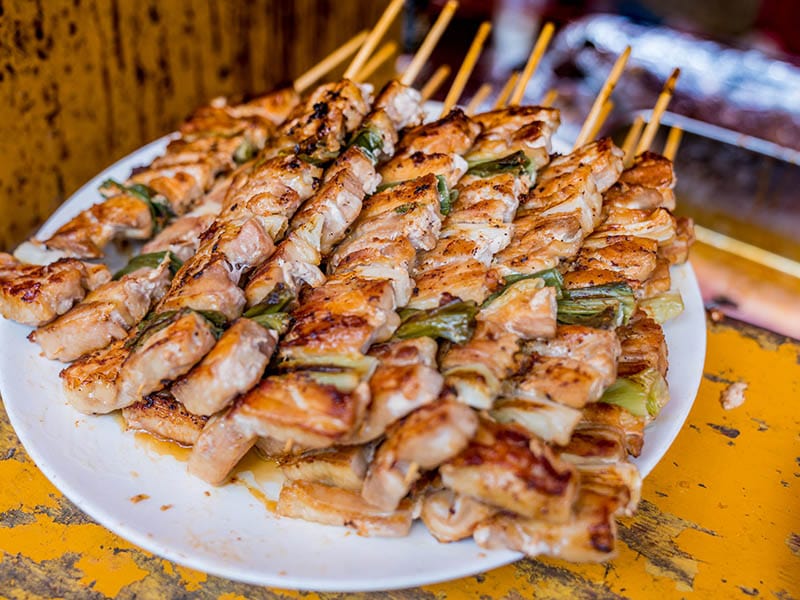 Yakitori is a grilled skewer made from chicken, and the chef will cook it directly on the charcoal stove. Although grilled chicken has existed in Japan for thousands of years, the idea of skewering and grilling this famous meat only began during the Edo period.
Before processing, the sellers need to marinate the chicken part well with a unique Japanese sweet sauce called "Tare" so that the cooked Yakitori will be full of rich flavor.
Furthermore, the cooks can use any part of the chicken to make this dish, be it the thighs, the skin, the liver, and the gizzard, so you'll have plenty of options to choose from. Let's grab a cup of cold beer and enjoy this delicious food whenever you have time.
14. Torikara or Tori Karaage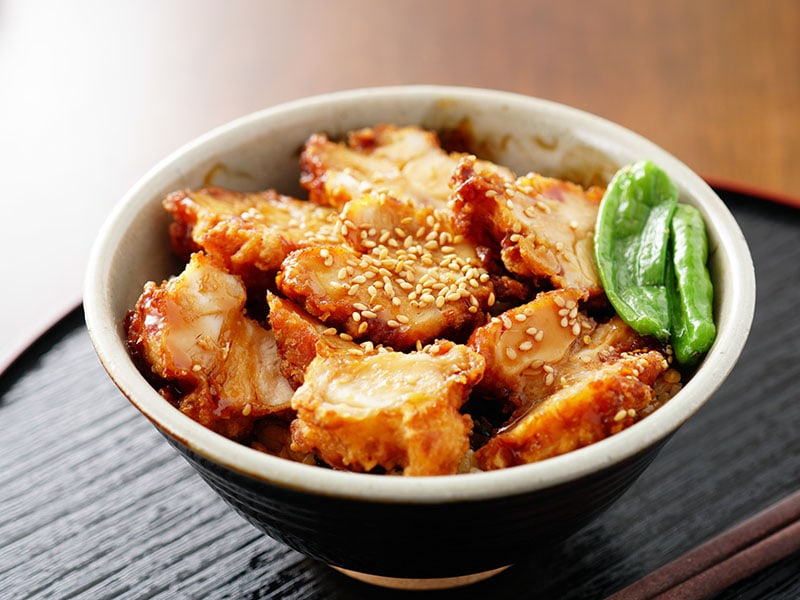 Torikara is similar to the well-known deep-fried chicken, Karaage, but they are not identical. Although both recipes call for battering chicken pieces with flour before deep-frying in hot oil, Torikara requires chicken breasts rather than thighs like Karaage does.
Additionally, the chefs in Osaka usually offer diners Torikara in skewers; each skewer might include three pieces of fried chicken. Sometimes, they will also serve you some French fries at the side of this delicacy. Don't miss this snack-for-all-age when coming to Osaka!
15. Kushikatsu
(Deep-Fried Skewers)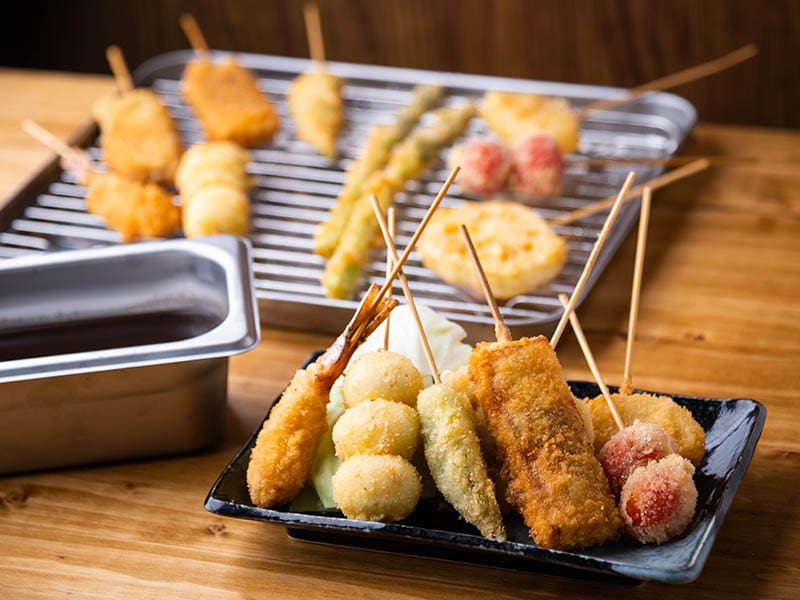 Kushikatsu is a long-standing traditional food in Japan, and you can find it as a street snack in Osaka. Basically, Kushikatsu consists of dough that is kneaded and deep-fried in oil.
The main ingredients of this dish are simply a variety of meats (chicken/pork/seafood) and vegetables (eggplants/peppers/lotus, etc.) but highly toothsome. The Osaka version also consists of yam to have a slightly softer texture than the other variations.
Vendors usually skewer the ingredients into long sticks before battering and frying, so you can hold these skewers while walking along the streets of Osaka. Nowadays, you can find some modern variations of Kushikatsu made of deep-fried fruits (strawberries).
Don't forget the special sauce when having this delicacy. My tip is to make a mixed portion with all kinds of Kushikatsu at once so that you can experience all the flavors in one go.
16. Yakiniku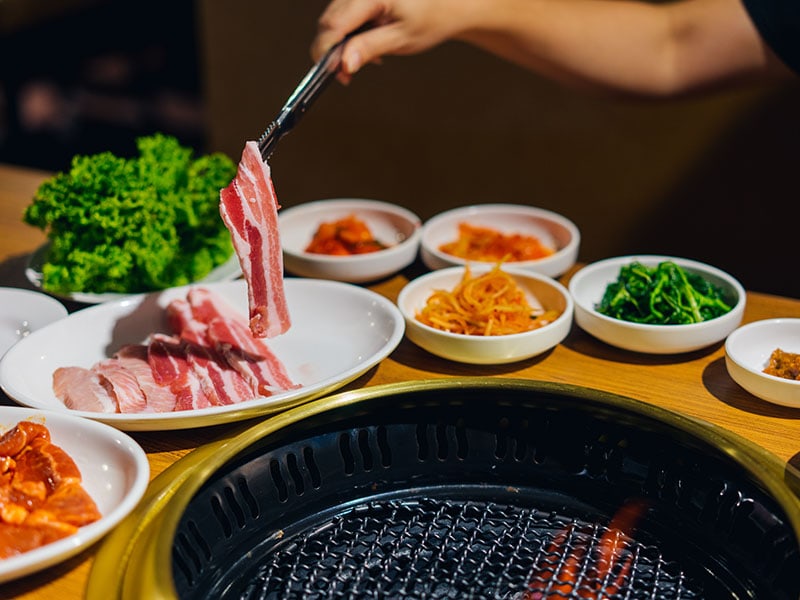 Yakiniku is a Japanese style of grilled beef; when you eat this dish, you can experience grilling your own food on a charcoal grill in the center of the table. Many people believe that this Yakiniku has its origins in Korea, but there is no official claim for this information.
When serving meat to diners, the sellers cut large pieces of meat into bite-sized pieces to cook faster and eat more conveniently. Customers can grill the meat themselves on a charcoal stove or ask the staff to do it.
The cooks will not usually marinate the pieces of meat with various sauces and condiments like famous Korean delicacies for barbecue. A portion of Yakiniku is seasoned with only a few mild seasonings such as salt, sesame oil, shoyu, and sometimes a little wasabi.
Thanks to that simplicity, this Osaka dish always retains beautiful sweetness from the fresh ingredients. Yet, be careful of smoke when eating Grilled Meat and prevent it from covering your clothes and hair. But it might still be worth it to try something delicious, right?
17. Horumon or Horumonyaki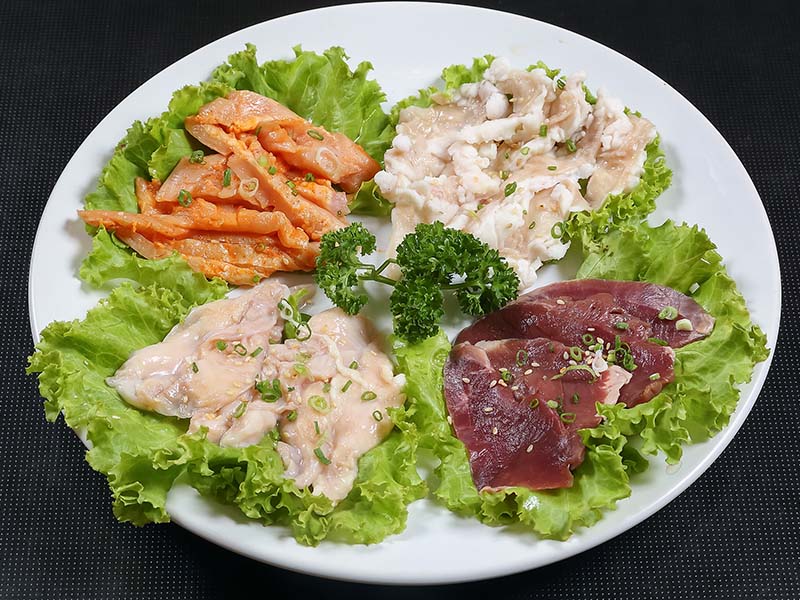 After mentioning Yakiniku, Horumon or Horumonyaki should be the next dish on this list since they always go together. Some of them are pork or beef hearts, lungs, esophagus, and pancreas.
This way of processing cattles' entrails is not strange in Asia; you can find them in many other big cuisines, such as the Vietnamese delicacy, "Lòng Nướng". But trust me: Horumon from Japan has its own distinctive features.
In 1940, Kitazato Shigeo registered a trademark for this dish. The term "Horumon" comes from the Greek word "hormone" (meaning "stimulation"). It also sounds like "hōrumon," meaning "discarded items" in the Kansai dialect.
18. Butaman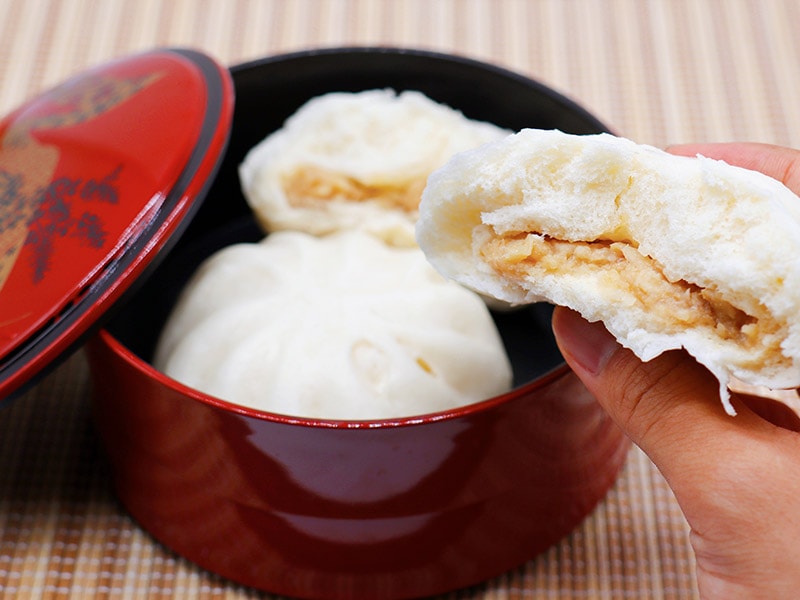 Another delicious dish in Osaka that will give you a whale of a time is Butaman (Japanese steamed meat buns). The palm-sized buns are filled with pork meat and vegetables and made with traditional artisan methods to enhance the rusticity.
If you want to have an idea for breakfast in Osaka, this steaming hot Butaman is always on the top-recommended ones. Butaman can remind you of Chinese Baozi, but the taste of this Osaka variation is distinguished. You might need to try it once to know more.
19. Gyoza
(Pork and Cabbage Dumplings)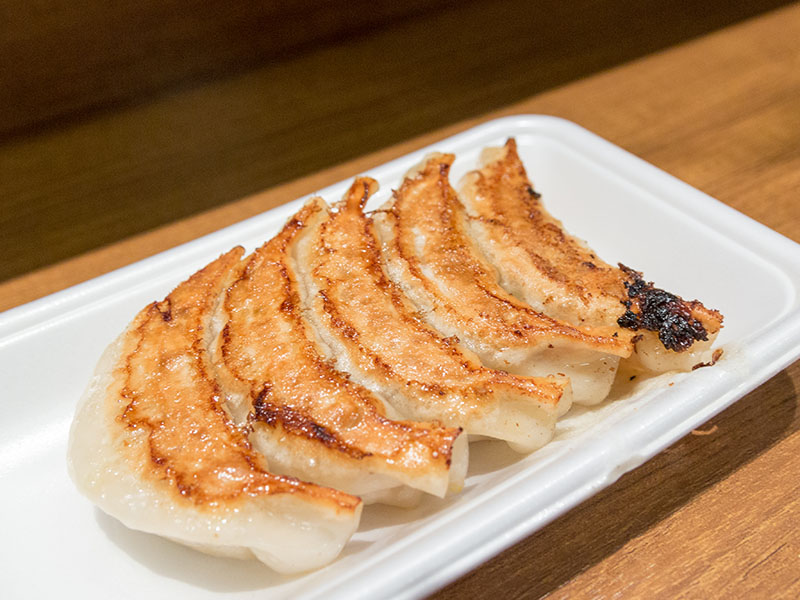 This yummy Gyoza started as a Chinese delicacy known as Jiaozi. After centuries of learning and developing their own unique recipe, the Japanese created this popular dumpling from pork and cabbage.
The Osaka chefs make these dumplings with a thin flour crust covering the pork, thinly sliced cabbage, and many other condiments. After that, people will pan-fry one side of Gyoza before adding some water in and letting the rest cook by the steam.
Because of that, when you eat it, you will feel a crunch in your mouth. Japanese people typically use Gyoza with a special soy sauce mixed with a splash of vinegar. This dish is quite popular, so you can easily find them at night markets or old Japanese bars.
20. Shumai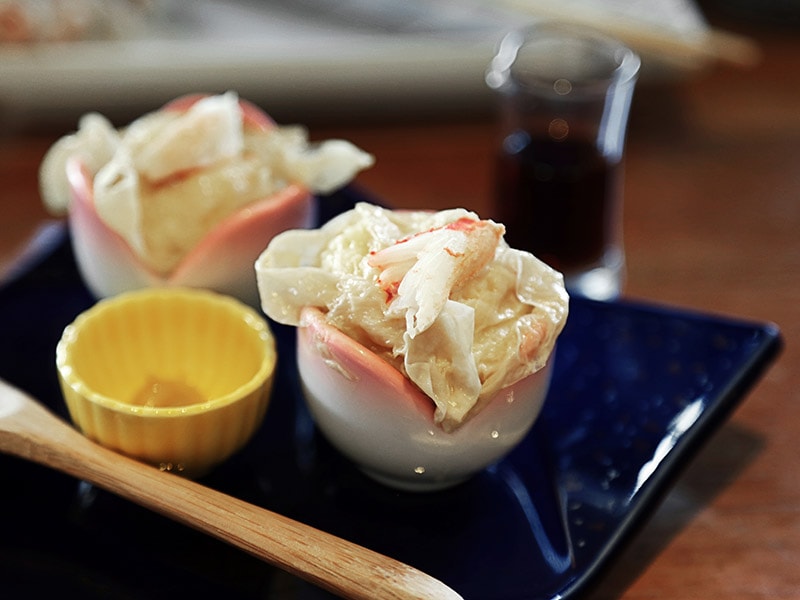 Yes, the English name of Shumai is the same as the previous Gyoza, but they are two different kinds of Japanese Chinese-inspired Dumplings.
While both types of dumplings are served with savory soy sauce and vinegar dipping sauce, they're different dishes. Shumai is usually made with pork or turned into a Japanese shrimp-based delicacy, while Gyoza has ground meat and cabbage. 
Furthermore, the chefs will steam Shumai to cook it, not pan-sear it on the bottom.
Shumai has been around in Japan since 1928 when a restaurant in Yokohama popularized a kind of round dumplings with meat filling from China. Some people say that Shumai looks like a small pocket bag. It will leak out the savory juice upon being bitten, creating a satisfying sensation in your mouth!
---
Last but not least, you should never ignore the luscious sweet treats or drinks in Osaka. Like many other recommended delicacies there, you can expect nothing less than perfect in this upcoming category.
21. Sake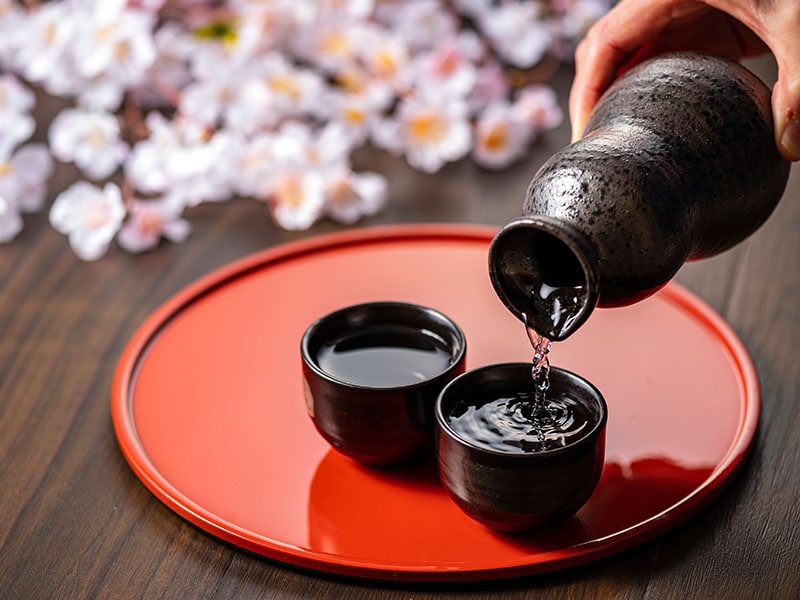 To talk about Japanese's most favorite drinks, Sake is always on the top list. Japanese Sake is a traditional rice wine made by fermenting a mixture of rice, water, and Koji (a Japanese yeast).
This type of wine is very popular with the Japanese, and they will use it both warm or cold for specific dishes. Originating from Asia's signature rice agriculture, it was introduced to the land of Japan from about 300 BC.
In the early days, ancient Japanese mainly produced Sake to serve the royal family, large temples, or religious ceremonies. Nowadays, you can easily find the opportunity to enjoy Sake anywhere in daily life, so don't miss it.
22. Waffles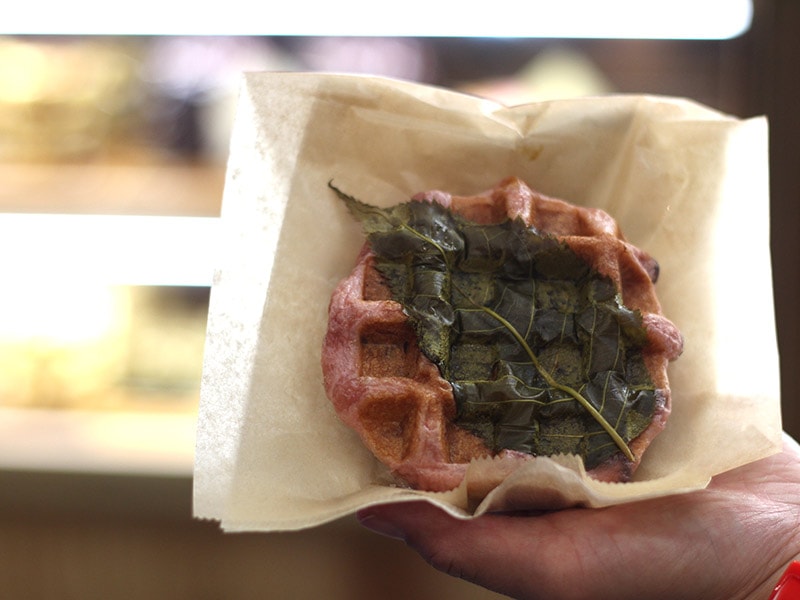 Waffle is a kind of sweet cake and also one of the most famous traditional foods to opt for in Belgium. When this beloved dessert came to Japan, Japanese people made several twists to make theirs distinguished.
You can find Japanese Waffles go with various kinds of toppings, such as whipped cream, colored syrups, or fresh fruits. Therefore, you can expect more outstanding tastes from these ingredients combinations.
In one bite, you can experience the signature sweetness of the Waffles combined with the lovely creaminess, freshness, or bitterness from the toppings. Yummy!
23. Mitarashi Dango
(Grilled Sticky Rice Dumplings With Soy Glaze)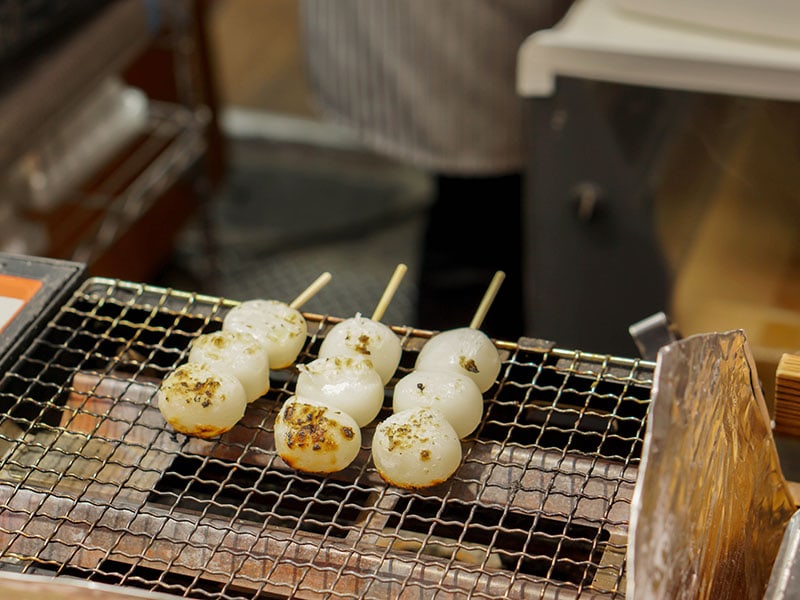 Besides Mochi, Dango is also a prominent Japanese dessert made of sticky rice flour and has a chewy texture. Mitarashi Dango is one of the most famous variations of this dish, and the Kyoto people were the first ones who created it.
No matter where the food came from, Osaka people still adore this treat a lot. They have developed many varieties of this Mitarashi Dango, so you can always come back and try an absolutely new flavor.
It should belong to the list of the most delicious Asian desserts of all time for its palatableness. Once you give it a go, you can verify my word! With the lovely chewiness and harmonious flavors combination, you won't stop at just one portion.
24. Soufflé Cheesecake or Cotton Cheesecake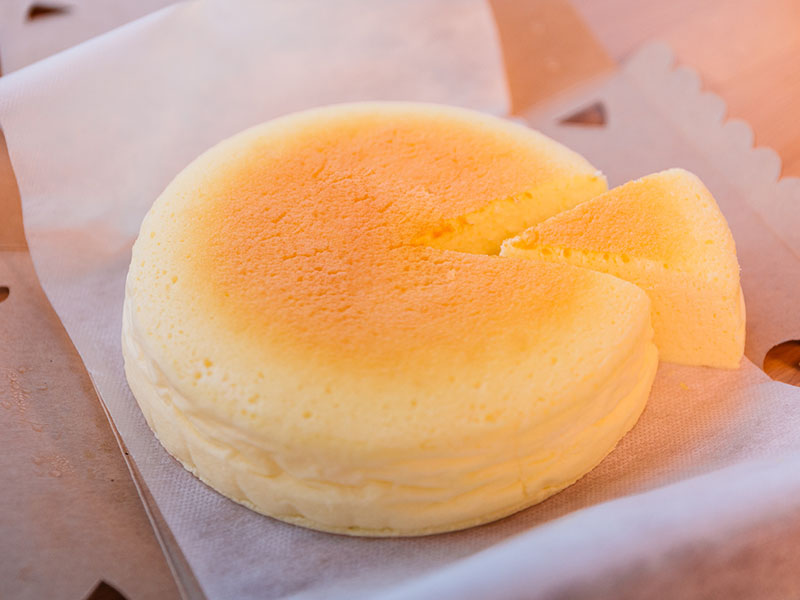 Cotton Cheesecake is a must-try dessert renowned for its favorably spongy and appealing texture. Tomotaro Kuzuno, a famous Japanese chef, created this recipe based on the German-style Cheesecake in the 1960s.
A typical Osaka Cheesecake consists of only cream cheese, butter, eggs, or other essential ingredients. Under the skillful hands of the chefs in this land, this dessert cake has become an irresistible delicacy globally since the 1990s.
Take a bite, and you will feel the taste of the raisins on the bottom of the cake that combines very harmoniously with the cream cheese filling. One cheesecake is pretty affordable, so feel free to buy it as a gift.
25. Taiko-Manju or Obanyaki
(Drum Dumplings)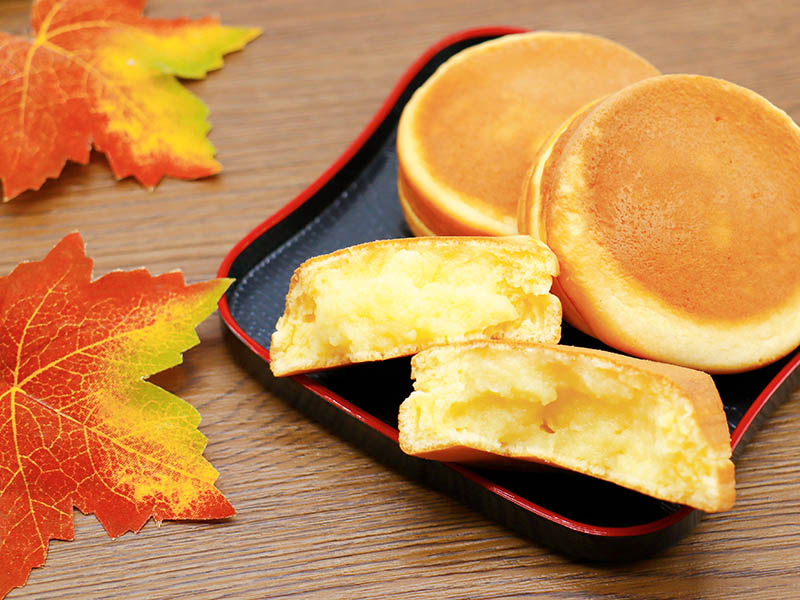 Taiko is a traditional drum used in classic Japanese music works, and this delicious Osaka dessert cake has its name, Taiko-Manju, because its shape looks like the drum. This scrumptious dessert still has some other names, Obanyaki and Imagawayaki.
This 300-year-old Japanese sweet street snack has a puffy pancake-like crust but a denser texture that wraps around a delicious red bean paste. To make Taiko-Manju, the chef takes turns pouring a special pancake-like batter into a baking pan or a cake machine.
After baking the first layer of dough for a while, the chef will quickly add red bean paste (Azuki) on top with another layer of flour. The aroma emanating from the baked desserts will immediately appeal to your sense of smell and make your mouth water.
26. Long Soft Cream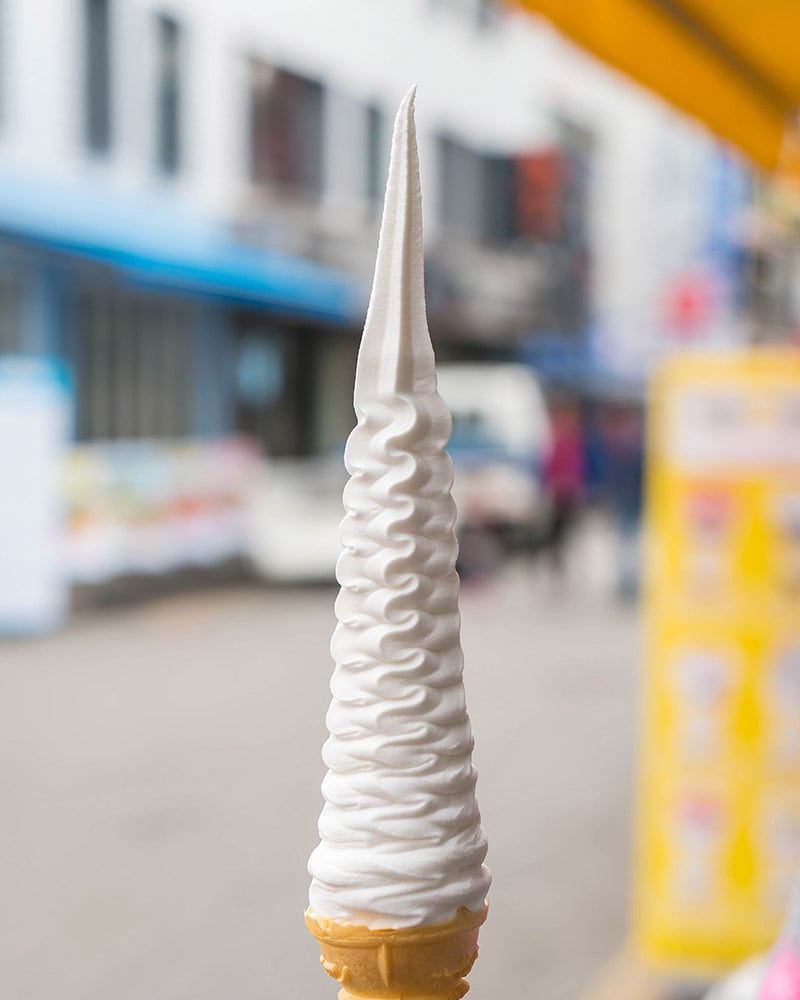 Now, move to a cold sweet treat! Who can resist such a delicacy like ice cream? After the first Japanese-style ice cream appeared in 1869 in Yokohama, various other kinds of this food followed suit.
Especially in Osaka, you can find this Long Soft cream at the sidewalk vendors, and the sellers will offer you a 40-cm long, piled ice cream on a regular crunchy cone. Its beautiful appearance will not be an excellent idea for your next social media post.
27. Taiyaki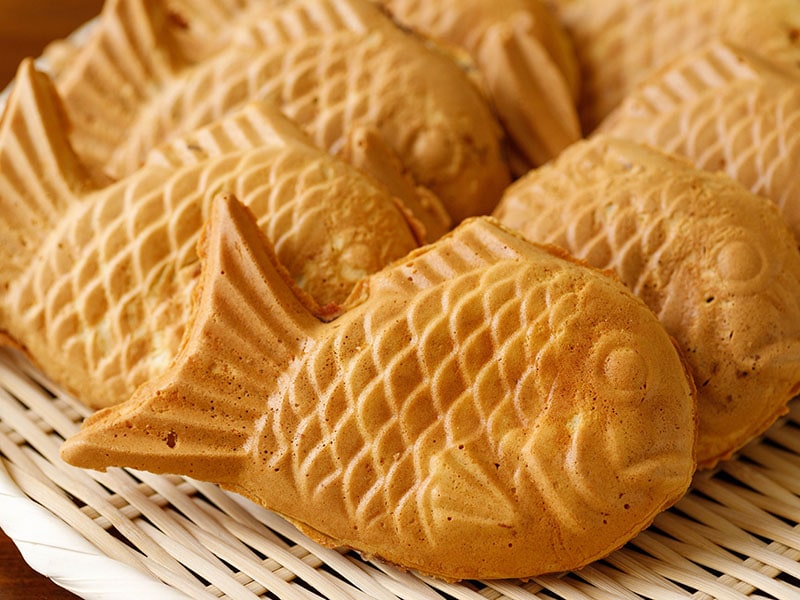 Since its debut in 1909 at a Tokyo sweets shop, Taiyaki (literally means "grilled fish") has become an irreplaceable snack in many parts of the country.
The main ingredient of traditional Taiyaki is wheat flour and red bean paste (Azuki). Today, people create many other fillings such as matcha, chocolate, and even savory fillings like sausages.
The sellers will make the savory Taiyaki from a less sweet flour base than the traditional one with sweet fillings. They usually bake the overall cake in a specialized sea bream mold.
They will then flip the halves of the cake back and forth until they are golden. Biting a piece of cake, you will feel the soothing sweetness spread on your tongue.
Enjoying Japanese street cuisine is a must-do to learn more about the culture and people of Japan. Osaka is one of the most recommended destinations to try street food in Japan, so you shouldn't ignore this place.
Then, are you ready to book a trip to Osaka? Have you ever tried my suggested foods? If you think they are reasonable, please share them with your family or loved ones so that this beneficial food list can reach them. Loving is sharing!