Japanese drinks are not just about tea or Sake. There are so many more! In fact, I was so overwhelmed by the abundance of Japanese beverages as they are so unique and surprising. Therefore, I have compiled this list to show you their amazingness.
Japan seems to be the best place in the world with a lot of exotic drinks besides delicious Japanese dishes. Regardless of your age, you can easily find various options to enjoy, from groceries to the supermarket, from the restaurant to vending machines on the street side.
So if you are planning to visit Japan, you should save this list to ensure you can experience them all when you are in this beautiful country. Even if you already have visited there, let's count how many of them you tried and tell me your first impression later.
Wait no further; keep scrolling down the page to explore the paradise of beverages with popular and delicious Japanese refreshments. I am sure you will be impressed with them.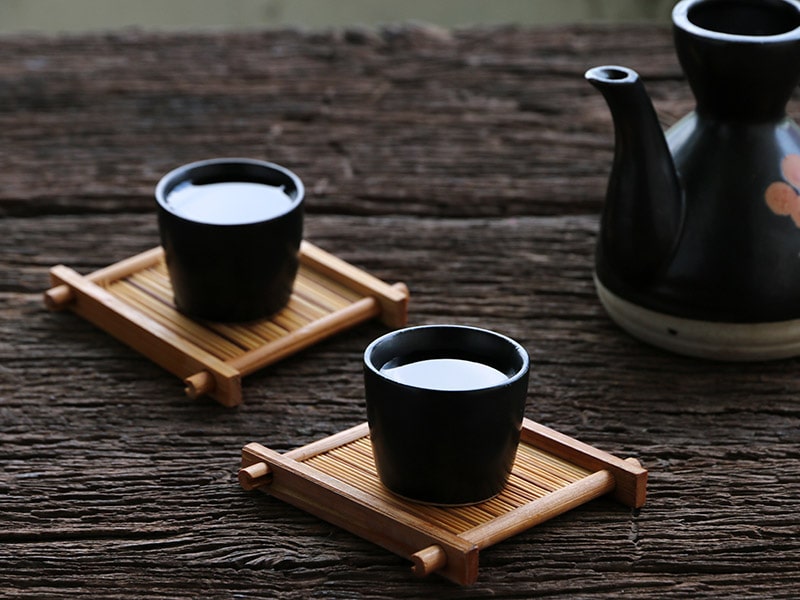 A Brief Overview Of Japanese Refreshments
Japanese beverages encompass a wide range of beverages, from traditional teas and alcohols to modern creations like beers and whiskeys.
These beverages are not only enjoyed for their taste but also play a significant role in various aspects of Japanese culture, from daily life to celebrations and ceremonies.
Importance Of Drinks In Japanese Culture
Drinks hold a prominent place in Japanese culture, often serving as a means to connect people, celebrate special occasions, and even as a form of art.
For example, the ritual of serving tea, like bowing forward while receiving or delivering tea, is deeply rooted in Japanese history and is an essential part of the country's cultural identity. Alcoholic drinks like sake and shochu also play a significant role in various social settings and events.
Traditional And Modern Influences
Japan has a rich history of traditional beverages like tea, sake, and shochu, which have been enjoyed for centuries. However, modern influences have also shaped Japan's drinking landscape, with the introduction of beers, whiskeys, and innovative cocktails.
This blending of traditional and modern elements has resulted in a diverse and exciting beverage culture that is uniquely Japanese.
Enjoy Various Japanese Tea
Have you ever been curious about why the Japanese have a lot of tea? Indeed, tea is the most consumed drink in Japan because the natives believe tea can increase their health with its curative properties.
Therefore, tea is not only a pleasant drink to enjoy for the Japanese; it can be seen as the greatest way to live healthier. So here is the list of 7 classic tea in this country.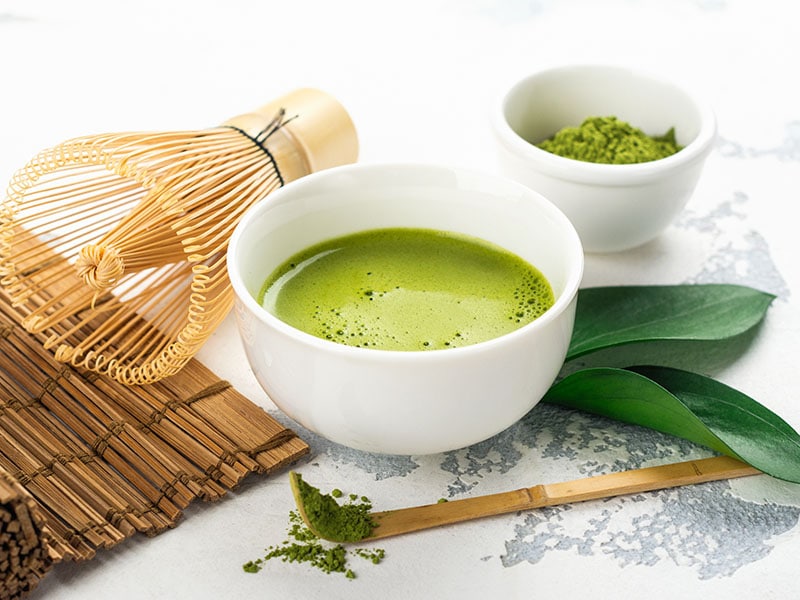 You might assume Matcha is a Japanese-authentic drink because of its huge popularity in Japan, but this is not true. In fact, China is the true origin of this green tea. During the Tang dynasty, they started making tea powder.
Until 1191, Zen Buddhism brought Matcha to Japan, and they became the favorite drink of the upper classes. Today, Matcha is not only a healthy drink; people also use it to dye or flavor foods, like in many Japanese crepe cooking ideas with a nice bright green color.
However, the preparation for a cup of Matcha is an art, requires many skills and practice to perform it right. There are 2 popular ways to do that, which are Usucha (thin tea) and Koicha (thick tea). The natives will use a chasen – a bamboo whisk to whisk and create an even consistency.
The health benefits of Matcha are another reason why the Japanese love this drink. They are a rich source of antioxidants that can promote heart and brain health. It can also prevent cancer with a high amount of catechin.
Location: The most famous Matcha production is in Uji (Kyoto) and Nishio (Aichi); however, they are widely consumed throughout Japan.
What is Matcha and its story? Check here for more information.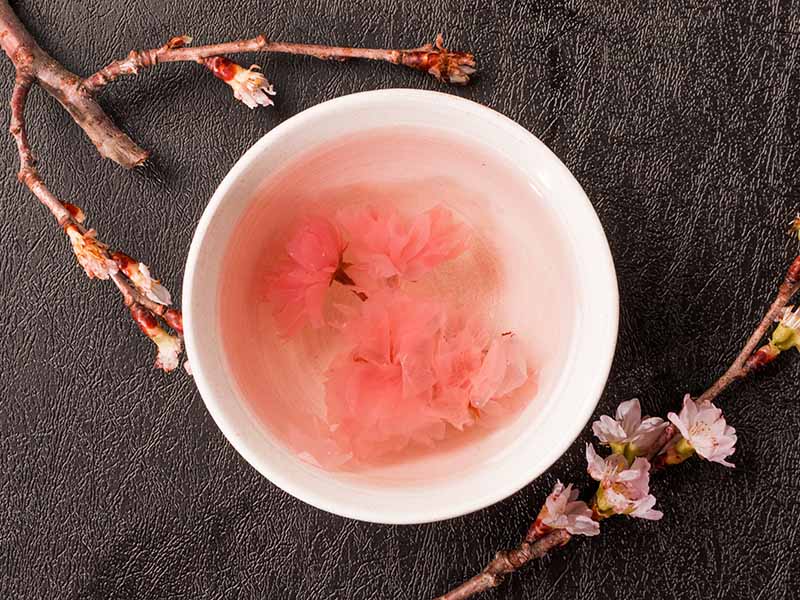 Sakurayu is a simple herbal tea with 2 main ingredients similar to ginger tea or lavender tea, including boiled water and cherry blossom petals. People harvest the flowers from middle to late Spring, then pickle the petals in a salt and plum vinegar mixture.
The product, after that, is dried so it can be stored or sealed in the package for commercial selling. Preparing a nice cup of cherry blossom tea is not difficult as you just have to sprinkle the petals into a hot-water cup for them to unfurl and float.
In Japan, they usually serve it at big events like weddings. Although it is uncommon to serve green tea at weddings, Sakurayu is an exception as this beverage symbolizes "a beginning".
This tea started in the Edo era in Hadano city in Kanagawa Prefecture. Today, Sakurayu is a well-loved lightly sweet tea with a mild salty taste. You can also feel the floral and plum aftertaste.
Location: Hadano city in Kanagawa Prefecture, with 80% Sakurayu production.
This instruction will show you the proper way to enjoy a cup of Sakurayu.
3. Uroncha (Oolong Tea/ 烏龍茶)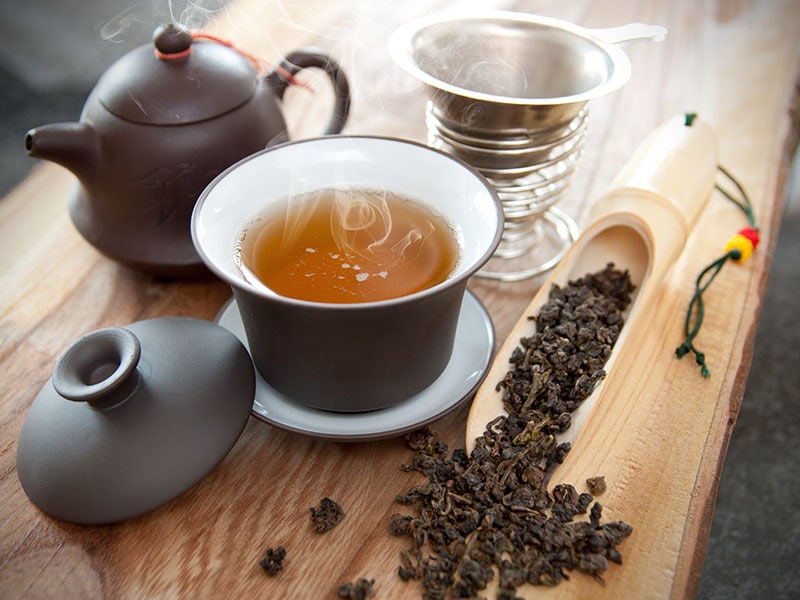 If you are looking for a tea that is somewhere between green tea and black tea, Uroncha is the ultimate answer. Uroncha is a Japanese word for oolong tea. And similar to Matcha, this kind of beverage is also a good source of health benefits.
You can boost your metabolism and improve mental, skin, and hair health by drinking this tea. It is also good for blood sugar and supports the digestion process. That's why natives drink Uroncha between other beverages at the izakaya – Japanese-style bars, to ease their stomachs.
Moreover, Uroncha's flavor is different from other tea. The floral taste of Urocha is strong thanks to the oxidation properties. Depending on the brewing time, Urocha may vary in flavors. In addition, the tea also appears in many Japanese tea ceremonies.
They can come in different forms, such as dried tea leaves, so you can prepare them at home or in commercial beverage bottles that you can buy in convenience stores.
Location: You can find them in many supermarkets, groceries, or restaurants.
4. Kombu-cha (Kelp Tea/ 昆布茶)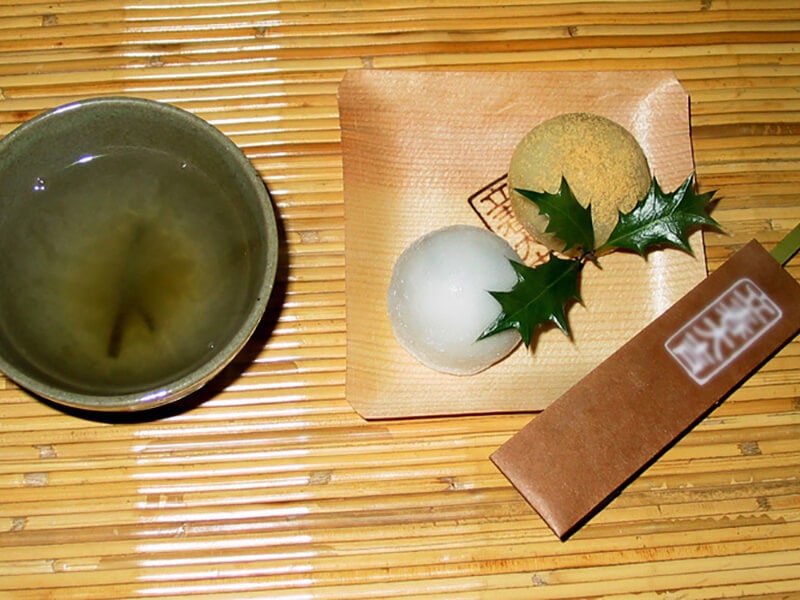 Kombu-cha is not a tea from a tea plant. Besides, Kombu-cha refers to kelp tea as they are a kind of drink made from sliced or ground kombu seaweed (kelp) and hot water. Their flavor is quite salty and umami. As they have no caffeine, you can enjoy it before bedtime.
Kombu is a significant ingredient in Japanese cuisine. They use it to create many delicious dishes or enjoy it as a quick snack. And Kombu-cha is another good example to show the versatility of this ingredient.
Additionally, kelp tea is one of many ideal replacements for dashi – a based-stock in Japan. On the other hand, this is also a widely-used drink in East Asia. You can find them under other names, like Dasima-cha in Korea, or Haidai-cha in China.
Location: Across Japan, particularly in stores, supermarkets, or restaurants.
Do not mistake Japanese Kombu-cha and Western Kombucha. They are 2 different things.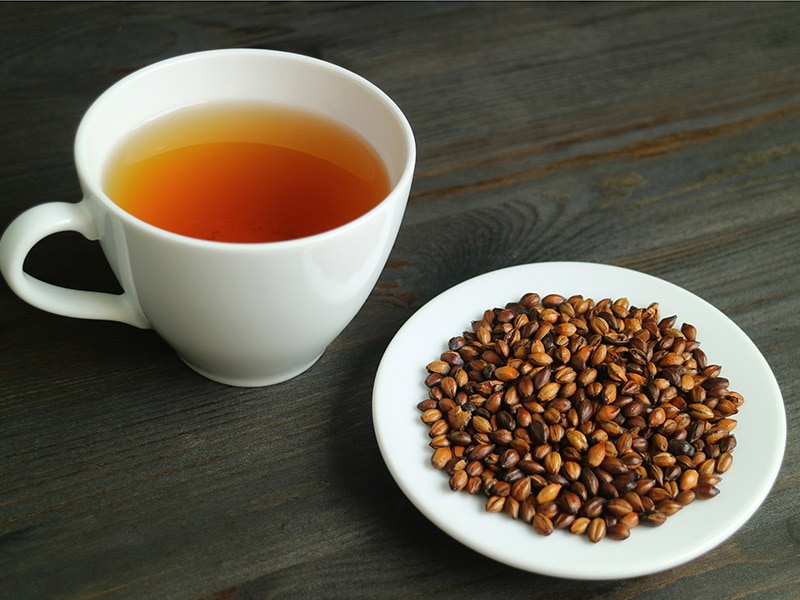 Mugicha is a famous Japanese roasted barley tea with light bitterness and toasty hints. The tea also has a darker color when compared to chrysanthemum tea, a popular Asian drink. Some people think they have a similar flavor of coffee with no caffeine, unlike Yerba Mate, a caffeine-rich tea renowned in South America.
And as they are non-caffeine drinks, barley tea is safe for all ages, even children. Plus, they are mostly enjoyed in unsweetened form, so they can be a better choice for your health compared to other sugary beverages.
Regarding its origin, the Japanese started to drink this unsweetened tea from the Heian period (from 794 to 1185) when it was the best drink for militaries. Until the Meiji period (1868-1912), people sold this drink in many tea shops, spreading their popularity even more.
This is also a favorite drink in Korea, China, Taiwan, and other East Asian countries. In Japan, Mugicha is best served cold, similar to iced tea, making it an excellent beverage on hot days. However, people also consume it hot during the winter.
Location: You can buy them in tea bags or bottled tea in supermarkets, convenience stores, or vending machines in Japan.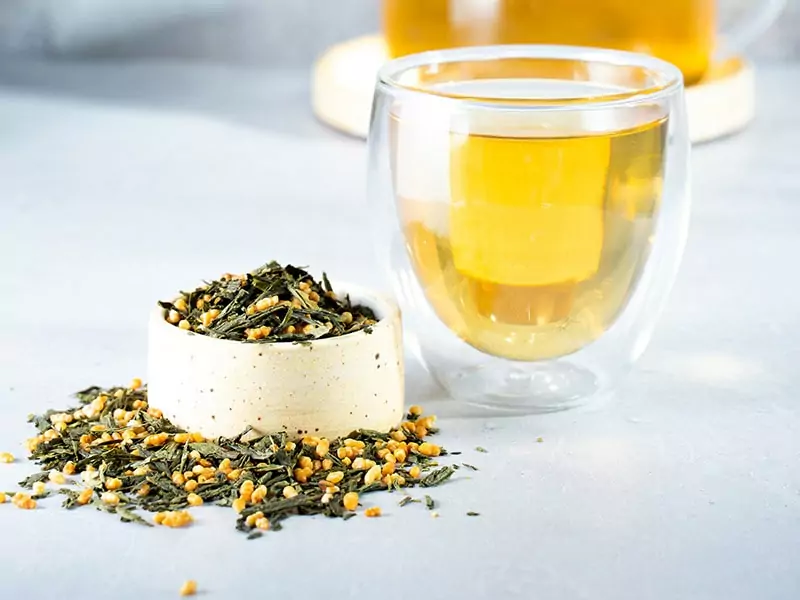 Genmai is a well-loved tea to go along with healthy Japanese breakfasts. The brown rice components can balance the bitterness of green tea and make the drink more enjoyable. The tea has great health benefits being able to soothe your stomach and keep your blood pressure in check.
The story behind this tea is interesting yet quite cruel. People claim that Genmaicha was made from an accident when a samurai's servant accidentally dropped some roasted rice grains into the samurai's cup of tea.
The samurai found out that the rice had upgraded the overall tea flavor when he drank this tea. But as the samurai had already killed the servant because of this mistake, he felt so regretful that he decided to name the tea after the servant's name, Genmai.
Overall, you will love the nutty, toasty, malt-like flavors and light yellow color of this drink. It can make your stomach feel better. Its other name is Popcorn tea due to the popped grain when roasting brown rice.
Location: As it is popular throughout the country, you can buy them anywhere.
Let's prepare Genmaicha after checking this review.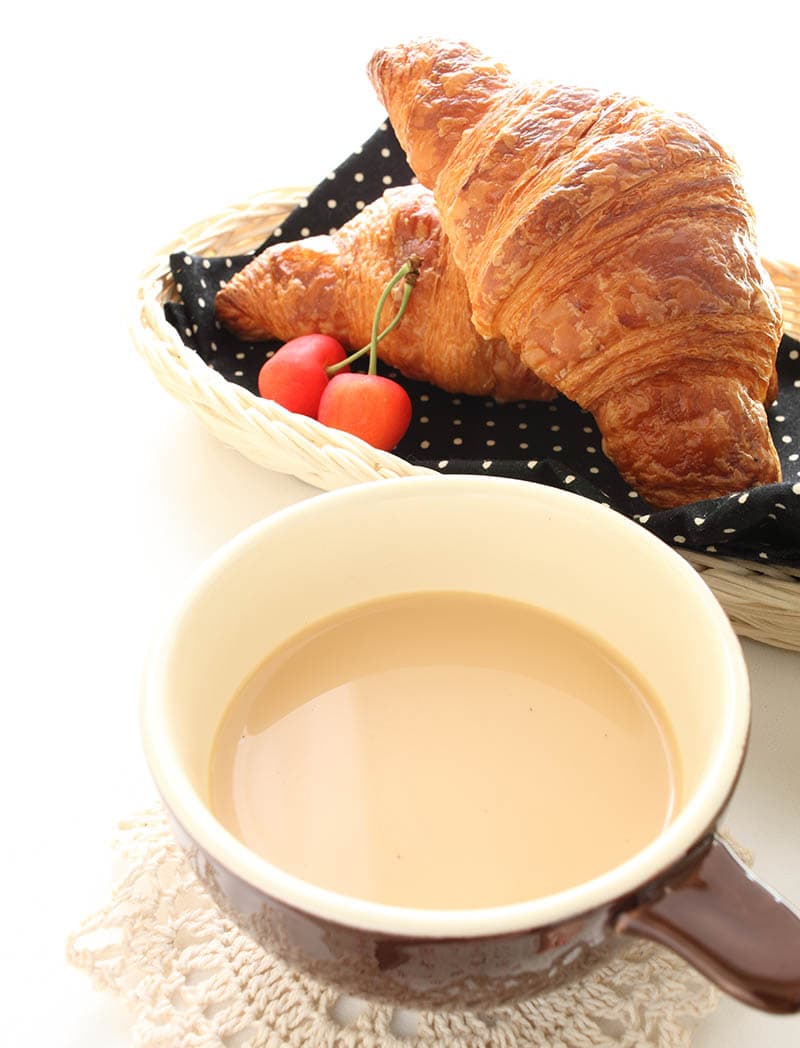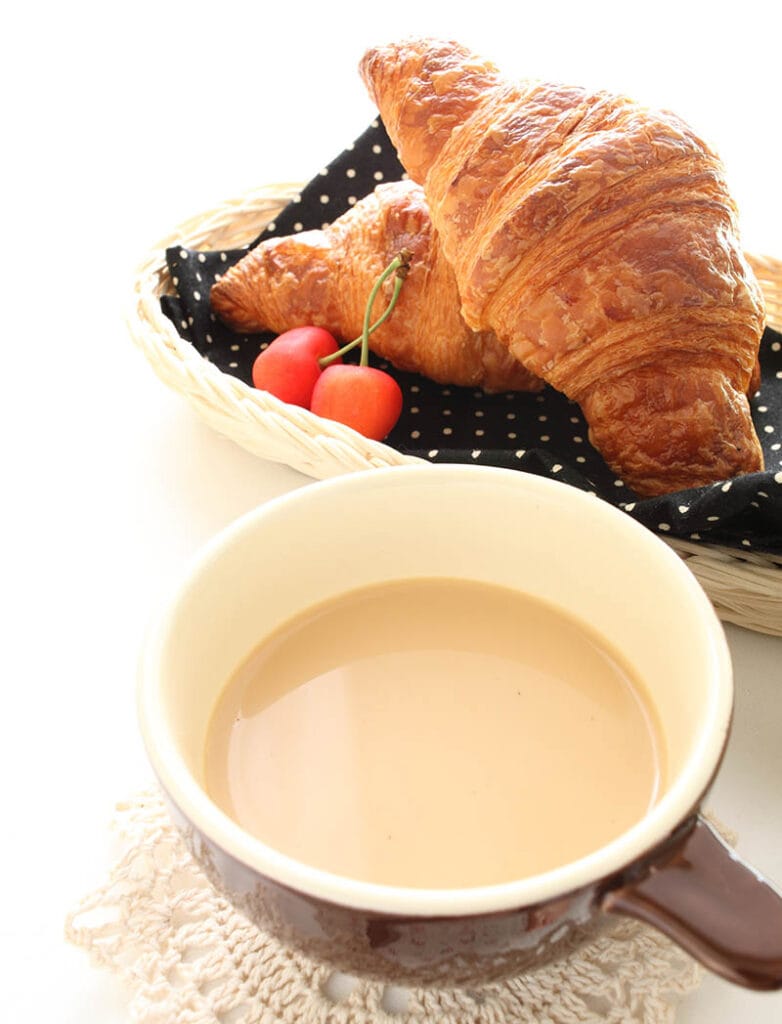 The last tea – Royal milk tea, is also a drink that plays an important role in the Japanese's lives. You can easily spot them in any restaurants or supermarkets, even vending machines in the country served in bottles.
The origin of this beverage can trace back to Japan in 1965 when the Lipton tea company introduced the "Royal recipe" series. And it has started to become popular ever since.
The ingredients of Royal milk tea are simple. They are milk, sugar, and of course, black tea (like Assam or Darjeeling tea leaves), similar to Indian chai tea but without spices. However, you should note that the biggest distinction between this milk tea and other typical milk tea is the milk-water ratio.
In Royal milk tea, the milk ratio is higher than water to create a creamier and richer texture. You can enjoy either cold or hot Royal milk tea because they are both tasty.
Location: In supermarkets, 24/7 stores, vending machines, or restaurants in Japan.
Ofukucha is a unique tea associated with Japan's New Year celebrations. This special beverage, translating to "good fortune tea," holds a significant cultural meaning. It is believed to offer wealth, good luck, and prosperity to those who consume it.
Ofukucha is crafted from green tea, infused with a delicate hint of floral essence, creating a refreshing and invigorating flavor. It also resembles Kombucha, as it incorporates dried kelp and pickled plum. This blend of ingredients creates a distinct and enjoyable taste.
Location: At Japanese households or during the New Year celebration.
9. Green Tea (緑茶)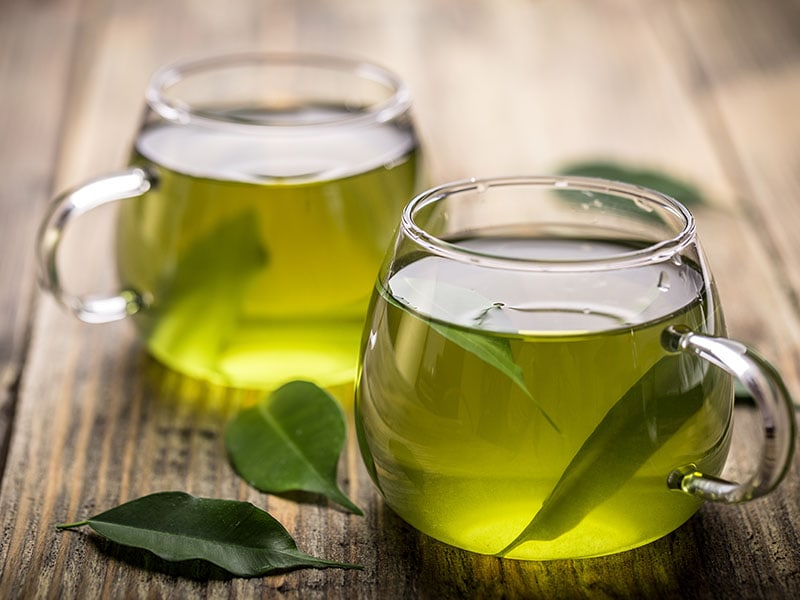 Green tea is an integral part of Japanese culture and can be found in various settings, such as restaurants, schools, and workplaces. The tea has a beautiful light green color, and its ubiquity in Japan is a testament to its popularity.
Every year on October 31st, the country celebrates the Day of Japanese Tea, a day dedicated to this traditional beverage. In Japan, green tea leaves are typically steamed and heat-treated to halt the fermentation process, which is common in others like rooibos tea.
Japanese green tea encompasses a variety of types, including Sencha (煎茶), Bancha (番茶), Gyokuro (玉露), Fukamushicha (深蒸し茶), and Kamanobicha (窯伸び茶). Sencha is the most popular of these, accounting for 80% of the tea leaves harvested in Japan. With its unique flavors and rich cultural significance, green tea continues to be a beloved beverage in Japanese society.
Location: Anywhere in Japan, from convenience stores to supermarkets.
Popular Soft Drink And Sweet Drinks In Japan
The following part is about Japanese soft drinks or other sweet beverages suitable for all ages, from kids to adults. So if your next trip is to Japan, do not miss out on the chance to try all of them.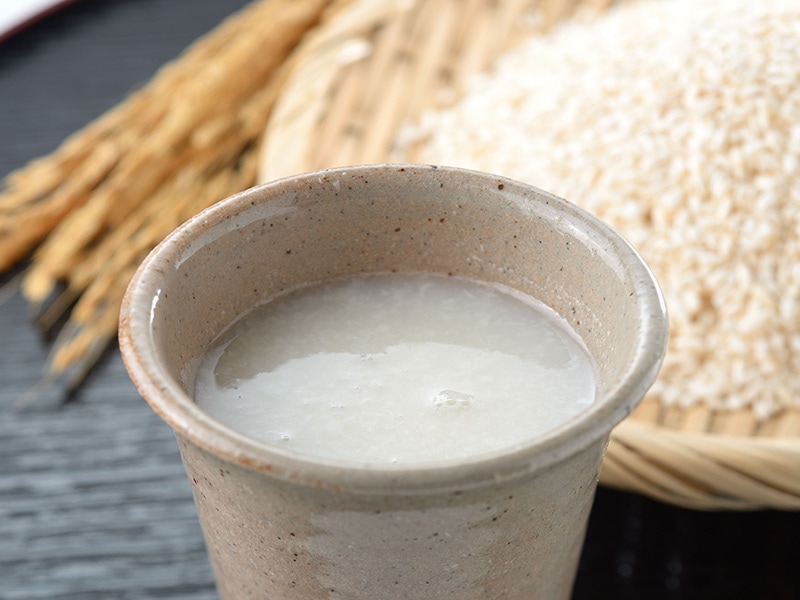 Rice has always been a significant ingredient in Asian lives, and Amazake is a type of drink made from fermented rice grains (a type of sake) with a typical sweet taste.
This is an age-old drink from the Kofun period (300-538 AD). Today, Amazake is a wonderful food as it can be an ideal Japanese-style dessert, snack, smoothie, or even salad dressing.
Though it is made from fermented rice, the alcohol content in Amazake is too low, so they are considered non-alcoholic drinks, which means your children can also consume them. They have a sweet flavor, thick and milky texture, perfect for serving as a dessert.
It is a nutritious beverage with vitamins B1, B2, B6, and other nutrients. Some people use it to ease their hangovers as well. A cup of Amazake is also ideal for celebrating New Year or Girl's day festival – Hinamatsuri.
Location: Sold in various Japan's street vendors, festivals, or tea houses. You can buy them at small mountaintop stores as people believe Amazake can increase people's spirit to finish their mountain-climbing trip.
Here is a short explanation to show you different styles of Amazake and their benefits.
11. Mitsuya Cider (三ツ矢サイダー)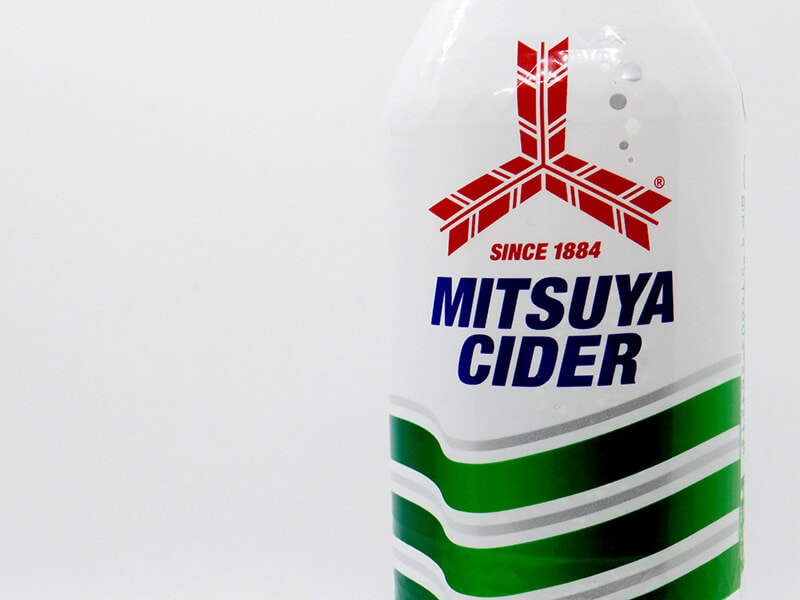 Founded in 1884, Mitsuya Cider is a most-liked Japanese carbonated soft drink with various beverage products. However, in 1972, Asahi Soft Drinks acquired this brand.
Though these products have "cider" in their names, their flavors simply taste like Ginger Ale and Sprite soft drinks. However, it also depends on the additional fruity extracts, for example, lemon, peach, grape, etc.
In the past, all Mitsuya Ciders were sold in metal bottles, but today, they also introduce their product in PET bottles for more convenience. Luckily, the metal version is still available in numerous 24/7 stores or vending machines.
Location: Sold at many convenience shops, markets, supermarkets, or vending machines.
Have you ever drunk Mitsuya Cider? What does it taste like? This drink test will give you an answer.
12. Ramune (ラムネ)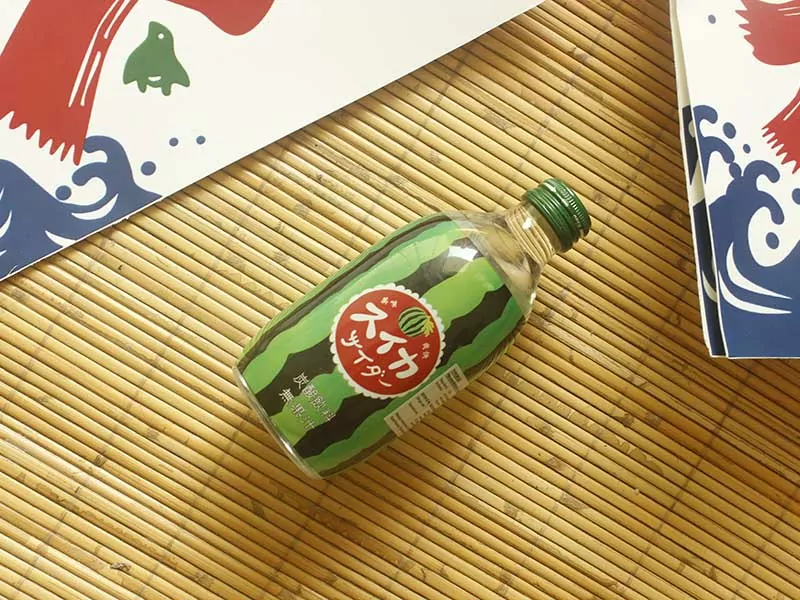 Ramune is another carbonated soft drink brand that can refresh your mind (and body) on the hottest summer days. This is a product of Alexander Cemerion Sim – a pharmacist, and he introduced this drink to the public in Kobe city in 1884.
What impresses me most about this beverage is not its taste but its unique bottle design. They are Codd-neck bottles made from glass with old-school marble sealing. To open it, you have to push the glass ball inward through the rubber stopper.
They are called marble soda as well. However, it is so easy to open or avoid the marble stop the flow, in 2006, the manufacturer already provided an easier version to enjoy this drink. But there are also other options in normal PET bottles or cans.
The first Ramune flavor is lychee, but you can find them in other 56 flavors with different fruity tastes in plastic bottles nowadays. So don't forget to try this treat by Japanese street vendors. It's no exaggeration that Ramune is a symbol of Japanese summer.
Location: Across the country via stores or vending machines. It is also the choicest drink in the warm festival.
If you plan to try Ramune someday, do not miss this instruction to show you how to open it.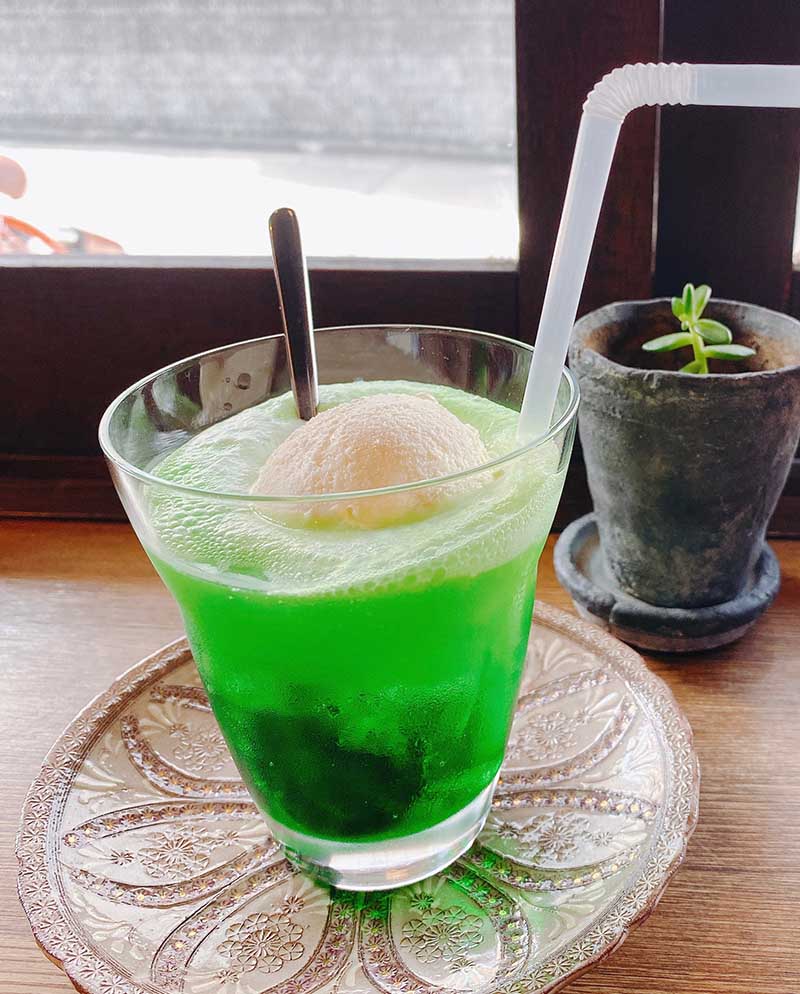 Have you ever tried melon soda before? If not, let me tell you how awesome it is. First, melon soda is one of the most consumed soft drinks in the country. You can get a couple of bottles at the vending machine or order one in any family restaurant or karaoke bar.
You can even sense the freshness from the appearance of this light green soda. They are sweet, fizzy, and chilled, making them a perfect cream soda to enjoy in summer and beat the scorching summer heat.
Melon soda can also come with a scoop of ice cream on the top to make them become a delicious dessert in Japan. And I guarantee your kids (and even you) will love it right from the first taste. Interestingly, Japanese bars and restaurants usually serve this combo as an ice cream float.
Location: Sold at vending machines, in many Japanese family restaurants or karaoke bars.
14. Aloe Drinks (アロエドリンク)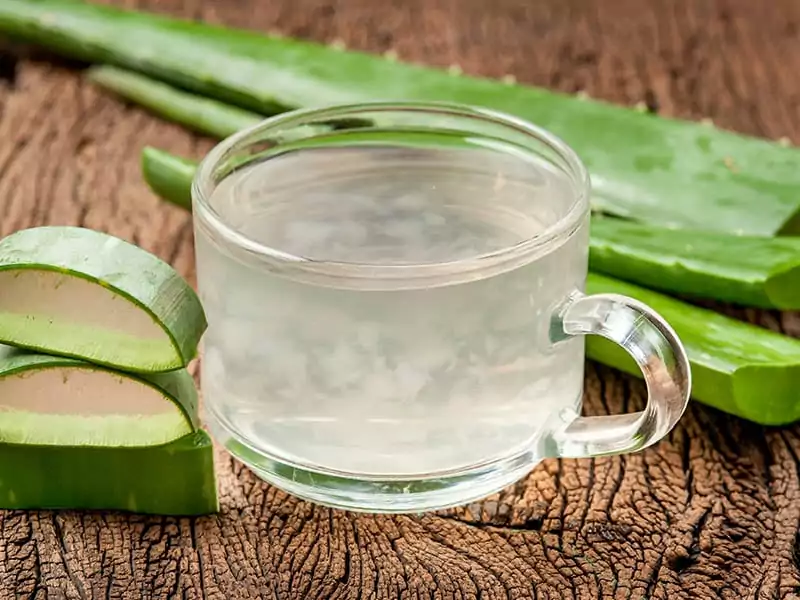 Another sweet drink that you would love in Japan is the aloe drink. This is flavored water, including many tiny fresh pieces of aloe vera flesh, sometimes paired with coconut water.
Apparently, aloe vera is a well-known plant with many health benefits. The antiseptic, antioxidants, and anti-inflammatory compounds have always been good components to produce skincare or hair care products.
But in Japan, they will show you another great use of this plant with aloe juice. They come in bottles that you quickly get in any Japanese store. They mostly contain a high sugar level, but there are sugar-free versions if you need a better alternative for your health.
Location: Sold at many stores in Japan.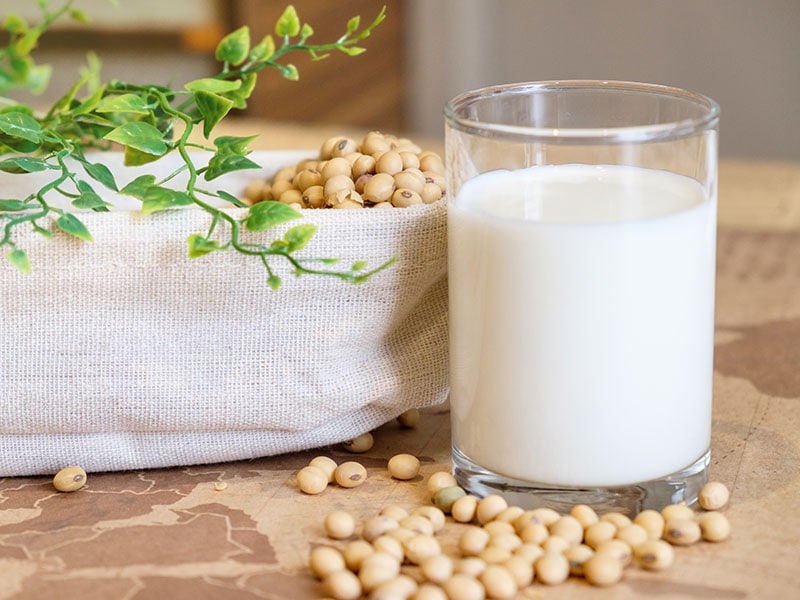 When it comes to Japanese milk, flavored soy milk is the choicest product with various additional flavors like coffee, chocolate, banana, strawberries, etc. But if you are looking for more Japanese-style soy milk, opt for those with Matcha, sakura, ume (plum), and sesame flavors.
In general, soy milk is one of the most-enjoyed milk for Asians. And do not underestimate their protein; they are as nutritious as other dairy milk and are even used to replace cow milk for a lower level of cholesterol.
The basic soy milk is made using soybeans with a creamy texture. But these are flavored ones, so their tastes are mainly based on the added extracts. There are various brand names for Japanese-flavored soy milk, but Kikkoman is among the most famous ones.
Location: Widely sold across Japan (in stores, markets, or beverage vending machines).
This quick taste test of various flavored soy milk types is so fun to watch.
16. Calpis (カルピス)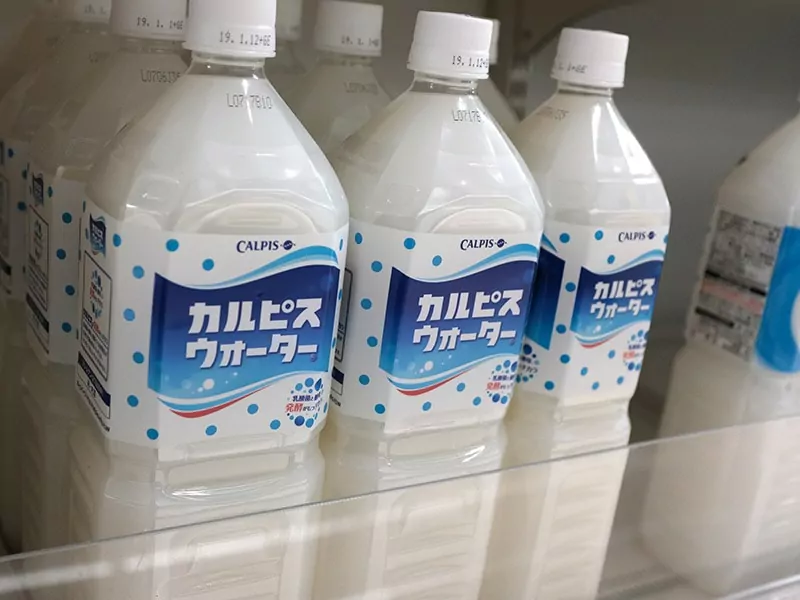 Calpis is a renowned name for producing non-carbonated soft drinks. In 1919, Calpis Co., Ltd introduced their light beverage made from lactic acid bacteria, water, yeast, and non-fat dry milk.
Therefore, the basic taste of Calpis is slightly acidic and milky, like the flavor of yogurt or Yakult – the drinkable yogurt that I will discuss later. Recently, you can also find the carbonated product of Calpis, with Calpis water, Calpis ice cream, or Calpis soda.
Moreover, this drink is inspired by the Mongolian drink – Airad. This cultured milk containing a high level of lactic acid has become a part of Japanese daily lives since the 1940s. And Kaiun Mishima – Calpis's founder, decided to develop the beverage based on the same ingredients.
And thanks to him, now the Japanese can enjoy the refreshing, unique, and funky drink named Calpis. They also come in various flavors, with an alcoholic version called Calpis Chuhai. Interestingly, the drink has a different English name called Calpico.
Location: At supermarkets, convenience stores, or vending machines in the country.
Is Calpis as good as you expected? This review will offer you how it tastes.
17. Japanese Fanta (ファンタ)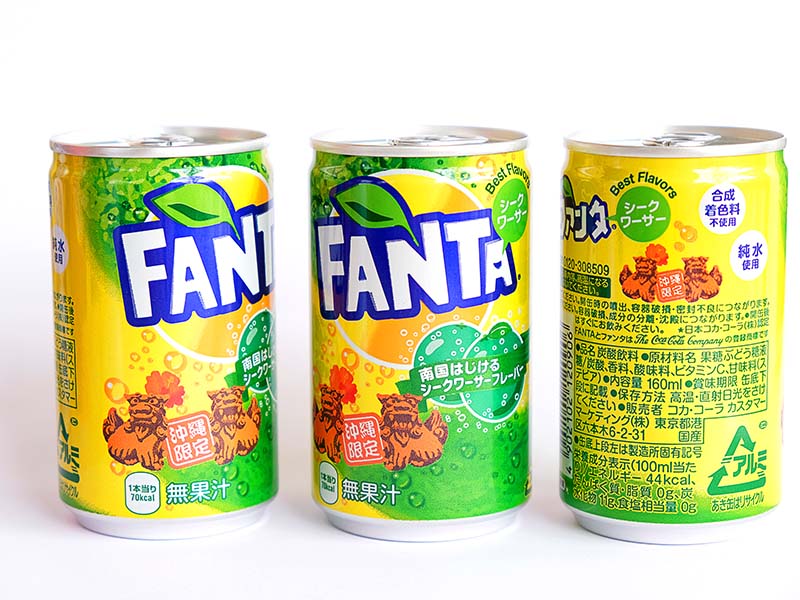 I guess all of you have known about Fanta – a German-origin carbonated soft drink name with huge popularity around the world. But why are they on the list of Japanese refreshments?
In fact, Japanese Fanta products are so special that you cannot find them in other countries. Orange Fanta is the most popular one, but in Japan, there are even more with numerous flavors. Actually, you can spot more than 20 Fanta varieties in Japan.
You will be shocked (and overwhelmed) when standing in front of the fizzy Fanta product lines in many Japanese supermarkets. I am not exaggerating because I spent more than 15 minutes figuring out the nicest flavor. Turns out, they are all amazing.
Location: Beverage machines, stores, or markets.
Let's check this Japanese Fanta review to find your ideal flavor.
18. Japanese Jelly Drink
Do you like jelly, the gelatin-based sweet treat? If yes, you should try some jelly drinks. They are everywhere in Japan and come with a small kawaii (cute) package containing a liquid similar to Jell-O consistency.
There are also many brands of jelly drinks in the market. They are mainly made from fruity juice with a thick consistency, offering you an interesting drink to enjoy. A huge plus of them is their convenience. You can enjoy it anywhere you want, at home, school, or even on the go.
Overall, they can be seen as a supplement drink with vitamins to increase your energy and mood, making them a perfect midday snack at work. So if you are busy people, let's grab some and enjoy!
Location: Anywhere in Japan, usually supermarkets and convenience stores.
Japanese Alcohols
How many alcoholic Japanese alcohols do you know besides Sake? Let me give you 6 other drinks to diversify your drink menu whenever you travel to Japan. Some of them even make your favorite Japanese-style foods taste better. So read on to gain more knowledge.
19. Sake (Japanese Rice Wine / 酒)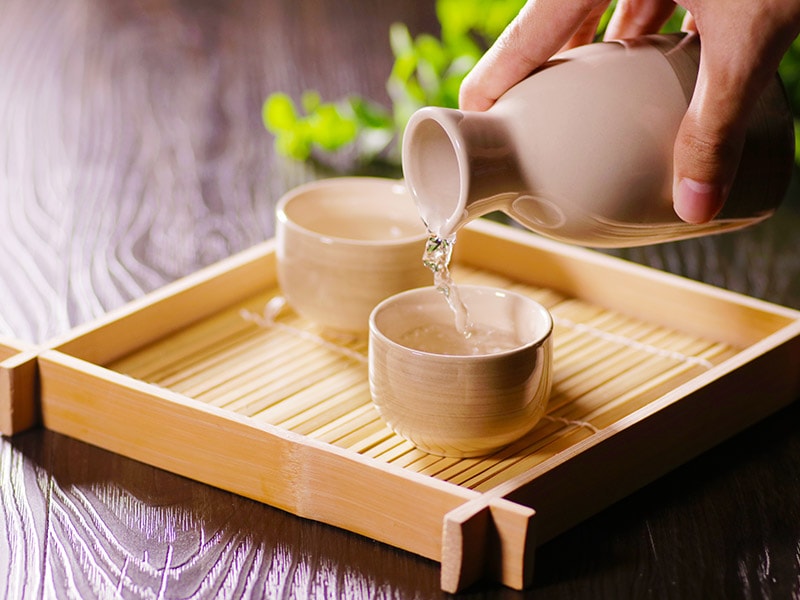 When talking about Japanese wine, Sake or nihonshu (Japanese alcoholic beverages) is always the first thing that appears in my mind. And they are best to enjoy with many mouthwatering Japanese-styled appetizers with an alcohol content of around 20%. So what is Sake?
The root of this drink is unknown, but the first alcohol drinking in Japan was from the 3rd century. Indeed, Sake is a national alcoholic beverage in Japan made from fermented rice's starch and lactic acid, usually transparent, and served in multiple types of cups.
Some of them are flat with a saucer-like look, which is called Sakazuki. If you find your wine served in a small cylindrical cup, that is Ochoko style. Or if these cups are made from wood with a box shape, this is Masu.
Currently, there are more than 1,500 Sake breweries throughout the country, some even appear in key Japanese rituals. And their tastes are also varied based on the rice strain and fermented process. Some versions might taste strong, while some taste umami or sweet. They can also have other notes like flowers, herbs, or fruit.
Location: In most Japanese restaurants or liquor stores.
A national drink – Sake, has a long history. Check here to learn more about it.
20. Japanese Whisky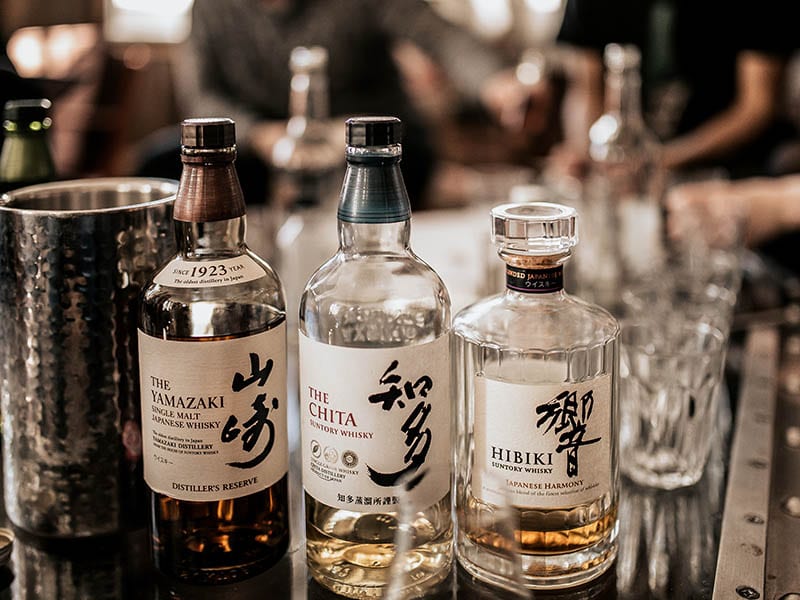 Begun in the 1870s, the Japanese have produced whisky, and the first product was released in 1924. You can find several brands of this alcohol in Japan, but the most prominent names are Suntory and Nikka.
The 3 main variants are malt whisky, blended Whisky, and grain whisky. But when compared to other whiskies, the Japanese version is more similar to Scotch whisky.
In addition, the reputation of Japanese whisky distillation is not only inside the nation; their products have also received much love from other countries. Particularly, the Nikka's Whisky Yoichi Single Malt version had won the "Best of the Best" award in 2001.
Location: Liquor stores, restaurants, bars, and clubs.
21. Shochu (焼酎)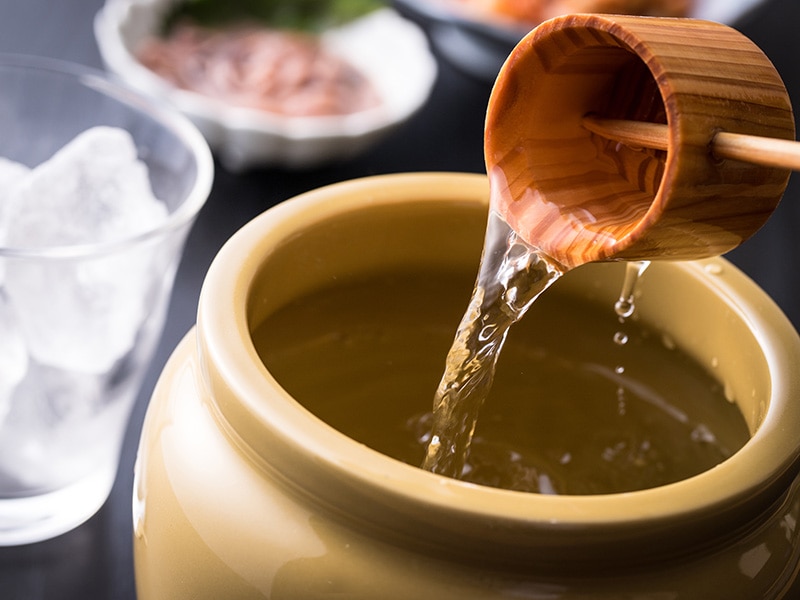 Made from distilled rice, sweet potatoes, buckwheat, and barley, Shochu (Japanese brandy) is an exotic beverage with 25 to 35% alcohol. Therefore, this beverage might be stronger than Sake or wine but lighter than vodka or whiskey.
In Japanese, the word "shochu" means "burned liquor", indicating the heating part in the distillation process. However, the exact origin of this drink is still blurry, but they claim that Shochu has been used since the 16th century, while others often relate to Korean soju as the main influencer.
Regarding its flavor, you can sense some earthy or nutty taste after a sip of Shochu. Moreover, the starchy ingredient in the distillation process also plays an essential role in deciding the taste of this "Japanese vodka", nicknamed by foreigners.
Typically, Shochu is more popular with the young generation and serves as a part of a cocktail. Some popular regions in Japan known for brewing Shochu include Miyazaki, Kagoshima, and Kumamoto. The most popular Shochu is made from sweet potato and is believed to cause fewer hangovers after drinking because of the high enzyme content.
Location: Japanese restaurants, bars, clubs, or alcohol shops.
Shochu totally deserves a try if you love drinking.
22. Chuhai (酎ハイ)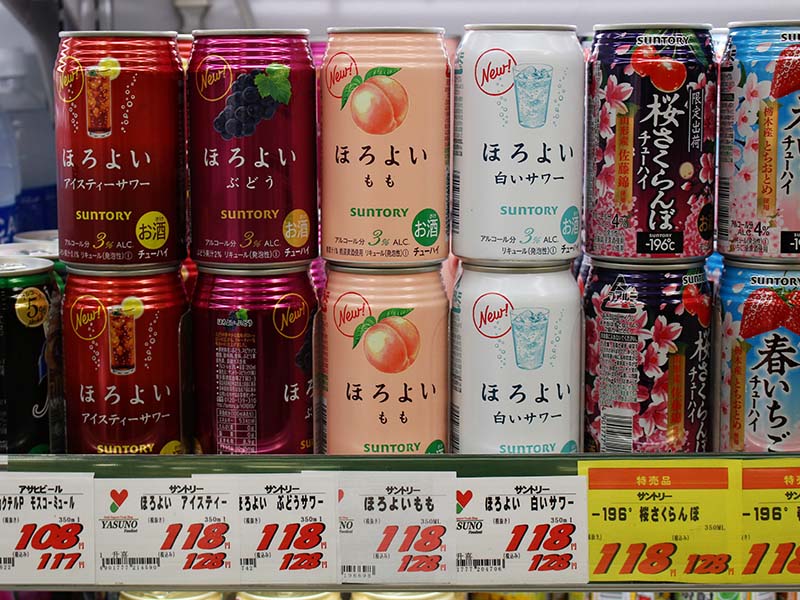 Chuhai, technically, is a Shochu base with sweet soda . And they have several flavors, like lime, pineapple, grape, ume, and more, but the most widely-used one is lemon. Furthermore, the unique 9% strong zero property of Chuhai makes it tastes like juice.
The name "chuhai" is the shortened form of "Shochu highball". They are canned alcoholic beverages. On the other hand, if you ask for a Chuhai in restaurants or bars, the alcohol volume of them is relatively low.
However, the canned ones sold in vending machines or convenience stores are higher in alcohol. Interesting, isn't it? The best way to enjoy it is by pouring them into a tall glass or mug for individual portions. That's why they are not a good choice for sharing, like beer or Sake.
Location: Bars, restaurants, 24/7 shops, or vending machines.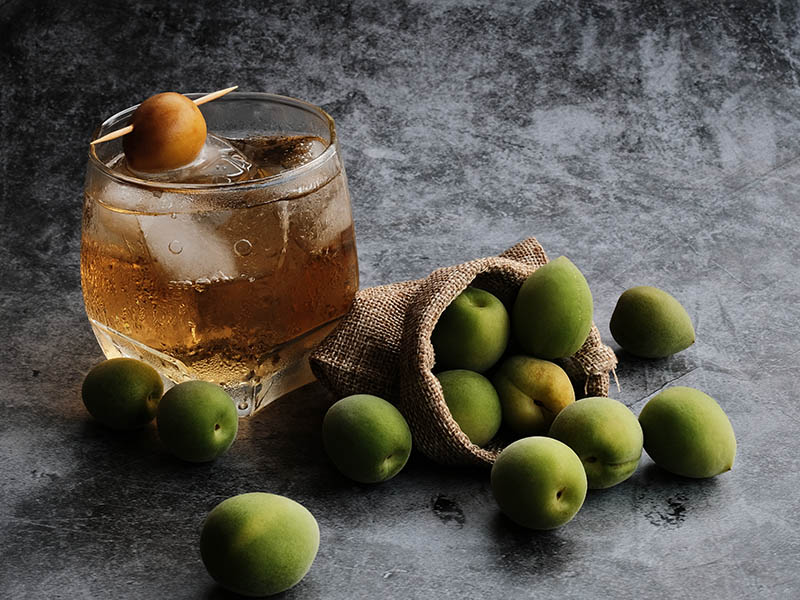 The top fruit liquor in Japan is Umeshu, so it would be a huge mistake if I did not introduce it in this post. Umeshu or apricot liqueur (to foreigners) is the product of steeped ume (plum) in sugar and liquor. They have a light sweet and sour taste with less than 15% alcohol volume.
But the most interesting part about this wonderful drink is people can use either real fresh plum or additive plum flavor to make it. They also have many variations in the market. Or, if possible, homemade Umeshu is another great option because the drink is simple to make.
Store-bought Umeshu usually has a plum in the mixture. Although the Japanese highly regulate household alcohol production, Umeshu is one of the few exceptions that Japanese residents can make at home.
Umeshu is varied in serving. You can drink it cold, hot, or at room temperature. Moreover, it is a perfect ingredient to make delectable Japanese cocktails. If you visit any Japanese-based bars, ask for an Umeshu Soda or Umeshu Tonic.
Location: Bars, clubs, restaurants, or supermarkets.
Making Umeshu is effortless. Let's make some this weekend.
24. Happoshu (Japanese Low-Malt Beer / 発泡酒)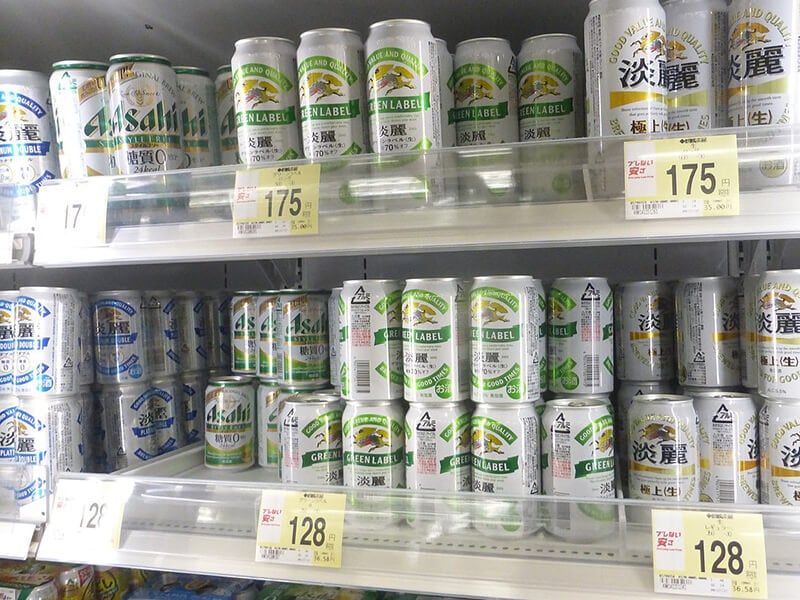 Besides various famous beer brands like Kirin, Asahi, what about Happoshu? Is it a brand? No, it is not. Happoshu, in fact, is a beer-like drink with less than 67% malt – the significant element to make beer. Commonly, you can translate it as "sparkling alcoholic beverage."
That's why they taste very light compared to typical beers. Moreover, the price of Happoshu is generally lower than other beer types due to the Japanese tax bracket regulation. You can simply remember that the lower the level of malt, the lower the tax charge.
This is why you have many choices for this beer based on the percentage of malt content. Plus, as Happoshu includes other ingredients like starch, corn, soybeans, etc., the Japanese think they are a healthier option in place of beer.
Interestingly, the word Happoshu also refers to many carbonated drinks with a certain alcoholic content.
Location: Supermarkets, stores, restaurants, or bars.
25. Awamori (泡盛)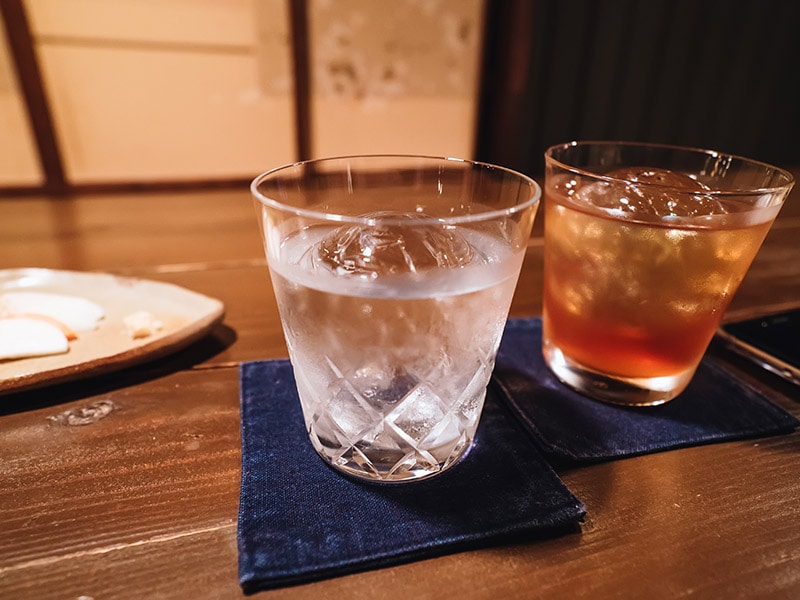 If you travel to Okinawa – a prefecture in the Ryukyu Islands, you should not miss an opportunity to try Awamori. This is indigenous alcohol made from distilled rice with a recipe that has remained unchanged for 500 years. There are various rice types, but the best ones to make Awamori are long-grain Indica rice and Thailand Indica rice.
In Okinawa, this drink has another name is Shima-zake, which means "island Sake". And though Awamori is also rice-based alcohol, do not mistake them with Shochu. To produce Shochu, people have to process them in 2 fermentation times, while this beverage only requires 1 time.
On the other hand, the alcohol content in Awamori ranges from 30 to 43%, and they can continue to age in clay pots. You can enjoy Awamori with ice, or mix it with other ingredients for making cocktails. However, the drink traditionally comes in a small container with a marble in the middle.
Location: Mostly found in Okinawa – the origin place of Awamori. However, you can buy them across Japan, particularly liquor shops, restaurants, clubs, or bars.
The history of Awamori is delightful, so ensure that you will not miss this demo.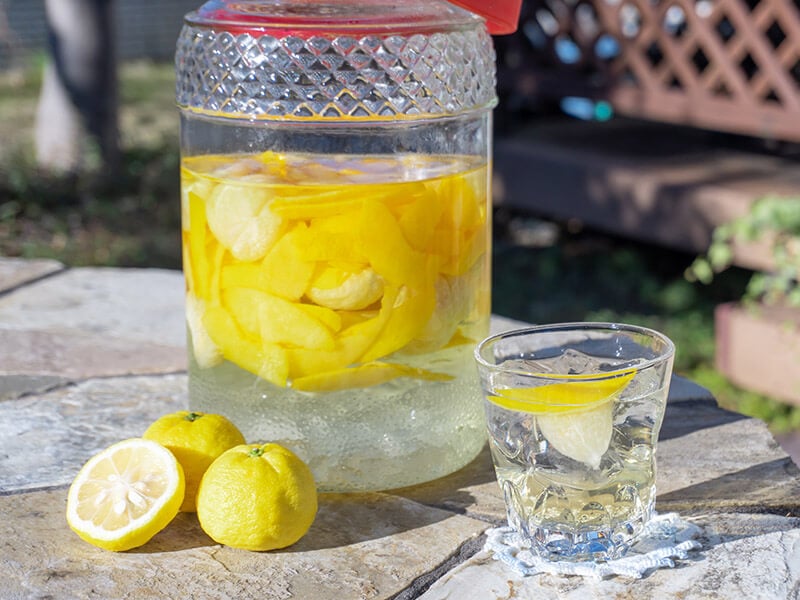 Yuzushu is a liquor made from yuzu – a special Asian citrus fruit in Japan. However, the best way to consume yuzu is to make beverages. And thanks to the high acidity level, they are an ideal fruit to make various drinks, including this Yuzushu with a signature sour taste.
Aside from various commercial Yuzushu products, many Japanese choose to make them on their own as it is not too hard to prepare. All you have to buy for making homemade Yuzushu are sugar, yuzu, and Shochu, and lay them in a clean jar.
However, it will take at least 6 months to develop the flavor. Thanks to the tangy and tart flavors, this is one of the best drinks to enjoy alongside your favorite seafood dishes like sashimi, or you may pair it with a cocktail recipe.
Location: Restaurants, liquor stores, or you can make them at home.
27. Sparkling Japanese Sake (発泡清酒)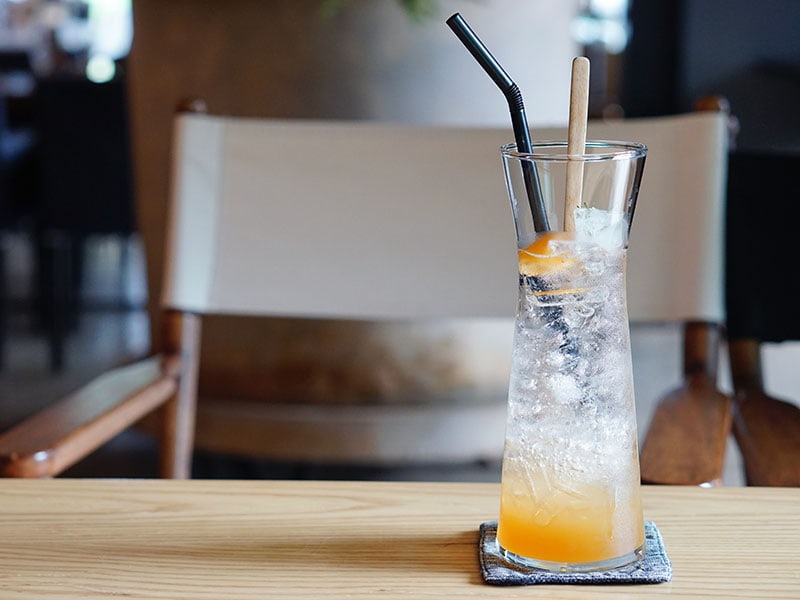 Sparkling Japanese Sake, a more delicate version of traditional sake featuring an alcohol content ranging from 5 to 12%. This innovative beverage first made its appearance in the 1980s and has since captured the attention of sake enthusiasts.
The most widely recognized production technique for Sparkling Japanese Sake is Kasei nigori-shu. This method demands filtering and bottling during the sake's fermentation process, which contributes to its distinctive qualities. The result is a beverage with a rich, milky texture.
Another approach to crafting sparkling sake is Binnai niji hakou, which involves the addition of yeast and sugar after bottling. This method further enhances the effervescence and character of the final product.
Location: At liquor stores in Japan.
Other Surprising Japanese Beverages
Let's move to the final section, which is about various beverage styles that the Japanese also love. Some of them are very practical for different customers' demands. So do not skip this part; otherwise, you might regret it later.
28. Japanese Non-Alcoholic Beer (ノンアルコールビール)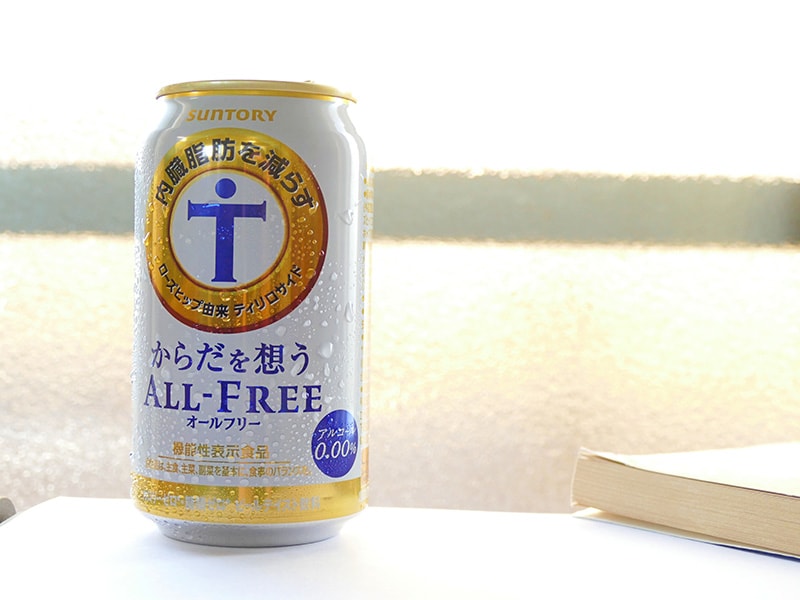 Japanese people love beer, but not everyone can drink this alcoholic beverage because they can easily get drunk or tipsy. So let me give you a solution for that with Japanese non-alcoholic beer.
The first appearance of this beer type was in 2009 when Kirin Brewery company introduced their product – Kirin Free to the public. With 0.00% alcohol volume, they have become the best alternative with a similar taste as alcoholic beer.
After that, other brands started to develop this beer trend like Suntory, Sapporo, or Suntory. They are also some of the most famous names for selecting the finest non-alcoholic beer in this nation.
Location: In any Japanese restaurants, bars, supermarkets, or stores.
What does Japanese non-alcoholic beer taste like? This taste test will offer you a broader view of them.
29. Yakult (ヤクルト)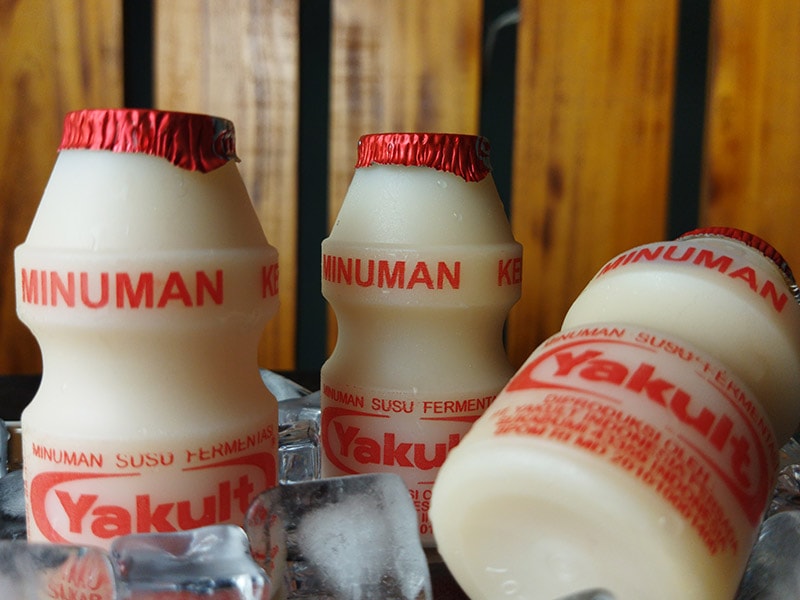 There are various brands of drinkable yogurt, and the most popular one might be Yakult. Indeed, Yakulk is a fantastic product containing lactic acid bacteria to improve the probiotic, which greatly benefits your health. You can find this treat sold in various places across Japan and over 40 other countries.
They are sold in single-serving small bottles (around 65 milliliters) and include 5 to 10 bottles in 1 purchase. Moreover, you can try other drinkable yogurt brands in Japan, and some of them are available in other flavors like strawberry or banana.
How about the root of this drink? Traced back to the 1930s, Japanese fermented milk to make a yogurt-flavor beverage with a less-thick texture than original yogurt, making them better to drink instead of eating.
Location: Mostly convenience stores or supermarkets in Japan, especially in Tokyo, where you can easily find Yakult.
30. Energy Drink (栄養ドリンク)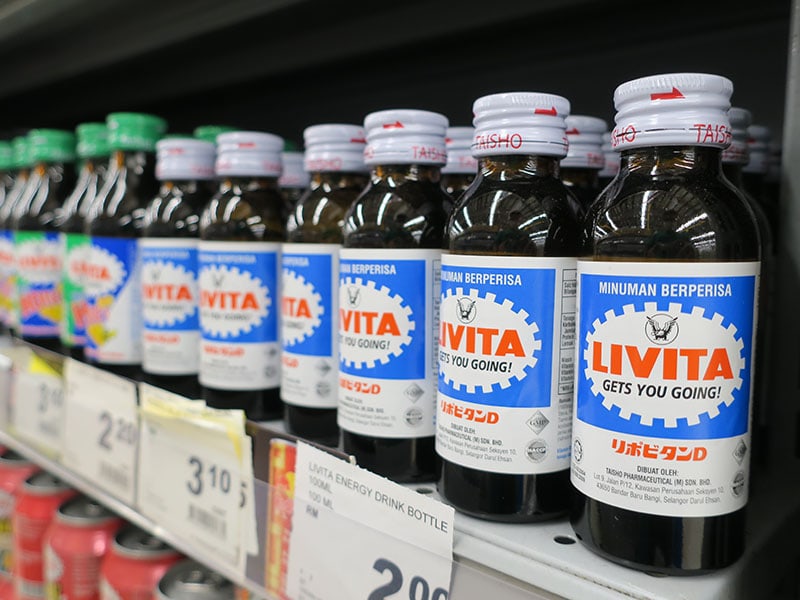 Speaking of Japanese energy drinks, the most well-liked names are Lipovitan and Tiovita. They usually come in 50 to 100-ml bottles, but the capability to make you feel stronger is awesome. If you are tired or stressed with the overload works, grab one and find out how it can power you.
Obviously, these energy drinks are the best friends for workaholics as they can improve their concentration, keep them awake, and boost strength.
They are also widely consumed by Japanese students during exam periods. Or, if you accidentally drank too much alcohol last night, you can consume one bottle of these energy drinks to make you feel better instantly.
Location: Many groceries or supermarkets in Japan.
How many energy drinks can you find in a 24/7 store in Japan? The answer is a lot.
31. Pocari Sweat (ポカリスエット)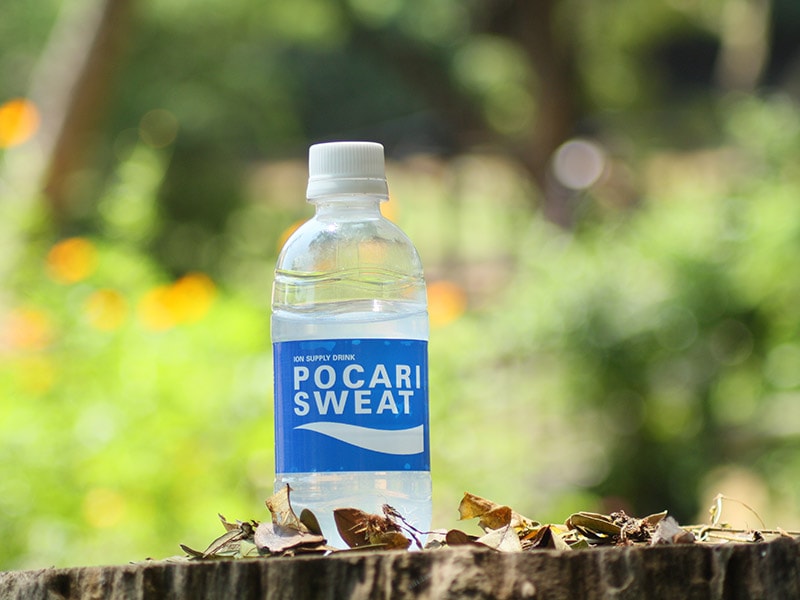 Pocari Sweat might be the first choice among Japanese customers when it comes to sports drinks at vending machines. In some way, its popularity in the country resembles Gatorade or Aquarius back in the States.
Manufactured by Otsuka Pharmaceutical company in 1980, Pocari Sweat has gained popularity in Japan and other Asian or Middle Eastern countries, even Australia. This is carbonated-free with a very mild sweet flavor and light salty.
And they work excellently to refresh your mind and supply ions and electrolytes. Pocari Sweat is the top choice of many athletes, mountain climbers, or sports enthusiasts. You can find them in ready-made PET bottles, or powder form so you can mix them with water.
Location: Commercial stores, markets, supermarkets, and beverage machines.
This review might make you want to grab a bottle of Pocari Sweat and enjoy it right away.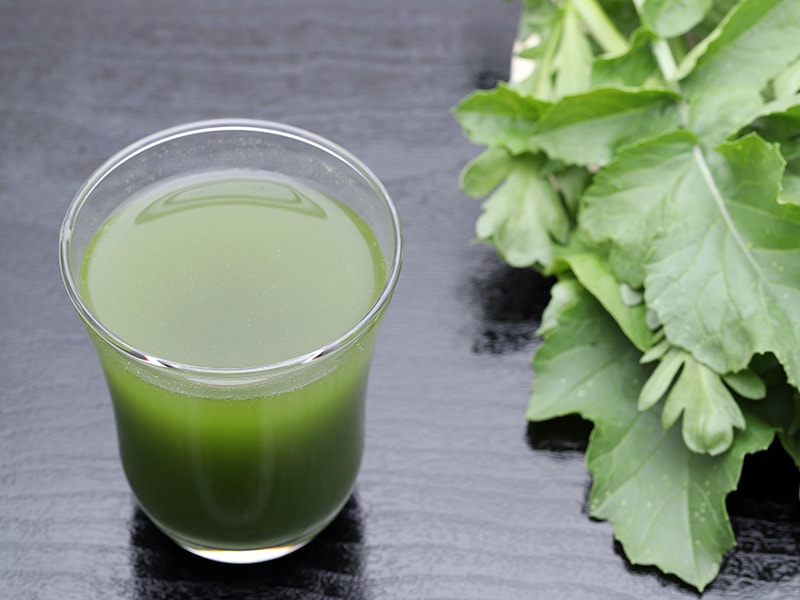 One of the best ways to enhance the digestion process is to eat more veggies. But suppose you are not into any fresh Japanese vegetable dishes how about drinking them?
Aojiru is created in this manner. This is a popular Japanese vegetable drink with a lot of benefits to make your stomach healthy. Countless Aojiru products in the market mainly come in powdered form, so you can mix them with water, juice, or milk to prepare.
They usually have the bitter taste of kale, komatsuna (Japanese mustard spinach), and barley grass. In fact, if you are on a diet, this one can be your good buddy. What's more, it can also help you prevent aging or cancer. And now you know why the Japanese have the longest life expectancy in the world, right?
Location: Sold at Grocery stores or supermarkets.
33. Canned Coffee (缶コーヒー)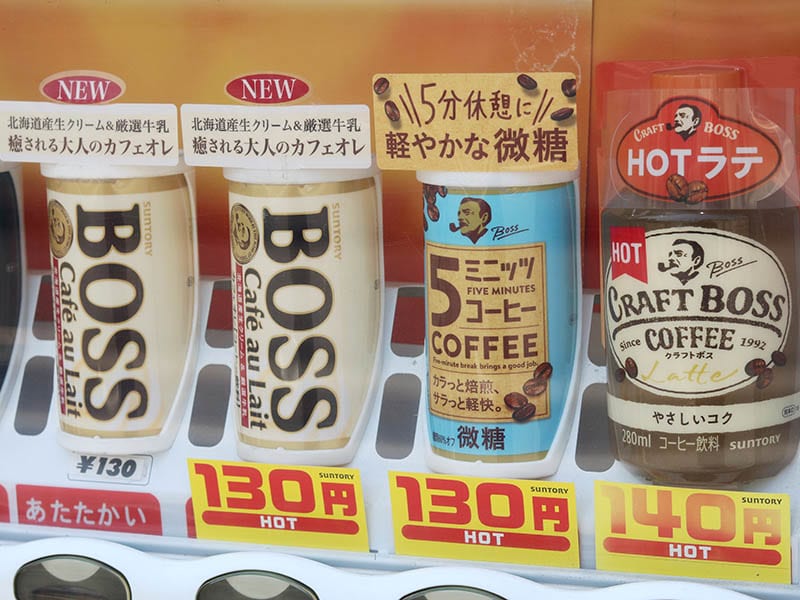 Busy life might keep you away from sitting in the coffee shop to enjoy a hot cup of coffee. And as Japan is a dynamic country, they prefer the quickest way to drink coffee. And that's why canned coffee was invented.
Although Japan has to import most of its coffee beans, they are obsessed with beverages made from this ingredient. And fortunately, the Japanese found a way to make them handier with their pre-brewed coffee that you can find anywhere in Japan.
Japan was the first place that created canned coffee. Particularly in 1969, when UCC Ueshima Coffee company introduced this beverage to the customers. Nowadays, more and more companies sell canned coffee in Japan, like Boss Coffee, Fire, Nescafe, Roots, etc.
They are particularly available in the vending machines with flavors including mocha, milk, or vanilla. What's better; you can buy heated cans in cold weather and cold cans on warm days.
Location: Various stores, supermarkets, and vending machines.
Japanese canned coffees are all delicious in their own ways.
34. Japanese Hangover Cure Drinks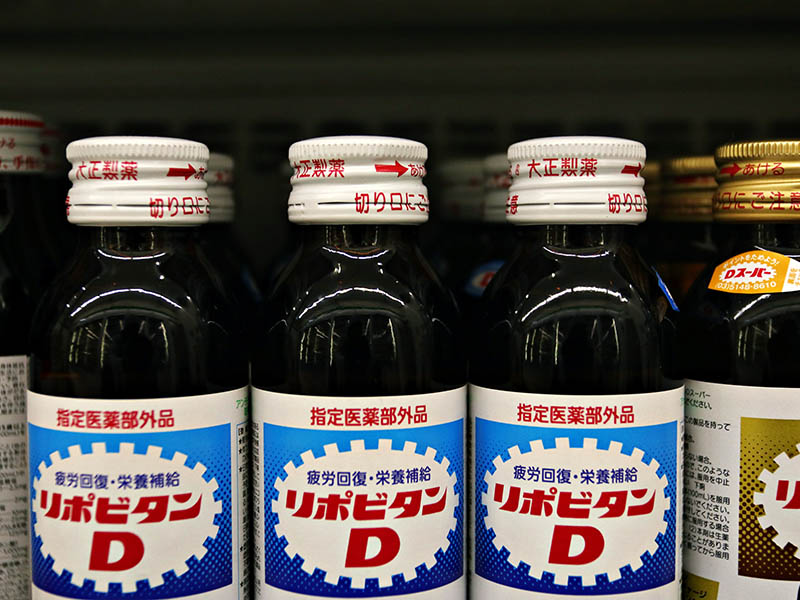 The last item is the most practical drink for those who love drinking. Indeed, the Japanese always have an unexpected way of surprising other countries with their innovative products; in this case, it is the drink to cure the hangover.
Nothing worse than a hangover after a party-hard night. But with these solutions, your worries about it are gone. So, how functional are they? There are 2 main ingredients in these drinks: turmeric root extract and, surprisingly, cow liver extract.
Why cow liver? The Japanese think the combination of liver extract and vitamins (like E, B2, B15) can boost the metabolism and release the toxin after drinking. But if you are vegan, you should opt for those made from turmeric root.
These drinks are the best seller in the winter, particularly because many people want to buy them before their year-end party.
Location: Drug stores, convenience shops, supermarkets, even some bars and clubs.
Let's Prepare A Perfect Cup Of Matcha!
As explained above, making Matcha is an art to ensure no clump is left in your cup of tea. So let me show you the best way to prepare it correctly from the first try. All you need to prepare initially are:
For ingredients:
For accessories:
A bamboo whisk (chasen)
A tea bowl (Matcha chawan)
A small tea strainer
A small tea cup
And a measuring ladle (chashaku)
Step 1: Use a measuring ladle and scoop around 2 grams of Matcha powder and pour it into the strainer placed above the tea bowl.
Step 2: Filter the Matcha powder with a strainer to eliminate lumps and ensure a smooth result.
Step 3: Pour hot water (around 2 ounces) into the bowl with care. Allow it to cool down in 1 minute.
Step 4: Make sure your wrist is relaxed. Whisk the mixture with a bamboo chasen gently with a circular motion for smooth tea.
You can move in an M or V-shaped motion to foam the tea. Do it in 10 to 15 seconds.
Step 5: Until you see your drink is smooth and foamy with a light green color, pour them into a small cup and enjoy.
If you want to know the best tip to make Matcha, do not skip this instruction.
Japanese Refreshment Option To Pair With Food
Discover some of the most popular combos of drink and food in Japanese culture. You may discover your new favorite duo to have in your next meal.
Tea And Sweets
Tea is a quintessential part of Japanese culture, and pairing it with sweets is a popular way to enjoy it. Traditional Japanese sweets, known as wagashi, are often served alongside tea, particularly during a tea ceremony.
These sweets are carefully crafted and usually made from ingredients like mochi, anko (red bean paste), and fruits, providing a perfect balance of flavors and textures when enjoyed with tea.
Sake And Sushi
Sake, a traditional Japanese rice wine, is commonly paired with sushi as it complements the delicate flavors of raw fish and rice. The umami taste of sake harmonizes with the fresh ingredients of sushi, enhancing the overall dish profile.
Shochu And Izakaya Dishes
Shochu, a distilled Japanese spirit, is often enjoyed at izakayas, which are casual Japanese pubs. Izakaya dishes like yakitori (grilled skewered chicken), karaage (fried chicken), and edamame (boiled soybeans) pair well with shochu, as their flavors complement the drink's unique taste profile.
Beer And Yakitori
Japanese beer from major breweries and craft beer establishments is often enjoyed alongside yakitori, which consists of various types of grilled meat on skewers. The crisp and refreshing beer flavors perfectly complement the grilled meat's smoky, savory taste, making for an enjoyable and casual dining experience.
Whiskey And Wagyu Beef
Japanese whiskey has gained worldwide acclaim for its smooth and complex flavors. Pairing it with wagyu beef, known for its rich marbling and tender texture, creates a luxurious combination. The whiskey's depth and nuance enhance the beef's umami flavors, resulting in a harmonious and memorable combination.
FAQs
In this section, let's explore the common question you often have for various Japanese beverages. I hope this part can satisfy your thirst for information.
What Are Your Favorite Japanese Beverages?
Finally, tell me your most-liked Japanese-based drinks, and share your first experience with them. I would love to hear all of your stories when you tried these drinks, whether they were in Japan or other countries.
And if you find this post so useful for your upcoming trip to Japan, pin this article or share it on your social pages immediately. I hope you will have the best memory in Japan as well as with their fabulous beverages. Thanks for reading!