I'm sure that many of you've heard of Pho before, but have you tried "Phở Xào Thịt Bò" – Vietnamese stir-fried rice noodles with beef? Today's version of Pho will give you a brand new way to enjoy this famous Vietnamese dish, turning it from a noodle soup into a flavorsome stir fry.
If you're a fan of Pho or Vietnamese cuisine, this recipe is definitely a must-try. The well-marinated beef combined with an array of colorful fresh vegetables creates a culinary experience you'll never forget. The best thing? You can whip up this delicacy in just under an hour!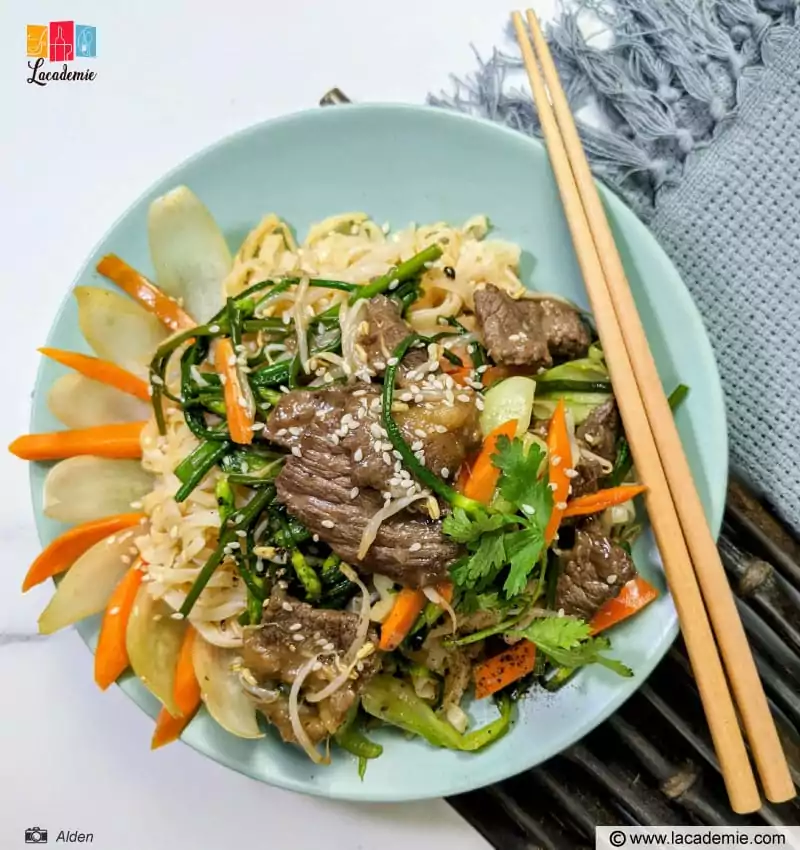 Pho Xao – An Excellent Dish For Everyday Meal
"Phở" is probably the most recognized Vietnamese dish. This noodle soup delicacy is famous for its aromatic and rich broth, resulting from hours upon hours of slow cooking. While this process creates the utmost flavorful stock, some people might be put off by how long it takes to make an authentic bowl of Pho.
The good news is since Pho Xao is a stir-fry recipe, it doesn't require such extended cooking time. The dish is also highly customizable, and there's no limit on what you can and cannot add to the pan. For these reasons, it makes for a wonderful treat you can enjoy any time of the day.
Tools
You probably have already owned these tools; just double-check your kitchen to ensure that none is missing.
Pan: For stir-frying the meat, noodles, and vegetables.
Spatula: For mixing the ingredients during cooking.
Knives: Use one knife for the vegetables and spices and another one for the beef.
Chopping boards: Likewise, use one chopping board for the beef and the other for the rest of the ingredients.
Large spoon: For string the beef.
Kitchen chopsticks: Opt for a pair of chopsticks with a decent length to make stir-frying the noodles easier.
Large bowl: For mixing the noodles.
Disposable food prep gloves: You should wear a pair of food prep gloves while mixing the noodles for sanitary purposes.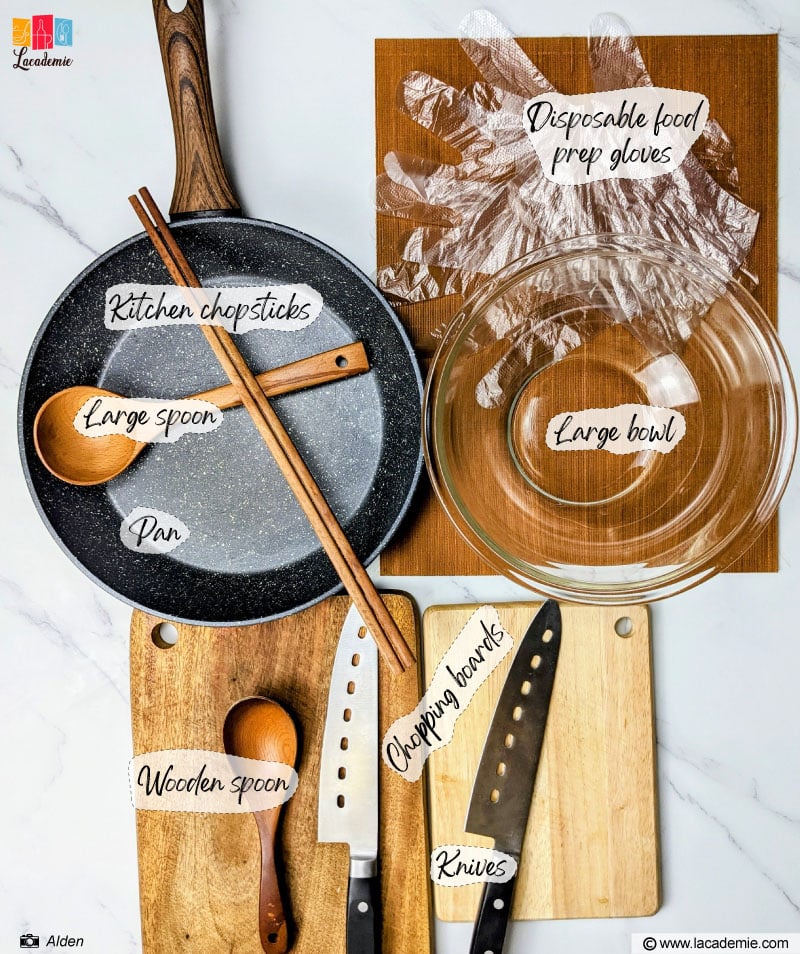 Ingredients
Pho noodles and beef are the most vital ingredients in this stir fry. You'll also need some Asian condiments (such as oyster sauce), spices, and fresh veggies.
Beef: Any cut of beef will do. I recommend trying beef tenderloin or flank steak.
Egg: Adding an egg to the noodles will prevent them from sticking together or breaking apart during stir-frying. It also gives the noodles an appealing color.
Pho noodles: You can use either fresh or dried Pho noodles. If using dried, remember to cook them as per the instructions on the box first.
Vegetables: Onion, bean sprouts, garlic chives, bok choy, and carrot. Not only are these veggies colorful, but they also add more flavors to the stir fry.
Scallions: Since scallions cook quickly, they will be the last ingredient you add to the pan.
Cilantro: For sprinkling over the noodles when serving.
Shallots and garlic: You'll mince them and use them in the beef marinade.
Oyster sauce: Adds a touch of umami flavor to both the beef and noodles.
Soy sauce: For marinating the meat and noodles. You can also serve the noodles with this sauce.
Rice vinegar: For stir-frying the vegetables.
Sesame oil: Gives the dish a hint of nutty flavor and sheen.
Cornstarch: Adding a little cornstarch to the beef will help it retain water. As a result, the meat will be tender and require less cooking time. Tapioca flour is a viable substitute for cornstarch.
Chicken stock: The liquid base for the stir-fried vegetables. You only need about half a bowl of stock.
Other spices: Sugar, salt, pepper
Cooking oil: Preferably vegetable oil with a neutral flavor.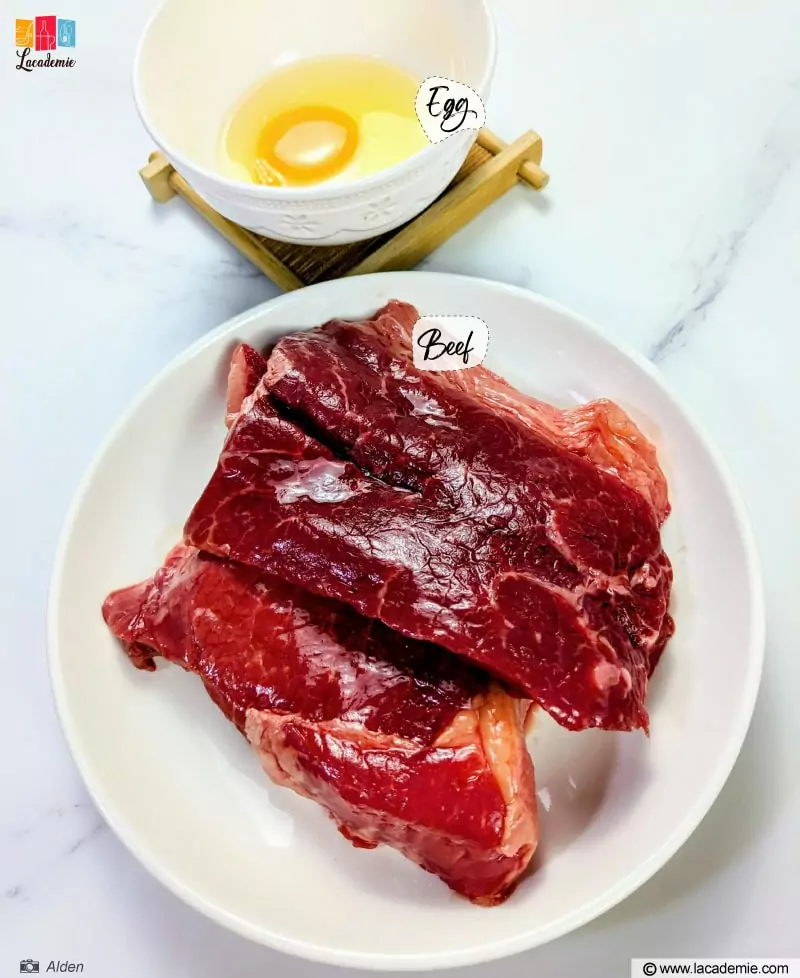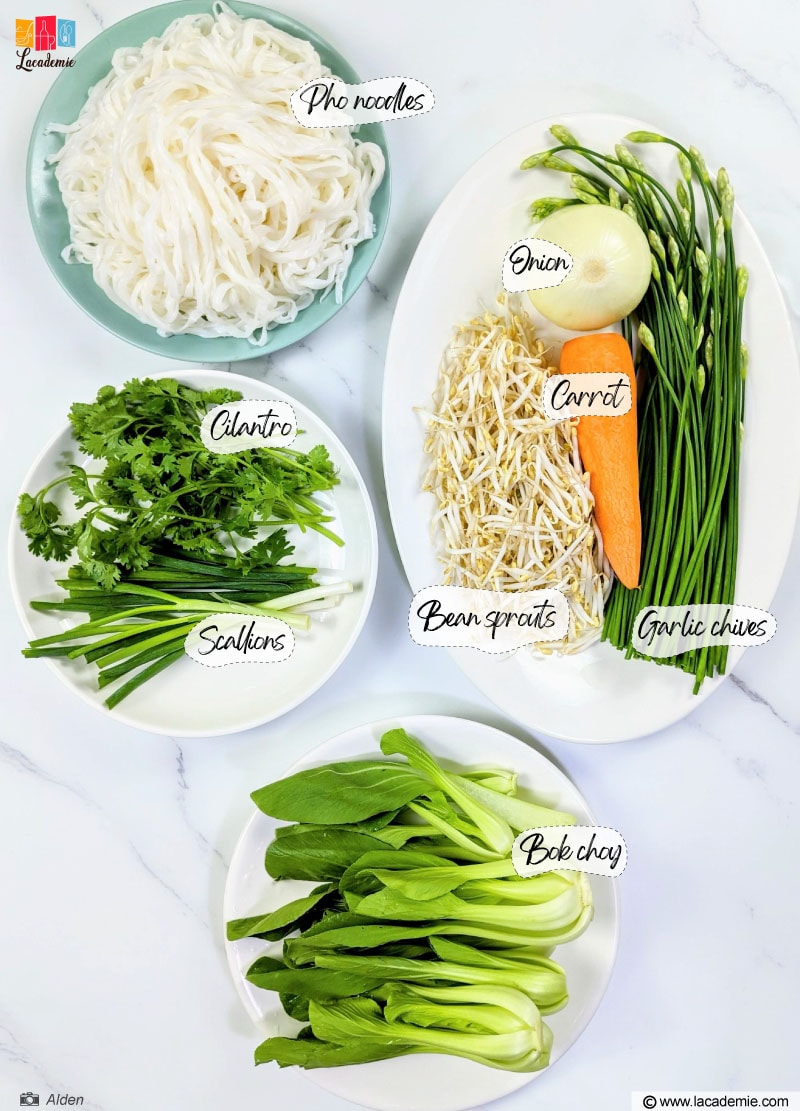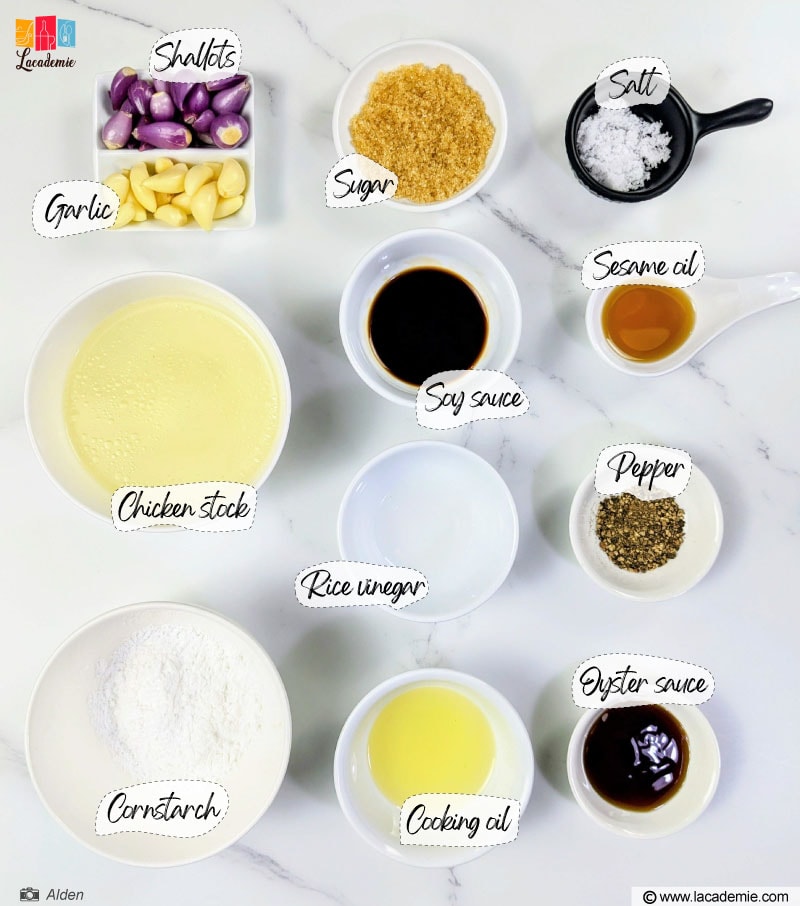 Directions
Without further ado, here's a detailed guide on how to cook up a delectable plate of Pho stir fry with beef.
Step 1: Prepare The Ingredients
Peel and clean the onion. Then, cut it into wedges.
Cut the bok choy into bite-sized pieces. For the ones that have a large root, cut them in half vertically. Separate the leaves and stems.
Peel the carrot, wash, and cut it into bite-sized slices. You can also cut the carrot into flower shapes or julienne it as you like.
Chop the garlic chives and scallions into bite-sized pieces.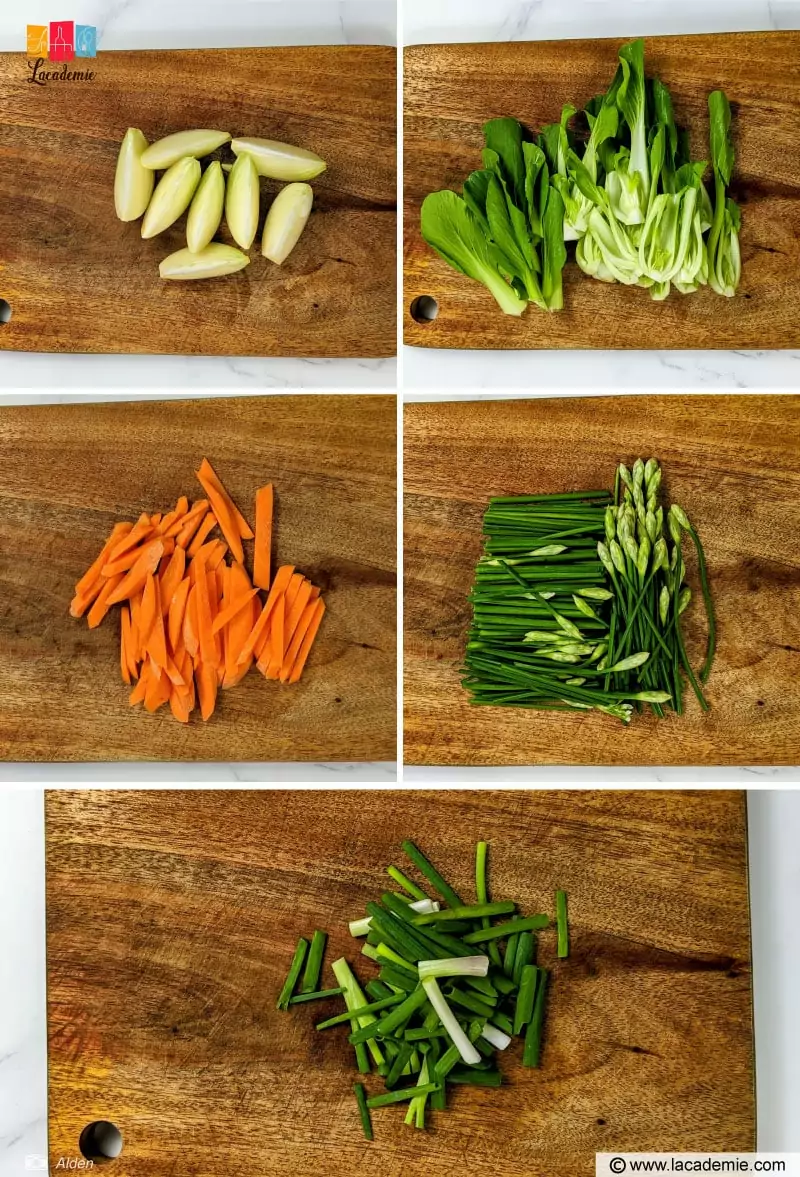 Mince the shallots and garlic.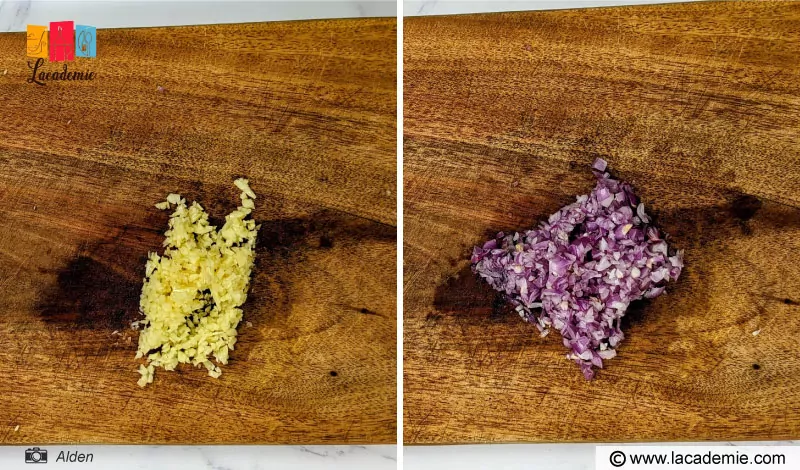 Slice the beef against the grain into your preferred size. The grain should be perpendicular to your knife. Note that you shouldn't slice it too thin since it might break apart when stir-frying.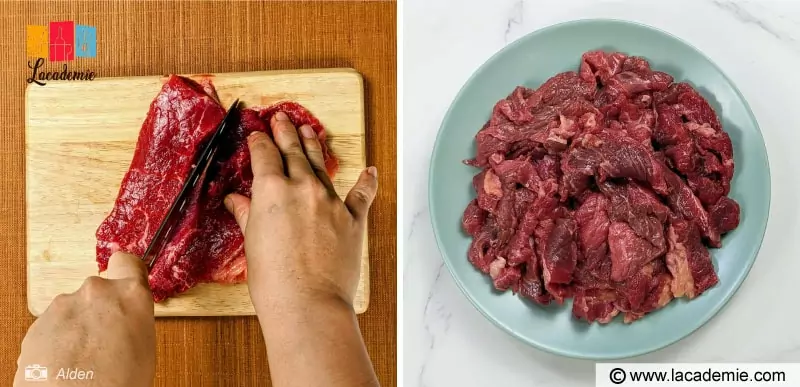 Step 2: Marinate The Beef
Place the beef in a bowl and season it with 1 tablespoon of minced garlic, 1 tablespoon of minced shallots, 1 tablespoon of oyster sauce, 1.5 tablespoons of soy sauce, 1 tablespoon of sugar, 1 tablespoon of sesame oil, 1 tablespoon of pepper, and 1 tablespoon of cornstarch.
Mix well and let the beef rest for about 30 minutes.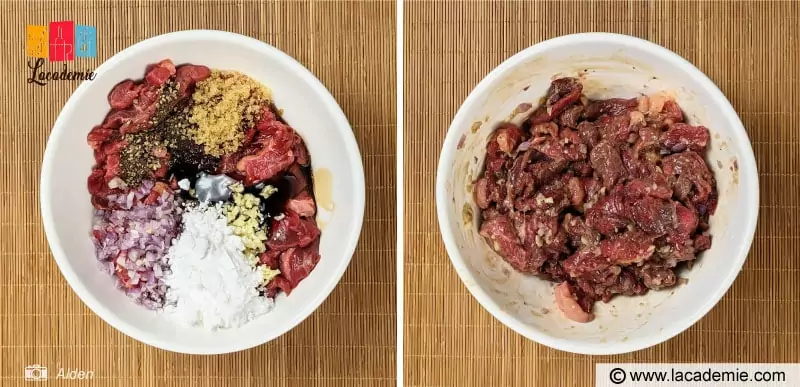 Step 3: Marinate The Noodles
Put the Pho noodles in a large bowl. Wear your food prep gloves and use your hand to separate the noodles that stick together.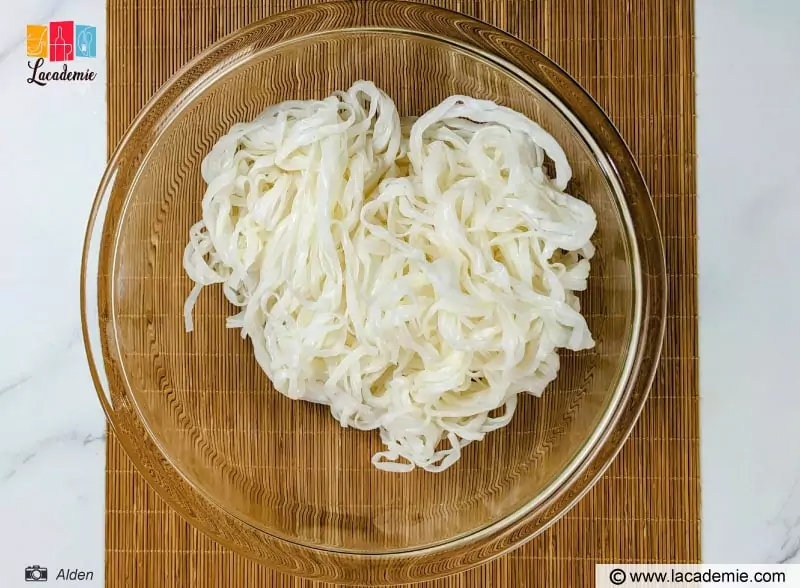 Season the noodles with 1 tablespoon of soy sauce, 1 tablespoon of oyster sauce, 1 teaspoon of sesame oil, 1 tablespoon of cooking oil, 1 teaspoon of salt, 1 tablespoon of sugar, and 1 egg. Mix well and set aside.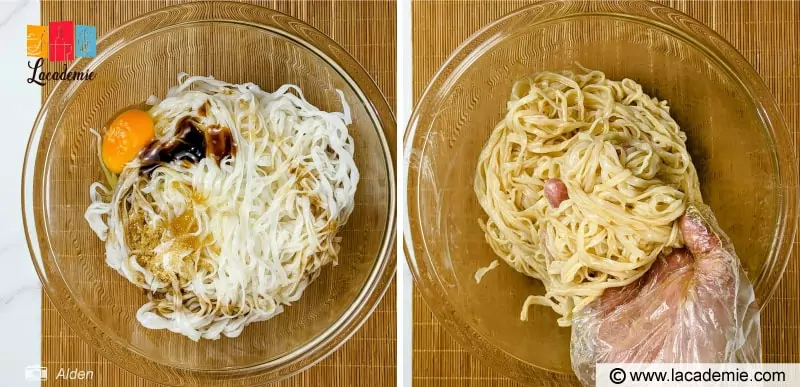 Step 4: Stir-Fry The Noodles
Put a non-stick pan on the stove and add some cooking oil. Heat the oil, then add a little minced garlic and shallots, and fry them until fragrant. Pour in the marinated noodles and stir-fry them for about 3 minutes. Set aside.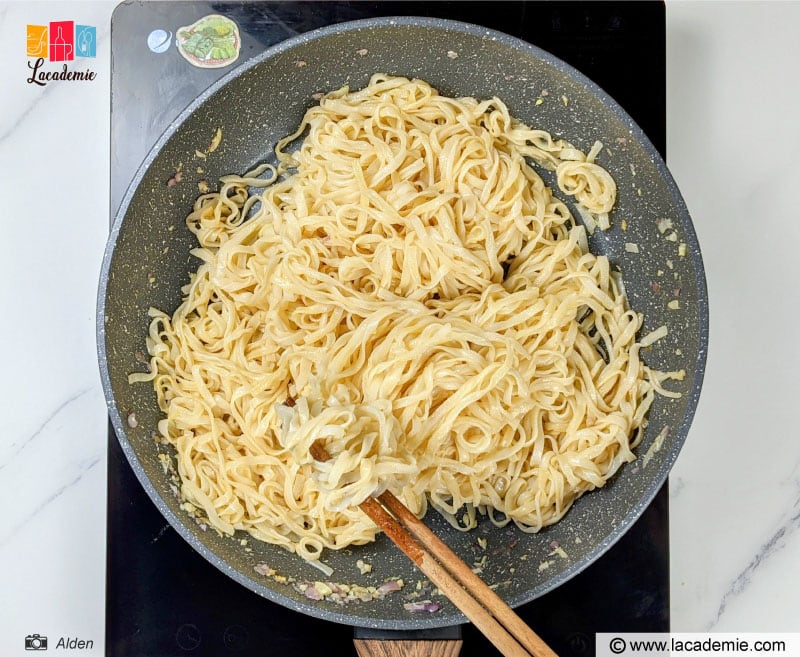 Step 5: Stir-Fry The Beef
Add more minced garlic and shallots to the same pan and fry until fragrant. Add the beef and stir-fry it over high heat until medium well (about 80% cooked). Transfer the beef to a different plate and set aside.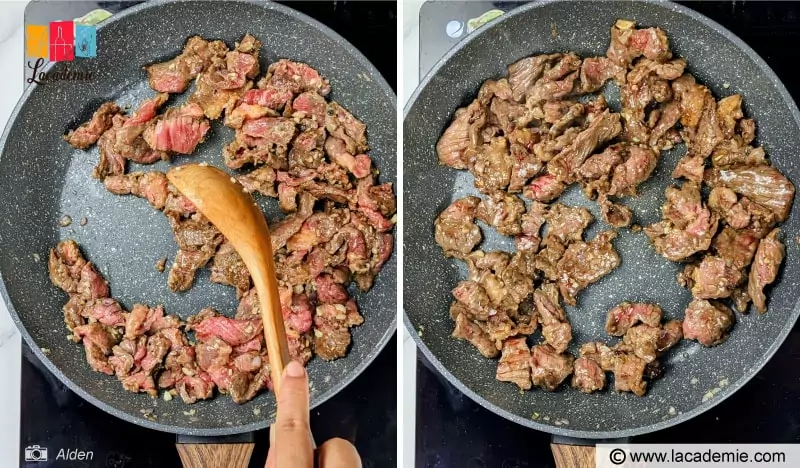 Step 6: Stir-Fry The Vegetables
Add the prepared carrots, bok choy stems, and onions to the pan. Stir-fry the veggies briefly.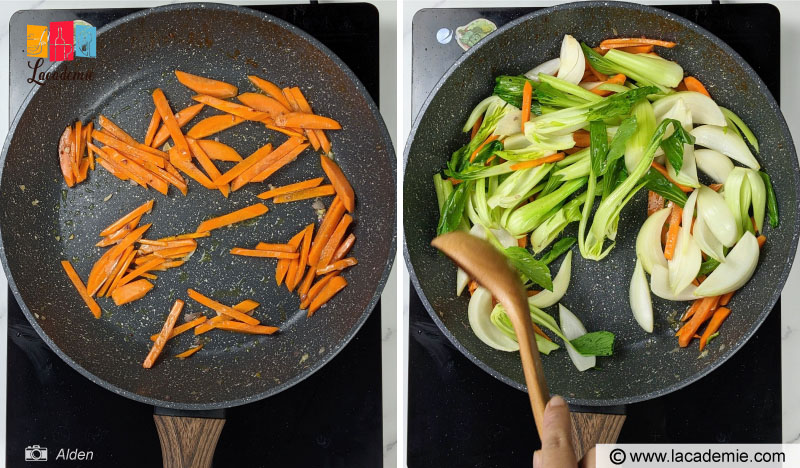 Pour in the chicken broth and season it with 1 tablespoon sesame oil, 1 tablespoon oyster sauce, 1 teaspoon sugar, 1 teaspoon salt, and 1 tablespoon rice vinegar.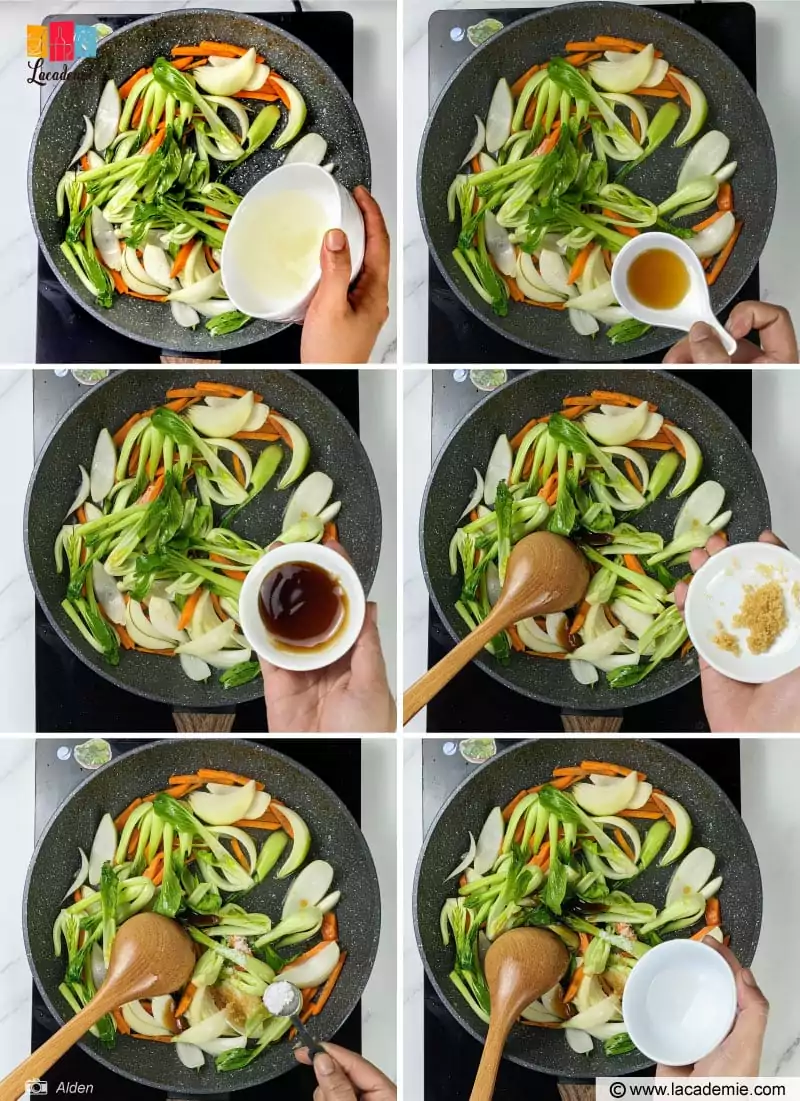 Stir in the garlic chives and bok choy leaves. Season them with 1.5 tablespoons soy sauce and stir well. Then, add the bean sprouts and give everything a good stir.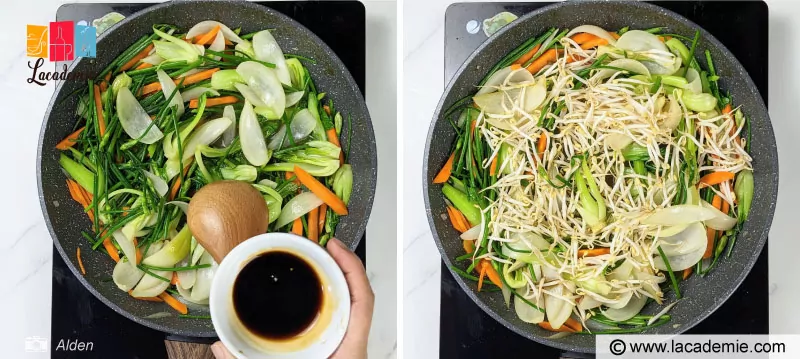 Step 7: Add The Beef To The Pan
Add the beef back to the pan and mix it with the vegetables. Cook them for about 2 to 3 minutes.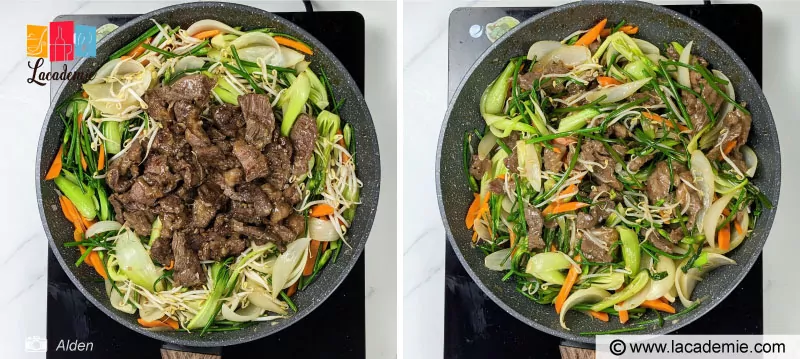 Once the ingredients are cooked, sprinkle the scallions on top. Stir once again and turn off the heat.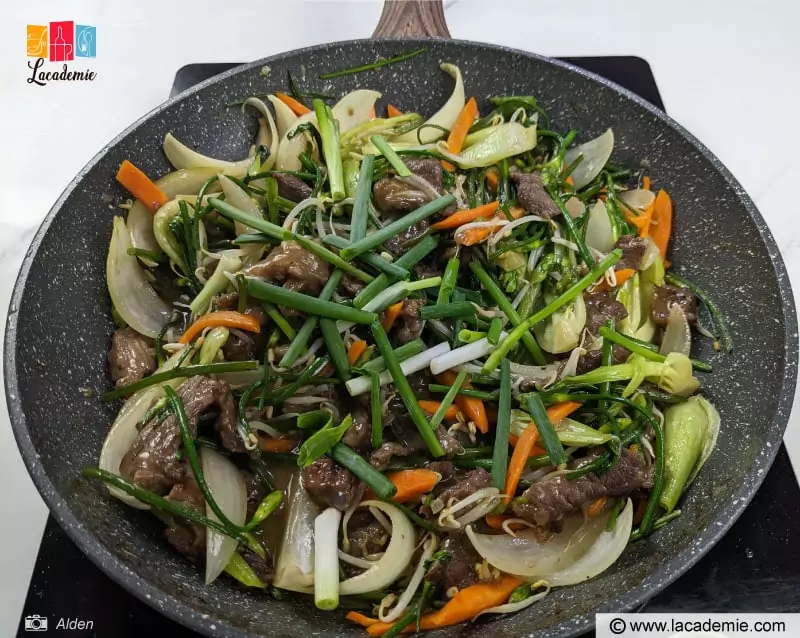 Step 8: Serve The Dish
Put the Pho noodles on a plate and top them with the beef and veggies. Sprinkle some cilantro, pepper, and sesame seeds on top. Enjoy!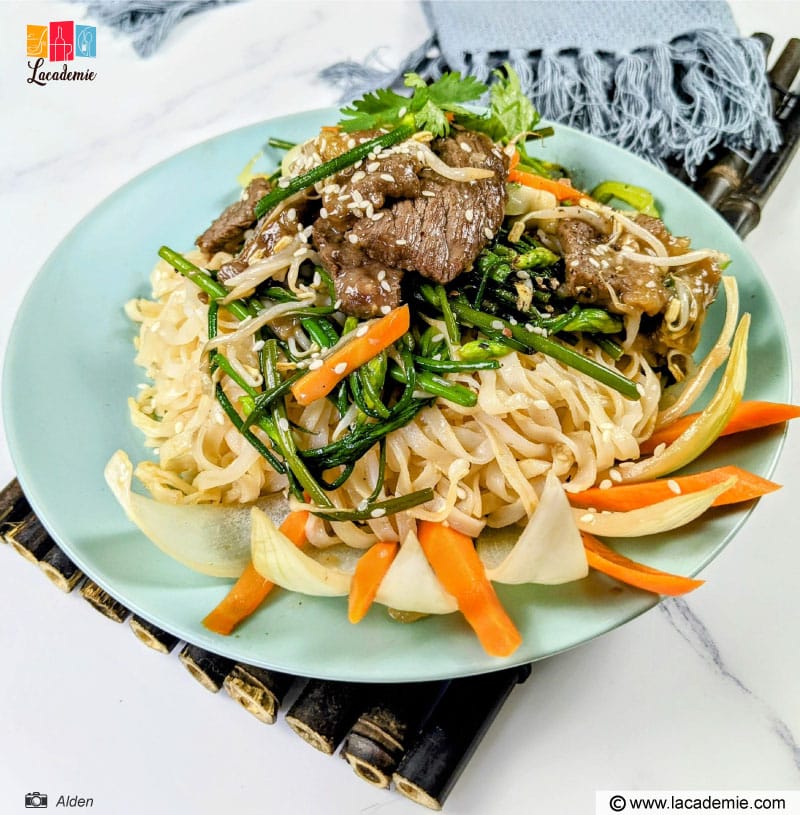 Handy Tips And Tricks To Note Down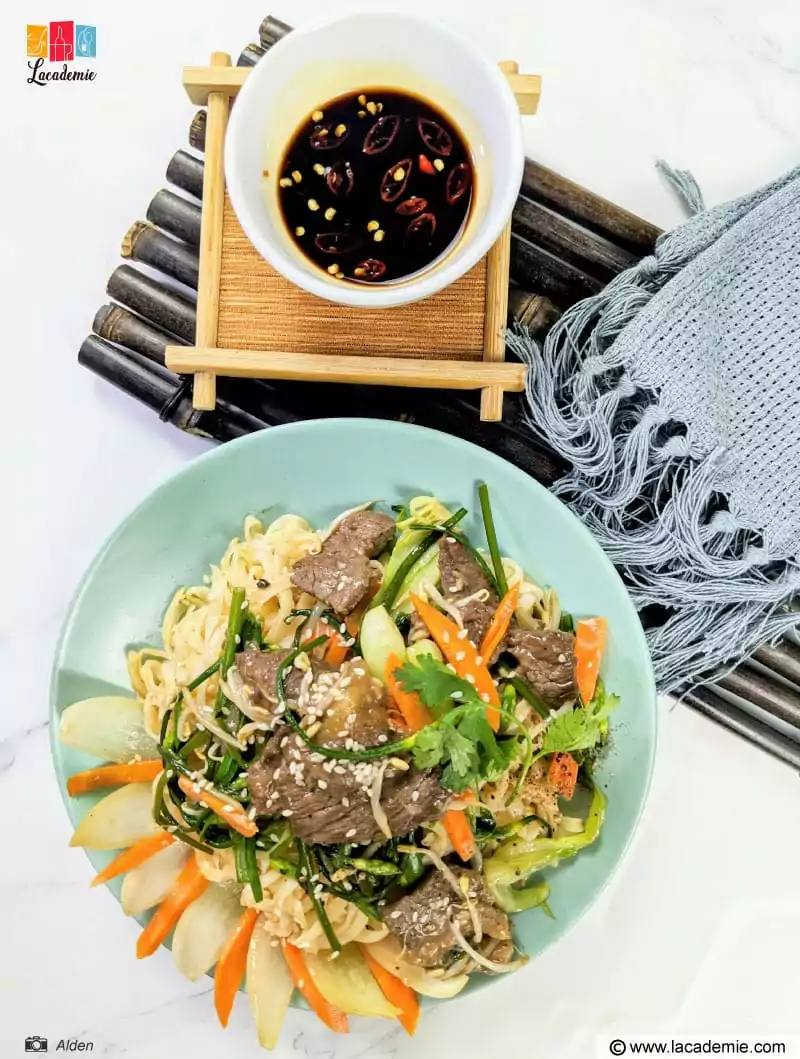 In this section, I'll list some helpful tips and tricks to help you avoid frequently made mistakes and customize the dish based on your preference.
Besides the above ingredients, you can also add enoki mushrooms, sausages, tomatoes, Chinese cabbage, mustard cabbage, etc., to the stir fry.
You should use high heat to stir-fry the beef so that the meat doesn't produce excess liquid.
When stir-frying the meat for the first time, only cook it until medium well since you'll stir-fry it with the vegetables later on.
Marinating the noodles will enhance their flavor and give them a delightful yellow color.
Don't marinate the beef with salt, as doing so will make it tough.
If you like spicy food, you can serve the noodles with soy sauce and sliced chili pepper or soy sauce and a little Vietnamese sate sauce.
Try This Delightful Version Of Pho Today!
Pho Xao is the perfect dish to make on busy days. It's tasty, nutritious (thanks to the wide variety of vegetables), and highly customizable. If you're a bit tired of the regular version of Pho, this recipe is a breath of fresh air that will make you love these rice noodles again.
Did you enjoy Pho Xao? What do your loved ones think about it? Share your experience or any question that you have with me in the comment section. If you love this Vietnamese delicacy, please press the like button and share the post with other people. Thank you very much!
Nutrition Facts
5 servings per container
---
Amount Per ServingCalories570
% Daily Value *
Total Fat 24.3g

37

%
Cholesterol 122mg

41

%
Sodium 1914mg

80

%
Potassium 922mg

27

%
Total Carbohydrate 50.4g

17

%

Dietary Fiber 4.2g

16

%
Sugars 9.1g

Protein 37.8g

74

%
---
Calcium

131

%
Iron

21

%
Vitamin D

3

%
* The % Daily Value tells you how much a nutrient in a serving of food contributes to a daily diet. 2,000 calories a day is used for general nutrition advice.