Quang Noodles With Shrimp And Pork Belly, or "Mì (Mỳ) Quảng" in Vietnamese, is an iconic dish from Quang Nam with immense popularity throughout the country. You can think of Mi Quang as the "Pho" of Central Vietnam, as you can eat it any time of the day and on any occasion.
If you're looking for a dish full of beautiful colors and exquisite flavors, look no further than Mi Quang. With a combination of shrimp and pork belly, it's also an excellent choice to fill you up after a tiring day at work. Keep scrolling and learn how to make this crazy-delicious dish at home!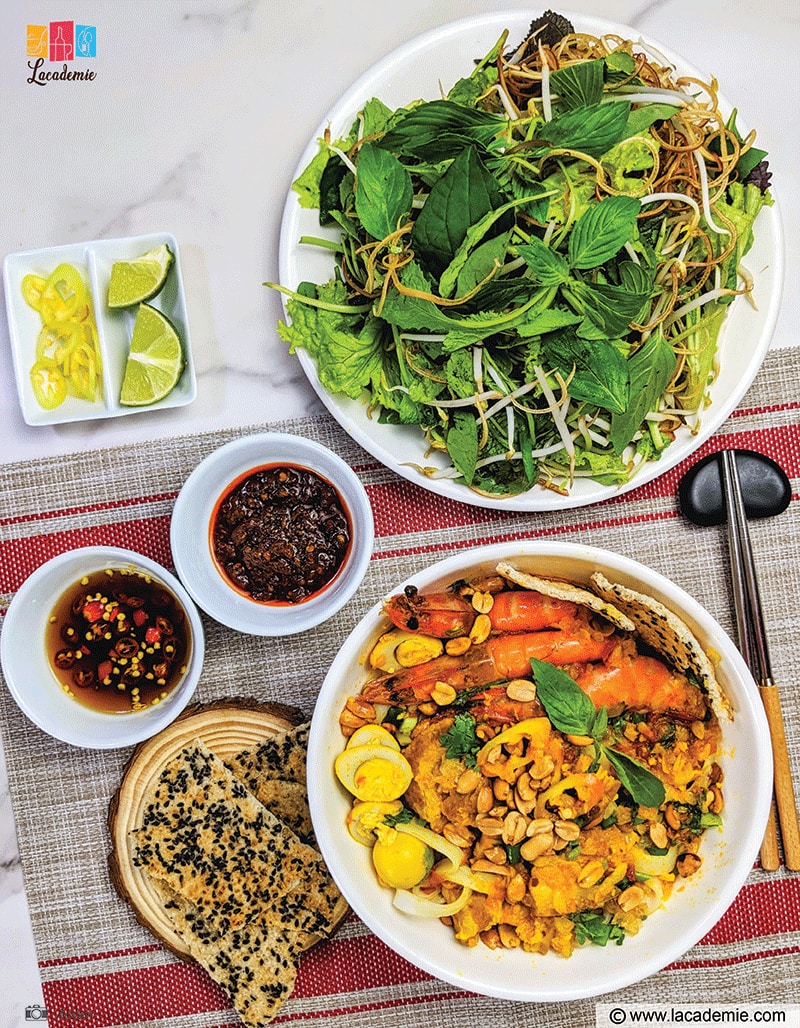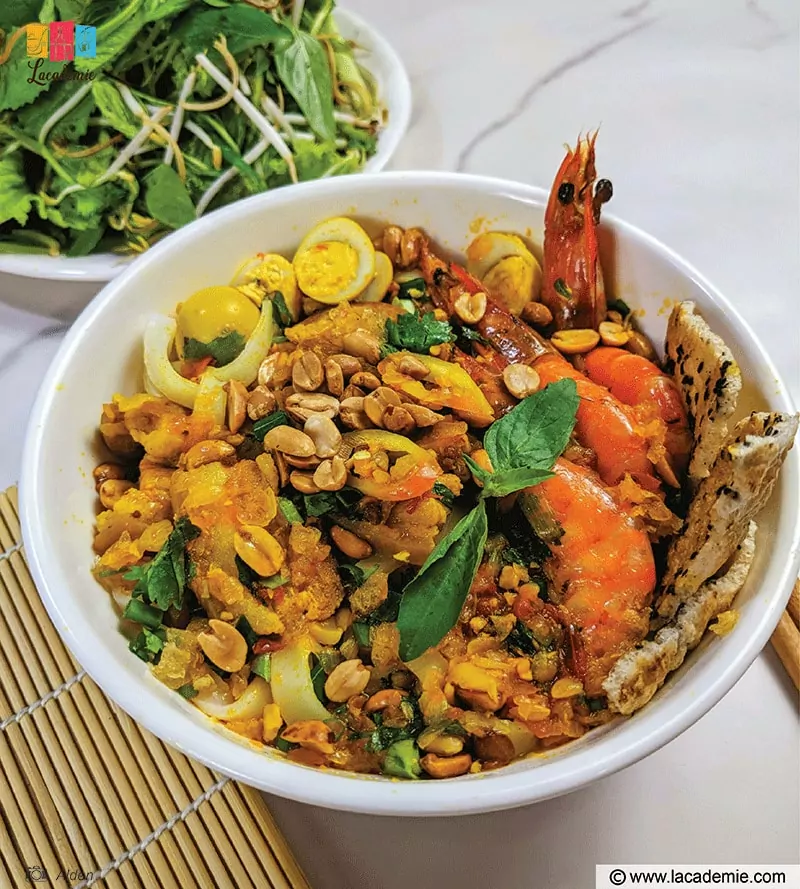 Mi Quang – A Culinary Gem From Central Vietnam
"Mì Quảng" is a specialty of Quang Nam, a region in the Central part of Vietnam. Its main ingredients include flat rice noodles, meat, shrimp, herbs, and a turmeric-flavored broth.
The Vietnamese also serve this dish with fresh herbs and vegetables, which are placed below or on top of the noodles. Toasted sesame rice crackers (bánh tráng mè) and peanuts are also must-haves in an authentic Quang Noodles bowl.
Unlike Pho, the broth in Mi Quang doesn't fill up the bowl. Instead, the locals only use a small amount of broth, partly due to its strong flavor. Besides pork and shrimp, you can also find variations with chicken, eel, fish, or beef.
The Vietnamese usually prepare this delicacy during the Tet holiday, family gatherings, death anniversaries, etc. In addition, they also eat Mi Quang for breakfast, lunch, and dinner.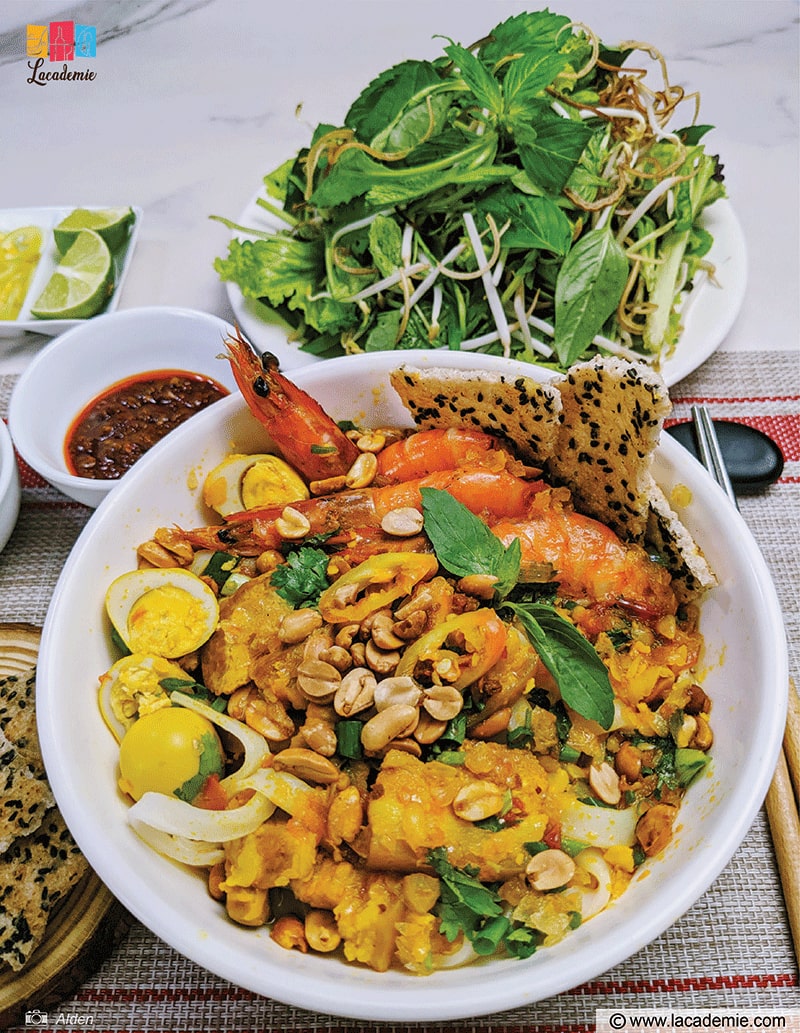 Tools
Before going out to buy the ingredients for this recipe, make sure that you've had all the necessary kitchen tools ready. Here are what you'll need.
Pan: For frying, stir-frying, and sauteing the meat, chive bulbs, and pineapple.
Pot: For cooking the broth, since Mi Quang doesn't require much broth, a medium to medium-large pot should suffice.
Spatula: An essential tool for stir-frying and cooking in general.
Ladle: Help you to handle the broth with ease.
Knife and chopping board: Use a sharp knife and high-quality chopping board for the best result.
Mortar and pestle: You'll use them to crush the chive bulbs, turmeric, shallots, and peanuts.
Tongs: For taking the pineapple and other ingredients in and out of the pan.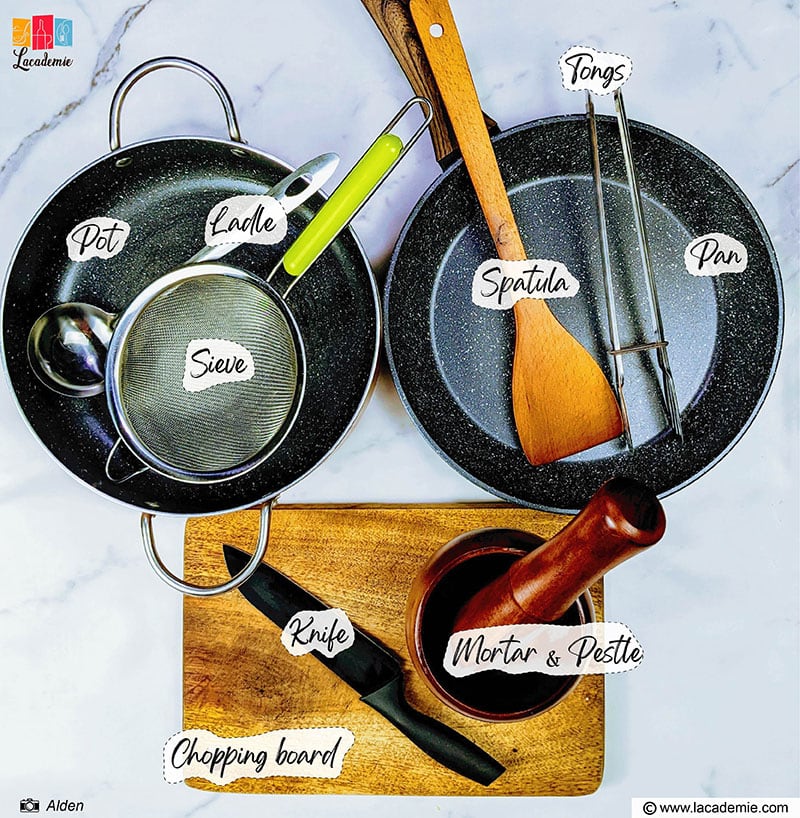 Ingredients
Most ingredients for today's recipe are simple to find, except for (maybe) the Quang Nam's noodles and annatto seeds. However, a quick trip to the nearest Asian market should solve all the problems.
Main ingredients
Quang Nam's noodles: Flat rice noodles that might come in white or yellow. Either type is fine so pick whichever you prefer.
Pork belly: You can also use pork ribs or other cuts that have both fat and skin.
Shrimp: I choose to leave the shells on, but you can remove them if you like.
Chicken broth: Vegetable broth is an acceptable substitute.
Quail eggs: Hard-boiled and peeled.
Peanuts: Prepare some roasted peanuts and leave some raw.
Chive bulbs: You'll see this ingredient in a lot of recipes from Vietnam, especially the ones that originate in the Central region.
Fresh turmeric: This is the essential ingredient that gives the broth its signature color and flavor.
Shallots: They will be very aromatic once fried.
Tomato: Provide the dish with a beautiful and eye-catching color.
Pineapple: Adding pineapple to the stock will enhance its flavor considerably.
Annatto seeds: For making annatto oil which has a reddish color.
Peanut oil: Make your Quang Noodles more delicious and aromatic.
Seasonings
Salt, brown sugar, pepper, and fish sauce: You will use these condiments throughout the recipe. The specific amount will be listed in each part.
For serving
Fresh herbs and vegetables: Basil, beefsteak plant, peppermint, bean sprouts, lettuce, leaf mustard, grated banana blossom, scallions, cilantro, etc.
Green chili peppers: The people in Central Vietnam love spicy food, so of course, they will serve Quang Noodles with chili peppers!
Toasted sesame rice crackers (Bánh tráng nướng): As mentioned above, these rice crackers are a must-have.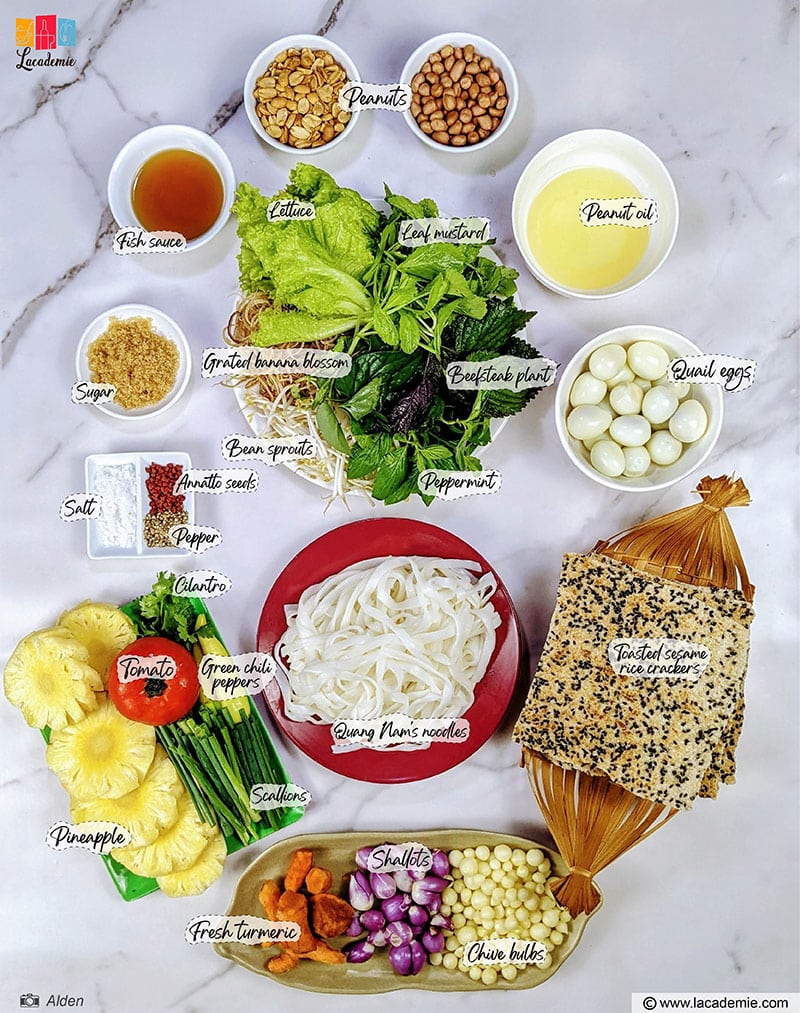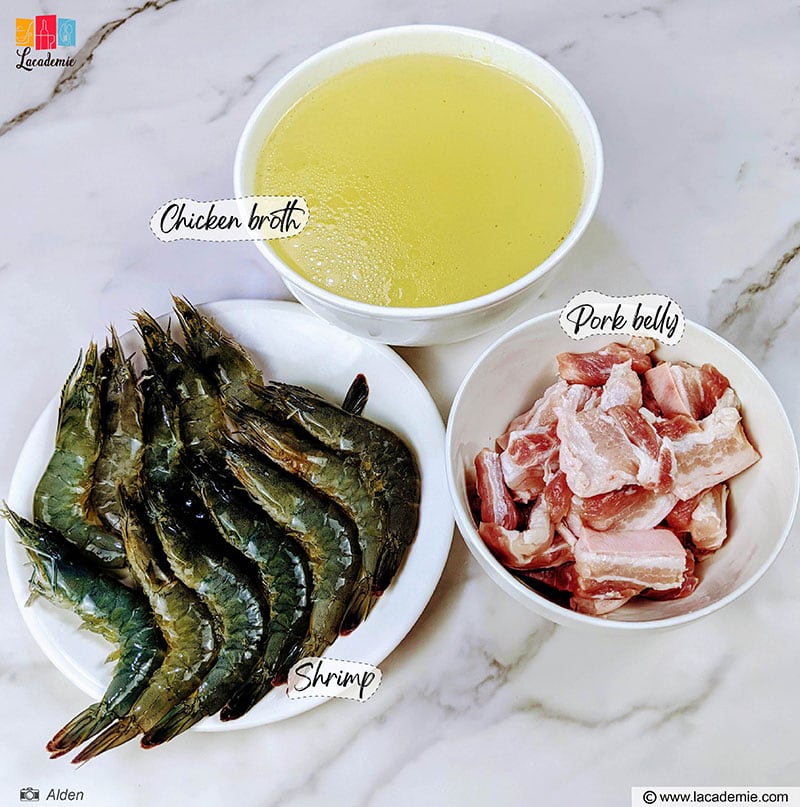 Directions
Are you ready to make the most delicious Mi Quang ever? I bet you are, so let's jump right into it!
Step 1: Prepare The Ingredients
Crush the chive bulbs, shallots, turmeric, and fresh peanuts. Mince the tomato.
Note: You should remove the peanuts' skins before crushing them. If you want to crush the peanuts with their skins on, you'll need to sieve them afterward.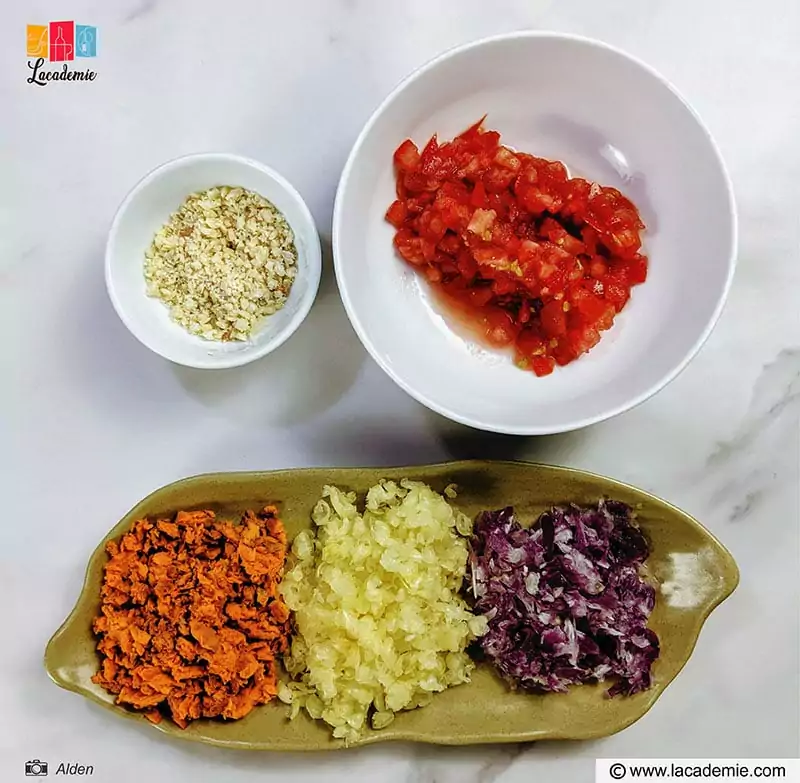 Step 2: Make Annatto Oil
Heat some oil on the stovetop. When the oil is heated, add the annatto seeds and stir gently. Cook for 3 to 4 minutes. Wait for the oil to cool and pass it through a sieve to filter out the annatto seeds.
Note: Don't use high heat while making annatto oil to prevent it from burning and not having the ideal color.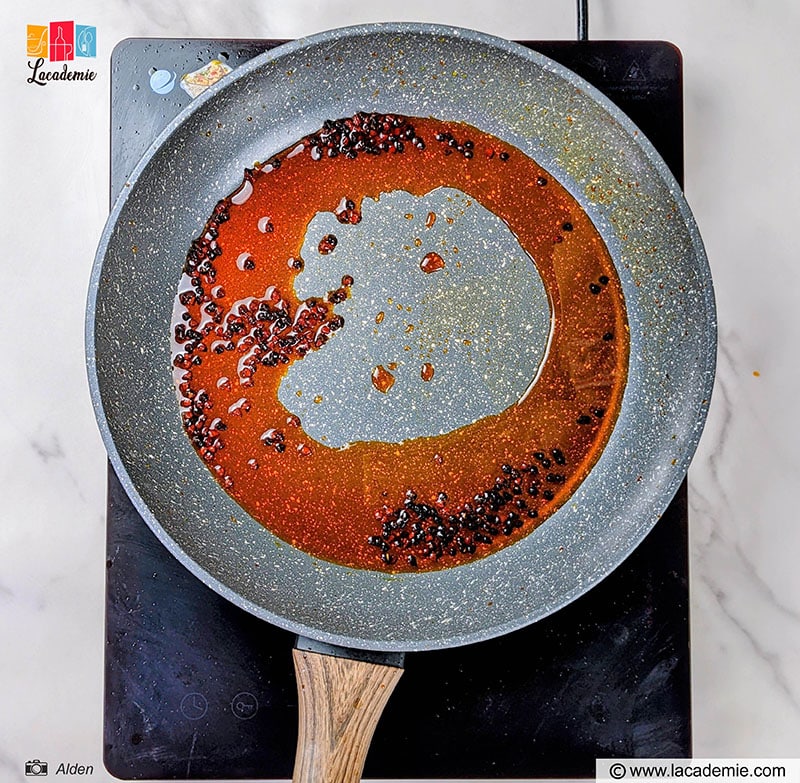 Step 3: Marinate The Meat
Marinate the pork belly with 1 tablespoon of crushed chive bulbs, 1 tablespoon of crushed shallots, 1 tablespoon of crushed turmeric, 1 tablespoon of fish sauce, 1 tablespoon of pepper, 1 tablespoon of brown sugar, and 1 tablespoon of annatto oil.
Mix well and let the meat marinate for 30 minutes.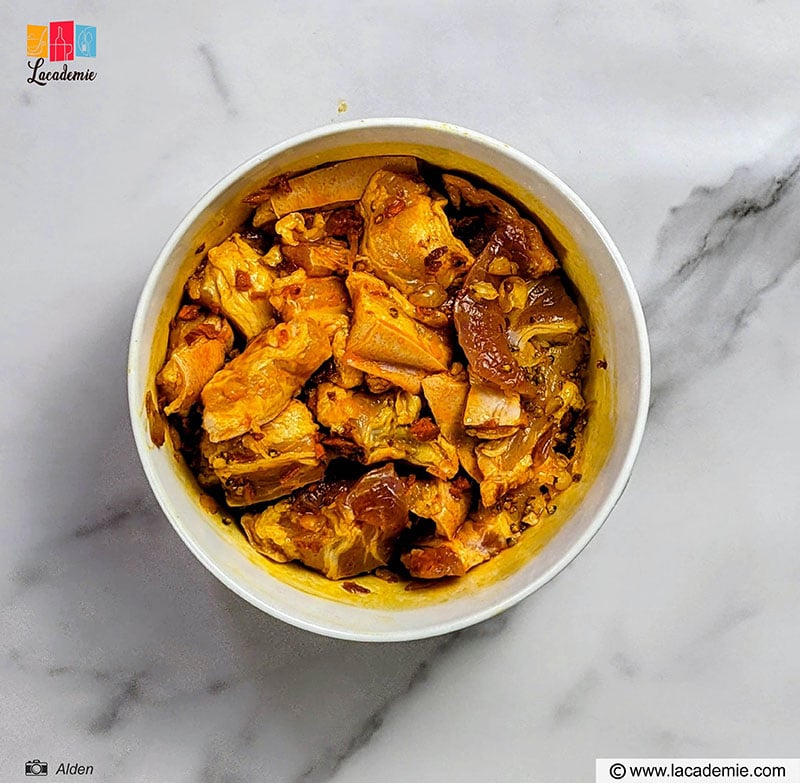 Step 4: Fry The Chive Bulbs With Peanut Oil
Heat some peanut oil in a pan over high heat, then turn the heat to low. Add the crushed chive bulbs and fry until they turn light yellow. Transfer the bulbs and oil to a bowl, leaving some oil in the pan for the next step.
Note: You'll add this mixture to the noodles when serving.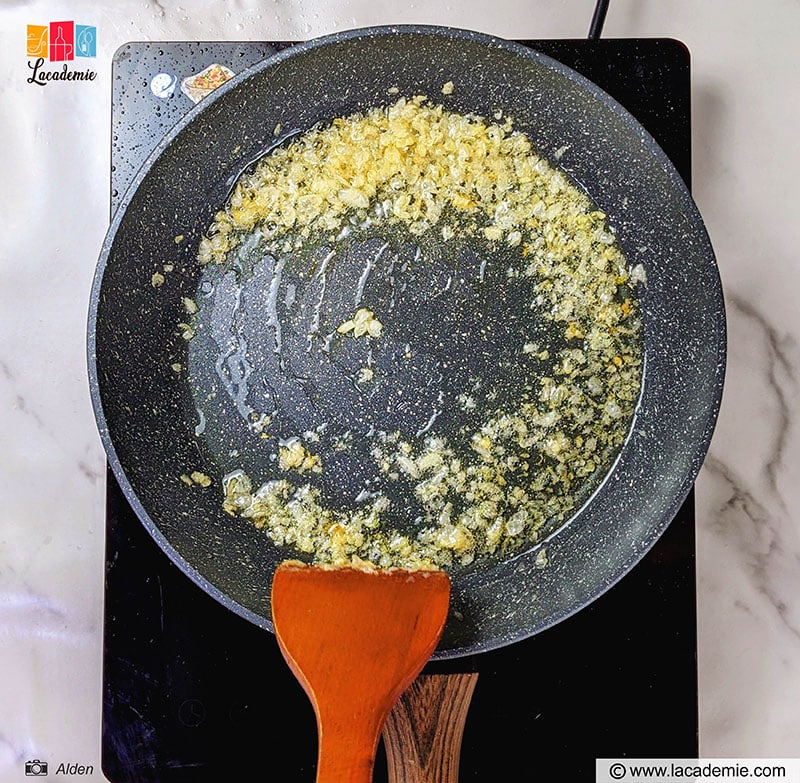 Step 5: Stir Fry The Shrimp
Add 1 teaspoon of shallots and 1 teaspoon of crushed chive bulbs to the same pan, then stir in the shrimp. Season with 1 teaspoon of salt and 1 teaspoon of pepper. When the shrimp turn red, add 1 teaspoon of brown sugar and 1 teaspoon of fish sauce and stir.
Stir fry the shrimp until well done, golden, and crisp. Set aside.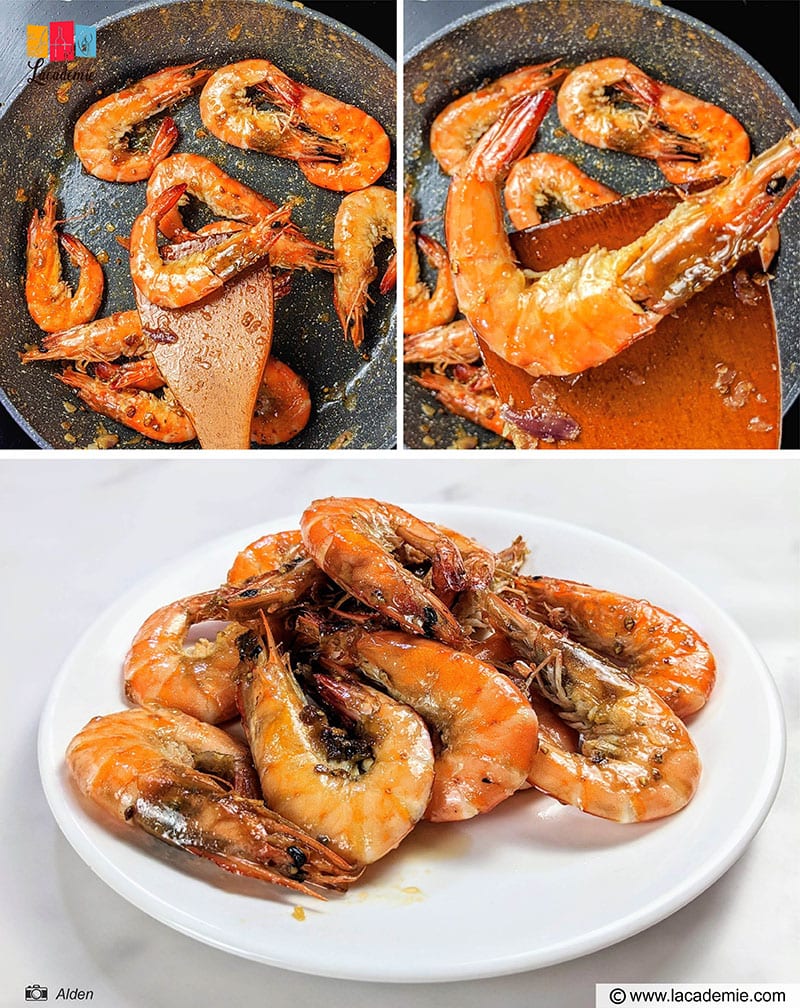 Step 6: Saute The Pineapple
Saute the pineapple until golden on all sides.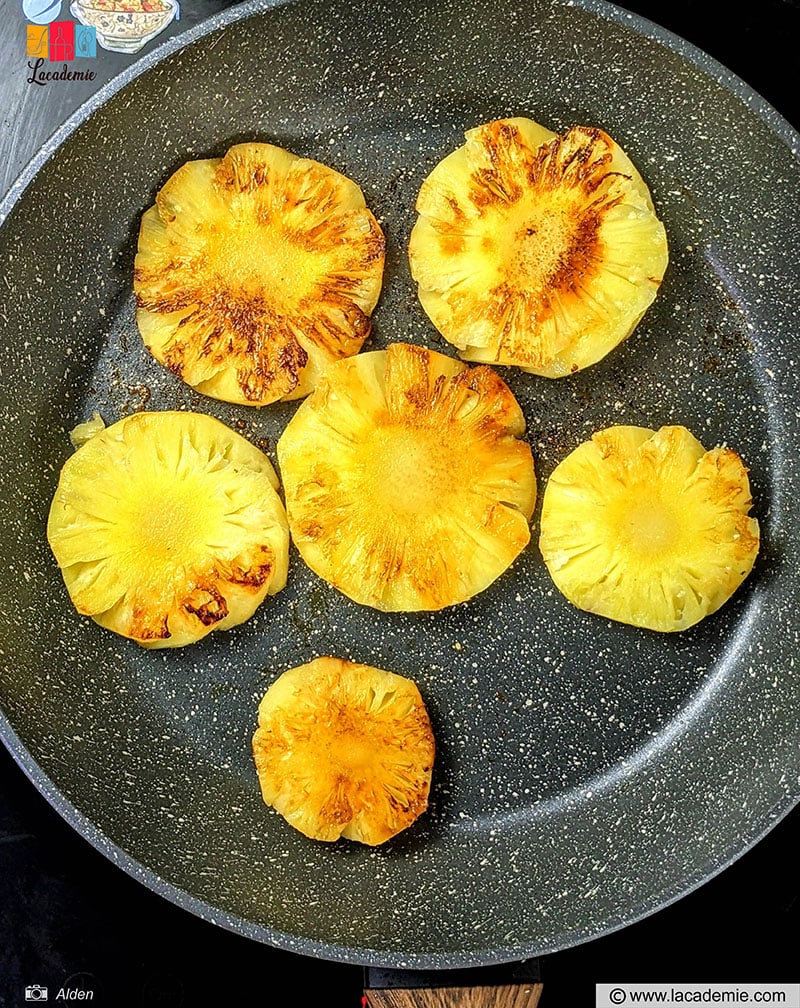 Step 7: Stir Fry The Pork
Add annatto oil, crushed chive bulbs, shallots, and turmeric to a pan. Add the meat and stir fry it over high heat until well done, stirring frequently. Set aside.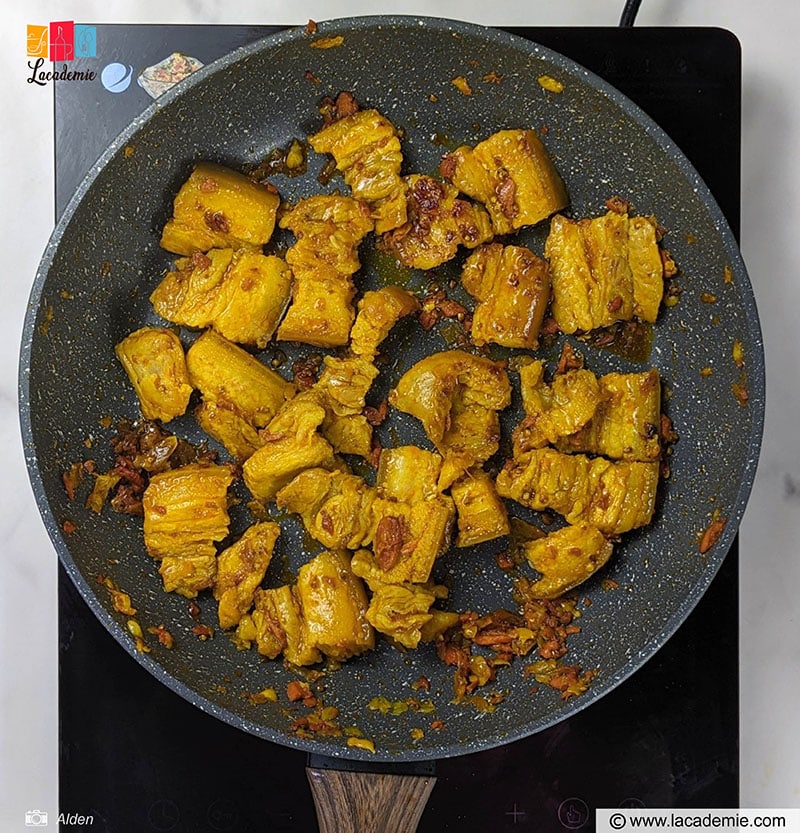 Step 8: Cook The Broth
Add 2 tablespoons of annatto oil, 1 teaspoon of crushed shallots, 1 teaspoon of crushed chive bulbs, and 1 teaspoon of crushed turmeric into a pot and fry them until fragrant. Stir in the fresh peanuts and stir-fry them.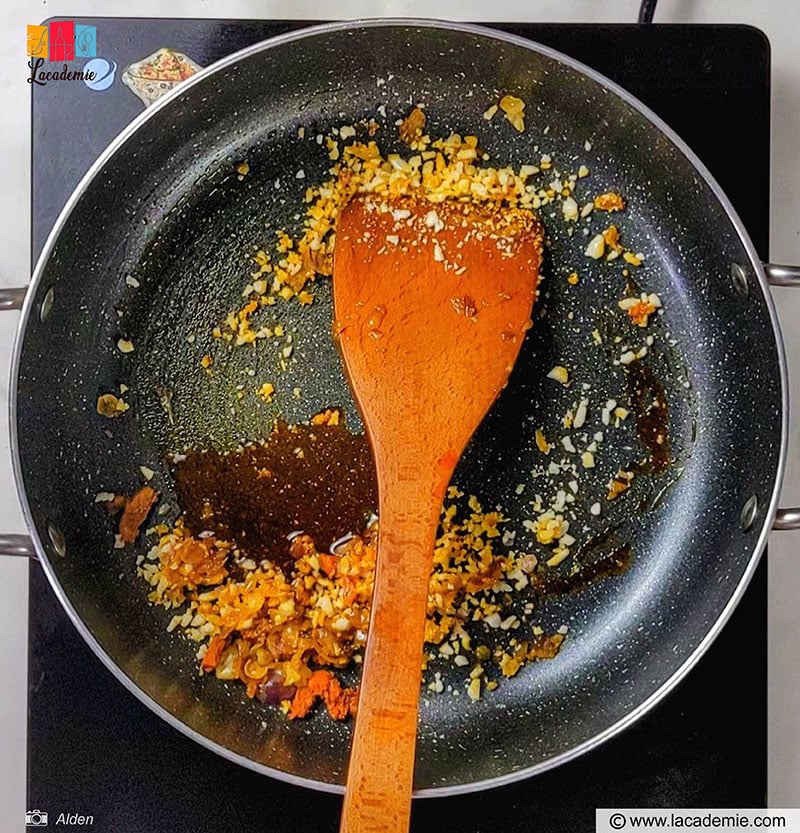 When the peanuts are cooked, add the minced tomatoes and mix well.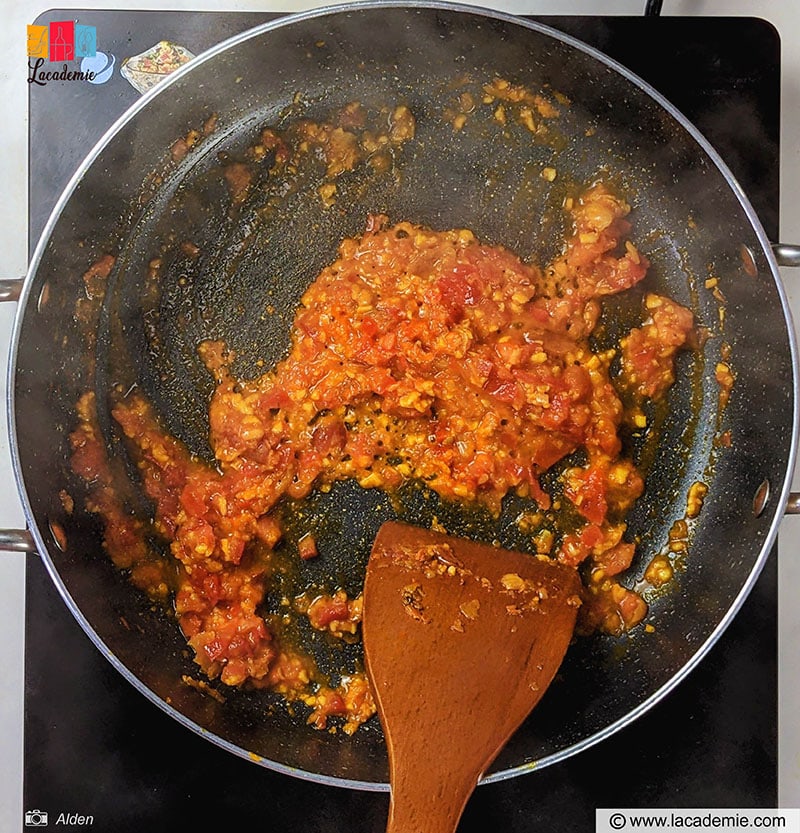 Cook until the tomatoes are tender, then pour in the chicken broth.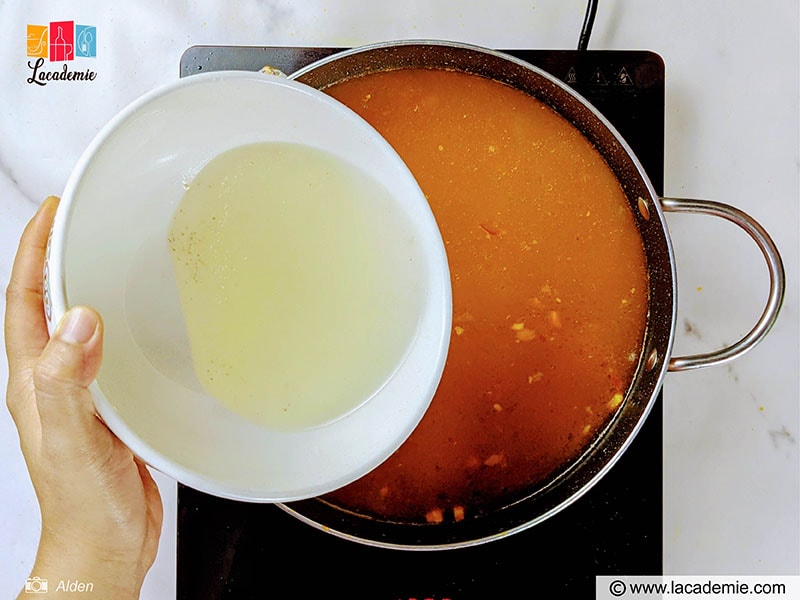 Add the sauteed pineapple to the pot.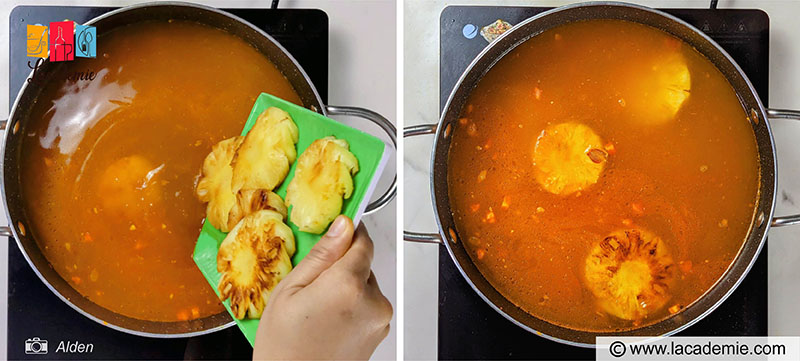 Add the pork belly and boiled quail eggs. Bring the stock pot to a boil, then season it with 1 tablespoon of salt and 1 tablespoon of brown sugar. Do a quick taste test and season with more spices if you like. Cook the broth over medium heat for another 15 minutes, then turn off the heat.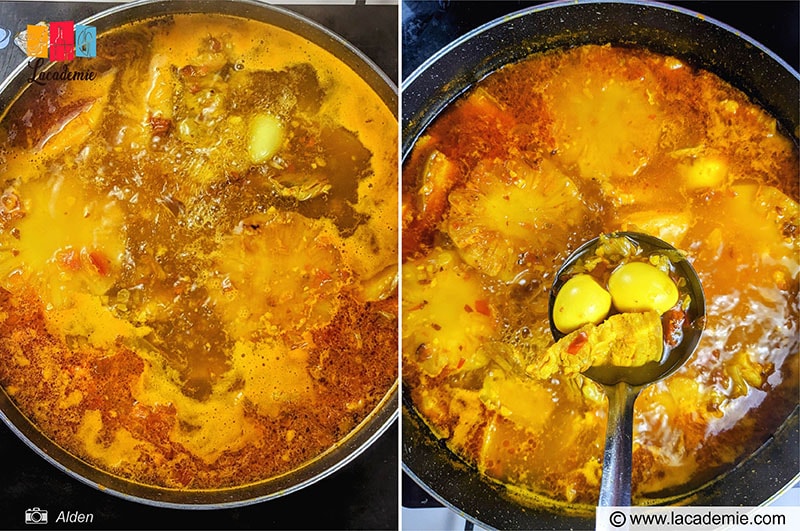 Note: You don't need much broth to serve Quang Noodles. Once the broth has boiled, turn the heat to as low as possible and keep simmering it to retain the warmth.
Step 9: Prepare The Noodles
Blanch the noodles in boiled water to soften them. Add a little cooking oil to the water to keep the noodles from clumping. When the noodles have softened, place them in cold water, then drain well.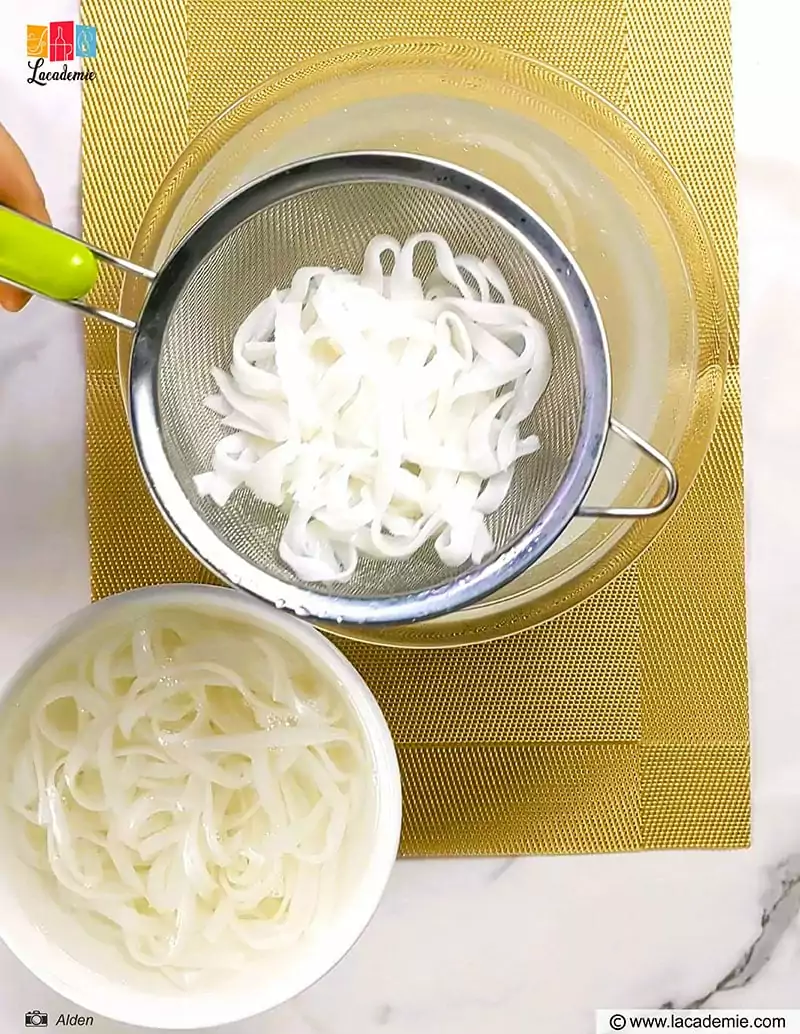 Step 10: Enjoy!
Put the noodles in a bowl, then top them with pork, quail eggs, and shrimp. The broth should reach just below the noodles (about ⅓ of the bowl). Add some green onions, cilantro, and roasted peanuts. Don't forget to also add the fried chive bulbs from step 4 and some fresh chilis if you like a spicy dish.
Serve your Mi Quang with fresh herbs, vegetables, and toasted sesame rice crackers. You can also enjoy the noodles with chili fish sauce and Shacha sauce.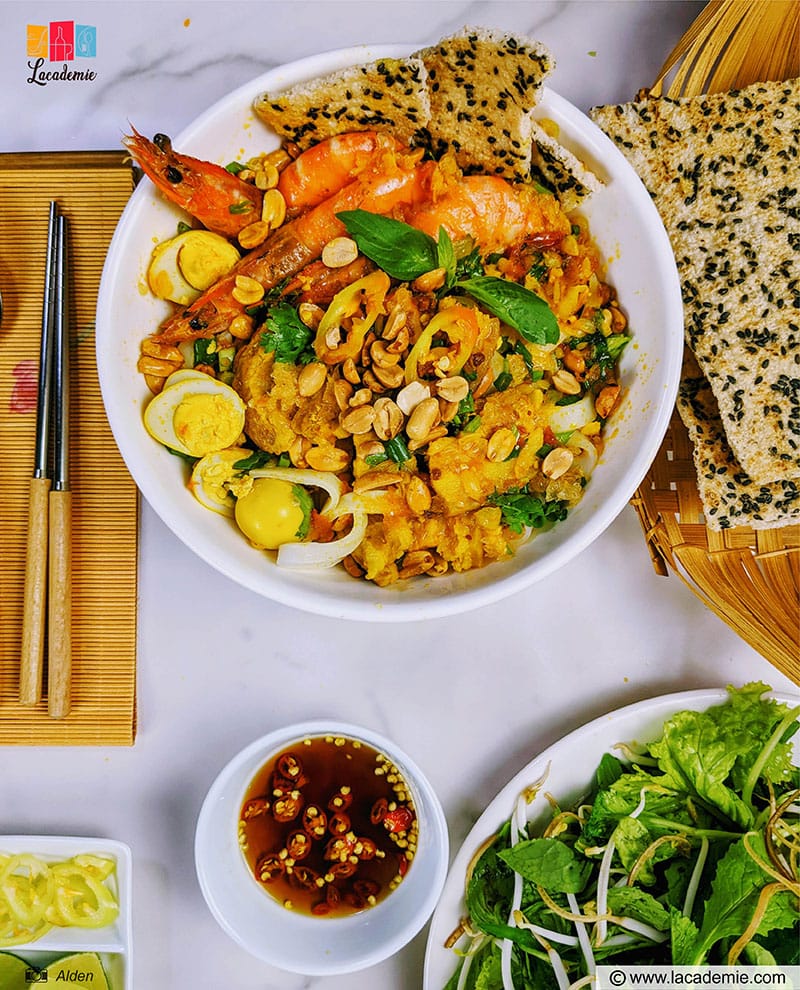 More Useful Tips And Tricks
Don't miss these tips and tricks to level up your Quang Noodles With Shrimp And Pork Belly!
For the most authentic way to eat Mi Quang, arrange the vegetables at the bottom of the bowl, then place the noodles on top of them. Pour just enough broth to partly cover the veggies.
If you prefer a thicker broth, add a whisked egg to it. Bring the broth to a boil, season to taste, then turn off the heat.
You can replace pork and shrimp with beef, chicken, snakehead fish, eel, or even frog legs. Note that you'll need to learn how to prepare them properly.
In addition to white Quang Noodles, there are also yellow ones made with turmeric powder and light red ones made from brown rice. Brown rice noodles are generally more nutritious than regular ones.
Don't forget to enjoy Vietnamese turmeric noodles with big green chili peppers. Also, break the crackers into pieces and mix them well with the broth.
Try This Delicious Noodle Dish Today!
And that's all you need to know to make a tasty, eye-catching, and nutritious bowl of Quang Noodles. Once you have mastered the pork and shrimp version, you can try out more "exotic" ones with eel or frog legs.
Prepare this Vietnamese dish for your next family dinner, and let me know what your loved ones think about it in the comment section. Remember to share and like this post if you find the recipe delicious (I know you do!). Thank you for reading, and have fun in the kitchen!
Nutrition Facts
6 servings per container
---
Amount Per ServingCalories794
% Daily Value *
Total Fat 48.4g

74

%
Cholesterol 422mg

141

%
Sodium 2904mg

121

%
Potassium 959mg

28

%
Total Carbohydrate 54.4g

18

%

Dietary Fiber 6.4g

24

%
Sugars 11.6g

Protein 36.1g

72

%
---
* The % Daily Value tells you how much a nutrient in a serving of food contributes to a daily diet. 2,000 calories a day is used for general nutrition advice.