Indian curries are much more affordable than you might think. You can try making it at home and surprise your loved ones with toothsome Indian foods, especially the below-recommended ideas.
Thinking about curries, you might immediately think of the plenty of spices used and the robust/pungent flavors or the various fussy steps to accomplish. Well, that's not true.
I agree that preparing Indian foods in general or curries, in particular, requires a pretty wide range of components. But don't be discouraged; good things take time, and below is my help for you!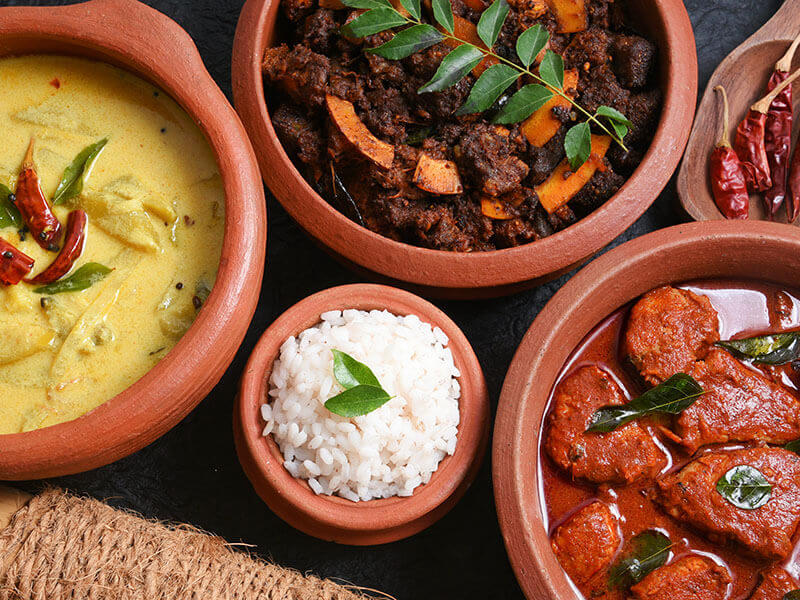 27 Indian-Originated Curries Are Waiting For You To Try
Sure thing, my humble article is one of the best curry lists you can find. Since various kinds of curries can stand for Indian cuisine, I will cover only some of the most popular ones. However, the upcoming recommendations are great to devour, and you should try them all.
Total time: From 2 to 8 hours 10 minutes.
It is a great idea to start this article with a mild curry. Don't be fooled by the appealing reddish color of this Lamb Pasanda. This dish is not too spicy, and you can expect more aromatic notes.
All the spices and herbs such as Garam Masala, turmeric, or cilantro/coriander (for garnishing) only enhance the tempting fragrance of this delicacy. Creamed coconut or yogurt is optional; you can put one of them in your pot to create a luscious creamy gravy.
This is also an ideal Indian cooking idea in slow cookers to ensure your meal can come out so tender. Set the timer and let your food cook gradually. You can have a steaming hot meal right after getting back home.
This is how to prepare a portion of Lamb Pasanda at home!
Total time: From 1 hour to 2 hours 30 minutes.
Having its origins in Kashmir, this authentic Indian recipe is loaded with aromatic components (such as fennel powder or Garam Masala) and lamb (or mutton) meat. Since it is also pretty hot, you should pair your curry with steamed basmati rice or Naan bread.
The name of this dish, Rogan Josh, is technically a combination of "clarified butter/oil" (Rogan) with " fiery/red" (Josh). Therefore, you can understand that this Rogan Josh is a Curry dish with a spicy and oil-based gravy/sauce.
As you might need a lot of time to cook this dish, you can prepare a whole big batch at once, divide it into smaller portions in airtight containers and store it for later use. Your robust Rogan Josh is still good to use within 3 months in the freezer and 5 days in the fridge.
Total time: Only about 45 minutes.
Bengal is the true homeland of this spicy-tangy Jalfrezi recipe. Just as illustrated, this yummy Indian chicken dish is a kind of dry curry since it consists of not much gravy and barely any sauce.
This one-skillet curry recipe calls for boneless, skinless chicken cubes with various kinds of veggies (bell pepper, for example) for more refreshing tastes. The spices used are pretty simple, and you can find them in various Asian or Indian supermarkets.
The best Jalfrezi is the one with tender meat parts, so you need to cook your food on low heat during the processing steps. Although it might extend the cooking time, the dish's result will state the value of your time. On the side of this dish, Naan or Roti will be great companions.
A foolproof guide for making chicken Jalfrezi is right here!
Total time: At most 1 hour 5 minutes (excluding marinating time, but if you want the meat to absorb more flavor, 3-hour marinade is preferable).
If you enjoy flavor-loaded chicken dishes for dinner but have no interest in the tedious recipes you've tried before, this classic Chicken Tikka Masala recipe is for you! This treat is a perfect nominee for your next Indian-style dinner, and here is how to do it.
For the meat part, chicken breasts and thighs are recommended ones. However, if you want your dish to come out flavorful and less dry, chicken thigh might be a better option than the breast part.
After marinating the chicken with natural/plain yogurt, it can absorb all the spices/ condiments better so that your Chicken Tikka Masala is tastier. Since this dish is effortless to make, you can totally accomplish it well, even if you are only a newbie to Indian food cooking.
Total time: Up to 1 hour.
Come back to the famous Murgh Makhani! Kundan Lal Gujral, a bloke, was the first one to create this favorable Murgh Makhani or Butter Chicken Curry. His initial idea was only to use up the leftover Tikka Masala by using additional heavy/thickened milk and spices.
Plenty of signature Indian spices/condiments, such as kasoori methi (sun-dried fenugreek), red chili powder, ginger, etc., are also included to add spicy notes to this delicacy. Later on, this Punjabi-originated dish has become more and more prevalent globally.
The yellowish, creamy gravy coating the golden chicken cubes makes my mouth water. You should surely try it once whenever you have time.
Total time: Around 50 minutes.
Compared to all the curries on this list, chicken Korma is relatively richer and milder. This Korma recipe appeared in the 16th century in the land of India, and the term "korma" in its name means "braise" in English.
Based on that, you can know that this delight is pretty time-consuming. The stars for this appealing Murgh Korma are nutty cashews and fragrant coconut milk. These components milden the intense features of a signature curry and make this treat perfect for any age.
Total time: Up to 1 hour 30 minutes.
To be honest, the spices list used for this famous South Indian dish gives me a true "wow," but it shouldn't be a thing to discourage you.
If it's the first time you've heard of this Chettinad Chicken Curry or are not into spicy treats, you should consider reducing the requested chili (powder/dried) in half. Other tongue-tickling spices such as peppercorns are also a must-include, but they're less intense.
This treat is exceptionally robust in taste, so adding some coconut milk is a way to make your food taste more neutral. Don't forget to cook a bit of rice to serve on the side of this Chettinad Chicken Curry. Nothing can go wrong when pairing a savory treat with a mild base.
You won't want to miss this instruction and know how Indians prepare their Chettinad Chicken Curry.
Total time: Up to 1 hour.
Have you got a plan for your next side dish for dinner? If not, how about referring to this Nadan Kozhi Mappas and making this Indian recipe as a side dish next? It requires not too many components and is also easy to make, so why not?
The coconut milk used is the secret to receiving the best quality Nadan Kozhi Mappas. Freshly squeezed or homemade ones contribute the most authentic taste to your dish. Otherwise, coconut oil is essential in this recipe; other oils will work but cannot be the best.
Not only going with chicken, but this Nadan Kozhi Mappas Curry can also go with other meat or fish. Then, you can try these proteins in this dish whenever you're in the mood for something new.
About the starch base of this dish, rice, Roti, or Appams (Indian pancakes) are all great.
Total time: Around 1 hour.
As its English name defines, the signature feature of this curry dish lies in the use of coconut-y flavors. The traditional recipes often recommend using coconut milk; however, you can also go for freshly grated coconut or coconut oil.
Besides coconut, it will be a huge miss not to tell you about the prominent flavor layers from various spices used in this delight. Some things like cumin or curry leaves do their work quite well here.
Keralan Chicken Curry can also become a breakfast treat beside a portion of rice hoppers. That is an authentic, Keralan way to enjoy this food, and you should try it once, too.
Total time: Around 1 hour.
Kori Grassi is simply also a kind of chicken curry; however, it is from a coastal region of India called Mangalore. Compared to the previous Keralan Chicken Curry, this Kori Gassi looks more like a luscious Indian soup with a more reddish stew.
Tamarind is a must to obtain the clearest tangy and mildly sour tastes in this dish. You have to dissolve it in hot water for a while before cooking. Don't miss grated coconut (or coconut milk) and red chili powder since they contribute to the lovely orange hue of your Curry.
Rice wafer and some Indian-style bread like Naan or Roti are the best matches for this Curry. You shouldn't miss a chance to prepare all of them for your family meal.
You won't waste your 4 minutes to know more about this Kori Gassi.
Total time: Up to 10 hours and 10 minutes (including 8 hours for soaking dals/beans).
This Dal Makhani applies a similar idea to cooking as the previous Murgh Makhani, and it is surprisingly a cinch to make at home. More importantly, you can make this Indian dish with an instant pot or a slow cooker to lend you more time for other daily activities.
Soaking the black gram lentils (urad dal) and kidney beans (rajma) for at least 8 hours before the cooking steps is crucial to receiving the best batch of Dal Makhani. Unsalted butter, Ghee, and heavy cream are all the dairy products for this delight.
Therefore, if you are a fan of dairy, creamy dishes, this Dal Makhani might be the best match. In case you want to double the portion for storing or to serve more people, simply double the amount of everything.
But, even if you increase the amount of lentils, you shouldn't cook it any longer than the time requested for a regular batch. It'll turn mushy if you do so.
Total time: About 1 hour 15 minutes.
Resembling the previously mentioned Chettinad Chicken Curry, Vindaloo is a boiling curry. However, its true roots aren't in India. Instead, this recipe was a Portuguese delicacy called Carne de Vinha D'alhos before affecting Indian gastronomy during the colonial time.
Besides the signature hot taste, Pork Vindaloo is also pretty tangy with the existence of quite a lot of vinegar. If the contrasting taste of spicy chili powder/ground cayenne and vinegar is too much for you, some additional coconut milk is a savior for you.
One notable fact about the color of this Vindaloo recipe is the longer you cook it, the darker shades it will have. Remember, don't put on the lid while cooking your curry, and stir it a few good times during the process.
Total time: Around 40 minutes.
Chicken is a favorite ingredient in various dishes in India and the curries. This Dhansak curry originated from the Parsi Zoroastrian community and is generally referred to as a dish with dals (lentils) and several kinds of veggies.
The main protein for Dhansak is traditionally mutton or lamb, but chicken and Paneer variations of this delicacy are also popular. The main point here is the veggies, and dals parts need to be mushy, helping the gravy somehow reminiscent of a liquid paste.
In Parsi people's homes, they often serve Dhansak as a Sunday dinner treat with a cup of cooked brown rice. If you are curious and want to experience this dish authentically, you are free to try it this way, too.
Are you curious about how to make Dhansak now? Check this out!
Total time: Done within 50 minutes.
India is the heaven of vegetarian foods in Asia, so you might meet various vegan or vegetarian-friendly curries here, including this Sambar. Consisting of tamarind paste, red chile powder, mustard seeds, etc., your good vegan curry is surely warm and tangy.
Just like its cousin from North Indian gastronomy, this Sambar calls for loads of dals and veggies. However, split pigeon peas or toor dal (yellow lentils) are the main ingredients for this treat, not urad dals.
This kind of dals needs less time to cook, so you'll have a luscious curry faster. On the other hand, you can use diced carrots, tomatoes, or vegetable drumsticks for the veggies part. You can also make this delicious Indian dish using an instant pot.
Idli (Indian steamed cake), Dosa, Roti (Indian flatbreads), rice, and any kind of Indian starch bases can be a partner on the side of Sambar.
Total time: Around 35 minutes.
Paneer is an Indian cottage cheese with a substantial texture, making it a perfect dairy product for curries (which often requires a long time to cook). When served, Palak Paneer is a Northern Indian-style dish with a distinctive green hue (from spinach).
Even though the main ingredients for this delight are mild, the overall flavors are never sorted as dull. To make your food more delicious, you should include various spices/condiments into Palak Paneer (such as red chili powder or kasuri methi/dry fenugreek leaves).
Local people often enjoy this authentic Indian vegetarian delicacy with Parathas or Chapatis (Indian flatbreads). You can choose to have it for any meal of the day since it is pretty quick to have a portion of Palak Paneer ready on the table.
Total time: About 30 minutes.
Is it possible to make your food creamy without utilizing any dairy products or cream? Yes, it is, and this Punjabi Paneer Lababdar is solid proof. The primary rich taste in this dish is cashews (or almonds, sometimes). So, if you are allergic to these ingredients, watch out!
On the other hand, if you are not, this treat is a perfect option for ones who love creamy foods but are looking for a healthier recipe. The term "Lababdar" in this dish's name means "desire for something," which also tells how much local people love this treat.
Moreover, you can also use chicken or lamb as the main proteins for this dish rather than Paneer. The existence of all the spices like kasuri methi or Garam Masala can still ensure you have a satisfying delight.
Total time: Around 35 minutes or less.
Another suggestion for cheese lovers is this Kashmiri Chaman Kaliya, and it is also a vegetarian-friendly dish. The big difference between this Chaman Kaliya and Paneer Lababdar is the milk contained, and there are almost no nuts inside this Paneer Curry.
Even though Paneer is not easy to melt, to save its form better and offer crispiness to its exterior, you should pan-fry these cheese cubes ( with mustard oil or butter) beforehand. This step is optional, and you can simply soak the fresh Paneer into the pot if you like.
Much easier than you think; this is the best step-by-step guide to making Chaman Kaliya!
Total time: Approximately 35 minutes.
Mushrooms have always been a top choice for healthy protein sources. If you are trying to include mushrooms into your daily diet, you might be interested in this Mappas recipe. Infused strongly with coconut-y flavors from coconut milk, you cannot resist it if you love this fruit.
Mushroom Mappas is a vegan-friendly variation of Chicken Mappas, and I highly recommend you to opt for button mushrooms for this delicacy.
This mushroom typically offers a tempting nutty, earthy taste that might be slightly lighter when raw but turn more scrumptious after absorbing the Garam Masala and chili flavors. For the side dish, Parathas, Chapatis, or Naan are the best recommendations for you.
Total time: At most 40 minutes.
After all the Paneer, chicken, or pork Curries, it is time for an Indian recipe including shrimp. Chingri Malai Curry, or Bengali coconut shrimp Curry, consists of plump and fresh shrimp with a signature spicy/rich coconut gravy.
In Bengal, the hometown for this Chingri Malai Curry, people often eat the Curry for special or festive occasions. Most commonly, people use large/jumbo-size shrimp or prawns for this Chingri Malai Curry, but you can utilize lobster for your own take. Trust me; you won't regret that.
It might be much simpler than you think about the spices utilized for this dish. Everything from ginger, Garam Masala, or green chilies do their work in elevating the coconut milk gravy while reducing the fishy scent of fresh shrimp. Each bite into this treat will be flavorsome!
I guarantee you won't fail in making this Chingri Malai Curry when following this guide.
Total time: At most 1 hour 15 minutes.
"Kalia" or "Jhol" both refer to "in gravy" in the Indian language, which reveals a part of what this Bengali specialty consists of. This dish also has signature curry spices like green cardamom, ginger, and garlic, so you can expect your first bite to be nothing less than perfect.
Any fish can work here for the fish part, but I suggest you try using carp (Catla/Rohu) steaks/filets. These types of fish are both a good source of omega 3 and are great when going with mustard oil. You can opt for pomfret, sea bass, or salmon for alternatives.
Before moving to the other tasks, the first step is to marinate your fish with a bit of salt or turmeric. One tip to make the best Macher Kalia is to have the filets from a 2,5 kilograms fish.
Total time: About 30 minutes.
Also, a fish curry, but this suggestion is the Keralan variation. From the first mouthful of this Nadan Meen Curry, you can immediately sense the hot, warm, and earthy taste of ginger, chilies, and garlic. Besides, you can also scent the tasty, harmonizing base of coconut milk.
Sardine, cod, or mackerel are the preferable ingredients for this Nadan Meen Curry because these fish have a lovely rich taste. The mentioned feature matches so well with the tangy and creamy, coconut-y notes of this delight, ensuring that you'll have a toothsome bite later.
You can utilize fish filets, bone-in meat slices, or whole, cleaned fish. While cooking, you shouldn't stir the food too much to prevent crumbling the fish flesh. One fact about this treat is it tastes better the next day, so you can make a big batch and store it for 2 or 3 days later.
Total time: About 30 minutes.
There are not many dishes calling for pork in India because of the religious diet, yet, you can still find some scrumptious suggestions like this Keralan Pandi right here.
If you feel hesitant because the pork lard is not a healthy source of fat, opt for the pork loin or filets for leaner meat. Tinned tomatoes are the most suggested ingredients for the gravy's base. You can use fresh tomatoes, but they might take a longer time to cook.
Generally, this dish lends light licorice-like, sweet, and mild pungent flavors from all the spices like fennel seeds and freshly grated ginger. Don't forget the green beans. This component enhances the balance of your meaty curry.
Keralan Pandi requires only a short time to make, so if you crave pork-based treats for a workdays' dinner or lunch, whip some of this curry up.
Don't worry; this Keralan Pandi instruction is easy to catch up with.
Total time: Approximately 55 minutes.
Punjabi Aloo Dum, a Punjabi variation of a curry recipe coming from Kashmiri Pandit culinary culture, is a breeze to make at home. Plain/cumin-infused rice or Parathas, you can choose any of these to pair with this delight.
Although any type of potatoes is acceptable, you should use mini/small-size potatoes (aloo) instead. They will probably deliver a subtle, starchy sweetness with a more buttery texture after a time of slow cooking in the pot.
To add the distinction to the gravy of this Punjabi Aloo Dum, cashew nuts are a must-have. Cream or yogurt is optional, and you can choose between them. Remember to garnish some coriander leaves on top whenever your curry is ready to serve.
Total time: About 30 minutes.
Baingan Bharta is a dish worth bragging about. The gorgeous smoky flavor of partially roasted eggplants combined with the strong notes of mixed spices (chili powder/paprika, for example) might make you crave this delicacy all the time.
Baingan Bharta is classified as a weight watcher or an ideal appetizer for any Indian meal since it is composed chiefly of veggies, herbs, and spices. The most pleasing way to serve the treat is with Naan or properly cooked Rotis.
You may, however, combine it with other lower-calorie starch bases for a healthier overall meal. I'm already drooling, thinking about dipping a piece of flatbread into the creamy tomato gravy.
Have 10 minutes to spare? Learn more about making Baingan Bharta right away!
Total time: Around 50 to 60 minutes.
In case you have never tried this dish, then I promise you that this Jackfruit Seeds Curry can easily make your taste buds happy. Don't toss away the jackfruit seeds after using their pulp for, maybe, your Indian-style desserts because they are a good source of vitamins.
The thin husks of the seeds are not edible, so you should peel them off before cooking. About these exotic ingredients' flavors, it can remind you of the mix between taros and potatoes.
The texture of jackfruit seeds is also similar to those of root veggies so that they can amp up the deliciousness of the coconut milk-tomato gravy.
Total time: Up to 55 minutes.
Baida or Egg Curry also comes from the Keralan region of India, and this simple dish has captured the heart of many people worldwide. Hard-boiled eggs and tomato gravy spiced with "tons" of other fragrant spices are everything you need to make a plate of Egg Curry.
Coconut milk or regular milk is also a part of this curry. Who can resist creamy, rich notes to enhance the balance of such a spices-filled delight?
Pair this Baida curry with a portion of Naan, Dosa, or rice; your ideal Indian-inspired lunch can be ready in no time. It is not an exaggeration to say your colleague or loved ones might be very excited about what you have prepared.
A simple and flavorsome Baida Curry can be done just like this!
Total time: Approximately 35 minutes.
Mango as the main component of a curry? It might sound odd at first, but it will be much more reasonable after giving it a go the first time.
Instead of offering a fresh tropical taste like what it does with desserts, in Ambe Upkari, mangoes provide a great dense base and a lovely tart layer. Since the country also has tropical weather, mangoes are also typical fruits of India, and their taste is great here.
So, the concept of matching the fruit with several spices like mustard seeds and chilies is pretty good. Those spicy and warm notes help your fruit curry taste more "savory."
The natural sweetness from mangoes does lend an exotic depth to this curry, making it match gorgeously with steamed rice. You can adjust the consistency (thick/thin) based on your preference by adding less/more water into your pot. Easy peasy!
Why Not Try My Suggestions For Indian-Style Curries Now?
You will immediately know you're in for a cozy and hearty meal whenever curry is on the menu. No matter what main ingredients you use to make them, veggies, dairy, or meats, your dish can still be satisfying and fulfilling.
What do you think about my suggestions today, and have you tried cooking them at home yet? I'm looking forward to getting your feedback about them. Please share this article if you find it helpful. Thanks in advance!
Nutrition Facts
6 servings per container
---
Amount Per ServingCalories697
% Daily Value *
Total Fat 55.8g

85

%
Cholesterol 162mg

54

%
Sodium 1107mg

47

%
Potassium 862mg

25

%
Total Carbohydrate 28.5g

10

%

Dietary Fiber 5.8g

20

%
Sugars 5.8g

Protein 25g

50

%
---
Calcium

157

%
Iron

5

%
Vitamin D

10

%
* The % Daily Value tells you how much a nutrient in a serving of food contributes to a daily diet. 2,000 calories a day is used for general nutrition advice.