Slow cooker Indian recipes are excellent recommendations for those interested in this country's cuisine and want every bite of your food to be extra soft.
On the other hand, if you are a fan of Indian cuisine but have not much time to stand inside the kitchen to prepare your beloved soul food, these suggested recipes are also for you.
Everything you should do is toss everything into the same pot and let the kitchenware do its work. Easy peasy! Wait for what, do some shopping and make some slow-cooked treats today!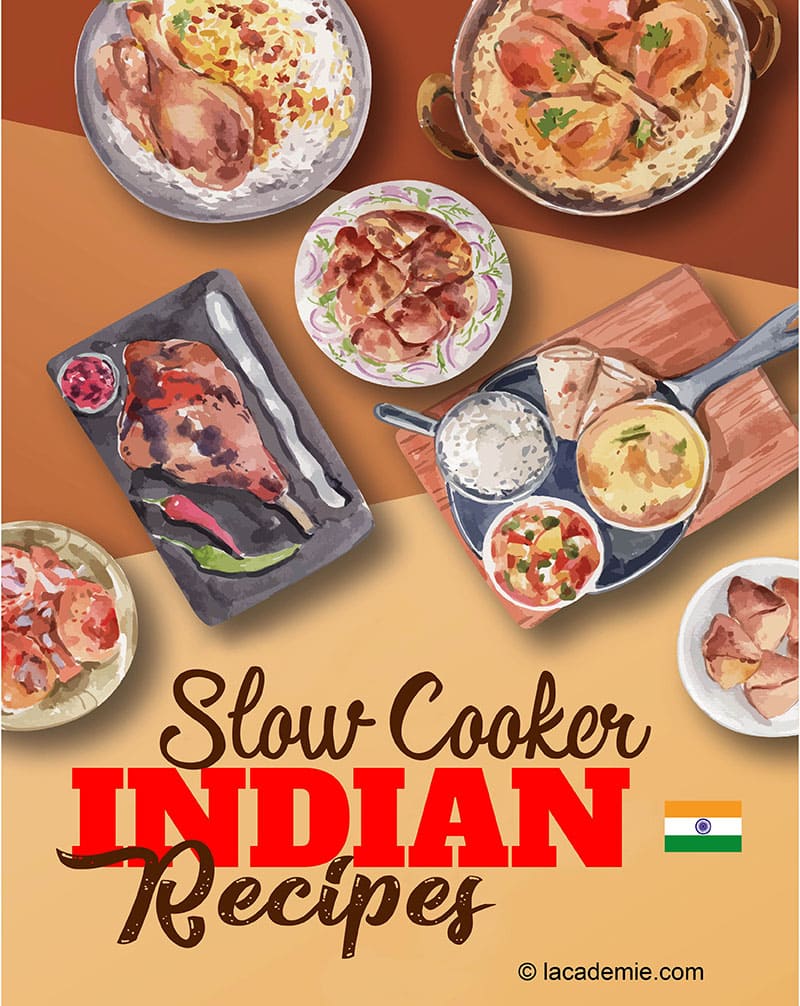 22 These Set-And-Forget Indian Dish Options Are Ideal For A Busy Day
Slow cookers are a great invention of all time since it assists you to have a lot more spare time for other daily activities, rather than just trying to keep an eye on the cooking pot.
You might want to get right into the main point and learn how to make some delicious Indian food in that convenient kitchen gadget, so here you go!
Total time: From 4 hours 20 minutes to 5 hours 10 minutes.
Butter chicken/Murgh Makhani is a well-known Indian dish compatible with a slow cooker. With Garam Masala, curry powder is loaded with richness/creaminess from other ingredients; you can expect a mouthful of irresistible flavors.
Boneless chicken (thighs or breasts, choose thigh for a more tender texture if you wish) offers a tremendous amount of protein. Therefore, when matching this dish with a portion of hot Naan (an Indian flatbread) and a bowl of white rice, your meal is completed with satisfaction.
Thanks to that, it can become a great lunch with an Indian breeze attached or dinner based on your preferences. If you are not into a spicy treat, this Murgh Makhani is still perfect for you since the dairy products (heavy cream/ yogurt) helps to milden the robust notes.
Are you ready to whip up some slow cooker Murgh Makhani?
Total time: From 12 hours 15 minutes to 18 hours 10 minutes.
Urad dal (split black lentils/black gram) and rajma (red kidney beans) are the frequent ingredients for a batch of Dal Makhani. The dals are part of the distinguished mucousy texture, and a layer of earthiness after cooking is also the unique point of this favorable dish.
Traditionally, Dal Makhani is also processed overnight on the wood flame; then, this slow cooking method does help you experience its nearly-authentic flavors.
After a long time of processing, every scent from all the spices will infuse better to the absolutely tender components. The minty and peppery notes from cardamom pods and the robust tastes from Garam Masala are a bit more accentuated.
Total time: Approximately 4 hours 15 minutes.
Indian gastronomy is renowned for the diversity of its vegetarian/vegan delicacies, and this is also the concept of this Chana Makhani. Chana means "chickpeas" in the Indian language, and this legume is also famous for one following veganism or vegetarianism.
On the base of this authentic Indian vegetarian delight, the protein-loaded chickpeas make the whole dish compatible with an Indian-inspired breakfast or any other meal of the day.
It is because your Chana Makhani can be both light and satisfying enough to please your taste buds anytime. You can also have tofu as companions with chickpeas to delight your dish.
Total time: From 5 hours 10 minutes to 6 hours 15 minutes.
Indian people love using dals (lentils) in their recipes, and this Indian red lentils curry is solid proof of that. I suggest using the combination of red lentils, split moong beans/yellow peas (or red lentils only) for the dish.
It is because the flavor of red dals is sweeter and nuttier compared to some other variations. Remember, don't soak your lentils before tossing them into the pot to cook.
The pre-soaking step actually makes your main ingredients lose their shape faster and become a bit mushy after processing. One good news for you is the curry can last for up to 2 days in the fridge, so you can make some spare and have it for a day later.
For a quick lunch box, for example. Just pair it with some hot rice (or a piece of Naan), and you can be done preparing a satisfying meal in a snap.
If you want to try making this Dal curry with green lentils, then this guide is for you!
Total time: From 3 hours 10 minutes to 6 hours 15 minutes.
I bet you didn't realize that your slow cooker can do this! Chicken Tikka Masala is a famous Indian specialty, but it is gaining a lot of recognition in England and worldwide these days.
Many people agree that the allurement of this food lies in the gravy with the base of crushed tomatoes and spiced with signature curry spices (like Garam Masala, garlic, onion).
The mild creaminess from milk (vegan like coconut milk or normal ones) is essential, and you shouldn't cook it for too long. Therefore, you should only put coconut milk or heavy cream in the nearly last step. These components create a luscious harmony for the whole food.
Who can deny such a palatable piece of chicken coated in spices and having a fall-off-the-bone texture?
Total time: Approximately 8 hours 10 minutes.
Do you prefer a recommendation for an Indian vegetarian dish? You definitely should go for these potatoes and cauliflower Tikka Masala. Since it is still a variation of Tikka Masala, you can still experience the signature tomatoes-filled gravy mixed with milky notes.
Paprika and Garam Masala are the primary sources of your delicacy's extraordinarily aromatic and robust flavors. Besides providing a lovely milky scent, the coconut milk also helps this curry have a smoother gravy with gorgeous orange-ish color.
Because this food provides healthy fibers from good veggies like cauliflowers, potatoes, and carrots (optional), it is also great for those on a diet. You can consider having it with basmati or jasmine rice; both ways are tasty.
Total time: From 6 hours 3 minutes to 1 day 8 hours (including 24 hours of marinating).
This is a big rival to any take-out. You won't need to think of a store-bought treat on the way home anymore since you can make some exquisite chicken Tandoori at home ahead of time. Since it calls for Kashmiri chili powder/Garam Masala, you can expect it to be a bit hot.
The marinating step is pretty crucial for this Indian-style chicken delicacy, so you should never ignore it. It might take up to a day for this stage, but the flavorful piece of chicken later is an acceptable trade-off.
Within less than 2 minutes, you'll know how to make Tandoori Chicken with a slow cooker.
Total time: From 7 hours 10 minutes to 8 hours 15 minutes.
This slow cooker recipe for sweet potatoes and lentils Tikka Masala indeed gives you a plate with a signature Indian curry flavor. Compared to potatoes, sweet potatoes are a bit less starchy; however, they give light mellow hints and add depth to your Tikka Masala.
Furthermore, vegetable stock is an ideal flavor booster, so you should include this ingredient in the slow cooker pot. A scoop of vegan yogurt is a must-have final touch to the food, and you can serve the whole plate with rice or some Indian bread like Naan. Easy peasy!
Total time: From 3 hours 15 minutes to 4 hours 15 minutes (or 8 hours, on low heat setting).
Nothing can beat tofu in the rank of the best vegan protein provider, and this Indian tofu treat can easily please anyone's taste buds. The sauce of this dish also consists of tomato/coconut infusion; the only significant difference is the neutral beany flavor from tofu.
Once adjusting the heat inside the slow cooker, be mindful that if you want to have the food within 4 hours, set the heat on a high level. On the other hand, you can select the heat to the lower setting and wait for up to 8 hours, which is perfect for overnight cooking.
In case you want to have a more hearty treat, you can switch tofu to Paneer (an Indian cottage cheese) and make a vegetarian-friendly batch of Tikka Masala. This treat is also compatible with storing in the fridge, and you can save its best condition within 5 days.
Total time: From 5 hours to 6 hours 20 minutes.
Chana Masala is a toothsome North Indian delight consisting of soft chickpeas with gravy from tomatoes. If you've tried curried chickpeas before, you'll know these kinds of legumes have a pretty beany and mild taste and a bit chewy texture.
The nutty hint is pretty prominent, and you'll find it appealing if you are a fan of beans. Notably, you can easily undercook chickpeas if you don't spend enough time letting them simmer in the pot, and your problem is solved when utilizing this slow cooking method.
This food also includes multiple basic curry spices (such as turmeric or Masala), so it won't be too distinct from other tomato-based stews.
The fresh lime juice drizzling over the top of the dish is the true hero of this dish. It has a subtle sour/citrusy flavor that helps to alleviate the greasy sensation.
This is the easiest way to make slow cooker Chana Masala you can find.
Total time: From 1 hour 5 minutes to 6 hours 15 minutes.
Trust me when I tell you I cannot ignore this ideal dinner delight when the winter comes! It might be weird when matching a tropical fruit inside a stew or curry, but it will be great after tasting once.
The sweet coconut milk is the true highlight of this curry since it upgrades the mildly sour/sweetness of the native Indian fruit, mangoes. To make your mango and chicken dish even better, you should choose the half-ripe mangoes (or mango juice).
I have to admit that you cannot complete this dish with a note of coconut milk. Although you can use coconut milk powder, you should use full-fat coconut milk instead. Never forget to add a splash of lime juice to your rice bowl before devouring it with white rice.
Total time: From 8 hours 10 minutes to 9 hours (on low heat).
Aloo Gobi is usually a promising Indian-inspired delight for dinner since it is pretty light and easy to eat. However, if you don't have time to spend in the kitchen, the slow cooker will help.
Simply toss potato cubes and cauliflowers with various spices into one slow cooker or crockpot and forget it. The kitchen appliances will do their work by combining all the aromatics (like ground coriander/cumin seeds) with the veggies and making them soft.
Serve the potato cauliflower curry with steaming hot rice, and your dinner is completed just like that. Seal the leftovers in airtight containers/bags and use them within 5 days later. Trust me, the food still tastes good.
Total time: From 4 hours 30 minutes to 8 hours 10 minutes.
Rogan Josh simply means "fiery red" or "stewed in ghee," and this term usually refers to a kind of spicy, butter/oil-based Kashmiri curry cooked with lamb. Otherwise, you can use mutton or goat if you have these alternatives.
This particular curry is strongly influenced by the gastronomy of Persian culture, which reflects in the hot spices used. The yogurt can be the topping for the food in the plating step or an ingredient for the marinating mixture.
You can utilize the dairy product in both ways, as it can milden the curry taste and deliver juicier lamb meats. Furthermore, ground turmeric, coriander seeds, chili powder, etc., are also essential since you might not want to experience the overly meaty scent of lamb.
The most detailed guide to making slow cooker lamb Rogan Josh is here!
Total time: From 3 hours 10 minutes to 6 hours 50 minutes.
If you have never tried Saag Aloo before, you are totally missing out. However, why is something simple like this Saag Aloo loved that much? Rice/Naan work pretty well here as their neutral tastes can hardly go wrong with pungent Garam Masala-filled delight.
Remember not to add the leafy greens like spinach to the pot from the few first steps since they will badly wit after a while. Therefore, put this ingredient in the last stages and preserve the refreshing vegetables.
More importantly, when slow cooking this particular Saag Aloo, you can have a better batch of curry with a gorgeous depth. The only note for you here is you should lightly fry all the spices (onions/garlic) before tossing them into the slow cooker. It'll help ensure the final result.
Total time: From 4 hours 10 minutes to 5 hours 10 minutes.
Palak Paneer is a promising slow cooker staple that turns out soft, rich, and surely tasty. Paneer is a kind of cottage cheese (made in Indian styles), and it often has a firm texture with a neutral richness. The flavor layer harmonizes well with the robust taste of cooked spinach.
Adding it to a boiling hot pot won't break apart easily, so the dish might remind you of a soft, buttery tofu recipe infused with Indian features. If you are on a vegan diet, you can change this creamy part into "real" tofu.
A piece of authentic Indian bread (such as Naan) or a cup of hot rice is excellent going with the milk-loaded (coconut or regular milk) gravy. The recipe also calls for Garam Masala and hot spices like pepper, but it is actually relatively mild. Yummy!
Total time: From 3 hours 15 minutes to 4 hours 15 minutes.
Korma is a typical South Indian recipe for curries with a much milder flavor since the use of aromatic, spicy components is pretty limited. The term "korma" means "braise" in English, which is also the primary way to process this luscious curry.
The rich notes are essential for a Korma, so you should never ignore the use of coconut milk or Greek/plain yogurt. This Korma is more fragrant than spicy, and Garam Masala is only an optional spice. Instead, it calls for some much milder components (like tomato paste).
Both chicken breast and thighs are usable in this dish; however, thighs are cheaper and contain more fat. Therefore, you can opt for this part if you love having extra rich and tender protein.
You can also consider using the same ingredients for this slow-cooked recipe and make your chicken Korma with an instant pot. It'll still be a great Indian-style instant pot delicacy after all. Take a bowl of rice or Naan and enjoy your effort whenever you are ready to eat.
You'll regret ignoring this delicious slow-cooked Murgh Korma recipe!
Total time: From 5 hours 15 minutes (on high heat) to 6 or 8 hours (on low heat).
In the spicy range of 10, this chicken Bhuna will probably have a "6". It means Bhuna is not an overly spicy dish like Vindaloo (a Portuguese-influenced food), but it's not mild either. Imagine gnawing a piece of soft chicken thigh meat makes me drool.
Since Bhuna is a dry curry, there should not be much sauce inside your dish. However, a splash of water is acceptable to prevent the sauteed spices/ingredients from burning. You can use a cube of chicken stock instead, as it will enhance the depth of your meal.
Do you wonder what starch delicacies can go with this delight? It's no surprise that my recommendations for you are Naan and basmati rice. A plate of authentic Indian salad like Kachumber is also a nice companion beside Bhuna. Trust me; it's surely delightful!
Total time: From 5 hours 10 minutes to 8 hours 10 minutes.
Here is the suggestion you might look for, the slow cooker recipe for Murgh (or chicken) Vindaloo. Local people usually use pork as the main ingredient for this spicy curry, but I'll suggest a way to make it with the common boneless chicken breasts.
The breasts are the leanest meat part of the chicken; therefore, slow cooking is the best method to process it as you'll want a melt-in-your-mouth texture from this meat. Since Vindaloo is renowned for its pronounced spicy flavors, you must include many hot spices.
Some are ground/dry mustard, chili, pepper, or paprika. If you want to reduce the spiciness, feel free to cut down the amount of chili/pepper. Serve a scoop of your Vindaloo on the bed of steamed rice is the best. Easy to cook and easy to eat, just try creating it once!
Total time: Up to 8 hours 45 minutes.
I have mentioned a lot of chicken dishes on this list, so let's move to a beef delicacy now. The best thing about this Gosht Madras is you don't need to utilize the expensive meat part to have a tender bite after cooking. The cheaper cuts are excellent and still act well here.
About the sides for this curry, you can choose from various authentic Indian side dishes such as Papadums (deep-fried chickpeas dough) or Naan.
Some mashed potatoes are also great when serving on the side of this Gosht Madras. Furthermore, as the food is pretty hot/spicy, you can utilize yogurt or add less chili powder to neutralize that note.
Don't worry when there are a few leftovers. You can toss them into airtight bags, place them in the fridge, and your treat is good to use for up to 4 days later. You'll need to reheat your delight on the pan for 10 minutes whenever you want to reuse Madras Beef curry for meals.
Making Madras beef curry in a slow cooker? Is it possible?
Total time: Up to 3 hours 5 minutes.
Glad to introduce you to this absolutely delicious slow-cooked Keralan-originated fish curry, which offers you a beloved set-and-forget food. One advantage of the curry is you can leave it simmering (without fish) unattended in the slow cooker for a long time.
When ready to enjoy it, start frying the fish (red snapper/halibut/tilapia) for 1 or 2 minutes and add it to the warm gravy. Keep the slow cooker on a low heat setting, and you won't need to worry about the coconut milk separating.
This component tends to fall apart from other ingredients ( for example, spices like fennel seeds/serrano or red Indian chiles) on high heat. When eating, have a plate of this Molee with a cup of steaming hot rice cup and a slice of a lemon wedge on top. How tasty it will be!
If you are a fan of Indian shrimp food, you can totally change the fish into shrimp. Or else, opt for corn if you want to make a vegan or vegetarian-friendly version of Molee. Believe me, the result will still be mind-blowing.
Total time: From 2 or 3 hours 15 minutes (on high heat) to 6 or 8 hours 10 minutes (on low heat).
For this pudding recipe, you will use cornmeal as its base, and among all the diverse ways to process the dish, here is my help for you. Since Indian-style sweet treats often provide tons of flavor layers, you can also expect that from this delight.
I personally prefer using natural sweeteners, so in this recipe, I suggest using molasses (a substance made of refined sugar beet/sugarcane) instead of white sugar. However, if you have a sweet tooth and want a sweeter dessert, feel free to go for brown sugar.
The dried fruits are of choice; you can use dates, raisins, or cranberries toppings. An additional scoop of cream (heavy cream or whipped cream are both okay) can help you elevate this pudding's exquisiteness to another level.
Total time: Around 8 hours 20 minutes (on low heat only).
One of the most popular Indian drinks that you can immediately list out is Chai. My suggested recipe for you today is the basic Chai tea which consists of only cardamom pods, whole cloves, and some fresh ginger root slices.
Based on this, you can add your own twist to make this delightful drink more favorable. For example, putting some espresso in (to make Dirty Chai) is an excellent way to go.
Chai tea tastes good whether it's hot or cold, so you can have it freshly made or cooled down inside the fridge. This kind of drink can last in the refrigerator for a week, so you can prepare a huge batch ahead of time and reheat it for later use.
Get A Slow Cooker And Try Making These Indian Foods Now!
I have offered you various ways to accomplish your favorite Indian recipes in a slow cooker, from drinks and hearty curries to lighter treats. You won't need to worry about making these delights from now on if you don't have much time to monitor the whole process.
Do you have any other ideas for Indian foods to go in a slow cooker? Please leave your suggestion in the comment section below and let me know. I would love to diversify my article and make it more useful for everyone.
Like and share this humble article with your loved ones if you think they benefit from it. Thanks a lot!
Nutrition Facts
8 servings per container
---
Amount Per ServingCalories199
% Daily Value *
Total Fat 0.9g

0

%
Sodium 580mg

25

%
Potassium 569mg

17

%
Total Carbohydrate 35.2g

12

%

Dietary Fiber 15.3g

60

%
Sugars 3.4g

Protein 13.4g

26

%
---
* The % Daily Value tells you how much a nutrient in a serving of food contributes to a daily diet. 2,000 calories a day is used for general nutrition advice.