Let's make your morning meal extra good with the crockpot breakfast recipes I'm about to tell you about. All the steps you should do is to prepare every ingredient, dump them into the crockpot and let your kitchen appliance do its work.
Within today's humble article, you can easily find everything from drinks, oatmeal-based treats, or savory dishes that are both scrumptious and appealing. Skip the food bought from the convenience store from now on; my suggested breakfast meal is way better.
Now, scroll down and choose to make your favorite crockpot recipe at home as soon as possible.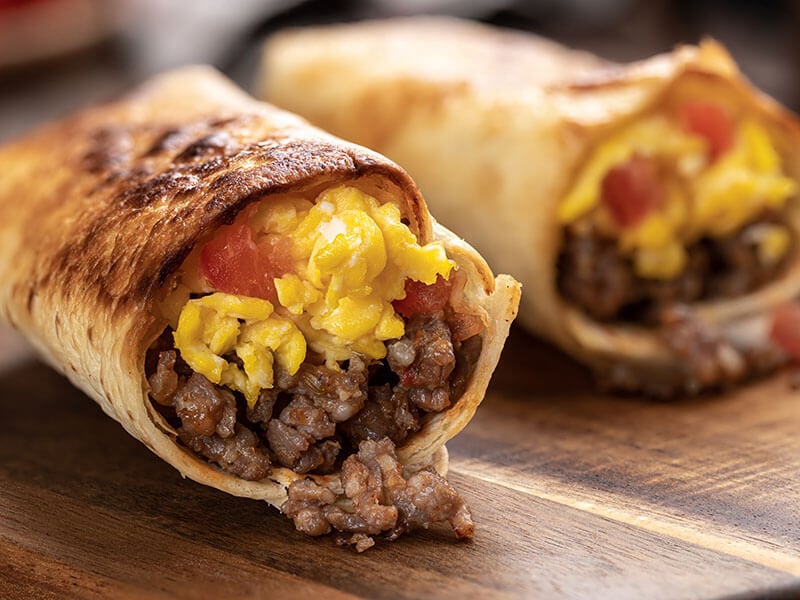 Have No Ideas For Breakfast? Prepare These Crockpot Dishes Now!
What do you want to have for your next breakfast? A cup of latte or some hearty or flavorsome casserole cooked inside the crockpot, anything can perform perfectly. Pick one and start doing some cooking now!
Total time: About 2 hours 5 minutes.
Mocha is a typical drink for many people, and it tastes absolutely fabulous when prepared with the crockpot. Every component for this mocha is peppermint syrup (which can last in the fridge for 3 months), espresso, milk, and other nutty ingredients.
You only need to toss all the ingredients into the crockpot and let the whole thing cook on low heat for 2 hours (or until everything combines).
You can have this egg-free recipe for any morning meal (or other time of the day). You can add some toppings if you want to make it more festive. Whipped cream or some chocolate shavings sprinkled on top are a preferable way to go.
Follow this guide and be ready to have a cup of perfect peppermint mocha right away!
Total time: Around 2 hours (on high heat) or 4 hours (on low heat).
Let's move to a famous Indian drink that is whipped up in a totally American-inspired way. More importantly, this drink doesn't call for any milk or dairy products (as you might see in its original version), so it's friendly for lactose-intolerant people.
The apple cider used in this case is not the popular filtered variety or the alcoholic one. Instead, opt for unpasteurized or opaque juice, which you can find easily in supermarkets.
Cinnamon and star anise (optional) are the ideal suggestions for the additional spices going along with your drink. To serve, add some apple slices to decorate, and that's it.
Total time: Around 7 hours 5 minutes.
No one hates oatmeal breakfast since it's so versatile. You can find various recipes with this humble ingredient. To start today's list of oatmeal-based crockpot delicacies, I highly recommend this blueberry morning delight as it's fruity and pretty easy to eat.
The oats used for this delight should be the old-fashioned steel-cut oats as they can deliver more nutrition and are better at maintaining their texture in the crockpot. For the blueberries, both frozen and fresh ones work, so you don't need to feel pressure about choosing the fruits here.
If you don't want dairy products, go for almond or coconut milk, and the result can still be toothsome. The leftovers can last for up to 1 or 2 days inside the fridge, so feel free to prepare a big batch at once and use it later.
Total time: About 2 hours 5 minutes.
Without hesitation, you should make this crockpot pumpkin spice latte for your whole family, who will certainly fall in love with its deliciousness. You should prepare some strongly brewed coffee, whole milk, pumpkin puree, and some cinnamon for additional spice.
The earthy, sweet, and gently bitter tastes from these ingredients combine perfectly and please your taste buds. The drink is particularly enjoyable in the cool fall or chilly winter.
This foolproof American drink takes at least 2 hours to prepare (if cooked on high heat). You should reduce the heat to low when your guests/family are ready to enjoy it.
You can serve this crockpot recipe for Thanksgiving or other special occasions. This drink is also an excellent alternative for mocha to warm you up from inside out during cold mornings.
You won't regret making your first-ever pumpkin spice latte for breakfast!
Total time: About 3 hour 20 minutes.
While it's true that this recipe is more like a dessert than a breakfast, trust me that your first meal of the day will never go bad with it. A delightful bowl of tropical/ summer-inspired peaches topped with a dollop of rich ice cream won't fail to make your breakfast interesting..
The trick to creating the best peach crisp batch is to choose fully ripe peaches. To do so, you should ones with vibrant colors or gently check the softness of the fruits' stems.
The mellow taste of the ripe fruits paired with the fascinating crunchiness from the toppings (spiced nuts and oat mixture) is rustically divine.
Total time: About 3 hours 15 minutes.
Repeatedly eating the same banana bread recipe might be boring for you; therefore, it's time to level up your regular recipe with some twist in this delicious crockpot delicacy. You can prepare this baked delight with ordinary all-purpose flour or gluten-free one for a special diet.
To impart the delicious flavors and signature texture to the humble banana bread, consider adding more berries (strawberries, blueberries, etc.) or chocolate chips to the bread batter. Trust me, every bite into the bread will be much more delectable with loads of banana flavors.
Total time: About 4 hours (on low heat) or 6 hours (on high heat).
Besides steel-cut oats, this creamy, overnight oatmeal-based crockpot dish also requires maple syrup and milk. However, feel free to add nuts and berries for the toppings if you wish to diversify the taste and increase the nutrition profile of the dish.
You can also toss everything into the crockpot and set the temperature to accomplish this treat. Don't hesitate and double up the recipe if you wish to premake this treat for the following day (or even the day after that).
Total time: Around 2 hours 10 minutes.
Besides serving it as a breakfast, you can treat your family to this recipe as an amazing America-originated dessert. With loads of fresh fruit toppings (like berries, fresh mangos, grated lemon zest, and so on), your first bite into this dish is undoubtedly flavorsome.
The gentle natural sweetness and citrus notes will neutralize the overall milky taste of the rice pudding. Never forget to put some salt into the pot since it lends your food a better depth, which helps reduce the greasy feeling of the pudding.
The tip for making your rice pudding more aromatic is that you should drizzle some rose water or orange blossom over the pudding after finishing it. I'm sure you won't regret doing so.
This easy peasy crockpot rice pudding is worth trying once!
Total time: About 6 hours (on low heat).
How about a breathtakingly beautiful bread pudding? Compared to rice pudding, this bread-based recipe is just as good. Any kind of milk can work in this specific recipe.
Whether it's plant-based milk or dairy products, the final result of this pudding is definitely divine. Remember to create the flavored egg-milk mixture and divide it into two halves, which you use on the pudding separately.
The first half should go into your crockpot together with the cubed bread, and the second one should be sprinkled on the brown sugar topping. After several hours of baking, you will have a fragrant pudding that tastes incredibly good.
Total time: 4 – 5 hours (on high) or 7 hours (on low).
The combination of apples and cinnamon reminds me of the fall breeze, and I promise you this treat can quickly warm you up from inside out. Expect something nutty, earthy, and bitterness in your first mouthful of the porridge since those flavors are what buckwheat offers.
Yet, the mentioned tastes are not overwhelming since you can also scent the gentle milkiness/richness from plant-based milk and fragrant cinnamon notes. Also, the pumpkin pie spice works well in balancing the whole delicacy. Yummy!
Total time: About 8 hours 5 minutes.
How about changing the buckwheat to quinoa? Quinoa has always played a significant role as a rice alternative (for a healthier diet), and this ingredient also provides much milder flavors than buckwheat.
Feel free to choose the toppings/companions based on your preferences. Besides the must-have fresh and sour apples, opt for pecans, walnuts, or chia seeds. Moreover, with the warm undertones from cinnamon, this delight is ideally served on cool days or freezing mornings.
This perfect crockpot delicacy for fall or winter is easy to make even if you have no experience with cooking, as the cooking appliance will take the major role here.
Total time: About 2 hours 20 minutes.
Nothing can go wrong when you devour some cinnamon roll for breakfast, especially with a scrumptious recipe like this one. For the dough of cinnamon roll, it would be best to utilize the premade options since you can effectively reduce the cooking time.
Never forget to add other components such as cinnamon powder and sugar. The final dish is surely soft and moist, exactly what you expect from a bread delight. Remember to eat the food when it is still warm because the treat will become stickier when it's cool.
What do you think of making this cinnamon roll monkey bread as a delicious crockpot recipe for Christmas day? Don't worry, as a treat is versatile; you can prepare and serve it anytime you want with no regret.
What are the exact steps to make your cinnamon roll monkey bread in the crockpot? The answer is here!
Total time: About 3 hours 5 minutes.
The following cinnamon crockpot recipe on this humble list is this delectable cinnamon bun French toast. In this case, you should use the premade cinnamon buns since it helps increase the chance to whip up your tasty breakfast perfectly.
Other things you will need for this delicacy is the Greek yogurt, chopped pecans, and brown sugar. These ingredients lend your simple American recipe a more pronounced milky, nutty, and sweet experience.
A canned package of cinnamon buns often goes with premade icing, which you should add onto your crockpot dishes right before plating (when it's still warm). Lastly, serve this delight to your family on a special morning, and they will thank you for that.
Total time: About 1 hour 15 minutes.
Having gone through bread delicacies, let's move to a breakfast biscuit recipe now! However, it's not a sweet delight; you will make your breakfast a bit more savory this time. The components for this treat are simple, as you will utilize eggs, bacon, and cheese.
This combination is classic and can never turn out wrong on the base of a canned biscuit. The most prominent taste you can expect from the treat is a harmonious blend of salty, fatty bacon with richness/cheesiness from eggs and cheese.
Not only perfect for breakfast, but this crockpot biscuit breakfast casserole is also ideal for a delightful brunch or else.
Total time: About 4 hours 10 minutes.
Your next option for French toast is here. Try this one if the previous cinnamon bun French toast is not your thing. It is a wonderful choice for a weekend breakfast, with very straightforward instructions.
All the steps you have to do are whisk the mixture of eggs, condiments, and milk and pour it over layers of cubed bread, blueberries, and cream cheese. Then, set the cooking mode to low heat and wait. What a perfect idea for a lazy breakfast recipe!
Before tossing everything into the pot, remember to apply some non-stick spray onto the bottom. Believe me; you don't want to deal with the burnt, sticky bread there.
Total time: Approximately 8 hours 10 minutes.
To be honest, I'm always ready for a burrito no matter which meal I'm going to have. A crockpot makes it even easier to prepare this Mexican delicacy. As the dish requires around 6 or 8 hours to cook, make it overnight and have a warm treat ready the following day.
When doing the layering to make the filling for your burrito, you should start with potatoes first, and the mix of egg, milk, salt/pepper will go later. The second-last layer should be finely diced ham or sausage (optional).
There is a lot of room for creativity, so feel free to add your own twist there. Salsa sprinkled with cheese or chives would be reasonable for the dish's accompaniments.
Are you ready to whip up some crockpot breakfast burrito?
Total time: About 4 hours 20 minutes.
When the weather becomes cooler outside, nothing can whet my morning appetite better than a plate of warm breakfast casserole. Yet, the breakfast casserole delicacies are varied; I'll show you a way to make it with pork/ turkey bacon.
This potato-based casserole is not simply starchy and filling; you can still taste the rejuvenating notes from various veggies, such as bell peppers. Onions are also helpful here as their earthy, sweet hints lift the overall taste of this delight.
More importantly, this recipe is perfect for meal prep, and you are free to prepare it 3 days ahead of time. To enjoy it at its best, pair your food with fruits, and the whole thing will be even more exquisite.
Total time: From 3 or 4 hours 20 minutes (on low heat) to 7 or 8 hours 20 minutes (on low heat).
Leave the pork or turkey bacon recipe out of your mind: let's utilize breakfast sausages now. The main carbohydrates for this delight will still be hash brown (diced and fried potatoes). But once blended with cheddar cheese, milk, and dijon mustard, its flavor will become totally different.
One significant advantage of this treat is you can freeze it for around 2 months and need only 1 or 2 minutes to warm it up again. Or else, put the leftovers inside the fridge, and you can keep them for 4 days later. After reheating the dish, wolf it down immediately before it gets cold.
Total time: Around 8 or 9 hours 10 minutes (on low heat).
As you might see, this recipe is pretty similar to the ones above, but this recipe doesn't require bell peppers. Therefore, the hash browns plays the role of the carbohydrates and the fiber source (together with the minor contribution from white onions).
Moreover, you can easily add a twist and make this delight into a vegetarian-friendly crockpot recipe by replacing the bacon with other veggie-based bacon variations.
Besides, using half-and-half and simple spices (black peppers/garlic powder) will provide the dish with a more enchanting smell. Indulge your nose before satisfying your hunger with this dish.
Total time: Around 8 hours 5 minutes.
Grits, which look like finely ground oatmeal, are actually ground corns (yellow or white) and contain more vitamin A, fibers, and calcium than oats. You should expect something a bit creamy, naturally sweet, and generally mild about its flavor.
Among the various kinds of grits (stone-ground, speckled, instants, etc.), opting for the stone-ground variation is the best choice as it can hold the texture and deliver the flavors better.
The components for a batch of grits are also simple; you just have to prepare grits, water, salt, and cheddar cheese. The cheddar's sharpness, earthiness, and slight pungency match beautifully with the typical neutral taste of corn-based products. Marvelous!
You will never fail to create a big batch of crockpot cheese grits (with bacon) by following this guide.
Total time: Around 1 – 2 hours (on high heat) or 3 – 4 hours (on low heat).
About frittata, it's a toothsome eggy recipe paired with various ingredients (veggies or meats) from Italian cuisine. You can easily prepare it right on the stovetop, but cooking the treat with the crockpot is also a way to go.
The recommended veggies here are mushrooms, bell peppers, red onions, and some zucchini in this specific recipe. Those things add a great, light yet tasty flavor profile to this popular Italian specialty, making it a great idea for a simple breakfast.
For the milky part of this delicacy, you can choose anything you prepare from coconut or nut-based milk. They offer as much deliciousness as the variant with cow milk.
Total time: About 5 hours 15 minutes.
A classic breakfast recipe can never be complete without jams or fruit butter. You can always have your first meal of the day simply with a piece of toasted bread or a biscuit with blueberry butter spread on top.
Instead of thinking about the store-bought products, now, you'll know how to prepare a huge batch at home and store it for 2 months (in the fridge) or a year later (freezing in an airtight jar). This is a perfect recipe for your mini crockpot.
About the ingredients, fresh blueberries are preferable. However, the frozen varieties are also great. The gentle acidic, fruity notes from the berries going with the sourness from lemon and the warm notes from cinnamon make your homemade blueberry butter extra delicious.
Total time: About 8 hours 20 minutes.
Do you prefer apples to blueberries? Feel free to make this apple butter, then. It is great for spreading over biscuits and bread or matching with desserts.
About the treat's ingredients, it requires cinnamon, sugar, and fresh apples (Gala, Honey Crisp, or Fuji varieties are the best). But apple cider, ground nutmeg/cloves, vanilla extract, and some salt (for a balanced taste) are also necessary.
You can adjust the consistency of the butter. All you have to do is cook it for a longer time to make it denser according to your preferences.
The shelf life of mason jar-stocked apple butter is around a few weeks; yet, you should use it as soon as possible since the fresher it is, the better it tastes.
Have a few minutes to spare? Don't miss this detailed apple butter guidance!
Total time: Around 6 hours 5 minutes.
Come back to the oatmeal delight, and you should definitely try matching your steel-cut oats with chocolate at least once. The nuttiness from the old-fashioned oats plays the role of the soul of this morning treat.
Have a busy week already and wish to sleep more on the weekend mornings? Then, set up the whole thing and let the crockpot prepare your oatmeal delicacy overnight.
Put on additional chocolate chips or mini marshmallows on your portion of oatmeal and enjoy it like a sweet breakfast. I would highly appreciate the mellowy notes and the gorgeous bitterness from every part of this hot chocolate oatmeal delight.
Total time: About 4 hours 5 minutes.
Start your day satisfactorily with this healthy yet delightful slow cooker maple cinnamon oatmeal now. This dish does not need steel-cut oats because rolled oats are preferred in this instance.
To be frank, their flavors aren't that dissimilar; the main difference is in the texture afterward (the rolled oats are less sturdy than the steel-cut).
The additional ingredients for this recipe are cinnamon powder, milk, and some pure maple syrup. Trust me; this combo is truly a legend! For me, the ratio of 2 cups of milk and 4 cups of water over 3 cups of rolled oats is great enough.
But if you don't like the dense and thick consistency of the result, adding an additional splash of milk will save your food.
Total time: About 3 hours 10 minutes.
It's not an actual breakfast recipe, but what's the problem with enjoying a meal-prep dish for the day's first meal? This meal-prep recipe will be extra simple with loads of basic ingredients, such as black beans, chicken breast, some rice, and other veggies.
Replace the chicken breast with ground beef (or ground turkey) if you wish, and it'll turn into an alluring crockpot recipe with beef that anyone can adore.
Thanks to the filling ingredients, this tasty breakfast recipe are absolutely nutritious since it has enough carbohydrates, fibers, and protein for a whole working day.
Moreover, the taste of this delight is also exquisite, as the combination between sweet corn and cheesy cheddar is iconic. The longest shelf life for the dish is around 2 or 3 months in the freezer.
Total time: Approximately 8 hours 45 minutes.
If you are a fan of rice dishes for breakfast, this crockpot red beans recipe 100% matches your appetite. This crockpot delight uses a lot of spices, veggies (bell peppers, celery), beans, and protein, so it's undoubtedly savory.
This dish also needs sausages, but I highly recommend using the chicken andouille sausage (its taste is a mix of smoky kielbasa and spicy Italian sausages) to enhance the uniqueness.
In this case, you can also utilize the pork or vegan andouille, and the taste doesn't change much. Once you are done with the cooking, sprinkle some dried herbs on top, and they will boost the whole thing to another level.
This fascinating instruction is totally another good way to make your red beans and rice dish!
Total time: About 6 – 8 hours (on low) or 4 – 5 hours (on high).
Another way to prepare your breakfast slow cooker/ crockpot recipe is to make a sausage-based casserole recipe. More specifically, this recipe calls for kielbasa, Polish sausage with a renowned tender texture and gentle smokiness.
Cream of chicken/mushroom soup, sour cream, and spices to taste are everything you will need to prepare the most successful version of this humble recipe. If you are afraid that milk can make your breakfast dish too runny, change it into sour cream.
Notably, once you use the frozen potatoes (like the requested hash browns) instead of the fresher ones, let the food cook for a longer amount of time. You definitely don't want to bite into a raw potato piece while enjoying this dish.
Total time: About 8 hours 20 minutes.
Bananas are renowned as a superfood with many health benefits, such as supporting the digestive system or offering many antioxidant compounds. Based on that, using bananas in your daily diet is a great move.
For this culinary delight, you need to divide the bananas into two parts. One part is the mashed bananas (to cook along with your oats), and the other is the fresh slices of bananas used as the toppings.
It would be best to set the crockpot on low and cook your oatmeal overnight (around 8 hours) for everything (from oats to mashed bananas and other spices) to blend perfectly.
More importantly, never neglect the stirring before plating your scrumptious treat, as it helps you evenly distribute the flavors in each spoonful. Do you want the dish to be sweeter to delight your morning mood? Some additional maple syrup will be good.
Total time: Around 3 hours 5 minutes.
Have you ever thought of mixing cardamom, pear, and oats together? Cardamom never fails to impress eaters whenever it pairs with a sweet dish because the herbal, fennel-like, warmth notes are totally helpful in accentuating the goodness there.
About the components, there are no significant differences between this recipe and other mentioned variants (besides the pear and cardamom). Therefore, you can expect that the delight is relatively easy to eat for all ages.
It also keeps well in the fridge (for about 5 days) and freezer (for around 3 months). Therefore, preparing it as a premade or meal-prep recipe is quite okay. When reheating and serving, add some maple syrup or pecans to enjoy it the best, just like the freshly made one.
Total time: Around 8 hours 40 minutes.
Who can resist the combination of potatoes and cheese? Totally not me! This recipe is genuinely versatile since you can use any kinds of potatoes you have on hand. Hash browns, frozen potatoes, or fresh ones, there is no limitation for the main part here.
The only thing to remember is that the frozen one is cooked faster than the fresh potatoes in this case. If you can enrich the recipe with freshly shredded Cheddar cheese, it will be a flawless experience.
However, the already-shredded variation is still acceptable. Stir everything well after adding the cheese to the sauce base of your cheesy crockpot recipe (with sour cream and chicken broth) to make every bit of flavor match well with each other.
Just learn to make a perfect crockpot cheesy potato dish, and you can serve it anytime you want.
Total time: About 10 hours 10 minutes.
The last oatmeal recipe and the last dish in today's article is this highly appreciated gingerbread cookie overnight oatmeal. Although this dish employs steel-cut oats rather than real gingerbread cookie dough, its taste and texture come close enough.
The process of accomplishing the dish is not as daunting as you might think. Everything you should do is whisk the oats well up with molasses and a bunch of spices (for example, nutmeg, cinnamon, or ginger).
If you want to reduce the sweetness of the food, you can use sugar substitutes such as artificial sweeteners or monk fruit. Now, set up your crockpot to warming mode before going to sleep. The warm ginger notes will fill the air when you wake up the next day.
Don't Miss These Dump-And-Cook Recipes!
Are you trying to find the most accessible and convenient breakfast recipes? Then, nothing can beat the mentioned crockpot delicacies. They are tasty, effortless to make, and loaded with nutrition.
If you don't believe me, verify my words yourself by making them now. Some most common options for you are the oatmeal dishes and the bread delights, so you can consider trying those recommendations initially. Or else, starting with the crockpot drinks is not a bad idea.
Last but not least, in case you have already prepared my suggested dishes, don't forget to leave me a comment on what you think about them. Your sharing and liking this article will be an excellent motivation for me in the future.
Nutrition Facts
8 servings per container
---
Amount Per ServingCalories87
% Daily Value *
Total Fat 1.9g

3

%
Cholesterol 4mg

2

%
Sodium 101mg

5

%
Potassium 117mg

4

%
Total Carbohydrate 15.1g

6

%

Dietary Fiber 1.9g

8

%
Sugars 9.1g

Protein 2.9g

6

%
---
Calcium

65

%
Iron

1

%
Vitamin D

24

%
* The % Daily Value tells you how much a nutrient in a serving of food contributes to a daily diet. 2,000 calories a day is used for general nutrition advice.