The diversity of crockpot recipes is undoubted, from savory dishes to sweet courses. Therefore, everyone should own a crockpot (or any slow cooker) at home since this one can offer you the ultimate convenience in cooking.
All you need to do is prepare ingredients, and this cookware will take care of the rest of the cooking part with a simple click. Fascinating, isn't it?
Moreover, the best part about slow-cooking dishes is they always come out juicy yet tender enough that the food can literally melt in your mouth. It might take a certain time to cook, but I promise they are all worth waiting for.
Alright, wait no further. Let's take your crockpot out and prepare the most delicious dishes for your family with these ideas!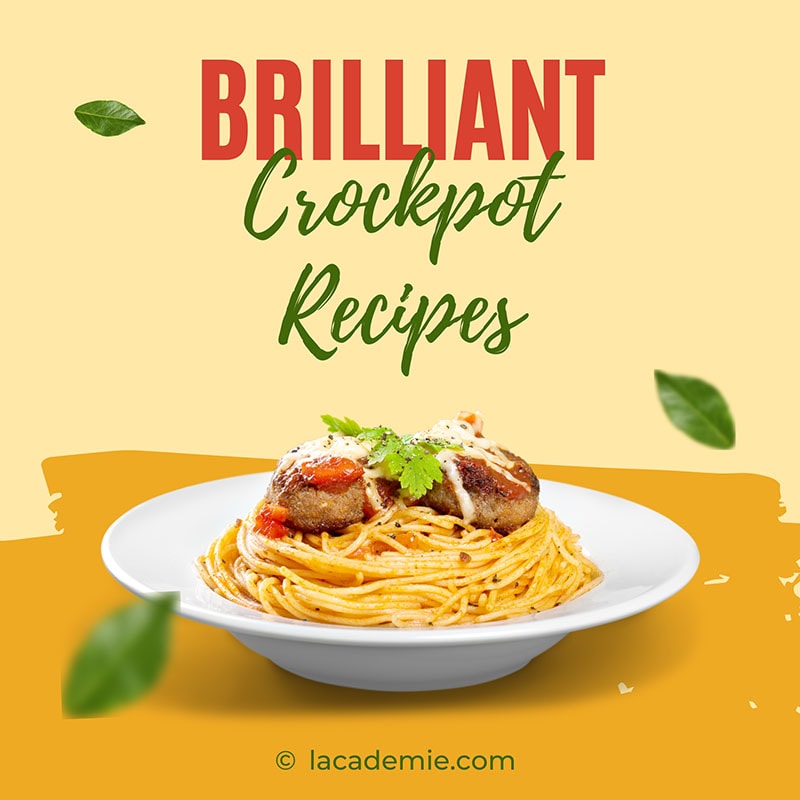 Benefits Of Using Crockpot, Or Any Slow Cooker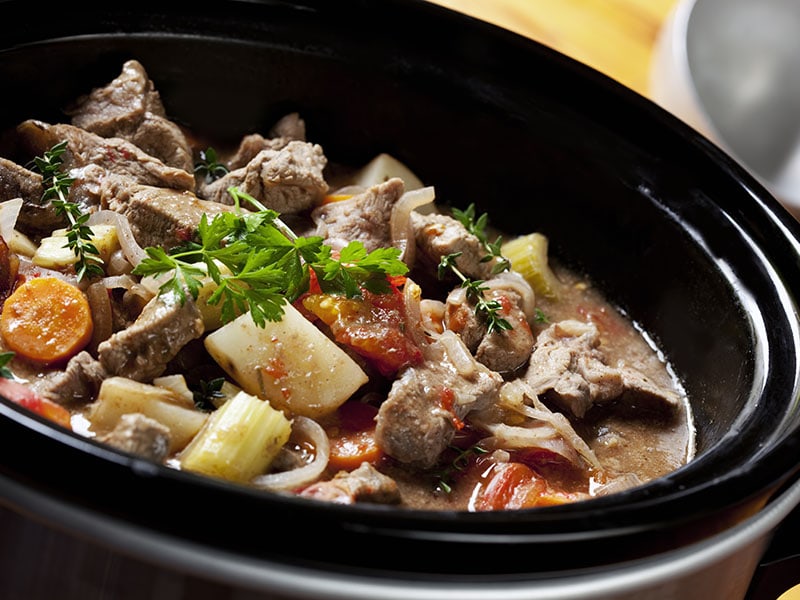 There are several factors that you should buy a crockpot (if you have not had one). Trust me! It is a worthy investment that you will not regret.
Offer Healthy Meals: Normally, slow-cooking applies low heat to cook food. Thus, it will not destroy any nutrients.
Provide The Most Convenient Way To Cook: It allows hands-off cooking since you only need to place the ingredient inside the pot and set the appropriate heat.
High Versatility: Crockpot comes in several sizes, allowing you to have more purchasing choices based on your needs. Plus, it can cook both savory and sweet courses.
Reduce Electricity Cost: Though it asks for a long time to cook, slow cookers use less energy than other electric ovens.
Best Way To Tenderize Tough Meat: No matter how tough the meat, they always turn out tender and juicy if you cook them at proper heat and time in a crockpot.
Compatible With Other Cookware: Many of you ponder putting a crockpot in the oven. Good news: most of the removable inserts (without a lid) are oven-safe up to 400 F degrees. So if you need a perfect finish to make your meal crispier, you can transfer an insert to your oven.
Grab Your Tools To Create These 38 Hearty Crockpot Dishes!
Now you know how versatile a crockpot is, it is time to bring out the best of this cookware to create various hearty dishes you love. Check it out!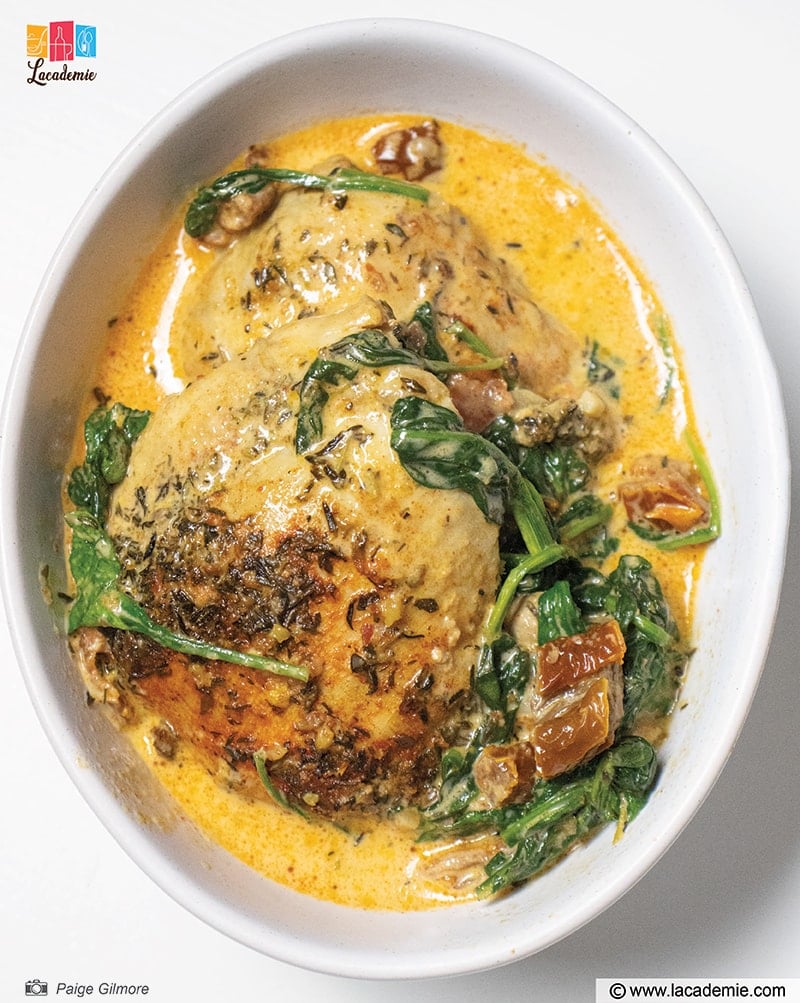 Tuscan chicken is a signature dish derived from the Tuscany region in Italy. It is a burst-with-flavor and creamy dish that you might need a 4-quart crockpot at least. But ideally, a 6-quart one is much better if you want to add more sauce.
Served with fresh green spinach and cream, this Italian recipe made in a slow cooker is also a great dish for chicken lovers.
Throw everything together in a crockpot, set and forget it. Do not forget to serve it with a bed of pasta, rice, or dinner rolls. Lastly, this recipe requires chicken thigh or breast, but chicken tenderloins can work as well.
Total time: At least 3 hours (high heat) or around 7 hours (low heat) (excluding 20-minute preparation).
Jambalaya is a well-known American Creole and Cajun dish, normally including meat, shrimp, and veggies combined with rice. Therefore, if you need a full package of carbs, proteins, and fiber with complex flavors, I do not think there is any better dish than this recipe.
It might take around 20 minutes to prepare veggies, meat, and shrimp. Keep in mind that unpeeled shrimp is much better for retaining moisture and flavor during slow cooking.
In this crockpot recipe, you need to cook the ingredient in 2 stages. Cook your chicken, sausages, veggies, and seasonings first for a minimum of 3 hours at high heat to 6 hours at low temperature. The second part is adding shrimp to cook at high heat for around 30 to 45 minutes.
If you cook shrimps for a long time, they will come out rubbery and dried. In the meantime, you can also prepare rice on the stovetop and mix it with your slow-cooked treat later.
After checking this tutorial, you definitely want to try this Jambalaya.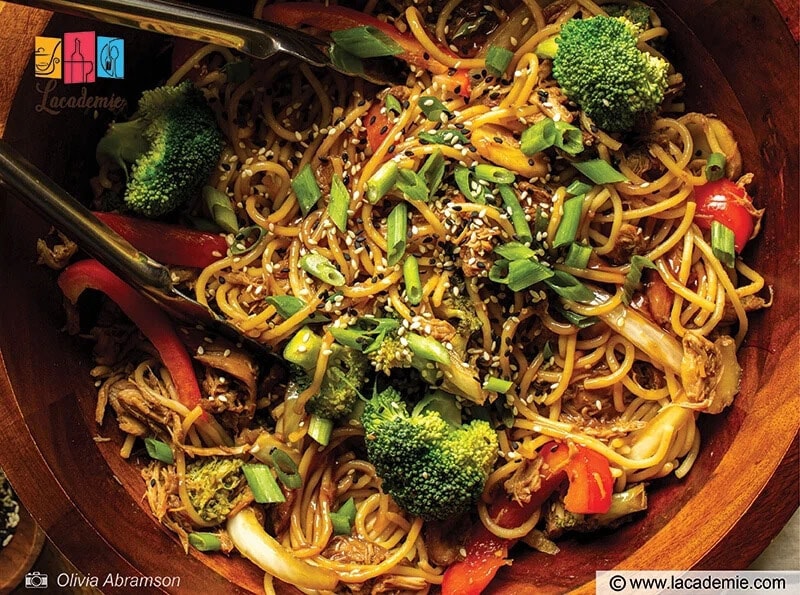 Let's diversify your summer crockpot recipe list with this chicken Lo Mein. It is an iconic noodle dish in Chinese food culture. Making this treat at home, you might find it even better than a take-out dish from any Chinese-style restaurant.
Furthermore, this guide is more cost-efficient because you can yield 6 servings per cooking. You can substitute the noodles with spaghetti or any kind of noodle. But please remember: do not add the noodles at the beginning.
You can only cook other components in a crockpot and mix them with noodles after completing the cooking.
Total time: 4 hours 5 minutes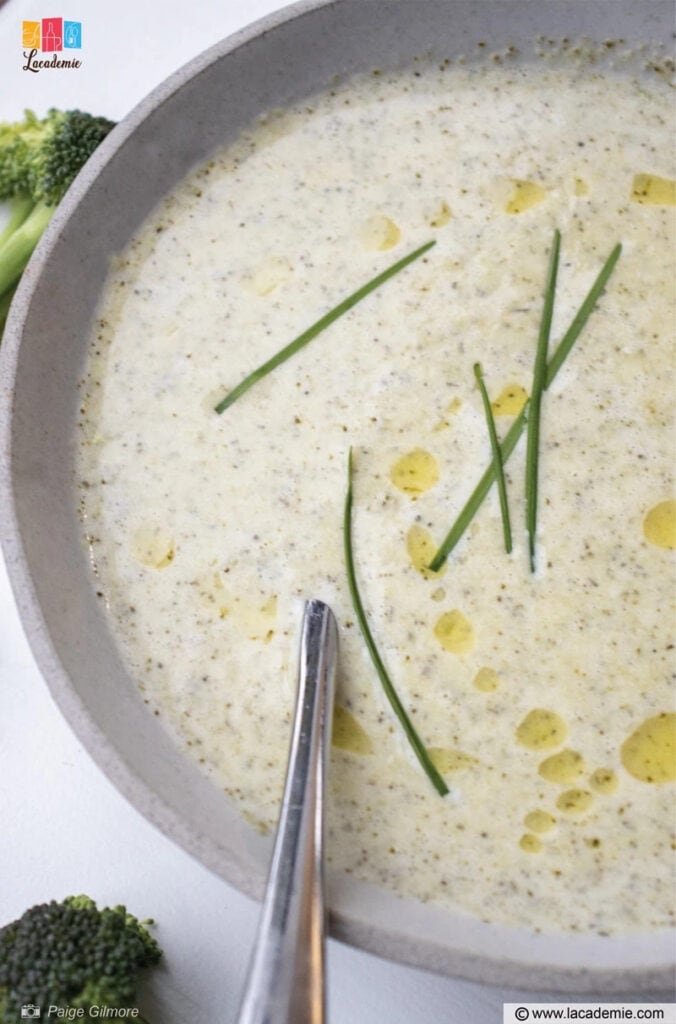 Broccoli and cheese, why not? And even if your kids hate this vegetable, this soup might change their minds. Moreover, it is also a hearty dish that allows you to stick to your low-carb diet.
With only 10.3 grams of carbohydrates per serving, this trouble-free dinner features an overload of tastiness and cheesiness thanks to 2 different types of cheese (cheddar and cream cheese).
After 1 to 2 hours of cooking at a high temperature, turn off the crockpot and stir in some grated cheese. Then, transfer the mixture into a blender and blend it until smooth.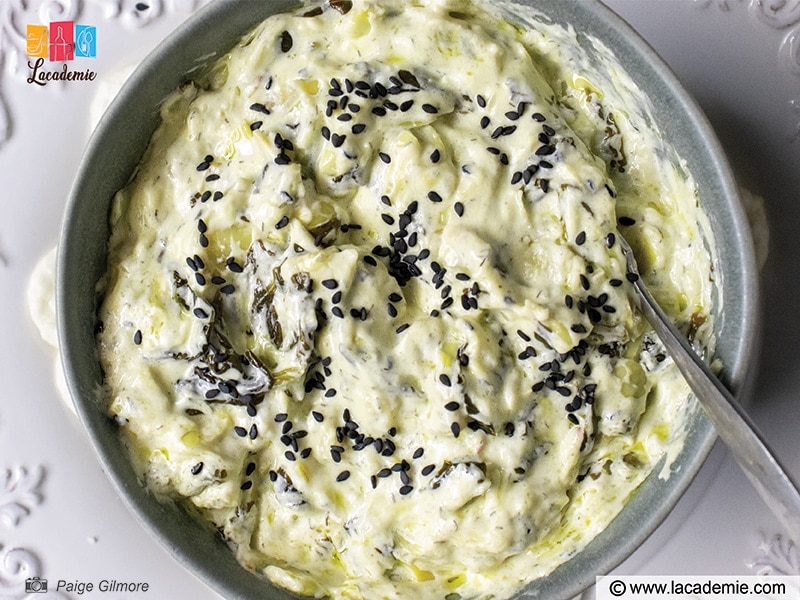 This spinach artichoke dip is a nice and healthy recipe for any meal or party. Its green hue will attract all your guests. That color comes from spinach, so you'd better choose fresh ones. However, you can opt for frozen products if they aren't available.
Apart from spinach, you'll also need artichoke hearts. Make sure to get oil-marinated ones since they're tastier than others. And if that's still not enough, you can add more flavors with extra seasonings.
Other ingredients are also versatile. For example, replace the Monterey Jack cheese with your favorite kind. Or use fresh dill instead of dried ones.
Total time: 4 hours 15 minutes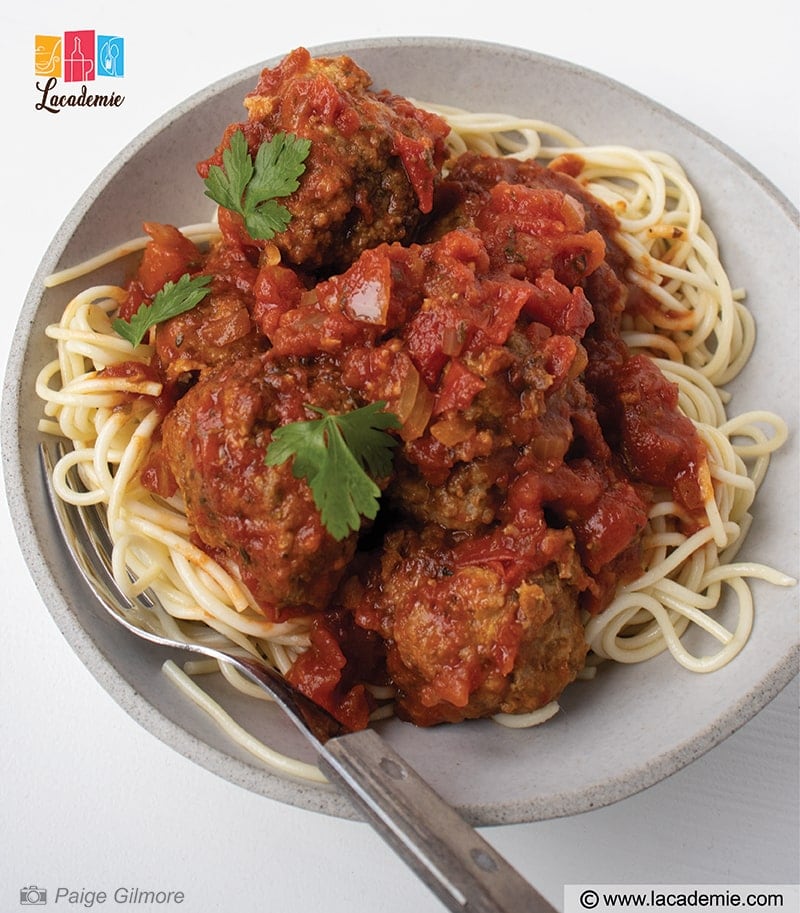 What are your go-to crockpot cooking recipes? Mine are these Italian meatballs. They are a timeless treat for a reason: Meatballs are very easy to make and delicious.
To create perfect meatballs, you'll need ground beef, pork, bread crumbs, and Parmesan cheese. The last two ingredients will hold the meatballs together.
You can serve it with spaghetti, bread, or veggies, or follow your taste buds to prepare any side dish you like.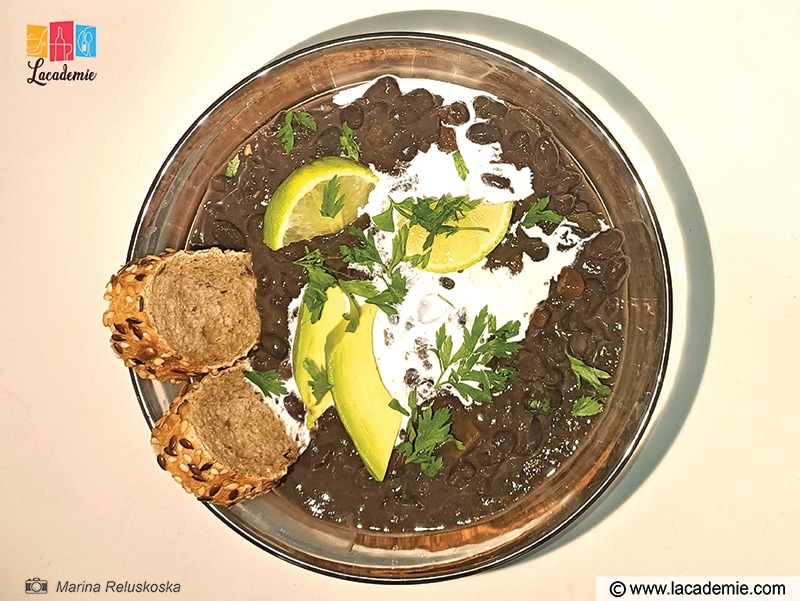 Who can say no to a toothsome and healthy soup like this recipe? With various vegetables besides black beans, it promises to bring you numerous nutrients: potassium, protein, calcium, etc.
And you can also use it as a base recipe for your creativity. For example, add some chili peppers to satisfy all spicy lovers. Or, if you want a thick soup, remember to add a few mashed beans to the soup.
Beans can easily go bad, so storing this dish can be a bit tricky. Refrigerating can save your soup for only 2 days. Freezing is better since your dish will be safe for 4 months with this method.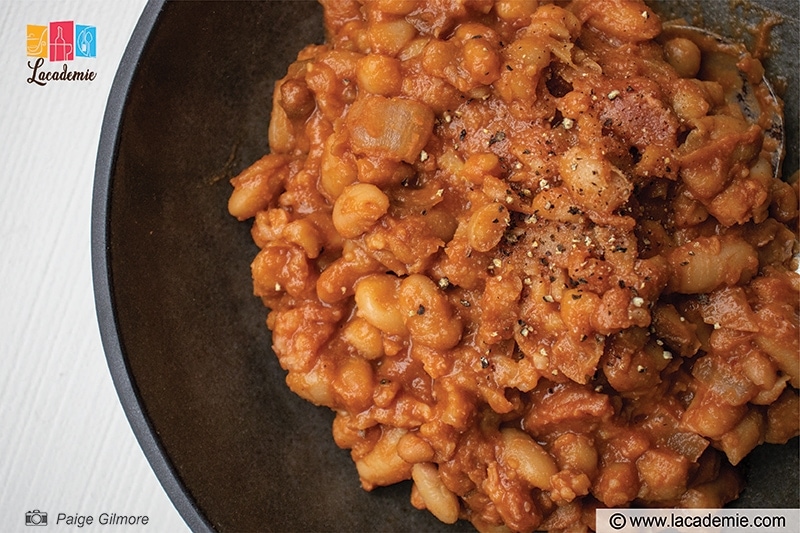 Starting this list is a familiar American: Baked beans. I guess you've seen this dish at many picnics or potluck parties. Besides a nice accompaniment for other savory recipes, you can make these baked beans into the main order with some crusty bread.
With a crockpot, this recipe becomes even easier than it used to. You only need to mix everything in your crockpot and let it cook for 3 hours on high or 6 hours on low.
This delicacy is already toothsome for me. But if you prefer it sweeter, add more brown sugar. And don't forget BBQ sauce, as it adds a deep flavor to your baked beans.
Total time: 4 hours 5 minutes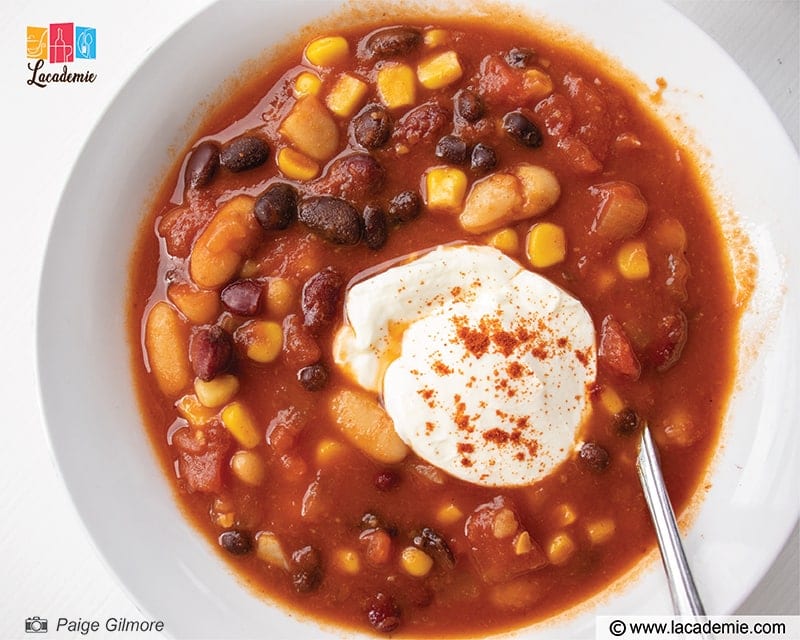 This chili with 3 types of beans is one of the top-searched slow cooker recipes. Indeed, it only asks for simple and inexpensive components to create a cozy meal. Plus, this chili is made for you if you want something to warm up your stomach on chilly days.
The three bean varieties that I use here are white, black, and kidney beans. I choose canned versions to skip the rinsing and draining steps.
You can add some sour cream for a creamier and richer meal. Or, if you want a filling meal, dinner rolls are a perfect pairing.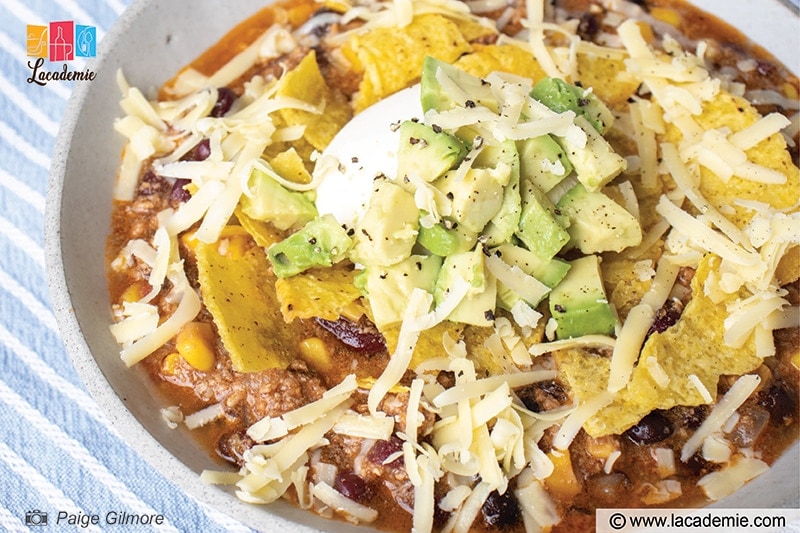 Many people love tacos, so how about changing them into a soup with your crockpot? The ingredient list is a bit long, but trust me, you won't break a sweat when making this dish. You only need to stir all ingredients in the crockpot and leave it cooking for 4 hours.
You can make a huge batch of this soup and use it for the following days. Keep it in the fridge, and it'll stay good for 3-4 days. Or freezing can help your dish last for 3 months. Make sure you keep it in an airtight container or bag.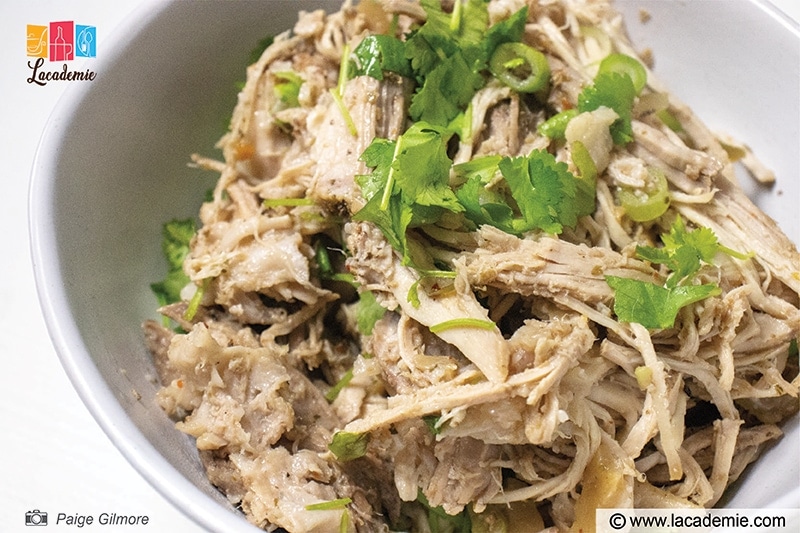 Crockpot is also an effective device for cooking a large chunk of meat. In this case, I'll use it to make Barbacoa with pork butt or shoulder. A small fun fact: Before, Mexican people made this dish with goat or sheep instead. But now, pork and beef are familiar choices.
After cooking the meat with vegetable stock and various seasonings for several hours, take the pork out and shred it into thin pieces. This Barbacoa pork can go with tacos, nachos, and burritos. Or you can turn it into an American dish by serving it with burger buns.
Also, if you want to keep this dish for the next meal, place it in a vacuum-sealed container before refrigerating or freezing it. The former method will keep your meat for up to 4 days, whereas with the latter, your pork can survive for several months.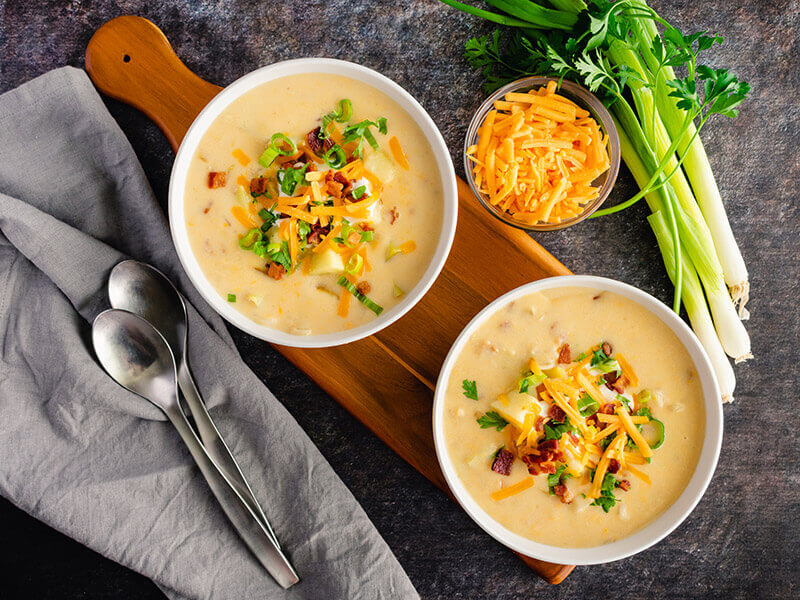 Potatoes have always been my favorite ingredient because of their versatility. You can use it to make casseroles, pies, fried dishes, etc. And now, I want to introduce this potato soup cooked with a crockpot.
While the main protein is only potatoes, this soup is still super rich thanks to chicken stock and cream of chicken soup. You can even garnish it with shredded cheese or sour cream to elevate its richness.
But if you want a lighter soup, add more evaporated milk or broth. Other vegetables like broccoli, carrot, or celery can bring a refreshing flavor to your dish.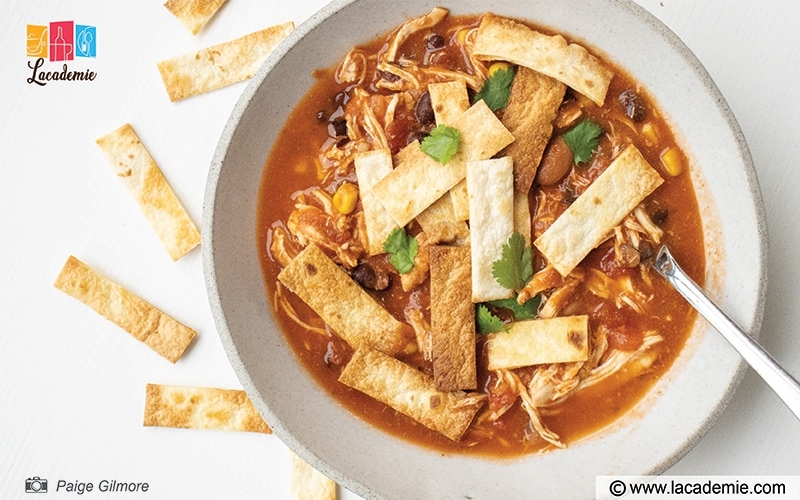 Chicken tortilla soup has long been a classic dish in Mexican cuisine. And now you can make it without sweating by using your crockpot. First, add chicken breasts and other ingredients to your pot and let it cook for 4 hours.
Meanwhile, cut your flour tortillas into smaller pieces and bake them in an oven until golden. After 4 hours, take the breasts out and shred them. Then, stir the shredded chicken with your soup.
This soup can go well with many things. For people wanting a fresh taste, fresh cilantro, coriander, and black olives are a nice idea. Cheese, avocado, or sour cream is a nice way to increase the creaminess.
Total time: At least 8 hours.
Mexican cuisine is famous for its tacos. And this Mexican-style crockpot treat is one of the best ideas to enjoy with tacos. Spoiler alert: you will be thrilled with its aroma and flavorful taste.
Carnitas (meaning "little meats" in Spanish) is traditionally a braised (or simmered) pork in oil. But in this recipe, I will cook pork with chicken stock, lime and orange juice with other ingredients in about 8 hours to have the tenderest and most flavorful dish.
You do not have to buy expensive pork cuts since the slow-cooking will tenderize the meat. That's why I opt for pork shoulder, which is fairly tough but fatty enough to retain meat's juiciness after cooking.
Besides serving it in tacos, they also pair well with tortas or quesadillas. Do not forget to shred meat with 2 forks before using it. To increase the crispiness of your meaty dish, you can move shredded pork to the oven and cook it for around 5 minutes.
Total time: Approximately 4 hours and 10 minutes.
Your BBQ party would be more enjoyable with these super simple crockpot BBQ ribs. With only 10 minutes to prepare, a slow cooker will ensure the meat comes out tender and comes off the ribs after 4-hour cooking at a high setting.
A little secret to making them flavorful is removing the membrane before coating the spices and sauce on the meat. Choose any type of rib that you like, but different sorts might result in different cooking times.
In this recipe, I choose St. Louis-style ribs, so if you buy country-style ribs or baby back ribs, you should check them 1 hour earlier. Plus, you should choose a high-quality brand regarding the BBQ sauce as it is the main star in creating a delectable treat.
Total time: 2 hours and 15 minutes.
This is a classic side order to cook in crockpots that everyone can prepare in a few minutes. Regardless of family parties, potlucks, or your kid's birthdays, I am sure they cannot refuse mac and cheese.
The ingredients to make this creamy treat are available in any supermarket or grocery. And they will not cost you a leg and an arm to have a gooey dish.
However, in this recipe, you need to boil the macaroni for around 6 minutes first and melt cheese with butter in a saucepan before combining it with the macaroni in your crockpot. To prevent any sticking, spray a light coat of non-stick cooking spray is essential.
Check here to see how your slow-cooking mac and cheese turn out without boiling macaroni in advance.
Total time: Up to 3 hours.
If you prefer something combining pasta and cheese but not mac and cheese, try baked ziti. Ziti is an extruded pasta variant with a long wide tube appearance, and baked ziti in crockpots is a brilliant idea.
Similar to the above recipes, this is an effortless dish. And you do not even need to cook the pasta in advance. Just mix all components inside your kitchenware and cook them for around 2.5 hours.
Furthermore, this recipe can offer 6 to 8 servings per cooking, making it perfect for a small potluck or gathering. If there are leftovers, you can store them in the freezer for a few weeks.
Total time: Up to 8 hours (at low setting) or 5 hours (at high setting).
Don't be shocked with the total time of making this delicacy, because I guarantee it is not only tasty but also makes your weekday night easier. Actually, you can simmer the food overnight because most of the job is taken care of by a crockpot, not you.
Honey garlic pork chops deliver a perfect balance of sweet and savory that everyone would fall in love with this treat. Soft and juicy pork chops coated with a "flavor bomb" mixed sauce made from soy sauce, ketchup, honey, and seasonings.
You can sear the pork chops before putting them in a slow cooker to enhance the flavor. And if you want a thicker sauce, cornstarch can do an excellent job. After a certain time, now you have a high-protein dish to enjoy with salad, mashed potato, or other sides based on your preference.
Total time: Up to 2 hours 10 minutes.
Many of you might be too familiar with buffalo chicken wings, but have you ever heard about buffalo chicken dip? This dip cooked in a slow cooker is not for buffalo wings; it is perfect as an appetizer spread or a dipping sauce for veggie sticks, bread, or crackers.
In this cooking idea, you will need to buy the pre-cooked shredded chicken to save time. But please pay more attention to the salt content if you use rotisserie chicken. For the garnishing, blue cheese and Frank's Red hot sauce are top choices.
One of the best things about this dip is its shelf life if you store it well. Actually, you can freeze it for a maximum of 3 months. So whenever you want to enjoy it, use a crockpot again and set a warm or low setting to reheat.
Total time: 3 hours 10 minutes.
Butternut squash soup is my favorite childhood dish so I believe your children would ask for more. It is a classy soup to cook in a crockpot, and this soup can be your go-to fall dish, especially for Thanksgiving.
The first impression about this tasty crockpot butternut squash soup must be its smooth texture in vibrant orange color. With a slow cooker, your cooking job is much easier since you only have to cook all components (except coconut milk if you use it) for a couple of hours until the butternut squash is soft.
To create a creamy and thick finish, you need to puree the mixture in a blender. Finally, top your soup with fresh herbs or coconut milk/yogurt. Or, if desired, pair it with a couple of slices of bread.
Total time: 3 hours 5 minutes.
With a few ingredients, a slow-cooking teriyaki chicken is a wholesome Asian slow cooker treat that you should add to your menu now. If you are a big fan of Japanese cuisine, teriyaki sauce is no longer a new concept.
It is a sweet-and-salty sauce with a thick texture. Flavoring your chicken with this sauce is a no-fail idea since they can blend excellently. You can use store-bought sauce, but I prefer the homemade one since it is very straightforward to make and quick.
Soy sauce, garlic, honey, and ginger are key elements in teriyaki sauce. Ensure you coat the chicken with sauce evenly and thoroughly. For thickening, the sauce, 1 teaspoon of cornstarch and cold water is enough
Total time: 8 hours 10 minutes.
Mongolian beef is an iconic beef dish in American-Chinese restaurants. Originating from Taiwan, it normally includes steak, vegetables, brown sauce (like soy and hoisin sauce), with other ingredients to create a protein-rich meal.
There is nothing much to prepare for this beef-based crockpot idea since you just have to place all components in your tool and let it do the magic. Cooking time varies based on the temperature setting, but 8 hours on low heat is ideal timing.
Last but not least, serving it with rice is the basic way to enjoy Mongolian beef. Tasty, flavorful, and easy to pull off, what else can you ask for a busy weekday meal?
Total time: Up to8 hours 15 minutes (at low setting) or 6 hours 16 minutes (at high setting).
If you are a health-conscious person, you should not miss this comforting soup. Lentil and chickpea – the 2 main ingredients in the soup, are well-known for their nutrients. Also, this Moroccan-inspired soup (aka Harissa) features a nice fragrant meal with deep flavors.
Thanks to the appearance of several spices like cinnamon, cumin, paprika, etc., the soup is bursting with flavor. In this country, the locals usually enjoy it during the fasting month with a staple bread – naan.
If your soup is too thick, you can add more broth or water. Finally, a touch of goat cheese or Greek yogurt will complete your meal to reach its finest.
Total time: Around 50 minutes.
Fed up chicken and turkey, how about quail? In fact, these little game birds taste pretty similar to chicken, but it is more tender and somewhat tastier than chicken.
In addition, despite having a small body, their proteins are fairly good to deliver a healthy and delicious crockpot treat. And since they are smaller, you can cook a few birds in a row.
Dry pat the birds carefully so the seasonings can be absorbed evenly, then coat them with a light coat of flour. Use a skillet to brown quails over high heat; ensure the oil (or butter) inside the pan is very hot before adding quails.
And the last part is mixing the bird with other things to cook in a crockpot for up to 8 hours (with low heat) until the meat falls apart.
Total time: 3 hours 15 minutes.
Crockpot recipes with ground beef are multiple, but if you have a huge love for Mexican food, try this beef enchilada stack. Filled with various ingredients and flavors, it is hard not to love this cooking idea.
At first glance, the enchilada stack might look like lasagna with layers. But its flavor is totally different due to red enchilada sauce and other seasonings. Plus, you have to cook ground beef and veggies beforehand.
Do not skip the spraying non-stick oil step; you do not want your meal to get stuck on the cookware surface, making it harder to clean. Finally, top it with any of your favorite toppings. The recommended ones are cubed tomato, avocado, shredded lettuce, or sour cream.
Total time: Around 4 hours 30 minutes.
Like other meaty dishes, pork tenderloin must be rubbed with spices to create a garlicky, flavorful, and moist treat that can fall apart in every bite. And the leftovers are even more delicious the next day.
Although many people love to cook pork tenderloin in the oven at 400 F for some time, this recipe utilizes a crockpot. All you need to do is quickly sear the meat and let the slow cooker handle the hard work.
If you do not like tenderloin cuts, feel free to cook with loin or chop parts. It will not affect too much on the flavor, but the cooking time might be different. Therefore, make sure you will not overcook your dish because no one wants dry and chewy overcooked meat.
You can use a thermometer to check the pork's internal temperature. If it has already reached 145 F degrees, your crockpot pork tenderloin is done!
Total time: 2 hours 35 minutes.
The combo of apple and cinnamon makes the best crockpot idea for the fall. Honestly, I do not think there is any simpler dessert than this one. Set and forget it, then come back for a sweet and warm treat after 2 hours.
This layered dessert begins with apple pie filling, then cake mixture, and drizzles a bit of butter on the top. A little trick to avoid a soggy apple cobbler is using a paper towel under a lid to cover a slow cooker so it can prevent condensation.
For the most pleasant dessert, adding a scoop of ice cream, whipping cream, or caramel sauce for the topping are wonderful. And even if you do not like apples, you can make this dessert with other fruits like peach, nectarine, cherry, or more.
Total time: 6 hours 10 minutes (excluding marinating time).
Lamb seems to be picky meat with a strong taste. But this recipe might change your opinion. First, onions, ginger, and garlic are some significant ingredients to increase the overall flavor of the curry, and it would be best if you sautee them on the stovetop in advance.
Regarding the lamb, you can buy any lamb cut, depending on your liking or budget. If possible, you should purchase bone-in cuts to make your curry more delicious. Marinating the meat with yogurt and spices for at least 0.5 hours so the lamb can infuse flavors deeper.
Keep in mind that you should not add too much liquid because your meal might turn out watery. So, what to go with curry? In my opinion, plain steamed rice is ideal for mellowing the richness in the flavor of curry.
Total time: 2 hours 40 minutes.
I am not exaggerating, but this breakfast tastes like a million bucks yet is simple to create. And if you need a crockpot dish to enjoy on Christmas, you have landed the right place.
Apple cinnamon rolls taste similar to apple pie. However, the slow-cooking idea will minimize your cooking duty, making it better for busy people.
Soft and sweet apples, fragrant cinnamon rolls, gooey cream, everything mixed well in every bite so you and your family cannot get enough of it.
Total time: 6 hours 30 minutes.
Are you on a vegetarian diet but craving lasagna? I have a no-fuss solution here with veggies lasagna. Despite lacking ground beef, this version does not compromise any tastiness.
Including different cheese varieties, pesto, and tomato sauce, this meal is rich and cheesy enough to mesmerize everybody. No need to boil the lasagna noodles in advance; just layer them with other raw elements.
For the best lasagna, let it sit out for a minimum of 1 hour after complete cooking. This step will help the noodles soak up all of the moisture inside. Otherwise, they might look a bit soggy.
Veggies lasagna? This easy-to-follow demonstration will teach you how to make a proper one.
Total time: From 2 hours 40 minutes (high setting) to 3 hours 40 minutes (low setting).
A game night is less fun without buffalo chicken wings, isn't it? So there you are; here is one of the best ideas to turn the plain wings into delicacies.
There are 2 key factors in creating brown wings with tons of flavors, like the spice mixture for dry rubbing. Comprising herbs and many seasonings, you can sprinkle this mixture over the wings and toss them together for coating.
The second factor is the sauce made from butter, honey, hot sauce, and molasses. Repeat the same tossing method to ensure your food is coated thoroughly. After that, let your versatile cookware handle your treat at ease.
Do not waste the sauce after the wings are done. Simmer it over high heat to reach the desired thickness, and glaze the wings with this simmer sauce. Broil them for a couple of minutes until crispy on both sides.
Total time: 8 hours 30 minutes.
Russian cuisine is amazing, and one of the amazing things is beef stroganoff. The preparation varies based on various factors, for example, cooking methods. You can cook it in a slow cooker, instant pot, pressure cooker, or on the stove. The dish is also a great recipe for a mini crockpot.
Overall, creamy, rich in flavor, and juicy are what I can describe about this slow-cooking version. Thanks to this cooking method, you do not have to spend a lot of money to buy tender and expensive cuts.
Another ingredient to decide the goodness of this food is the gravy. Primarily made with sour cream and mushroom, the gravy should be thick and well-blended.
Total time: 8 hours 20 minutes.
There are thousands of breakfast recipes prepared in crockpots, but let me tell you one of the easiest ideas with oatmeal, banana, and nuts.
I love this treat because it is my favorite way to use up slightly overripe bananas. With the strong scent and sweetness of this fruit, oat and walnut flavor can offer a nice balance so the breakfast is loaded with flavors and nutrients to give you enough energy for starting a new day.
You can prepare it the night before, and you will never skip breakfast anymore after a bite of it. This breakfast is also perfect for winter mornings when cold cereal is not an ideal choice. Another thing I love about this idea is you can choose any topping you like. Very flexible!
Total time: 4 hours 30 minutes.
Chicken Tikka Masala is an Indian-style curry dish comprising marinated boneless chicken chunks. It is a widespread dish in India, Bangladesh, and Pakistan with certain popularity worldwide.
Though there is no standard sauce for Tikka Masala, this recipe uses the tomato-based sauce to create a nice orange-reddish curry. Besides, marinating chicken is very important to infuse plenty of flavor into the meat.
To enhance the intense taste of onion, you should also cook it over medium heat in a pan. And the last step is combining marinated meat, onion, and others in cookware. Choose your desired heat level and wait for a few hours.
Enjoy it with a bed of rice or with naan bread!
You do not have to fly to India to try Tikka Masala, especially if you have a slow cooker.
Total time: 5 hours 40 minutes.
Let's make your slow-cooker Thanksgiving treat more special with these cheesy potatoes. Like most crockpot recipes, it is also a trouble-free dish to impress others without using too much effort.
Of course, all you need is the time since it will take more than 5 hours to cook. But trust me, your time is well spent. Who can say no to the soft, creamy, and extremely delicious scalloped potatoes? But first, you have to layer them between cheese and cream sauce.
After finishing cooking, you should open the lid and let your food rest for around 15 minutes. Within this time, the sauce inside the dish can thicken. Do not forget to sprinkle a bit of thyme for garnishing.
Total time: 6 hours 15 minutes.
When the weather is a bit cooler, it is soup season. Apparently, nothing is better than sipping a warm soup with vegetables on a chilly day. What's more, it is budget-friendly, convenient, and freezes well for longer storage.
Nevertheless, you should brown ground beef with a skillet before transferring it to your slow cooker to cook with other elements. After a couple of hours, check for the softness of carrots and potatoes. If they are tender, it is ready to serve.
It would be better to pair the soup with crackers or even fruits like oranges and grapes.
Total time: Up to 1.5 hours.
Salmon is a rich source of omega-3 fatty acids and other proteins to reduce the risk of various diseases. Therefore, adding it to your diet is essential for better health. And this poached salmon dish will provide a healthy and mouthwatering treat with ease.
Plus, fish will not take too much time to cook in a slow cooker like other meats. So with less than 1.5 hours, a flaky and moist piece of salmon can become a wonderful dinner for two.
First, start cooking wine and spices on a device for 30 minutes. Then, you will add the fish and cook for 45 minutes or 1 hour until its color turns opaque or reaches your desired doneness.
If you have a thermometer, ensure the internal temperature is 145 F degrees for safe consumption.
Total time: 4 hours 20 minutes.
Here is another drool-proof idea to work with useful cookware like a crockpot. On the other hand, it is a vegan and super healthy treat, including broccoli, quinoa, sweet potatoes, and more.
If you have not tried quinoa before and are wondering what it is, just remember that quinoa contains a high level of protein, B vitamin, fiber, and more. Quinoa itself tastes nutty and pretty mild; hence, it can go well with deep-flavored curry.
This recipe is also easy because you just have to put ingredients in a device, set and walk away. After 3 to 4 hours, your dish will come out so good that you might want to make it over and over again.
Total time: 8 hours 30 minutes.
Do not fret about the long list of ingredients in this recipe; they are all familiar and loaded-with-nutrient veggies that you can easily buy to prepare a warm and tasty crockpot dish in vegetarian style.
Minestrone soup is a hearty dish from the beautiful country of Italy. It normally comprises various types of vegetables with rice or pasta. Today, it is a well-loved treat on a cold day that you can go with any of your favorite vegetables.
And thanks to the tomato paste, this soup has an appetizing look that your family, even the pickiest one, can hardly refuse. If you have leftovers, you can keep them in the fridge for around 4 days or in the freezer for up to 6 months.
You can add grated Parmesan cheese and chopped parsley before serving. A few slices of bread or salad are also amazing side orders to pair with the soup.
Total time: 8 hours 20 minutes (on low) or 4 hours 20 minutes (on high).
Grab your 6-quart slow cooker (or bigger) to create a beautiful chili with ground turkey, chipotle peppers, tomatoes, and other components. If you are not a big fan of spicy food, skip the chipotle part.
Right from the ingredient list, you can tell how flavorful this turkey chili is since it is loaded with plenty of seasonings. In addition, ground turkey is one of the leanest meat, providing a healthy meal that you want to devour immediately.
Ground chicken is also a great substitute if you cannot buy turkey meat. It will not affect the final flavor of your chili.
Total time: 4 hours 20 minutes.
Speaking of vegan-based crockpot ideas, let me introduce this bright and colorful dish called Ratatouille. Yes, it is also the name of a famous Disney movie that inspires millions of people to keep chasing their dream of cooking.
And with a slow-cooking device, it would make the cooking stage cannot get easier since you just have to toss eggplant, zucchini, bell pepper, tomatoes, etc., together and cook for 4 hours.
Voila! Now you have a summer treat packed with nutrients. However, if you worry that your Ratatouille might come out mushy, you can remove the lid and cook the food at a high temperature in the last hour.
Total time: 7 hours 25 minutes.
This pulled chicken might be the ultimate answer if you need a simple treat to serve on your game night. Like other slow-cooking chicken meals, the breast or thigh part of the animal is ideal. In this case, I use both, but feel free to choose this ingredient based on your desire.
The temperature is an extremely important factor in deciding your pulled chicken's success. Ensure you set it at medium heat and cook for up to 6 hours until the meat is tender.
Besides, the pulled chicken is incomplete if there is no sauce. The good news is homemade BBQ sauce is very straightforward, and you can also customize the proportion, depending on your liking.
This insightful instruction will help you prepare a tasty pulled chicken with your slow cooker.
Total time: 8 hours 25 minutes.
The signature American-style beef delicacy – pot roast- is a slow-cooking dish to turn the tough beef cut into a fall-apart tender one. Thus, using a crockpot for cooking this recipe is the best option.
The secret that makes the best pot roast is the dry rubbing part. Combine all of the spices and herbs, give it a good rub, and then brown the roast over the stovetop heat before cooking the meat with veggies in a slow cooker.
Though you can set your cookware on high heat to cook for 4 to 5 hours, slow-cooking with a low temperature is preferable in this case. Another thing to make this pot roast more flavorful is the gravy.
Use the liquid in a slow cooker and thicken it with flour. You can also season it again with a bit of pepper and salt. Drizzle the gravy over the meat before serving.
Total time: Up to 4 hours.
Crockpot recipes with seafood are abundant, but if you have a special love for shrimp, do not miss this chowder.
Chowder is a rich soup cooked with seafood and vegetables. In this case, shrimps, cream cheese, cream of potato soup, and more create a gooey soup. But remember, you should add cream cheese and shrimp 3 hours after cooking the other components, not from the beginning.
You can prepare it in the afternoon so you can enjoy the chowder with your family at dinner. And I believe it can fulfill your stomach in the best possible way.
Total time: 5 to 7 hours on low or 3 to 4 hours on high setting.
Ranch pork chop is the last yet must-try dish to utilize in your cookware made with boneless pork chops and ranch dressing mix as 2 main ingredients. Drool-proof, tender, and packed with flavors, this dish will surely save your lazy (or busy) weekend dinner.
You can use either bone-in or boneless pork chop. They are all acceptable in this recipe, but the bone-in type might increase the overall flavor.
On the other hand, you can use any ranch dressing you like since the dressing itself offers a perfect sweetness and tanginess to your dish. And it would be even better if you mix this dressing with other creams and white wine.
Finally, a bit of chopped fresh parsley will add a bit of green to your dish, making it tasty and appealing as well.
Pick One (Or More) Recipe To Make Cooking Much Easier!
Even if you are not into cooking, you can still nail these delicious treats because it is so simple to pull off, as long as you have a crockpot at home. It might extend the cooking time, but the results always come out with so many flavors.
Indeed, a crockpot can be the best buddy for those who do not have too much time to prepare meals but still want to eat healthily. And with these 38 recipes, nothing is impossible.
If you like this article, save this immediately so whenever you are too lazy to cook, these ideas will help you. Finally, do not forget to share it with your friends so everyone can enjoy meals at their finest. Thank you!
Nutrition Facts
4 servings per container
---
Amount Per ServingCalories330
% Daily Value *
Total Fat 5.7g

9

%
Cholesterol 145mg

49

%
Sodium 2876mg

120

%
Potassium 1001mg

29

%
Total Carbohydrate 13g

5

%

Dietary Fiber 0.1g

1

%
Sugars 10.2g

Protein 52.4g

105

%
---
* The % Daily Value tells you how much a nutrient in a serving of food contributes to a daily diet. 2,000 calories a day is used for general nutrition advice.