If slow cooker three bean chili night isn't already on your weekly meal rotation, it's going to be once you've made this meal. The dish is so simple and jam-packed with flavors that the whole family will ask for more.
This recipe contains three types of beans, offering a powerful incentive to increase your family's daily fiber intake. Topped with sour cream and fresh parsley and served with corn chips or crusty bread, it will become a family favorite from their first helping.
This simple slow cooker recipe is a great way to prepare a meal when you know you've got a busy day ahead of you and want to finish it over a hot bowl of wholesome chili.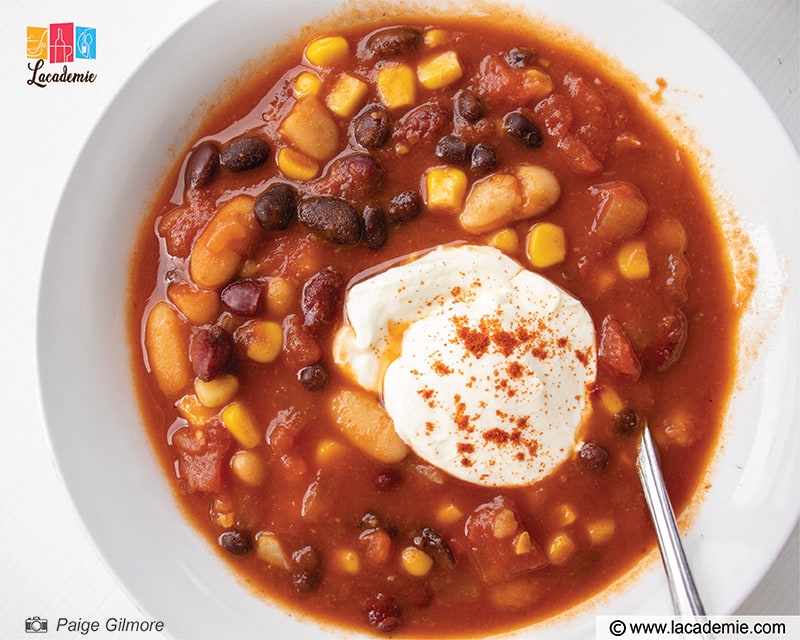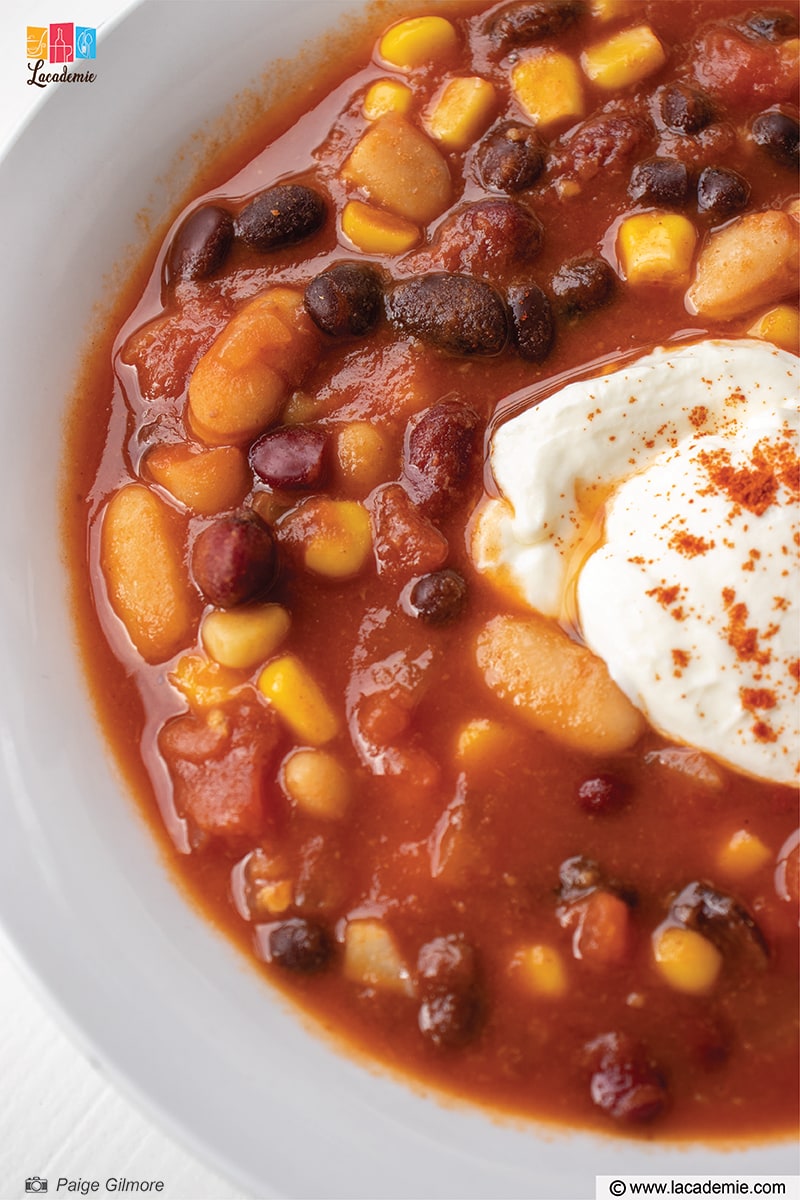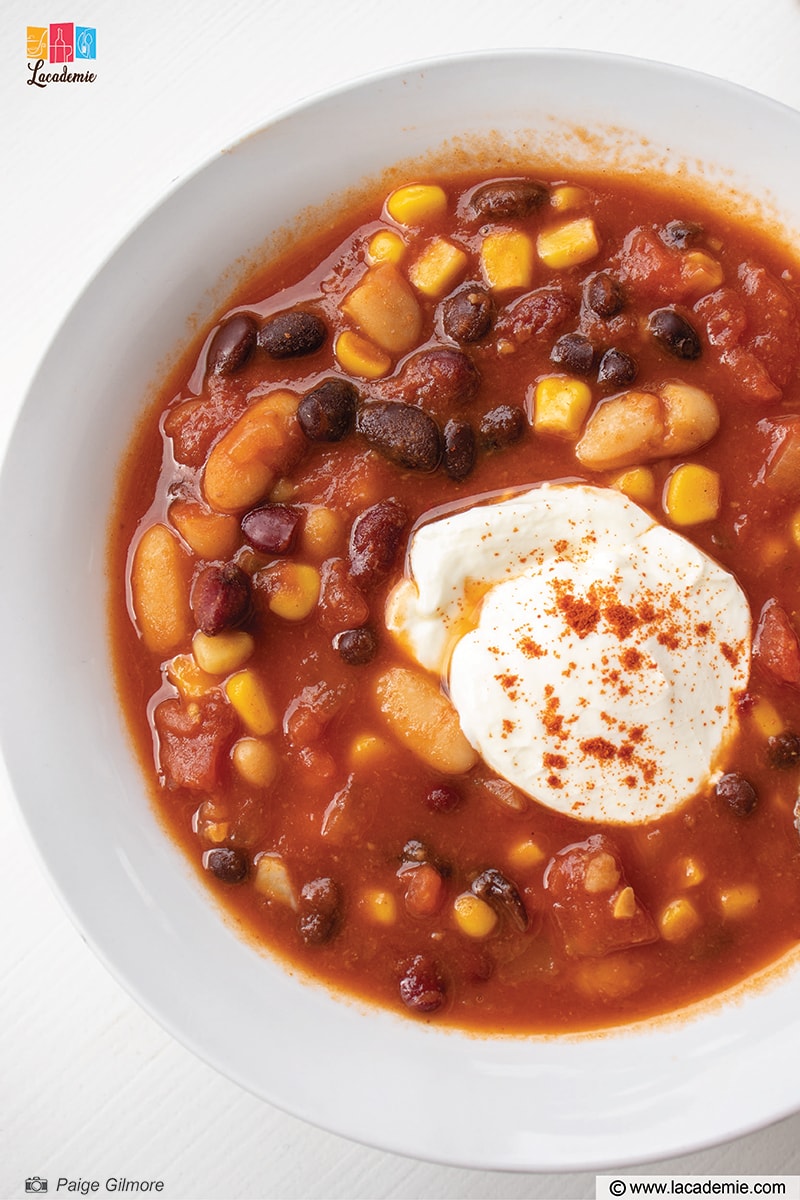 What is Slow Cooker Three Beans Chili?
It is one of the healthiest vegetarian meals with a crockpot or slow cooker you can find out there. Its name implies that it comprises three types of beans stewed in a rich and spicy tomato base. Any bean will do but read on if you want to find out the holy trinity for this recipe.
Another highlight of the dish is its spice blend. I've created it to make the perfect chili the whole family can enjoy. If you're after a bit more of a kick, feel free to adjust the spices. Or you can load the stew with hot sauce once plating it.
Tools
My three bean chili recipe requires very little food prep, making it easy-peasy to clean up. To recreate my quick and simple crockpot recipe, you'll need the following:
Crockpot / Slow cooker: A good slow cooker will work wonders for your cooking skills.
Large ladle: A small or medium-sized is also acceptable. But the bigger your ladle is, the easier it is to stir as well as scoop out your beans.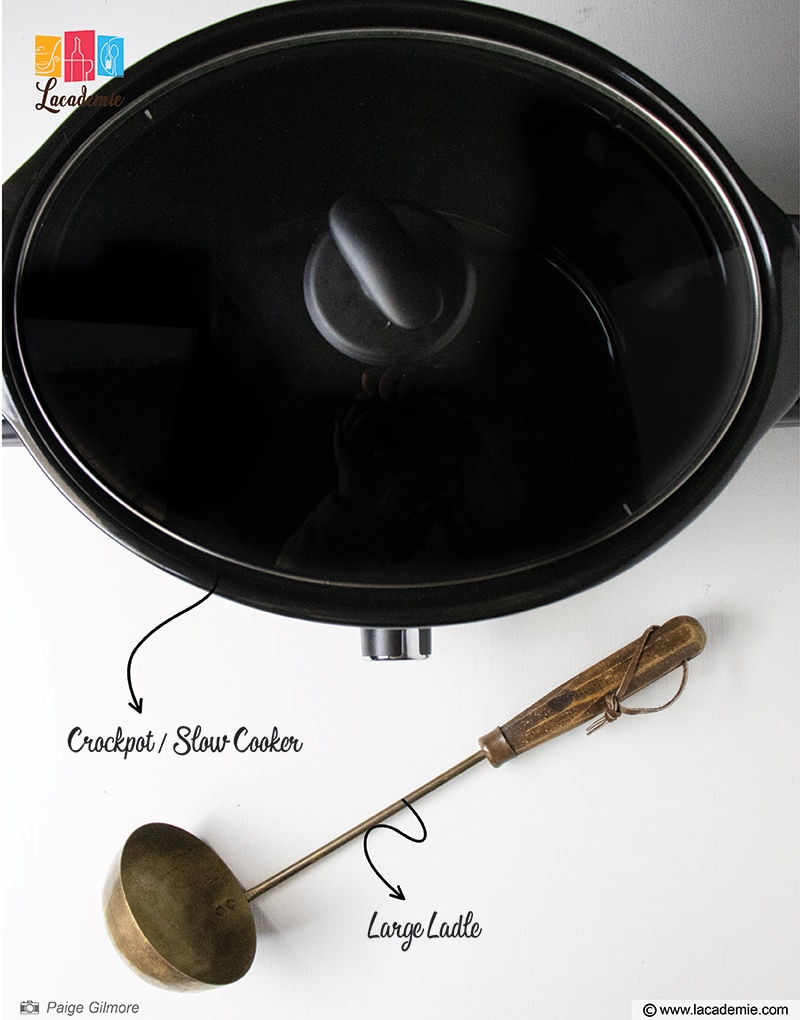 Ingredients
My recipe is made up of these key ingredients to create a flavourful chili everyone will love.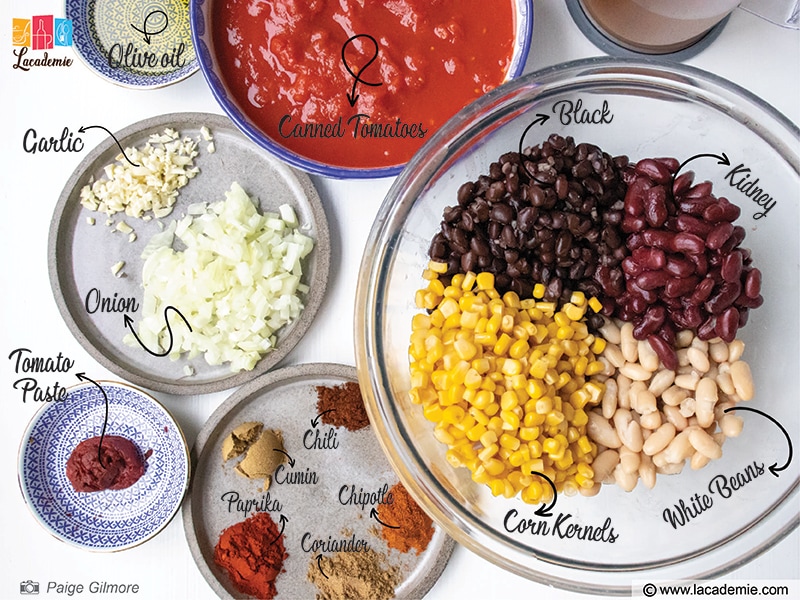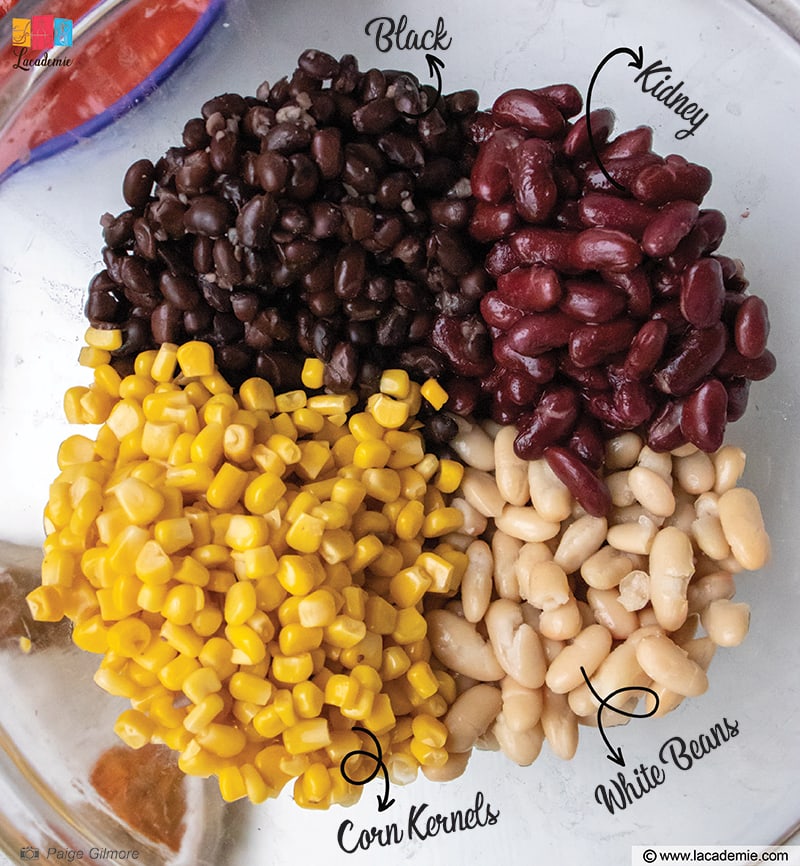 Canned black, kidney, and white beans: This blend makes the perfect three bean mix for my hearty chili. To cut down on the cooking time, I use canned beans for this recipe.
Canned corn kernels: Add sweetness and vibrant color to the chili mix. I also opt for canned products for ease of cooking.
Tomato paste and canned tomatoes: Make sure to choose the highest-quality canned tomatoes and tomato paste for the best traditional tomato soup base.
Garlic and diced onions: Adds classic flavors to your sauce base.
Olive oil: Enhances the consistency and taste of the soup by adding good fats.
Spices: Cumin, chili powder, paprika, coriander, and chipotle create a mouth-watering spice blend with a kick.
Vegetable stock: Enhances the flavor base.
How To Make Slow Cooker Three Bean Chili
Cooking this slow cooker three bean chili is effortless, with very little food preparation involved. Simply follow these basic steps, and you'll have a scrummy chili to enjoy as well as to surprise your loved ones.
Step 1: Prepare Your Spices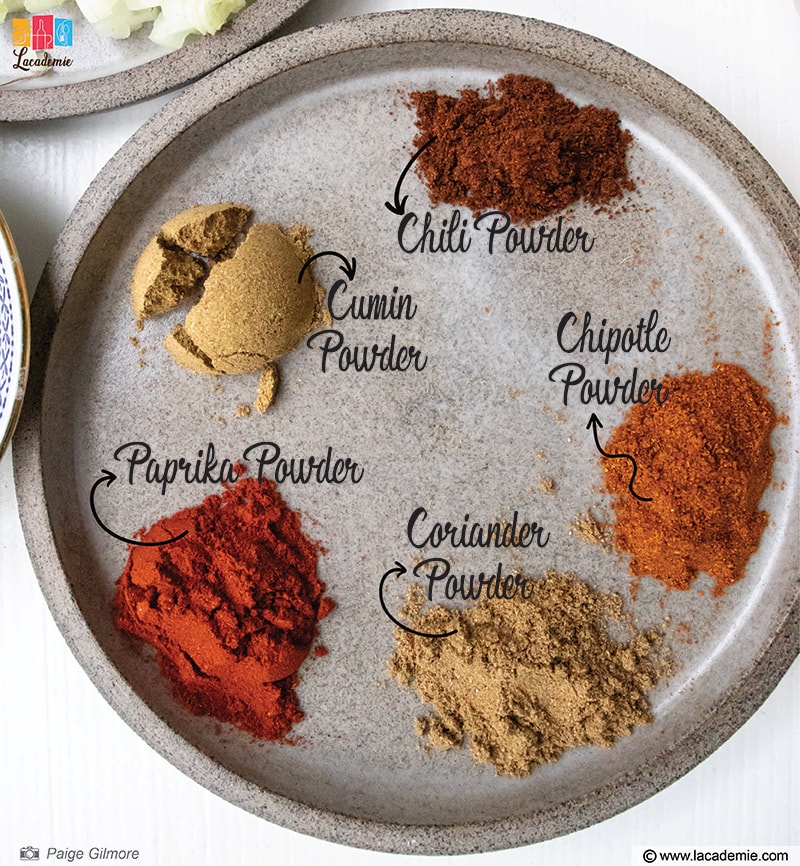 Use a suitable amount of chili powder, coriander, cumin, paprika, and chipotle. If possible, use a measuring spoon for more precision. Place the spices on a plate or in a bowl before adding them to your slow cooker.
Step 2: Set Up Your Slow Cooker
Set up your slow cooker. Remember to follow your manufacturer's instructions. If you haven't decided whether to cook on low or high settings, do it now.
Step 3: Add All Your Three Bean Chili Ingredients
Add the following ingredients to your slow cooker: beans, tomatoes, corn kernels, tomatoes, olive oil, vegetable stock, onions, garlic, seasoning, plus salt and pepper to taste.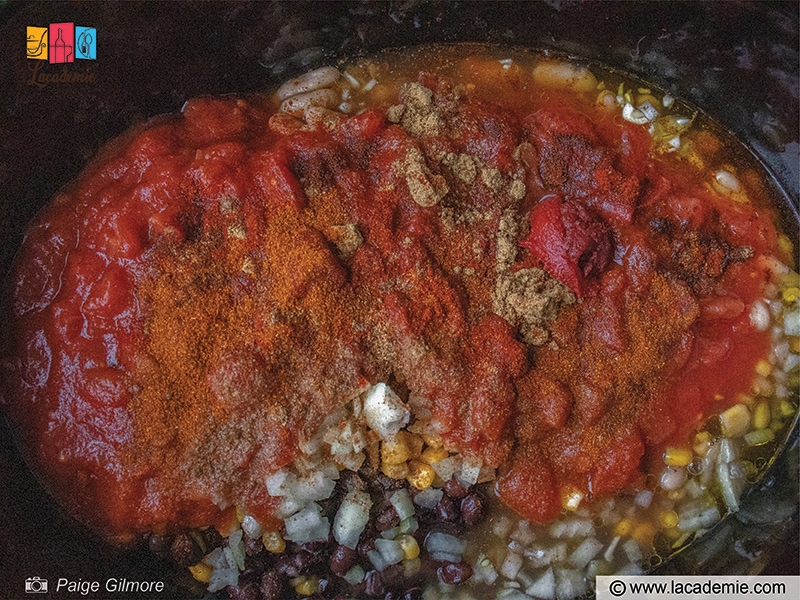 Step 4: Stir The Ingredients In The Slow Cooker
With a large mixing spoon, combine all the ingredients that you have added to your slow cooker.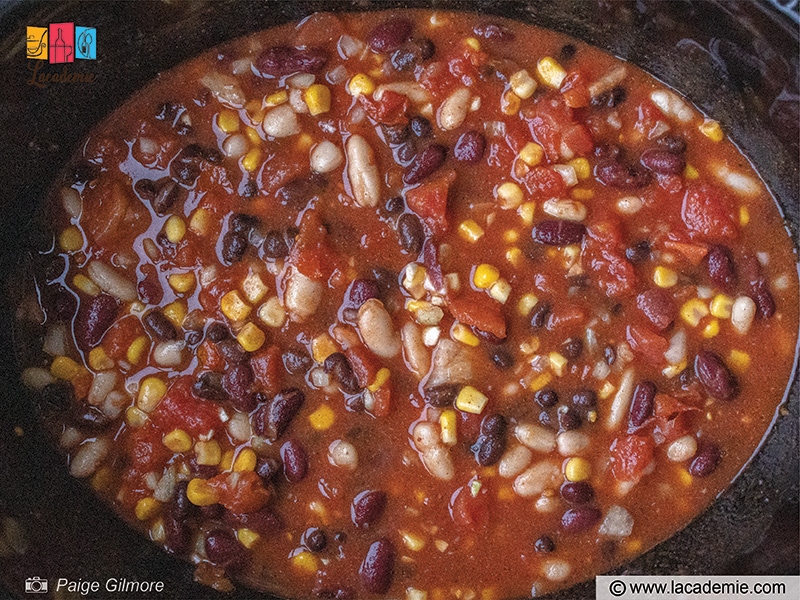 Step 5: Cook Your Chili To Perfection
Switch your slow cooker on. Cook your chili for 4 hours on high or reduce the heat to the low setting and cook for 8 hours. Serve in your favorite bowl with a small dollop of sour cream and an extra sprinkle of chili powder (optional).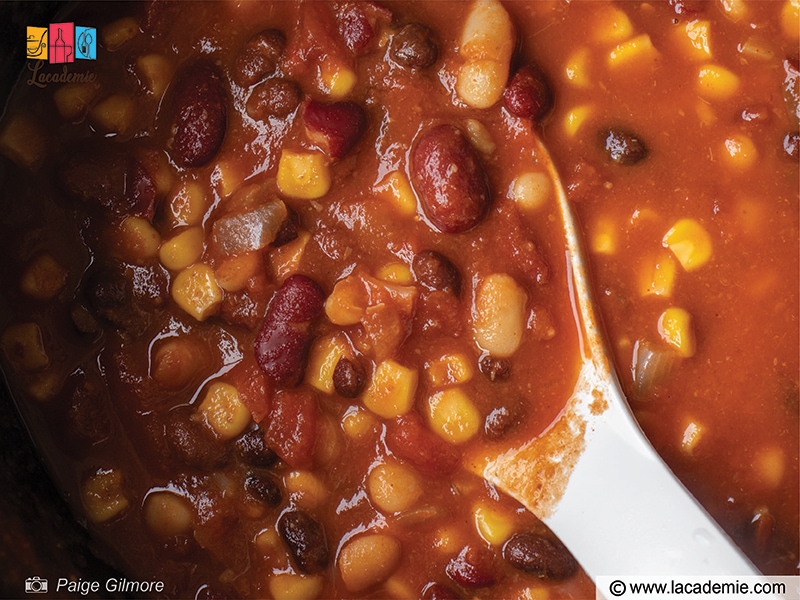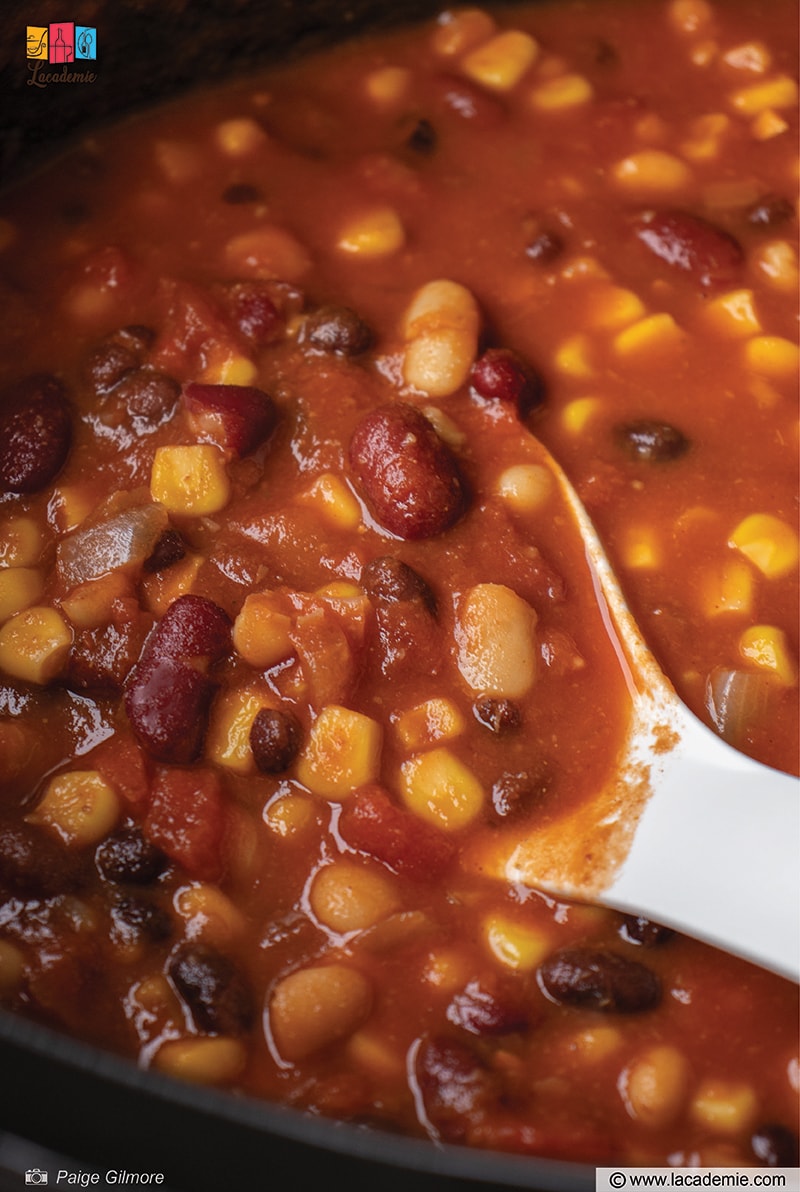 Tips And Serving Suggestions
Following this recipe is effortless, and cleaning up is even easier. Yet you will be amazed at the divine dish it can create. If you want to take your chili bean flavors to a whole other level, check out my following tips and serving suggestions.
Tips for Slow Cooker Three Bean Chili
Here are a few tips, so you create a perfectly spiced and hearty three bean chili in your slow cooker or Crockpot.
This recipe calls for 1 teaspoon of chili powder. But feel free to increase the amount of the spice if you want your chili to have a tongue-burning taste, and vice versa.
To increase the nutrition profile of the dish, don't hesitate to add mushrooms and more veggies (zucchini, carrots, bell peppers, etc.) to your slow cooker.
While the three beans selected for this chili perfectly complement each other, you can always substitute for what you have in your pantry. For example, pinto beans and chickpeas are terrific alternatives.
What To Serve With My Slow Cooker Three Bean Chili?
Prepare some of these flavorful side dishes for your hearty chili, so it will taste much more divine. You can make them when your slow cooker is cooking the chill:
Fresh herbs: Cilantro or coriander has to be my go-to to compliment this dish.
Sour cream: Its creaminess makes the perfect addition and brings the spice level down a little.
Tortilla chips: Perfect for dunking in your chili.
Crusty bread rolls: Another great dunking option to soak up the delectable chili.
Hot sauce: Adds an extra kick for a more intense experience.
How To Store And Reheat Slow Cooker Three Bean Chili Like A Pro
Have you got a hunger-provoking bowl of three bean chili? Congratulations! However, your job is only half finished. It is important to know how to store and rewarm your chili properly so that you can enjoy it whenever you want. Take a glance at this section to find out more!
Like most foods, slow cooker three bean chili can stay at room temperature for 2 hours after it cools down. If you follow the traditional way of refrigerating it, the stew can stay as good as new for 3-4 days. Its flavors can actually get better with time.
But do you know that you can preserve your chili for up to 3 months by keeping it in the freezer? As long as it is kept in a decent freezer bag, you can easily achieve the maximum duration.
Before reheating the chili on the stovetop, you should thaw it in the fridge or in cold water first. In case you use a microwave, you can forgo this step. Heat the chili in 30-second intervals until it is hot enough (don't forget to add water when microwaving to prevent your food from drying out).
Let's Make Slow Cooker Three Bean Chili Every Week!
This super nutritious slow cooker vegetarian chili will become your favorite go-to meal! Slow cooker three bean chili is packed full of vegetables, plus a wholesome tomato-based sauce and an insanely delicious blend of spices that provide a powerful kick.
Whether you're aiming to make a healthy dinner for your family in advance or planning to meal prep on a Sunday, this slow cooker three bean chili is the ideal recipe for you. And don't keep this post to yourself: like and share it with your friends!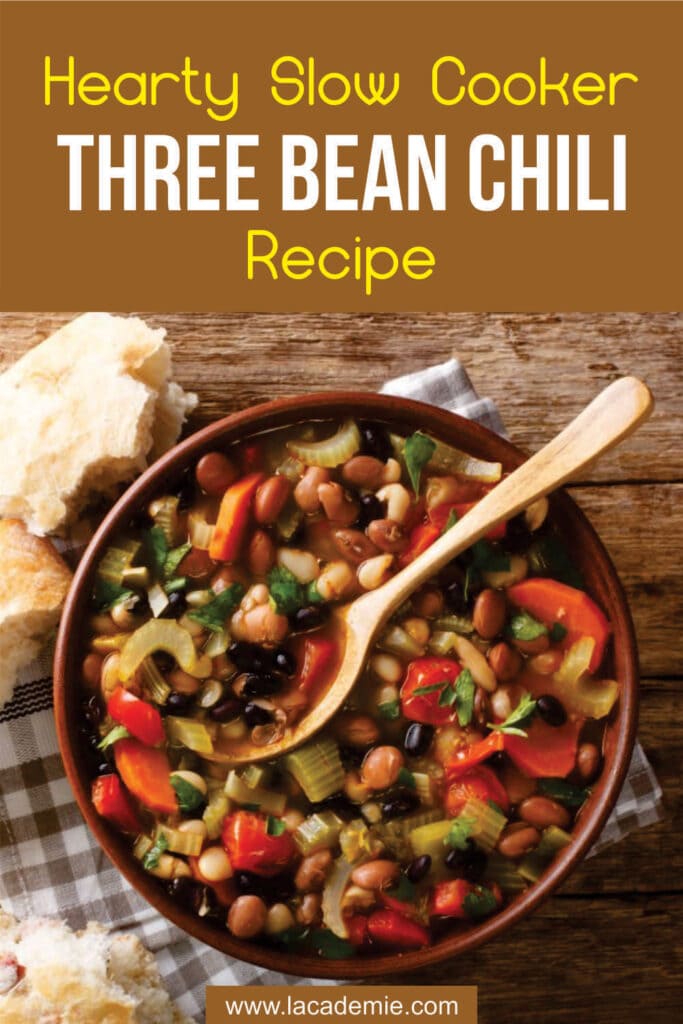 Nutrition Facts
6 servings per container
---
Amount Per ServingCalories297
% Daily Value *
Total Fat 5.6g

9

%
Cholesterol 3mg

1

%
Sodium 365mg

16

%
Potassium 996mg

29

%
Total Carbohydrate 52.3g

18

%

Dietary Fiber 14.7g

59

%
Sugars 4.9g

Protein 16.3g

33

%
---
* The % Daily Value tells you how much a nutrient in a serving of food contributes to a daily diet. 2,000 calories a day is used for general nutrition advice.